The monsoon was almost over, and not having been to any place this time around, made a plan to venture into the Karnataka region bordering Maharashtra for a short trip. Belgaum sounded a place that was not too near, nor too far for a 2-3 day trip. Googled and found a few places around Belgaum like Gokak falls and a possible archeological relic near Konnur, and of course few attractions in Belgaum. I enjoy visiting heritage places/ancient sites/monuments , so was thrilled to read about dolmens in Konnur in the ASI website. However nowhere in the internet I could find the location of it. Just decided to try my luck out.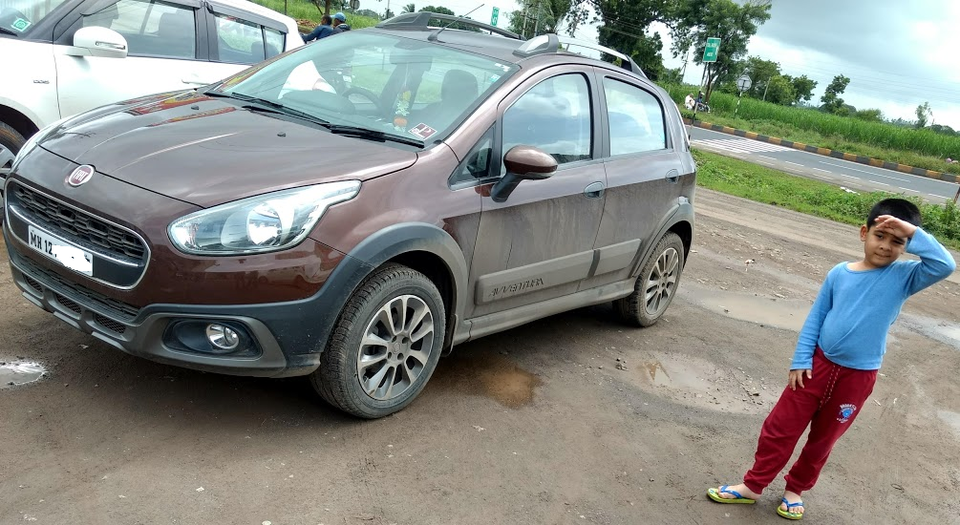 Pune - Belgaum
Started early on - following the route suggested by Google Maps. But my 5 year old son's motion sickness and under construction roads at some stretches before Kolhapur slowed us down.
Had lunch at a road side hotel bang at the point Karnatak started-and it was amazing.Once in Karnataka, the road conditions improved a lot. Reached Belgaum at around 2 Pm

We checked into the UK 27 The Fern Hotel, and decided to laze around, taking it easy for the evening. The hotel is at the entry of the town and a very comfortable one. Asking around we headed to Kamal Basadi/Vasti and Belgaum Fort located near Belgaum Bus Stand.
Kamal Basadi is a 10th century Jain temple , which still has active Puja. The idols of Neminath, and the carvings are worth visiting the temple for .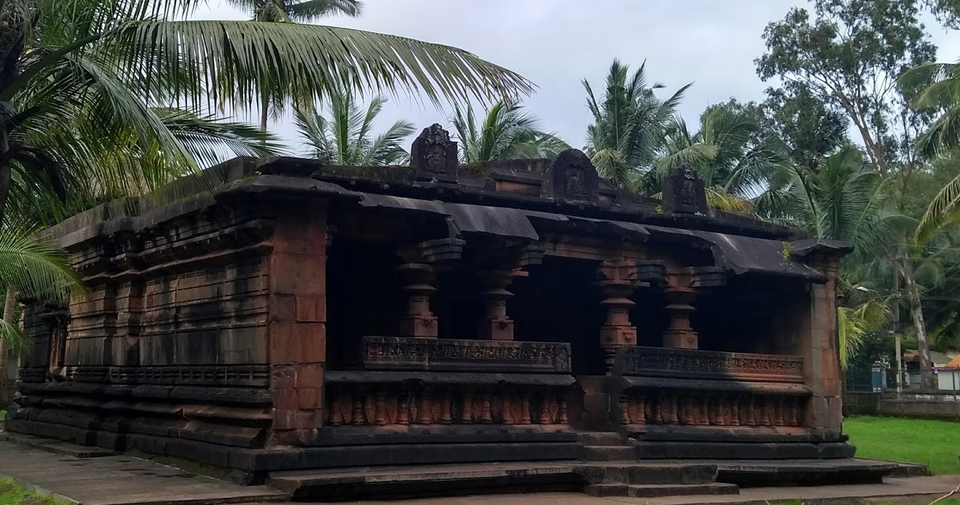 Right outside the main temple, is yet another dilapidated structure called Chikki Basadi.
Belgaum - Gokak
Started the journey right after breakfast. We just had Gokak falls in our agenda, with an attempt to visit the dolmen in Konnur if time permitted. However we also added a couple of other spots , which we learnt about asking around.


The first stop was Hidkal dam. Built on the Ghataprabha River , it has a huge expanse,. However , apart from a small garden area and a viewing deck, its not accessible. But you can just park your car en-route on the main road flanking the dam, climb the stairs along its wall, if you want to enjoy a majestic view, at the cost of breaking a rule or two :)


Google generally provides a well marked route. However in the past , did end up in a situation where it led us to a non-existent road, and we ended up in a slushy farm. Its always good to double check, if you are travelling through smaller towns/villages.
A guy at a small village near Gokak, suggested us to take an alternate route (Dhupdal Dam road) that would provide a better view of the falls. The road appeared rough with very less traffic , and we wondered if we did the right thing to divert from the map route. But, after some time, we were rewarded with a magnificent view of the falls. You can hear the the sound of the Ghatprabha river gushing down the gorge from a distance. The route we took , luckily brought us to a different, less popular approach side of the waterfall. With no one around, we had the entire waterfall to ourselves.
With the barricades broken, you need to be careful through these rocks, as a fall would mean guaranteed death. The drop is huge , and we could feel continuous spume of water even at the top.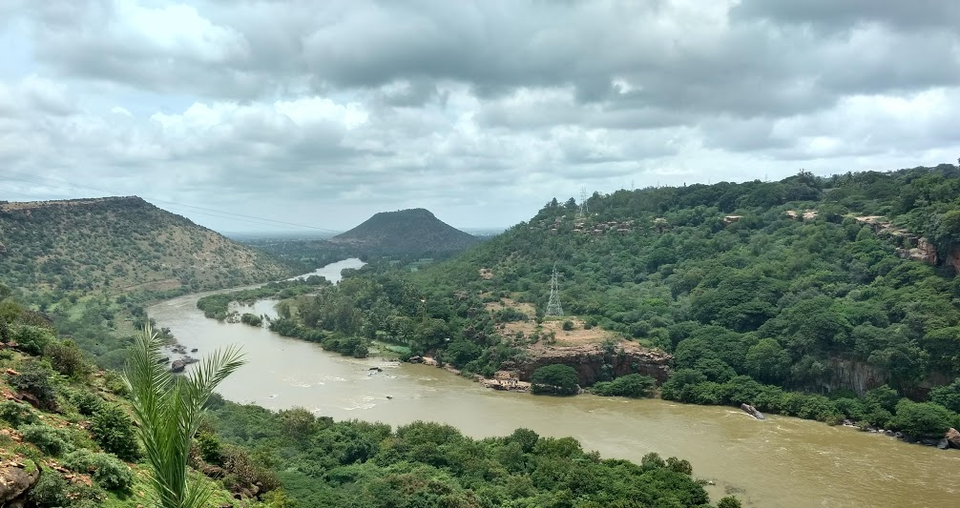 Right after the massive drop the river just meanders through the hills, as if exhibiting a complete mood change from fury to a mysterious calm.
There is a hanging bridge (if you could notice in the video) which takes you to the other, and more popular side of the river that has a very old temple and a british era mill. The bridge is generally closed for tourists and used by locals/mill workers. We decided to explore the area around the bridge. There are a few Chalukyan era structures and pint sized modern houses flanking the narrow approach paths to the river. One of the small temples had an interesting motif of nine planets in the ceiling- don't miss it if you visit this place.
We drove to the other side of the river which has a 11th century Mahalingeshwar Temple dedicated to Lord Shiva and the british era Gokak mill. The temple was a functional one, and we could see some function was being conducted, followed by a lunch. The temple premises was pretty crowded with dogs, hawkers, kids and lots of filth around .
A flight of stairs from the temple exit took us to the Gokak mill compound, which has a store selling cotton garments at attractive prices.
It was bit difficult to find a decent place for food with a kid along. We settled for a reasonable looking food joint , and came to know about the Godachinmalaki falls , where the hit song "Aaja aai bahar..." of the 1964 film Raajkumar was shot. This is located on one of the tributaries of Ghatprabha called Markandeya. The access to the waterfall is through a path in a sparse forest . There is ample car parking available, and you can see the falls after a 2 min walk from parking area. The river flows on rocky step like structures and then finally takes a plunge , and it was a sight to behold. The place was swarming with sunday afternoon crowd littering the place or seeking selfies from every nook and corner of the rocks human/superhumanly accessible.
As it was already late afternoon , we decided to head to Konnur for Dolmen hunting :)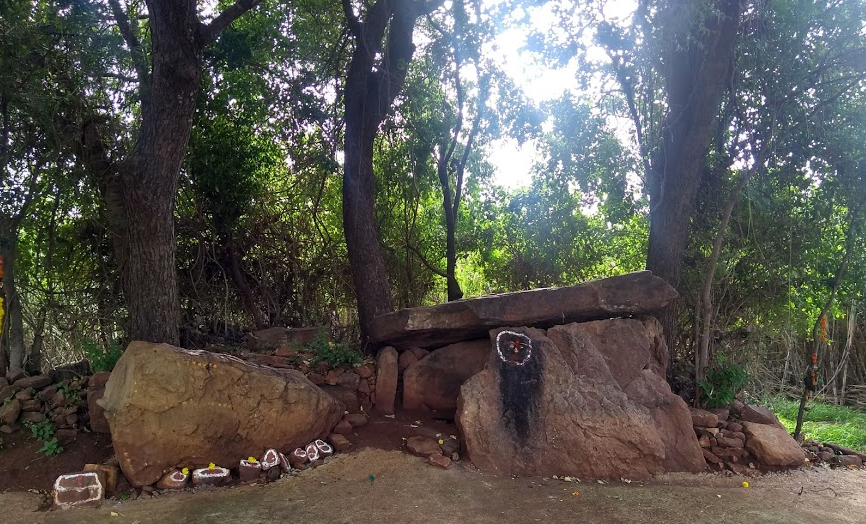 Dolmens refer to megalithic stone structures often erected by people of 3000-4000 BC or before as tombstones, or for other belief/purposes.
At Konnur, near the Gokak falls, there are many dolmens. They consists of three standing slabs forming three sides of a square, with a larger flat slab laid over. They all face the south, the region of Yama, the god of death, and have therefore been identified as old burial sites.
~ from an online British journal.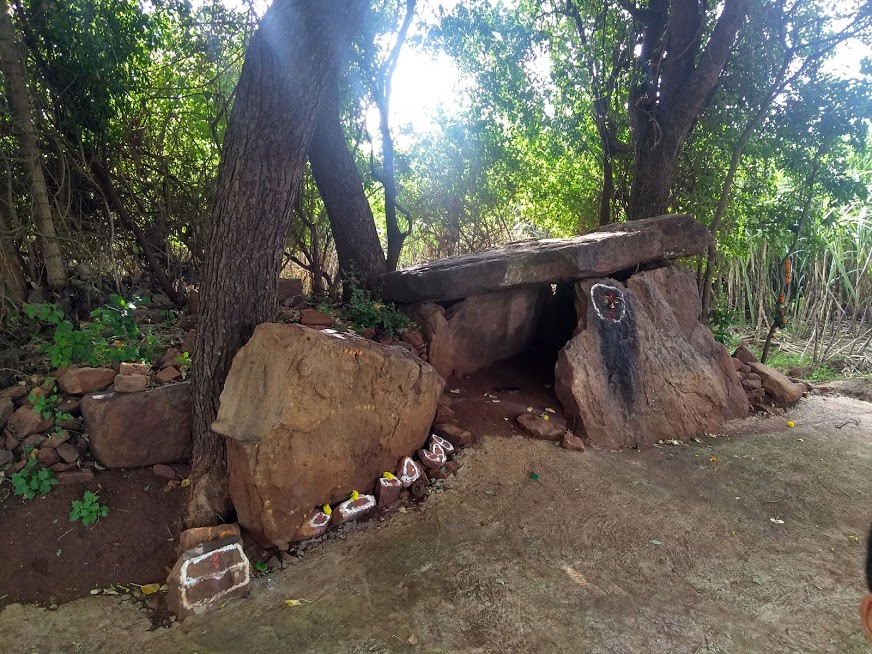 However, I couldn't find any info about the location of these. We tried to ask around but we couldn't really explain what we were exactly looking for. We drove around and finally located an area which had some similar rocky structures, but on closer look, they din't seem to be dolmens. We gave up , and were heading back to the hotel, when I felt I saw something within a bush adjoining a farm flanking the road. Just reversed the car, and to me delight could see a familiar structure.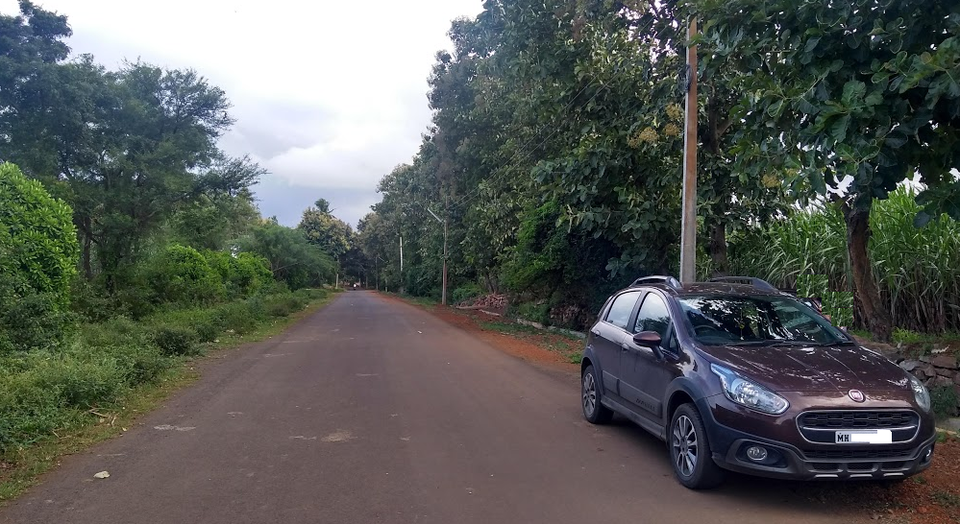 There was not a living being in sight, or a single board by ASI explaining the importance of such a primordial structure-though I did see some patches of cement work at the base of the rocks. Thanks to the propensity of Indians to worship , there was tilak,sindoor, flower offerings to the stones. Someday perhaps this structure will be converted to a place of worship, rather than a being a place of study and analysis.
Belgaum - Pune
Left Belgaum after a lazy breakfast after buying some delicious Kunda. Reached Pune at 4 ish.
Frequent Searches Leading To This Page:-
weekend getaways from pune, weekend trip from pune, weekend travel from pune, weekend holidays from pune, weekend trip from pune