Shri Kedarnath Dham yatra was in my mind when I came back from my Everest base camp trek. I wanted to go there immediately but as usual plans don't work in life and the best trips are those which are unplanned.
During Diwali time, I thought to make a prog. to see Rishikesh and landsdowne. My old travel partner Sharad was here.
But on the way when we just crossed Delhi our program changed and Sharad insisted to go to Shri Kedarnath dham. Since it was a road trip, things can be managed.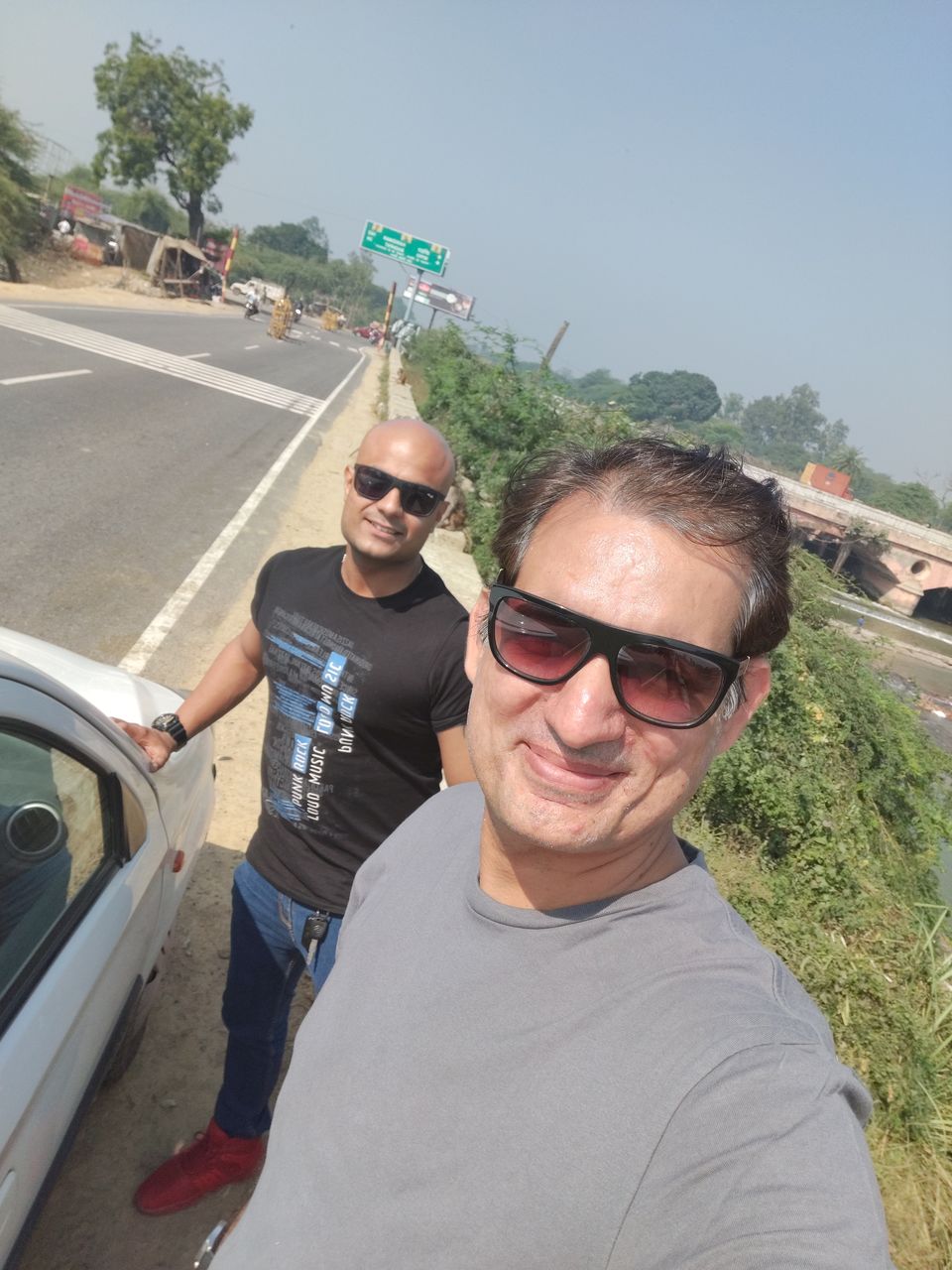 Day 1 - October 23, 2019
Uppar Ganga Canal road
It was our Day 1 - October 23, 2019 and from Yamuna express way we took turn for Eastern peripheral express way and then turned to Uppar Ganga canal road from Muradnagar police post according to Google maps and I was astonished to see this route. There was almost no traffic on this road and we bypassed Modinagar and Meerut by using it. Later I searched for the history of this road and found that the Ganga Canal was made in year 1854 by a Britisher named Sir Proby Cautley of East India Company. It is more than 500 km long which is beneficial to thousands & millions of people even today.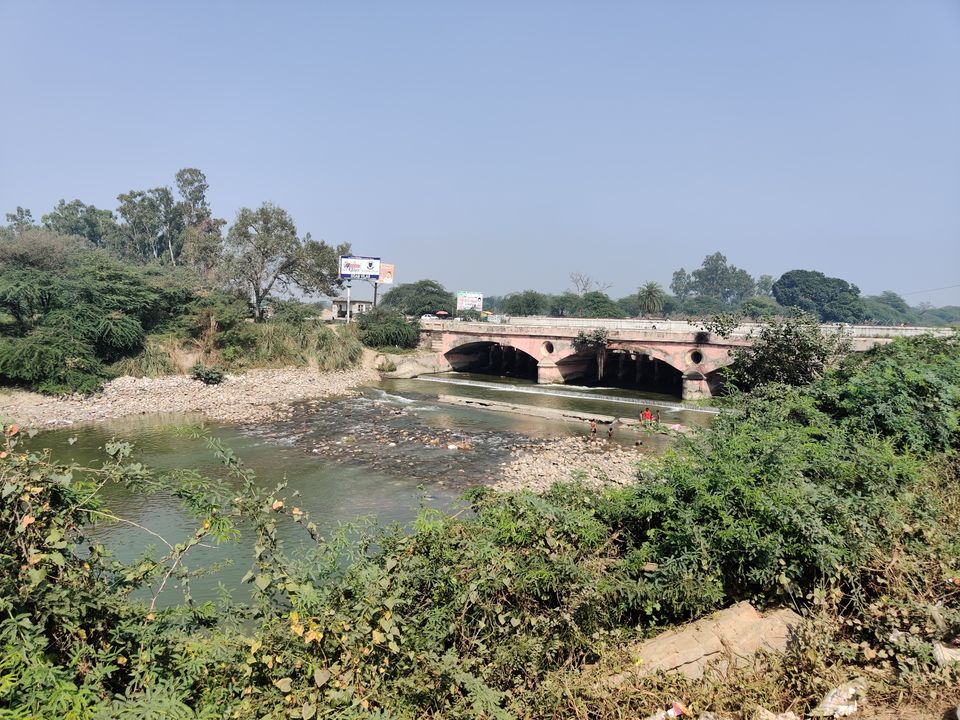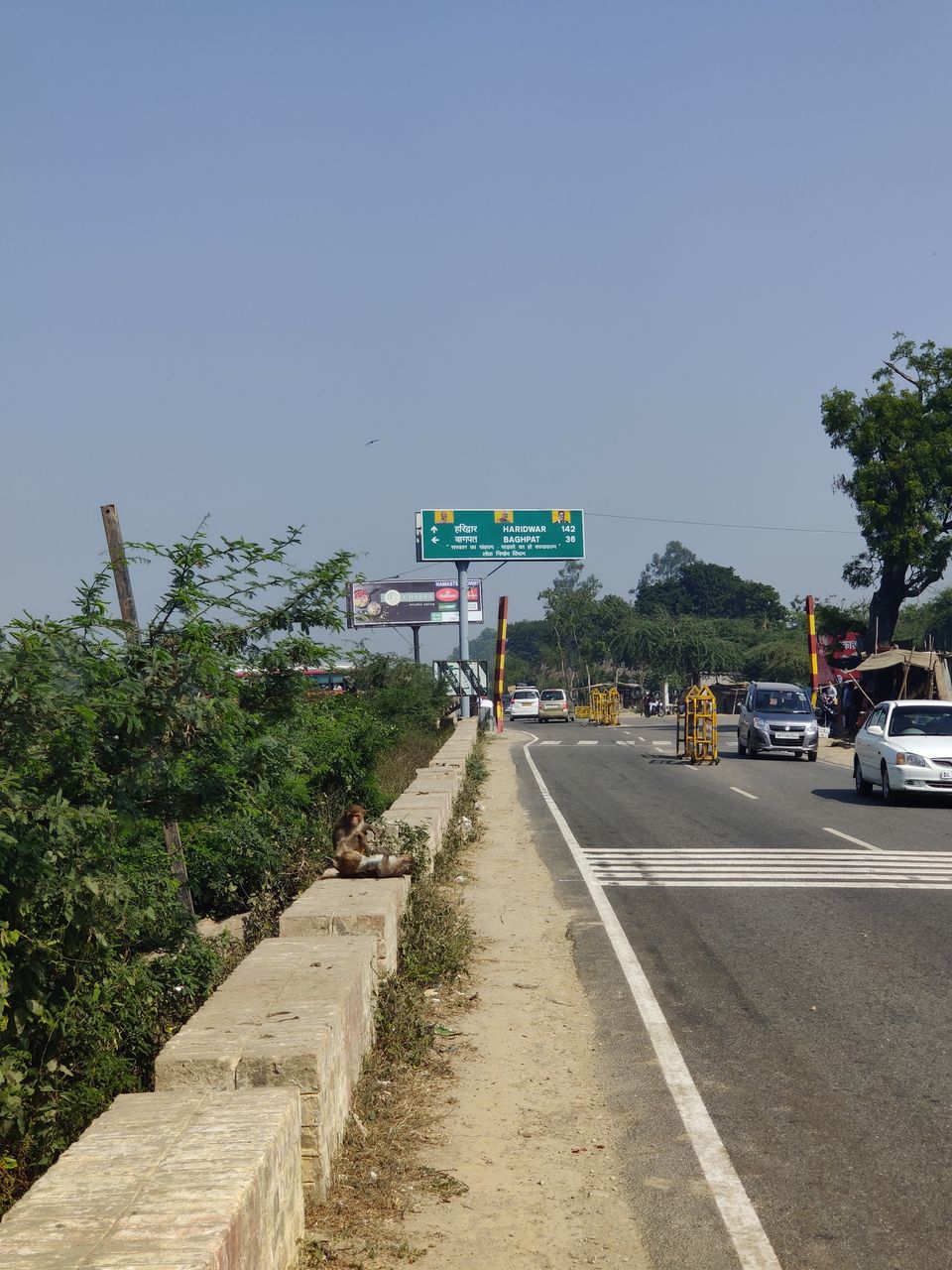 Crossed Roorkey, Haridwar & Rishikesh
We left this road just before Roorkey and where we stuck in Jam for next 1 hr. After that we crossed Haridwar and then Rishikesh and from Rishikesh, roads are not in good shape. 3 times we had stopped because of landslide which eaten our good time. In between we also found many wonderful landscape. It is the first time I was traveling in Uttrakhand like this, to explore.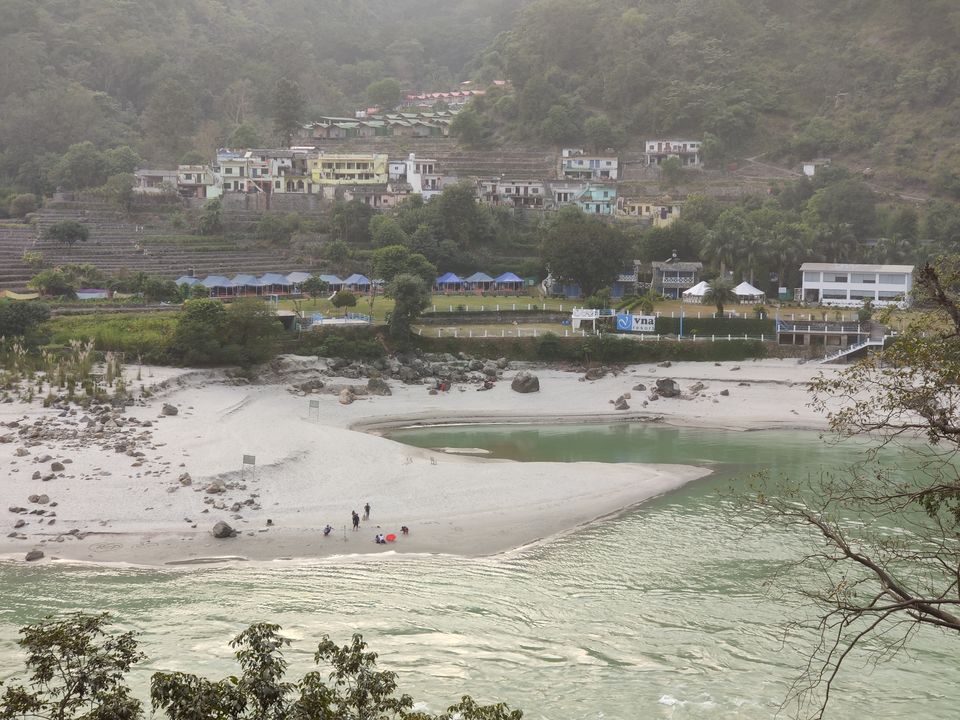 Devprayag
Finally in evening around 6.30pm we reached Devprayag. Since it was dark by that time, we were not able to see much. In morning we reached to the confluence point of River Alakhnanda and Bhagirathi and together they form River Ganga. Yes Devprayag is the place where Ganga gets her name. The mild sound of river and birds singing all around given this place extra charm. It was very meditative. And when I came out of this mystical dimension, I made a plan then and there that in near future, I am going to cover all the cities and little town which are on this route. It going to be very informational.
We stayed and Dev Ganga Hotel here and it is a good budget hotel and view from here is simply amazing. Rooms are also o.k o.k.
Day 2 - October 24, 2019 (towns that come in between)
After having our breakfast we swiftly moved for our destination.
Srinagar
However, we stopped few time in between whenever we saw some beautiful landscape and one of the place I liked was Srinagar. I mean don't get confused over Srinagar of Jammu & Kashmir. It is Srinagar of Uttrakhand and river you seeing the pics is Alakhnanda.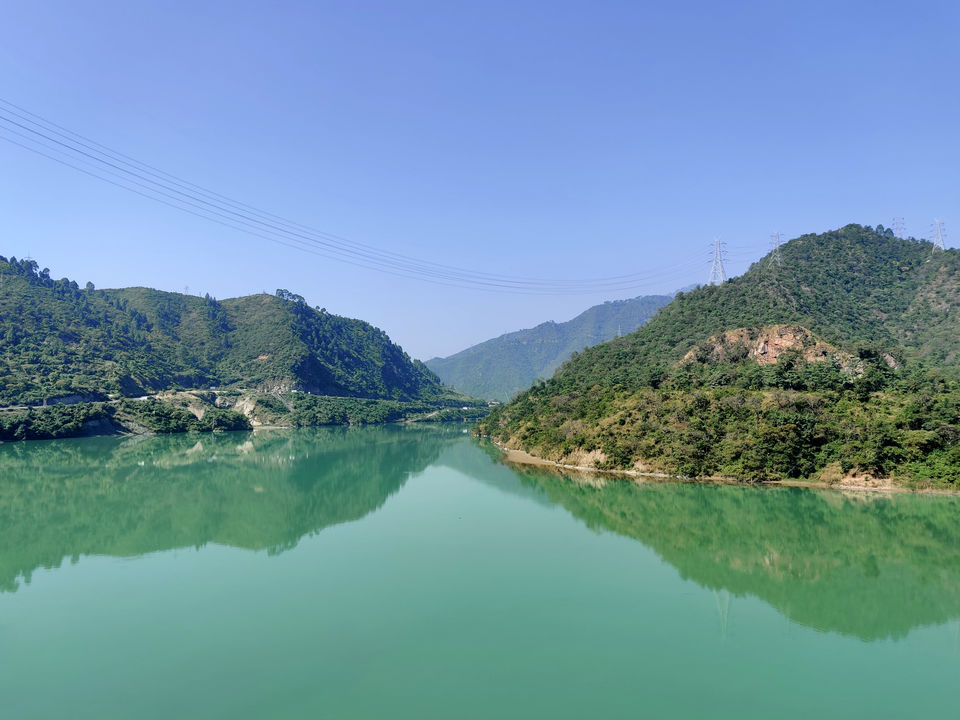 Augustmuni
Next we came across a place called Augustmuni which is named after Sage Augustmuni and this town is situated along the bank of River Mandakini. This is also a very beautiful place.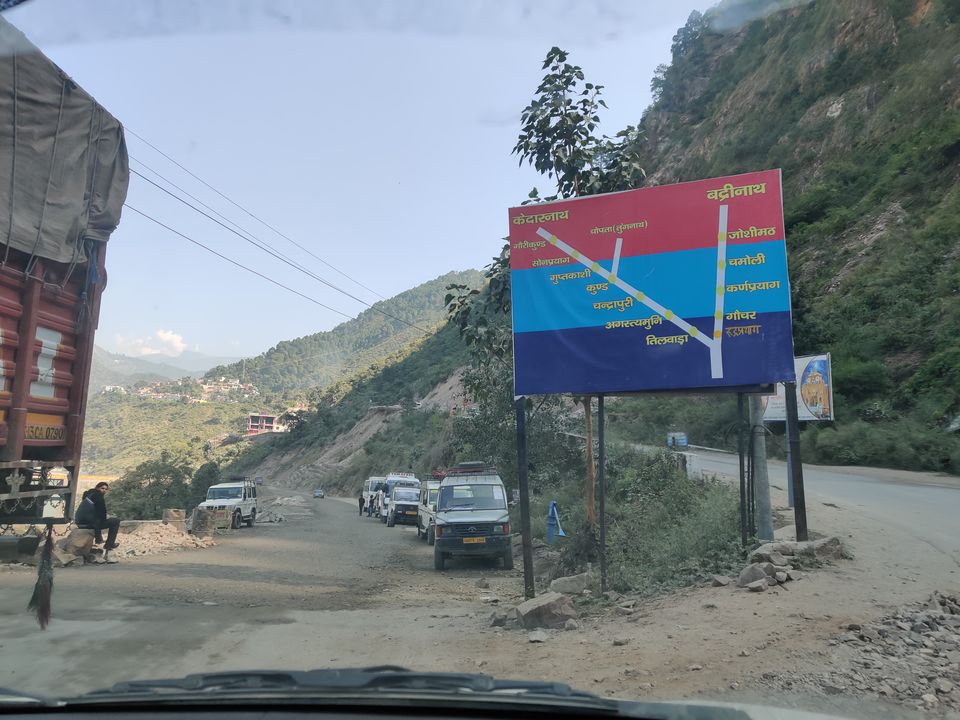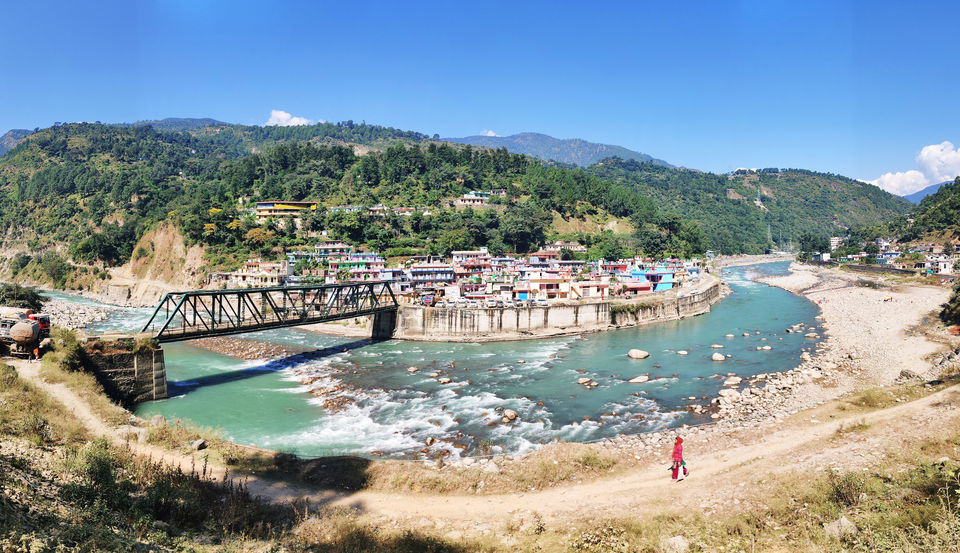 Guptkashi
We reached Guptkashi and I was surprised, there was almost no crowd here and we happily had our lunch here. May be because of off season and Diwali time.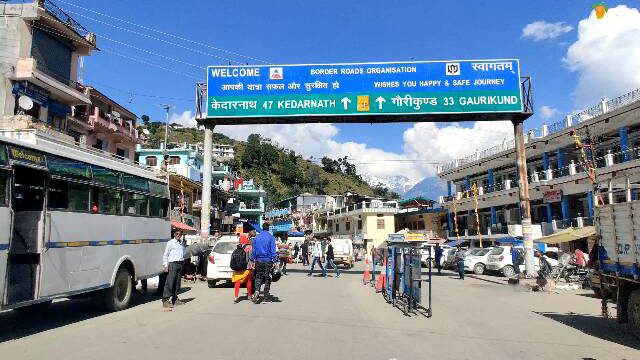 Phata
After Guptkashi, there comes a village called Phata and it is famous for its helipad used by pilgrims visiting Shri Kedarnath Dham. Charges may vary depending upon the traffic. Maximum charges are like Indian Rs. 7000/- for two way ride and since we were near Diwali time, the price was running like 4800/-.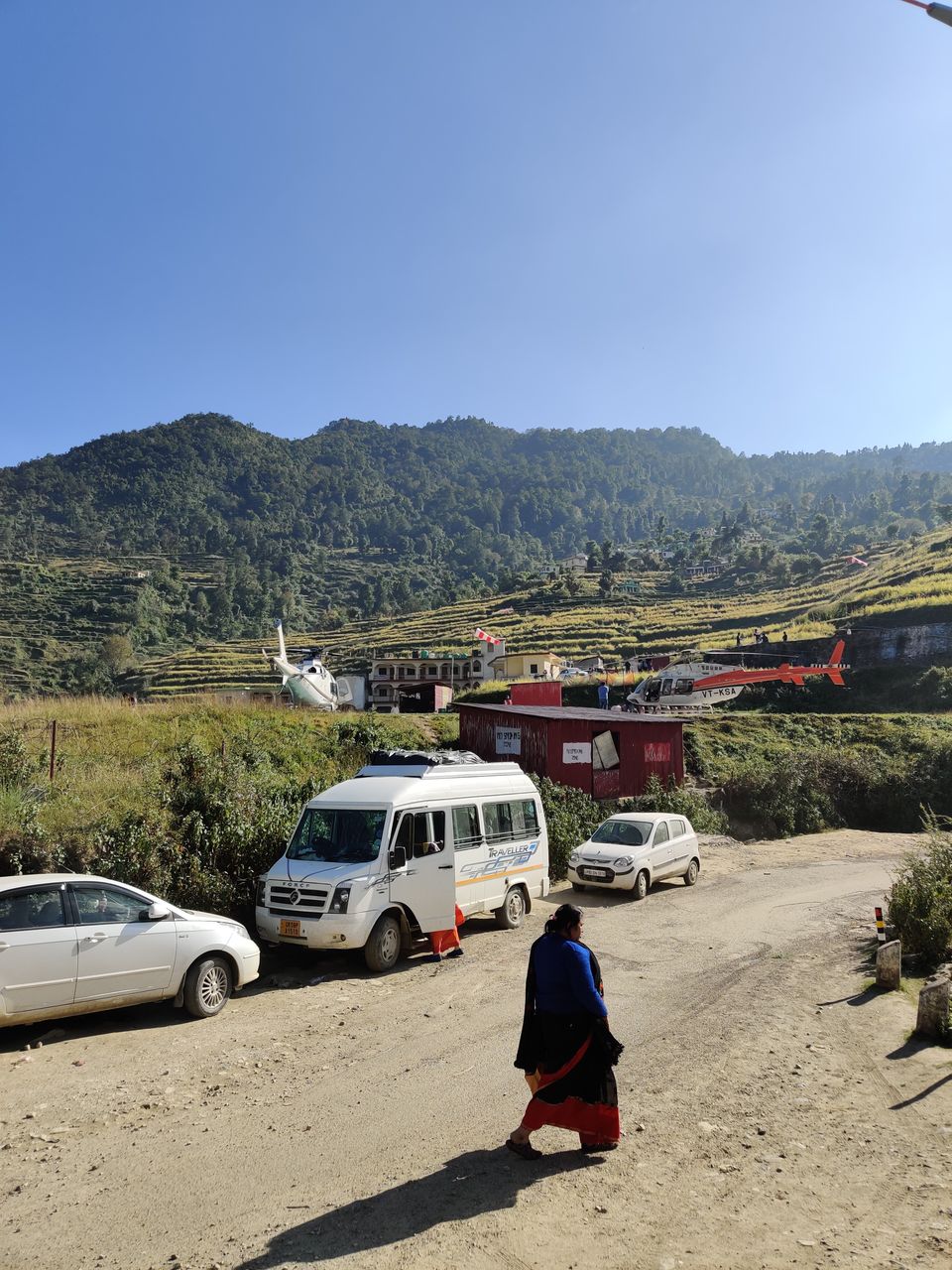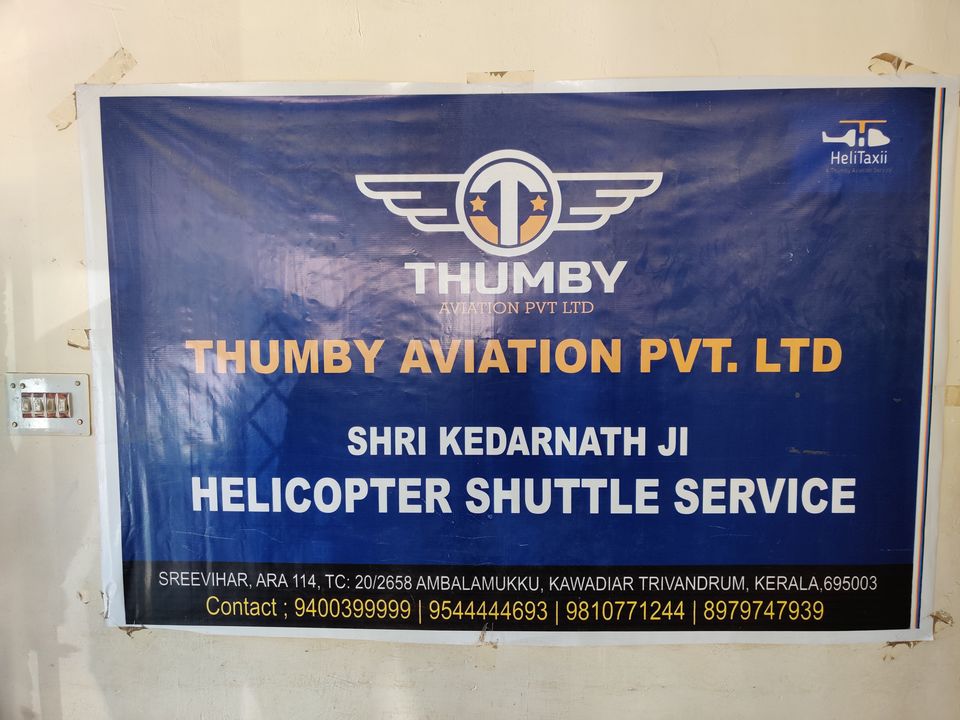 Sonprayag car parking area
Then we reached to Sonprayag and another surprising scene I saw was empty Sitapur parking area and we were easily able to park our car at Sonprayag car parking. It was kind of empty. Guards were playing cricket.
On an average 5000 people daily visit Kedarnath during the month of May and June. So you can understand why I am saying everytime, its all empty :D ...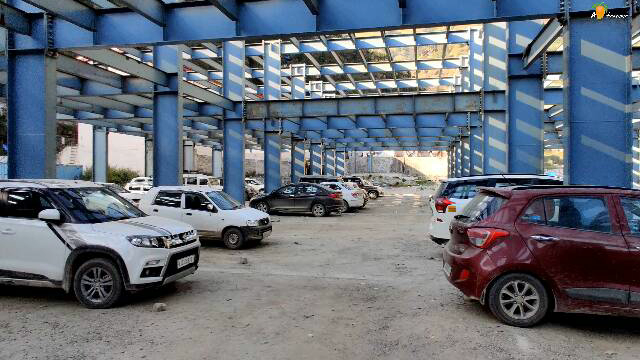 Registration at Sonprayag
At Sonprayag it is mandatory to register yourself there at registration counter and it is all free of cost. They give a ticket which is checked at many check post during shri Kedarnath dham yatra.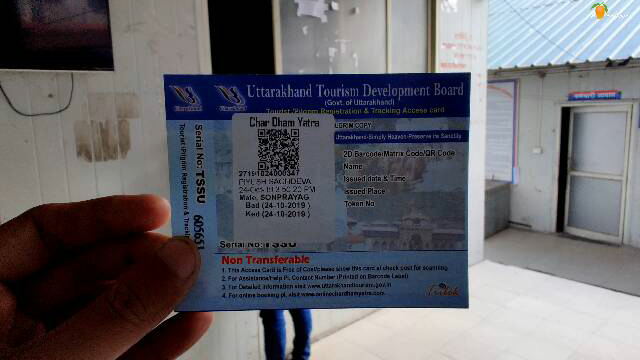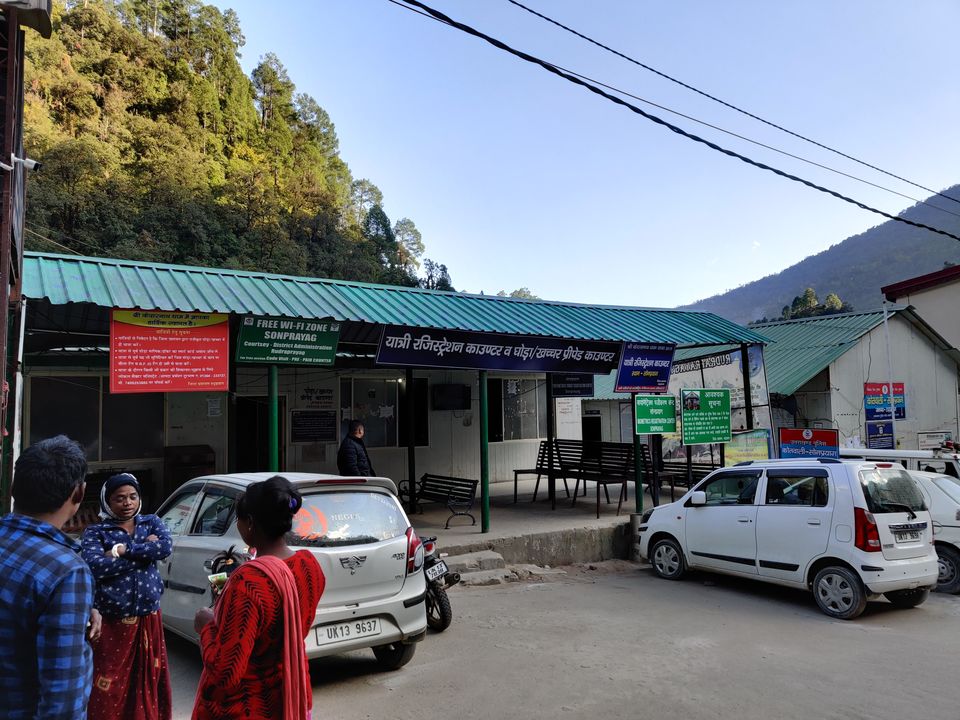 Taxi from Sonprayag to Gaurikund
It is also mandatory to take taxi from Sonprayag for Gaurikund which is like 4 km. No private car is allowed. We got taxi very easily since it was not crowded. Mind it in season time one have to wait for min. 1-2 hrs to get the same and it charges Rs. 20 per person and maximum 12 people can come it. The next best option is walk till Gaurikund.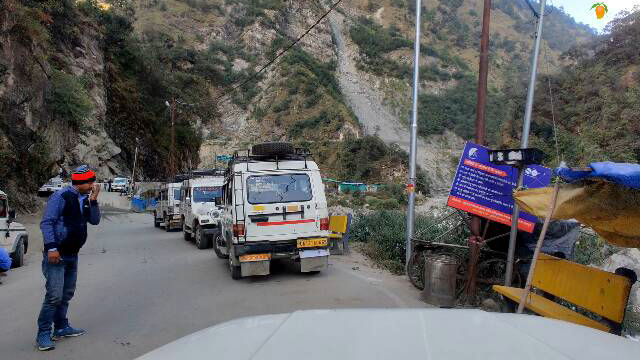 Gaurikund
We reached Gaurikund by 4.30 pm and quickly booked a lodge for us and without wasting our time we went to see this little place. Market was opened and most of the shops sell warm cloths and fresh vegetables and there are lot of Dhabas to eat food. I was surprised to see a Post office there.
Now let me tell you a brief history of this place.
Gaurikund is connected with Lord Shiva's wife Parvati who is also known as Gauri. It is believed that Gaurikund is the spot where Gauri lived while carrying out ascetic and yoga practices to win lord Shiva's affection. And Shiva also admitted his love for her.
Today this Gaurikund which is basically a hot water spring is used for bathing purpose and considered to have religious significance. It was not like this open earlier. It was covered by boundaries which was destroyed in 2013 flood. And mind it water is very hot here.
River you see here is called Mandakini river which comes from Chorabari glacier near Kedarnath ad she going to be with us all the time now. We sat at the bank of river with brahamans and meditated along with them which was very refreshing and later attended Aarti at Gauri mai temple which was again a wonderful experience.
After attending aarti, we thought to have some rest as tomorrow we need to do the 16 km long and arduous trek to reach shri Kedarnath dham.
Sky was clear that night and I thought to make a star trail photo to pass the time and later with happy and light heart I had a wonderful sleep.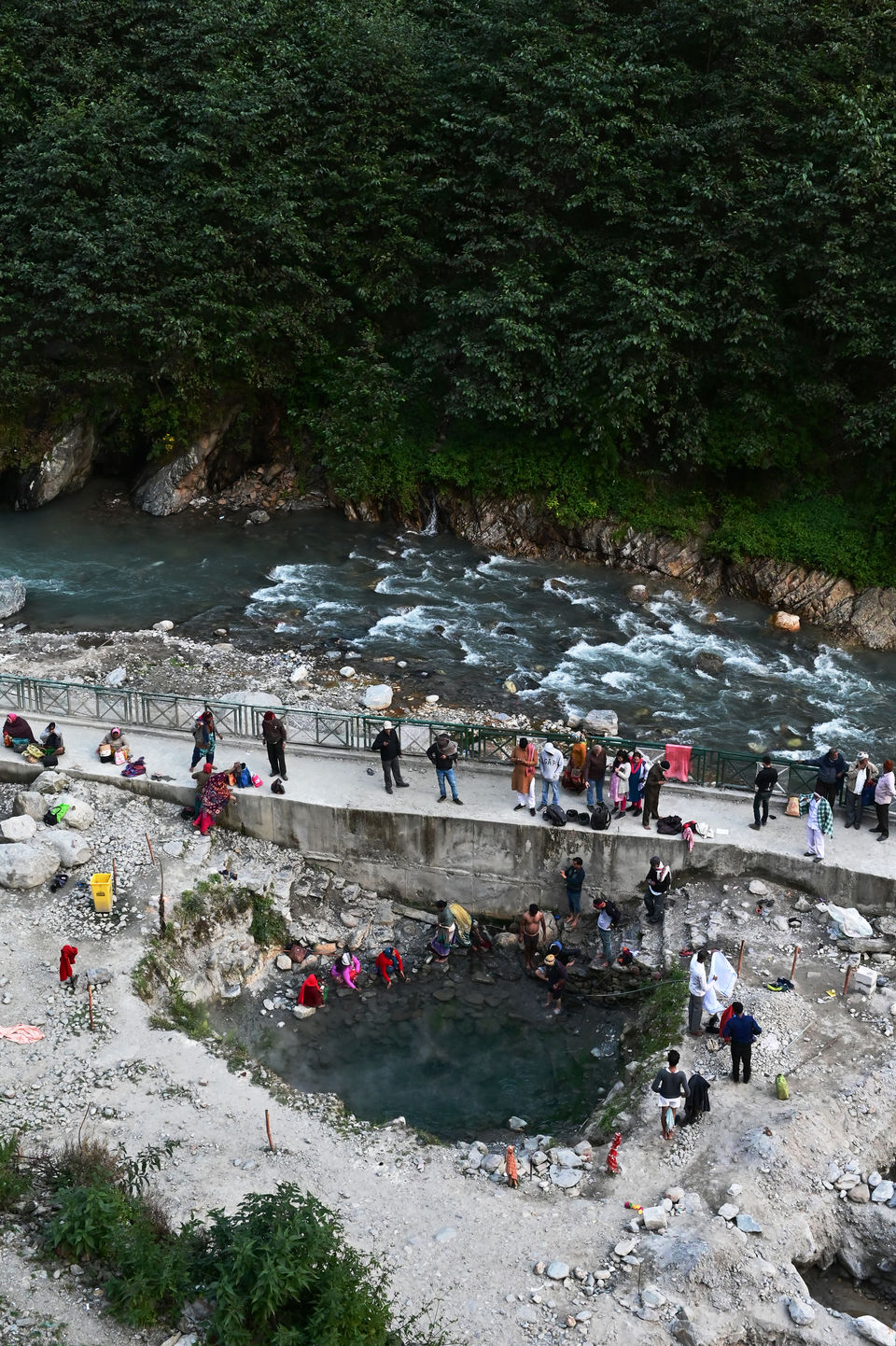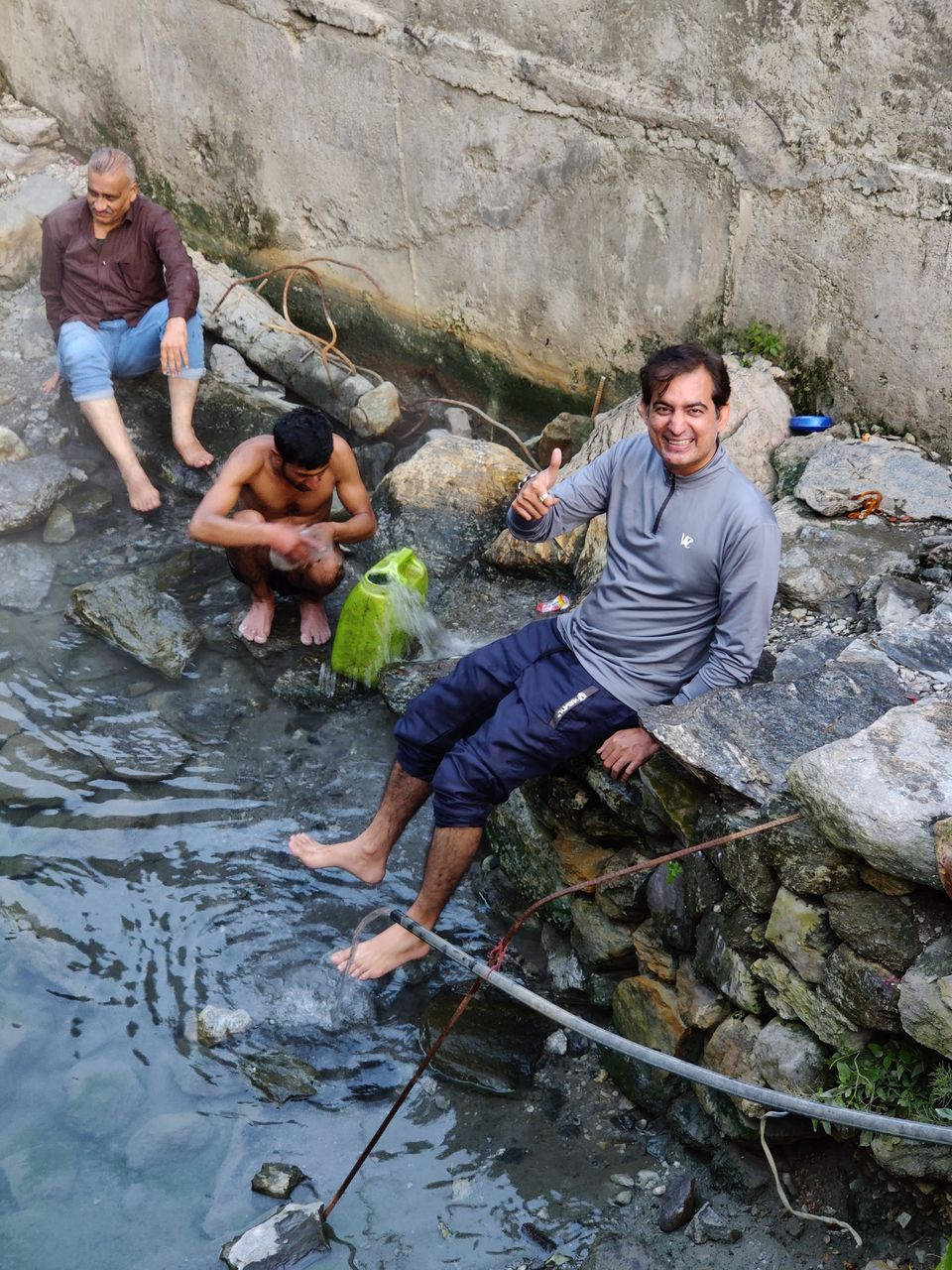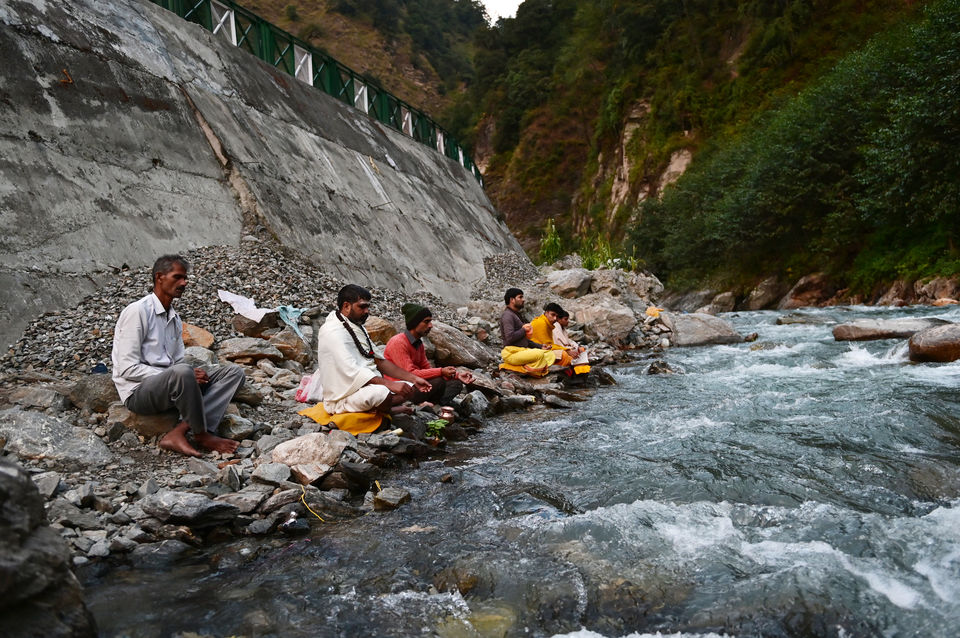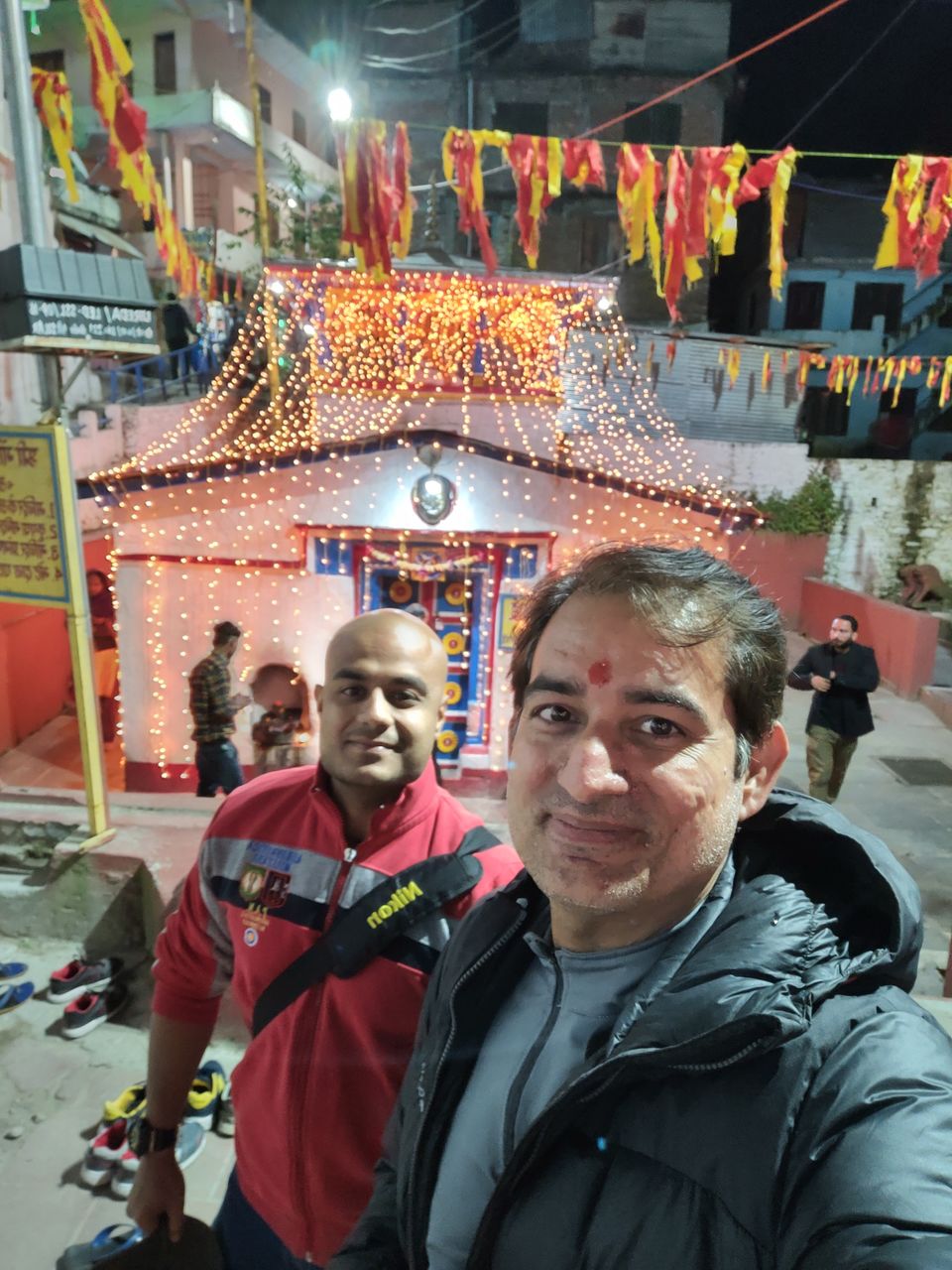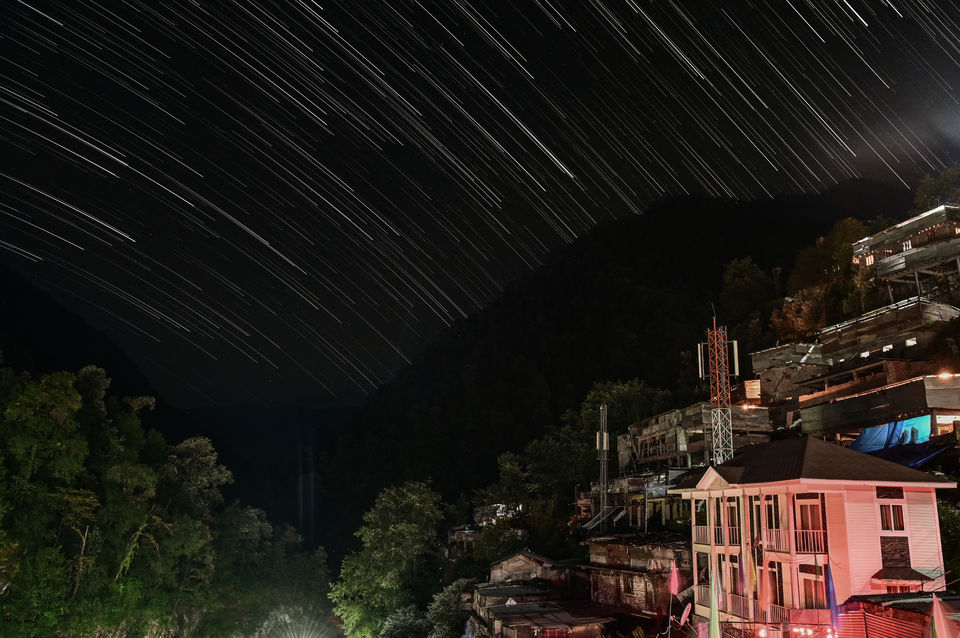 Message -
* Please don't litter. The more we keep clean our countries the more we enjoy it.
* Avoid using Plastic bags and bottles. Make awareness to your friend circle as well.
How to reach Kedarnath -
1.) Jolly Grant airport of Dehradun at a distance of nearly 250 kilometres from Kedarnath is the nearest airport to Kedarnath.
2.) Take bus. Both private and government buses are available.
3.) Taxi or your own car
Best time to come to Kedarnath
Trek opens in mid May till Diwali (October or November). May and June are the season time where 5000 people comes everyday. However, I suggest you to come near Diwali time. Though it going to be very cold at this time.