One will never get bored in Singapore as the city has lots to offer to all kinds of travelers. There is something to see at every road that you pass by. I was taken aback by a taxi driver's comment about their founder Mr Lee Kuan Yew. According to the taxi driver, if Lee Kuan Yew happened to be the founder of India, the rate of women oppression would have gone down.
I loved a quote by Lee Kuan Yew as cited by the driver, " If you have to eat, you have to queue." I guess that should be the mantra or fundamental thought of every citizen of a civilized country or nation that you should queue even when you are hungry. A strong sense of discipline runs through this island state. Day Second, I headed towards Singapore's Garden By the Bay.
Garden by the Bay houses all kinds of flowers that one can hardly observe in his whole lifetime. Name any flower and you have it here and it is more than the state of utter of shock as they have built up a flower garden that too of a height of 20 storied building. I went crazy and totally enchanted seeing the tulip section of the garden. It was charming and at the same time gives you the feeling of Wonderland or may be of a set of Yash Raj Films.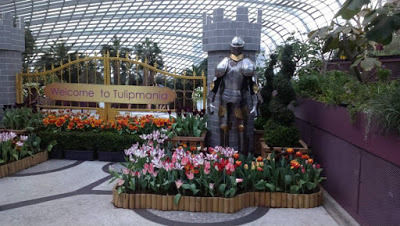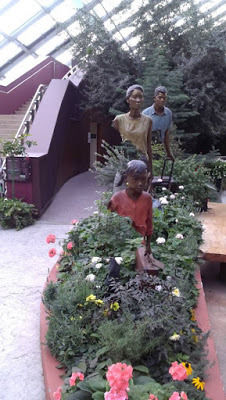 Display Of ART at Garden By the Bay
If you are staying within the city and planning to visit the Garden By the Bay, do take a cabby. Singapore is having one of the best cabby services in the world, totally fuss-free and moderately priced. It will charge you around $11 and drop you inside the garden. One can avail the local MRT - Metro Rail but then you might have to walk few lanes. I have visited during april and may so for me, it was summer. I would suggest you to get more of cotton clothes and light wears. If you plan to bring some souvenirs for your friends and family back home, garden by the bay has lots to offer from beautiful key rings to lovely traditional local skirts. You will also find an array of chocolates and handcrafted crockeries.
When it comes to my attire, I have kept it simple and chic. I have worn a floral dress with my sling bag and the white studded sandal is from Singapore. Hip Hip Street Shopping!!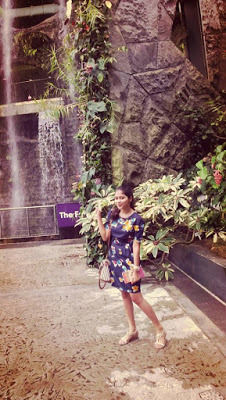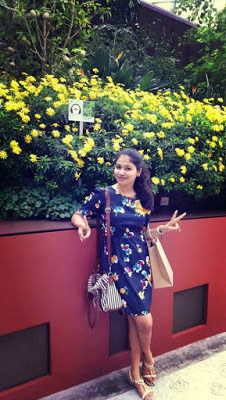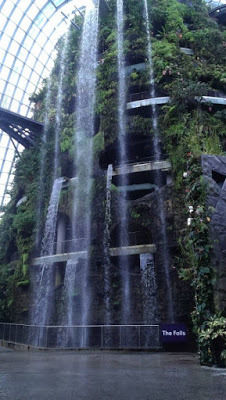 In the next post, I will give you the glimpse of the Great Singapore Zoo, East Coast Park and Sentosa Island. Keep reading and Keep Loving.
You can join me at twitter too, just click on twitter button above this page and get directed to my twitter page.
This post was originally published on And She Dresses Up.