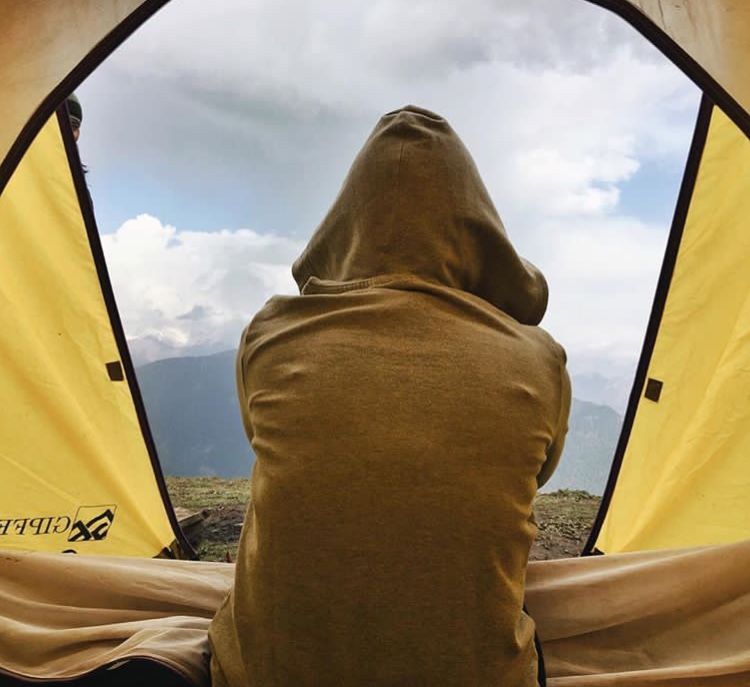 Today is another beautiful sunny day in Holland. The weather has been kind for the last few weeks. Very kind. So, I'm sitting in my lawn on a white chair that contrasts the greens and ochers of fall, soaking in the warm sunlight while the wind blows ever so frequently. The big mug of coffee on the table awaits my attention and I… I continue writing…
Doesn't this sound like a perfect Saturday morning?
While I am clearly in the happiest of moods and enjoying my own company, a lot of you might not be. You're probably having a really bad day, week or even month. While that's extremely unfortunate, it is a part of life. Whatever it may be that you are unhappy about, remember that it's part of a balance between emotions, not the end of the world.
Recently, a reader asked me, "What should I do when I'm feeling low, demotivated and somewhat lost?"; and I quickly had a list of things someone could do in such a situation. I wanted to help. It's a really fulfilling feeling when someone finds comfort in you, and reaches out for help, and you are capable of doing so!
I thought it would be a good idea to jot down a few things for you, for me, for everyone. Now, I know that what I like doing may not be the same thing you like doing. Most things are subjective, but these are a few general practices that might help.
Here are some of the things you could consider…
1. Focus on the Positives:
You're probably thinking "What kind of an advice is this?" But it is one of the most essential practices to hold on to. When something is wrong in one or several parts of your life, there will always, always be one thing that is going right for you. Remember balance? Think about that, focus on it, and build on it. And remember that this is not an escape from what's going wrong; you're only training your mind to stay stable and healthy. That way, you will find a way out of this bad phase of yours.
2. Read:
It's funny that I recommend you to do this even though I'm not much of a reader myself. But I guess I've learnt it the hard way. Whether you read a book, a newspaper, an article on your kindle or laptop, the medium doesn't matter. The important thing is to read something you enjoy and would like to immerse yourself into.
3. Write:
I am personally extremely fond of writing. I find peace in it. People say it is a different experience writing with ink on paper rather than on your laptop. Which is true, I guess. But I find it easier to just open a word file and start typing. It may be different for different people. What's important is to put down your thoughts somewhere. Just write something. You could practice writing without picking up your pen; just write random thoughts, it could even be "why am I doing this?", it really doesn't matter. It's simply a way of mastering the art of conditioning or controlling your mind. You could also write down things you're grateful for every day. Just about four lines, it doesn't take too long. This way you have an incentive to really think about the little things that matter.
4. Work Out:
With all the terrible amounts of stress we experience on a daily basis, exercising, taking a long walk or doing yoga is extremely beneficial. You could also just commit to a sport and play it religiously. Your body and mind will feel so much lighter and relaxed, you will see. Sweat it out, and let the endorphins do their magic!
5. Clean or Tidy up:
Now, I know that some of you may disagree, but cleaning up a space really helps to ward off stress. A person like me, who is a cleanliness freak and has extreme amounts of OCD, will definitely enjoy it. But even people who're not so keen on tidying up, feel better once they do. It's not too complicated; just tidy up and you'll see how satisfying it is after it's done. It's simply a distraction for your mind.
6. Music:
Another very important thing is to connect to a genre of music when you're feeling low. Music is an art form that has the ability to bring together a wide audience with a soothing energy, and a rhythmic pattern that matches your state of mind. Or play an instrument, that's even better! While music is a global source of peace and harmony, genre is secondary. Play music, dance to it, sing along and more importantly, connect to it!
7. Be healthy:
Perhaps your mother tells you this every time you talk to her and guess what, mothers are always right! Indeed eating healthy and drinking lots of water is the way to a healthy and positive mind. You have to take care of your health and well-being; it is the first and foremost priority. A healthy body is equivalent to a healthy mind! It's true. Try it yourself to see the difference.
8. Take a Break:
I cannot emphasize the significance of this. The reason you are probably feeling low is because you haven't given yourself some time away from your daily rituals. You don't necessarily have to go on a vacation (I mean, you could). All you have to do is break the monotony. Stay at home doing the things you love or catch up with friends and family. Take time out to do what you love. De-stress!
9. Pamper yourself:
Quite obviously, this is a universal practice. Yes, pampering yourself often helps to calm you down or feel better. Doesn't matter what it is, whether you indulge in retail therapy, a spa & massage or puppy therapy, anything is going to work for you, if it's pampering you. Give yourself some time. Do things for yourself. It's okay to be selfish, sometimes.
10. Movies & T.V Shows:
Personally, I absolutely love to watch films and television series. It's my favorite activity. It's sometimes nice to watch a good show, eat your popcorn and forget about the rest of the crazy world around you. Indulge in a story, take back something from it and maybe even apply it to your life!
11. Social Media:
REDUCE YOUR SOCIAL MEDIA TIME. Can you hear me screaming through your computer/smartphone screen? Yes, it's that important. However interesting social media is, it's that much more dangerous and harmful. There's a constant need to keep updating and knowing things. WHY? While I know that it can be used in a meaningful and efficient manner, it can be a very demotivating, competitive and discouraging space. And that is exactly what you do not need when you're feeling blue. Don't be consumed by it. Stay disconnected, sometimes.
12. Talk to Someone:
There continues to be a stigma around therapy and assistance for mental health but here's what you need to know, don't give a flying **** (Pardon my French) about what people say or what people think. There will always be someone who's pulling you down and making you feel terrible about yourself, but simply being aware of it has won you a small battle. Ignoring it and focusing on your needs wins you a bigger one. So, if you need to talk to someone, do it. I've learnt this the hard way. Bottling things up never makes things easy. Talk to anybody you trust and find comfort in, where it's your family, friends, neighbours, a therapist or even me! Know that there are always generous people wanting to help. And seeking help is always a good idea. Always.