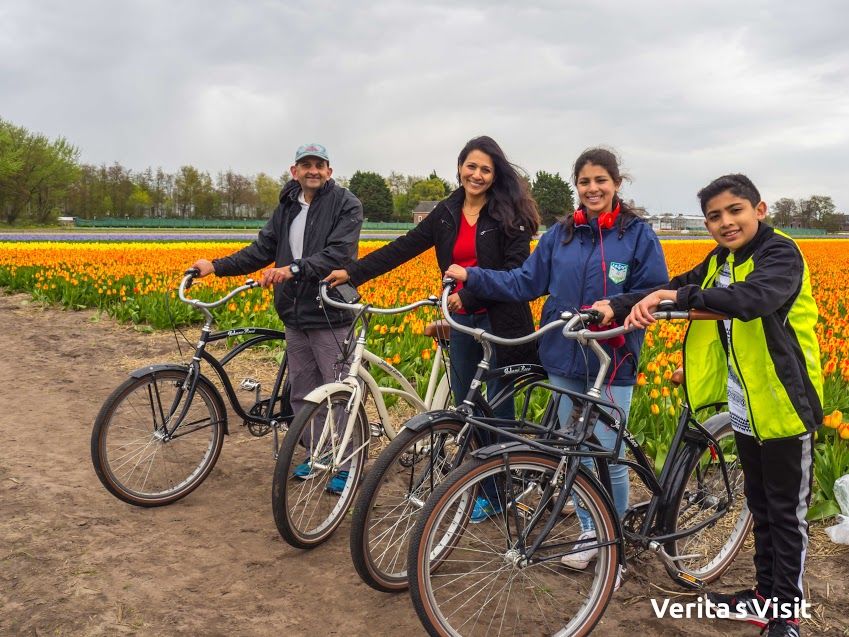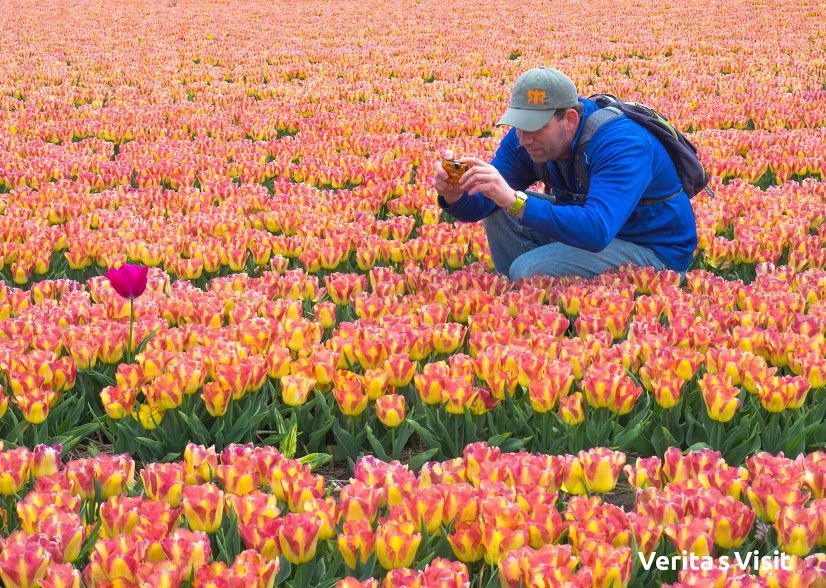 Tulip field bike tour from Keukenhof
The Keukenhof tulip park near Amsterdam, the Netherlands attracts around 1.5 million visitors per year, of which 80% !! are from outside the Netherlands. There are days that the spring garden welcomes 45.000 visitors. Of course, it depends on the period and time of the day. The tulip field bike tour gives you the chance to spend a relaxed morning with your family in the midst of the blooming tulip fields. It is great to combine with a visit to Keukenhof at the best time of the day.
Visit a bulb farm
The world famous spring flower park Keukenhof started as a flower exhibition for the bulb trade. It was an unique opportunity for flower bulb growers to display their newest varieties of tulips, daffodils, hyacinths and meet exporters from all over the world. Nowadays the spring flowers you see in the tulip garden still come from the surrounding bulb farms. In the bike tour we will visit a bulb farm, so you can meet a tulip grower and experience how bulb flowers are grown.
Details tulip fields bike tour
This is how the tulip field bike tour looks like:
We meet at Keukenhof spring flower garden at 9:45.
You choose a bike that meets your wishes. We have regular bikes, tandems – ideal for those who are not comfortable on a bike, or for the romantic lovers- electric bikes, kid bikes & child seats
In an easy pace we cycle past the flower fields to the tulip farm where a bulb grower shows you around and explains you everything you wanted to know about growing tulips and other spring flowers. Here you also have time to try a delicious fresh syrup waffle ( stroopwafel) and have coffee or tea.
After this 1-hour tour we go to a surprise destination for your perfect power flower selfies in the tulip fields.
From the surprise destination we end the 3 hour tulip field bike tour at Keukenhof flower park.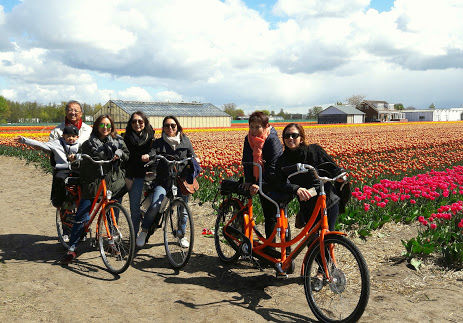 Cost of the tulip field bike tour:
Per group of 4 - 8 people: €65.00 per person.
This includes:
- a 3 hour guided bike tour through the tulip & spring flower fields
- regular bike rental
- visit tulip farm
- visit surprise destination
- personal, local guide
It does not include:
- Entrance ticket Keukenhof
- Drinks or meals
- Transportation to and from Keukenhof
All these can be arranged.