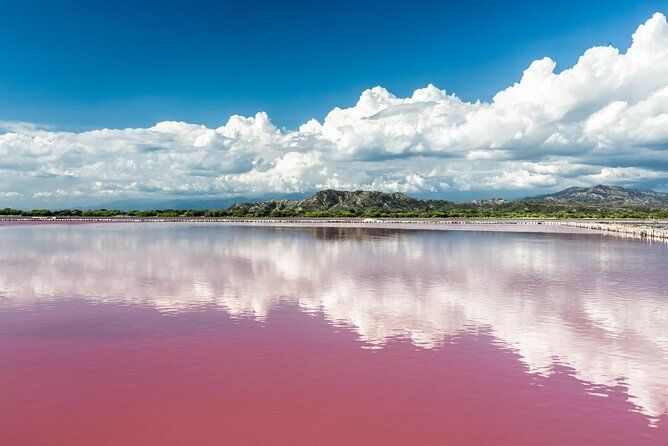 Can you believe a lake of pink color in front of your eyes? At first, this seems like some imagination. Yet, these kinds of lakes actually exist.
Lakes that seem unrealistic, surreal, and otherworldly. You may have imagined lakes of such kind and let's be honest, at some age of our life we all do those weird imaginations. But, believe me, I am not talking about imaginations but the reality. Let's get started with those unbelievable lakes that can take you to another level of experience...
Lake Retba, Rufisque, Senegal
Called as Lac Rose by the locals, this lake is known for its vivid pink color. This lake is just an hour away from the capital city of Senegal. Moreover, A perfect destination for stunning photoshoots.
However, its color changes from purple to many shades of pink. But, if you wish to see that vivid pink color, you should visit there between November and June.

Grand Prismatic Hot Spring
What about a hot spring with crazy bright colors and enormous size?
I am talking about none other but the Grand Prismatic Hot Spring of Wyoming. This spring was discovered as a 'Colorful Spring' and a 'boiling lake'. People got shocked after they saw it for the very first time. After all, the reaction is obvious. A lake that is boiling or a spring that is so colorful one can shock everyone making them don't believe their own eyes.
Fact: It is the largest hot spring in the United States. Further, the third-largest hot spring in the world.

But, more than just its size, what makes this spring unique is its rainbow color. With its otherworldly features, this spring forms bright bands of orange, yellow, and green rings making it look like the rainbow or prism. That is the reason why this spring got this name 'Grand Prismatic Spring. '
The incredible colors of 'Grand Prismatic Spring'.
Unbelievable isn't it?
Do you wanna see the oldest lake in the whole world? Hmm, let's see…
Lake Baikal
Situated in Russia now over 25 million years, this lake is not only the oldest but also the largest, clearest and deepest lake in the world, with a depth of 1,642 meters.
It is one of the UNESCO world heritage sites for obvious reasons.

Taal Lake
Think of a lake with an island inside of a lake on an island. Yes, It's puzzling but that's what turns this in an amazing and unbelievable lake.
It's a freshwater lake located in the Philippines. At the core of the lake is an island named Volcano island. Then, within this Island, there is one another lake, Main Crater Lake. Now, within the Main Crater Lake here is a small island which is known as Vulcan Point.

Laguna Colorada, Bolivia
The Laguna Colorada is a shallow salt lake with islands of white borax. It is known as the 'Red Lagoon'. The reason is its incredible red color.
Can you tell me why flamingos are red? Yes, they are red because of the beta-carotene. But, locals there used to believe that they are red because of this lake. As it's a home of flamingos. Hundreds of flamingos come there in this lake.

A perfect place to take photographs. But when? The water in this lake looks blood-red right before the sunset. Though early morning is a good time too.
So, this was all about the unbelievable yet graceful lakes all over the world that can actually make the person pinch himself at least once. Of course, to ensure that it isn't a dream.
So plan an amazing travel trip and visit these phenomenal places. Get all the amazing travel accessories from this alternative to Shopify.