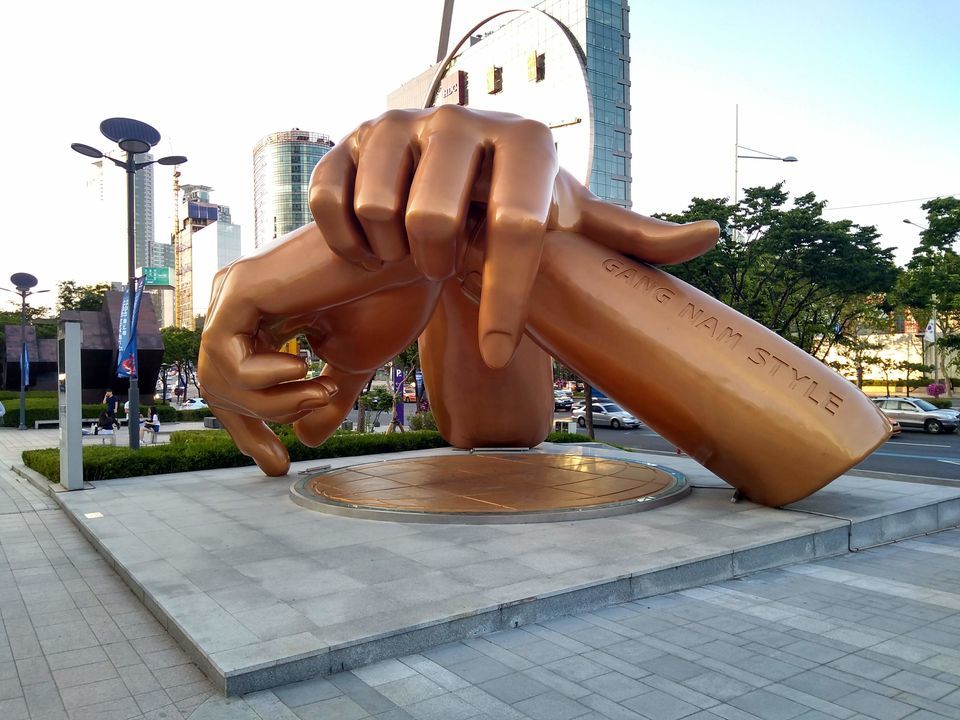 Sometime in May, just started my day at office, suddenly got a call from US. My manager said from the other side of the line " Sid there is an important project coming up in South Korea and I want you to lead that effort. Pack your bags and get your visa ready, you need to attend the kick-off workshop at Seoul"
I was certainly delighted to get a challenging assignment within few months of joining new company. And more so to get exposure to new country and culture. Though the stay is for 5 days I made it clear in my mind to explore as much as possible in that short time.
Getting VISA
Travel agency of our office guided for all procedures. They collected my passport, photos and all supporting documents ( a lot of those !) and sent to nearest South Korean Embassy , which is at Chennai. Within a week I received my passport with single entry business visa valid for 90 days. Booking of flight and hotel is a mandatory prerequisite for visa application. So by this time I was all ready to make the travel.
10th June ( Long journey starts)
Unfortunately there is no direct flight between Bangalore and Incheon ( Seoul) and one needs to have at least one stop over. While booking a flight I had in mind that layover must not be more than 4-5 hours, wandering in airport longer than this is just too boring and tiring. Plus I wanted to arrive in morning hours, so that I have rest of the day at my disposal. Out of all the option Malaysian airlines with little less than 5 hours of layover at Kuala Lumpur seemed to be most ideal.
It was a long and tiring journey and I was pretty disheartened to see drastic downfall of service quality of MA. Not many choices of food, no smiley faces, delay in service and what not. They were almost hiding alcoholic beverages and did not even offered anyone besides juices and coffee. Even if someone asked for it they only had beers and wines, you request for hard liquor and attendants would bring from some secret chamber. Its not worth asking for a refill seeing their reactions ????
11th June
Reached Seoul and completed usual immigration checks and all. Went straight to KT booth near exit gate 5 and rented portable wifi hotspot device for 6 days. Internet connection is necessary in a foreign land specially when language may be a challenge. All it took is filling up some small form, showing up passport and credit card. It costs around INR500 per day for unlimited high speed internet access and one can connect maximum up to 5 devices. I would recommend this if you don't have international data roaming enabled in your home mobile connection.
Tips and Tricks: You can pre-book online this device before your arrival and enjoy around 30% discount on rent. And procedure is also faster. Strongly recommended.
Incheon has very good bus connectivity to most of the parts of this region and recommended mode for most of the hotel transfers.
I booked ticket from the counter and boarded bus from designated area, which is just outside airport exit gate. It was a comfortable journey of one and half hour. Roads are nice and wide and for some stretch run along beautiful Han river. Being working day encountered some traffic but nothing like Bangalore ????
Bus dropped me at Samseong Yog Metro Station and Hotel Intercontinental Coex is 10 minutes' walk as per previous research. But google map was showing 40 minutes after changing two buses and metro ! Definitely something is wrong with navigation. I rebooted my phone and same thing, no walking directions! One guy helped me with direction and finally was able to walk down to my hotel.
Tips and Tricks: Local law of Republic of Korea prohibits foreign mapping services to offer navigation service there. So Google map will only show transit ( bus/metro) directions and no walking or driving directions. You can still use it by following that blue dot of current location, but its painful. Or you can use local navigation services if you know to read Korean.
Check-in process was quite easy and fast. Being a member of IGH I was greeted with a special box of cookies ???? .
After long flight , I was definitely tired, but more of excited to visit a new country and not in mood of wasting any time. Quickly had breakfast and shower ,then left for sightseeing.
Coex is a posh business area in Gangnam district. You see all high-rises, jazzy restaurants, huge malls and multinationals everywhere. It is perfect example of wealth and growth of South Korea. Yet just across the street from my hotel situated is Bongeunsa Temple. Built in 794 by King Wonseong , this is an iconic place for Korean Buddhism practice. There are number of temples in the huge complex and hundreds of devotees visit every day to offer prayers.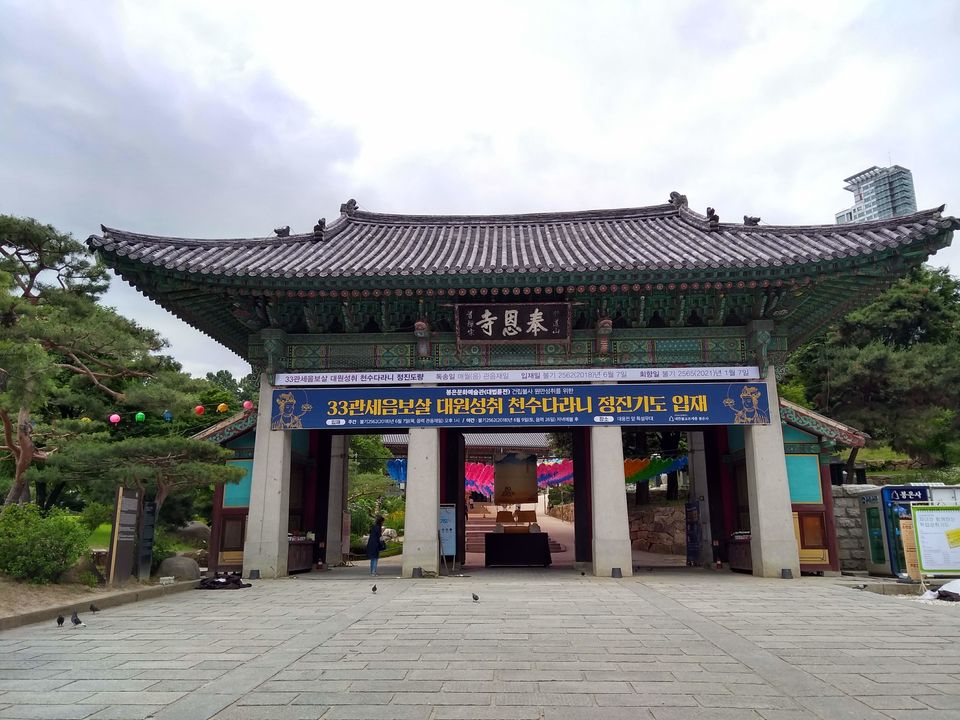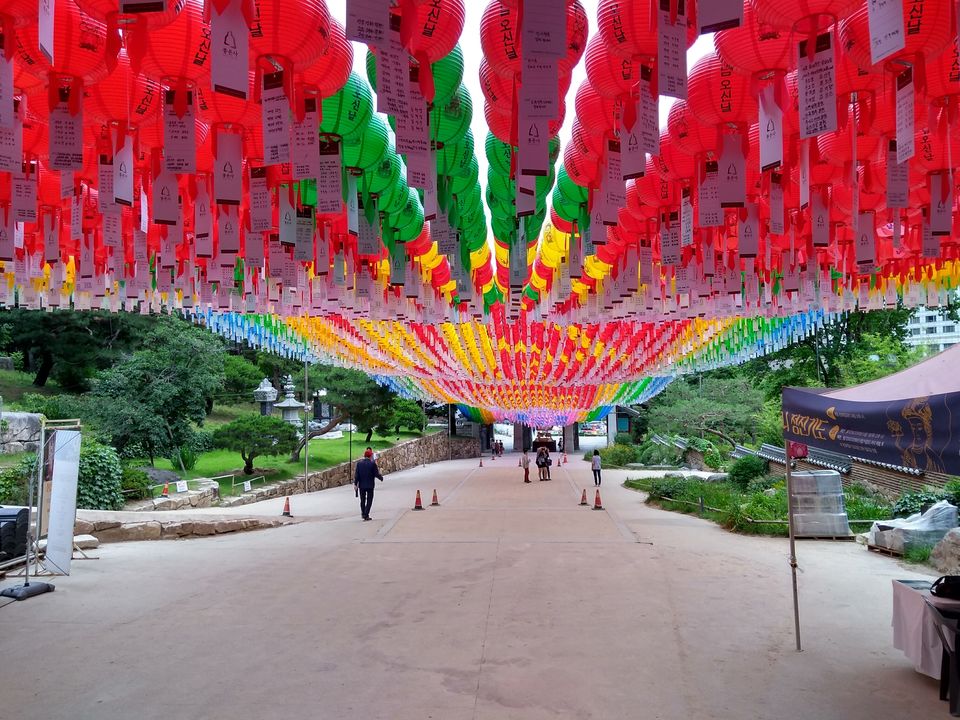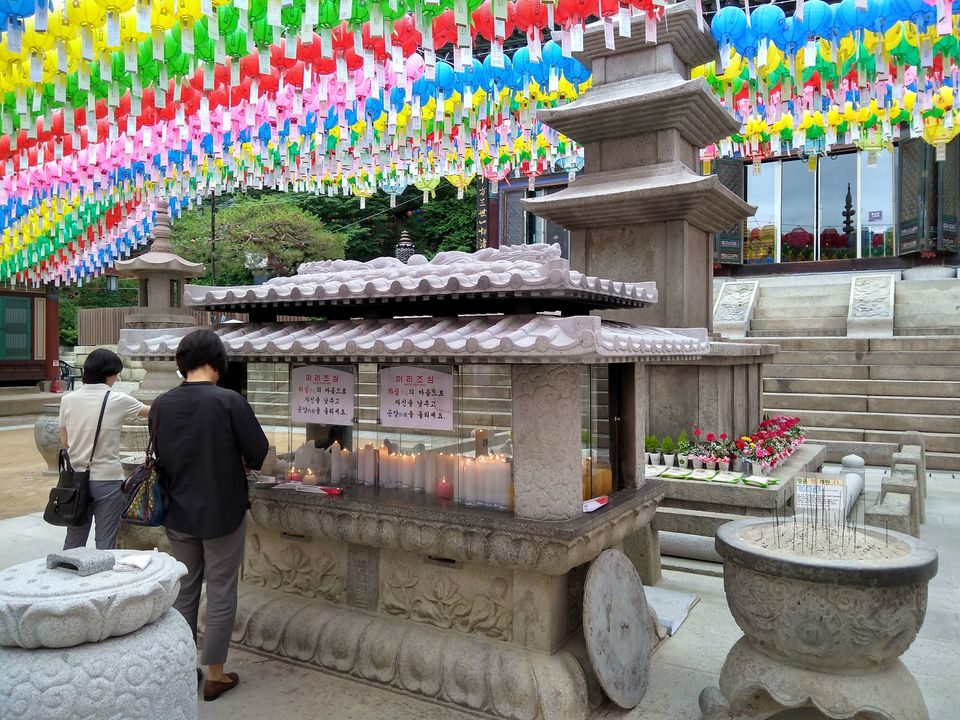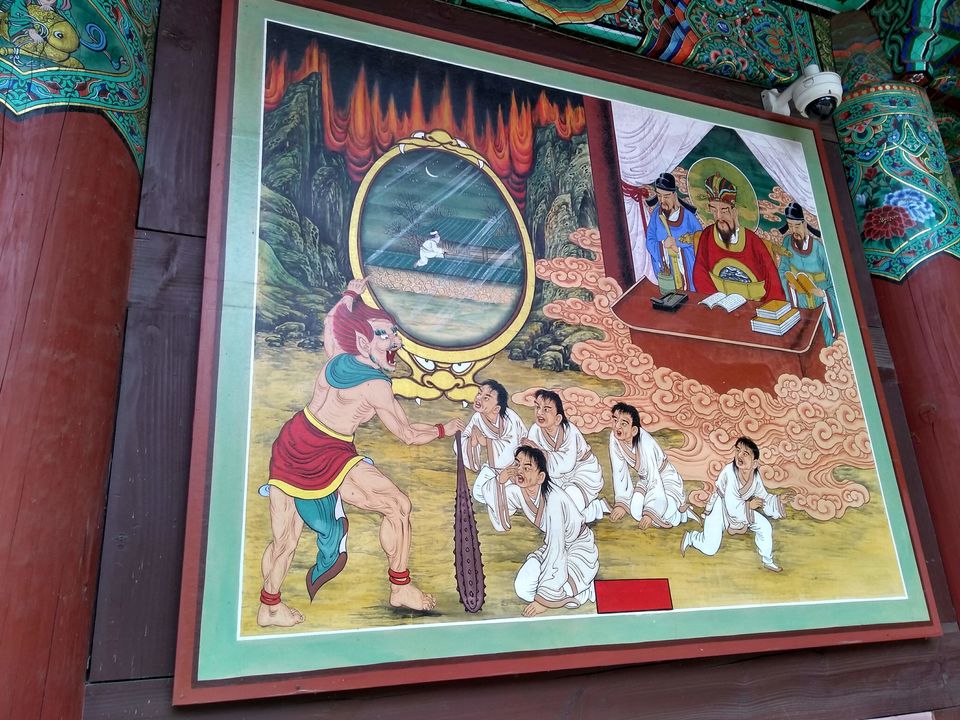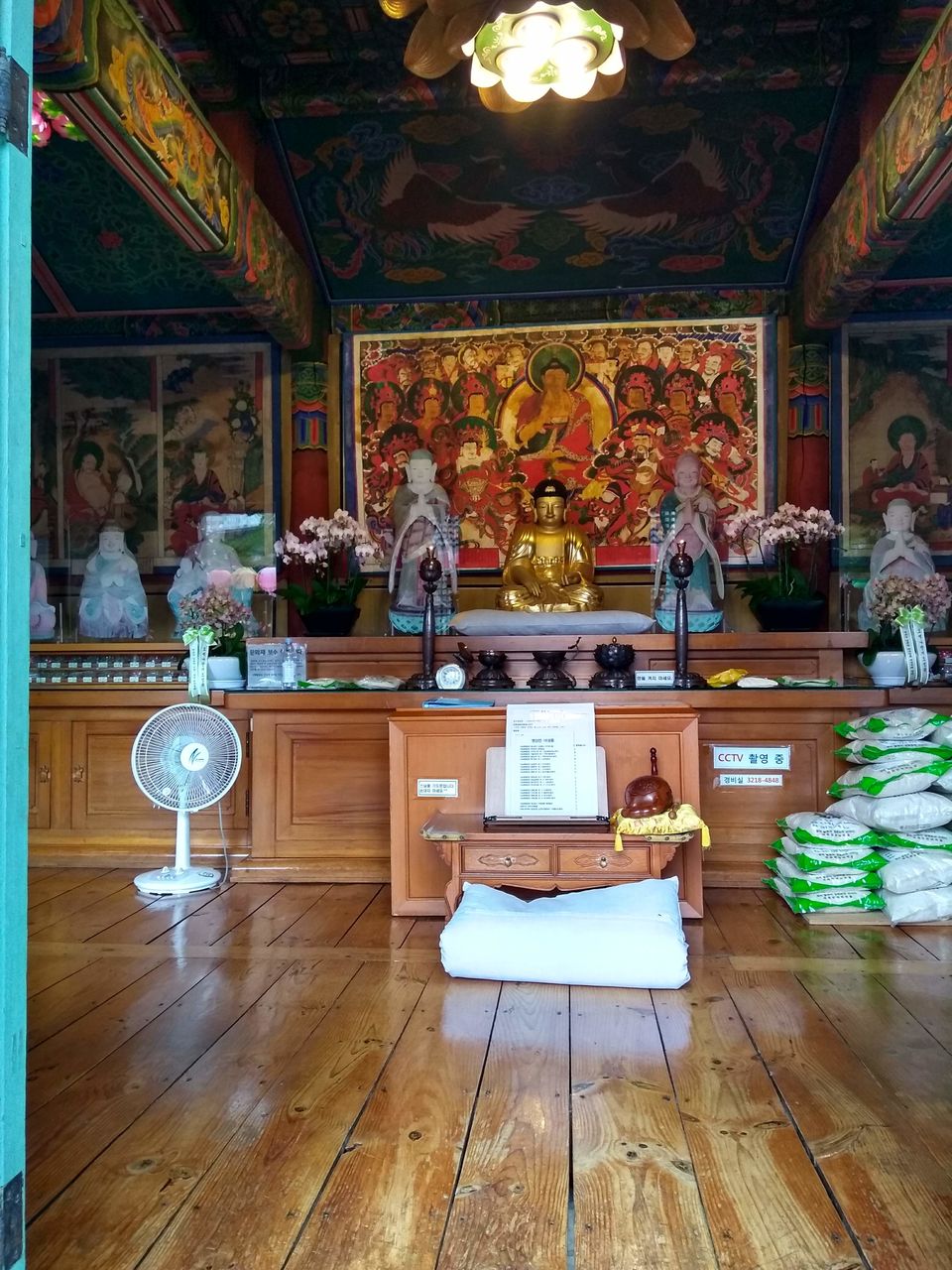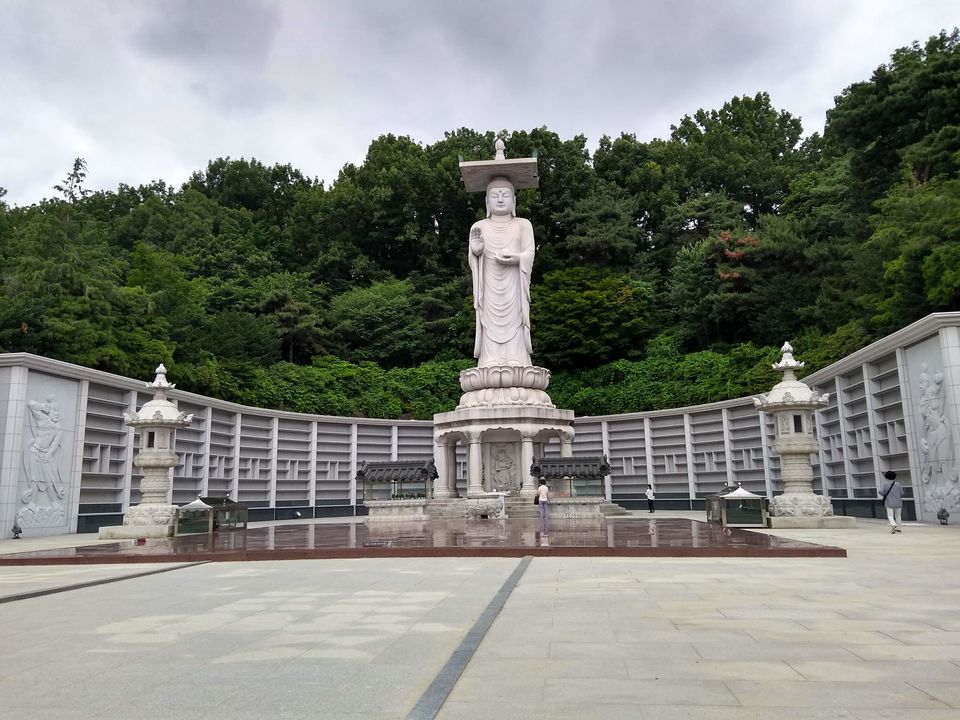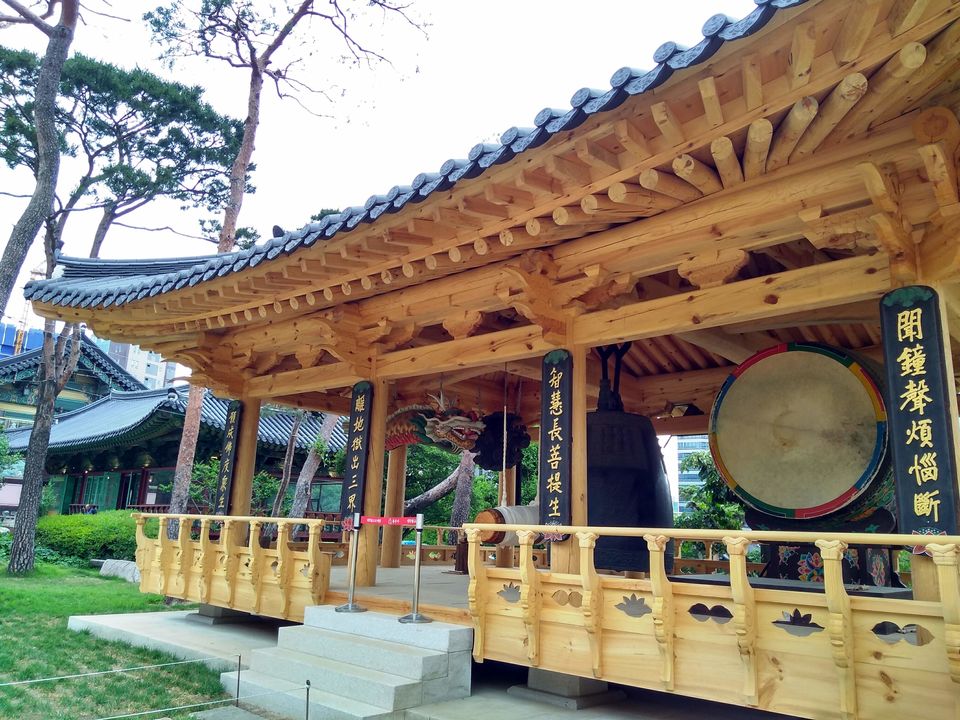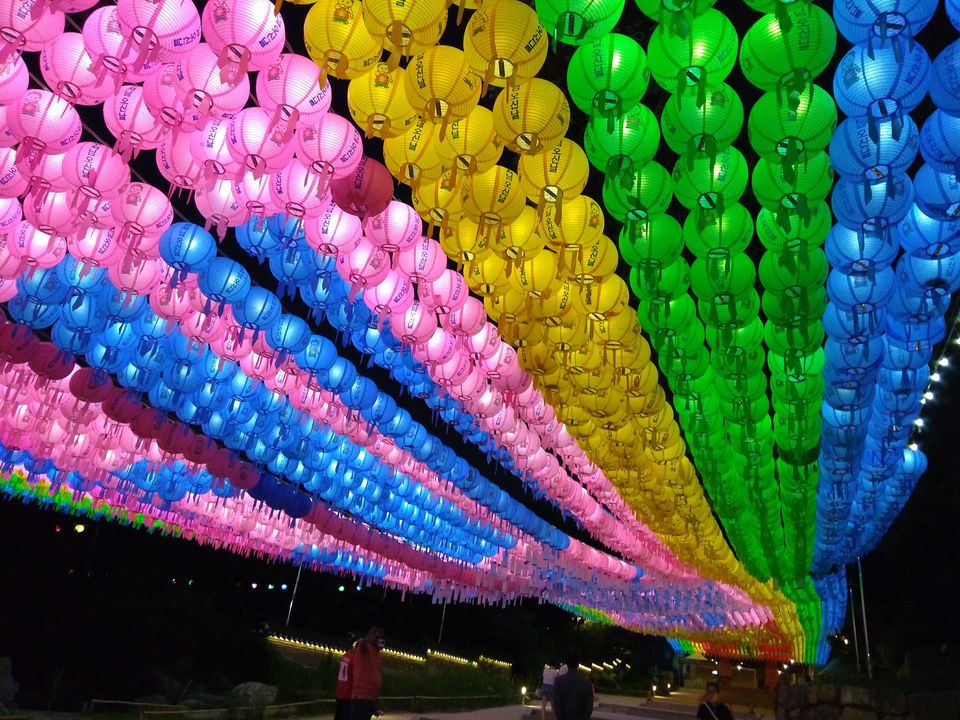 Chants of prayers, smell of incandescence, colourful wish lanterns and everything else make the place so peaceful and spiritual. I spent some blissful time in Bongeunsa before heading for Han river.
I sat by the river for some time and enjoyed the view on Seoul skyline before heading back to hotel. Ordered early dinner through room service and relaxed watching Sunset from 29th floor.
Work starts from tomorrow !
12th June.
Day time was restricted to work. We visited Suwon and spent entire workday there.
In the evening we decided to hop outside for Korean foods. Many travellers may differ, but I found food in 5-star hotels quite boring and miss local touch.
Chicken fries are very popular in Korea and you would find Chicken and beer places in every nook and corner. After walking across several restaurants we settled in one. Koreans work really hard and party even harder. In weekday evenings also we found most of the restaurants are filled with young professionals. They eat, drink, laugh and do everything to relieve stress.
Menu of the restaurant was all about chicken and only chicken. Fried chicken, fried chicken in various sauces, grilled chicken and other unfamiliar versions of chicken ???? . We ordered some along with Soju , the national drink of Korea.
This is usually made from starchy substances like rice, potato, barley etc and consumed neat in shot glass. My colleagues warned me of getting sudden kick , but I had no problem in finishing one bottle. It was not very potent for me.
13th June
This was national election day in Republic of Korea and we observed some interesting campaigns in previous days. But everything managed in a professional way. We saw some campaigns to encourage to come and vote and it was a very successful one. 77.2% of people voted which is highest in last 20 years.
Though it was a holiday in Korea but we had to visit couple of sites for upcoming project. Entire day I spent for work only, nothing special to mention here.
14th June
If you ask anyone in Seoul which is the den for party animals you will get only one answer " Itaewon". After spending whole day in hectic workshop we decided to go there for chillax.
From Coex to Itaewon its quiet a journey , specially cutting across the weekday Seoul traffic. Hence we took metro and after making 3 transfers we reached our destination.
Tips and tricks: Metro is cheap and faster way of travelling in Korea. You can either buy one way ticket from the vending machines or prepaid T-card from any convenient store. Money can be topped in from the machines kept in stations or from store and it can also be used to buy stuffs in general stores. Cost of the card is 2000 Won and recommended if you are going to travel significantly or staying there for longer period.
Itaewon is quiet a dazzling place. With lots of interesting restaurants, pubs and shops; it is very cosmopolitan and hence very popular to expatriates. We walked down through the area and found many intriguing places. I wanted to try restaurant that serves "hemp beer" but it was full. ☹ Finally we went to Maple Tree, one of the famous BBQ places in this area.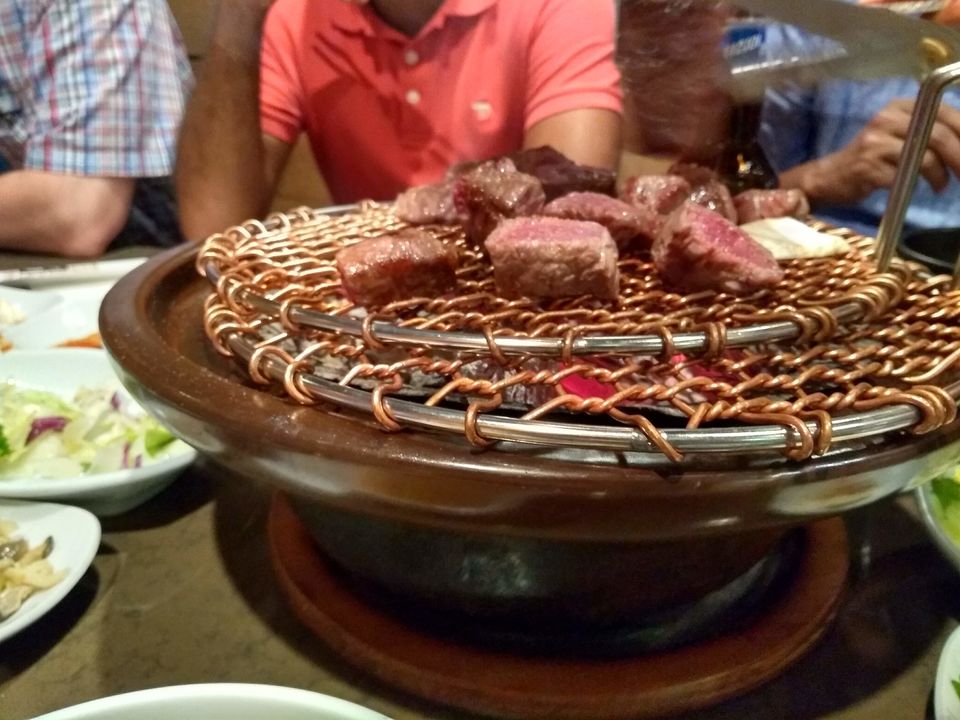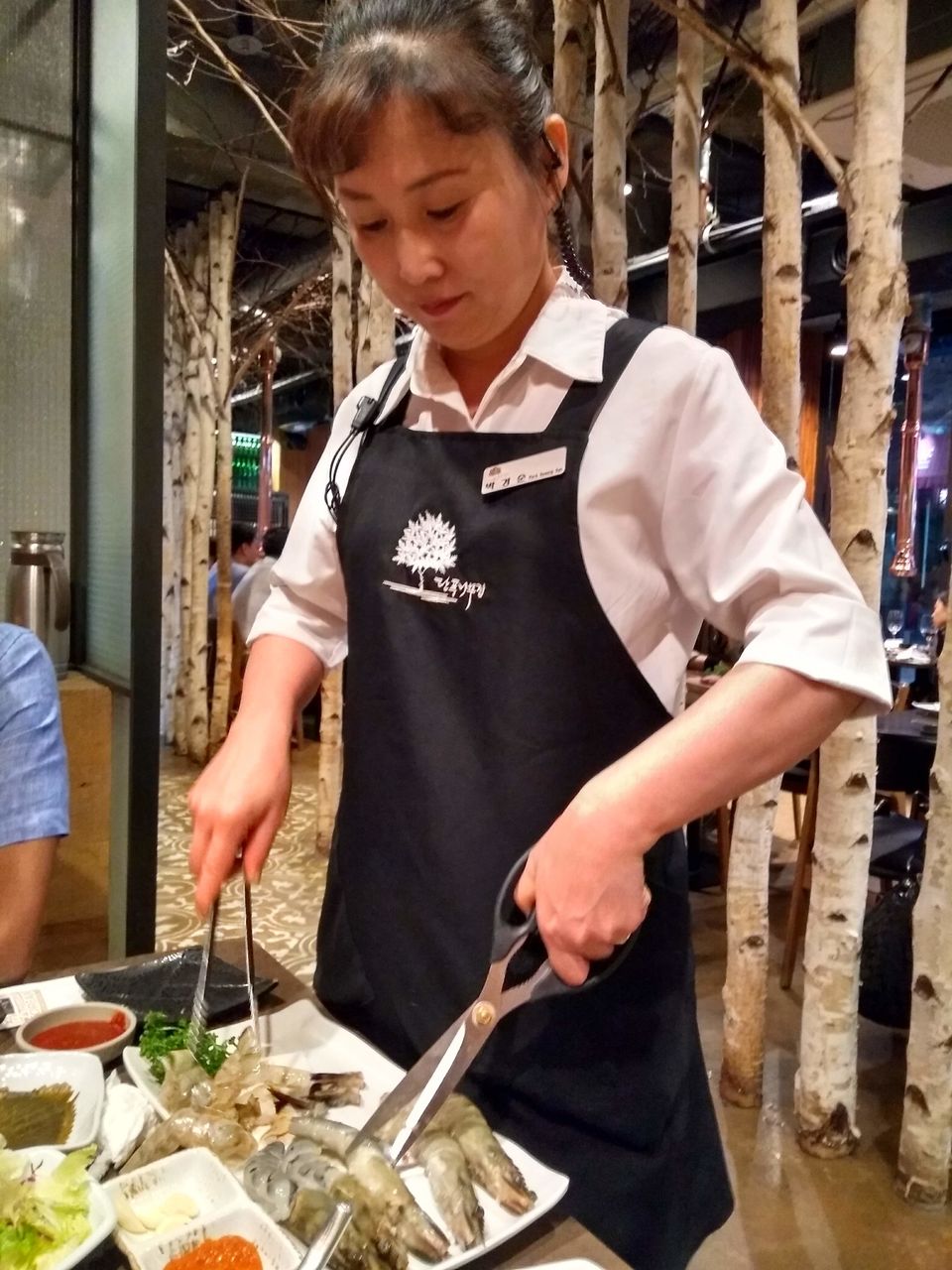 For those who don't know, Korean BBQ are very famous not only here but worldwide. The food was awesome here and everything was being grilled live and served with Korean sides and sauces. I just loved the food and whole experience.
For those who don't know, Korean BBQ are very famous not only here but worldwide. The food was awesome here and everything was being grilled live and served with Korean sides and sauces. I just loved the food and whole experience.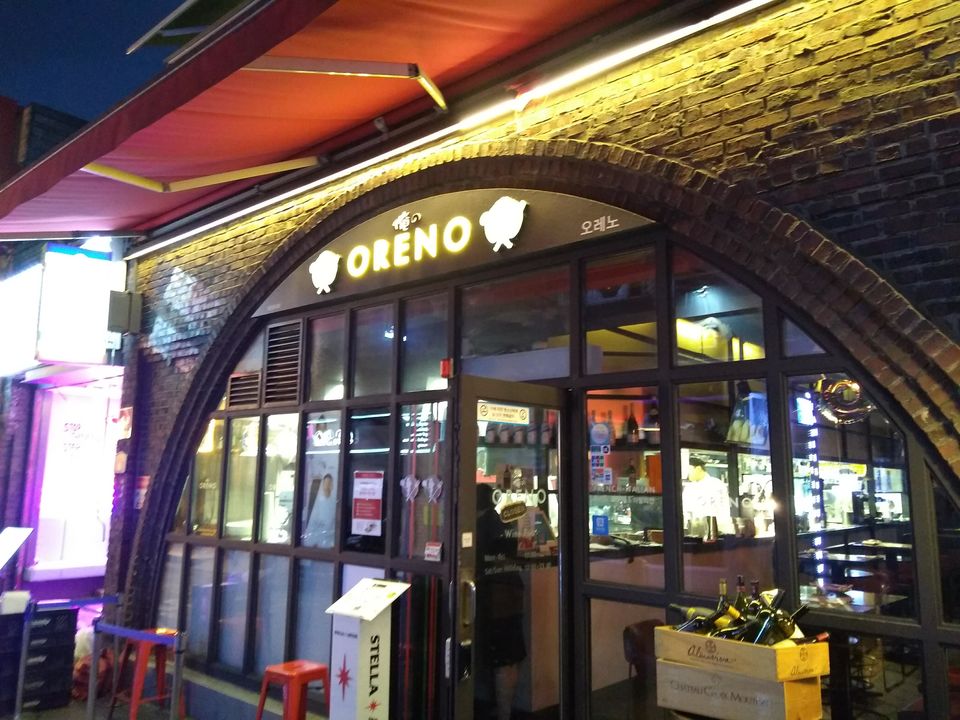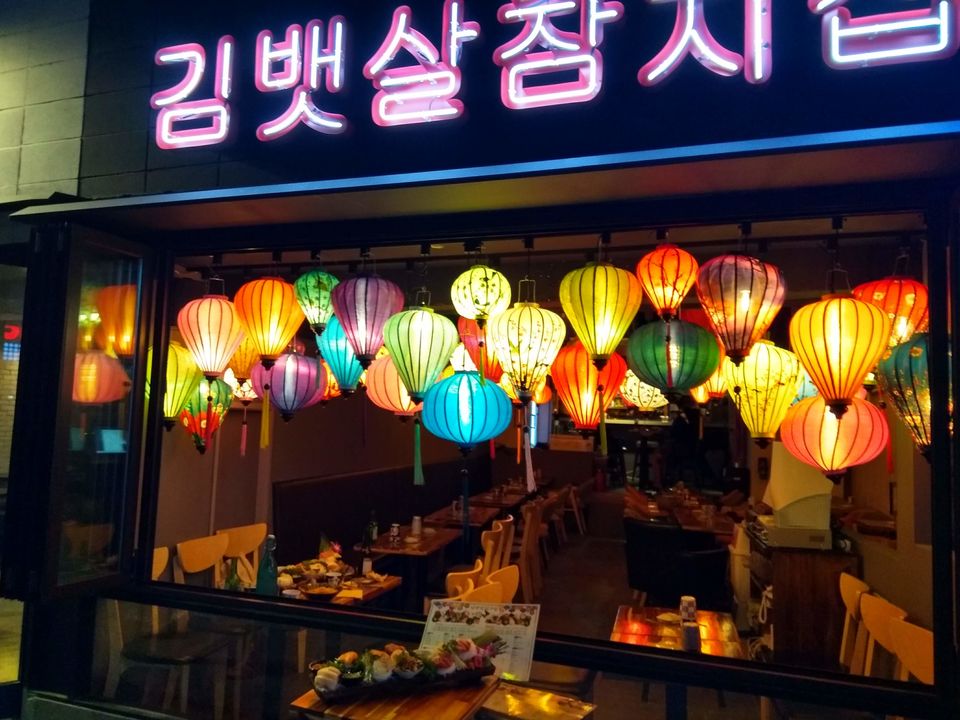 If I visit Seoul again definitely would go to Itaewon , just impressed by vibrancy in air!
15th June
We could wrap up our work by 12 and had entire day at our disposal. Our plan is to visit some of the famous tourist attractions of Seoul. Talking of tourist place, there are plenty in Seoul. N-Seoul Tower, Museums , some royal palaces and many more. But within half day it was not possible to cover all. So decision was to visit most famous of all royal palaces, Gyeonbokgung. Three times a day,royal guard changing ceremony happens in Gyeonbokgung palace which is quite a spectacle and attract lot of tourists. As per our convenience we decided to try 2 pm ceremony.
From our hotel, 3 metro transfers took us to Gyeonbokgung Metro Station which is right next to the palace. It is a huge complex with very big entrance gates, number of palaces and stay houses for members of royal family.
The compound was very much crowded as large number of tourists gathered to watch Guard Changing Ceremony. Though there is an entry fee for palace but this ceremony is free to watch.
Entire event happened for 22 minutes and what a spectacular display it was! Royal guards dressed in very colourful combat attires changed over duties between shifts. For tourists everything is explained in English and Korean through PA and that is very informative. We learned there are exchanges of secret codes between incoming and outgoing chiefs and those change in every handover. Interesting!
After that we had lunch in a nearby restaurant as tour inside the palace would take minimum two hours.
Guided tours are available and also audio assisted tour is possible, We simply bought tickets and entered the huge compound. The first building we came across was Royal Court. Entry inside is restricted now but from outside we could see Throne and other royal belongings. Everything is decorated by fine works of gold, even the ceiling.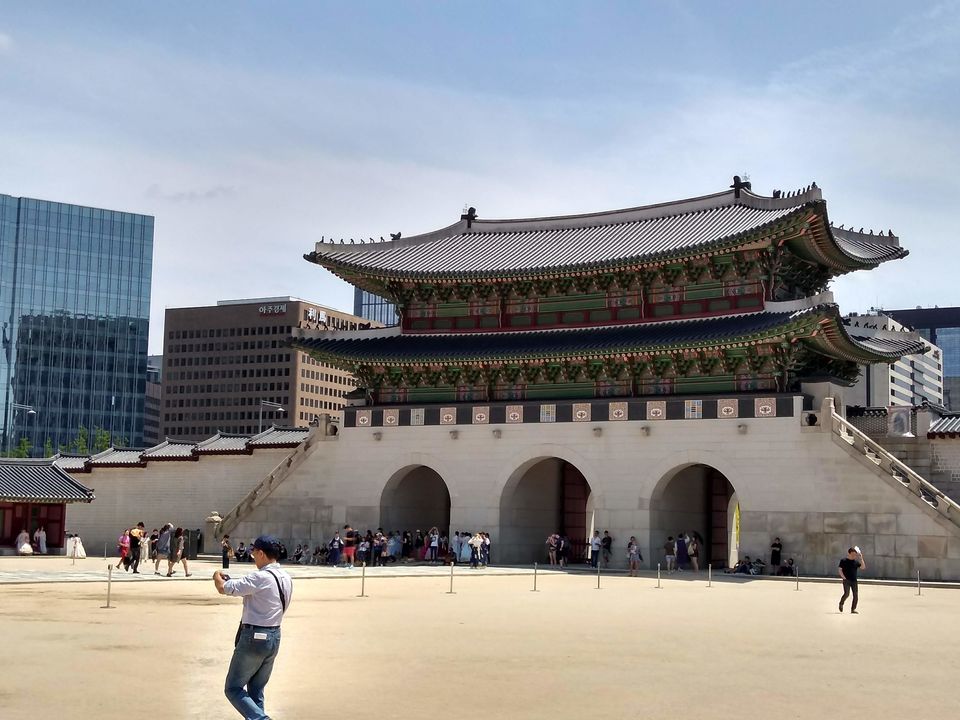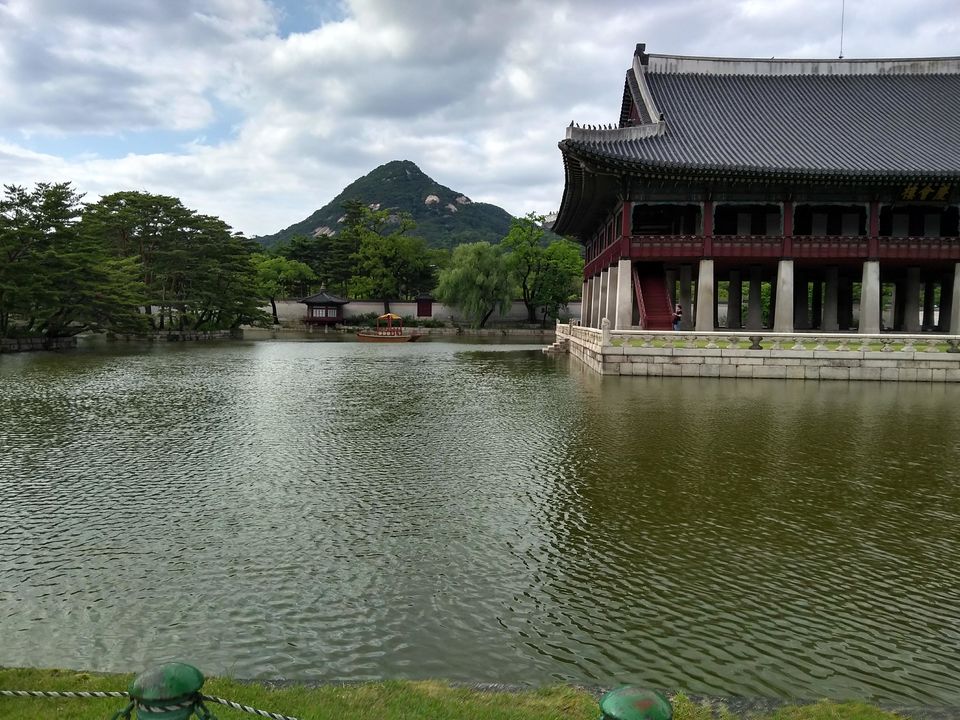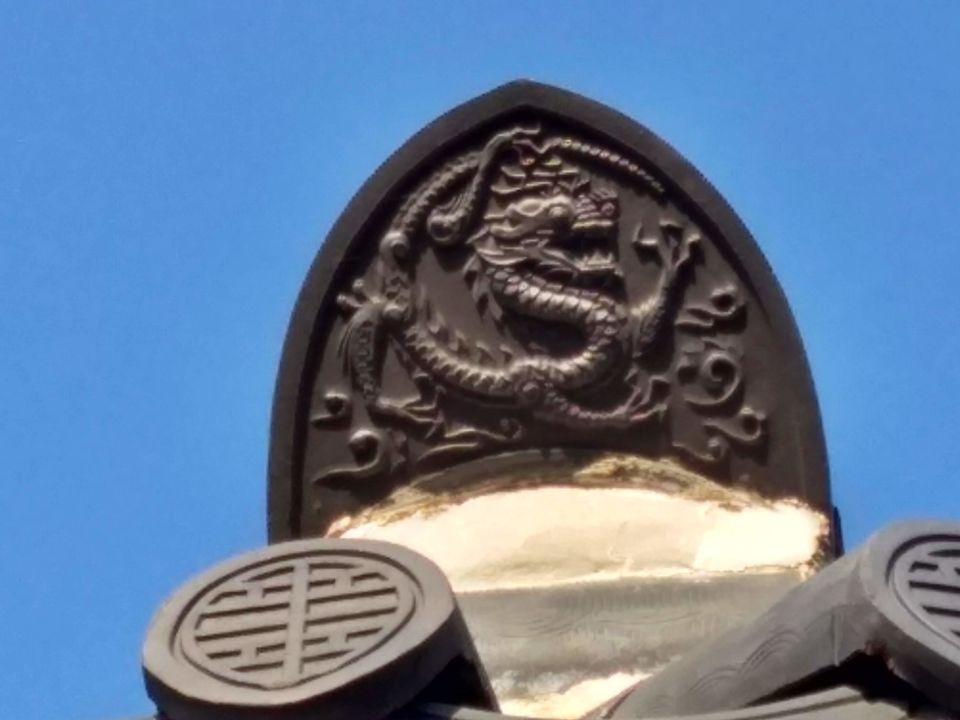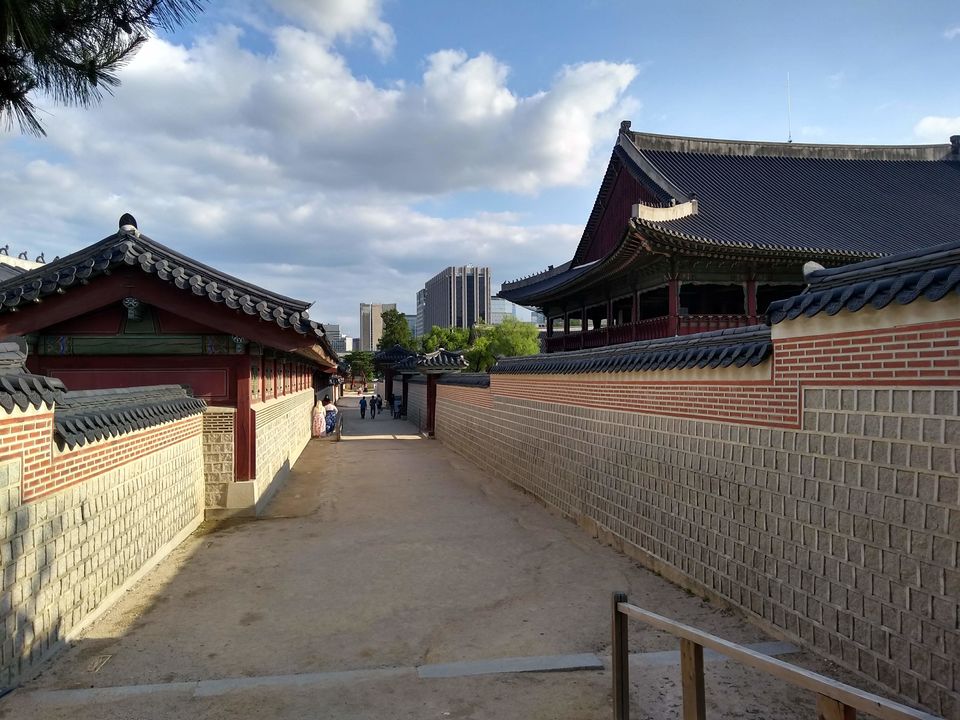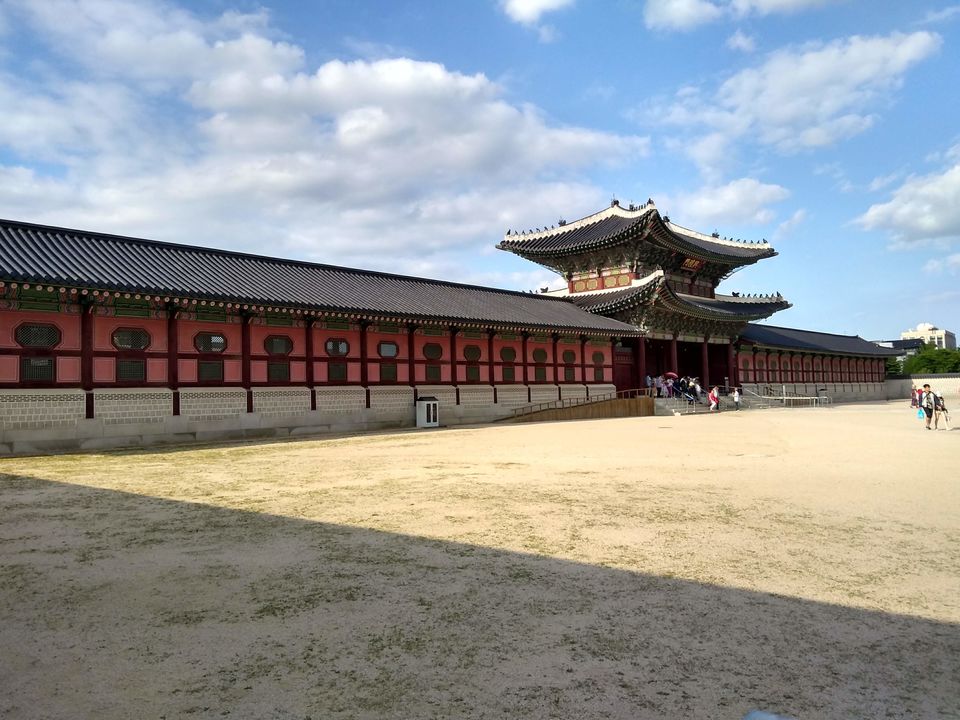 During next 2 hours we roamed around and visited each of the buildings which had their unique story to tell like first house to get electricity in Korea, killing of princess during Japanese invasion etc. We learnt many of the palaces were completely or partially brought down by Japanese. Those were restored to bring the glory of Korean history back.
Gyeonbokgung palace was a great place to spend 4 hours of our short itinerary, I would strongly recommend it.
Gwanghwamun Square is adjacent to this palace and worth strolling around. It has large statue of King Sejong , who created phonetic Korean Alphabets ; Hangul. Prior to Hangul Koreans used Classical Chinese alphabets.
King Sejong is a very honoured figure in Korean history.
On our way back we went to Gangnam Square. There is an iconic statue of Gangnam Dance move. One can actually play the song from touchscreen music kiosk and dance along, keeping the statue in back drop. We were too tired for a dance and settled only for few selfies before calling it a day.
16th June (Back to Pavilion)
This is our day of return from Seoul. I could manage to visit very few places during such short business trip. However, hope this is not my last chance with South Korea and I will make sure to cover all other famous places during next visits. Till then adios Seoul!
My General Perception about South Korea and Koreans
6 days are not enough for knowing people and places. However, there are certain things which completely grabbed my attention.
> Most of the people speak decent English , at least in Seoul.
> Menu cards of most of the restaurants are written in English.
> People are reserved and don't like to talk to strangers, but they are helpful and not ignorant. If you ask for help, you get it.
> Once they know you, they are very friendly.
> Koreans like to give and receive respects.
> Food is yummy. Specially barbeque!
> Koreans are very good-looking, well dressed and neat. Be it ladies or gentlemen, be it office or pub; everyone seemed to dress to perfection for occasion.
If you want to see vlog version of my South Korea travel series please check here and subscribe to my Youtube channel.