Starting from KAZA !
It was 21st of March 2018, a very pleasant day at Kaza and it was still winters here. Spiti valley is famous for its winters, the landscape get covered in thick layer of snow and the whole area gets converted into nothing less than heaven. We got up, packed our bags and we came out of our guest house for breakfast at famous Sharma ji ka dhaba. Sun was shining bright, cold breeze blowing around and a perfect weather for a bike ride. Our plan was to head towards Langza, hikkim, komic and then stay at Tabo but little did we knew what was waiting for us at higher villages.
After we had our breakfast, we loaded our bikes and I found this little scorpion strolling around our bikes ! We took it as a good fortune. Everytime I am on a adventure trip I try to be in touch of one of my close friend who keeps me updated about the weather conditions and any other emergencies. On that day, he told me that I can expect a 2-5 cm snowfall, " my dream of witnessing live snowfall was probably going to be true ", I was excited !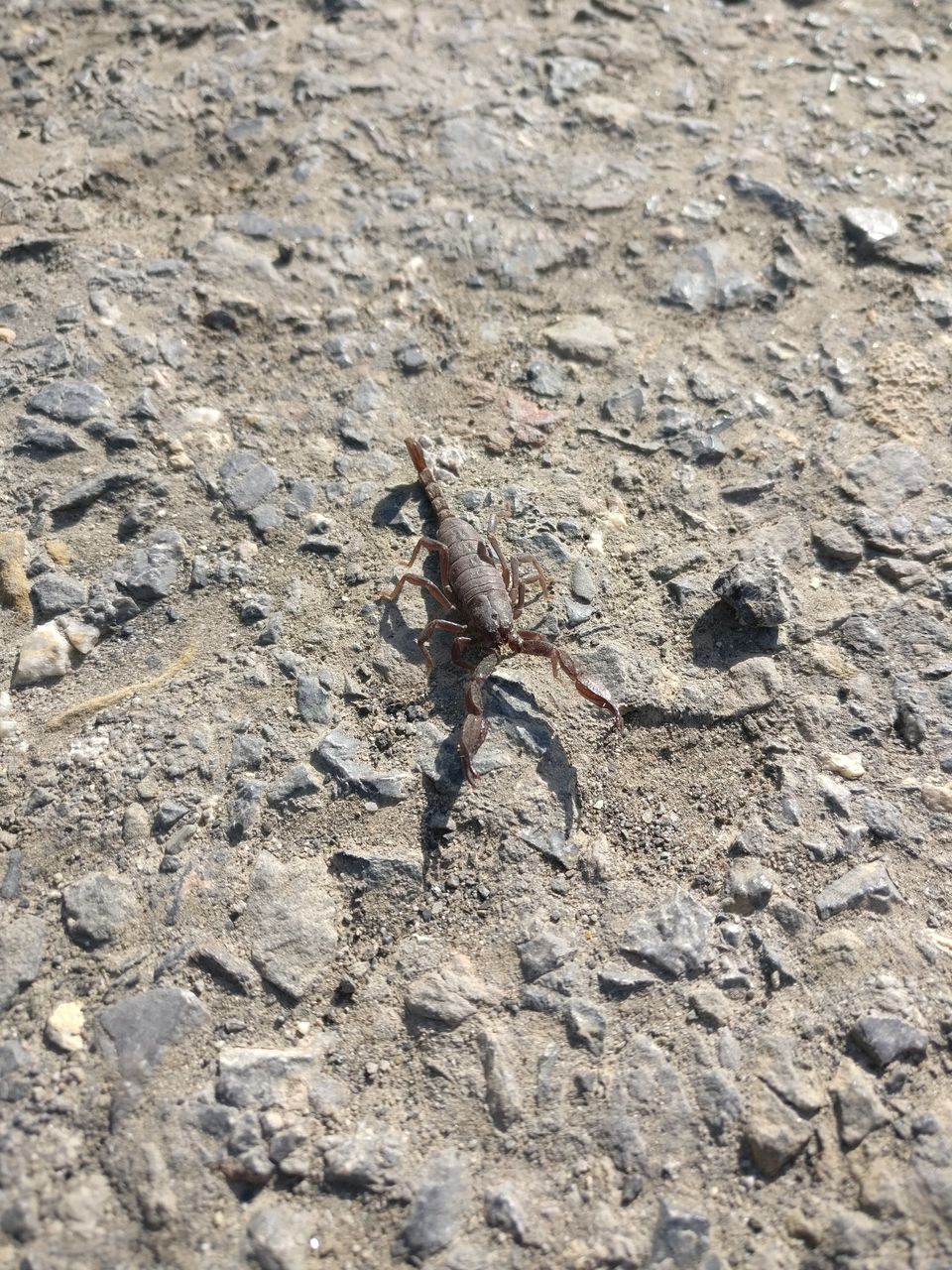 As we started our journey the weather started to change. I could see sun being eclipse by a thick layer of clouds and temperature began to drop. We headed straight towards Langza, probably the most beautiful village in the whole of Spiti. It was below zero degrees and wind started to blow at high speeds. We could feel the temperature drop as it was instantaneous. We reached Langza by 10:30 AM. We quickly clicked some pictures and left for Komic. While on our way back we met few people sitting around bonfire enjoying the simple pleasure of fire in such a weather. I started a chat with few people around and found that there were two couples that have come all the way from Mumbai to watch snowfall. I told them they were going to get lucky. However, one couple wasn't feeling well and I advised them to head back to Kaza asap as the weather was getting worse. The couple listened to us and headed back to Kaza, while the other couple had the same plan as we did. We bidded best wishes and then we started towards Komic.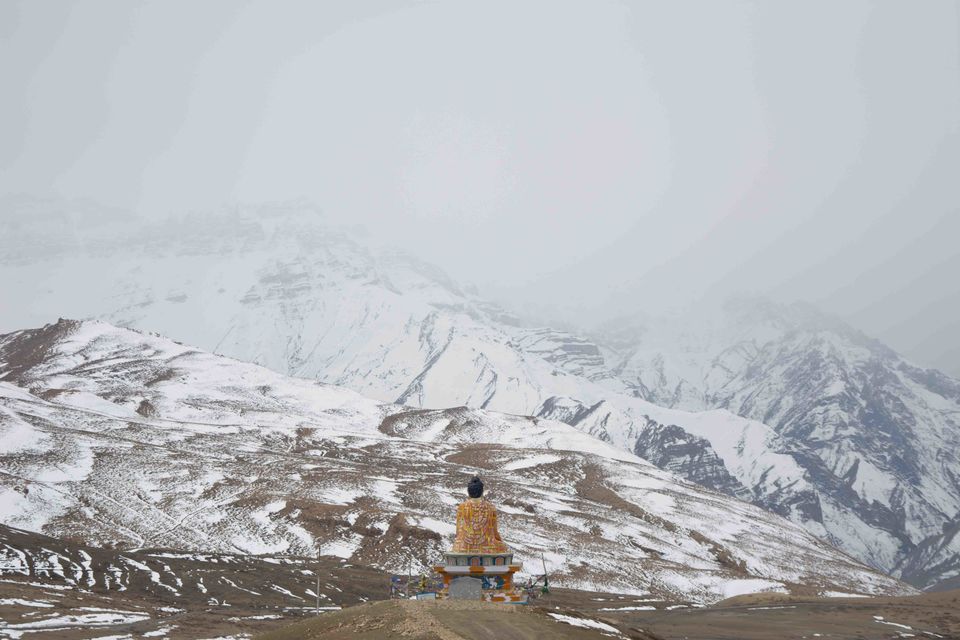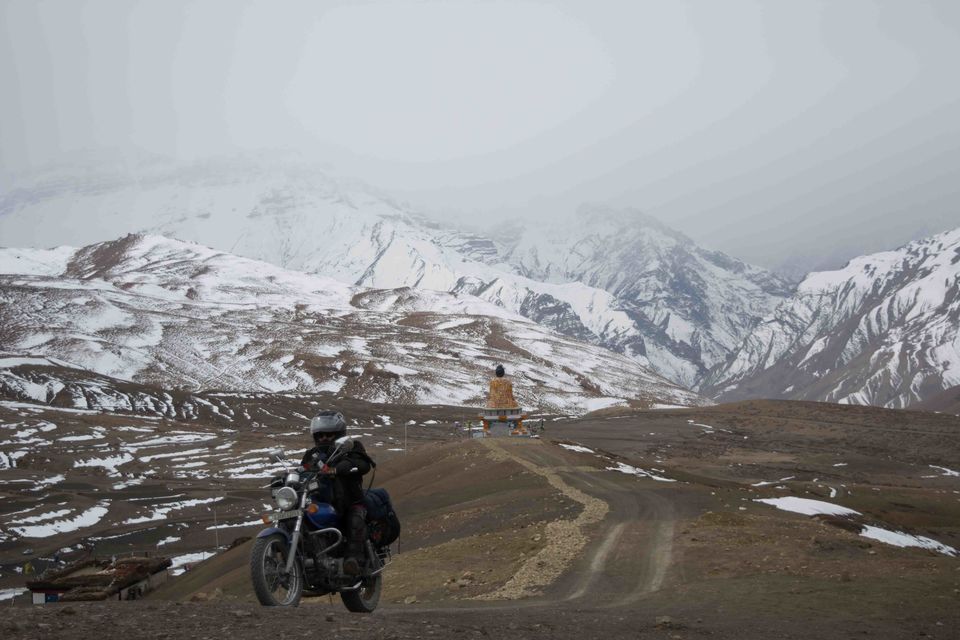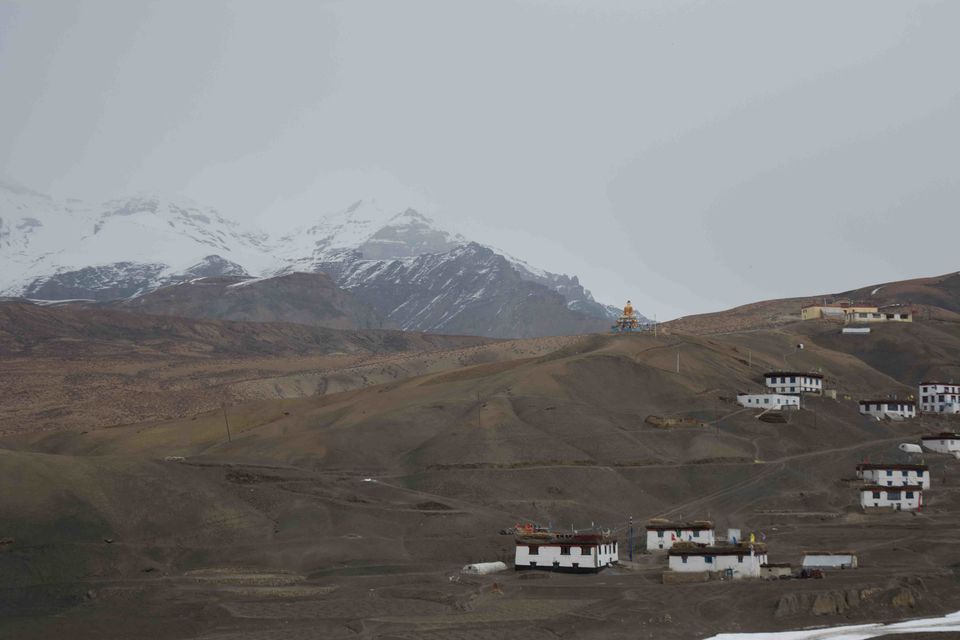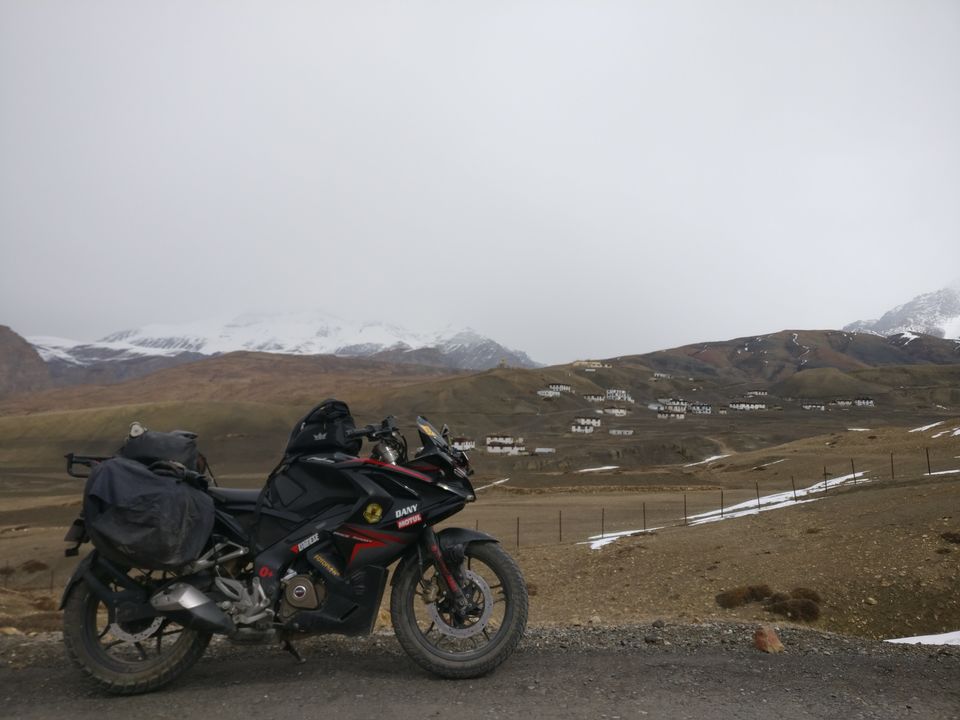 Spotted the very shy red fox ! Yes, as we were on our way to Komic, it started to snow and we spotted a Red Fox ! It was on hunt probably looking for something to have in lunch and we scared it away ! :P It was snowing and we started to enjoy, I knew that it was going to be only 2-5 cm's, so we were taking our time making videos and enjoying the snowfall. It was first time for both of us ! We reached Komic at around 12:15 and rushed into the only open house as it was still snowing. As we entered the home we met few other bikers those were also exploring the valley that day. After few minutes, the Mumbai couple also came there, we met again shared few stories and slowly everyone left towards Kaza and we were the last to leave.
We started from Komic, World's Highest Village connected via motorable road at around 12:30 Pm towards Hikkim, Worlds Highest Post Office after everyone left. As we started heading Hikkim, it was still snowing, snowing at a good rate. Dhiru bhai, my riding partner, my office colleague was riding first time in such situations. He fell at every hairpin bend that we took. It wasn't easy, visibility was dropping and we weren't able to ride with our visors closed because it was fogging up. Apart from the bad weather conditions, we were now falling at every 200 meters, the temperature was constantly dropping but we kept getting up, helping each other and kept on moving. We had only this option of staying on the move. As we reached the T-point from where left turn goes towards Hikkim and right goes to Kaza, we met the Mumbai couple who were confused which way headed towards Kaza. They were feeling cold and it was really difficult to ride bike in such conditions, we handed over our gloves and caps to them and also handed our one cell phone. As we started towards hikkim, they decided to come with us.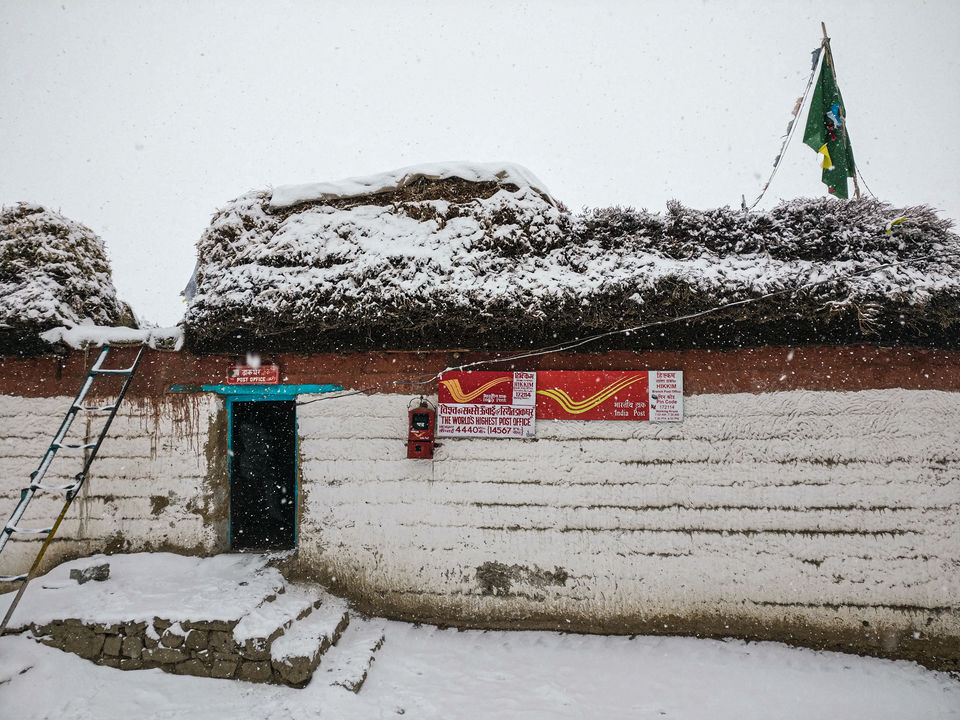 If you'll see on map, the distance from Hikkim to Komic is just 3.2 Kms and it takes less that 10 mins to reach, but that day it took us 3 hours !!!!!! Yes, you heard us right, 3 hours ! After we turned towards Hikkim, we were now four of us, fighting against the bad weather, riding through it, pushing each other, helping each other and we fell like uncountable times ! Initially, I was counting the number of times we fell, but after 2 hours it was every turn*3 :P :D The worst scenario was at turns when we had take every bike at every turn; it took all three of us to hold the bike and then slowly slide through the corners. Despite of all the efforts we were giving, it was impossible to hold the bike properly as bikes were skidding and even we were not able to walk. The worst part was ice getting stuck between mudguard and tyre and causing it to stuck, we had to use a brick to break that ice every 15 minutes so that our wheel keeps moving ! There was a moment when Dhiru bhai was leading and he said we are lost and are at the dead end. I was shocked and my thought process was completely stopped, I wasn't able to think clearly, without getting off my bike, I reassured Dhiru bhai not to stop and we were going on the right path, just keep moving. However, Dhiru bhai forced me to stop, get off my bike and turn back as we were on the wrong path. I took my phone out, checked maps and it was showing that we were on the right path but GPS was playing hide and seek ! I got off my bike and walked towards the dead end, it wasn't a dead end but seemed like because of the heavy snowfall, it was a right turn that was completely whiteout with snow until we walked for almost 200 meters to confirm that we were on the right way ! And we finally made it to Hikkim and probably we were the only ones there !!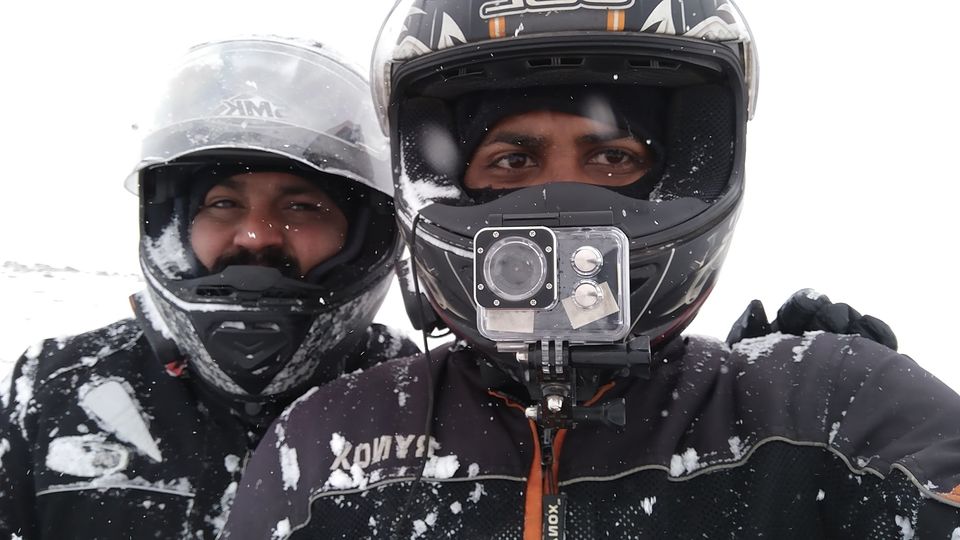 As we were into World's Highest Post Office, we relaxed, chachha gave us some tea and we used that time to send postcards to our near and dead ones. It was really difficult as we had another 16 kms till kaza and it was still snowing and snowing at a good rate. I suggested the couple to stay at Hikkim and then move tomorrow as from Hikkim it was going to be even more difficult, however they said they will be accompanying us ! They came with us and we started from Hikkim at around 4 PM.
Thank you for bearing with the blog till now, but believe me the next set of photos are something that you'd have probably never seen !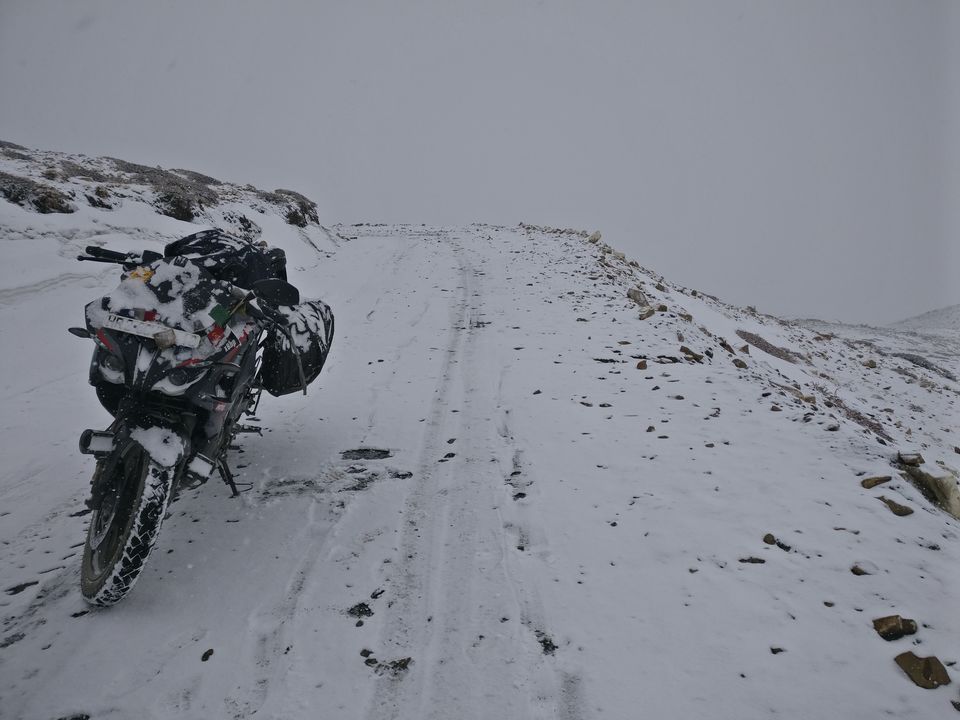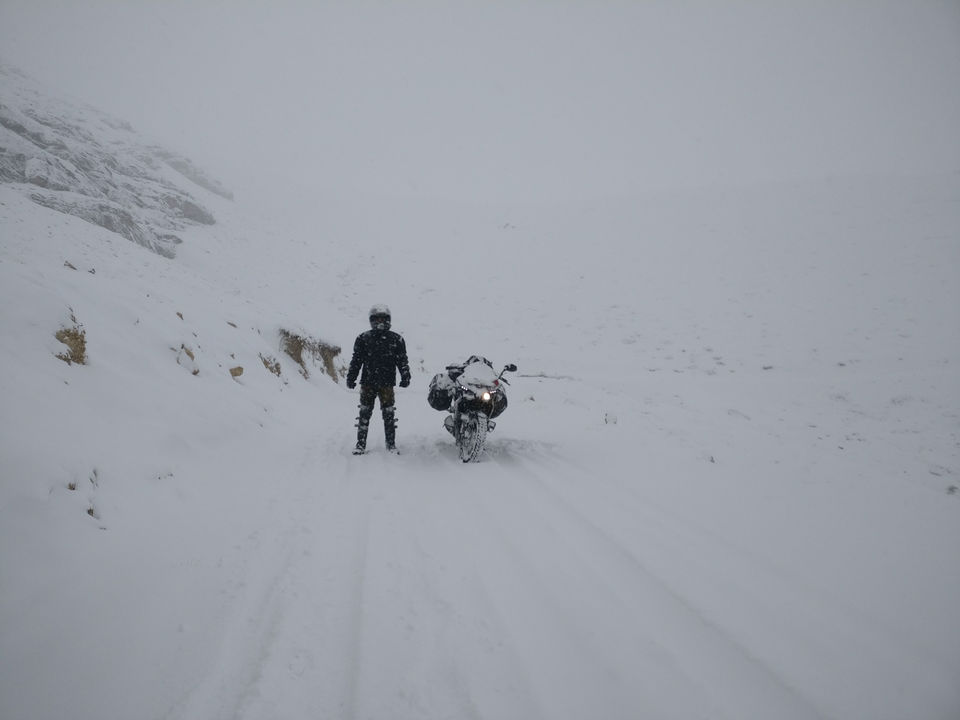 As soon as we started from Hikkim, we fell at the first turn, and then at the next turn, then again and probably few more times, it was getting harder and harder, visibility turning to almost zero, all we could see was white and white powder everywhere, temperature getting below -10 degrees, but we kept moving, maybe it was the adrenaline rush within us that kept us moving ! We met a few locals that warned us not to go to Kaza as it was very dangerous from now onwards and asked us to stay at Hikkim, but for us all we had in mind was to head to Kaza !! We kept moving, I was leading, when i realised that there's at least 500 meters difference between me and others, so i stopped and waited for them. As I was waiting for them I started to feeling cold, it was around -15 degrees and there was no sign of warmth when i decided to hold my bike's silencer, i felt nothing ! Infact, snow was setting up on the silencer too ! can you imagine holding your bike's silencer on a normal day?
Meanwhile they covered the distance and I was at the tail now. It was 6 PM and we had covered only 3 km's so far ! I was getting bad thoughts now as it was getting darker ! At around this time, enfield was stuck at a slope and we weren't able to push because of the snow and hard times it has already gone through, we still pushed, pushed hard and we ended up burning the clutch plates. We had no other option rather than leaving it at that spot ! I still remember how difficult it was for us to leave our bike there !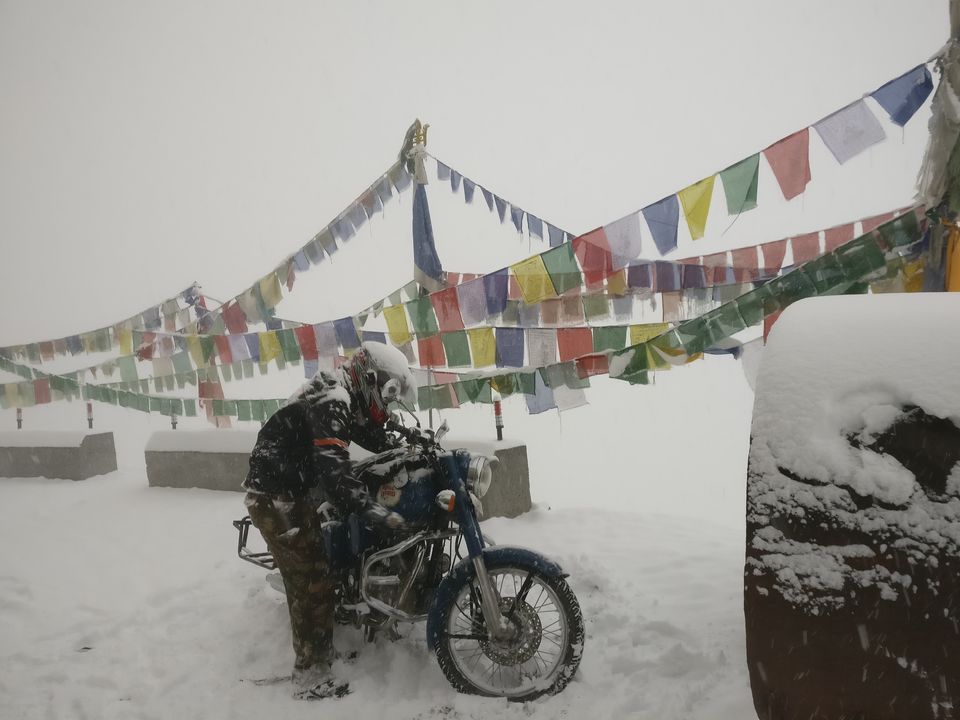 We were now two bikes, four people, Dhiru bhai leading the pack, mumbai couple walking along, I was at the tail and we were still 12 km's off Kaza. It was getting colder and darker ! 7 PM and we were still walking, it was time when I had to think about something, otherwise it'd take us the whole night to reach Kaza. I took out my phone and all because of God's grace, we were finally into N/w zone, I knew he was keeping an eye on us all this long ! I dialed 108 and asked for help for the couple. You'll not believe me but for the next 40-45 mins I got almost 50+ calls from Doctors, Police, politicians and finally Ambulance came around 7:45 PM and picked up the couple. It was still snowing, Dhiru was leading and he was almost 10 minutes ahead of me and the Ambulance had gone ahead to pick up the couple. While I was moving ahead, I received a last call from Police Department regarding Ambulance confirmation. My bluetooth had been working really well till now but before last few calls, i was able to hear the rings but my voice wasn't going over to the other side, so I had to stop, remove my glove and receive the call, it wasn't easy and for picking up the calls I fell for atleast 3 times. I fell again while picking up this last call and this time I was alone. It was impossible for me to pickup the bike on my own, so I decided to wait for the ambulance to come and then with there help we'll pick up the bike. While I was sitting still besides my bike, it was pitch dark, still snowing, temperatures reaching -20 degrees and 8'o clock ! I heard a strange noise, something different, not the usual falling ice on my helmet, I thought i'd be something not important so I ignored it ! But exactly after 10 secs i heard it again and it didn't fell good. I was scared, my heart beating at such a rate that I wasn't feeling cold anymore, I turned all the lights on and decided to lift my bike on a slope, surrounded by ice and that too alone ! I tried once, failed , tried again, failed again, but I don't know how I did it but with all the strength, i lifted my bike and started to ride again. I was feeling something that was out of this world, strength that I have never felt ever, something that can't be explained in words.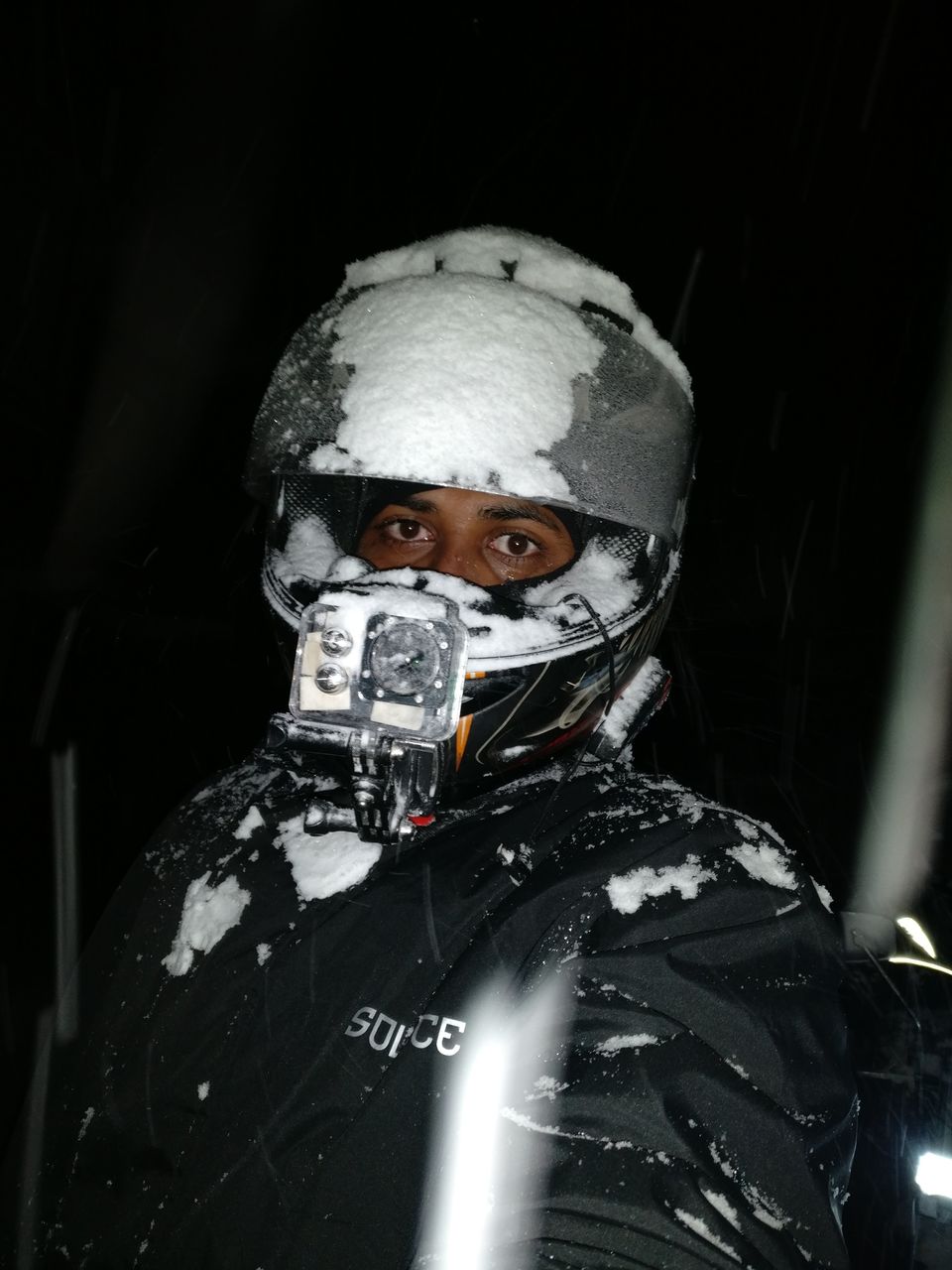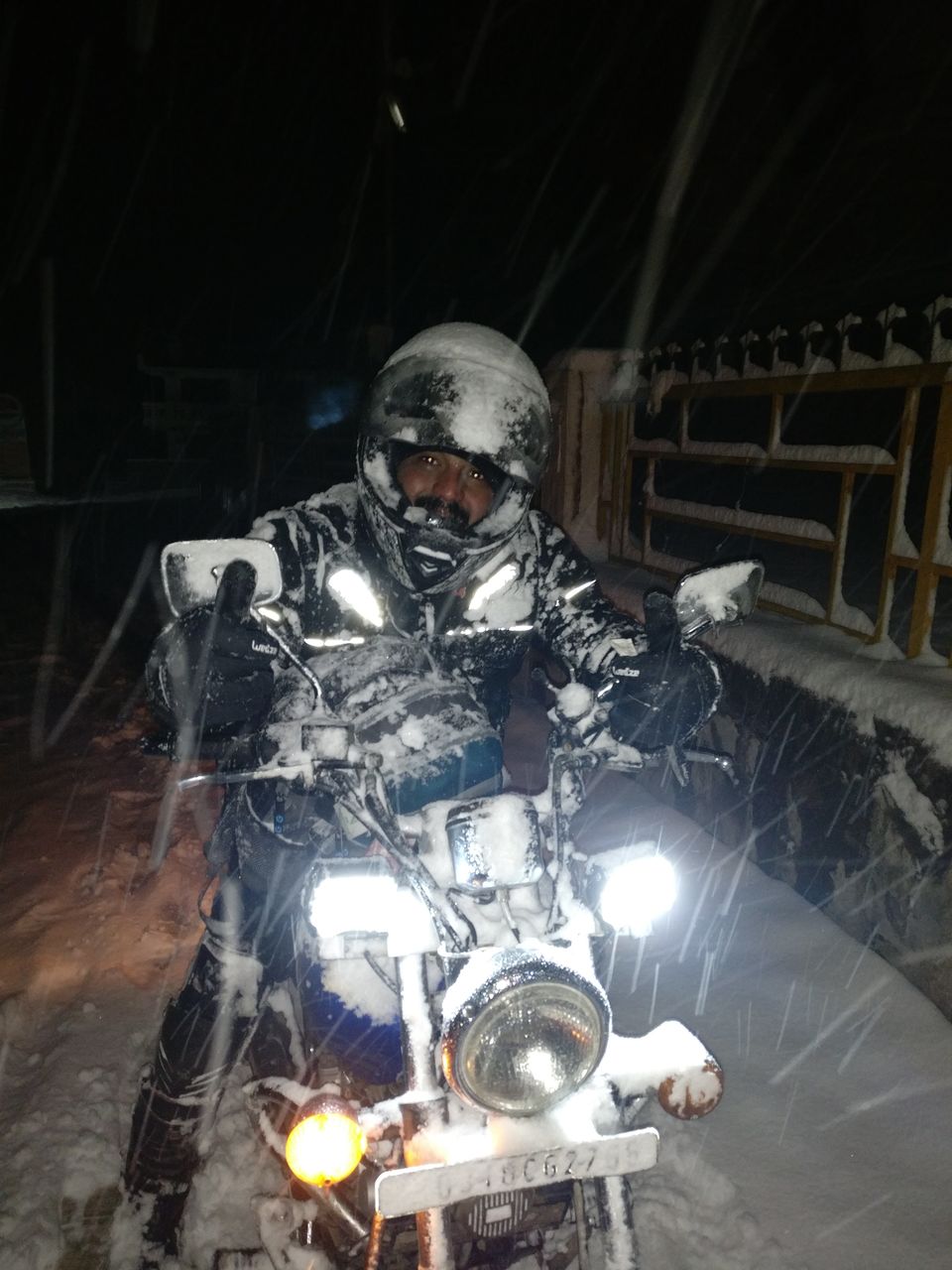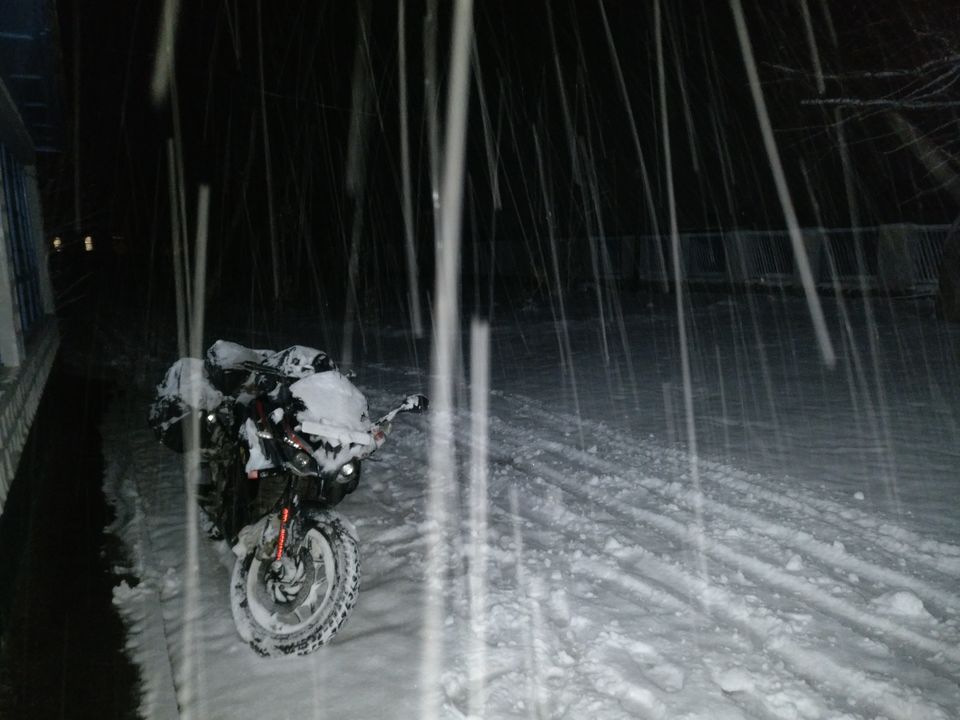 Finally, we rode all the way without falling gain for the last leg of our journey and reached kaza at around 8:45 PM. Our guest house care take Lama bhai was waiting for us to come and take care of us. I owe a lot to him and always meet him when I go to kaza. It was trip that I'll always remember for my life and i made some lifetime friends, Ameya and Amrita. It was a day that can't be explained in words, It was our cool, courage, conscience, strength and God's care that kept us moving.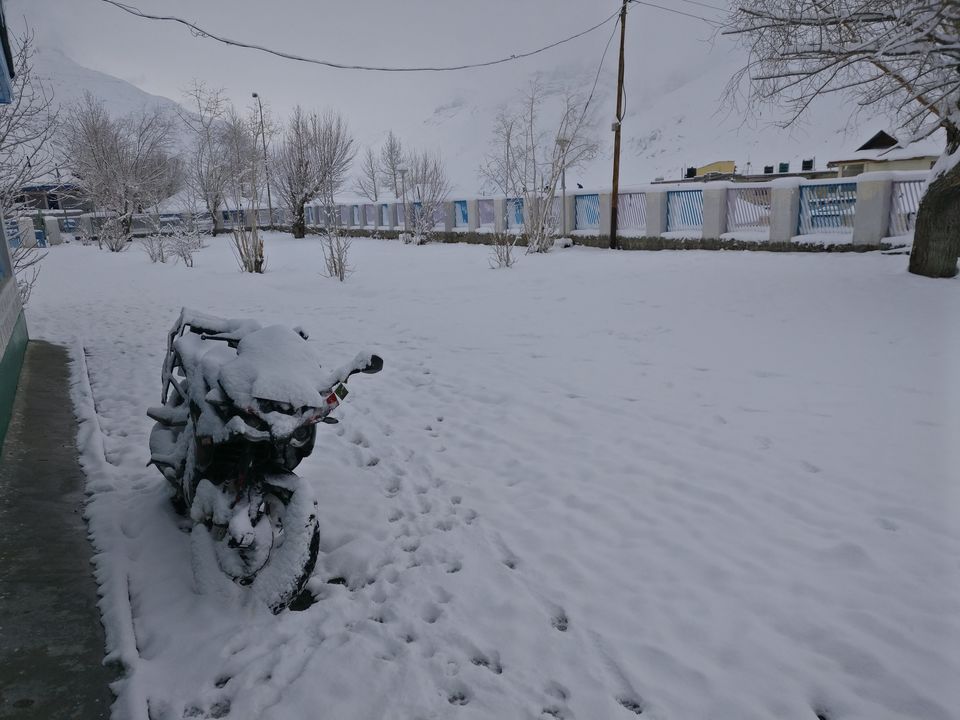 That day, kaza received the highest snowfall of the season around 40-50 cm's of snow and we were the only bikers that made it back safely to Kaza with their bikes, other people left there bikes and rushed back on foot to Kaza. The road to Kaza was closed for two days and we recovered our bike after two days ! Spiti Valley is heaven but you know the road to heaven isn't easy ! We had snow chains but we never put them on because the couple didn't had it. Spiti Valley taught me what Love and Compassion is and made me what I'm today !
#NearDeathExperience #Adventure #Life #WinterSpiti