Tamils take their rules seriously. They don't understand different kind of travel, won't rent to solo travelers, won't encourage walking around in places you are 'not supposed' to be in because tourism can only be availed at select destinations. Every one here constantly reminds me that it's not safe (especially for women) but everyone I meet is saying the same thing. Umm, who do I not trust? So I look at everyone with suspicion.
But I still break the rules; go wherever I want to, talk to whoever I feel like (that broken non-conversation that I've been mastering) and reach a conclusion. I think there's just a general aura of suspicion here but no one really means any harm. But 'they' are not to be trusted, it seems. This is not 'that kind of place' it seems.
But Jisho and Disho are sweet in that they waited at the turn hanging on their scooter till I made my way to the main road. I was loitering somewhere in the inner recesses of the Kovalam fisherman colony (not in Kerala) near Kanyakumari. Just two or so kilometers right from the Sunset point which was a flop because of the clouds.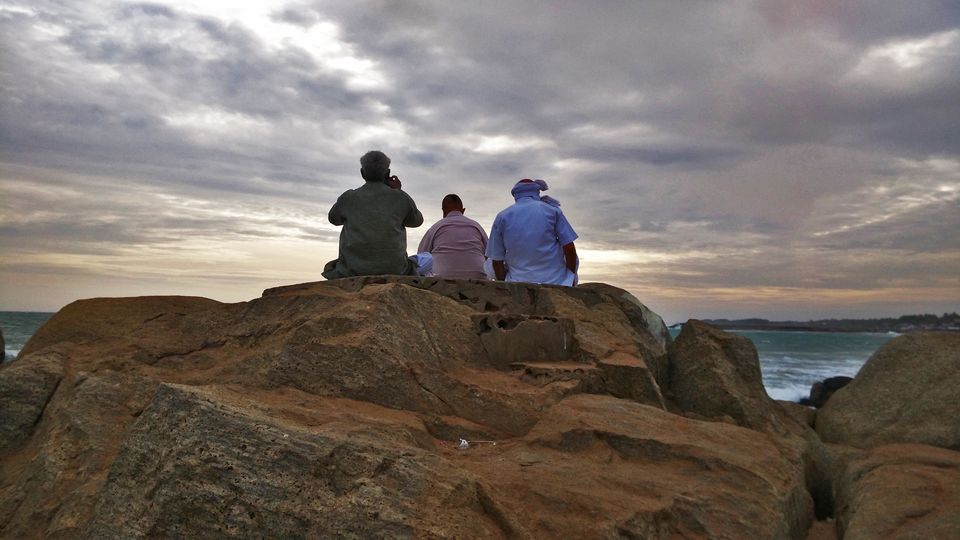 There was no sunset that day in Kanyakumari. Just a pinkish grey hue. Old uncles who refused to let the lack of a setting sun mar their vacation sat on the rock looking into the horizon. Few remaining strands of hair dance on their balding heads.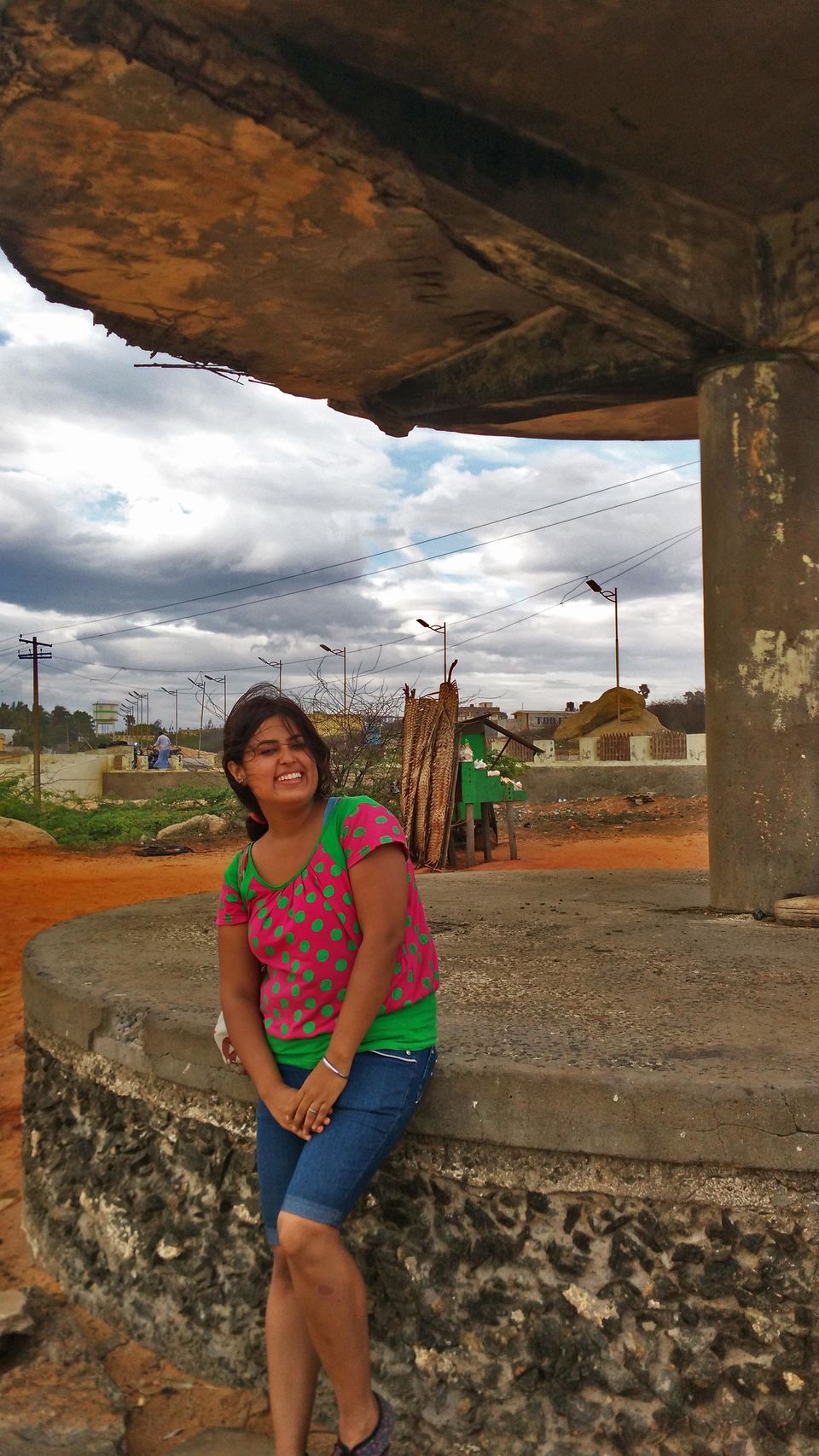 Pabla has posed in all possible corners for selfies where she always turns the right of her face to the anticipating camera. And we've even checked off her video agenda (more on this later). Now she has hopped over the meditating uncles and has added herself in their horizon.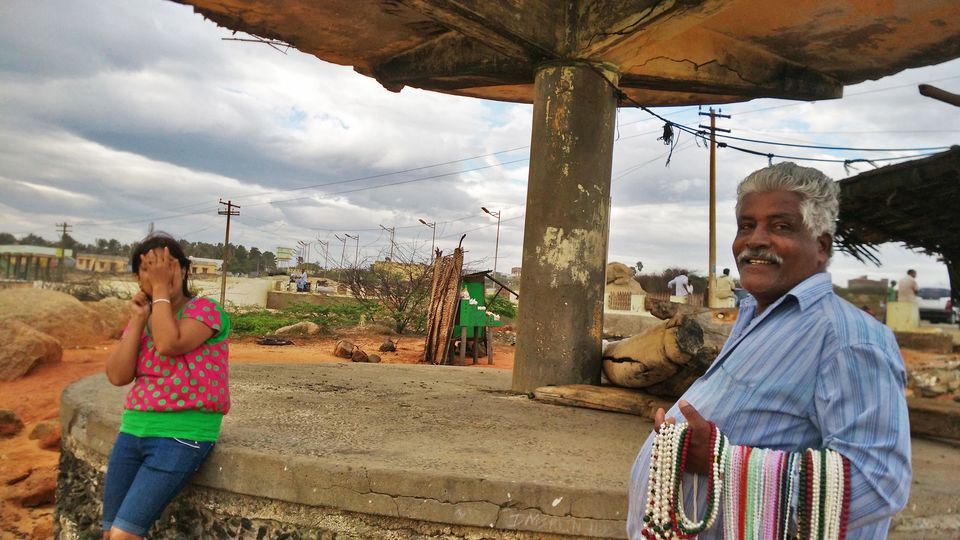 With nothing better to do I do what I do best. Walk aimlessly. As far as the road allows to the right. There's a rhythm to walking. And it's highly therapeutic too I suspect. The untangling of thoughts is almost a tangible experience. And there's no better way to explore a place is there? You really have been there, you have walked those stretches, trusted these roads and feared them too.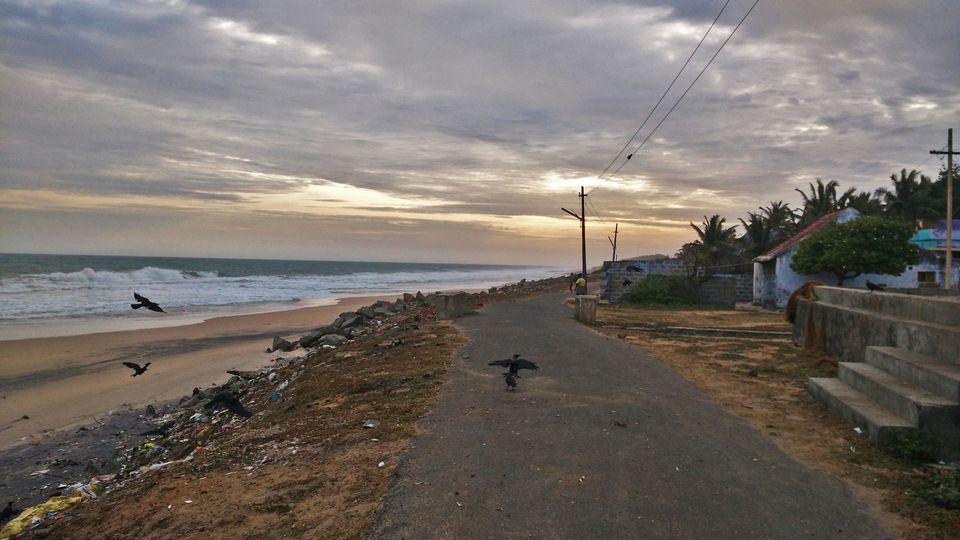 You peered into the houses on the way. Strange akka with a face so badly wrinkled you can hardly make out her eyes has uttered undecipherable gibberish to you in a language you really don't know but you feel a little uncomfortable in accepting her invitation. Somehow her vague waving towards a dark door off the road doesn't seem so promising. So you say no and then she gets angry. So you walk away. Strange memories you can remember forever.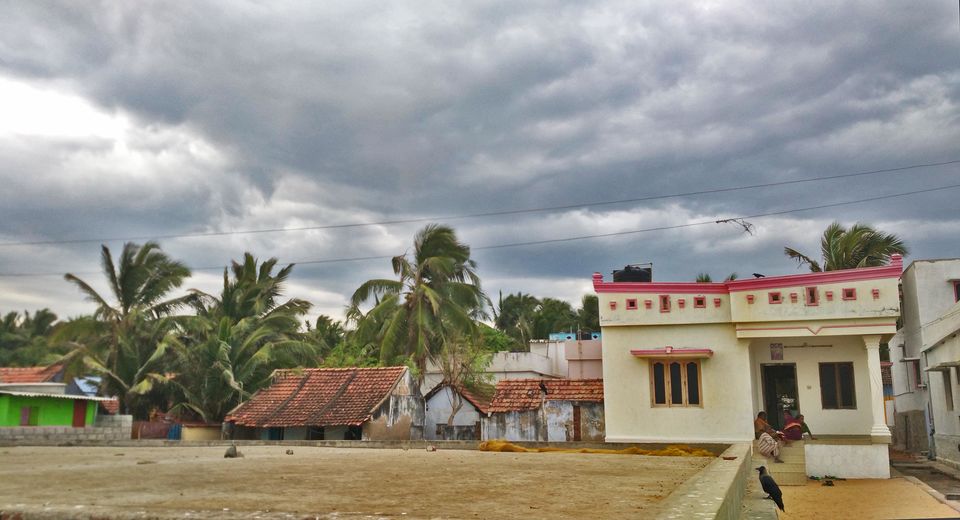 A car ride is too impersonal. Everything zips past too soon for the brain to register. There's no real connect. It's just commuting. But walking, ah that's another thing. This walk is mostly on the beach, littered with black corroded stones slimy sea bugs. Layers of moss coated green rocks have cascade down to the sea floor. Then the wet sand that sucks your feet in and adds fresh layers in your footwear which then rub roughly at your skin.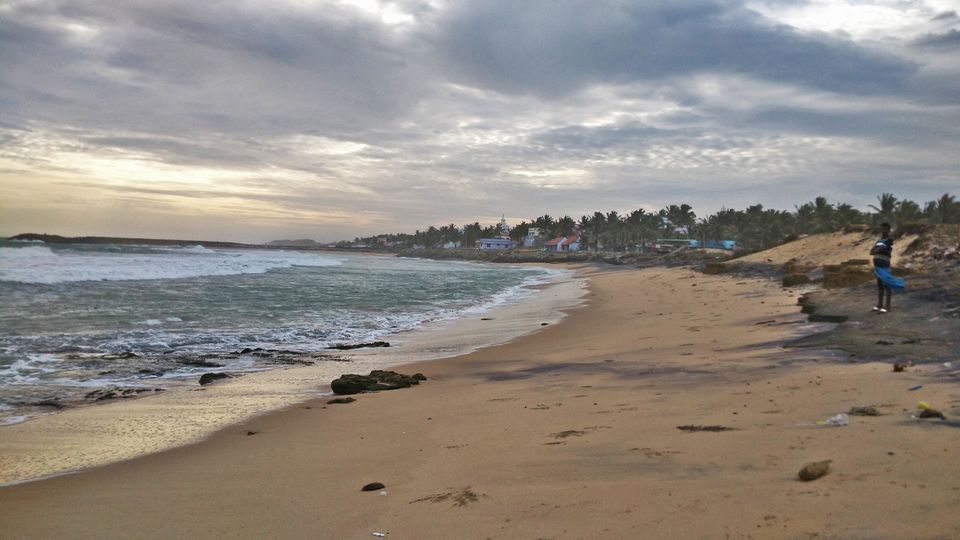 A lonely walk across the beach is always scary for someone who doesn't know how to swim. Water isn't my friend. That's a terrain I don't understand. And here's it's going perfectly crazy. Crashing over rocks, making a great splash and just completely uninviting. After about 20 minutes of silent walking I spot James with his lungi frilling about in the wind. Standing tall reading god knows what in the ocean. He waves for me to take the trail that leads away from the beach. The water is rough ahead.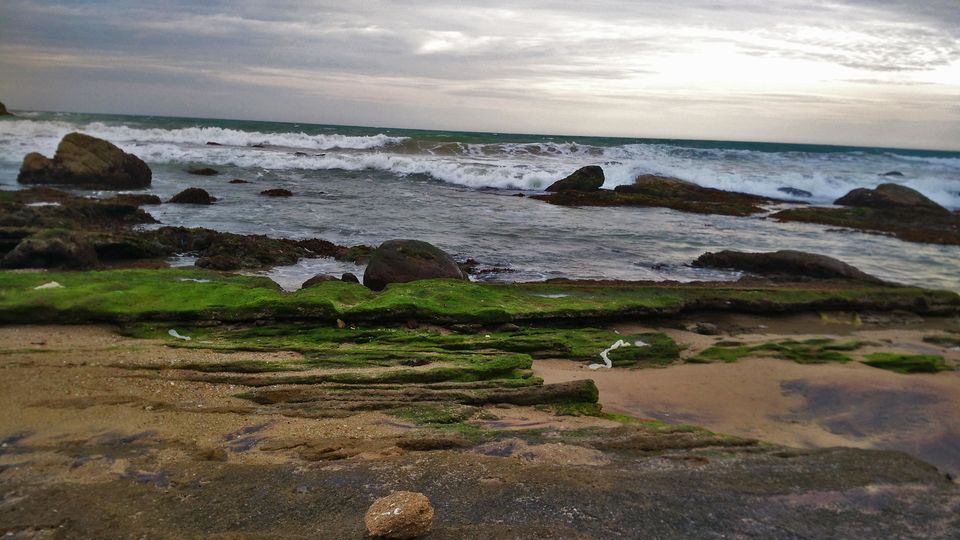 I clamber up dry sand, fern, stray slippers and pieces of cloth. Then a little ahead, I'm back on the beach again and James is telling me his name at the end of an insignificant conversation but prized because it's always great to talk to someone after 20 minutes of silence.
By 6.30 I was somewhere near a dead end. It was past all the houses with their front porch family gatherings and the stretch of the street that had been cordoned off with small dry silver fishes that were being stuffed into jute bags by a family. Past of course the remaining wreckage of the Tsunami of long ago and the omnipresent pokey head of the coconut trees.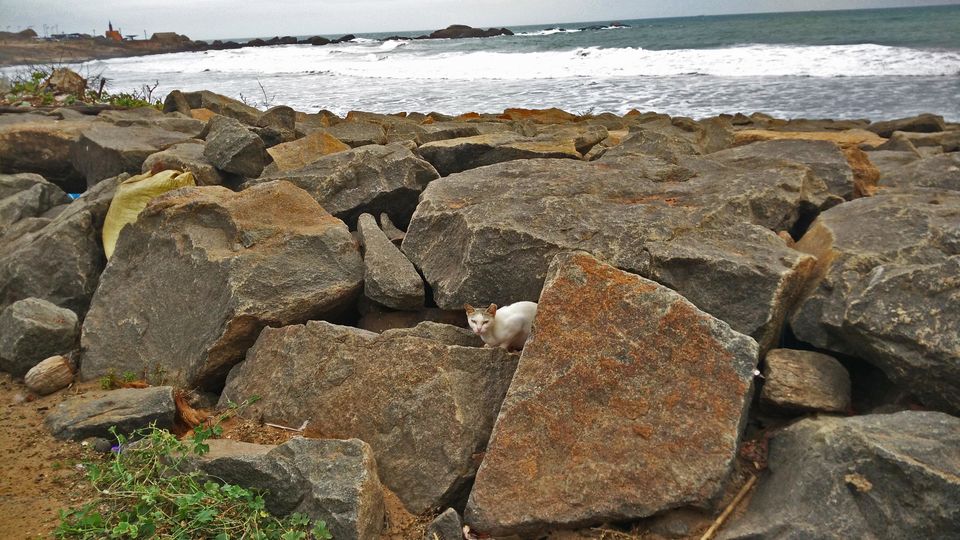 So when Jisho waited with me and Disho went to fetch an auto, I was quite relieved. I had walked too much. No matter how tempting it seems, you can't reach Manakudy backwaters if you keep walking on the coast line because the road is blocked midway (with 5 kilometers still to go) and the beach is a war zone of crashing waves and rocks.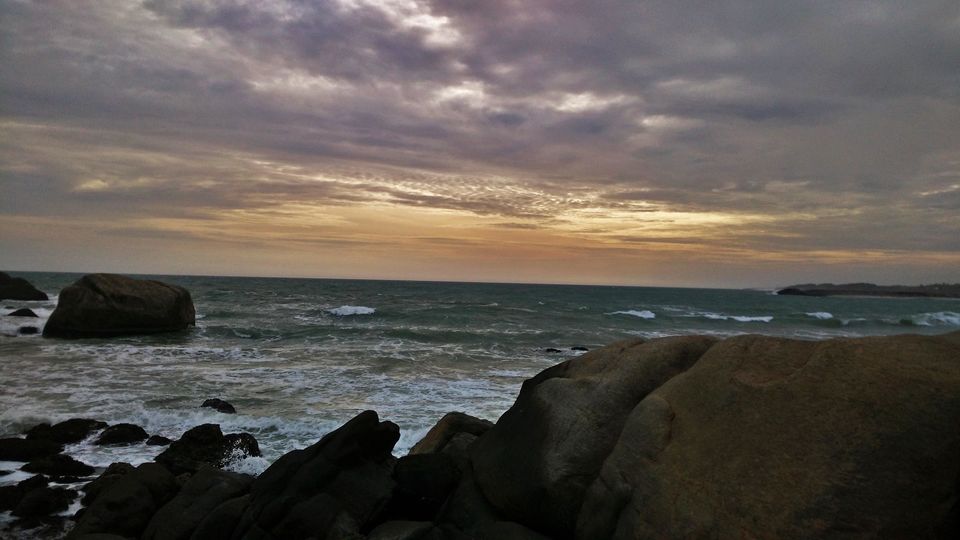 So, you have to go to the main road and wait for the bus to take you there. By now your feet sting and you just want to sit on the steps of the pond by the side of the road and dip your feet in but you don't because aunty is taking a shower. A petticoat acts as her bathing costume.
Jisho And Disho were a chance of fate. They were in Kovalam to smoke cigerettes. They can't quite do that in Kanyakumari as it is illegal. So they rode all the way and parked near the dead end for peace and anonymity. May I chance upon more such smokers in the future as well. They pack me off in an auto back to Kanyakumari, again with the cautious advice – "Don't walk around just anywhere here. It's not safe. These people are not nice."