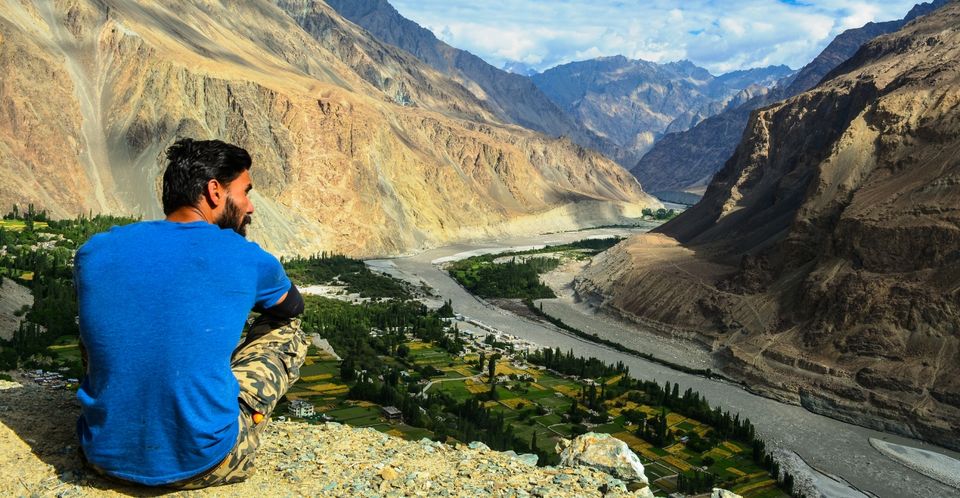 So next morning, Dattatreya and I went for the Turtuk Waterfall and had a near-death experience as well 🙂 We started the trek at 7 am, reached the waterfall at 8 am, and got back to our homestay at 10:30 am. Our next spot was Thang village border which is 10 km away from Turtuk. A guy agreed to drive us there for Rs. 800. He turned out to be Ismail's cousin.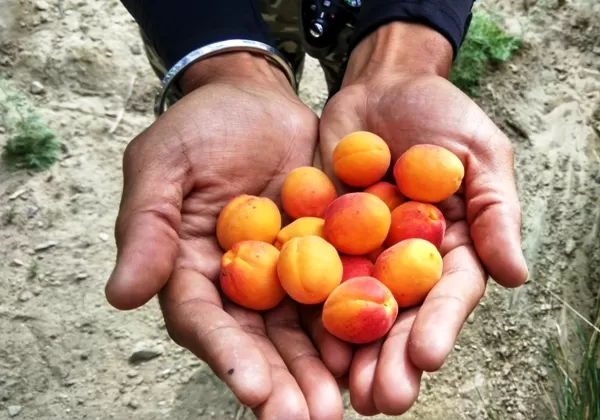 Are you one of those who believe that a Leh Ladakh trip is only limited to Pangong Lake, Monasteries, Khardung La and Nubra Valley? Well then maybe you are restricting yourself to the stereotypical Ladakh trip. Ladakh is much more beyond the places mentioned above. And I highly recommend you to travel some 80 km more beyond Nubra Valley to see a paradise named Turtuk - The Last Village on India-PoK Border. There's a lot to talk about this beautiful village. However, I will try to keep it short.
Where is Turtuk Located?
Turtuk is a northernmost village in India and is 205 km from Leh and 77 km from Hunder in Nubra Valley. It is a small farming village nestled in the snow-capped mountains and accompanied by Shyok river. It was claimed by Pakistan in 1947 and reclaimed by India in 1971 Indo-Pak war, along with Tyakshi, Chalunkha and Thang.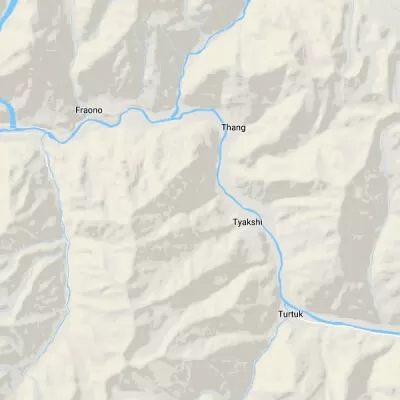 Best time to visit Turtuk
Ideally it is June to early September when road conditions are good and weather is very pleasant. Also, you will get to eat a lot of apricots and nobody would object to it 🙂
How to reach Turtuk?
For basic information like permits and public transportation, you must read my article "Leh Ladakh Travel Guide". There is only one safe route to reach Turtuk and that is Leh-Khardung La-Nubra Valley-Hunder-Bogdang-Turtuk. The other routes are from Pangong Lake via Shyok village and via Wari La but are not considered very safe. You can reach Turtuk either by shared cab or by public transport bus. Both have their pros and cons:
Shared cab will take much lesser time to reach Turtuk from Leh but will be quite an expensive deal (we paid Rs. 1000 per person). And if you haven't pre-booked it or if you are not a big group, then you will have to wait for the driver to arrange other passengers in the morning.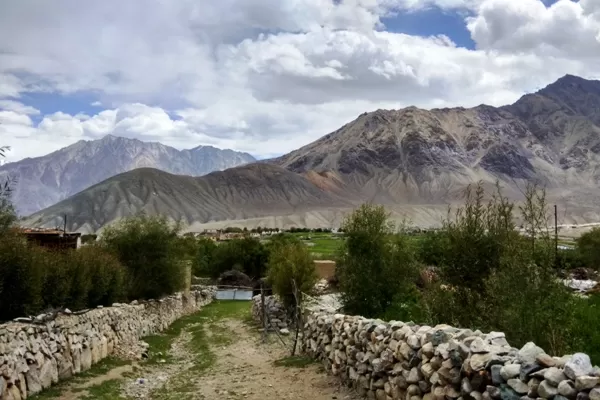 A direct public transport bus from Leh to Turtuk is only available on Saturday. However, you can take Leh-Diskit bus (runs daily) and from there, you can board a Diskit-Turtuk local bus (runs daily and leaves from Diskit at 2-2:30 pm). Just pray that you reach Diskit before that or you may have to stay over at Diskit, which is also not that bad. You can cover Diskit and Hunder sightseeing.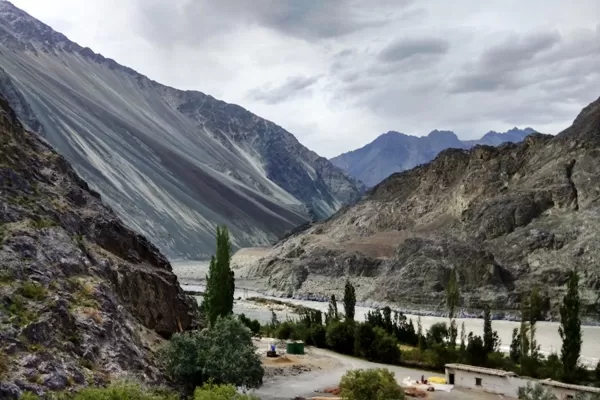 The Leh-Turtuk bus plying on Saturday starts its return journey from Turtuk on Sunday morning. But a 1 night stay in Turtuk doesn't make any sense, nor does a week long stay. So you can board a Turtuk- Diskit bus that leaves from Turtuk at 5:30 am (runs daily), stay over at Hunder or Diskit and board a Hunder-Leh bus next morning at 8 am.
Places to visit in Turtuk
Turtuk Waterfall: It is a 2-3 hour long tricky climb on a unpredictable terrain. The descent is more challenging as it gets difficult to control your speed due to scree (loose rocks). I went there with a friend and both of us got into a situation where we could have a major fall of (500-1000 ft). So, I would recommend this spot only to regular trekkers and NEVER TRY IT SOLO. I wasn't aware of this fact but they say you get to see K2 while on your way up to Turtuk Waterfall. The featured image of this post is from that very trek only.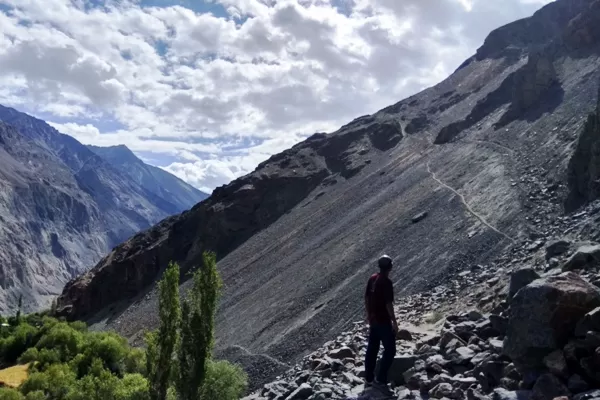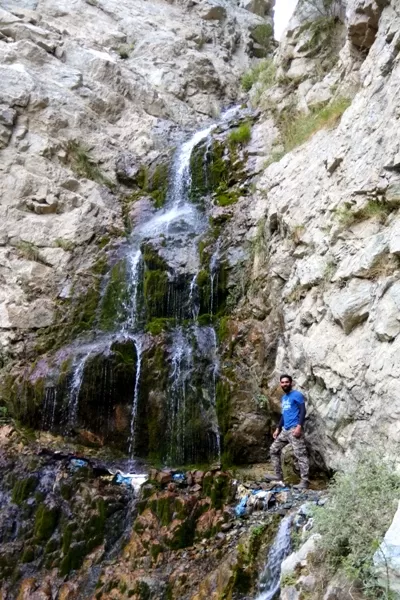 Thang Village - India-PoK Border: The civilians get to visit the India-PoK border and the Thang village daily from 8 am to 4 pm. The Army personnel (Maratha Battalion) at the border give very interesting geographical and historical information about the place to the tourists. Here's something to tickle your curiosity - they show you the Pakistan controlled mountain sandwiched between two India controlled mountains 😉 Now, I bet you would definitely want to visit this place 🙂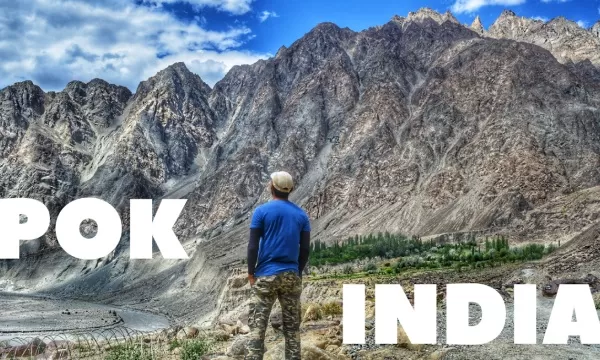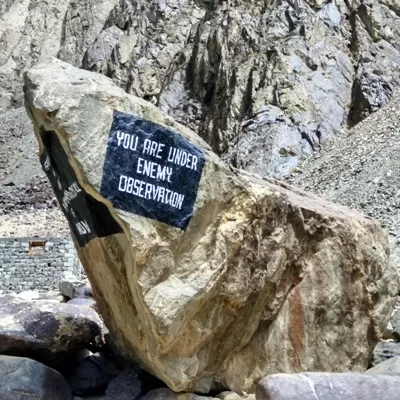 Natural Cold Storage: These are small naturally cold rooms where village people store the perishables. There's an underground glacier watercourse that keeps these rooms cold throughout the year. The entry fee of Rs. 20 is to be paid at Balti Heritage House.
Polo Ground: A 16th century polo ground which unfortunately we didn't visit. Balti Heritage House: A house showcasing the Balti culture that includes utensils, clothes, etc. of Balti people. The entry fee is Rs. 50.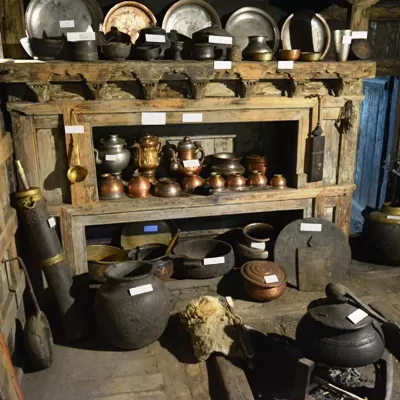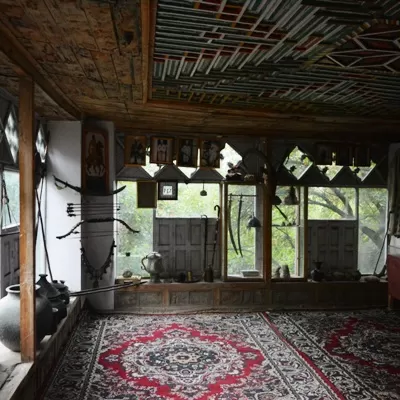 Yabgo Palace: I wasn't aware of where Yabgo Palace was and so I just asked a random person the way to palace. He asked me to follow him and after a 5-10 minute walk through the bylanes of the village, we reached the palace. The man showed me around the palace and gave all the information about Balti culture, Yabgo dynasty, Turtuk's history. He ended explaining the family tree of Yabgo dynasty by saying - "And this one is the present King of Yabgo dynasty, Yabgo Mohammad Khan Kacho...that's ME".
My Turtuk (Love)Story
After completing my Basic Mountaineering Course (BMC) at Sonamarg in last week of July 2018, I took a Srinagar-Leh highway roadtrip. We were three people planning a trip to Turtuk - a girl I knew at BMC and a guy whom we met during our Tso Moriri trip. So on 1st August 2018 morning, we were waiting for the cab driver to arrange passengers for Turtuk and it was frustrating. Reason being, we had kept it a two day trip only and we wanted to visit the Border same day.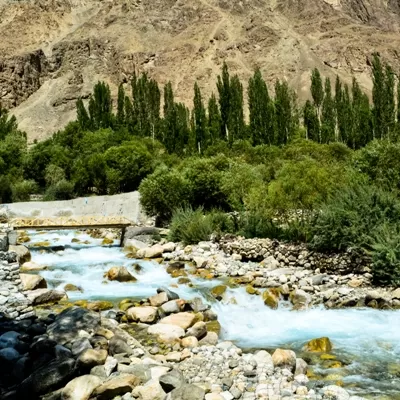 So, we started at 8 am for Turtuk with 5 more passengers and reached the Border at 4:30 pm. As expected, we were denied entry to visit Border and we had to get back to Turtuk. We did have couple of breaks at Khardung and Diskit but we wanted more for the photography. We even argued with the Driver and the fellow passengers who were residents of Turtuk only. But trust me, please do not get upset with them. They didn't take many breaks for us only, so that we would reach the destination before sunset.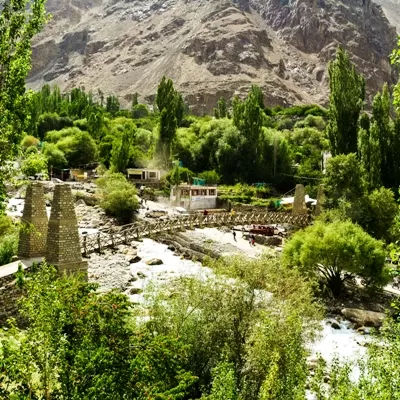 Turtuk is actually made of two villages - Youl and Farol, divided by a lovely water stream and connected by couple of wooden bridges. Although there are many homestays in Youl and Farol, the most popular and reasonable is Ismail's Homestay (Mobile: 9419300430/ 9419807014). His family just like other residents of Turtuk was very warm and caring. Our stay included breakfast and dinner as well. After looking at the beauty of Turtuk and hospitality of Balti people, we decided to extend our stay by another day.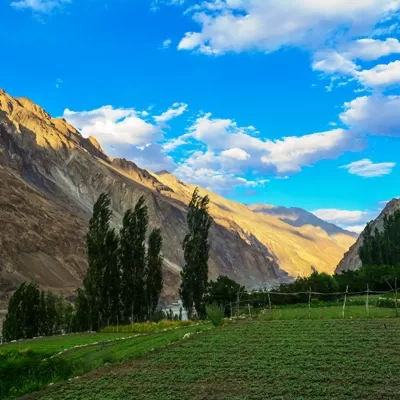 Please remember to carry copies of Inner Line Permit (ILP) and original photo ID while going to Border. We got back from the border by 2 pm and had lunch at Balti Kitchen in Farol. The food is amazing but it is expensive and it takes longer to get it on your table as the ingredients are procured from the adjoining farm immediately after receiving the order. But if you want to try out some amazing authentic Balti dishes, do visit this restaurant. Post lunch, we visited the Balti Heritage House, Natural Cold Storage and Yabgo Palace.
Getting around in Turtuk
There are no auto-rickshaws (tuktuk) or buses in Turtuk (except the Leh bound buses). The only option is shared cabs. Right next to Turtuk bridge, you will find Turtuk cab union office where you can book cabs for Turtuk Sightseeing. AVOID THEM. They quote Rs. 3000-5000 for entire Turtuk sightseeing. However, a cab is required only for visiting the Thang Border.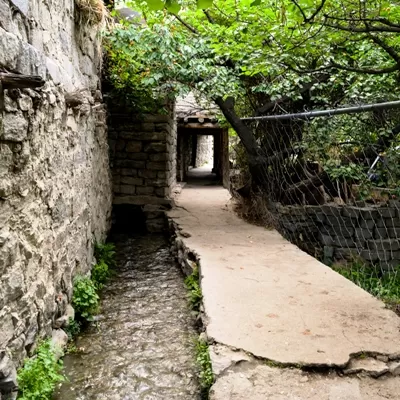 You can speak to Ismail beforehand to arrange a cab and negotiate the price. Or you may go to the Turtuk Main Market to find any vehicle going to Thang village next morning. For rest of the places, you can go on foot. All places are nearby and the pleasant atmosphere won't make you feel exhausted.
Communication in Turtuk
Only BSNL network works in Turtuk and that too with a lot of interruptions. Airtel works only till Hunder-Diskit. It doesn't work in Turtuk at all, along with Vodafone/ Idea. It is better to get a BSNL SIM in Leh for emergency.
People of Turtuk
The local residents of Turtuk are very cordial and friendly and would always greet you with a Hello and smile. When Dattatreya was lost in one of bylanes of the village and there was no way for us to communicate with him, the eagerness that Ismail's family and other villagers showed to help us was very touching.
And please note that the people of Turtuk have got nothing against Indian Army or tourist coming from other parts of the country. They very much consider themselves as the proud citizens of India. Their only agony is the fact that most of them haven't met their families (who got stuck in PoK after 1971 war) for more than 4 decades. With no access to Internet and Social Media, the estranged family members exchange video messages on flash drives, sent by post.
Please remember that the residents of Turtuk are just like us who may or may not want undue attention. So I would suggest not to photograph them. And if you really wish to, take prior permission from them. Let's respect their freedom.
I have tried to cover as many things as I can but it's still very less of an information about Turtuk. And as far as how it feels like living in Turtuk, I think the pictures will give you a better idea 🙂 If you have any queries, please feel free to ask in the Comments section.
You can also follow me on Instagram, Facebook, for more interesting stuff; and subscribe to my YouTube channel.
Till then...Happy Travelizing!!!