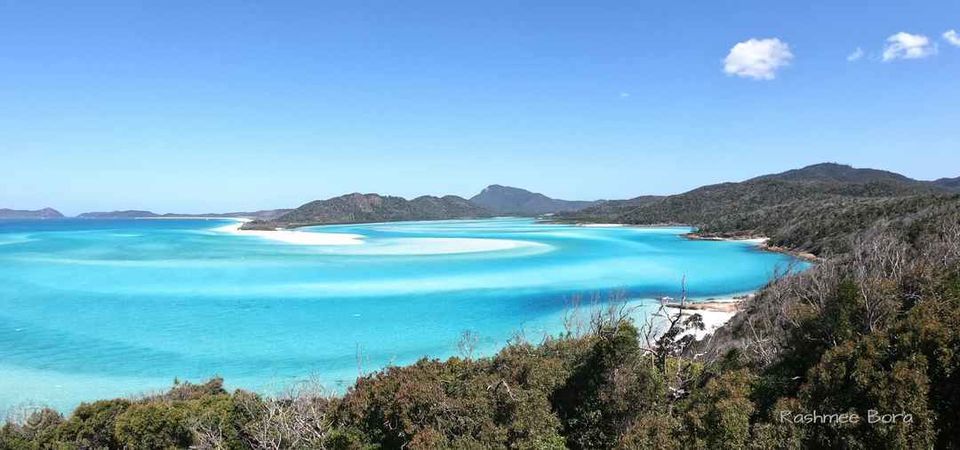 Sky above, sand below, peace within. --- unknown
One of the star attraction of Australia is "Great Barrier Reef"- home of the world's largest living structure and also one of the seven wonders of the natural world. The Reef is accessible either from Cairns or Whitsundays.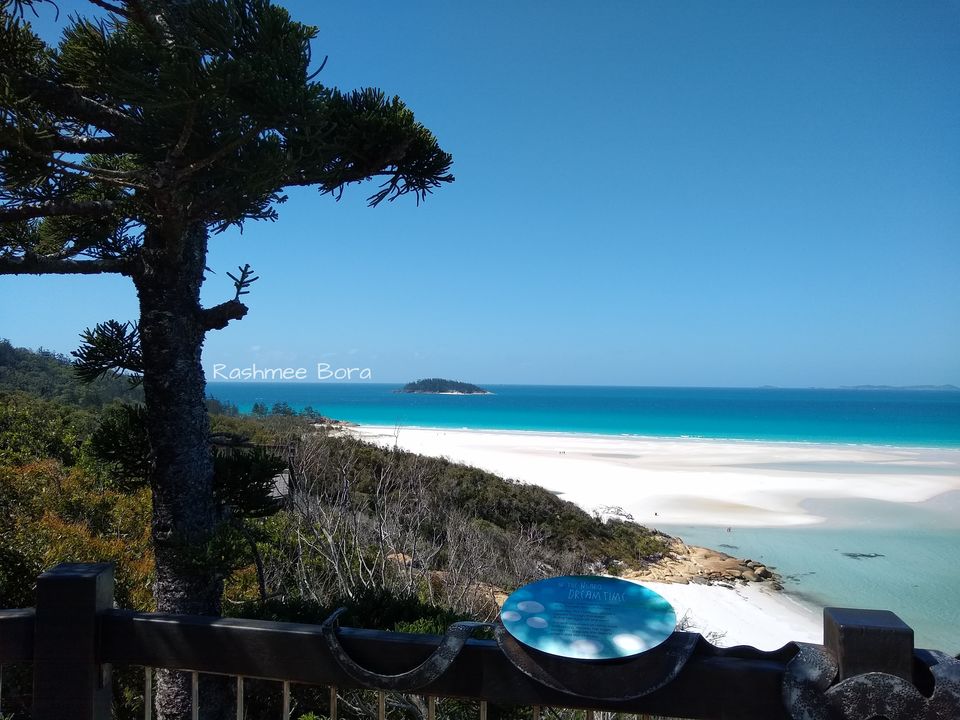 Me & my H-man went on a 3 days trip to Whitsundays and that is when I happened to visit Whitehaven Beach of Queensland, Australia. Click here for detailed information of this trip to Great Barrier Reef in my original blog.
From Airlie Beach we took a 1 day Catamaran Cruise tour that included Snorkelling (2 locations), Whitehaven Beach and Hill Inlet Lookout.
The fast catamaran starts from Airlie Beach at 9 am for the awesome ride passing through Hayman Island. The first stop is Snorkelling location 1 on the fringing Great Barrier Reef for corals followed by location 2 for exotic fishes. Both the locations were fantastic and any non-swimmer like me can also be part of this snorkelling group. After wrapping up with Lunch Buffet on the sailboat we went ahead to expedite the main attraction of the day. World famous Whitehaven Beach.
Our catamaran sailed towards Tongue Bay of Whitsunday Islands National Park and parked over there. We were given 2 hours to explore the beach and the lookout for a panoramic view.
The lookout point is a 1.3 km circuit walk either from Tongue Bay or the Beach itself. We did a small hike through the mangrove trees and bushland to Hill Inlet lookout that leads to three different platform which overlooks the photogenic beach with the endless stretches of white sand along with the nearby tropical islands. The first platform was pretty much crowded compared to the other two but views are equally appealing from any of them. After absorbing the mesmerising scene of the ever-changing shapes of the crystal-clear turquoise waters for a while, we came down to the beach. We soaked in the sunshine and walked around Betty's & Lookout Beach that is part of Whitehaven Beach. The sand of this beach is 97% pure silica and incredibly soft to sink our toes into. It's a perfect dreamy paradise to get married too.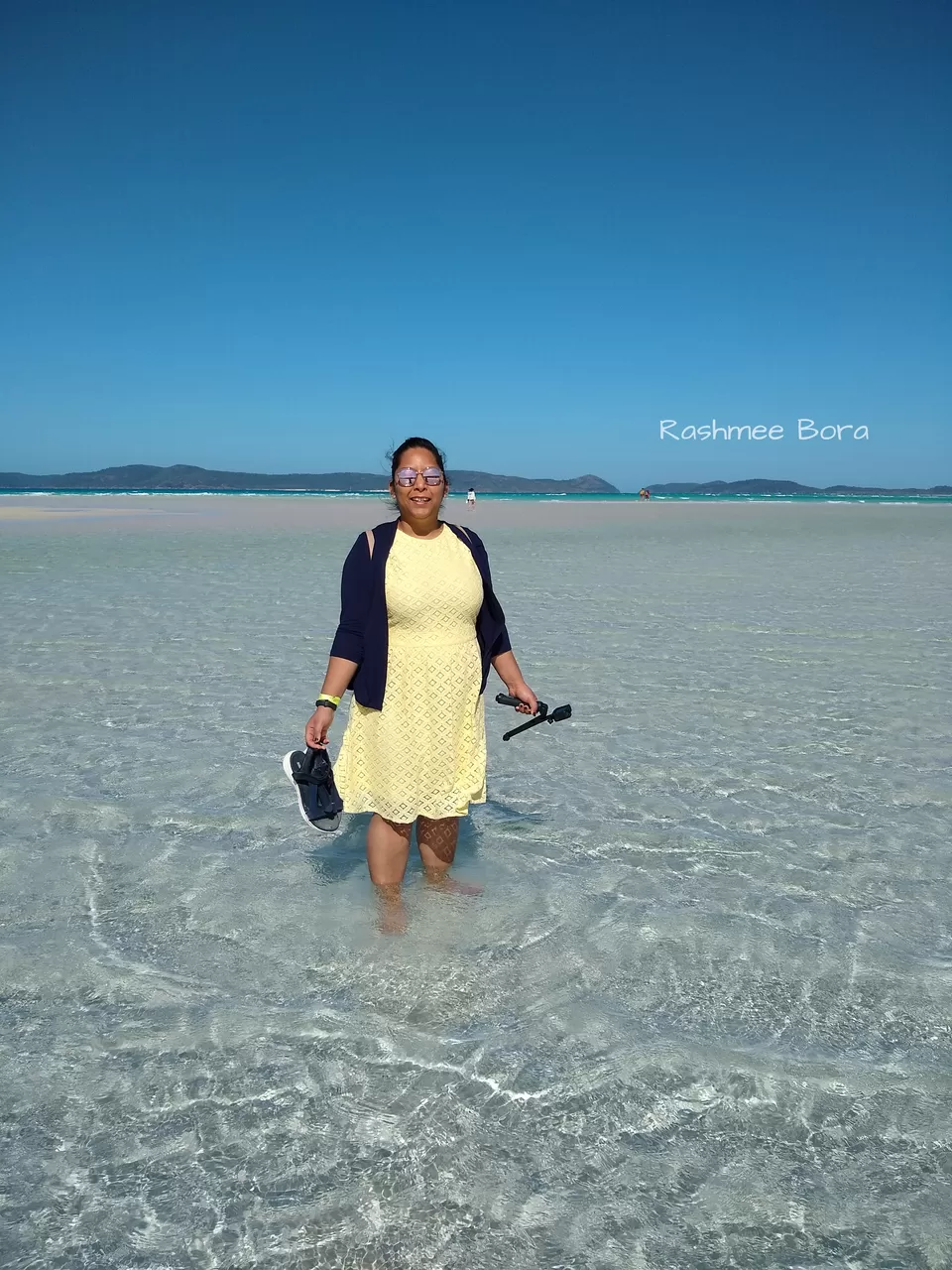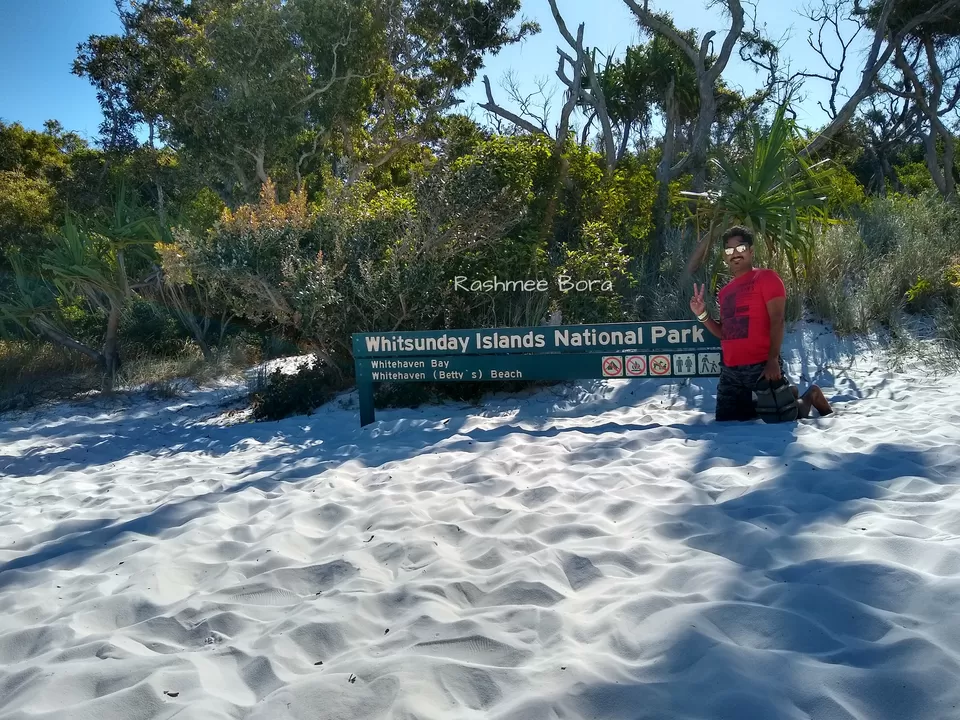 We clicked some Gazillion pictures of this beach but they still can't justify what we actually viewed with naked eyes.
The other way to explore this beach is through Scenic flight or helicopter ride. If someone is not comfortable with water rides, then this is the best option. On our day 2 at Whitsundays we took a 1 hour scenic flight to get a bird eye view of the Great Barrier Reef and the Whitsunday Islands & the Whitehaven Beach. It definitely surpassed my expectations. The glorious view of the Heart Reef, Islands and specially Whitehaven Beach was one of its kind. There was ample opportunity for photography too to capture the beauty of this place.

If you happen to be in Australia, make sure that Whitsundays is in your bucket list.
Few other pictures from our trip :