If you are visiting Bali soon and looking for some relaxing time with fun activity, I would suggest to plan a day out for the Snorkeling trip to 3 islands : Nusa Lembongan, Nusa Penida & Nusa Ceningan. (also known as 3 sisters island of Bali)
These 3 islands are known as 'Sister Island' and hardly 1 hour from the Bali's pier area. If you are staying in Ubud, then it will take 45-60 minutes of journey form the city to the Pier which is towards Airport or Sanur beach.
You can book the trip online to save the money as its cheaper as compared to travel agents or hotel tour desks.
https://www.klook.com/invite/Q161Z?c=INR
The tour cost aroound 6700 INR per person, which includes free hotel pickup/drop, Lunch, Snorkeling Gear, Speed boat transfer, Coffee/tea at the resort, Towel etc.
The boat leave the pie at 10:30AM and you will be requested to collect the Snorkeling gears as per your size. It takes around 45-50 minutes from the pier to the first snorkeling stop known as Crystal Bay, maybe because inspired by the crystal clear water :)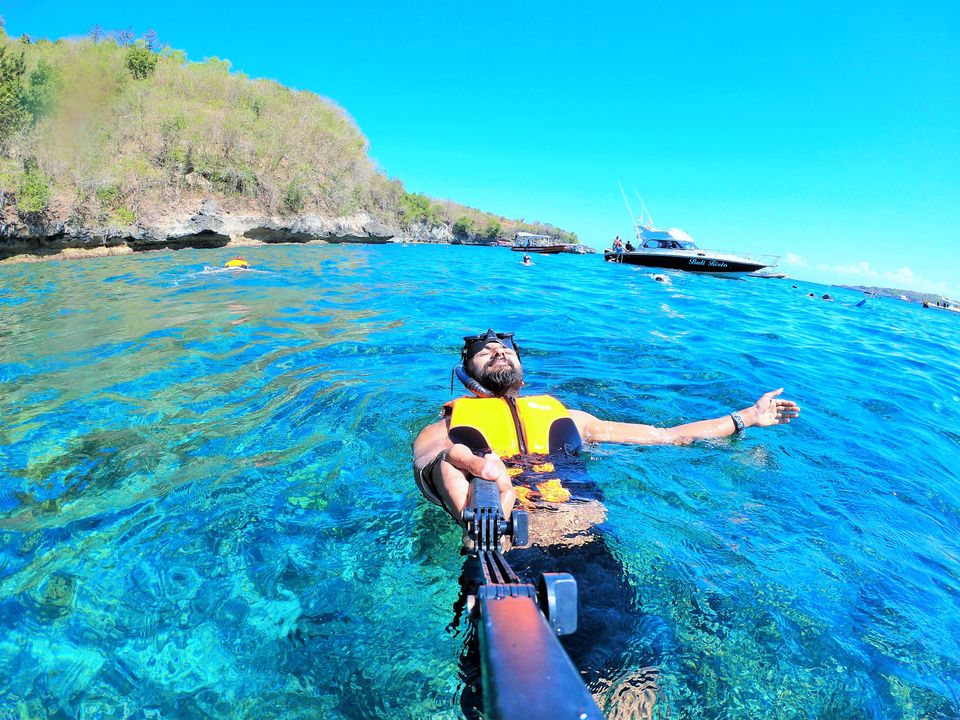 I fell in love with the natural beauty of this bay, but was little disappointed as not much spices of colorful fishes were around.
After spending around 30 minutes, we were back to the bumpy ride (see the video) and after 20 minutes of jumping jacks we reached Nusa Penida. Its a 300 feet high cliff rising out of water, giving a perfect opportunity for thrill seeker to take picture filled of adlerian.
Unfortunately the tour just covered the sight seeing without having a stop over :(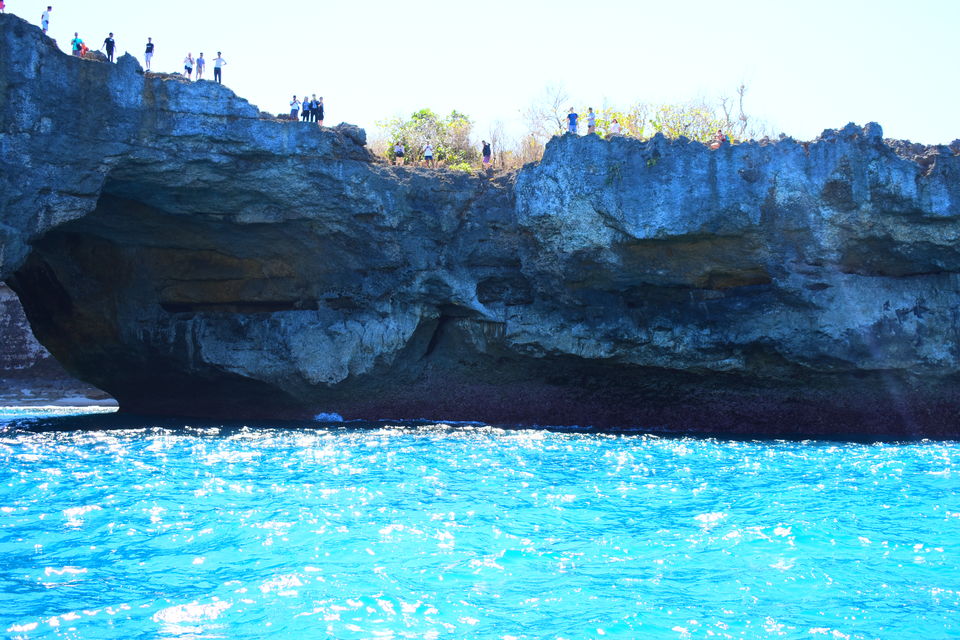 After just 1 5 minutes of stop over, we went ahead to the Ceningan island, but as it was low tide so we couldn't go further. As per the itinerary, we were supposed to go to Nusa Ceningan for a walking tour to explore the local village. We settled down in the Ceningan channel's calm water and had lunch. The lunch menu was good enough for vegetarians as well non-vegetarians, though drinks were charged extra.
After lunch break, we went for the 2nd snorkeling point where water was more blueish and colder :D We were given the towel to dry our self and get cozy after the snorkeling session.
We had fun for around 15 minutes and then taken to the Bali Hai resort at the beach, where Tea/Coffee was served which was not as per my taste. The best part was we got the free access to the Banana Boat ride, Kayaking and Pedal Surf Board :) (may be compensation for missing the walking tour to the village)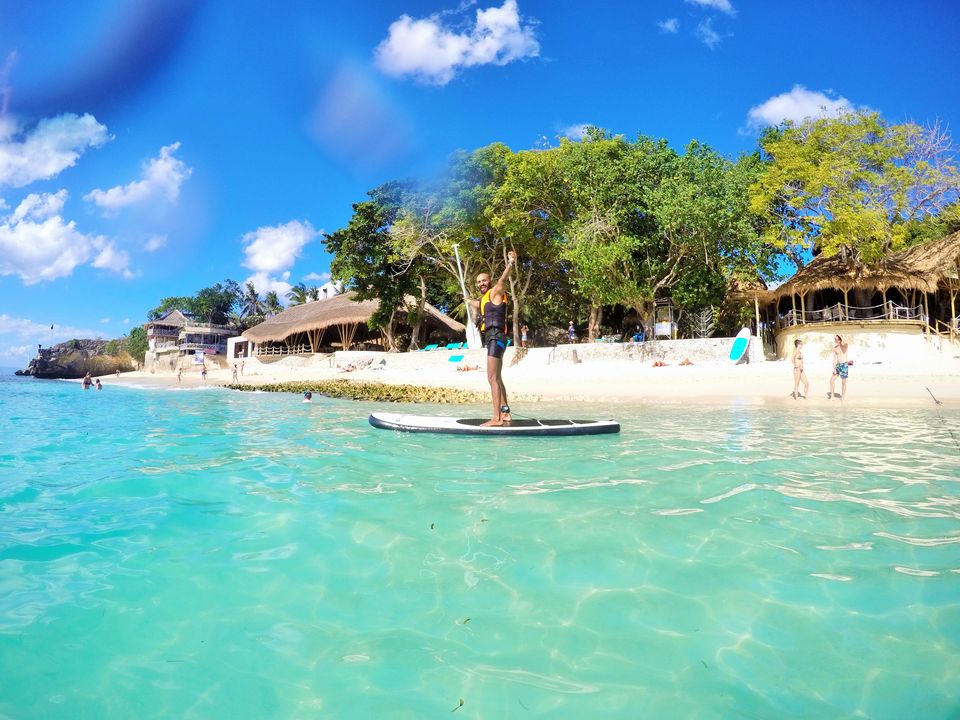 The resort also had swimming pool, shower area, free lockers and beach bed. It turns out to be very relaxing and refreshing.
While coming back to the pier, i seized the opportunity of clicking photograph of mount Agung's Eruption :)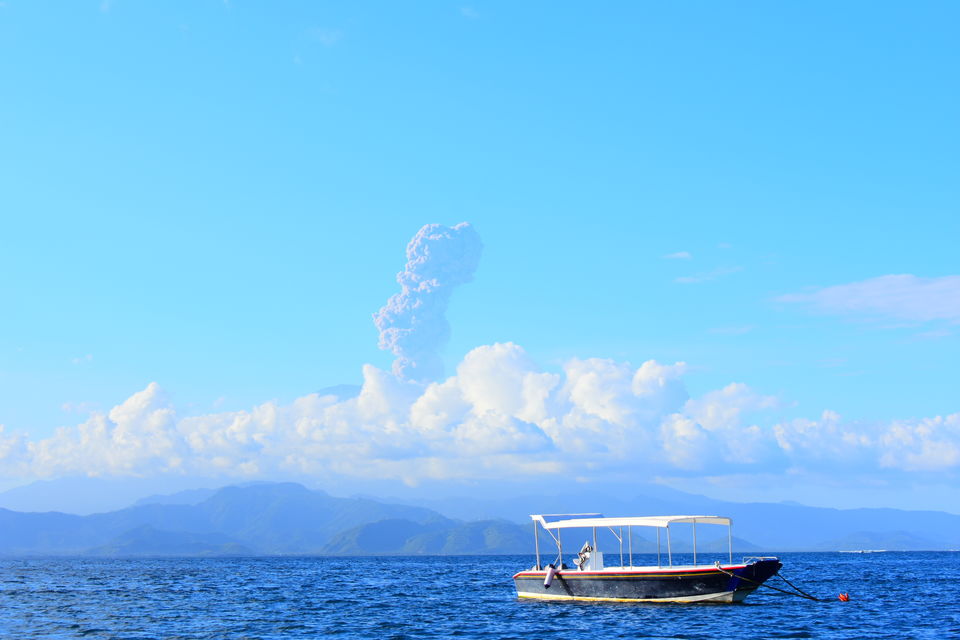 Overall it was a good tour, but I wish it includes some time at Nusa Penida hiking :)
I hope you have a nice time in bali.
Disclaimer: I am not associated with any brand, its just my personal view without any intention to promote/demote any individual or brand Though it's only done to share my memories and not for monetary benefits, but please take permission for using any content (blog/images/videos)