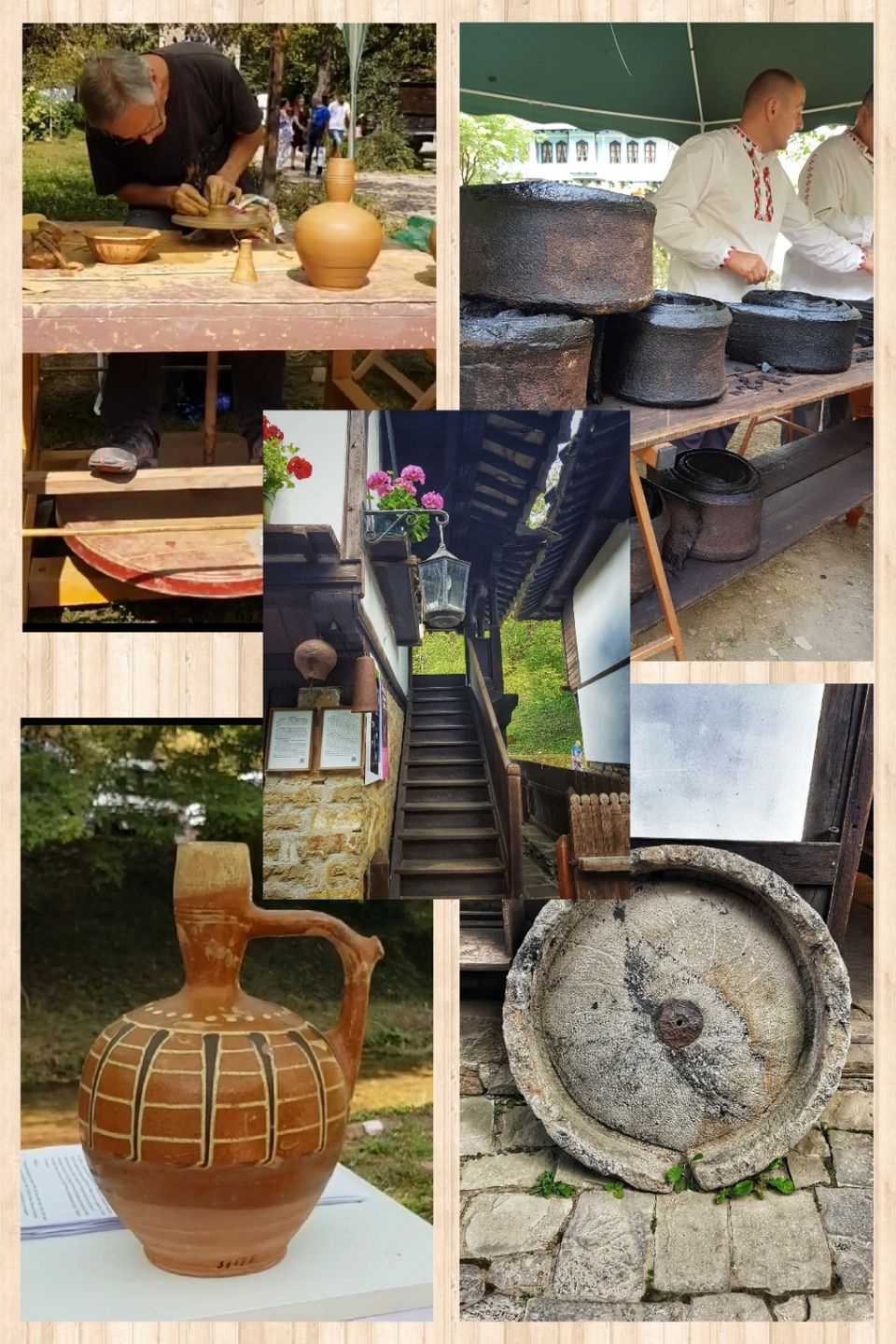 Gabrovo
Hometown to 1.12Lakh people and the geographical center to Bulgaria. Gabrovo is situated at the foot of the central Balkan Mountains, in the Valley of Yantra River. The place where people believe "The world lasts because it laughs" as its motto, is said to be the international capital of Humor and Satire.
The Satire and Humor of Gabrovo is well reflected in its Local Art which includes Cartoons, Photographs, Paintings, Sculptures, etc. along with the verbal humor from the locals.
Just like one can cross the actual meridian on ground at the Greenwich Meridian in Greenwich. Gabrovo has its kind of same spot too where it shows that it's the center of Bulgaria.
Etar
9kms from Gabrovo is located a center called Etar. An Open Air Ethnographic Museum that presents vast variety of Bulgarian customs, culture, craftsmanship, etc. On every Bulgarian Holiday, Etar becomes a very popular stop where people take long walks enjoying the open workshops and traditional old hotel/restaurants surrounded by scenic nature. These holidays are many through the years due to the dramatic history of freedom battles fought. People here celebrate all the heroic episodes of those wars, especially the one fought during the Ottoman Empire period. Along the scenic hotels and the workshops of Etar, flows the river Yantra which is the reason one can always one can always take time to get lost in the greenwoods and free air.
Workshops amidst Etar
Tinsmith's Workshop -: An old man sitting with a burning tin-plate of all sizes, big and small. Shaping the plates into pots, with his bare hands. He is gotten so use to the heat and the hot tins that his hands have gotten hard and bearable with time.
Potter's Workshop -: a craftsman with tattoos on his sleeves and back, of traditional values from his ancestors, is seen making clay pots on a spinning wheel which he spins with his feet.
Cutler's Workshop -: the beauty of art and the proverb (old is gold) is seen in this old hut where a professional cutler sits and sharpen all types and size of knives, cutlery, utensils and objects on a spinning stone which spins through the technique of hydro power where a big wheel spins due to the force of water on it, which makes the stone spin to help sharpen the knife.
Carpet maker's Workshop -: artists are known for their patience and precision, no matter who the artist or what he/she do. The true example of such an artist is seen in this hut. A lady makes hand-made carpets which are very much like Persian carpets. It takes days, months or maybe a year for her to stitch a carpet as she does it carefully by preparing wools, thread by thread, knot by knot, picking every color herself and very carefully, following the color scheme to make it look attractive and more importantly, very local and traditional.
Jeweler's Workshop -: necklaces, earrings and other decorations are what a lady likes and makes a lady beautiful. Those ornaments are made beautifully by a lady who makes them with colored bug cocoons. She sits alongside her husband who is a henna tattoo artist from India and is brilliant at what he does.
Gabrovo Sweets -: a sweet shop, an open table or you can call it a place of mouth watery guilty pleasures, but Etar people are very certain about their chocolates and other sweets since they have their own ways of preparing them and serving and selling them. Every sweet and chocolate has its own traditional recipe by which they prepared right there in front of us. The most interesting and favorite of all is Pestil. Its process and preparation takes hours and days but it can be encountered right there as the workshop is open to all to observe. A fresh fruit plum is cut and put in a pot placed on the fire. It takes a few hours for it to turn into a jam. Once it is turned into a jam, it is spread over a flat wooden plank and kept there for half a day or so to let it dry. It may be a long procedure but people know it is worth the wait and everyone that have or have not tried it before, is eager to take a good soothing bite of it and loose themselves in the smothering Gabrovo sweets.
That's not all of Gabrovo or Etar. There is a lot to see and experience around here. And no matter how much I write about it, one can only really enjoy it after one visits it themselves and the locals are as welcoming here as one of their own.





Travel Experience and Background Picture Courtesy-: Elena Mandicheva

Part - 2 (Coming Soon)