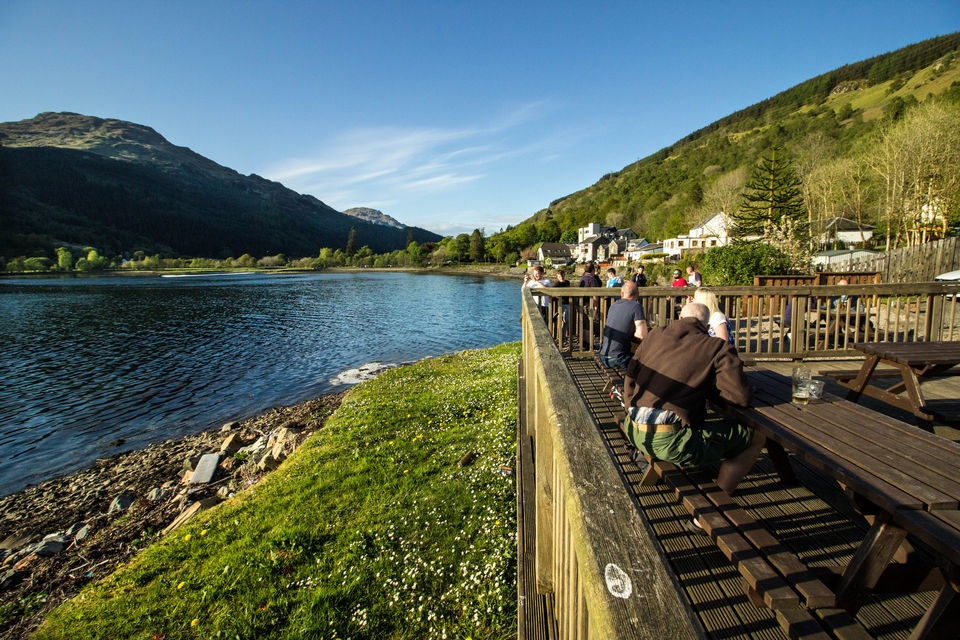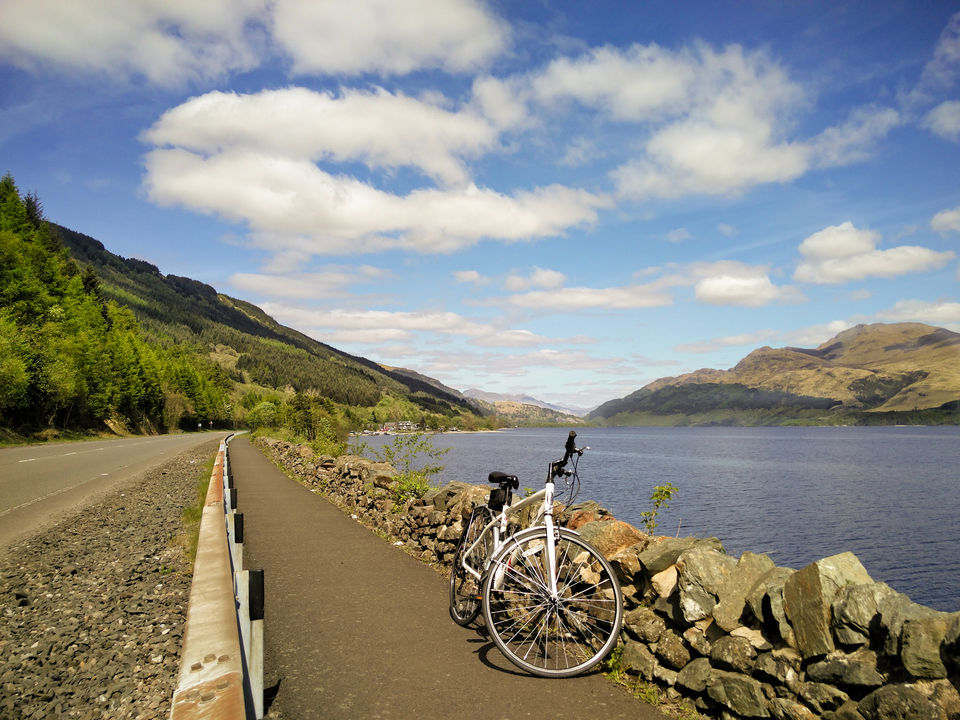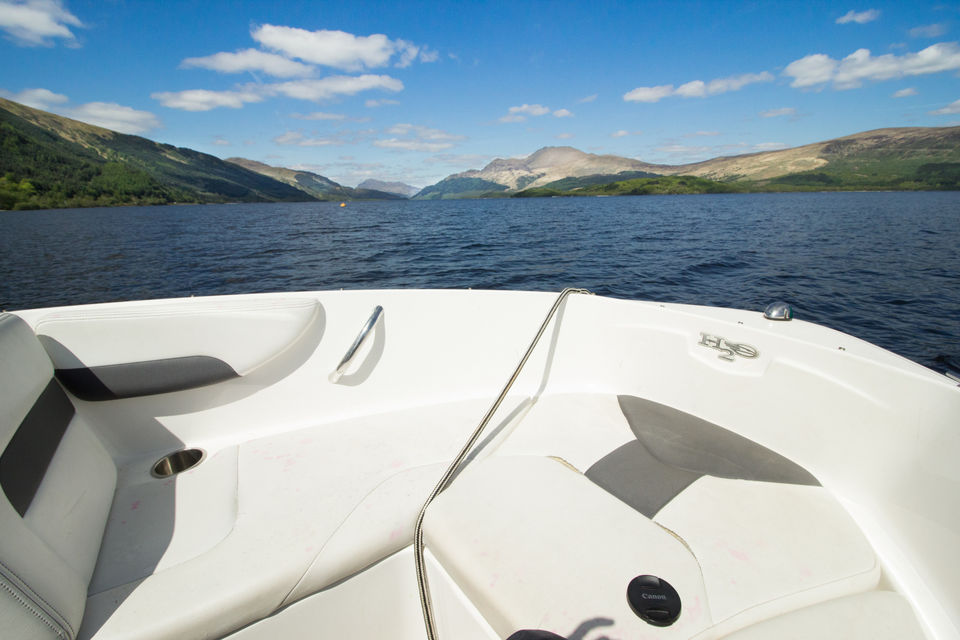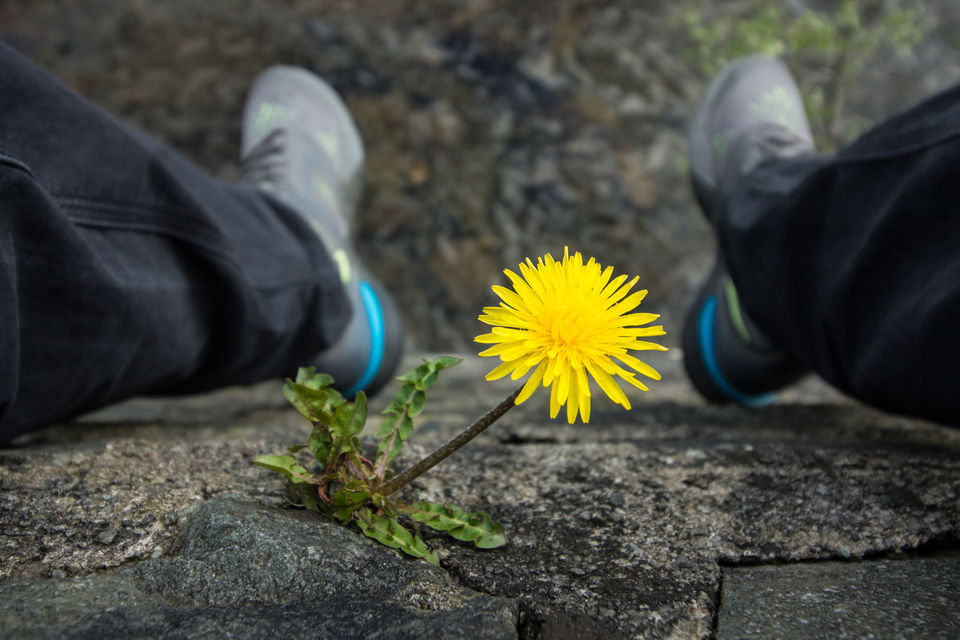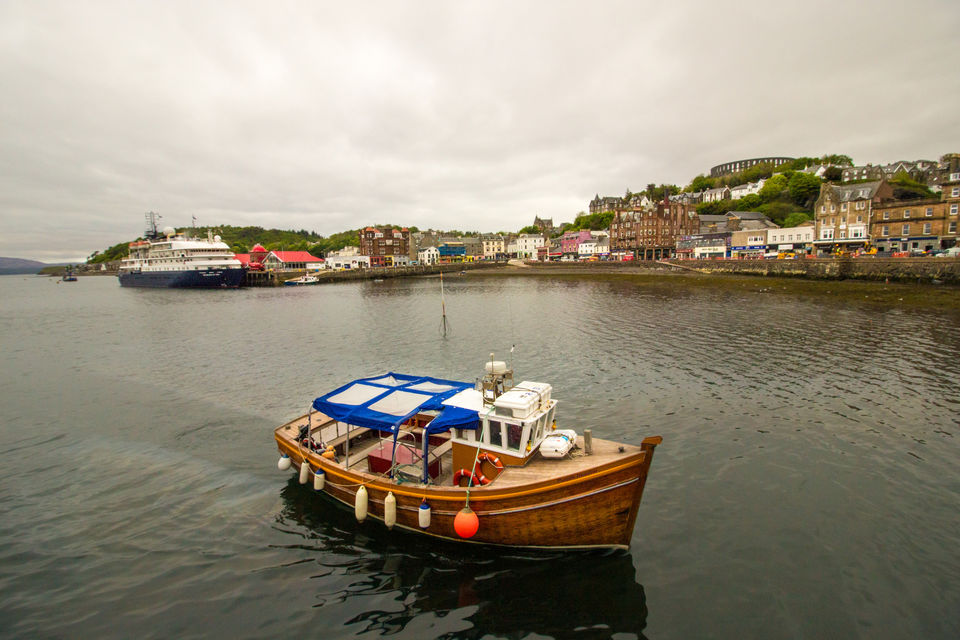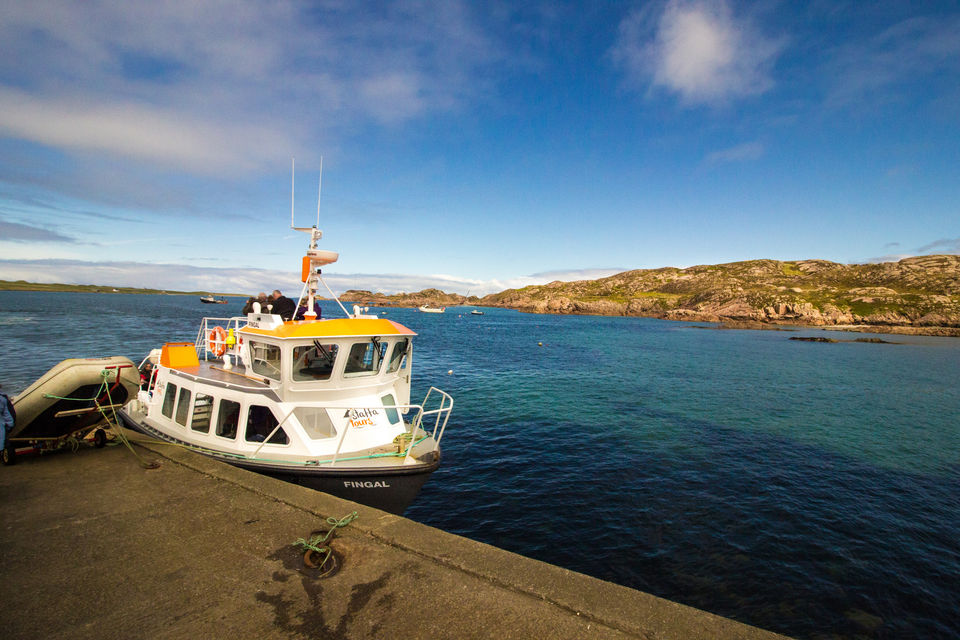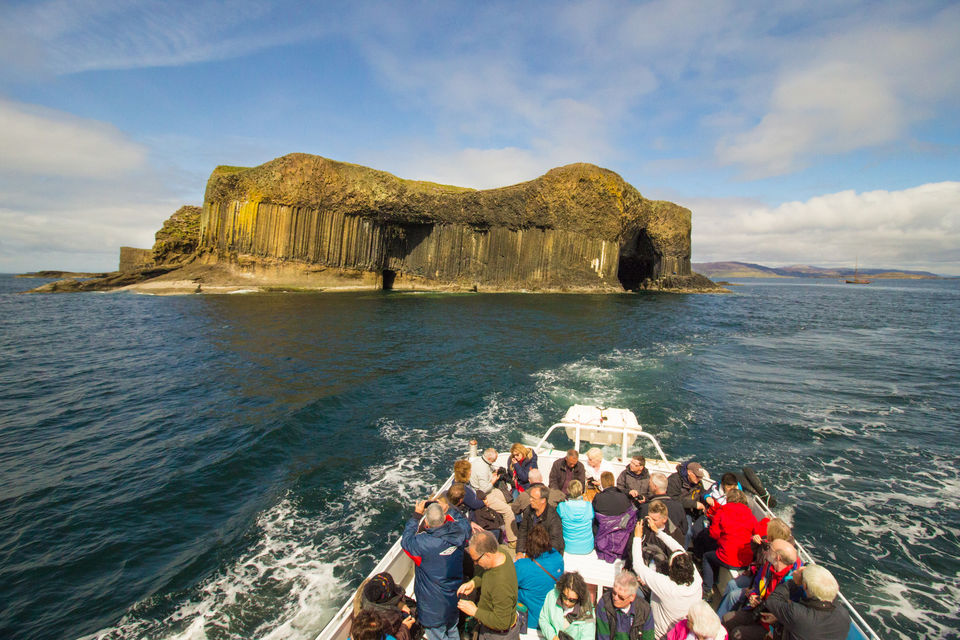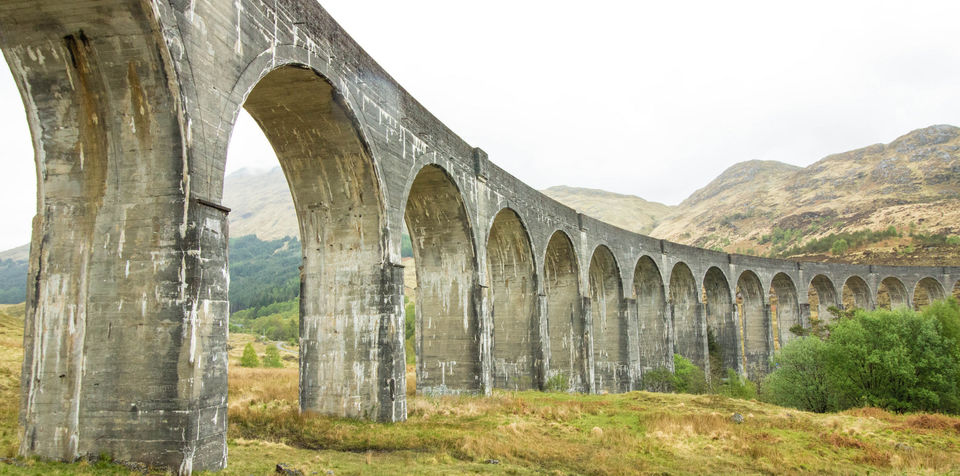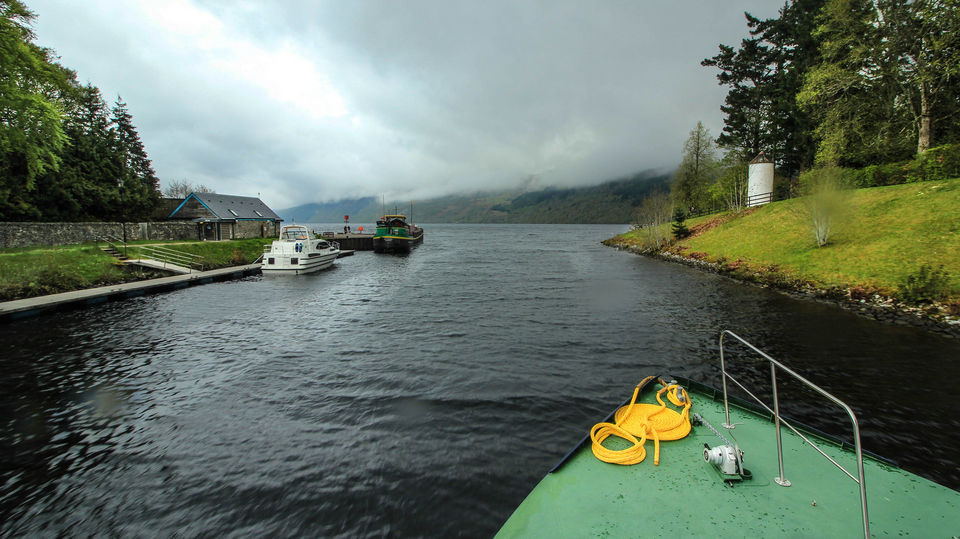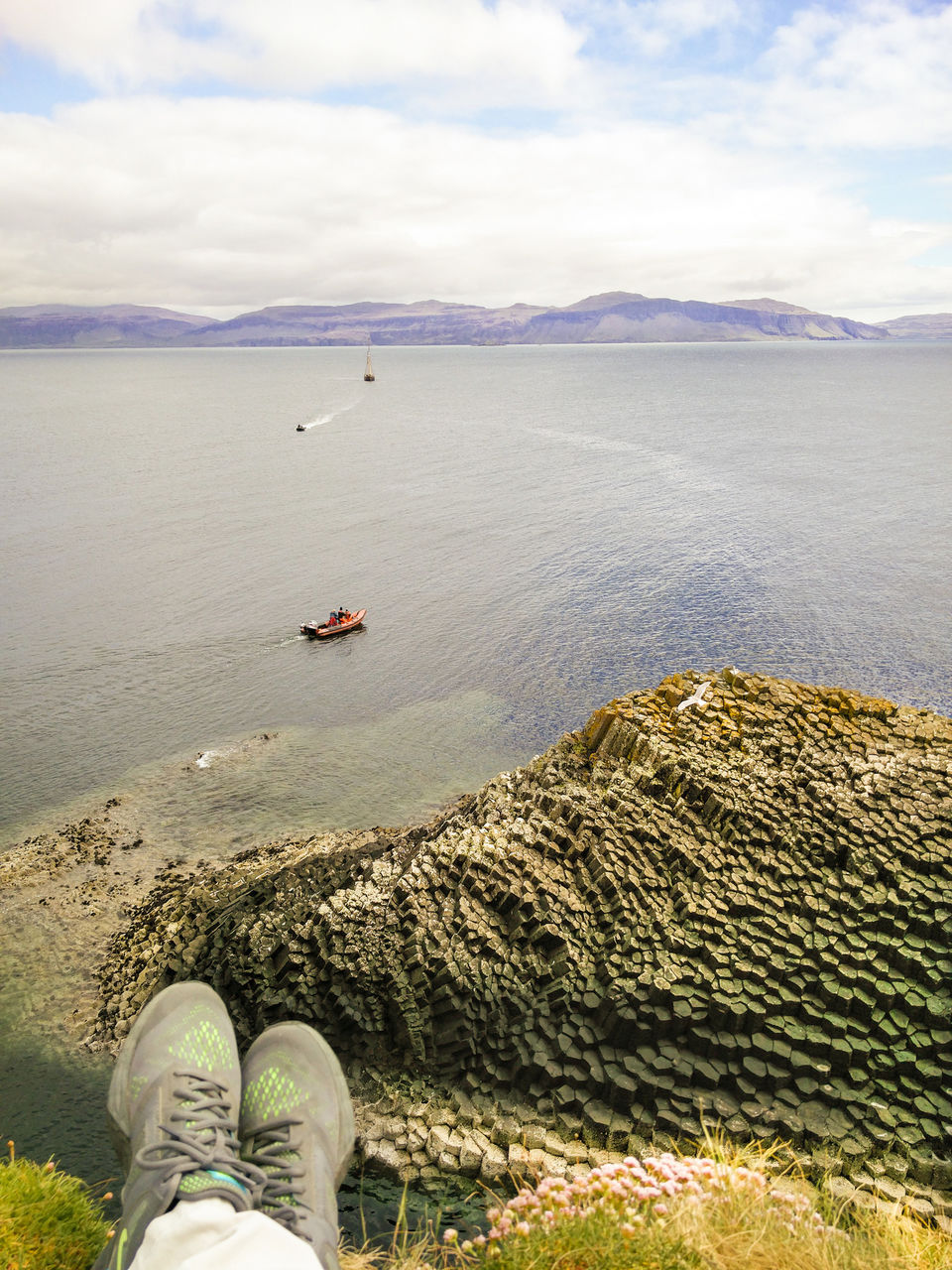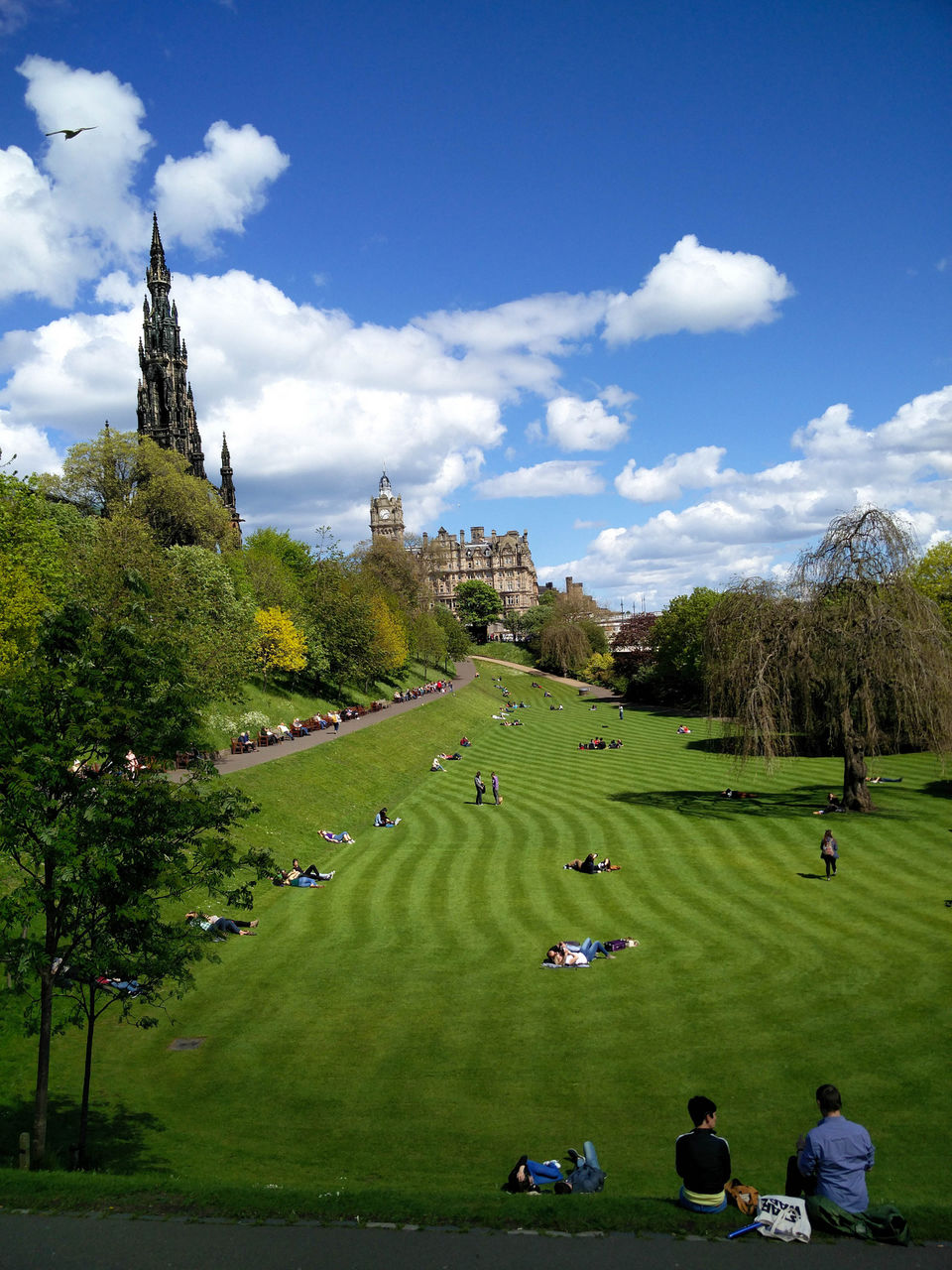 What is it that propels you to write. Or take pictures. Or even scribble notes on that small notepad you always carry around?
Every writer has a definitive style about him/her and so does a photographer. I do not fall under either of those categories but I intend to portray this one visit to Scotland through my couple cameras as I gulped fresh mountain air in ounces and pulled my jacket(s) closer with every step I took.
After a few days in London, a weekend in Wales and couple weeks in Oxford, I had requested for an additional week to explore Scotland on my own. And it was right out of your desktop wallpapers, your bucket-lists and n-places-to-explore-before-you-die-f-u-buzfed
If this video doesn't compel you to choose Scotland as your next destination, there are slim chances anything ever will -
A Day in Glasgow
Kelvingrove Art Gallery is worth a visit.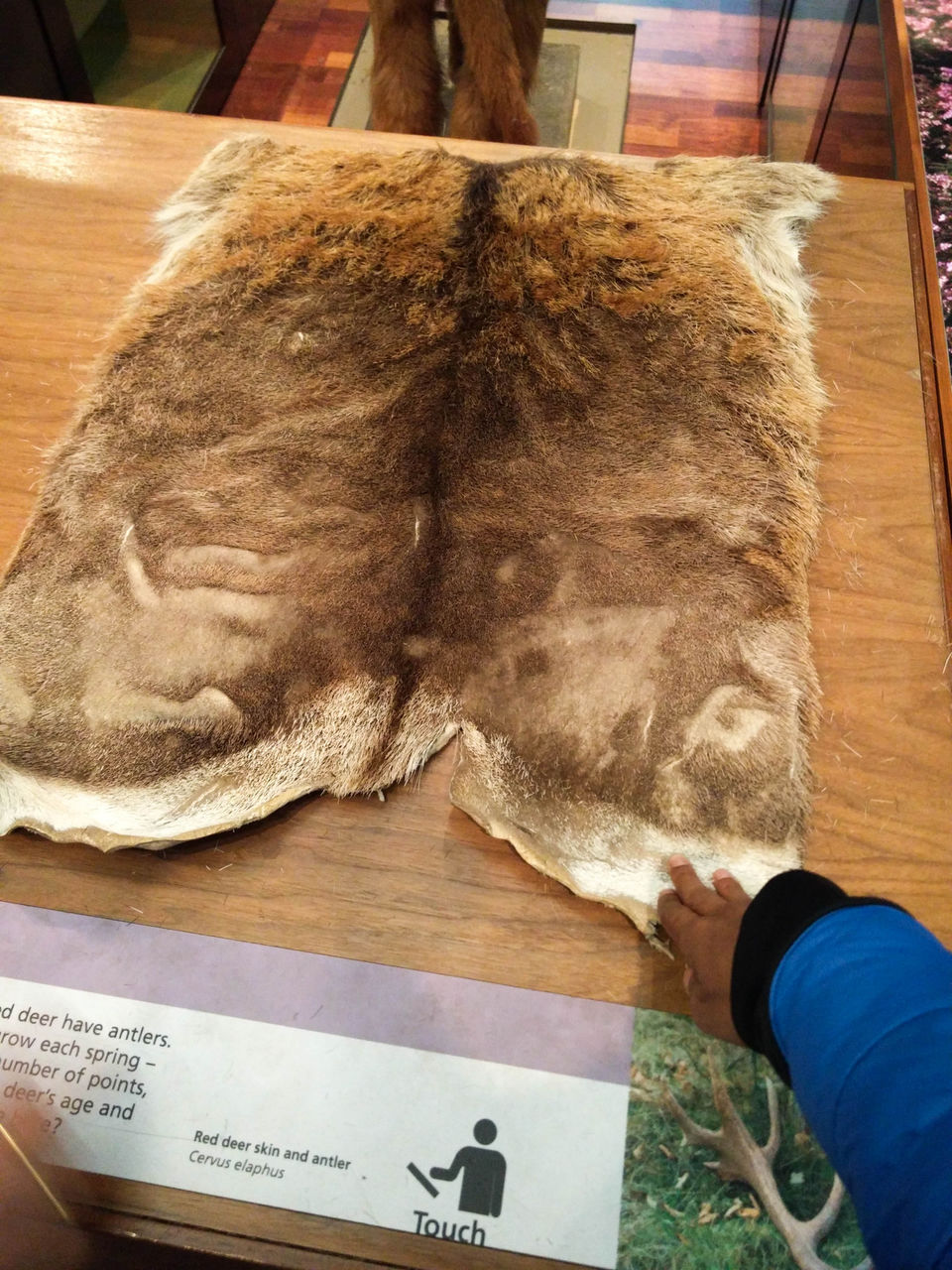 I mean where else would you get explicit instructions to touch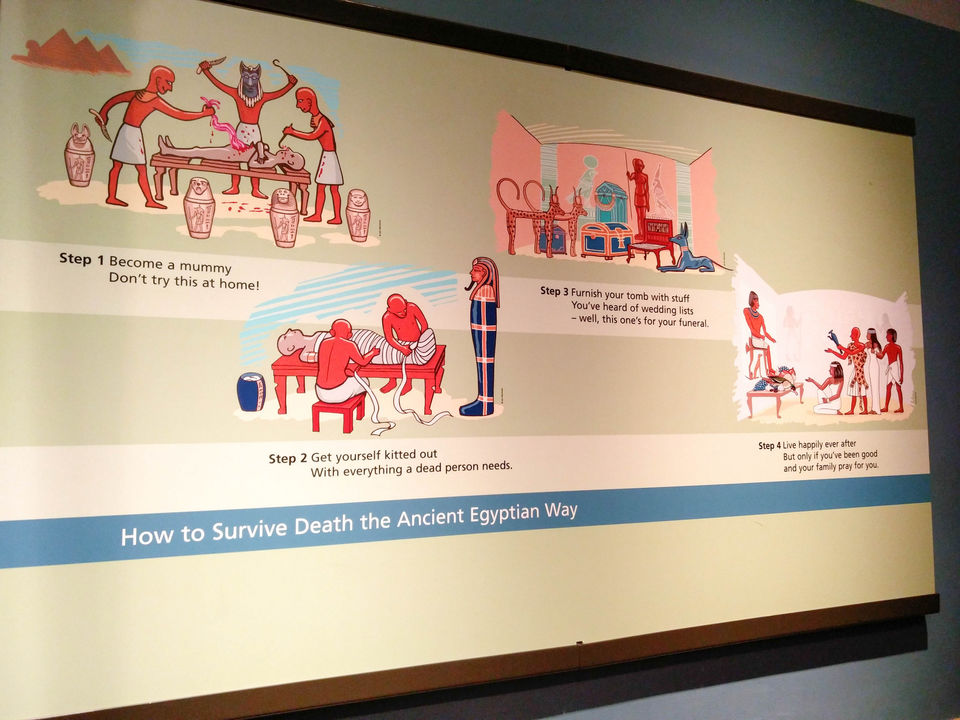 or on becoming a mummy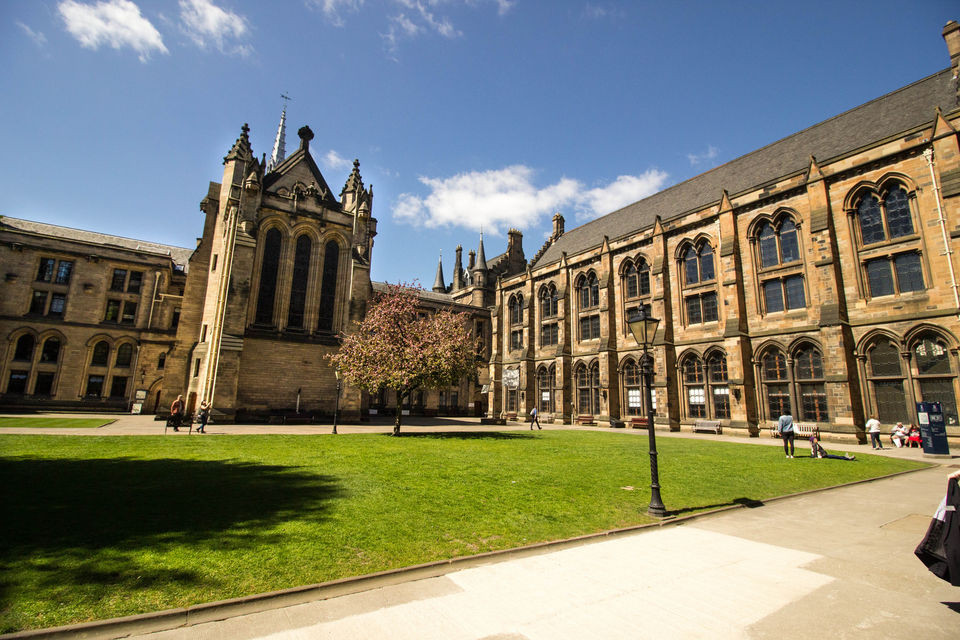 Glasgow University. There was a museum here as well but I've had enough museums for a lifetime.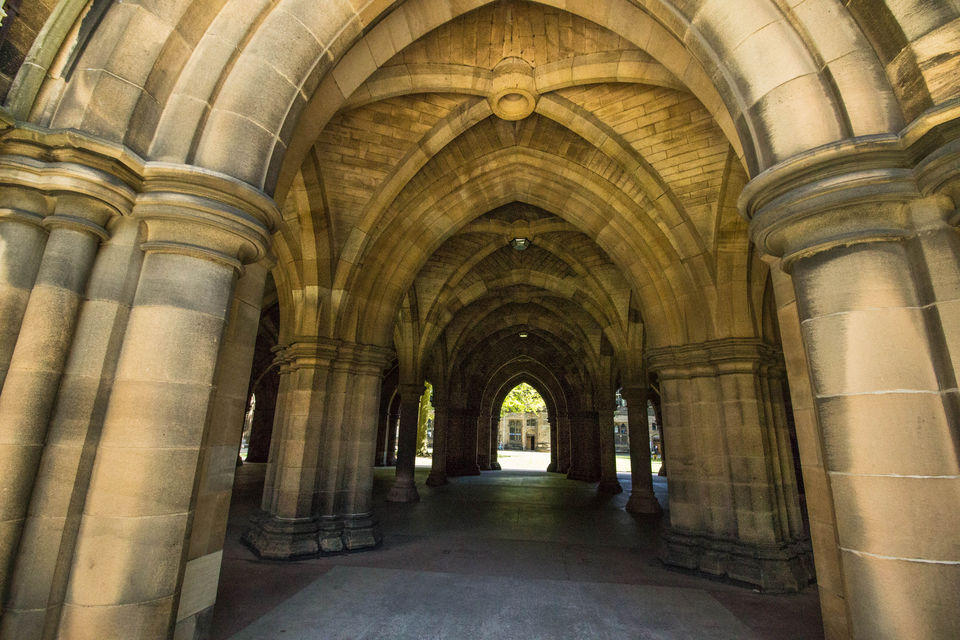 so gothic. much neo. wow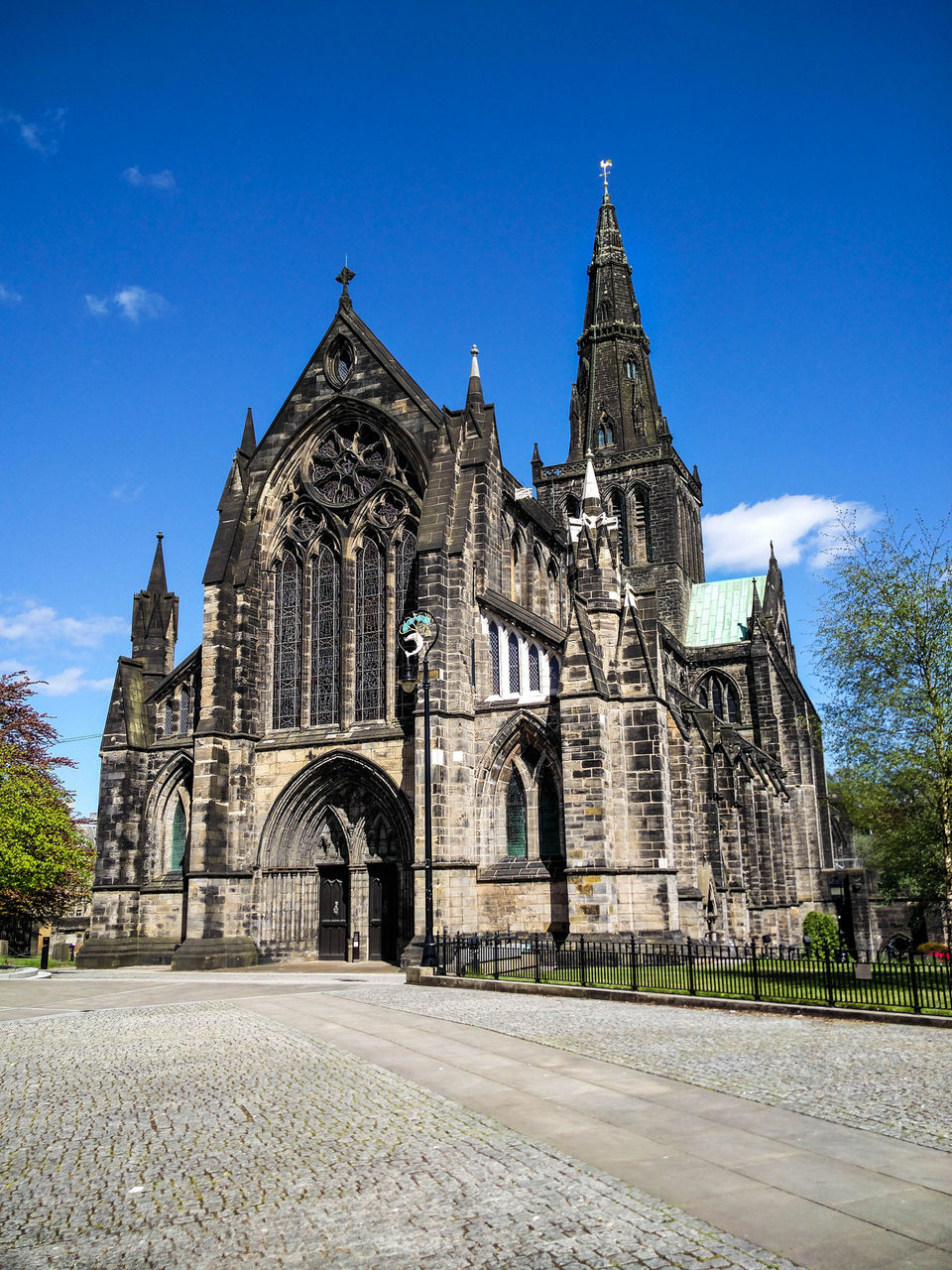 Glasgow Cathedral. I liked St. David's better. I could feel grannies witnessing another level of high while they stared at the ceiling and awed in mystery while going through the cathedral. pls stop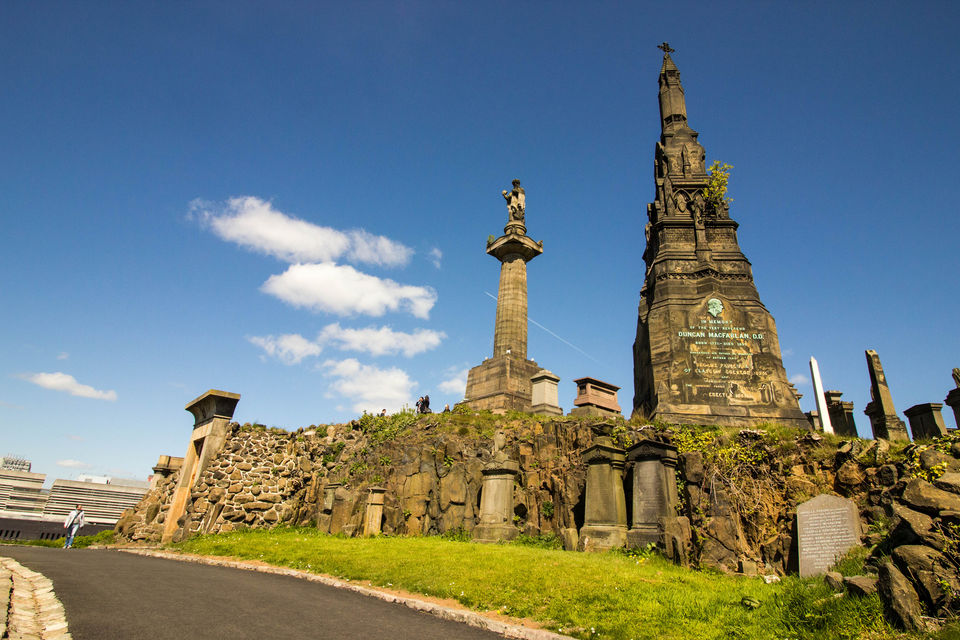 Necropolis. Tomorrowland of graves. This tops the list of those places where you'd rather not be when zombie apocalypse hits.
Then I hit the oldest house in Glasgow and I hit my head on a low doorway only to curse out loud in a desi touch.
I had my train tickets in order and I shortly reached Arrochar and Tarbet which is just beside Loch Lomond. The owner of Dalkusha's House was considerate enough to pick me up as public transportation is not so freely available and I didn't saw any autos. Strange.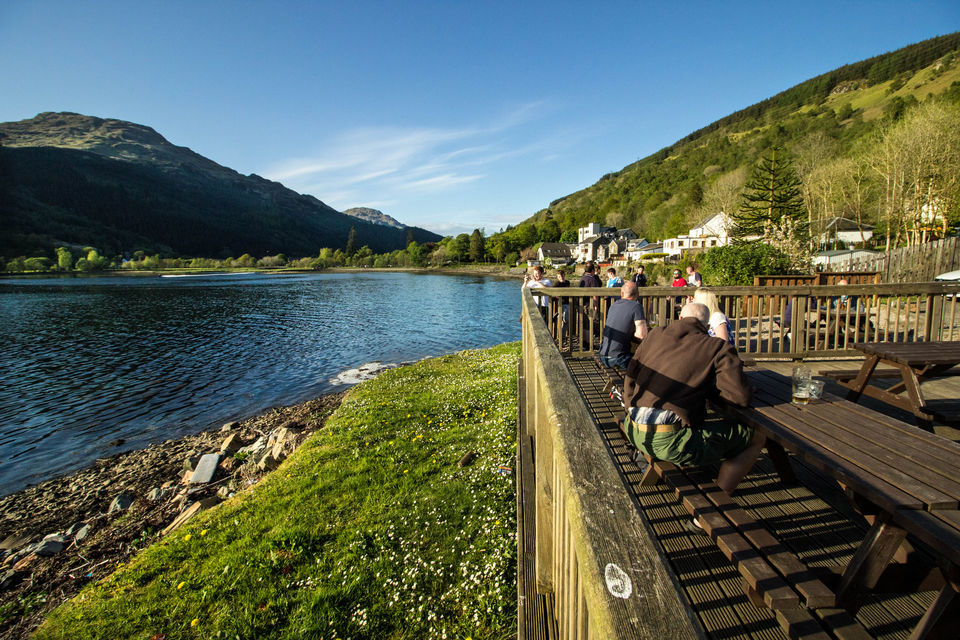 Highlands.
Don't let the sun fool you. It was chilly and windy. I kept putting one thing in order and watched while the other flew away to a distance. I finally came back inside the pub to this view.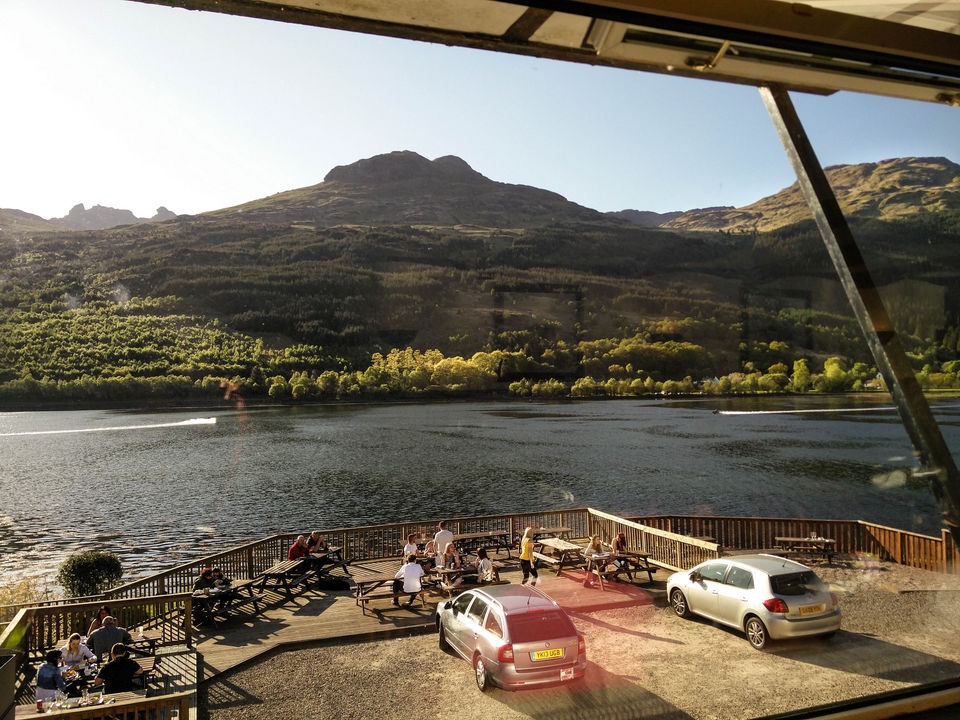 Finally. It was going to be some week.
Cycling through Loch Lomond
I sat with a warm cup of tea in the garden which overlooked the tall mountains in the distance bathing in the sun comfortably. I exchanged a few words with my gracious host and ran straight to rent a bike. He explained me the basics of the bike and gave out a map.
Here's my number on the back. Just in case something happens, just call me and I'll pick you up in my truck. But let's hope it doesn't come to that.
It didn't.
I started from Arrochar and Tarbet with just my camera and took off towards Luss. But I regretted the decision 5 minutes after I took the bike for a spin. The godforsaken first 5 miles were uphill and my lungs were on the verge of bursting. So much for adventure.
But you know a view like this made it all worth the idiotic decision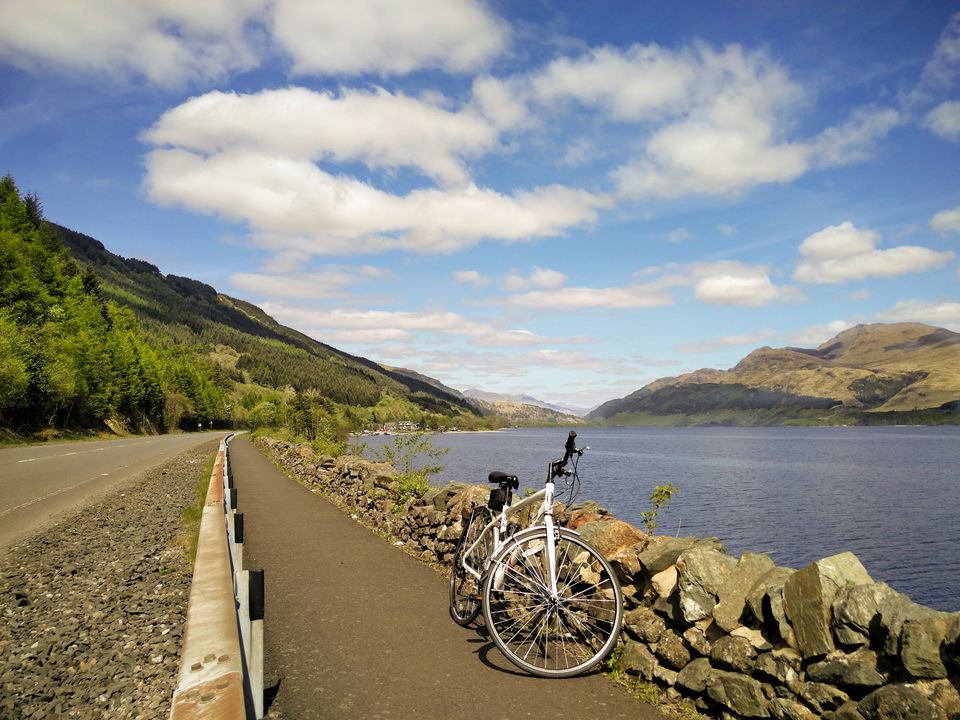 I made several stops along the path which got separated from the main road into a dedicated cycle path called the The West Loch Lomond Cycle Path.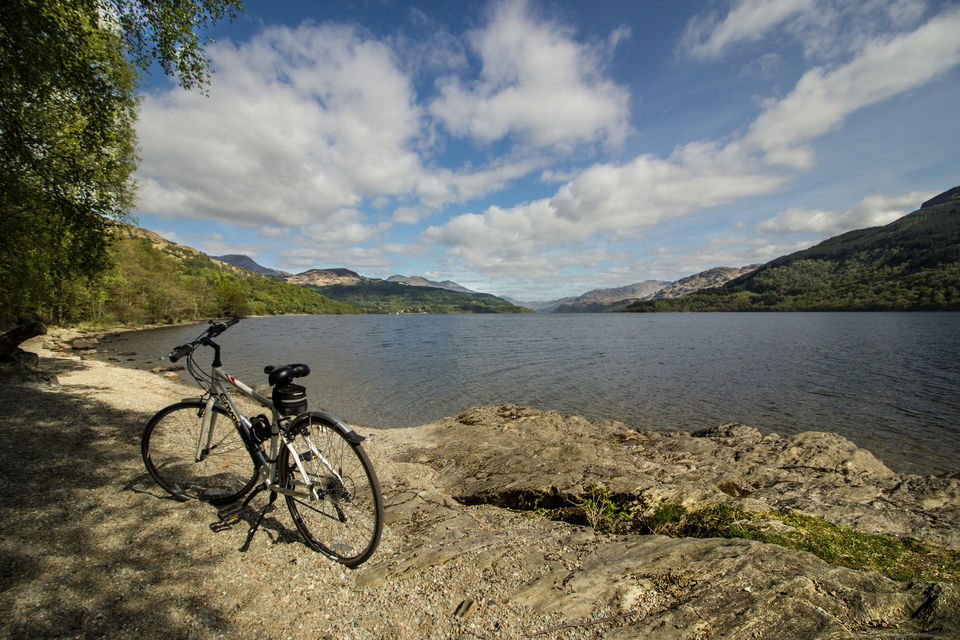 You can sit and watch the clouds go by or stare endlessly at the water slowly splashing against the rugged rocks which easily outmatches the music in your phone.
Or you could fill your pockets will tiny pebbles, find the perfect vantage point on a small cliff with your legs dangling and fling them as far as you could and watch the ripples you created.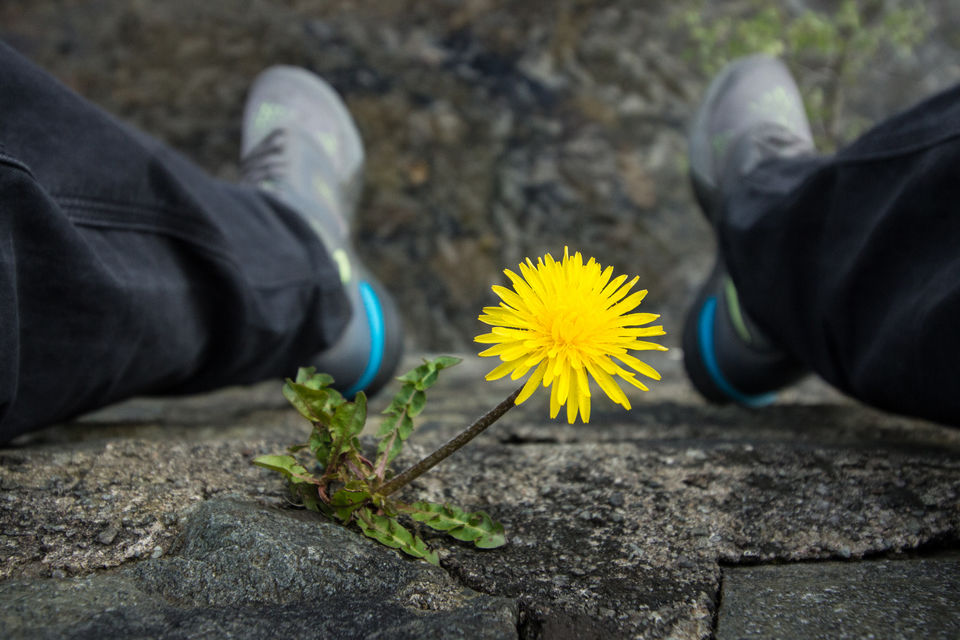 I shortly reached Inverbeg where I managed to get a weird energy drink which literally tasted like piss(not that I have tasted it, but I have a strong imagination).
The gal who was at the counter was really polite, something which creeps me out every time. She let me use the Wi-Fi and the restroom as well and her ear-to-ear smile was enough to get me going for a couple miles more.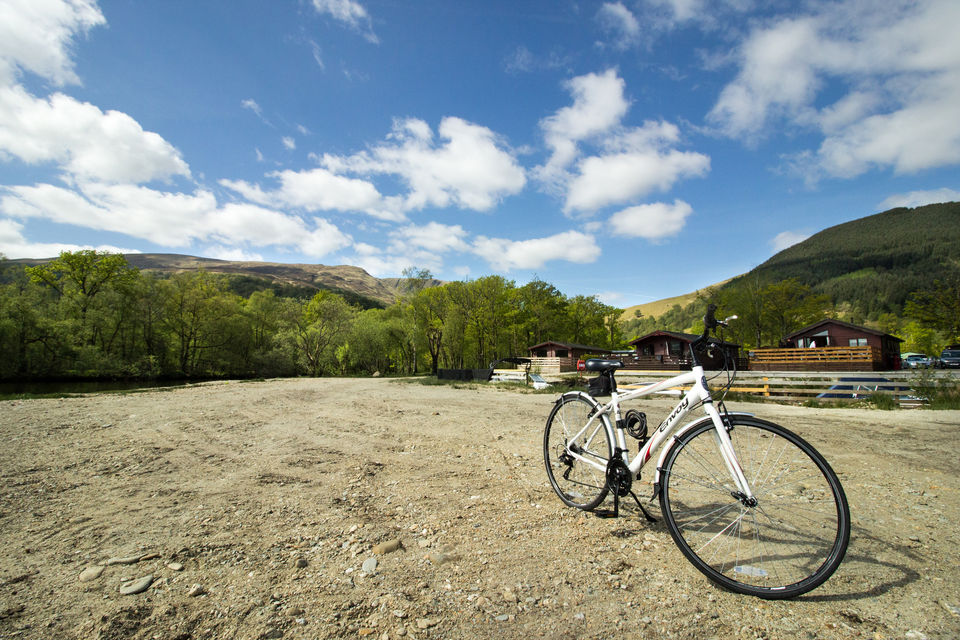 I parked my bike and sat on the gravel drinking you know what and saw 5 ducklings happily follow their parents into the water.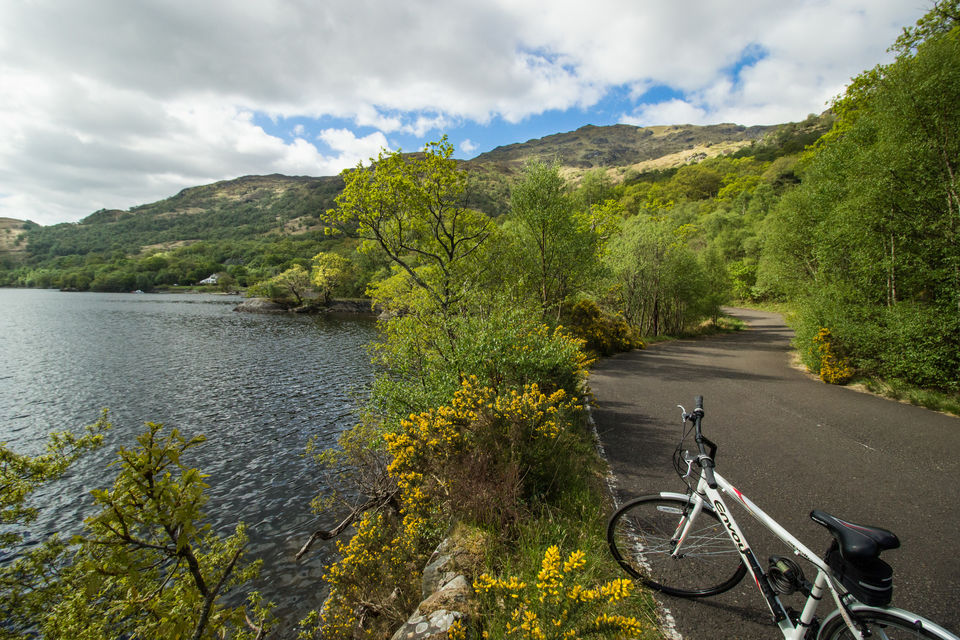 If you're wondering about all the sunshine, know this for a fact - they don't have good weather in Scotland. But that strongly depends on your definition of good.
Sunshine is boring. And so are blue skies for that matter.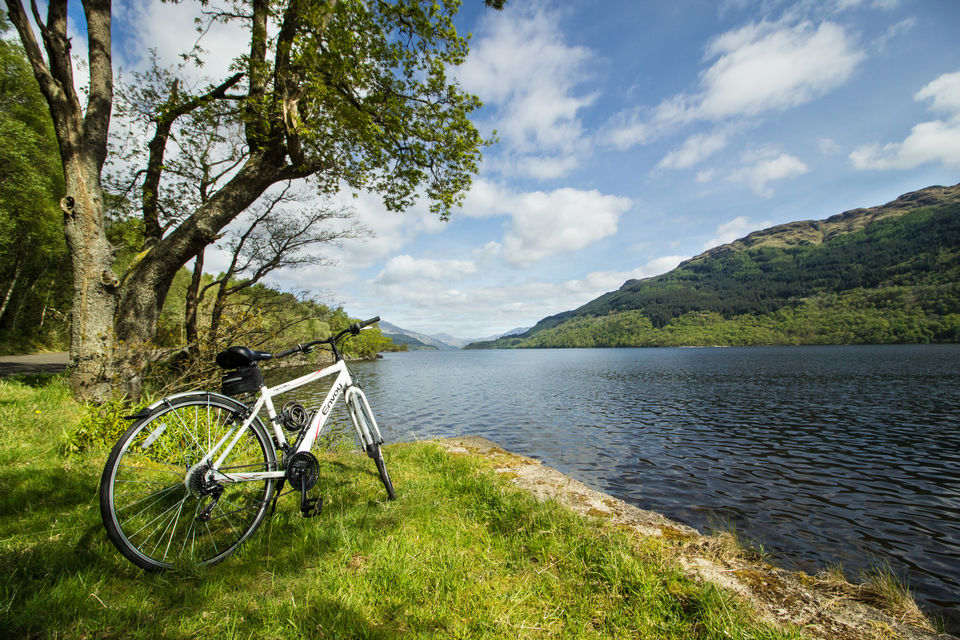 Certainly not a 500 cc parked by a treacherous valley somewhere along the sides of Srinagar-Leh-Manali highway. Certainly not hashtag thuglife.
But you had to be there to realize the sterling vista which wasn't contaminated by mindless tourists only birds who will shit on you unannounced.
Somehow I was able to complete the outlined path which goes something like this -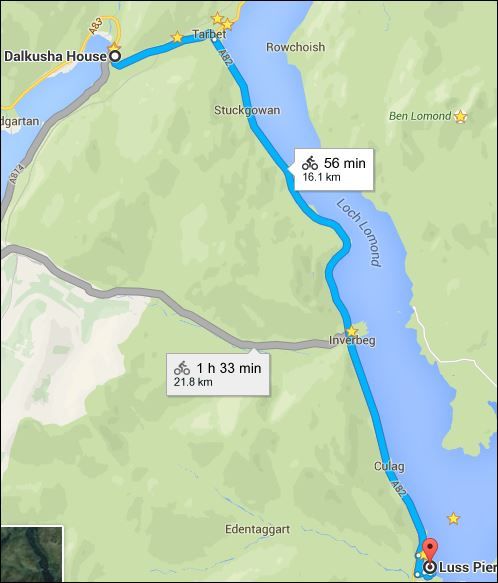 After countless Son-of-a-I'm-never-doing-that-again I ate a sandwich the way a panda would a bamboo after an elongated isolation. Luss Pier was incredibly beautiful and full of people of all shapes and sizes. It had a tourist information center, gift shops and a couple of restaurants.
Oh, and a toilet. And it's not free. And I still hadn't understood their currency correctly. And I could feel my bladder cursing me. And I had to HOLD it till I was able to give that crap of a machine its 20 pence before I could bolt. Phew.
Apart from that the beach is nice but seemed crowded at some places.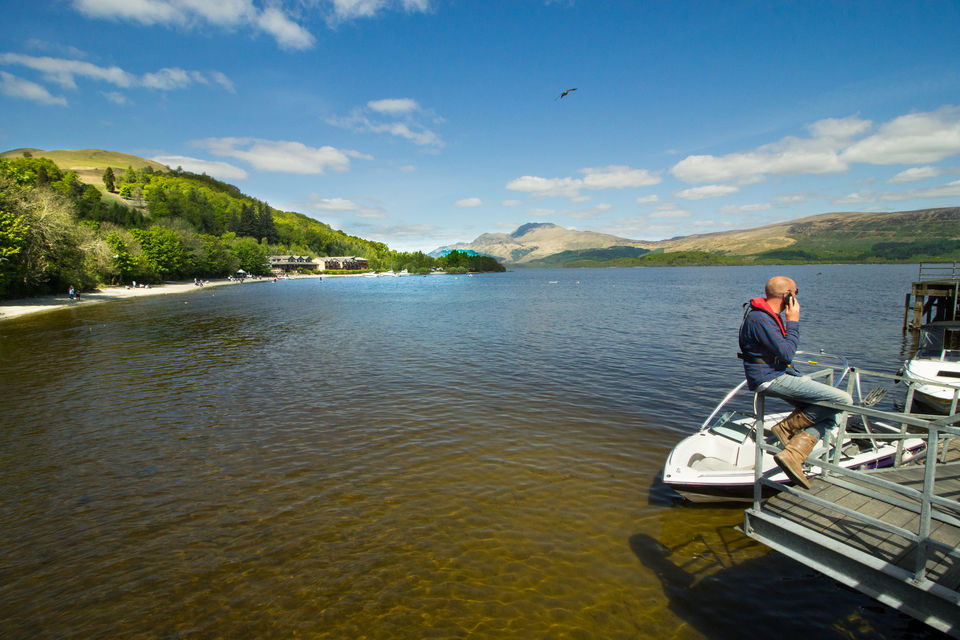 She was more than happy to pose for me. The day just got brighter given I got to give her a few neck scratches.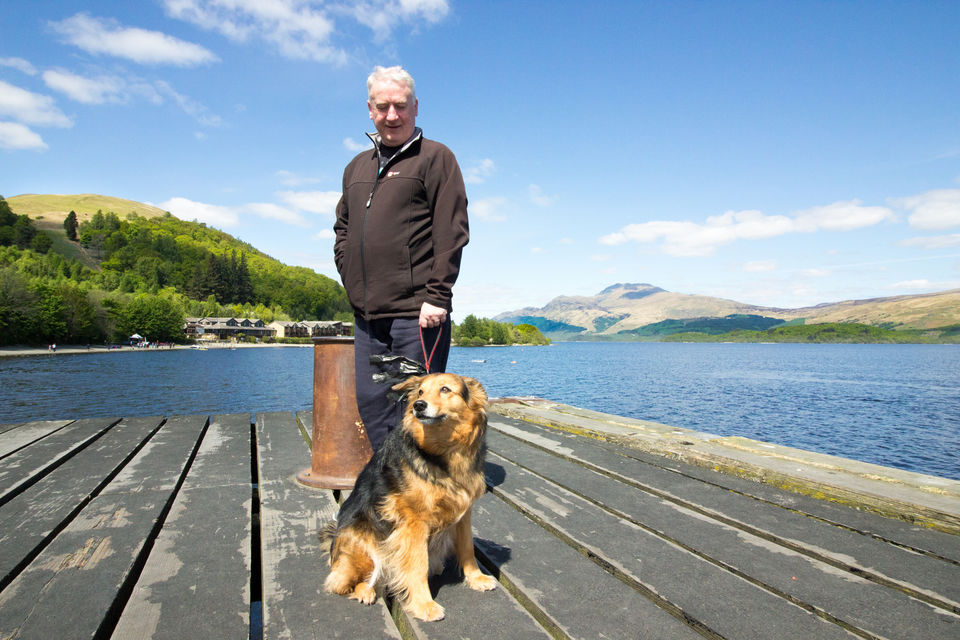 I saw a sign with Speed Boat rides and I was all in for that. But I have a long history of making stupid decisions and carrying that legacy forward, I sat exactly here -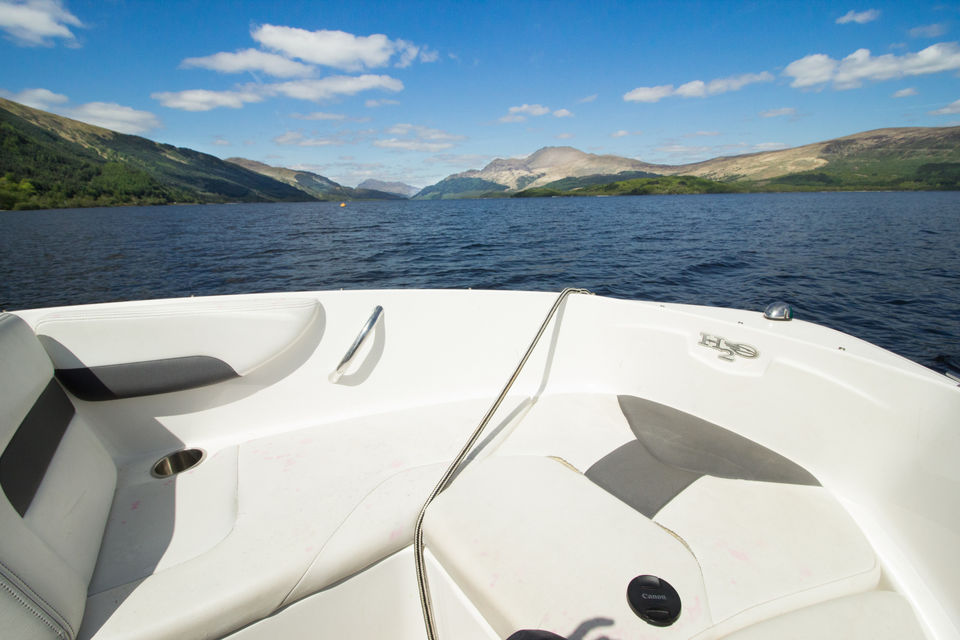 Did you know these bad boys can peak up-to 90 km/h? Oh I loved the spine chilling ultra-cold mountain air but I could feel my ears didn't have much long and were to drop off any moment. I clung to my hat for dear life and shot a small video. The driver meticulously turned it at all the right places for the boat to go up and down on the small waves which felt just about right. The sharp turns made the couple kids behind me scream like a little you-know. Oh I forgot to mention, there was just one family in the back with their 2 kids.
After half-n-hour of the ride, I needed a hundred half-n-hours to get back to normal. Not because I was spellbound after a stunning ride in Britain's Largest Freshwater Lake but because I felt like my insides were frozen and needed something boiling hot to get them to function again.
After multiple cups of coffee I stood at the bus-stand like a moron waiting for a bus to drop me off to my hotel. I did saw a bus half n hour ago so I thought the service was running on Sundays. Then I looked at the schedule which was posted on one of the panes. You're right. Unfortunately that specific bus did not run on Sundays, all of them which were completely in the opposite direction to my hotel were running without a glitch.
I took a deep breath and with the last shred of optimism left in me, I picked my bike and made my way back to the hotel.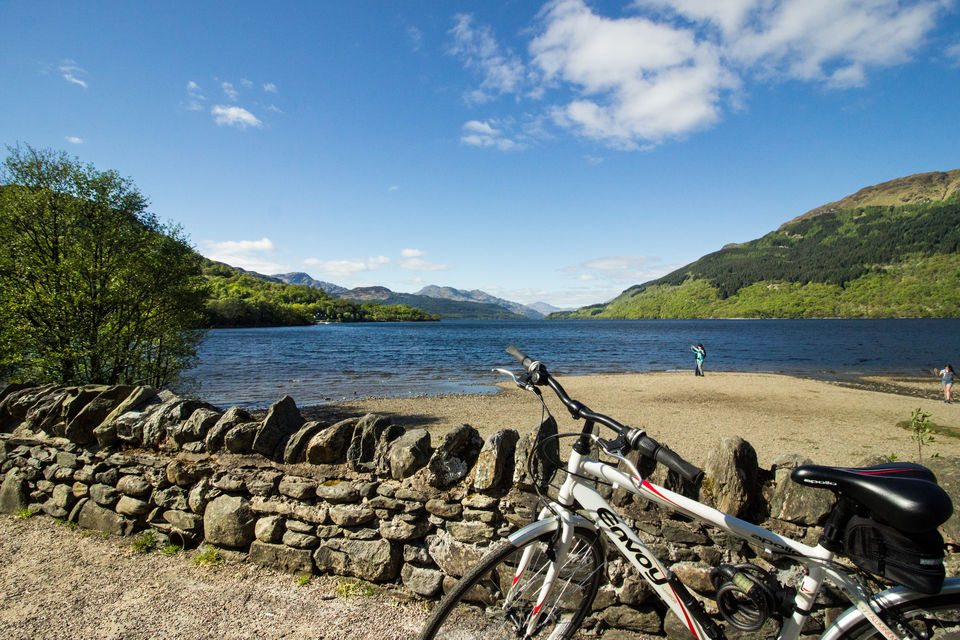 Coming to think of it, a week after I'm trying to put this all together, I don't blame the bus. I don't blame my luck. It was a good thing I got to ride that bike in that beautiful setup. Of course it was 16 Km and full of ups and down, but everything panned out great and I was happy.
I only made 2-3 stops until I returned the bike and left for Oban. I caught the 19:36 train towards Oban from Arrochar and Tarbet.
TIP - Make sure you change the compartment at Crianlarich where the train divides! I was on the last train for the day and I luckily got out on time.
The service of ScotRail is flawless. I'll probably mention ScotRail a lot of times throughout this story because it's that good. I'm sure the tracks were carefully laid with due consideration through beautiful valleys alongside picturesque lakes and the signature sound of the train is music to the soul.
I ordered a take-away from an Indian restaurant I saw and reached Tanglin BnB where I had a prior booking for a couple nights. I pumped the radiator up and dug my way inside the quilt and fell asleep instantly.
Ah, you're going to love Oban and the 3 Isles I set foot on.
Oban - Isle of Mull - Isle of Staffa - Isle of Iona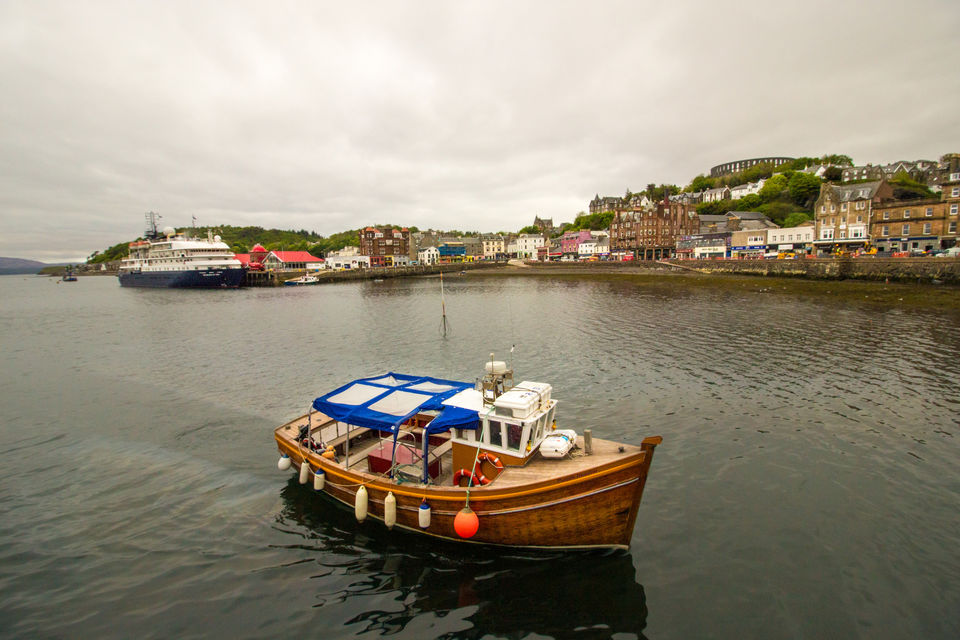 As I made my way towards the pier to catch my ferry to the Isle of Mull, I clicked this picture of a small boat gliding though the waters flawlessly making the grim day look even more peaceful.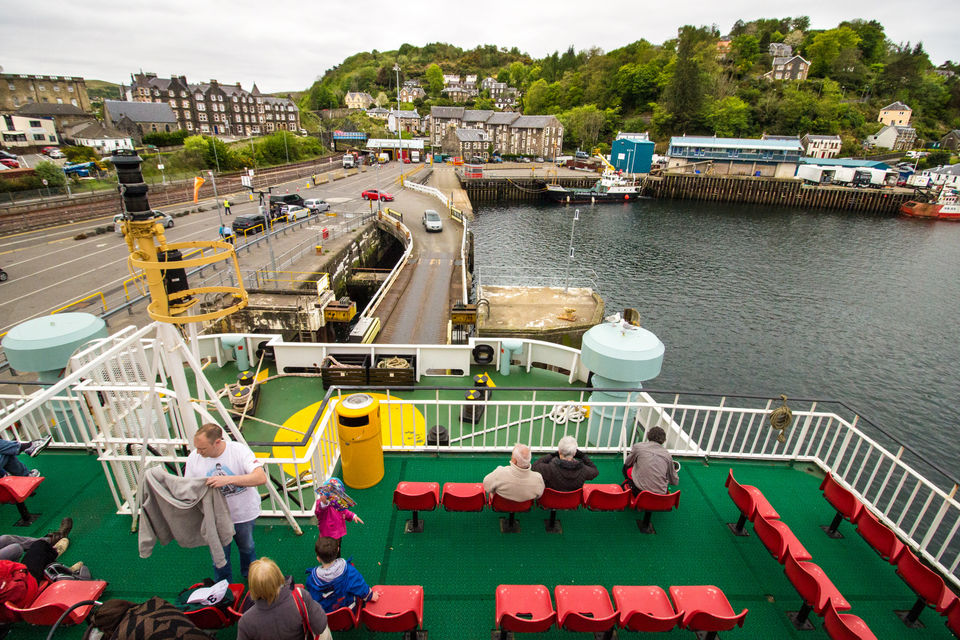 Oban is a beautiful town filled with tourists all around the year and a stroll across the main market will leave you craving for more. You'll want to enter every gift shop this place has to offer, jam up on all the delicacies their restaurants have and drink their signatory single malt till you stare at your hands.
I reached Mull in under an hour and I had a couple minutes to spare before we boarded a bus which would take us across the entire length of Mull to its rear end from where I was to board another ferry to Staffa.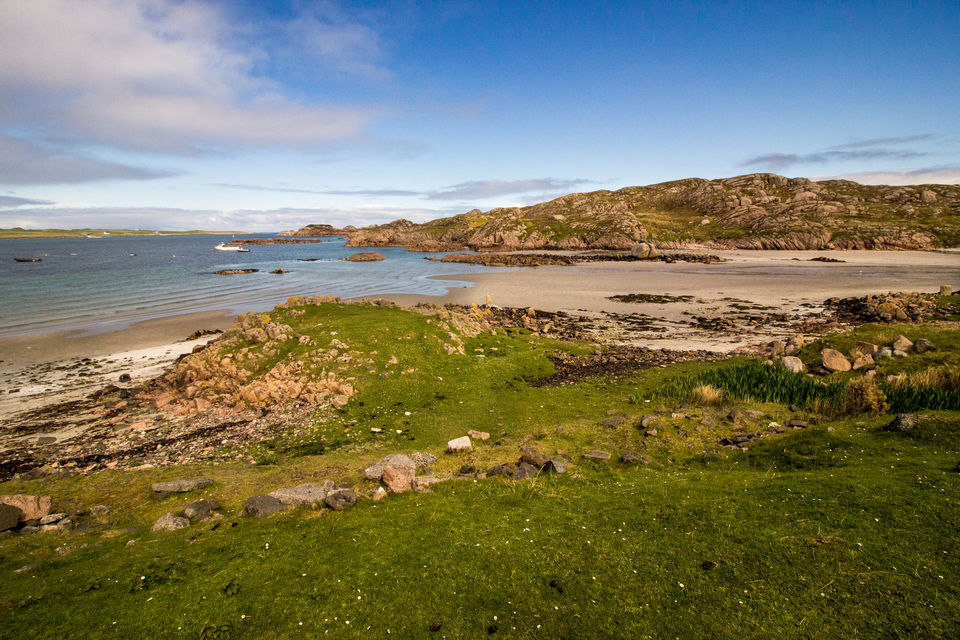 I made good use of that time to click some pictures to share with you. Do you see the significant change in weather? Even I was surprised. Expectations hurt so just make good use of whatever is thrown at you. Embrace it with a broken tooth or chapped lips because it's just that cold.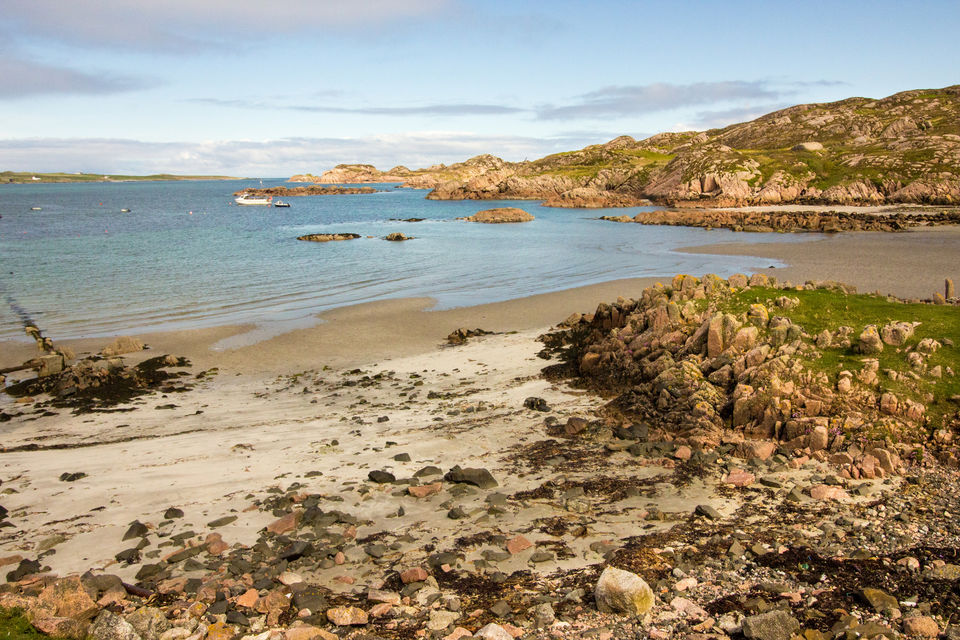 The color of the water changed shades as soon as you looked away and the entire setup was right out of those fancy wallpapers you have stacked somewhere in your computer.
I lived those wallpapers right in those limited moments.
Needless to say I made myself comfortable by a window seat and the bus started it's ~60 miles journey and our driver's banter made the journey even more enjoyable. He was just the right amount of offensive to laugh your wits out.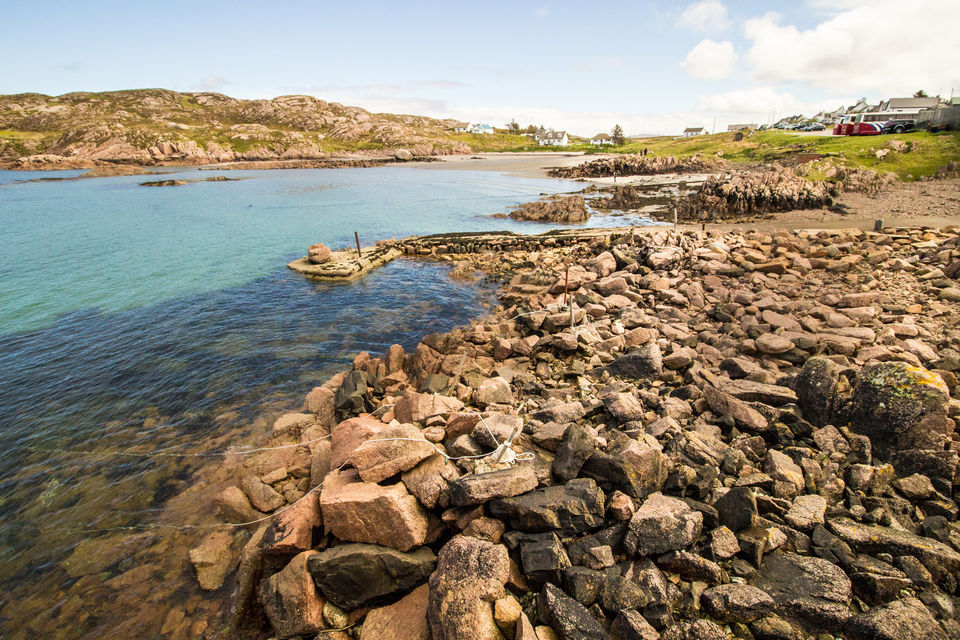 I recorded a lot of clips to make out a video of it all but it's too much of work which I'll finish someday in the future.

Till then I expect you to awe on this baby boat which will take us to Staffa.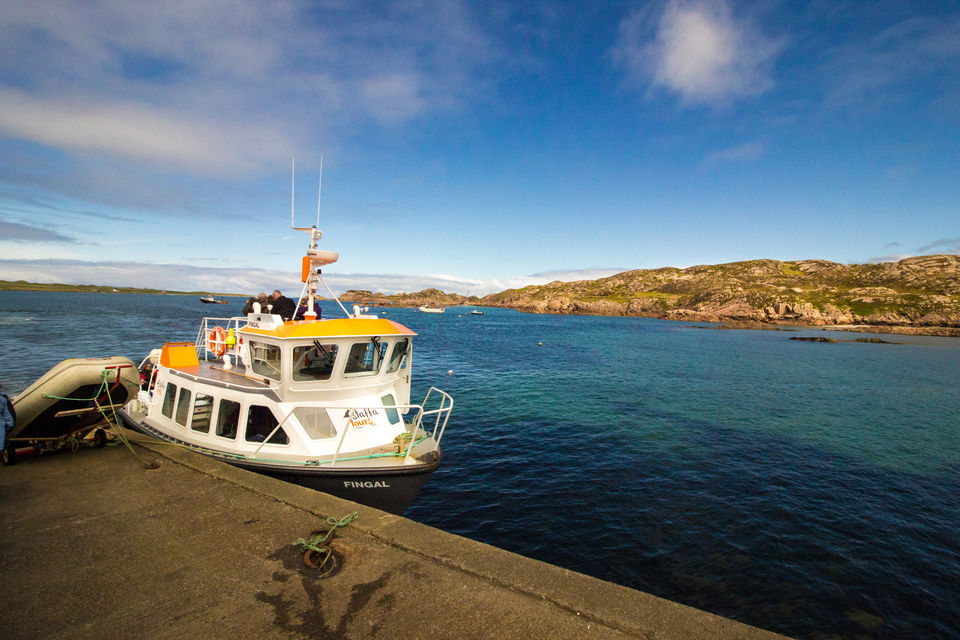 I made my way straight to the viewing deck on the first floor of the boat. The winds were supposed to chill your bones but I quickly Googled weather Ahmedabad and the result was enough to give me the final push.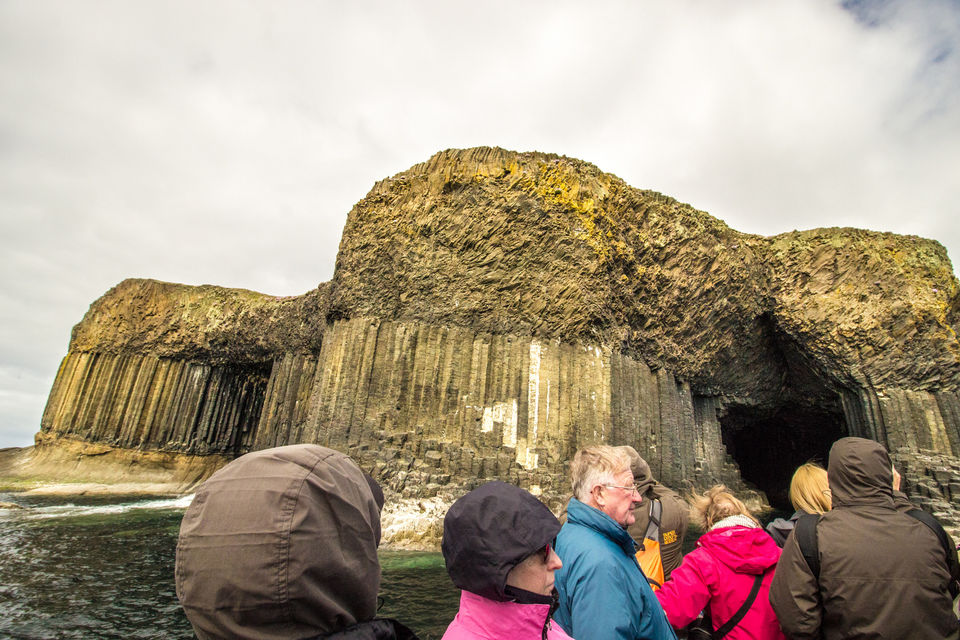 The mighty basalt columns flanked by two caves is what's this fantastic Isle famous for.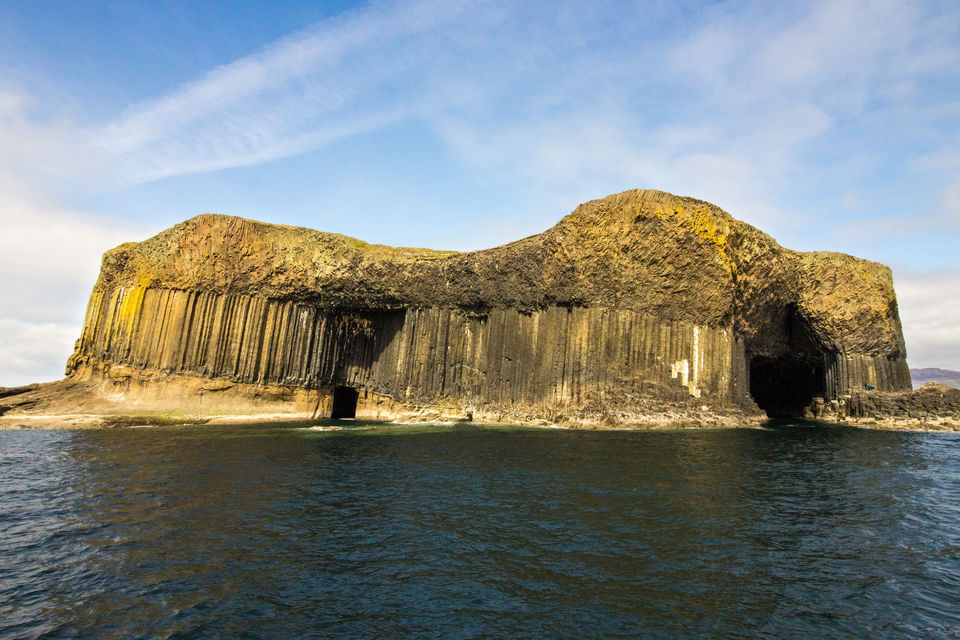 I spent around an hour traversing each of the Isle's highest points for a 360 degree view of the neighboring Isles.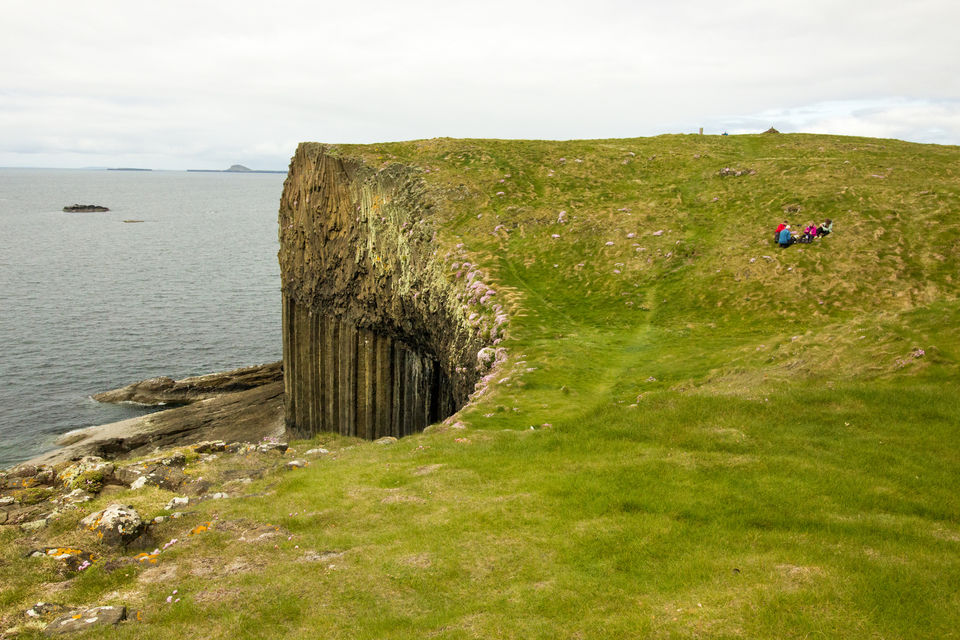 Please do not litter as this place is right out of your daughter's fairy-tales minus a castle with an estranged princess on the top.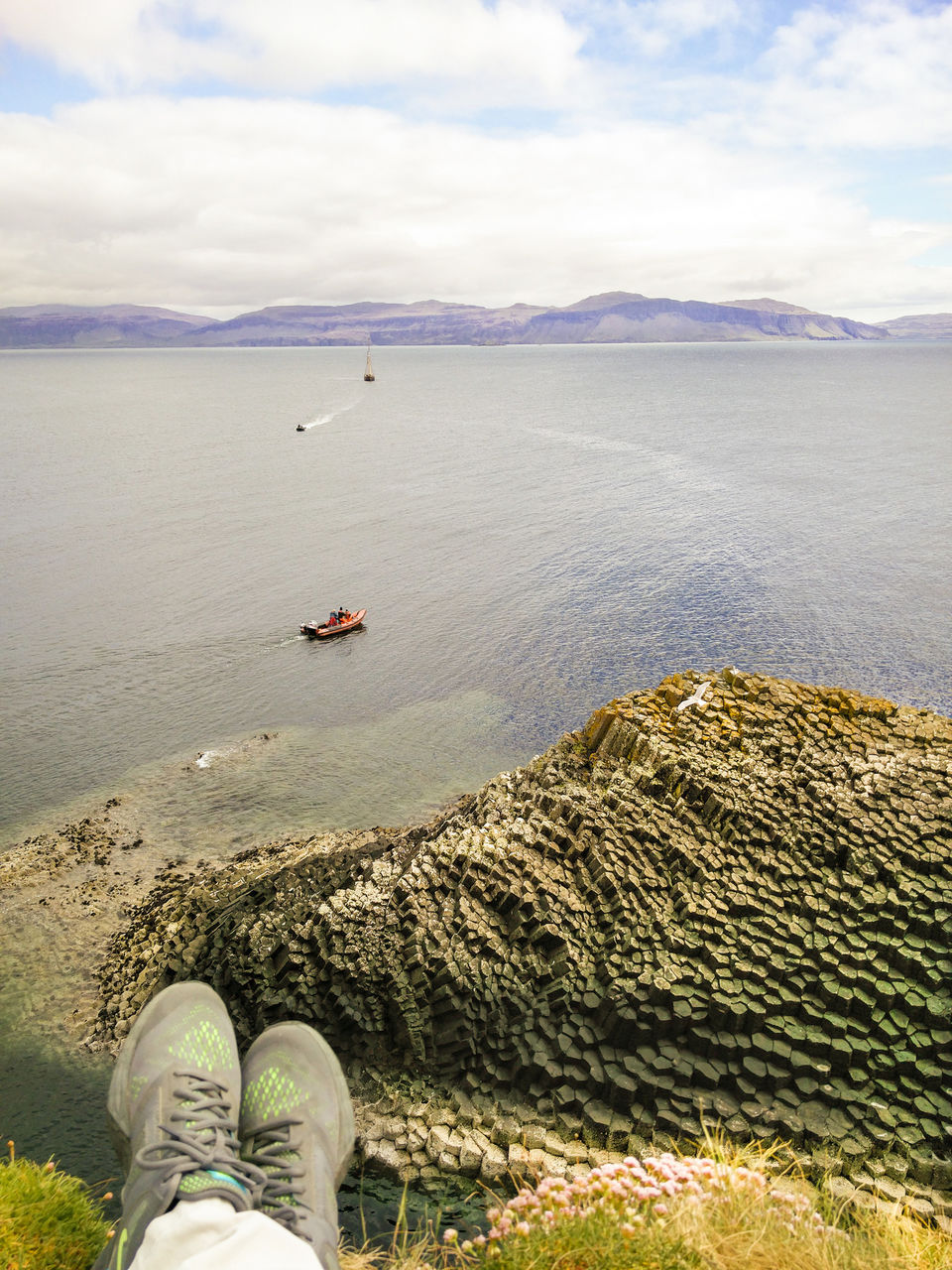 Paper boats moving at a snail's pace while you notice the hexagonal columns wondering what leads people into building crazy shit like this.
Anyway - Pick your favorite spot, listen to your weird music or read Introduction to Quantum Physics - whatever floats your goat.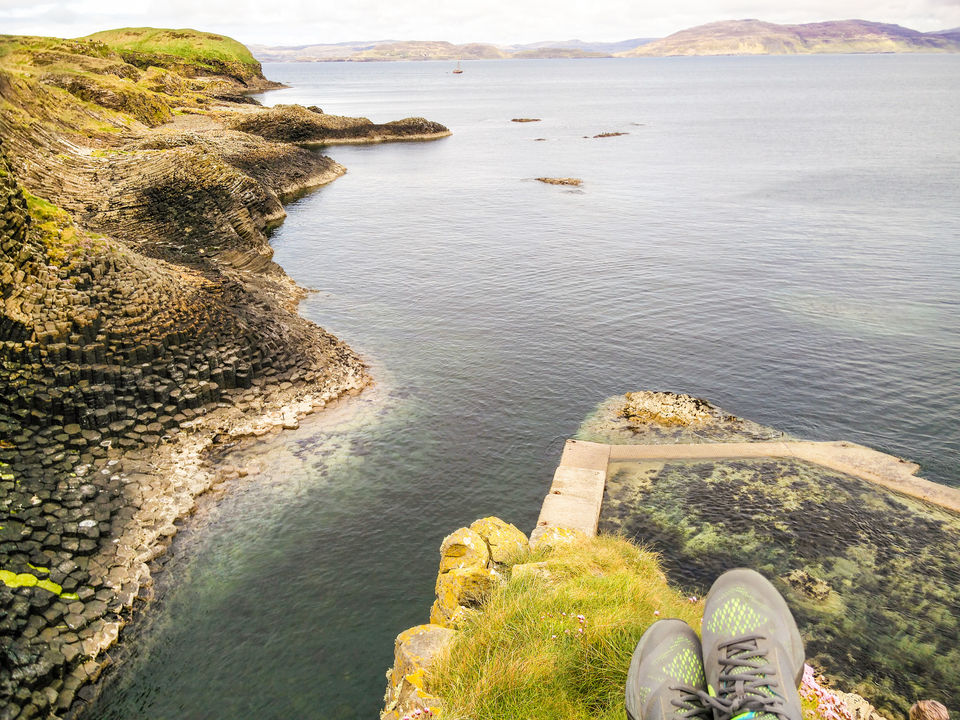 I checked out Fingal's Cave and saw the famous Puffins from a distance and resisted the urge to puffknap one. Soon it was time to chill out at Iona and I waited till our ride arrived.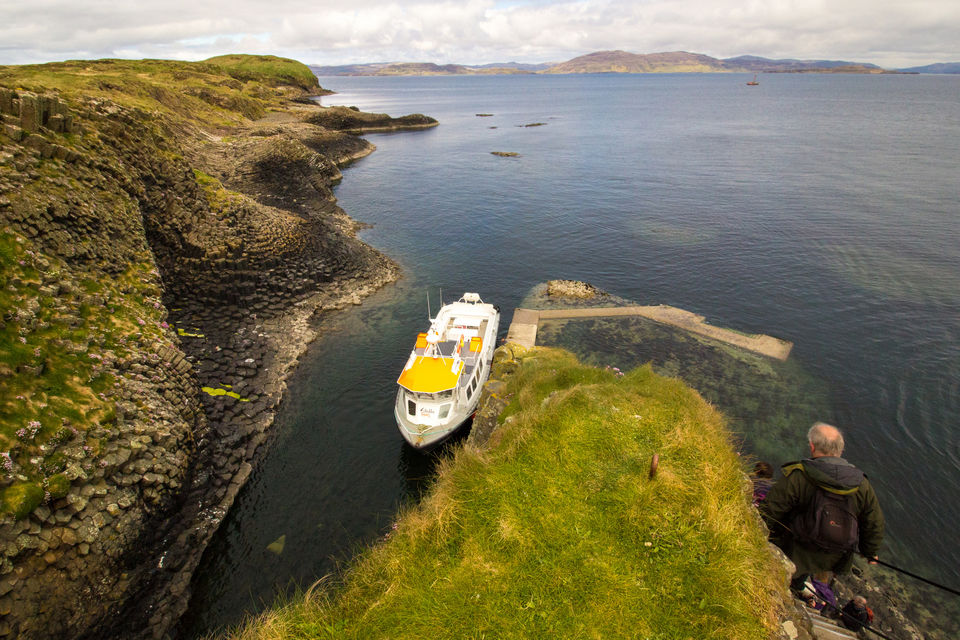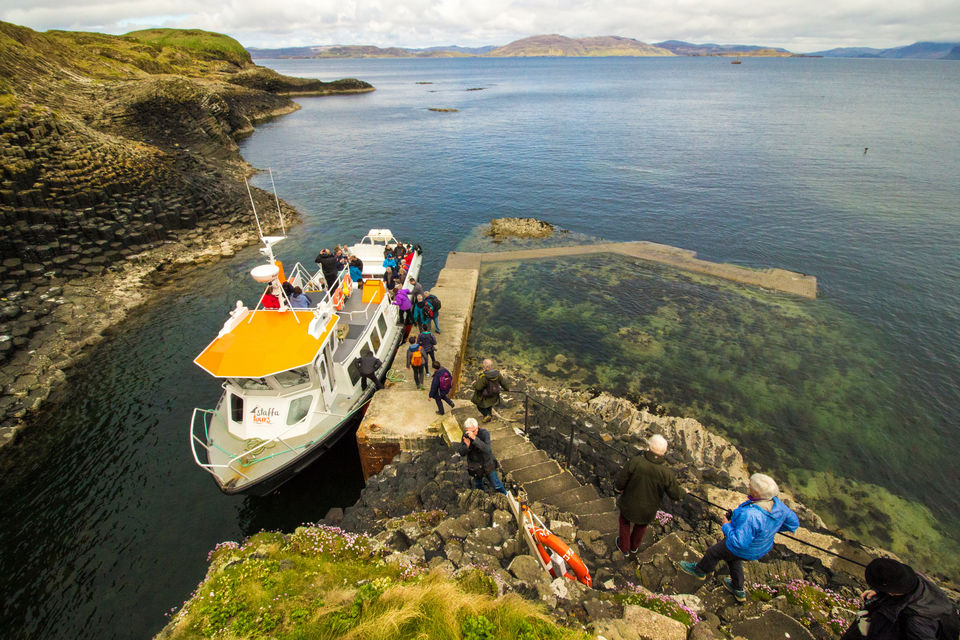 Sailing away from Staffa was painful as I saw it for the last time.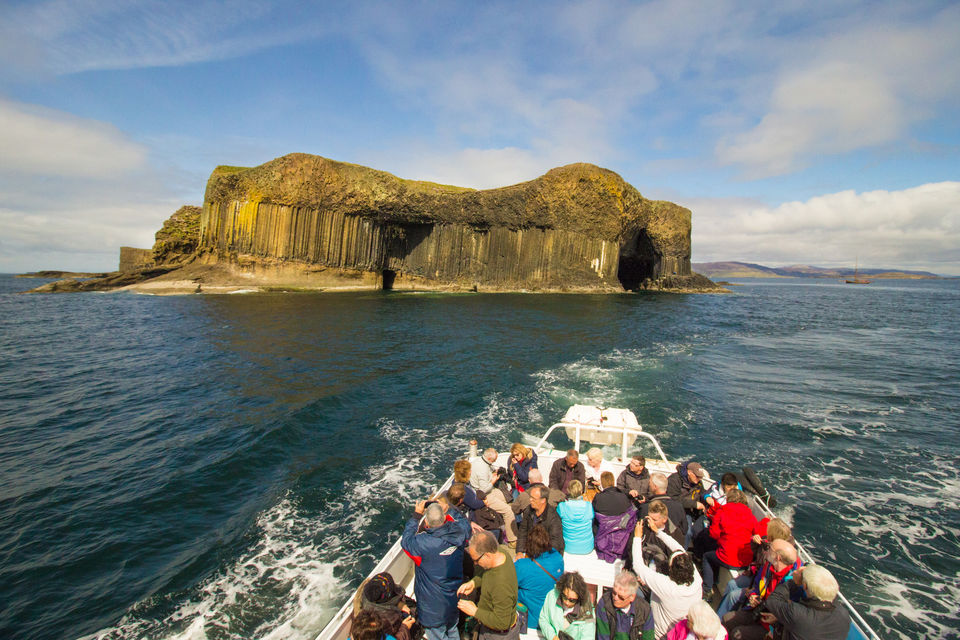 After half an hour we reached Iona where I spent a good two hours exploring the small island on foot.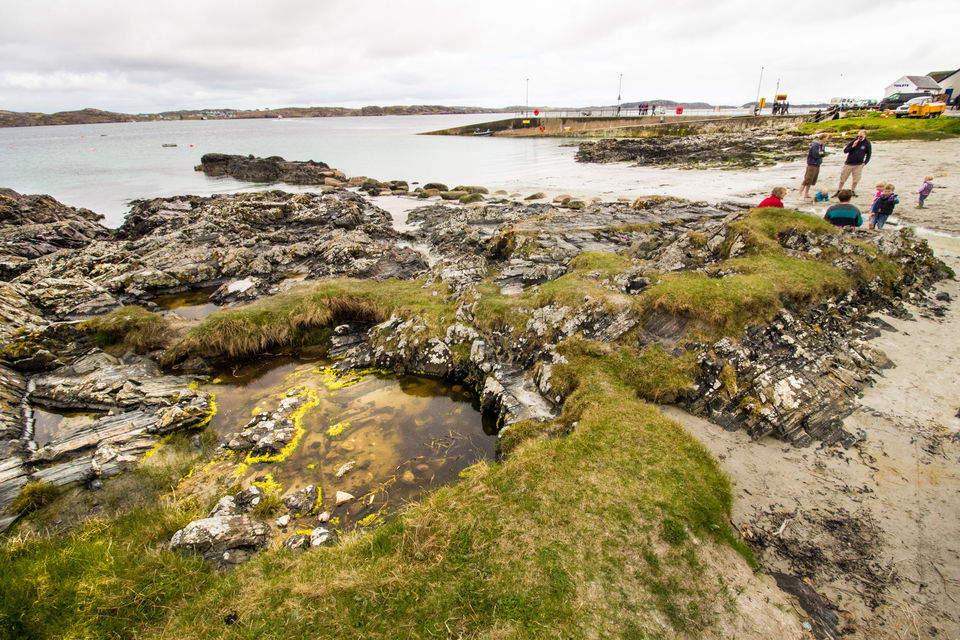 I was tempted to enter the Iona Abbey but I had something else on my mind as time was of essence. Also, I am poor.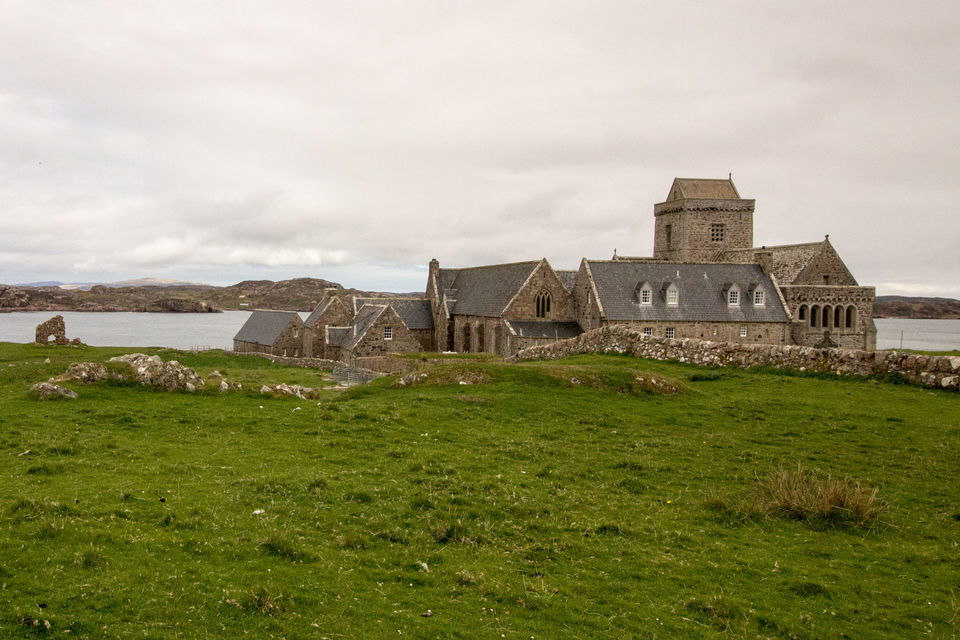 I decided to hike to the highest point of Iona - Dun I.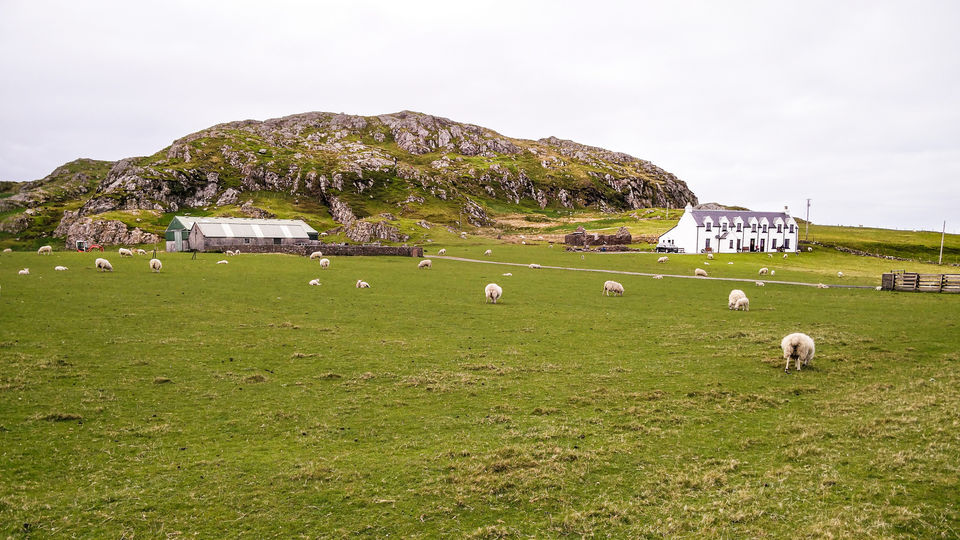 As promised by numerous websites across the internet, the hike was well worth the effort. You can see the entire island from up-top and the grass is so thick you won't think twice to lie down for a minute or two.

At this point I could feel my stomach grumble so I saw a nice garden restaurant beside the Iona Abbey where I had a cheese and pickle sandwich with a small mocha. As I looked across the window, I saw this furball sitting with a hope of being petted by kind strangers to which I gladly obliged.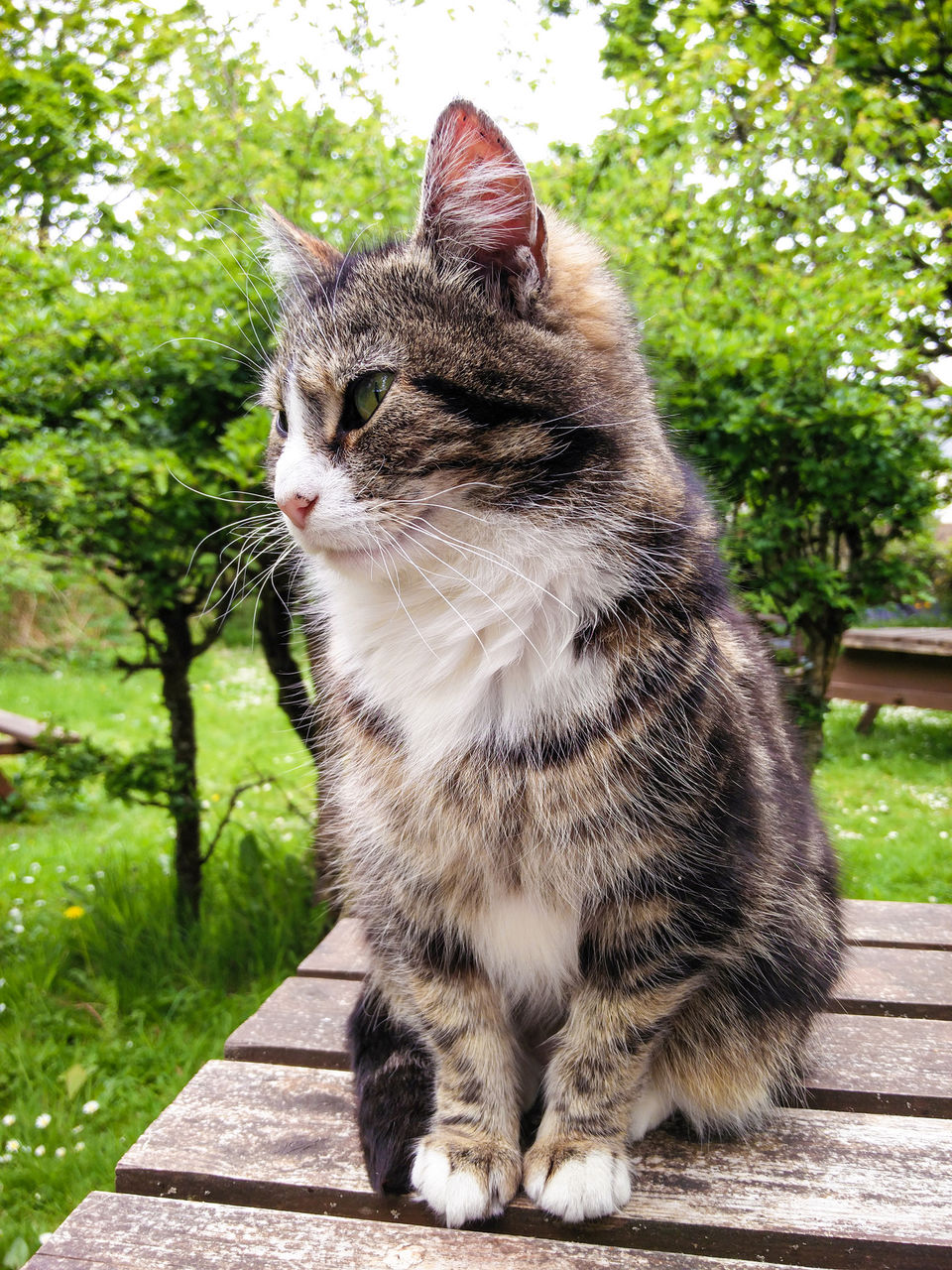 The day was nearing to an end and one of the best parting memories of the three Isles I have is the chameleon laced water -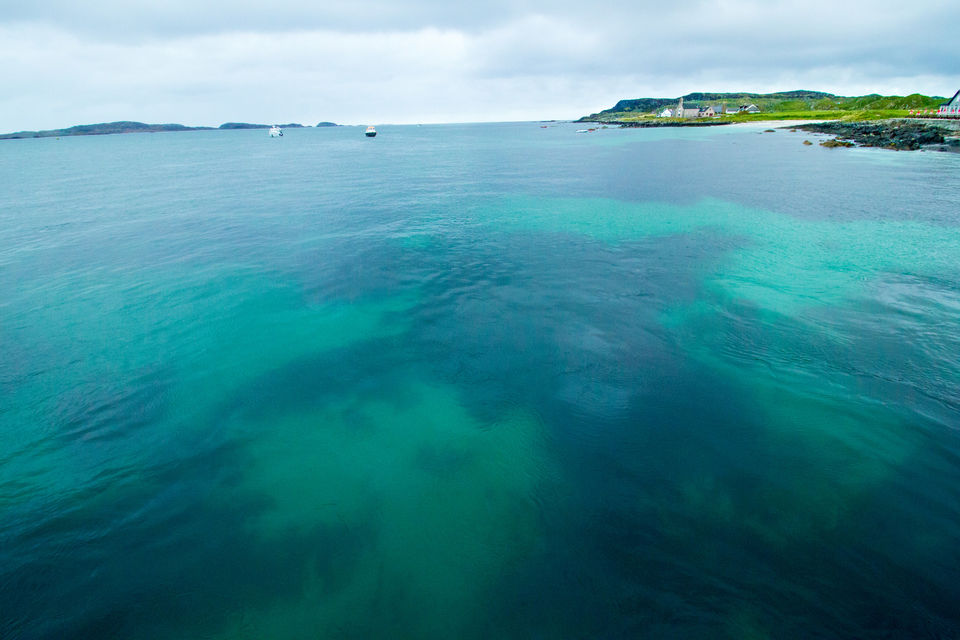 Oban - Fort William - Glenfinnan
The next morning I moved further up in the highlands towards Fort William not expecting the sun to emerge any time soon. Scottish Citylink runs a bus service connecting most of Scotland and is relatively cheaper than the train. The coaches are comfortable and the windows bigger than some doors I've seen in my life. I had picked up a small Mocha on the way to my bus which burned my tongue but it was a welcome sensation given the weather.
That's the thing I discovered about Scotland. It's all about the journey and not the destination.
I reached Fort William after an hour limping. Did I tell you I bumped my pinky toe bad in Oban the night before. I was almost certain it was a minor fracture but thankfully I cursed out so loud I'm sure it healed itself.
I managed to find my BnB within no time after placing a call to Norma. Now her BnB isn't listed anywhere on the internet and she prefers it to stay this way. I got her number through a friend. She was really friendly and the room I had was comfortable and warm.
I immediately made my way towards the train station for Glenfinnan. It's a 45 minutes journey till you cross the famous Glenfinnan Viaduct and finally reach Glenfinnan Station where you can spend some time in the Train Museum and get some postcards. If you're lucky you can find some Harry Potter souvenirs. Behind the museum there is a wonderful restaurant called the Glenfinnan Dining car. Its an old railway coach gone under a wonderful transformation and I highly suggest to have a bite in there.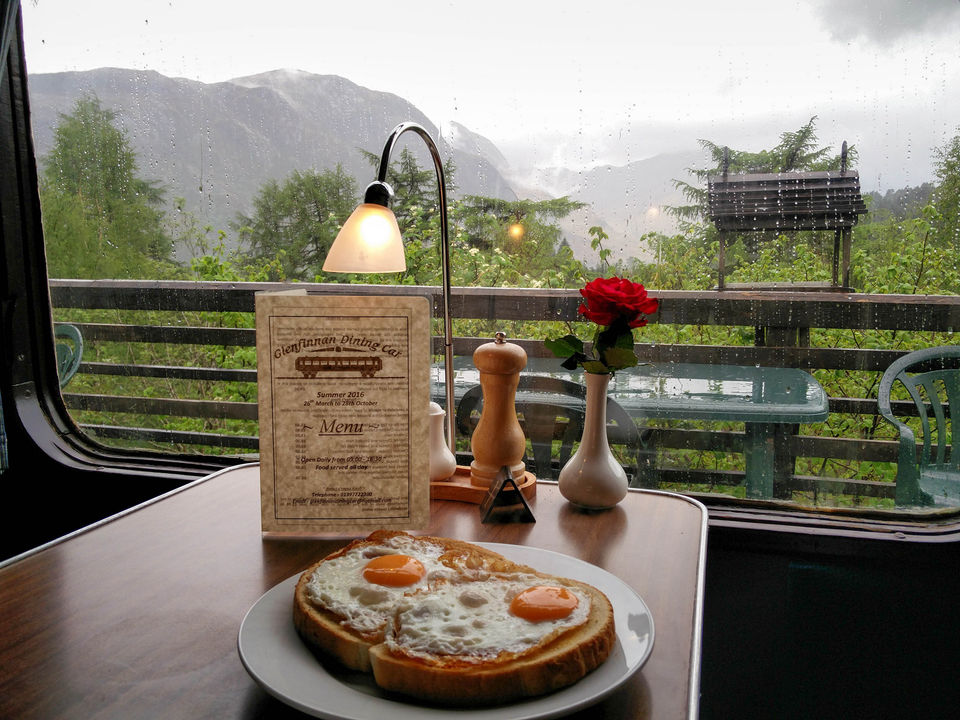 Would you rather have the sun out with white shiny clouds? I like this better. Almost as Harry Potter is being shot right there somewhere with Buckbeak lurking right around some bushes.
Glenfinnan Viaduct Trail - The famous walkaway which offers you unparalleled views of Loch Shiel and the old but not rickety bridge. It was drizzling but I didn't come this far to sit by a window and enjoy the rain.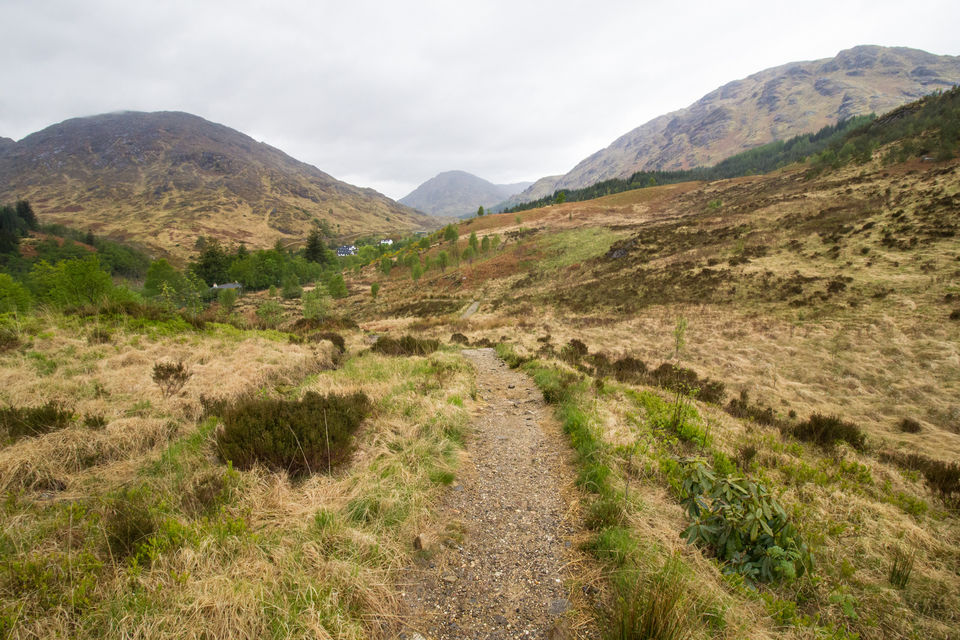 I barely passed by a soul or two exchanging smiles.

Sweet Sweet Lovin'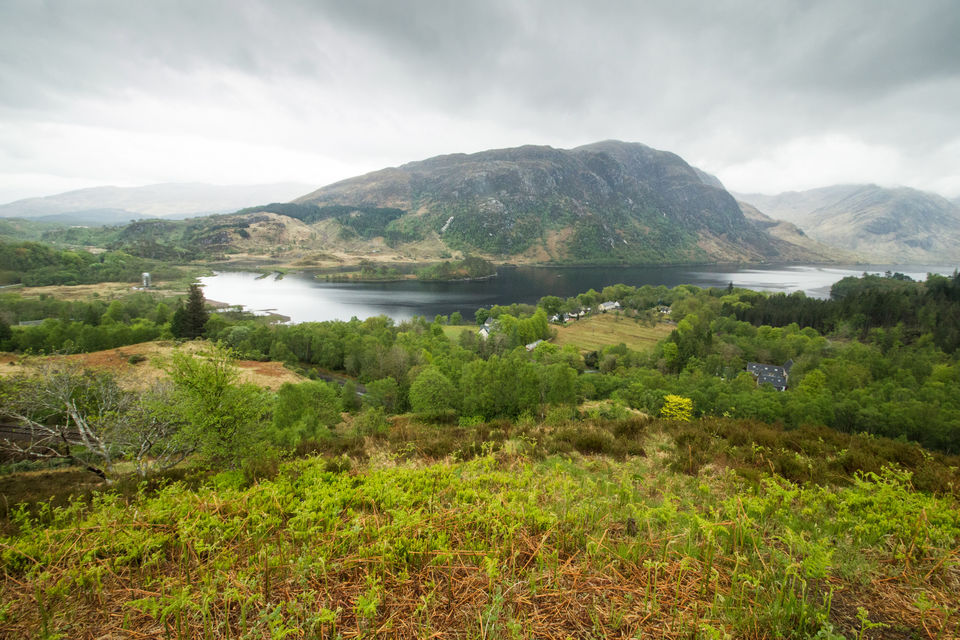 What makes you feel free? What makes you feel minuscule? The gentle breeze brushing your face when your eyes are set on the distant horizon capturing every bit there is to and more, realizing what a small space you occupy in this gigantic world.

I walked further and I'll never forget the first glimpse I had of this bridge.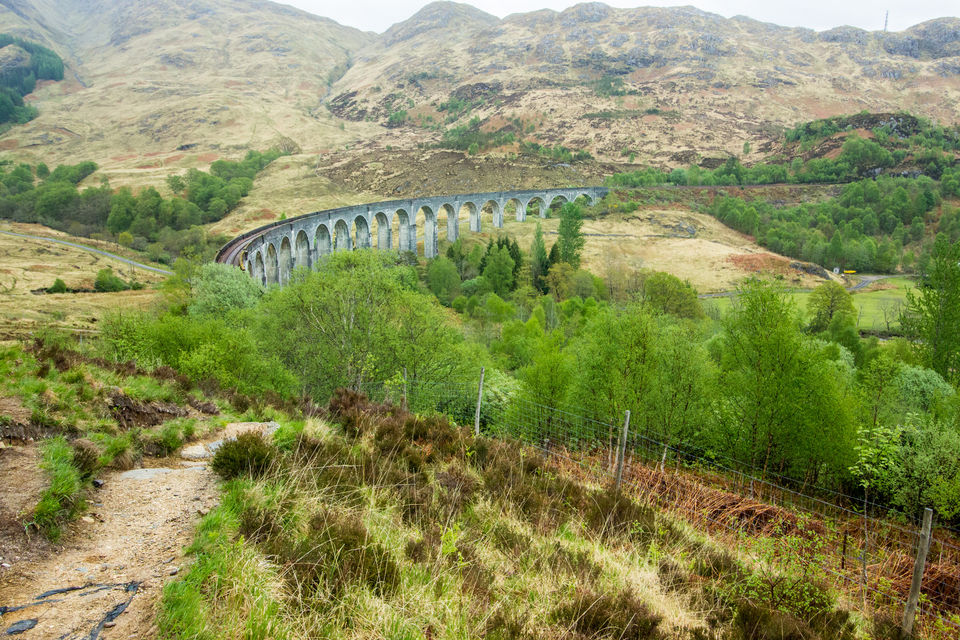 The trail makes you walk under the bridge and you can touch the stones to ensure you're not dreaming. It was not CGI, this bridge exists.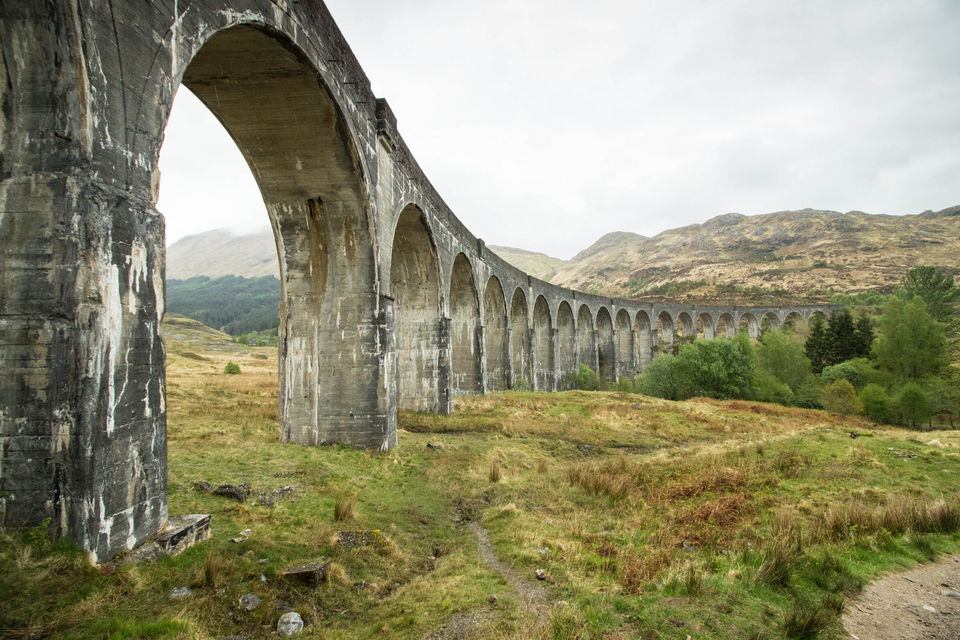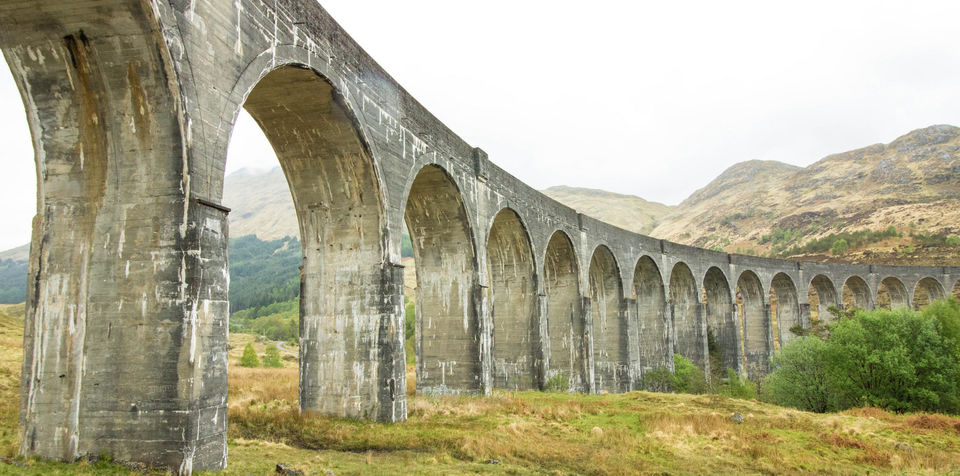 I made a pit-stop at the Glenfinnan House Hotel to refuel myself of Guinness by the fireplace. As I was returning towards the station I saw the steam train at the platform just about to leave for Mallaig. Now the Jacobite Express is quite expensive so I skipped the experience and preferred ScotRail to cross the bridge.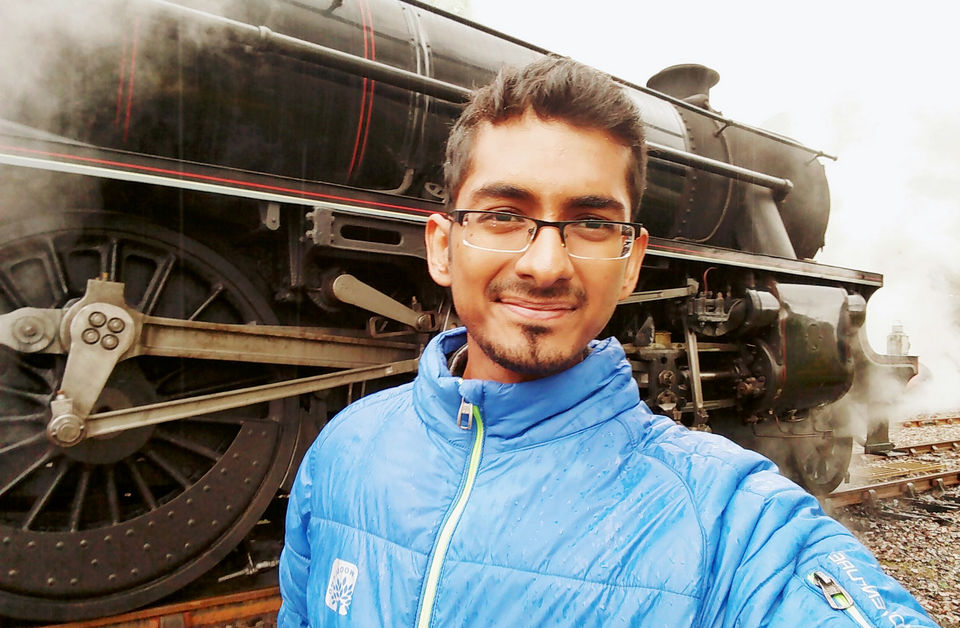 I reached my room and there was enough daylight left for me to explore the town market.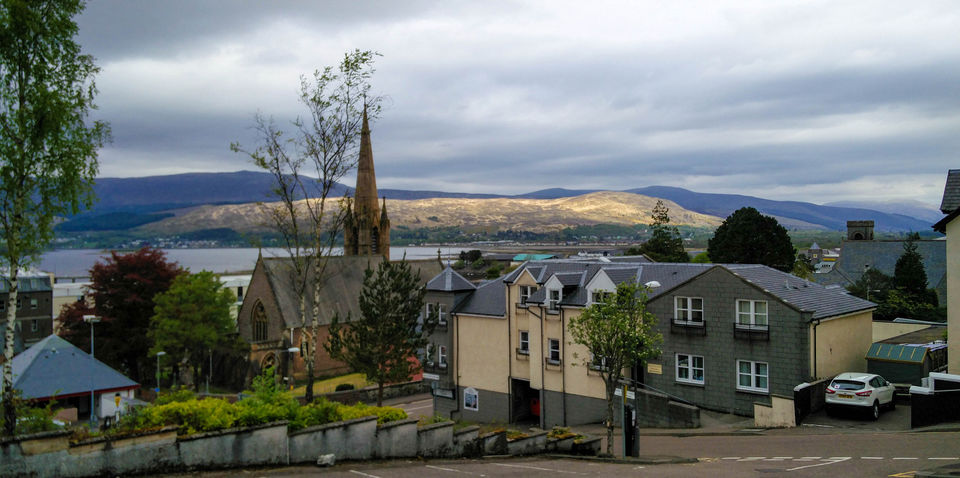 But before I left, I stood right there before my BnB and watched the sun play tricks with the mountains in the distance. Volunteer At Arms is a vibrant pub in the market where you can grab a bite and enjoy a football game. I was lucky to have witnessed a game there.
Liverpool - Sevilla. That must have hurt.
I am cutting down on details about commute, stay and my expenses in general because I've had numerous complaints about how long these things get. But believe me, this took some serious planning and I had to resort to Plan B, C, D and so on.
I slept listening to Ed Sheeran - Thinking Out Loud. It was a good day.
Fort William - Fort Augustus - Deep Black Waters of Loch Ness
I caught a Scottish Citylink bus from Fort William to Fort Augustus which took me around an hour and you'll have beautiful views of Loch Lochy and Loch Oich during the entire journey.
I clicked some pictures of the Caledonian Canal before cruising on the Loch Ness.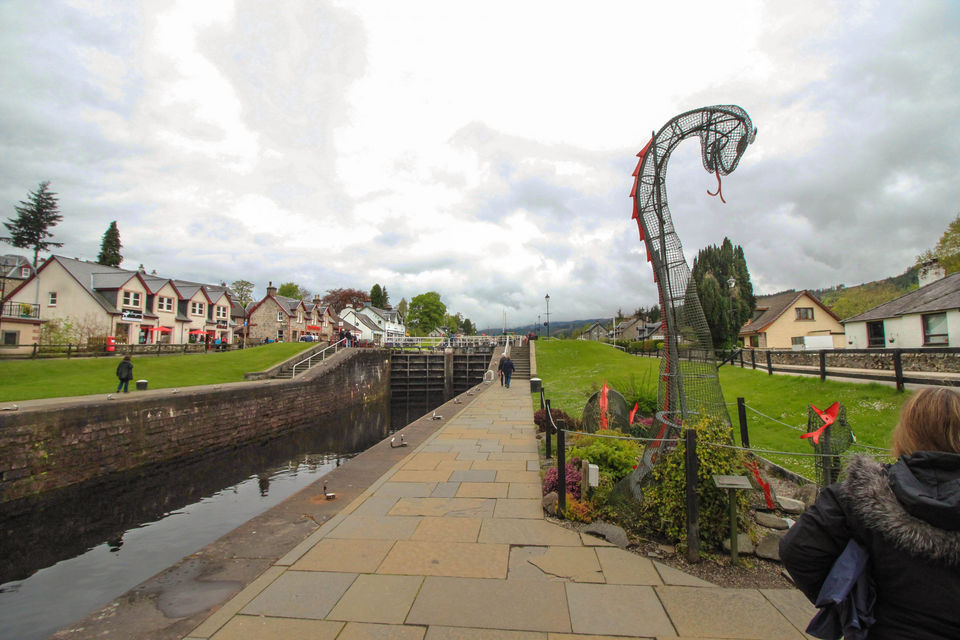 TIP - Never ever ever, never ever, never ever eat something as ridiculous as Haggis. ~Vikas ft. Arnab G. (Club Remix), Source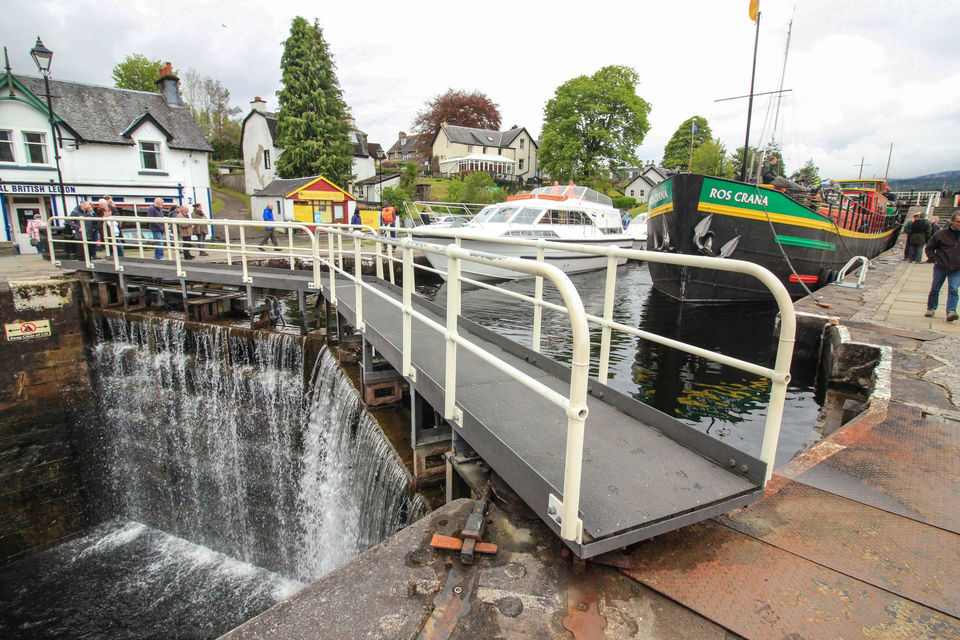 I stood there for a couple hours to witness the operation of the lock and couldn't help but conclude this was one of those places where science met art gracefully.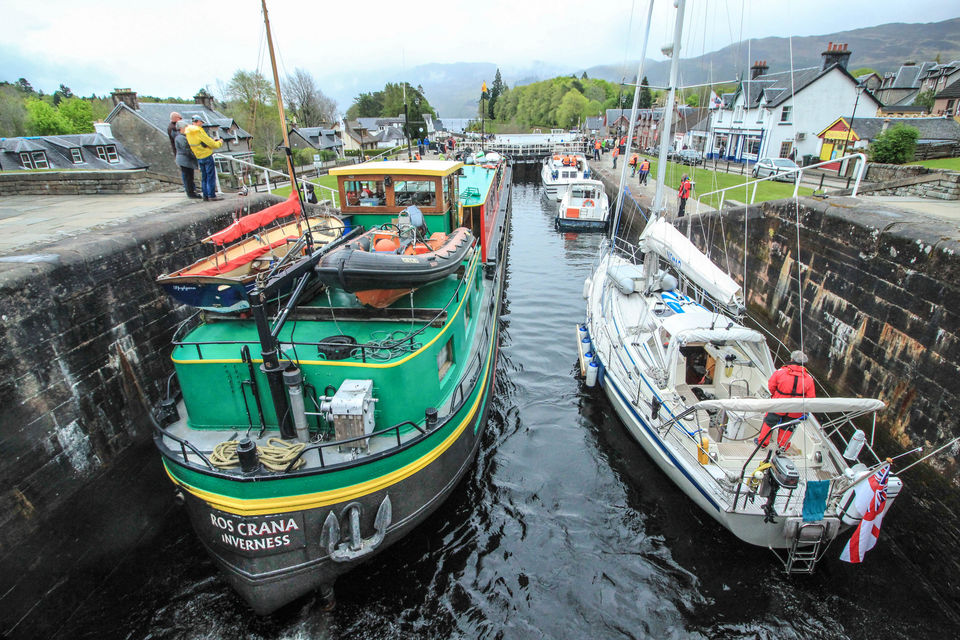 The waters are black due to the presence of peat in the soil. Our waters are black for all the reasons but geographical.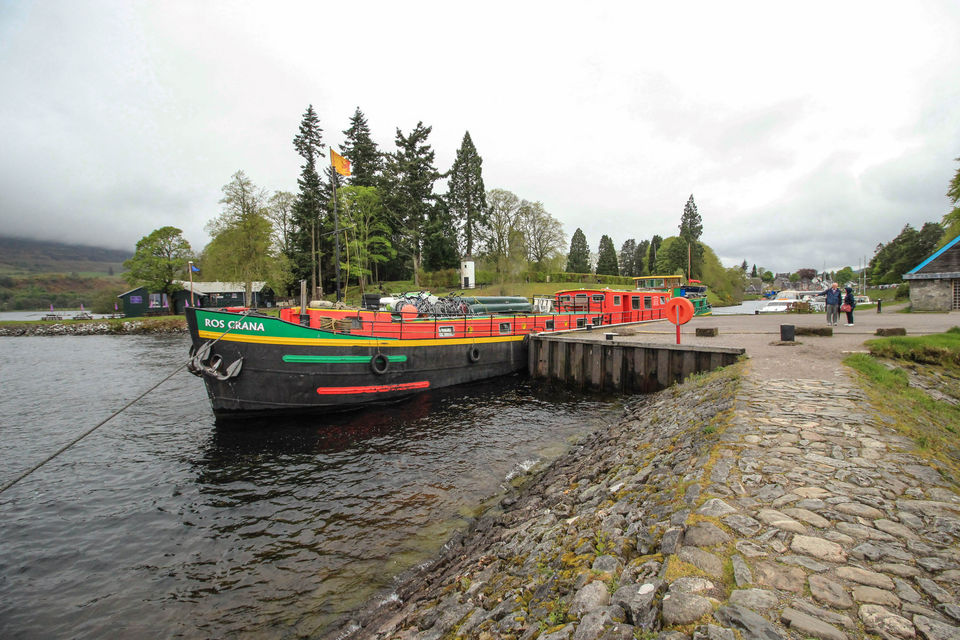 Keep a keen eye out for Nessie, the friendly monster.
On second thought, why not cruise deep into the waters and have a look ourselves?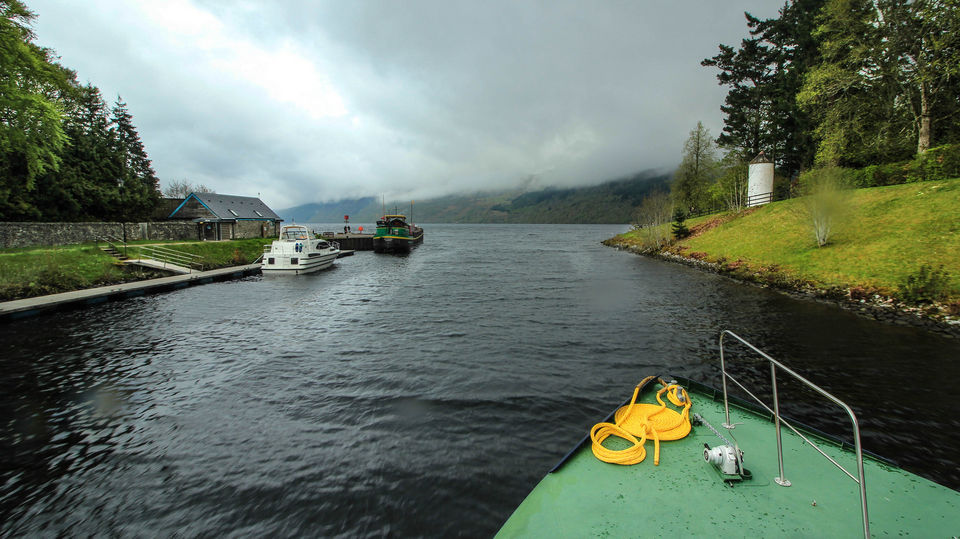 The SONAR demonstration took me back 5 years to college. Both places I paid a hefty sum to stare in the professor's face and yawn shamelessly.
Chivalry isn't dead.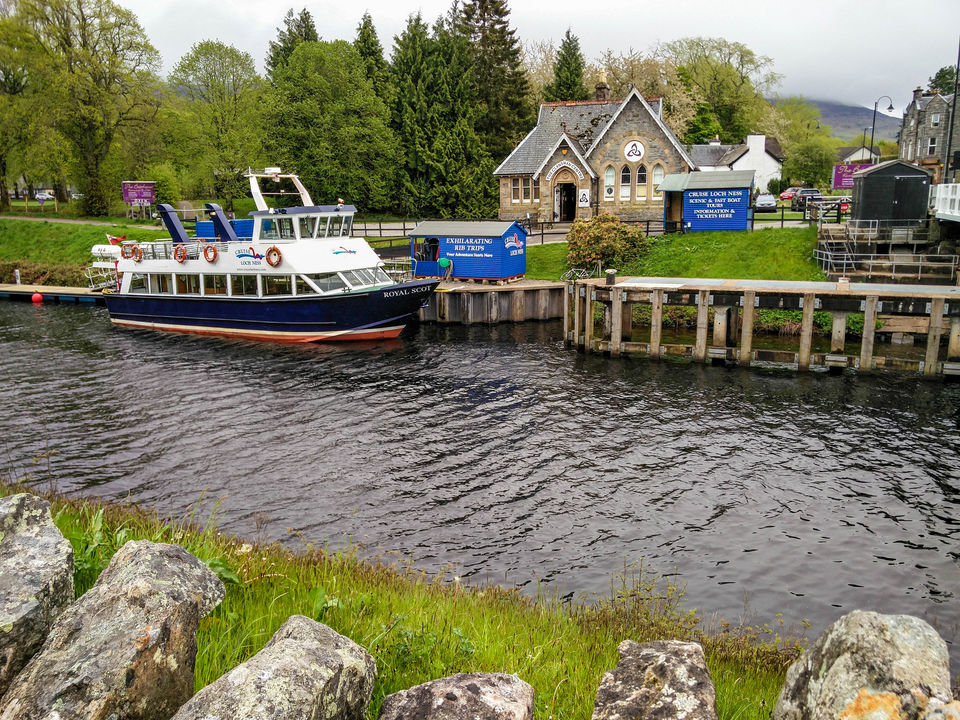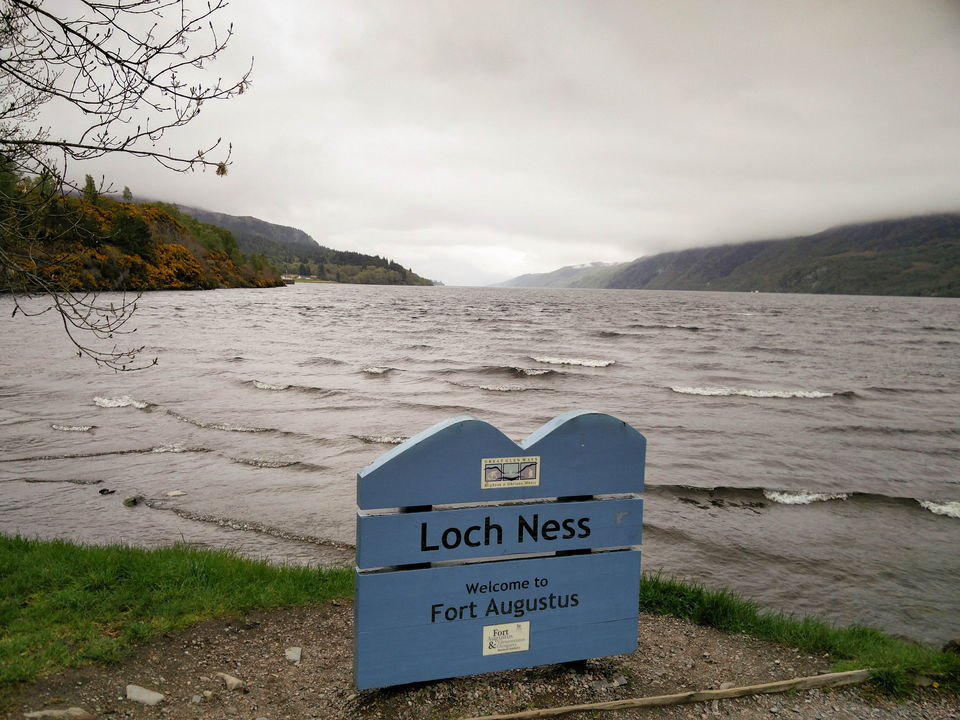 Take a stroll along the Loch, have a warm cup of Latte, chat up a pretty face. There's just so much to do even though there's nothing to.
Ghosts of Edinburgh
My alarm blared at 6 AM sharp and I woke up to a cloudy sky. It wasn't very cold but not windy either. I exchanged a few words with Norma and bade goodbye. I reached the train station well ahead of time to catch the Glasgow Queen Street bound train.
The route was scenic as ever as it takes you through Loch Treig which cannot be experienced by road. One station in particular - Couroor - set in the middle of nowhere impressed me. Set in the midst of small Hills this station is only accessible by a single track road which leads you to the main road after 20 miles.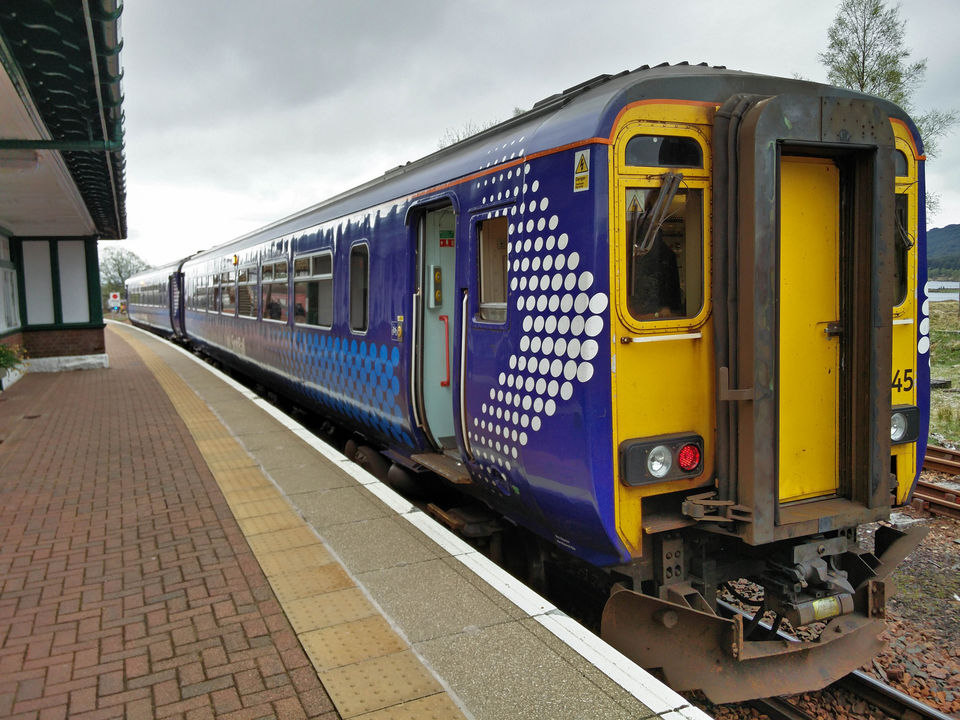 The train halted for 10 minutes for the Caledonian Sleeper to pass through which gave me some time to take a leisurely stroll on the station and converse with the friendly trolley man in his late fifties. I had tipped him while I bought coffee and I got my money's worth as he told me about the nearby places and some facts about the ScotRail.
I AirBNB'ed at Keith's in Edinburgh and I couldn't be more impressed by his magnetic personality and the comfortable stay felt like a secondary experience in the historical city.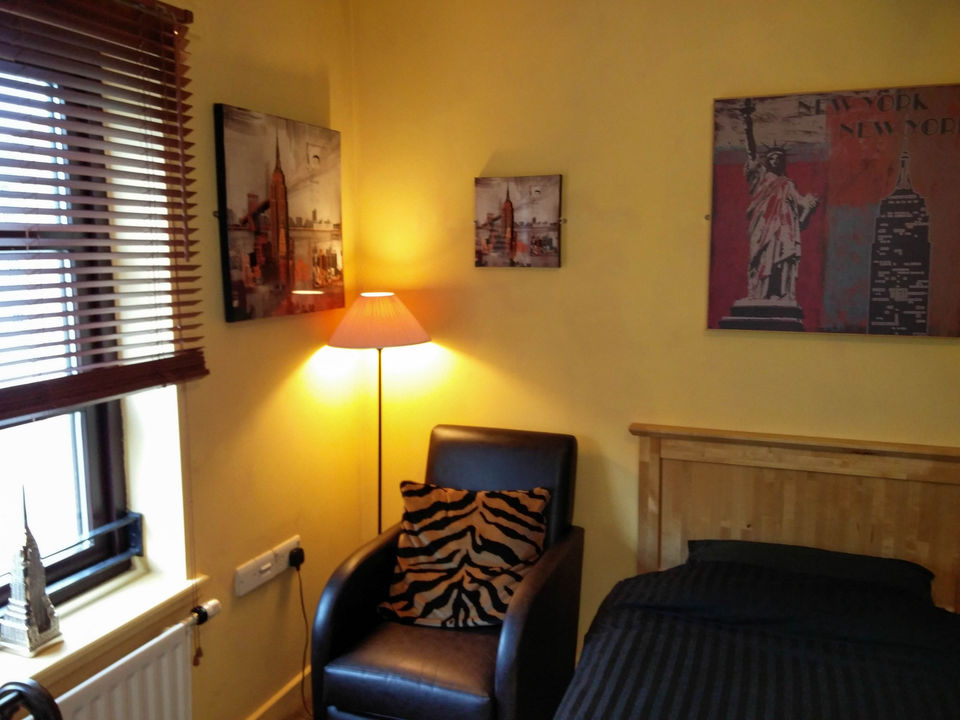 And to my surprise, Keith shared my love for New York City.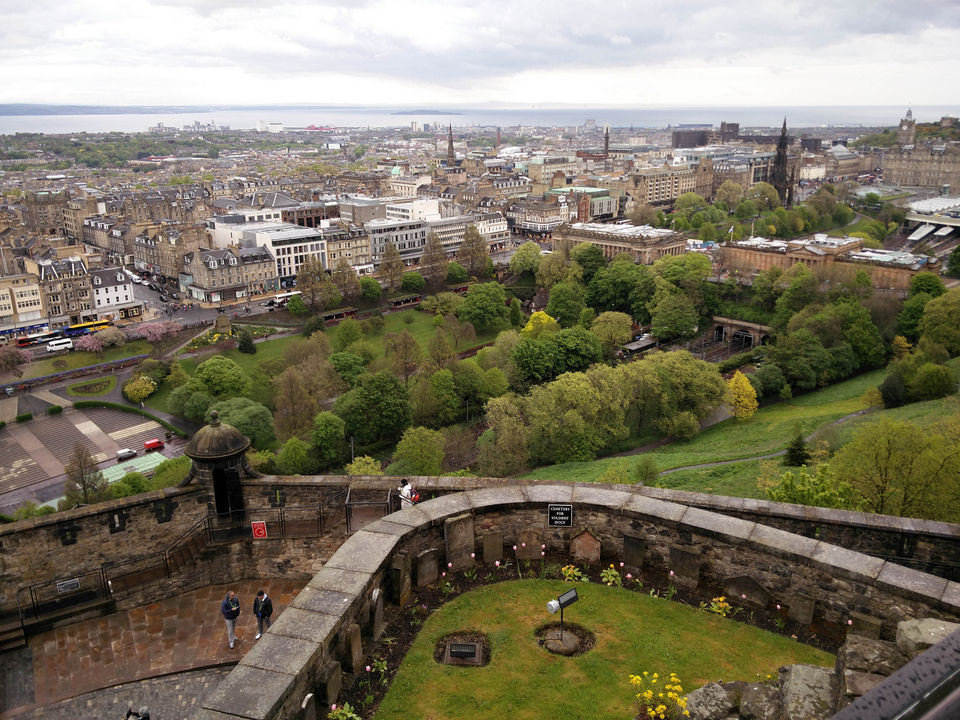 If you're in the city for the first time, Edinburgh Castle is a must-go place to discover.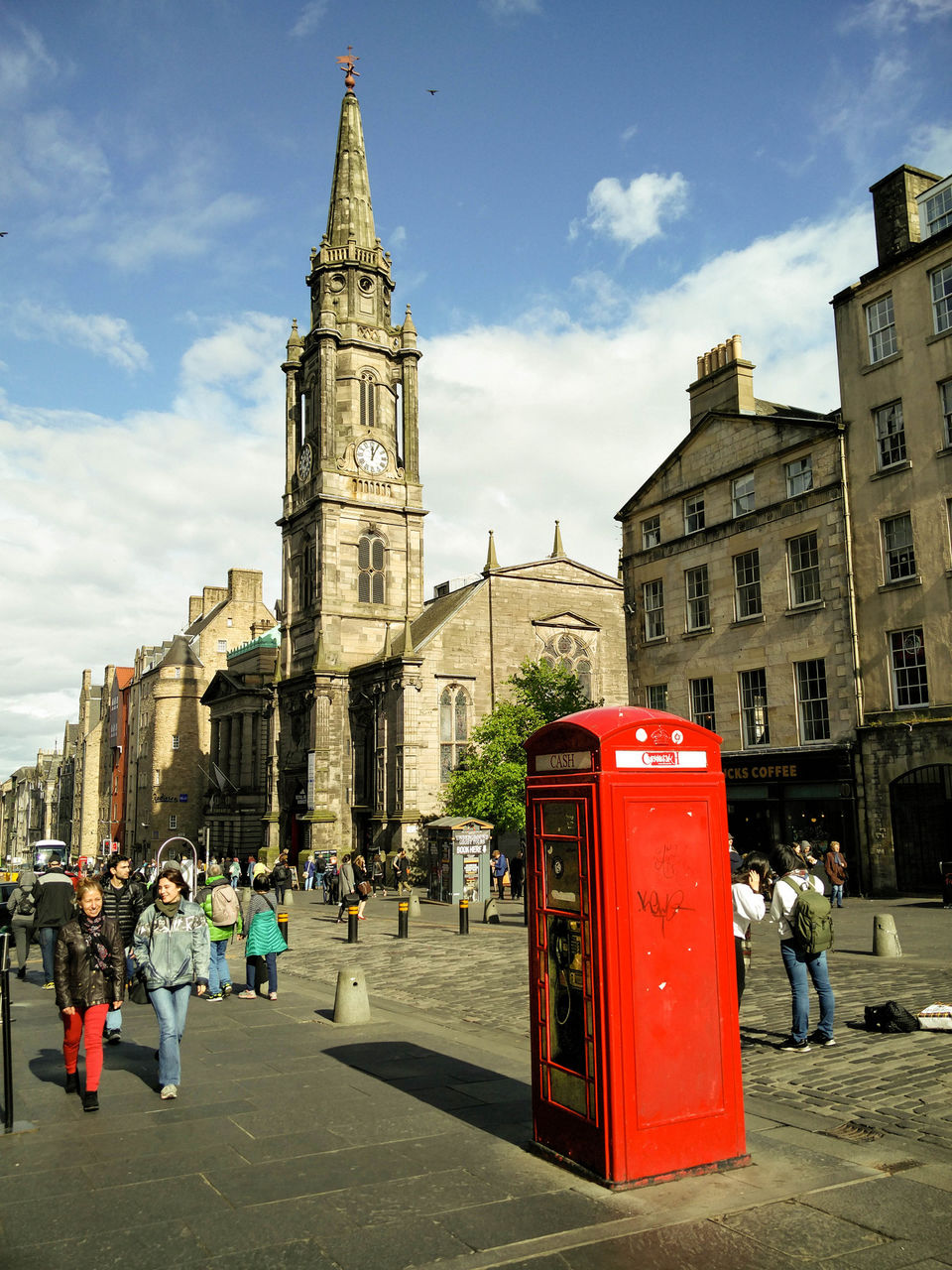 Edinburgh is a walakable city and I only had to catch a cab when it drizzled.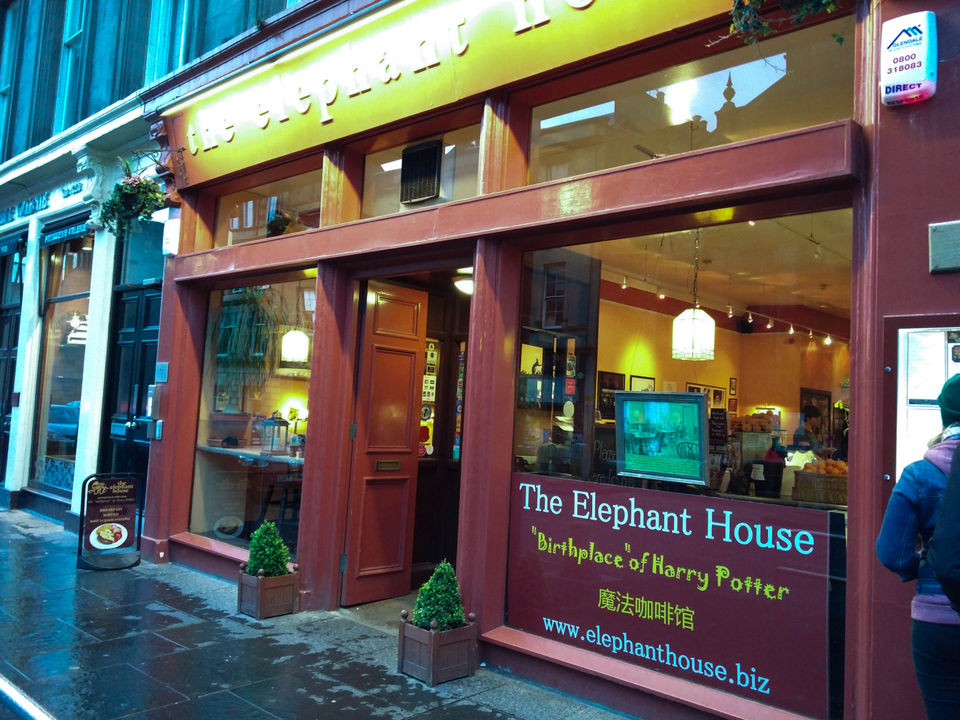 Edinburgh Castle that backdrops The Elephant Cafe was all the inspiration J.K. Rowling needed.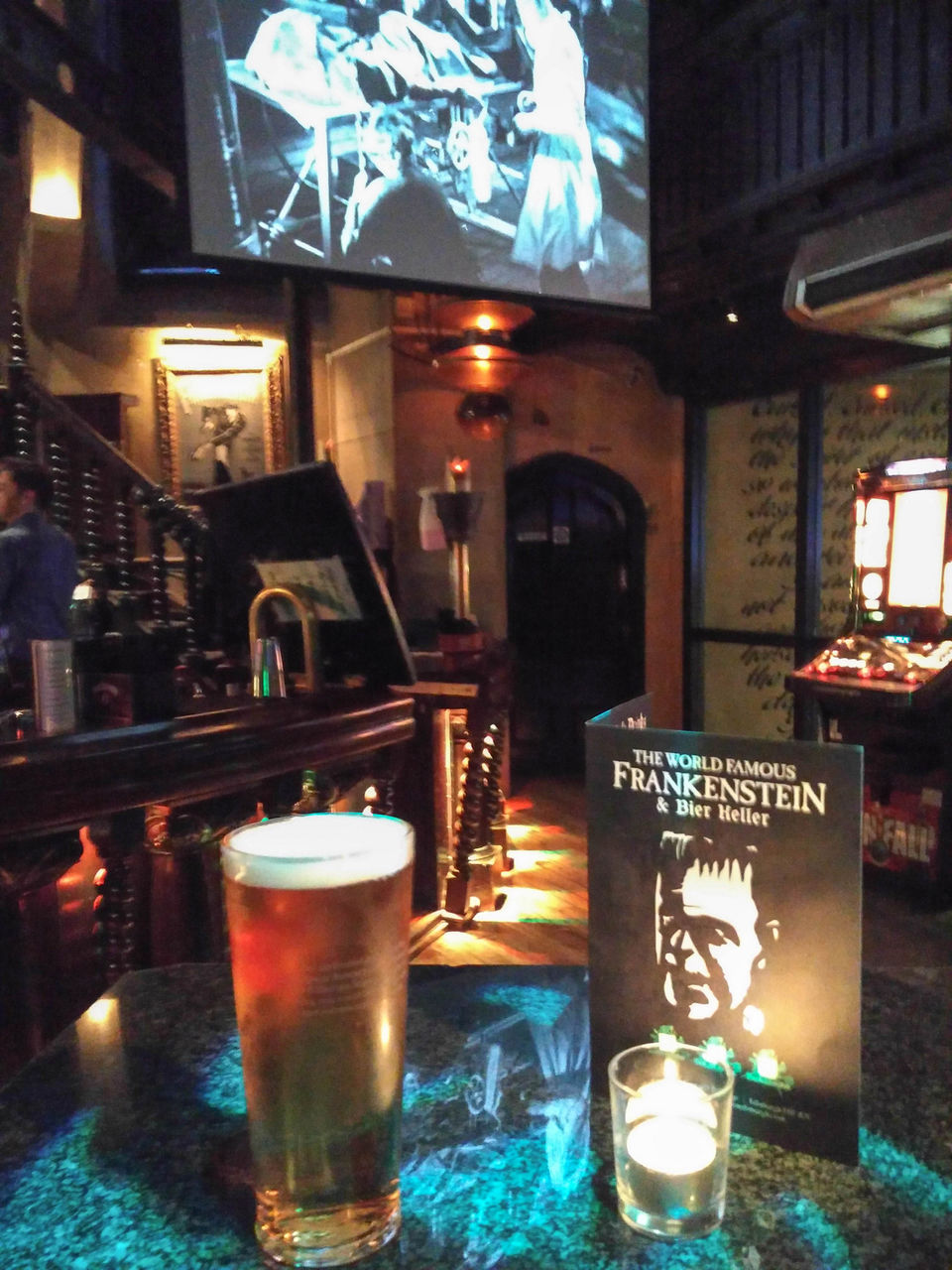 A church that was transformed into a bar. HOW COULD YOU BAIL ON A PLACE LIKE THIS?
The music will give you shivers.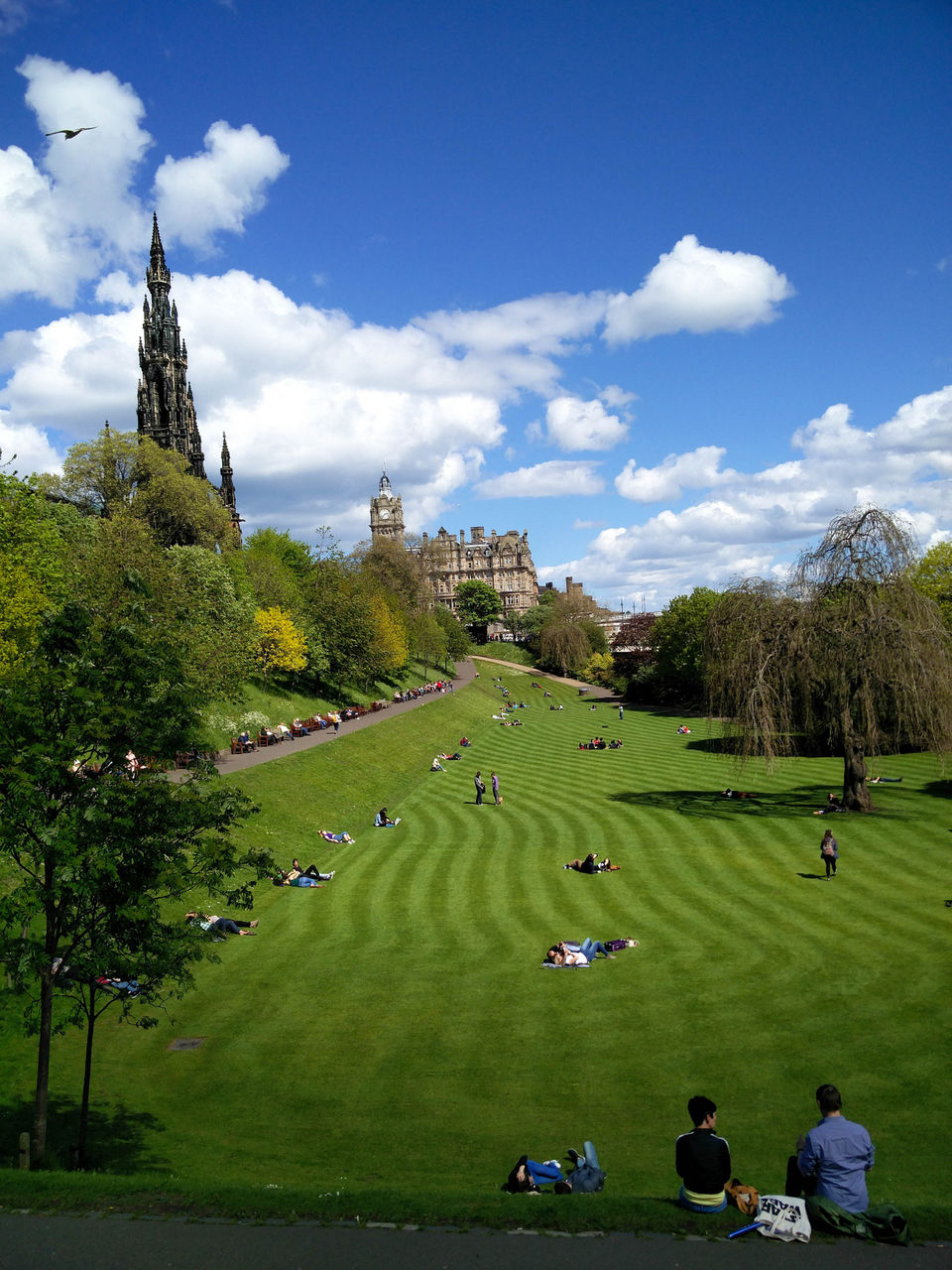 I took an hour long Ghost Tour during the night and it had its moments. I would highly suggest you try it out. I was a few drinks down so it was more funny than it was supposed to be scary. The only highlight was the pretty girl in yellow who was amazingly calm while the other kept shrieking.
That's all, folks.
So how did Scotland treat you? Let me know in the comments!