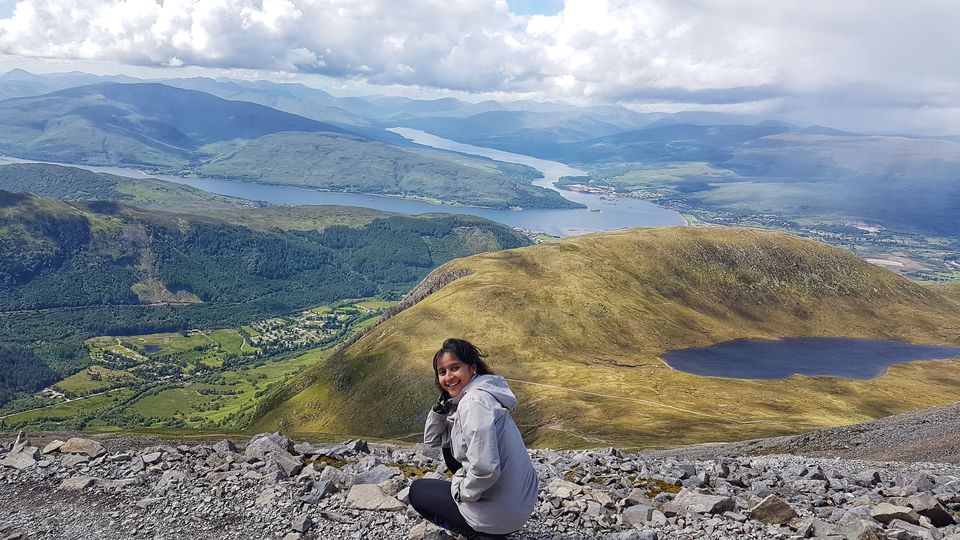 Having travelled extensively around the world and done things ranging from deep sea scuba diving, exploring various off-beat destinations, sleeping on a volcano rim to climbing mountains above 6000 meters, the contest "An achievement I will never forget", actually made me think hard as to what is that one thing of all my adventures that I will never forget, will remember for the lifetime and feel proud of!
And I can't think of anything other than my marathon climb to the highest peaks of England, Wales and Scotland in 48 hours, not only because it was tough & adventurous, but also because I took this as a personal challenge to help raise funds for a charity which looks after the education of underprivileged kids.
I did not only complete the challenge in terms of making it within 48 hours, but also was able to raise a good sum of money for the charity, which was a double achievement and something I am proud of till date :)
What is the "Three Peaks Challenge":
Three Peaks Challenge is all about climbing the highest peaks of England (Scafell Pike – 978 M), Wales (Snowdon – 1085 M) and Scotland (Ben Nevis – 1345 M) in 24 hours. People who do it in 24 hours are driven between the bases of the three peaks, which is approximately 12 hours' drive. The total climb time of the three mountains is approximately 18 hours for a relatively fit trekker/climber. This makes it practically impossible to complete the challenge within 24 hours if you decide to drive yourself, which is what we did (Me and my partner) 😊
The 24-hour clock starts from the start of the first climb and ends upon the completion of last climb.
What we did:
We decided to complete the challenge in 48 hours. I would say, it was a real tough one with self-driving to the base of each mountain (12 hrs drive), minimum rest/sleep and then climbing all 3 peaks (18 hours of climb), all within the 48 hours of time frame!
Drive to the Base of Ben Nevis
We started driving from our home in London at approx. 5 PM and arrived in Glasgow midnight, slept for around 5 hours with an early start to drive to Fort William, base of Ben Nevis.
Drive from Glasgow to Ben Nevis base is around 2.5 hours. We started at 6:30 AM in the morning and reached at 8:30 AM at the base.
Start of 48 hours challenge window
1. Climbing Ben Nevis:
The main route to climb Ben Nevis, known as the "Pony Track" starts from Glen Nevis Visitor Centre. You have an option to have your quick breakfast here. There is also a hostel nearby, in case your plan is to stay at the base.
We started on Pony Track at 10:30 AM. The route is well marked till the top. We met lot of people climbing the peak, some were part of the challenge and others were just out for a day hike.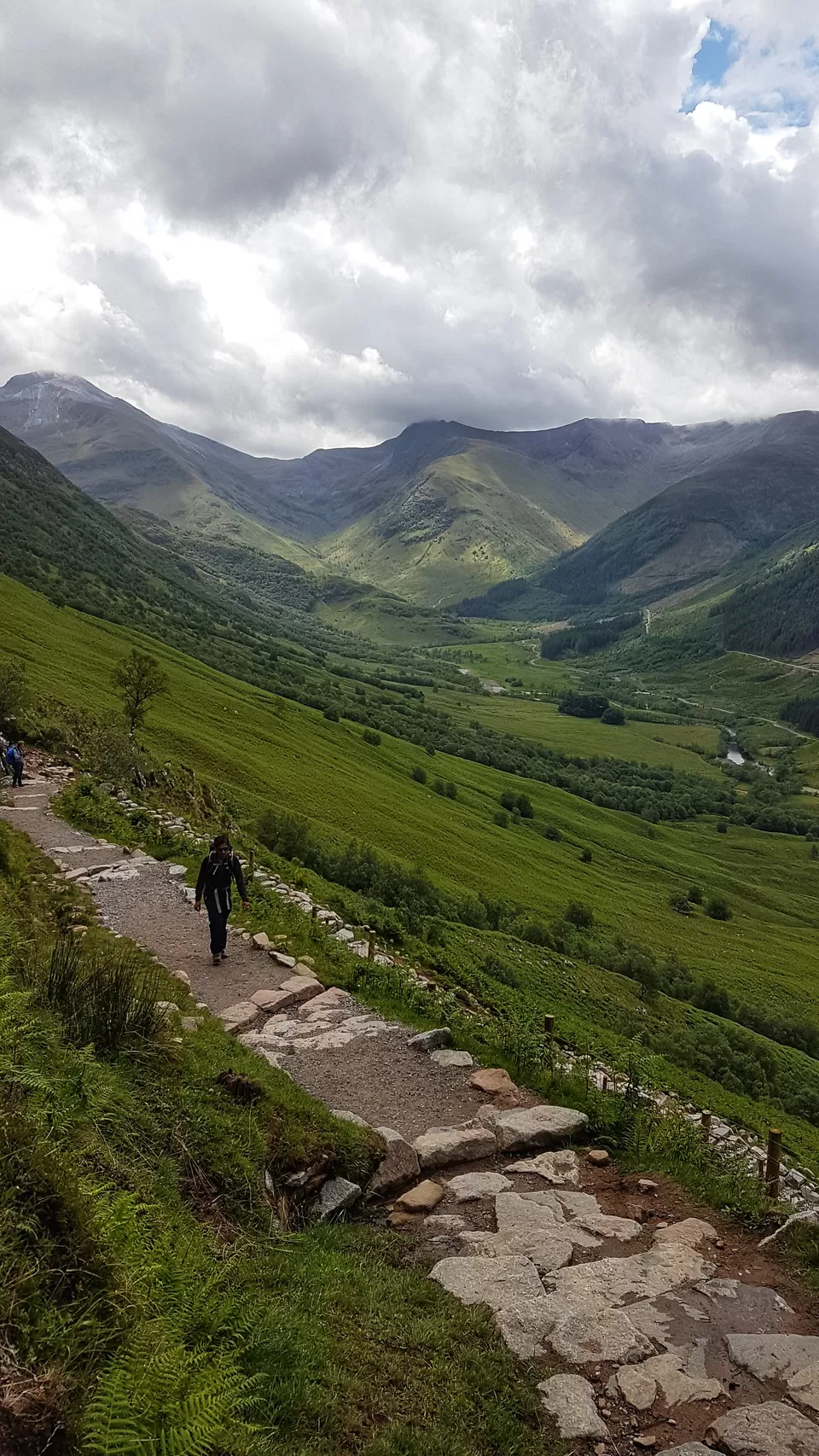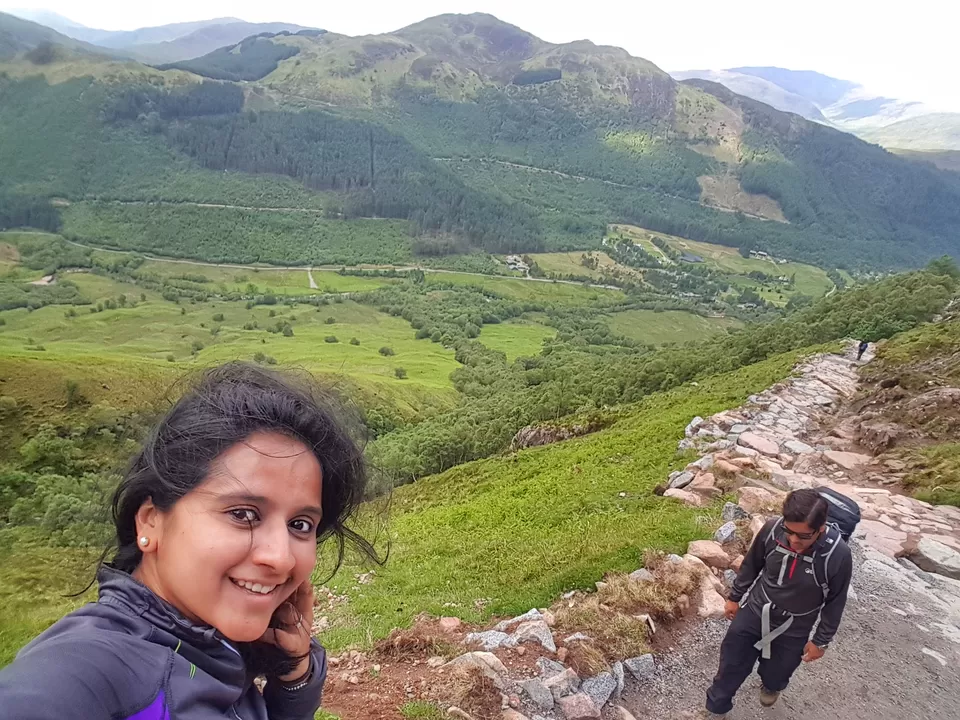 We started slowly and picked up a decent pace until we reached at a lake (Lochan Meall An T-suidhe), which was 1/3rd of the route. The views were outstanding, with green pastures all around. After taking a quick pause at the lake, we headed ahead to CIC hut, which is used by trekkers to take a shelter in case of bad weather which is very common on Ben Nevis.
From CIC hut, we moved ahead on a zig zag path with gradual ascend, before climbing steeply to the summit of Ben Nevis. The last section had lot of boulders with occasional snow patches, which required a careful uphill walk. The weather was a bit cloudy when we reached the peak hence, we couldn't see much. However, our walk back was absolutely gorgeous with outstanding and clear views, which made the whole climb worth it 😊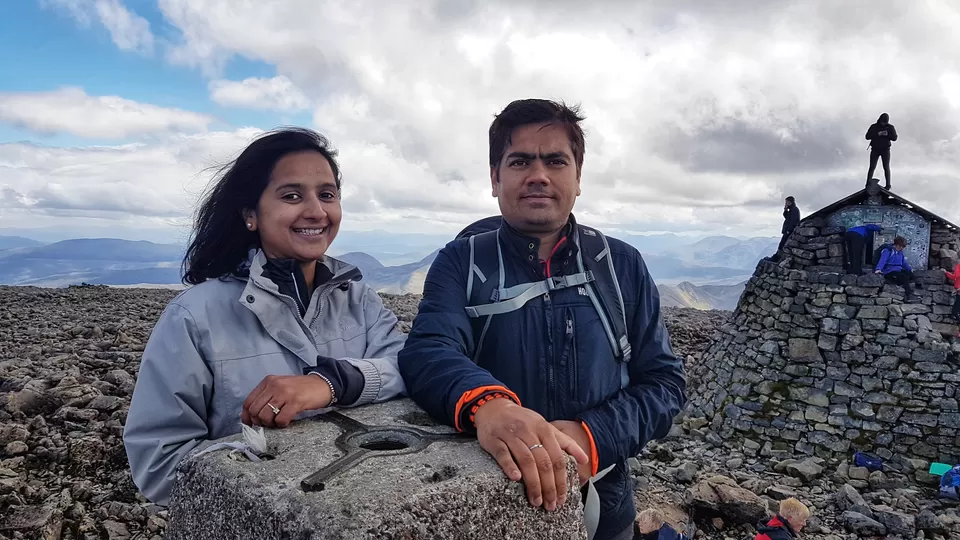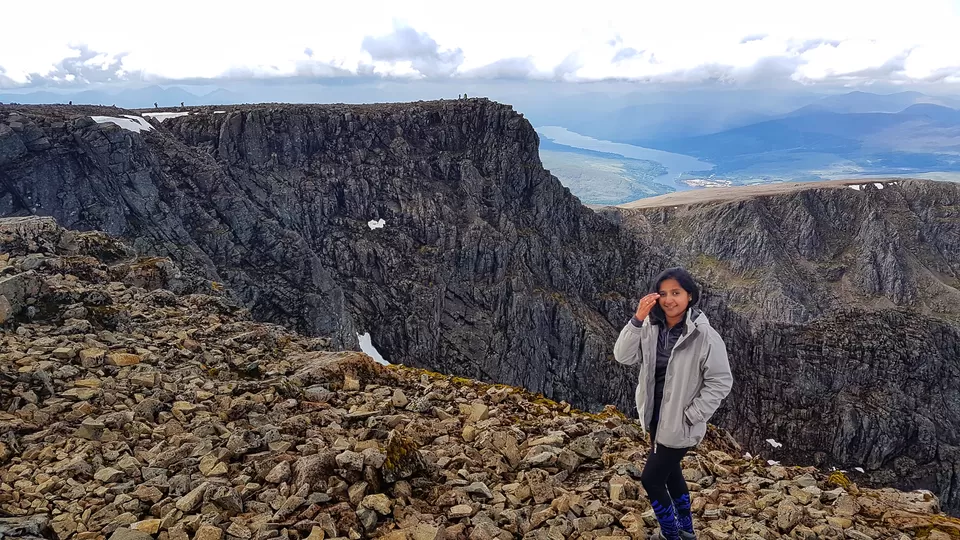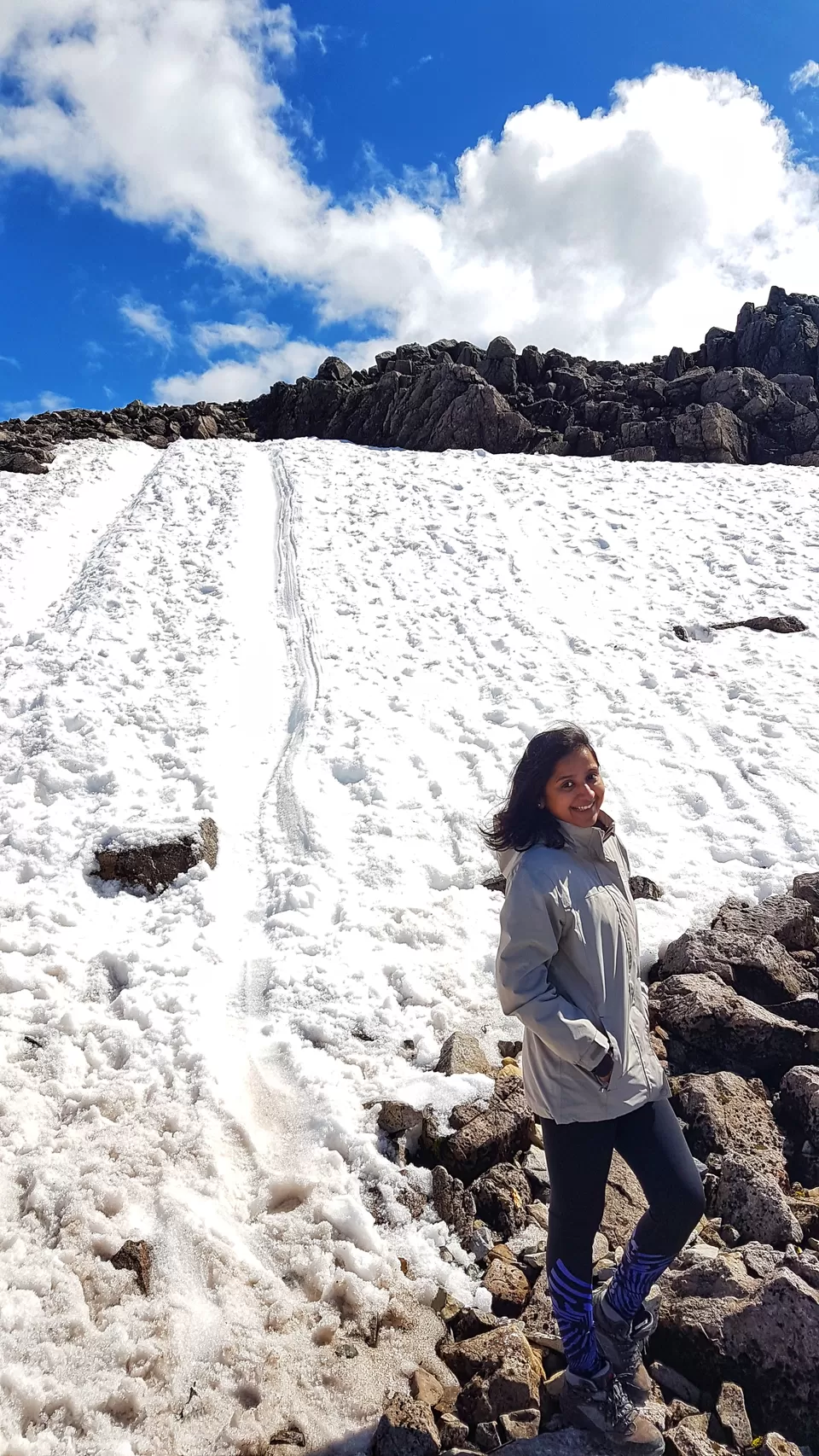 It took us approx. 4 hours to ascend an altitude of 1350 M and 1.5/2 hours to descend back. So total of 6 hours with a few occasional stops for a total distance of 17 KMs.
Immediately after the success of our climb to the Ben Nevis, first of the three in the challenge, we decided to drive towards Wales as much as closer to the base of the second peak as possible. This is to ensure we have to drive minimum in the morning and start our climb to the second peak as early as possible next morning
We decided to stay in Dumfries, after driving around 4 hours. After having quick dinner in our hotel, we crashed for a good night sleep being tired from all the climbing and driving we did today!
2. Climbing Scafell Peak
We overslept a bit, and started driving at 8:00 AM from our stay in Dumfries towards the base of Scafell Pike i.e. Wasdale Head
Fortunately, it was nice and sunny which was a big plus as usually it is always dark and gloomy on UK peaks, which makes the atmosphere very cold even during summers.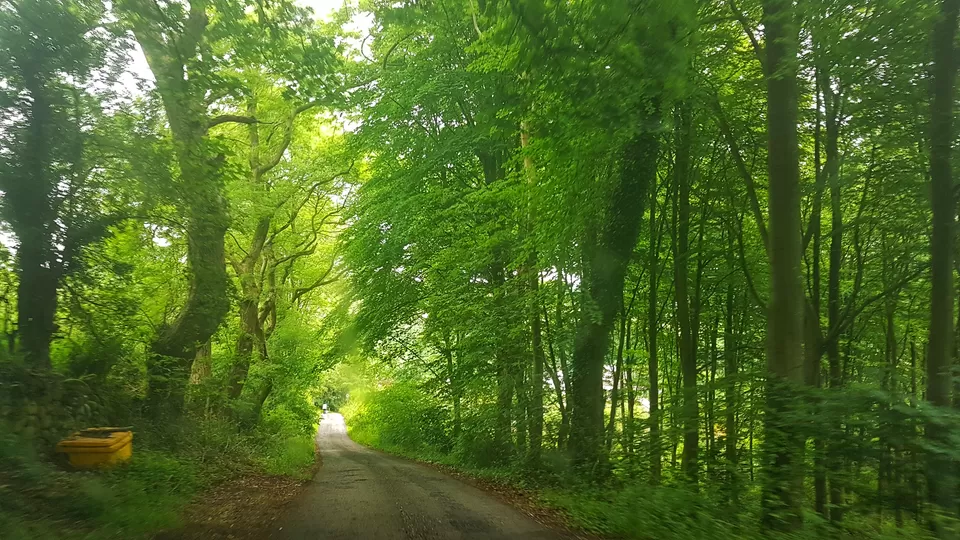 After taking a quick break at beautiful "Wast Water" lake just before the Wasdale Head car park, we started hiking Scafell at 11:30 AM on day 2.
Again, the route is well marked, so you can not get lost even if you are hiking alone. We did this in early summers, so had enough number of people to accompany us during the whole route. Scafell Pike and the neighbouring peaks consists of igneous rock, hence most of the route, especially the summit plateau is covered with shattered rock debris.
We started slowly on our way through the initial well laid path, followed by the hike through the vast debris fields, and then ascending through debris fields/path all the way up to the summit.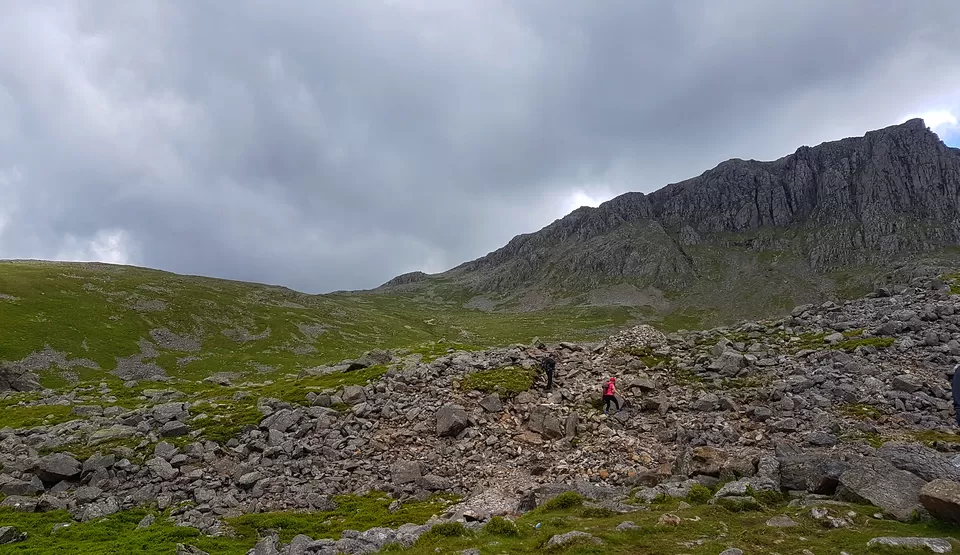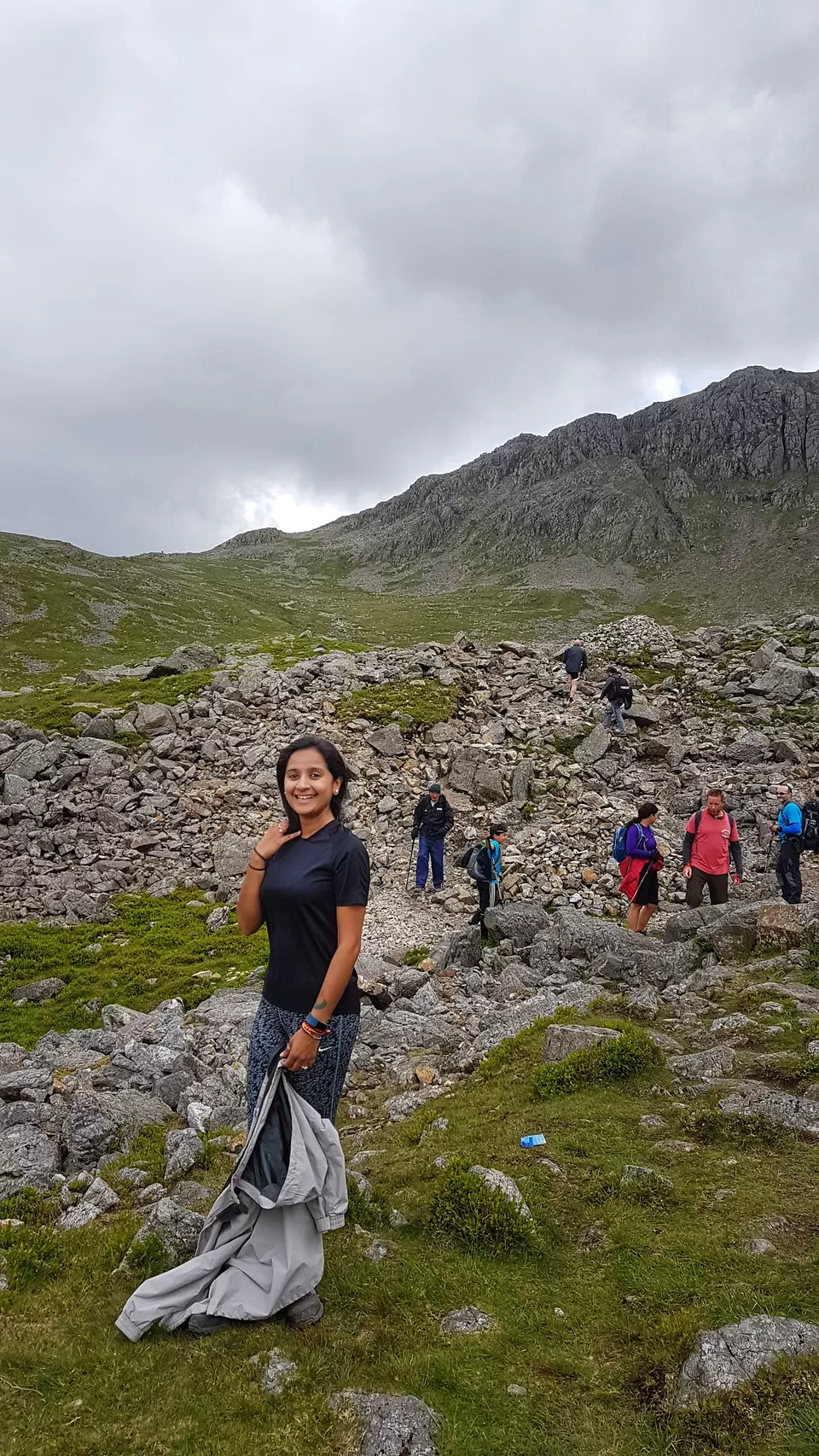 Ensure to wear good hiking shoes and navigate the path slowly and cautiously so as not to fall down and avoid injurious during hiking up Scafell Pike. Weather was mix of clouds and sun when we were on summit, however very windy and a bit chilly too.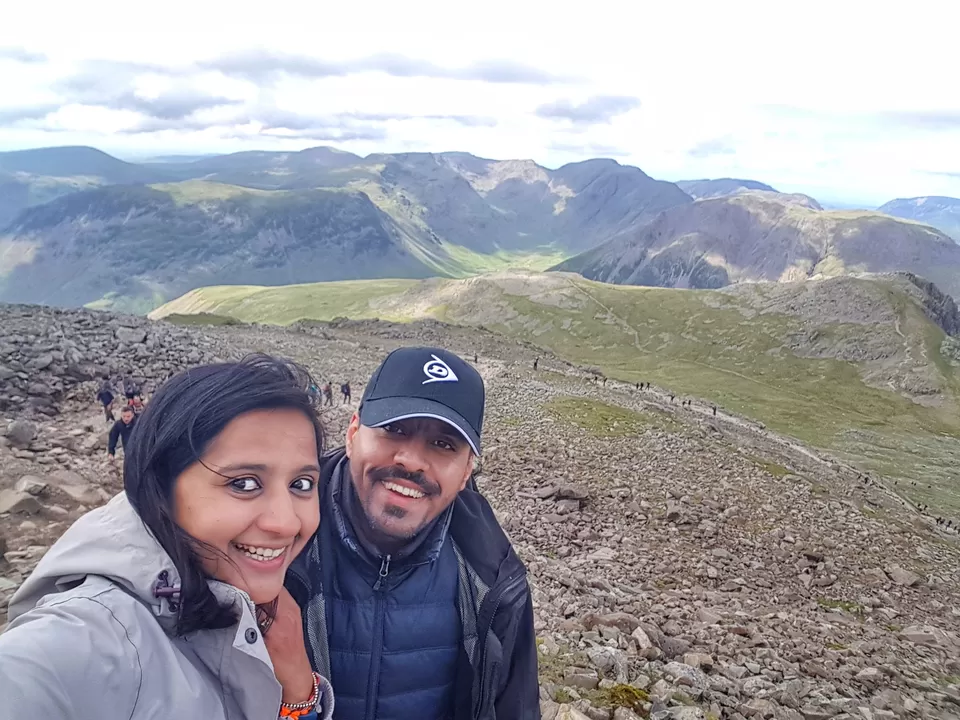 It took us total 6 hours to complete our hike up and down to the Scafell Peak, so effectively we were back at the base around 5:30 PM. Today we wanted to drive back all the way, which is a 4 hours drive, and reach to Snowdon base. This is to ensure we start our trek early in the morning to complete our challenge in exact 48 hours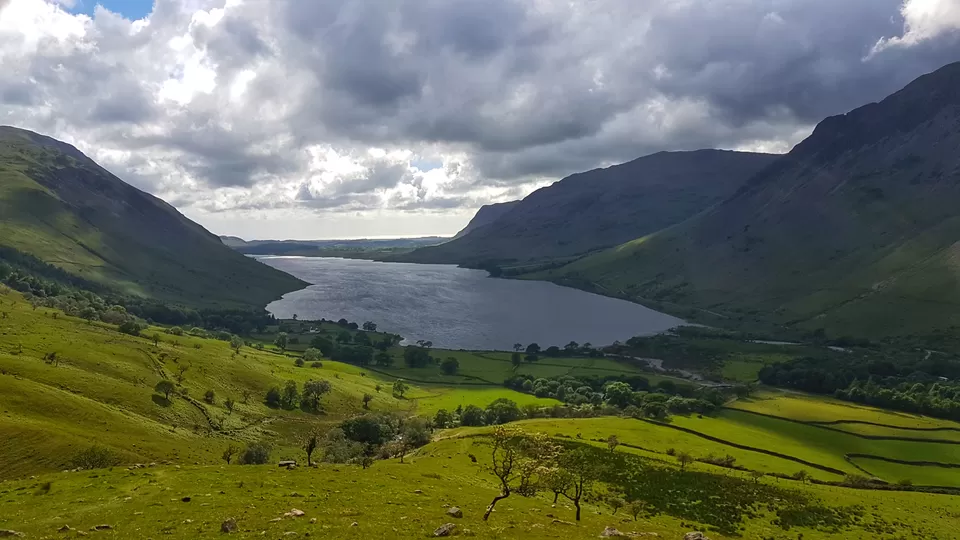 After reaching at our stay in Snowdonia town, we had a quick dinner and again crashed for a very early start the next day.
3. Snowdon Climb
There are two paths starting from Pen-Y-Pass car park which is Miners track and Pyg Track. Miners starts from the lower car park and mostly a smooth path with wide stony roads and a bit of tarmac road as well until the end of Glaslyn Lake. After this, there is a steep ascent which connects to the Pyg track. From here you continue on the Pyg track all the way up-to the summit. The path after the Glaslyn is quiet uphill with some narrow and steep sections.
The weather was really bad, windy, rainy and cold as we started our trek for Snowdon early in the morning. We chose to take Pyg path as it is 2 KMs shorter than Miners. It was really difficult walking all the way due to thick clouds, especially crossing few sections just before the summit, which were very narrow, steep and slippery due to rains and a bit of snow! We didn't take a single picture while going up due to the bad weather!
On summit, it was raining profusely with high winds, hence we could hardly see anything. After clicking few pics on summit, as soon as we headed back the weather turned better and we could see an amazing views of lake Llyn Llydaw and Glaslyn.
We wanted to stay a bit longer to experience clear views from summit as the weather was clearing up, however decided to head back quickly as we had to make it to the base before our 48 hours window!
We took the same, Pyg path on our way back to save some time and could reach by 11:00 AM which is 30 minutes past our challenge of 48 hours ☹. I think we could have made up time if the weather supported us a bit, because we definitely slowed down a bit on slippery sections and cloud cover due to rains while on our way up.
Nonetheless, a bit disappointed, but we finally completed our 48 hours challenge to three peaks of Scotland, England and Wales; definitely not an easy one, both physically and mentally!
These are some pictures from Miner's Track path, which we did a year back during earlier winters with absolutely clear and gorgeous weather :)
A little celebration of our success 😊
I didn't mention this earlier, but two of our friends joined us during climb to Scafell Pike and Snowdon climb. Though we couldn't climb together, however crossed our path couple of times and had some fun times after completing the challenge 😊
While on our drive back to London, we took a quick pit stock to meet our friends and were treated with a refreshing drink and some bites to celebrate our success.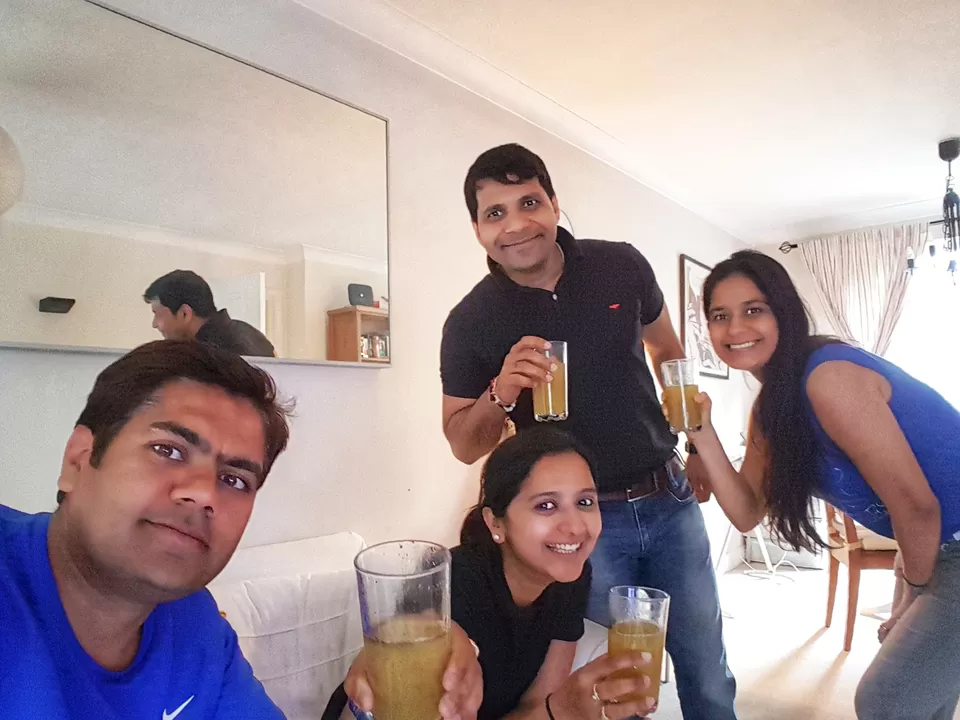 And that's the end of our story for the "Three Peaks Challenge", something I would remember for the lifetime!