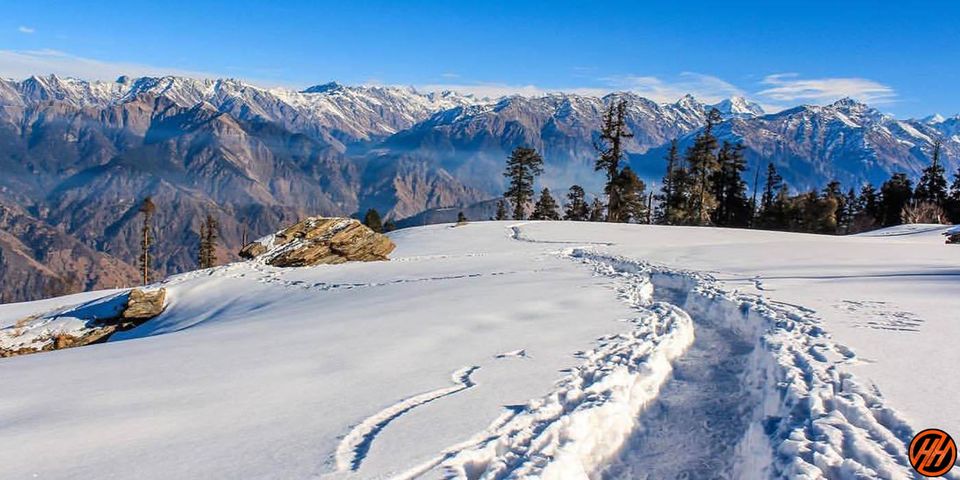 Kedarkantha the Prominent winter trek in Garhwal Himalayas Uttarakhand INDIA
Kedarkantha Trek height is around 3,800 meters. And, the Kedarkantha trek offers 6 days vacation with the taste of perfect adventure and jaw-dropping experiences.
Therefore, Kedarkantha trek is the prominent winter trek! It has got unmatched beauty in winters.
The trail hides in a thick blanket of snow almost winter.
The lush green forests Usually turn white, making it a small wonderland. As a result, The Kedarkantha trek is not only for experienced trekkers but for amateurs and children too.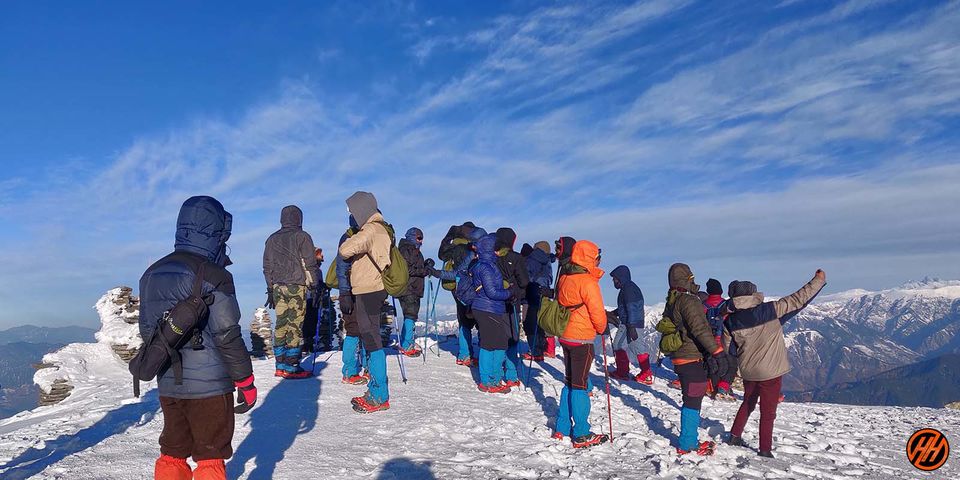 Why Kedarkantha Trek?
Kedarkantha is a beautiful place and the sacred abode of Lord Shiva! Kedarkantha history is based on mythology and beliefs that this is the favorite place of Lord Shiva.
First of all People of village Saur, Sankri, Sidari, Kotgaon, Pati Sigtur believe that when Adi Shankaracharya started telling about God and Goddess, then he heard a sound of a cow which came from Leka Dannda.
Therefore, he proceeded to Kedarnath instead of Kedarkantha because he did not want to be late while making the temple the reason now the temple of Shiva is in Kedarnath instead of Kedarkantha.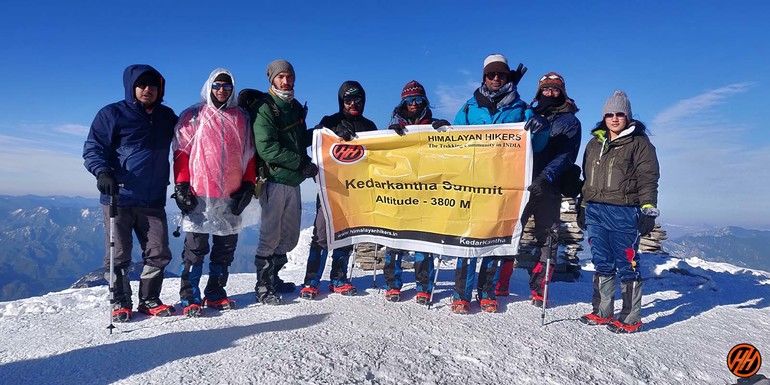 On the peak is the temple of Lord Ganesha, where a unique statue can see which is highly worshipped by the people. Nowadays also the villagers, after 15th July, organize a grand fair at the top of Kedarkantha, and the people from almost 36 villages attend it with pure heart and devotion. Kedarkantha Summit Trekkers on the Kedarkantha Summit
Base Camp of Kedarkantha Trek
Kedarkantha is one of the most beautiful places in India with the best panorama mountain views! It remains covered in snow most of the time and is the loved winter destination among trekkers. Now, it is in the league of India's Top Most Winter Treks! This magnificent place attracts people all across the globe. If you are in search of tranquility and beauty, then no other site can beat Kedarkantha.
Sometimes, trekkers talk to villagers about how lucky they are to live in such a heavenly place amidst the serenity. And, yes, in reality, whoever visits this place take unforgettable memories to cherish.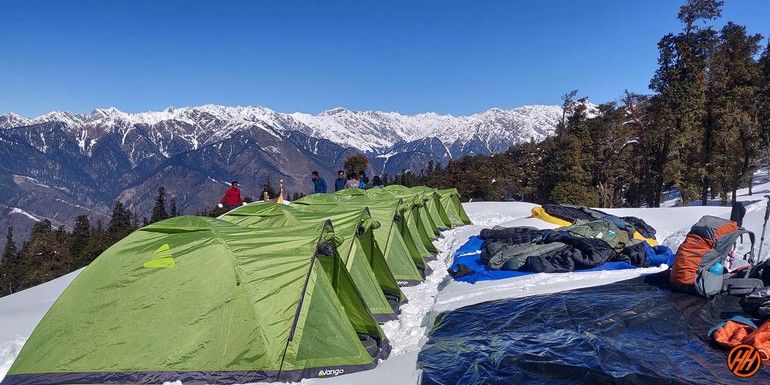 The villagers so heartily welcome trekkers that they surely come again to do another trek. The nature of Uttarakhand – meadows, rivers, streams, birds, animals, and flowers everything is attracting people to visit it. Uttarakhand is no less than a paradise, which is also known as Devbhoomi.
Kedarkantha trek lies in the Uttarkashi district of Uttarakhand. It starts from a small but busy village of Sankri, which is in the Govind Wildlife Sanctuary. If you visit it once, then no doubt you will revisit it, the charm is the most beautiful thing about this place. Certainly, many of the trekkers feel like Sankri is their second home.
About Sankri – What Sankri is?
Sankri is a beautiful small, and busy market Kedarkantha Trek Start From Sankri. There are small shops and some hotels, the most beautiful one is the Swargarohini hotel, which offers impressive scenic views of the perfect nature.
Witness unique wooden houses made of Deodar wood. You can get most of the things in Sankri because it is the primary market of 15 villages.
Sankri is the basecamp of 25+ treks. Some treks are of Himachal or Kinnaur village; some treks lead back to Sankri and others to Uttarkashi.
Around five expeditions starts from Sankri
Sankri is a Beautiful Hotel The Swargarohini Palace.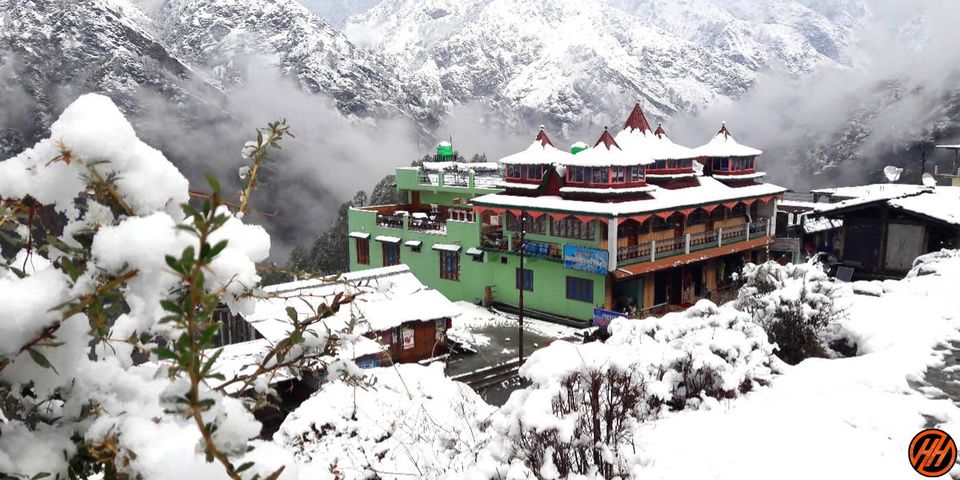 History of Base camp Sankri
In Our 28 Yers Of Experience, We ahve seen Meny Travlers. In early 1970 only foreigners used to visit Sankri and the number increase Day by Day.
At that time Har ki Dun Trek was the most famous one, and the people highly visited it.
The number of Bengali Trekkers was also high; they did many high altitude passes and visited Sankri frequently.
The Moon from Sankri base camp seems so close that touching it feels possible. And, the sunrise from Sankri is gorgeous because the golden rays of the sun eagerly welcome and wake you up.
The sunset is beautiful, too, but a short while of darkness will surely make you smile afterward when the moon shines.
The lives in the mountains are different; there are risks and happiness too!
The day ends, and we don't even realize – someone said it right that we Kuldeep Ji, you are lucky that you live here.
The trekkers told me if the office, airport, everything was here, they would never leave the mountains.
My only answer was – if every facility were here, then the mesmerizing beauty of the mountains would have lost somewhere. The untouched beauty is the thing that provides peace and a spark to know about the hills.
We are fortunate and happy to be "Pahadis."
Altitude we are going to cover In Kedarkantha
The Kedarkantha Trek distance is 23 Km.
Sankri (1920 Meters)
Juda Ka Talab (2700 Meters)
Kedarkantha base camp (3200 Meters)
Kedarkantha summit ( 3800 Meters )
Hargaon thach (2645 Meters)
Getting to Himalayan Hikers Base Camp Office at Sankri
Take the night train from Delhi to Dehradun.
(Similarly, Special train's from New Delhi would be best)
You can reach Dehradun Railway Station around 5:00 am to 7:00 am, vehicles will be arranged, and there you can meet our office members.
Note:- Himalayan Hikers arrange vehicles for you from Dehradun Railway Station Pickup and Drop Tempo
Transport costs per person one way Rs. 1100/- Extra pay to Directly your taxi driver.
ATM Point & Mobile connectivity
ATM POINT: Withdraw money before your journey Purola is the last point where you will find ATM.
(If you want to withdraw money, then do it in Dehradun.)
Mobile Connectivity: There will be no networks during the trek. In Purola, your device will receive the networks, and at Sankri, only
Vodafone and BSNL signals are there, but you cannot rely on the connectivity because the signal strength is not good.
So make sure you finish all your important work and calls before starting the trek.
Key Points Kedarkantha trek
Duration: – 5 Nights 6 Days
Base camp:- Sankri
Summer Temperature:- Day (5°C to 15°C) Night (2° C to 5° C)
Winter Temperature: – Day (-2°C to -5° C) Night (-5°C to -10°C)
Kedarkantha Altitude: – 3800 Meters
Best Time:- All year
Trek Level: – Moderate
Trek distance: – On foot 23 Km – By taxi 420 km
Group Size: – 20 people
Short Itinerary OF Kedarkantha Trek
Day 1 – Pick up to you from Dehradun railway station – Drive to Sankri Market – 210 Km (8/9 Hours (1920 Meters)
Day 2 – Trek from Sankri to Juda ka Talab (05 km) (4/5 Hours) (2700 Meters )
Day 3 – Trek from Juda ka Talab to Kedarkantha base camp trek (3.5 km) (2/3 Hours) (3200 Meters ) ( overnight stay our campsite
Day 4 – Trek from Kedarkantha base camp to Kedarkantha summit (12500 Feet) (3800 Meters back to Hargadon campsite – 9 km) (5/6 Hours) (2645 Meters )
Day 5 – Trek from Hargaon camp to Sankri base camp – (5.5 km) (4/5 Hours) (1920 Meters )
Day 6 – Sankri to Dehradun by taxi (210 km)(8/9 Hours)