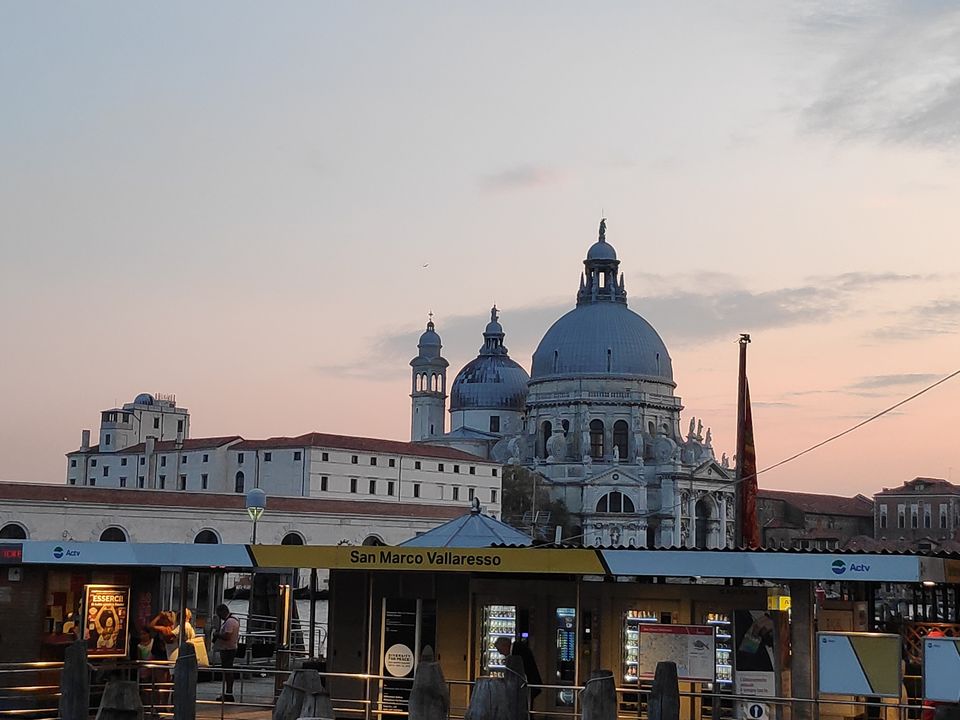 I have always read in books and magazines that somewhere on this planet, there is a place which is surrounded by mesmerizing canals and magnificent art. That place is none other than VENICE.
Venice, a city known for its canals and pretty little lanes, was our destination for 3 days in the Italian country. This city is filled with fun and frolic and the enthusiasm amongst the locals is what keeps the city alive and vibrant. We had planned our 3-day itinerary to this destination well in advance since it's a bit expensive place and the summer months are extremely busy and touristy.
MY ITINERARY:
We travelled to Venice in the month of August (one of the hottest months in the European continent). The best time to visit Venice is between April - October (P.S.: It's touristy as well during those times, so would definitely recommend to book well in advance). Since we reached Rome one day prior to Venice, we took a train from Rome and reached Venice at around 3PM. The economy and first-class price of trains in Europe is almost the same provided you book well in advance. Since, we booked all our commute in the month of May, we got a pretty good deal on Trainline and booked a first-class ticket (Rate was in fact lower than the economy class).
We reached the Venezia Mestre railway station at around 3:00PM. This train station is a bit far from the Venice main island and the way to commute to the Venice island is through Water Bus, also known as Vaporetti. A single ticket would cost €7.5 and would be valid for 75 mins from the start time of the journey. There are also a variety of travel cards available. Ex: A single day travel card costs about €20, similarly there are 2- and 3-day cards. Since this was our 1st day in Venice, we didn't want to book the day card, hence we went ahead and purchased a single ticket. The ride took approx. 40-45 mins and we reached the Venice main island at around 4PM. The scenic beauty of the place could simply be defined with one word, RESPLENDENT.
We had pre-booked our hotel/room in Venice and hence, we walked around the lanes of Venice to find it (Thanks to Google Maps these days!). The lanes of Venice are quite tricky for the first time and you might circle around and reach to the same spot. Even sometimes the maps aren't able to find out the exact spot, since the lanes are tiny and confusing. However, after circling around for quite some time, we reached our room. It was a nice place with a beautiful decor and it had a unique touch of the Roman architecture.
We unpacked our bags, freshened up and within an hour and half headed out to the streets of Venice. The sun doesn't set here till 10PM in August and hence it was feasible for us to wander around the lanes. We crossed some nice and colourful boutiques on the way and reached the famous Rialto bridge of Venice.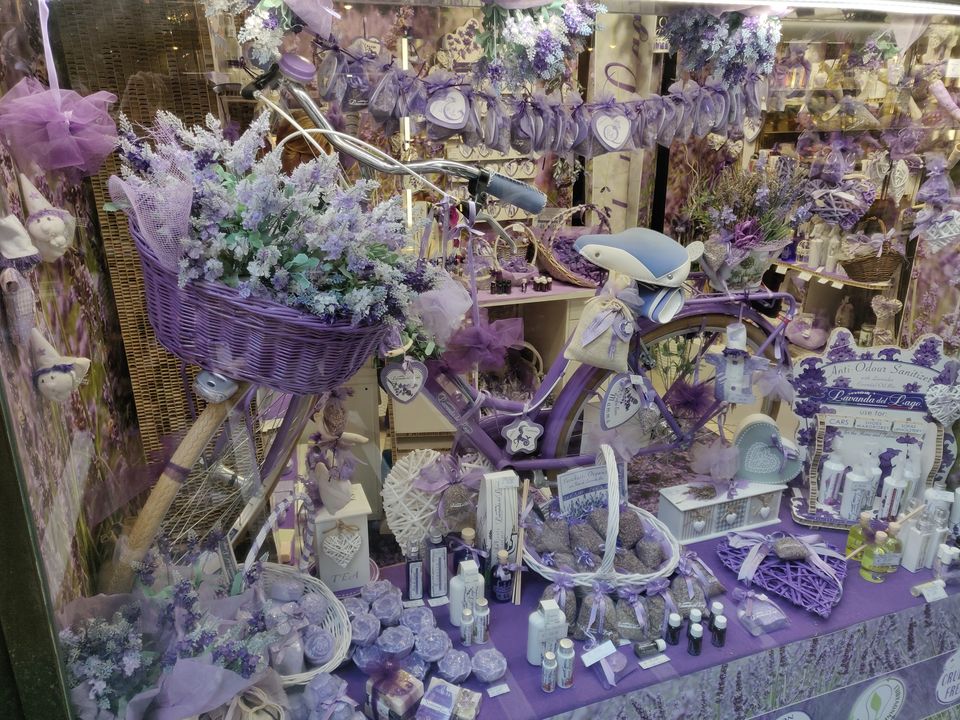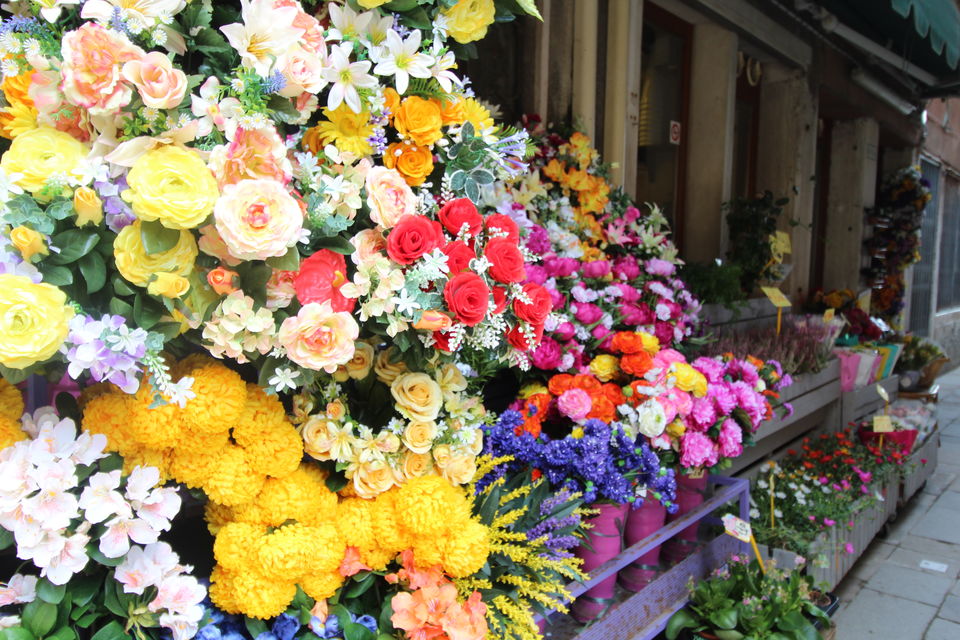 We strolled around the lanes of Venice and on top of the Rialto Bridge for quite some time and then went ahead to search for an authentic Italian restaurant place as we were craving to eat some delicious Italian cuisine. We found a pretty little restaurant at one of the corners and had an amazing vegetarian-friendly dinner. (Dinner times in Venice are quite early, so would definitely recommend to dine in at around 8PM, since the restaurants close by 10-11PM and getting a seat post 8PM is difficult). Post dinner, we strolled again for some time around the lanes and finally reached our room. The first day in Venice was a relaxing one since we wanted to garner all the energy for a busier second day.
Our day 2 started at around 10AM and after getting ready, we headed out in search for breakfast. We had croissant and coffee for breakfast and post that, headed to the water bus station near Piazza San Marco (We stayed at San Marco area and hence this was the nearest water bus station for us). Today, we were going to the nearby islands of Murano and Burano to explore the place further. We booked single tickets for the trip and headed to Murano first.
MURANO, is another island near Venice and is famous for its glass products. A variety of glass show-pieces and products are manufactured here. It took about 40 minutes to reach Murano. Once we landed here, we headed to view the manufacturing process of glass products at one of the glass factories. It costs around 5€ per person to check this out. Photography is not allowed inside the glass product outlets or shops.
Inside the factory, we were shown as to how a vase and a horse is made out of glass within 15 minutes. It was a nice experience for us as we haven't seen such a manufacturing process ever. After this, we went ahead and explored the island of Murano on foot. As it was quite hot, we went to a small shop and had some snacks along with Gelato (P.S.: Don't forget to taste the Gelato when in Italy). The island had some lovely houses and nice decors around. There were many canals passing by the island as well and small ferries to gather the daily eatables and important items could be seen going in and out of the place.
While strolling around, we could also find many small shops which were selling Venetian masks and hand-fans. Venetian masks can be found in many nooks and corner around Venice and each has its own beauty and artwork.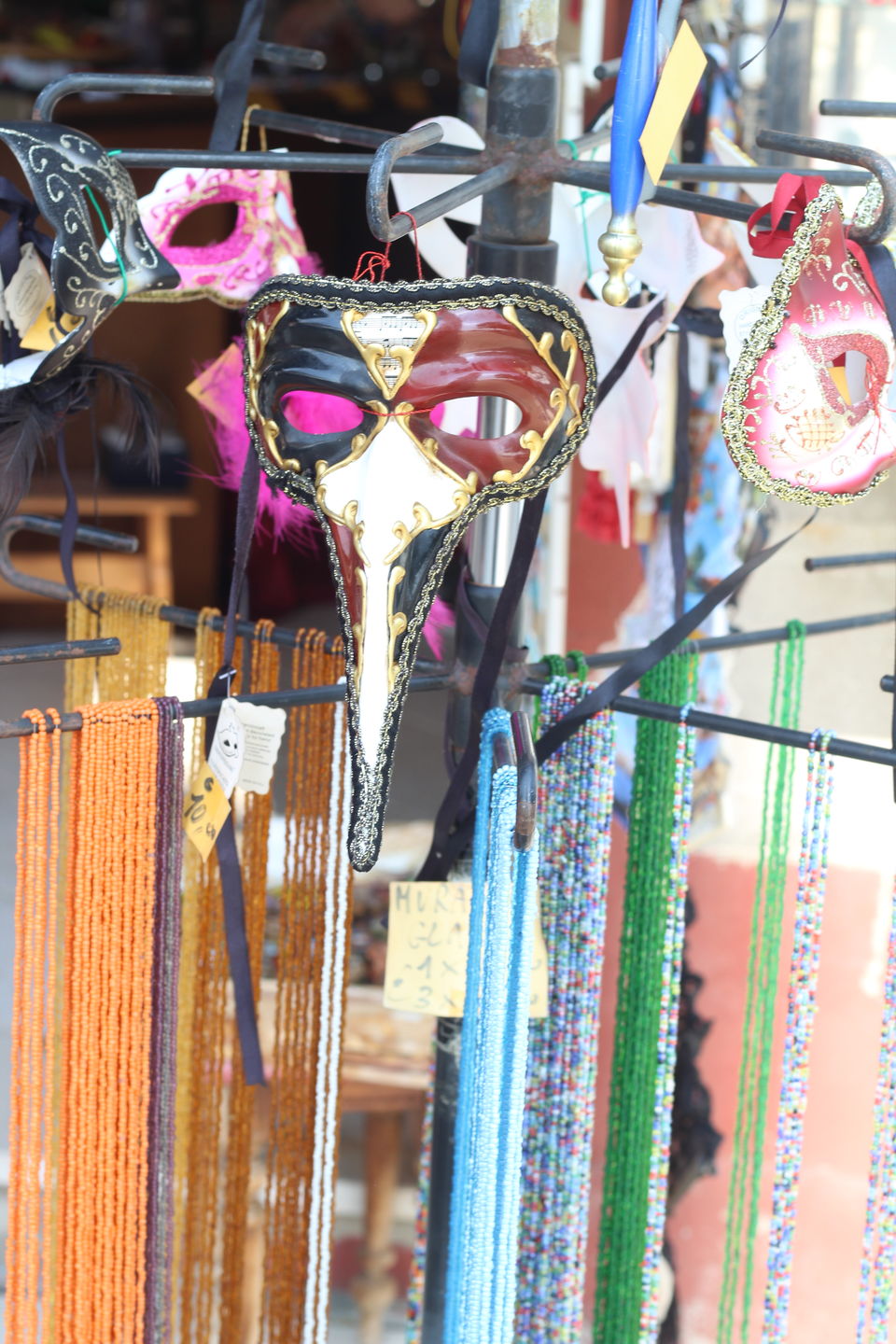 After spending around 3 hours in this island, we went ahead for our next destination, BURANO.
We took a water bus again and reached the island of Burano within 30 minutes. The island of Burano is famous for its colourful houses and it was indeed true. The moment we landed in the island; we could see the entire island being covered with colourful houses. We were pretty hungry and since, we carried lunch with us, we sat down in a nearby park within the island and finished our lunch with an amazing view of the colours and beauty around.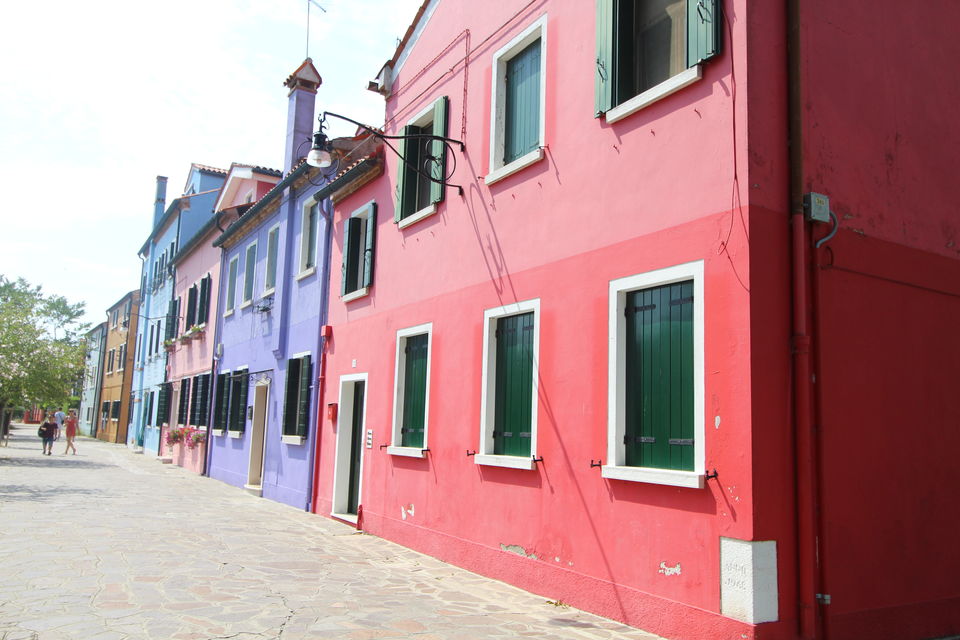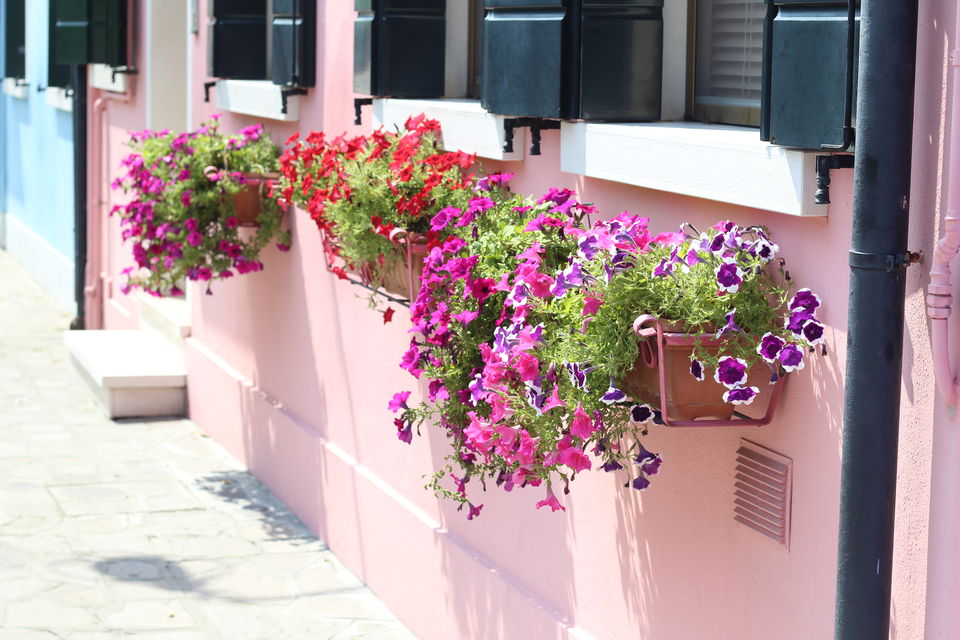 After spending a couple of hours exploring the place, we decided to head back to Venice thereby bidding goodbye to the colourful houses and the glass factories.
It was already 5PM by the time we reached the Venice island. We strolled again around the place and at this moment, we could see multiple Gondolas around the canals. Gondola is a famous feature of Venice and a single ride in Gondola (private tour) costs around 80-120€ depending upon the time of journey. The Gondola drivers also sing melodious songs that can be heard by standing on any of the bridge across the canals. We too, heard the melodies of Italian music by standing in one of the bridges around the island.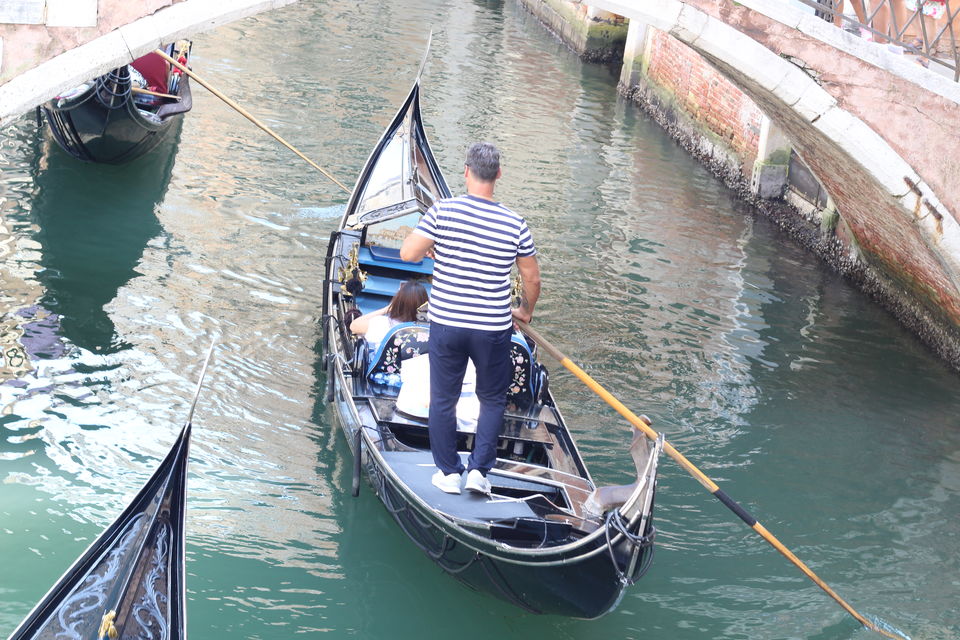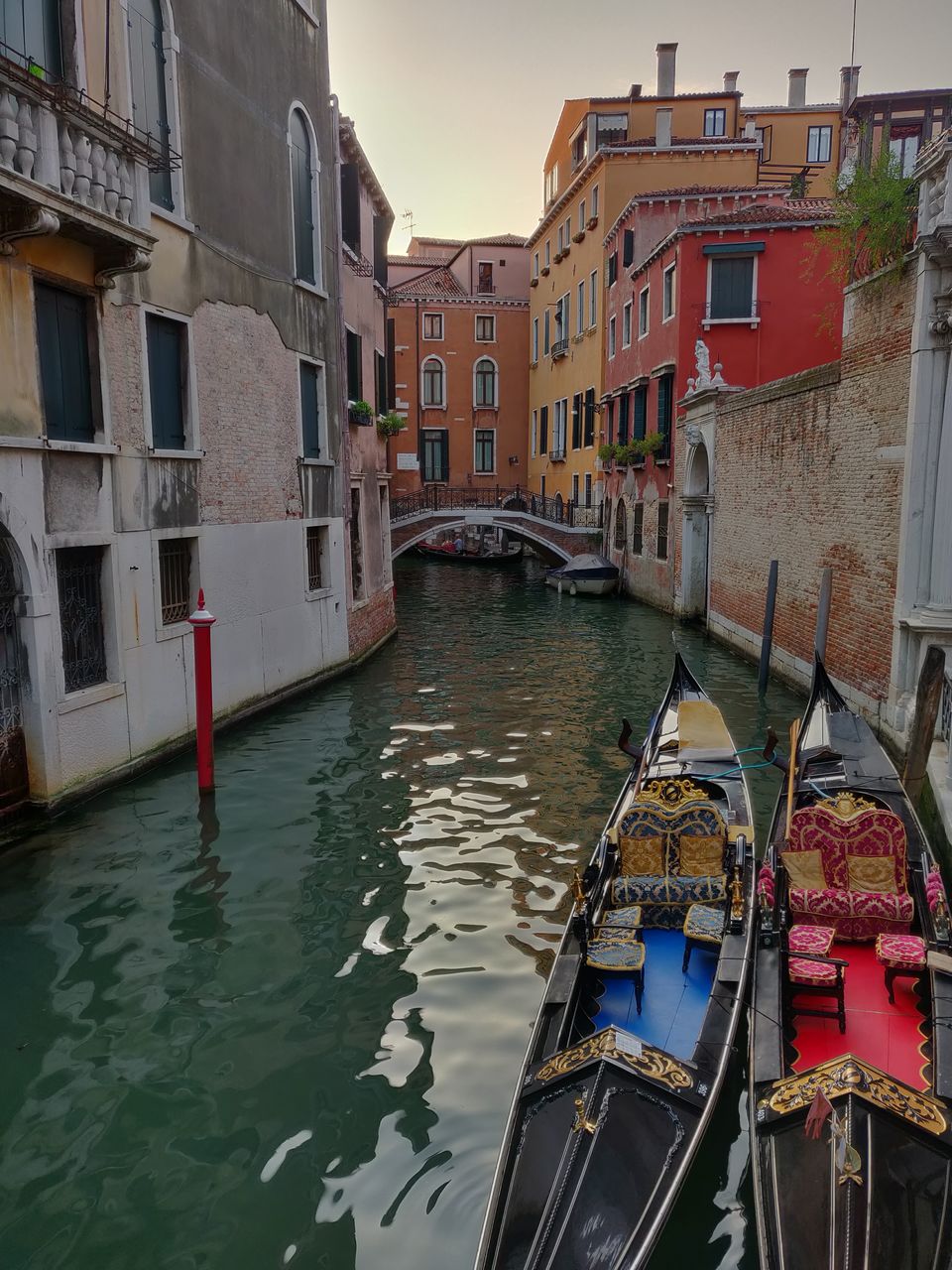 By the time we had finished relishing the memories of the melodious music, it was time for dinner. We headed again in search for some good food and finally found one with a good review and a couple of empty seats. We had authentic Italian Gnocchi and Pasta, topped with Gelato. Post dinner, we advanced towards our room to have a good night sleep.
We hadn't had any plans made in advance for this day and had thought to make it a relaxing one. We had a nice breakfast in our room and at around 12PM headed out for lunch. This time we wanted to try the famous Italian pizza. We ordered a single pizza at a take away place which had amazing ratings and I must say, a single regular pizza is sufficient for 2 people. It's huge and delicious. After our lunch, we went to the famous St.Mark's Square. You can see many performers and choirs all the time at this place. It's a very energetic and lively place with people cheering and praising the talented artists performing around the square. The St. Mark's Square has the famous St. Mark's Basilica and St Mark's Campanile, also known as the Bell Tower. There was a long line in front of the Basilica and hence, we decided not to go inside the place. Instead, we strolled around the square for a long time. One never knows how the time flies around this place.
We strolled further around the square and reached near the canal or rather the sea. There are multiple bridges near this place and one can enjoy the lovely sunset of Venice by going on top of any of these bridges. We headed towards one such bridge to enjoy the lovely Venetian sunset during our last evening at this wonderful place.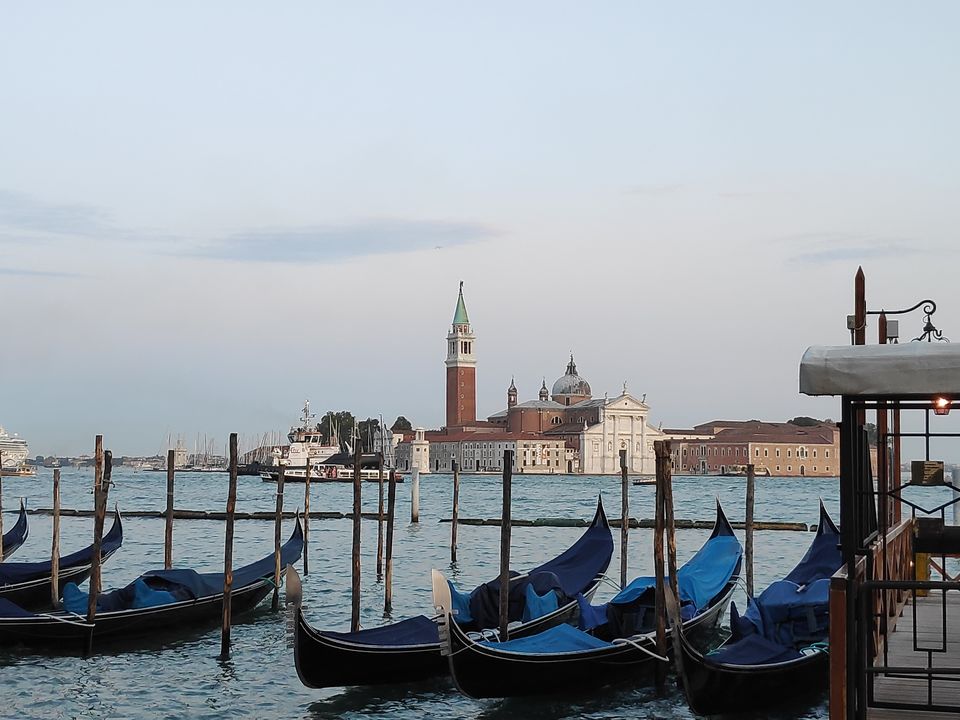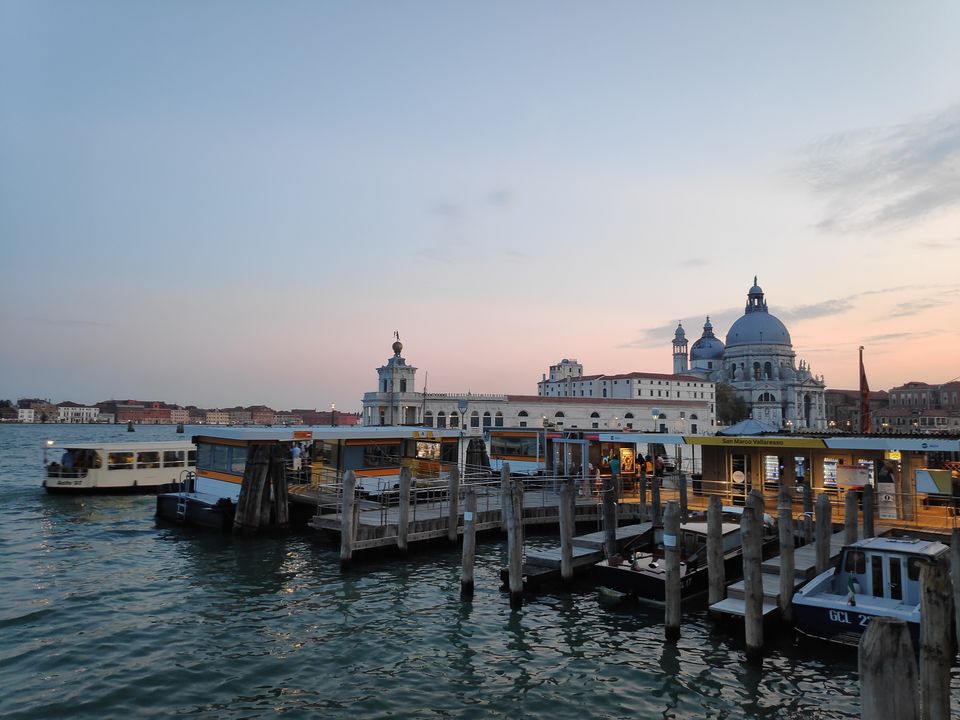 As we were in awe of the sunset near this place, we didn't even come to know that it was time for us to head towards our last dinner near the sea and the canals surrounding this lovely destination. We went for a sumptuous meal near the sea, so that we can have a good gaze at the atmosphere around us and listen to the silent tunes of the water and the splashing of the mild waves near us. After finishing our dinner, we again went back to the square to have a view of the night in the Venetian abode.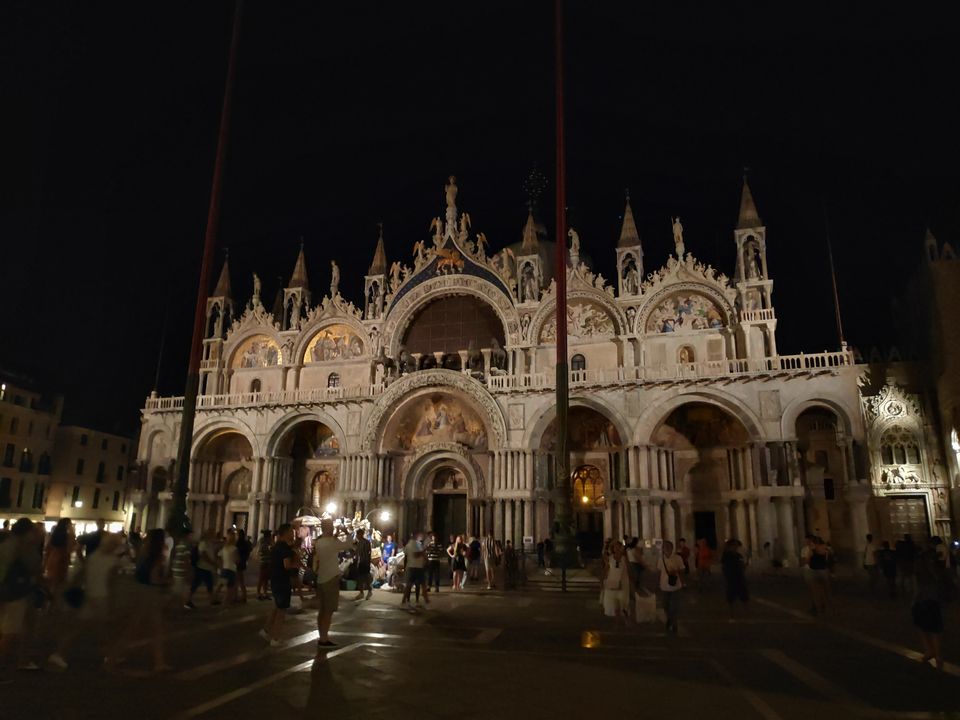 We returned to our room at around 11PM, thereby making ourselves ready to depart with a heart filled with memories of this splendid place.
We had our flight the next day at around 2PM from Marco Polo airport. The airport is pretty far from the Venice Island and hence, we had to leave the island early. As we were leaving the island, we were quite sad that we couldn't spent a few more days at this grandeur and had to depart soon. However, we took many amazing memories and a sheer display of beauty and art in our hearts from this great city of canals. Hoping to go back one day to collect another chapter and memoirs of our life, we thus bid goodbye to this abode of love and beauty, VENICE.
TRAVEL TILL YOU DROP!!!