Iconic Skyline. Financial Hub. Shoppers Delight. Culinary Paradise.
Adjectives often used for Hong Kong but it is a city that defies any definition.
Being a borderless and limitless city it not only attracts the best from the world but also grooms the local talent. It's mysticism peels off like an onion. Underneath the glitz and glamour of a global city lies the strong roots of Chinese culture and colonial heritage. There's nothing foreign here. There's nothing that doesn't belong here.
I would have been myopic in my views had I not explored Hong Kong the way I did – exploring the offbeat trail. Without further ado let's get on board.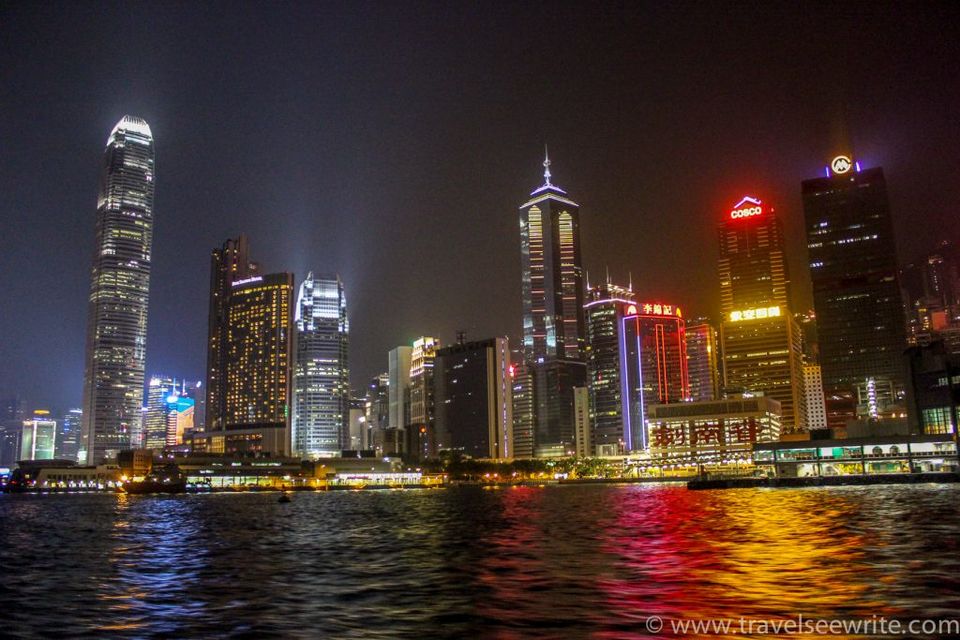 DAY 1 – TRIP STARTS WITH A TRAVEL NIGHTMARE
First day in Hong Kong taught an important lesson – never step in a foreign land without carrying the local currency. Call it my over confidence or ignorance, I arrived with just 150 HKD in my pocket. My heart sank when the two ATMs frowned at me. The fear of being stranded in a foreign land looked real. To add to my misery, my friend too was in the same boat. We were laughing at our rotten break. Our first foreign trip together was on the verge of crashing before takeoff.
But thankfully it turned out to be just a nightmare not a reality. The ATM at Shim Sha Sui brought a big smile on our faces. We had never been so happy to withdraw money from an ATM as we were that time.
After the clouds of tension disappeared, we strolled in the Victoria and Shim Sha Sui areas chatting and exploring the nightlife of Hong Kong. Finally at around 4:30 am we decided to call it a night with a hope of waking up at 6 am for our Sai Kung Peninsula adventure.
DAY 2 – LOST AND FOUND IN THE MOST BEAUTIFUL AREA OF HONG KONG
Nocturnals like me shouldn't dream of morning sojourns. Instead of 6.30 am we left at 9:30 am ???? Our travel was still going OK until we reached Sai Kung Bus Terminus. We were supposed to take the Bus #29R to Sai Wai Ting. Unfortunately the Chinese pronunciation tricked us. We confused the word "Mateno" (or whatever the locals were referring to) with McDonald's. For two hours we were roaming in the same area making desperate pleas to strangers to guide us to the Bus #29R. Some were handicapped by the language, some were as clueless as us and some simply ignored us. The funny part was, the bus station was right opposite where we were.
After two and a half hours of futile legwork in the scorching sun, we decided to forgo our hiking plan in favour of a speed boat island tour. A bus ride that would have costed just 20 HKD was now cutting a deep hole – 150 HKD. But beggars are not choosers. So we had no option but to oblige. However, the boat ride proved to be one of the most thrilling ride of our trip. The sea was doing jumping-jhapang and the waves were fighting with each other to give us free hugs. Everyone in the boat was shouting their lungs out with excitement and fear.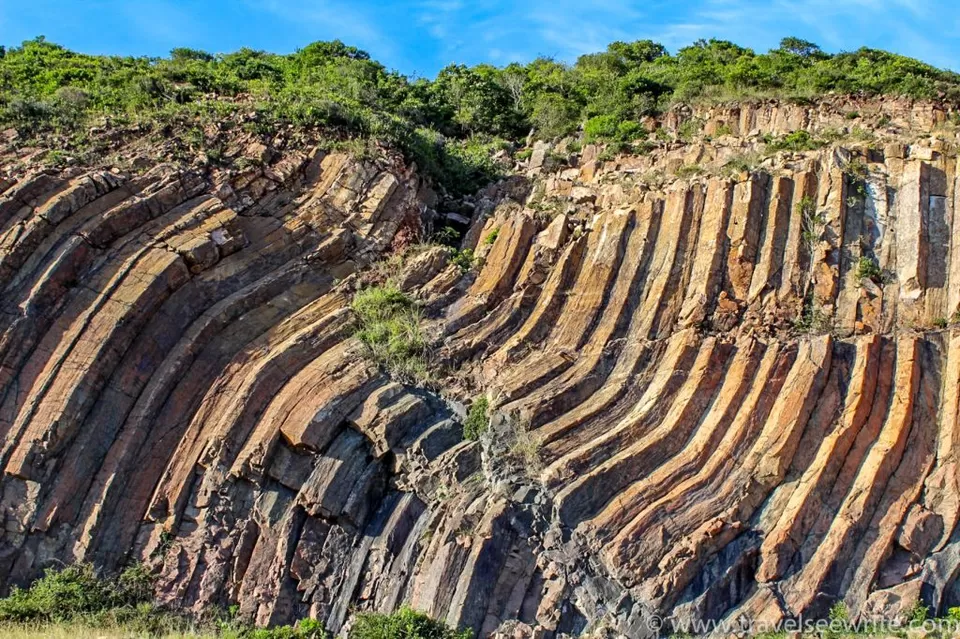 Amidst this enthralling ride, the jaw dropping landscapes of Hong Kong UNESCO Global Geopark kept amazing us with their Volcanic and Sedimentary rock structures, which have been the crowning glory of China from the Era of Dinosaurs. I wanted to capture those amazing landforms but the probability of falling into the ocean was too high. So I let my eyes savour it.
We reached Sai Wan Beach after 40 minutes of heart-in-mouth ride. It was probably one of the most beautiful areas in Hong Kong. It had sandy white beaches for camping, waterfalls for cliff jumping, lagoons to kick back in, peaks to climb and cows to watch out for.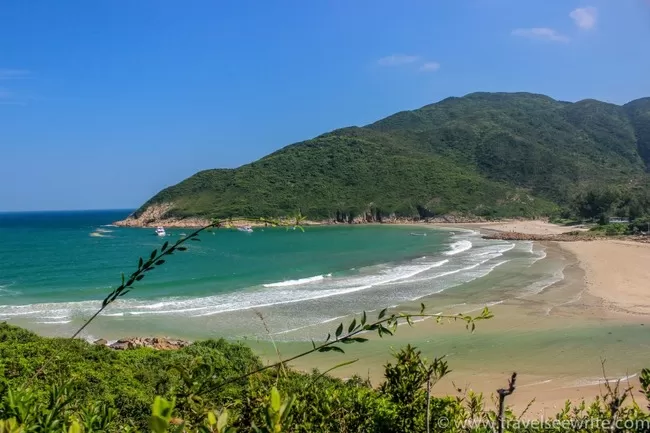 Unknowingly we had arrived at our destination. We were lucky to run into a lovely girl called Summer, who runs a restaurant as well as takes bookings for speed boat to Tai Long and Sai Wan. She guided us about the nearby attractions and transportation.
Unfortunately we missed the path going to Sheung Luk Streams and ended up hiking the MacLehose Trail on the opposite side. A supposedly 20 minutes' walk turned into over an hour hike and still we couldn't see a trace of Sheung Luk Streams. When asked other hikers, they gave an expression like a Junior high school student has been asked a PhD level question. We realised it was time to tread back.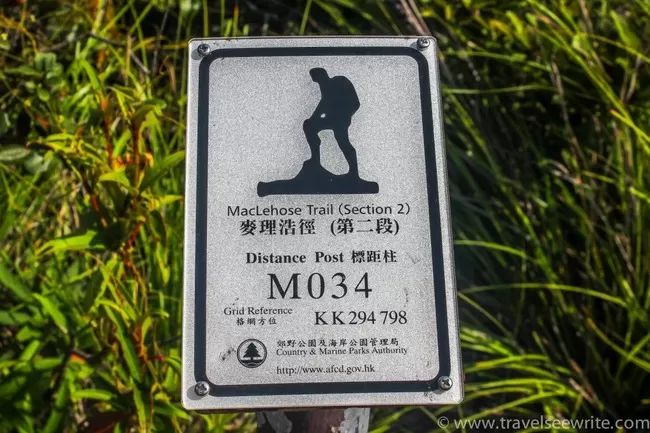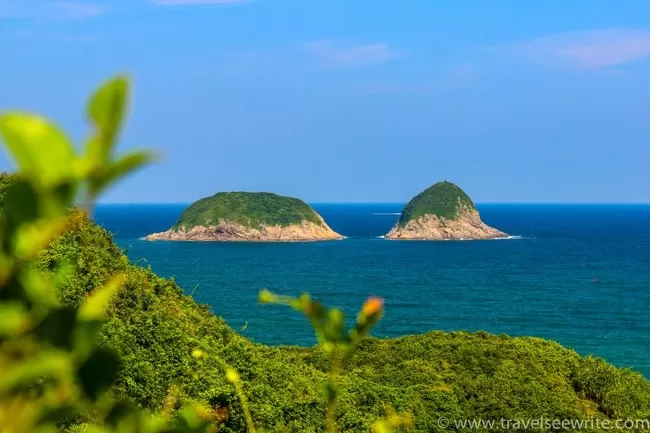 Thankfully on our way back we found the Sheung Luk Streams. There were no signboards. We just followed the direction from where some people were coming. The stream was zen like and young kids were jumping off from the 25 feet cliff.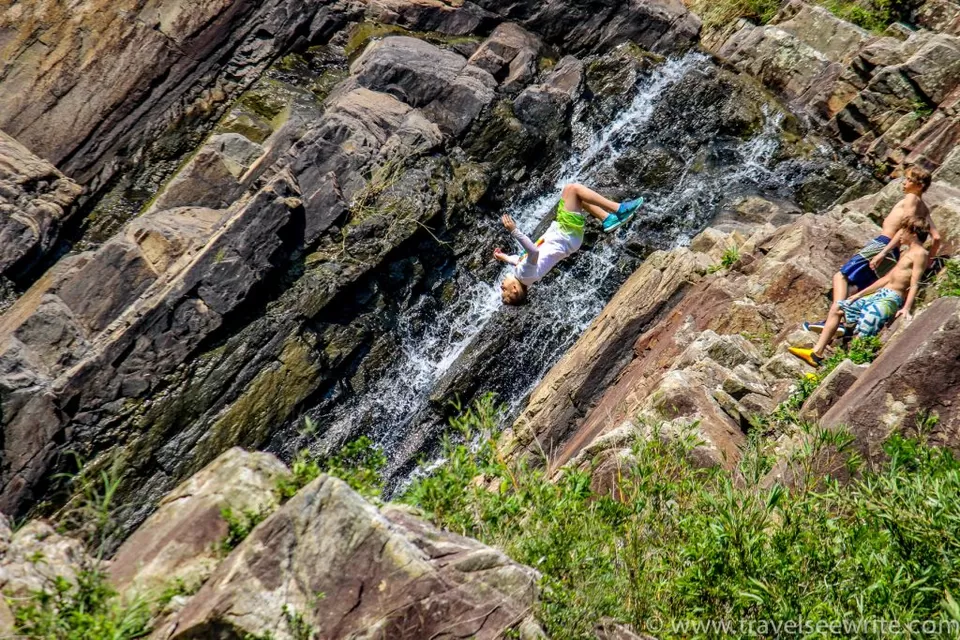 At around 4:30 pm we started our onward trek to Sai Wan Pavilion from the Sai Wan Beach. It was a beautiful fully paved trail with breathtaking views of High Island Reservoir. Finally the lady luck smiled on us. In spite of being late for 45 minutes we were able to catch the last bus to the Sai Kung Bus Terminus.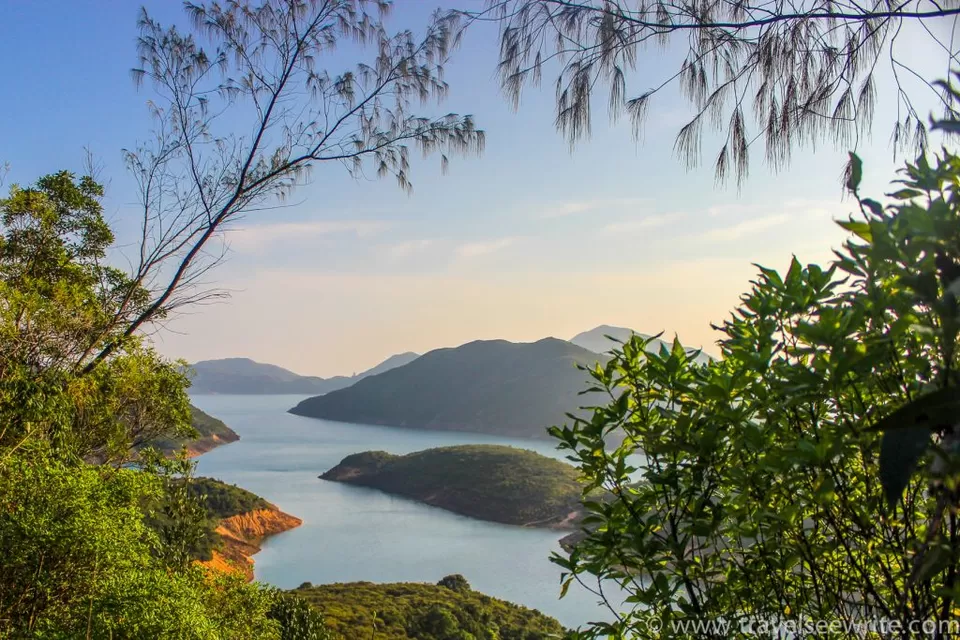 After a day full of adventure, it was time to enjoy the cultural side of the city – Hong Kong Mid-Autumn Festival. We reached the front of Hong Kong Space Museum at Tshim Sha Sui to see the Thematic Lantern Exhibition, which was on its last day. The theme of the exhibition was, "Fly Me to the Moon".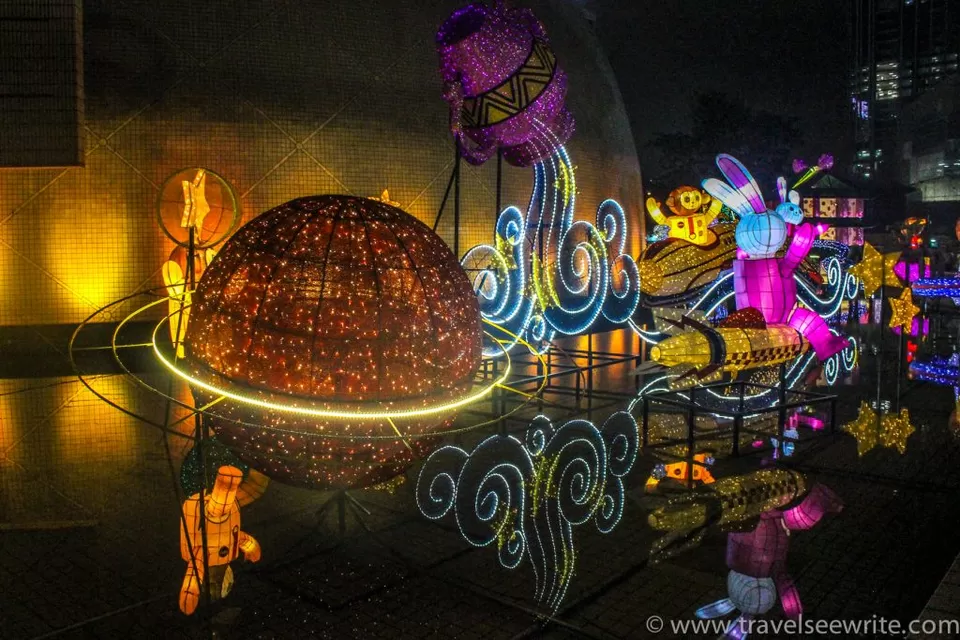 DAY 3 – ISLAND HOPPING TO RELISH THE SENSORY FEAST
It was time to explore the authentic and simple life of Hong Kong islets, where time has stood still and local culture has remained untouched from the claws of modernisation. We started our trip from the quaint little Peng Chau Island, which has a population of 5000 people and where cycle is the only mode of transport. Finger Hill was the highest point on the island from where you could see the amazing panoramic view. Temples tucked away in alleys and Fisherman's Rock were other attractions we explored. The strange thing was almost 70% of the people we saw on the island were senior citizens. In a city where everything runs at breakneck speed this was an island moving in slo-mo.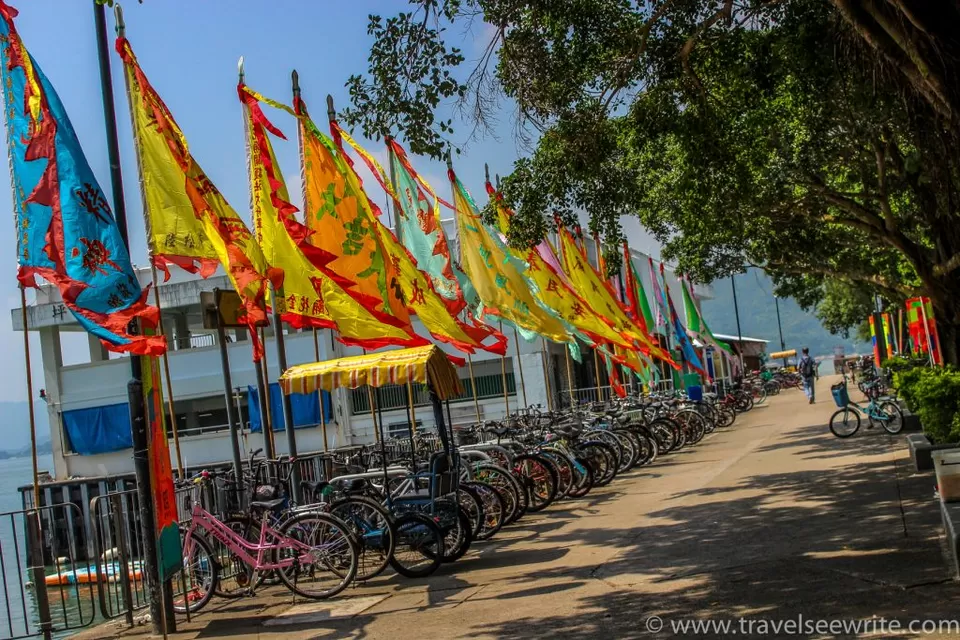 The 'Venice of Hong Kong' aka Tai O, the fishing village of Lantau Island was our next pitstop. Apparently this is the only remaining fishing village in Hong Kong. We took a 20 minutes boat tour (25 HKD), which I felt was a waste of money because neither we saw the interiors of the fishing village nor the Chinese/Pink Dolphins for which the tour was famous for. It's better to walk around the village, observe the locals, relish the seafood snacks, and have a meal at stilt restaurants than waste money on it.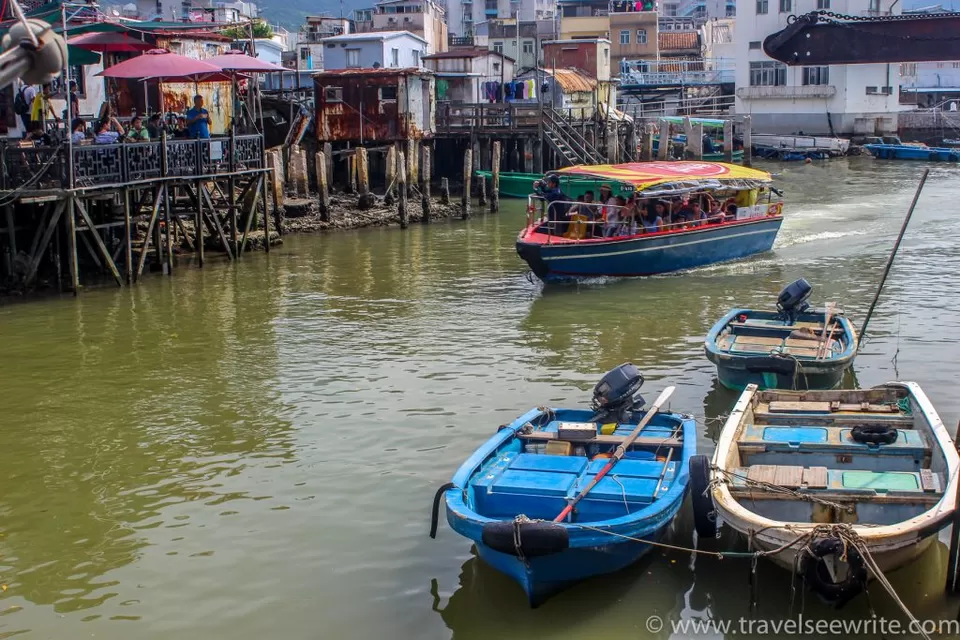 Visit to the Cheung Chau Island wrapped our island hopping tour. It was bustling with tourists. Seemed like the entire Hong Kong has landed on the small islet. Most were weekend hoppers enjoying surfing or swimming. Walking around the island, we finally settled for Cheung Chau Windsurfing Centre & Outdoor Café, a great place to eat with an enchanting ocean view. Taking a slightly long route we arrived at the famous Pak Tai Temple.
On our way back, the iconic skyline of Hong Kong was decked up like a new bride. We had already seen the bedazzling 'Symphony of Lights' show at Victoria harbour from at Tshim Sha Sui promenade, so we decided to see a different light show from a relatively unknown place. At 9 pm from the IFC Rooftop Garden we saw the light show of ICC building.
DAY 4 – RECONNECTING WITH THE PAST OF HONG KONG
With an image of a global financial hub with skyscraper studded skyline, it's hard to imagine Hong Kong could still be hiding over 800 years old walled villages in its countryside. There are 5 walled villages in Hong Kong – Kat Hing Wai, Fanling Wai, Tsang Tai Uk, Sheung Shui Wai and Nga Tsin Wai Tsuen. These villages were built in a rectangular style and were surrounded by thick walls to hide from the pirates and Chinese dynastic attacks. Though over time the walled villages have mostly demolished and modern structures have come in their place but it was interesting to see how old Chinese people used to live in a community and how the walled village customs were passed down through generations and adapted to a more modern way of life.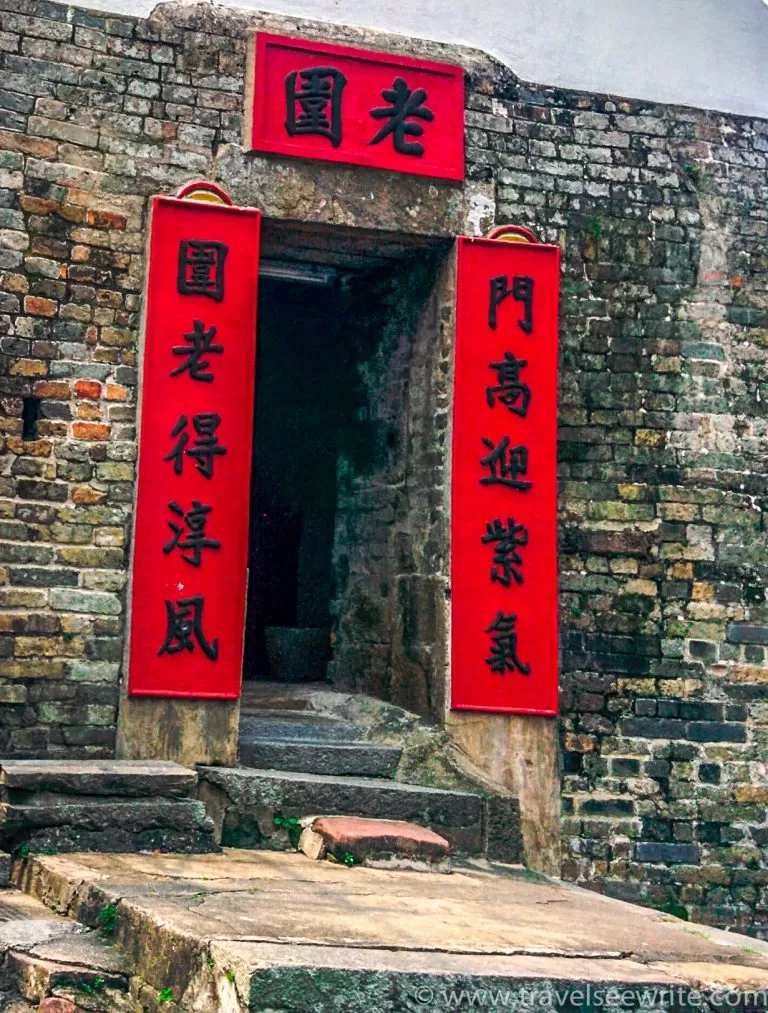 To be honest, it wasn't as awe inspiring as I imagined it to be. But exploring offbeat trails is always a 50-50 game. Sometimes you could get a jackpot and sometimes you are come empty handed.
A visit to Hong Kong is incomplete without experiencing it's incredible shopping and food culture. We ended our day by visiting the local markets – Temple Street Night Market, Ladies Market, Sneakers Market, Victoria Market and Kowloon Market among others. The best part about shopping in Hong Kong is it caters to every budget, need and whim. Also, the city has no sales tax so prices are attractive.
Hong Kong's love affair with food is world renowned and so broad is its culinary repertoire, that whatever your tummy desires, Hong Kong will find a yummy way to satiate it. I particularly enjoyed eating the authentic Cantonese vegetarian meal at Bodhisattva Vegetarian Restaurant.
So this was my short and sweet experience of Discovering the Offbeat Hong Kong in 4 Days. How was your experience or are you still planning? Go Discover Hong Kong!
PS: To read the full story do visit http://www.travelseewrite.com