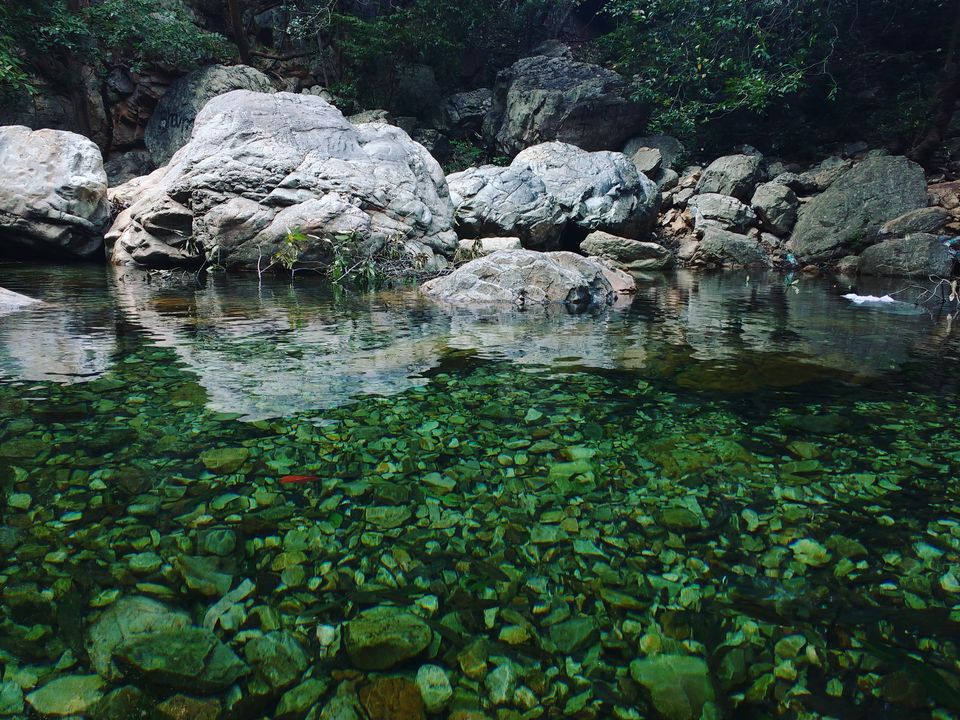 #CoffeeWithTripoto
Into the vast forest range 'Varadaiahpalem Mandal', there are two famous waterfalls– the lower and the upper waterfall, which are popularly known as Tada falls or Ubbalamudugu falls. It is located near Sricity in the Chittoor district of Andhra Pradesh.
This piece of nature's art is adorned with the giant waterfalls, the crystal clear waters, the placid nature pool, and the big boulders. The aesthetic view with the music of serenity there, could simply leave anyone awestruck for long.
As the place is just 90 kilometers away from Chennai, so this could be your quick weekend trekking plan. It's a must go place for all trekking lovers.
How to reach there?
Tada falls got quite good connectivity options from Chennai.
* By Bus – Reach Koyambedu Bus stand/CMBT, from there board on SETC bus number 114. You can board on any bus going towards Nellore or Tirupathi or Srikalahasti (We went by APSTRC bus – Andhra state bus). Bus fare would be around 65-80 rupees per head. As Varadaiahpalem village (we struggled with the pronunciation of this word) is the last human settlement before Tada falls, so you have to get down there. It will take 2.5 hours to reach there.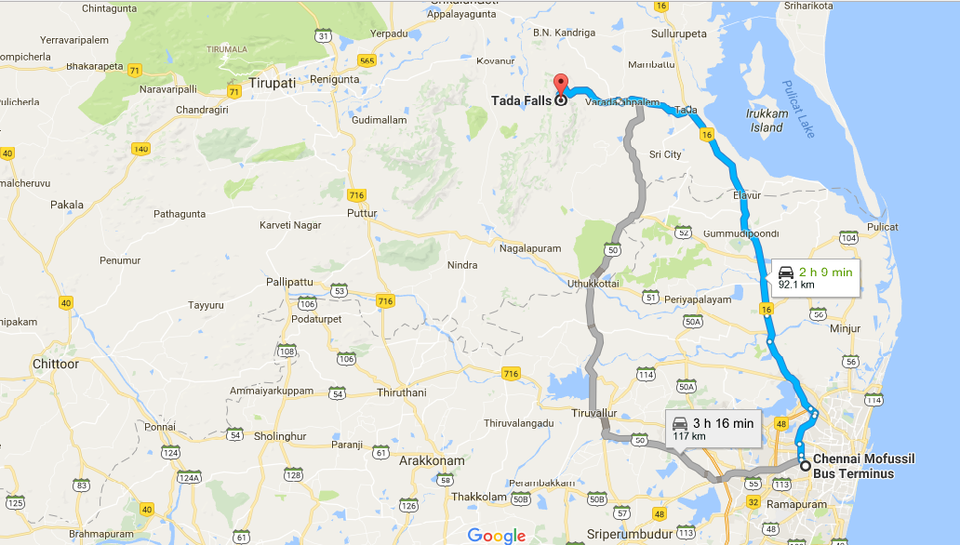 Note: Tada village and Tada falls are not the same. Tada falls is near from Varadaiahpalem village.
* By Train – Reach Chennai Central Railway station, and board on train towards Sullurpeta, get down at Tada Railway station. Train frequency on the route is good, on every 2 hours, you can get a train. Distance from Tada railway station to Tada falls is 26 kilometers. So you have to board on the bus towards Varadaiahpalem village.
Note (if going by bus or train): From Varadaiahpalem village, the forest range main gate is approximately 12 kilometers away and the road is bad, but you can get shared/private auto easily there. Shared auto fare: 200-250 rupees per head for one way.
* By owned/rented vehicle – You have to be particular with the kind of vehicle, you are taking along, because the road from Varadaiahpalem village to Tada falls (a stretch of 12 kilometers) is very bad & full of uneven muddy track. So SUV cars, or the cars with high ground clearance could go well with this part.
Ideal time to visit:
* Months: October – February
* Hours: The forest visiting time is 8 a.m. to 4 p.m., so you must plan accordingly to reach the forest gate around 8-8.30 a.m. If you start ascent early, then you can start your descent around 2 p.m.
How we Reached?
An evening prior to the trek day, while sipping coffee, we brewed up with the plan to hit Tada falls trek. As this place is very near to Chennai, It could be an instant escape from routine.
Next day, in the wee hours, we boarded on a bus from Koyambedu at 5.00 am, reached Varadaiahpalem bus stand at 7.00 am. After having breakfast at bus stand, we took a shared auto to forest gate, and reached there at 7.30 a.m. Even though we reached half an hour before the opening time, we somehow got permission to enter the forest. Indeed, we were the first one to enter into the wild for that day.
Follow our story along with a few photographs
The way, the forest had ushered us in, was quite unimaginable and gave aesthetic pleasure. The gate opens with a great foot-over bridge built upon the still water body, where one side was sheltered by the lush green trees and while the other side was guarded by the big marble rocks. Tiny fish were moving hither-thither to celebrate the day start. And standing amidst the dense forest, we were looking at the day ahead to seize about.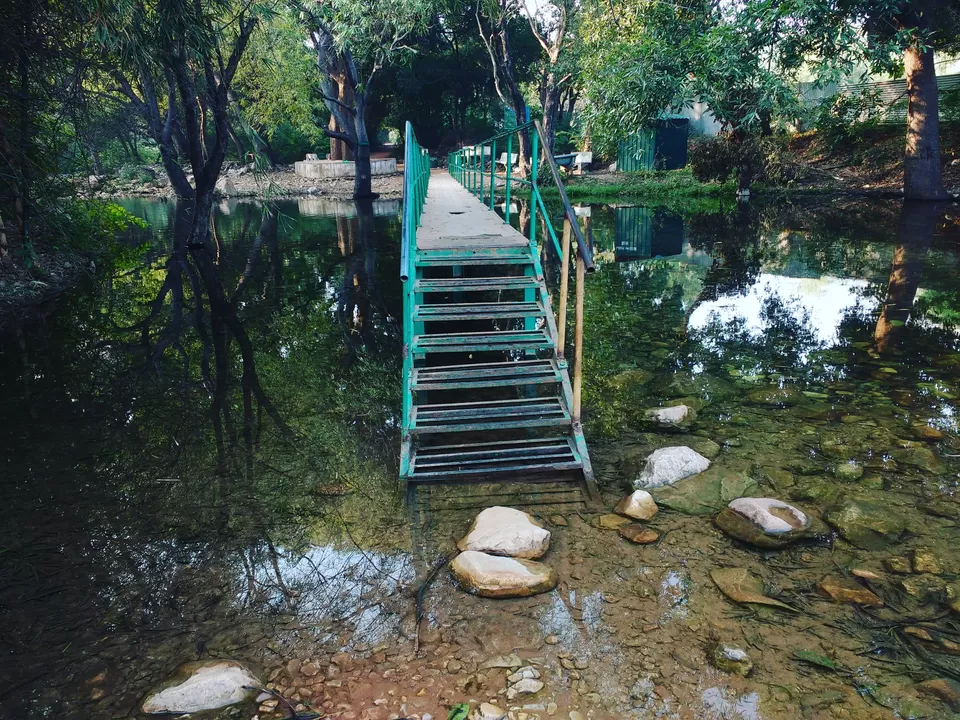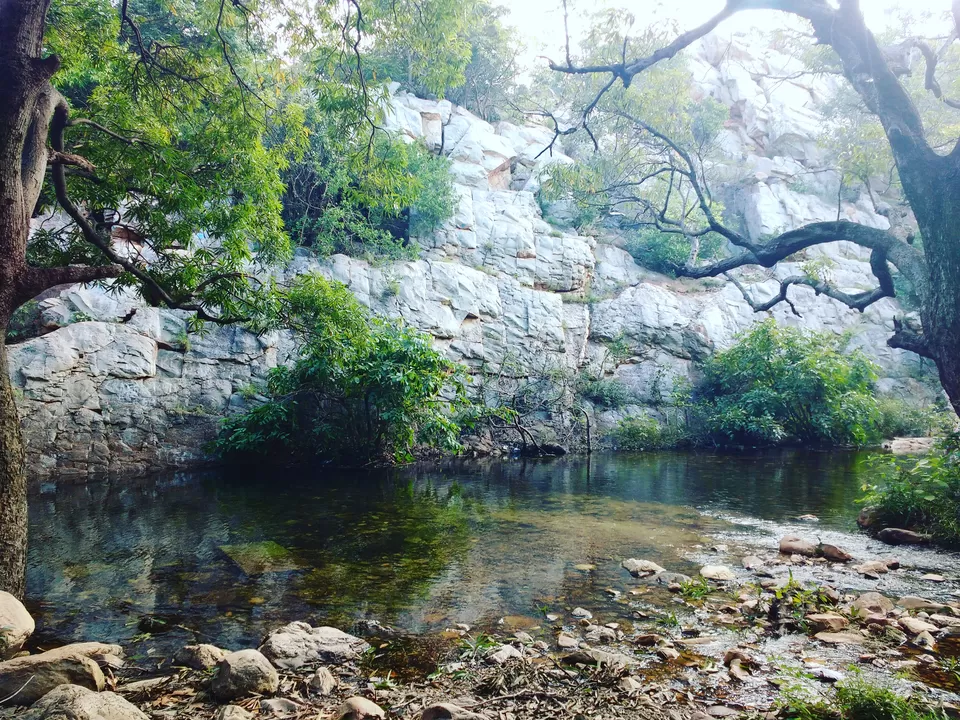 We came across this Ubbalamadugu/Tada water falls route map. As this forest is having no proper direction board, so this is something which may guide you. (Do capture photo of this map)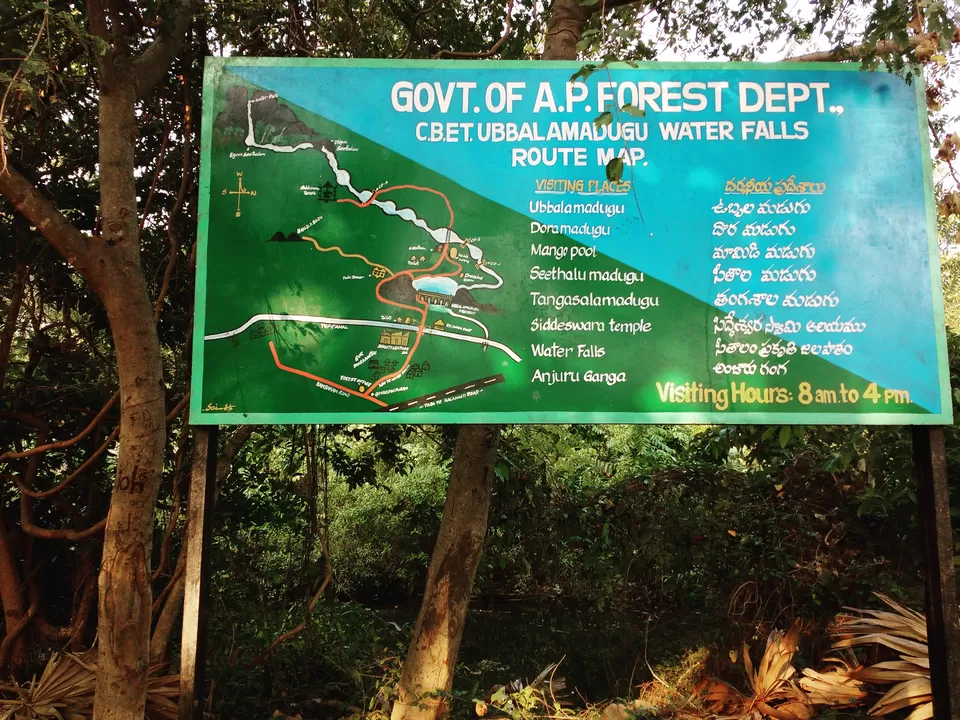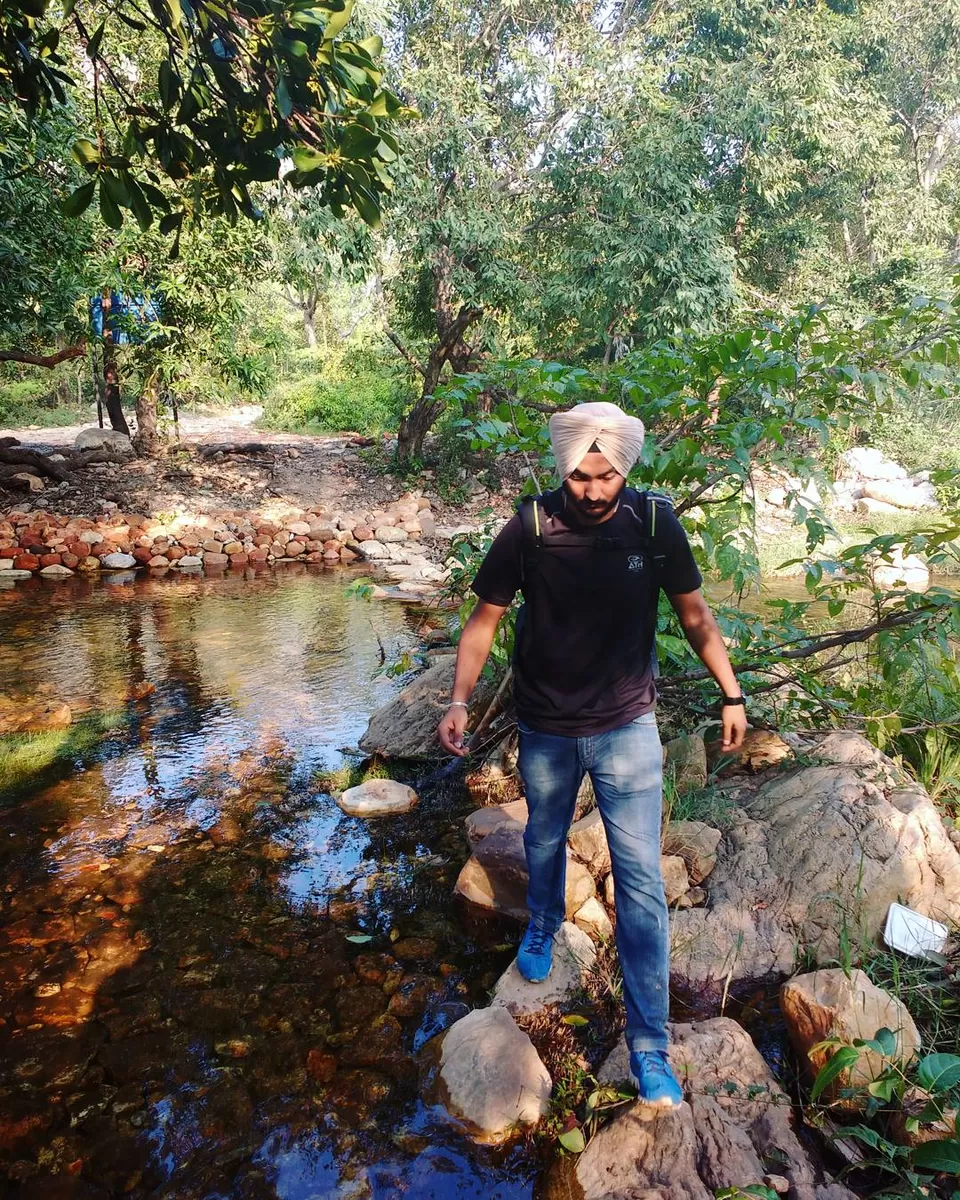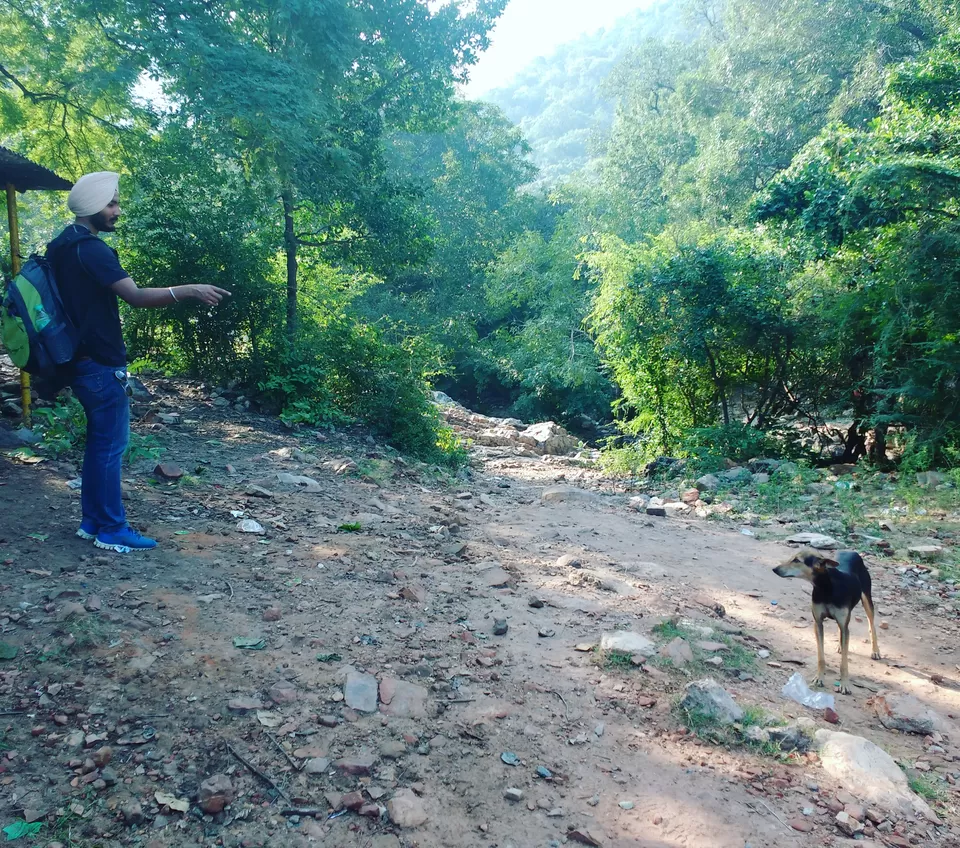 Read the whole story: The Best travel Companion
After treading through the uneven path for an hour, we came across the Shiva temple. The temple was marked with the Nandi statues out there, and the trees were adorned with the vivid and colorful prayer flags.
The place near temple serves as the base camp, and the path was clear till this landmark, after this we found the way on our own as there was no proper direction board.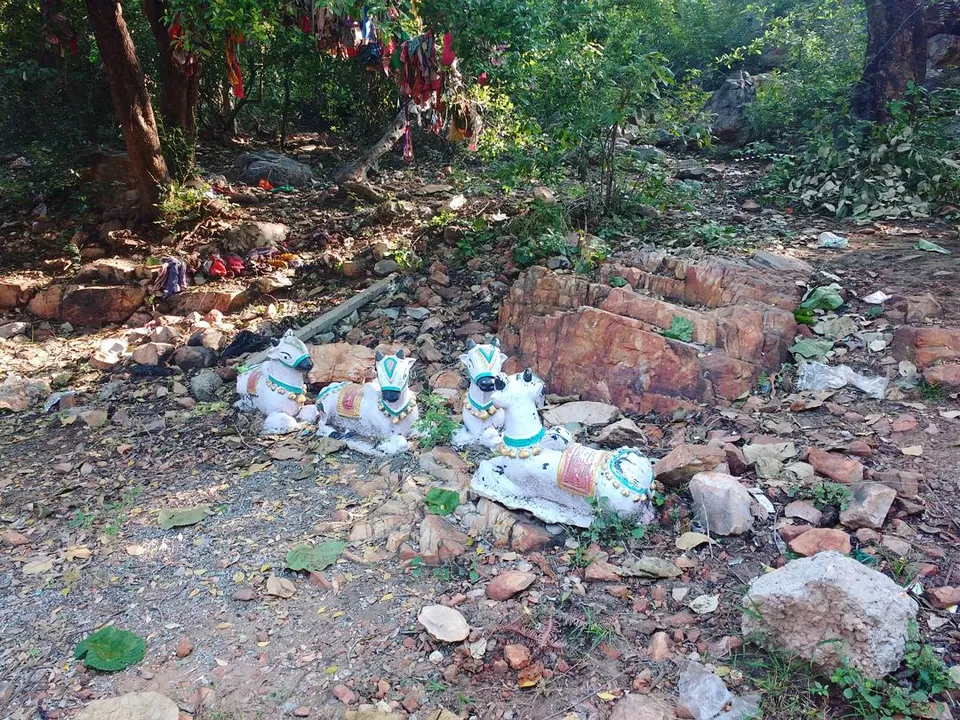 Walking for a few more minutes, Jagpreet, guide, and I sat near a water reservoir. Beneath the calm water screen, there were the schools of tiny fish. We were cherishing the moment of calmness by watching those agile aquatic beings.
Note: During noon hours, tourists and nearby villagers intrude into the fish territory, which make fish disappear. So if you want to see the real beauty of this place, then you need to start early for the trek.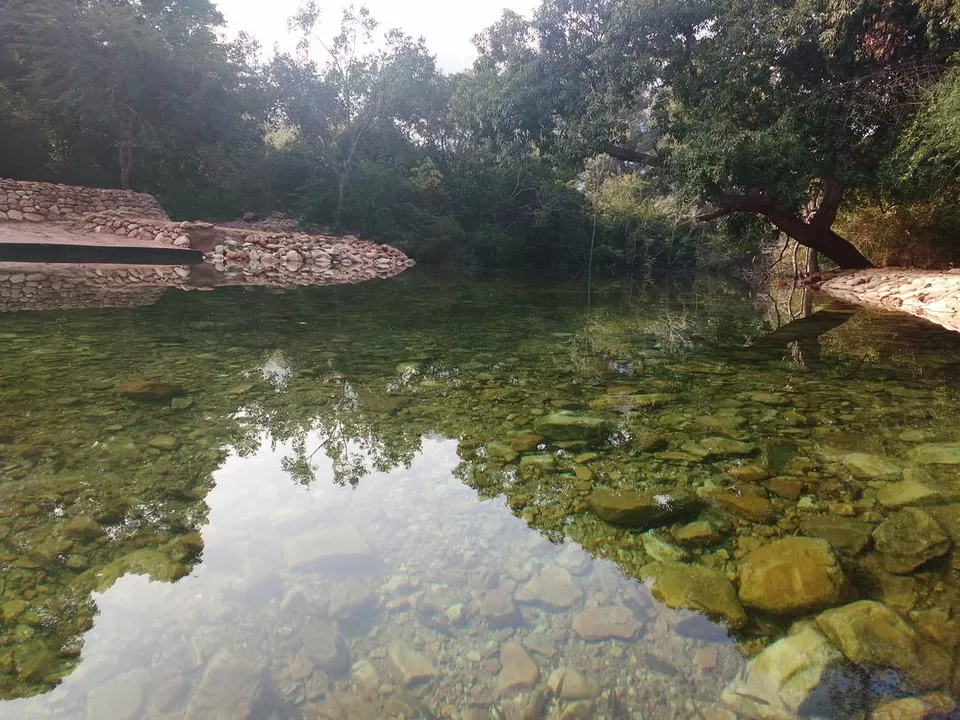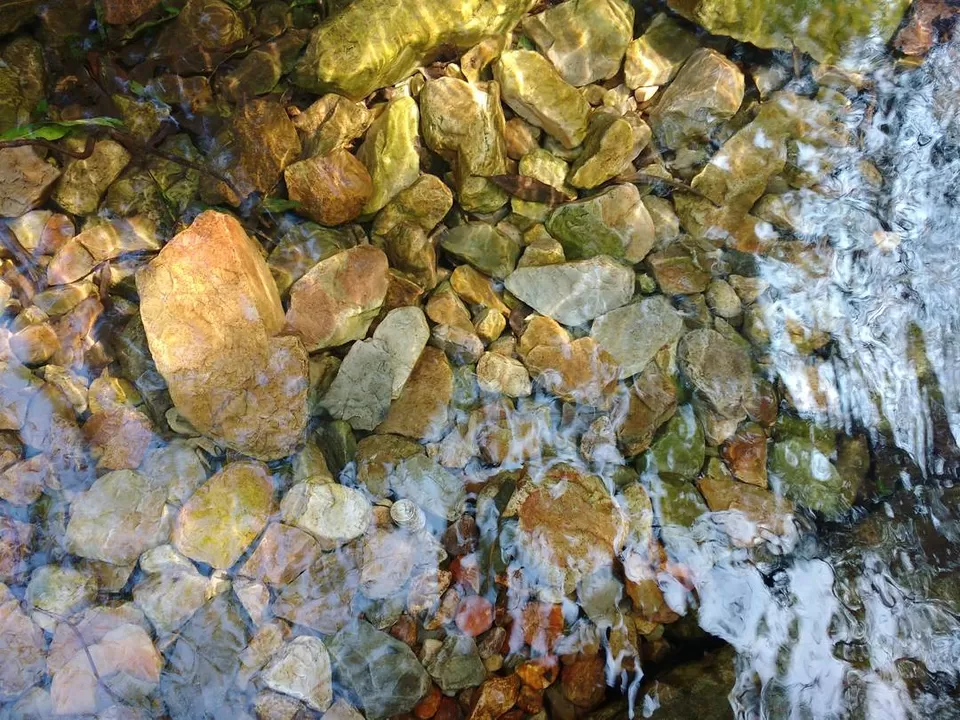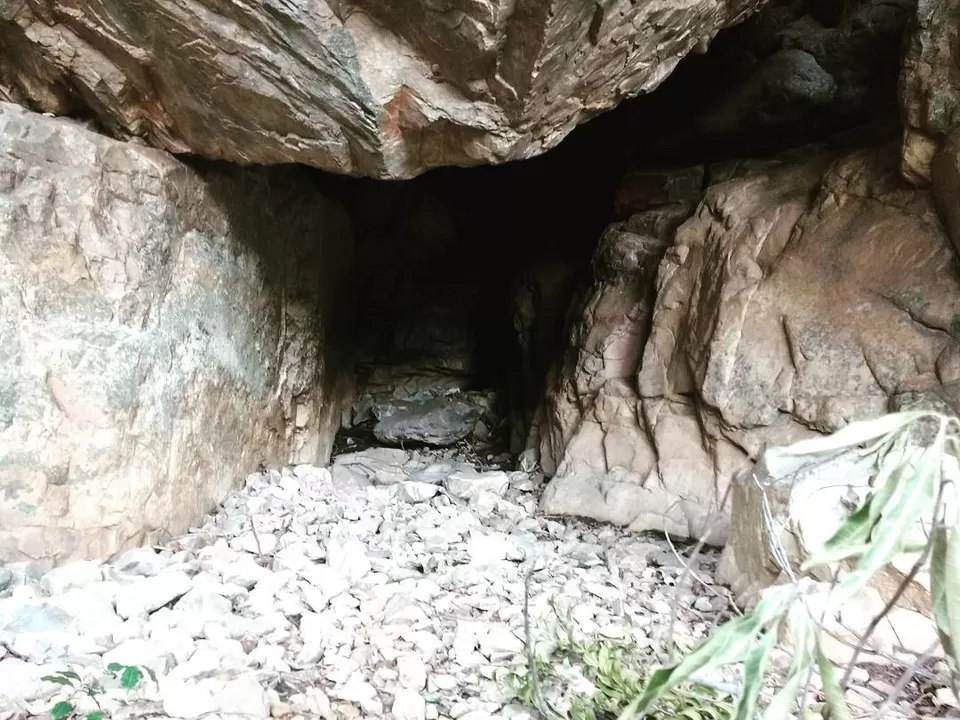 Throughout the trek path, along with the nature's artwork, we had also spotted many litters. It was the saddening part to see how tourists/explorers/trekkers have spoiled enough the nature. Those litterbugs, must change themselves before it's too late.
Read the whole story: Litterbugs! Don't spoil the nature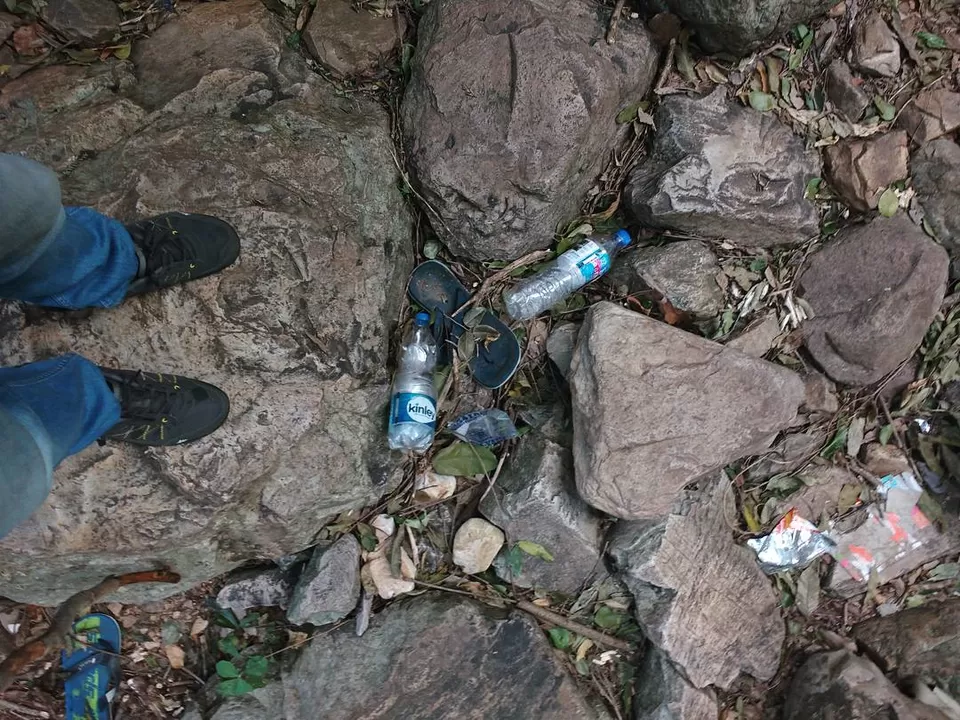 After halfway, a waterfall came, that was one of the two Tada waterfalls. That waterfall was the place to enjoy the nature for those who can't cannot go beyond. Generally, family people and first time trekker go till here. As the path beyond was full of slippery and giant boulders, so it's not advisable for family people. First time goers can go further, if they got any company of experienced trekker.
Instead of relaxing at the lower waterfall, Jagpreet and I, chose not to stop and head toward the upper waterfall. Path after the lower waterfall was way too confusing, but we got the direction after asking from a couple of trekkers out there.
After a number of watchful steps over a dozen of giant rocks, an exquisite valley of green water pool showed up. The tranquility of the valley and the green water were alluring us enough to step into the pool, but we didn't, as it was not safe for non-swimmers.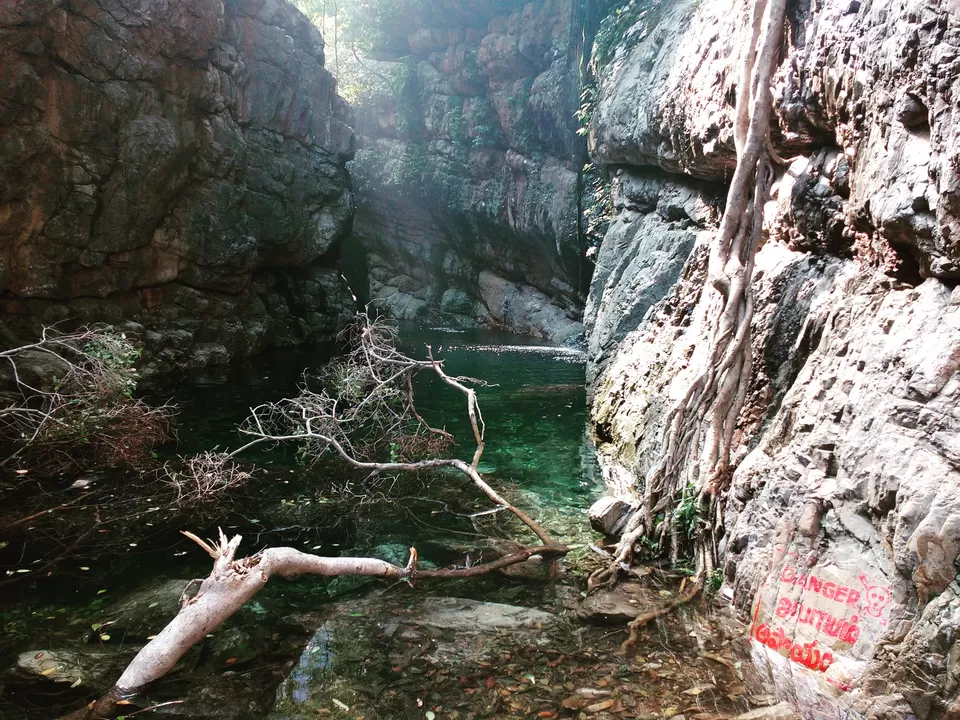 As we were nearing the upper waterfall, we could hear the gurgling of water and rustling of leaves from atop.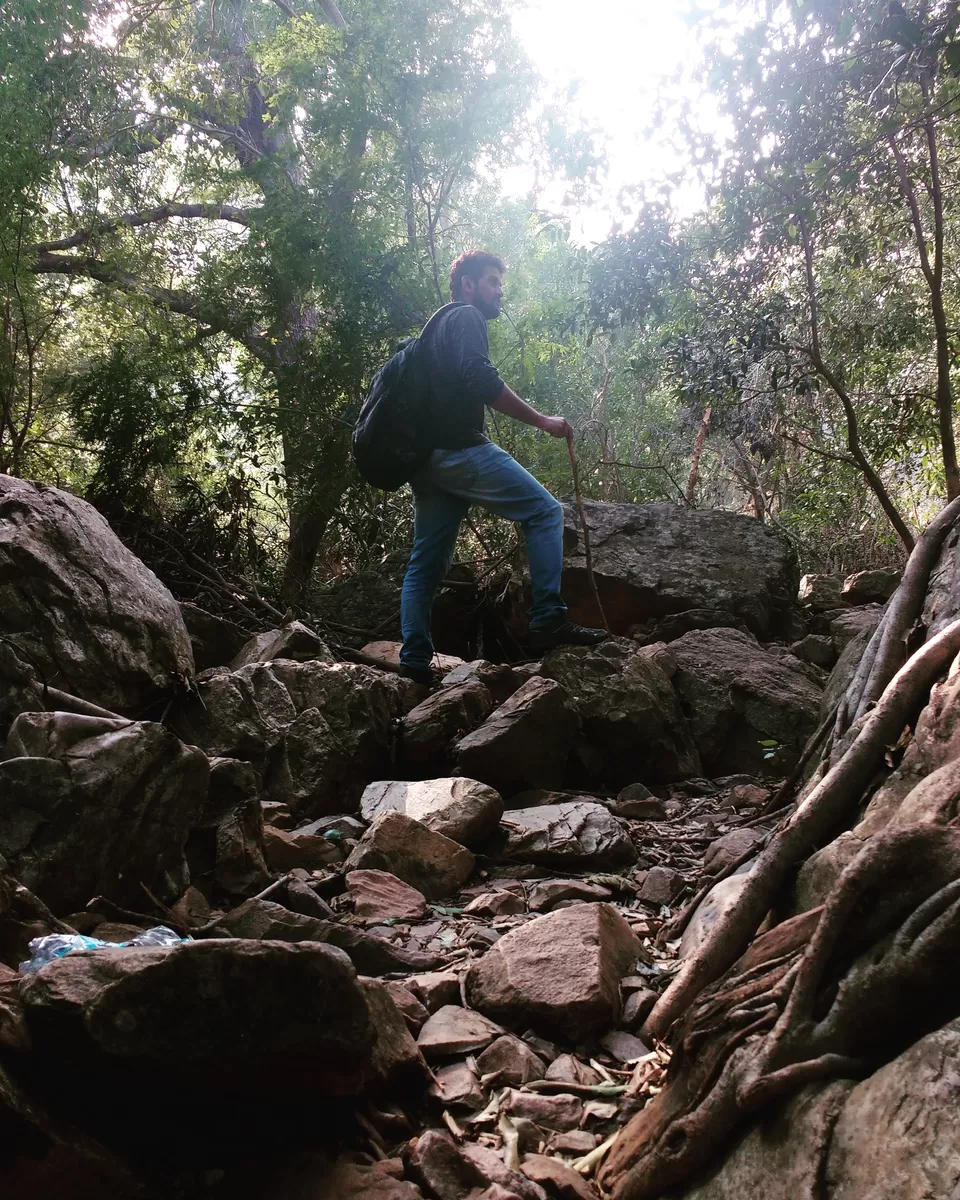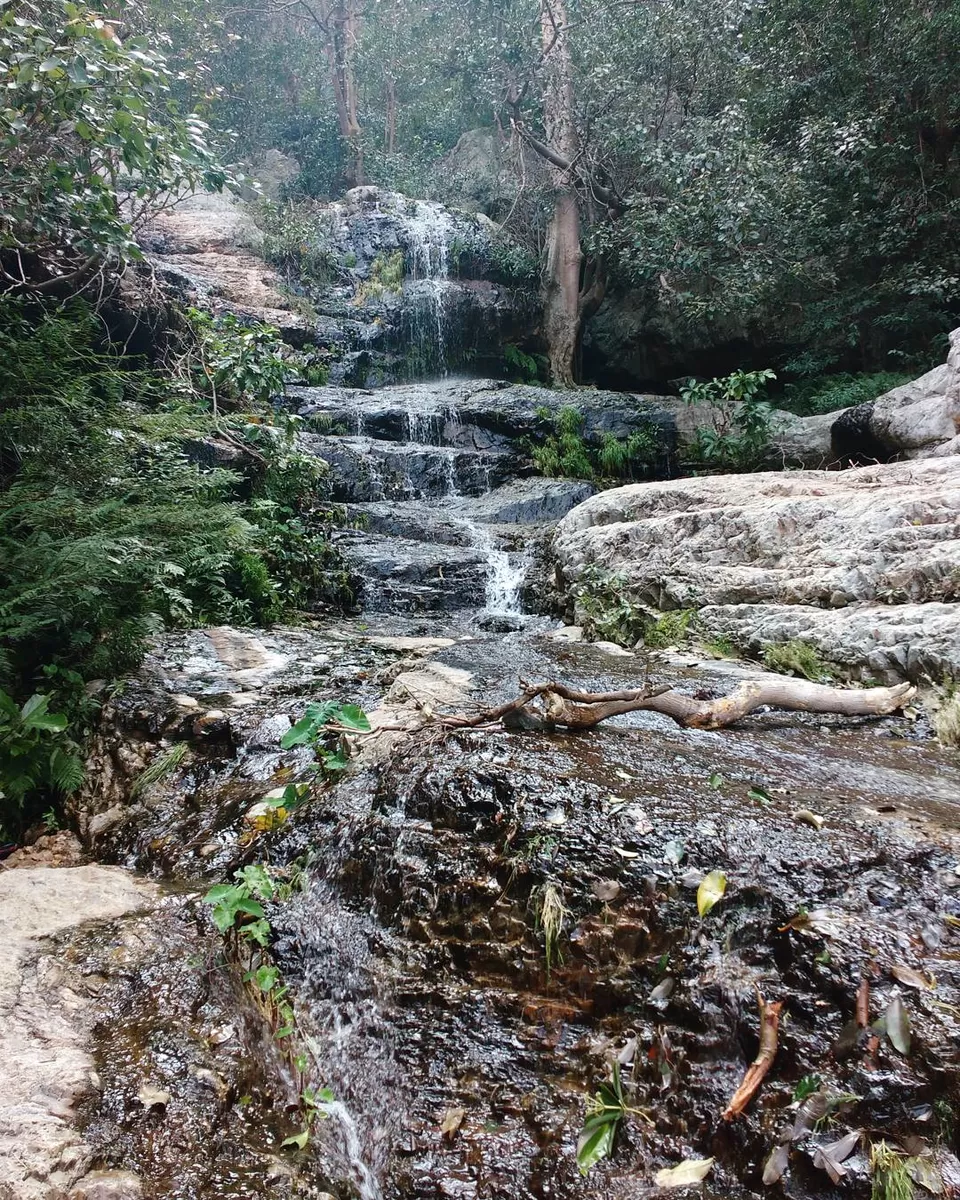 So, we finally reached the culmination point, the upper waterfall. The breathtaking view of the giant waterfall made us to sit there for an elongated fraction of time. (The only sad part was, the volume of falling water was lesser than usual.)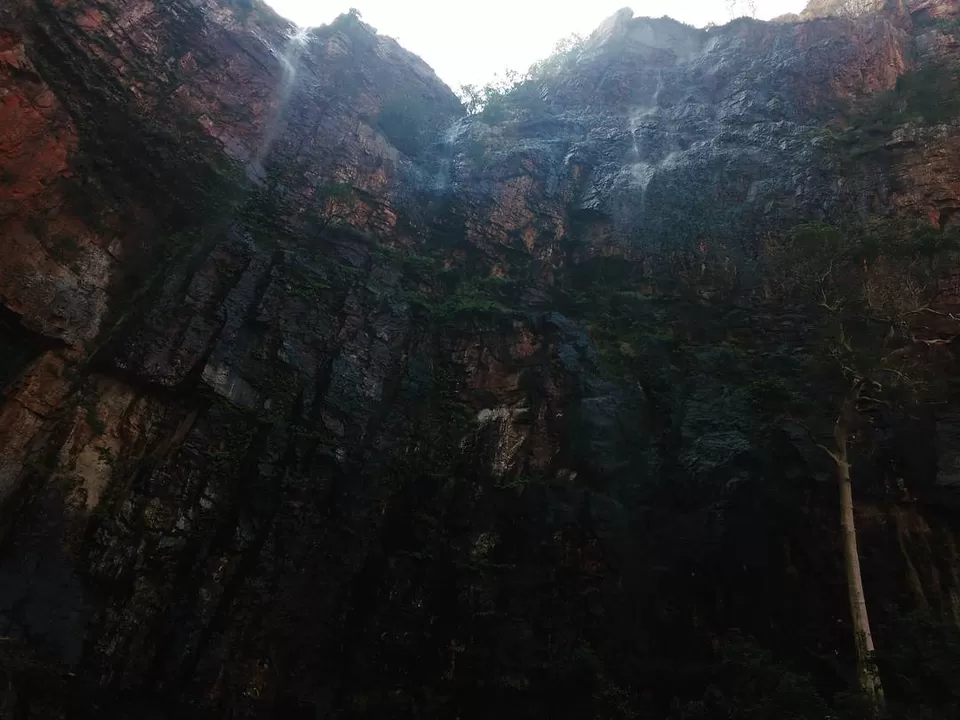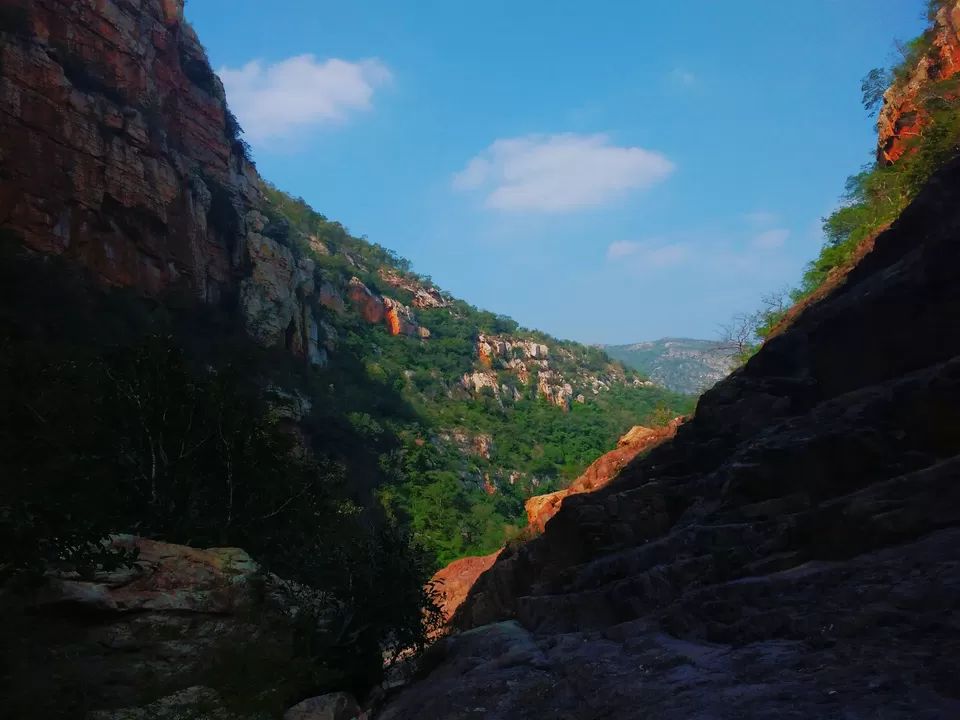 After spending pretty much time there, we started our descent around 12 p.m. It was a bit risky to get down those slippery rocks, so we were progressing slowly after confirming the grip of each step. Indeed, it took us time, but we made it to the base camp around 2 p.m.
By that time, the fatigue crept into our body, but the stomach's hunger was so high. So we arranged the cooking setup and started cooking Maggi.
The mouth-watering smell of Maggi on the stove self-invited a dozen of monkeys, this added a tag of adventure to our Maggi story. Being intimidated by those monkeys, we were getting bad vibes. So soon after Maggi got prepared, we held the hot vessel somehow and ran away till the safe zone.
This incident made our trek story a bit more adventurous.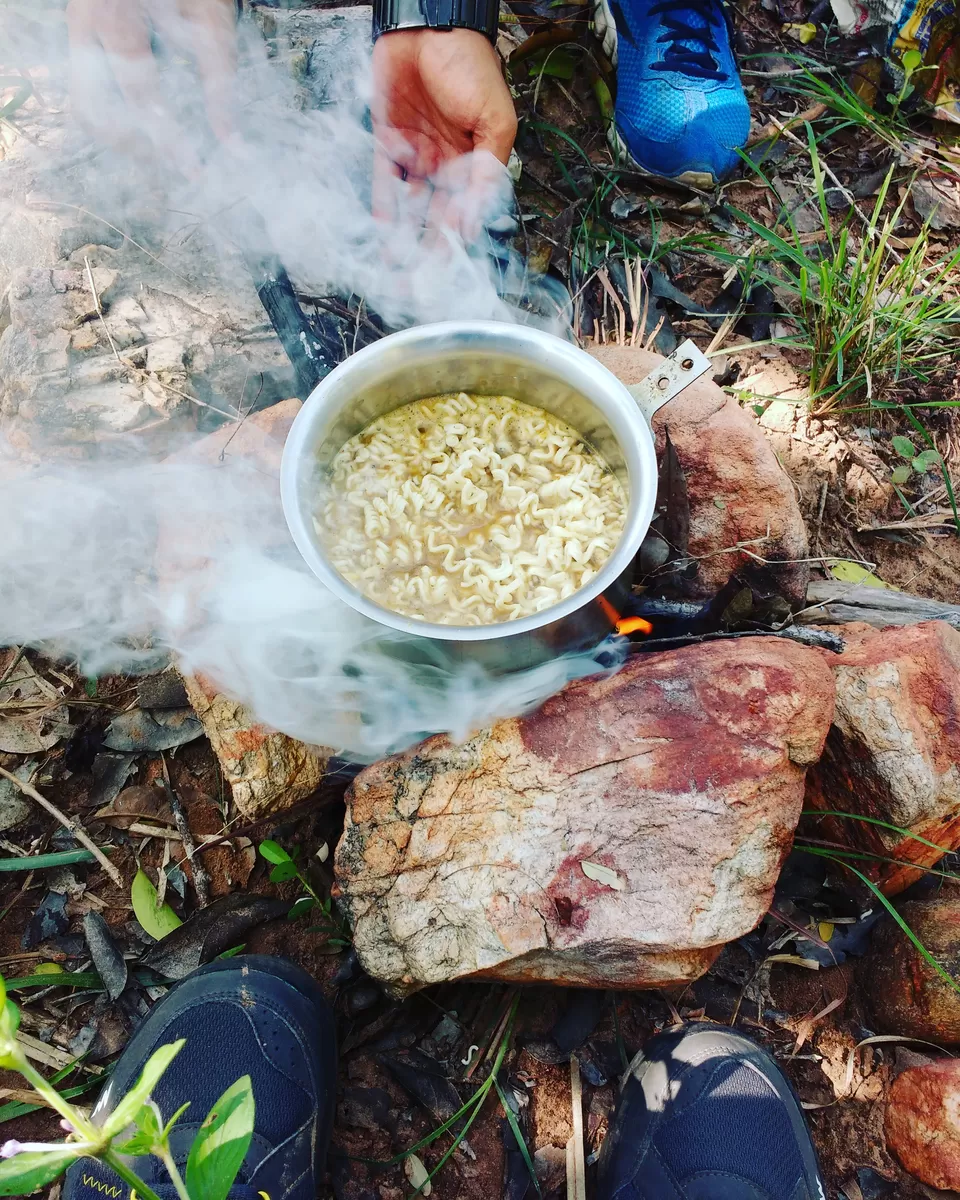 After having meal, we headed back to Varadaiahpalem bus stand and boarded on the bus to Chennai.
It was one of the great trek, I've ever visited and I would like to go there again.
Glimpse of the trek
* Distance (to and fro): approx. 10 kilometers
* Trekking Time: 6 hours
* Trek level: tough, not for beginners
* Directions: There is no sign board out there, the ways to find the correct path are (which has worked for me)
→ Trace the footsteps.
→ Follow the human littering (I hope this shouldn't be your way)
→ Hear the water stream sound.
→ Last obvious option is to ask trekkers, if you cross by.
* Obstacles:
→ The initial stage – accent is easy, you can enjoy the serene view, along with the damn clear stream water.
→ The intermediate stage – Trek is moderate, you have to climb big boulders, have to cross the stream.
→ The final stage – Last 2-3 kilometers, the path is full of steep and slippery rocks. You have to be very careful about each step there.
* Culmination point: Though the trail is a bit tough, but all these obstacles count to zero because in the end you will get the aesthetic view.
* Descent: As you know climbing is easy, but getting down is tough. The 2-3 kilometers are having slippery and slippery rocks, so getting down through them demands extra precaution about your foot grip. And start your descend so that you can complete the trek before 4 p.m.
* Don't
→ Even though Pool depth is 10 feet, but don't step into it, if you are not an expert swimmer.
→ For families and first time trekkers, it's not advisable to continue the trek after the lower waterfall. Path from lower to upper waterfall is full of steep and slippery rocks.
→ At last, don't litter, keep your trash with you.
Happy trekking!