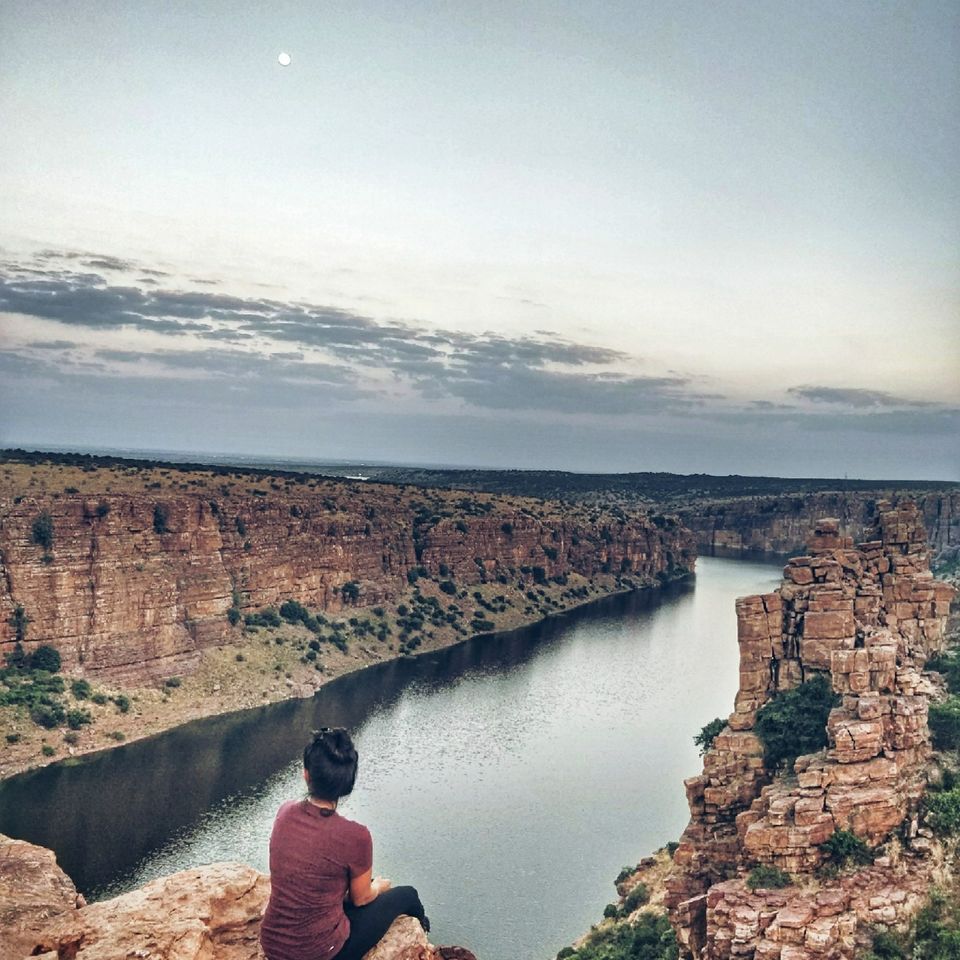 So travelling on the New year has always been too overrated for me as places to stay however mediocre they may be are very pricey also I love my peace of mind and hence fancy places that aren't too crowded , that's the reason I do not travel anywhere around Christmas and New year and stay in the comforts of my house mostly planning a trip maybe in a not so daft time . But this New year a bunch of friends and I wanted to go for a trek or camping , something in those lines and also wanted to head to a "not so touristy" place which is quite a task if you stay in Bangalore cause weekend getaways are booked 2-3 months in advance . So after thinking about all the options possible we came up with the plan of going to Gandikota - the grand Canyon of India , as we all wanted to know what the place is all about and decided to find a spot near it and camp for the New year's.
Gandikota - Day 1- We started at around 9.30 in the morning from Bangalore got a few tents and sleeping bags that would solve our stay issues and drove upto Kadapa district as there aren't many hotels or resorts around Gandikota that one can stay at . The drive from Bangalore to Kadapa district in Andhra is actually a really nice one the roads are good , covering around 300kms dint take us a lot of time , Also we stopped in Ananthpur for a lovely Andhra lunch and got some food that would last us that night , if you do tend to come to this part of Andhra make sure you have ample amount of cash as there aren't many ATMs that I came across , also they mostly take cash in all the Hotels . After relishing our meals we headed towards the Kadapa district . In case you need to get your liquor supplies , there is a town just a few kms before Gandikota where you can get your supplies from , do keep the cash handy . We reached the place by 4 and luckily it wasn't crowded at all , Hence trekked till the top and waited on the sunset as it was one of the most exquisite sight to behold , do make sure you reach there before sunset , also try to get your own means of stay as there is only one Government aided resort near Gandikota called Haritha, that happens to be overcrowded most of the times . So after the climb and witnessing one of the most exquisite sight , we had worked up an appetite and hence headed to Haritha resort which is a 3 minute drive from Gandikota , to have a humble dinner . You definitely aren't going to be spoilt for choice there but just have the jeera rice and tomato pappu , soul fool it was . The happy people decided to head back to the Indian Grand Canyon and pitch the tents there , there wasn't any problem with regard to that . We got a localite to help us out and start the bonfire . Let's just say it turned out to be an excellent camping trip .
Belum caves - Day 2 - We got up by sunrise and witnessed another awe-inspiring view of the Pennar River and the gorge that's around it and went about to check the ruins of a temple near that place . Then decided to freshen up and have a nice breakfast before we head to the Belum caves , we went to Haritha resort , they have facilities for the travellers to take bath etc , just a bit too crowded . After the breakfast and freshening up we started off for the Belum caves which opens only around 10 a.m , so do plan accordingly its about 60kms from Gandikota would take you a little more than an hour to get there . There is a lovely Buddha statue there do check that out as well . But the caves that have the stalactite and stalagmite formations , they haven't been maintained properly and it is also very humid in the caves , the caves were hence a so-so experience . After that we decided to head back to Bangalore and have lunch on the way , we halted for lunch in a different restaurant called spice touch in Ananthpur , the food was good after that was a non-stop drive to bangalore .
The place and the view out there is definitely worth it and so is the drive make sure you go there when the weather is good . Also it's great place for photography .