Hello, I have been went to Kadapa last week and it was a very grateful experience. We have planned to visit Kadiri which was in Ananthapur district and then followed by Gandikota, Ontimitta and few other places in Kadapa district.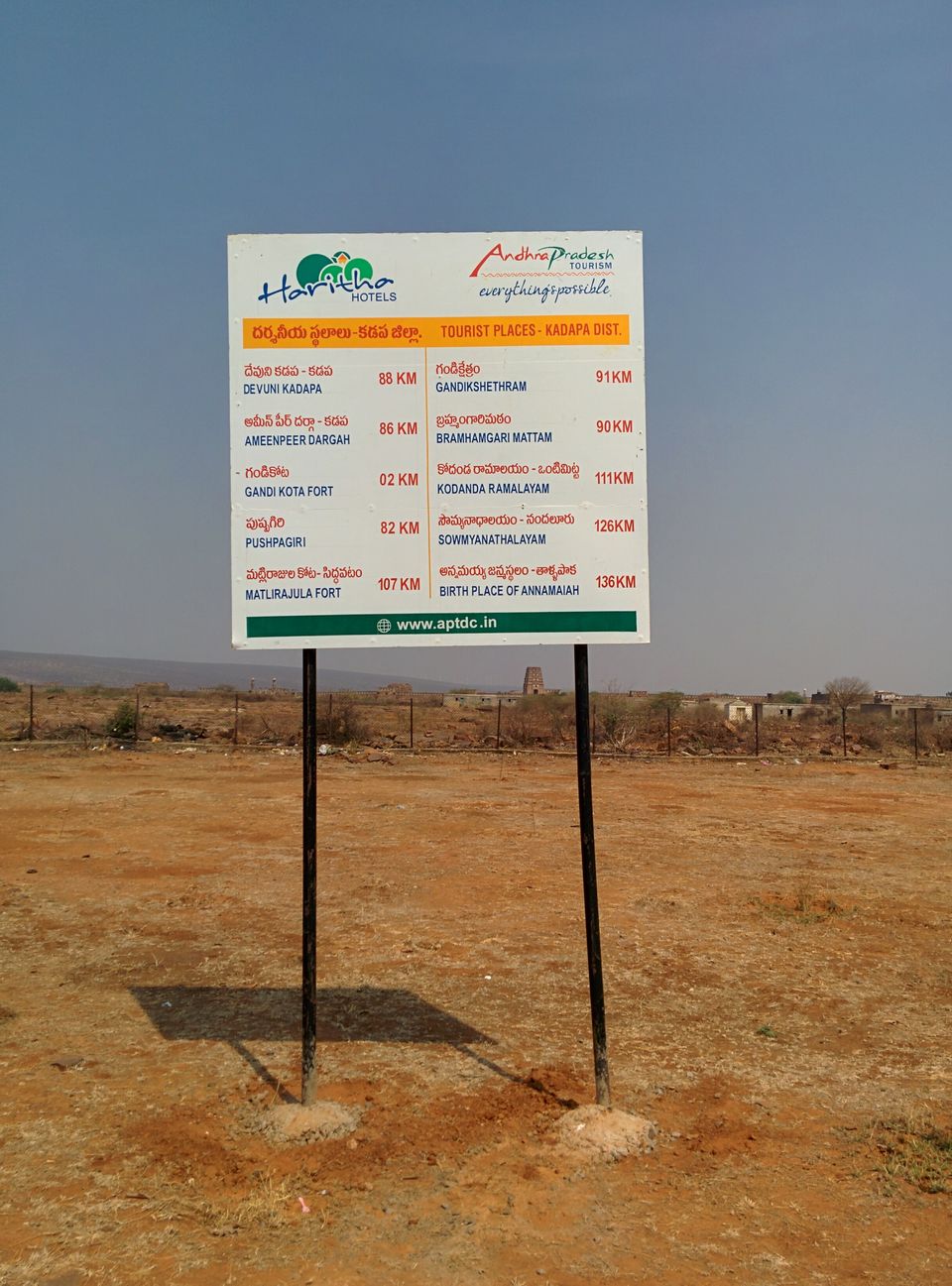 Kadiri:
Kadiri is a small town in Ananthapur district, which was 90 km from the district Head quarters and close to 500 kms from Hyderabad. In Kadiri, we have planned to visit Sreemath Kadhri Lakshmi Narasimha Swamy Vari Devasthanam. Khaadri is a type of a tree [canary wood or Indian mulberry] from where Sri Narasimha Swamy came and rescue his devotee Prahlada.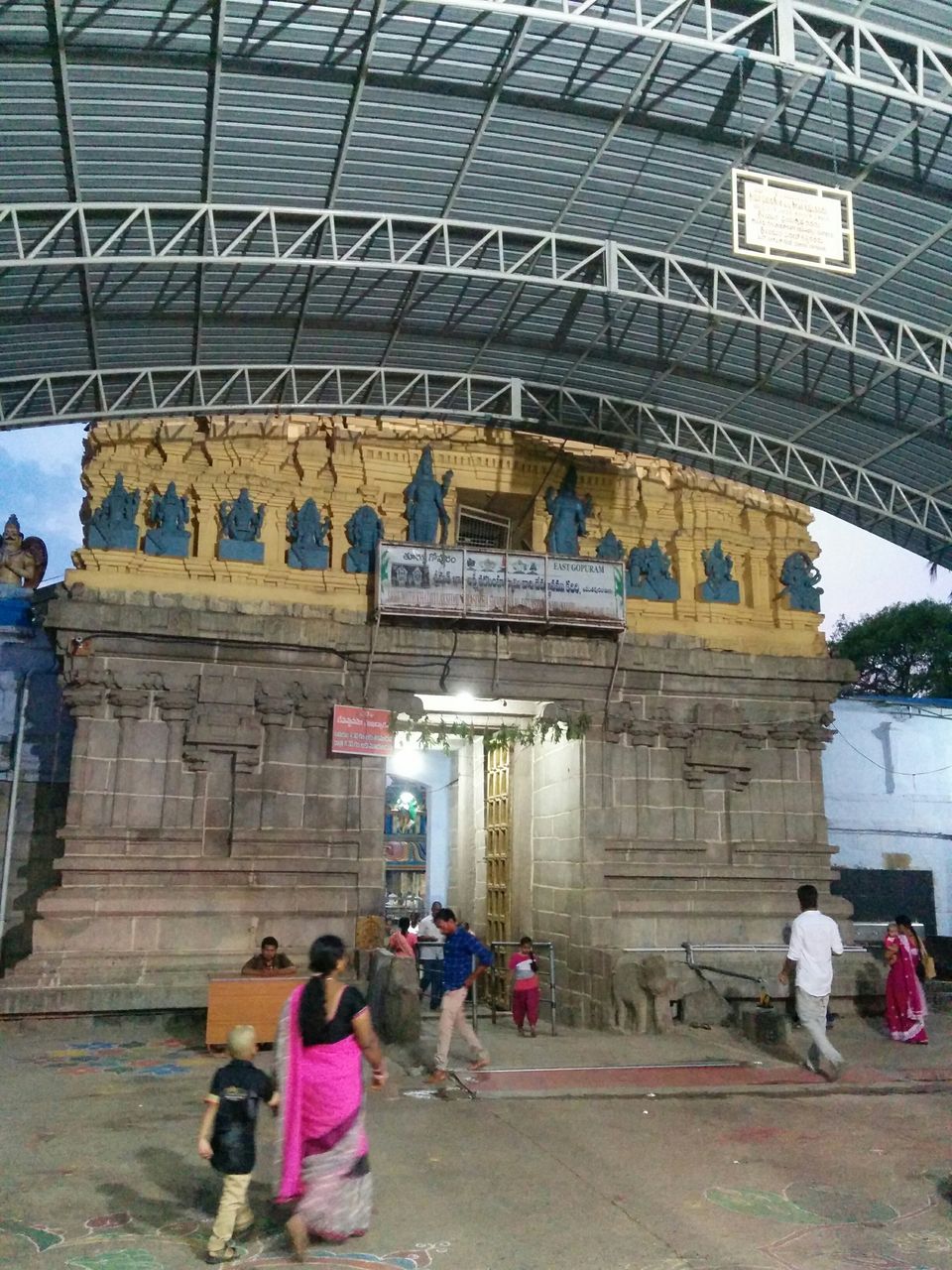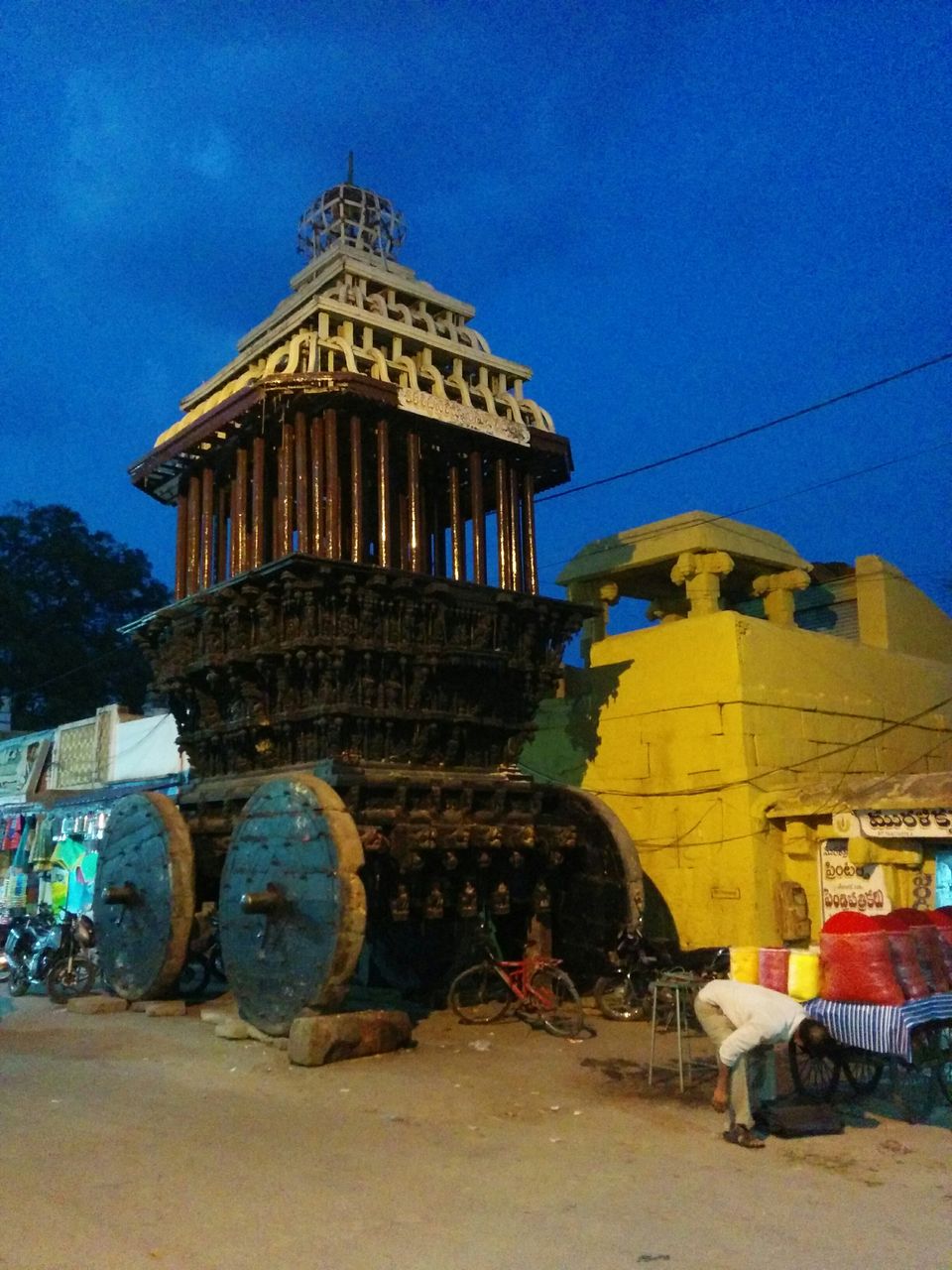 There was another attraction which around 25 Kms from this town, Thimmamma marrimanu, which was largest Banyan tree in the world spread around 4.5 acres.

If you're planning to visit both the places, then visit the tree first and then go for Darshnam after 5:30 PM.
Darshnam completed for us by 6:30 PM. Then we have started to Gandikota. There is no direct transportation between Kadiri and Gandikota, need to reach Jammalamadugu then to Gandikota. We have decided to reach Pulivendula and then reached Jammalamadugu by 10:30 PM. From Jammalamadugu, Gandikota is around 15 Kms, frequency of buses were very less between these two places during that time, we booked an auto to Gandikota, they charged Rs 400/-. Finally reached Gandikota by 11 PM. For accommodation, there is only one resort of state tourism corporation Haritha Resorts and booked our room in advance. Checked into the room which was very nice. If anyone planning to visit Gandikota, make sure to book the rooms in advance because very less number of rooms available at the resort which should be filled during the weekends.
Gandikota:
This place is famous for the canyon which was renowned as Grand canyon of India. The fort of Gandikota acquired its name due to the 'gorge' (in Telugu it is called 'gandi'), formed between the Erramala range of hills, also known as Gandikota hills and the river Pennar that flows at its foot, reducing its width to a mere 300 ft . It would be very nice, if this site would be visited either during sunrise or sunset, as the temperature in this regions touches 40 °C in the day time. There was a fort in this area belongs to one of the Telugu dynasties Pemmasani. People of this dynasty served as the army commanders of the Vijayanagara dynasty and fought battles for them.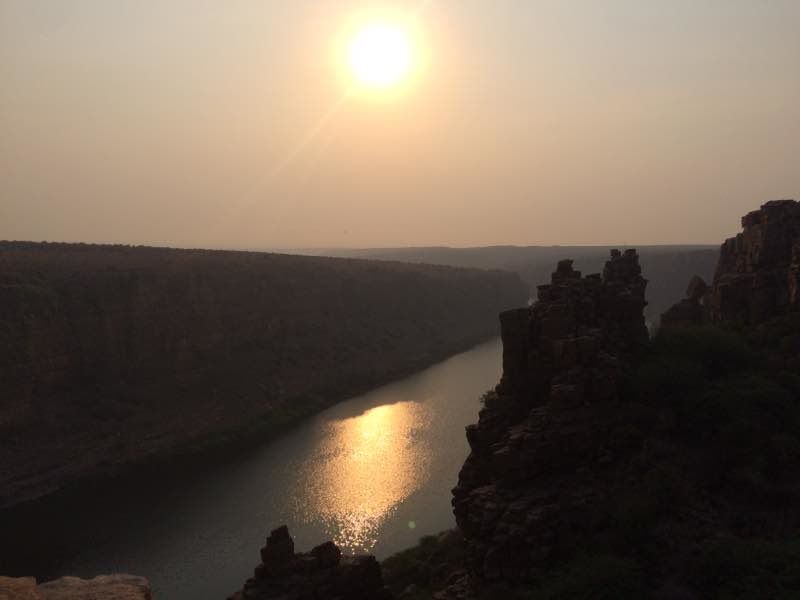 Most of the places in this area were almost ruined. Within the fort there are couple of temples, dedicated to Madhavaraya, Ranganatha and a Masjid[Jamia].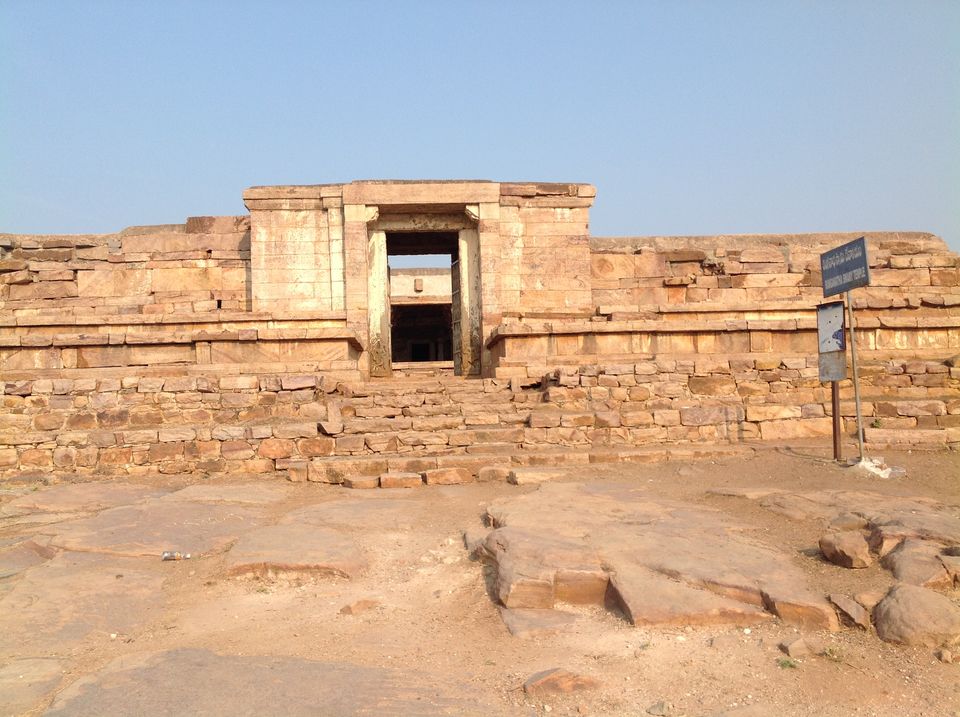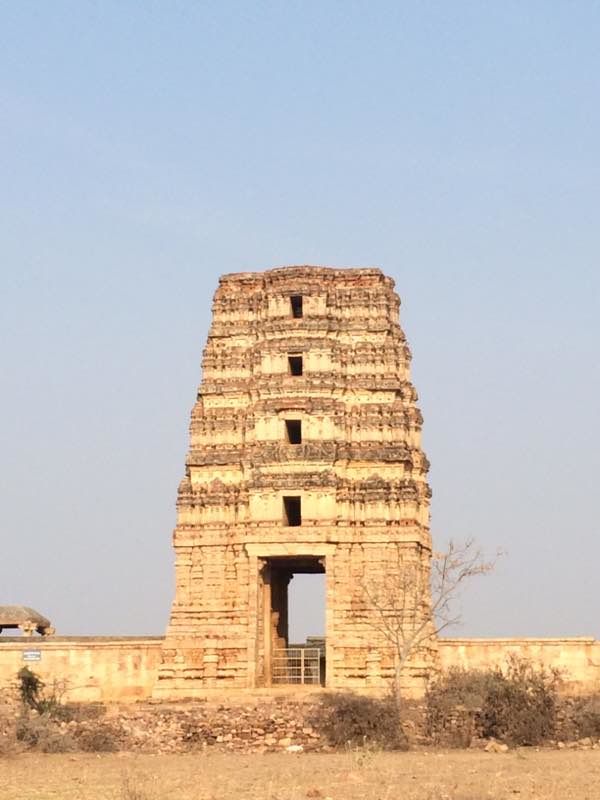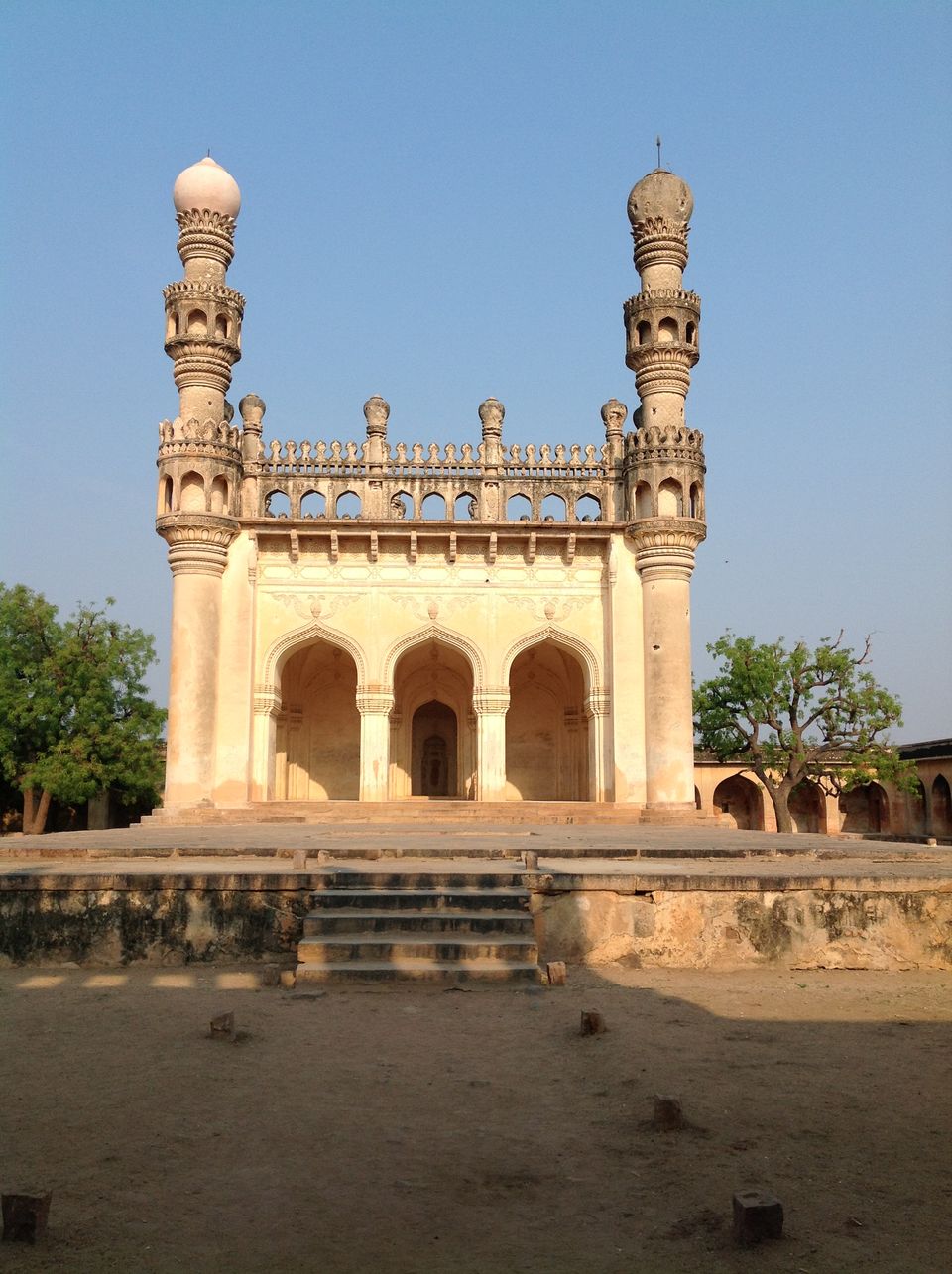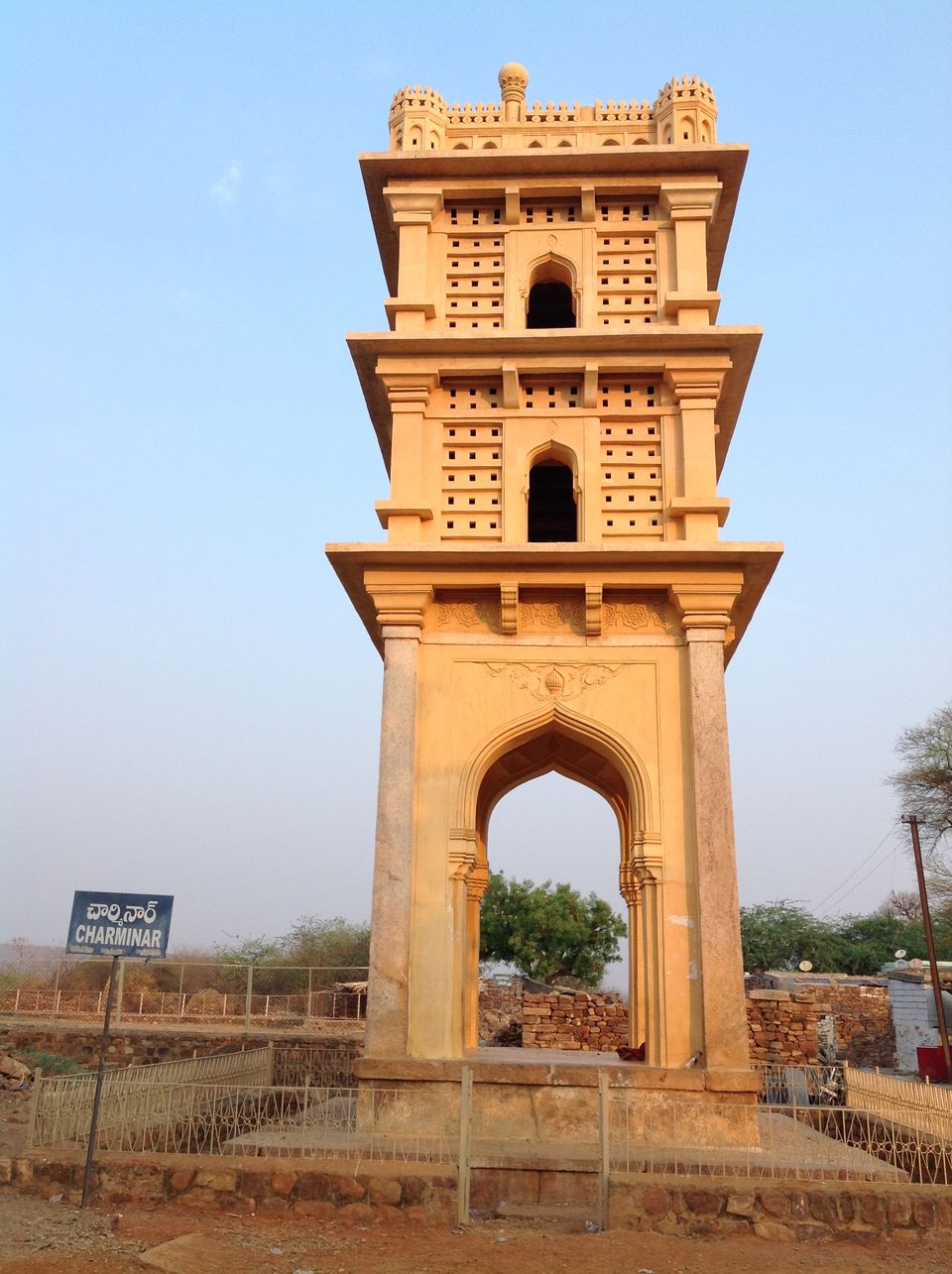 Gandikota was accessed through buses and they were available from Jammalamadugu Old Bus Stand (Gandhi Statue Junction). Inside the fort there is no means of transport except to walk by foot. There is a good downhill trek through the canyon that leads to the riverbed. But didn't get a chance to go for trekking. There is a dam upstream (Gandikota Dam) and a dam downstream (Mylavaram Dam).
Places to Visit in the Fort Complex: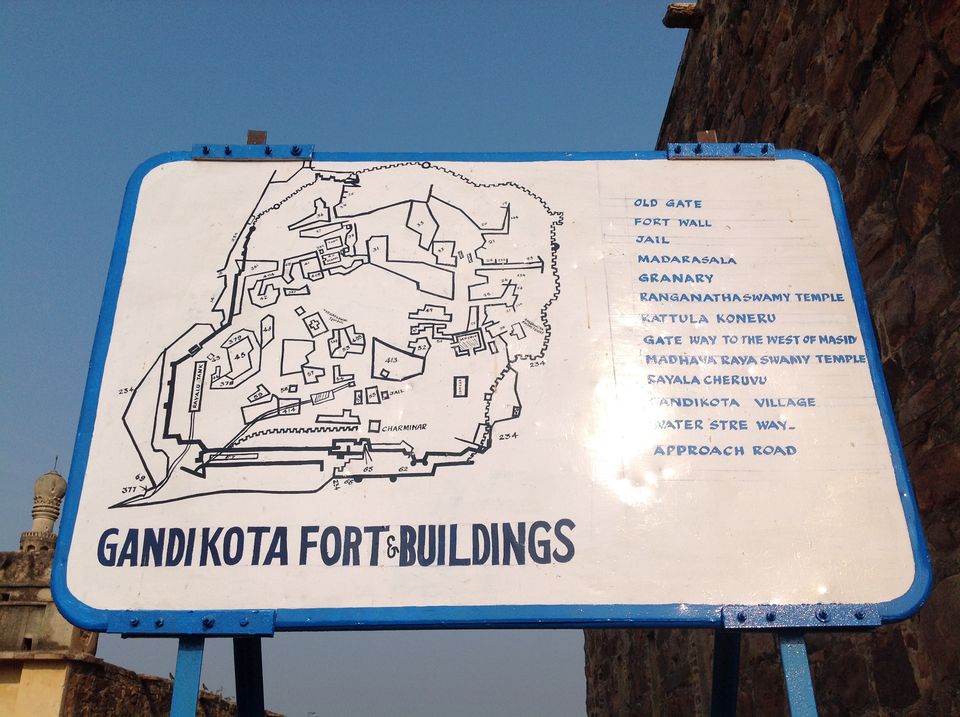 There was bus from Gandikota to Jammalamadugu at 09:45 AM in the morning, during this bus journey we can find very beautiful landscapes around this region. After the Gandikota fort, we have planned to reach Ontimitta which was around 115 Kms. Here is the plan to reach Ontimitta.
Gandikota -- Jammalamadugu -- Kadapa -- Ontimitta
Frequency of buses between Jammalamadugu to Kapada were less, it is suggested to go Proddatur then catch a bus to either Kadapa or Rajampet. Buses goes to Tirupathi or Chennai passes through Ontimitta.
Ontimitta:
One of the ancient temples Sri Kodanda Rama Swamy temple in Southern part of the India, came to prominence after the bifurcation of Andhra Pradesh in 2014. Earlier, Sri Rama Navami celebrations of combined Andhdra Pradesh used to happen in Bhadrachalam. But after bifurication,Telengana state celebrating Sri Rama Navami in Bhadrachalam whereas Andhdra Pradesh chosen this Ontimitta Kodandarama Swamy Temple as the venue of the official celebrations in 2015.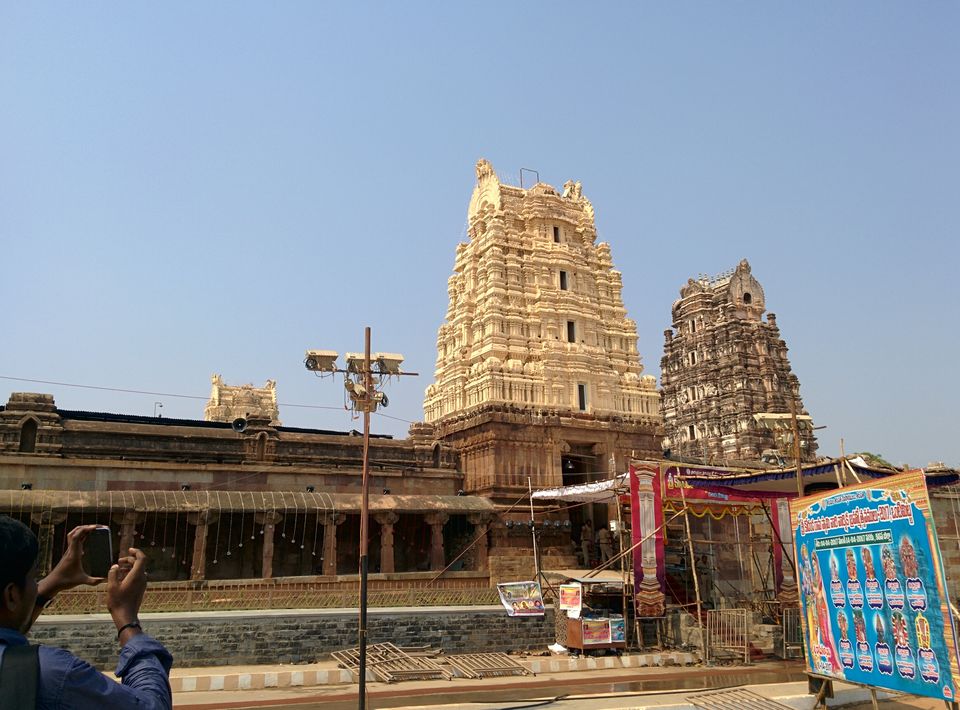 Ontimitta also known as "Eka Sila Nagaram". Currently, this temple was under the governance of the Tirumala Tirupathi Devasthanam[TTD]. TTD was taking care of the activities in this temple. One of the largest temple complex in this region with three Gopurams in East, North and South. Here Shrine Lord Rama , Sita Devi and his brother Lakshmana faces towards East. We can find old inscriptions inside the temple complex beside the East Gopuram and also beautiful carvings on the Gopuram. The temple was built in Vijayanagara style of architecture, in the "Sandhara" order within a rectangular yard enclosed by walls. [Refer this link for type of temple constructions in our India http://www.gktoday.in/sandhara-nirandhara-and-sarvatobhadra-temples/]. Temple has the mandapa with 32 pillars contains beautiful and elegant sculptures. In-front of the East Gopuram i.e. outside of the temple premises, we can find Lord Hanuman temple.
This temple can be accessible very easily as it was on the Kadapa - Tirupathi/Chennai highway. It was 25 Kms from district head quarters Kadapa, 12 Kms from Rajampet and 115 Kms from Tirupathi.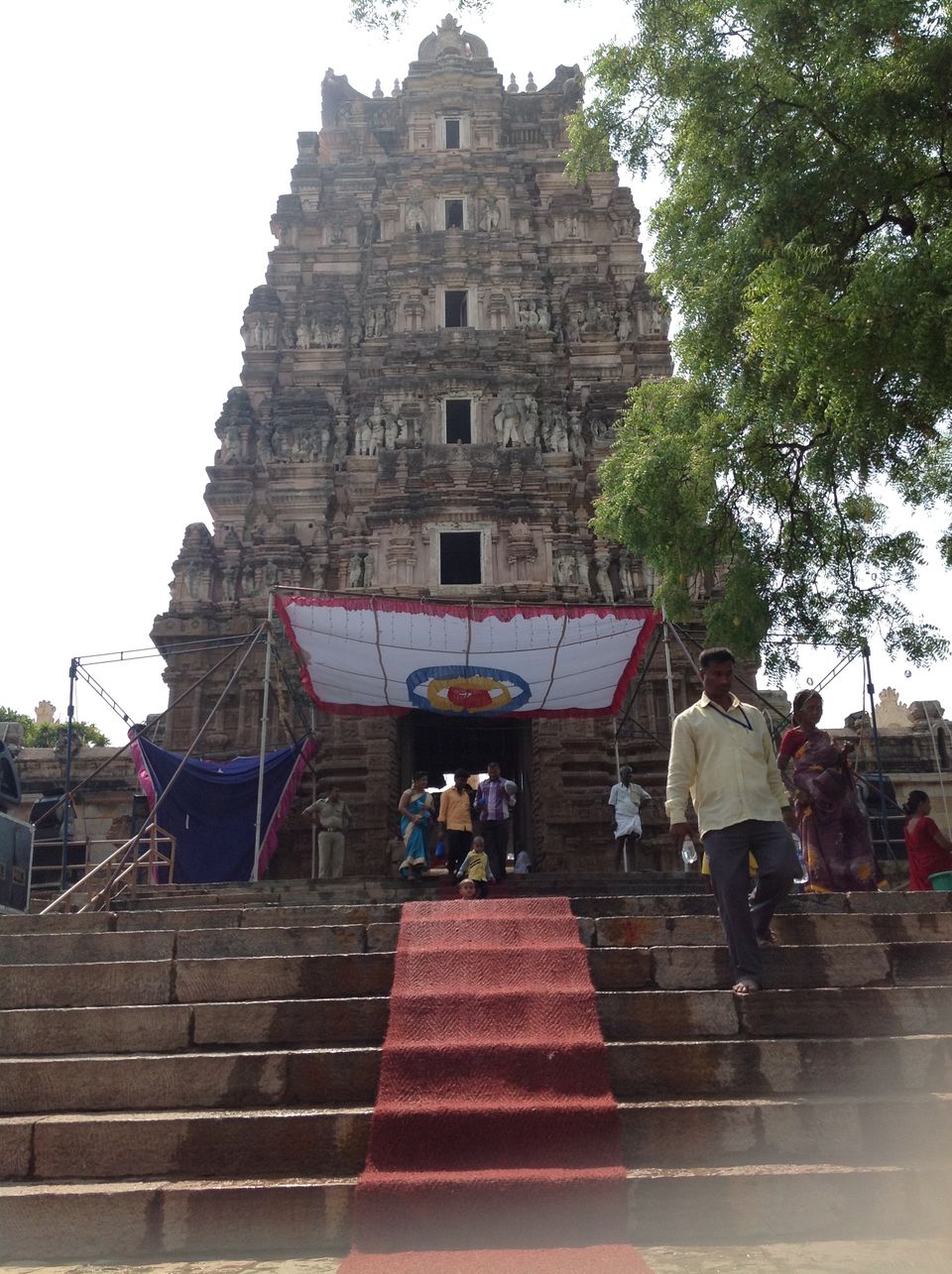 There couple of places we have added them to our list during this trip. Tallapaka and Nandalur.
Tallapaka: Birth place of Telugu saint Sri Annamacharya who wrote more than 32,000 sankeerthanas praising Lord Venkateswara which was around 12 Kms from Ontimitta towards Rajampet. There are couple of temples in this village and Dyan mandir of Annamacharya. There was big statue of Annamacharya on left side of the highway while entering into the village.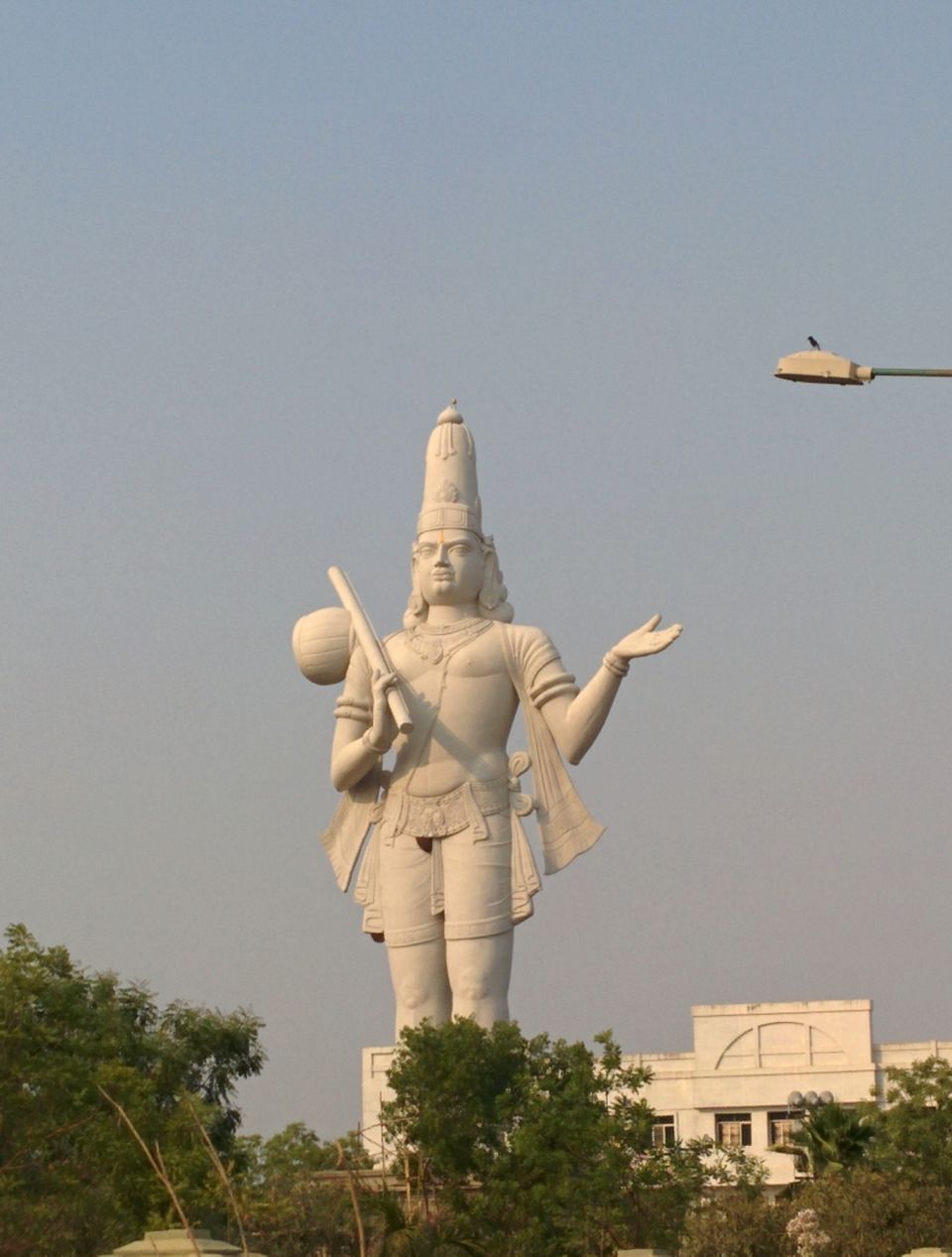 Nandalur: Small village between Tallapaka and Ontimitta, famous for the temple of Lord Vishnu. Here the diety Lord Vishnu referred as Sri Soumyanatha Swamy Temple. The temple complex was very big and it is replica of Thiruvannamalai.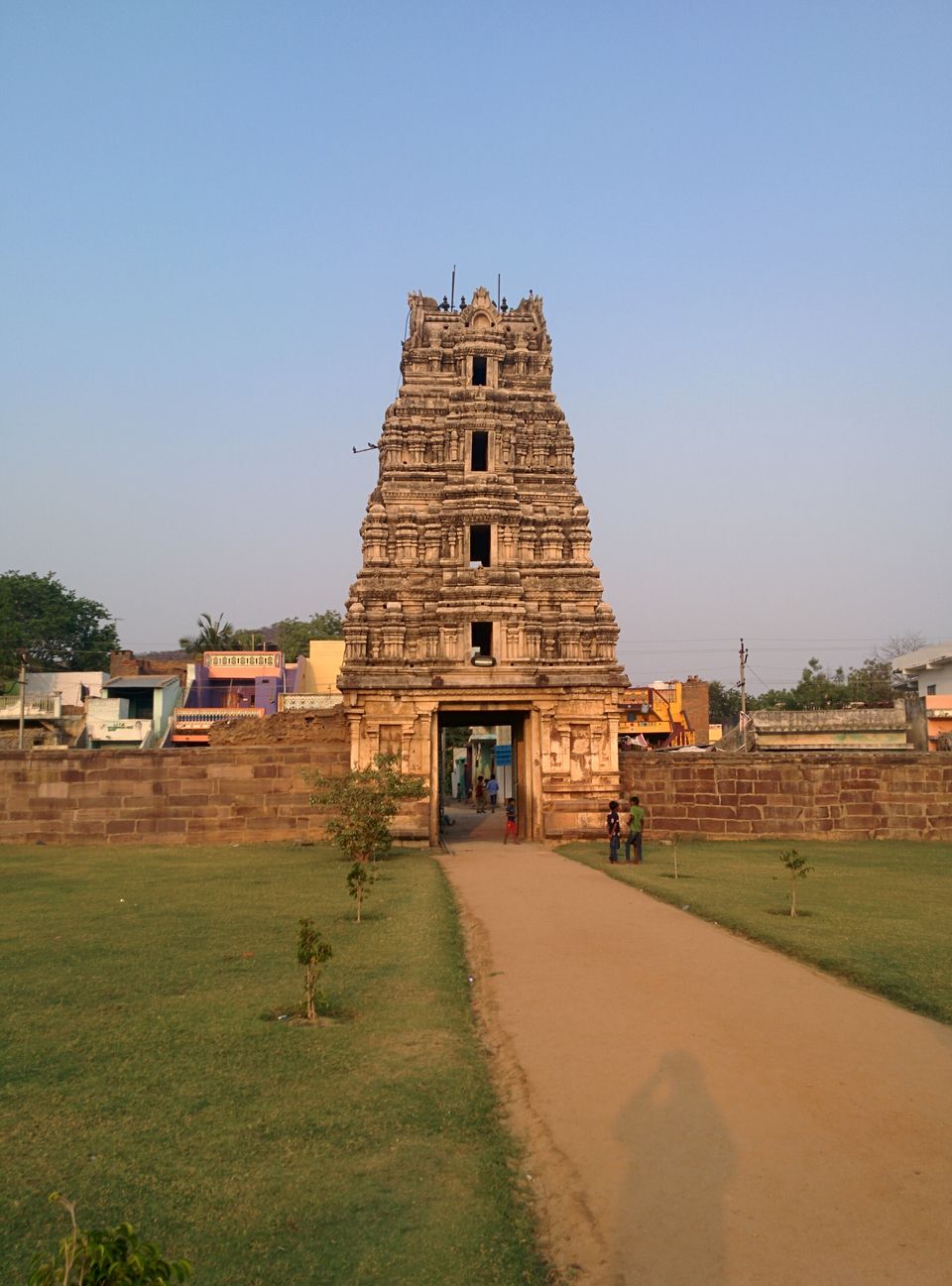 There is a fort in Siddhavattam village in this area. But we're unable to make this in our trip. Returned back to Kadapa from Nandalur.
Kadapa:
Reached to Kadapa by 7:30 PM and decided to visit famous Ameena peer Dargah and Devuni Kadapa. Devuni Kadapa, in ancient days pilgrims who wanted to visit the Tirumala Venkateswara Temple, located in Tirupati, had to first visit the Lakshmi Venkateswara Swami Temple in Devuni Kadapa.The Idol of the Lord Venkateswara has been established by Kripacharya, hence the ancient name of Devuni kadapa is also mentioned in puranas as "Kripavathi Kshetram". Temple was built in style of Vijayanagara architecture.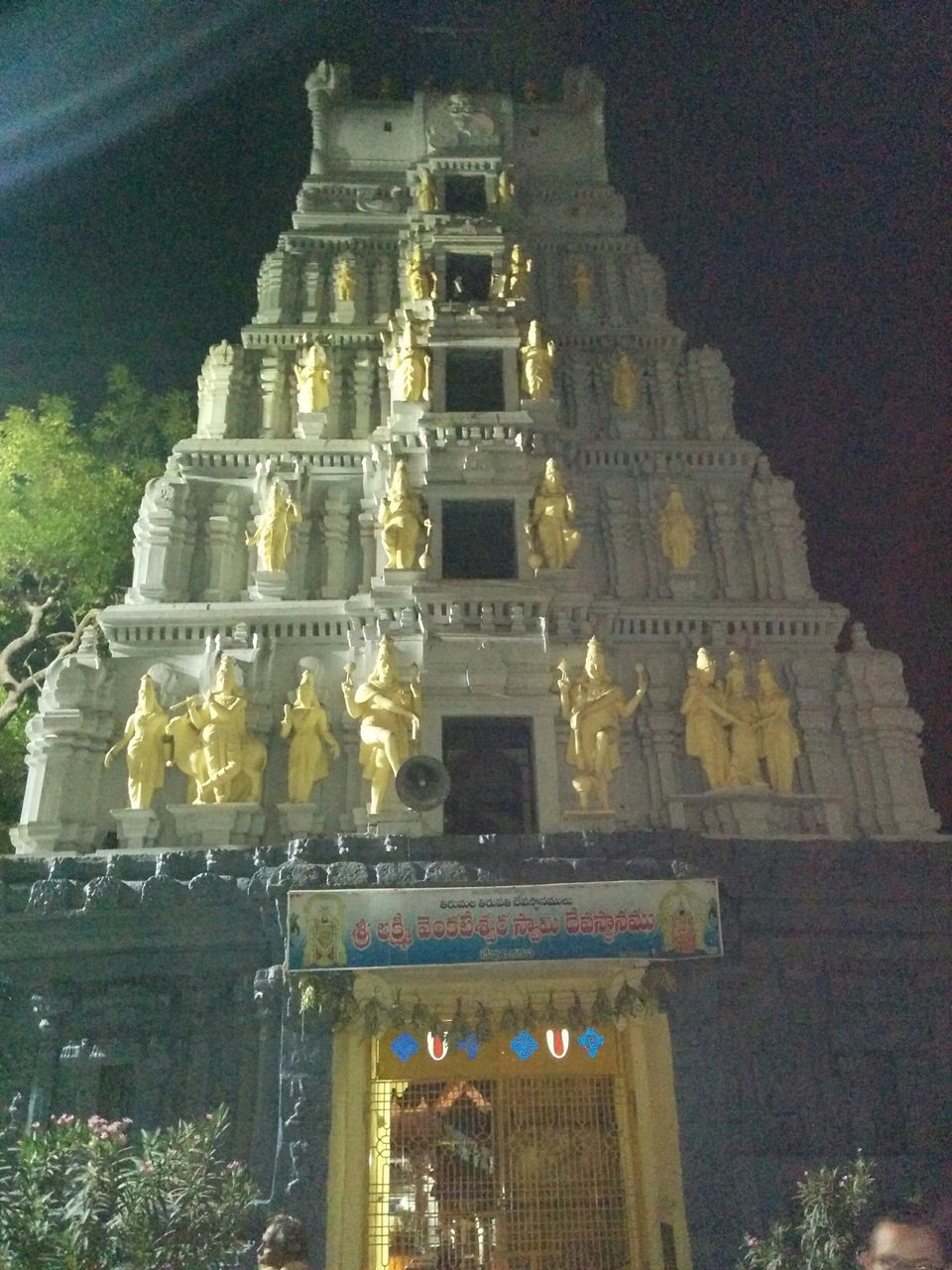 Ameenpeer Dargah, one of the sites in India, where people of different religions will come and pray here for their wishes. There is another ancient temple complex in Kadapa. Pushpagiri temple complex has 101 temples dedicated to various Vaishnava deities. Apart from the ubiquitous Shaiva and Vaishnava styles there are various other styles of worship have existed here like Jainism, Buddhism, Golaki, Aaradhya, Kapalika, Kalamukha, Rasasaivam, Shakteya and Soura.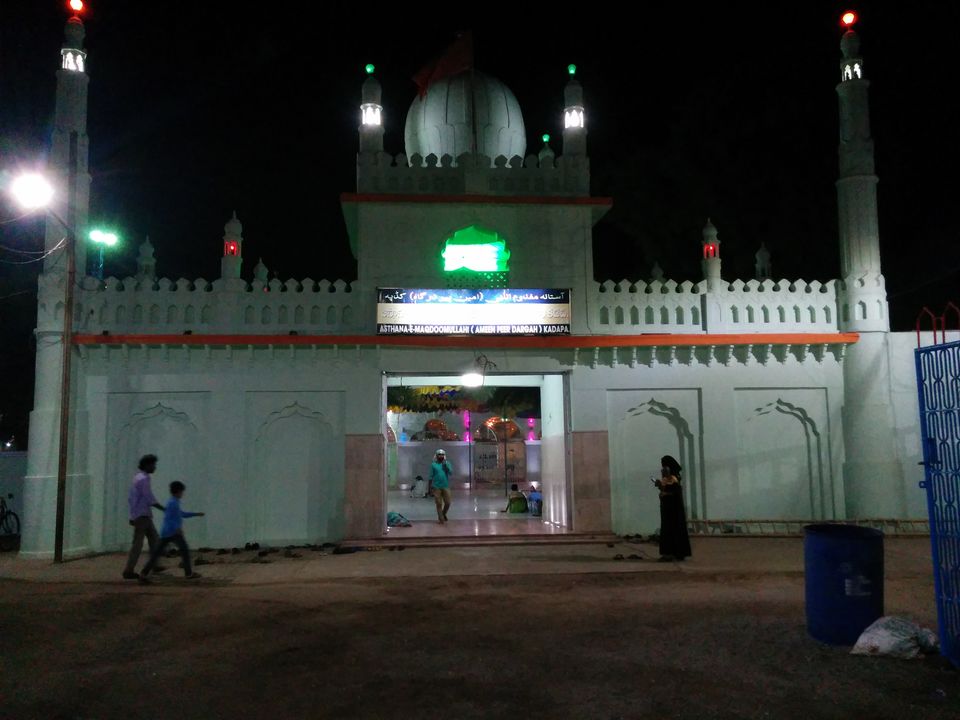 Successfully completed the trip and returned back to Hyderabad by bus from Kadapa.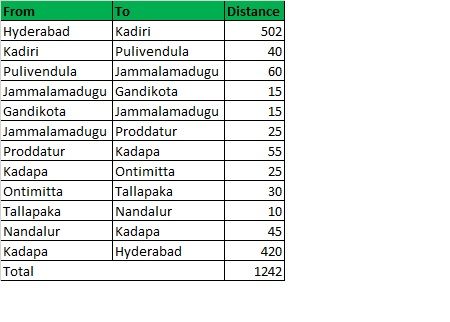 Expenditure for three persons: 6000/-