Golden Temple, Vellore, Tamilnadu.
Visited this temple of Mahalaxmi temple along with Tirupathi temple, located around 120Kms from Tirupathi. Lakshmi Narayani Temple which is also referred to as The Golden Temple is one of the most beautiful Temples in the Tamilnadu. Located in Sripuram, which is around 8 km from the Vellore city centre, Tamilnadu, is built in a 100 acres of land
The temple was constructed in a short span of 7 years and was inaugurated on 24th August 2007. The unique feature of Sripuram Golden Temple is that the interior and exterior of Vimanam and Ardha Mandapam of the temple have been coated with gold.
the Temple complex has a lot of greenery with saplings & also has lot of beautiful rock carvings. The Temple has a star shaped path way through which the devotees have to walk to reach the main Temple. So one has to walk around 2 km inside the Temple to look & get Darshan of Godess Lakshmi. The main Temple is surrounded by water & has enough distance apart from the devotee path way. Temple is always crowded on weekends and holidays and can take around 3-4 hrs for darshan. You can take darshan ticket of Rs 250/- to cut down queue.
Plan to visit the Temple at around 5 pm, so that you can view the temple both in day & evening. With the lights lit in the evening, the Temple looks even more beautiful than the day time. Or you can visit early in the morning before sun rise to see temple in lights. We also wanted to visit temple during evening time to see temple in lights but we reached temple around 8 PM from Tirupathi and by time temple was closed. So we decided to stay in a lodge near temple and decided to visit temple at 5 AM. We took Abhishek ticket of Rs 108/- next day morning, since it was early in the morning, there were hardly few devotees came for darshan. We had darshan in 10 minutes as there was no queue. Also we were able to see abhishek pooja.
Camera and mobiles not allowed inside temple.
Temple Pooja Timings :
The temple opens early morning at 4.00 AM and closes at 8.00 PM.
Abishekam – 4.00 AM to 8.00 AM
General Dharshan – 8.00 AM to 8.00 PM
Aarthi Seva – 6.00 PM to 7.00 PM
How to Reach Golden Temple Sripuram at Vellore:
Golden Temple is located about 8 km away from Vellore Bus stand and 15 Kms from Vellore Katpadi railway station. There are frequent buses to and from Sripuram from bus stand. Vellore, Or you can take Auto from bus stand.
Vellore situate at a distance of 130 kms from Chennai and 120 Kms from Tirupathi. There are direct buses available from Tirupathi Or you take buses to Chittur and then to Vellore.
Accommodation:
Temple offers accommodation for devotees, cost around 700 per night for Double bed room. Also there are couple of lodges near by temple available at cheaper rate.
Nearby Tourist Attractions :
Visit Vellore fort on the way to bus stand.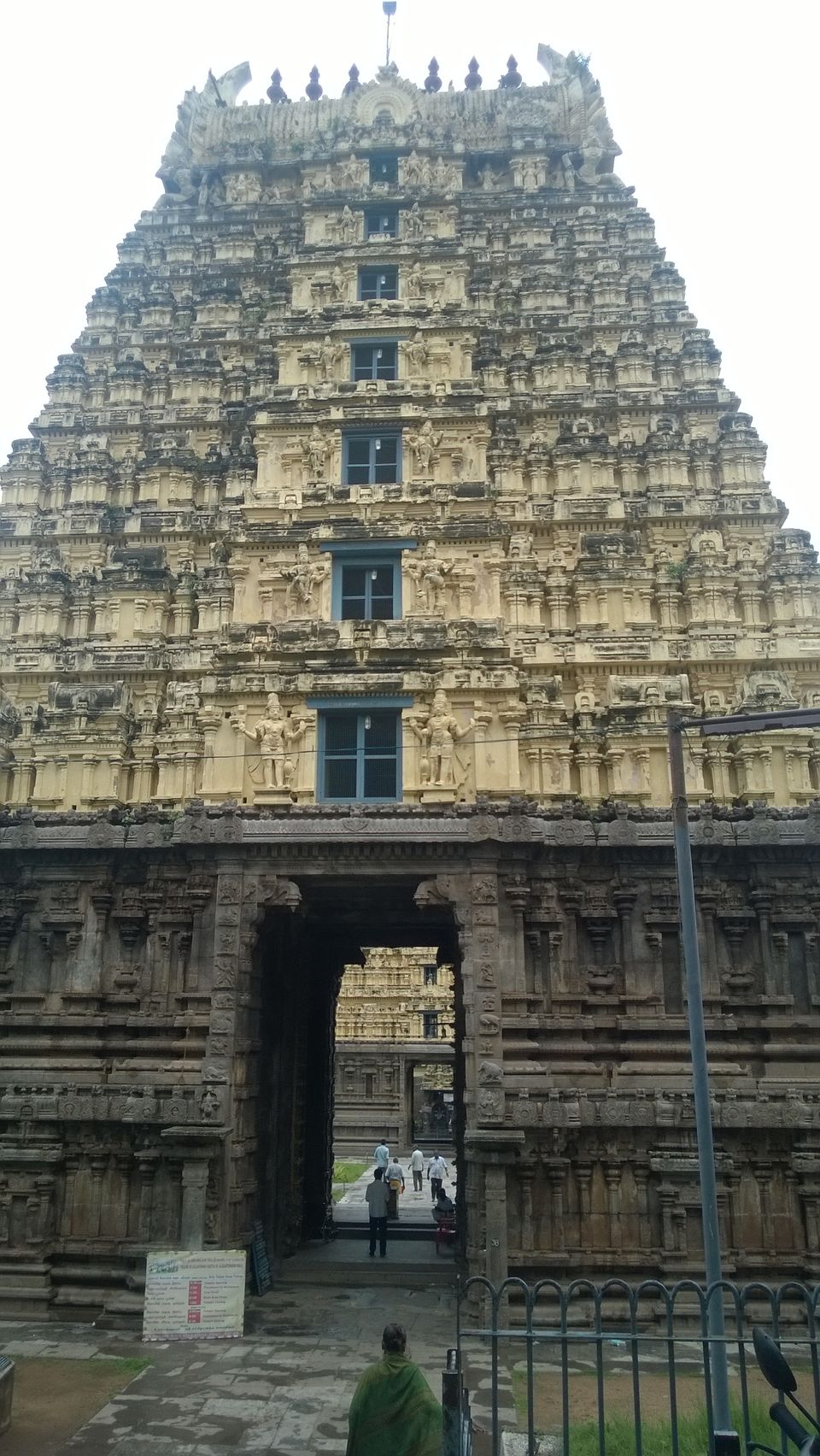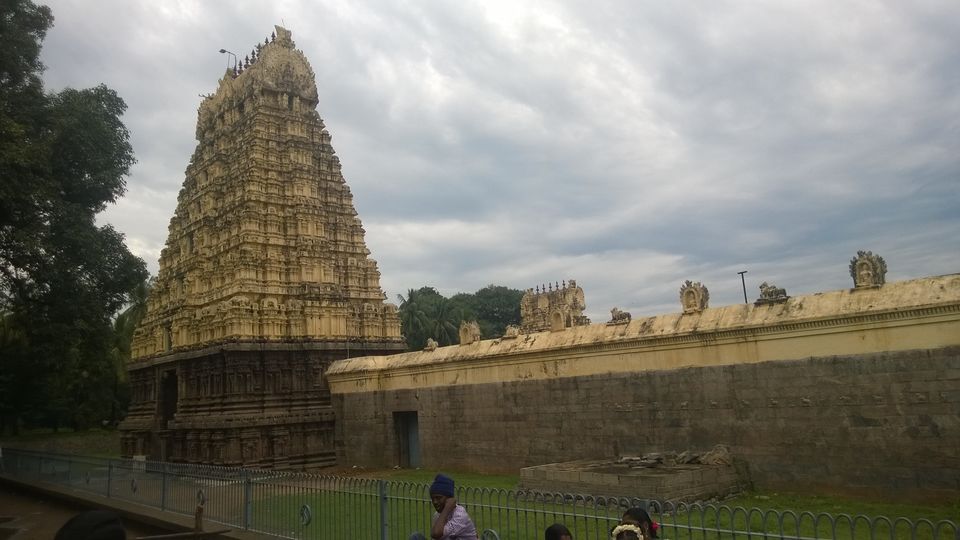 This place was not a part of itinerary of my trip to Tirupathi - Vellore golden temple. We accidentally fall at this place. We reached Vellore late from Tirupathi around 8 PM from Tirupathi and by time Golden temple was closed. So we decided to stay in a lodge near temple and decided to visit temple at 5 AM, and then catch bus for Bangalore, we were having 9PM flight to Pune from Bangalore. Next morning when we were on the way to Vellore bus stand by Auto we saw this building pass by, so asked Auto Driver about it. Since we have sufficient time for our flight, we decided to get down to see Fort. And it was a good decision. Very well maintained and clean fort.
Vellore Fort is a large 16th-century fort situated in heart of the Vellore city, opposite to Old Bus stand, built byVijayanagara kings. The fort was at one time the headquarters of the Vijayanagara Empire. It spreads over an area of 133 acres. The fort is surrounded by a water moat which was once used as an additional line of defence in the case of an attack.
The fort's ownership passed from Vijayanagara kings, to the Bijapur sultans, to the Marathas, to the Carnatic Nawabs and finally to the British, who held the fort until India gained independence.
Very important place from Indian History perspective since the first revolt against british rule started in this very fort during the year 1806. Indian soldiers killed more than 100 british soldiers took control of the fort for one day. All the soldiers were killed and british took control of the fort the very next day. During British rule, the Tipu Sultan's family and the last king of Sri Lanka, Sri Vikrama Rajasinhawere held as prisoners in the fort. The fort houses the Jalakanteswarar Hindu temple, the Christian St. John's Church and a Muslim mosque.
It will take more than 2 hours if you want to explore the fort in full. No entrance fees and open for public. A must visit place if you are in Vellore.
Jalakandeswarar Temple is an temple dedicated to Lord Shiva which is located in the Vellore Fort, in the middle of the city. The sanctum is very well maintained and the walkway around has a separate idol which is accessible for devotees for directly doing the 'abhishekam'. We visited temple early in the morning around 8 AM, and we were lucky to get to see "abhishekam" pooja perform by poojari.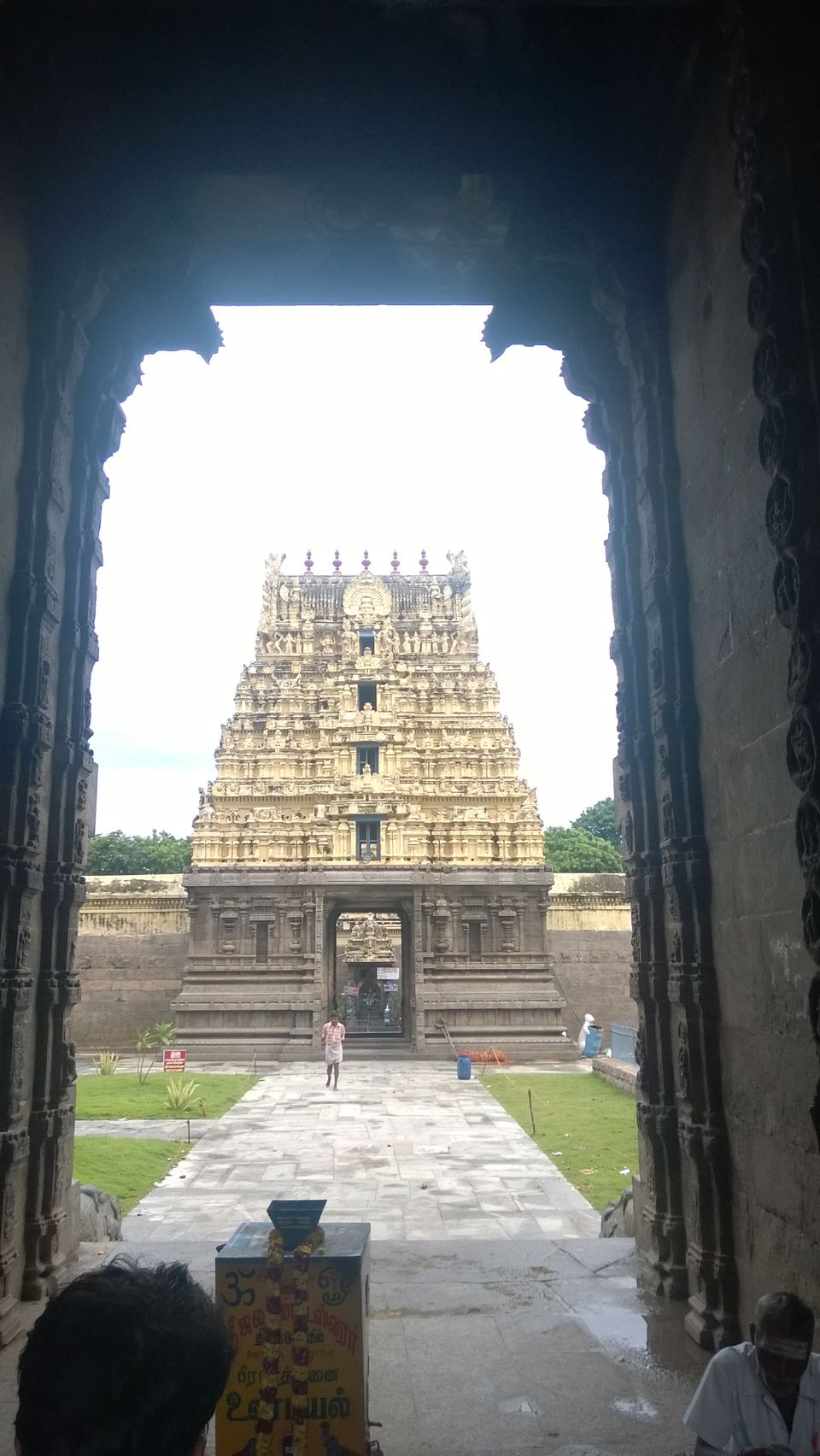 The Jalakandeswarar Temple is a fine example of Vijayanagaram Architecture. The temple has exquisite carvings on its gopuram (tower), richly carved stone pillars, large wooden gates and stunning monoliths and sculptures. The Gopuram of the tower is iver 100 ft. in height. The temple also has a Mandapam, with the hall supported by carved stone pillars of dragons, horses and yalis (lion like creature).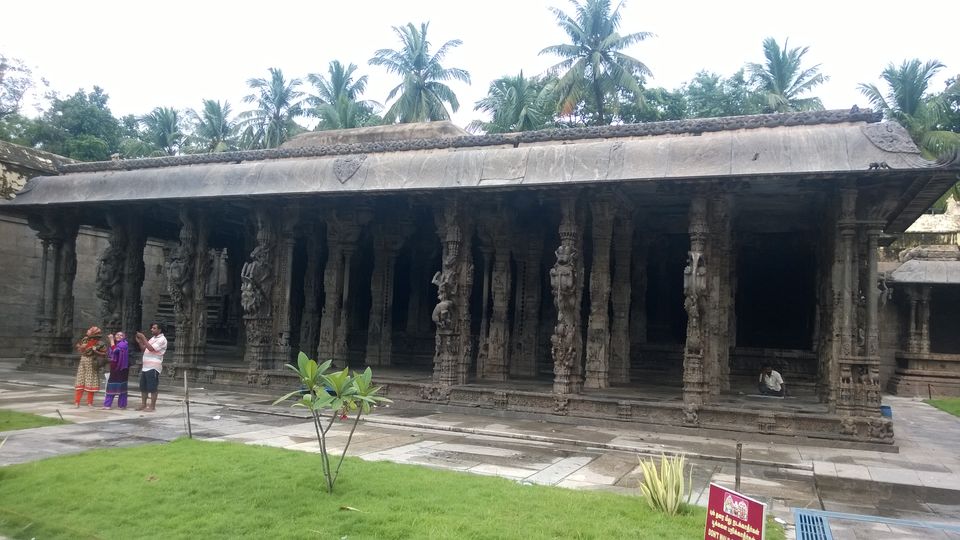 The temple itself built in middle of a water tank, and there is water surround the temple like a garland. The water user for bathing the deity (abishekam) is drawn from an ancient well called the Ganga Gouri Thhertam, within the temple.
The main deity here is Lord shiva. We took darshan of lord, and went around the temple. The temple is huge, having lot more sub deities incuding Ganesha, Subramanya, Navagraha and more.. We spent some time in the temple then headed to bus stand.
The temple is open from 6.30 a.m. to 1.00 p.m. and 5.00 p.m. to 8.30 p.m.
How to Reach Vellore:
Vellore situate at a distance of 210 kms from and 120 Kms from Tirupathi.
There are direct buses available from Bangalore takes 3-4 hrs. Also there are direct buses available from Tirupathi Or you take buses to Chittur and then to Vellore.