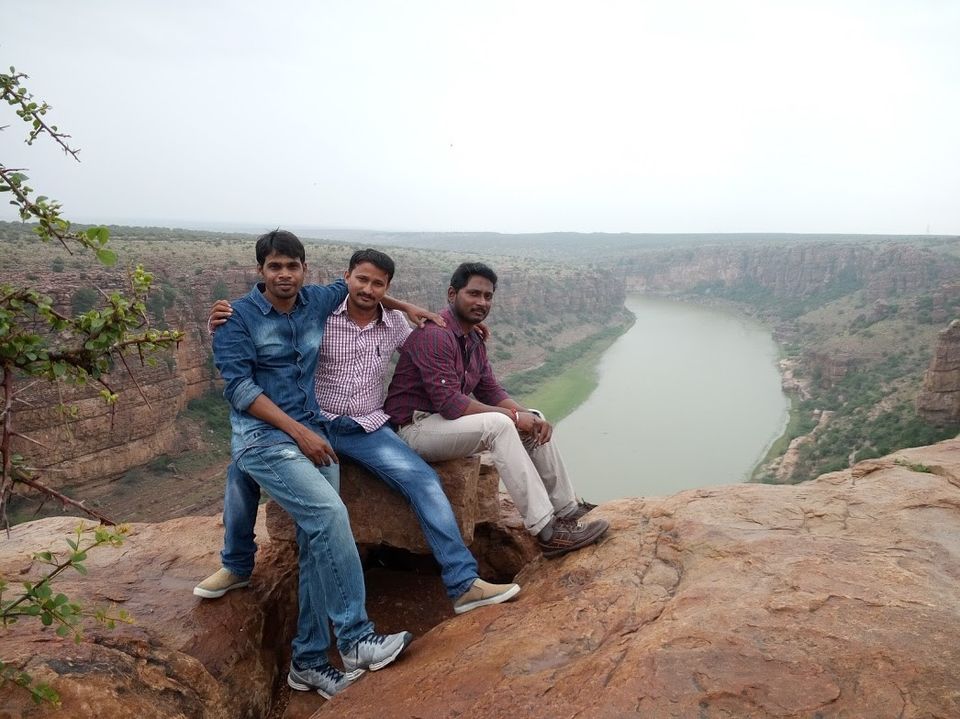 01st Aug 2017 :
This August 2017 I was having a long weekend for 12,13,14,15 days and already informed my friends about a plan to Goa or Gokarna.
As we were close to the D-Day and was finalizing the place to visit, one of my close buddy called up to invite for his marriage on 12th in Prodattur.
Had to scrap off my Beaches plans and planned down to attend the marriage.
So, started checking the places in and around Prodattur and found few interesting places. Had enough time over the weekend so planed my trip for 3 days to visit most of the places.
Interesting Places on my List around my way:
Prodatur
Ahobhilam - Temple
Gandikota – The Indian great Canyon
Kadapa ameenpur durgah - Masjid
Belum caves
Yaganti (unplanned visit) - Temple
Pushpagiri temple (unplanned visit) – Temple
Lets see wat I can cover……………………..
Day 01 : (Hyderabad – Ahobilam - Proddatur)
One of my friend and a Cousin Joined the trip, and we planned to start by 6am.
Unfortunately, no one woke up early and at last we gathered at 10 am.
Had our breakfast in Himayatnagar and Started our journey taking the PVR expressway towards Kurnool highway. In My Verna VGT.
Hyderabad Kurnool Route: Very easy to drive & relaxing route with 3-4 tolls, Comfortably maintained 120-130 speed with a small tea break and photo session.
Drive was easy and relax until Kurnool as it was TOLL road and the adding to excitement climate was cloudy too. Sadly we couldn't continue on the Kurnool route as we must take the Kadapa route.
2:30 PM we reached Kurnool and had our lunch @ Rainbow Garden Restaurant after entering in to the Kadapa Route.
Decent place and Food.
We had our Route fixed to Ahobilam and expected to reach by 4 : 30 after our Lunch.
Oravakal Rock Gardens:
In 15-20 Mins after Kurnool, we were crossing the Oravakal Rock Garden and my friend want to visit those Giant Rocks, So we stopped for it.
The Entry is on the left when travelling towards Kurnool, Good parking place and a snack area is available.
It is maintained by APTDC , We had less time so just circled around the walk-way had some clicks of the stunning rocks.
We can even book an accommodation there to stay & if just a visit it should not take more than 2-3 hours to explore.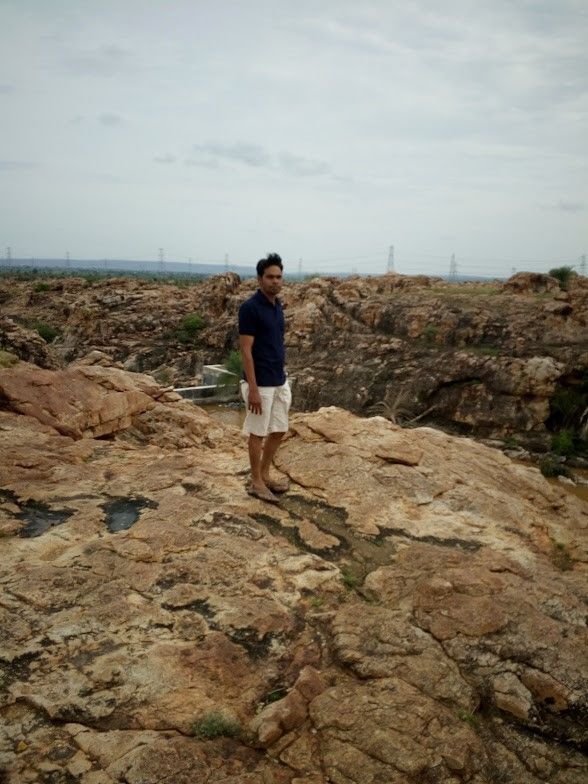 After an hour, we started back again on the Kadapa, Nandyal route.
We were reaching nandyal in few mins and found stuck in a 2-3 kms length traffic Jam. It was due to a railway crossing & the ongoing election campaigns , and as usual Idiots would jam the traffic near the gate crossing each other blocking the way for opposite vehicles.
And then came nandyal where the roads were under construction and took a while to cross the Town. Due to which we got delayed by 1.5 hrs to our expected time.
It was already 5:30.
And we got the information that the ahobilam temple will be closed by 6pm, I Pushed the gas to escalate my vehicle as the speedo was doing above 140 kmph.
We reached ahobilam by 630.
When enquired we got the info, There are two temples one up on the hill( 08 kms from base and 7pm cloising time) and other at the base (closing time 8pm).
We continued the drive to uphill and temple on the hill will be closed by 7 according to temple authorities info.
By 6:45 we were at the temple on the Hill and had a Darshan(LAXMI Narasimha swamy temple).
Worth watching place and I regret not planning properly as we could have reached at least by 5pm and would experience the Forest drive and the greeny views.
The temple on the top of the hill surrounded by the Magnificent hills was a Breath-taking view.
We descended back and even visited the temple at the Base. Please do read a lot about the place , you have many more places worth watching here.
After 30-40 mins juggling thru the single road we reached the NH for proddatur.
Reached proddatur by 9 PM , Quickly got freshen up and headed to the venue to attend the reception. Had fun time dancing. Then snored out.
Day 02 - Sunday :
Woke up by 7am and headed to the venue again to attend the marriage event, Had a lavish breakfast at the party, Met the bride groom congratulated them again and started out trip to Gandikota – The great Canyon of India.
Gandikota was around 40kms via Jammalamadugu but took more than an hour as the Road was bumpy and bouncy.
Around the grand canyon there is a small Fort built which is beautiful and worth watching.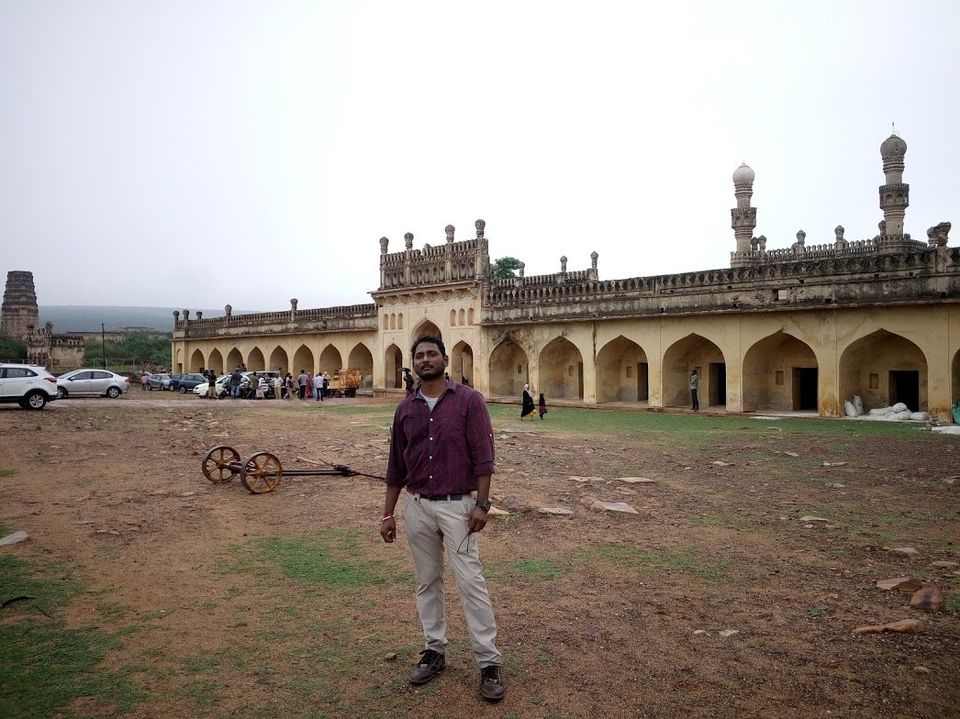 I was excited to experience the GREAT CANYON which I have seen a lot in Movies and Internet.
Gandikota is a small village on the right bank of the river Pennar, 15 km from Jammalamadugu in Kadapa district, Andhra Pradesh, India Gandikota was ruled by powerful Telugu dynasty. Gandikota is a small village in the Kadapa district of Andhra Pradesh that is known for its spectacular gorge formed by river Pennar that cuts through the Erramala hills. This handsome piece of Nature's architecture has come to be known as the Hidden Grand Canyon of India by travelers who visit it and get bewitched by its beauty.
There is also a Haritha Accomdation near the Gandikota Fort , an option for stay and food.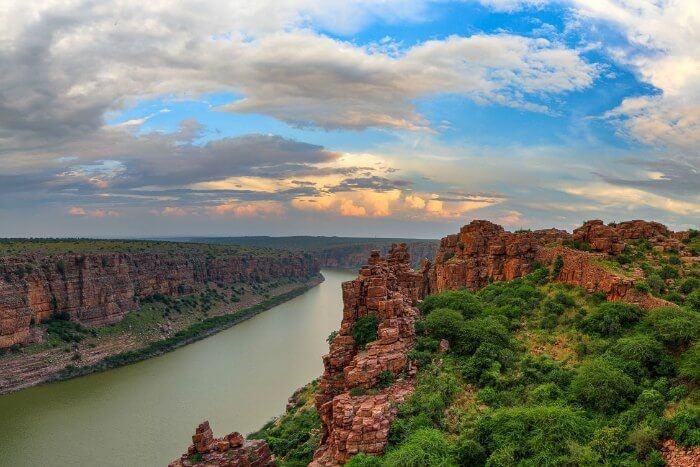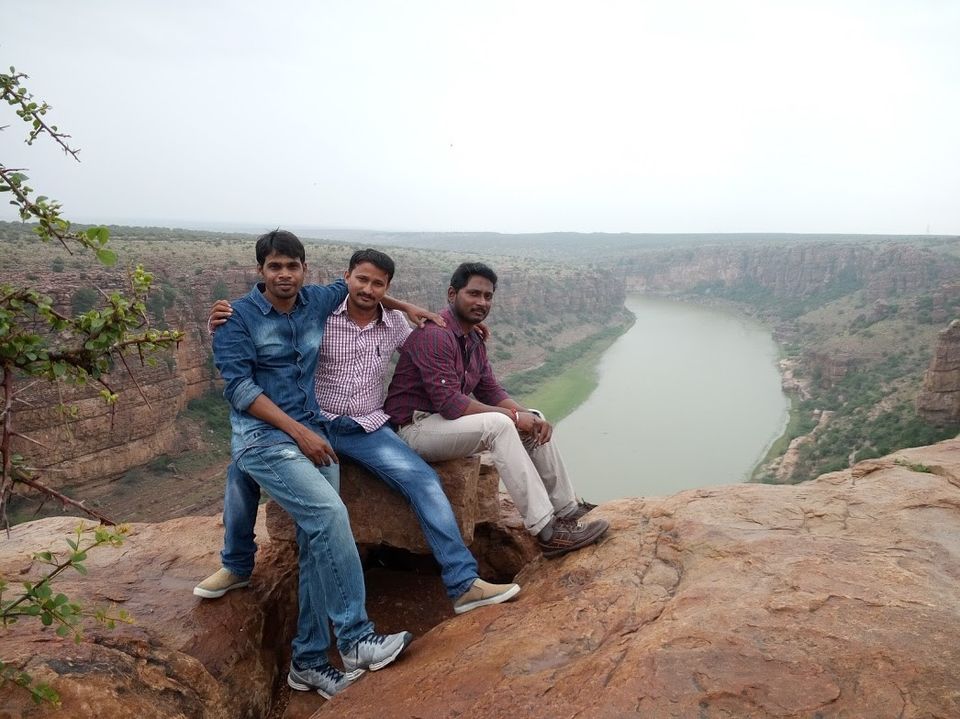 KADAPA : 54 Kms from Poddatur
Returned to proddatur for Lunch and then started to Kadapa.
Our next plan was to visit KADAPA ammenpur dargah, and also my friends Uncle in the town.
To reach Kadapa we have to again travel back to Proddatur as it's the only way.
So after Gandikota had our lunch back in Proddatur and started to Kadapa.
First reached my friends relatives home spent an hour there and reached Dargah by 5. Spent an hour there and started back to Prodattur again for stay.
Pushpagiri Temple :
After the Kadapa visit , on the way back to proddatur we learnt there is another good place to watch On the way we go the info from locals that Pushpagiri Temple is nice place to visit.
So have set my Navigation to pushpagiri temple ,location falls on the same route which we were travelling.
We reached Pushpagiri by 6 but by the time it started getting Dark. Somewhere we missed a route to the temple as we have to walk thru the river(no water now) to reach the temple. Else we could have straight away reached temple entrance.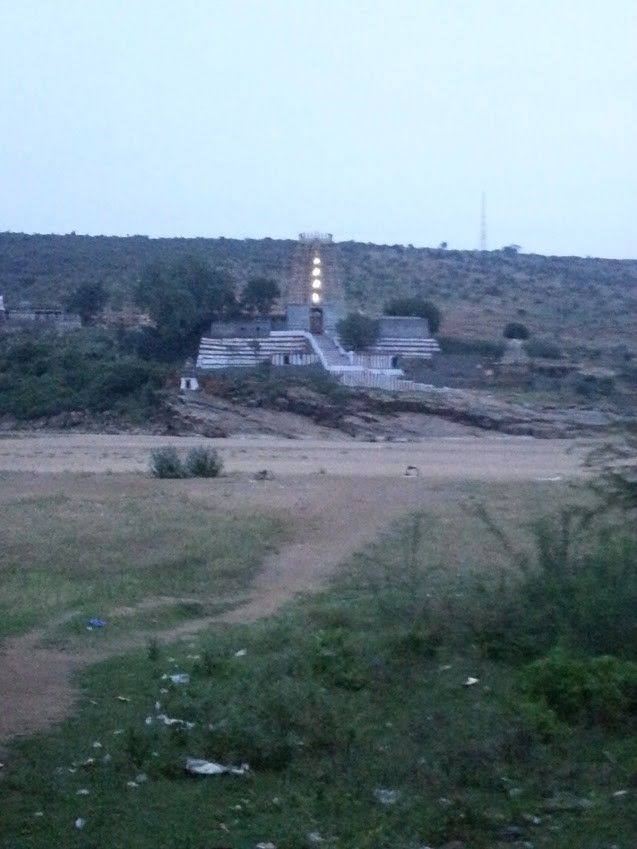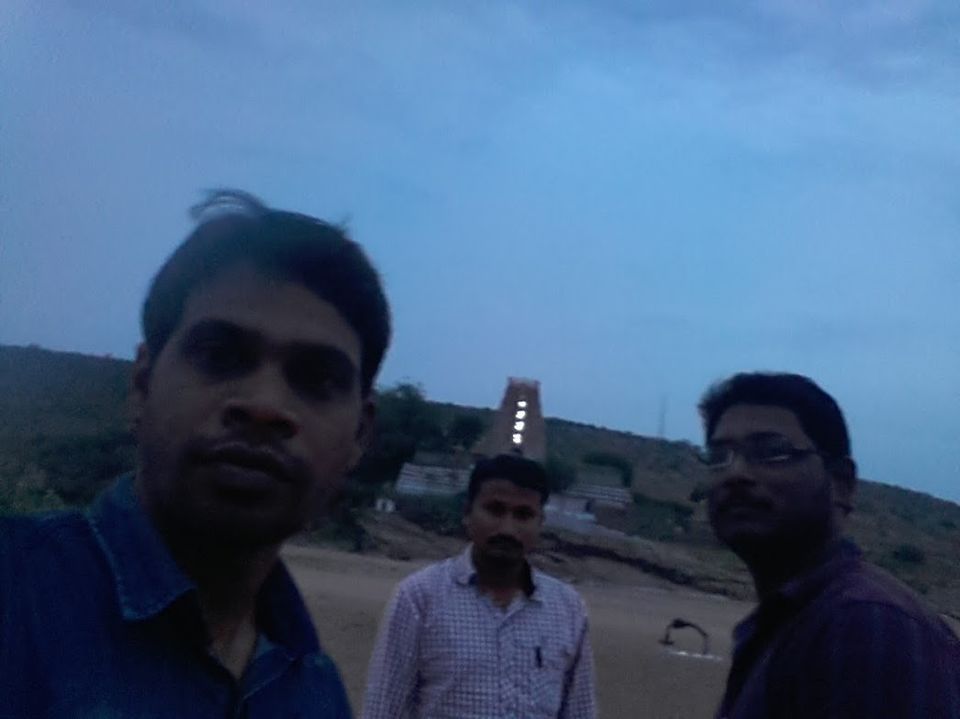 Reached back to Proddatur , Dinnner , Drinks and Guuuurrrrr……
DAY 03 :
Freshen up and started our trip to Belum Caves. Reached caves by 11am.
I was expecting a Mountain/Hill kind of structure when heard about caves, but was shocked to see that the Caves are below the ground level. It was totally and plain ground and surrounded by crop fields
Wat an experience to walk in the caves, one would feel the magic, natures creation of such a huge formation of Rocks inside the Caves.
OAK Reservoir:
After the Caves visit we were heavily sweated up and need a batch badly, so some on told us that in few kms u can find a reservoir in which we can bath.
Initially got hesitated but thought to have a look and if felt safe let's do.
So reached the OWK reservoir in few mins and had a Super swim in the Reservoir.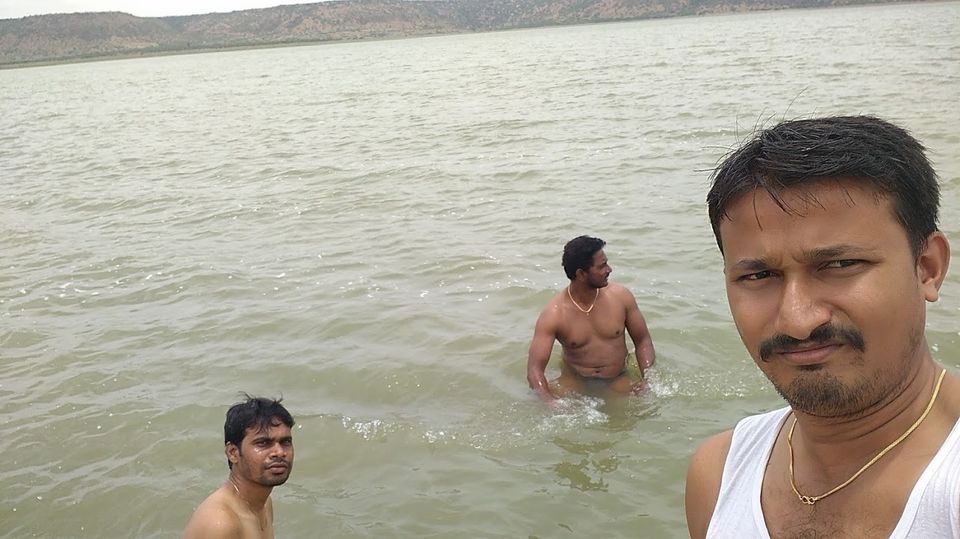 YAGANTI
On the way to Hyderabad we were near to 'YAGANTI which was optional in my List.
It turned to be one of the best place in the Trip, It has got lot of hidden secrets which the priest there was clearly explaining us. Unfortunately, didn't had enough time, But worth place to stay overnight. Temple and private accommodations are available.