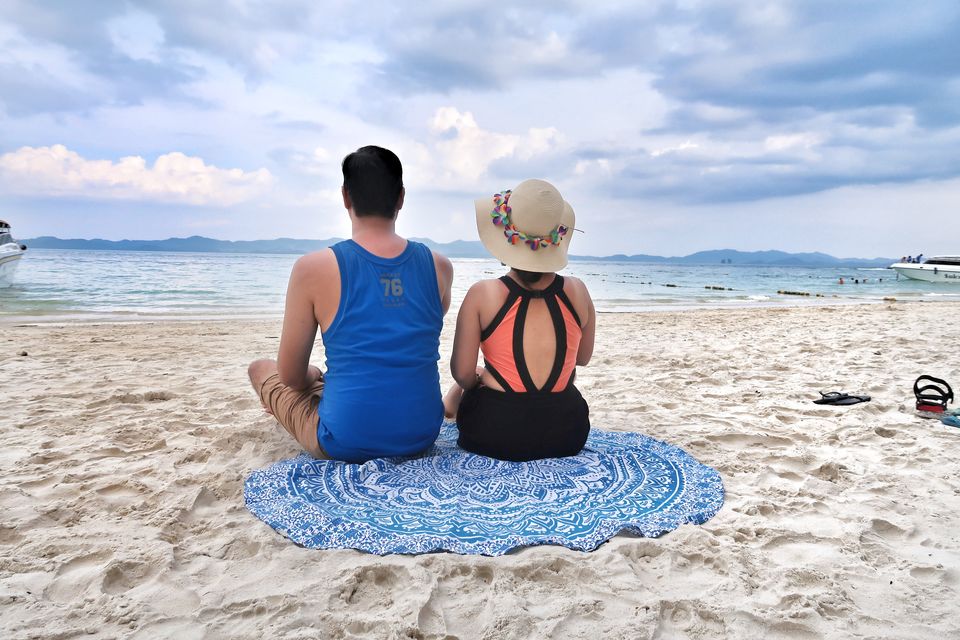 Just when we got bored of our corporate monotonous life, we decided to take a short time to celebrate the month of Love-February away from concrete jungle. What better place than Thailand.
After traveling to Phuket and enjoying it's night life, we packed our bags for next destination Ao-Nang,Krabi. Took a morning cab from Phuket to southern Thailand, Krabi. The drive was scenic with mesmerizing landscape and awesome weather. Reached Ao-Nang by afternoon and checked in our hotel "Green view village resort". Beautiful mountains and greenery surrounded the resort. We booked wooden cottage for 3 nights.
After relaxing a bit, we were out to explore this romantic town and the beach. Ao-Nang beach is small but beautiful. As we reached the beach, the sky was golden and sea was full of trademark long tail boats. We took a long walk on the beach and watched the sun disappear in the sea.
We tried banana pancakes and fresh ice cream served in tender coconut. After treating the taste buds, it was time for some self-pampering. We indulged into a relaxing Thai body massage. Later we enjoyed a sumptuous candle light Thai dinner at "Golden Beach resort". Just when we thought the exciting day is finally over, we were pleasantly surprised with fire show and that too free. It was mindboggling. Hats off to the artists who perform this act on weekends around 10.00pm. Don't forget to tip them generously. Truly first day in Ao-Nang was full of amazement and memories for lifetime.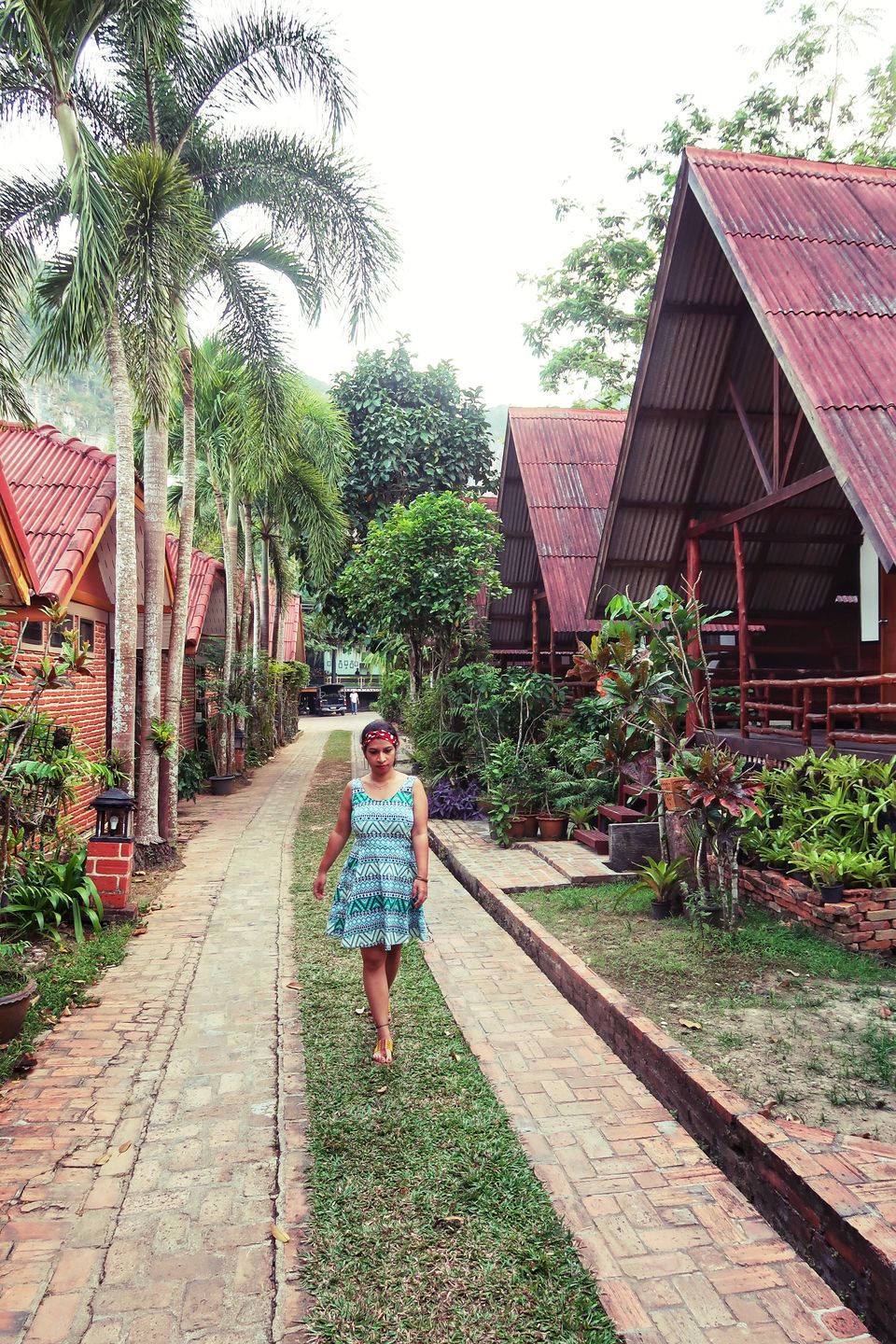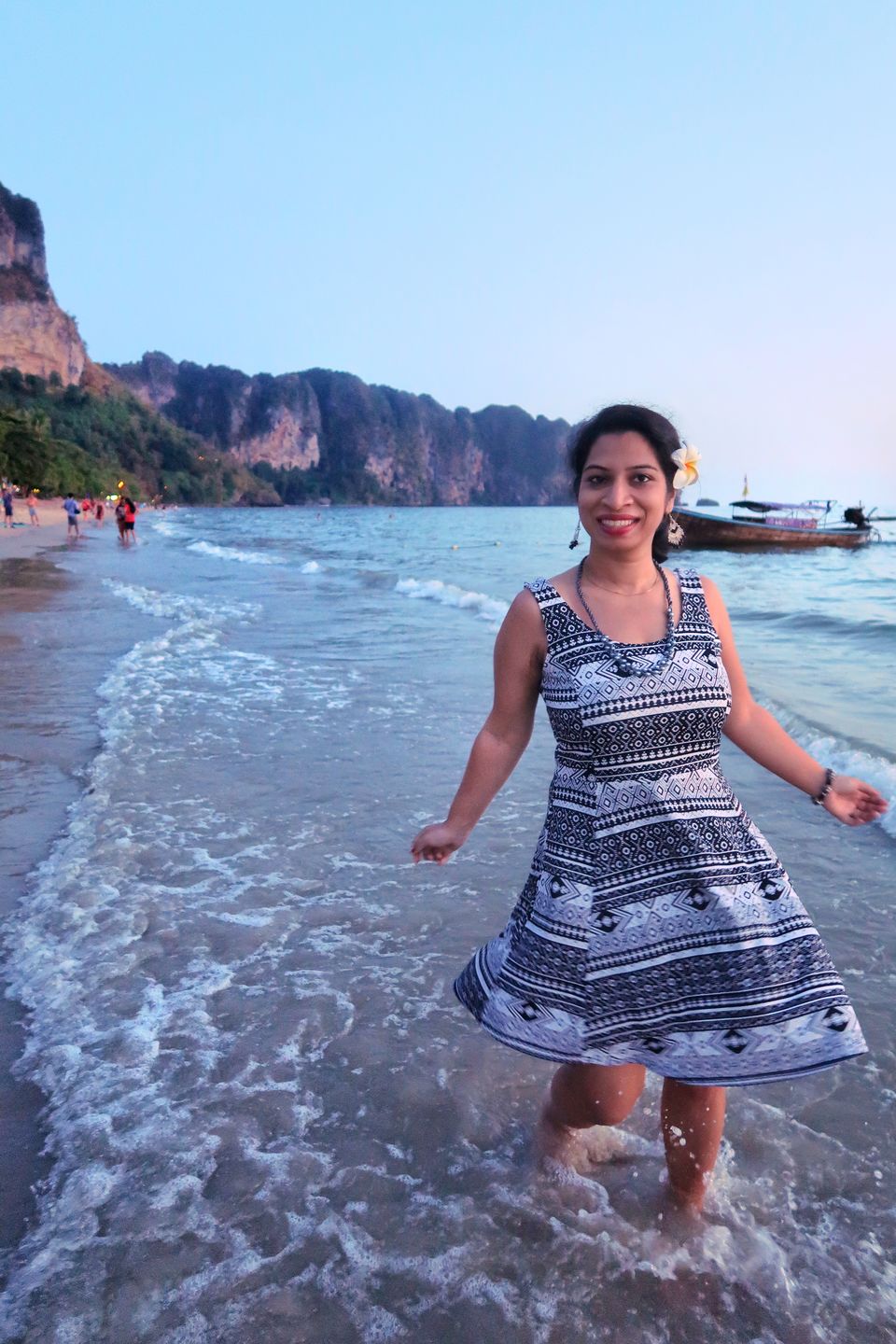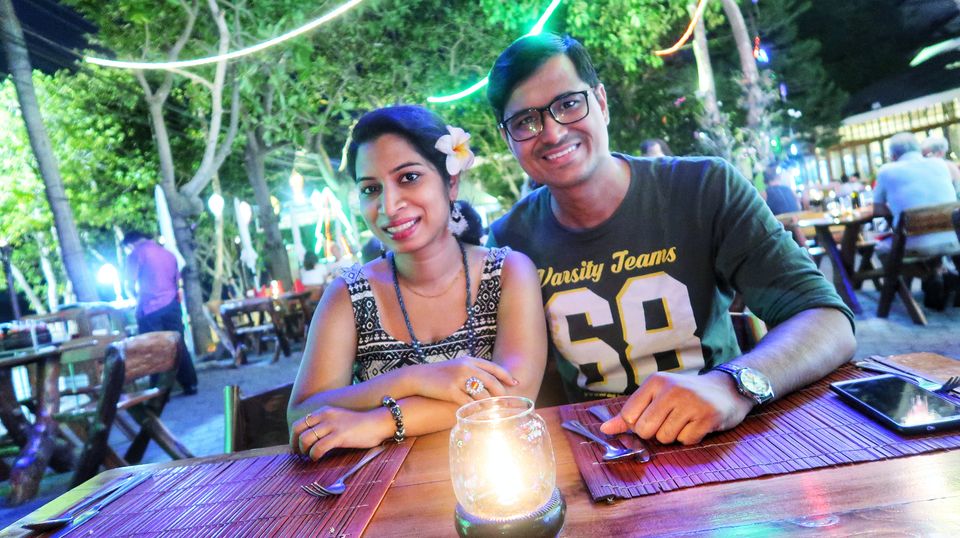 We booked our Phi-Phi Tour package with Sea-Eagle Tours from a local Tour agent. Package includes hotel pick up and drop, Viking Cave, swimming near Pileh Bay, Maya Bay, Snorkeling near Phi-Phi don, Monkey beach, Bamboo island and buffet lunch. For Vegetarian/Vegan food, inform the tour operator in advance. Cost: 1600 Bahts PP. Tour duration: 10 hours.
After relishing breakfast at the hotel, we boarded our cab to the nearest Pier at 8.30 am. Phi-Phi island is located about 90-minutes speedboat ride from Ao-Nang Pier.
First Stop: Viking Cave
Viking Cave is a unique sight with numerous swiftlet nests and clear turquoise water.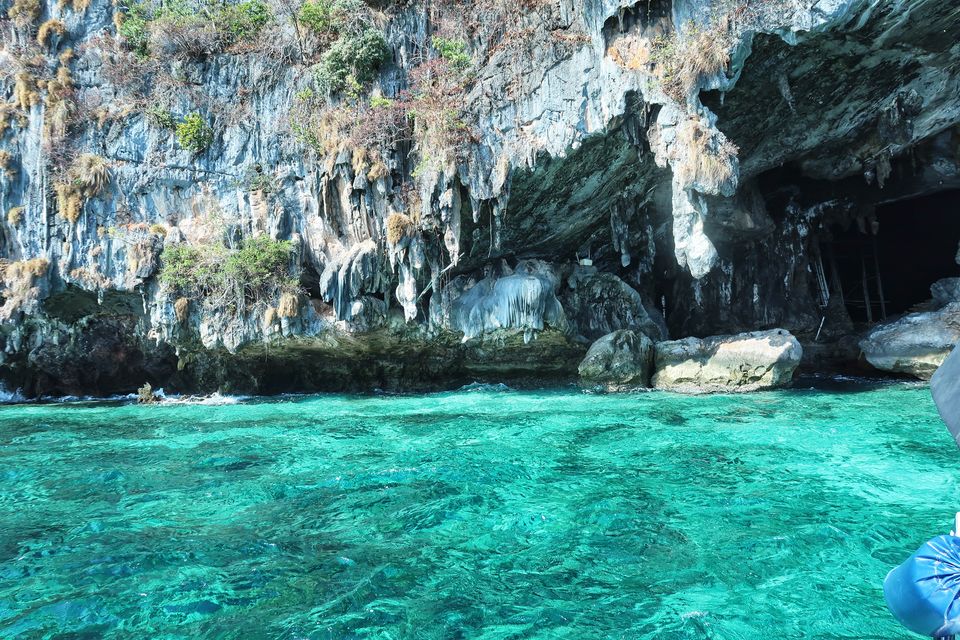 Second Stop: Piley bay
I have never been to such a beautiful place. We did swimming near Piley bay for 30-minutes. As we are not very good at swimming, the swim jacket definitely helped us a lot.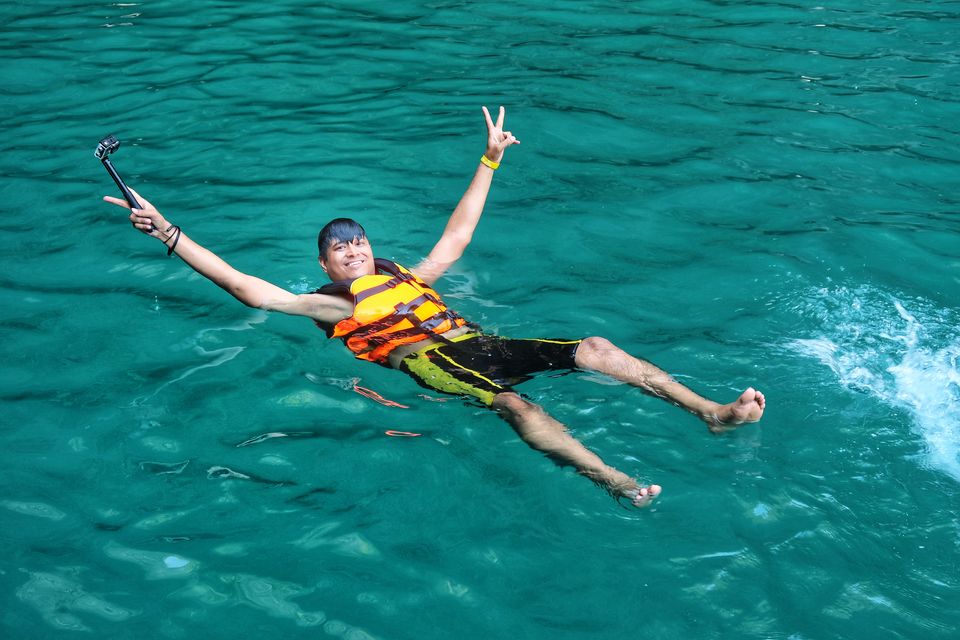 Third Stop: Maya bay.
Entry in Maya bay is now restricted so we just could see the bay from the distance and take memorable photos.
Fourth Stop: Phi-Phi Don
Snorkeling time :-). Snorkeling was a great experience and we saw many fishes and corals. After snorkeling, it was time for lunch. We sailed to famous Phi-Phi Don Island for our buffet lunch. The lunch spread was impressive with lot of options available for both vegetarian and non-vegetarians. Post lunch we explored the Phi-Phi Island and clicked few beautiful pictures.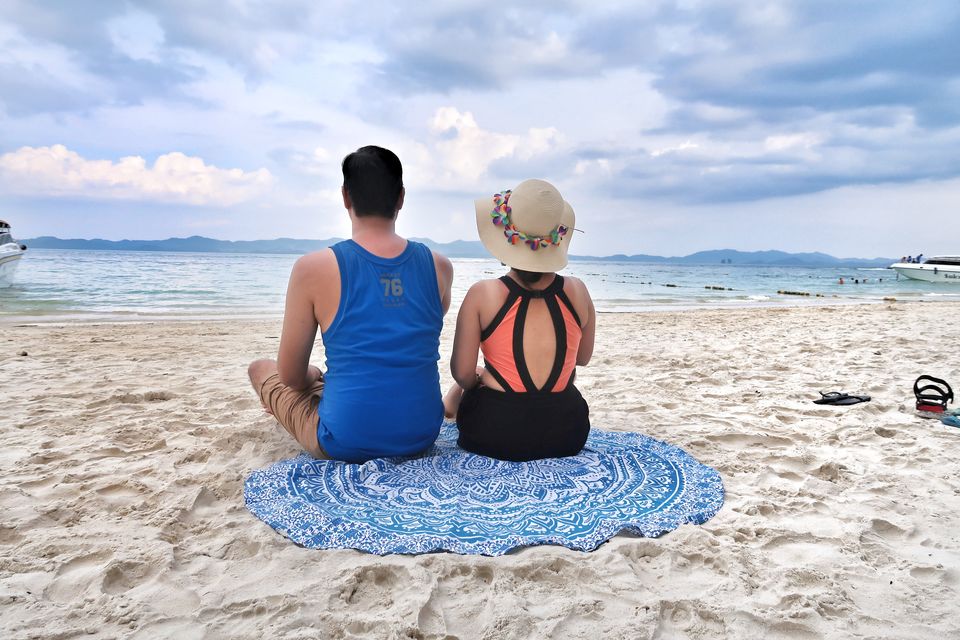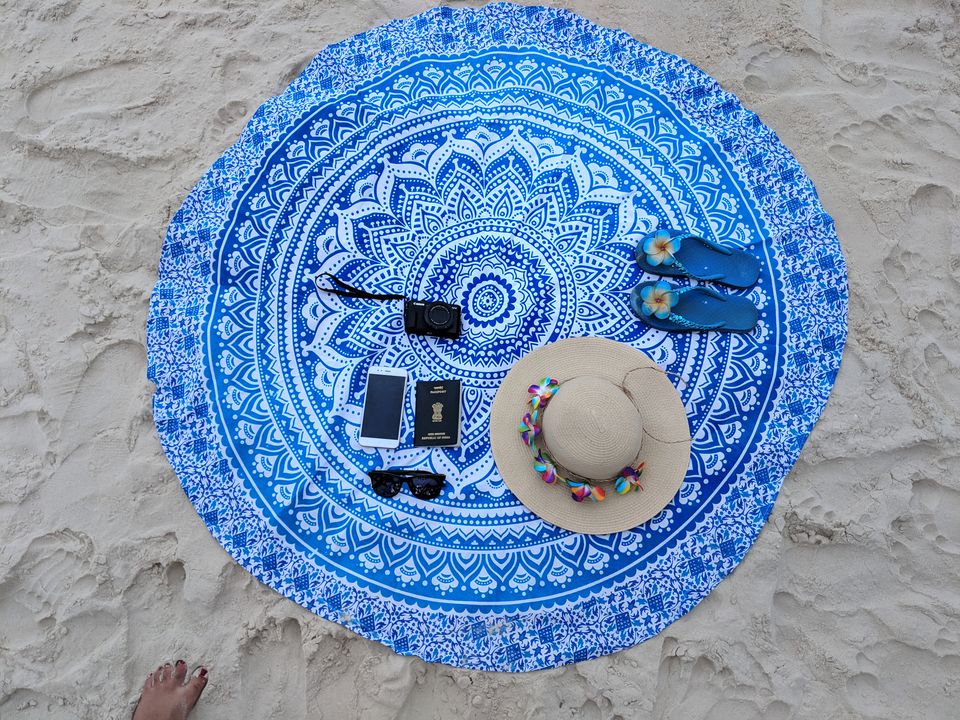 Fifth Stop: Monkey Beach
Monkey beach is a small beach and full of monkeys all around. The white sand and blue water is breathtaking. Beware of the notorious monkeys. Do not feed them.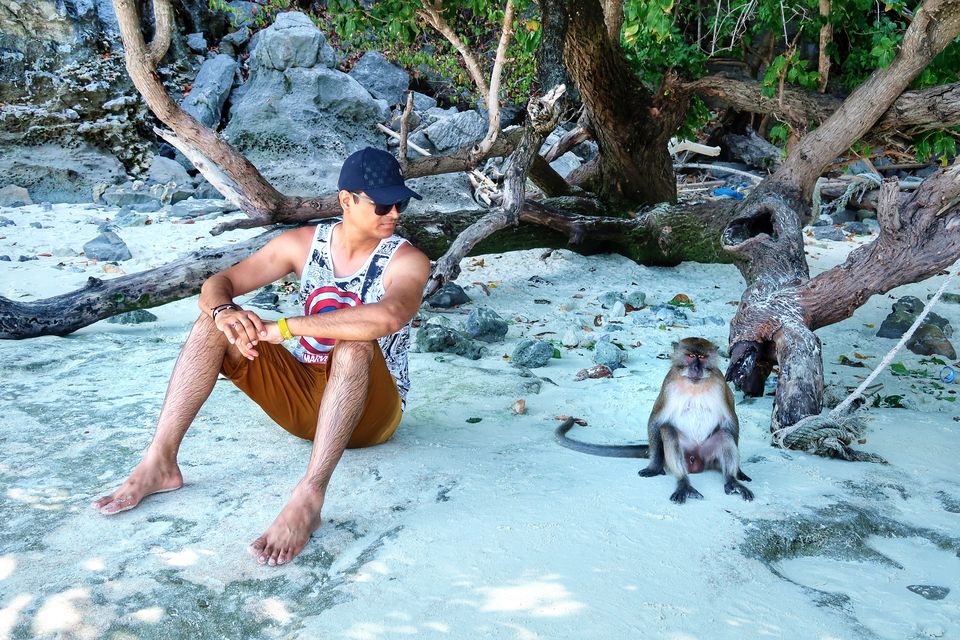 Sixth Stop: Bamboo Island
Lastly, we sailed to our final stop, the beautiful Bamboo Island. Here we just sat, hand in hand and re-visited the moments of terrific day.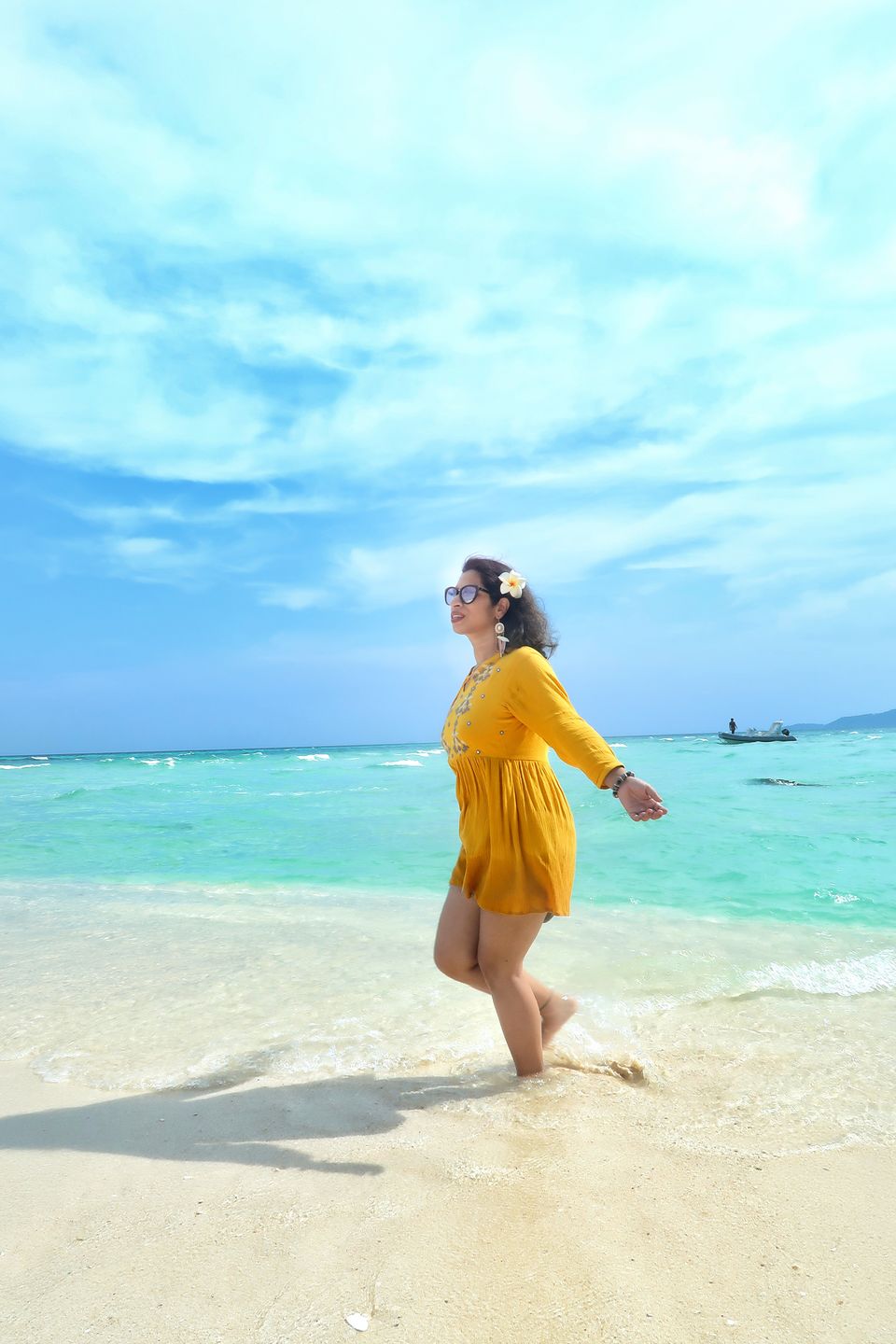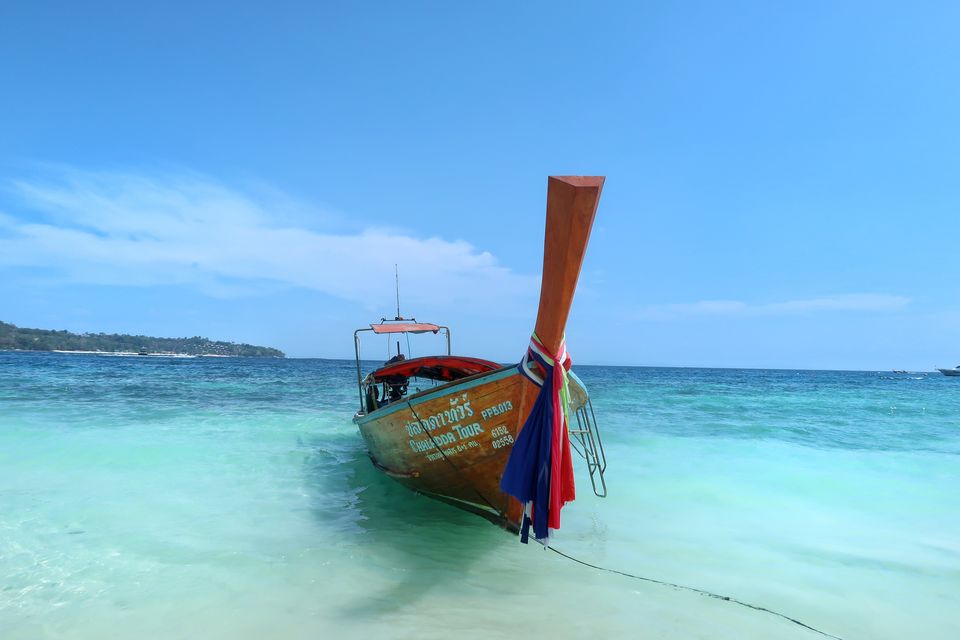 This tour was worth every penny. Krabi & Phi-Phi island are certainly on top of my list for the most romantic destination. This tropical paradise definitely re-ignited the fading romance and gave us ample time to Re-wind, Re-discover and Re-connect our love after 5 year of our marriage.