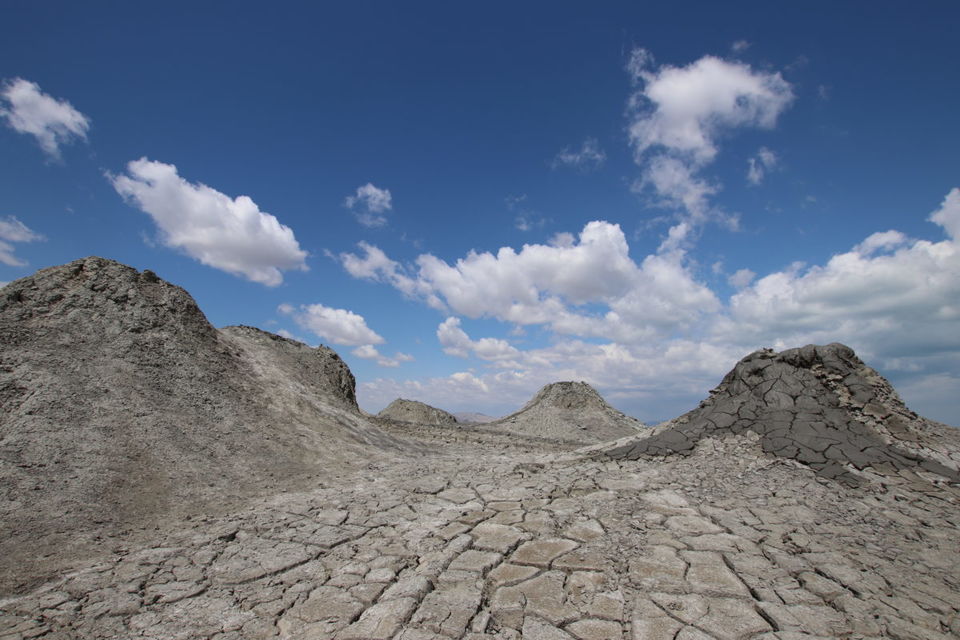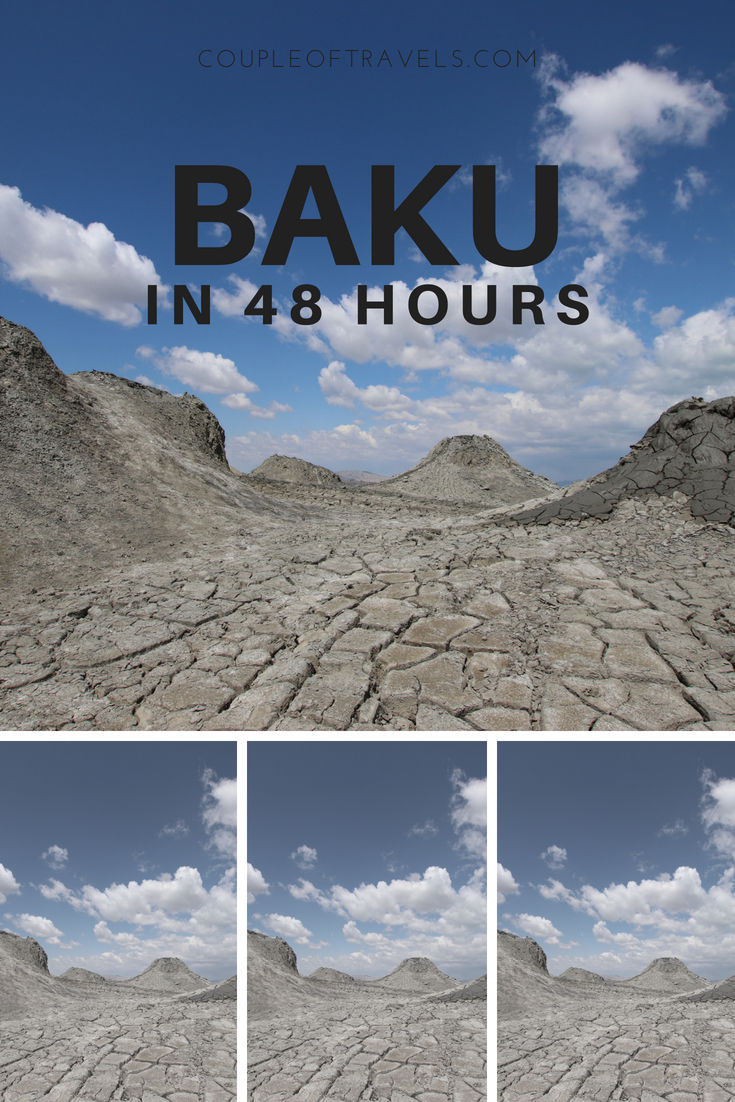 The capital city of Azerbaijan, Baku is the perfect example of a seamless blend of the East and the West. Numerous skyscrapers on one side and a charming old town with Soviet Era influences on the other, it is popularly referred to as the lovechild of London & Dubai. So if you are fascinated by the Dubai Skyline and the iconic architectural horizons of London, Baku should definitely be on your list. Read on to find out how you can visit Baku in 48 hours.
We visited Baku in April which is still winter with temperatures dropping to 1 degree, overcast sky,occasional drizzles, nearly empty tourist attractions and a nearly empty flight.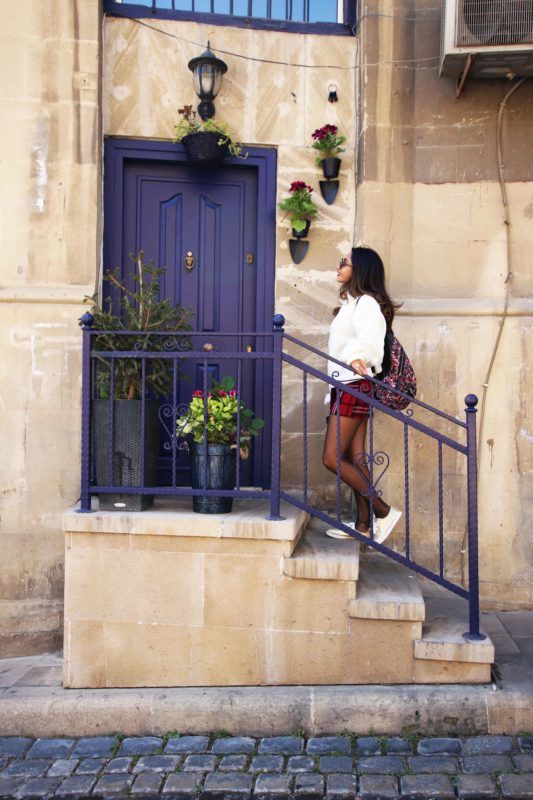 For the history buffs!
Baku lies on the ancient trade route that connects Central Asia with Europe. Baku was ruled by Shirvan Shah's of the Eastern Caucasus and was their capital in the 12th century. Later it was ruled by the Mongols, the Ottoman Empire, the Persians and finally the Russians before it became a republic.
This just goes on to show the richness of culture and heritage this city has witnessed and is part of.
How to get here
When you are looking for visa information, Wiki is your best bet. They keep the page updated and the information is accurate 99% of the time. Check visa requirements/apply . We were short on time and had a local tour company help us out with the visa's. It takes about 3 days for the electronic visa.
Wizz Air, China Eastern, Aeroflot, Turkish Airlines, Fly Dubai fly frequently to Baku. Check Skyscanner for the best deals.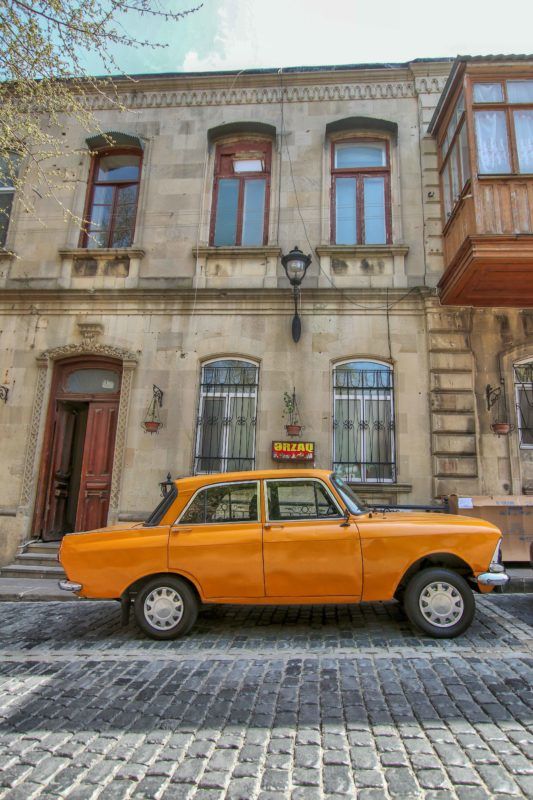 We have never felt compelled to talk about airports but Baku Airport is just amazing. We were taken aback by its splendor and easily could be one of the best and tastefully done airports we have landed in so far.
To all those who have travelled to Armenia before this trip, be prepared for a lot of questions at immigration. Azerbaijan and Armenia has been in conflict for a very long time and all shared border between these two countries remain inaccessible.
Cabs are quite expensive here specially the traditional black London cabs.. There is a 24 hour shuttle bus from the airport to 28May tube station at the city center every half an hour. It costs only $1 per person and cash payments are not accepted. Instead you have to buy a Bakikart, a multiuser card costing $7. The card machine is right outside the airport.
Once in Baku, the best way to explore the city is by foot. Driving along narrow roads with bumper to bumper traffic is definitely a bummer when on a vacation.
Where to Stay
We stayed at the Boutique Hotel Baku which is just a 10 minute walk from 28May tube station. The hotel is located in a quite neighborhood, with plenty of eateries and supermarkets and the Old Town and fountain just a short walk away.
How to Explore Baku in 48 Hours!
Day 1 Gobustan / Yanardag / Ateshgah
Gobustan- Mud Volcanos
You can either book a tour or just hire a car to visit these places. If you do not prefer fixed time schedules, go for a private car tour and have the luxury to tailor make your itinerary. On another note, its best to have a head start of your tour and beat the crowd. Haggling is a must here as tourist prices are insane. Our first stop was Gobustan, which is 1.5 hours drive from Baku. To visit the mud volcanos in Gobustan, you will need to switch cars at the pick up point near the Gogustan entrance to the great Lada- (Russian's gift to auto world.) The terrain from there on is very rough, so be prepared for the ride ahead.Touring Central Asia has given us newfound respect for this car. It is a beast on the most unimaginably rough dirt roads, literally flying over bumps- (True story! The birds in Gobustan bear witness)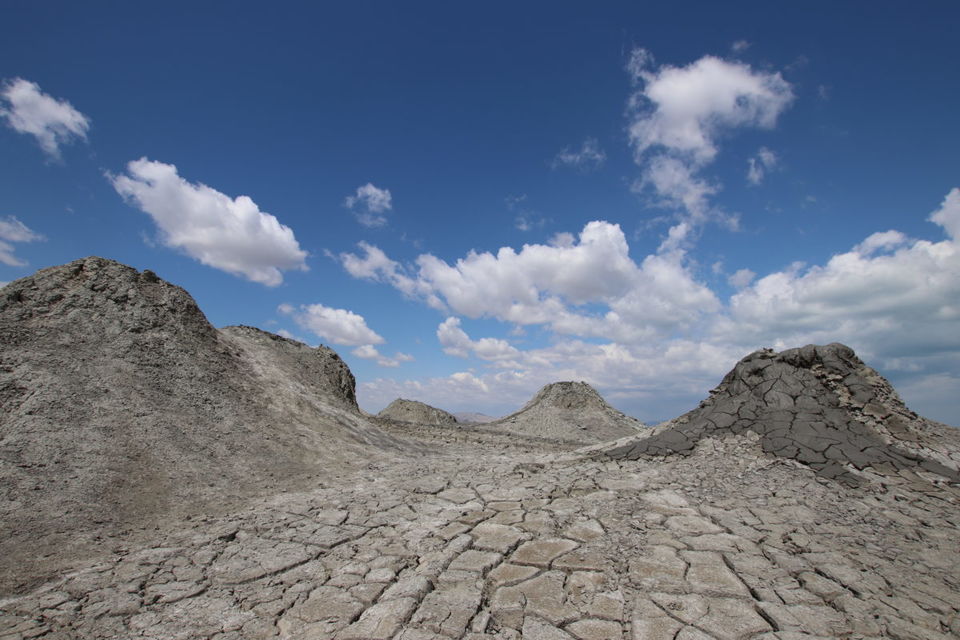 Gobustan's mud volcano is a natural phenomenon you must experience. Its bubbly, messy and explodes very often. Keep your face near it and you might be splattered in mud which incidentally is good for your skin. Gobustan Mud Packs anyone?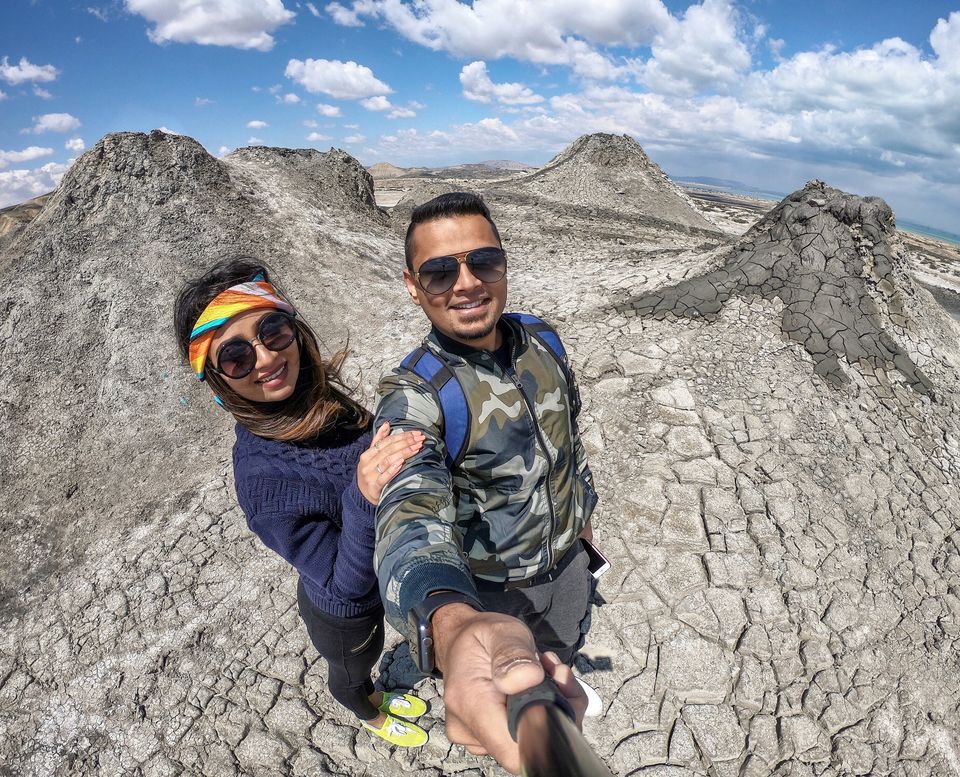 Near the mud volcanos is the Gobustan National Park, which is famous for its rock engravings and petroglyphs and is also a UNESCO Heritage site. The petroglyphs that you will see repeated multiple times is that of a long boat which strangely resembles viking boats.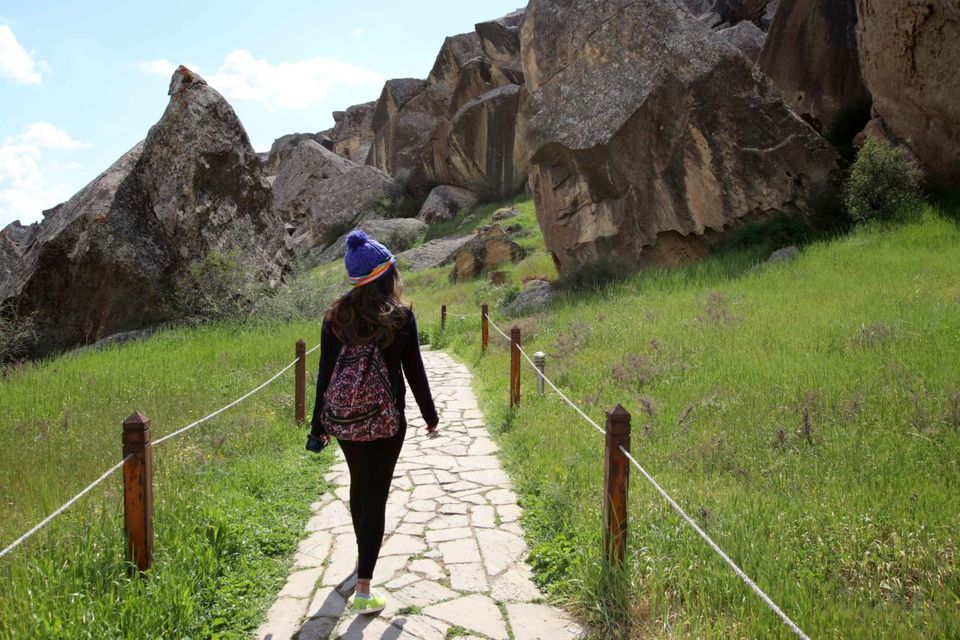 According to Norwegian mythology, the Scandinavian god Odin moved with his people to Norway from a land called Aser. Historians have been able to draw many similarities in the description of Aser with Azerbaijan.
Vikings were from Azerbaijan?? Truth or Myth?
Ateshgah- A Hindu Temple in the middle of Eurasia
Built according to both Zoarashtrian as well as Hindu traditions, this used to be a place of worship frequented by Indians traveling through the legendary trade route that connected Asia with Europe. Abandoned in the 19th century, Ateshgah is now a musuem devoted to real life representation of the old traditions and lifestyle. We thoroughly enjoyed the displays here.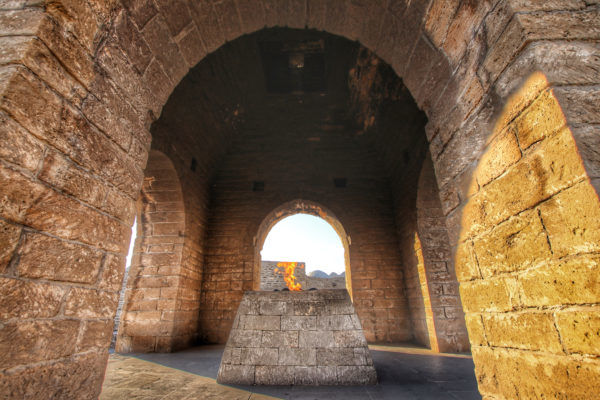 Yanardag- The burning mountain
Yanardag is located on a natural gas pocket causing continuous flame eruptions. Though an interesting phenomenon, don't expect something extraordinary. We imagined it to be a large area engulfed in fire, but in reality it was a small patch. As we travelled in winter, the feeling of warmth was amazing but that's about it.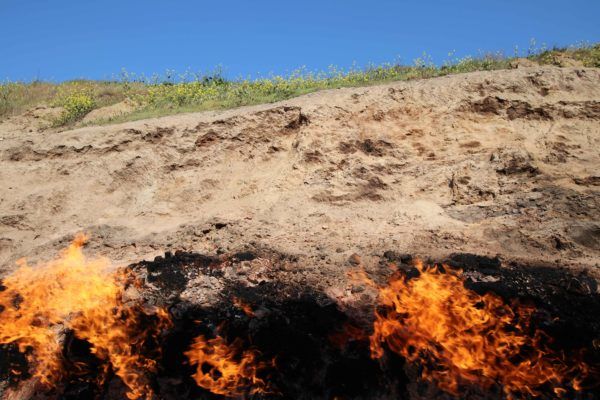 You should plan this visit close to evening as it will look more grander after sunset.
After a long day, time to kick back and enjoy the evening with Dolma's, Kebab's, Pilafs, Paklava and house special Pomegranate wine. Check out the must try .
Fancy a Caucasian road trip? Read more here!
Day 2 Old Town
Start off the day with a typical Azeri breakfast at one of the many cafe's. Azerbaijan is known for its jam. Be sure to try it for its unique flavors.
The medieval walled town of Baku is the very few surviving medieval towns in Azerbaijan. Dating back to the 12th century, once you enter the walled gates, you are transported to a different historical era, a different world.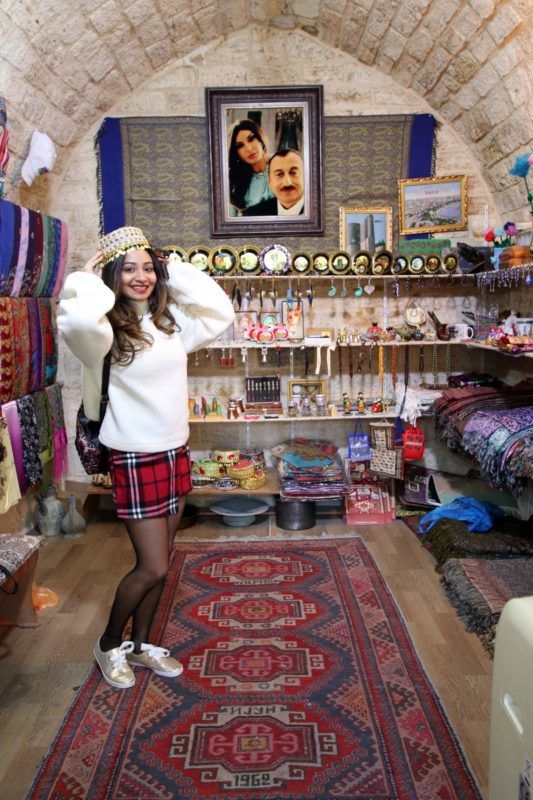 Be sure to visit the quaint cafes here and shop at the many trinket and tapestry stores. Take in a bit of history by visiting the Maiden Tower and Shirvanshah's Palace & Musuem as well.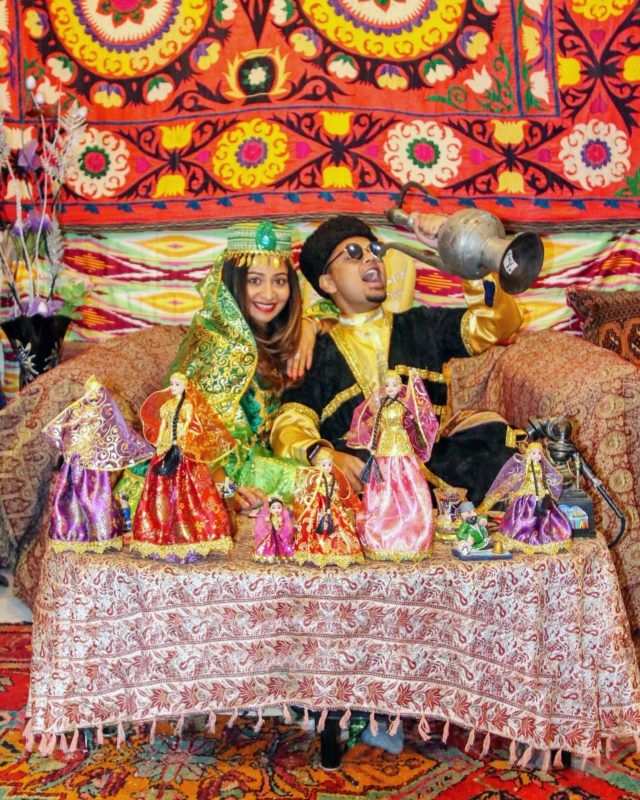 Finish off the tour by early evening and give your tired feet some well deserved pampering by going to a Azerbaijan Hamam. The hamam culture here has a very interesting history and these traditions may have travelled far and wide to the other countries connected by the trade route.
If you are planning a longer vacation in Azerbaijan,its best to spend two days in Baku and reserve the rest of your holiday for the country side of Azerbaijan.