This post talks about the actual entry itself to the Baku Heydar Aliyev International Airport for Indian ordinary passport holders.
Background
On enquiring you many find that Indians supposedly get e-visa entry to Azerbaijan, it may sound complex but everything is smooth when you plan your trip correctly. Just like any other traveler, I too was worried about the entry requirements for Indian citizens to Azerbaijan. Having read many of the horror stories online, I did spend much of my time planning for trip, collecting as much pre-hand information I could. There was a post online which said Azerbaijan is 2nd on the list for deporting Indians from Heydar Aliyev International Airport. I constantly had nightmares on what if this happens to me? Will the border control staff let me explain my point, or just be cold towards me? Anyway I booked my tickets from 26th March 2018 to 9th April 2018, hotels too and then waited for the big day to board my flight. BTW this trip was made mid-March 2018.
E-Visa Process
I registered my email on the official e-visa portal of the Republic of Azerbaijan.
Here is the link to the official e-visa website https://evisa.gov.az/en/ , On completing the details at the end of the form, you would need to provide your accommodation details. I took extra precaution while filing this section as I didn't wanted to take any risk of proving false information. I checked with the hotels online, confirmed their availability during my proposed travel dates, before completing my visa form. Once I was done with the details, I paid 20 USD as e-visa fees. It normally takes 3 working days to get decision on your e-visa. I haven't met anyone who's e-visa was rejected. It might happen if you provide incorrect details or have traveled to the disputed Armenia- Azerbaijan region of Nagorno-Karabakh.
I submitted my e-visa application on Sunday, and by Monday morning I had my approved e-visa in my inbox.
Be very careful while filing your e-visa for. It's always best to cross check every single details
Entry formalities
At check-in counter in Chennai as well as during transit flight change in Sharjah, there were no issues. The Air-Arabia airline officer at Sharjah airport merely asked for the copy of E-Visa and return ticket.
Upon landing at Baku, Heydar Aliyev International Airport, came the final moment that would decide the fate of my trip. Basically this is what happened
While exit from the aircraft, I proceeded straight to the formal Immigration counter. I was ready with the pre-arranged travel documents (copy of Evisa, return flight tickets, confirmed hotel booking, latest bank statement, travel insurance, itinerary etc). The officer at the counter took my passport scanned it over her system and asked me to look at the camera.
The female officer questioned…
Is this your first time in Azerbaijan?
Yes.
What is the purpose of your visit?
Tourism.
How long will you be staying here?
14 days and on 15th morning I have my return flight.
Are you working?
Yes
There were no further questions. Apart from my passport, copy of e-visa and return air tickets she didn't ask for any other documents. She stamped my passport and handed over to me.
Registration with the State Immigration Services
Please be aware that any foreign traveler entering Azerbaijan with the intention to stay more than 10 days, needs to get registered with the State Immigration Services. Thankfully this is done online by the hotel for you. It's best to check with the hotel before booking.
In my case as I was staying for 2 weeks, the hotel staff on my arrived registered me with the State Immigration Services. They just scanned my passport and got me registered.
Exit formalities
IMPORTANT: Its best to carry a copy of the registration with the State Immigration Services. I had requested the hotel to email me the copy of my registration as well as hand me a hard copy. I read stories of tourists stopped at exit if the authorities are unable to reconcile their stay with the State Immigration Services records. Fines are levied on both the visitor and the hotel for failing to do so. As the status of your registration is available online, the officer may not ask you to show the copy of registration. But its best to carry one to be on the safe side.
Here is my entry and exit stamp :D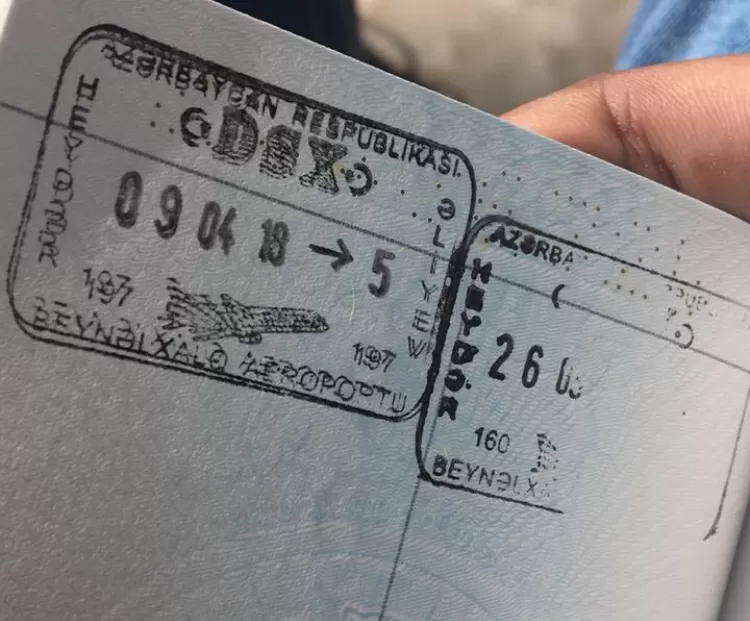 General Advice while at the immigration counter:
1) Be polite and always greet the officer with a smile.
2) Listen carefully to their questions and answer clearly.
3) Don't be super sensitive and assume without evidence that you are treated badly for your appearance, color or nationality. They have a tough job to do already. State your case politely and with a smile.
4) Young, single, working age passengers or students, better be prepared for extra set of questions. Your very profile puts you in a tougher situation. This may be true of any immigration, not just Azerbaijan.
5) In any case, keep Hotel booking, return tickets, medical insurance, itinerary printed out and ready to show. You are very unlikely to be a genuine tourist without all of these anyway.
6) Go there as genuine visitor and for God's sake please don't ruin it for other Indian travelers.