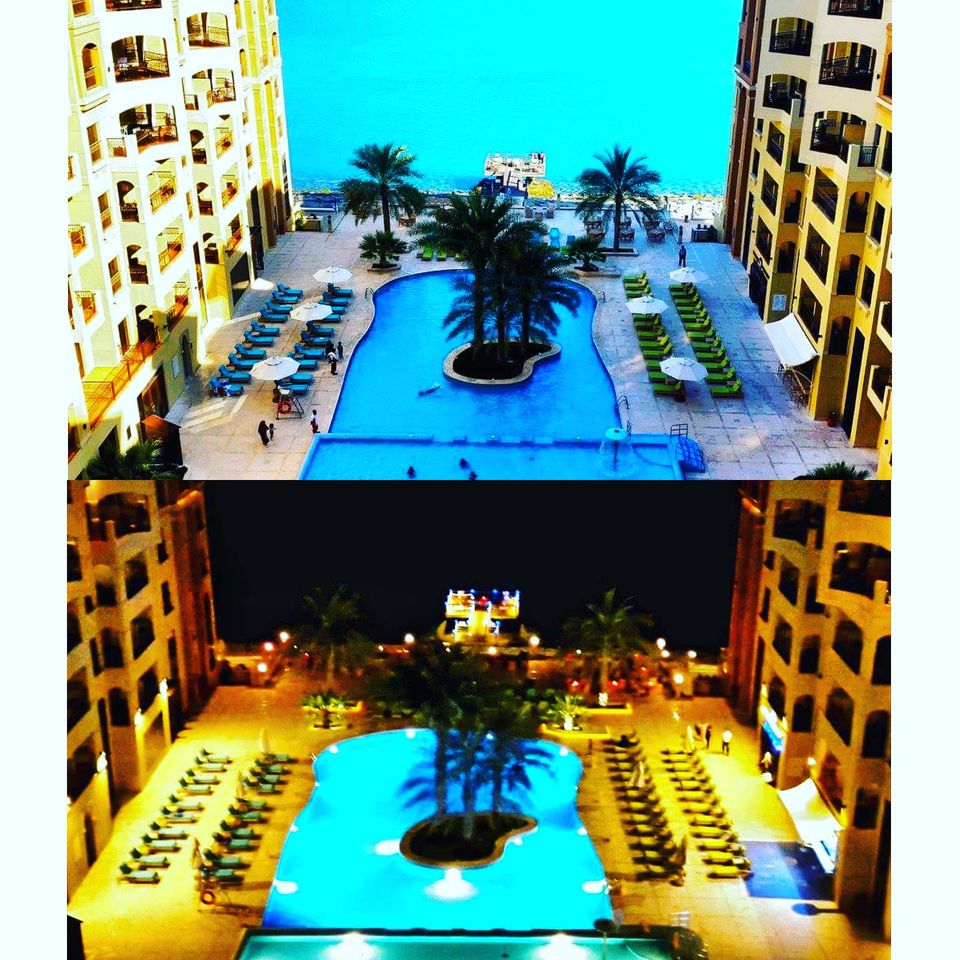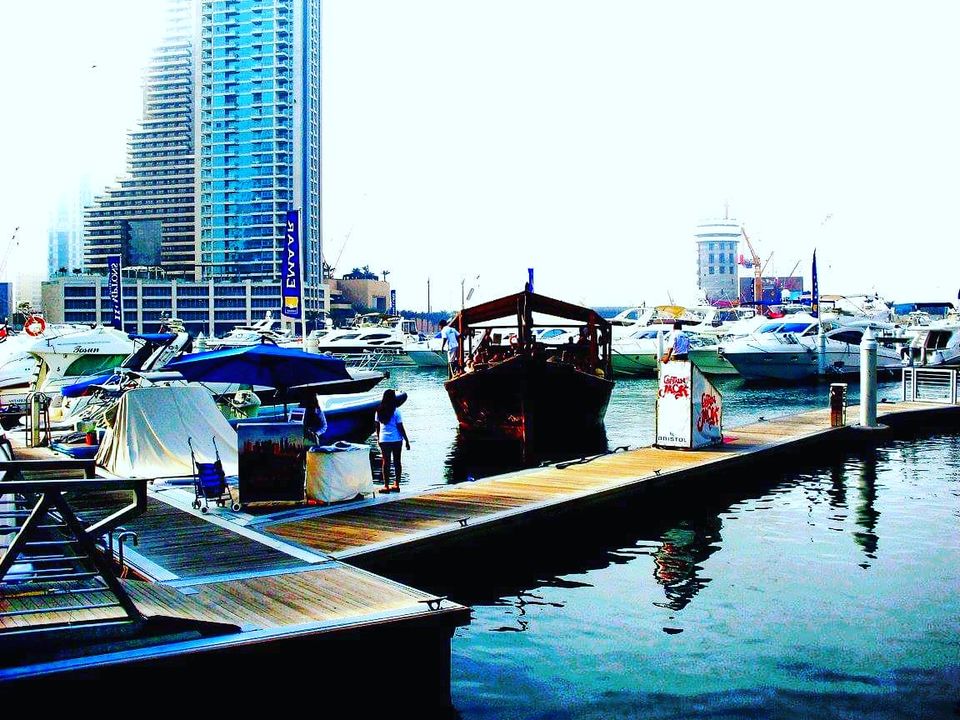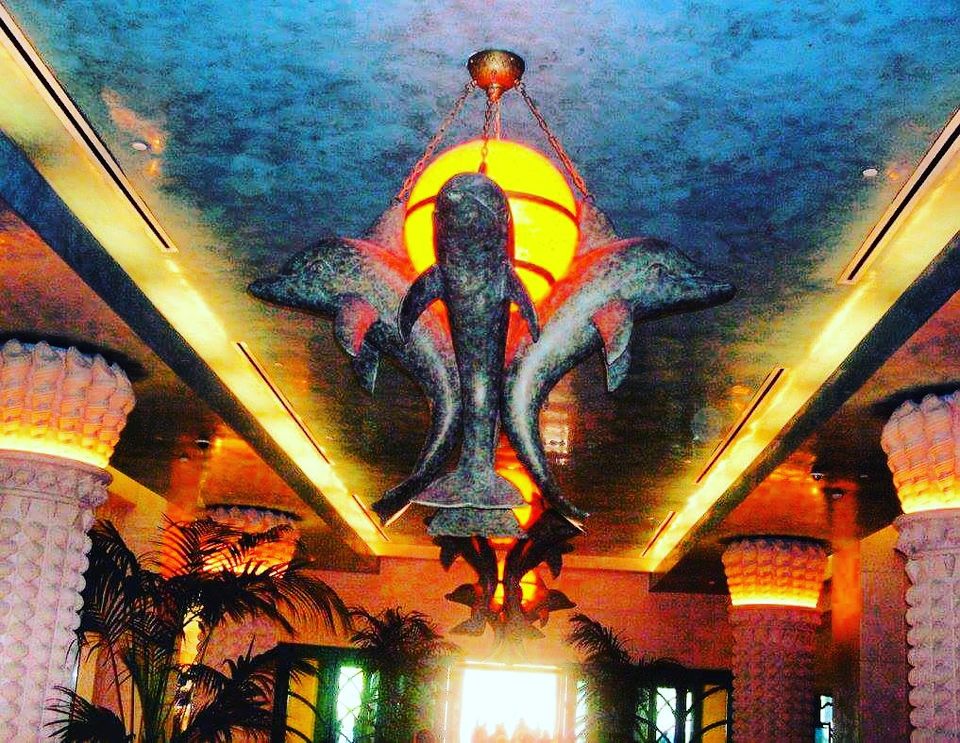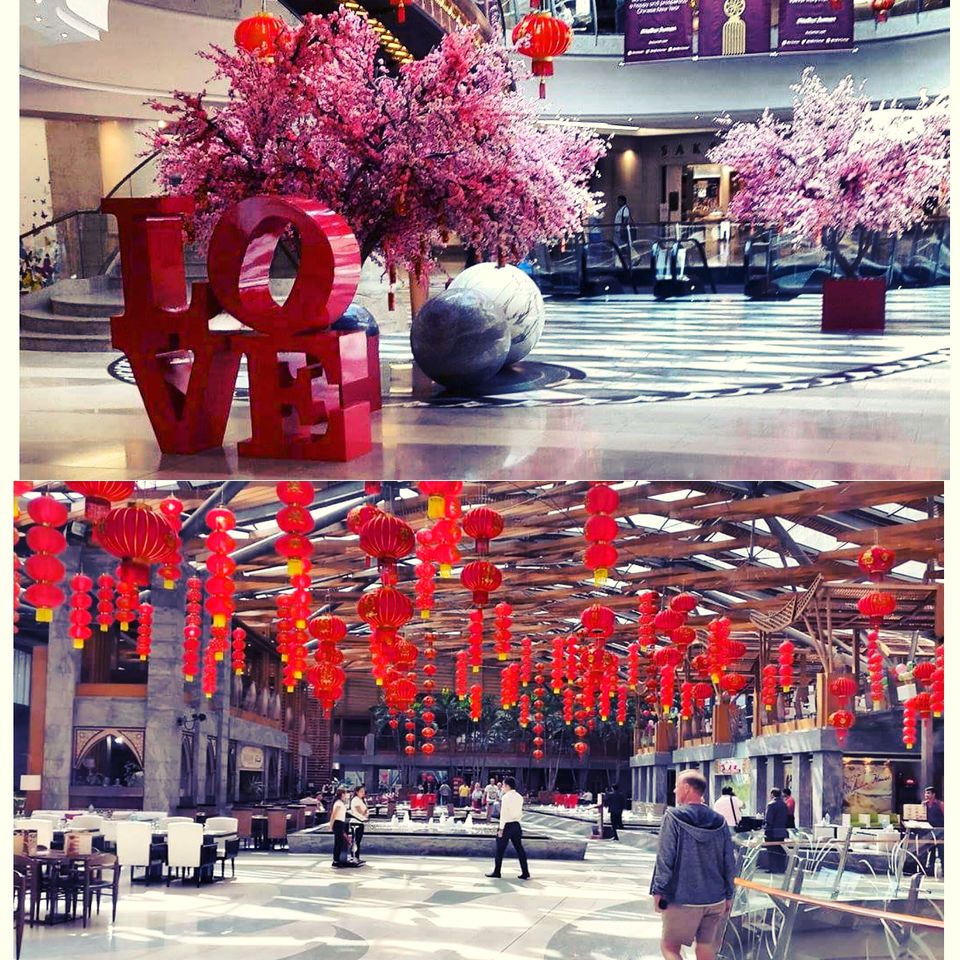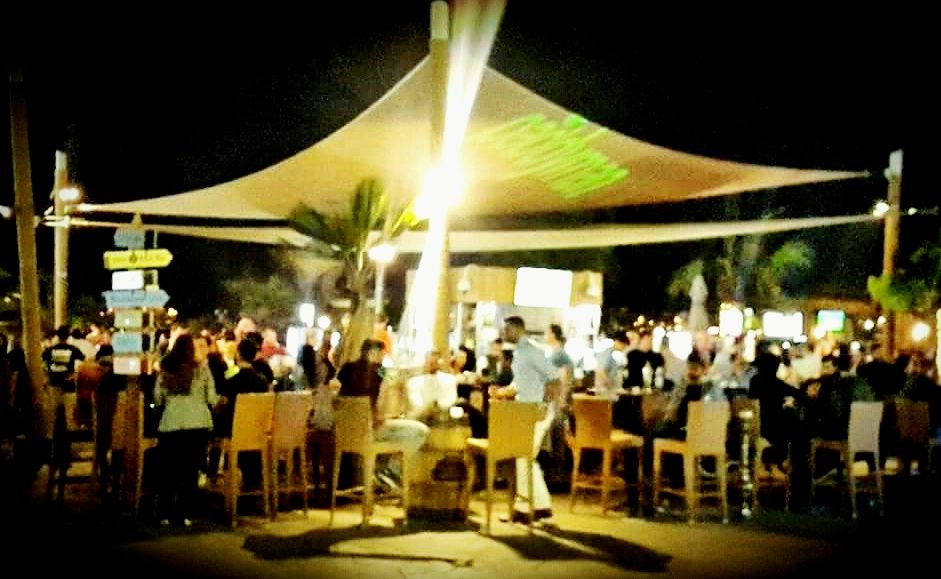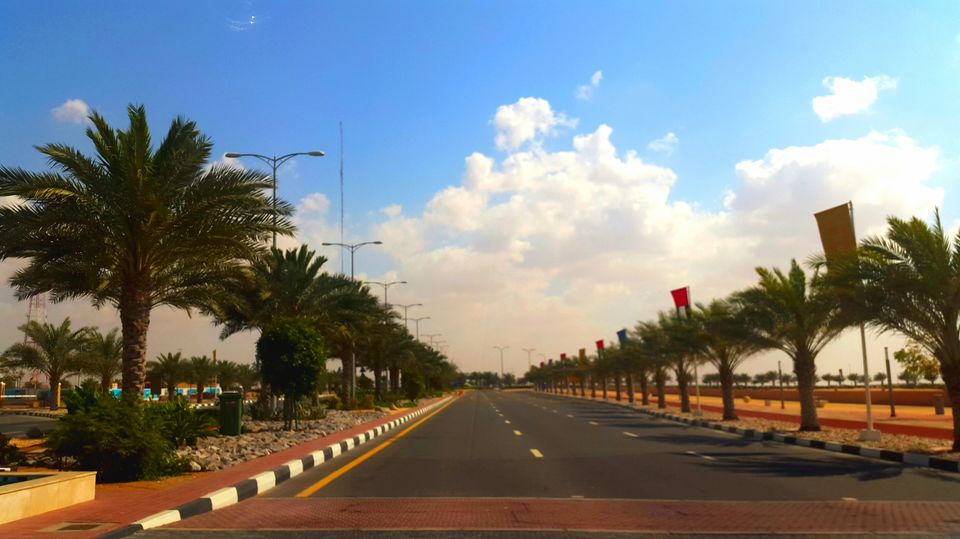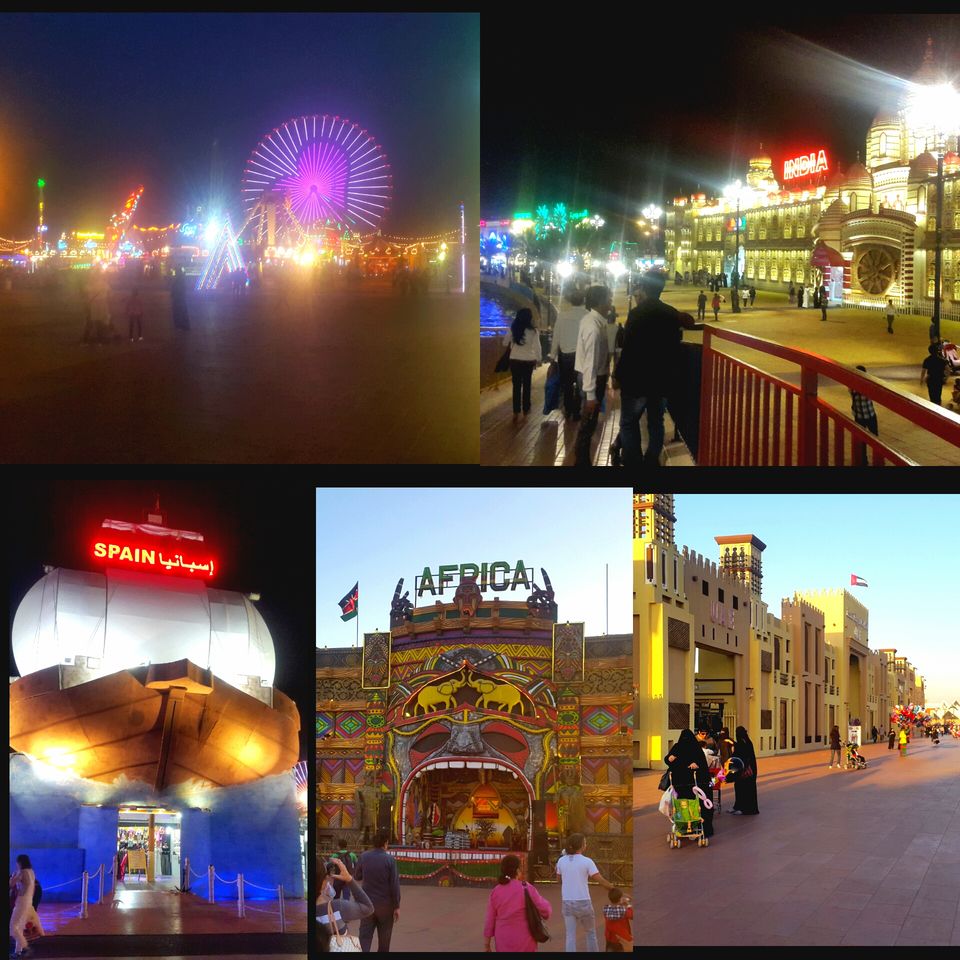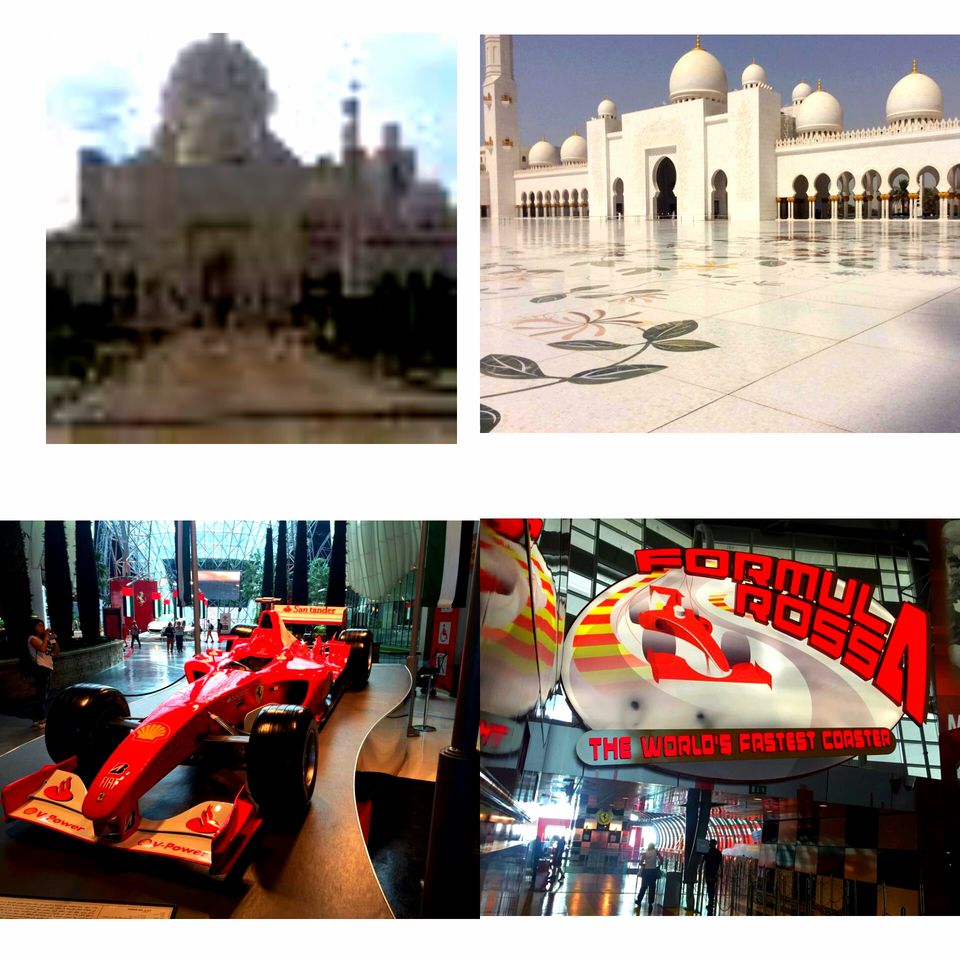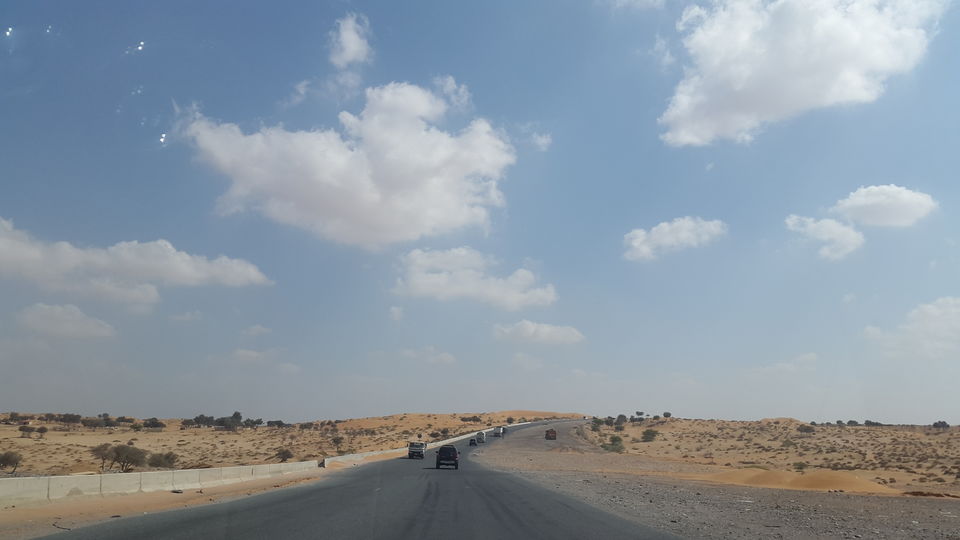 Dramatic, Dynamic, elegant, hot, art-conscious, wonderful sky scrapers are some of the adjectives that best describes Dubai! This wasn't my first trip to Dubai but was one of the best trips to Dubai. It was a weeklong trip but each time you visit Dubai and you discover something new. Dubai's ever changing nature always fascinates me and attracts me to travel again and again.
Apart from visiting malls, gardens , desert safari etc this time we went to Ras al Khaimah one of the emirates, not as huge a Dubai but a nice and peaceful place to visit.
Day 1
Afternoon we landed in Dubai after having our lunch and resting for a while we went to global village, this place is like travelling the world- all in one huge place! It has different sections representing different countries with each country having food stalls, clothes, accessories etc, for sale specialty of that country. The place is huge - you will need at least 4 to 5 hours to see the whole place and get some great bargains a must visit if you are visiting Dubai between November to February. It's an experience in itself.
Day 2
Today was a day for some adrenal rush and some thrill, Ferrari World in Abu Dhabi one of the world's largest indoor theme park, there are a lot of rides and interactive games for both young and adults. This is a bit of a must do for all racing fans. They also have basic and advanced driving simulators. The basic simulators are included in the ticket but you need to fork out an additional fee for the advanced simulator. There are also other rides specially designed for little children. There's also a Ferrari museum, Ferrari gift shop and everything related to Ferrari you can think off.
Later we Visited Sheikh Zayed Grand Mosque Centre, The structure is simply marvellous and the decor one of the most sophisticated. The details and the finery are sure to make you say 'WOW' repeatedly!! The marble work, stained glass work and pillars are works of art par excellence. The iconic landmark of Abu Dhabi is really amazing.
Kamat is one place which never disappoints, so we planned to have Dinner in Kamat in Bur Dubai quality clean vegetarian food at the most reasonable price, it's usually crowded but weekends are too crowded and one might have to wait for 20- 25 Minutes.
Day 3
Obviously your trip to Dubai would be incomplete unless you visit some of the malls. It's having one of the best, biggest and breathe-taking malls of the world. It's not just about shopping but the architecture and the grandeur is marvellous like Dubai mall, Mall of Emirates... You can't complete seeing even a single mall in a day they are humongous. Dubai Fountain, Aquarium in Dubai mall and Ski World in Mall of Emirates are must do.
Evening we went to Meena Bazaar feels like an Indian Market... Good for Gold /Jewellery, Perfume, Replica accessories etc if you looking for some good bargain... this is the place.
Night life in Dubai is out of the world, there are various options, its heaven for party lovers catering to just about every taste, budget and age group. As I love partying it was time for me to hit some lounge. Chill Roof top lounge At Royal Ascot Hotel a chilled out lounge in the heart of bur Dubai (good news for ladies they have Ladies night on Tuesday, that means drinks are free for them), It's on the roof top and on Tuesday they usually play Bollywood tracks so was feeling at home. It was buzzing with energy, the ambiance is insane, the music, the drinks and the food is good.
Day 4, 5 and 6
Next Afternoon we left for Ras al Khaimah, it is the UAE's northernmost emirate, one and a half hour from Dubai. Where one side surrounded by turquoise blue gulf sea and on the other side is the spectacular mountain range called the Ru'us Al Jiba. A array of activities available for everyone from just having a relaxing and lazing around holiday near the sea or in Spa to having your adrenal rush with water sports, camel race, helicopter ride etc.
Marjan Island a manmade Island in Ras Al Khaimah near Blue and beautiful gulf sea, It's totally a contrast to Dubai not much of traffic and noise, very peaceful and serene. We checked in our Hotel Marjan Island resort and spa, beautiful property (Ask for top floor rooms facing Sea and Pool, mesmerizing view). Resort is huge with lot of indoor and outdoor activities, for all age. It was a three days perfect nothingness holiday. It's a dry Resort doesn't have bar but you can carry your own liquor and have it in your room.
First day we had our Lunch in the resort itself, as a vegetarian there were not much of options, so next day we planned to have lunch somewhere else; we went to Yellow Chilli in Al Naem Mall a decent place.... But food and service is very good! It was my aunts birthday and they served us a nice dessert to celebrate her birthday... it was a pleasant surprise and a good thought.
If you are in Ras al Khaimah do buy Liquor from here you won't believe but most of the liquor are comparatively cheaper than duty free ( there's one liquor shop behind Spinney's in Al Hamra Mall )
Ras al Khimah is a great place to visit only if you have lot of days or if it's not your first trip to Dubai.
After our three days relaxing holiday we reached Dubai in the afternoon and had our Lunch at Maharaja Bhog Restaurant they have two options Thali or Buffet, we opted for Thali, it was ok not up to the mark and service wasn't that good.
It was my last night in Dubai, Almost everyone in Dubai seems to have an agenda of going to Barasti beach Bar, I have also been wanting to go there, so today we planned for it. One of the Best party place in Dubai, party by the beach, they also have live bands on weekends. They have several seating areas, and the one near the beach is the most comfy one. This place rocks and a must go for all party lovers.
It was too late and we were dead hungry there can be no other place than Al Mallah Cafeteria in Bur Dubai, No fuss, no frills, is open till late so best place to have yummy food after a party!! The food is good and reasonable! The falafel, hummus, green salad etc was awesome.
Day 7
Today it's time to bid adieu to Dubai one of most Dramatic and Dynamic places, has something to offer to everyone.
It always sad to say good bye, But I am sure will be visiting again.
A usual Dubai Trip Itinerary should be (For First Timers):
Day 1: Relax and visit Miracle Garden, Dubai Museum etc
Day 2: Dessert Safari
Day 3: Burj Al Arab, Atlantis (Atlantis can take a whole day as well if you want to go to water park etc), Marina Walk (By the sea, yachts around and lot of Restaurants), Madinat Jumeirah (a lake is spread across the hotel you can travel through boat also to go to Different restaurants, sections etc) night you can end in Barasti, all are located in same area.
Day4: Visit malls, Dubai mall (do see Dubai Fountain and Aquarium) and Mall of Emirates (Ski world a must do here)
Day 5: Abu Dhabi – Ferrari World and Sheikh Zayed Grand Mosque Center
Day6: Gold Souk, Spice Souk, Dubai Creek and Burj Khalifa
Day 7: Relax and bid Adieu to Dubai
Must do in Dubai:
Desert Safarior Dune Bashing
Dubai fountain and aquarium (Dubai Mall )
Ski world (mall of Emirates)
Global Village (between November to February)
Dubai Aquarium & Underwater Zoo (Dubai Mall)
Ferrari World and Sheikh Zayed Grand Mosque Center (Abu Dhabi)
Burj Khalifa
Explore Jumeira beach area (Marina , Madinat Jumeirah etc)
Tips:
Clothing
Avoid Shorts. If you travelling between December to February Dubai do carry jacket nights are cold. Carry Sunglasses and Comfortable shoes as you have to walk a lot.
Commuting
Dubai can be explored using the Dubai Metro Train easy accessibility and cheaper option. Taxis can be little expensive but if you wanna party till late you have to take one as metro works only till 12 am (Mid night
Stay
Jumeria beach Side is a up class area with all Luxury hotels but one of the most happening areas. Bur Dubai you can find Decent and Economical options. All are well connected with Metro.
Drinking
Drinking or being drunk in public is not tolerated and the legal drinking age is 21. You should only drink in a hotel.
Public displays of affection
Holding hands, kissing or gets cosy with your other half could lead to arrest and imprisonment.
Dhow Cruise:
Over hyped can be a miss
Night Life
Night life is out of the world, different options for different taste do explore and enjoy... Don't miss it!!
Njoy!!!
"Traveling – it leaves you speechless, then turns you into a storyteller."