When on the exciting process of planning that most awaited trip to the UAE, most of us get tickets to Dubai and back. Even more so, we are aware of only Dubai or Abu Dhabi because these two emirates are more commercialised and good marketing cannot be ignored. Though alongside glitzy high rises, malls and theme parks Dubai and Abu Dhabi has retained some culture and past to showcase the world like the beautiful Sheikh Zayed Mosque and the bustling souks, however there's nothing like going back to the roots of this desert life and taking a day off the itinerary to experience Umm Al Quwain which, till date stands a sharp contrast to the other more glamorous emirates.
Umm Al Quwain (UAQ) gives you a taste of UAE from it's pre-oil days. The retro Arabic feel to the place and its rustic infrastructure of sand dunes on either side of the roads makes for an amazing day trip from both Dubai and Abu Dhabi. It is believed that during the bronze age of 3000 to 1300 BC semi nomadic tribes inhabited the region, thus, the place also holds great architectural interest till date with major finds at the sites of Al Dour and Tell Abraq in Umm Al Quwain.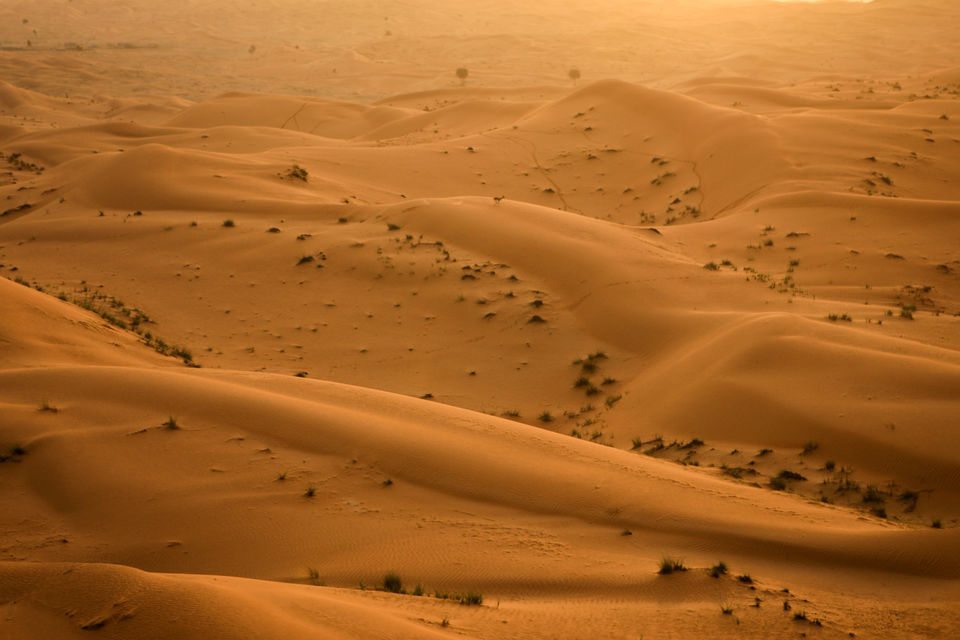 THINGS TO KNOW ABOUT UMM AL QUWAIN
• It is the least populated of all the seven emirates of UAE.
• The Emirate is run by a monarch and the royal family of Umm Al Quwain.
• DUBAI: 45 minutes by car.
• ABU DHABI: 2 hours by car.
• Best time to visit: November to March the temperature ranges between 27 ℃ during the day to 15 ℃ at night. During peak summer months the temperature can go as high as 50 ℃ during the day.
• Same as the rest of UAE the locals follow traditional Arab culture and the religion of Islam. It is a good idea keep in mind the guidelines and be respectful of their culture while travelling there.
• It is easy to get a local cab from Dubai and Abu Dhabi go to Umm Al Quwain or rent a car and drive there. Unlike within Dubai there are no metro infrastructure.
TOP 5 THINGS TO DO IN UMM AL QUWAIN
BIRD WATCHING
A memorable experience of watching migratory birds like heron, sea gulls, terns, plovers and especially beautiful flocks of flamingos in their natural habitat contrasting in their pink coats against the rugged landscape and blue water. These birds are easy to spot during November to March as they fly down to feed or nest. For birdwatchers Khor Al Beidah and many spots in east and south of Umm Al Quwain is the place to experience such wildlife. These shallow lagoons and mud flats make for the perfect home to these migratory birds before the temperatures start to rise in the region.
UAQ MUSEUM
To familiarise yourself with the roots of Umm Al Quwain just a drive down the dune laden roads to the town centre and the beaches is not enough. As mentioned before about the region being UAE's archeological paradise, the museum houses many artefacts from 1300 BC dug up in the region. The museum it self is a renovated fort that was an entrance to the old town of Umm Al Quwain.
WATER SPORTS AND ACTIVTIES
One of of the best places to get your adrenalin rush on and explore the region from it's waters. There are water activities like jet skiing, kayaking, windsurfing, paragliding and water skiing. Other than these activities there's canoeing and sailing through the calm waters to the scenic islands in the region and explore the famous mangrove swamp to encounter wildlife such as flamingos, turtles, crabs and flying fish.
ISLANDS OF UAQ
As mentioned, sailing or canoeing to few of these Umm Al Quwain islands separated with beautiful creeks like the Mandaar creek, are a great idea. On the east of the region these sandy islands are surrounded by marshlands with thick mangrove forest housing several wildlife in their natural Habitat. There in total seven islands and the three main ones are Al Sinniyah, Jazirat Al Ghallah and Al Keabe. And, the other small ones are Al Sow, Al Harmala, Al Cheweria and Al Qaram.
DREAMLAND WATERPARK
Recently UAE has become the hub for experiencing world class adrenalin rush at its many theme parks and Dreamland is the largest waterpark in the UAE, as well as one of the major tourist attractions. Just hour and a half drive from Dubai along with fun park features it has a spa like pool with a bar for relaxing.
To escape from the hustle and bustle of the swanky emirates of Dubai and Abu Dhabi, Umm Al Quwain will be a rewarding call if you'd like some peace, to drive down no traffic roads and experience soothing sounds of the waves while camping on their beaches. I many ways very opposite to Dubai.
For more stories and updates on my travel exploits follow @BohemianOnTheRun on Instagram.
Frequent searches leading to this page:-
top Dubai tour packages with price, Dubai hotels, places to visit in Dubai for kids, Dubai tour packages for family