Nestled amidst the pristine hills of Sikkim, Rumtek Monastery stands as a testament to spiritual devotion, architectural brilliance, and cultural heritage. As you step into this sacred abode, you'll find yourself transported to a realm where time slows down, and inner peace becomes tangible. Read on!
A Glimpse into History: Origins and Significance
The Legacy of Wangchuk Dorje
Founded in 1734 by the 9th Karmapa, Wangchuk Dorje, Rumtek Monastery has a lineage steeped in Tibetan Buddhism.
Its purpose extends beyond physical walls; it serves as the main seat-in-exile of the 17th Gyalwa Karmapa, Thaye Dorje.
The monastery's location was carefully chosen—seven streams, seven hills, a mountain backdrop, snow-capped ranges in front, and a spiraling river below—all harmonizing to create an auspicious energy that resonates with seekers and pilgrims alike.
Architectural Marvels: A Symphony of Colors and Forms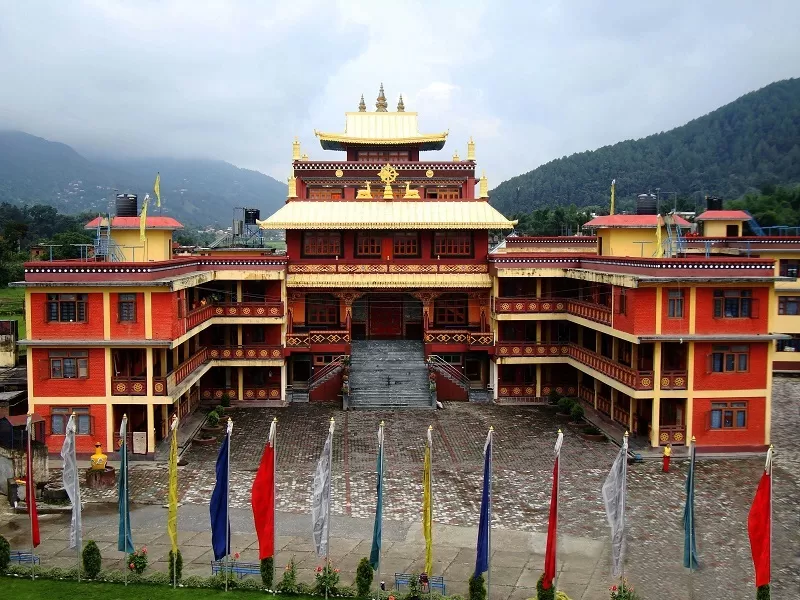 The Three-Story Wonder
As you enter Rumtek's main prayer hall, prepare to be awestruck. Murals depicting Buddhist legends adorn the walls, while thangkas—scrolls with intricate hand paintings—unfold stories of enlightenment.
The pièce de résistance? A golden stupa housing relics of the 16th Karmapa. Its sanctity demands silence and reverence.
The monastery's three-story structure reflects traditional Tibetan architecture—a vibrant canvas where spirituality meets craftsmanship.
Spiritual Center and Learning Hub: Where Wisdom Flourishes
Beyond Beauty: The Quest for Knowledge
Beyond its physical beauty lies a deeper purpose. Rumtek Monastery is not merely a tourist attraction; it's a hub for Buddhist studies and practice.
The Karma Shri Nalanda Institute for Higher Buddhist Studies, nestled behind the monastery's walls, echoes with ancient wisdom. Here, scholars from across the globe immerse themselves in scriptures, philosophy, and meditation techniques.
As sunlight filters through prayer flags fluttering in the Himalayan breeze, seekers find solace in both outer teachings and inner contemplation.
Beyond the Obvious: Unique Features That Whisper Secrets
Birdsong and Hidden Treasures
Did you know that birds play a role here? The monastery houses an aviary—a sanctuary for winged beings that adds to the spiritual ambiance. Imagine meditating to their melodious tunes!
Explore other features—the stupas that hold silent prayers, meditation retreats where time dissolves into contemplation, and hidden corners where seekers find solace away from the world's chaos.
When to Visit: Chasing Seasons Amidst Tranquility
A Dance with Nature
Plan your visit between March and June (summer) or from October to December (autumn). These months offer pleasant weather and clear views of the surrounding Himalayan peaks.
Avoid monsoon months when heavy rainfall can dampen your experience. Instead, let sunshine guide your path as you explore this spiritual haven.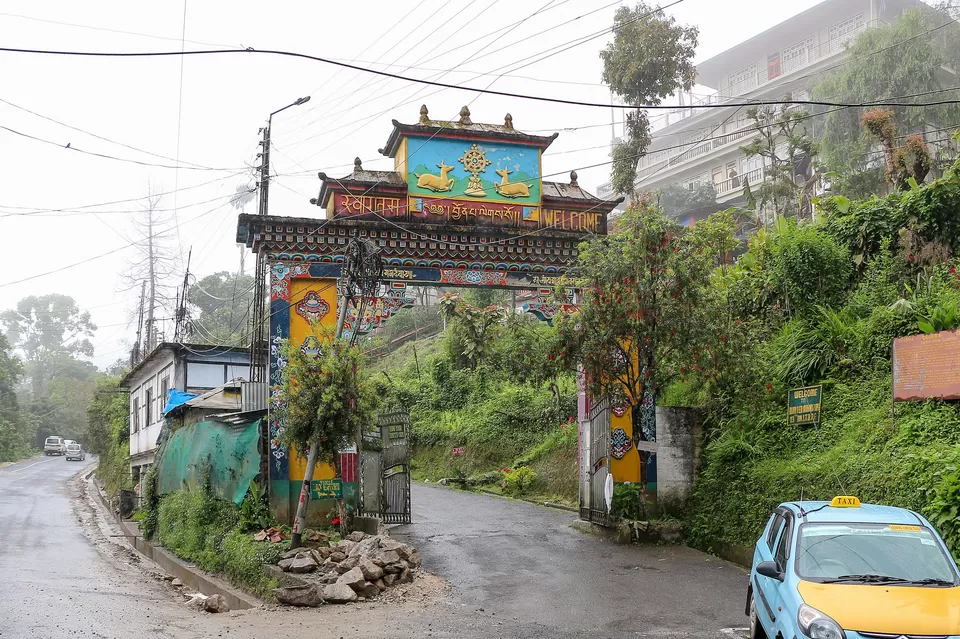 Journeying to Rumtek: Paths Less Traveled
The Road to Serenity
From Gangtok: Hire a taxi for the scenic 24-kilometer drive through winding roads that reveal glimpses of Sikkim's lush landscapes.
By Air: Fly to Bagdogra Airport and then embark on a road journey to Gangtok—the gateway to Rumtek.
By Train: New Jalpaiguri Railway Station connects you to major Indian cities; from there, let anticipation lead you uphill.
Other Places To Visit Nearby
Certainly! Beyond the serene walls of Rumtek Monastery, Sikkim offers a treasure trove of natural beauty and cultural experiences. Let's explore the enchanting places near Rumtek that deserve a spot on your travel itinerary: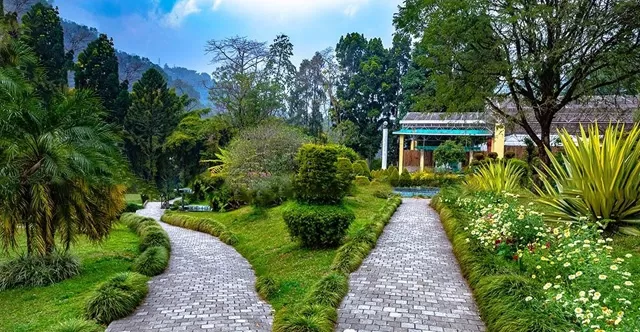 1. Saramsa Garden
Located just 2 kilometers from Ranipool, Saramsa Garden is a botanical paradise. Stroll through lush greenery, admire vibrant flowers, and breathe in the fresh mountain air. It's a perfect escape for nature lovers.
2. Black Cat Museum
Dive into Sikkim's history at the Black Cat Museum. Located in Upper Tadong, Gangtok, this museum showcases artifacts related to the Indian Army's elite force—the Special Frontier Force (SFF). Learn about their bravery and contributions.
3. Ranka Monastery (Lingdum Monastery)
A short distance from Rumtek lies the serene Ranka Monastery (also known as Lingdum Monastery). Surrounded by forests and prayer flags, it offers panoramic views of Gangtok and the Himalayas. Meditate in tranquility or simply soak in the spiritual vibes.
4. Tsomgo Lake (Changu Lake)
Venture further to the mesmerizing Tsomgo Lake, just 7.2 kilometers from Rumtek. This glacial lake, nestled at an altitude of 12,400 feet, reflects the snow-capped peaks around it. Visit during winter to witness its frozen beauty.
5. Namgyal Institute of Tibetology
Dive into Tibetan culture and history at the renowned Namgyal Institute of Tibetology. Explore its museum, library, and research center dedicated to Tibetan studies1. Don't miss the exquisite thangkas and ancient manuscripts.
6. Hanuman Tok
Seek blessings at Hanuman Tok, a hilltop temple dedicated to Lord Hanuman. The panoramic view of Gangtok from here is breathtaking. Climb the stairs surrounded by lush forests and feel a sense of serenity.
7. Banjhakri Water Falls
Just 8 kilometers away lies the enchanting Banjhakri Water Falls—a natural wonder surrounded by lush greenery. The cascading waters create a soothing melody as you immerse yourself in nature.
Remember, each of these places has its unique charm—whether it's spirituality, adventure, or scenic beauty—that adds to your Sikkim experience. So go ahead, explore beyond Rumtek Monastery and create memories that linger long after your journey.
Also check out: Sikkim – A stupefying journey in unpresuming photographs
Traveler's Etiquette: Respecting Sacred Ground
Silent Footsteps on Holy Soil
1. Seek permission before capturing moments through your lens; some areas are off-limits for photography out of reverence.
2. Dress modestly; remember that anything above the knees is considered disrespectful within these hallowed walls.
3. Women should avoid physical contact with monks—an unspoken rule that honors their spiritual commitment.
4. Smoking is strictly prohibited within the monastery premises; let incense be your fragrant companion instead.
You may also like to check out: Rumtek Monastery - A Must Visit in Sikkim!
As you leave Rumtek Monastery, carry with you not just photographs but also a sense of tranquility—an intangible gift from this spiritual gem. Let its ancient walls whisper timeless truths as you explore the path within yourself.
Whether you're a seeker or simply curious about life's mysteries, Rumtek invites you to pause, reflect, and find solace amidst prayer flags fluttering against an eternal Himalayan backdrop.