The most exciting part of our marriage was the late-night discussions on planning our honeymoon destination which started quite a few months before the wedding date which was 30th Jan, 2019. After several rounds of sleepless nights and 'cute' fights on deciding our destination, we finally agreed mutually for Goa.
Well, I do understand selecting Goa as a honeymoon destination would sound cliché for many, but honestly, it turned out to be the best decision for us. Although it was the 8th time for Chirag (my husband) and 2nd time for me, he was equally ecstatic for the trip as Goa happens to be his all-time favourite destination and having his soulmate as his companion was like cherry on the top!
The Journey – How It Began
Since it was a peak season, getting a confirmed train ticket was like a dream, but we were lucky enough that our tour operator could manage tickets for a luxury bus. It was a one-night journey with over 2 stops (somewhere near Lonavala and Kudal). We boarded our bus at 7.45 pm from Vashi and our countdown to reach Goa ticked off!! Next day, 9 am we were in Mapusa bus stand from where we hired a prepaid cab (cheapest we paid in our trip) to reach our hotel Ginger Tree Resort located in Candolim.
Exploring Candolim and Baga Beach
After a settling our luggage and eating a wholesome breakfast, we were all set to start the day. We walked up to Candolim beach which was a walk 1 km from hotel. Candolim is the one of the cleanest beaches we visited in Goa. The ambiance of the beach is known to win the hearts of tourists and it did win ours too! There are some very good shacks on the beach which had the perfect arrangements to eat and enjoy the beach view. After having a quick lunch and walking on the shore, we headed to our hotel for a short afternoon nap.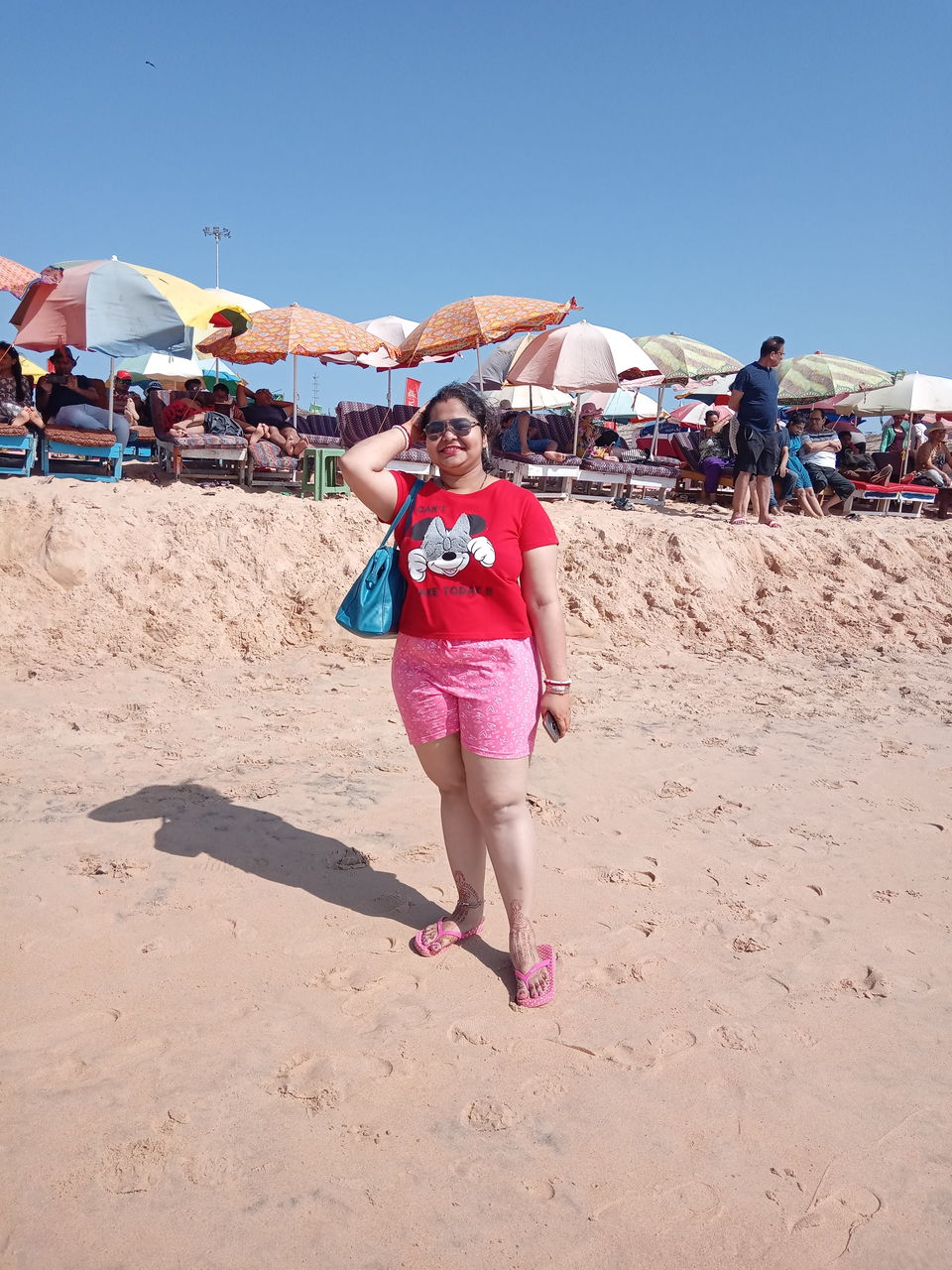 By evening 5, we woke up rejuvenated and were enthralled with the very thought of exploring the night life at Baga Beach. We took a bus from Candolim to Baga Market which took us around 15 mins. We spent an hour exploring the market which is where we found some interesting junk jewelleries and footwear. Post shopping, we were excited and geared up since we were nearing the Tito's lane- the best place to have a happening party with friends and family in Goa.
The Surprise Element at Tito's
While we were enjoying the best evening of our newly-wedded life having some delectable food and listening to some foot-tapping music, something happened which was never expected! Chirag' best childhood friend Ashish and his wife Khushboo gave us the surprise of our lives by joining us driving all the way from Mumbai that very afternoon. We had a fun-filled conversation, some more food and lots of dancing followed by a good night's sleep…
A climb to the top of Fort Aguada Lighthouse
Light house is located at Bardez and it is quite an effort to climb it to the top… But the effort was all worth if you want to treat your eyes with stunning panoramic view of the ocean. Aguada fort is undoubtedly one of the best-preserved Portuguese bastions that was built to control the entry into the river Mandovi as well as protect old Goa from potential attacks of the enemy. After spending around two hours and enjoying the mesmerizing sunset and lots of photo shoot, we made our way to the Sinquerim beach touted to be one of the best beaches of North Goa. The water is sparkling blue and there are lots of water sports activities for the adrenaline junkies like jet ski, paragliding, banana boat, dolphin spotting etc.
Scaling up the lighthouse and exploring nearby places made us feel strong hunger pangs which we catered by having some street side delectable like Masala Cheese Maggie, sweet coconut water with loads of malai and piping hot masala chai…
Road to Curlies, Anjuna Beach
Heard a lot about this place from Chirag and it is a must on his to-do list whenever he is in Goa. This place is famous for its genre of music and late-night beach parties. It is one of the oldest and most popular beach shacks with simple interiors and a huge menu with interesting food and drinks options. Well, to my experience, I was highly disappointed with the food as it was served cold and too oily and the service was a little slow. However, all of us had a great time on the roof-top dance floor with some energising music and laser lights.
St. Francis Xavier Church, Goa
When you are visiting Goa, this place is a must visit. The Basilica of Bom Jesus is located in the old Goa which was the earliest settlement of Portuguese voyagers in India. We visited this place on a Sunday afternoon and spend hours gazing at the marvellous architecture of the church. The Basilica of Bom Jesus was built was built as a memorial St. Francis Xavier, who was one of the key cornerstones of the Portuguese colony and the prophet of doctrine of Christianity. It is a 400-year-old church which is been designated as a World Heritage Site by UNESCO and is well maintained to retain its former glory. Towards the night, we got ourselves couple entry tickets to Mambos at Baga and enjoyed till late dancing our heart out.
Next Day Morning – Chapora Fort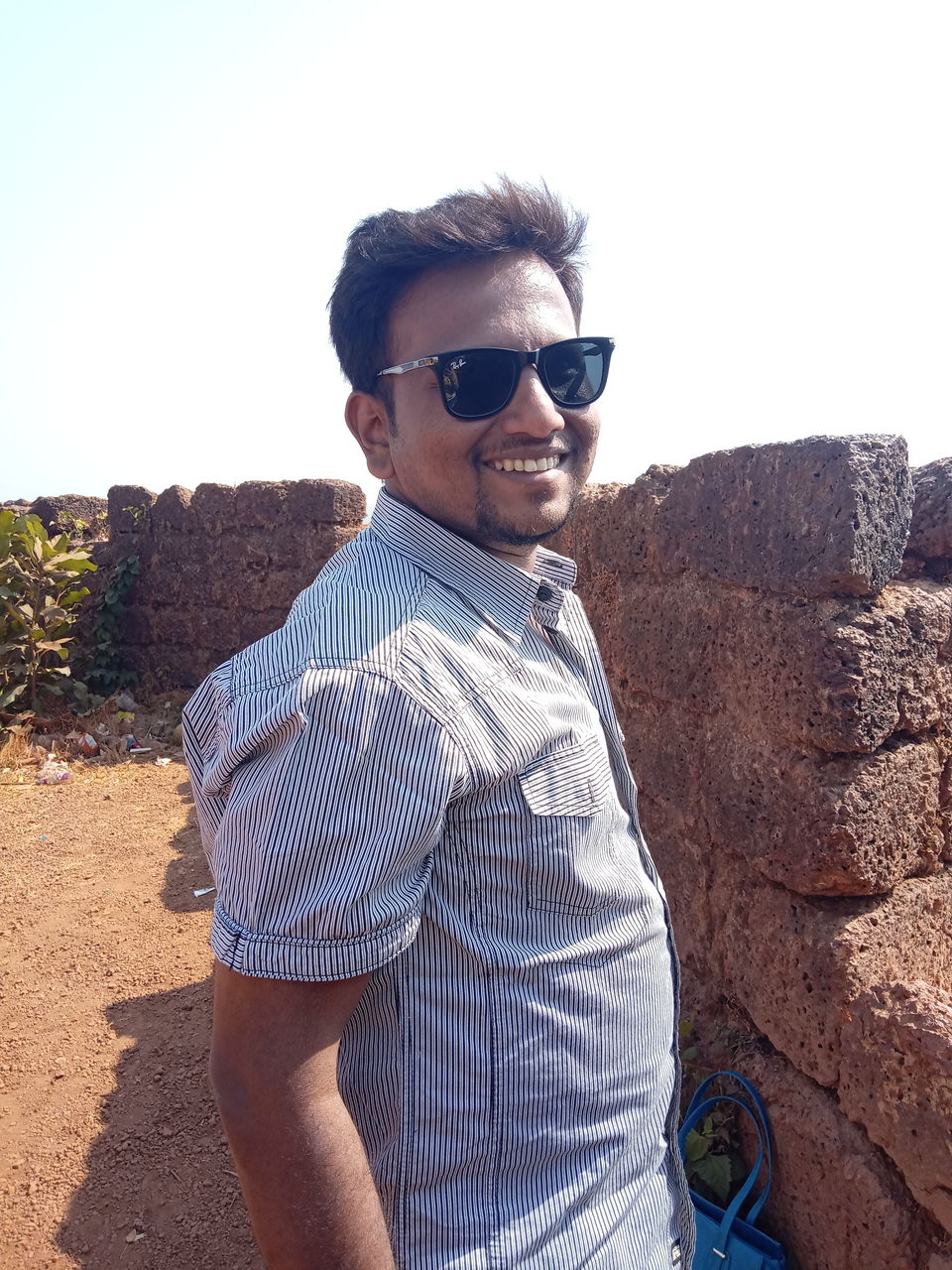 The morning started little heavy on us as our friends Ashish and Khushboo were leaving us half-way on the trip as they had some other professional commitments. We had our lunch and headed to Chapora Fort around 2 in the afternoon.
Trivia: The shooting of the very famous Bollywood movie Dil Chahta Hai was done at this fort way back in 2001.
The North Goa fort situated in Bardez offers spectacular view of the adjoining Vagator Beach and the Arabian Sea from multiple angles. It is located at the top of a hillock with slopes on all sides and is a worth the effort to climb which takes around 25 to 3o mins.
Dating back to its history, the Chapora Fort was built in 1717 and although many rulers have held this fort for various periods of time, the main tussle was between the Marathas and Portuguese to rule over it.
We strongly recommend you to visit this fort to enjoy the evening sunset at leisure and also the Vagator Beach at the foothills.
A Cab Ride for a Day
Archaeological Museum of Goa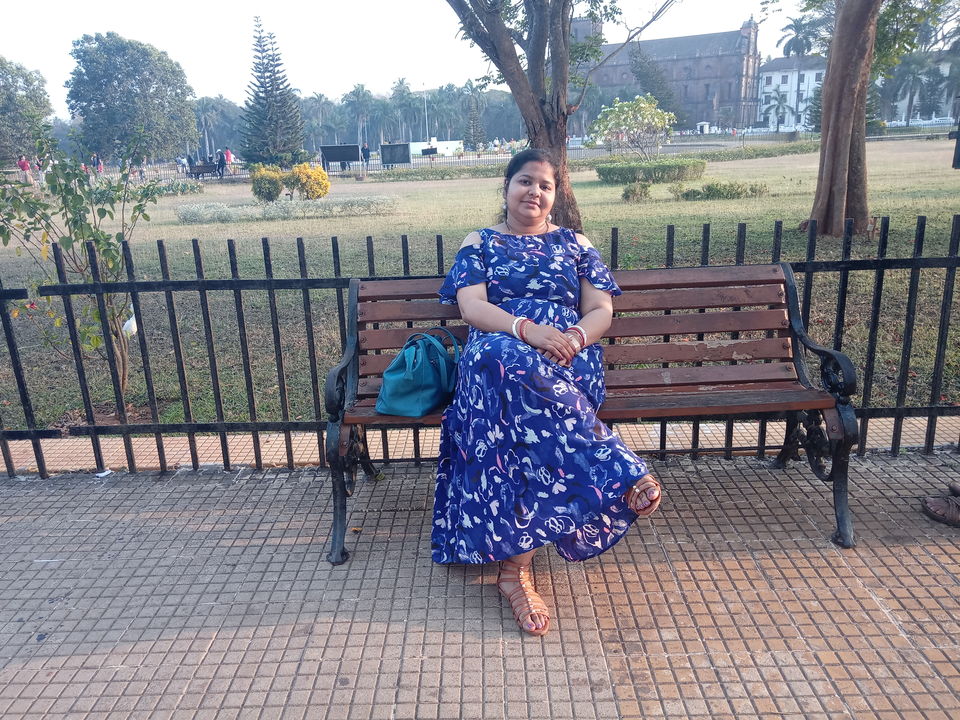 We booked a cab service for a full day tour to cover few places that were left out. First in the morning, we went to the Archaeological Museum of Goa located in the convent adjacent to the church of St. Francis of Assisi in Old Goa. Its approximately 10 kms from Panjim or Panaji, the present-day capital of Goa. If you are someone who loves to go back in time and is interested to know in deep about ancient history, this is the place for you.
Dona Paula
Our next destination was Dona Paula which is a paradise for nature lovers and photo fanatics. It is one of the most popular hangout destinations in Goa which located close to Panjim overlooking the Arabian Sea. This place is named after Da. Paula Amaral Antonio de Suoto Maior, daughter of the Portuguese Viceroy of Jaffnapatnam, Sri Lanka during the 17th century. It is believed that she had fallen in love with a local Goan fisherman which was unacceptable to the Viceroy. Emotionally upset, she gave up on her life and threw herself in the Arabian Sea. When this came to her father's notice, he decided to name the area as Dona Paula in the remembrance of his beloved daughter.
Ritz Classic, Panjim Market
Goa is known its authentic mouth-watering traditional delicacies. We got a lot of recommendations for this place and had kept this on our list for a leisure lunch. We had a hearty meal at this restaurant and were extremely delighted with the taste of the food and the service.
Cruise Ride at Panjim

Evening cruise ride was the most relaxing part of the day. We could explore the banks of river Mandovi and enjoy the mesmerising sunset with amazing clicks on the cruise. However, towards the end we got a little impatient and want to board-off the cruise and were yearning for some good sleep.
Back to Mumbai
We boarded our bus back to Mumbai next day evening at 5 pm from Mapusa.
Although we had a 5-day trip, still there are many more places that we are yet to sightsee. We are planning our next trip to Goa in monsoon and are looking to explore the whole of South Goa and Dudhsagar waterfalls for sure!! We have endless memories to cherish from our Goa trip for years to come and would to keep visiting it again and again!
Last but not the least, we would love to share one of our favourite travel quotes:
"Traveling – it leaves you speechless, then turns you into a storyteller." - Ibn Battuta