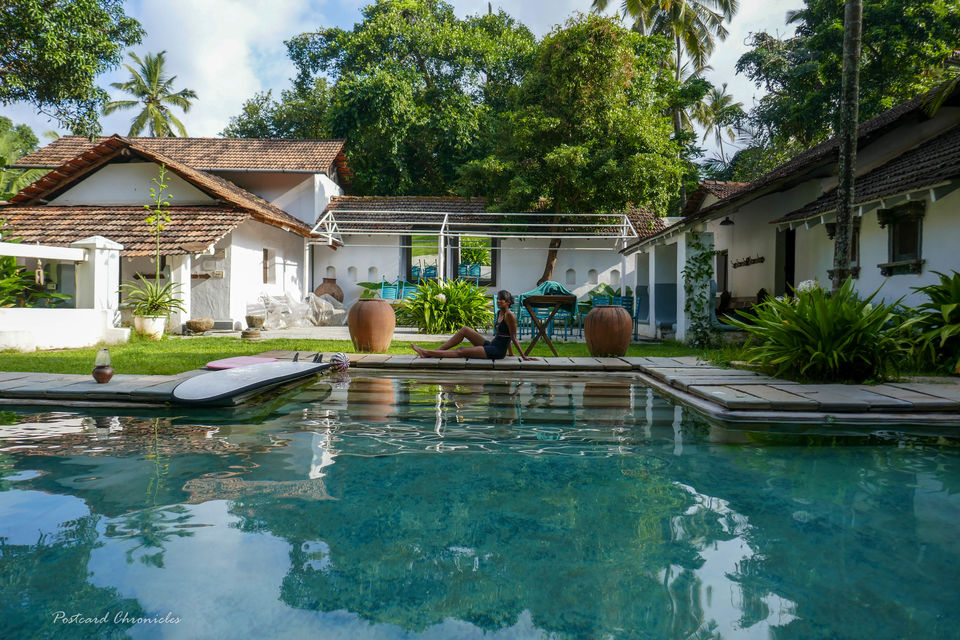 What if I told you that there is more to Goa than meets the eye and an increasing number of discerning travellers are starting to realize just that? Imagine a place where you could spend some time with yourself—listen to your thoughts, rejuvenate or live like a local.
Vivenda dos Palhacos is one such beautifully restored 100-year-old Portuguese villa that sits quietly in the bylanes of Majorda in South Goa.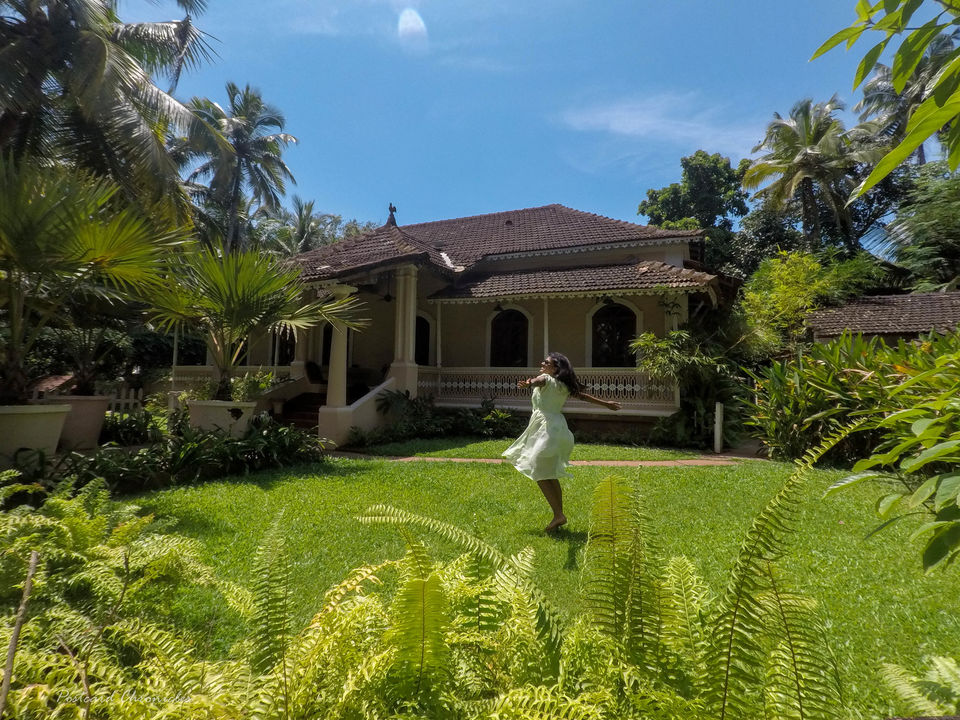 Set in a village dotted with colourful Portuguese homes with narrow roads that snake through paddy fields, Vivenda dos Palhacos is the postcard representation of a life and time that is slow and simple.
Story of Vivenda dos Palhacos
This beautiful property is the creation of brother-and-sister duo Simon and Charlotte Hayward, who are the fourth generation in their family and were brought up in India. Their British grandfather founded the Haywards brand of liquor (these days famous for its iconic Haywards 5000 beer) near Calcutta in the early 1900s, while their father was a leader in the British business community in India.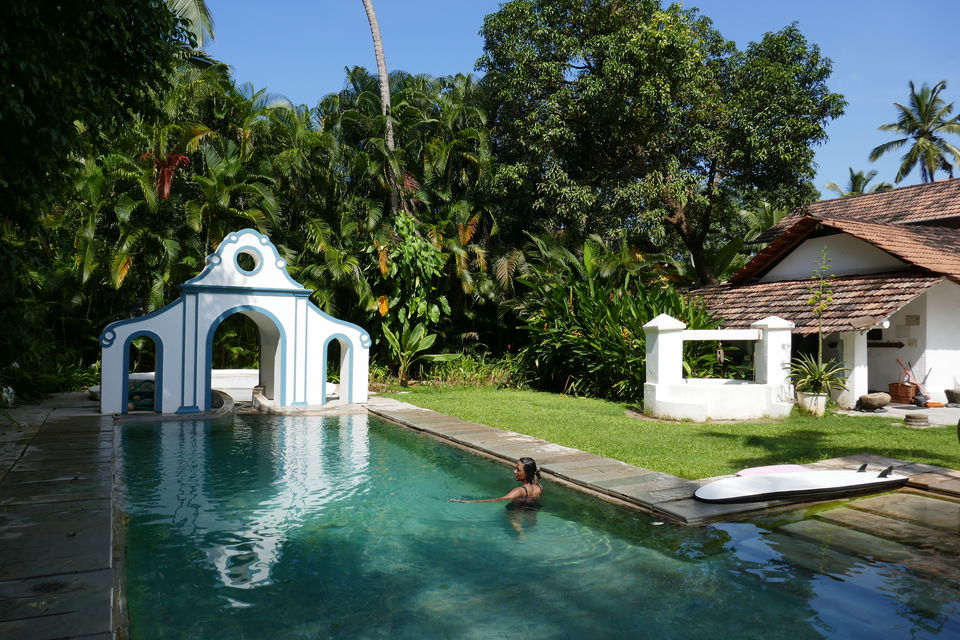 I absolutely loved my mornings in this house with a charming front porch and waking up to village life, the wind whispering to the trees along with the occasional whistle of the train. Even time takes a break at this place and so will you.
Style and charm of the place
Spread over the main building are six spacious double bedrooms, all with en suite bathrooms. There is a self-contained cottage and a tented room on the grounds. All are full of charm, cross-cultural history and convivial peace.
Each room is decorated with antique colonial furniture in keeping with the character of the house. Four-poster beds, large wardrobes, stainless steel pot lamps and a variety of art make the rooms an inviting space to lounge in. The verandah has comfortable chairs including a barber's chair which looks totally at home in that setting.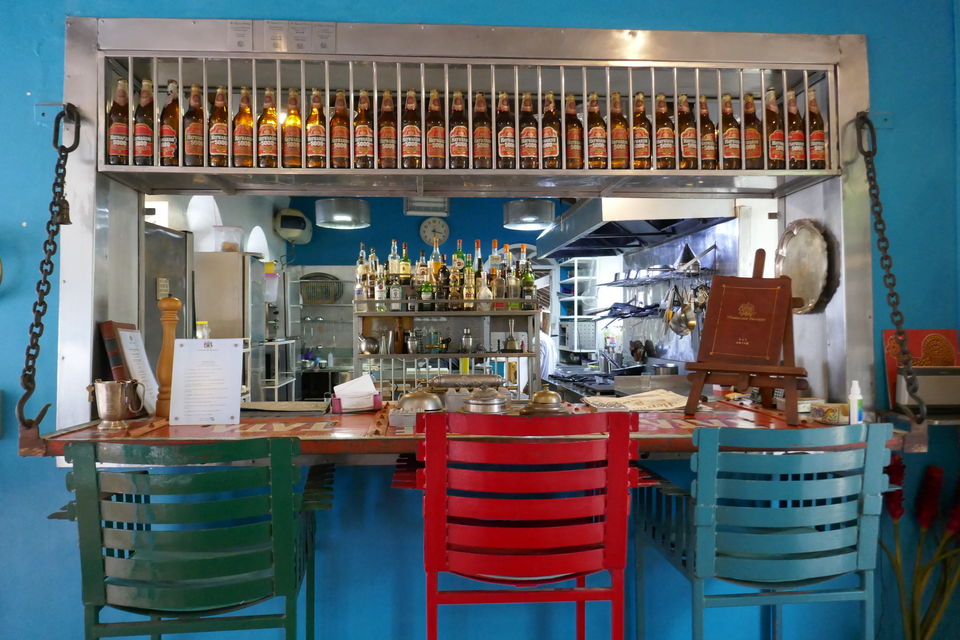 If there is one thing that defines Vivenda dos Palhacos, it's the lively Lorry Back Bar. When you take a closer look at the bar, you'll notice that it's made out of the back of a truck! The colourful Lorry Back Bar with all manner of liquor bottles shine even during the daytime. The bar is stocked with a fine selection of alcohol, including the impossible-to-miss bottles of 'family produce' of Haywards 5000 beers lined up.
There is also a small shop inside the property which houses a collection of hand-picked dresses, hats and jewellery by Charlotte.
My stay
Each room is unique and meaningfully named after a place in Tamil Nadu and West Bengal, where the Haywards lived. I stayed in the fully-plumbed luxury tent called Champara which is fitted with family camping furniture. The perks of staying in the tent are that it comes with its own garden and an entrance by the pool.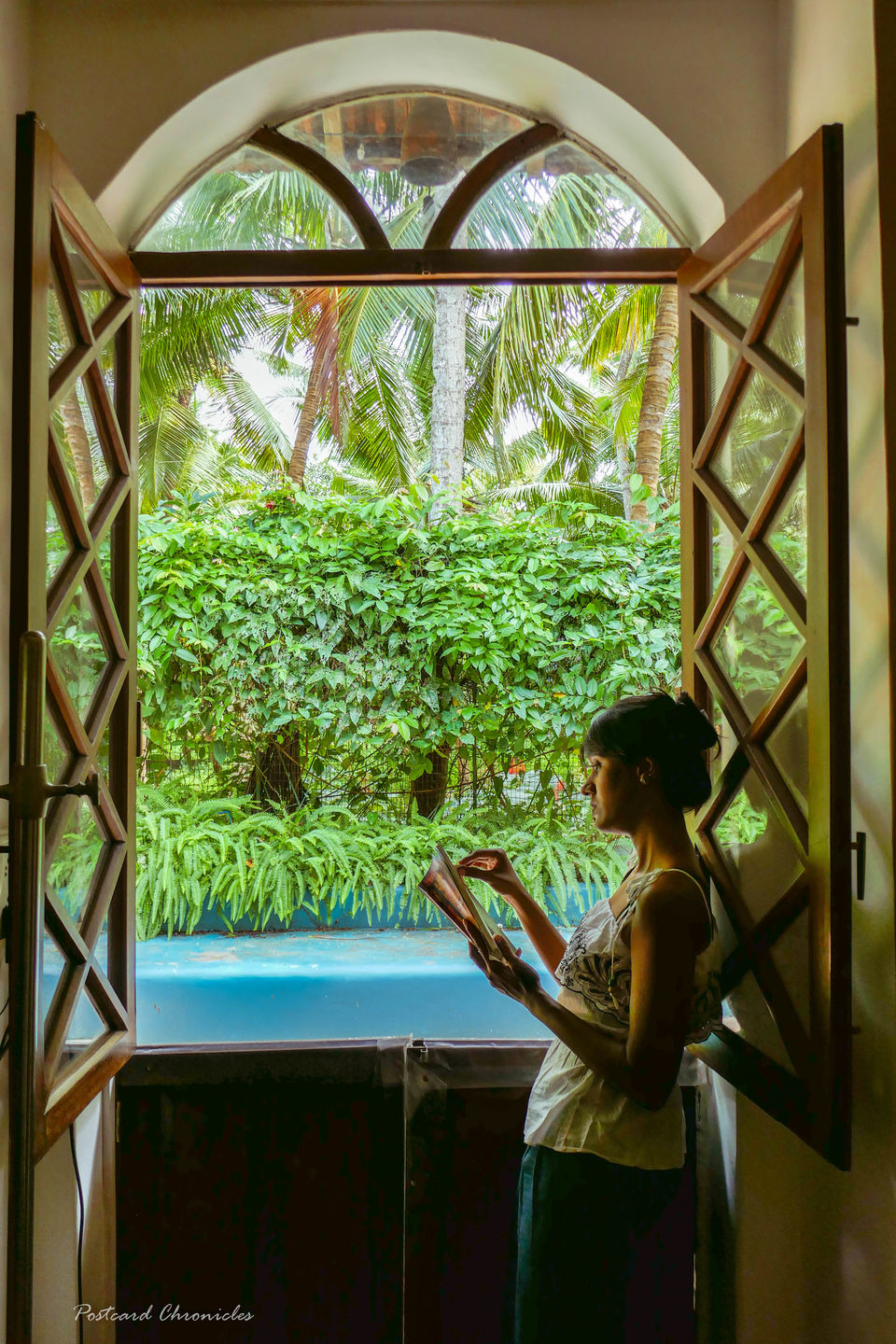 Oh yes! The place also has a fresh Ozone pool lined with several wooden sun loungers to unwind and relax.
Communal dining
One of the best things about Vivenda dos Palhacos apart from their fresh Ozone pool and three friendly dogs, is their concept of communal dining. Since Vivenda dos Palhacos is an intimate property, you'll bump into a lot of other guests. What better way to get to know them than at dinner! The evening communal 'dinner parties' where guests eat together with the host at a long wooden dining table have become rather popular. While staying there, I met a variety of people from Germany, Australia and England.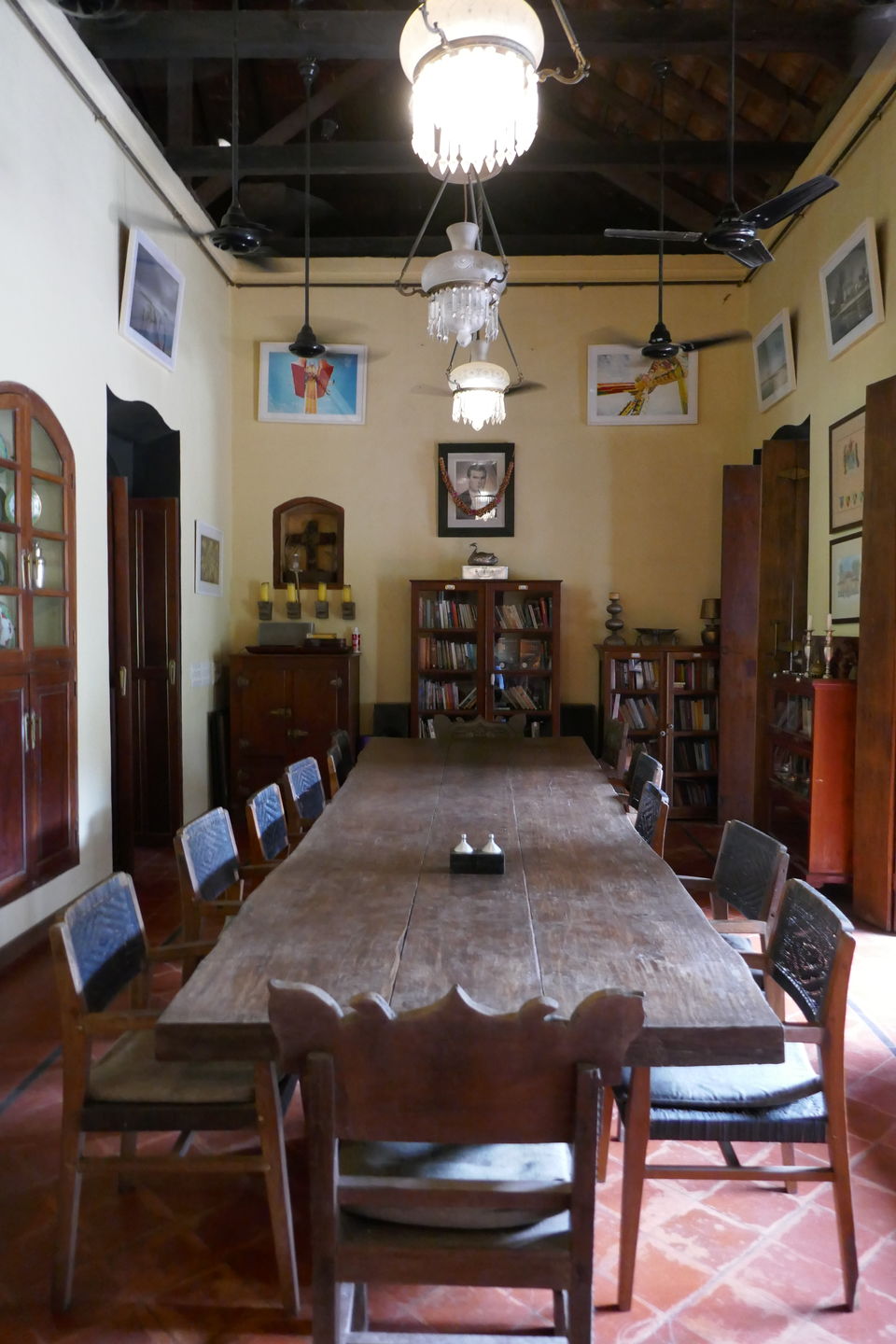 Food
The professionally-run kitchen serves up elaborate three-course dinners, with the menu changing daily. The complimentary breakfast is equally satisfying. It includes warm pau (traditional Portuguese bread rolls), eggs, fresh fruits and juices, marmalade, the finest tea from Darjeeling and coffee from South India.
What I love about Vivenda dos Palhacos
- The graceful 12 m Grecian pool is what stole my heart in the first place. It is an absolute pleasure to take a dip in the fresh Ozone pool.
- Gigolo, Kitten and Totty's love will melt your heart. What more can a dog lover ask for?
- Cosy reading nooks around the property. Vivenda dos Palhacos is a book lovers' paradise. You can select a book from their enormous book collection, that is stocked in cabinets across all rooms and sequester yourself in a corner with your book.
- The location of the property is just a stone's throw away from the long white powdered beach of Utorda.
- Bicycle rides around the village. Yes! You can rent the property's bicycles and go around the narrow lanes of Majorda to explore the quaint village
- The heart-warming host, Charlotte, makes sure every guest staying in Vivenda dos Palhacos feels at home.
- The colourful Lorry Back Bar where I spent my late mornings sipping a drink while going through the newspaper.
- The entrance gate of the Vivenda dos Palhacos which adds a rustic charm to the entire property. Maybe that's why I ended up sketching it in my drawing book.
Vivenda dos Palhacos is the perfect place to escape the hordes of tourists who throng in Goa. Experience village life, enjoy lively conversations, take a break by the pool or read a book or two in its beautifully restored rooms complete with colonial touches and a generous dash of family history. This place is sure to stay in your memory in the long run.
Do see the other side of Goa by staying in a unique property as this. The rates start at 4500 per night goes all the way to 12500 depending on the room you choose. You cannot find them on any travel aggregator platforms. The only way you can contact them is via their website. You can book the rooms from their site or send a mail to info@vivendagoa.com
Add this charm to your staycation list next time!