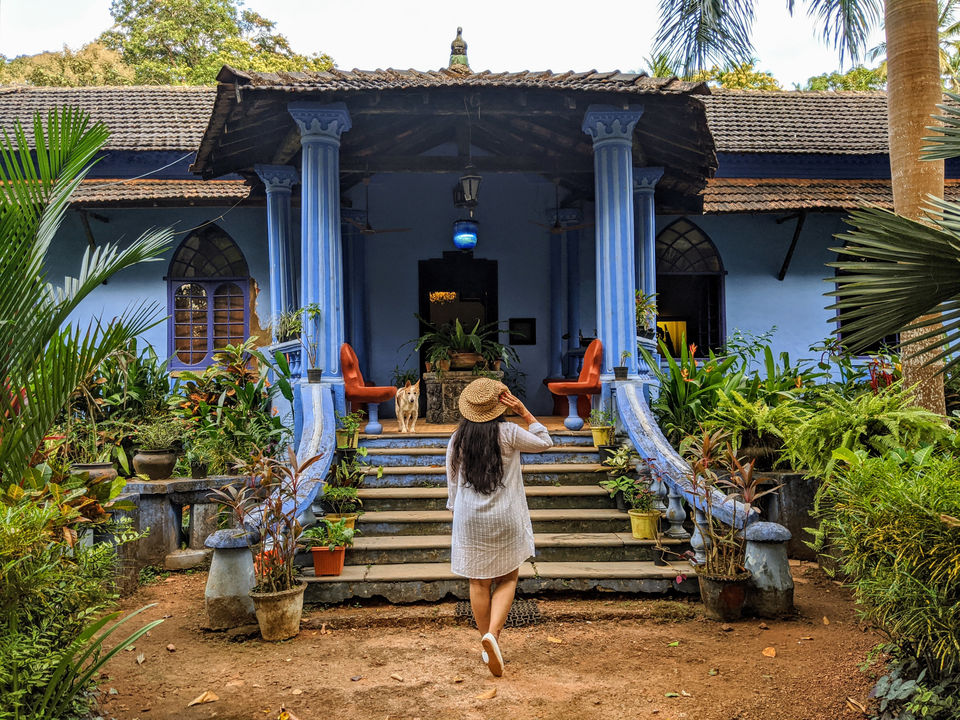 If there was one word to describe South Goa, it would be 'Laid-back'. Known of its unhurried lifestyle, tranquil beaches, and exotic villas, South Goa has everything on cards that attract tourists from all over the world. This side of Goa is a quintessential destination for tourists.
South Goa is the reliable source to estimate the rich Portuguese architectural legacy that has been left behind from almost 500 years. Offering some of the best experiences that are perfect for romantic escapes, surreal villages that are quiet the place for the ones who love architecture, and an intoxicated air that keeps the ambiance enlivened all the time, South Goa is the destination that you cannot simply ignore.
Loutolim is a tiny village in South Goa just around 40 mins ride from Vasco, and about 30kms from the capital, Panaji. Once you search about Loutolim, you will come across its finest Goan architecture and historical houses. As we set our feet to explore this (majorly unseen) part of Goa, we stayed at a beautiful home called 'Casa Susegad' for a couple of nights.
Casa Susegad is a restored colonial mansion house in Loutolim, South Goa. Set in one and a half acres of grounds, in a quiet corner of the village, the place is surrounded by jungle and beautiful landscapes.
The Tranquil House
If you believe in the term 'home away from home', then Casa Susegad is an ideal home for you to visit. Enjoy all of the luxuries, privileges, and comfort of a magnificent 17th century residence at the same place.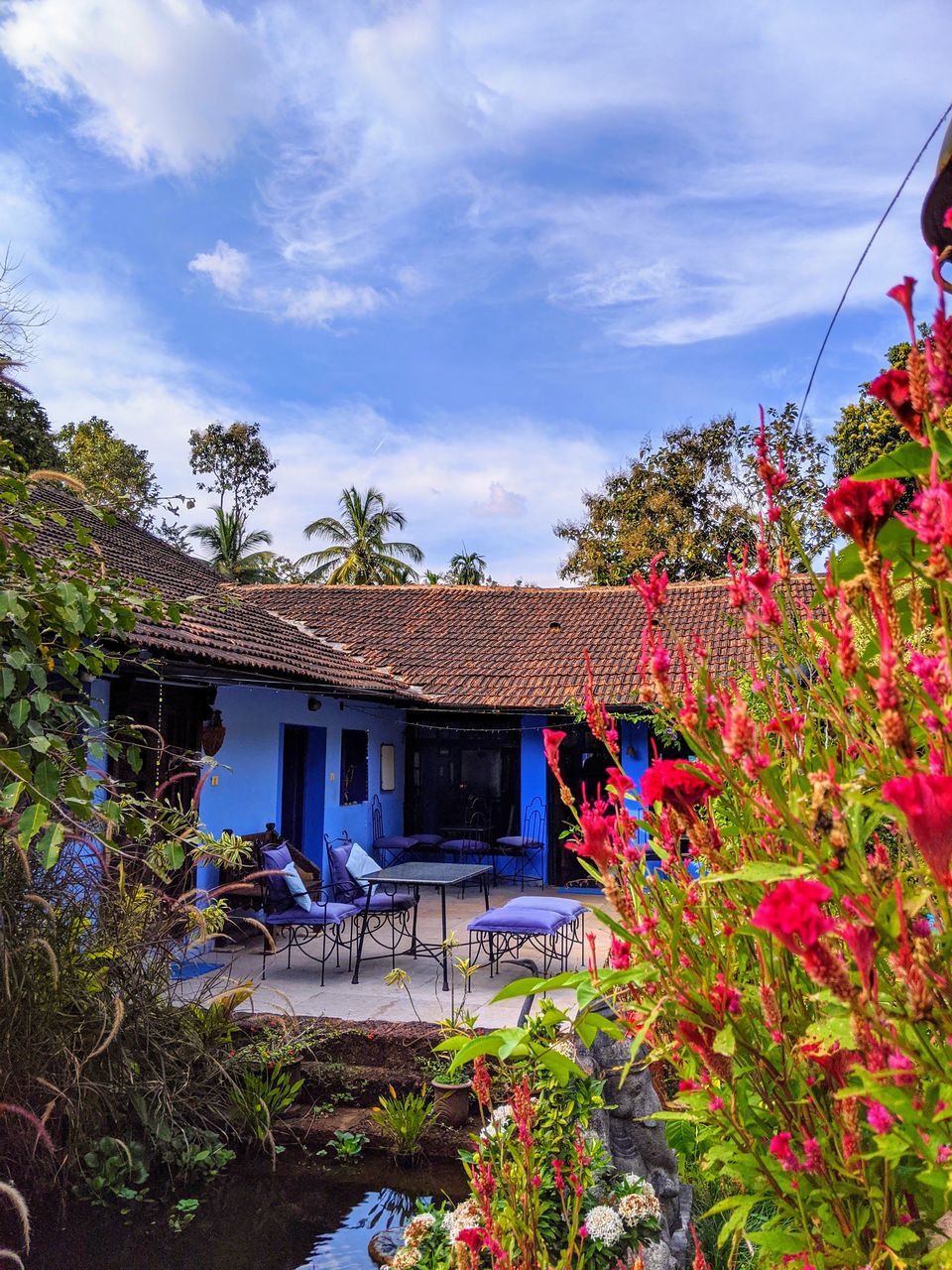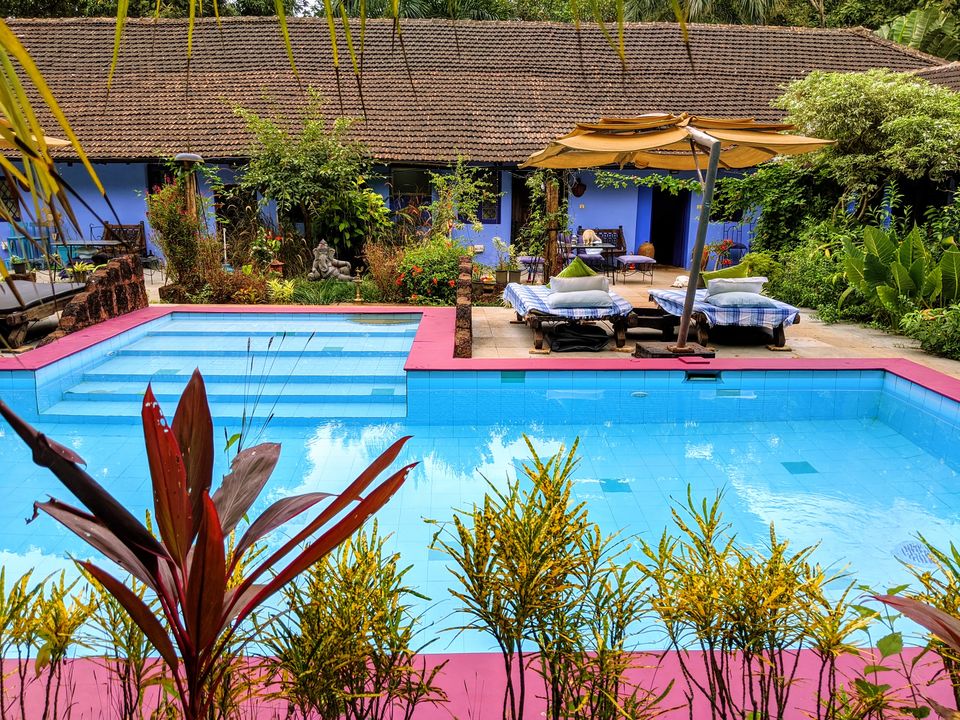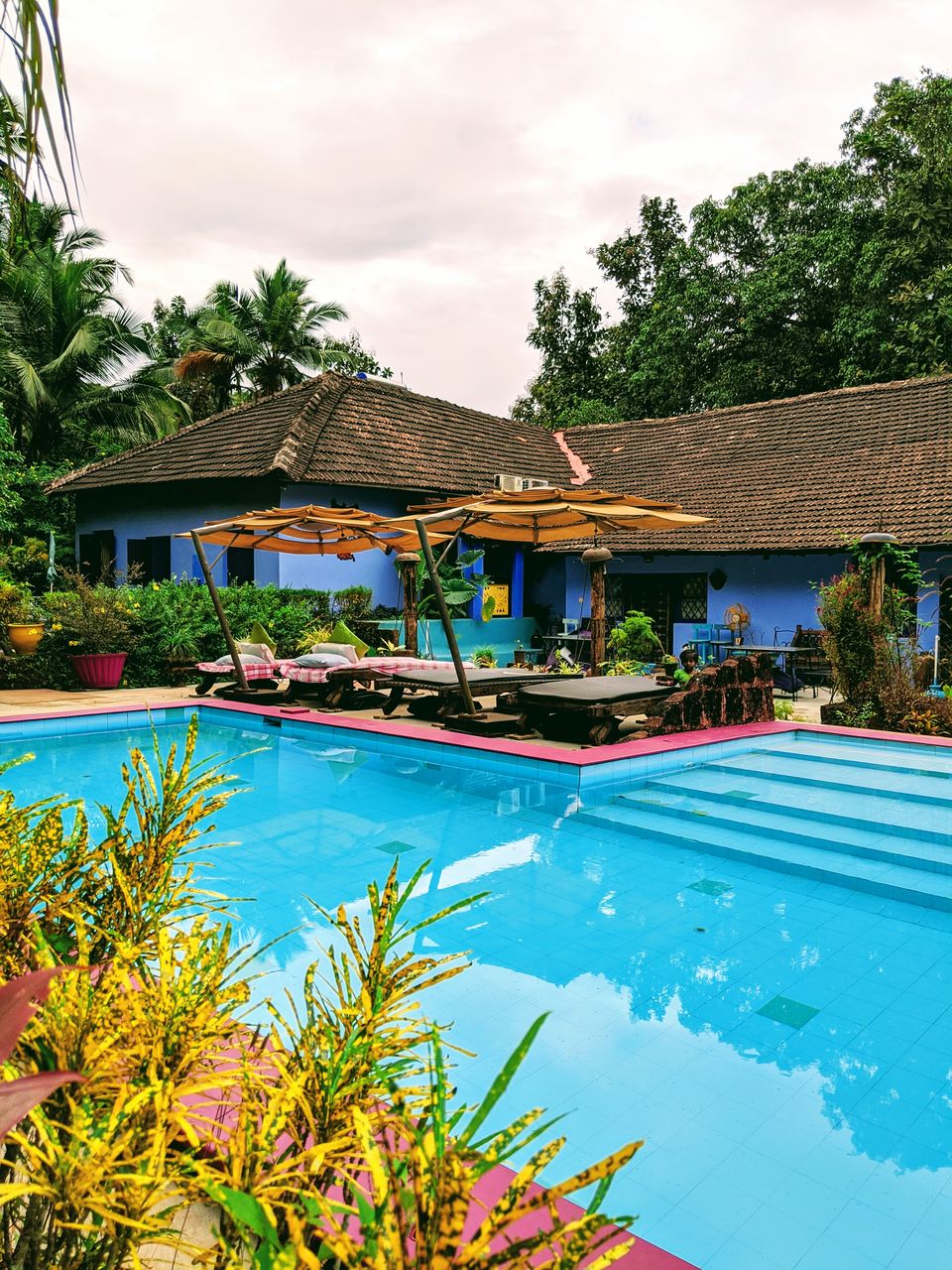 Casa Suesegad: The word 'susegad' has had many local meanings, from contemplative to downright lazy. It is a Konkani term, derived from the Portuguese word 'sossegado', meaning restful or tranquil. The word 'Casa' means house. Trust us, if you are living in Casa Suesegad, then you are not living in an ordinary Goan hotel or home-stay.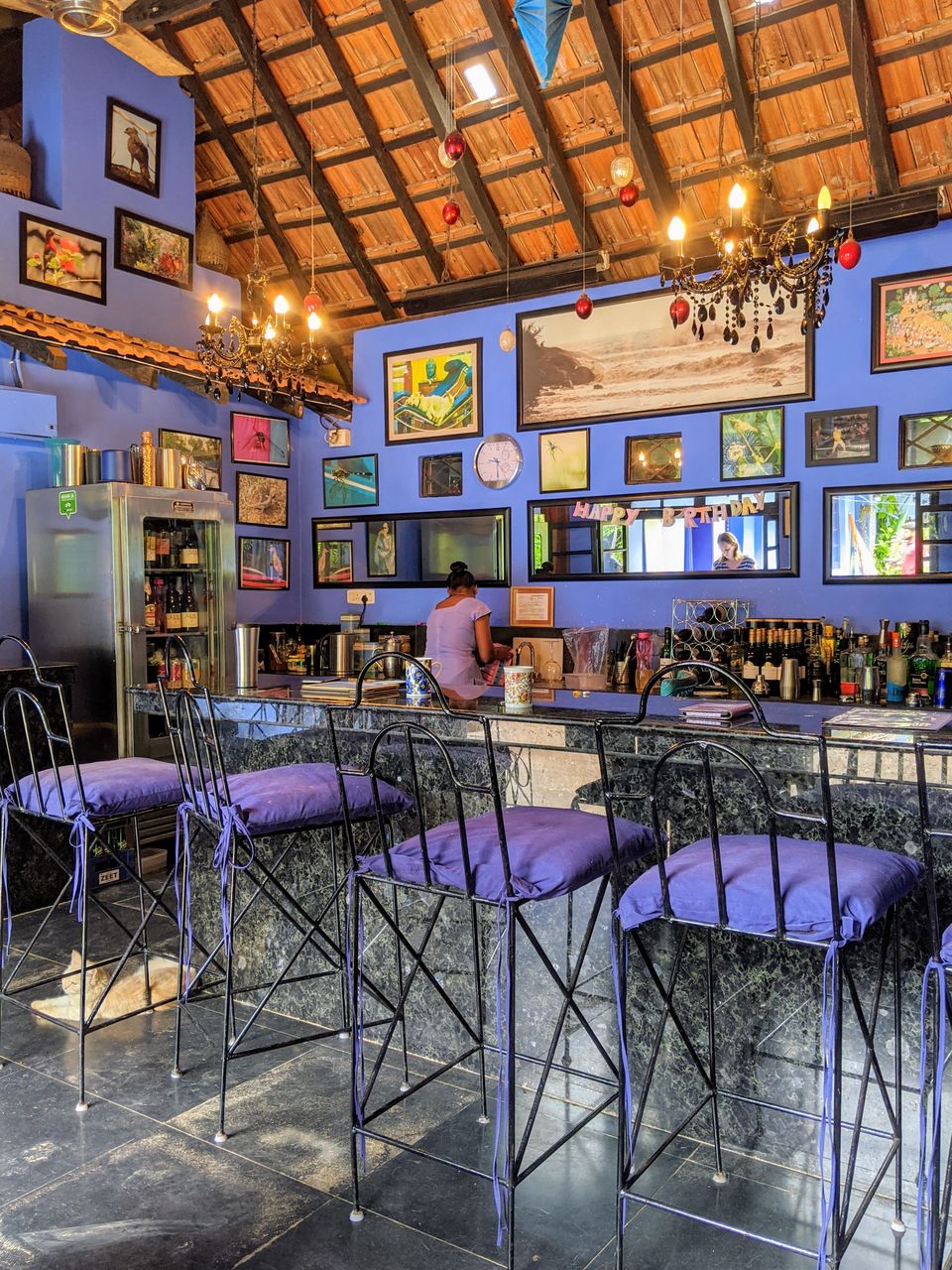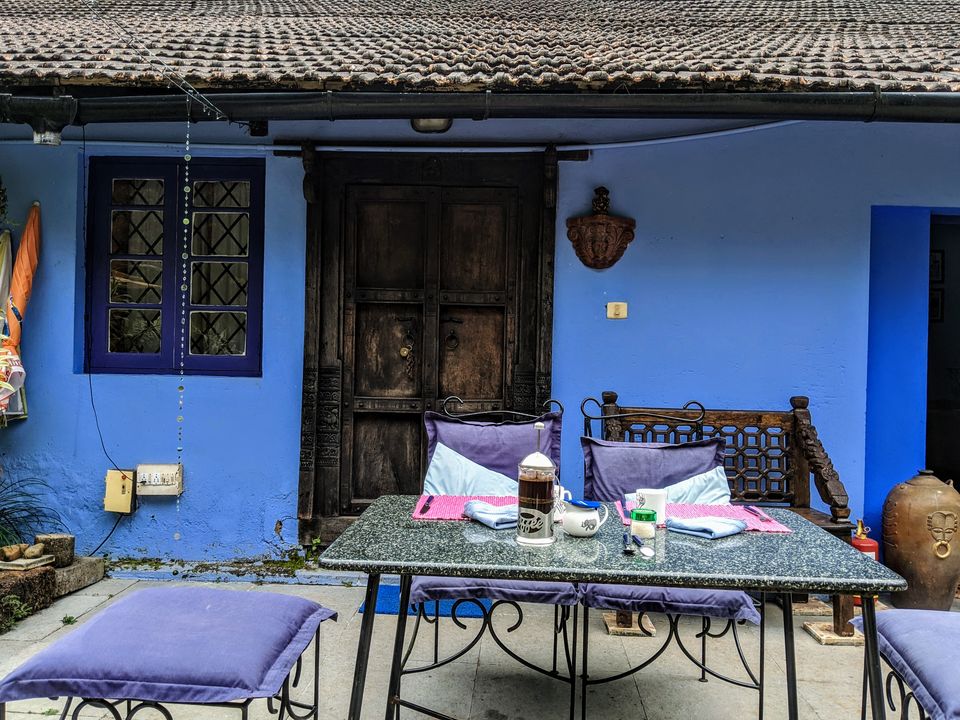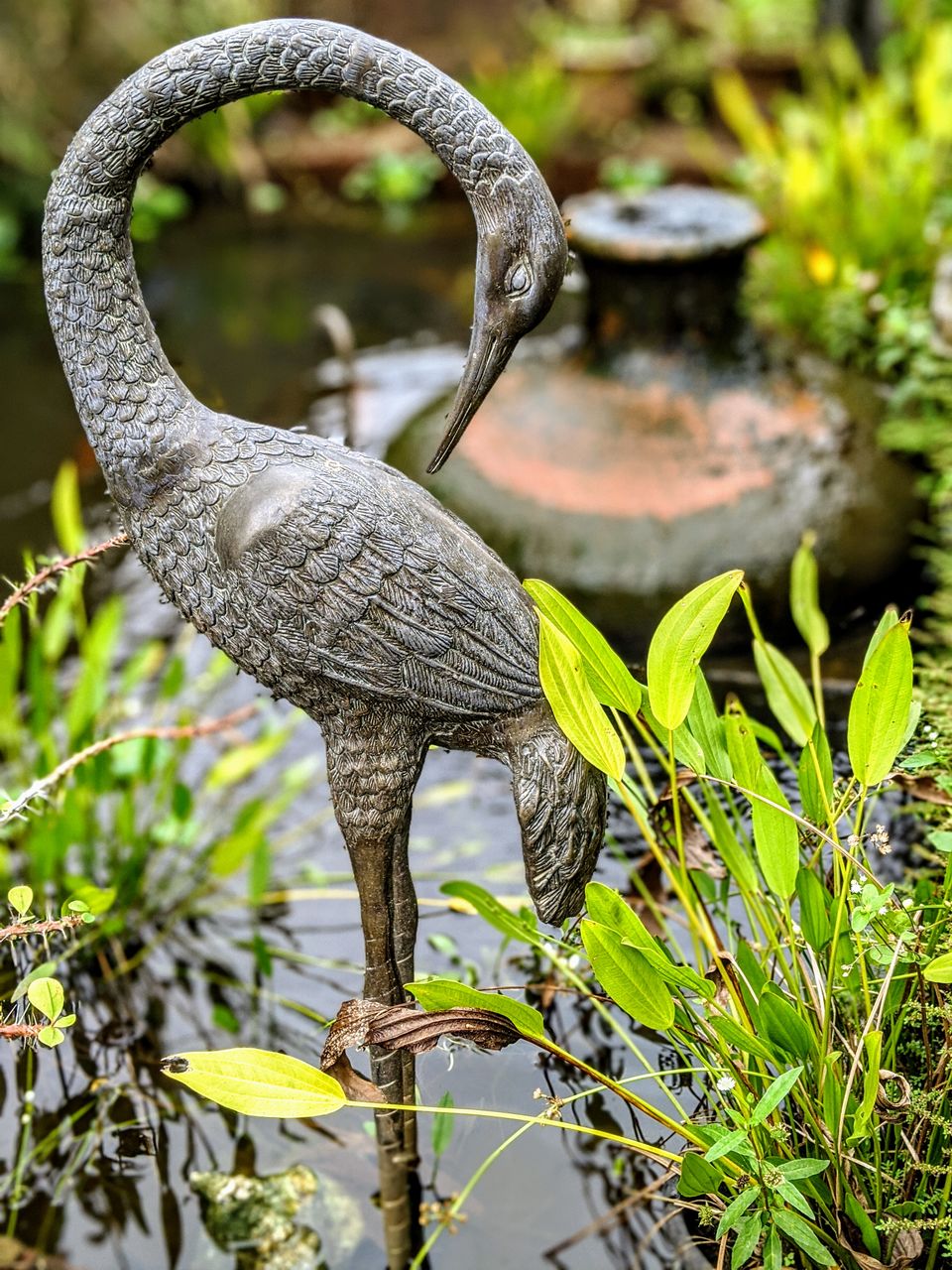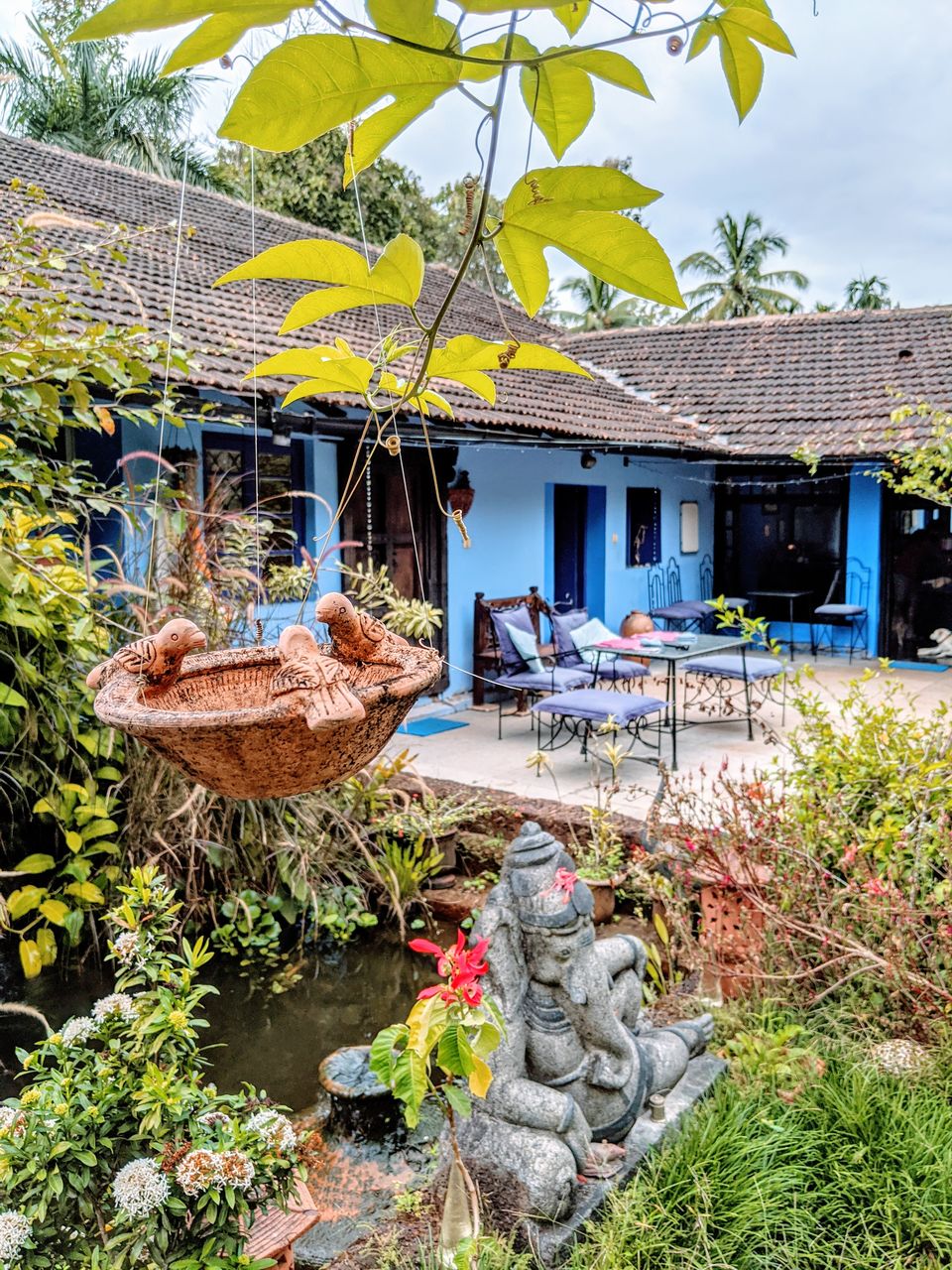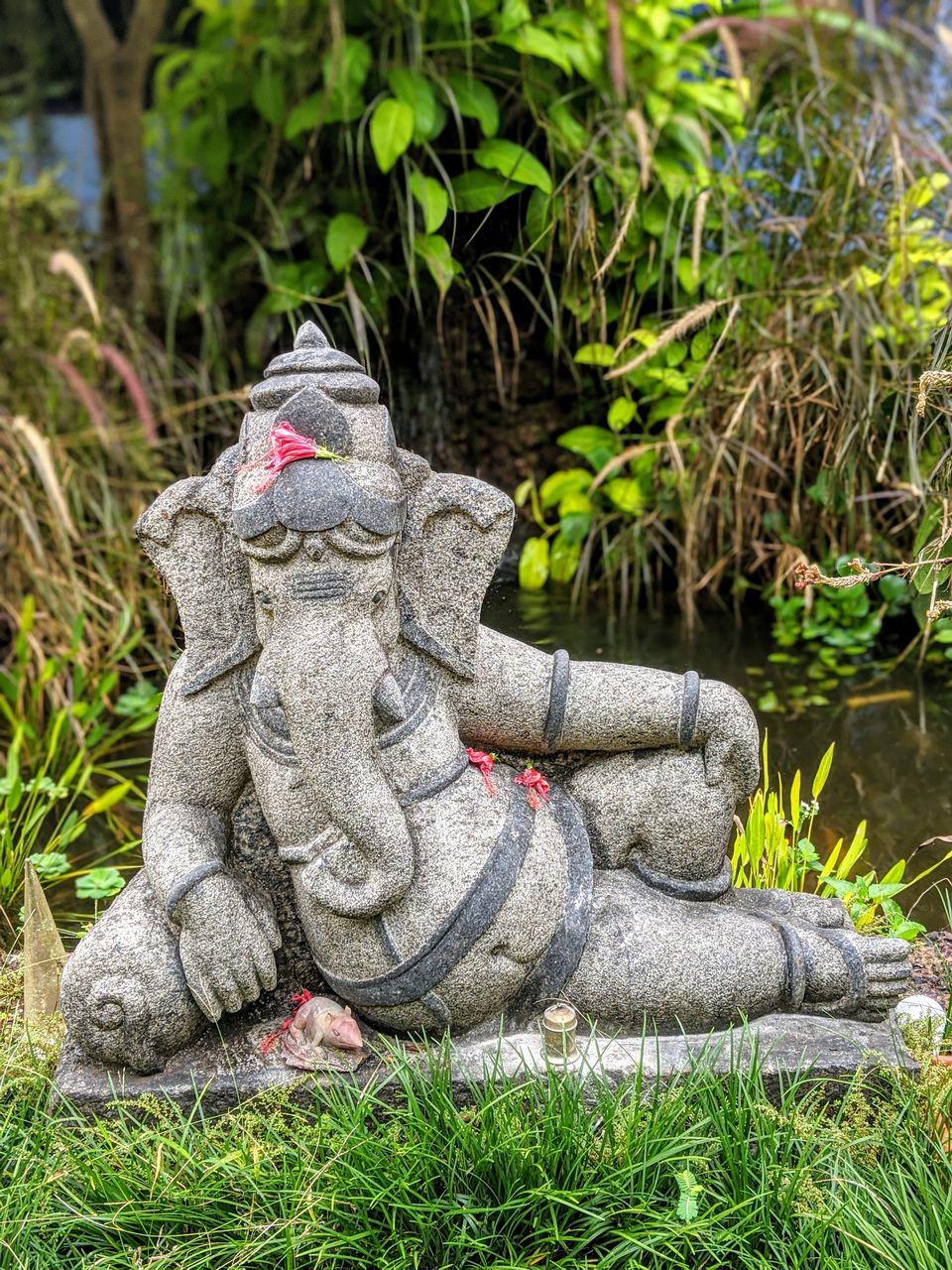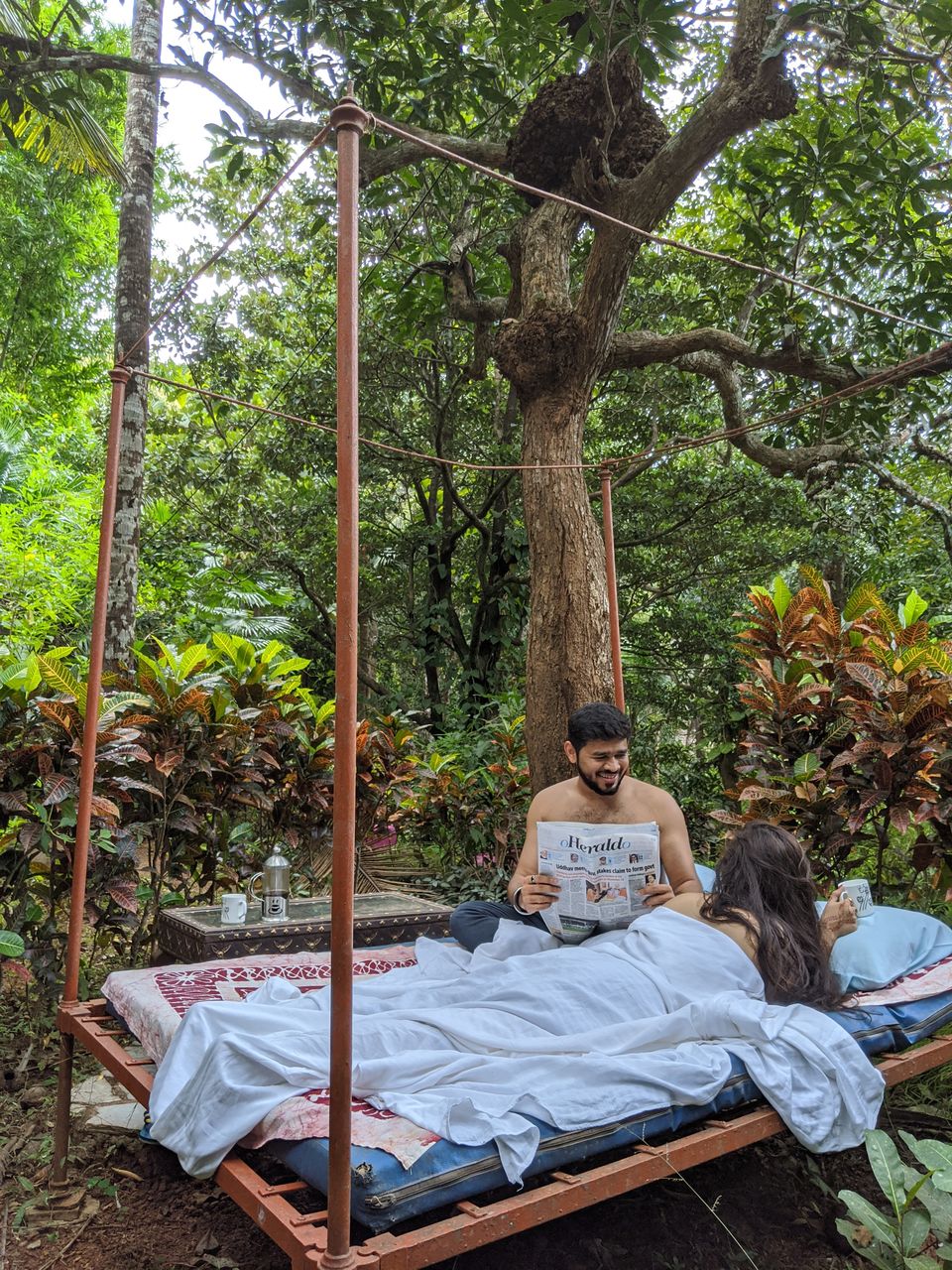 Wake up to the sound of birds, lie down on sun-beds beside the pool, sip some amazing freshly brewed coffee, and enjoy some local sweets, or just listen to music by sitting at the vibrant bar while enjoying a glass of wine – the choice is yours. We're sure this lovely place will fulfill all your desires.
Carole & Norman are an enthusiastic couple who own this beautifully restored house. 14 years back, they moved from England to Goa, and started with this lovely place to attract guests from all over the world!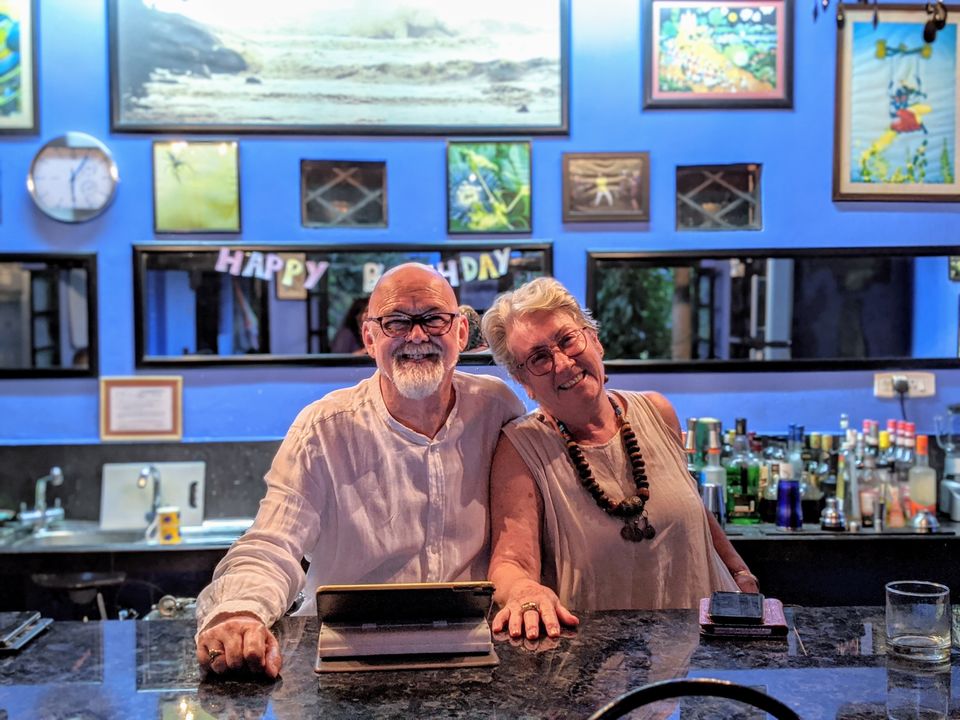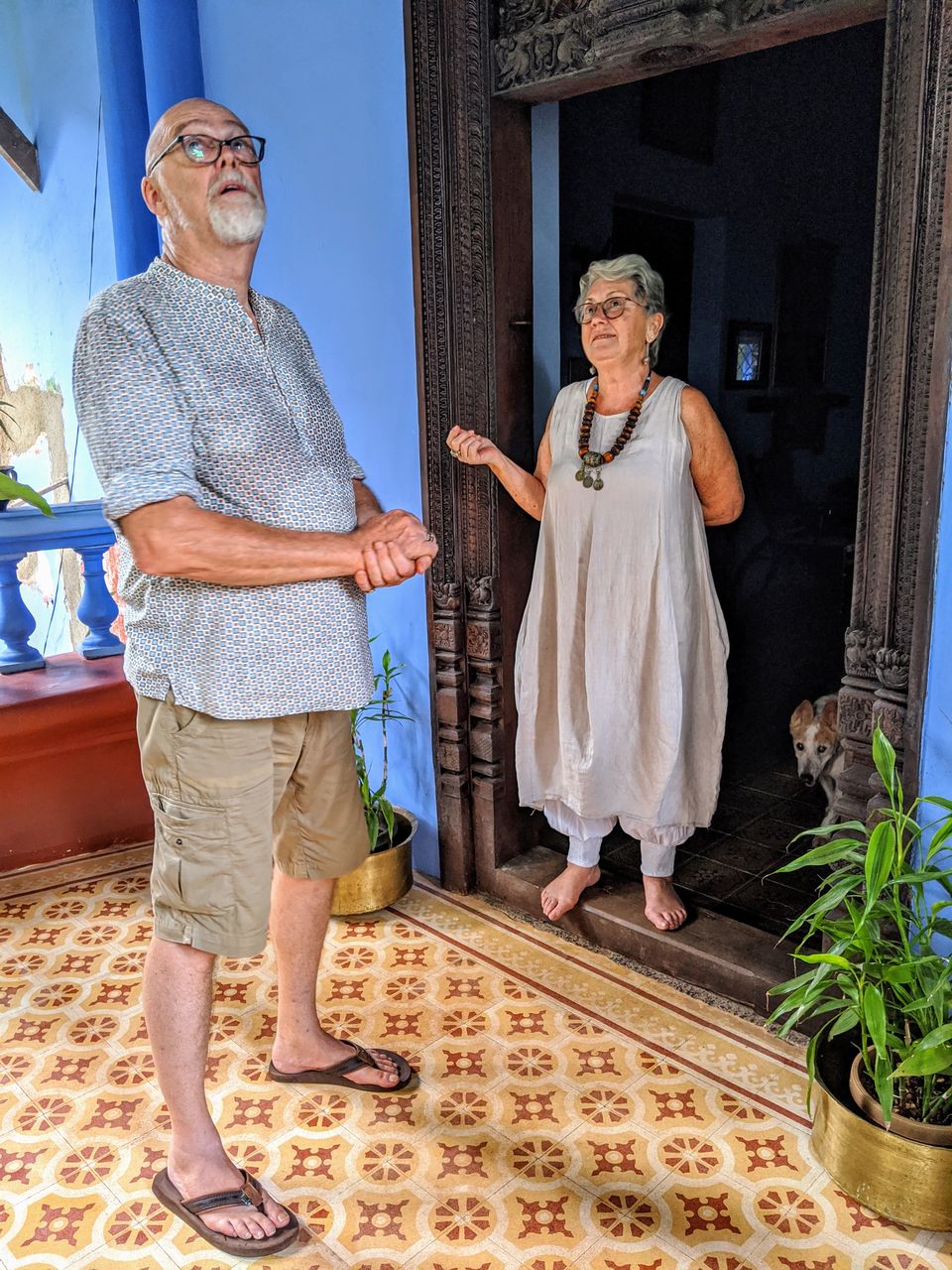 The Villa
Casa Suesegad is beautifully restored and classically designed by Carole & Norman. The restored heritage Villa comprises of five bedrooms that are aesthetically done with antique Indian furniture, offering a perfect blend of comfort and luxury! The Villa retains elements such as teak ceiling beams and the 400-year-old mosaic tile floors, amazing in their intricacy. Each comfortable and inviting room has its own colour theme; every aspect of the home provides pleasure, from the gorgeous antique furniture brought from Rajasthan, to the unobtrusive yet pampering staff who are akin to family members. Boasting over an acre of fabulous natural gardens and outdoor pools, cozy bar, ponds and waterfalls, make it a truly unique property in the heart of Goa. The use of shocking splurge of colors at various corners of the villa adds an extra ordinary charm to the villa. With the large guest lounge, formal dining room, the balcao and the activities/snooker room, guests have ample space to roam and relax indoors. Years of experience in interior design and property renovation are evident in the vibrancy of Carole's trademark colour palette, making Casa Susegad a truly unique property!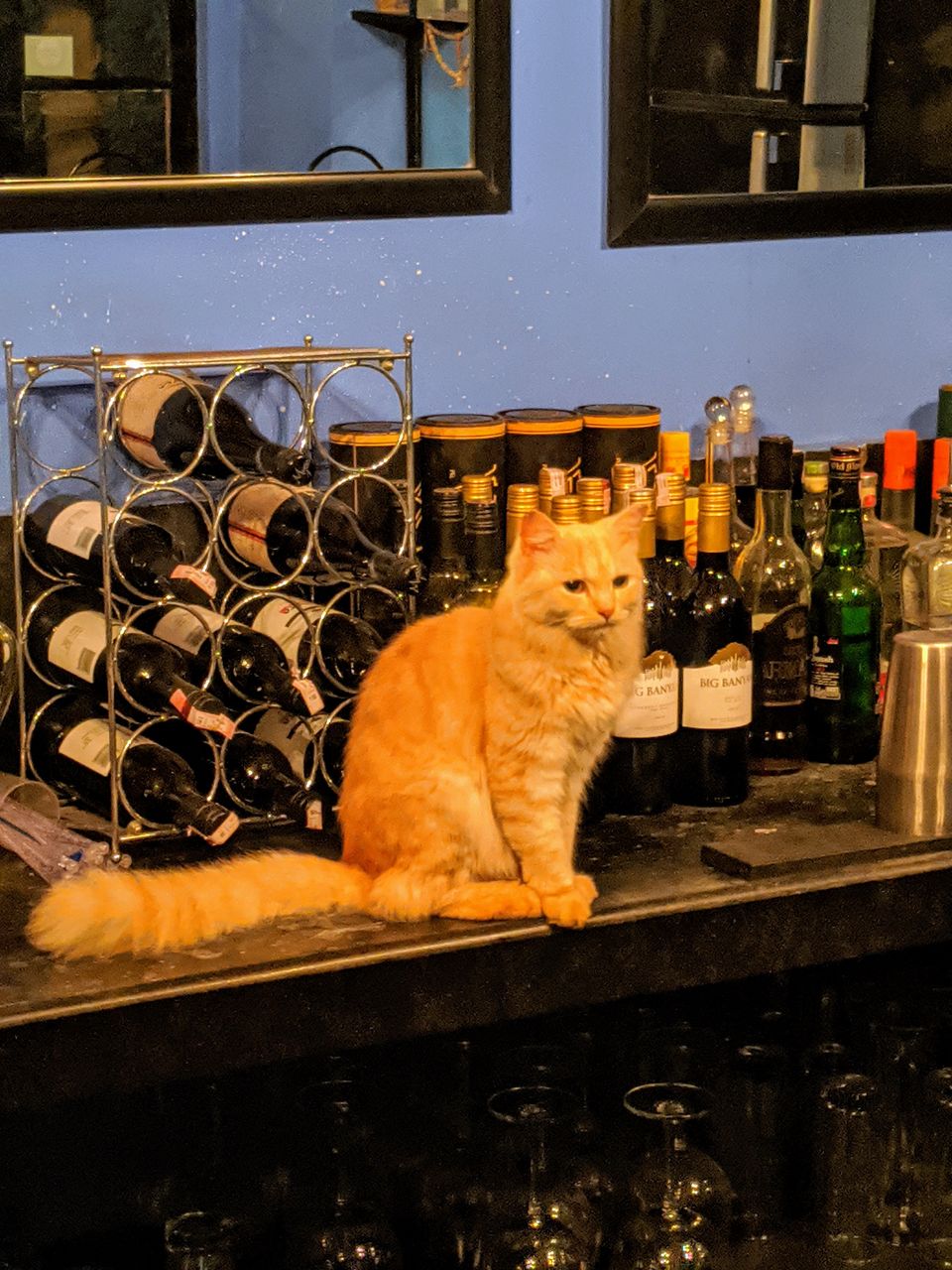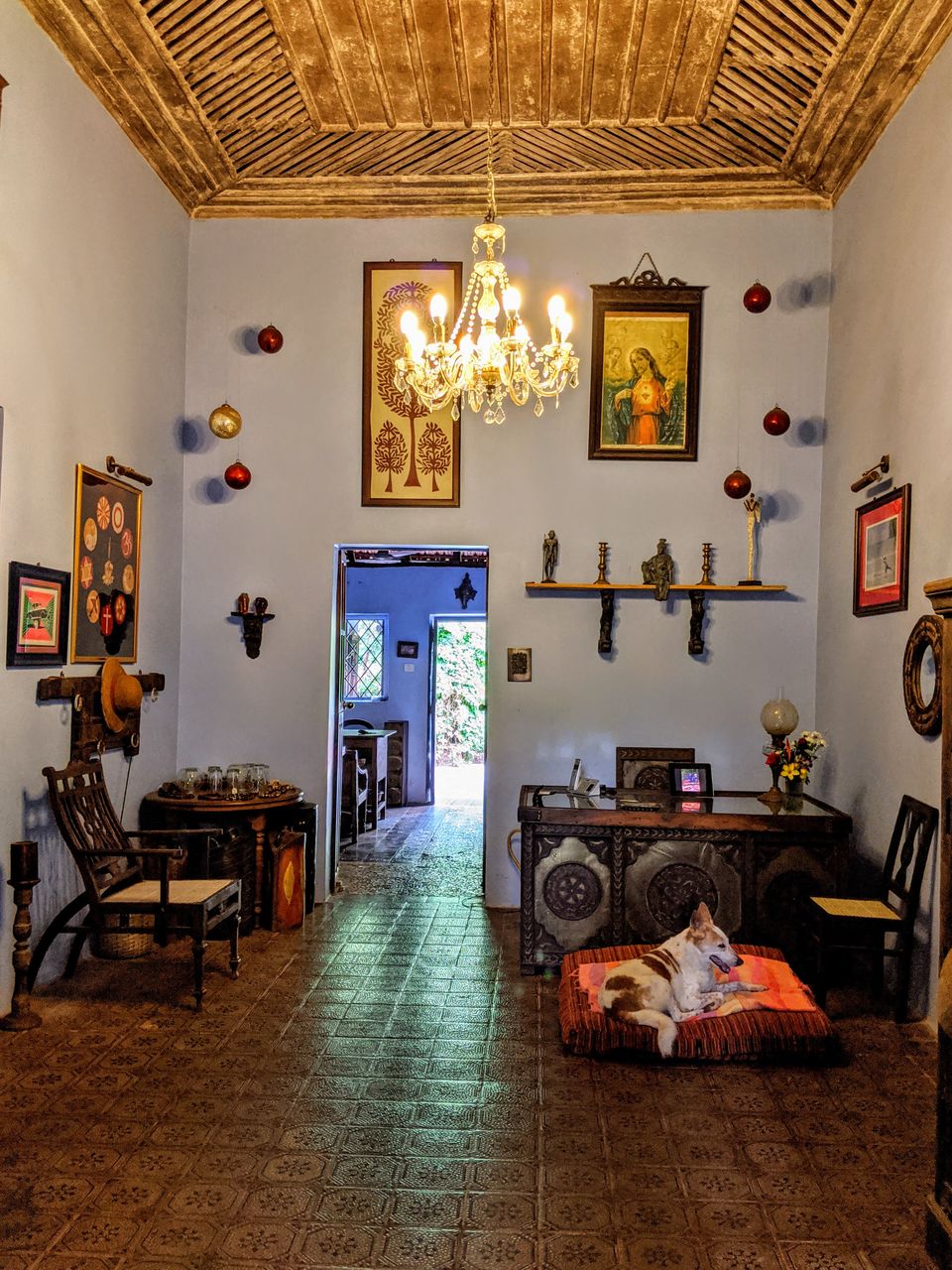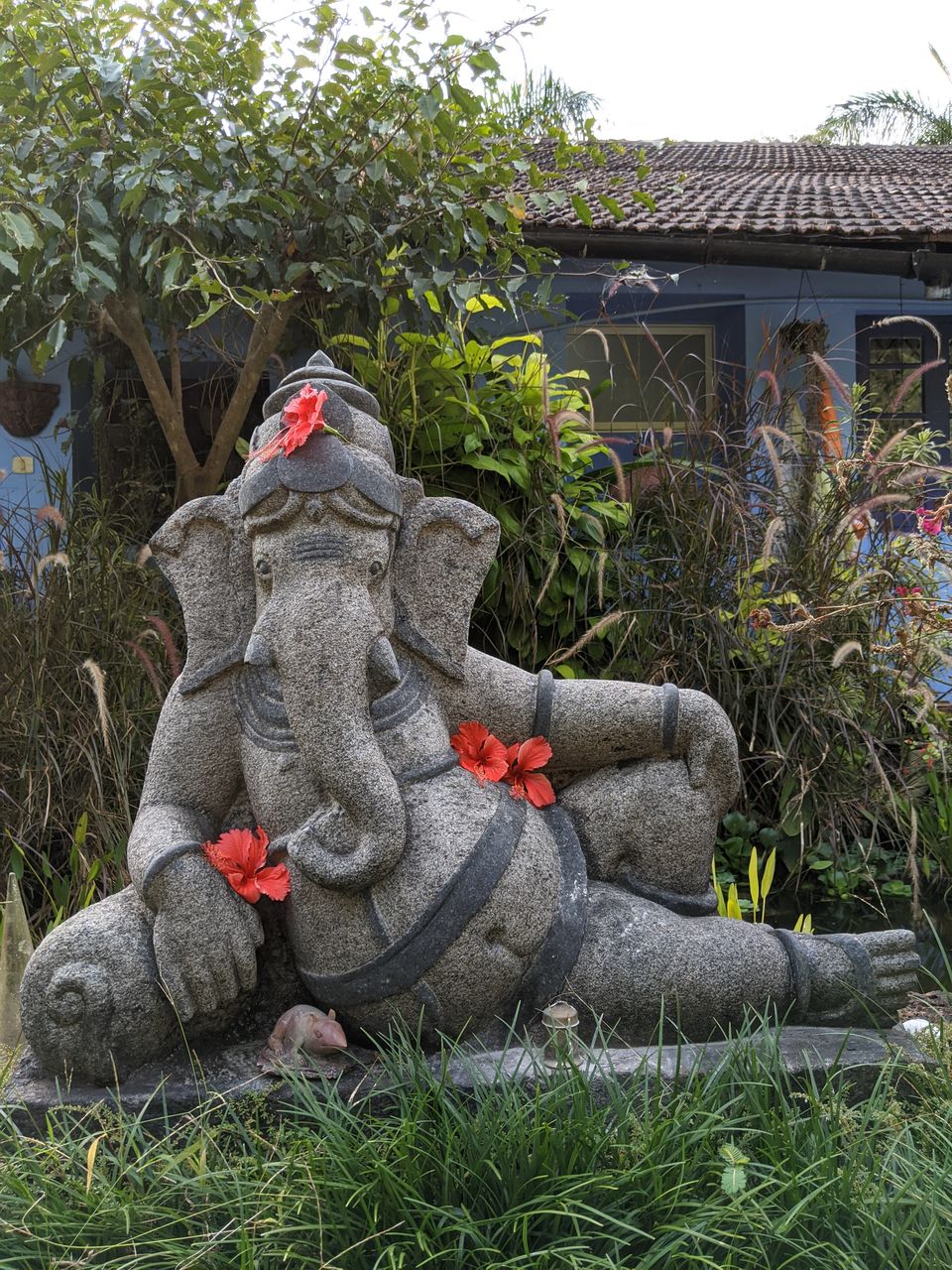 Don't be surprise if you can't stop clicking here! It's totally Instagram-worthy!
Our favorite spot in the Villa: The Electric Blue colored House Bar with generous windows and window seats, it makes for a delightful indoor/outdoor room supplying both alcoholic and non-alcoholic drinks, poolside during the day and pre-dinner cocktails early evening.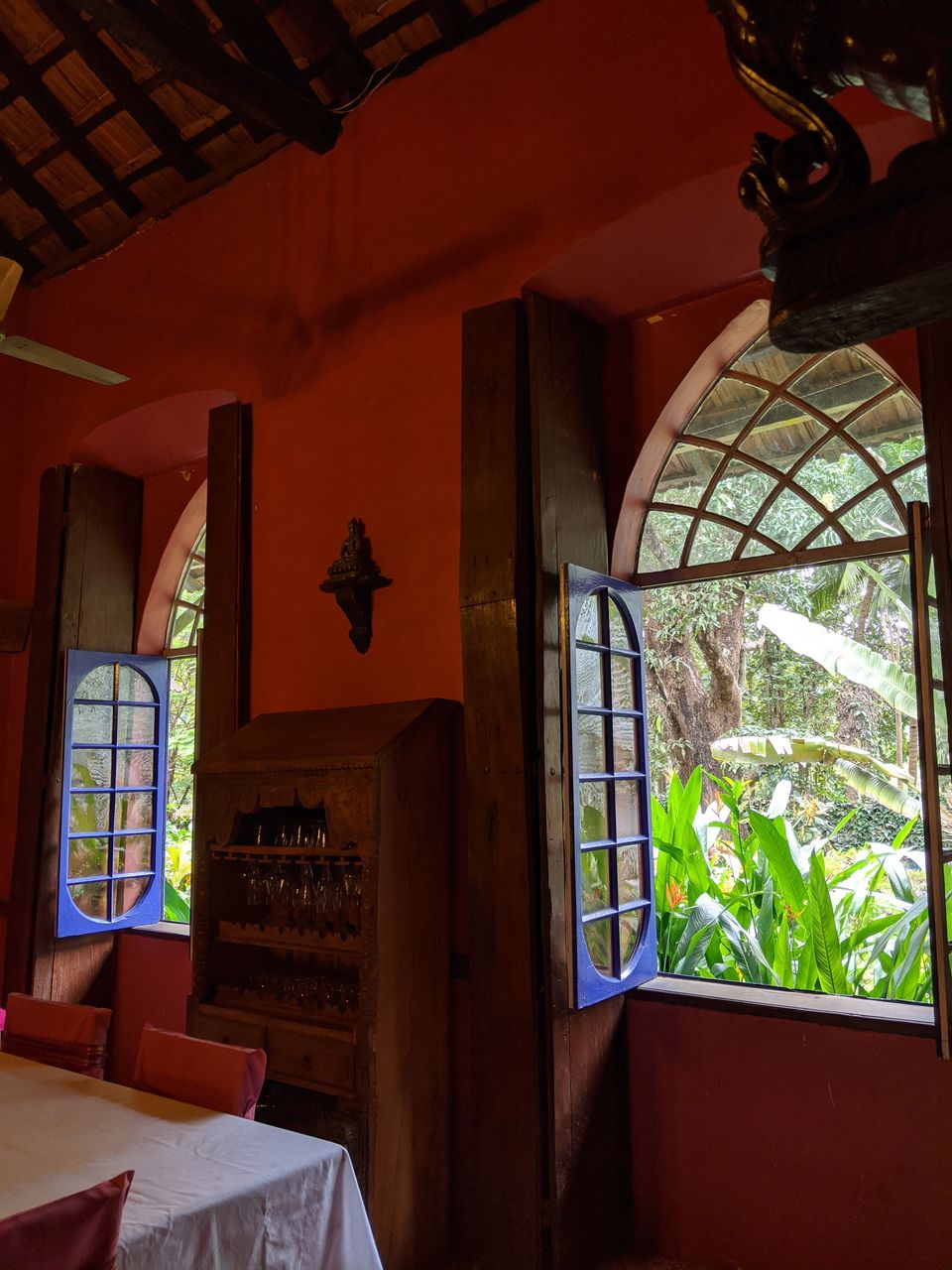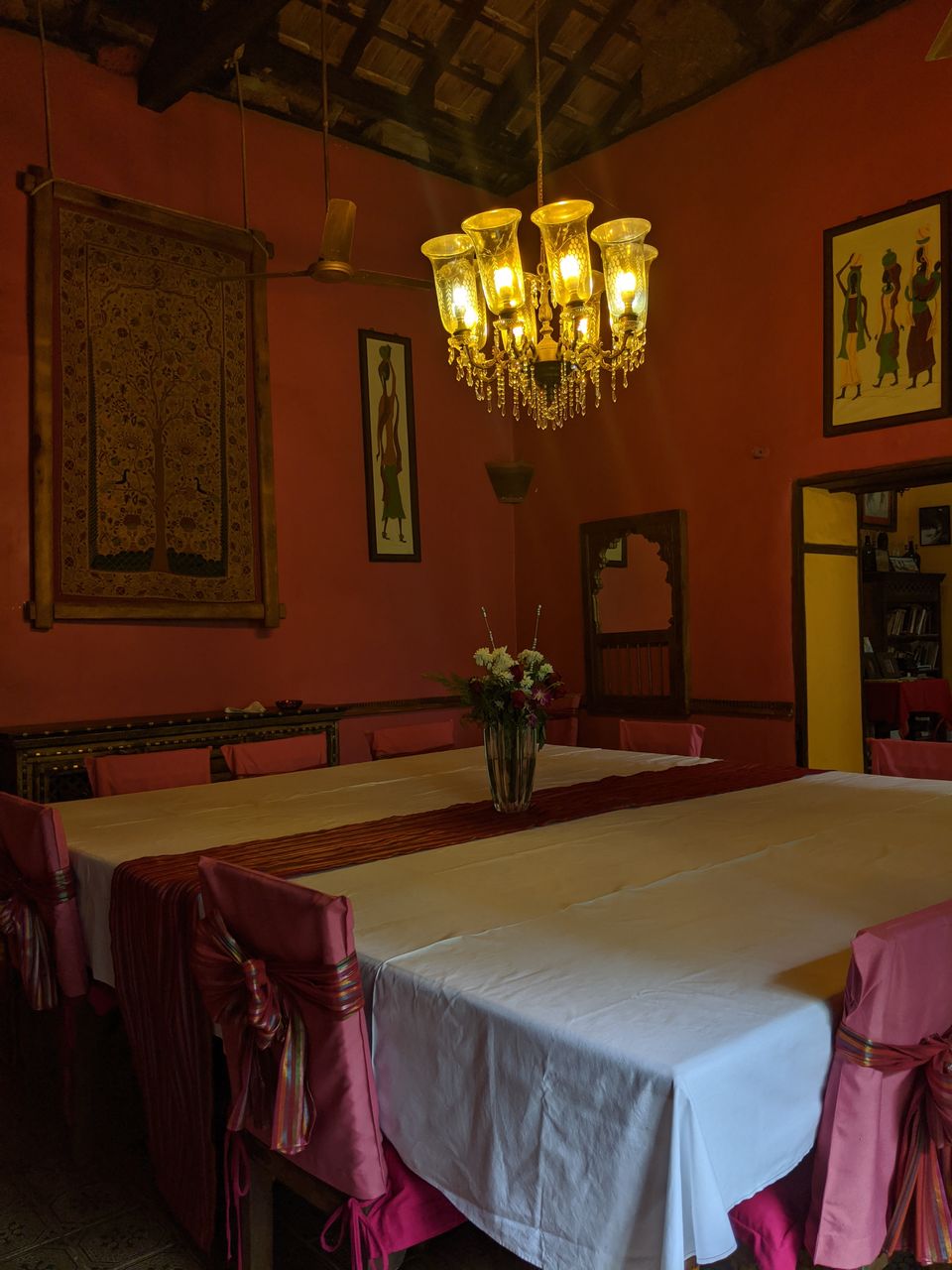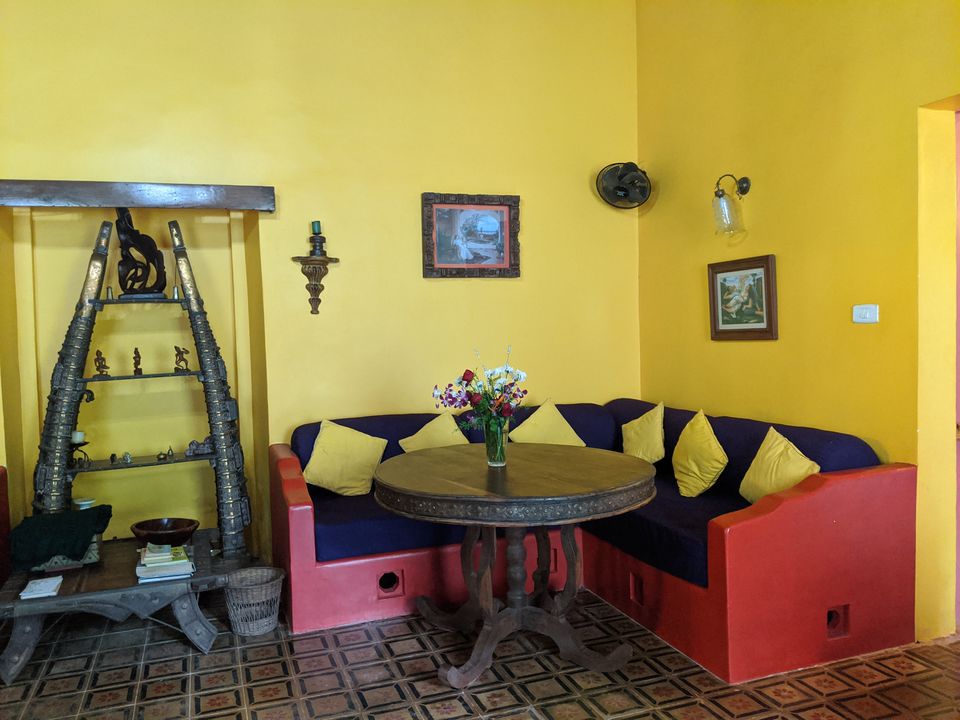 CAROLE and NORMAN
This lively couple are hands down the coolest hosts we have ever met in our lives! Carole & Norman are two beautiful souls with whom we spent our 3 days at this property. From taking us around the Villa to sharing laughter, from enjoying delicious meals & wine, to helping us explore the hidden gems Loutolim, they ensured we had the most amazing stay of our lives! If you ask us, they are the heart and soul of this house. Eventually, we enjoyed our conversations with them more than exploring the neighborhoods.
Their warm and welcoming house epitomizes the art of elegant idleness, whether you travel as a couple or group of friends, you will feel at home.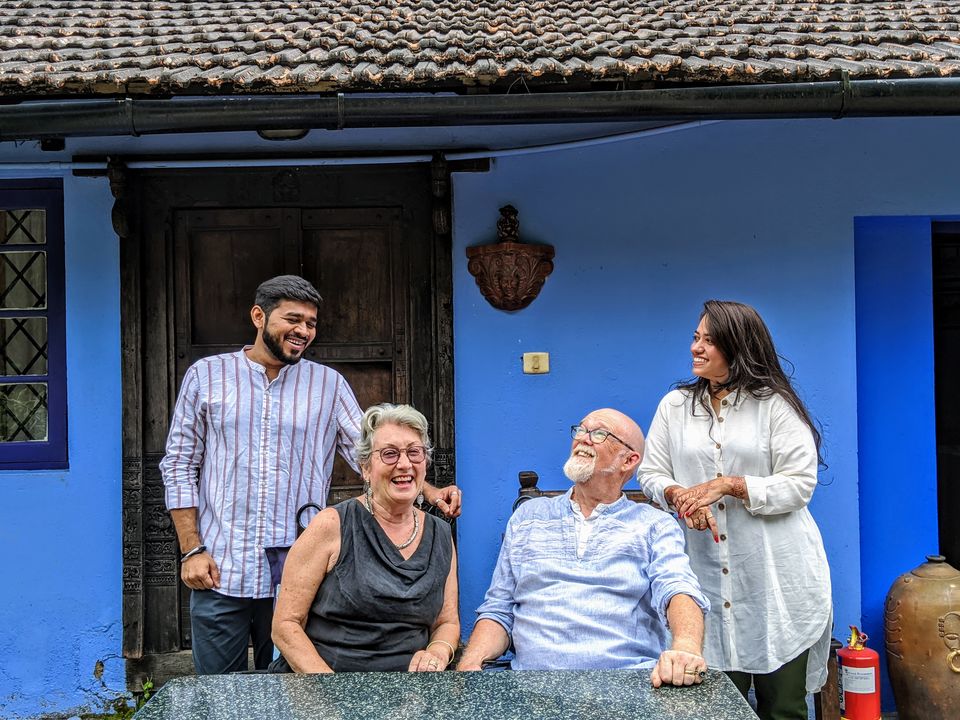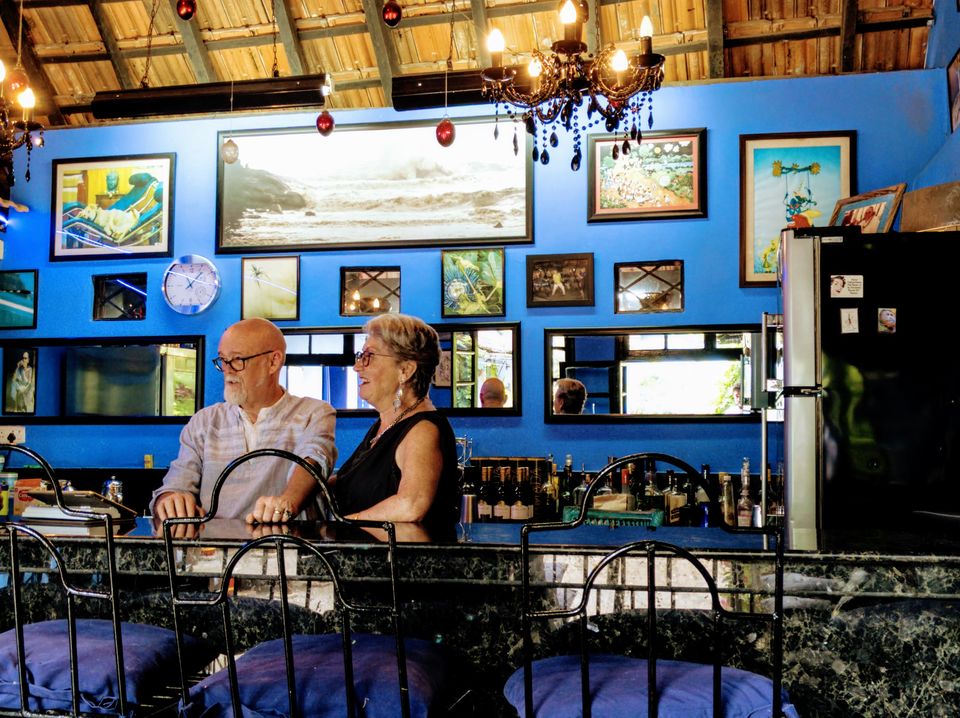 And if you think, only Carole and Norman stay in this house, then you are wrong. They are big family with 4 cats, 4 dogs, and the entire team of cooks and caretakers with whom they share every moment of their life. Spending your day with them will not only make your hearts lighter, but you will have a memory to cherish for long time.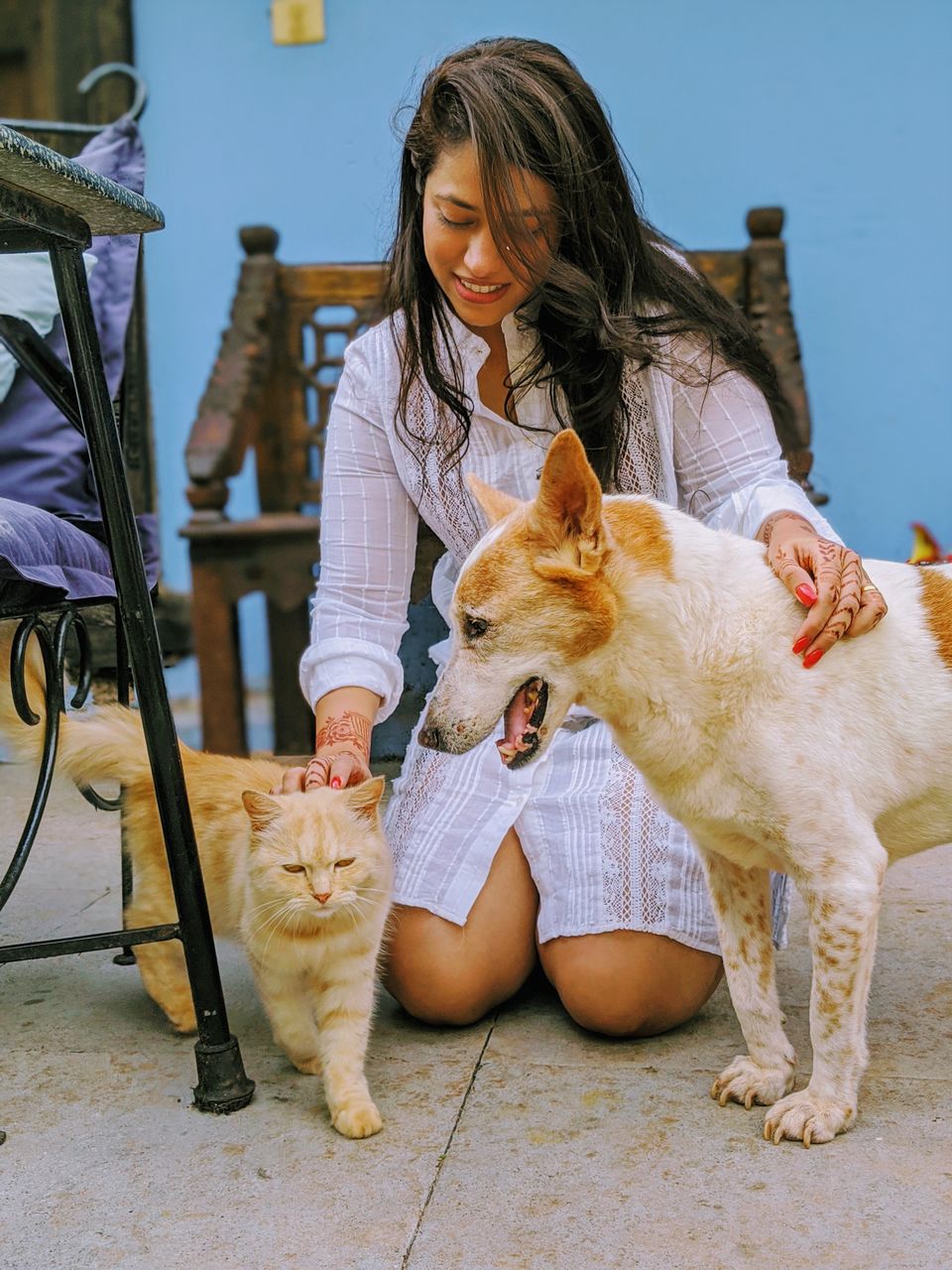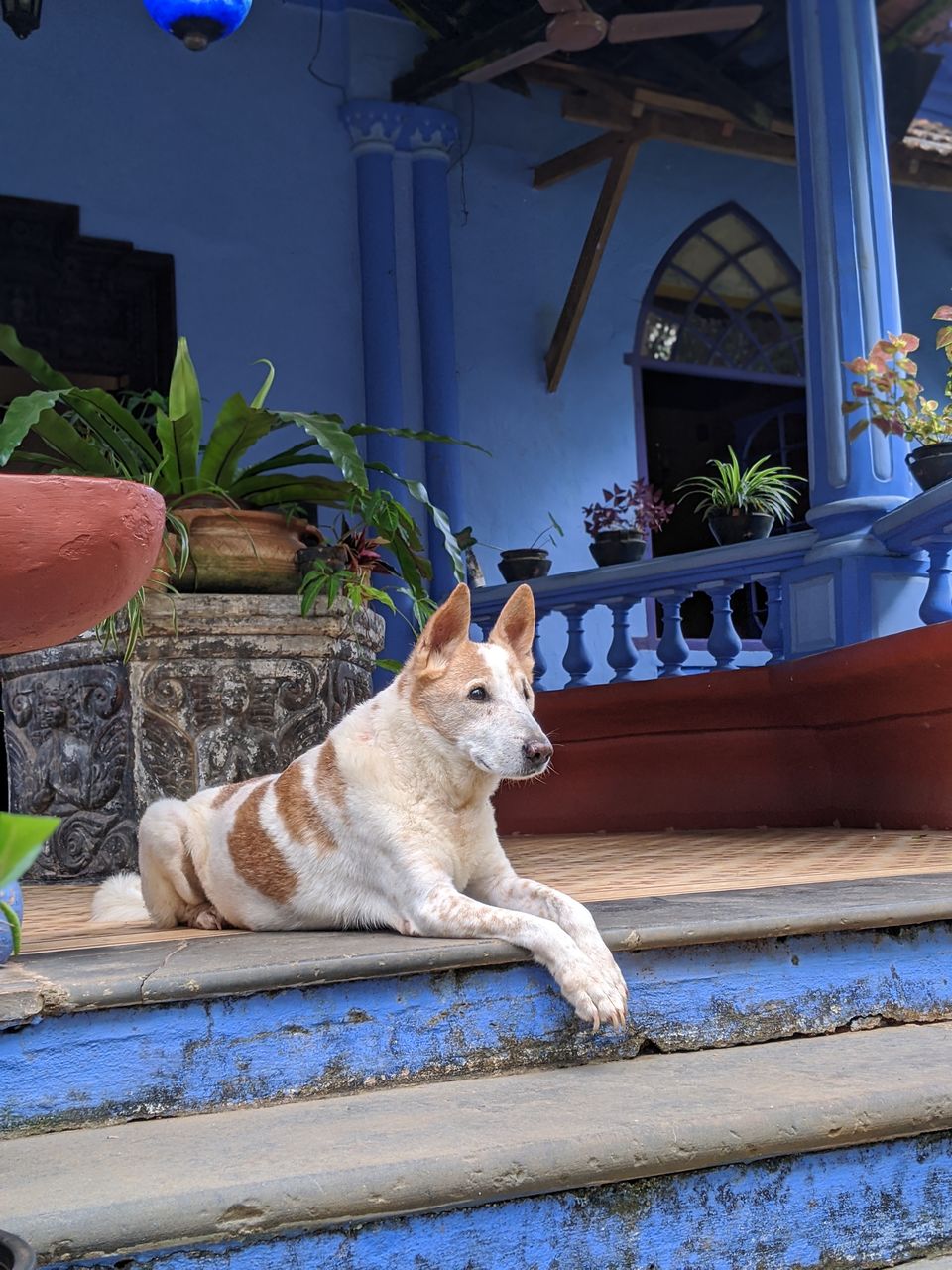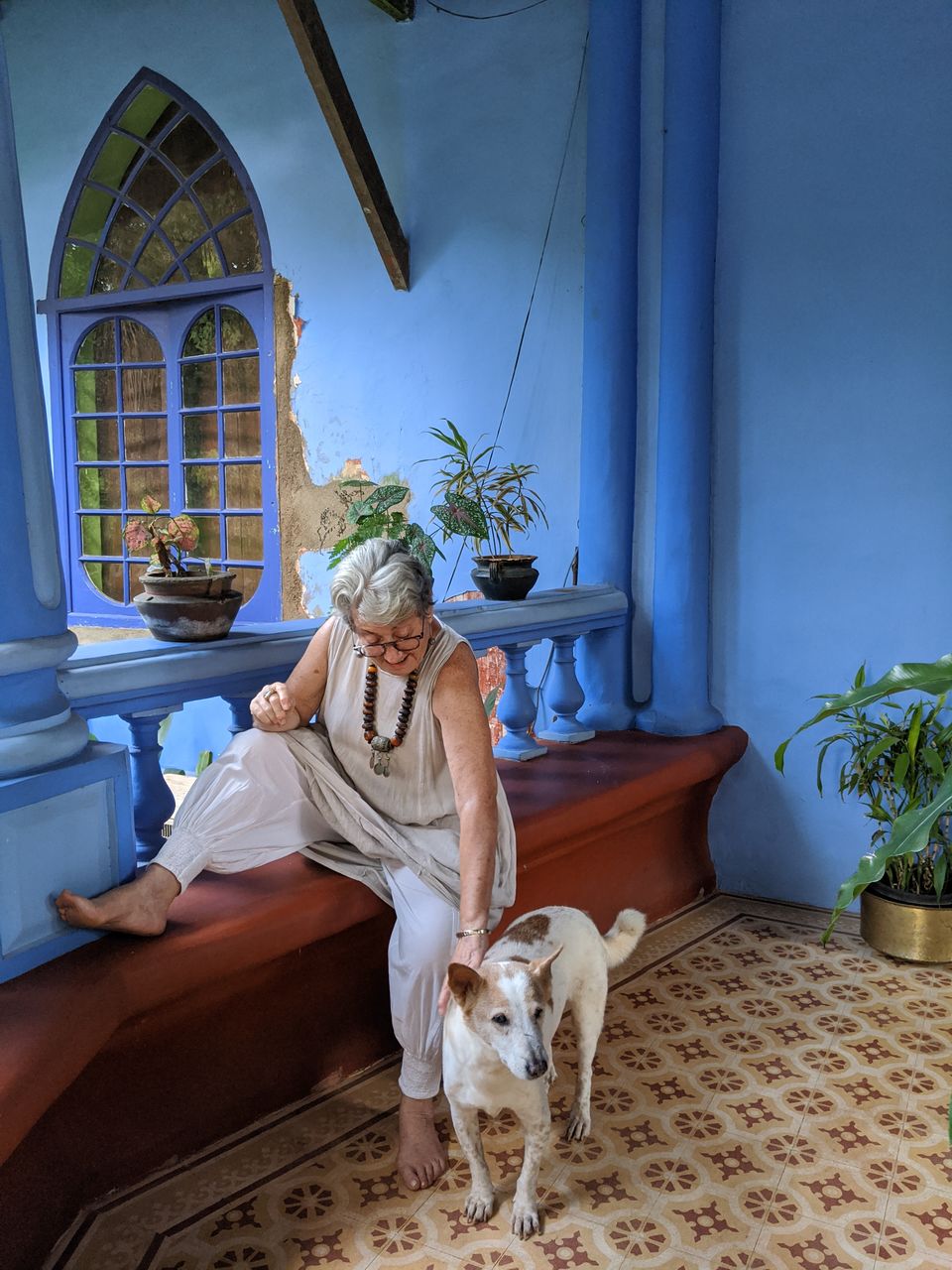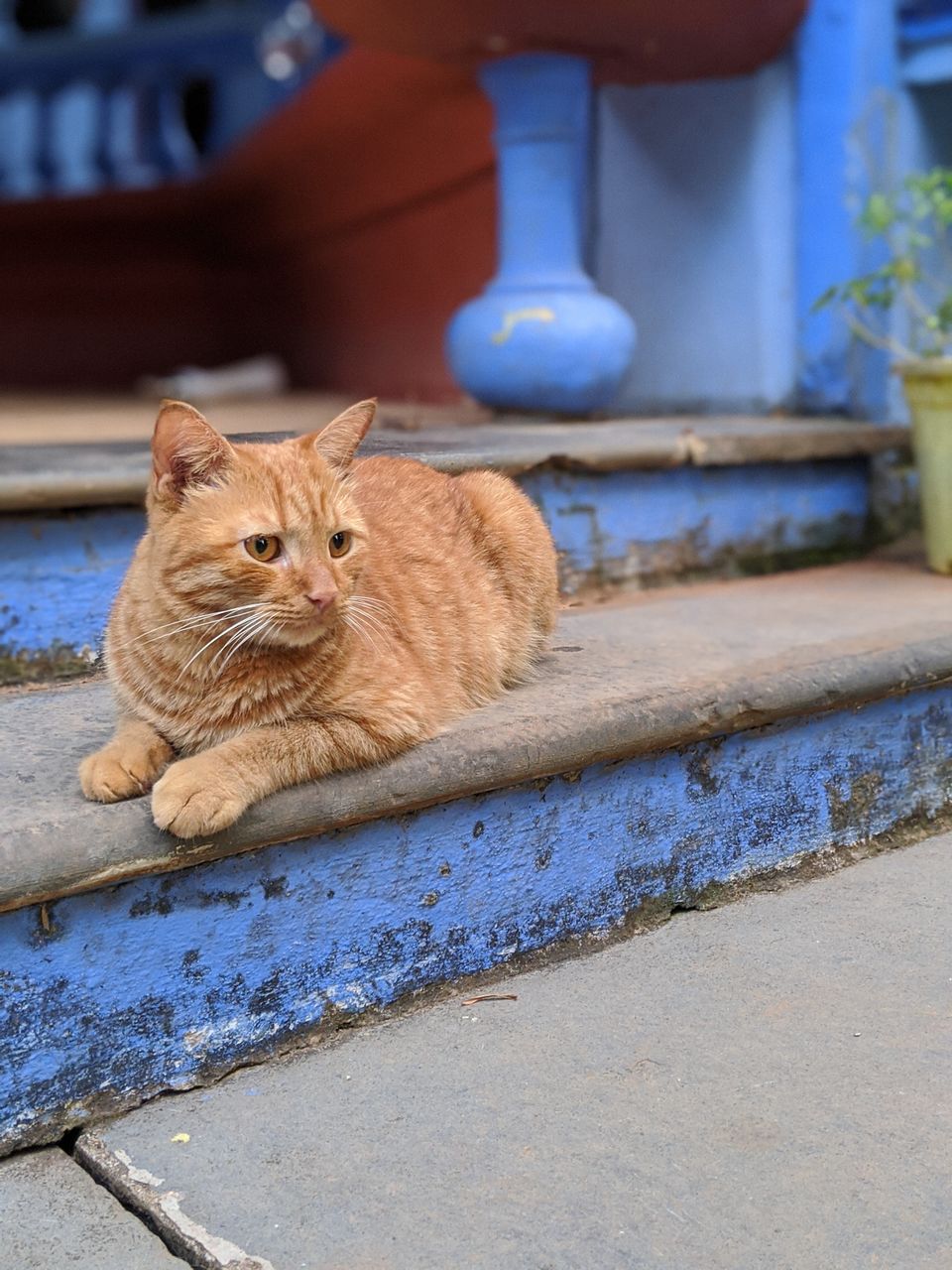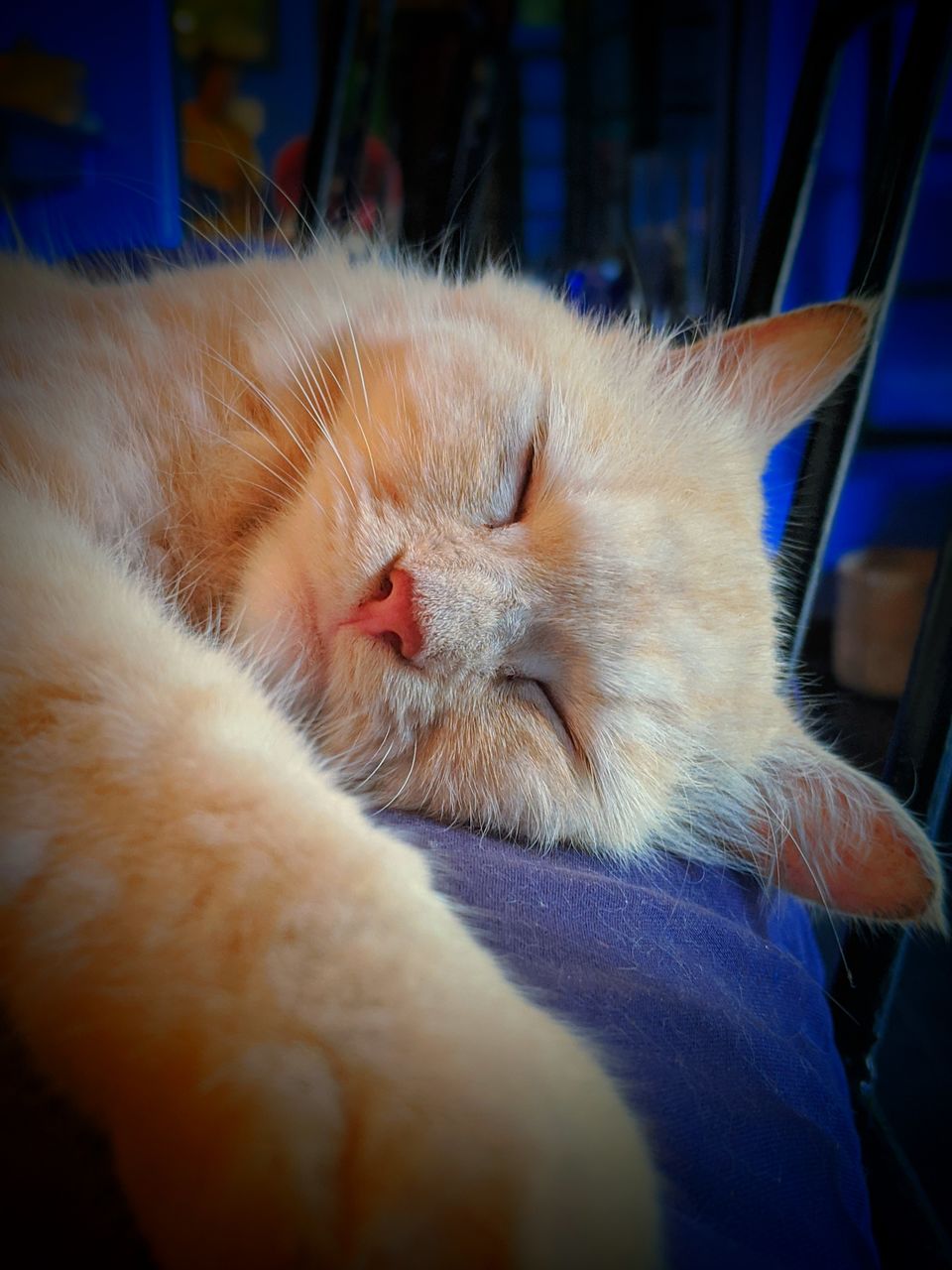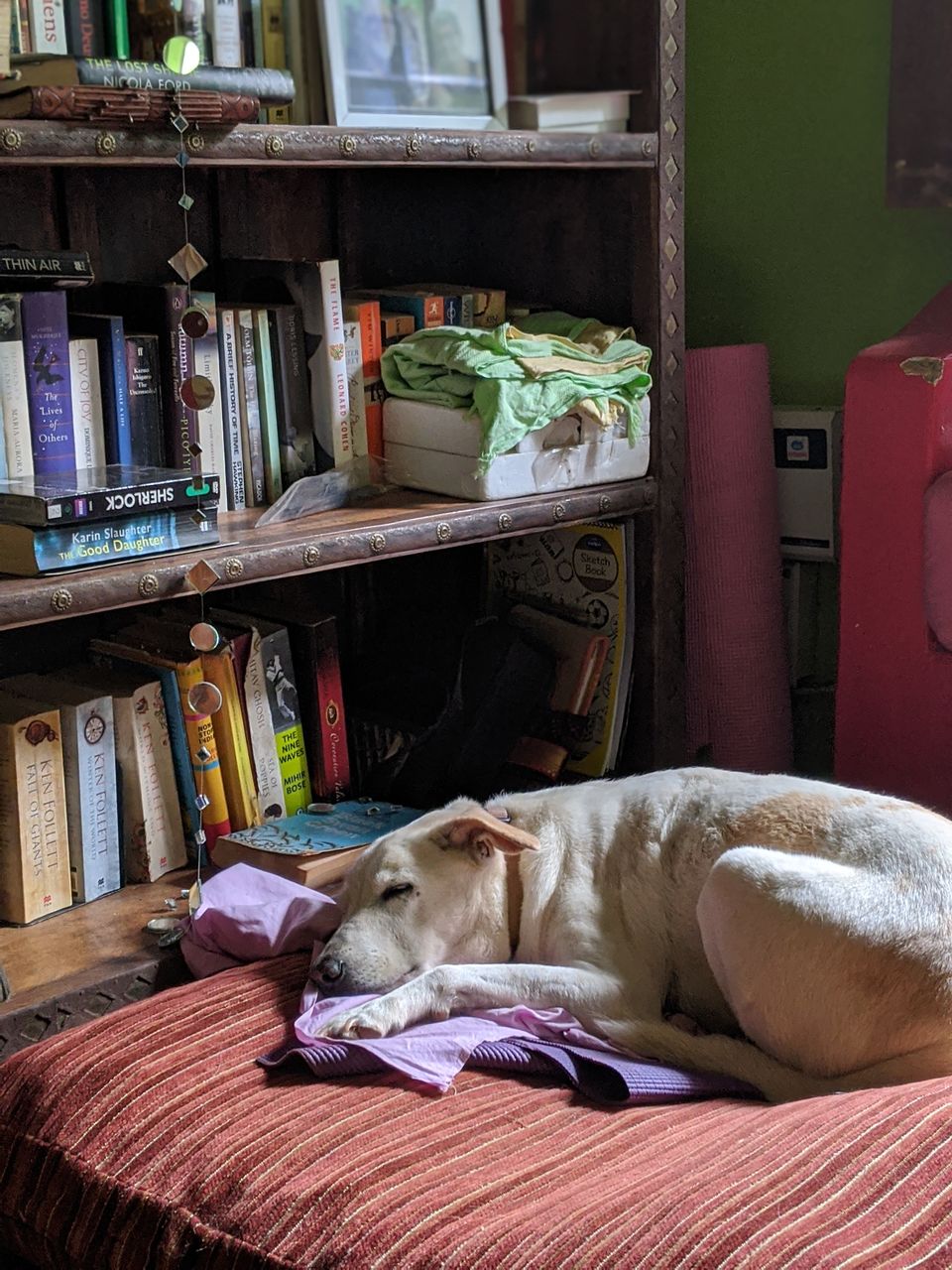 Soul Food
Carole and Norman consider feeding their guests very seriously.
Pro-tip: You just CANNOT miss the food here! The food served at Casa Suesegad is one of the major highlights in making our stay worth remembering. Let us warn you, you will be spoilt for choice here!
The food team, headed by Chef Joanita, works magically in presenting you scrumptious meals with the freshest of ingredients & perfectly balanced spices majority of which are sourced within the village. Everything is organic here, and meals are prepared in the well-equipped, large kitchen or over a traditional wood fire.
From fusion breakfast dates in the bar area, formal dinner plans to enjoying your meal lazing around the pool area, you can enjoy your meals at your favorite corner of the house. The menu can be customized ranging from traditional Goan cuisine, Indian dishes to Continental fare!
Food is discussed with, what is effectively, your own private chef at breakfast every day, and then meals are prepared to suit your personal tastes. They also have a beautiful dining room in the house where you can prefer having your lunch and dinner with the hosts.
Must-try: Fresh Salads & Suesegad Special Eggs!
Activities
The area abounds with wildlife, from monkeys swinging through the mango, spice, and cashew trees to extensive bird-life watching. A walk around the property and through the surrounding forest trails with Norman is filled with fun, and is always interesting. Since the place is amidst nature, it is a blessing for yoga enthusiasts. Beauty treatments and massage are also available in the property from highly qualified visiting Ayurvedic masseuse.
Carole and Norman, along with their family, at Casa Susegad are a prime example why we prefer such stays more than hotels and resorts. It is the 'connect' with (such) people that counts more than any comfort in the world (which most of 5-star luxury hotels and resorts lack at this time). No matter where on Earth you travel, people are the real face of that place. Your experience with them, makes you visit that place again and again. This lovely couple is the USP of this house, and that's what makes Casa Susegad a special place for a lovely, romantic, joyful outing with anyone you choose!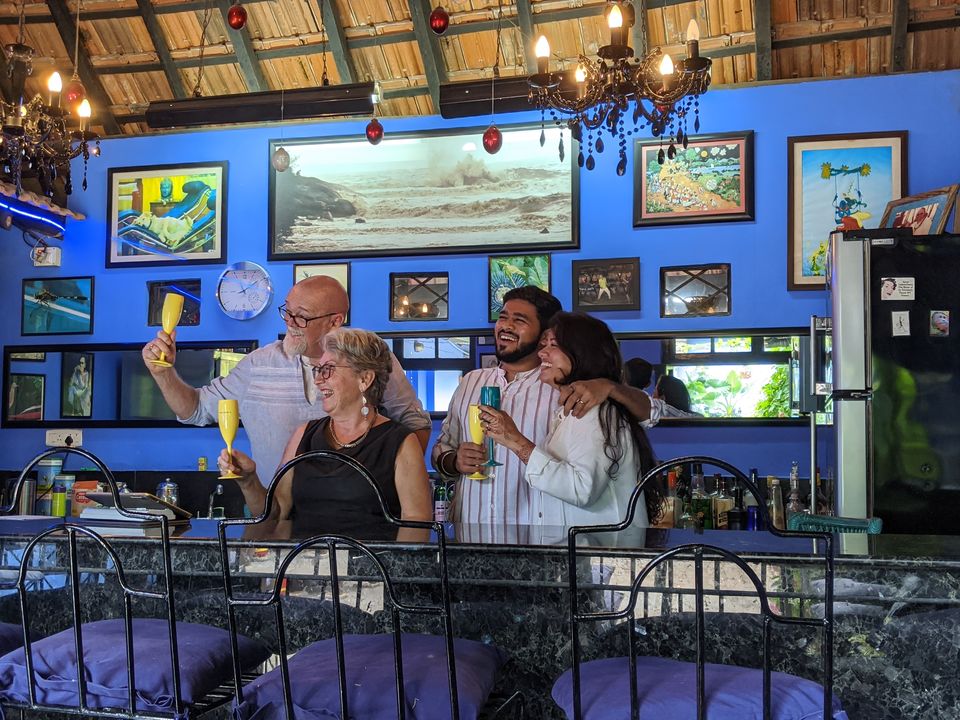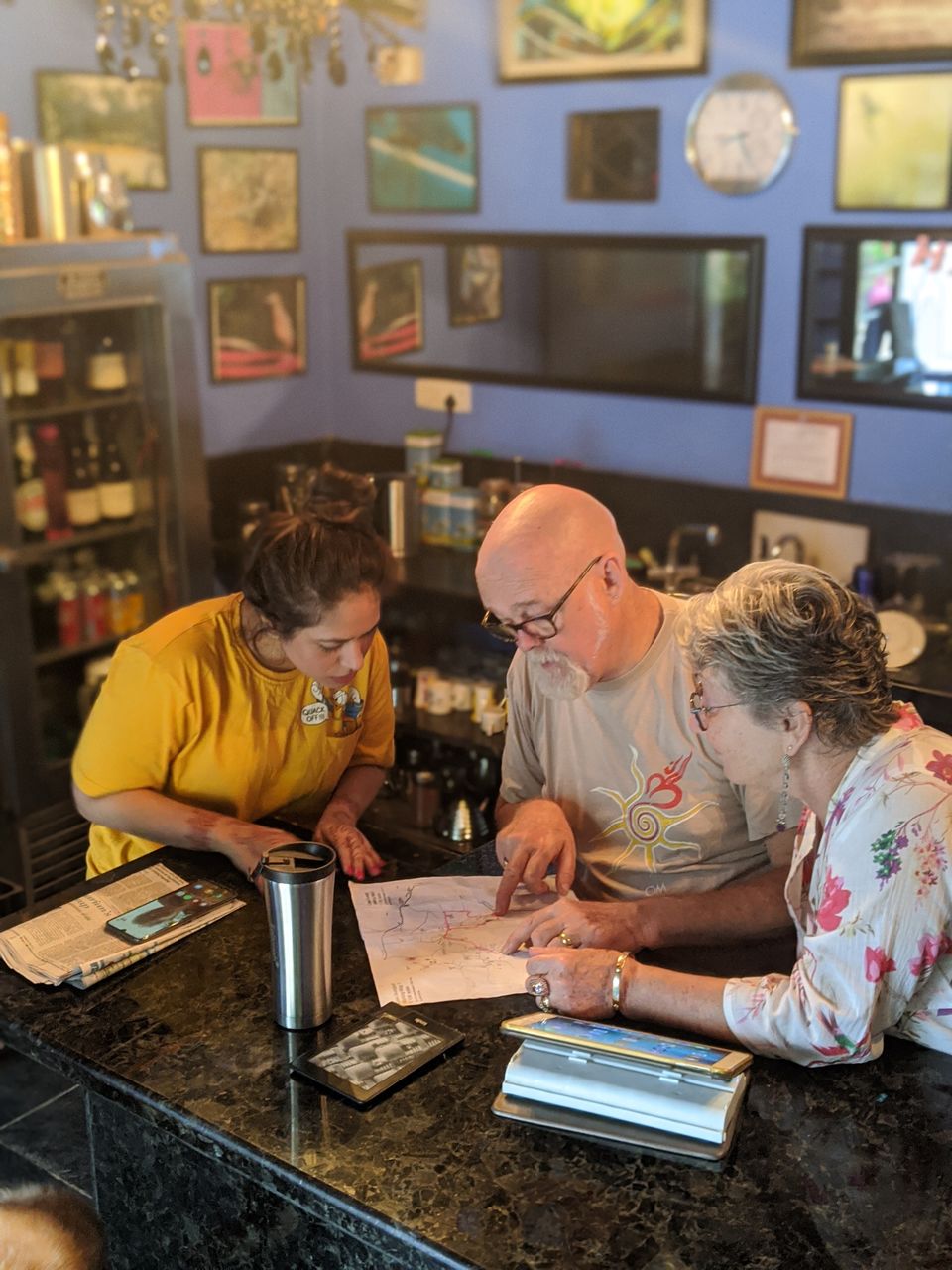 Important information
House Phones: +91 832 285 8090
Norman Mobile: +91 9822 106341
Carole Mobile: +91 9850 473174
Email: admin@casasusegad.com
Frequent Searches Leading To This Page:-
Best Tour Packages for Goa, Best Goa Trip Packages, Goa Tour Package for Couple, Best Travel Packages for Goa, Best Goa Trip Packages, Goa Holiday Tour Packages, Top Goa Packages for Family, Goa Honeymoon Packages from Delhi