I was traveling in Sri Lanka when I suddenly felt the urge to book my tickets for Gujarat and plan a trip for December. Honestly, I don't remember now what was going through my mind except for the fact that I really wished to wanted to visit Kutch once.
So, without thinking too much, I booked my ticket for Gujarat and was all set to celebrate my New Year away from my friends or family. And since I am not a big fan of short 5-6 days trip, I figured I will explore a few other cities in Gujarat and make a long vacation out of it.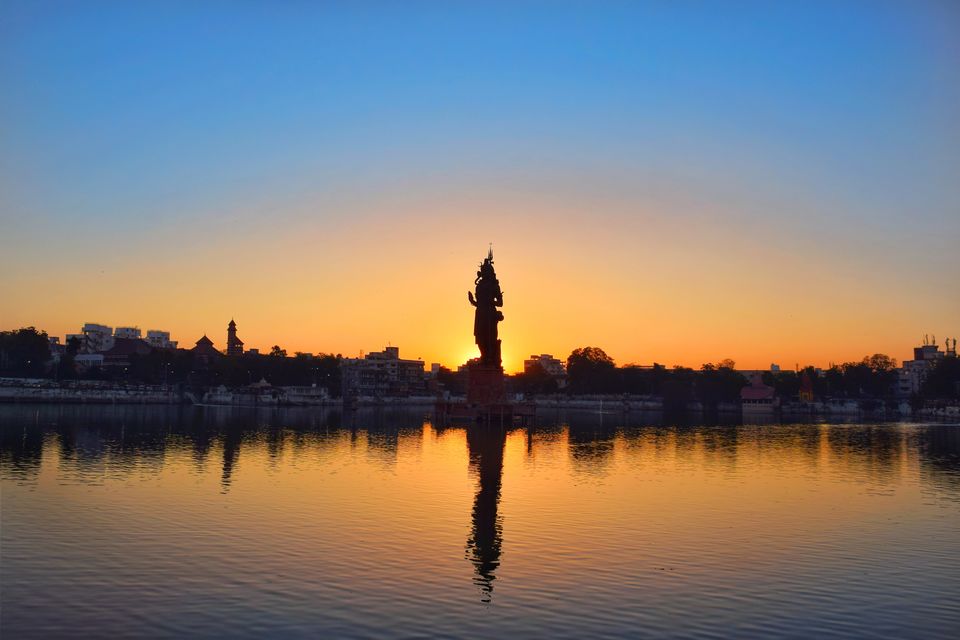 And that's what I did. I reached Gujarat and had an epic time in Kutch, Bhuj, and all the other amazing cities that I visited in this short duration.
Route
I reached Ahmedabad from Hyderabad and started my Gujarat trip from there. Since I wasn't sure about trains, I took a return trip flight which cost me about 5,000 INR. But I would advise you to take a train as it is cheaper and allows you to admire the beautiful landscape along the way.
After spending a day in Ahmedabad, I took a bus to Vadodara and spent a day here. From Vadodara, I took another bus for a day tour to Champaner. Next, I took the night bus to Bhuj and spent an entire day there. From Bhuj, I traveled to Kalo Dhangar and Rann of Kutch the next day and then returned on the same day.
Next day, I went for another day trip to Mandvi and returned back at night and explored the area a bit. Then, I spent the entire next day just roaming around in Bhuj and having the most delicious food ever. We left for Ahmedabad the same night and spent another day here, exploring places.
Finally, the next day, I left for the airport to catch my flight to Hyderabad and returned back home.
This is the route that I followed:
Hyderabad - Ahmedabad - Vadodara - Champaner - Bhuj - Rann of Kutch - Mandvi - Bhuj - Ahmedabad - Hyderabad
Best Time to Visit Gujarat
This greatly depends on what you are planning to do in Gujarat. If you want to visit the Great Salt Dessert, Rann of Kutch, then winter is the best time to visit.
During the winter months, the water dries up in Kutch and you can walk here and also enjoy the Rann Mahotsav which happens from every November to February.
Another benefit of visiting Gujarat in winters is that you can easily explore the cities without dying from the heat. Honestly, it was slightly hot in December as well when I visited but overall, winter is the perfect time for visiting Northern part of Gujarat.
1-Week Itinerary for Exploring Gujarat
Here is a concise 1-week itinerary that I followed in Gujarat which you can refer to while planning your own Gujarat trip.
I left from Hyderabad at night and reached Ahmedabad at midnight with another traveler. So, we took an Uber to my hostel which was at the Bus Station and it took me around 30 minutes and cost around 130 INR for two people.
Next day, we got up early in the morning to take a bus to Vadodara. The bus to Vadodara cost 200 INR and took us around 5 hours to reach so we were at Vadodara at 12 p.m. From the bus stand, we had to take an auto for 150 INR to reach our host's place. We were staying in Couchsurfing with a local who lived near Mari Mata Mandir and was really sweet and accommodating.
After reaching our place of stay, we freshened up a little and then headed to the famous Lakshmi Vilas Palace which was just a 20-minute walk from our place. The entry ticket fee for Lakshmi Vilas Palace is 225 INR per person and includes an audio guide as well. It took us around 1 hour to explore the place with the help of the guide and then we spent another hour just relaxing and taking photographs here.
Then, we left for Sayaji Baug in an auto which cost about 50 INR from Lakshmi Vilas Palace but was actually a dissapointment. But they did have a nice joy train ride for 50 INR which we enjoyed. We spent a little time exploring this area but it is like any other park so you might as well skip it.
On our third day, we headed to Champaner-Pavagadh Archaelogical Park which is a UNESCO Heritage Site. We took an auto to the bus station which cost around 40 INR and got a bus to Champaner here for 32 INR.
We finally reached Bhuj next morning around 6-7 a.m. and walked to our guest house which was just 600-700m from the bus station. After taking a bath and getting ready, we walked to the Pragmahal Palace but it was closed for lunch so we decided to return here later.
After that, we walked to the Bhuj Chhatedi and spent some time here. Photography is not allowed at this place but if you are discreet, you can get some nice shots.
Then, we headed for lunch in the market and had to make do with a Punjabi restaurant as all the other Gujarati restaurants were closed up at 3 p.m. After having lunch, we enquired about scooty/bikes to Rann of Kutch for the next day and then we headed back to the Pragmahal Palace.
The entry ticket to Pragmahal is 30 INR and you get to walk to the top of the tower to see the entire Bhuj city from here.
We started early for the Rann of Kutch as it was far and we had to get the permit as well. But we were too early so we decided to head to Kalo Dungar instead.
It took us around 1.5 - 2 hours to reach Kalo Dungar and it was an extremely thrilling ride. We spent an hour here, observing the landscape and taking photographs and then left for Rann of Kutch around 11 a.m.
Next day, we took a bus to Mandvi which cost 35 INR and took around an hour and a half to reach. From the bus stand, we took an auto which took us to Mandvi Palace, waited for us over there, and then dropped us off at the Mandvi Beach.
There wasn't much left to see in Bhuj anymore so we covered some other touristy spots like Aina Mahal, Laxminarayan Temple, etc. in Bhuj.
We also strolled around the nearby places and I had an amazing thali at one of the shops near Bus Station. The thali cost just 80 INR and gave me unlimited food to enjoy.
Finally, we left for Ahmedabad at night and the bus cost about 307 INR per person.
The next day, I had an early morning flight so I left at 6 a.m. for the airport and then flew back to my home.
Overall, it was an amazing trip and I fell in love with the Gujarati food here. Plus, the transportation and cabs are really cheap here so you will have no problem in planning a budget trip to Gujarat.
We reached Ahmedabad early morning around 4 a.m. and then walked to our hostel here. The hostel cost 250 INR for a night and was quite a basic one.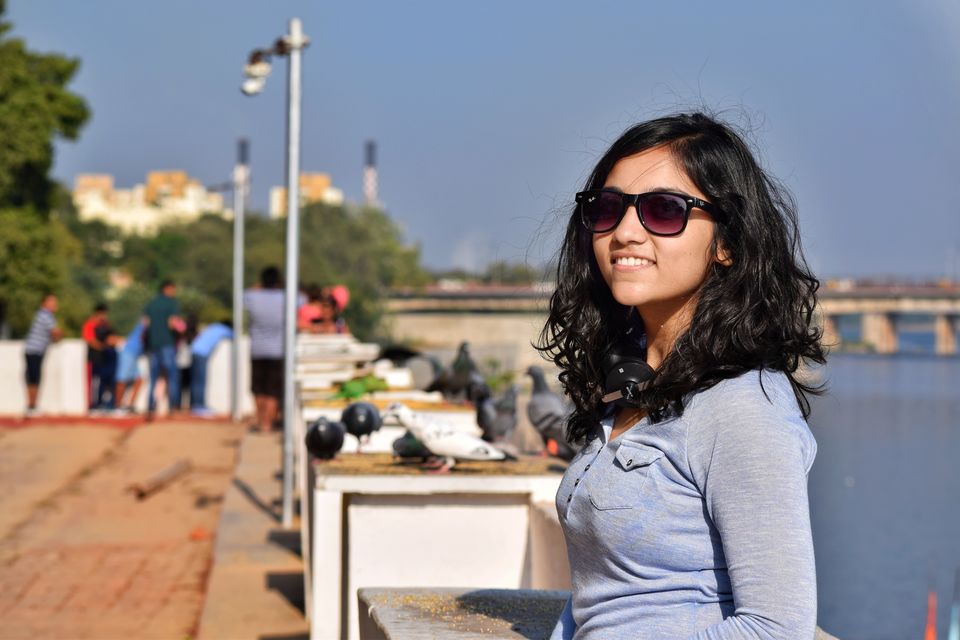 After checking in to our hostel, we slept for a while and woke up early the next morning to start exploring Ahmedabad. First, we decided to go to Adalaj Stepwell which was around 22 km from the bus station. We first took a bus to Chandkheda which was 30 INR.
From here, we took a shared auto which cost 15 INR per person and left us at Adalaj Gam. From here, we walked for the remaining 800 m and reached the Adalaj Stepwell. This is a beautiful place for photography and people who are looking for some peace. But if you want to enjoy some quiet, then make sure that you arrive here early in the morning on a weekday.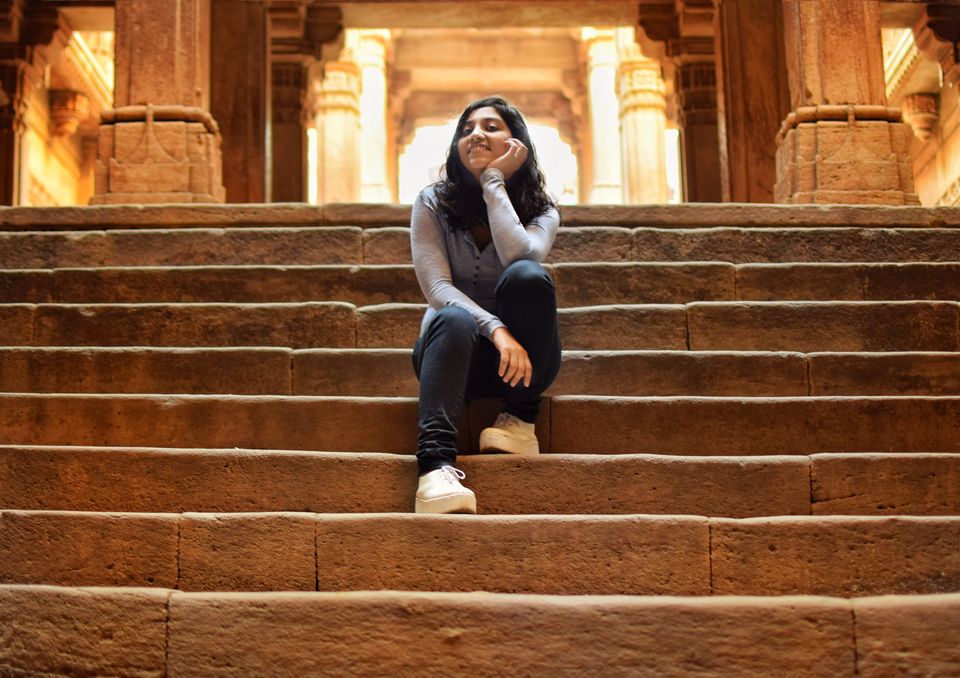 After exploring this place for a while, we took a shared auto and bus back to reach Sarkhej Okaf which had a beautiful mosque and ruins for you to admire. To reach this place, we had to take a bus from Chandkheda which cost 40 INR and then a shared auto for 30 INR. It took us around an hour to reach and then we had to walk quite a bit since this was a local spot that not many people knew about.
We spent another hour here and then took a shared auto for 40 INR to reach the bus stand to get a bus till Sabarmati. We got a bus for Sabarmati Ashram for 26 INR and it took us another 20 minutes to reach. The best part about this ashram is that there is no entry fee and the entire place is quite well-maintained. So, you can simply relax in the garden or roam around and explore the area, it is up to you.
After spending another 1 hour here, we decided to head to the Jama Masjid side and explore the street shops a bit. We got a bus till Laldarwaja Apna Bazaar stop for 24 INR. From here, we walked around and explored the old market a bit. We also had lunch at one of the small dhabas which cost about 132 INR.
After having our lunch, we headed to the Jama Masjid and watched the sunset here before heading back to our hostel. The bus back to our hostel cost about 40 INR and took around 40 minutes to reach.
Where to Stay: I stayed in the In & Out Dormitory in Ahmedabad which is right next to the Bus Station. The dormitory was air-conditioned and clean here and the bed cost me around 300 INR for a night.
Next, we headed to the Munshi Market area so that we could watch the sunset behind the Shiva Statue. And honestly, it was a beautiful sunset. The place and the market are completely ordinary but the sunset was quite mesmerising.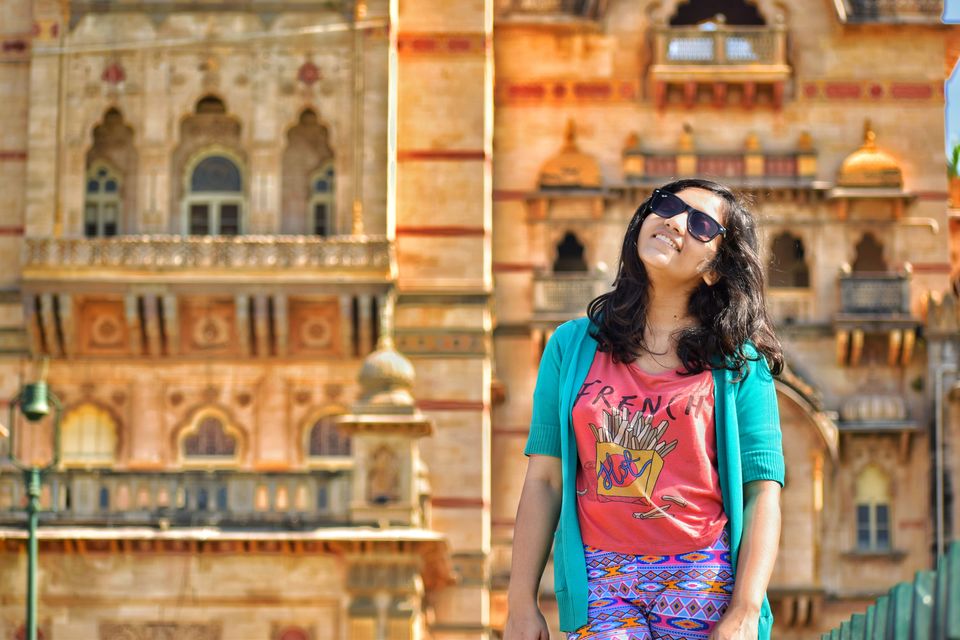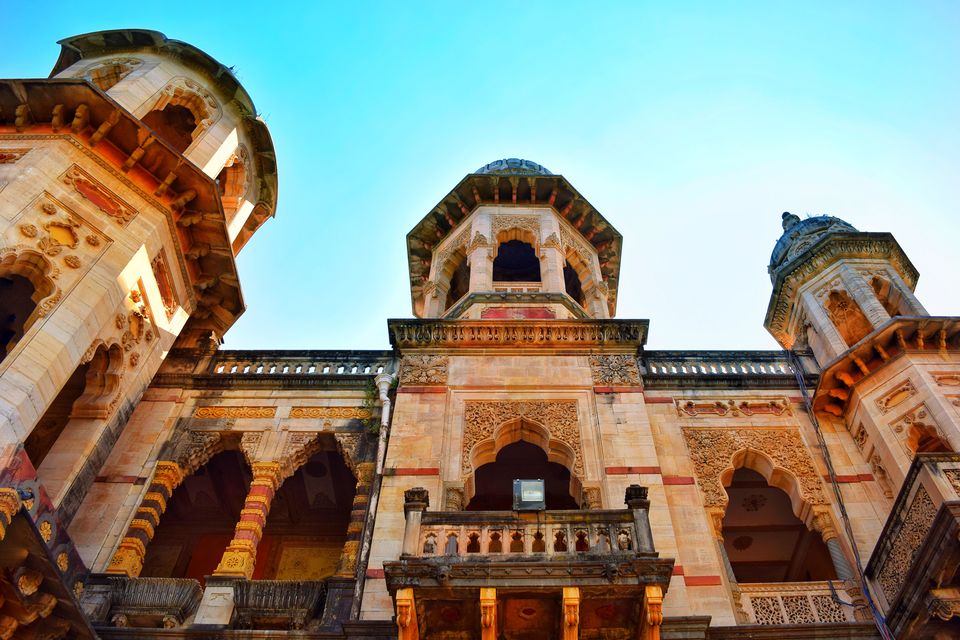 After that, we walked back to our stay and rested for a while. Then, we headed out for an authentic Gujarati dinner at Shree Kathiyawadi Khadki for 160 INR. The sabjis were delicious as were the special rotis and theplas.
After having an amazing dinner, we went back to the house and slept for the night as we were going to visit Champaner the next day.
After reaching Champaner, we spent some time at the Shaher ki Masjid but there are several other mosques and parks to check out here too. After that, we took a shared cab to the Pavagadh Hill and then walked for a while to reach the top.
We spent some time here and then took another shared cab back to the base for 40 INR and then got a bus back to Vadodara for 40 INR.
We had our bus to Bhuj from Vadodara which would take around 10-12 hours to reach and cost us about 278 INR. As we had nowhere else to go, we waited for some time at the bus station and had our dinner from here as well.
From here, we took an auto to the Bhujio Hill for 80 INR and then walked up to the top of the hill to watch an amazing sunset. After that, we headed back to the city and got an auto for 30 INR from the main road.
Then, we went to rent a bike for 1200 INR for 1.5 days and packed some essentials for our Rann of Kutch trip the next day. You can check out my detailed blog on Rann of Kutch at MeanderWander.com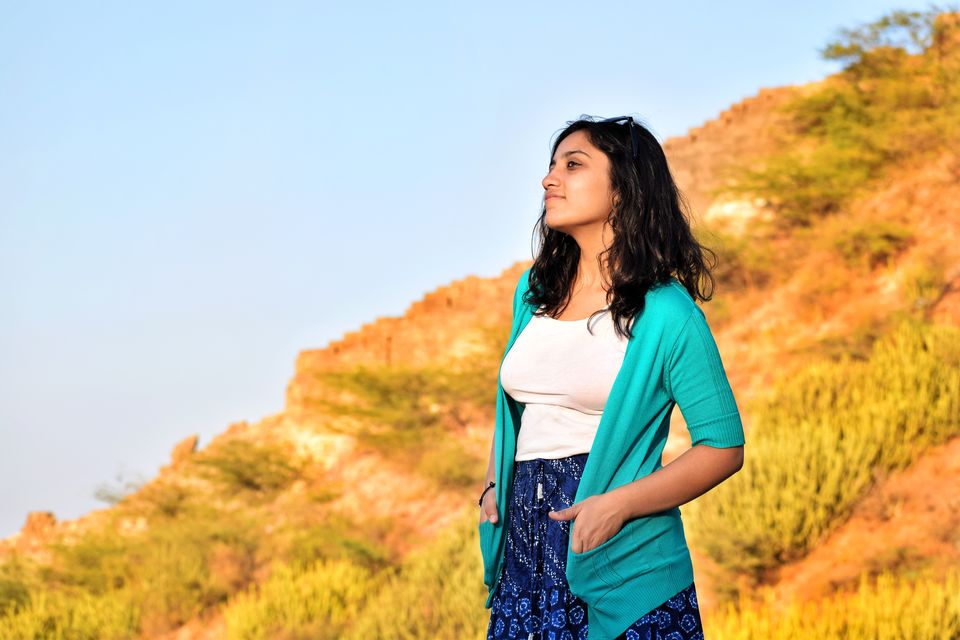 Where to Stay: I stayed at Royal Guest House in Bhuj which charged me about 150 - 200 INR per night for a bed in an A.C dorm.
In 45 minutes, we reached the permit checkpost for Rann of Kutch where we paid 100 INR per person and 25 INR for the two-wheeler for the permit. We enjoyed some maggi here too at 40 INR and then made our way to the great salt desert.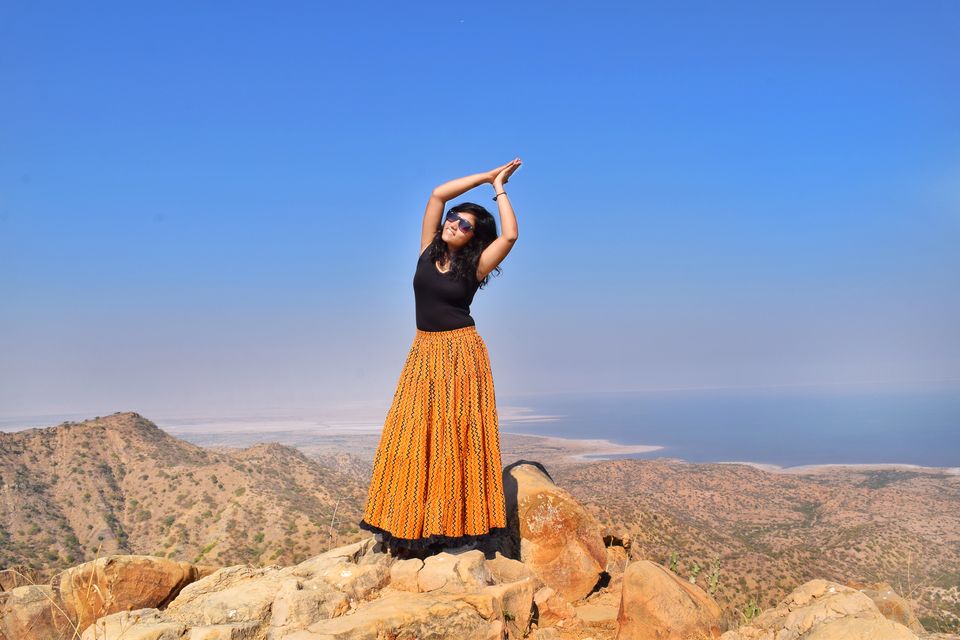 From the checkpost, it takes another 45 minutes to reach the desert and it was burning hot by the time we reached here. We spent the entire day here, taking photographs, sitting on the salt desert and relaxing.
And waited for the sunset which turned out to be really amazing as well. At 7 p.m., we left the desert and started making the rounds in the Rann Mahotsav which was quite vibrant and colorful. There were delicious food stalls and colorful shopping stalls as well.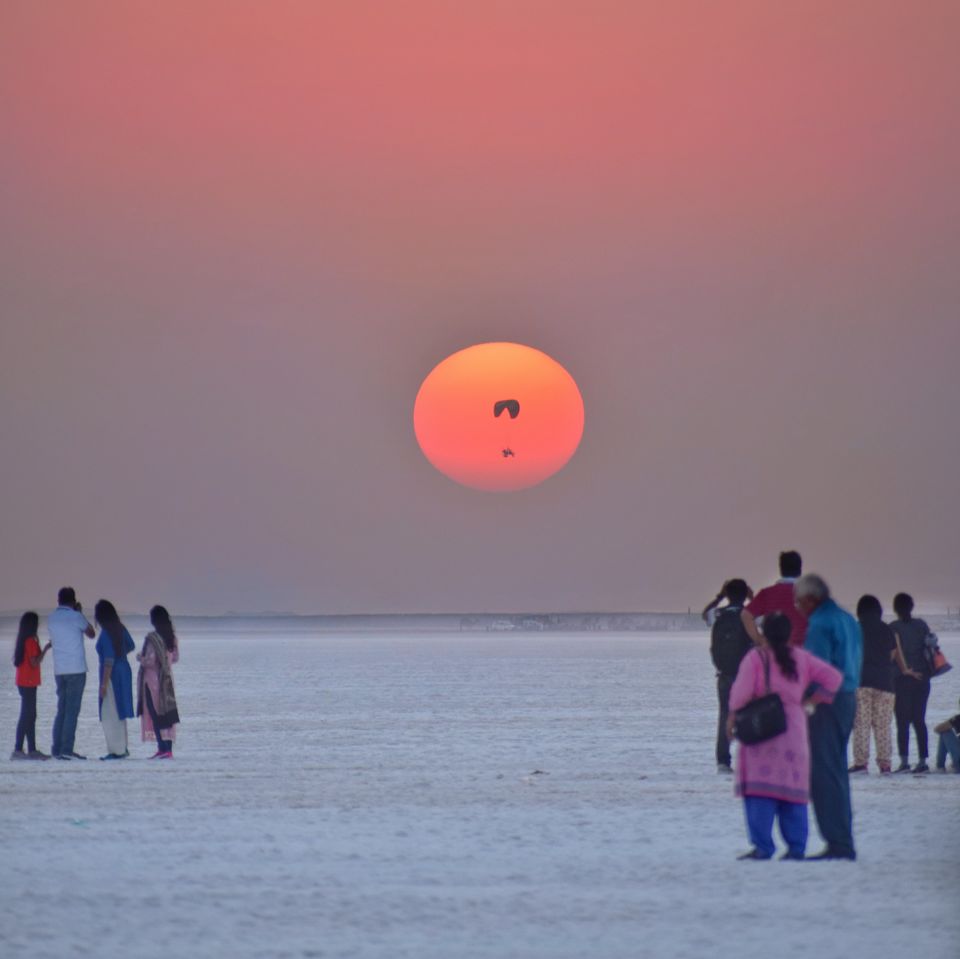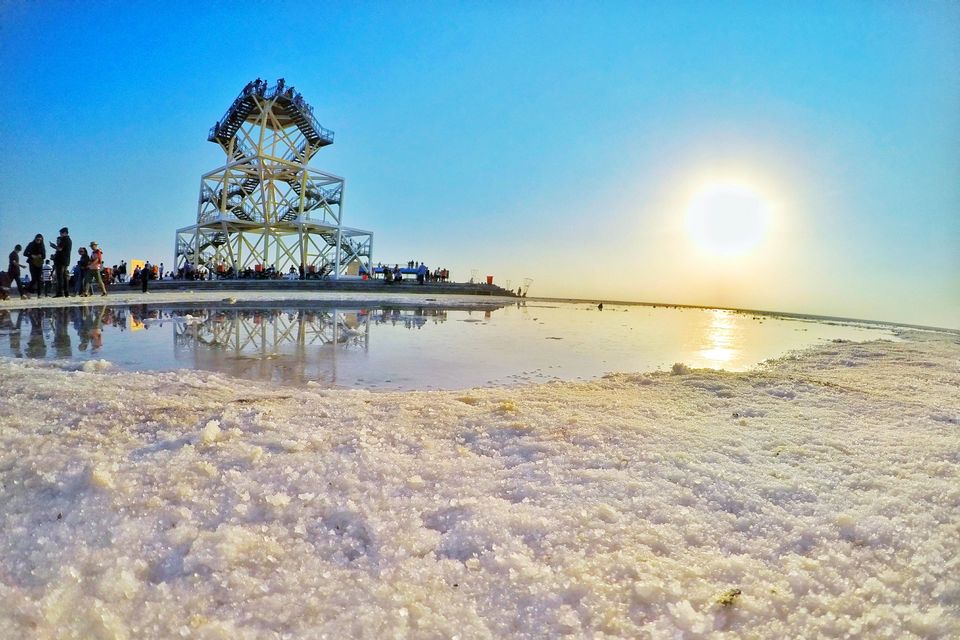 Finally, at 9 p.m., we left back to Bhuj and reached the city around 11 p.m.
The Mandvi Palace's entry ticket cost 50 INR and the parking was 20 INR after which we spent around 45 minutes or more, exploring the area. Next, we headed to the famous Mandvi beach where we dipped our feet in the cold, sea water while just strolling around on the beach.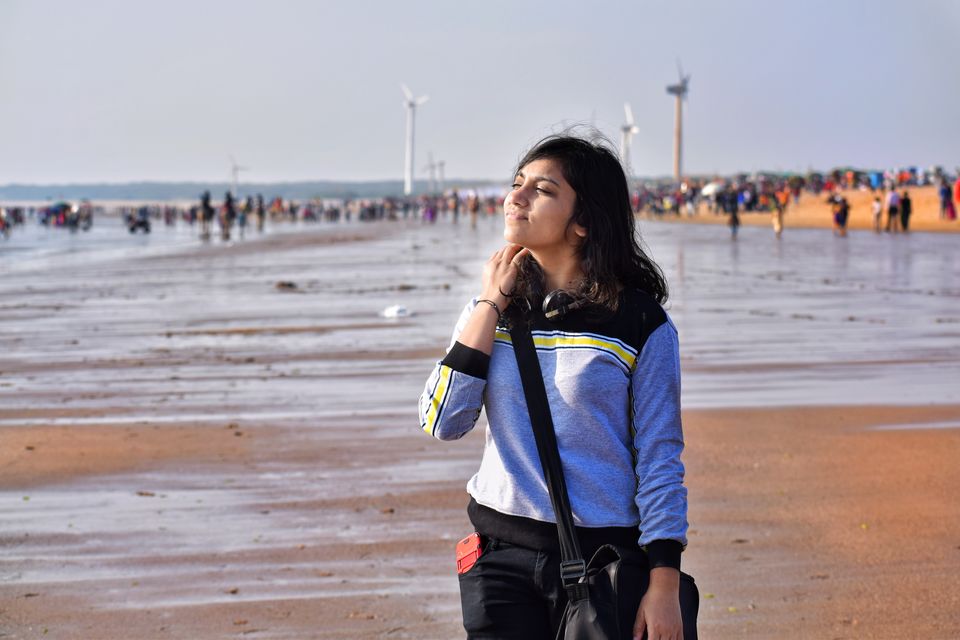 I also enjoyed some local snacks here and watched the camel rides on the shore before heading back to Bhuj via bus.
In the morning, we started exploring Ahmedabad again and took an Uber to Jasuben Pizza Parlour. After having breakfast here, we went to the famous Honest Pav Bhaji place and enjoyed filling meal there.
Then, we took an Uber to Sidi Saiyyed Mosque for 50 INR and spent some time here, admiring the interiors and the calmness over here. Next, we walked to the Riverfront and spent some time here, waiting for the sunset.
Finally, once it was dark, we walked to the Flower Show which was happening at the Riverfront and spent some time here. We had dinner at a local place where I again had an authentic Gujarati thali for 100 INR. Then, we walked to the Night Market to watch the colorful shops here and after a while, we returned back to our hostel in an Uber.