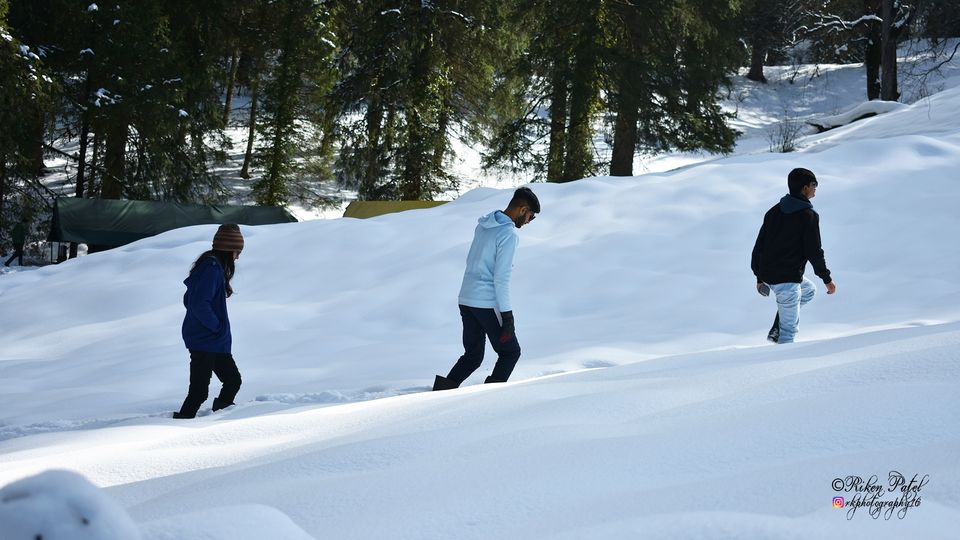 The day, our journey begins.how can I forgot that, at the morning around 11 pm we reached at kalupur railway station and we move towards Pathankot. To reach Manali you have many options from Ahmedabad i.e from Delhi, pathankot cantt, ambala cantt. And you also find Train availability easily but it was our pre-booked tickets, so we went to pathankot. All the long hold junction you can find hot food and please carry some packed lunch and water bottles else you might put in trouble sometimes.
Don't forget to lock your belongings at night as sometimes snatchers are snatch your luggage in running trains.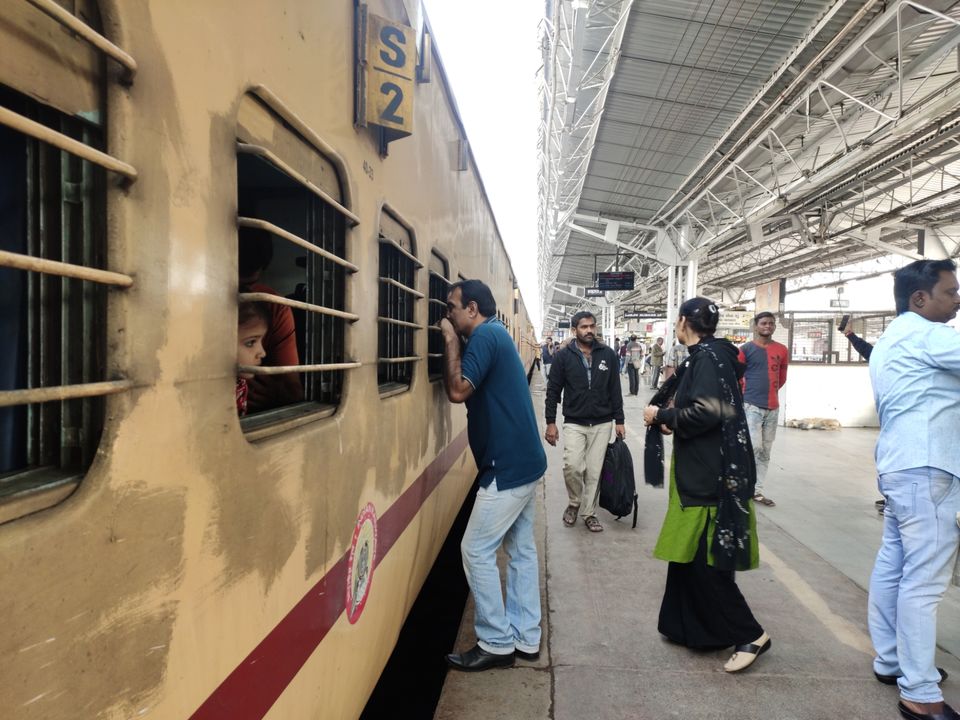 The second day early morning wake up and the view was unbelievable. We reached at jalandhar and ate some hot puff and Amul milk. Also enjoyed local delicious chhole bhature which were commonly available at there. Weather is totally foggy so we couldn't see the sun at there. After some station ahead our train stop at unknown place because of signal issues. The awesome pictures we captured at there which I put. We reached Pathankot cantt around 3 pm. There were uncertain rain from last night. We freshen up at near by hotel and did some shopping like gloves, raincoat, etc.
As we are only one step far from our base camp, we got ready for night journey by tempo traveller. Around 8 pm we moved towards our base camp.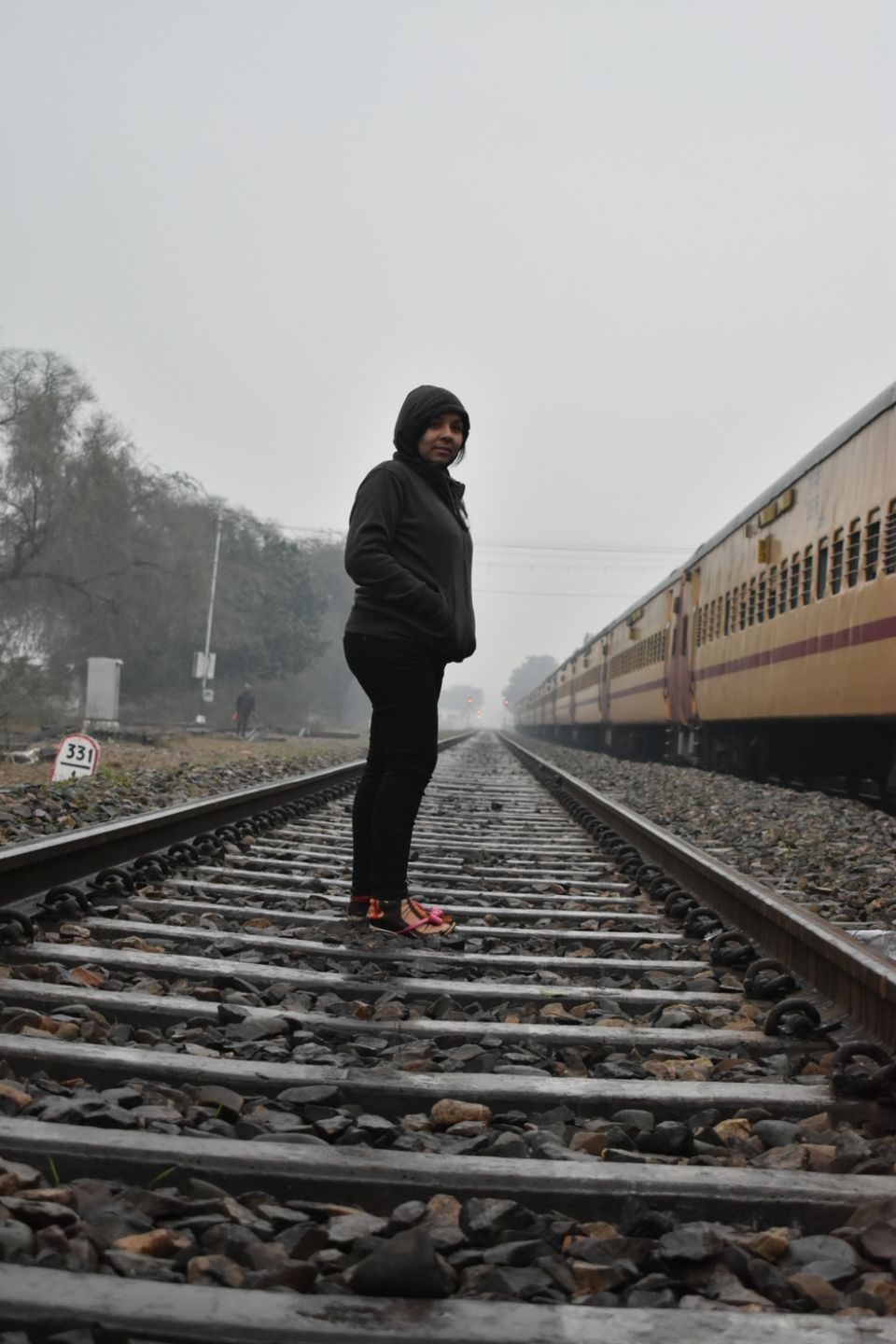 During journey we had lot of fun with friends in our cab. We enjoyed lot because our driver is very cooperative and we feel very comfortable with them is to Jolly person. At morning, 6 am, we reached at the dream place- Manali. Although, it's nearly 30 kms away but we can see and feel the beauty of Manali. The glimpse of the morning view you can see in pictures. At morning, 9 Am , we reached at our campsite which is located at rumsu. Before we reached there are many beautiful views we have seen which I would like to share with you.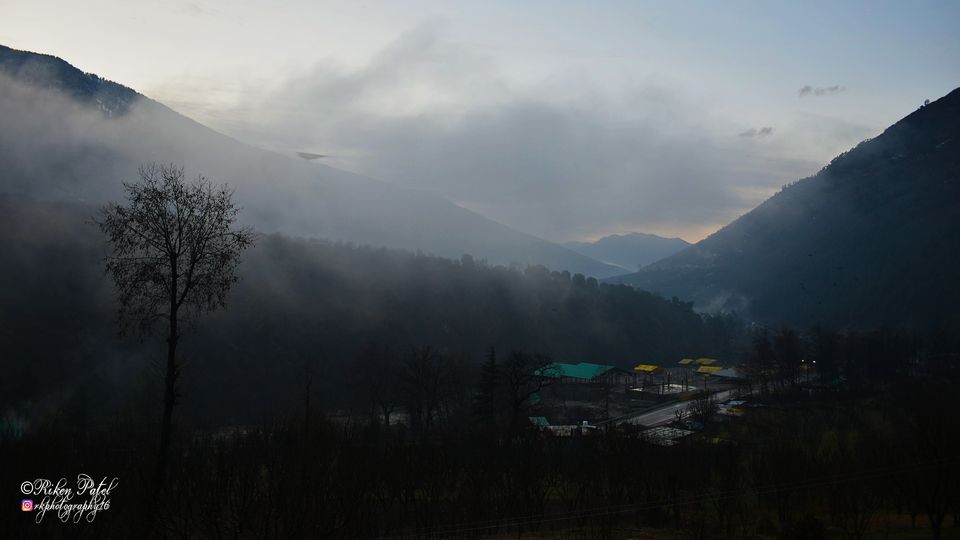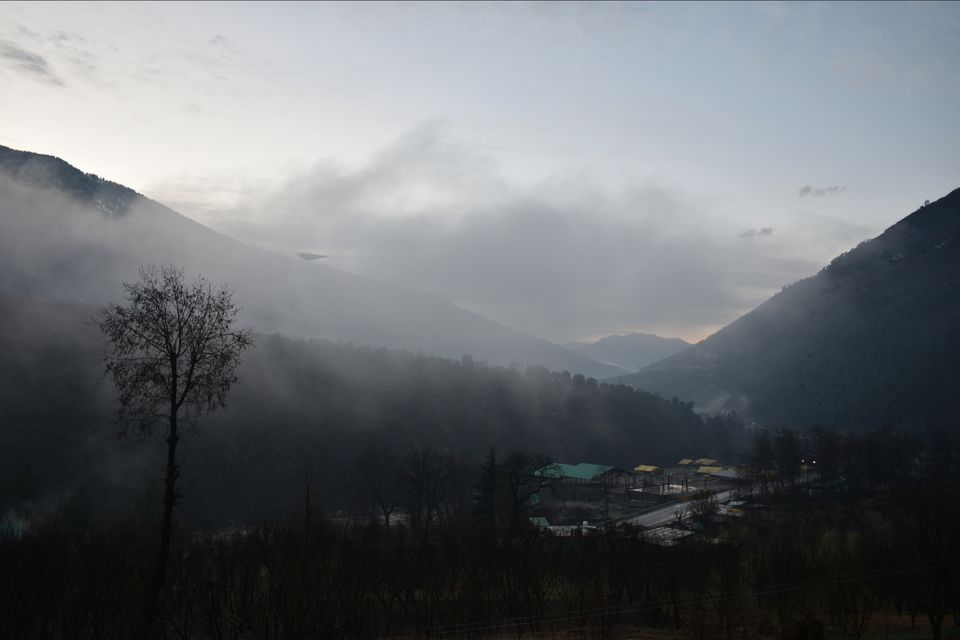 At morning, 9 Am , we reached at our campsite which is located at rumsu. Before we reached there are many beautiful views we have seen which I would like to share with you.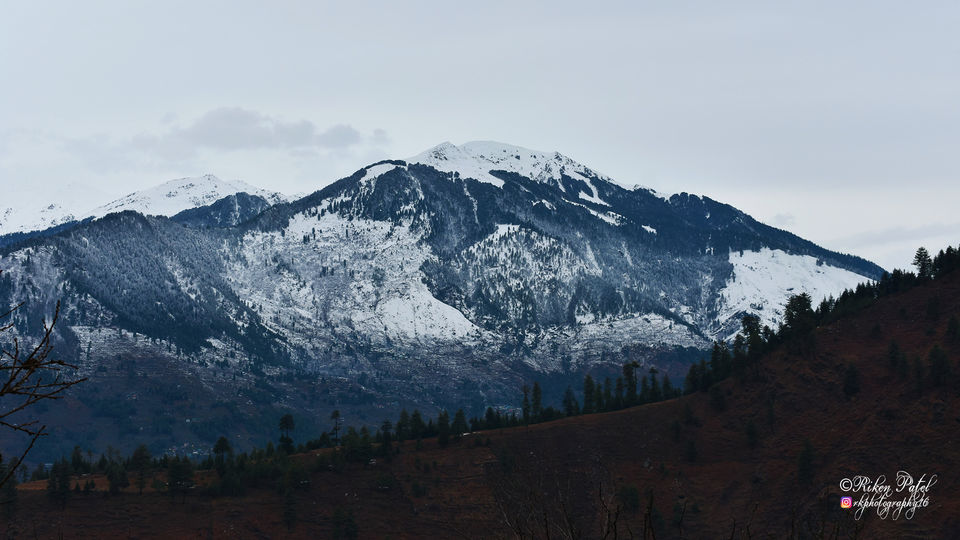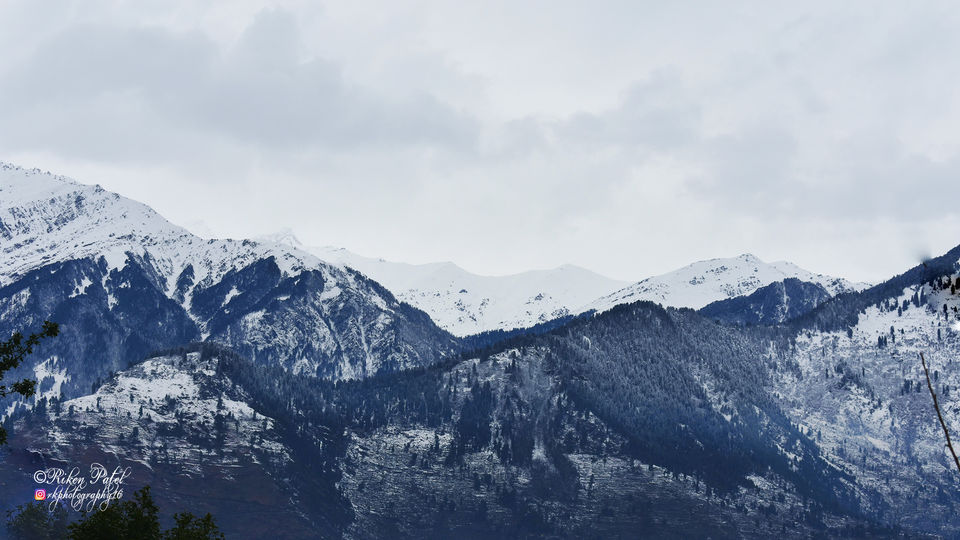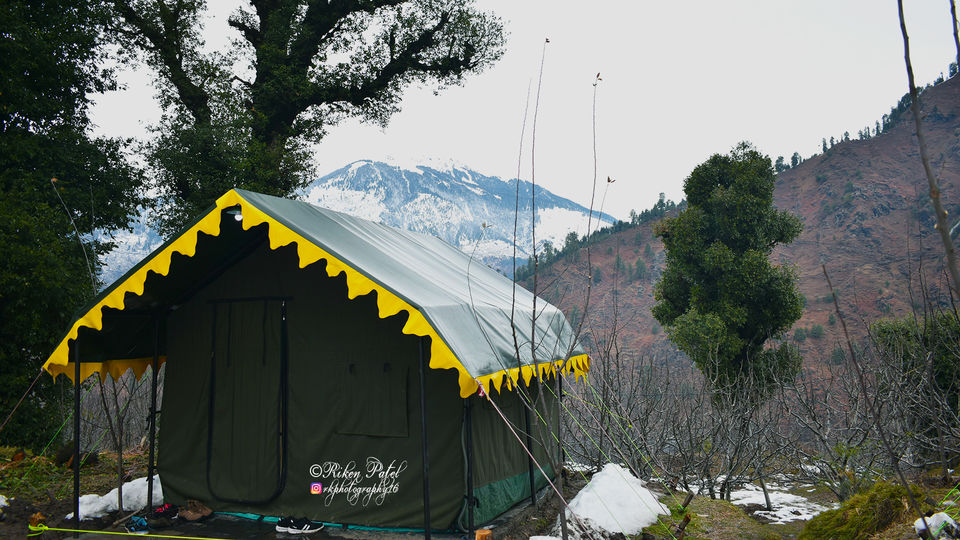 At 4 pm, we taken a breakfast and start small acclimatize walk towards the higher side. At there, we found lots of snow and beautiful view. We played snow games and snow fight, we came down around 6:30 pm and taken delicious hot tomato soup in chilled temperature around 6 degree C. As the clock move ahead, the temperature got down to almost -2 degree C at 2 Am of the 4th day. The time and temperature exactly remember by me because I wake up to click galaxy photo, but unfortunately I couldn't cause of cloudy sky.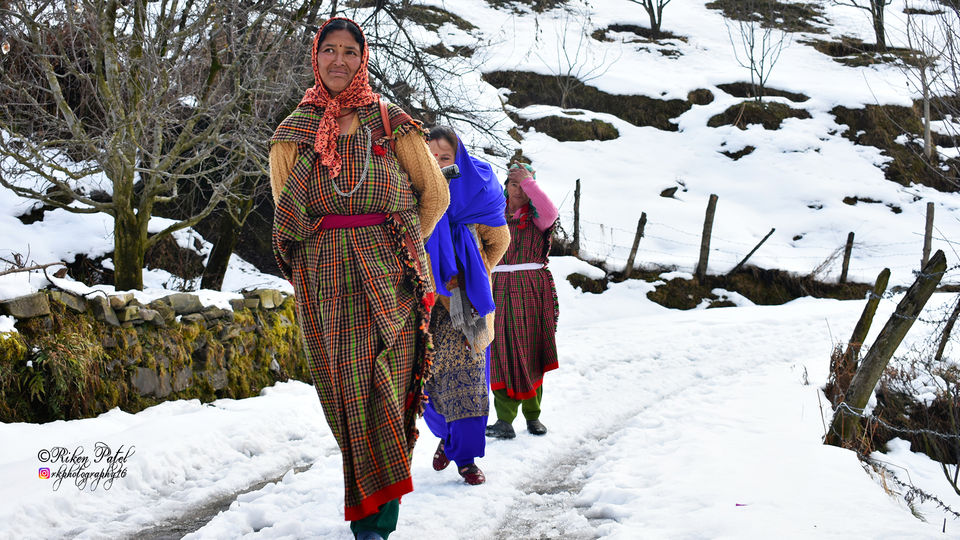 Early morning around 6 AM, we wake up and got ready for our adventure trek towards sterling forest. As this place not identify in google map and anywhere, I couldn't tag it. but the difficulty and the view which was incredible. We reach at the top of the forest at 12 noon.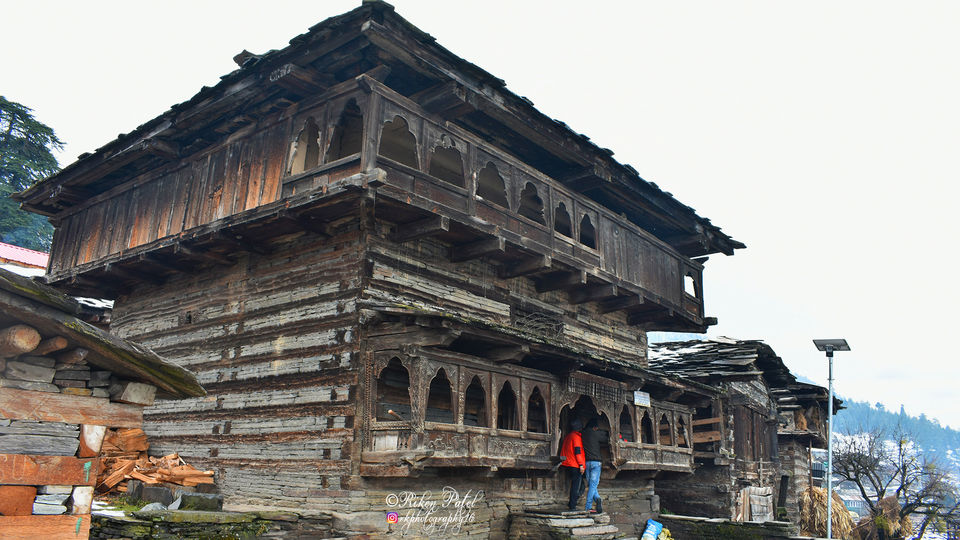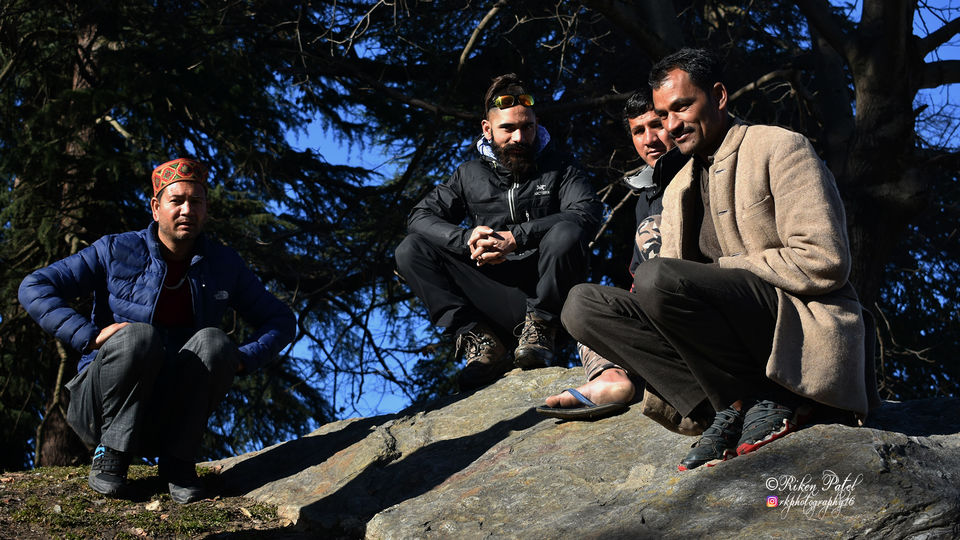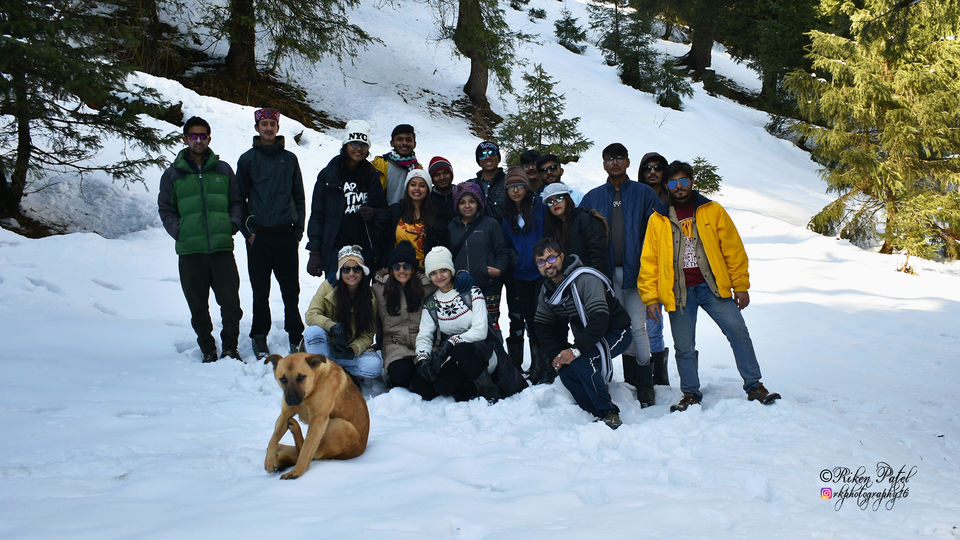 Till afternoon, we freshen up our self and take a small nap in the beautiful tent and catch some picturesque of the amazing snow covered mountains. There we could see lots of Apple farm , although there were no apple seen on it cause of the season-out.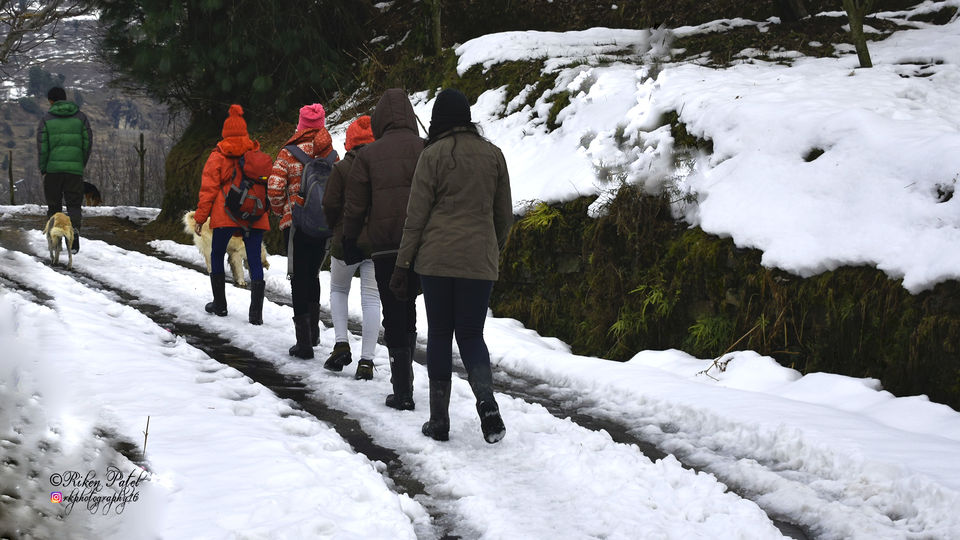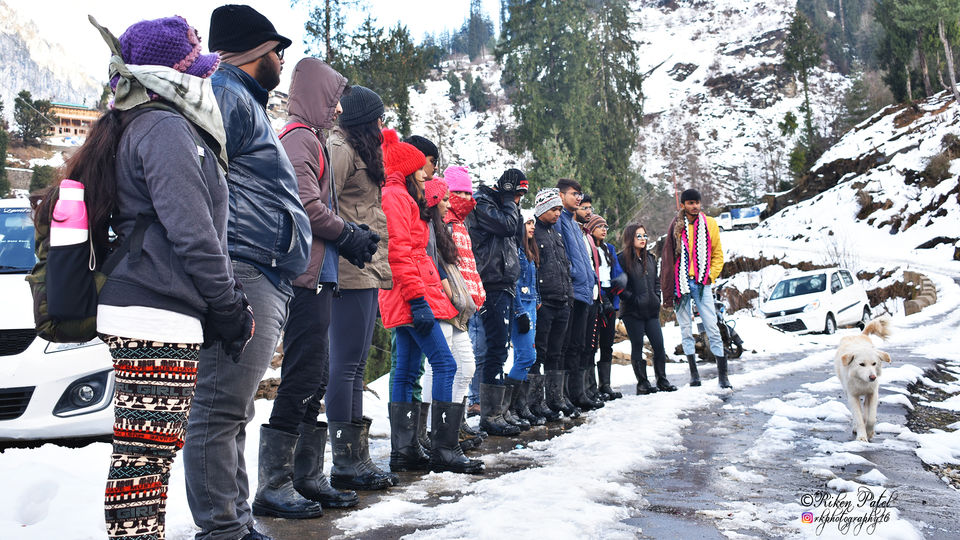 As you see in above picture, Tiger (dog) who also did entire trek with us as it came with us in acclimatize walk and sterling forest top point. We have played lots of snow games, group activities, captured photos and entertain ourselves. No one is experienced with that kind of trek except me. So, they were gone mad as they never seen that much snow and breathtaking views, you can understand what they do... Even you think what you do during that time.....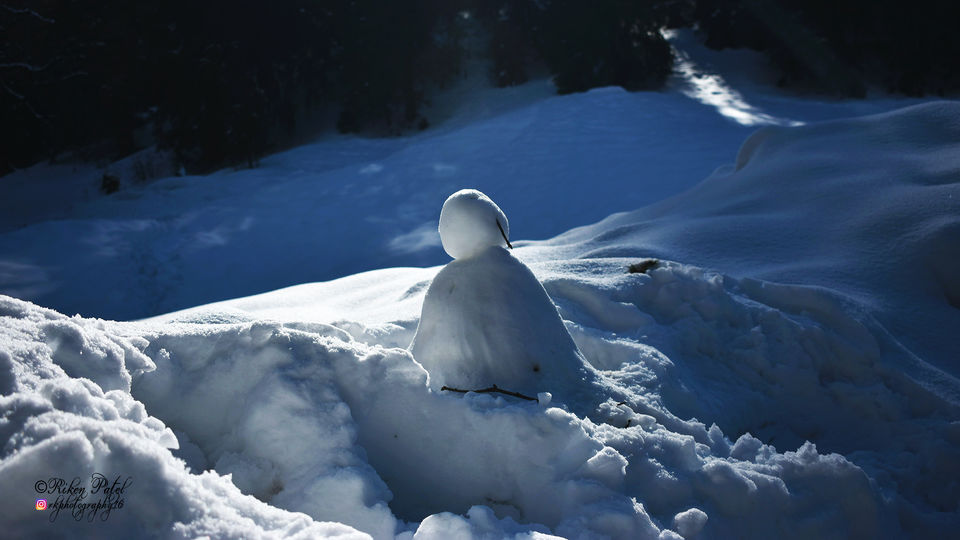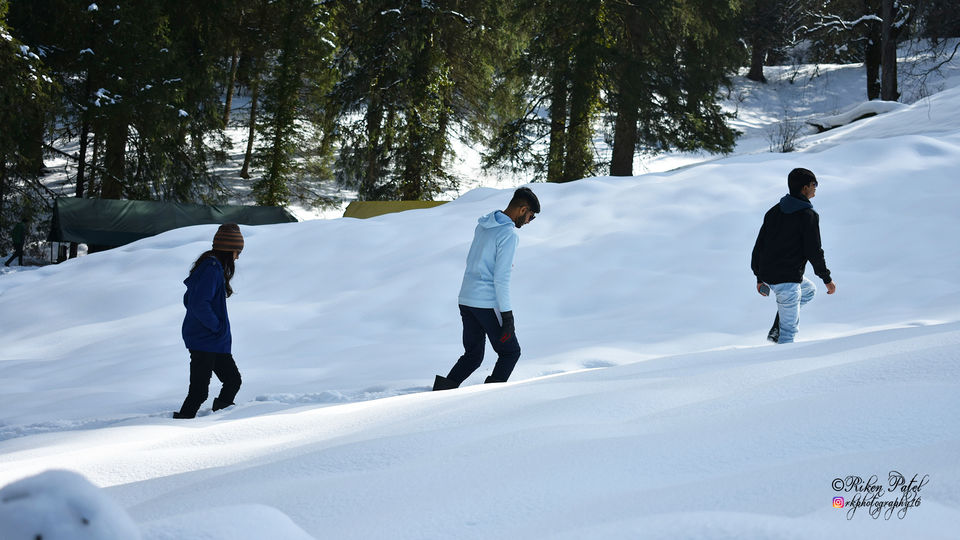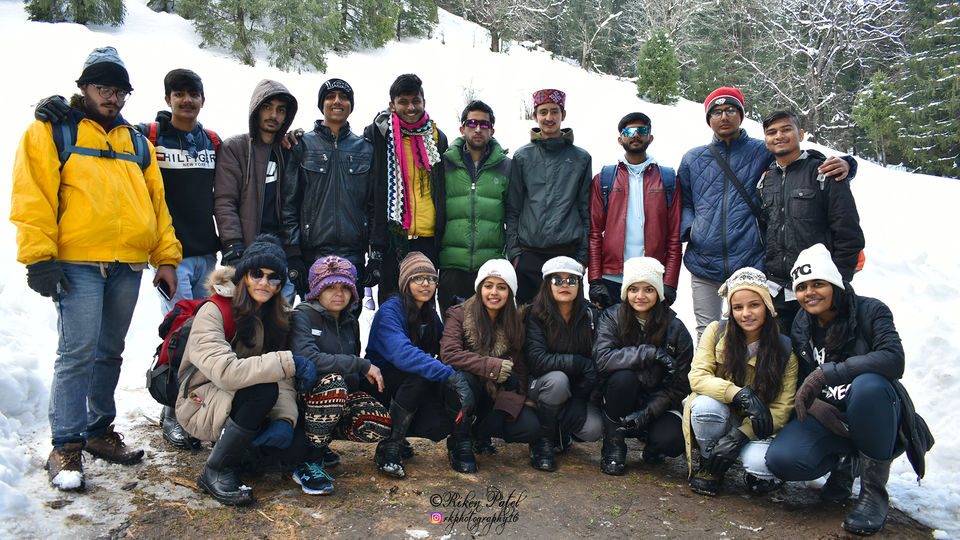 At morning, we left our campsite. And started our journey towards Naggar castle, Art gallery and Solang valley. As their were climate changes, so we postponed our plan for naggar caslte and art gallery and move early to solang valley. So, we enjoy and spend good time over there.
In solang valley, I suggest to all that, please do not buy any kind of heavy jackets and shoes from the shops at there, if you already have good quality jackets and sport shoes that is enough at there even in winter. At there we were misguided by local people and bought it, and spend some unique moments.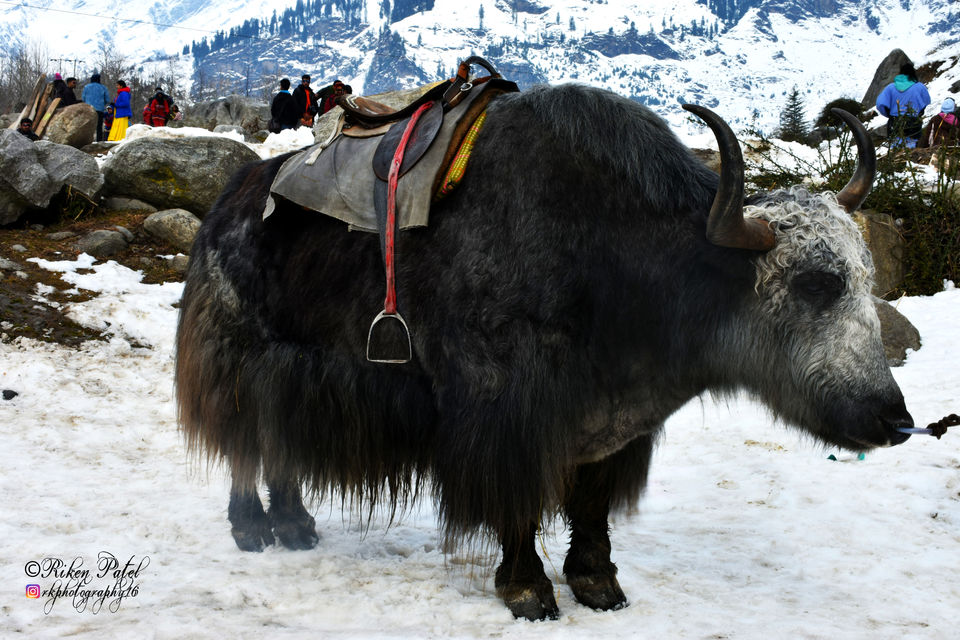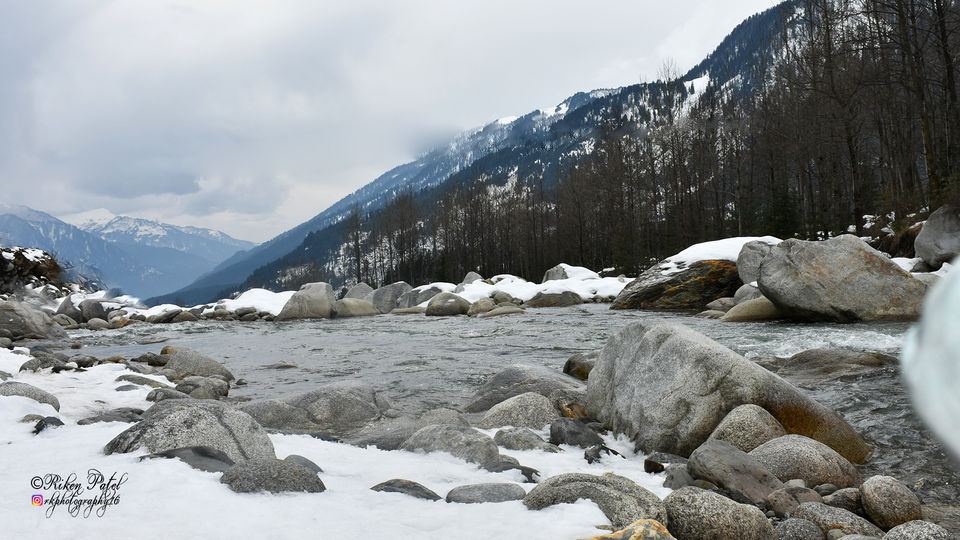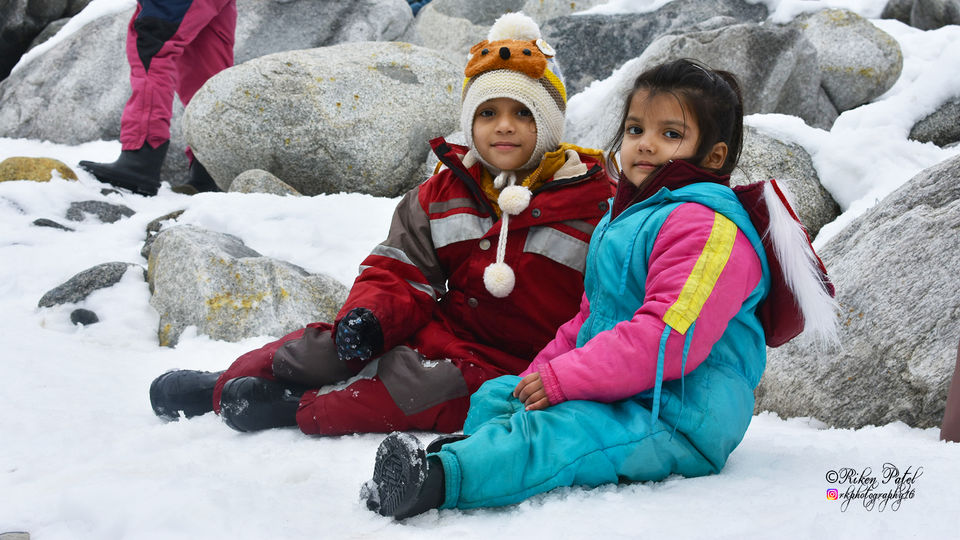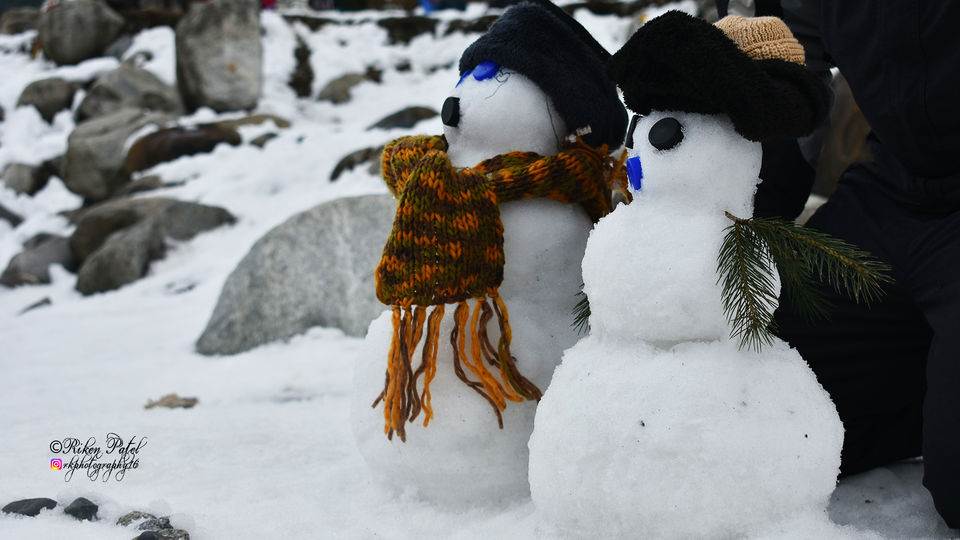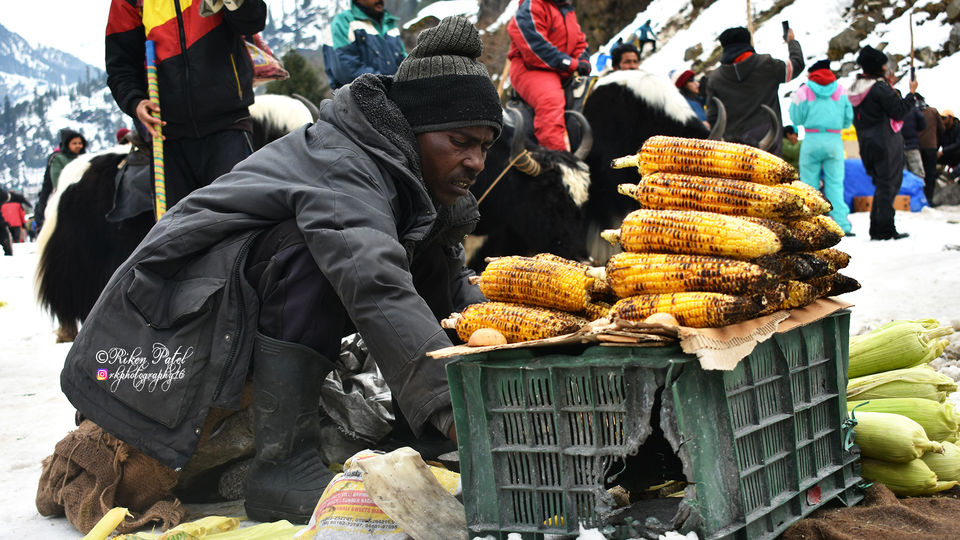 Then we started return journey around 2 PM. Normally during trek climbing is difficult then downward trek, but when the mountain and the road is cover with full snow around 3-4 feet, then situation reverse than normal. As the sunlight touch the snow, snow start melting and that will increase difficulty of us and during descending time. Many of us fall down in snow on their hip, even some of them didn't try to walk they just sit and slide from the upper-side. One of our friend got muscle cramps as the snow enter in the shoes and shriving her leg. But, our camp leader quickly resolved the problem.
At return time, even I couldn't capture any photos and videos as its difficult for everyone. so, as an experience person I have to help them. Finally, we safely reached at our campsite at 6 pm and taken hot soup with campfire. Campsite owner started campfire early as we all tired and colder because we trekked almost 10,500 feet height and 8-9 hours trek. We enjoyed campfire till 10:30 pm and discussed further plan and played games, sang songs, different games with our friends.
We ate some snakes and maggi at there and spend mesmerizing moments at the bank of river Bias. There were lots of rides to do but we decide to sit and enjoy the atmosphere and stunning views. You can do here Yak ride, Skying, Tube-sliding, River crossing, etc and that would be cost around 100 - 200 for each ride. So please count it as you wish the ride.
At the time of leaving solang valley weather suddenly changed and started snow fall within 30 minutes .. and till we reached at our stay, that will countinue. Our today stay was Himalayan treks and adventures. Its amazing place at the bank of river in the tented accommodation. We reached at there and snowfall started and ended after 15 minutes. We glad to see that and everyone's face have happiness after seen the live snow fall.
We taken high tea and breakfast and went to Hadimba devi temple and Mall road for shopping. We spent almost 2-3 hours over there and then return to campsite. Spent a super time with campfire and share different thoughts and the end up with DJ night and bournvita. At there Mid night temperature was almost -18 degree C that was thrilling for me.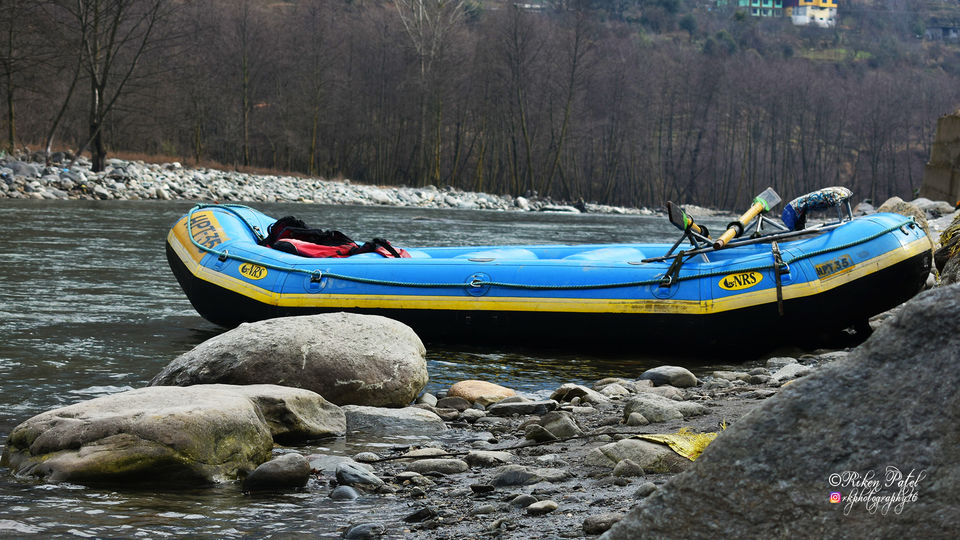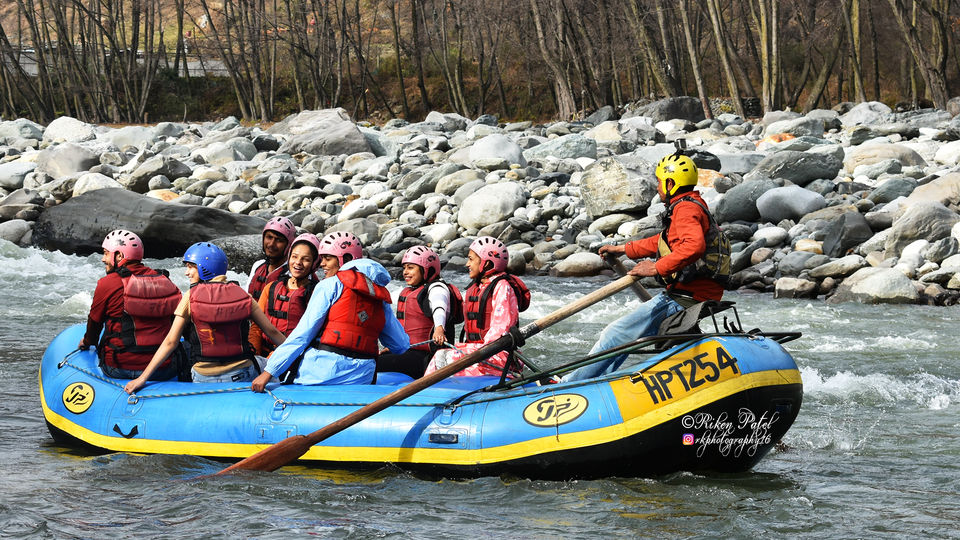 After dinner, we started our journey for pathankot cantt carrying bunch of memories with us. Early morning we reached at Pathankot cantt. We freshen up at our hotel and taken a rest over there for 3 -4 hours as our train time is 11 AM. We ate local paratha dishes which are available near to railway station dhabas then moved toward junction at 10:30 Am.
At the late afternoon, we reached to Ahmedabad railway junction. We said bye to our unknown to known friends and we promised to meet eachother and share memories.
My entire video and glimpse of the manali trip is my instagram page and youtube video and the link is below.
Please like, share and follow me:
Instagram : https://www.instagram.com/rkphotography16/
We wake up and left campsite as we all waiting for paragliding and river rafting. So, early morning we went to pray Vashishtha temple, at there, natural hot water spring and amazing history behind it was written at the nearby two temples. We freshen up ourselves with the holy water and moved to kullu adventure camp area. At there we did River rafting and paragliding. We reached late afternoon for paragliding so video was not much clear, but we did it and the view was amazing.