Kufri
Don't go to Kufri seeing google images or with any expectations. Without snow there is nothing much to do.
What you see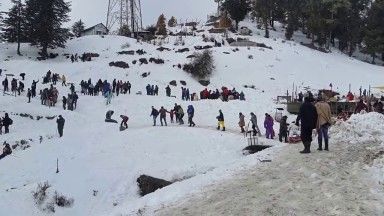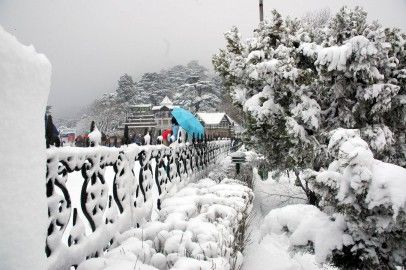 What you get
After completing the Jakhoo Temple we headed to Kufri Hills. Since it was winter we expected to see snow. All we saw was bits and pieces of the melted snow by the side of the road which looked like tissue paper in mud and some people taking photos with it.I felt that people are more interested in proving to others that they have experienced snow with the photos than actually wanting to experience it and make real memories.
My friend wanted to get down from the car and click photos as well but then she decided to agree with me on real memories over reel memories.
Near Kufri entrance our driver played his commission stunt by telling us we need to go ahead with the local tour operators as his car being a Delhi number plate wont go any ahead of that.
With the Corvid losses there was no negotiating with the agents for a better price everything was fixed.
We took the Horse ride to the Kufri Hills. Its adventurous but unsafe costs 500 Per Person.
A up and down climb to Mahasu Peak is made of rocks, boulders, stones ,a lot of Horse Poop and the mood of the horse you are on decides your fate. This 20 min ride will make you offer a lot of prayers to the Almighty.
You are provided with no helmets, knee gear or any safety equipment and worst of all you and horse are on your own. We were lucky there was one person with our group of horses to manage them.
If you don't know how to sit on a horse you will end up pissing off the horse with too much burden and falling on a stash of poop or on the boulders. And trust me with no safety equipment you can actually have serious injuries.
Its not just about you, though the horses are trained well they still are Animals with their needs. My horse was well behaved but the horse on which my friend was mounted seemed to be Mountain Romeo. It started brushing against the horse ahead and they started biting each other. It was an epic romance story with my friend and other lady screaming and making terrified comments all through the Journey.
Never try this activity Solo. Never Risk Selfies.
I got videos clicked by other people while I kept my phone and me safety mounted :)
Yak Ride - Unless you want the photos on the Yak there is nothing fun about sitting on the poor creature. Costs 50RS to sit and click photo on your phone.
Hold a Rabbit - This was the best experience. It was more than photo. I always wanted to pet a rabbit so getting to hold one was bliss for me. There was no time limit as there were not many people so it was worth for 20Rs.
Telescope Point - This costs 200Rs Per person and if you negotiate they come down to 100. There is nothing much visible on the telescope as per my friend who tried this. It looked like waste of money to me to even try.
Nag Temple - Climb a few steps up to this place and shed some calories.
Skiing and Tobogganing can be done only if there is snow. Ziplining, Go karting and other activities like that you can do in your city no need to come so far. Kufri Fun World a place like this is available in every city please don't waste time.
Tips : Have lunch in Hotel Amantran. You get good veg Thali with Mountain view experience.
Thira Shimla - A worst decision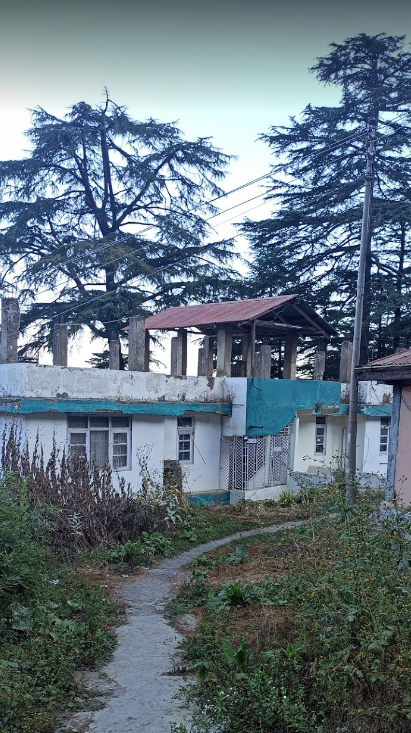 After returning from Kufri we located this Hostel on the Google Maps and ended up in this creepy location. Since i was the one who wanted to try this place based on 4/5 review points, my friend pushed me to go and check out this haunted house.
While my friend and driver sat in the car I walked up alone to this place. It was very interior and I had a very bad feeling about the whole surrounding. I stood near the door. My thoughts ran wild "What if I get a shock ringing this bell?", "What if someone just opens the door and grabs me and kidnaps me?", "What if there is Anabella behind the door?". The House lay in ruins with a stairs going downward from the entrance. I rang the bell and after a couple of minutes there was a human like figure getting up the stairs to open the door.
Cost - 1500/Night
Parking - Pay extra
Heater - Pay extra
Double Room - Not a room just a partition near the dinning table and you cant sleep unless everyone has vacated or shut up in the hall.
The owner will not help you get your luggage down this creepy aisle even if you are not able to manage and ask him for help. He said " Self Service". I pack small but my friend had a 15kg luggage. She cursed me well for booking this place.
This booking was Pay at Property but i had already given my card details on website and whether we stayed or not i would be stripped. Me and my friend gave each other look! And we decided to pay and stay after all the effort we did to get the luggage down there.
This is seriously not a place worth 4/5 review. No idea how they even got it. We stayed up till 1am though tired as there was lot of noise outside. Meanwhile I scrolled through the news and got to know there was Bharat Bandh on the day we had our return flight.
After this news I couldn't sleep and i did not allow my friend to sleep either. Eventually i felt sleepy but by then my friend was wide awake and then she did not let me sleep. So at 3am we woke up decided to pack and left the Hostel at 4:30am.
4:30am the surrounding of the hostel was so creepy that without any extra effects could be a good scene of a haunted movie. We told the owner we are leaving and called the driver to come down to help us get the luggage.
These were the two men with no b*lls. The driver directly told us "Its scary I cant come alone at least you are two people" and the owner who was doing something in kitchen, may be went to check if we look his utensils was like "Self Service I cant come".
I don't have any photos of this place or any video because the time we checked in and checked out was both late evening and early morning and it was really dark and we had a lot of luggage to carry to be standing and clicking videos and photos.
So we left for Manali at 5Am. Best decision.