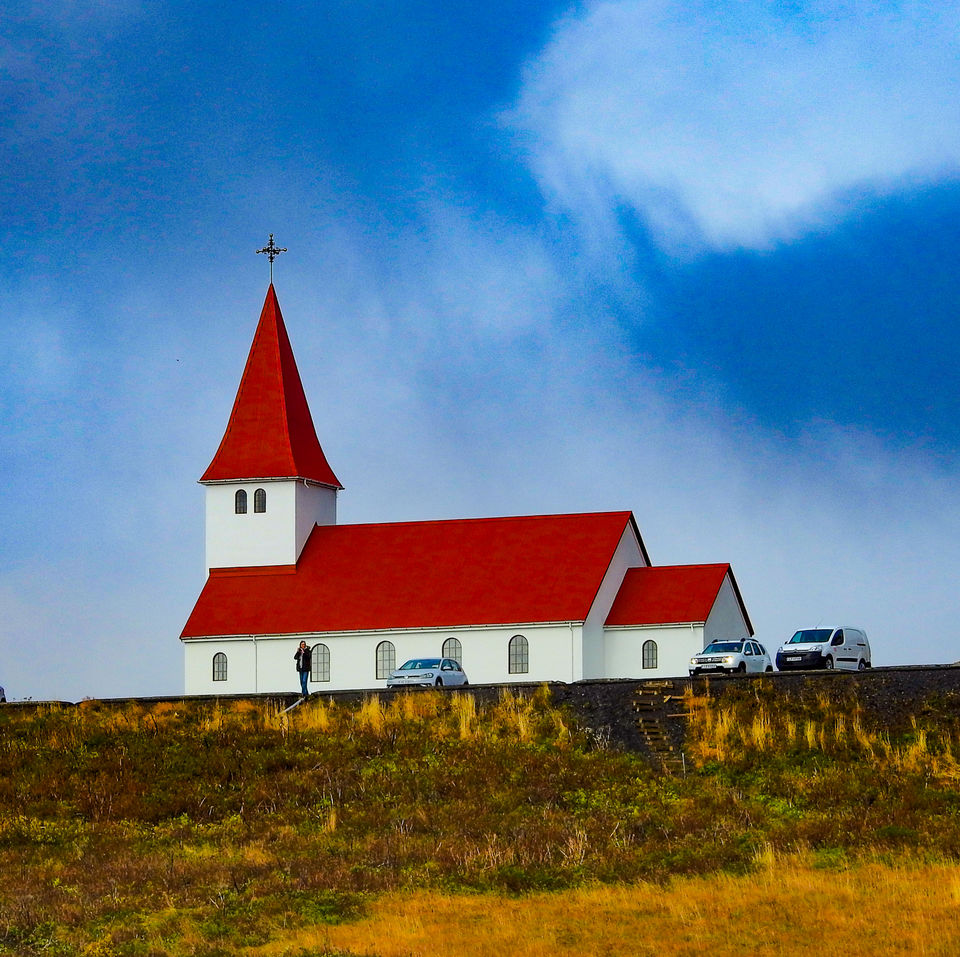 Having stayed in Bangalore for more than 16 years, we have forgotten what extreme climate means, and so when friends and family came to know that we are heading to Iceland for a holiday, the obvious questions were - Out of all places on earth, what makes you go to a country that has "ice" as first name? Well...now that I have "been there done that", I can confidently say that us deciding to brave the extreme weather paid back well. Every bit of our trip had given us unique memories to cherish for the rest of our life.
This is one country where mother nature has created wonders in abundance and I bet, one will find something that he/she is seeing or experiencing for the first time in his/her life. Now let's talk about the 10 things as the headline suggests.
1. Aurora Borealis:
Proximity to the Arctic Circle makes it one of the best places to catch this phenomenon caused by solar rays during Autumn - winter season. While it becomes impossible to catch the aurora during summers, tourists can witness the "midnight sun" instead. Either ways one takes home a unique experience.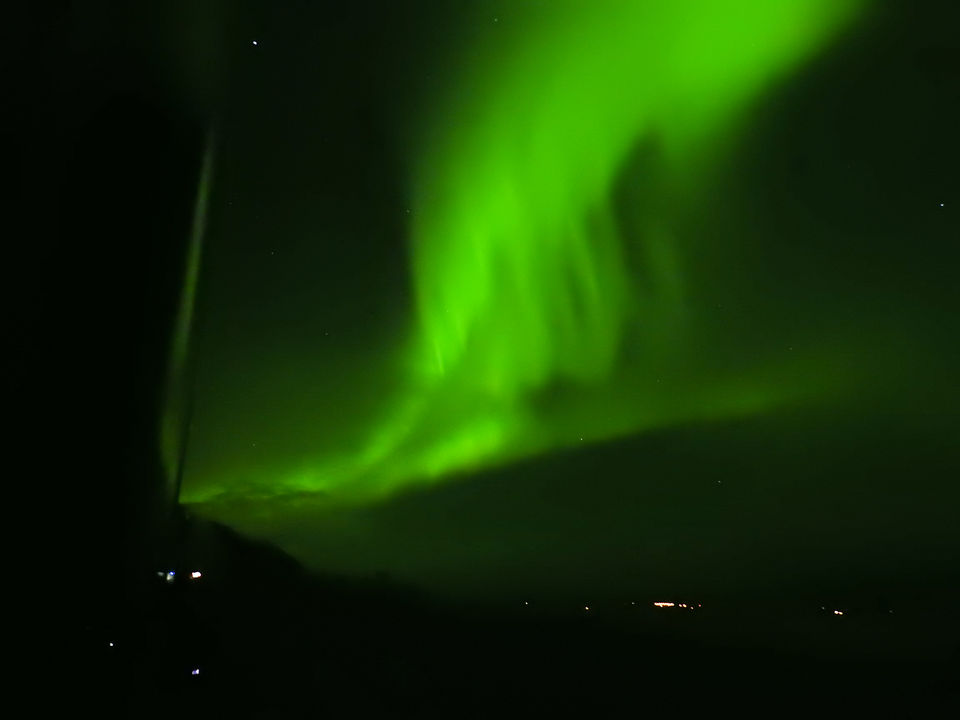 2. Mighty fosses of Iceland:
More than 1/10th of Iceland is covered with glaciers that gives birth to some 30+ river across the island. These rivers drop from steep cliffs giving birth to some of the world's most beautiful waterfalls ("foss" in Icelandic). The most interesting of the lot is the Seljalandfoss. There's a pathway that goes right behind the waterfalls from where one can see the whole valley through the curtain of water gushing down. No wonder why KJo decided to film SRK and Kajol's - "Geruwa" at this location.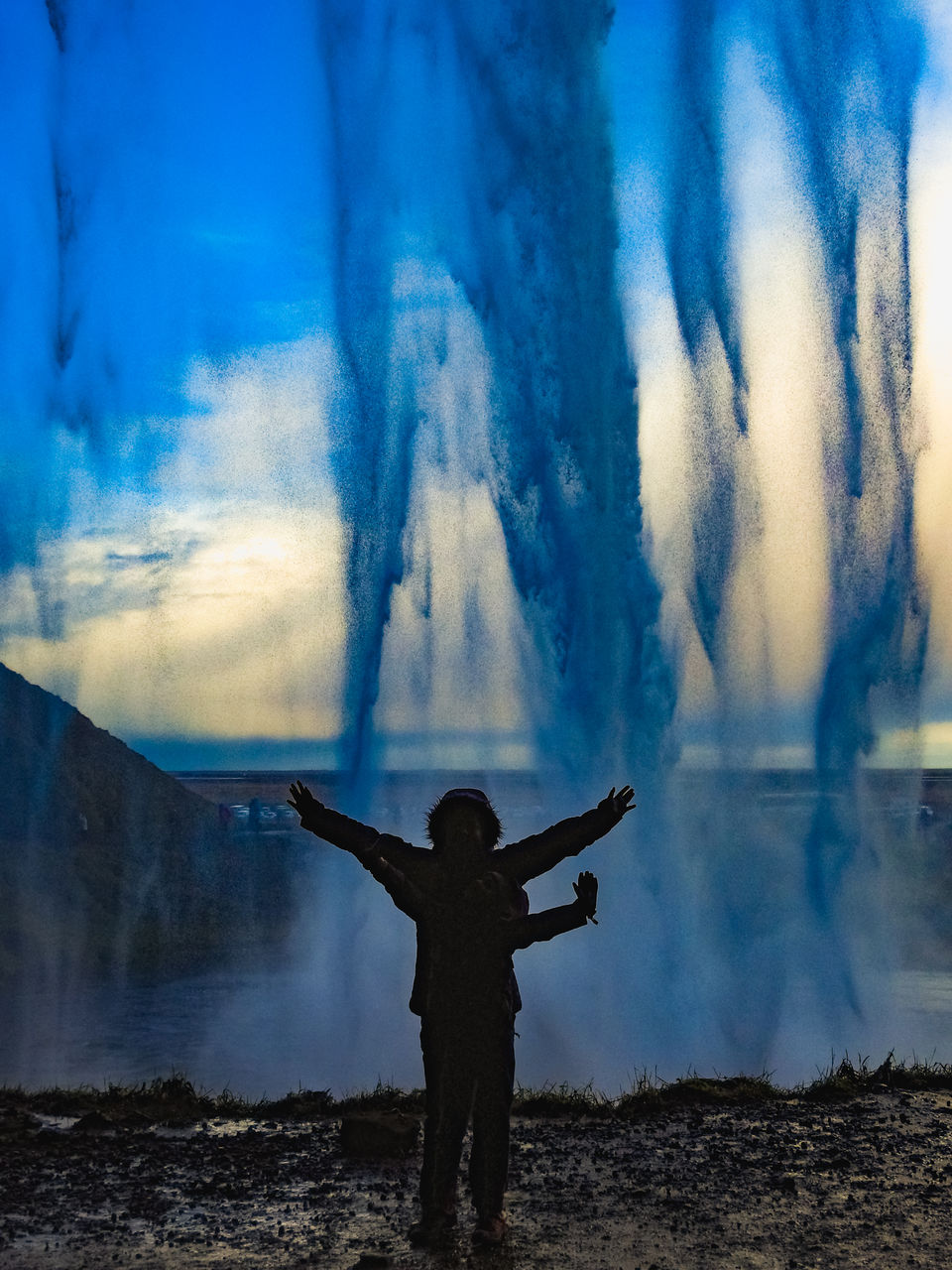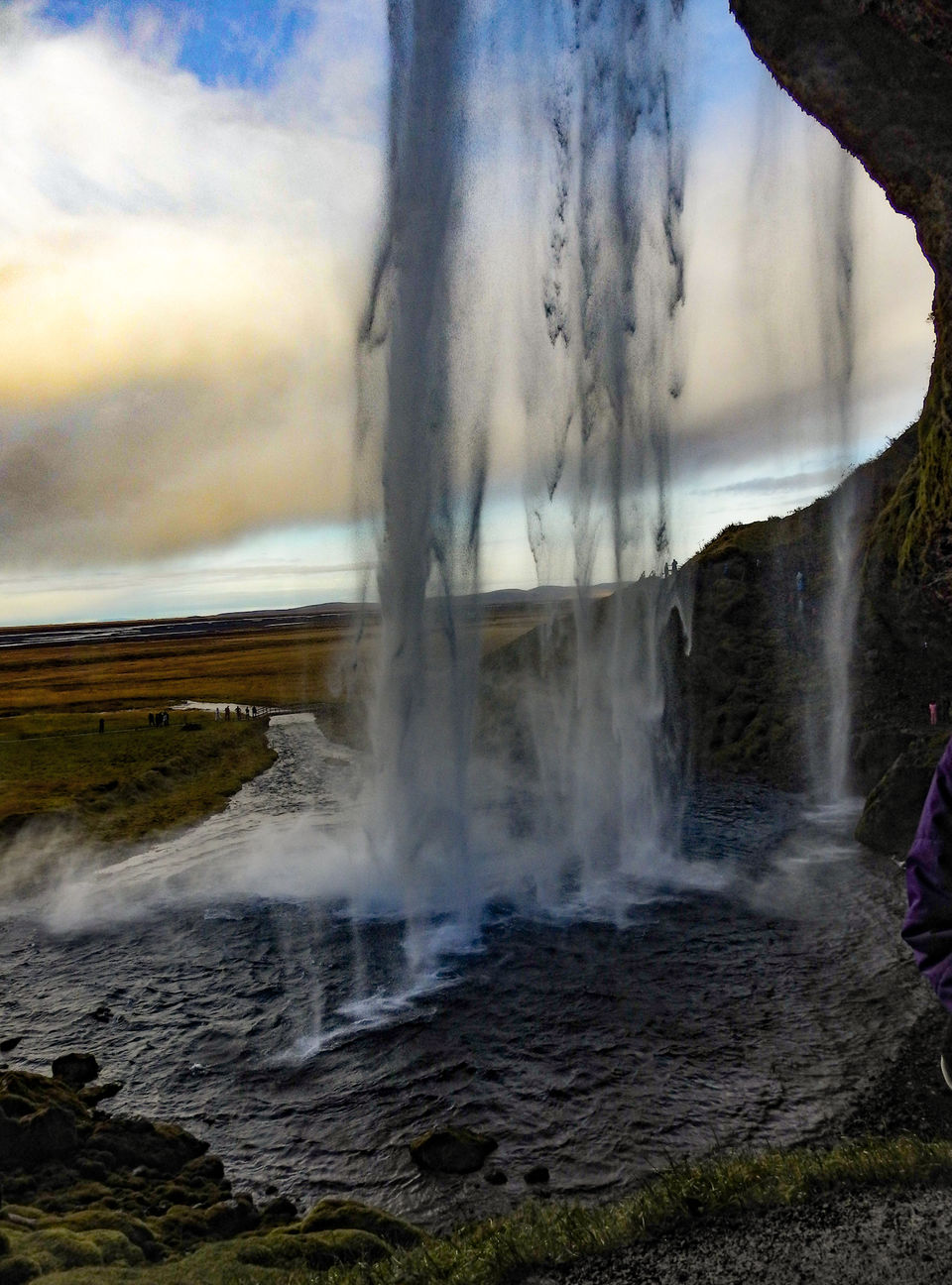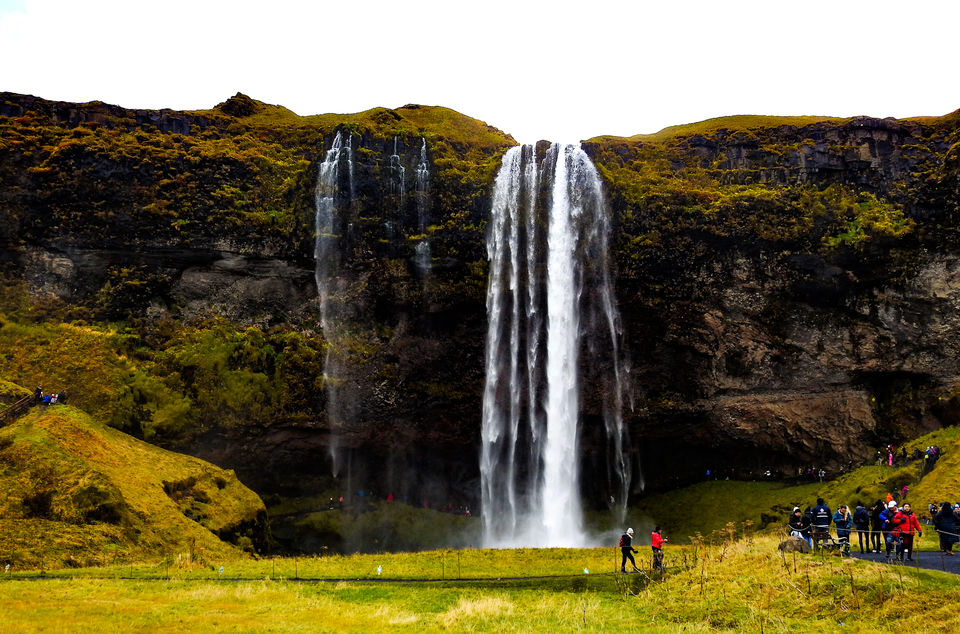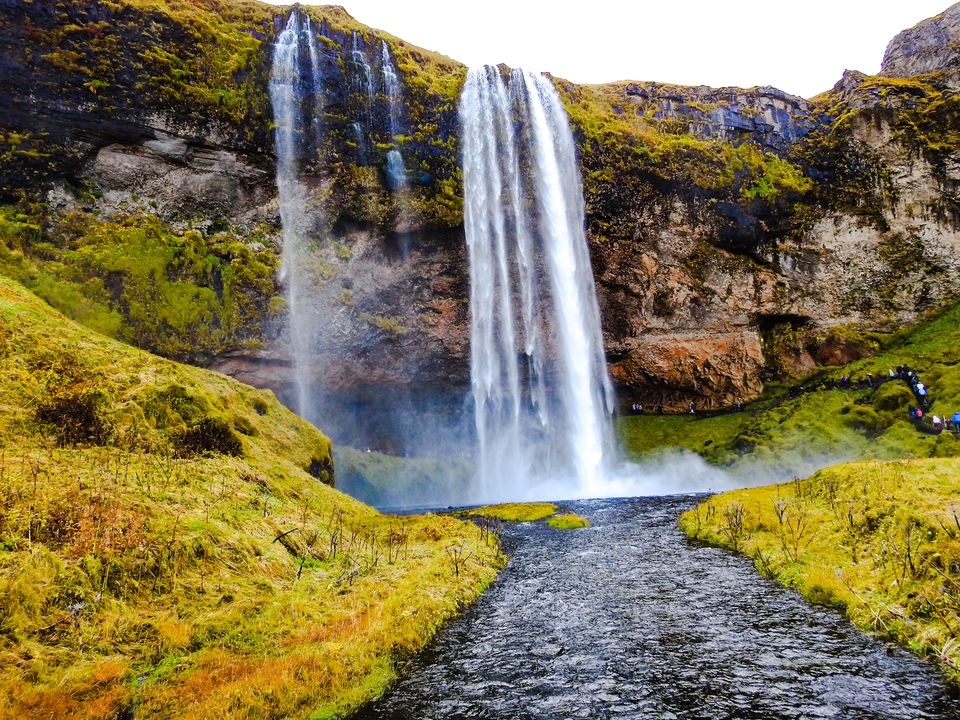 The 2nd most impressive waterfalls according to me is the Dettifoss. It's fierce and looks intimidating – and is coined as Europe's most powerful waterfalls.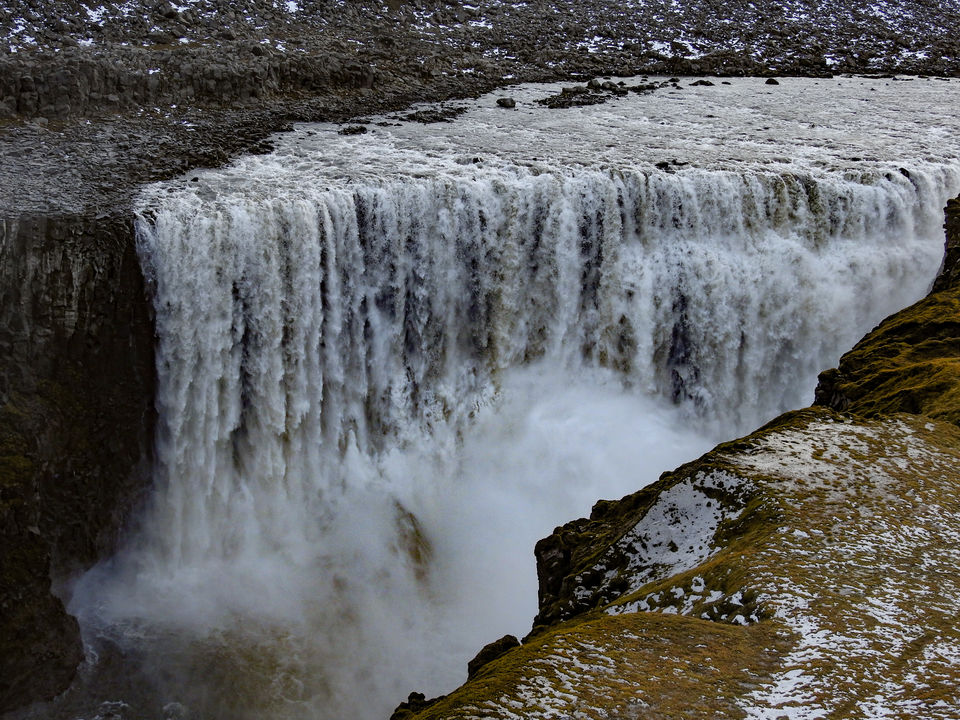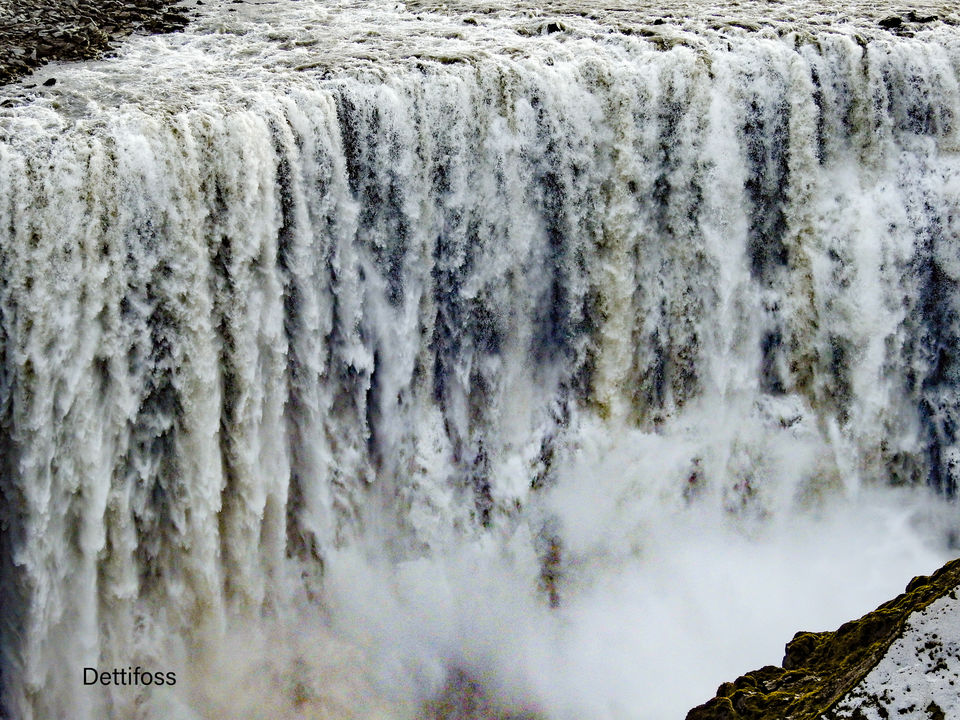 Gullfoss, Godafoss, Skogafoss, Faxafoss are some more to watch out for. Each one of them is so beautiful, that one can plan an entire vacation around them.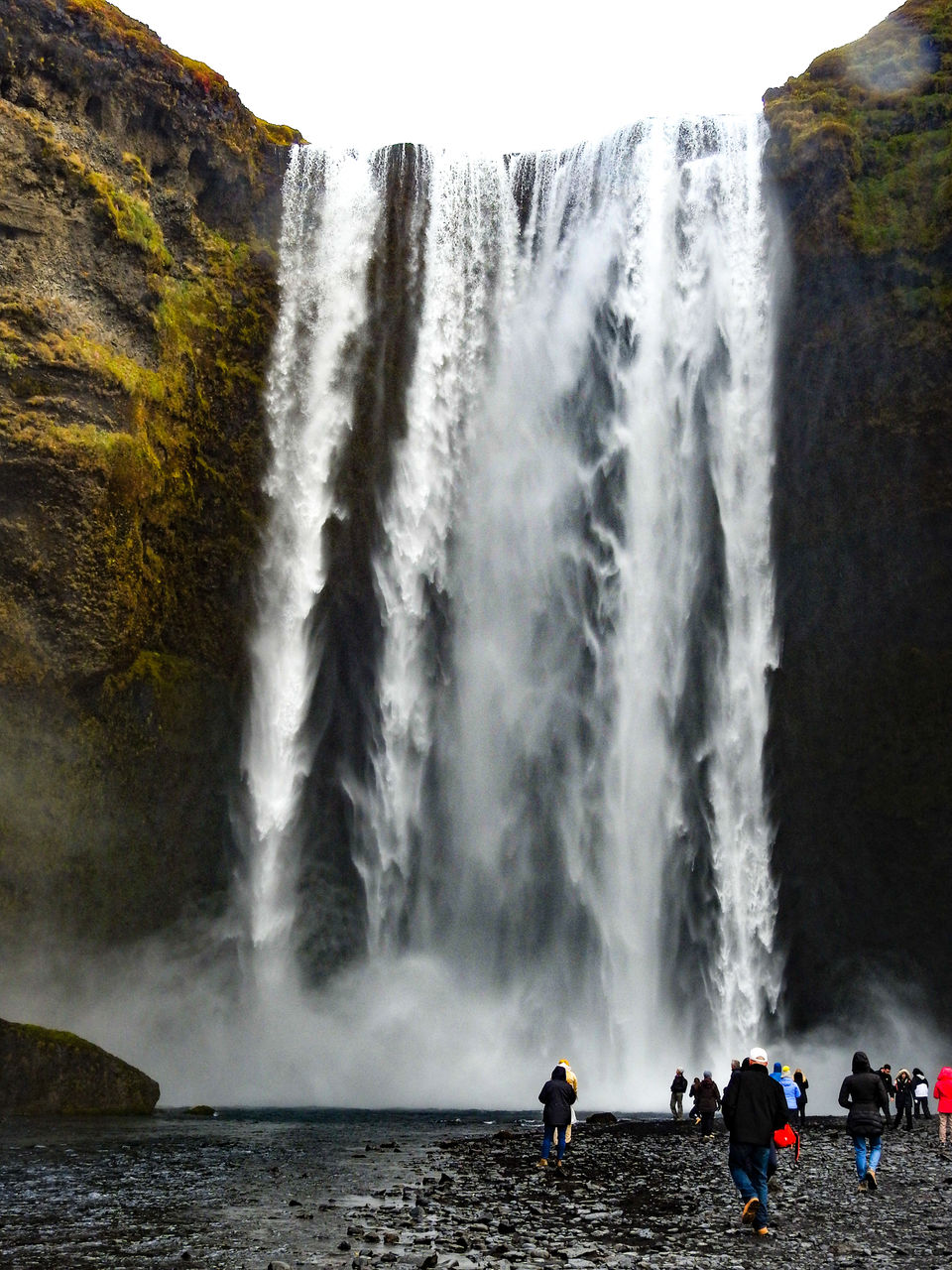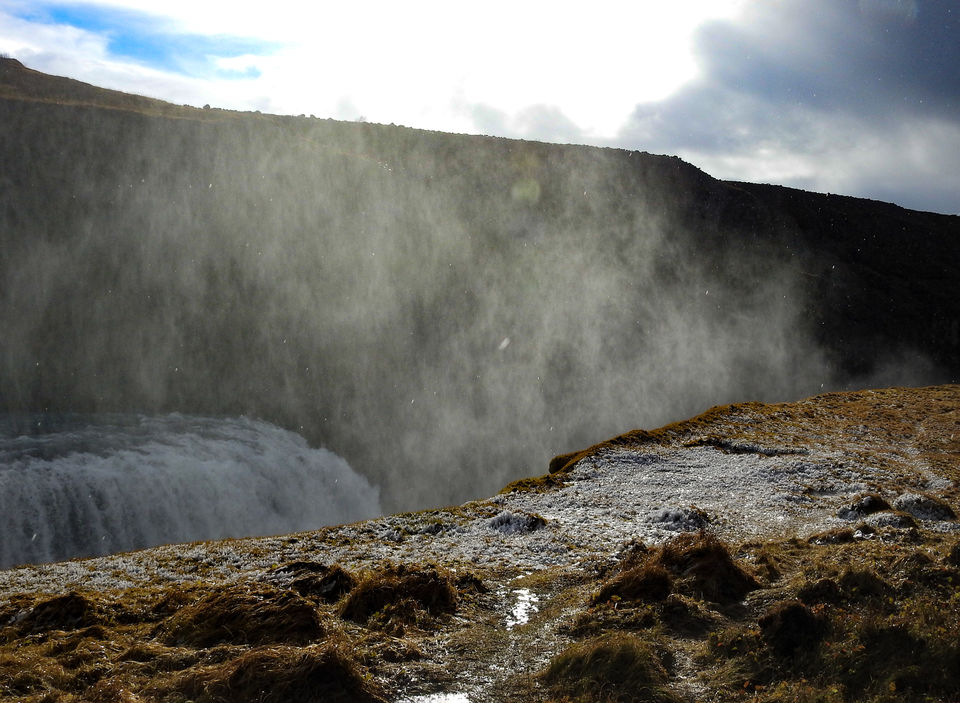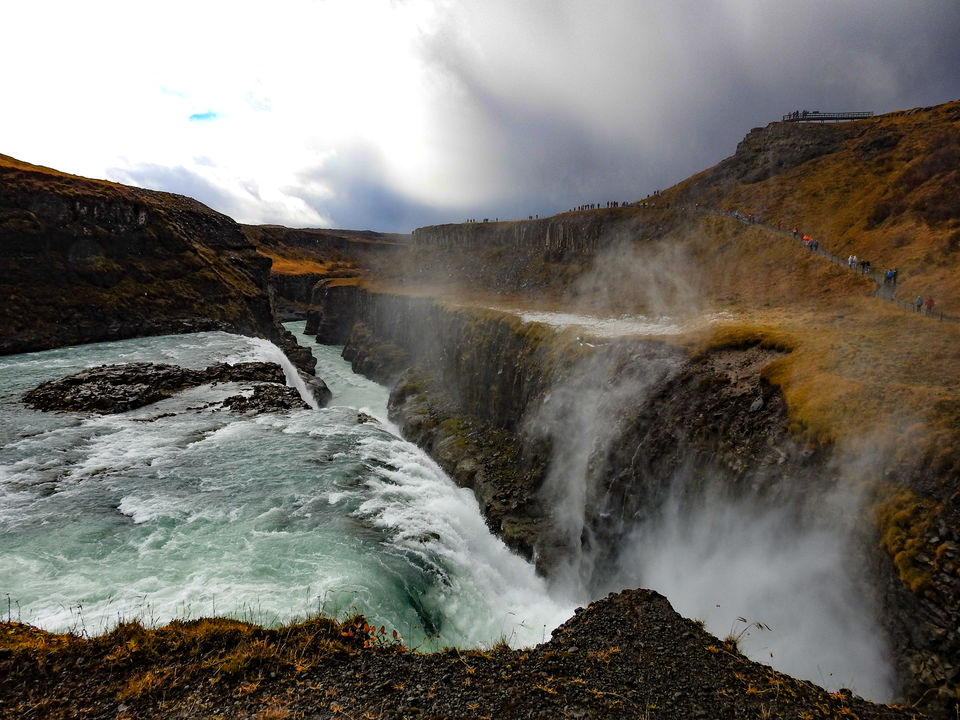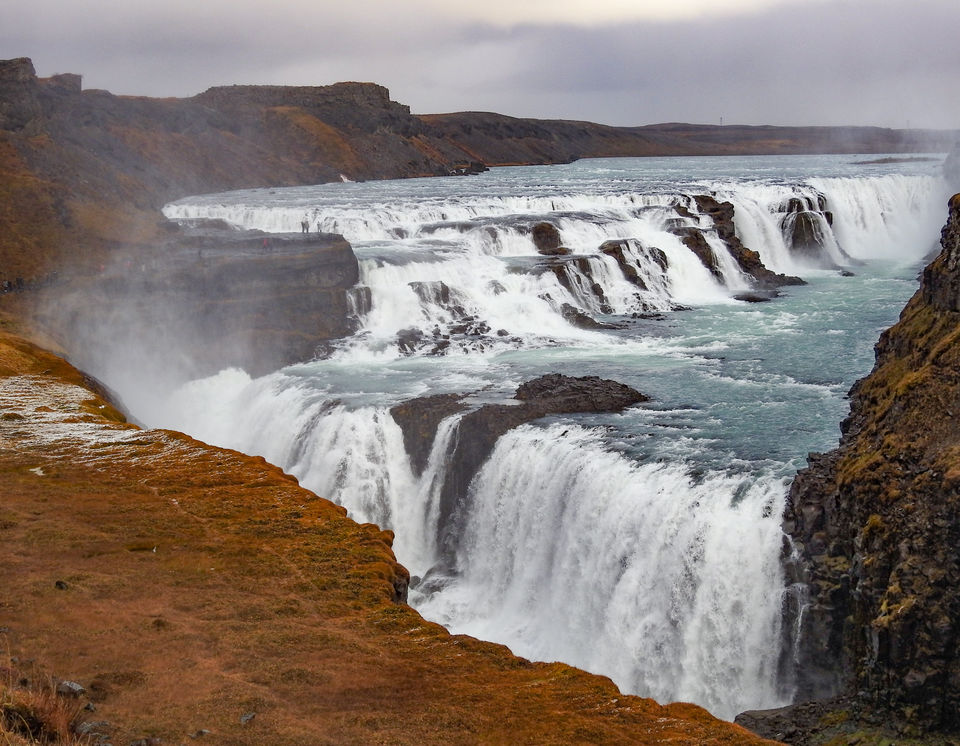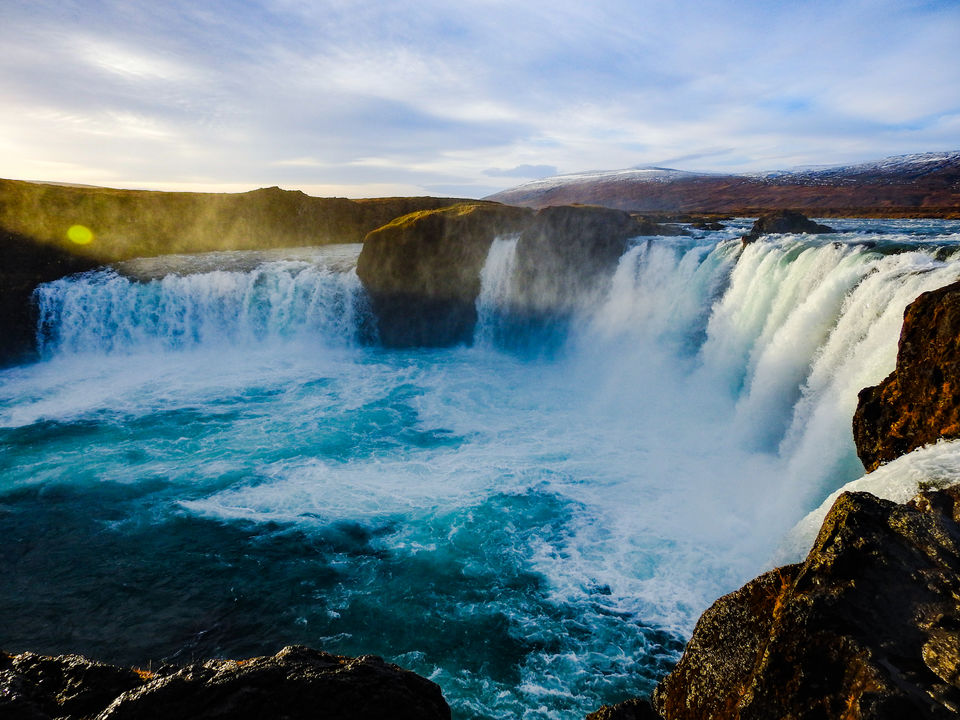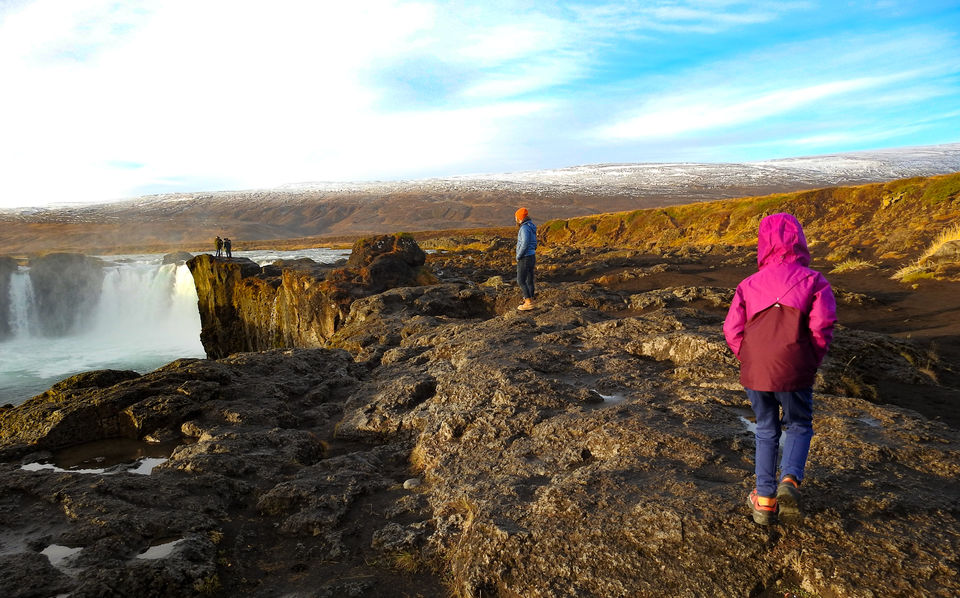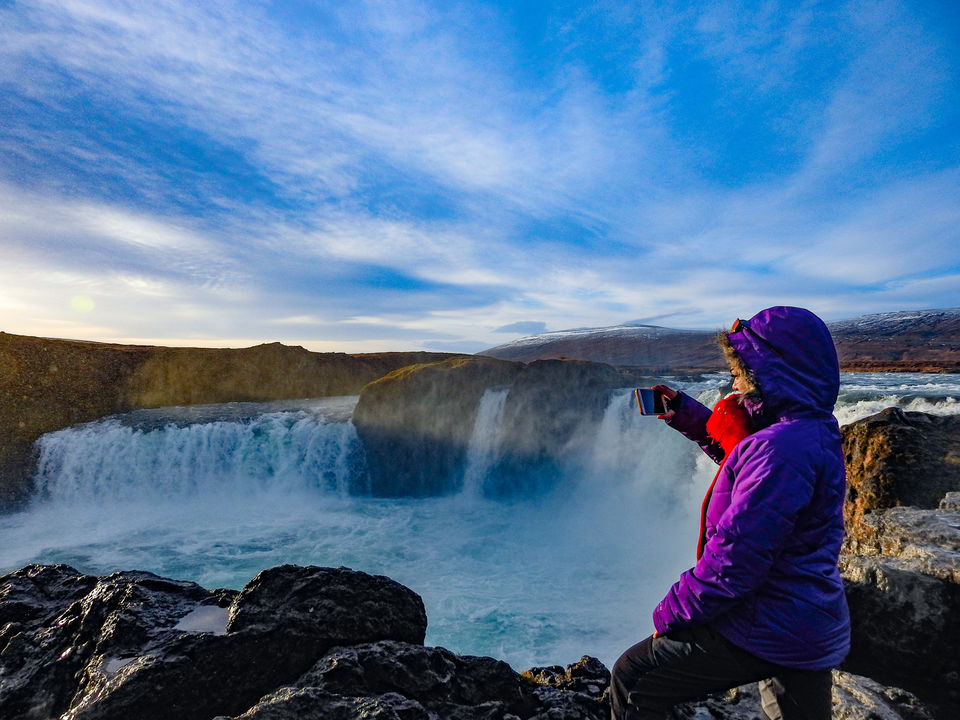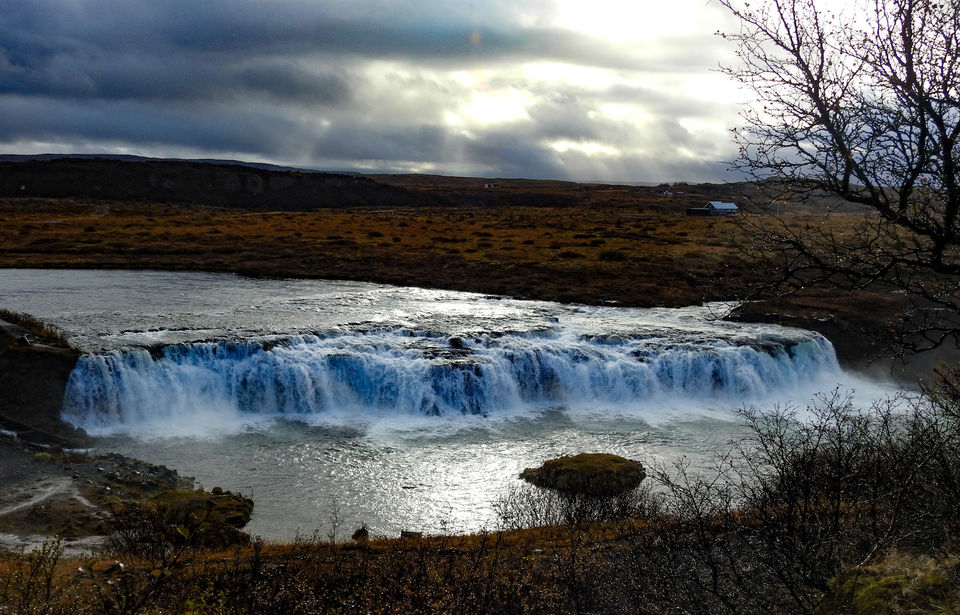 3. Picture perfect Icelandic Countryside:
With numerous volcanoes covered with icecaps, Iceland is a true land of "fire n ice". The most recent eruption was back in 2010, and it is said that quite a few of them are due for eruption. The dormant ones however are very picturesque, filled with water and has its very own ecosystem.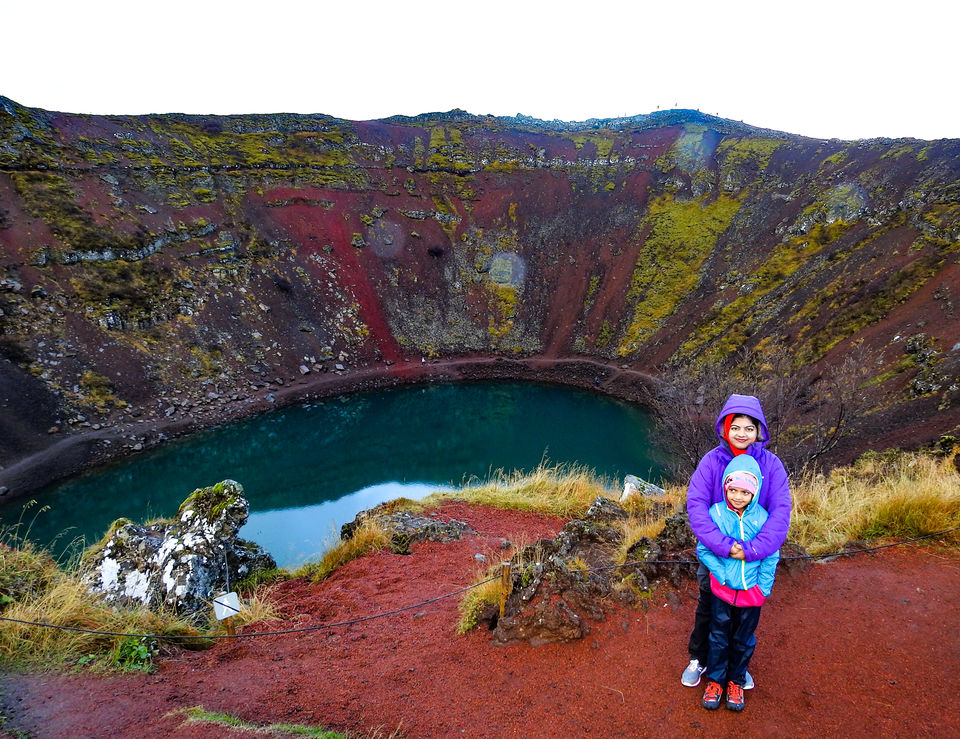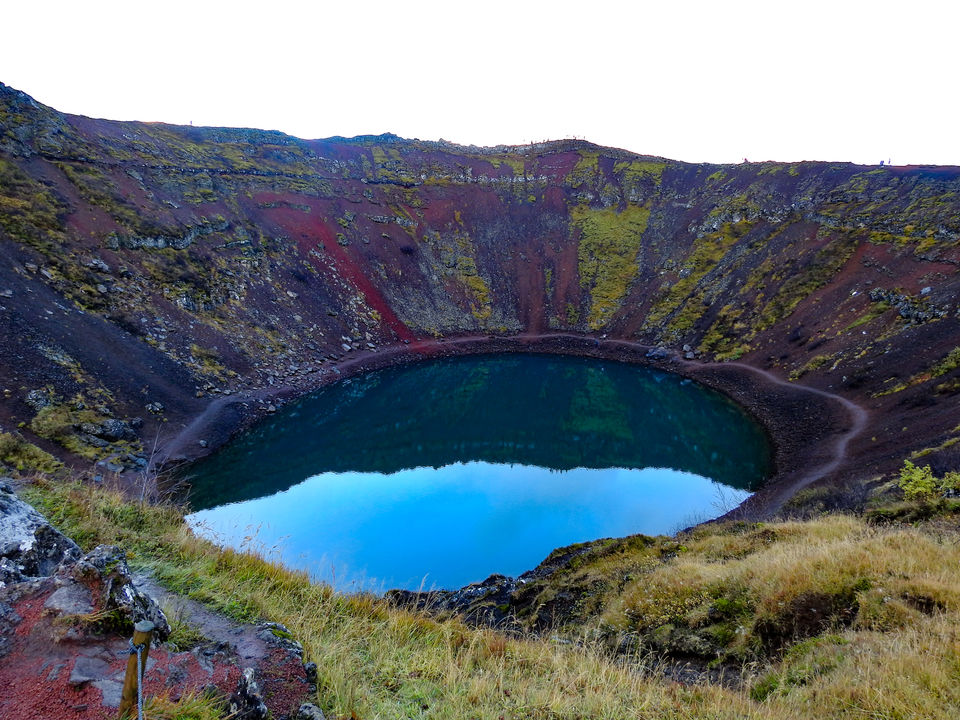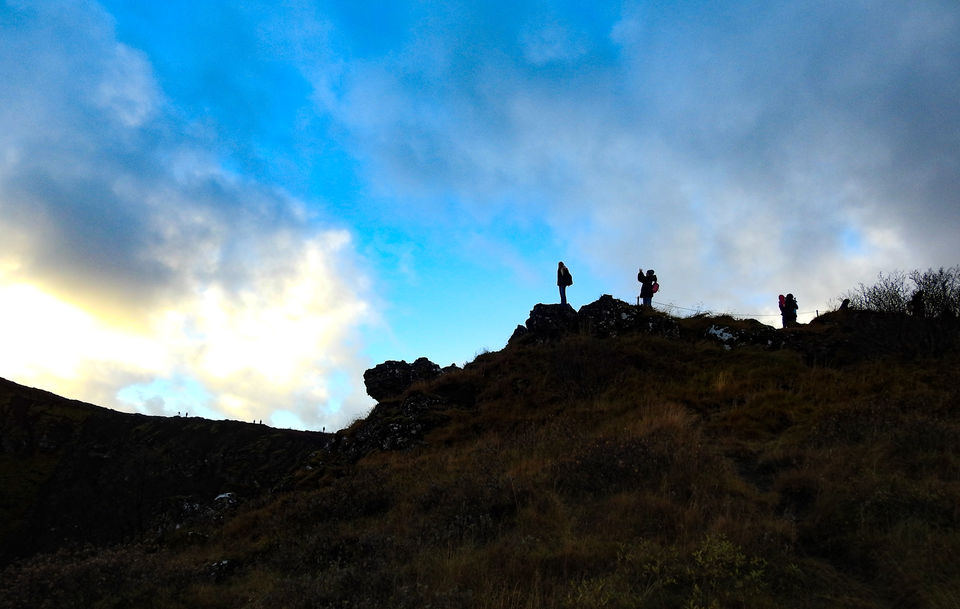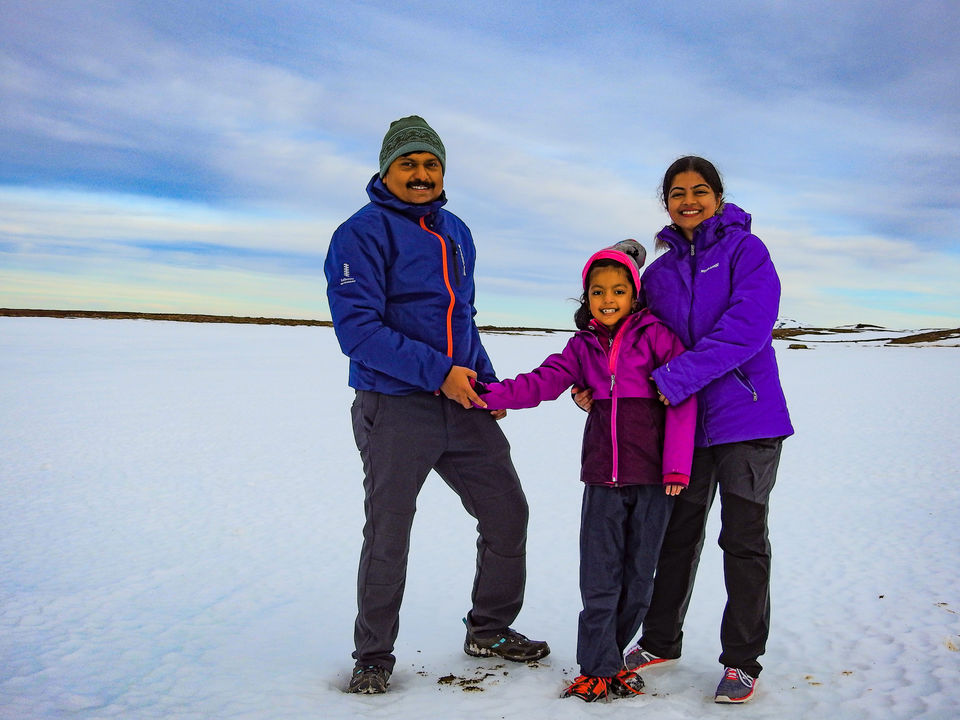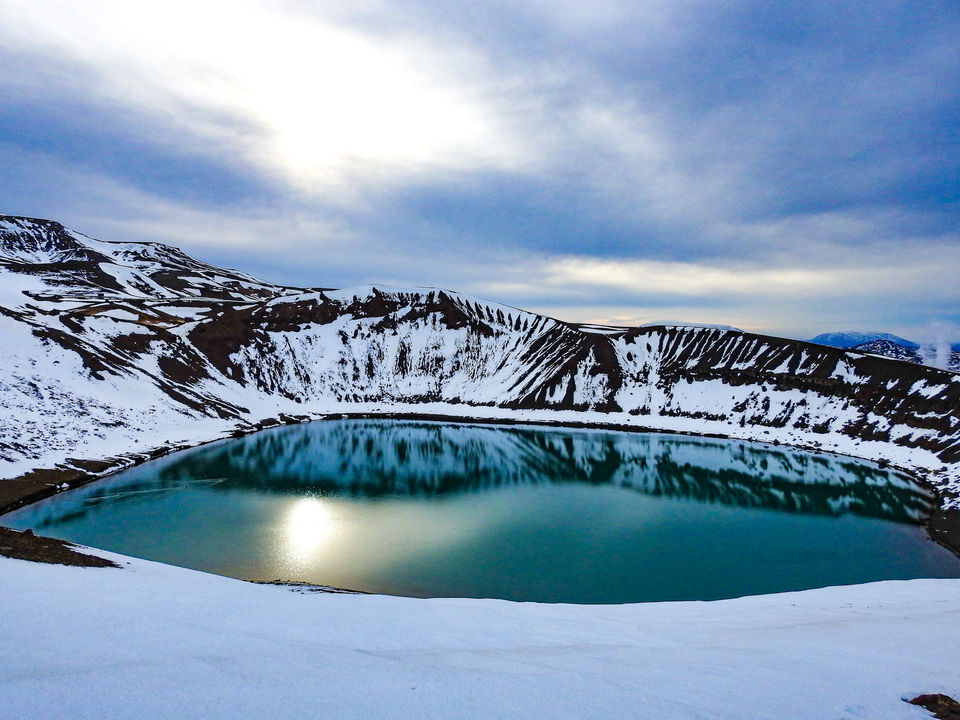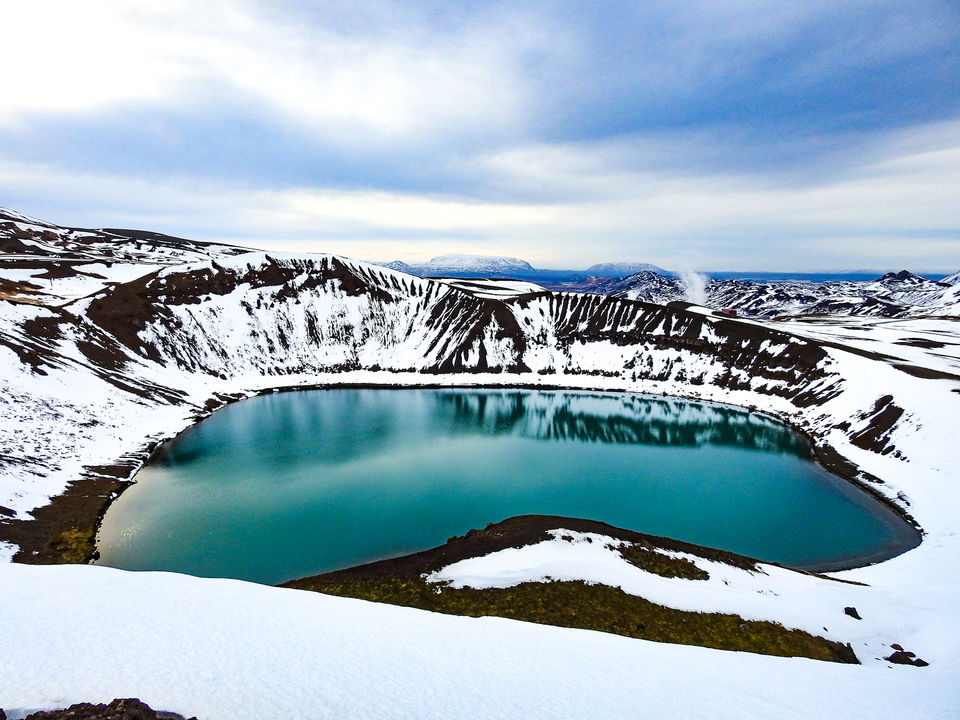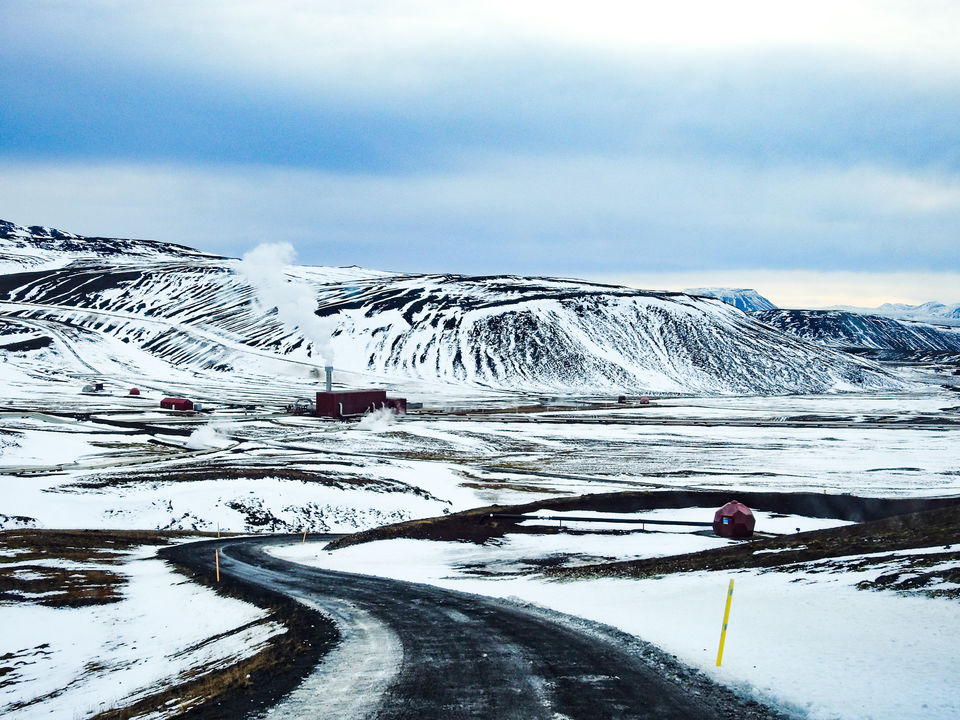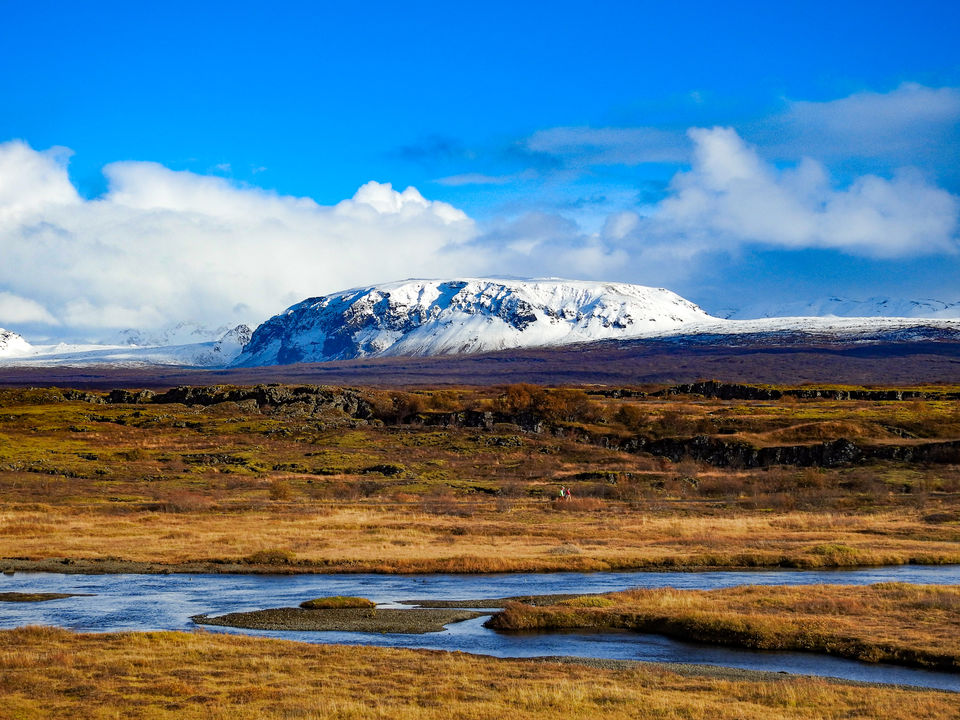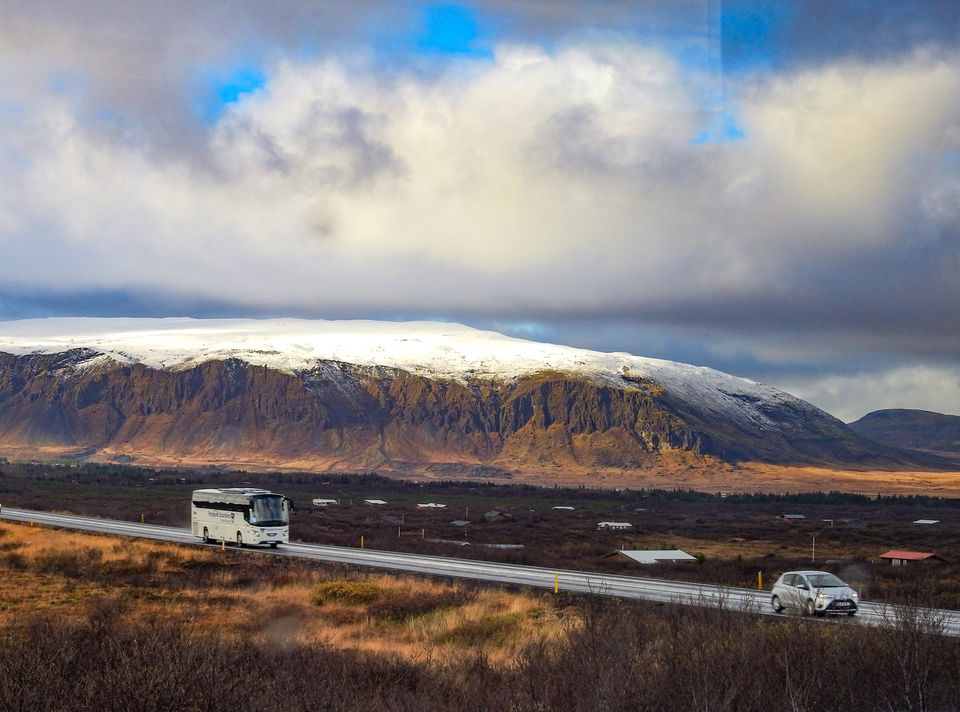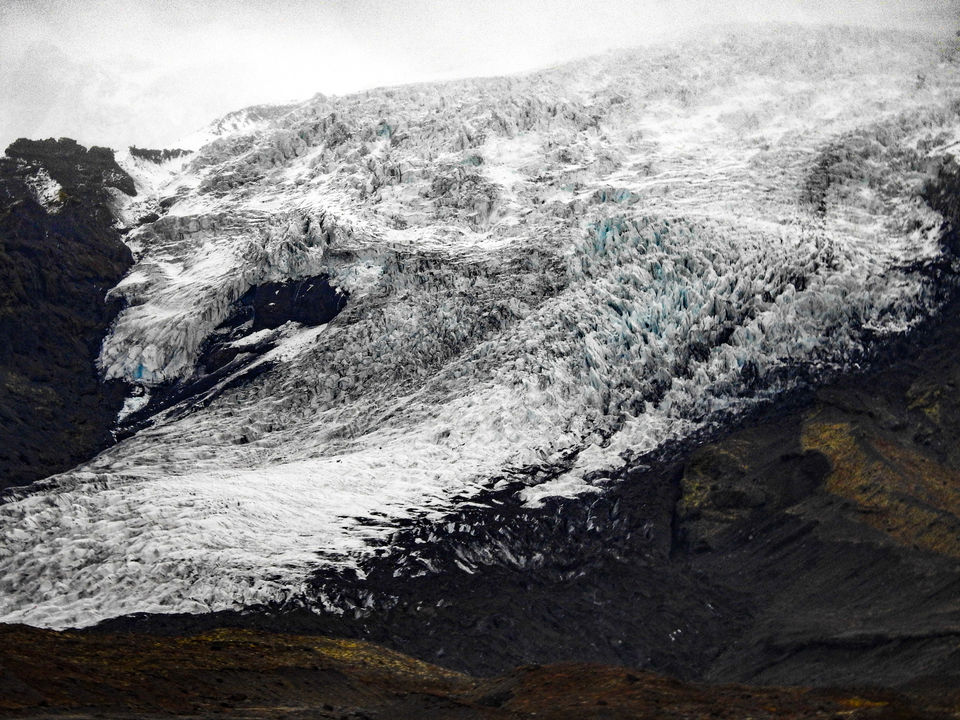 Because of this volcanic geology, Iceland is gifted with numerous Lava caves, Basaltic Lava pillars, black sand beaches and endless Lava fields.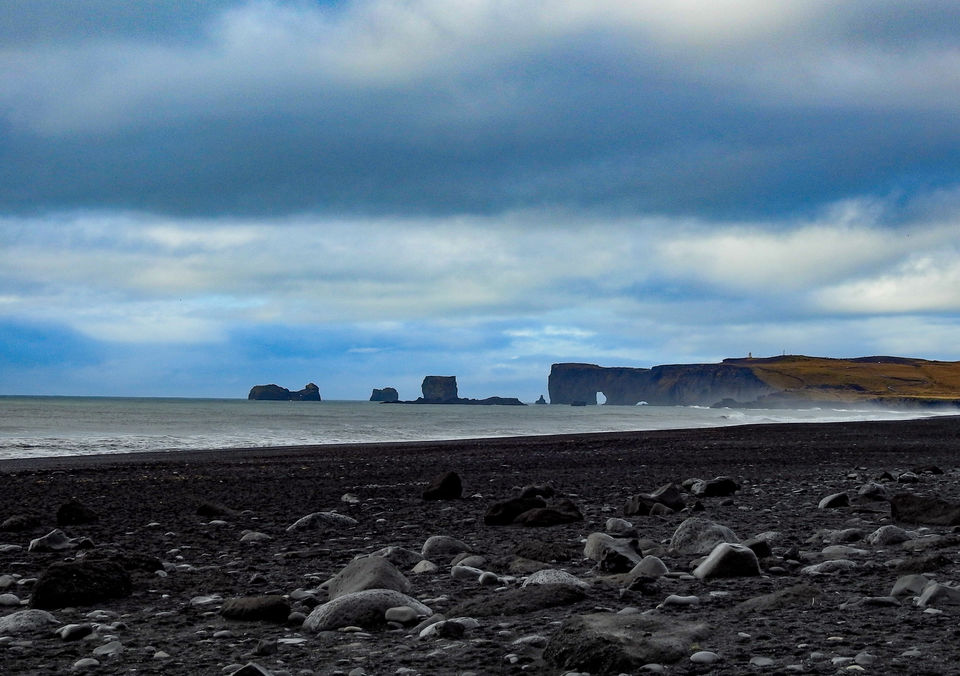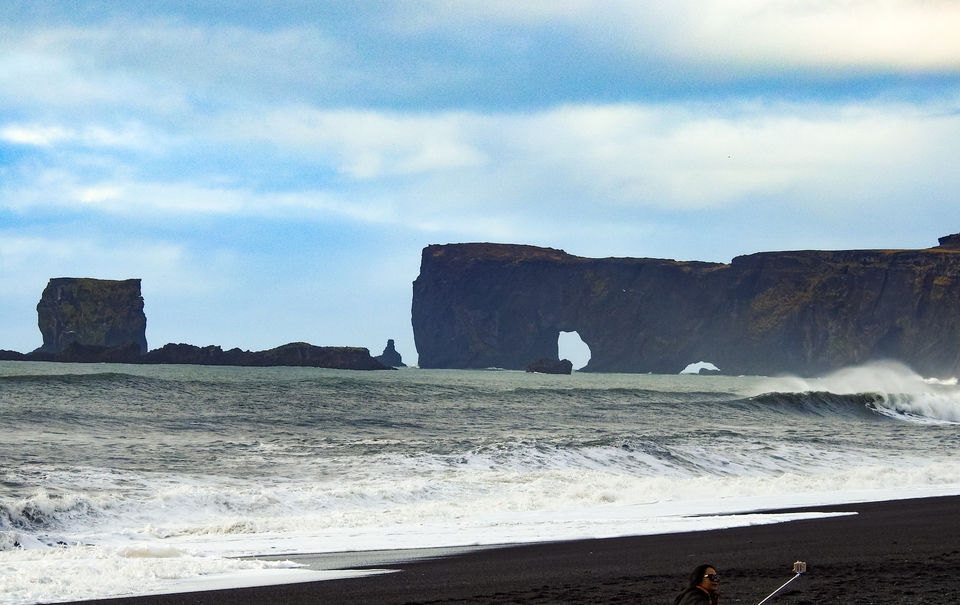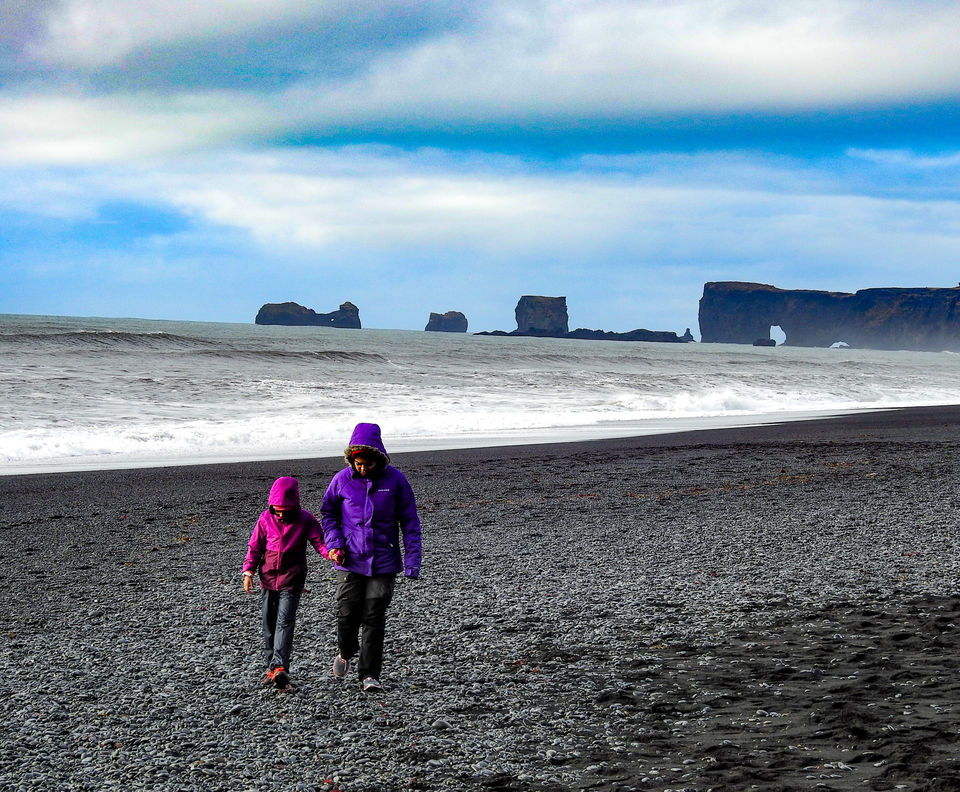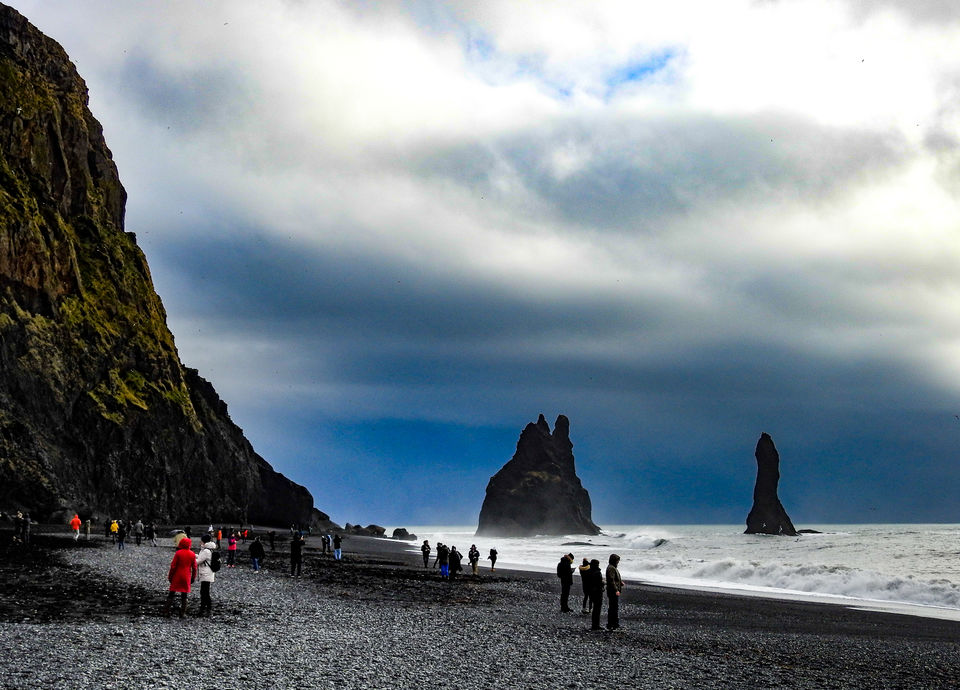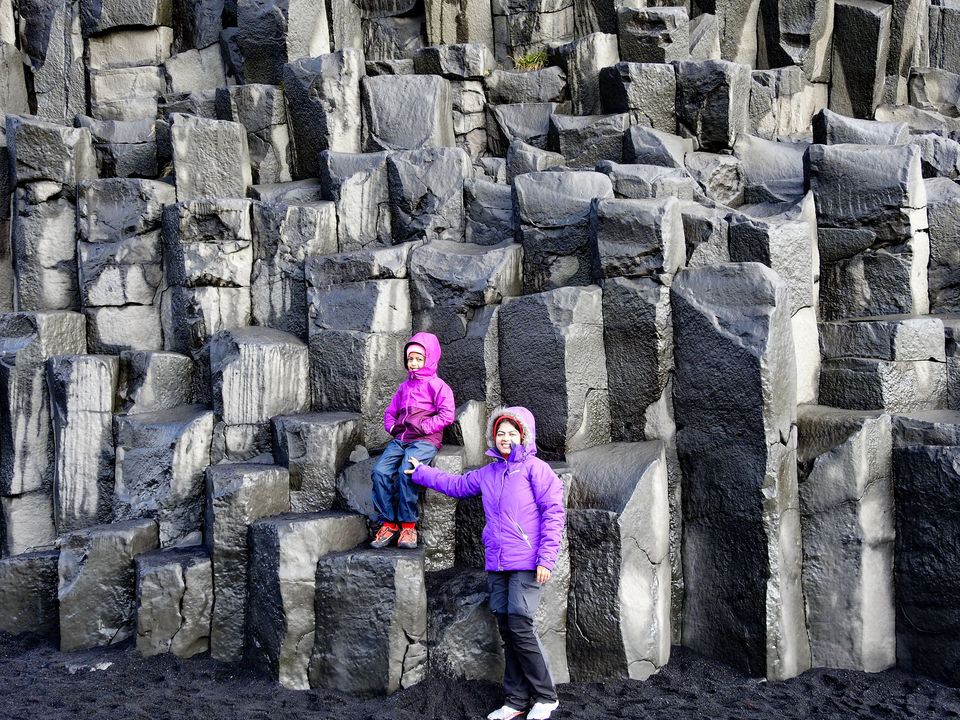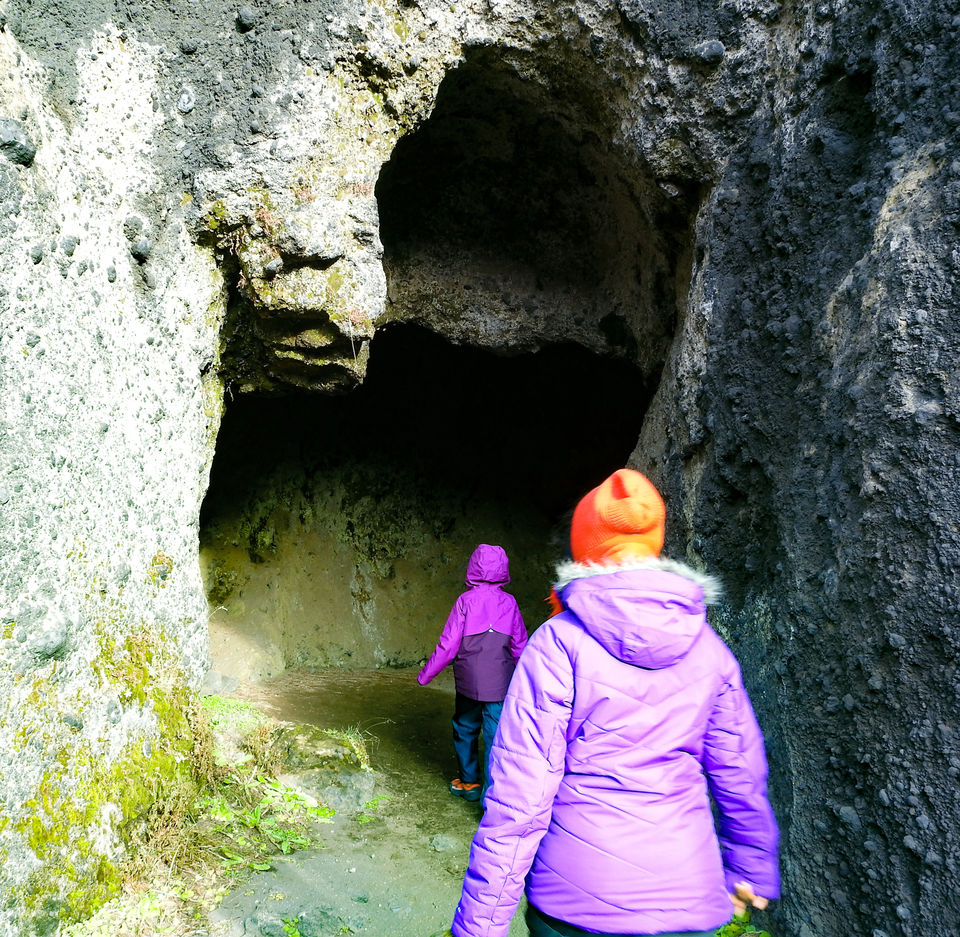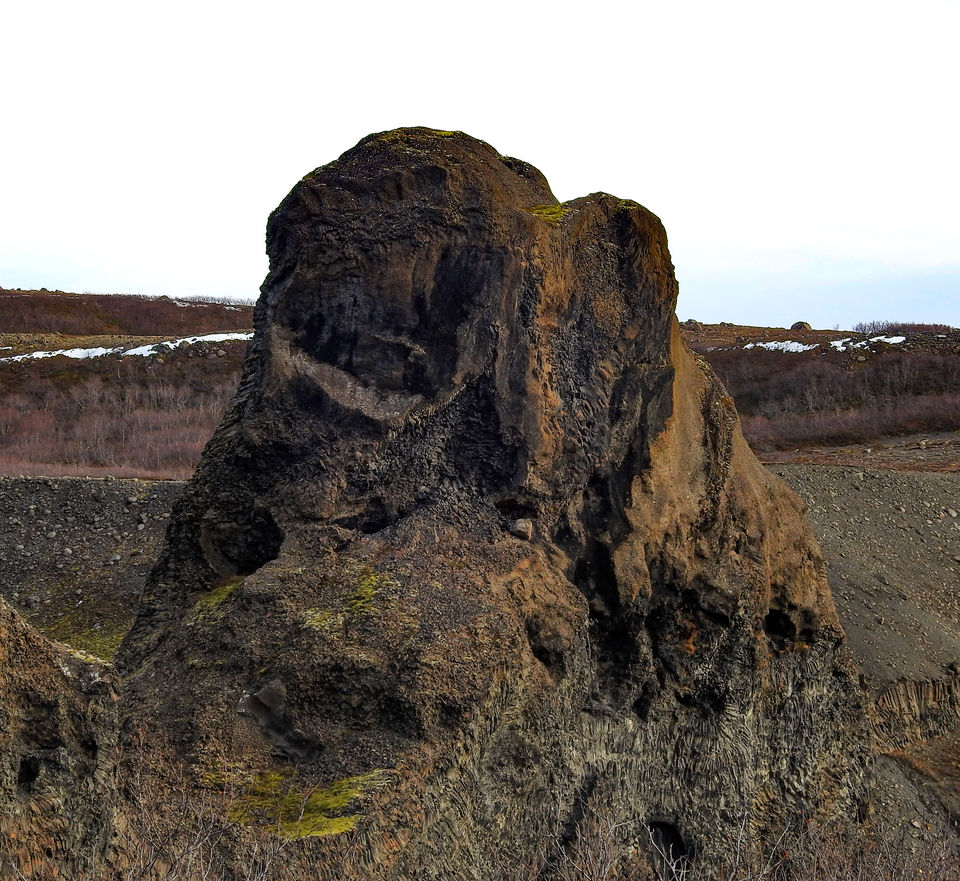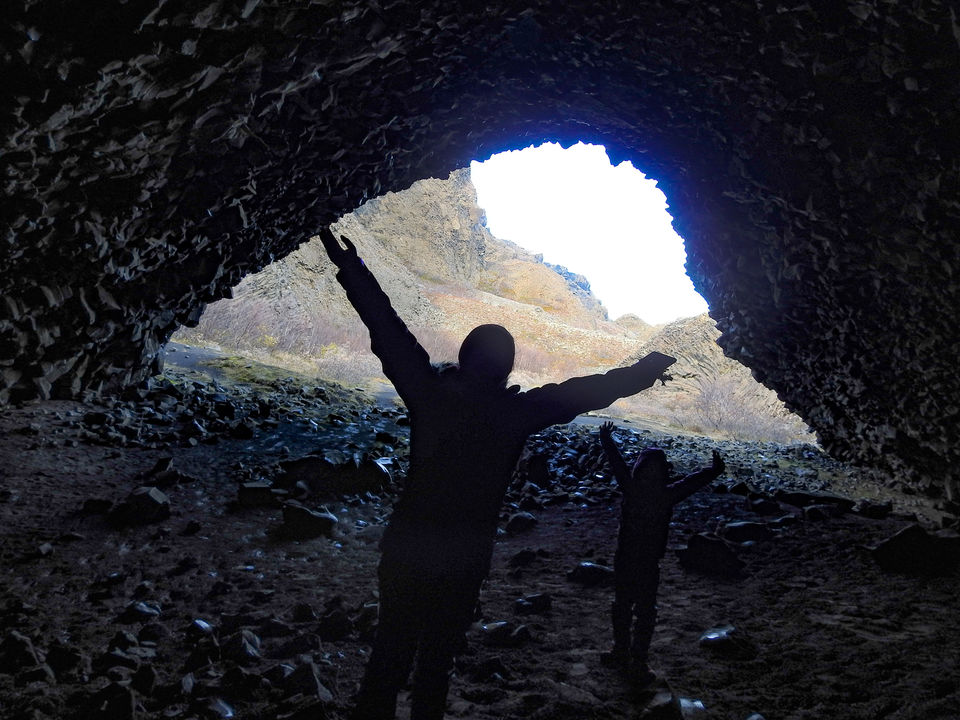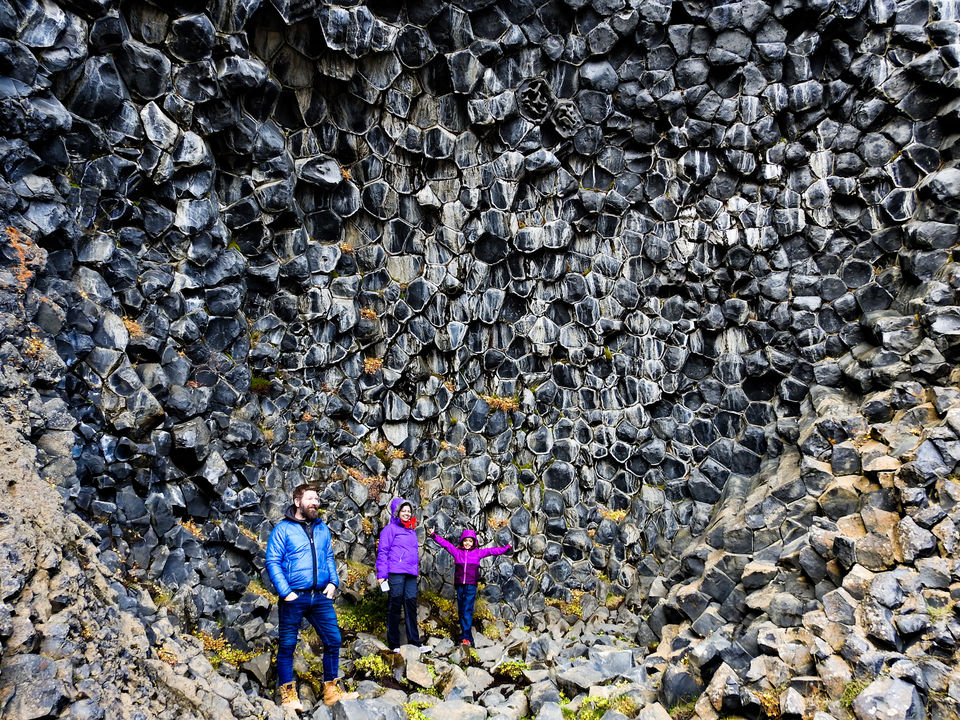 Thanks to the glaciers, the rivers are perennial. Closer to the shores they slow down & flow in winding patterns teaming up with lush farmlands and Icelandic huts to make perfect recipes for postcard pics. GOT fans will certainly feel a sense of déjà vu while roaming amidst this picturesque countryside.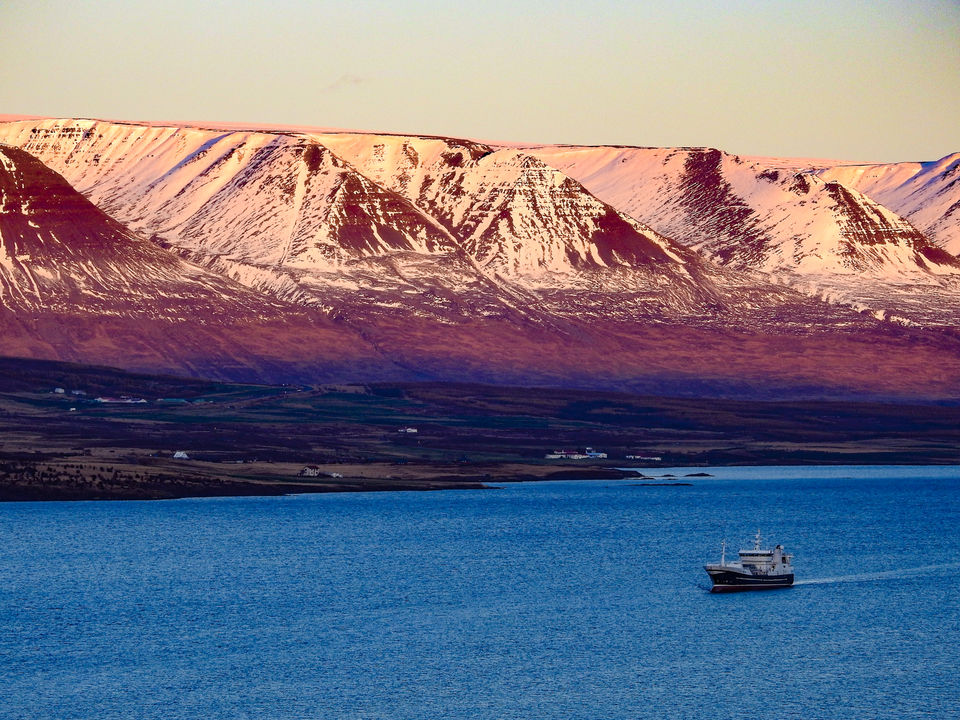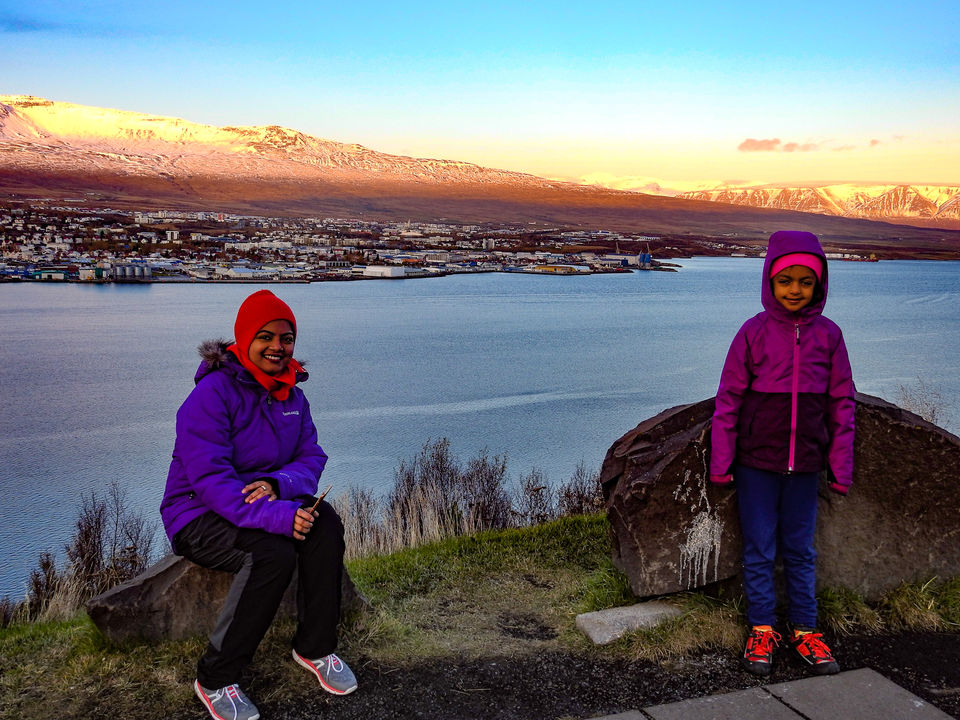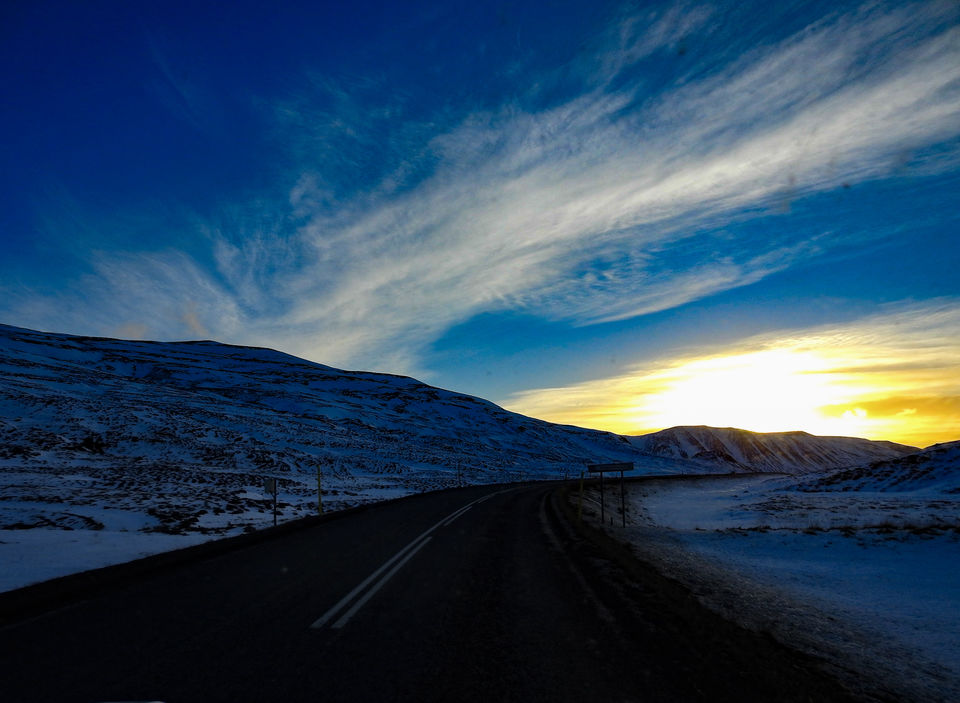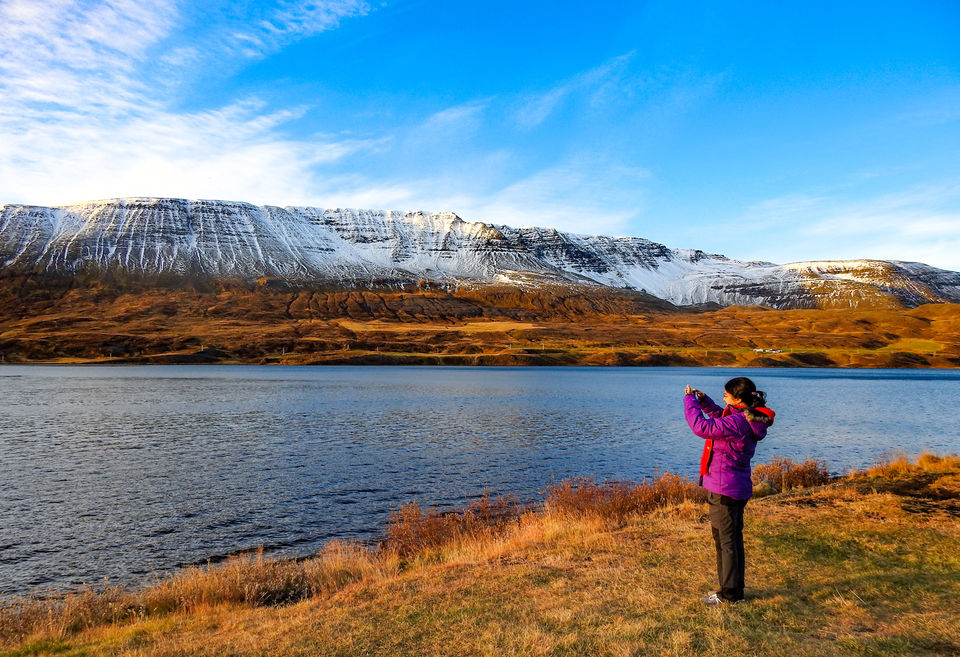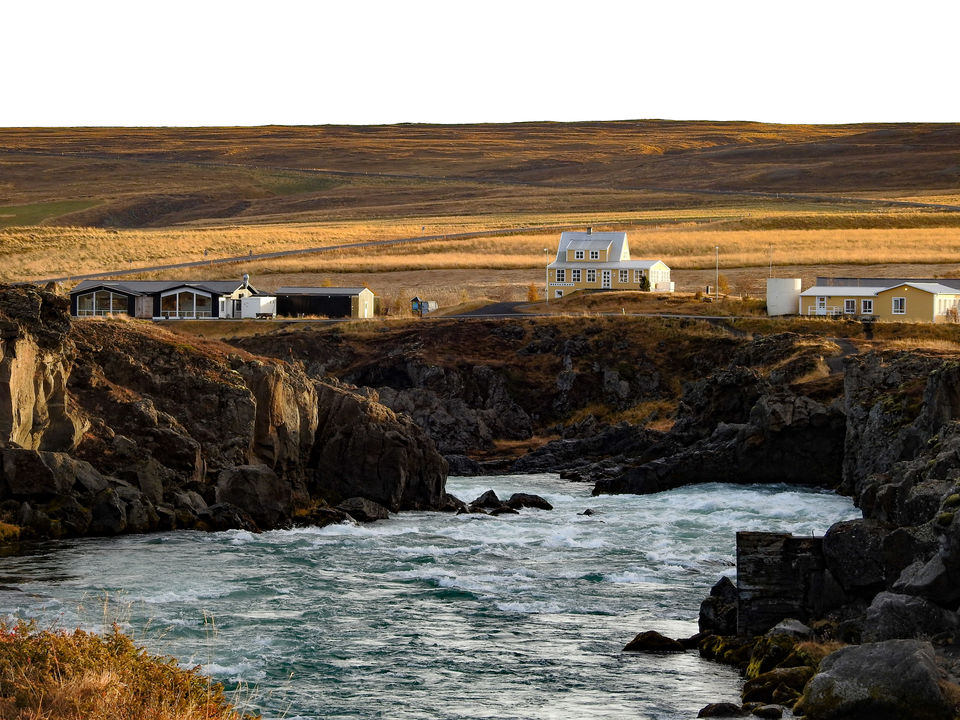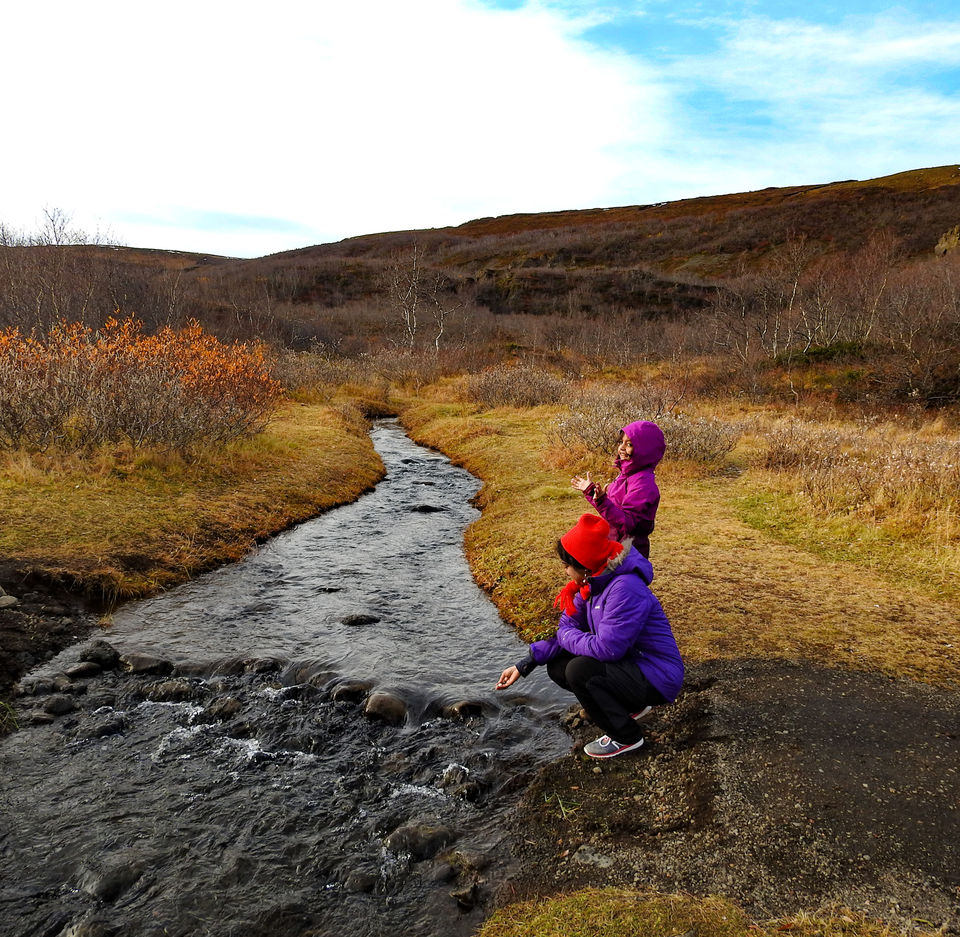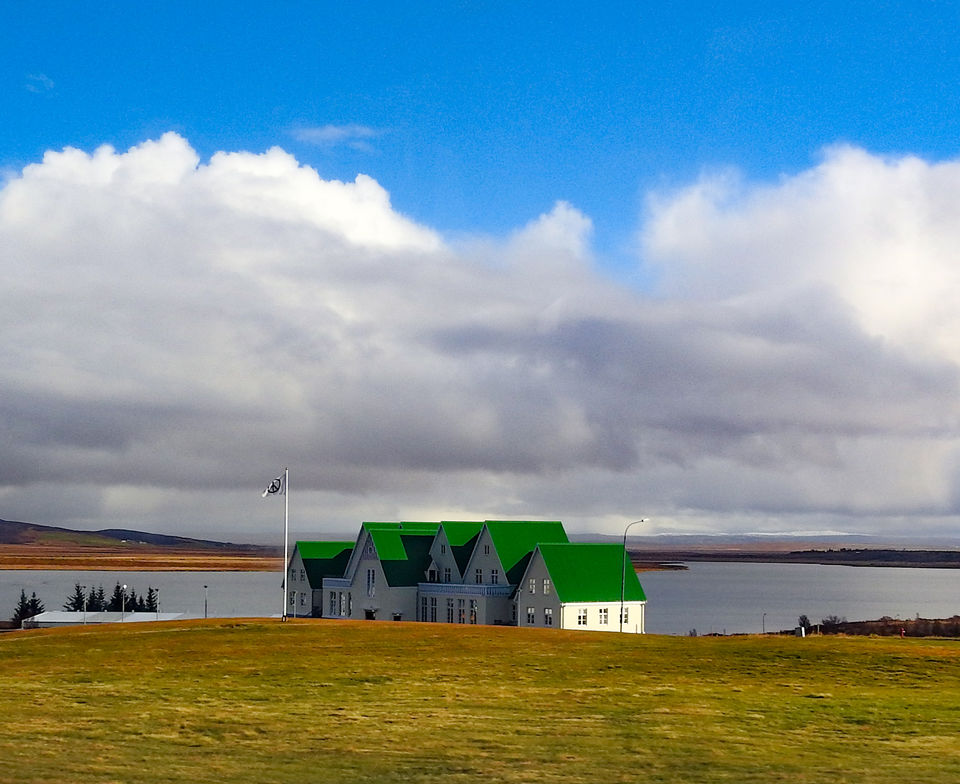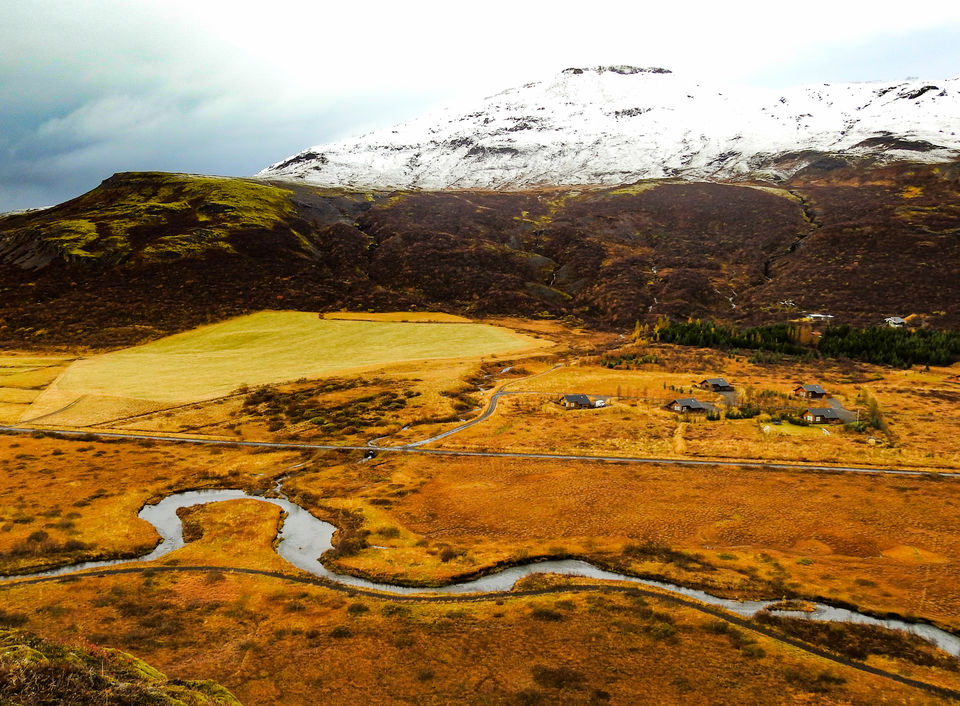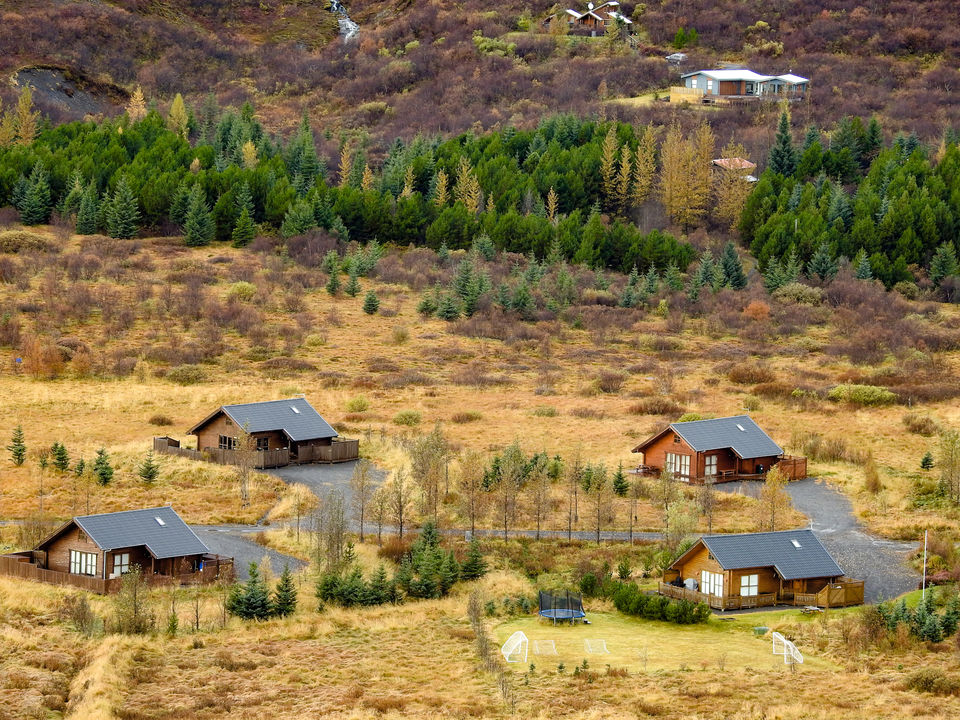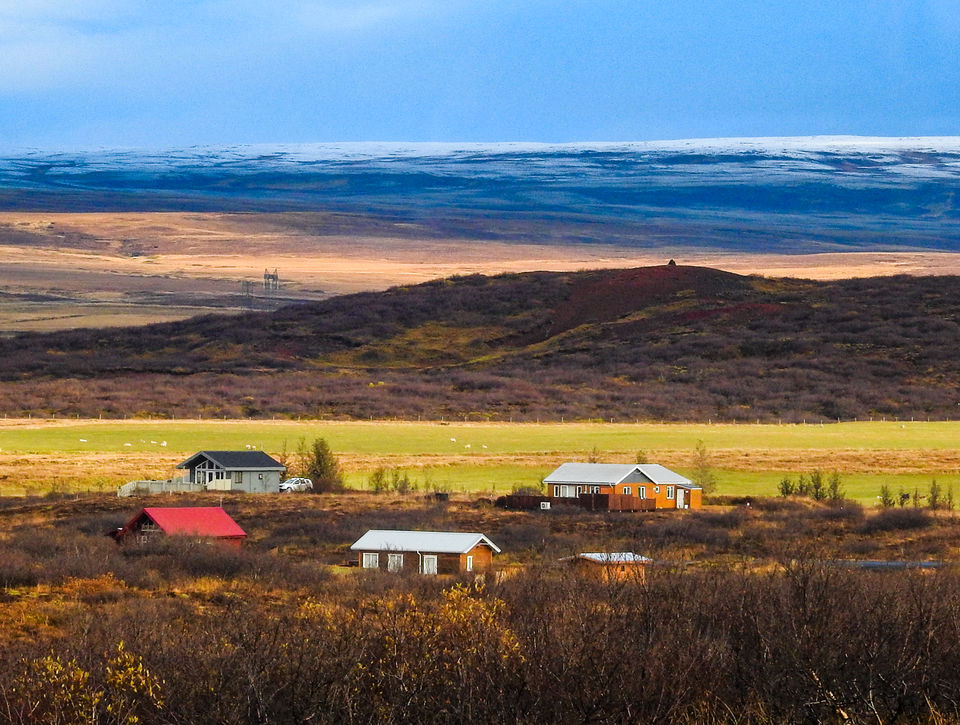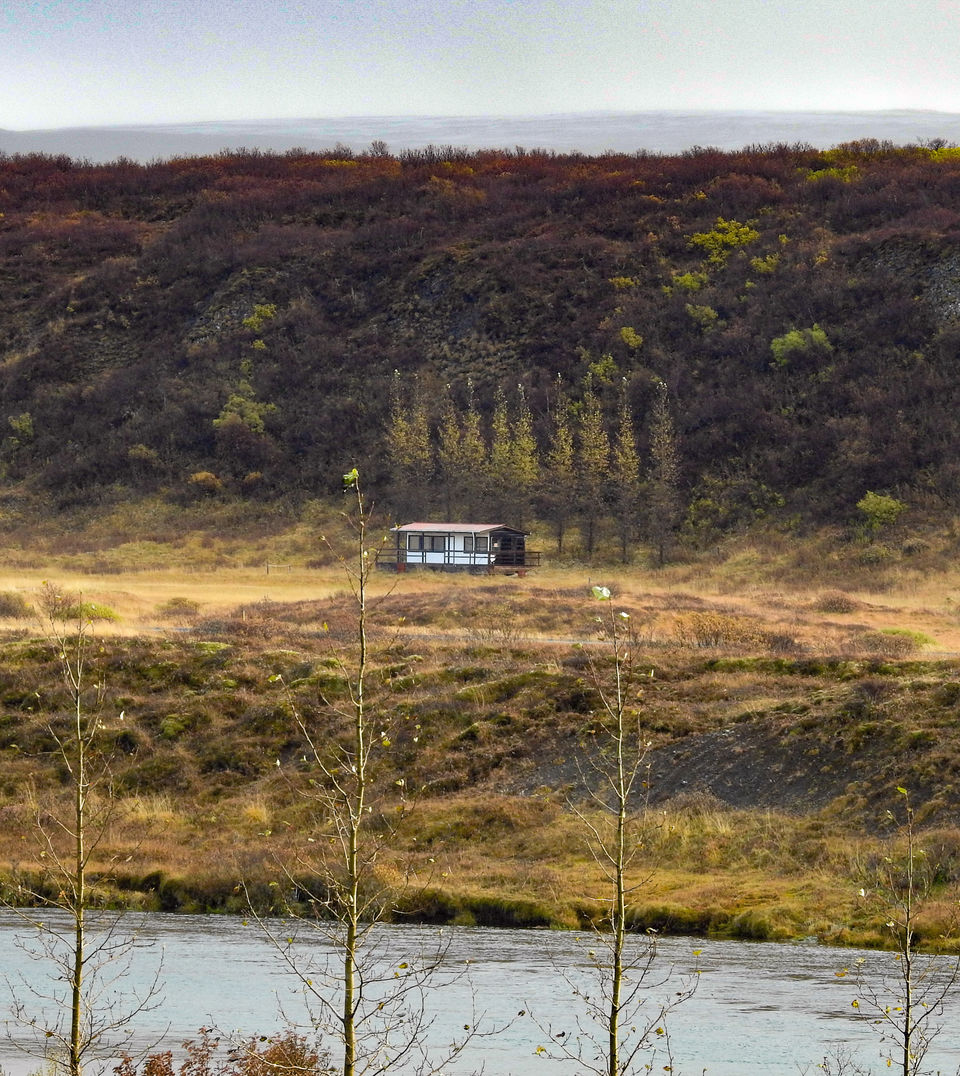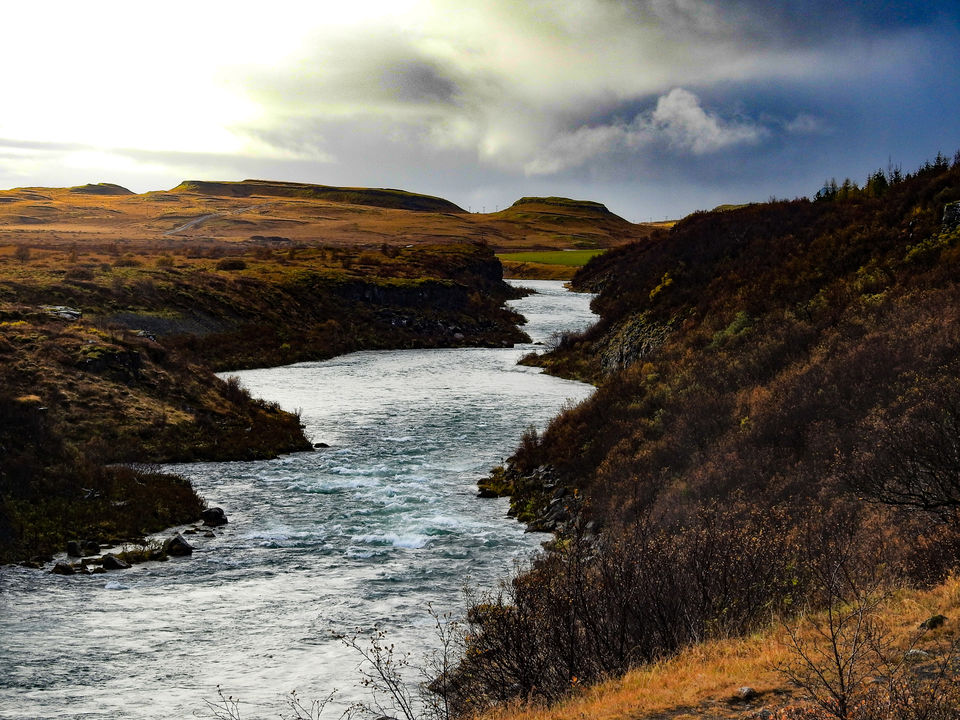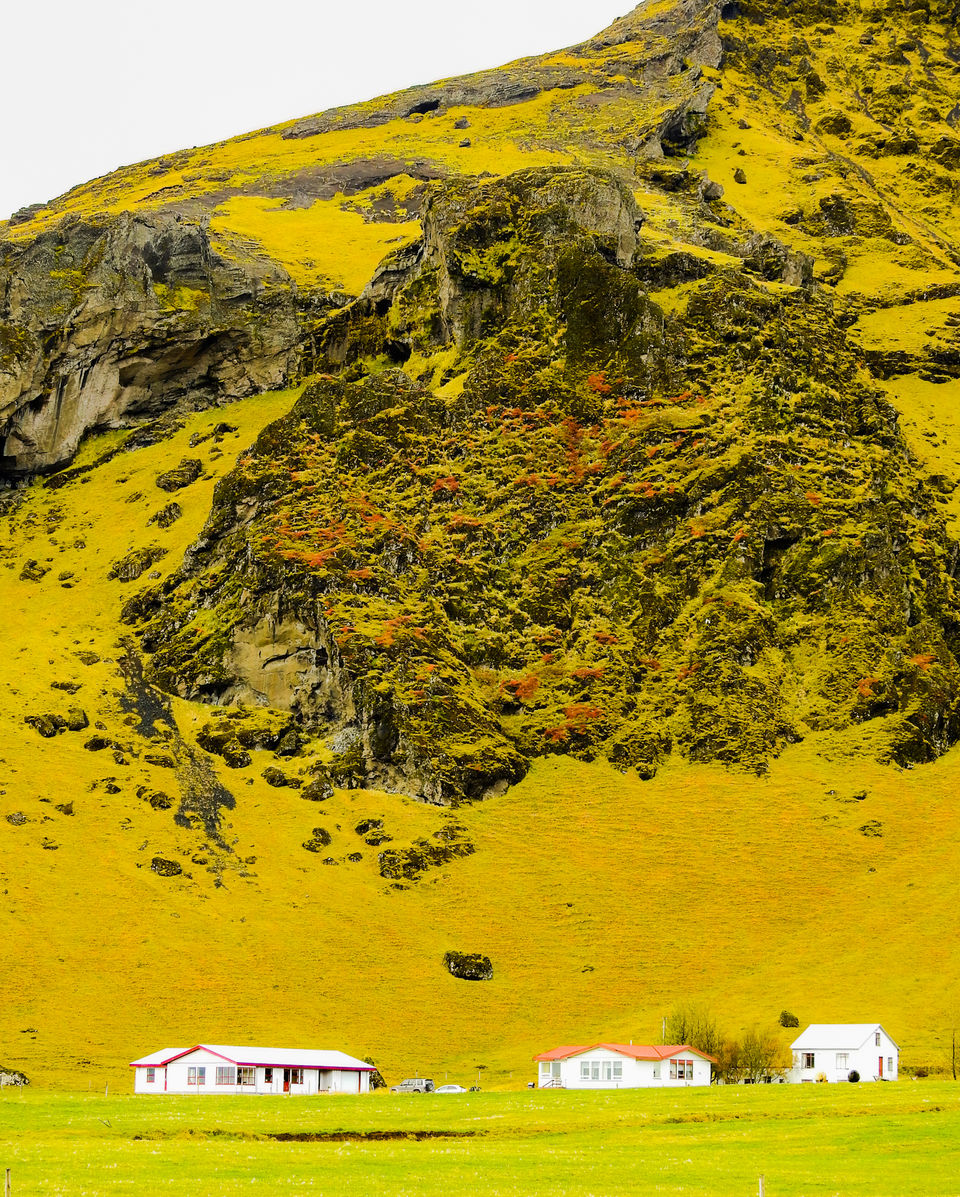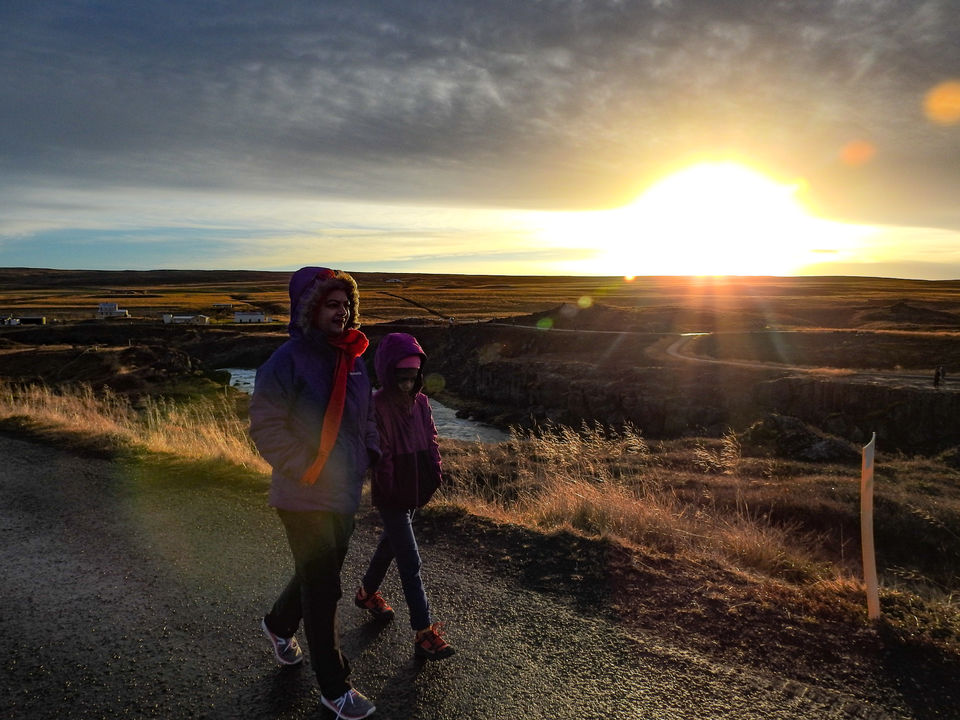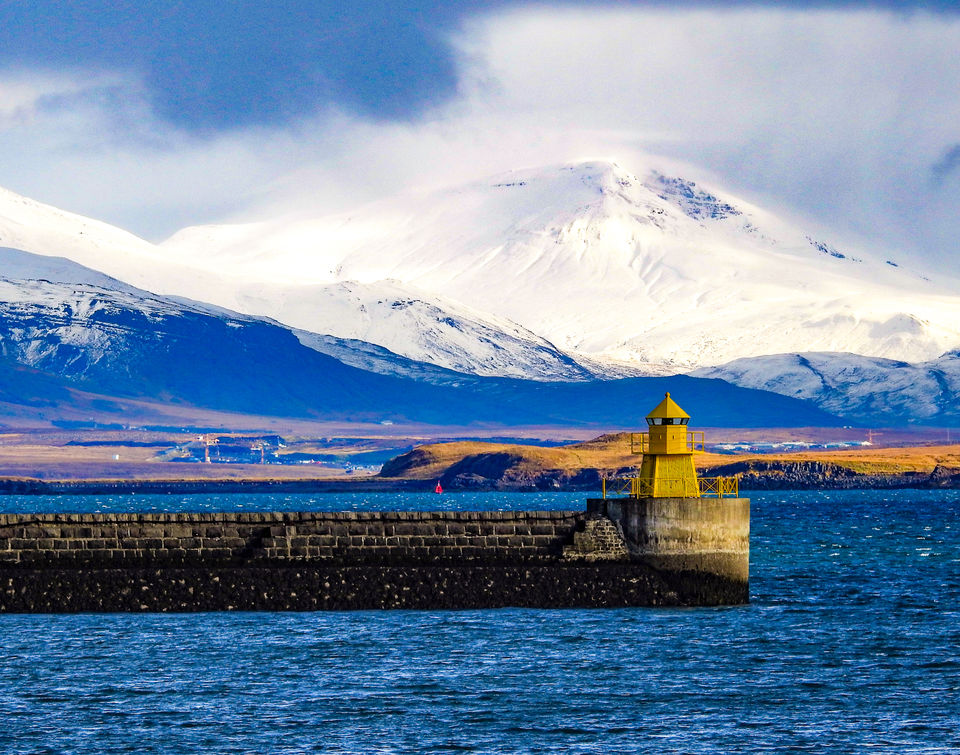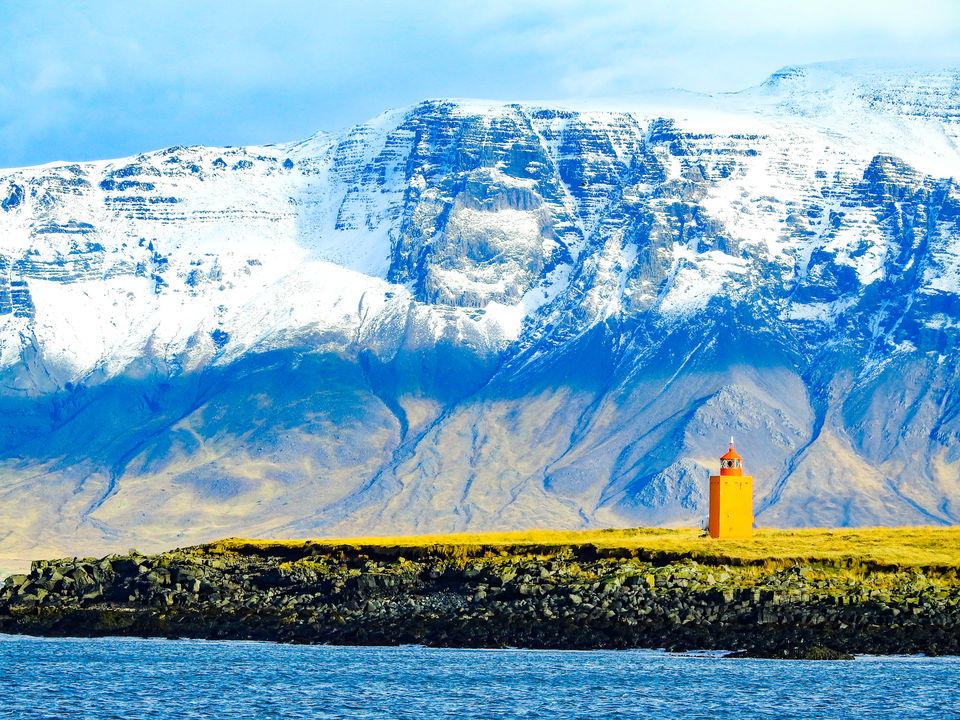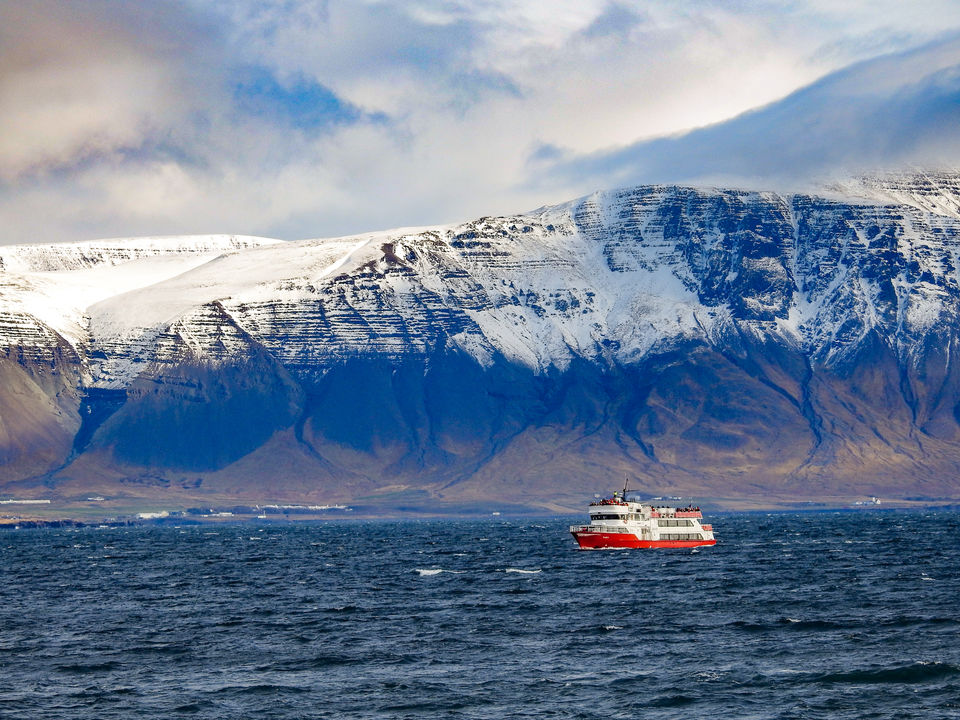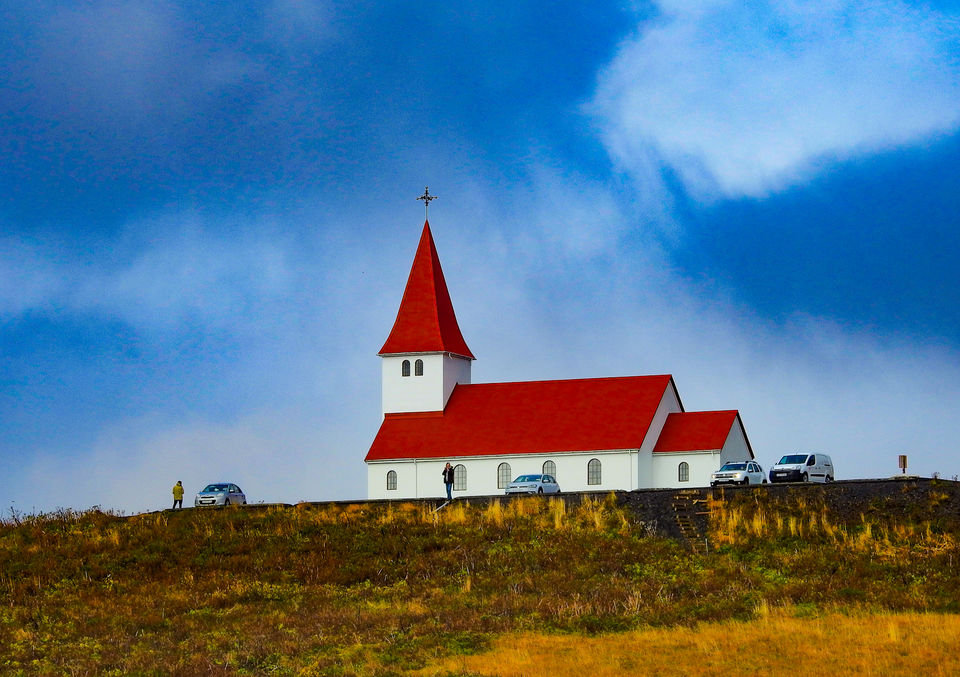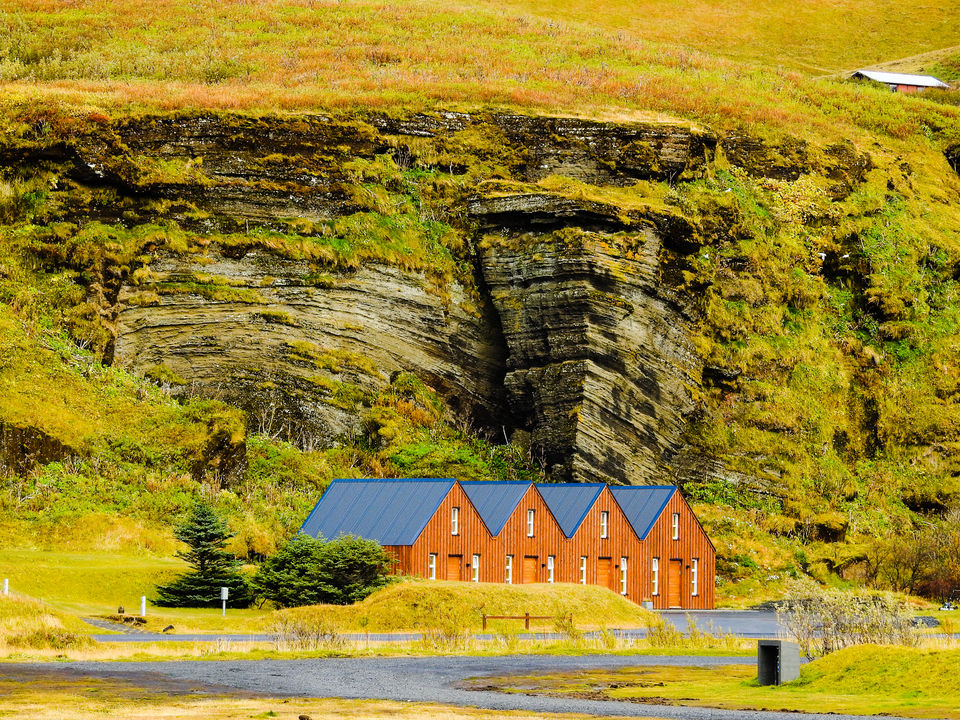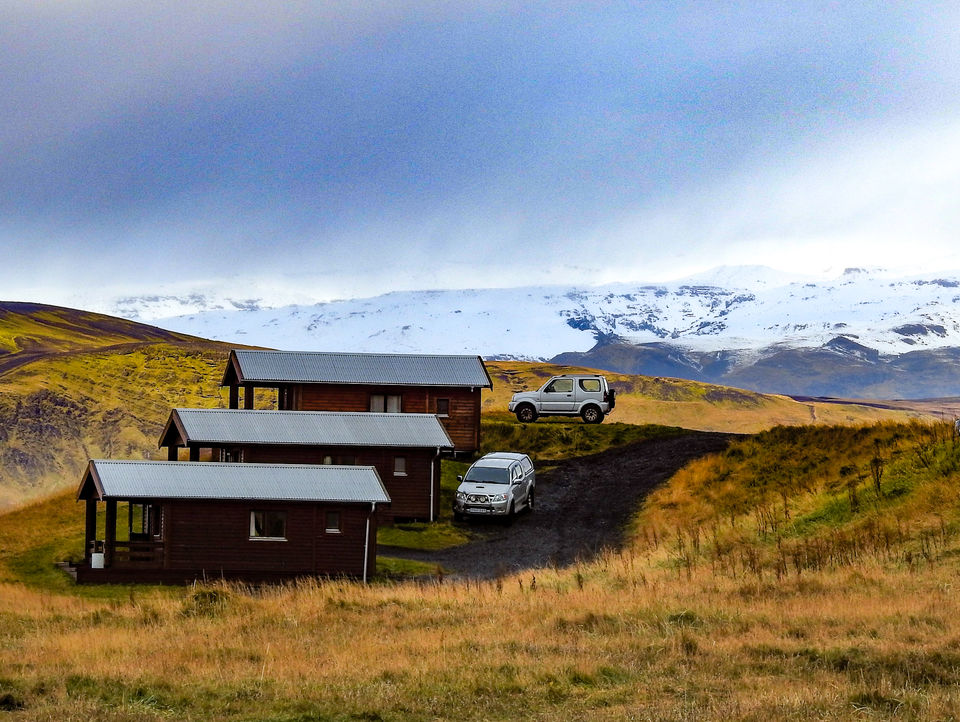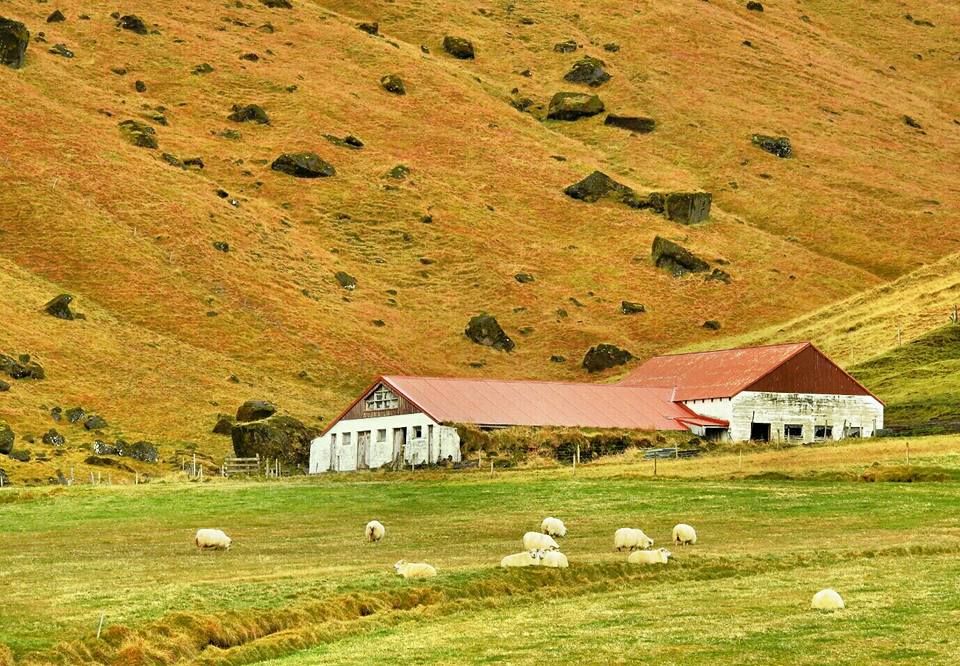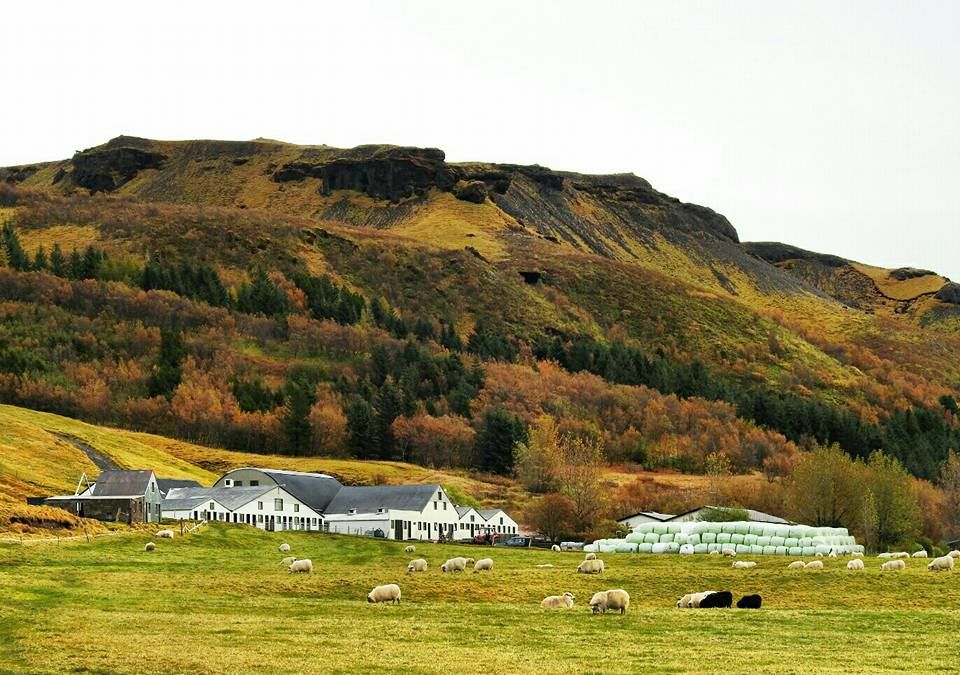 4. Gateway to the center of the earth:
If you remember how Brandon Fraser escaped from his plight in the movie "Journey to the center of the earth", Iceland is a place to catch a live demo of the same. I am talking about the water spouting Strokkur that erupts almost every 8 minutes.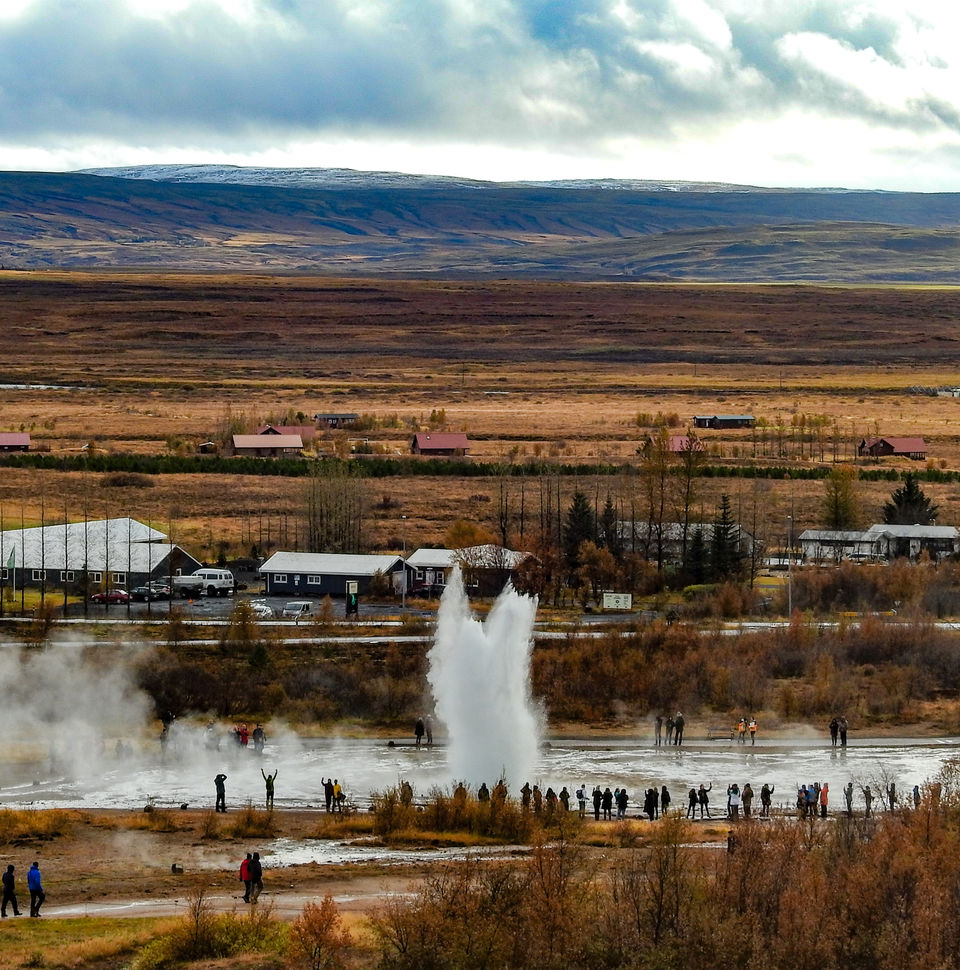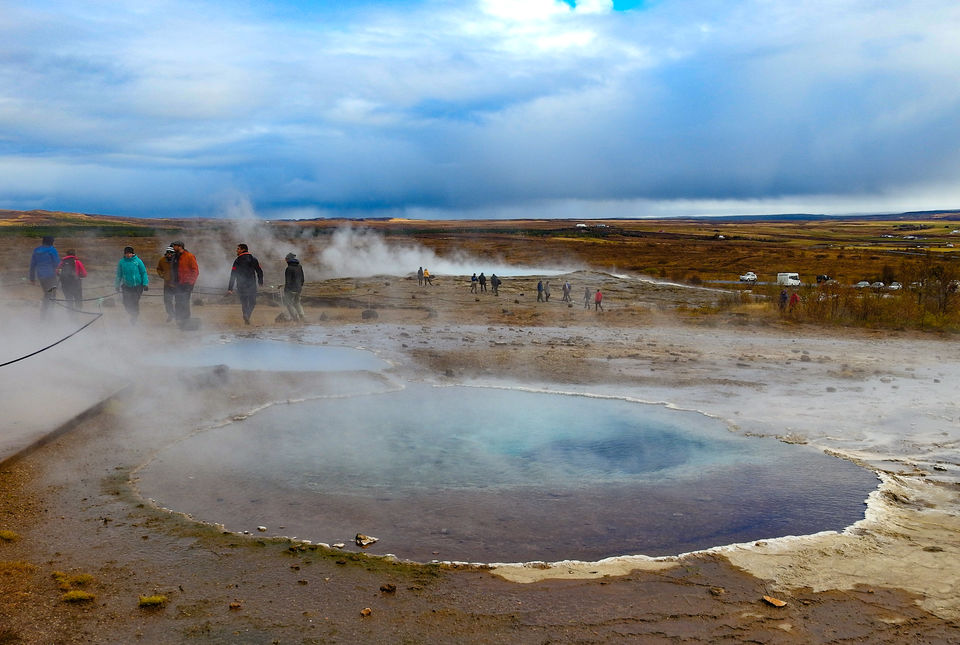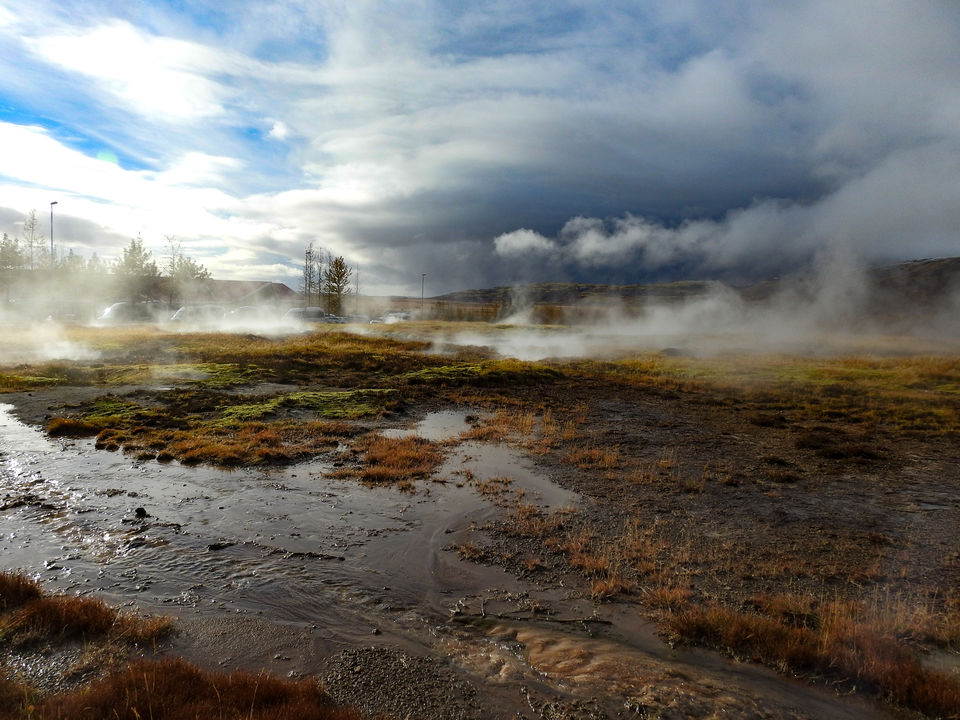 Apart from the above, geothermal activities are seen almost everywhere, making it a unique place on earth. The Icelanders make best use of this natural phenomena by utilizing this geothermal energy to power everything on this Island.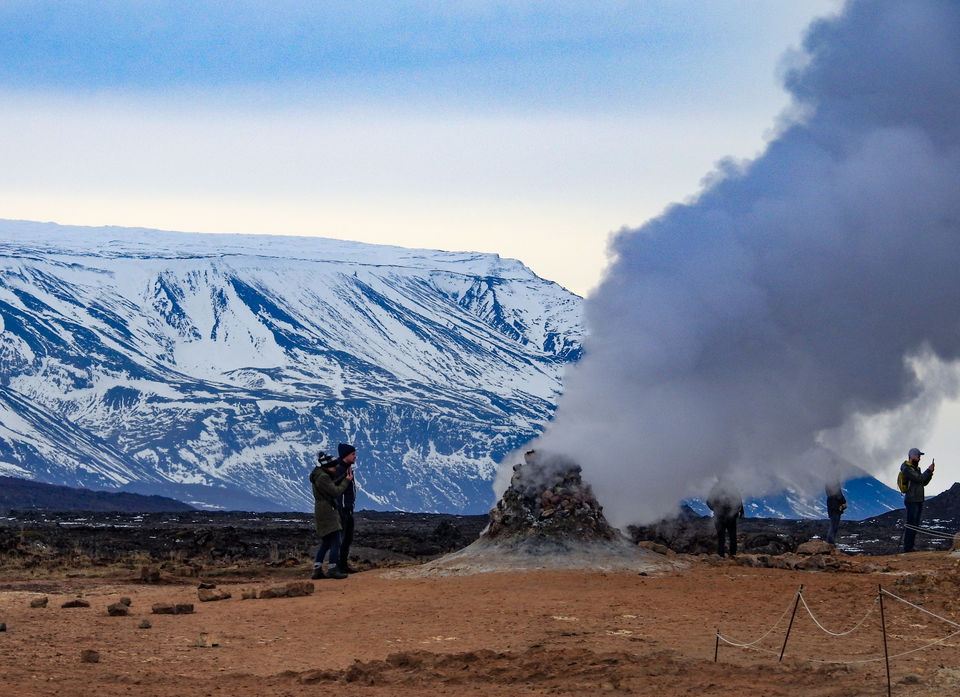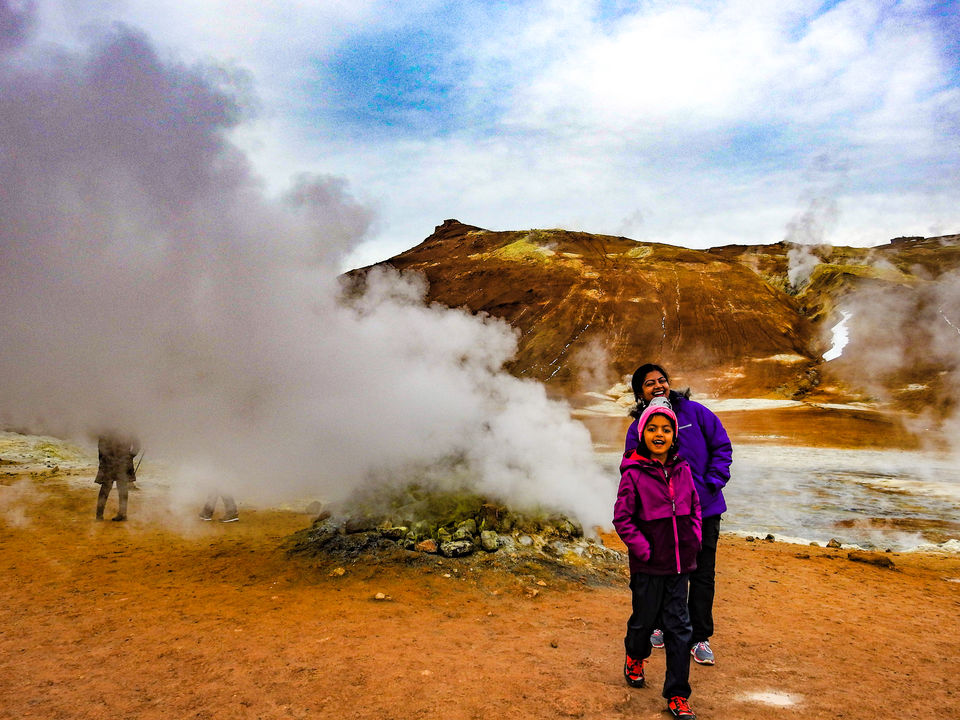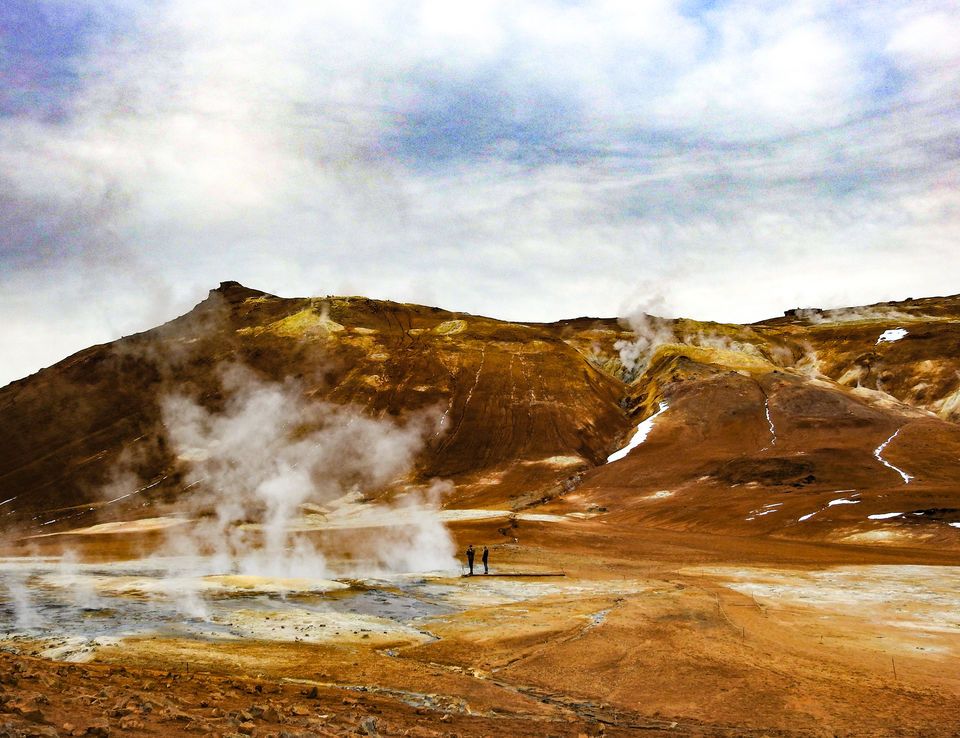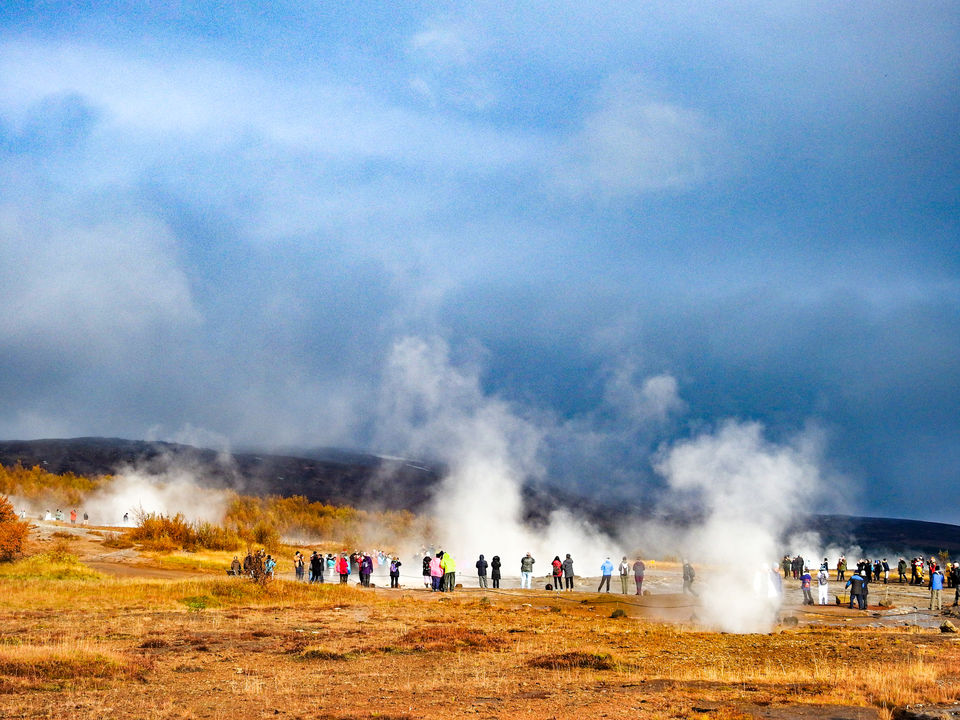 5. The Rift Valley:
Created by the movement of the Eurasian and the North American tectonic plates - the "Rift valley" runs right through the middle of Iceland. One can walk between them at the Thingvellir National Park and even step on the two sides simultaneously. Adventure seekers have the option to dive into a crystal-clear water body – Silfra formed between these plates. Interestingly, these tectonic plates are still moving making the gap wider by approx 3 cm every year.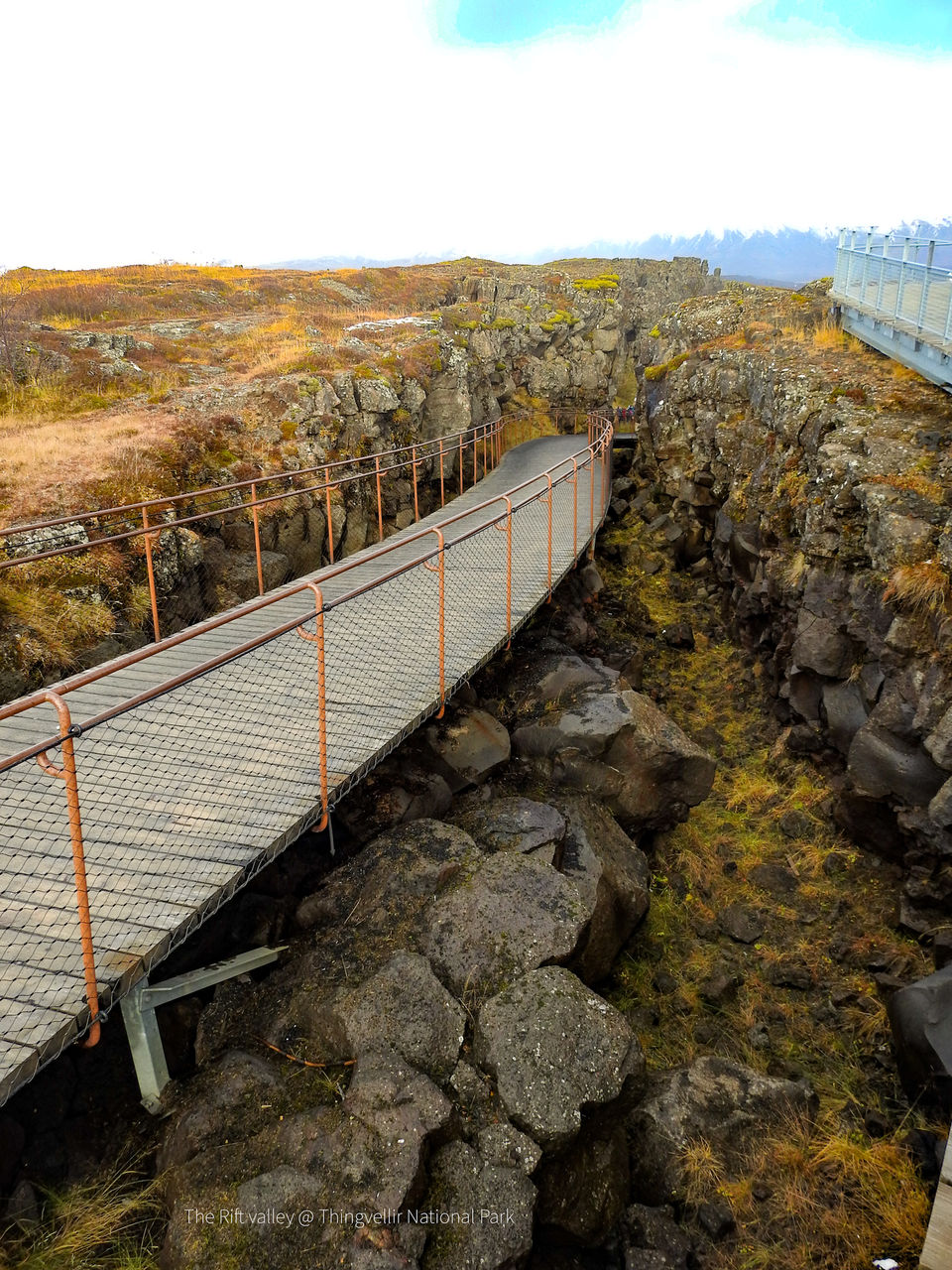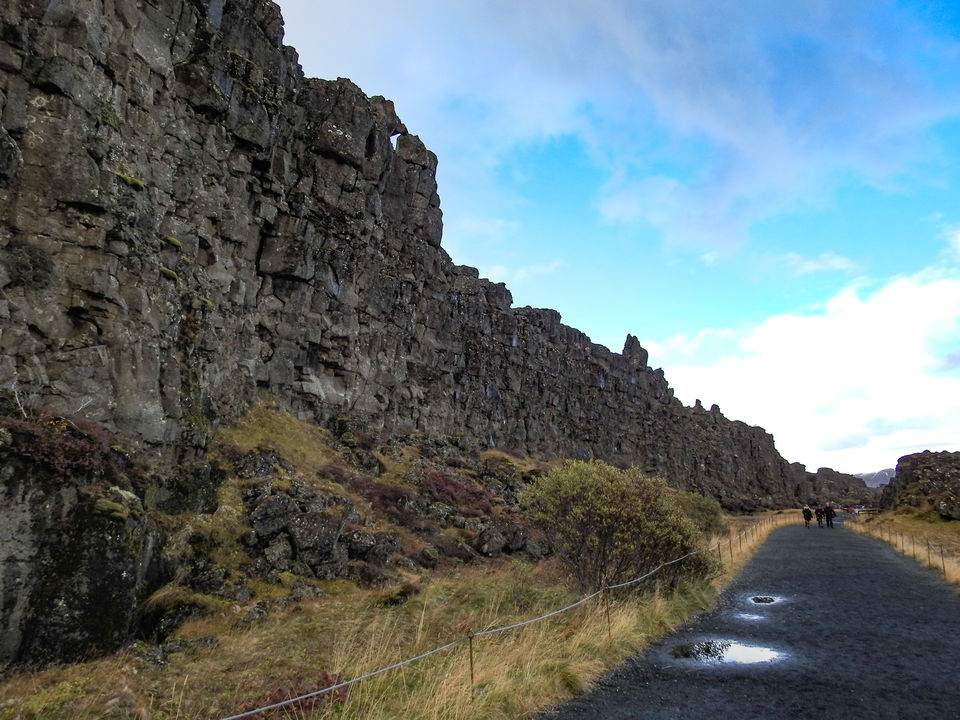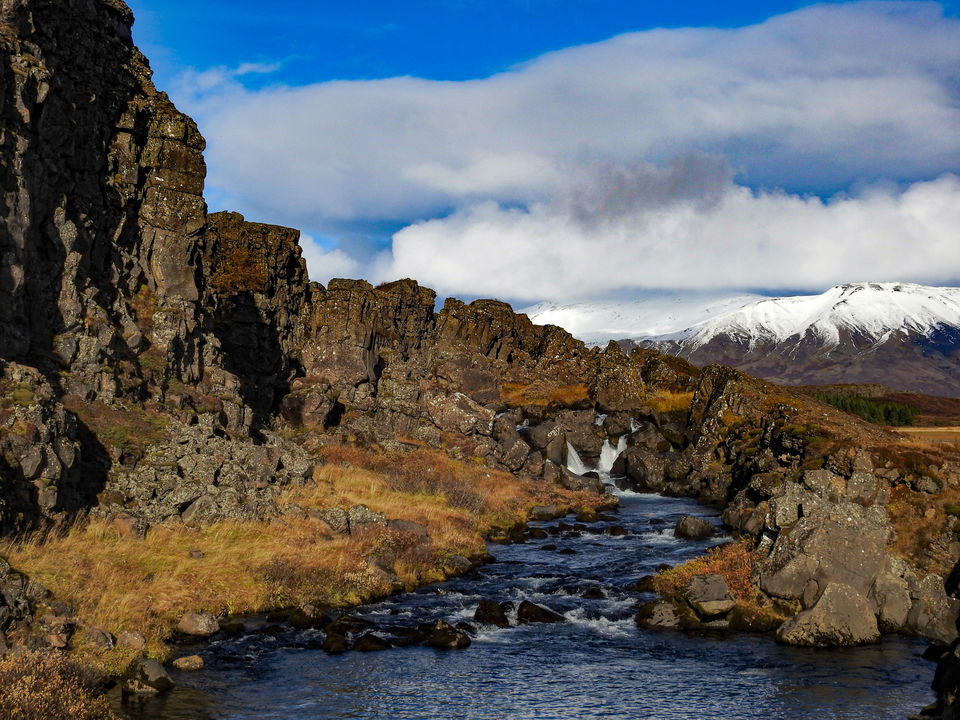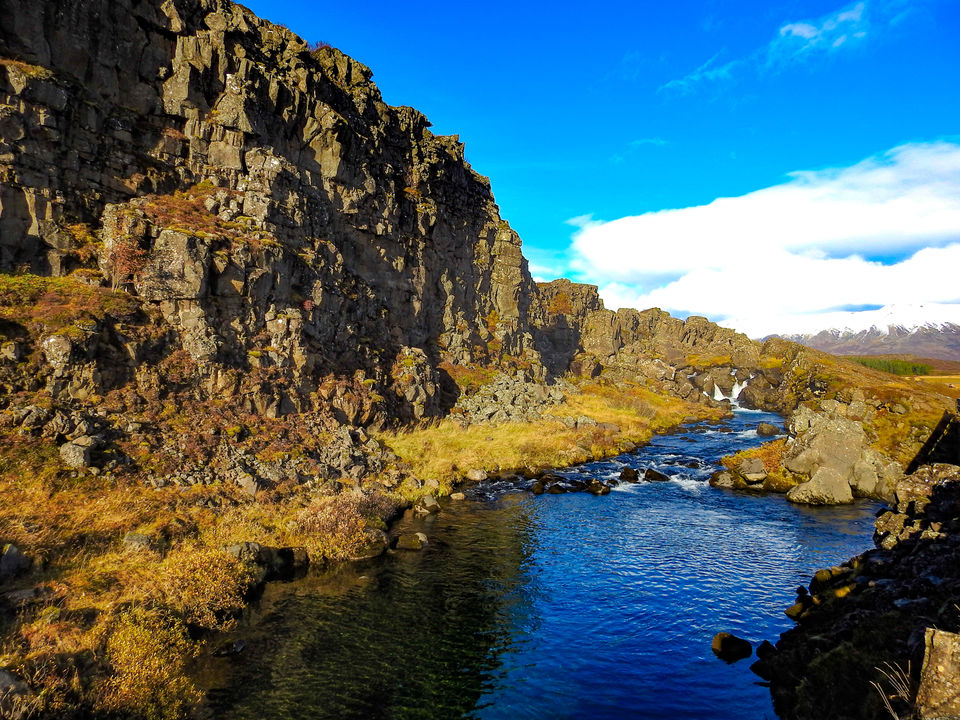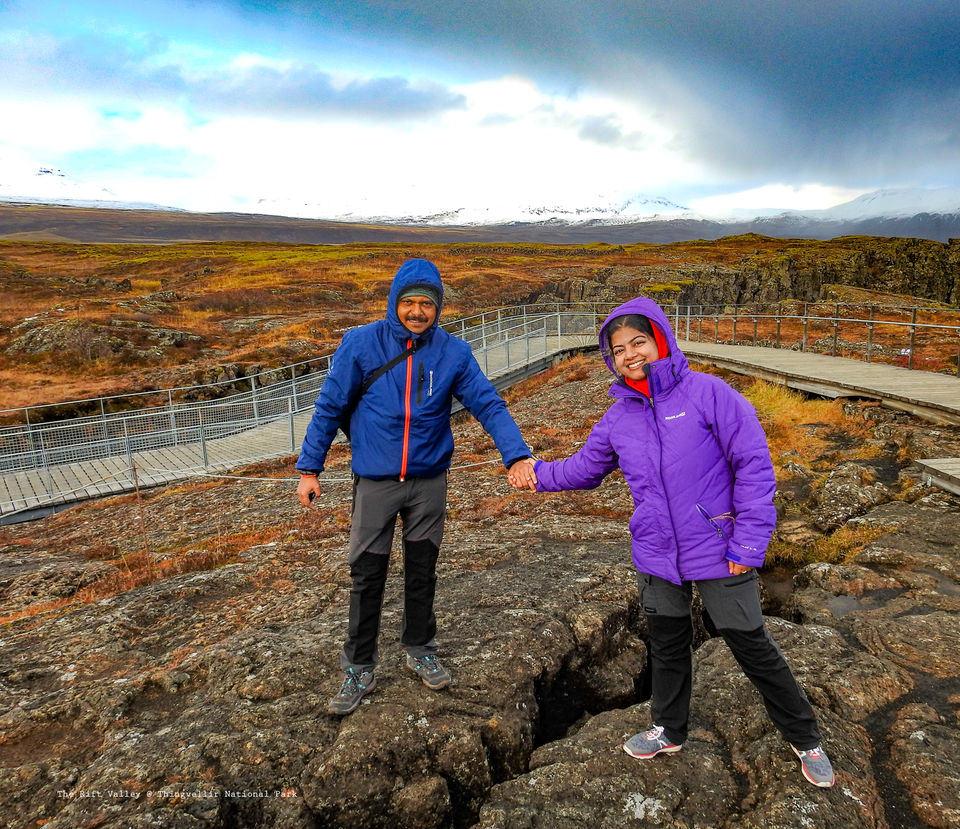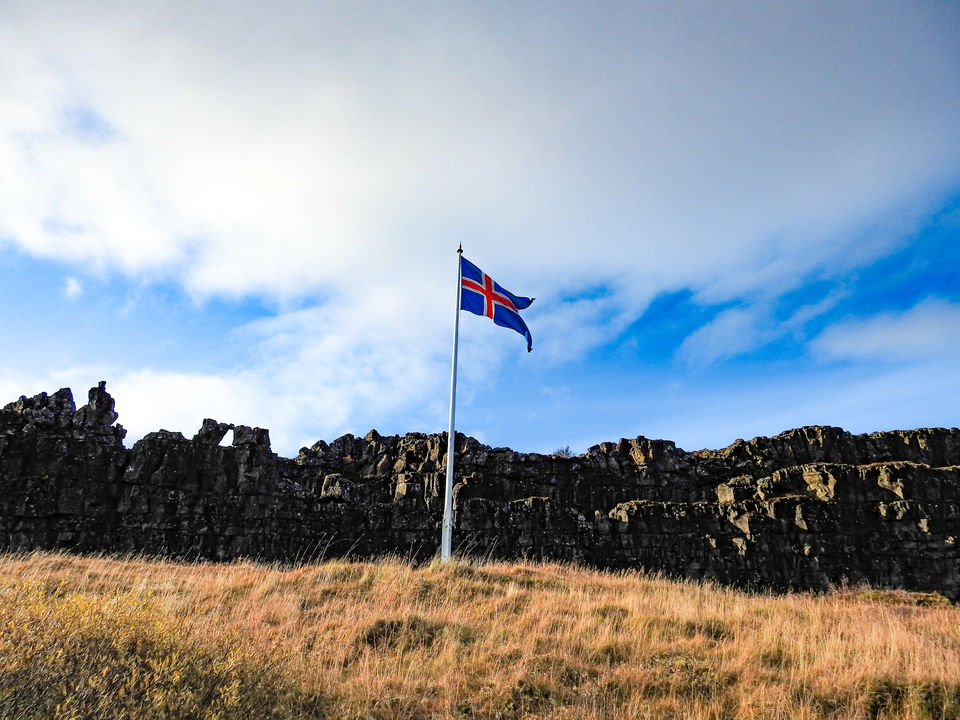 Tip: Just buy a piece of land in between these two plates and it will increase in size every year making it a perfect investment.
6. Diamond Beach and the Jokulsarlon Glacier:
Diamond Beach is possibly the only beach in the world where one will find pieces of diamonds (read - crystal clear ice cubes) lying on the beach and hence the name. Thanks to the Jokulsarlon glacier nearby that melts into the ocean in the form of huge icebergs and the ocean just washes them back onto the beach.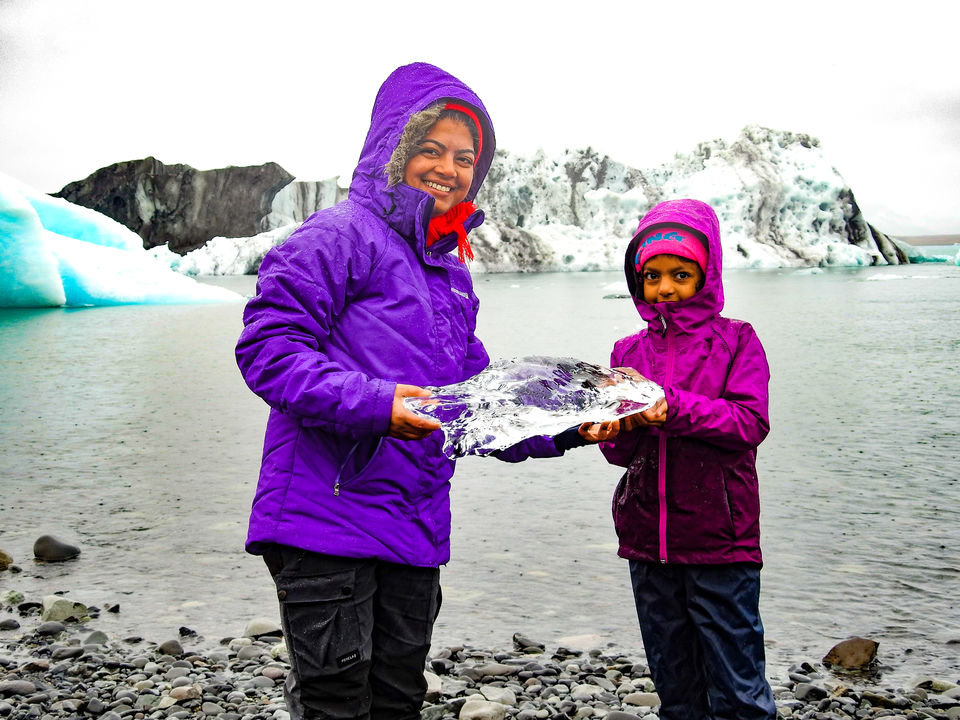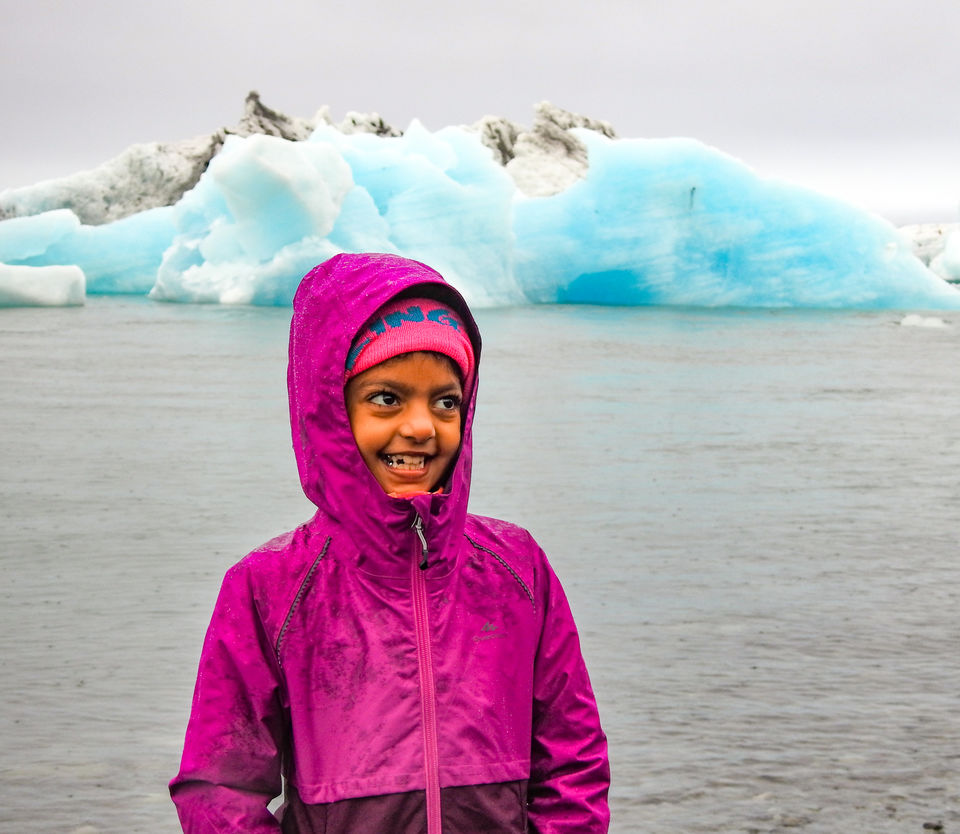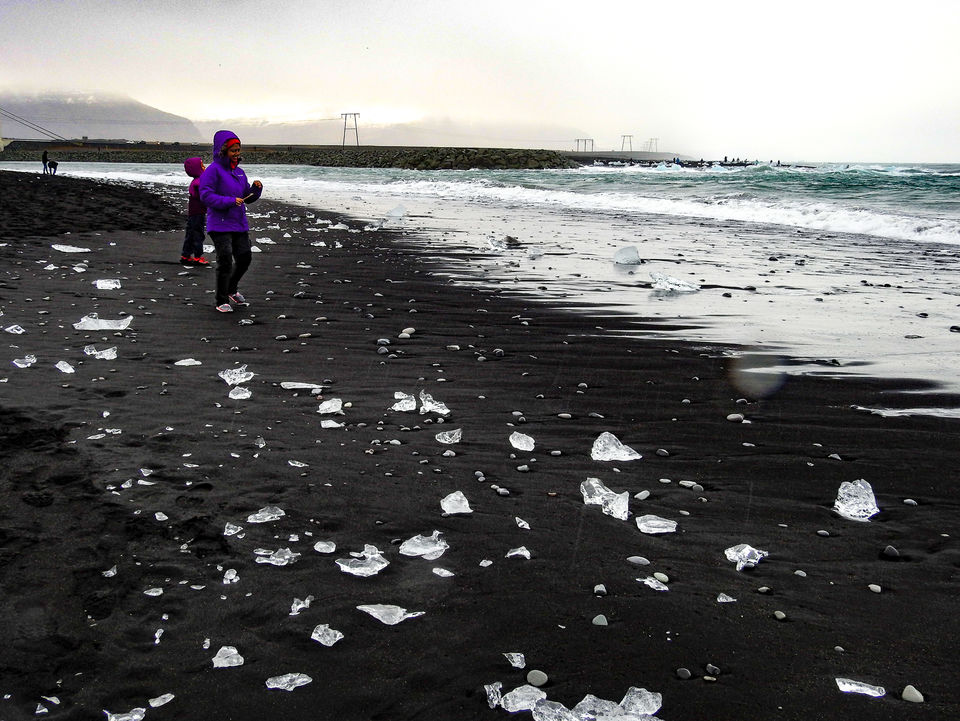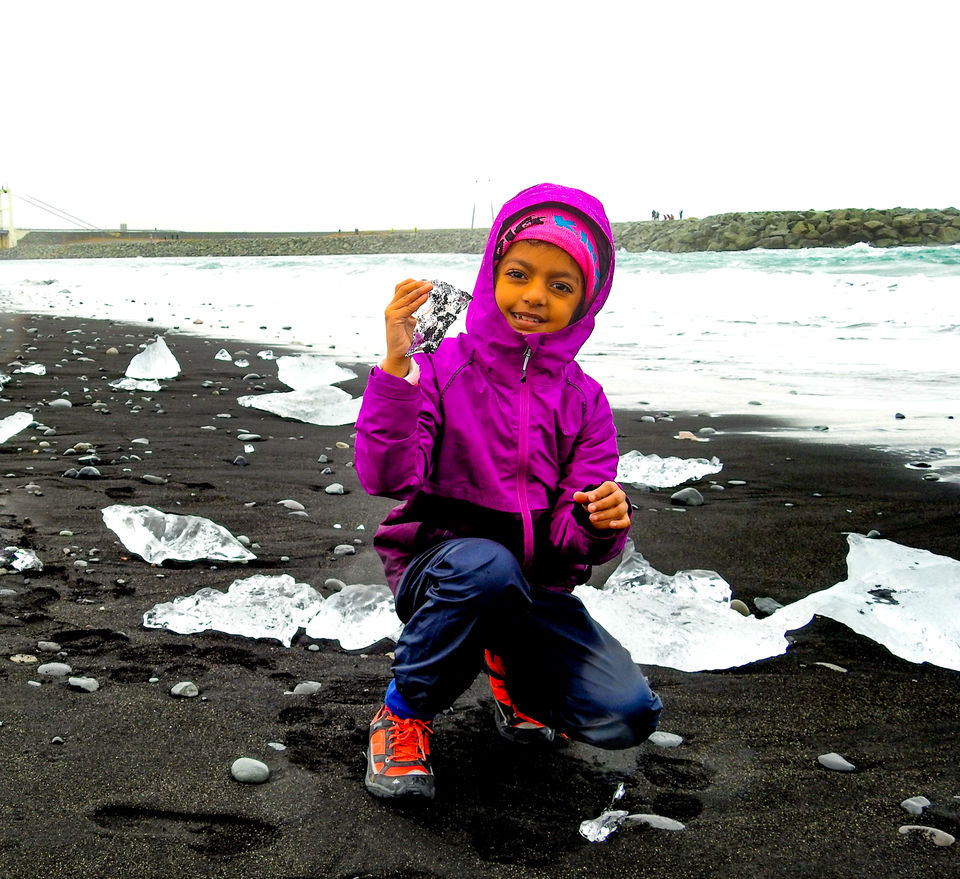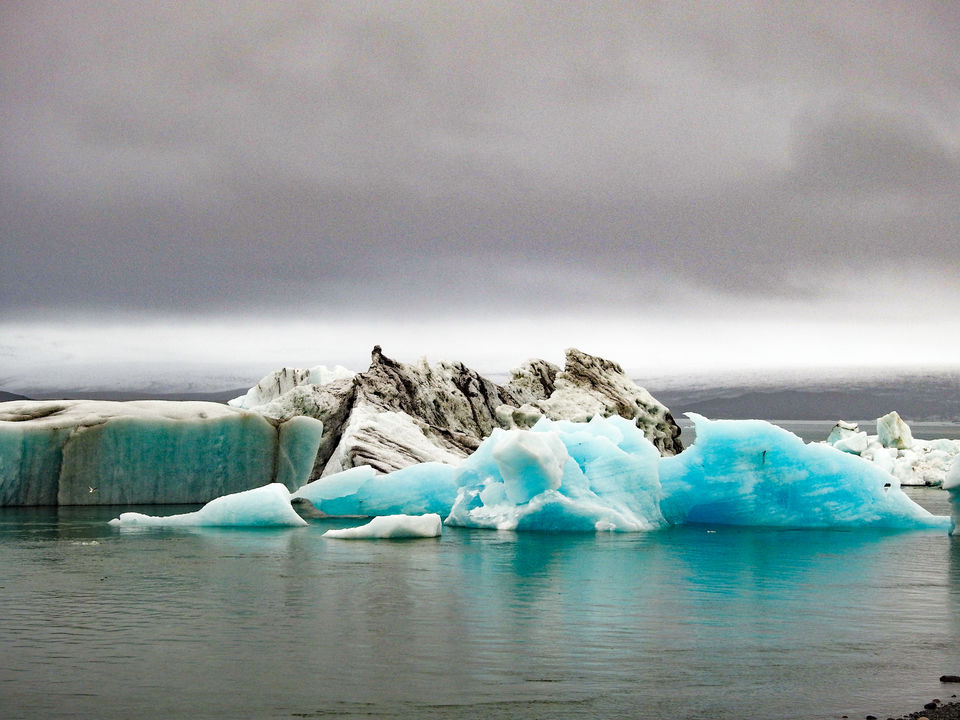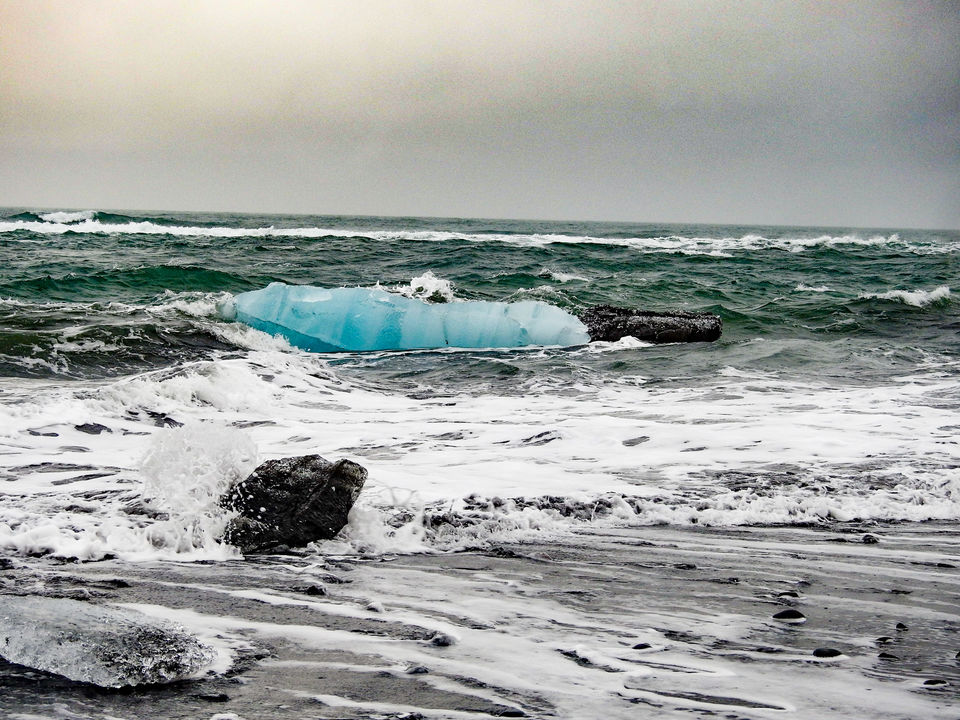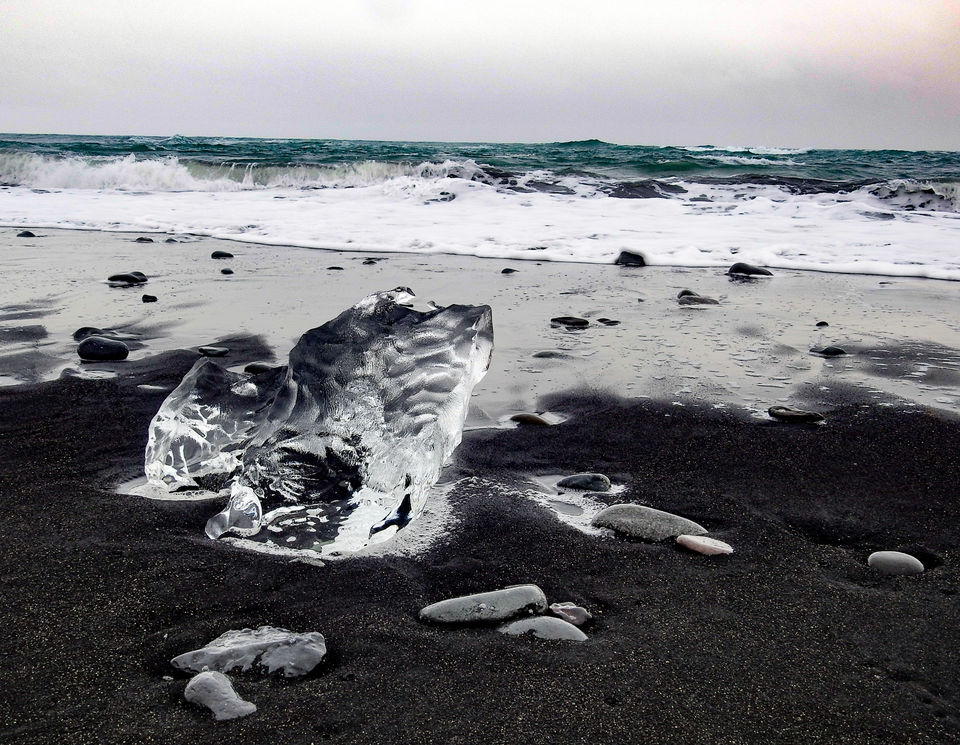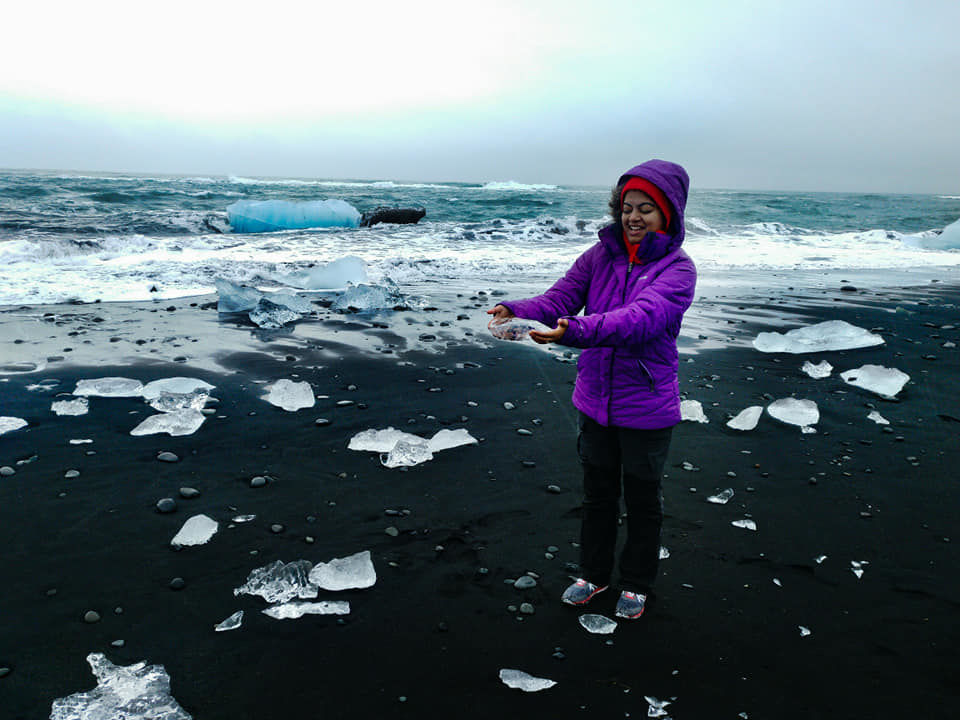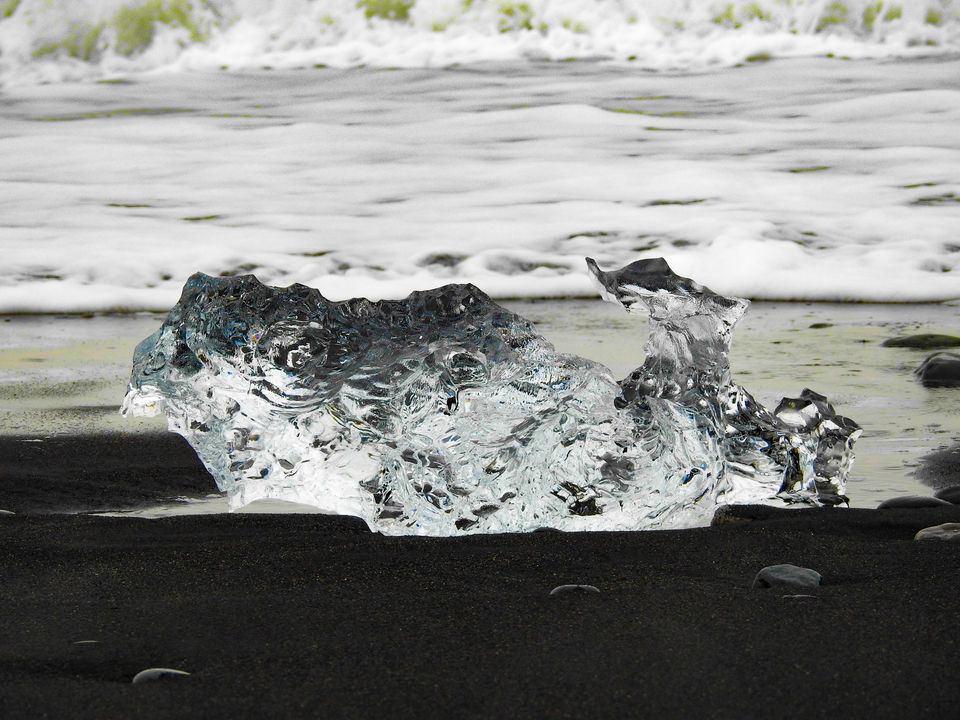 7. Unique Flora & Fauna of Iceland:
Iceland is one of the best places for whale watching. The fjords of Iceland are rich in resources that attract variety of whales. A glimpse of whale's dorsal fin just before they dive is something that ought to get etched in one's memory for lifetime. Atlantic Puffins come next in my list, however we couldn't spot any as they migrate out of Iceland by Sep – possibly something we will come back to Iceland for. Third in the list are seals, we could spot one at the Jokulsarlon area.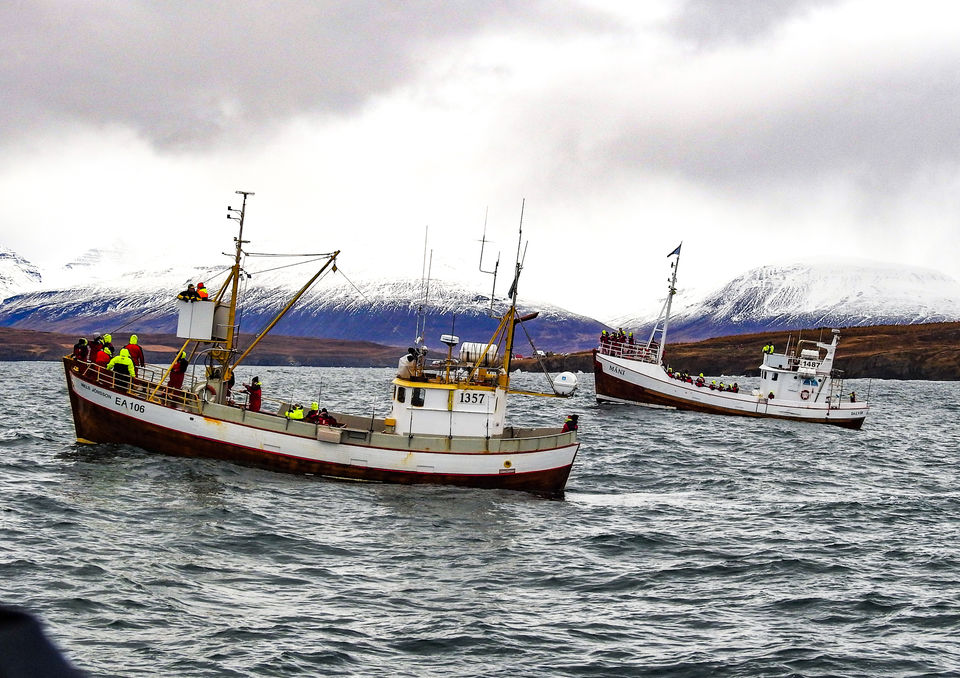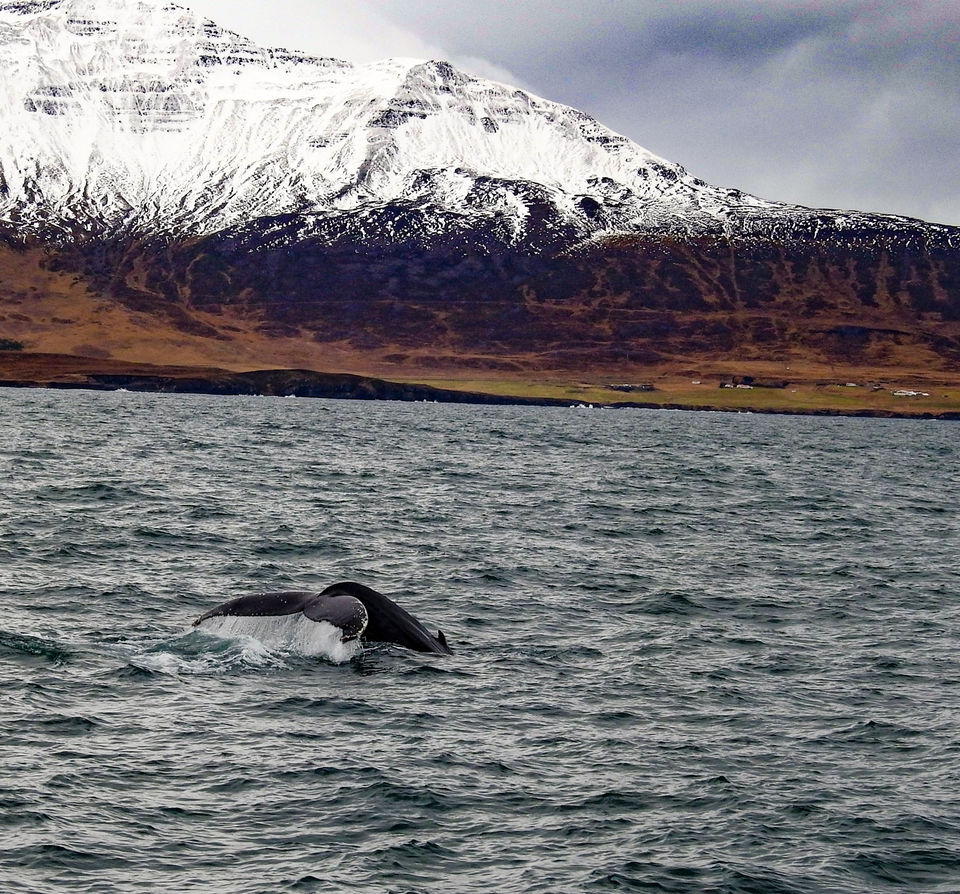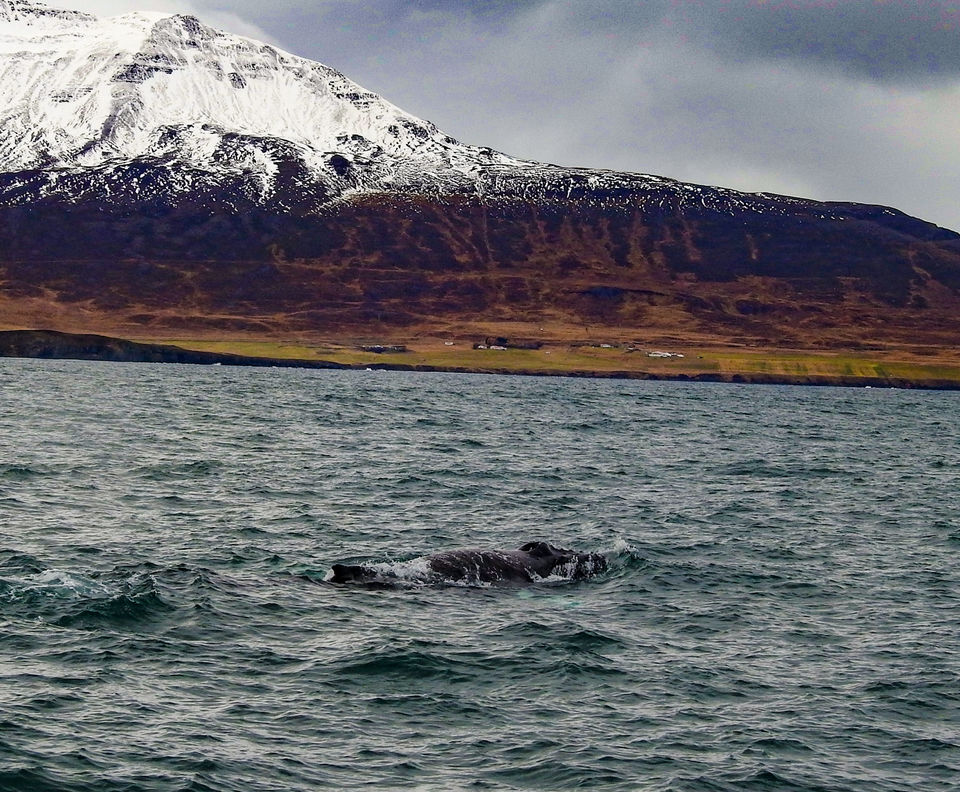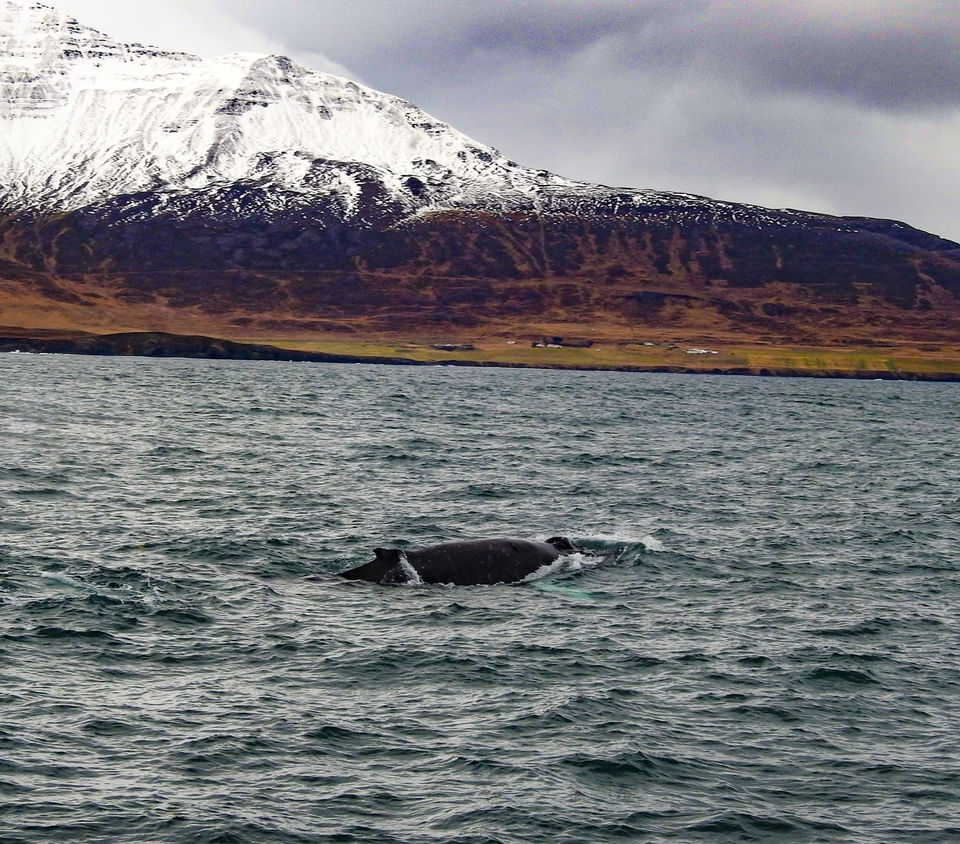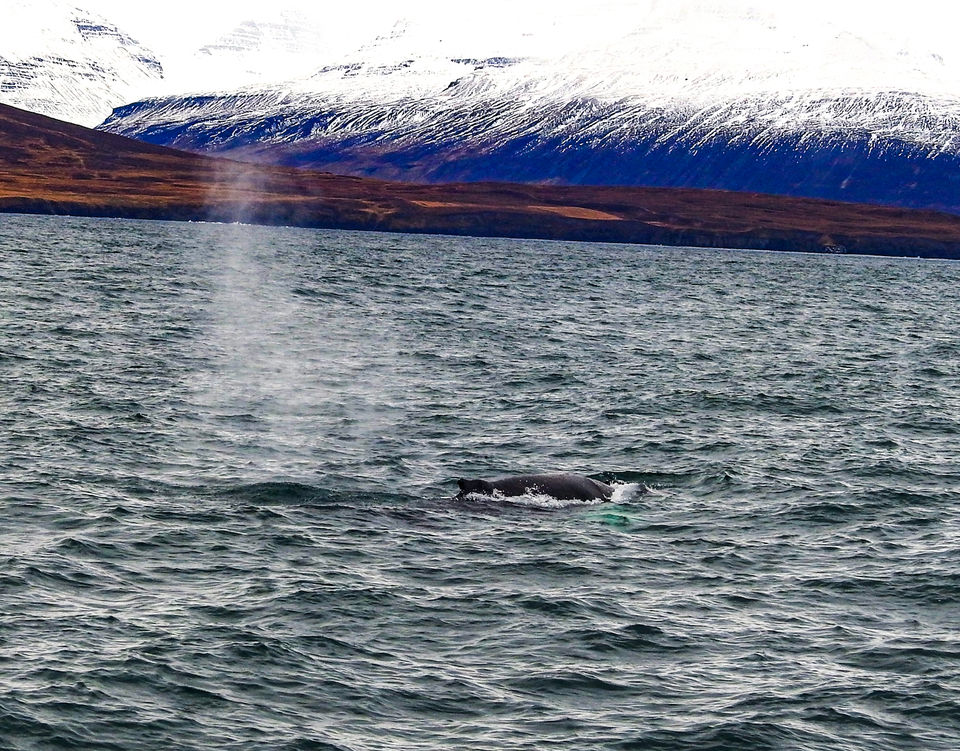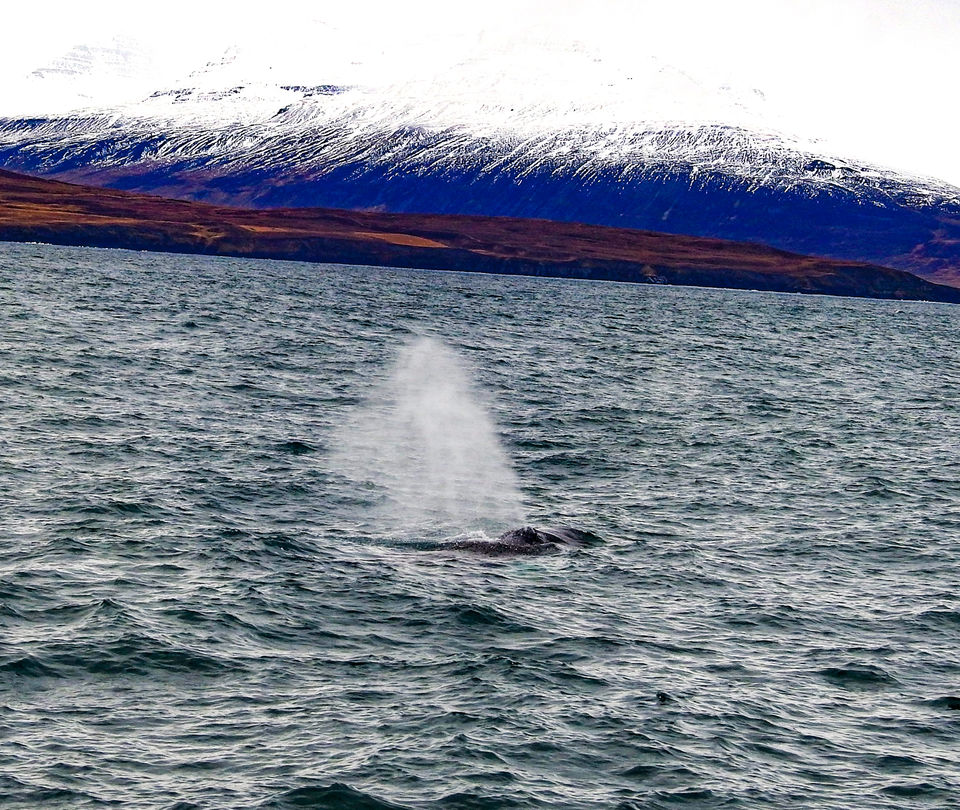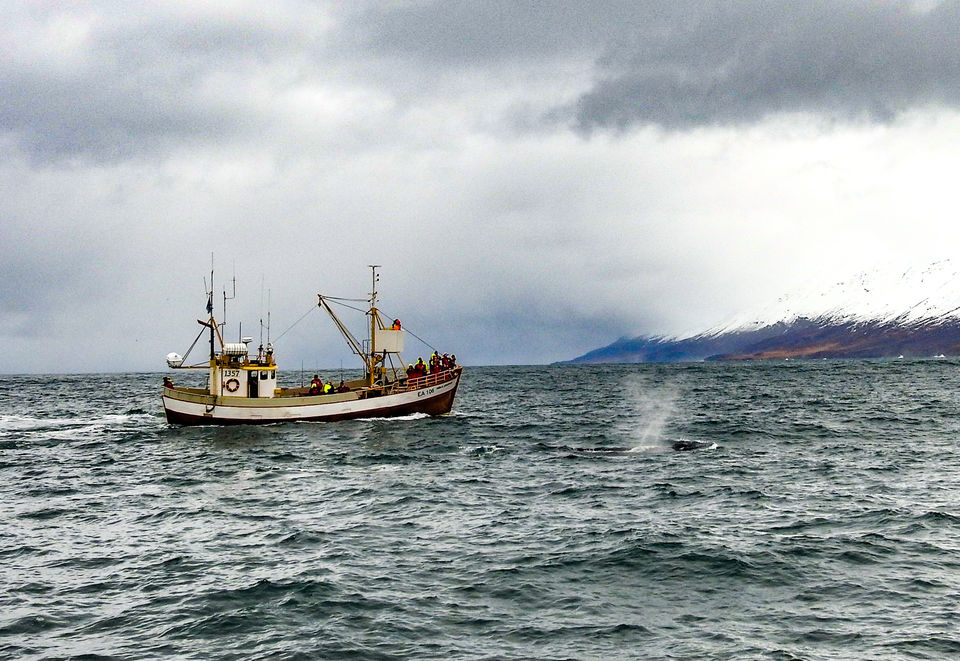 Talking about the flora, I remember our guide told us that Iceland has an Oxygen surplus that adversely affects the growth of trees – certainly a different order problem. This is one of the reasons why the native vegetation is dwarf and as per Icelandic saying – if one gets lost in an Icelandic jungle, he/she just needs to getup & look around. The other thing that caught our attention are the Berries, that can be found almost everywhere in Iceland. Apparently, Iceland is also free of harmful insects or even snakes making it extremely safe for camping amidst nature.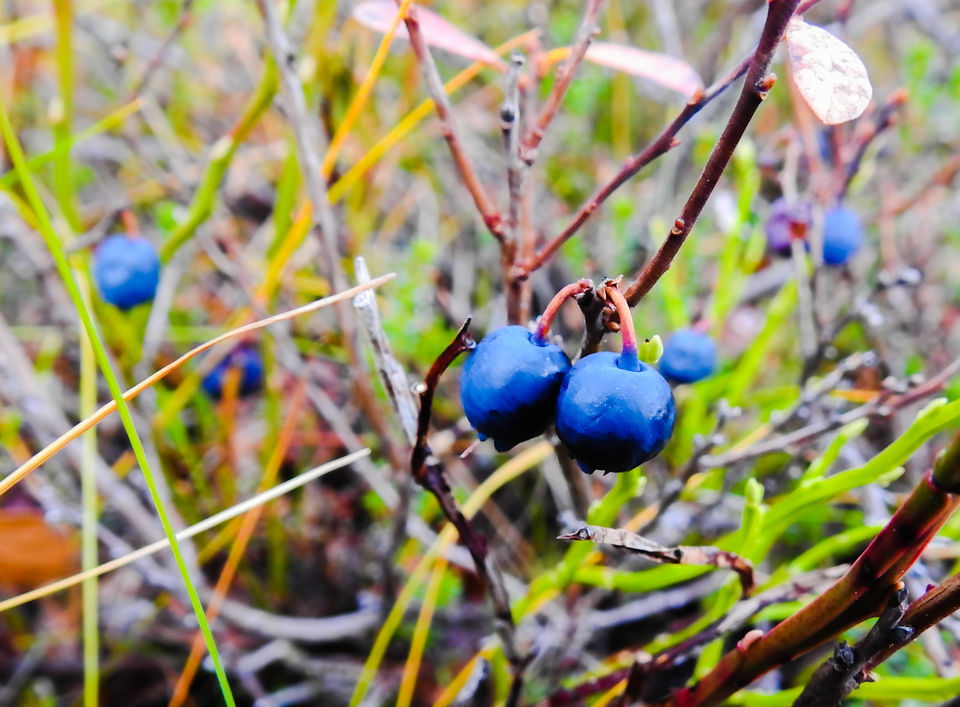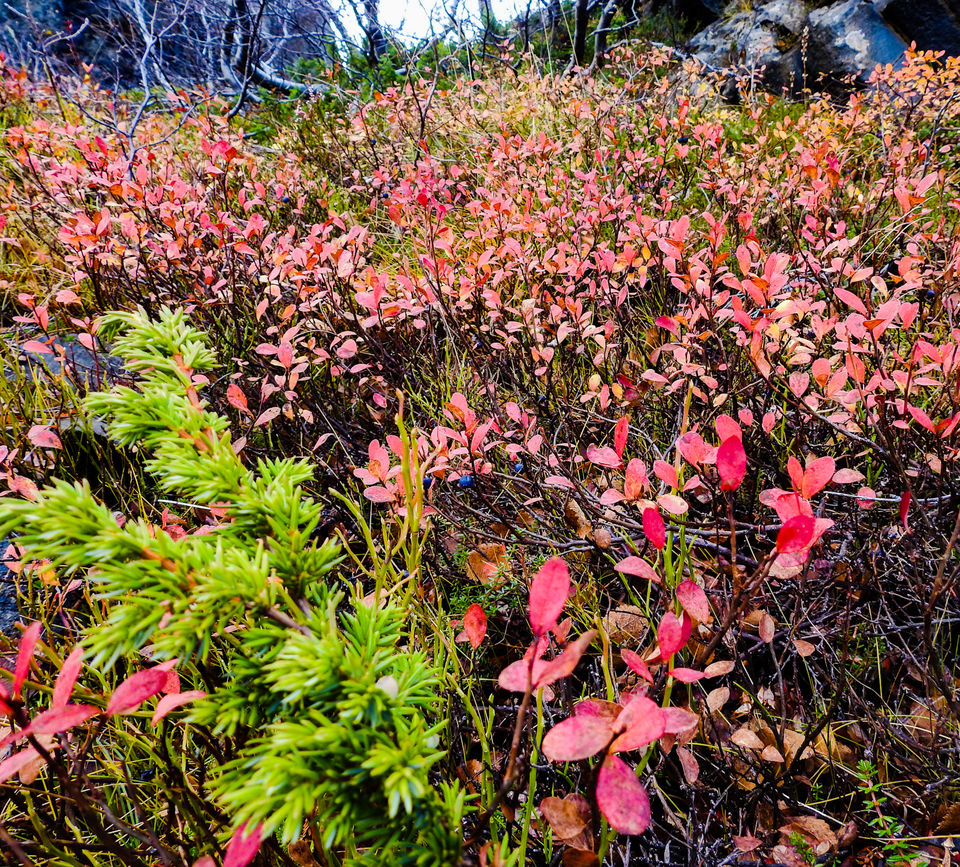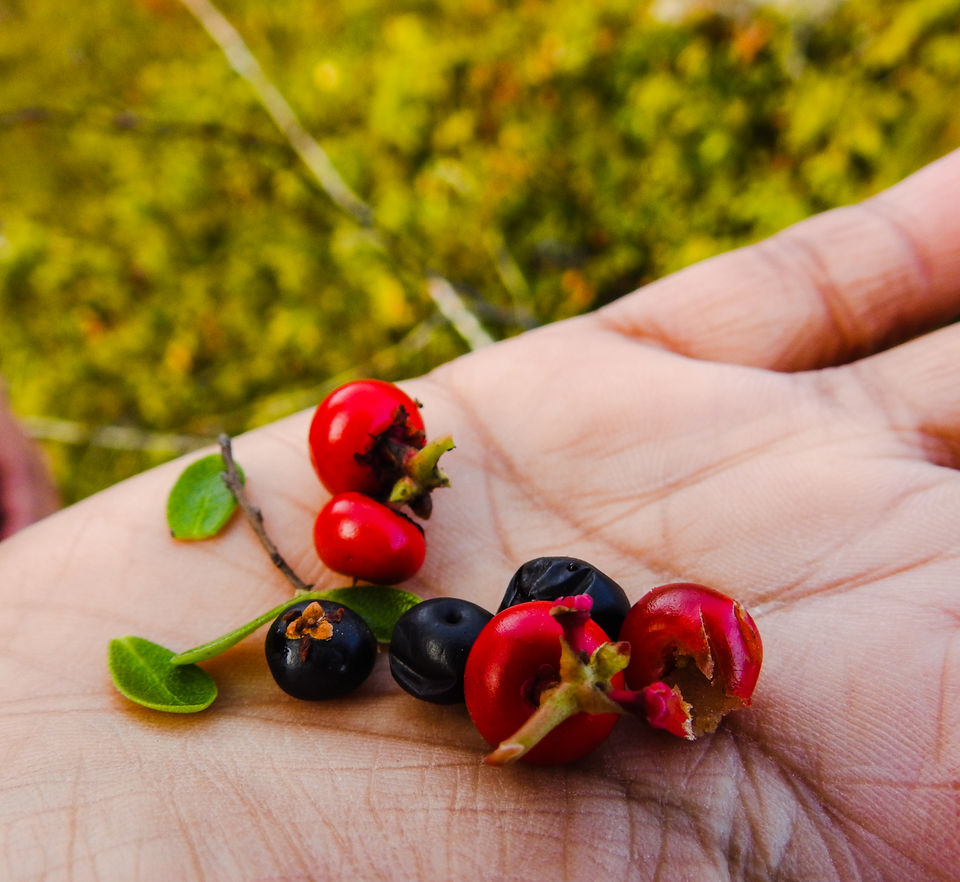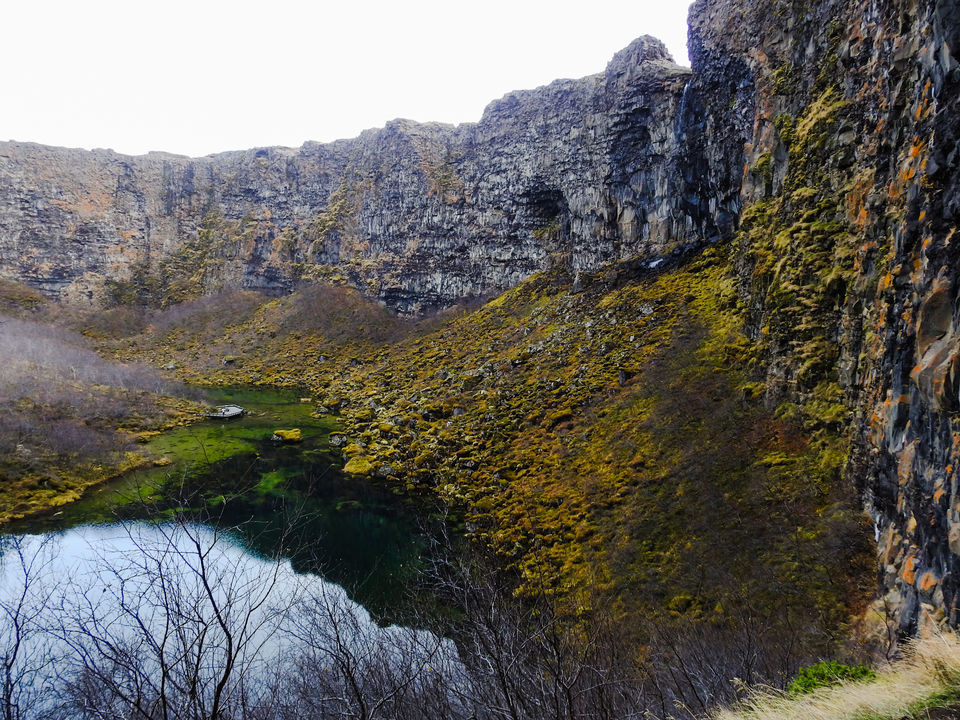 8. Cities you just can't pass-by without pausing:
I didn't mean "traffic" that usually makes us pause in cities. With a population of just 3.5 L, one need not worry about traffic in Iceland. I just wanted to say that they are so beautiful that one cannot just pass by without stopping & enjoying them. The most populated city – Reykjavik is the capital and (Population - a little over 1L) is the gateway to rest of Iceland & is a centre of all activities.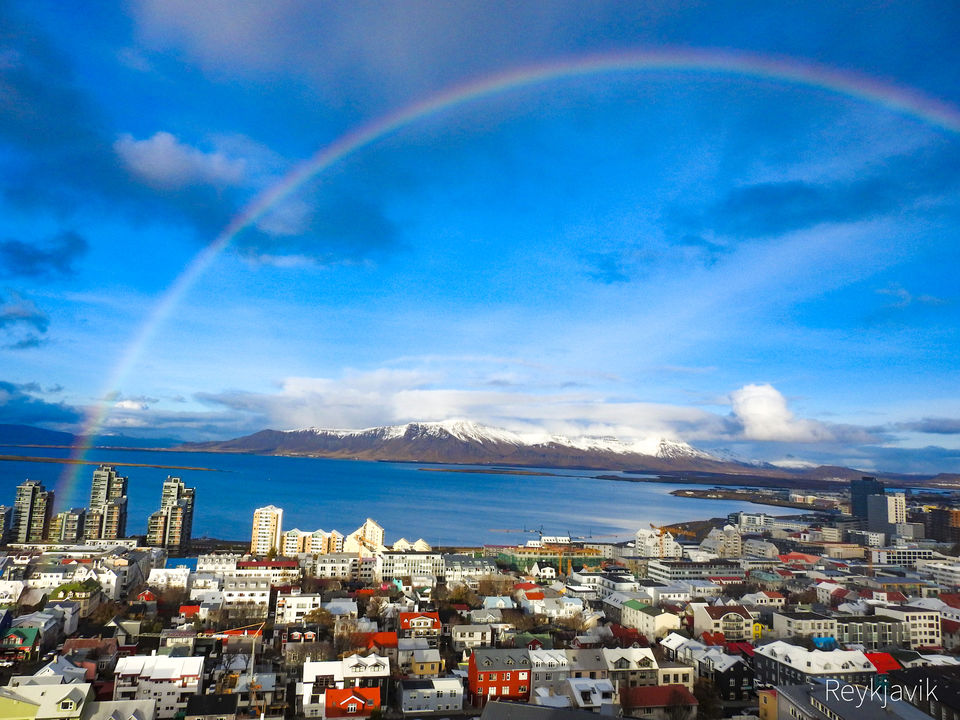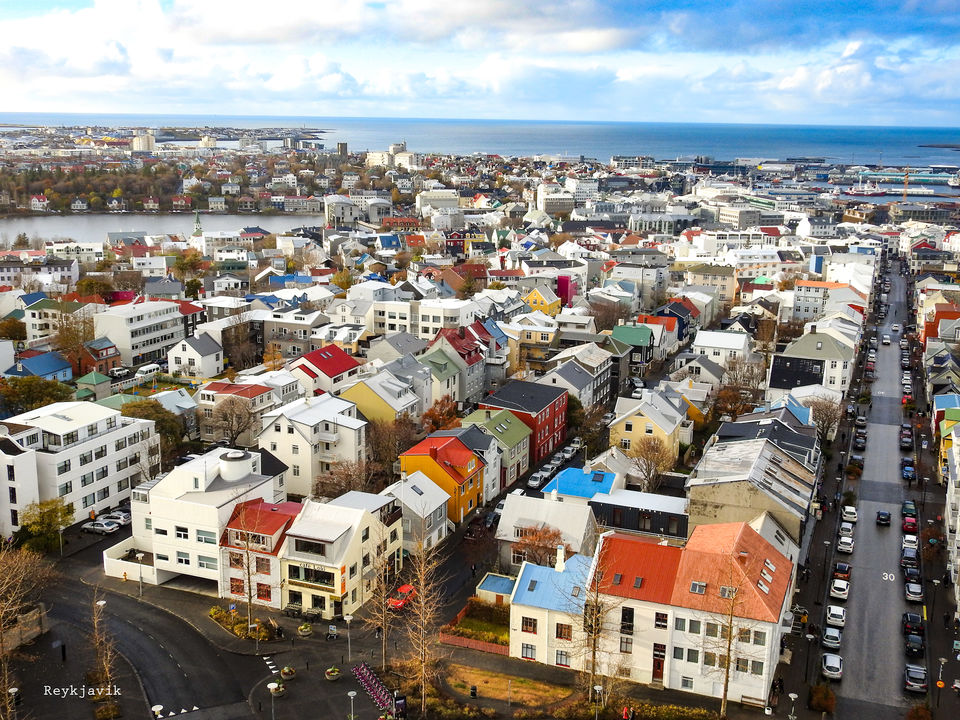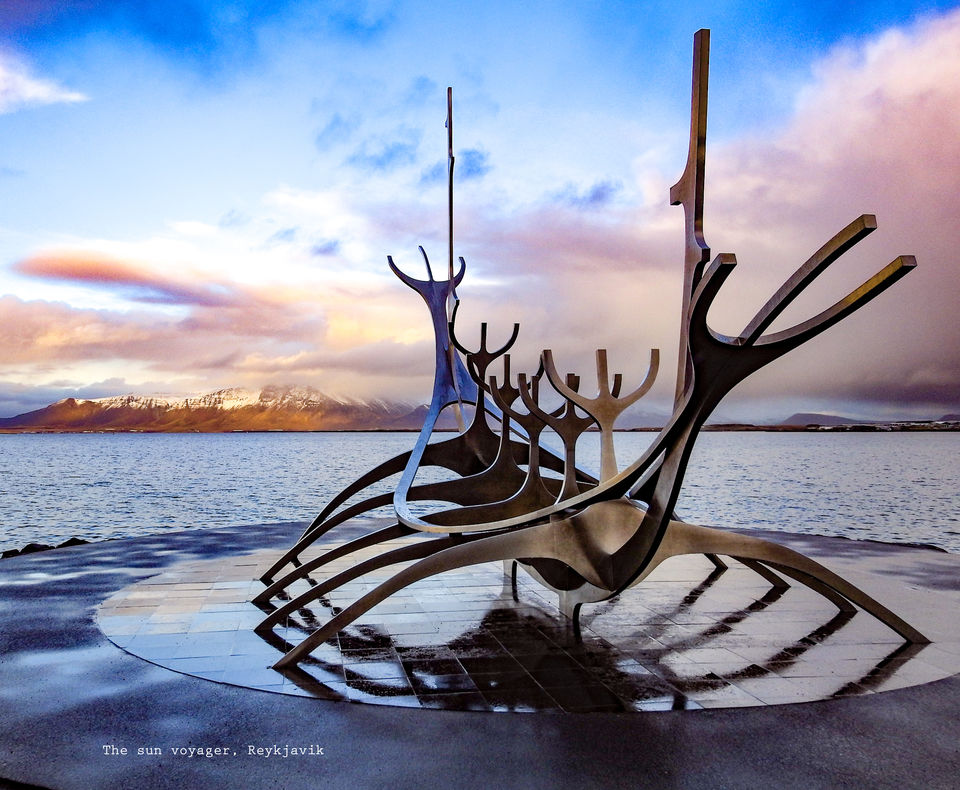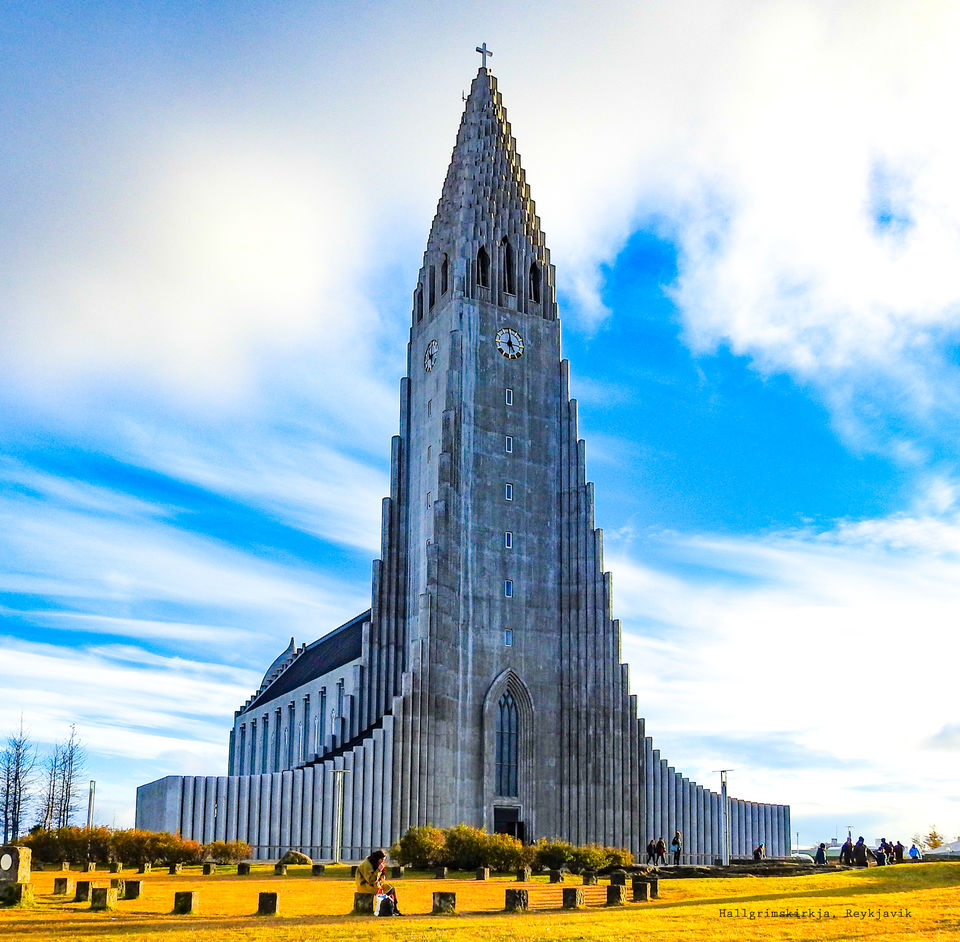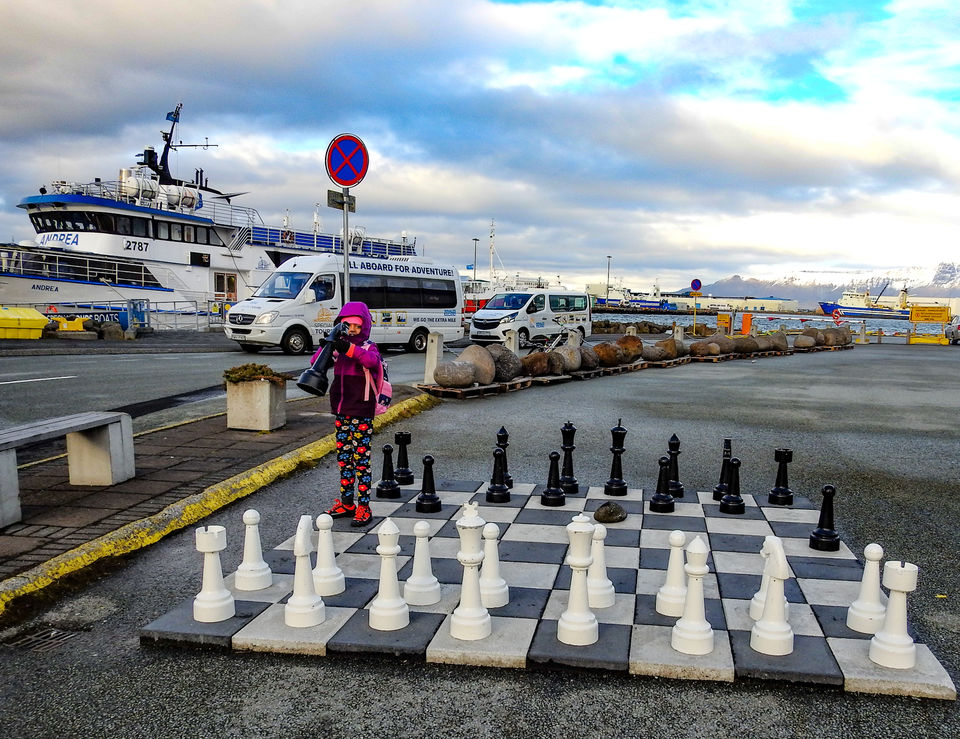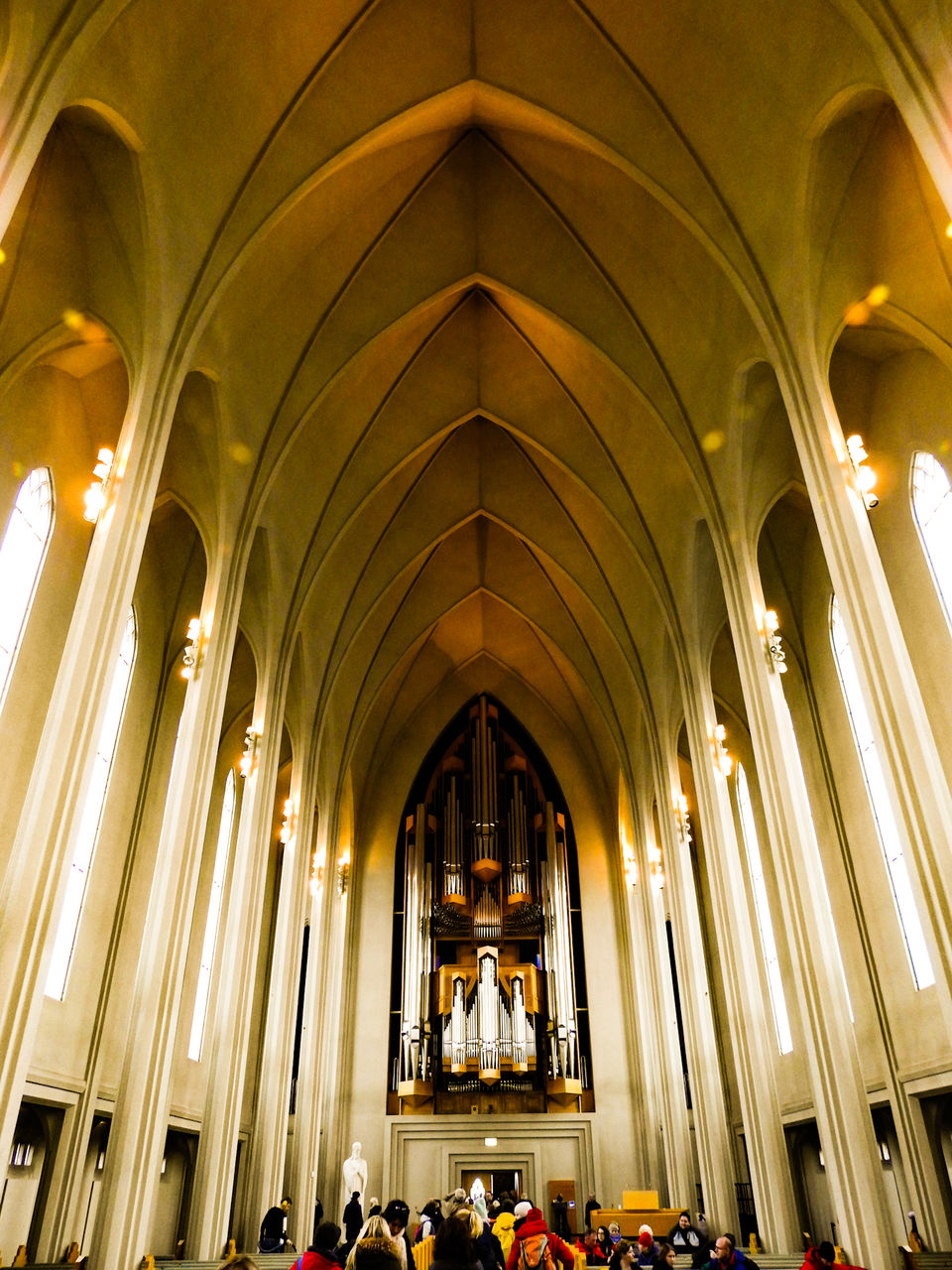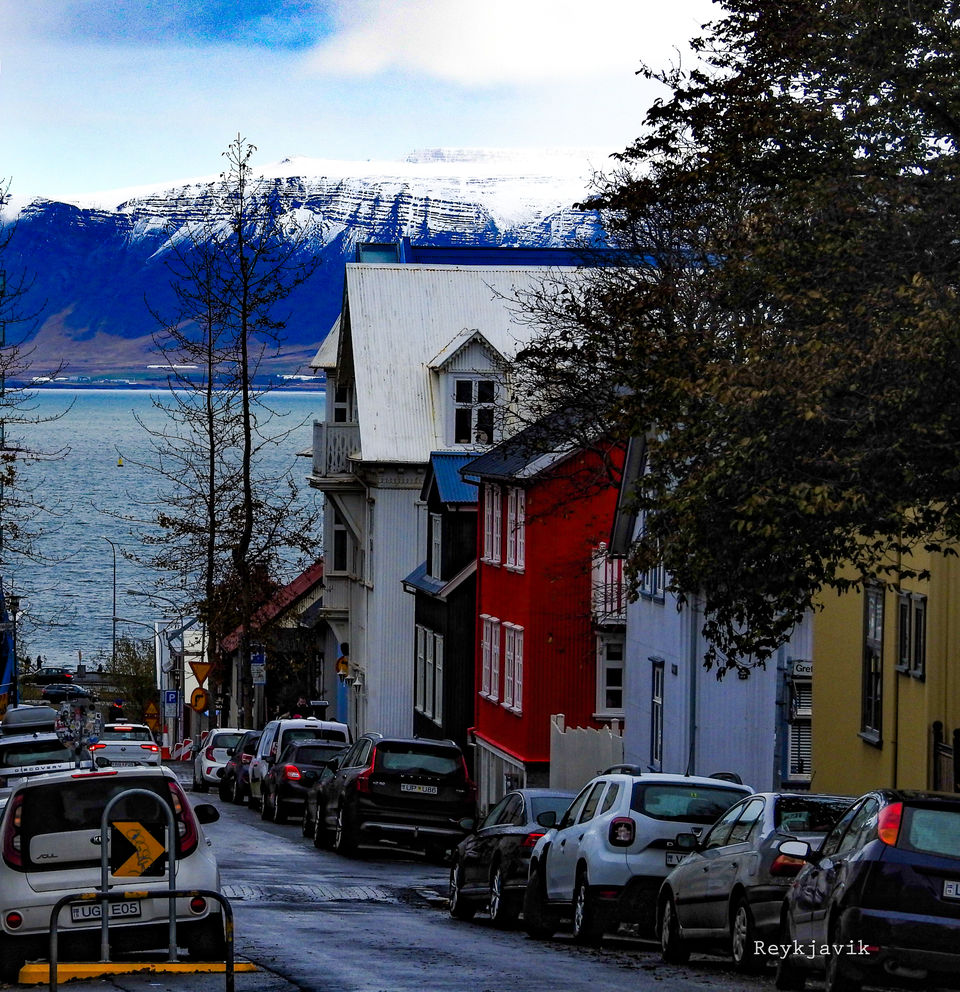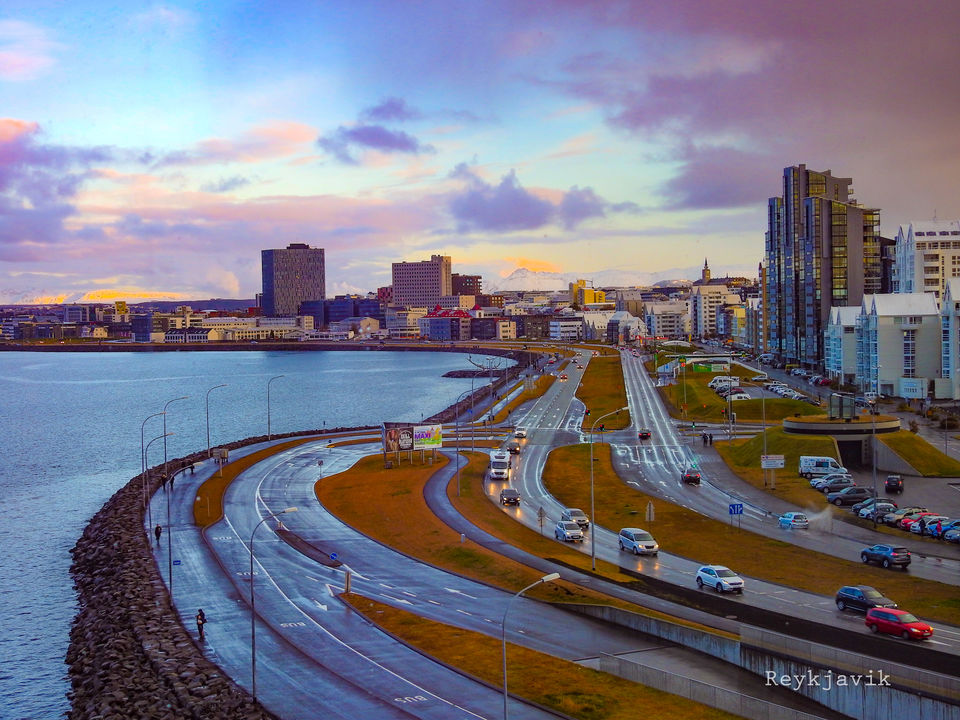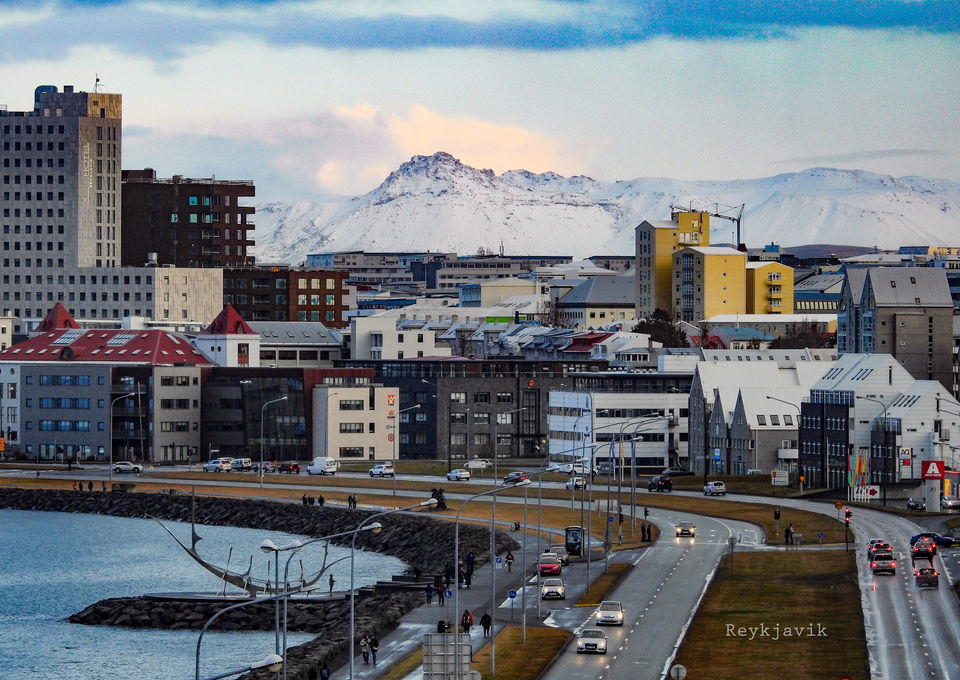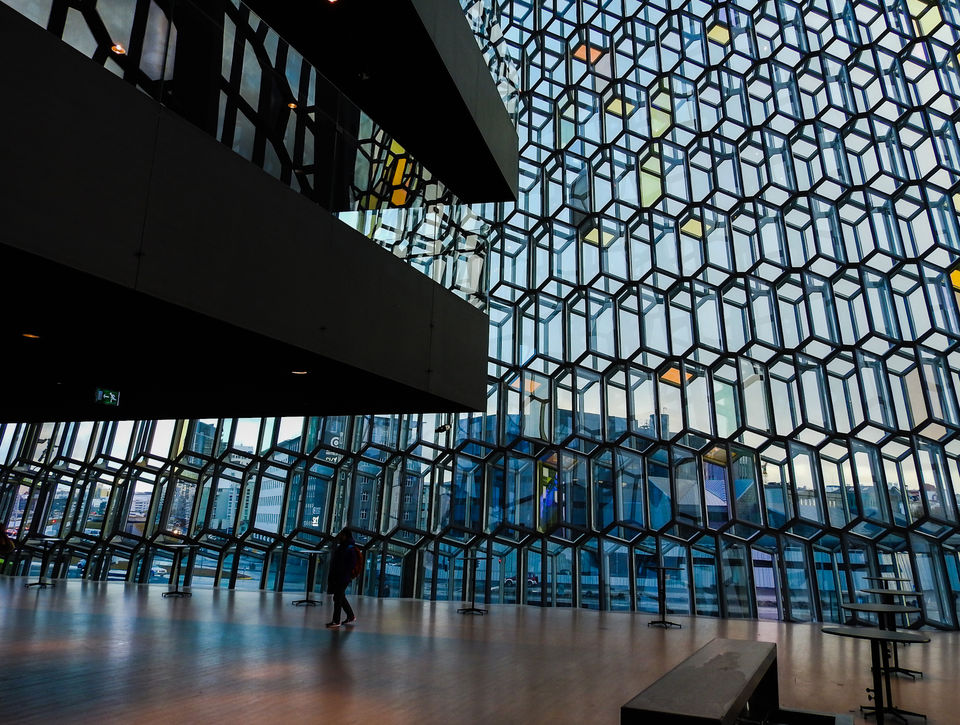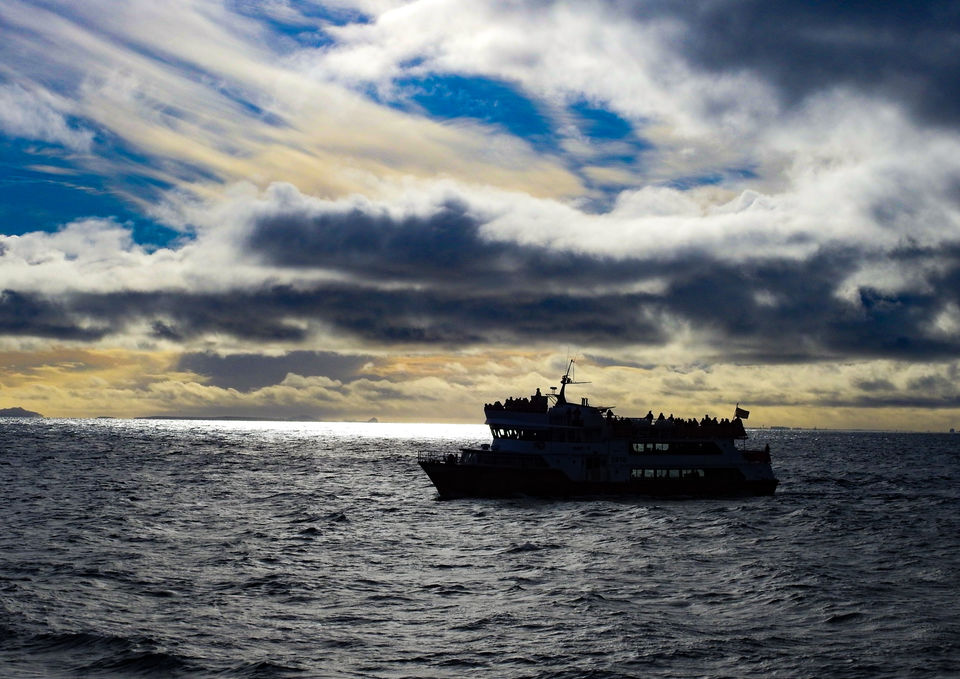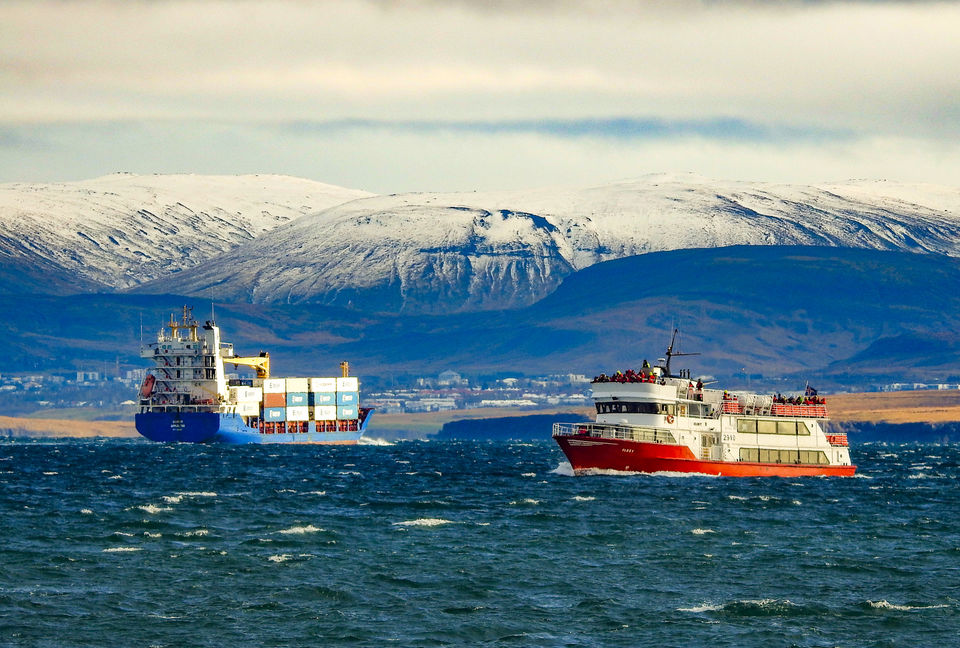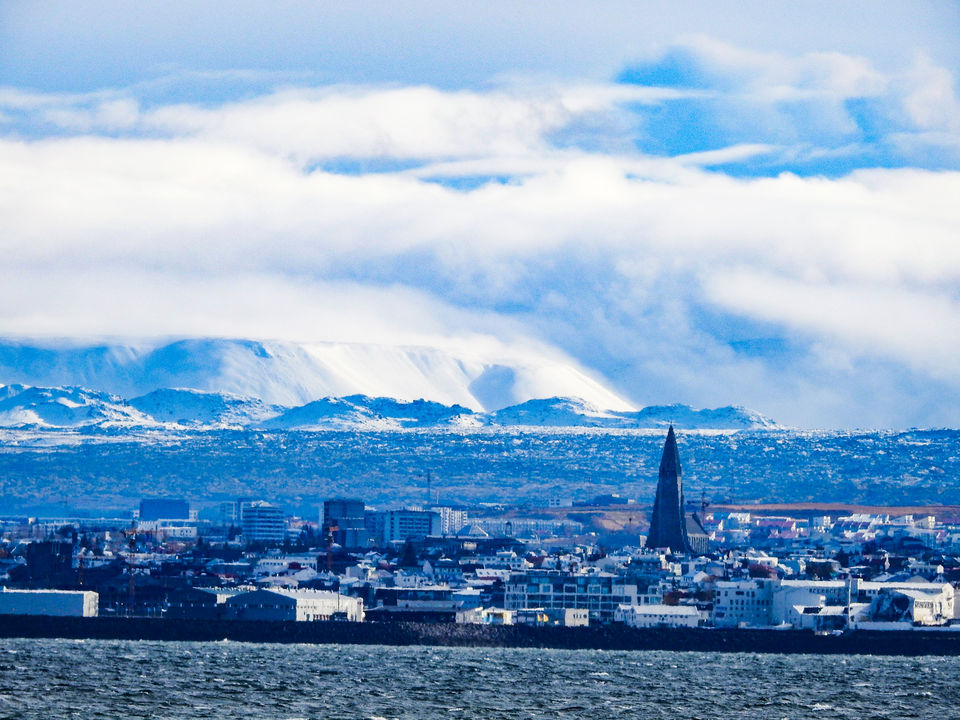 Akureyri, the northern capital of Iceland was like Reykjavik with 1/10 the crowd of Reykjavik.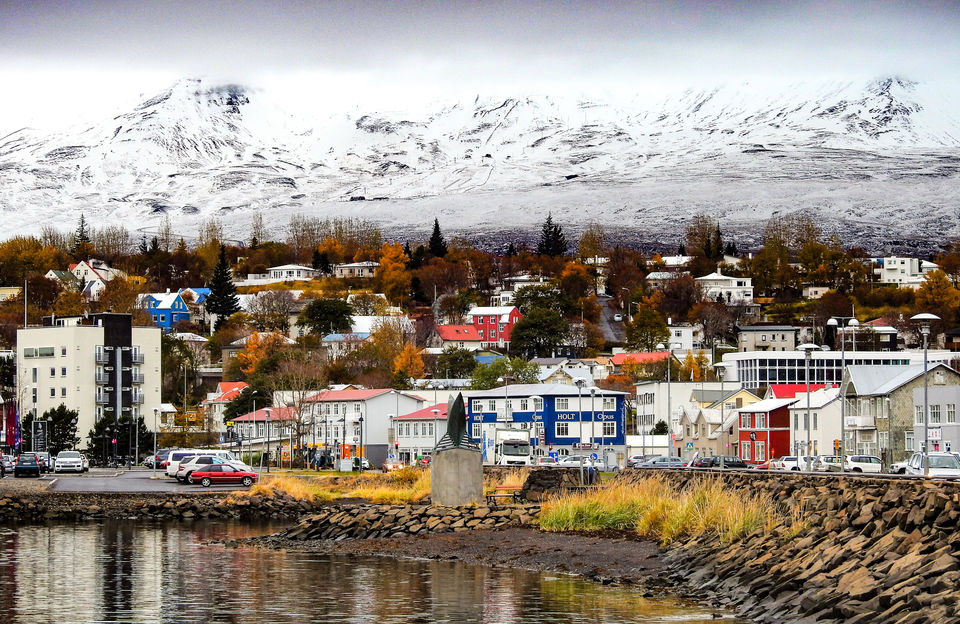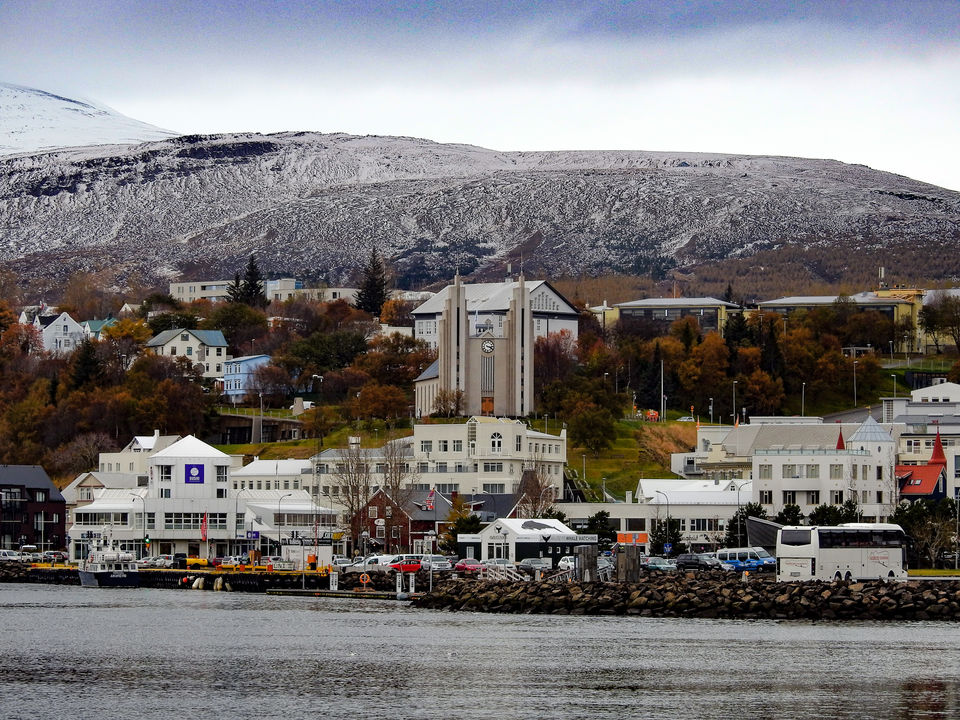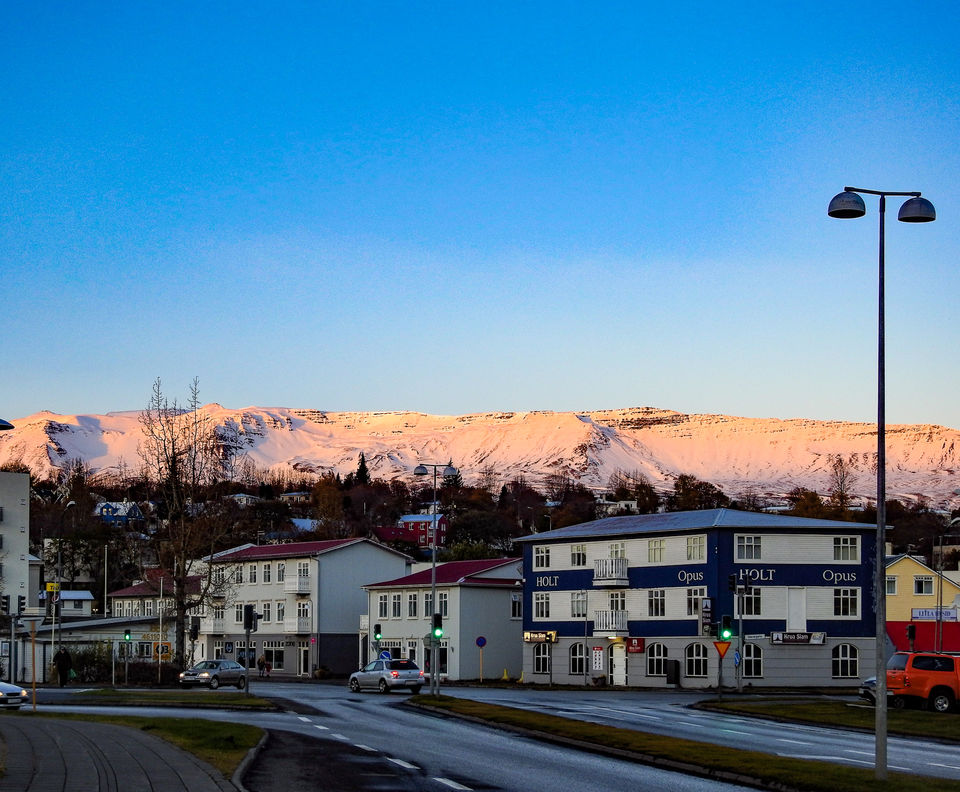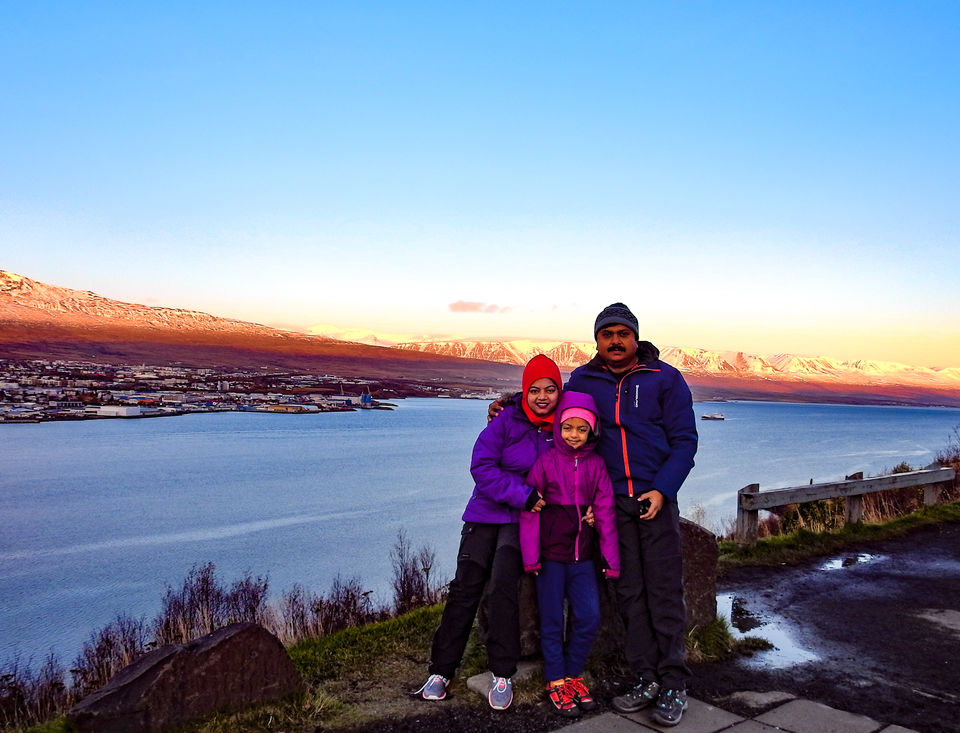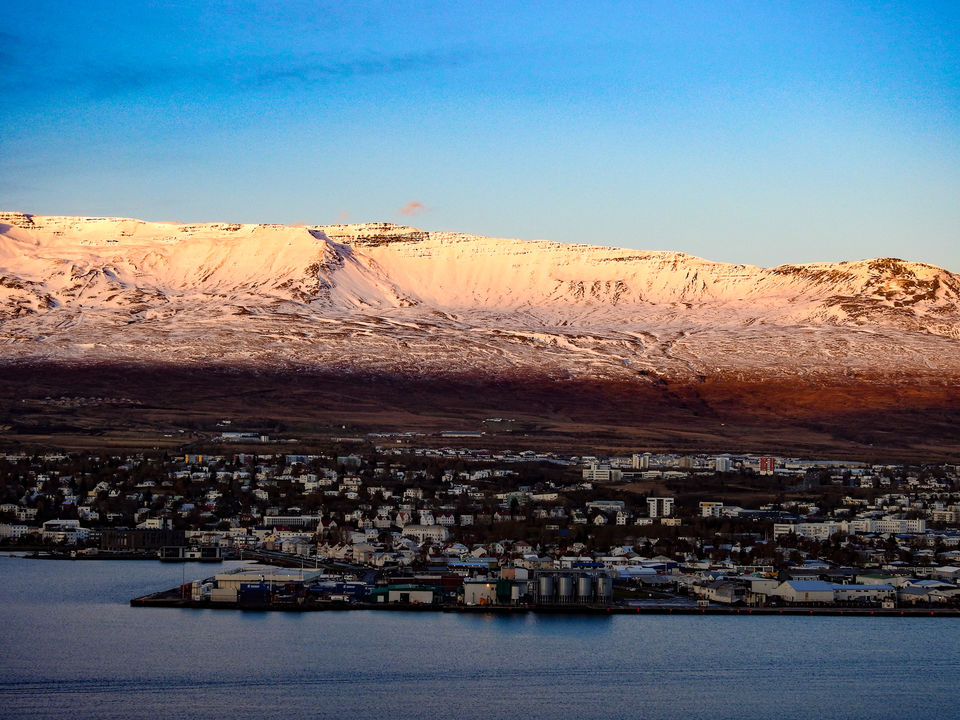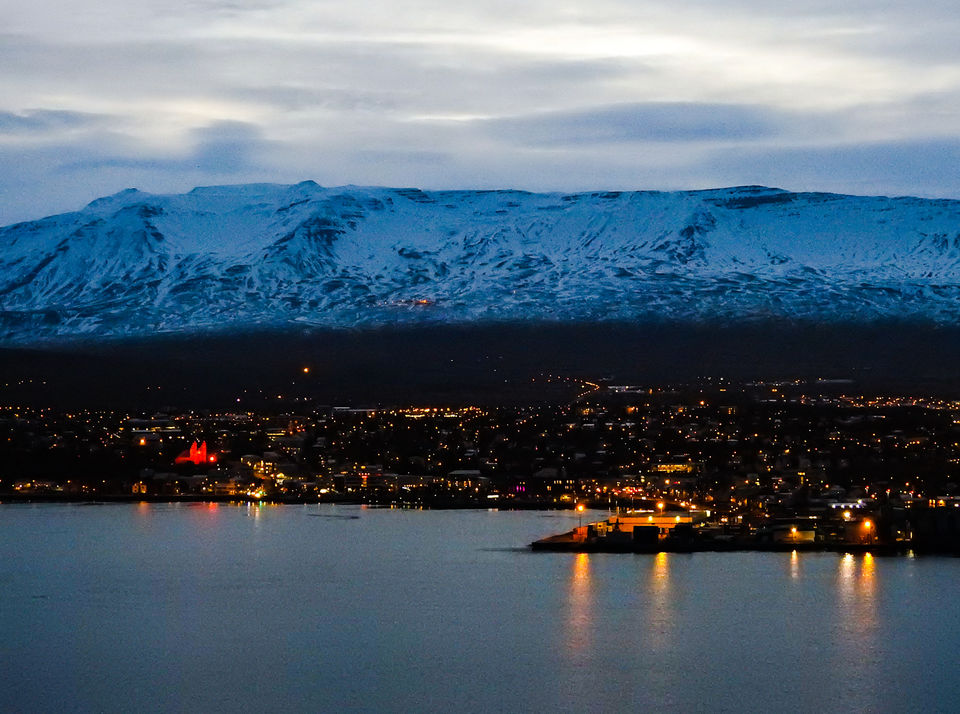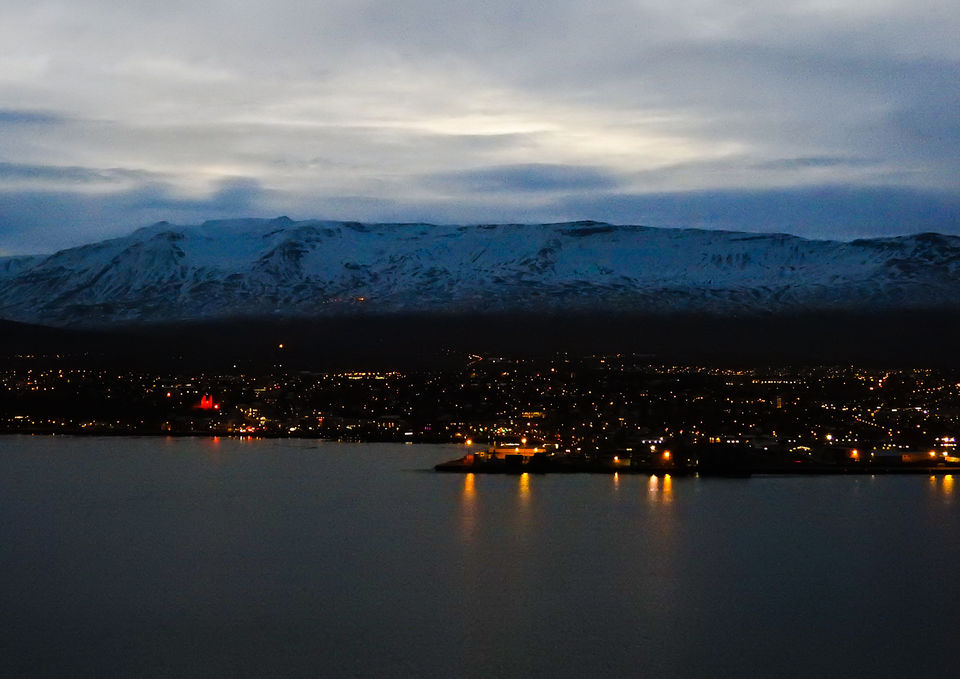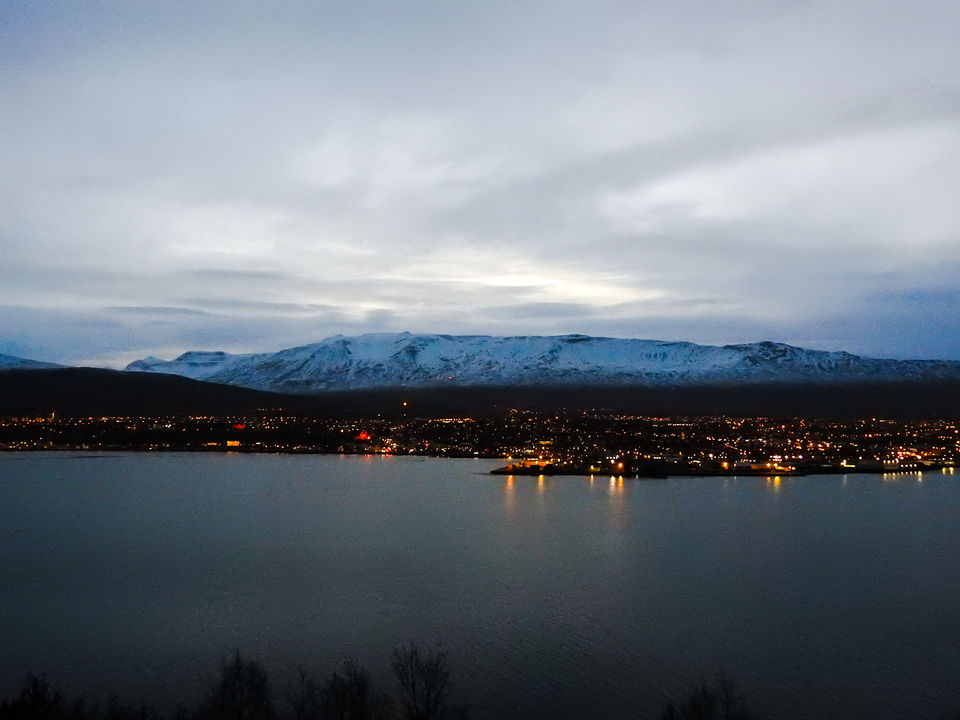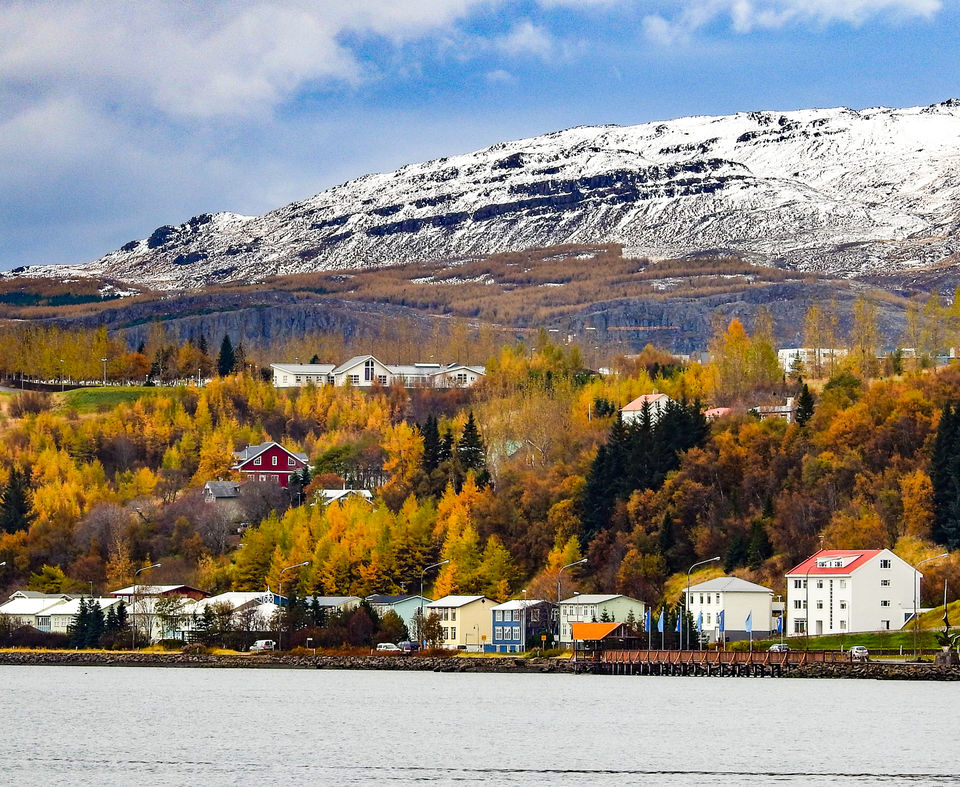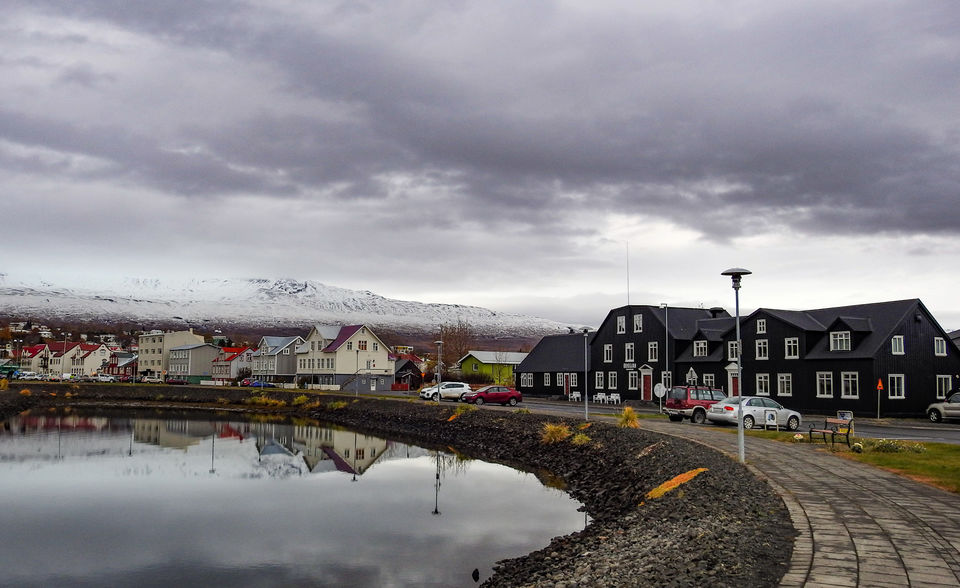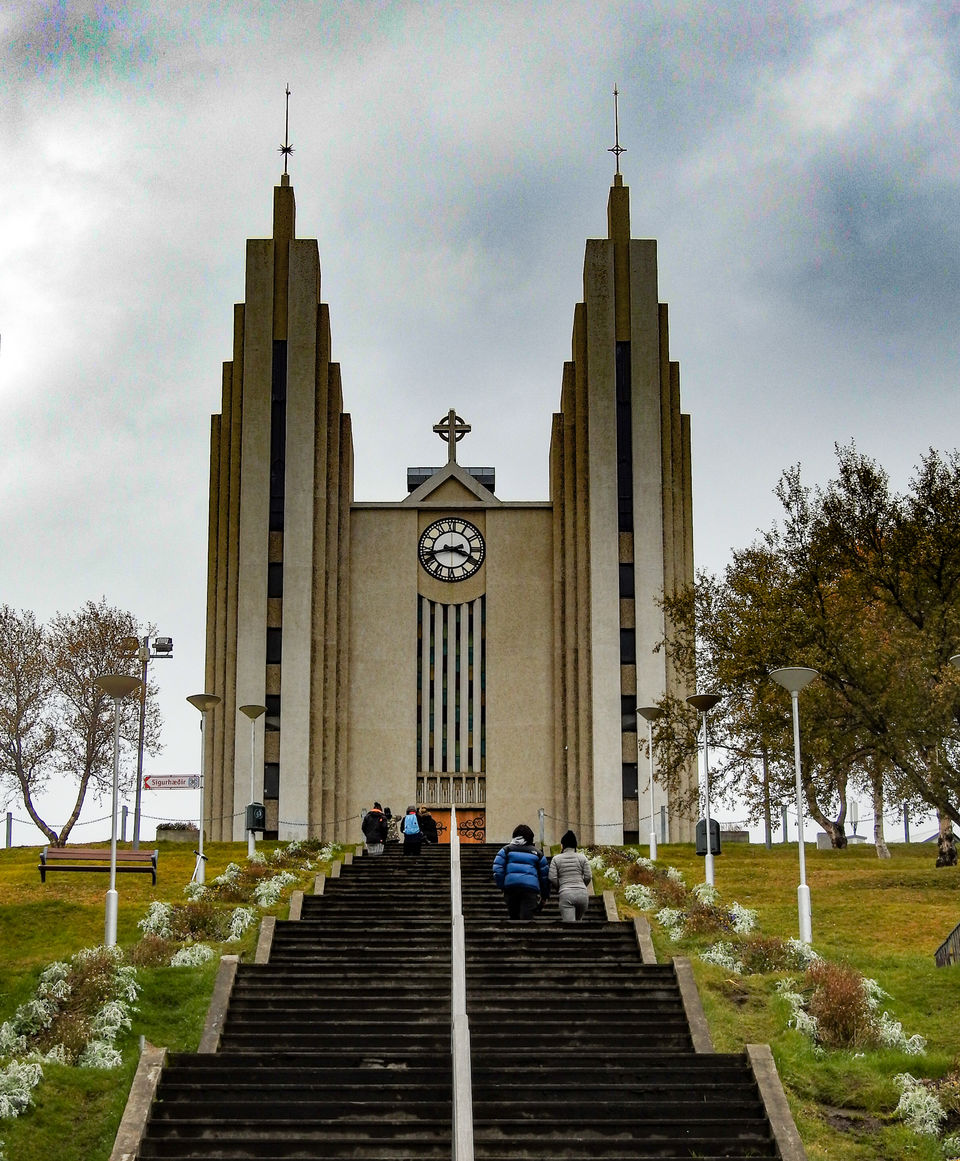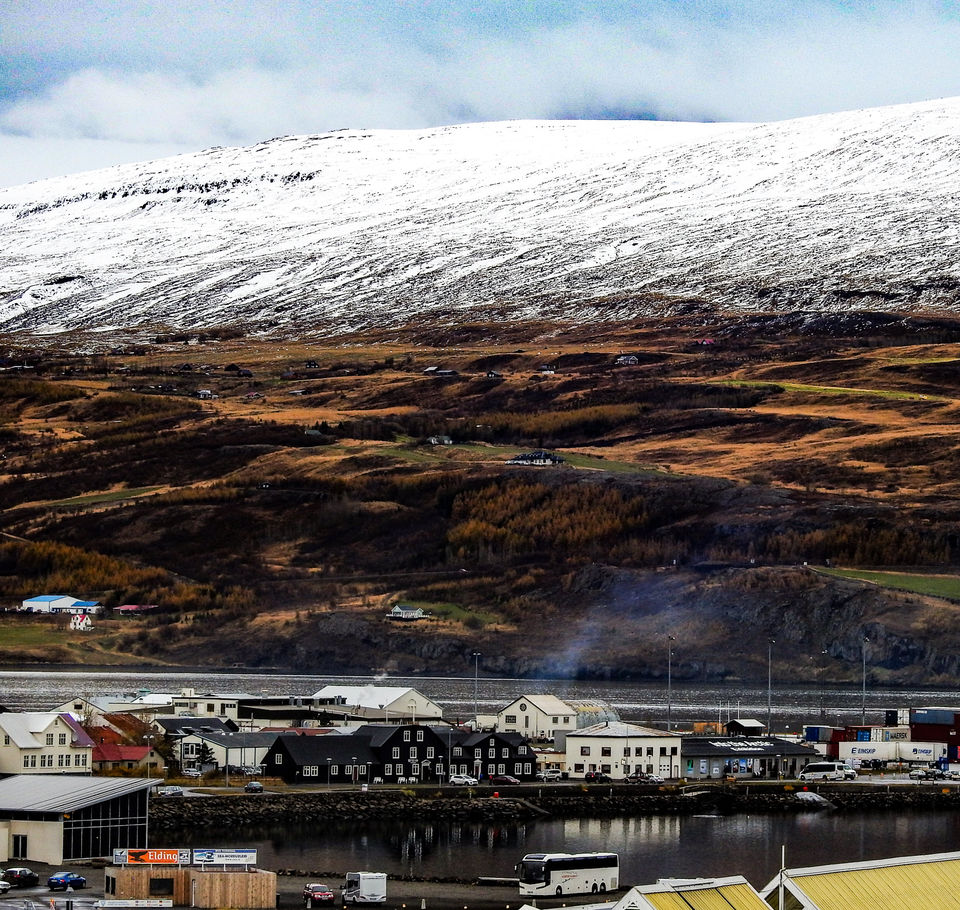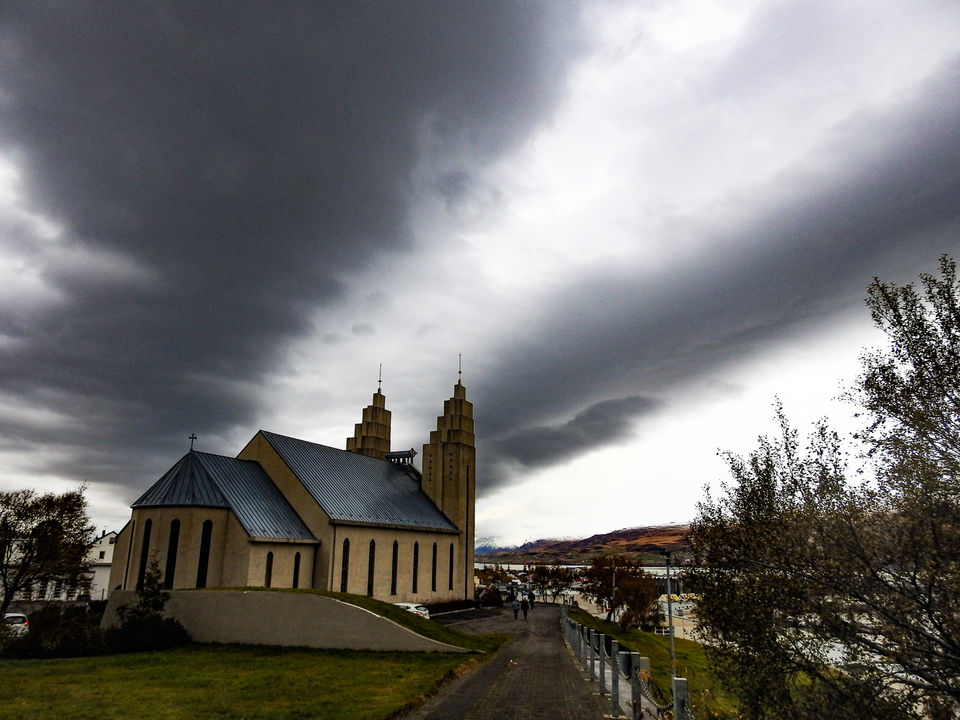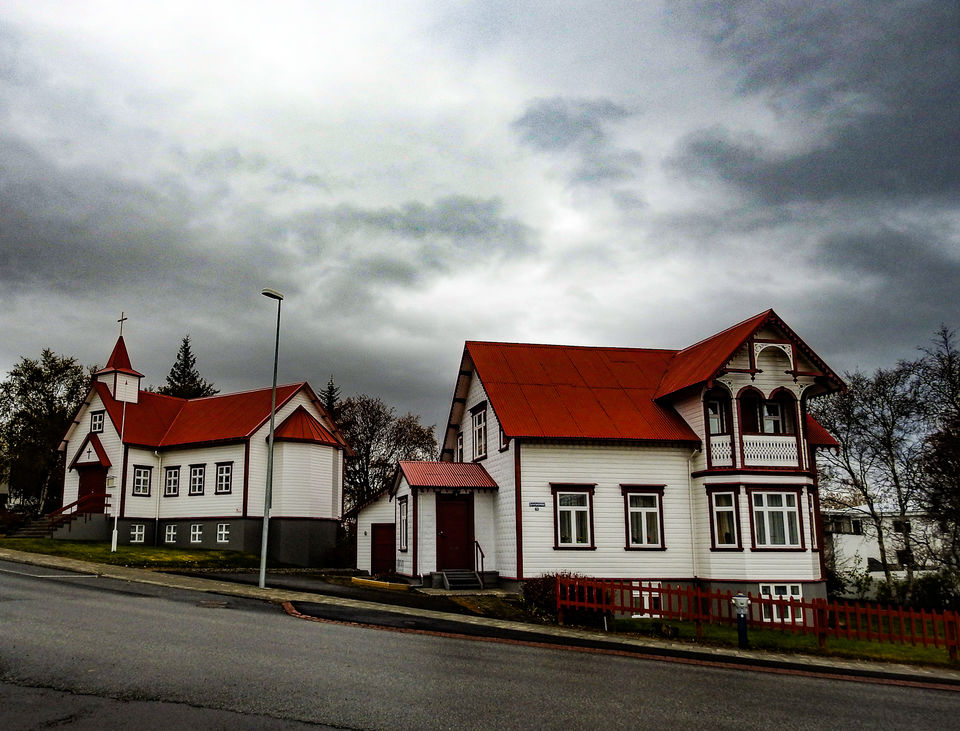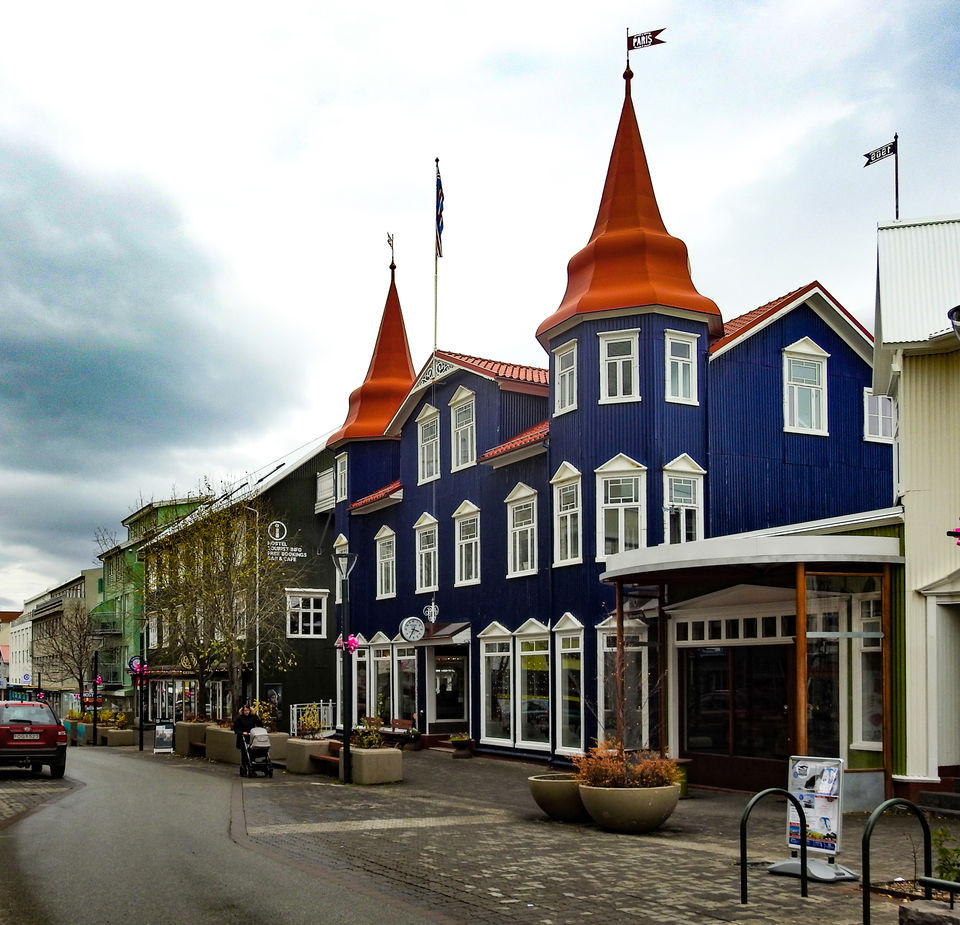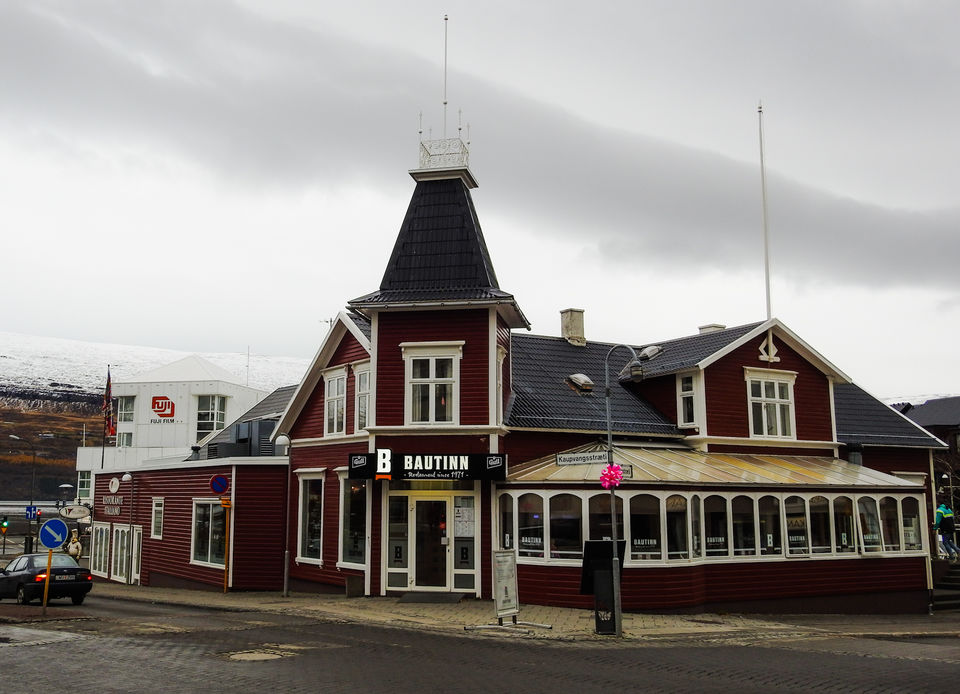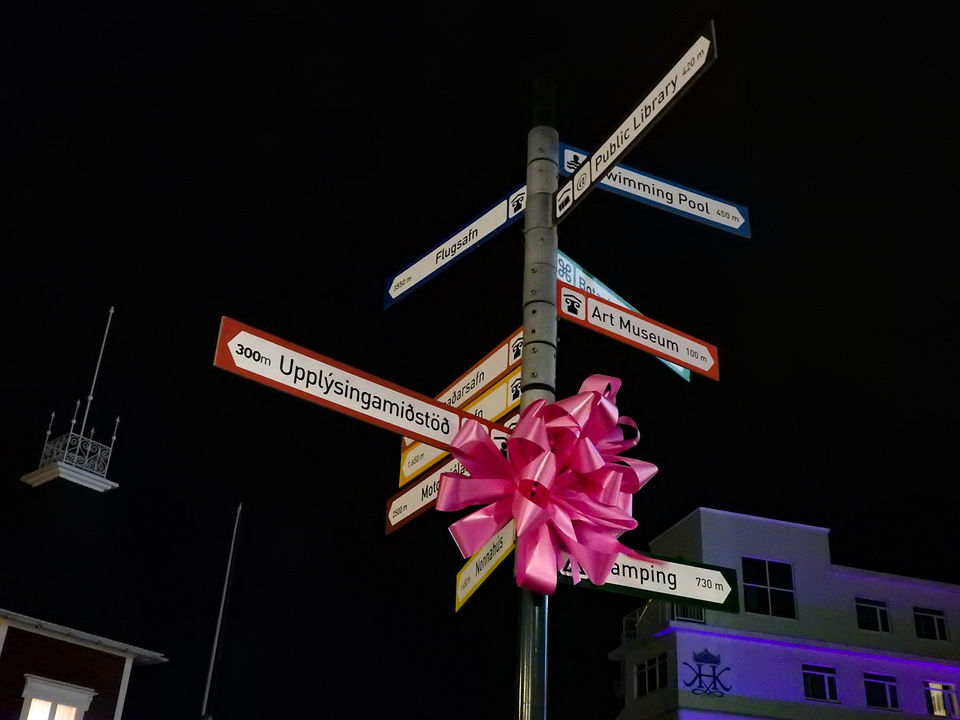 Not to forget the lazy fishing villages of Dalvik & Husavik in north Iceland & Vik in the southern coast. We could see a rainbow every day during our stay in Iceland. Thanks to the notorious and unpredictable weather of Iceland that it is not too difficult to find sunshine and rain together, forming some picturesque rainbows with scenic backgrounds.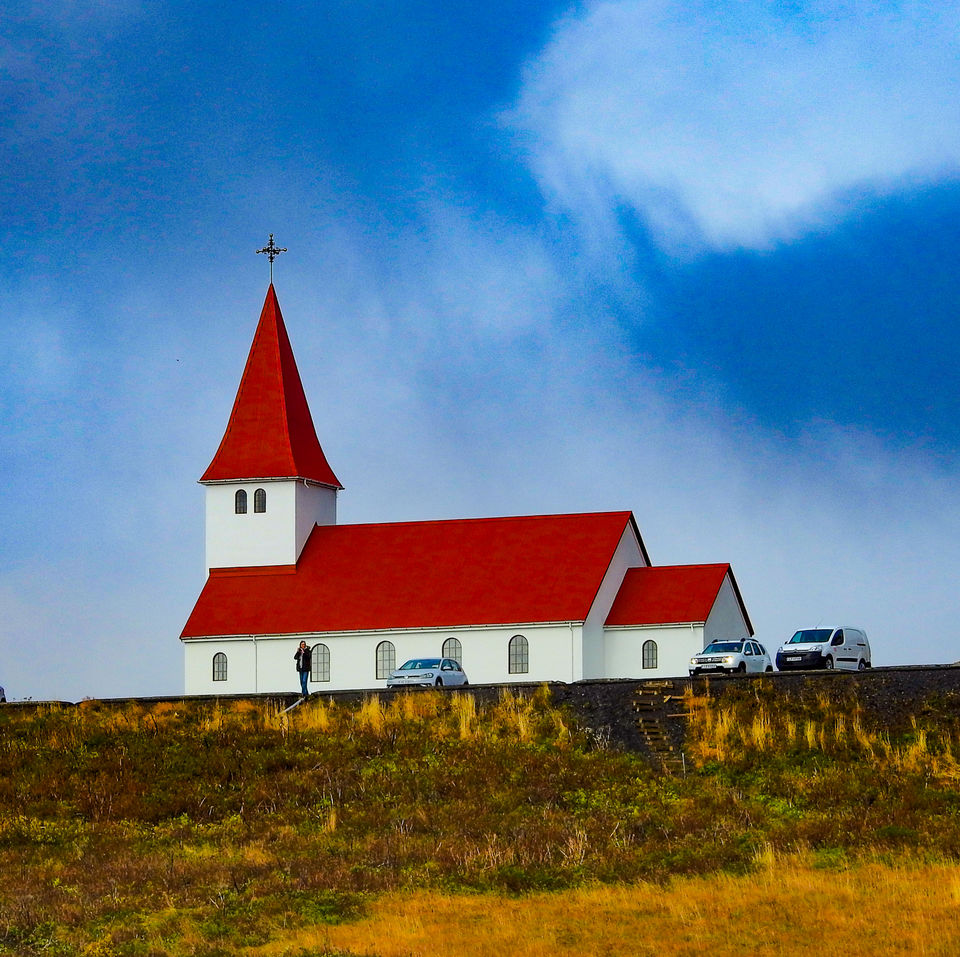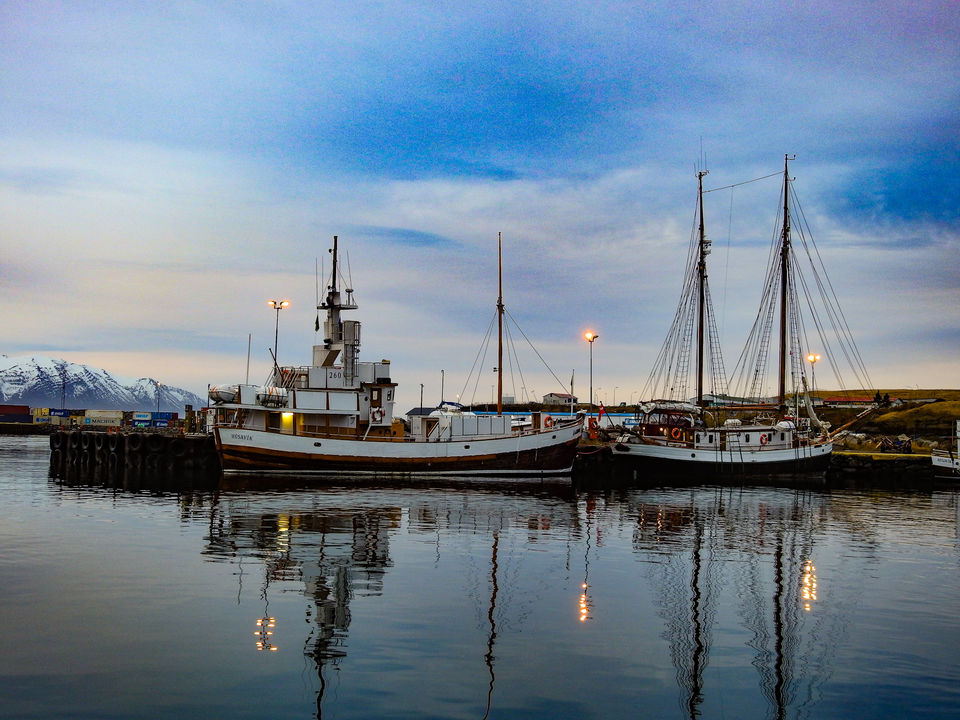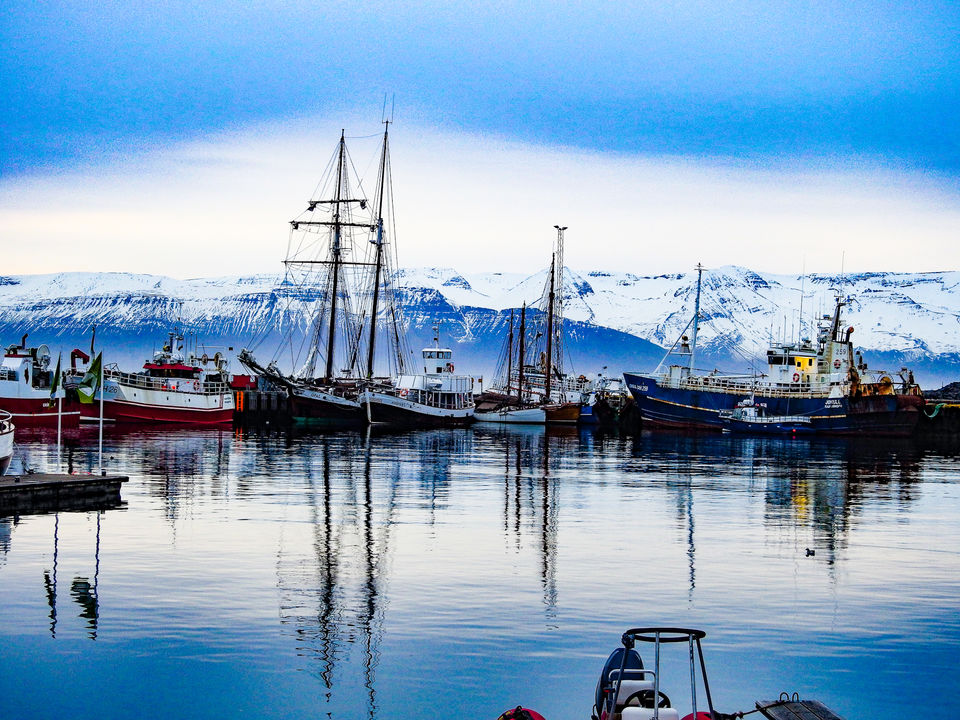 9. Graffiti:
I haven't seen so many in one place and each one of them is better than the earlier one we spotted. I will let the pictures do the talking this time.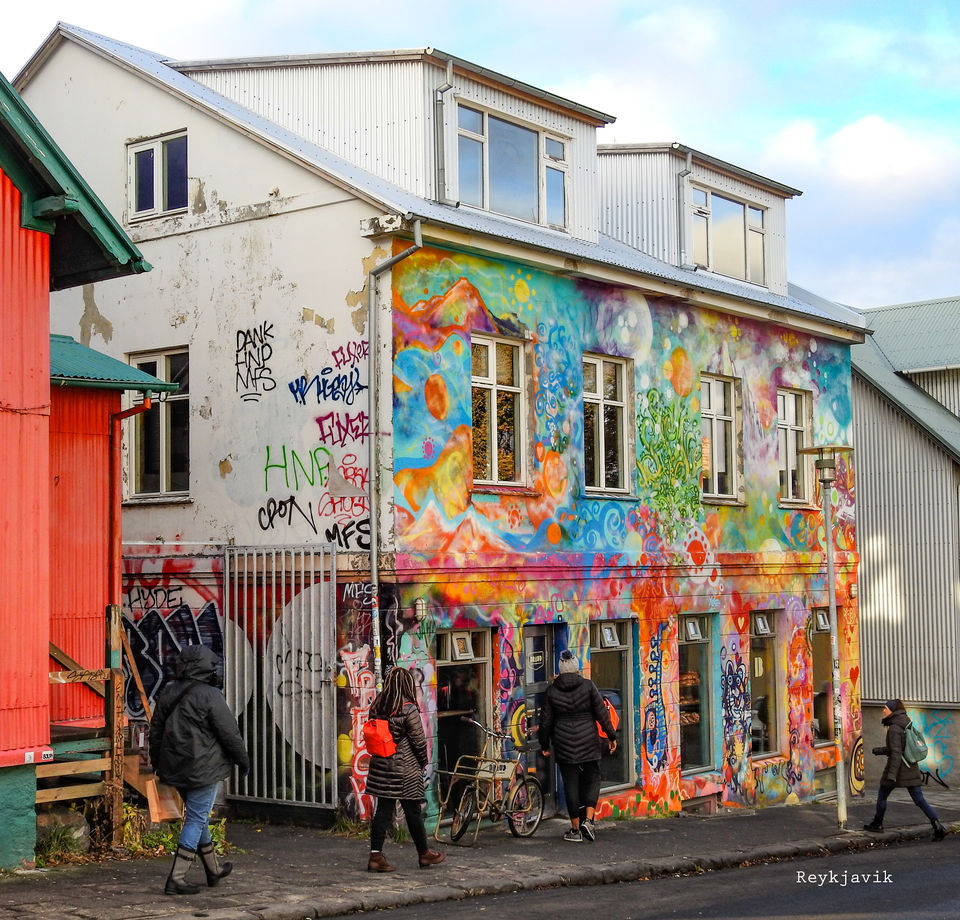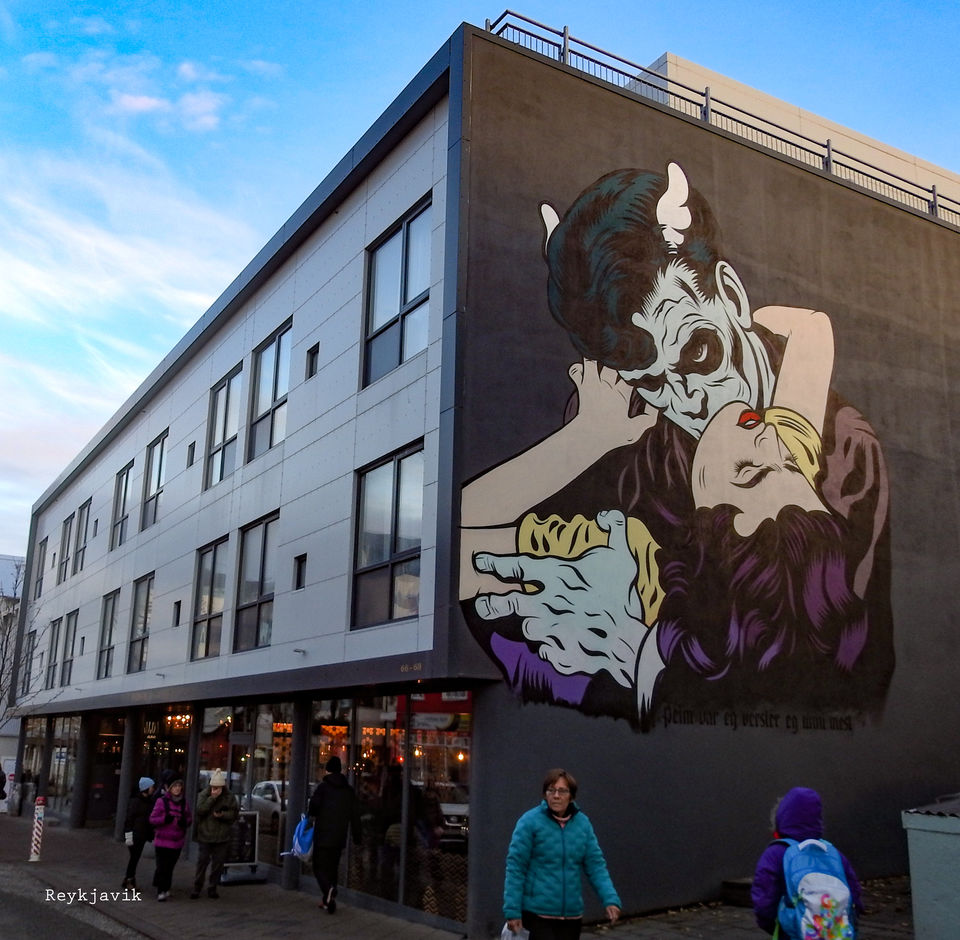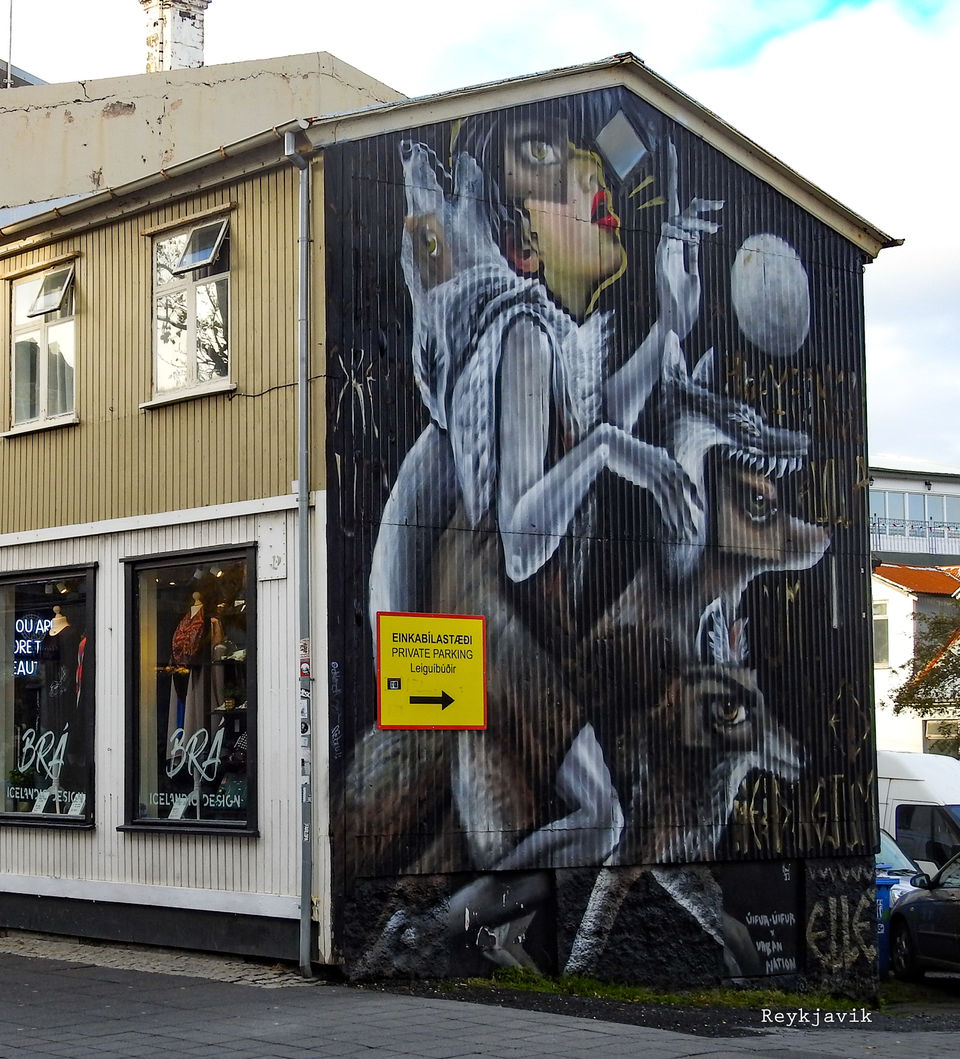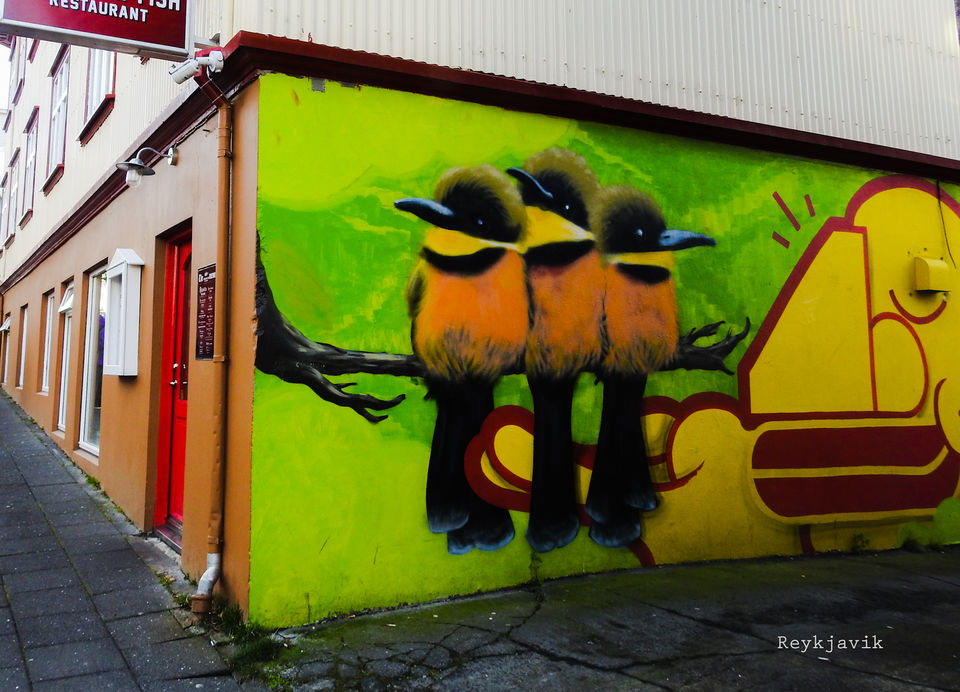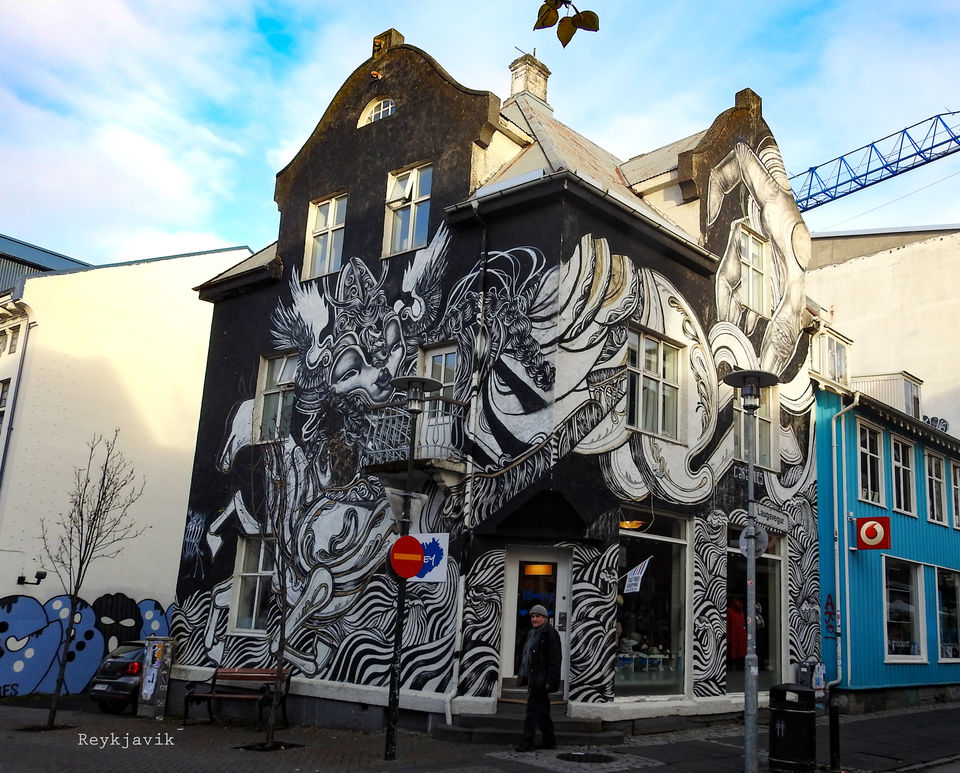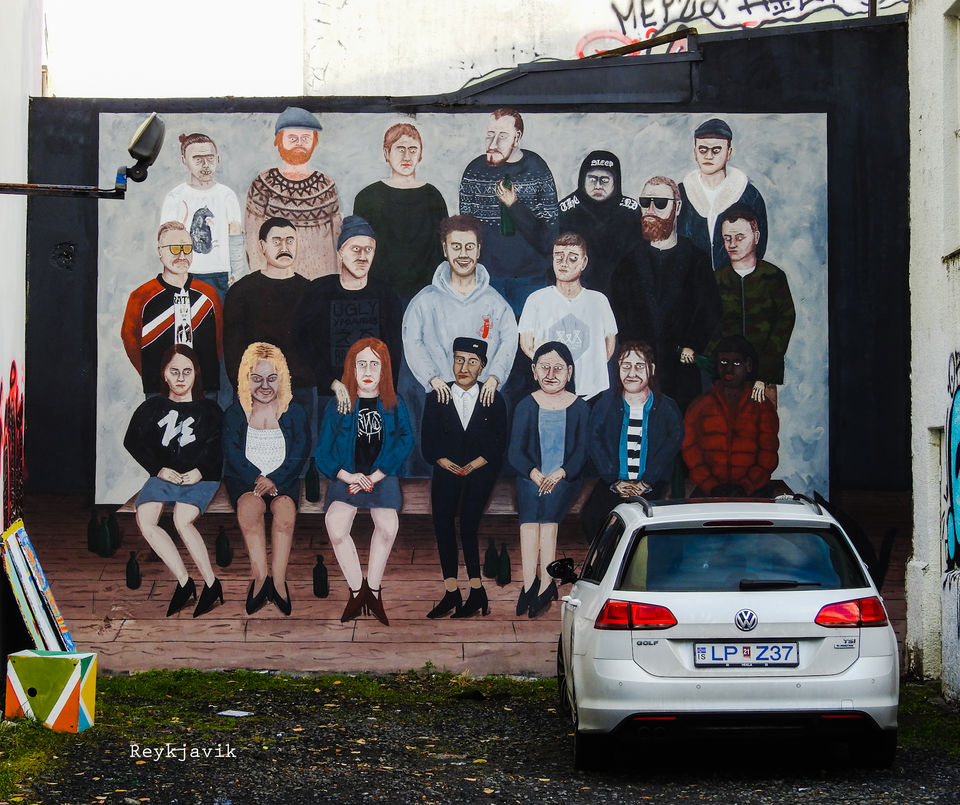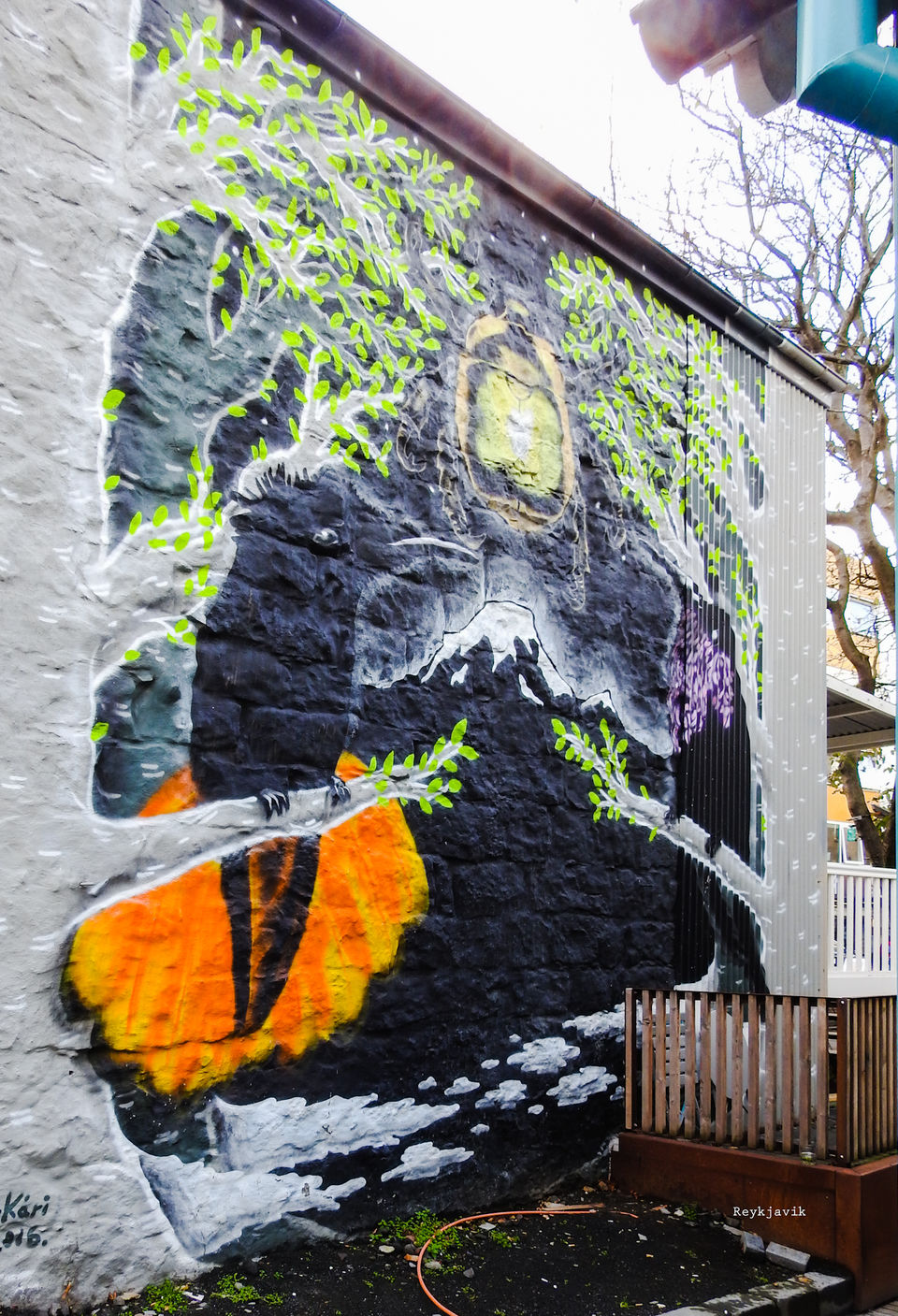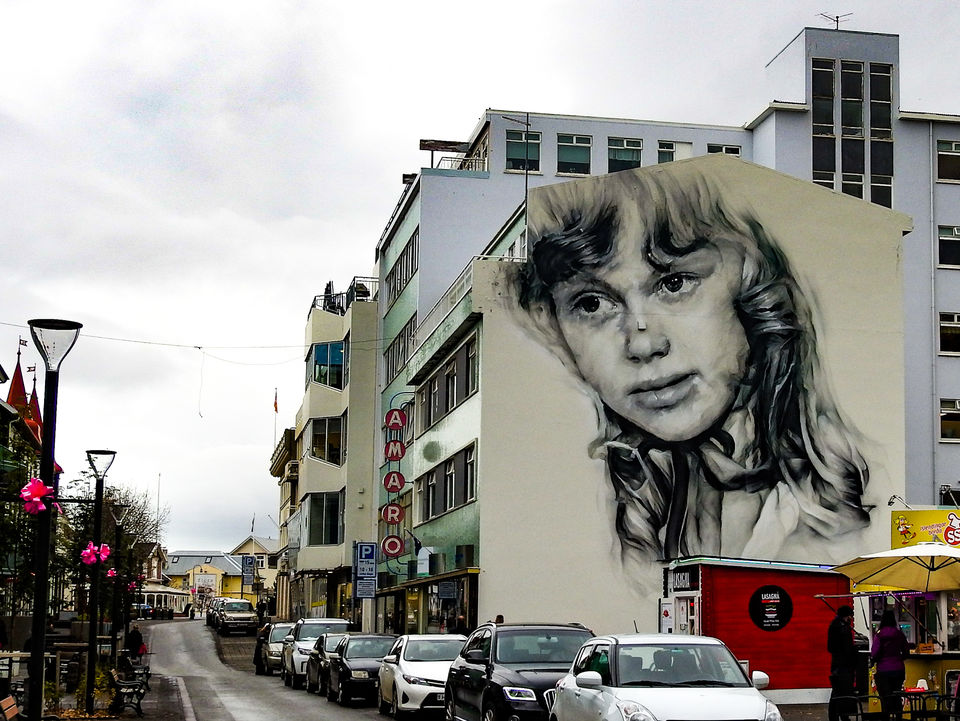 10. Blue Lagoon:
We reserved this for the last in our trip, without a plunge in the Blue Lagoon, a trip to Iceland cannot be complete. This Lagoon is built adjacent to a geothermal thermal plant and is rich in silica and algae that is very good for human skin. that aside, just lazing in the Lagoon in the warm waters while it is freezing cold on the outside is a unique as well as relaxing experience to have.