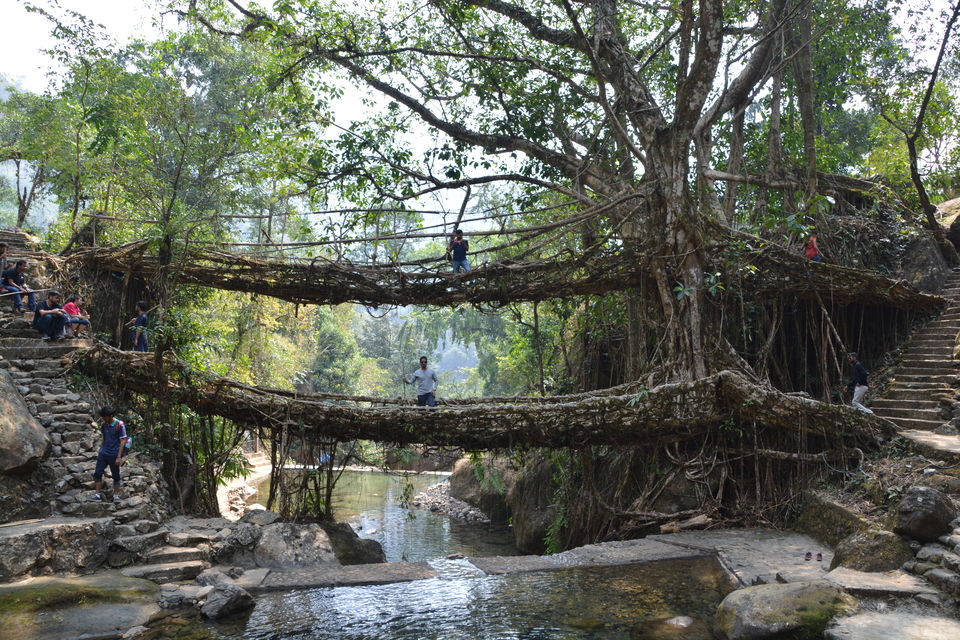 1 Minute Takeaway:
• Number of states visited: 3 (Assam, Arunachal Pradesh, Meghalaya)
• Number of major places: 11 (Guwahati, Pobotora, Sela Pass, Tawang, Kaziranga, Majuli, Shillong, Dawki, Mawlynnong, Cherrapunjee and Tyrna Village).
• Trip start place: Bengaluru
• Mode of transport: Bengaluru ↔ Guwahati – by Air, 2 days in Guwahati – Auto and cab, 10 days through other places – Toyota Innova
• Number of people: 5 backpackers
• Total trip cost: ~28,000/- including airfare, accommodation, cab rent, food and activities.
Intro:
It is during the travel that one realizes how beautiful the world is and how lovely the people are. If it is travel in India, one get to see lots of cultures across the regions whenever they visit. To top it up, if you are surrounded with bunch of people as crazy as you are, you will make it a memorable trip. There is a saying that journey is better than destination itself. So we decided to make it a road trip. Today I will be talking about one such road trip across 3 states of north-east part of India we went couple of years back. We had spectacular views during travel as well as in destinations (less crowded since it was off-season), lots of fun chit-chatting and adventures together.
In the first paragraph, I will give our itineraries for each day and then few notes about the places.
Day 1: Friday, Feb17, 2017 – Guwahati
Arrival at Guwahati Airport by 9A.M. Check-In to a room near Ulubari/PaltanBazaar(U'll have a closer access to all the places). Refresh & head to Kamakhya temple . (Timings: 8 am to 1 pm and 2.30 pm to 5 pm). In the evening set out on a River cruise(1-hour) to watch the sun go down the river and see yourself why the river is locally called 'Luit'- colour of blood. Roam around the city. AlfrescoGrand Cruise is good (The eve Cruise starts by 4P.M, Rs. 300/person for only cruise ride. The dinner cruise is also available which starts by 6:30 P.M Rs.1000/person- including buffet. Enjoy Shopping in Fancy Bazaar. The travel within city was using Cabs & Bus. Overnight Stay in Guwahati.
Any trip must start with some blessings. So we decided to first visit Kamakhya temple, which is one of the Shakti peetam.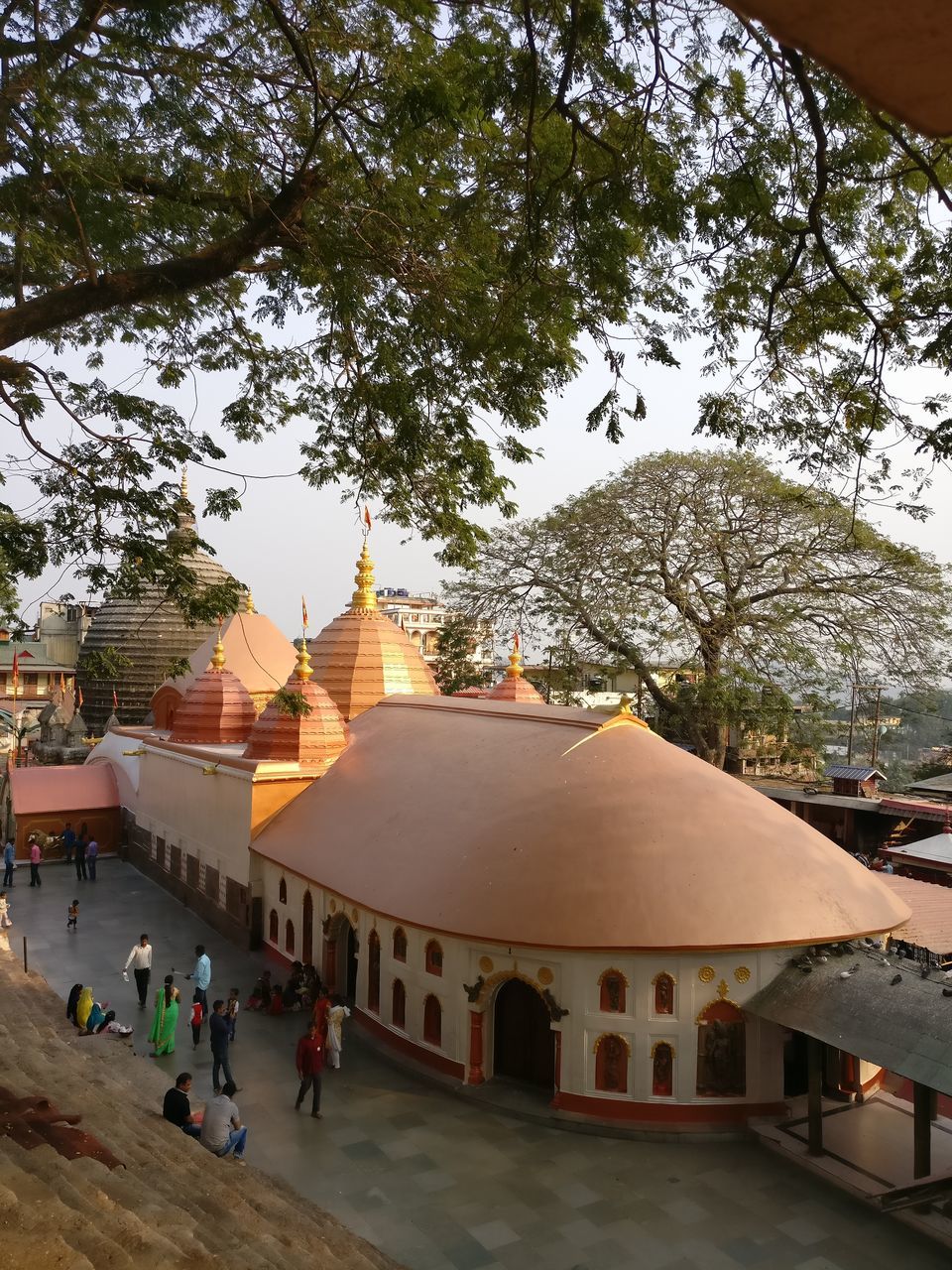 After visiting the temple, we roamed around the city for a while. In the evening, our plan was to go for sunset cruise. Since we missed it, we decided to go for dinner in the cruse and enjoyed sunset from the Brahmaputra river sea shore.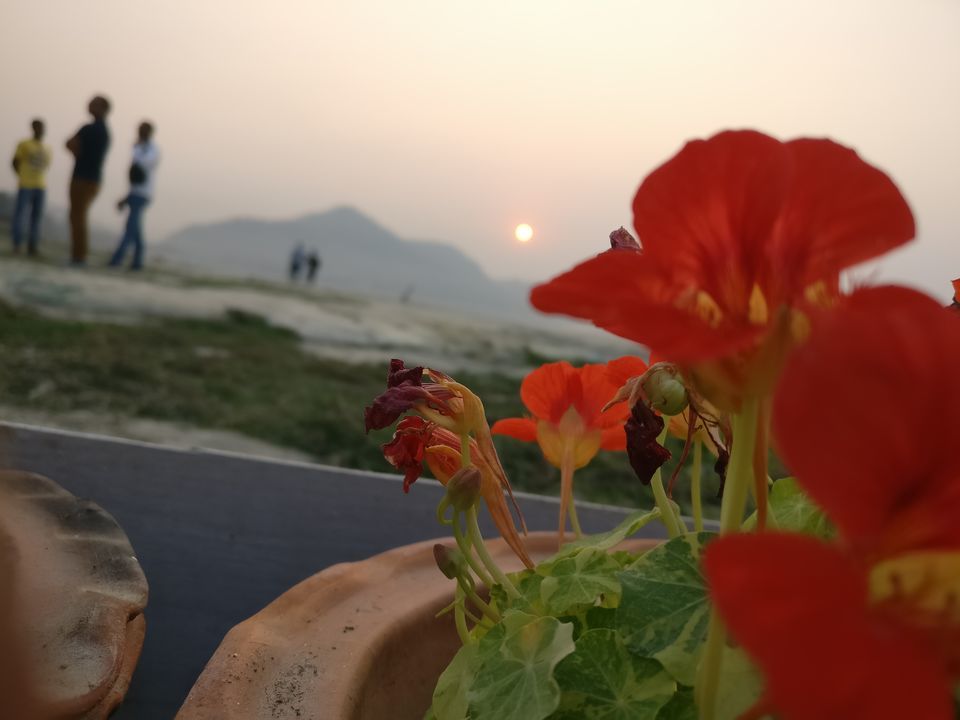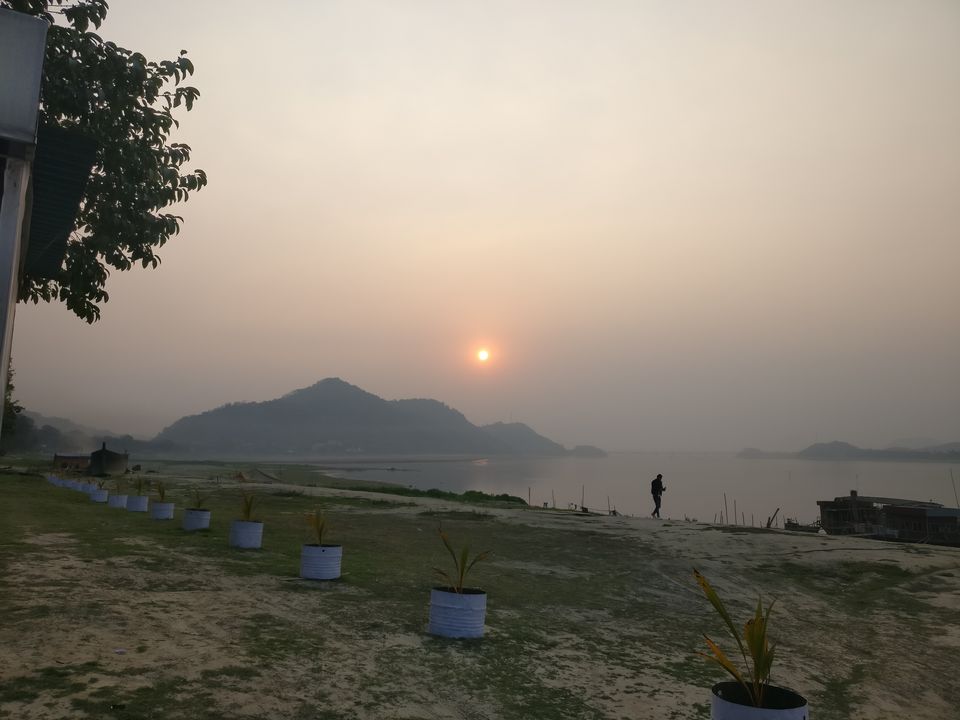 It was a cool breezy evening with pleasant weather.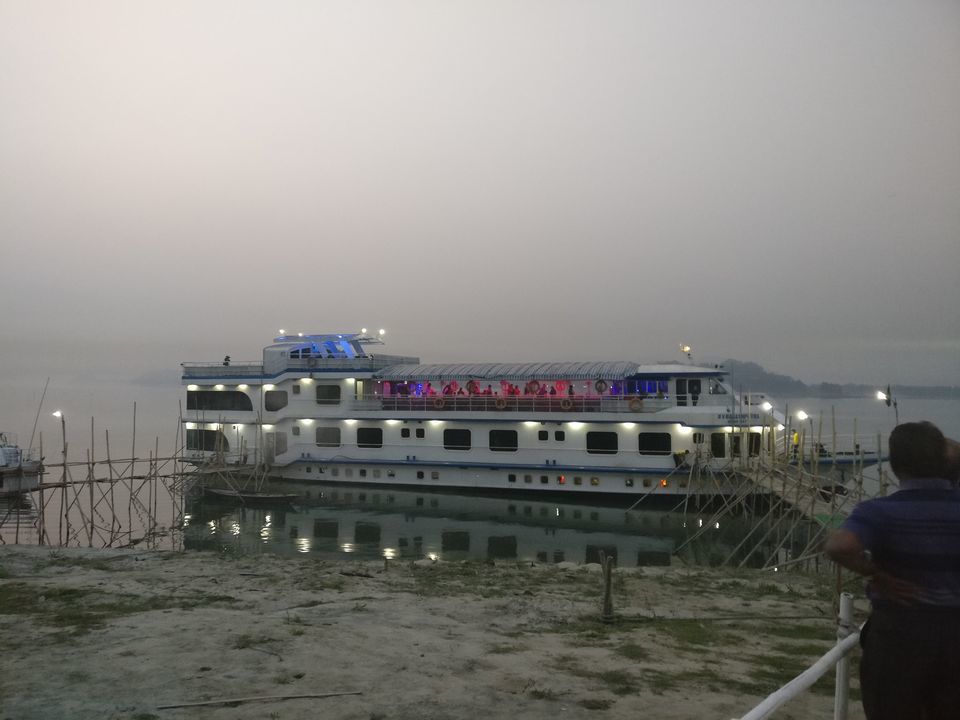 After that, around 6.30-7 pm, we on boarded the cruise. If you are a party buff, you can enjoy the dance floor with nice DJ music. But we decided to climb on top of the deck and enjoy the view and the breezy air. We had dinner in the cruise itself and returned around 9 pm.
Distance traveled: Bangalore to Guwahati by air and some 50 km within city
Day 2: Saturday, Feb 18, 2017 – Pobitora, Bomdila
From Guwahati Early morning (5A.M) head to the Pobitora Wildlife Sanctuary which is around 2hour's drive from Guwahati to take an (Elephant Safari: 06:30 AM / 07:30 AM ). or Jeep Safari (450/person) Available till 3P.M. After Safari, have breakfast on the way in any small dhabha.( The small dhabhas is only we find almost in the entire travel towards Arunachal, food will be cooked fresh). Leave the Pobitora around 9A.M. Head straight to the Bomidila. (Convince the driver, he might stop at Bhalukpong saying it is difficult to drive further at that time, but actually you can drive & reach Bomidila by 5:30-6). Bomidila is max 4 hours drive from Bhalukpong. (ILPs are checked here, I will talk about ILPs at the end of the blog)
Unlike the plan, our driver decided to give us a choke and not showed up till 7 am. If you can execute leaving at 5 am, it will be ideal scenario to reach Pobitora and reach early to Bomdila. Since we left late, we reached Pobitora wildlife sanctuary bit late. So we had only jeep safari option, which we took.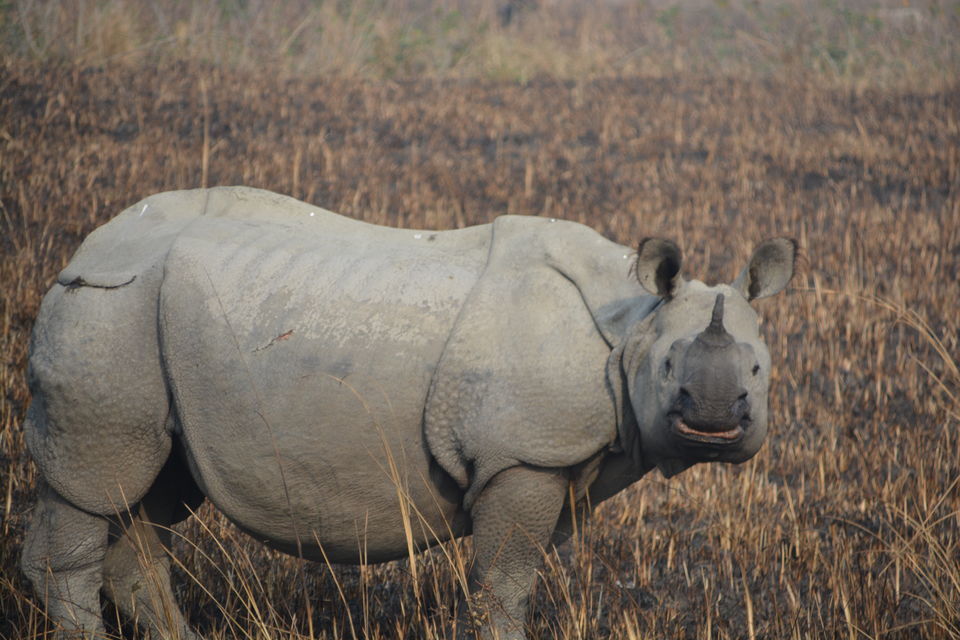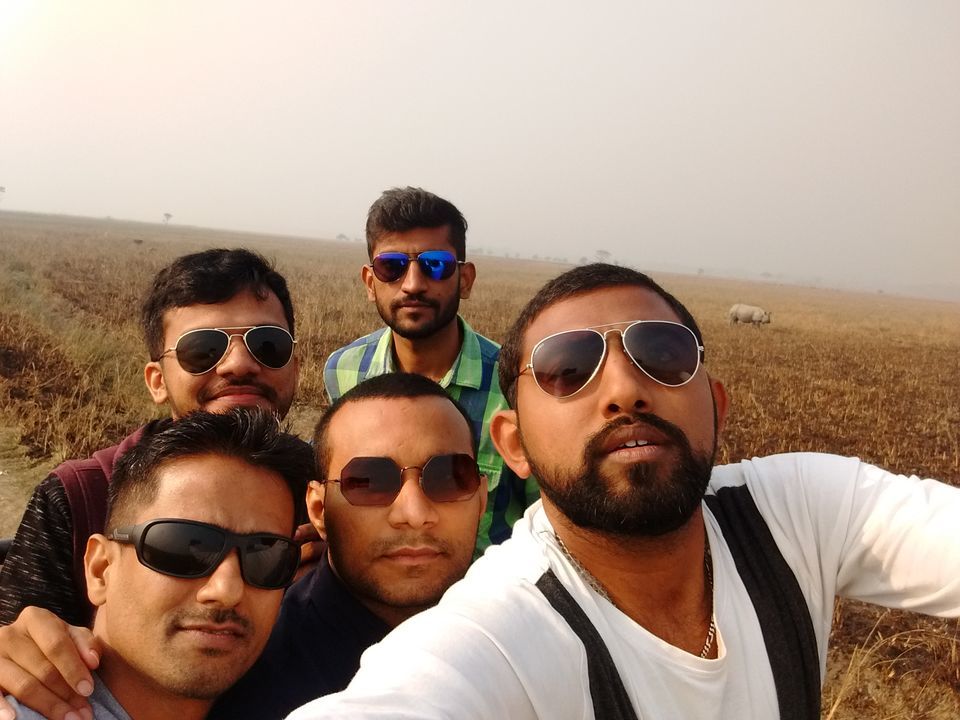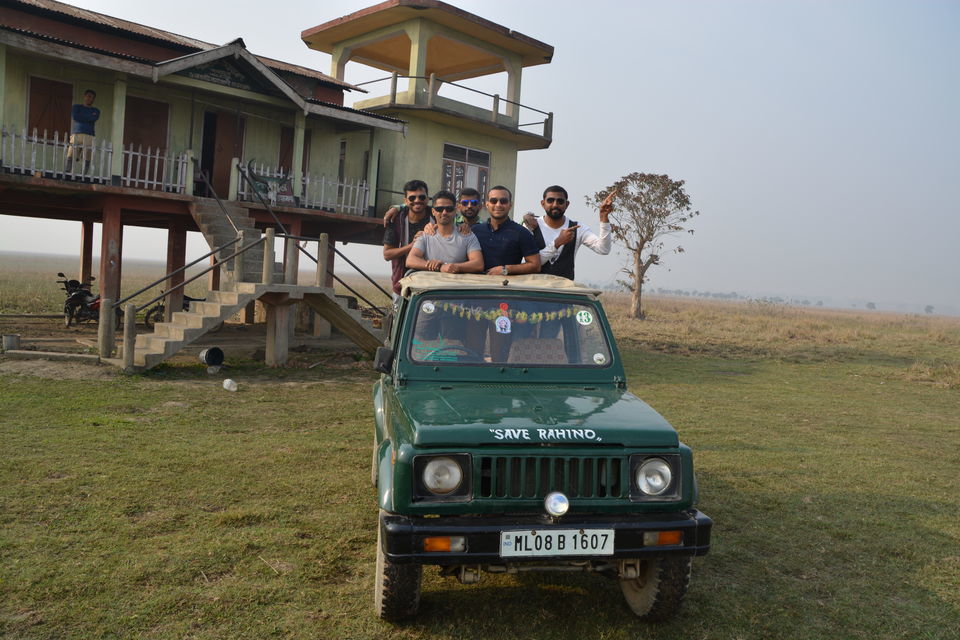 Siting is decent here and you can see lot of Rhinos if you visit early morning. After returning from the safari, we spent some time near the hanging bridge in the Sanctuary, which is having spectacular view.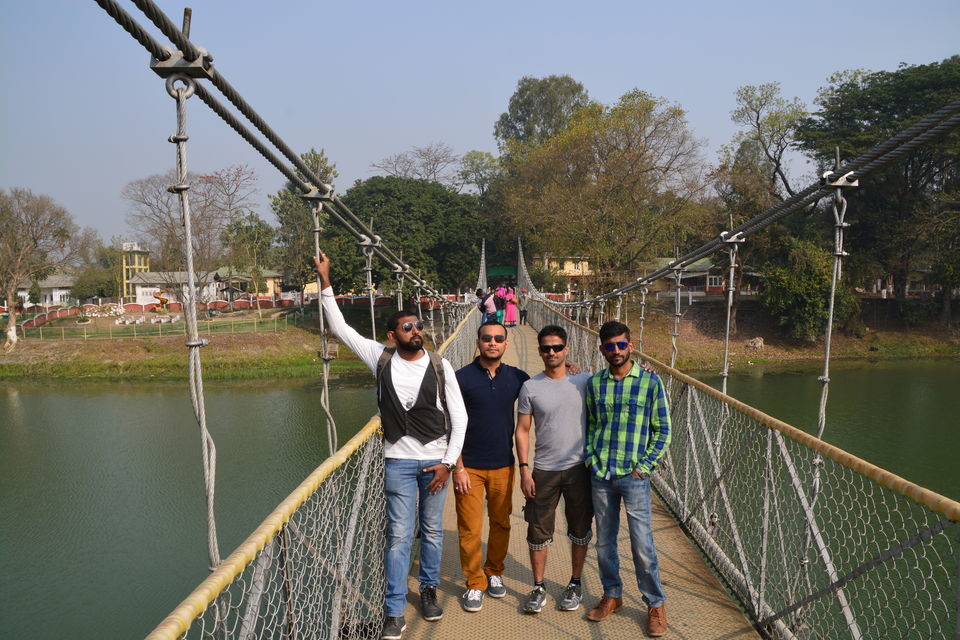 After that, we left to Bomdila. As expected, we had to argue with our driver to reach Bomdila since he wanted to stay in Bhalukpong itself. Eventually we reached Bomdiala around 7 pm. ILPs are checked in a check post in Bhalukpong.
Distance traveled: 355 km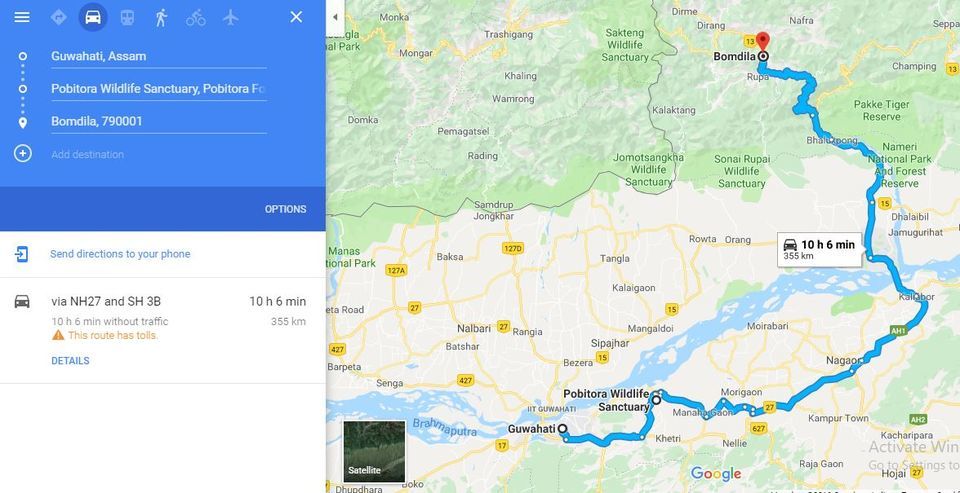 Day 3: Sunday, Feb 19, 2017 – Bomdila, Sela Pass, Tawang
Bomdila to Tawang. Start by 6:30 in the morning visit Bomdila Monastery & start for Tawang. En-route encounter Sela Pass, with a height of 13,714 ft, is one of the most visited places in entire Arunachal Pradesh. There is the beautiful Sela Lake (sometimes called Paradise Lake because of its beauty). Then visit the Jaswanth-Garh War Memorial. Enjoy the tasty Momos & Samosas in the Army Canteen. You can also get the glove & jackets for very reasonable price. Reach Tawang, check-in to a hotel & ahead for DC office to get the permission for Bhumla Pass. The hotel person will also arrange for it with the cab. Overnight at Tawang. Get some bread & biscuits ready for tomorrow morning. Alcohol & Meat is not available in Arunachal Pradesh on Wedesday.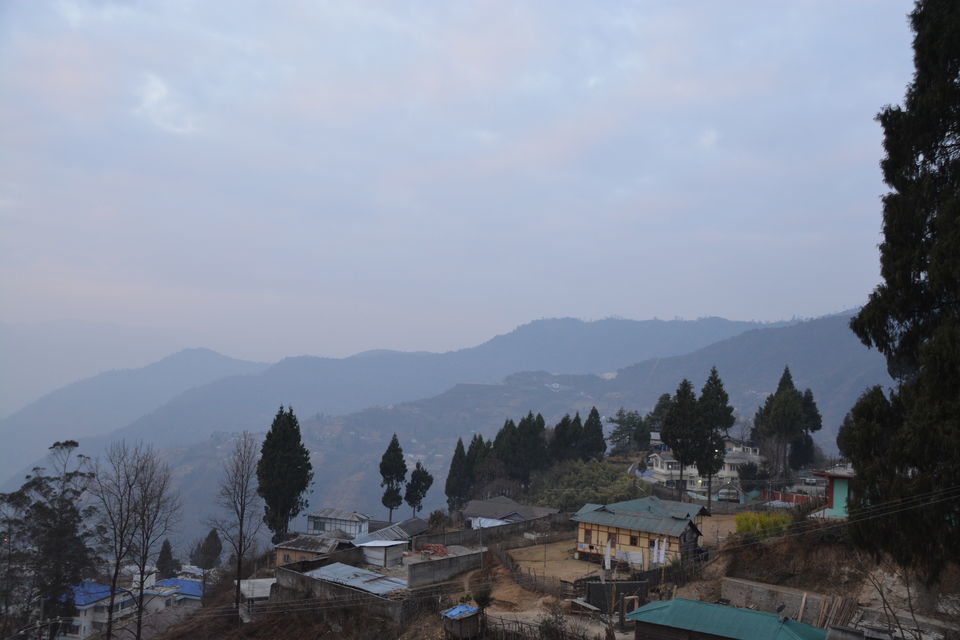 The weather in Bomdila was chilling. It was around 0-4 degrees in the morning. We woke up early and visited Bomdila Monastery. It was very calm and had no one else apart from our group.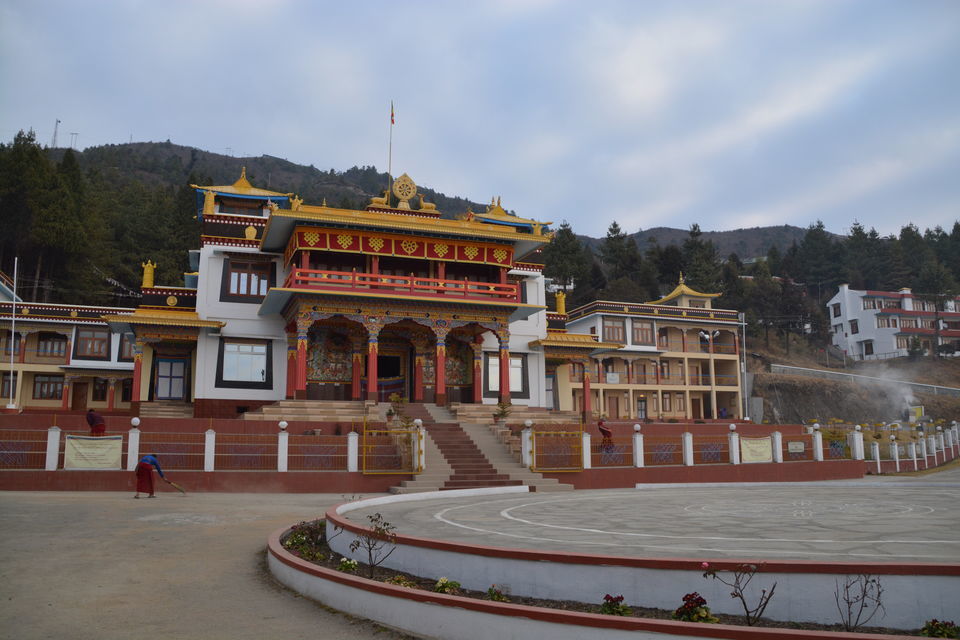 We had breakfast in Bomdila and left for Sela Pass. The entire drive from Bhalukpong to Tawang is a different experience. It is ghat section and you will almost never see straight roads. If you are a person with motion/travel sickness, it will be hell for you. Otherwise it is one of the most thrilling stretch of road.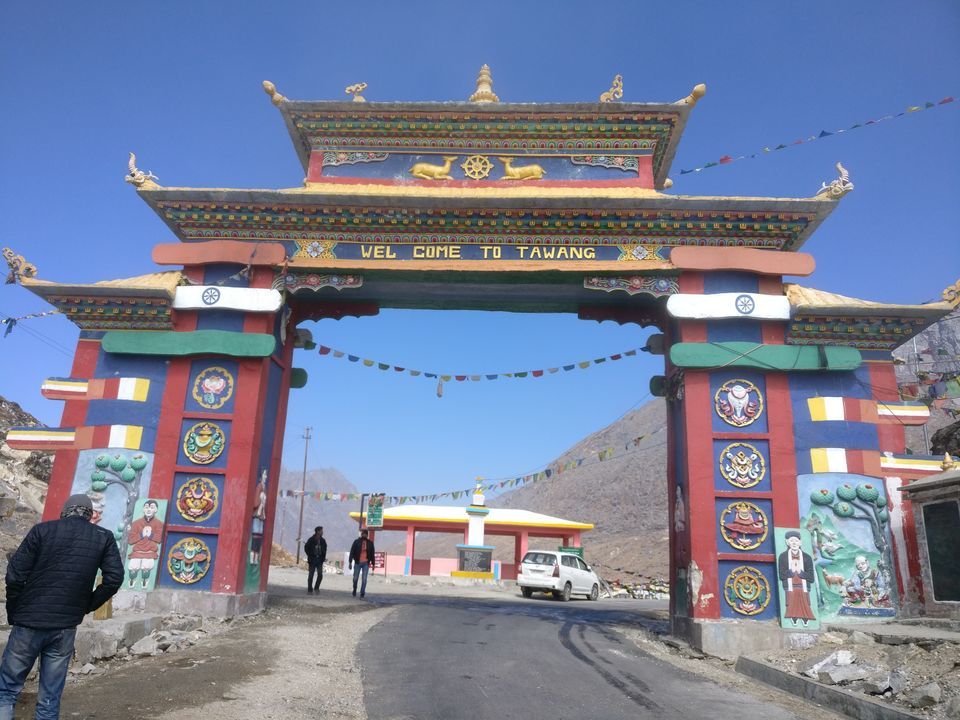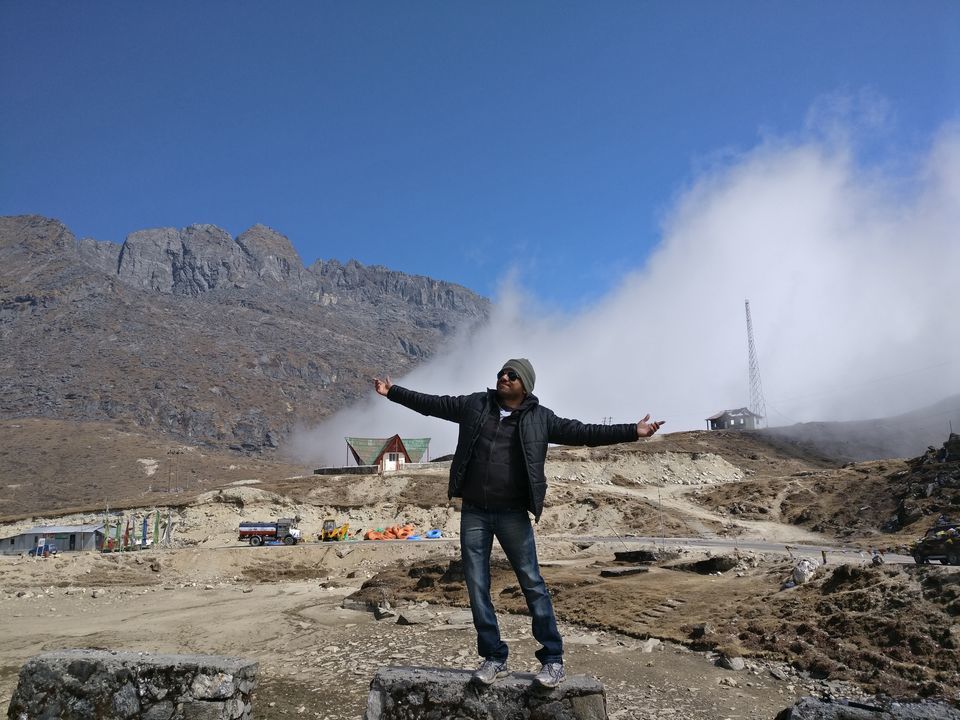 As you travel from Bomdila, the temperature will keep on dropping. And the view behind Sela Pass is mesmerizing. The lake, hills will make it one of the best place to spend some time. View might be affected by fog/snowfall but.
From Sela Pass, we left to Jaswant-Garh War Memorial. Rifleman Jaswant Singh Rawat, MVC (19 August 1941 – 17 November 1962) was an Indian Army soldier serving in the Garhwal Rifles who won the Maha Vir Chakra posthumously as a result of his actions during the battle of Nuranang in present-day Arunachal Pradesh, India, during the Sino-Indian War in 1962 (from Wikipedia).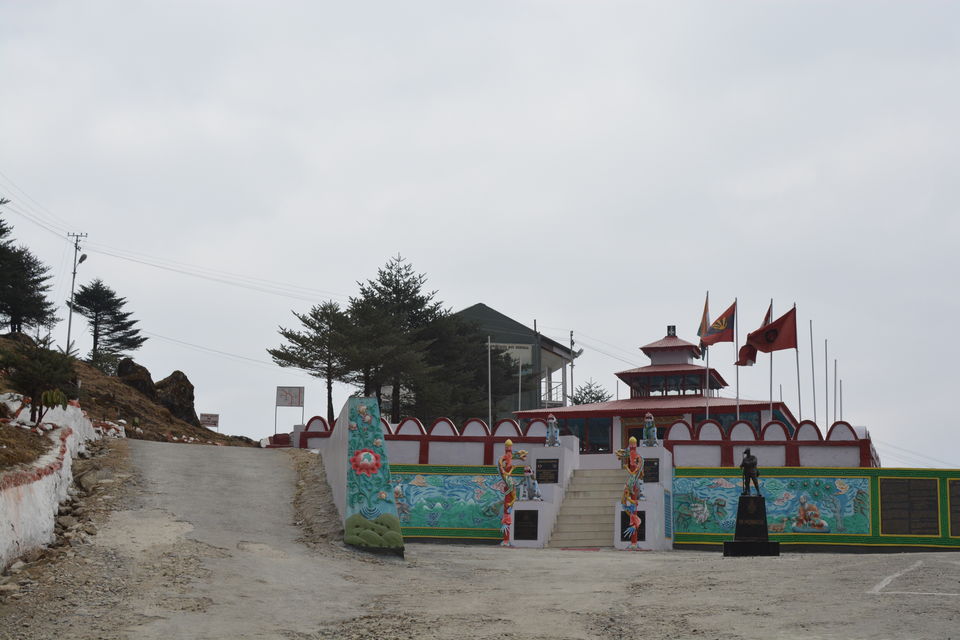 Just outside the memorial, there is a canteen run by army. You will get the yummiest Samosas and Momos here (on par with the momos we had in Shillong). Also one can shop other accessories like jacket, shoes and hand gloves, which are very cheap and material is good.
From there, we left to Tawang. It was around evening we reached there. So just had some food and roamed around. Since we asked for hotel people to arrange for our jeep next day to visit Bum La Pass (other vehicles are not allowed here. We need to take the jeep from Tawang), they took care of taking permission documents also. The cost agreed was 4,500/- which includes both jeep rent as well as paper works.
Distance traveled: 171 km
Day 4: Monday, Feb 20, 2017 - Tawang
Start early by 6:30, Visit Nagula lake , PT So lake, Sungetser (Madhuri) lake, and visit to India-China border at Bumla Pass. This area is heavily guarded by Indian Army and one need to obtain Protected Area Permit (PAP) . Back to Tawang by 2P.M. Visit 400 hundred years old Tawang Monastery which is established by Lama Urghen Sangpo Bhumthang. It is also the birthplace of His holiness 6th Dalai Lama. This is the second oldest Monastery in the entire world after Lhasa. Visit the Tawang War memorial by 3:30. Enjoy the AV regarding Indo-China War & about our bravery of the soldiers.(starts by 4). You can get gifts for your friends from Army shop. Overnight at Tawang.
This was one of the saddest day of our trip. We all desperately wanted to visit Bum La Pass. But weather god decided to give up on us. It was snowing moderately which made roads very slippery. When we reached near Nagula Lake, our jeep just rolled back few meters on slippery ice. That is when we decided to not continue our ride further. Spent some time near frozen Nagula Lake and PT So Lake.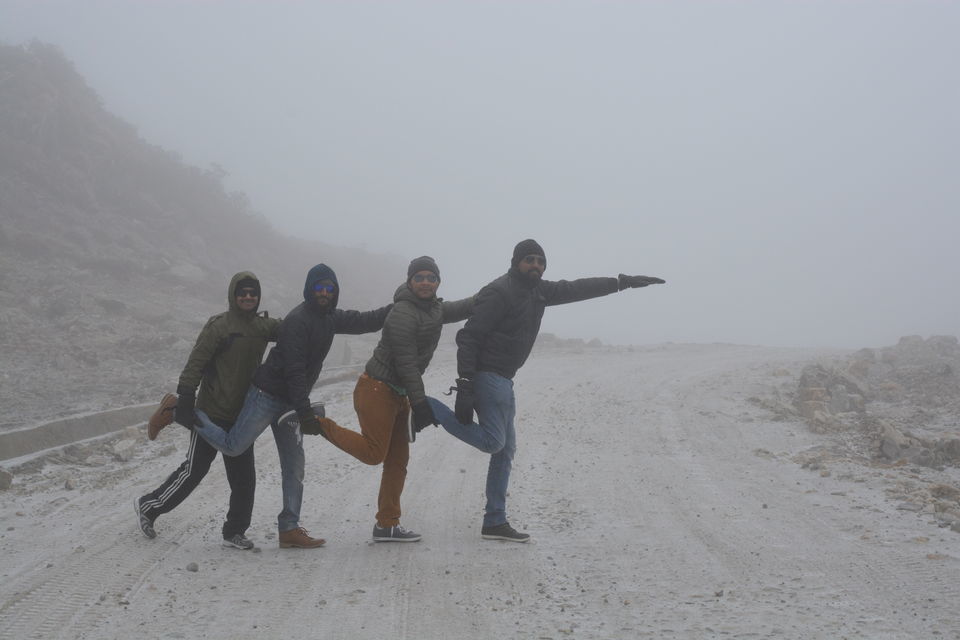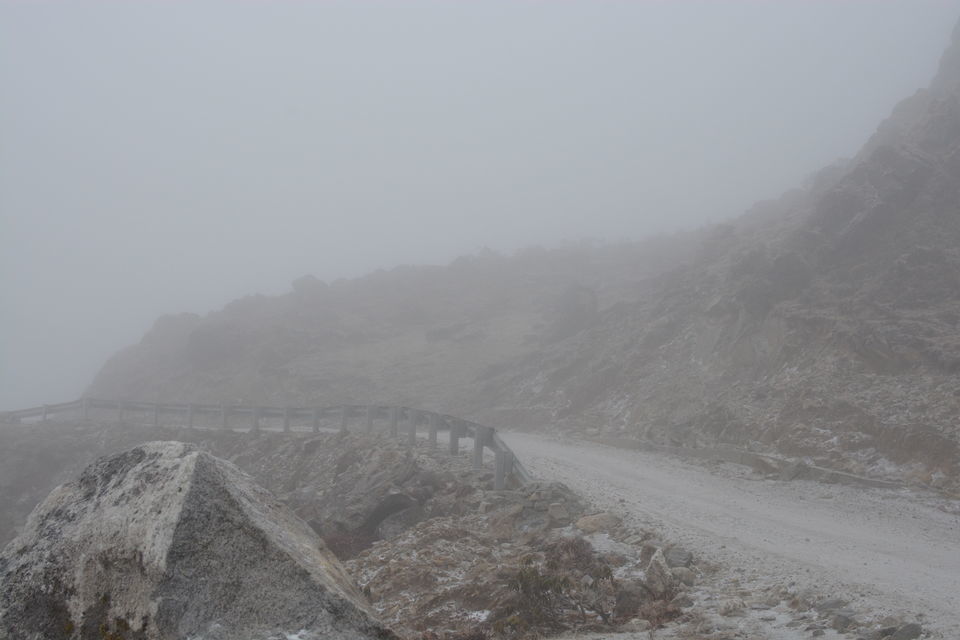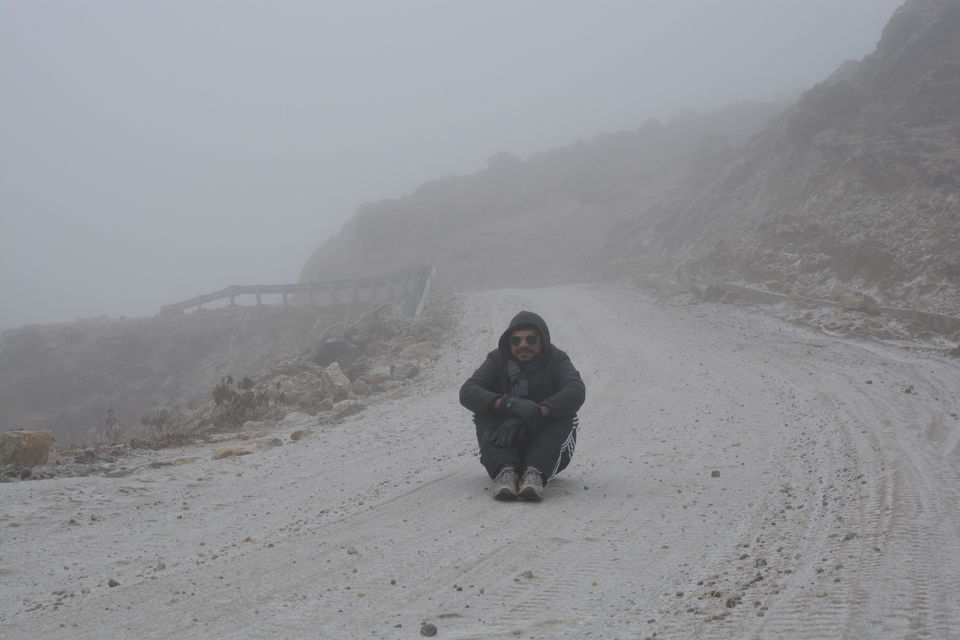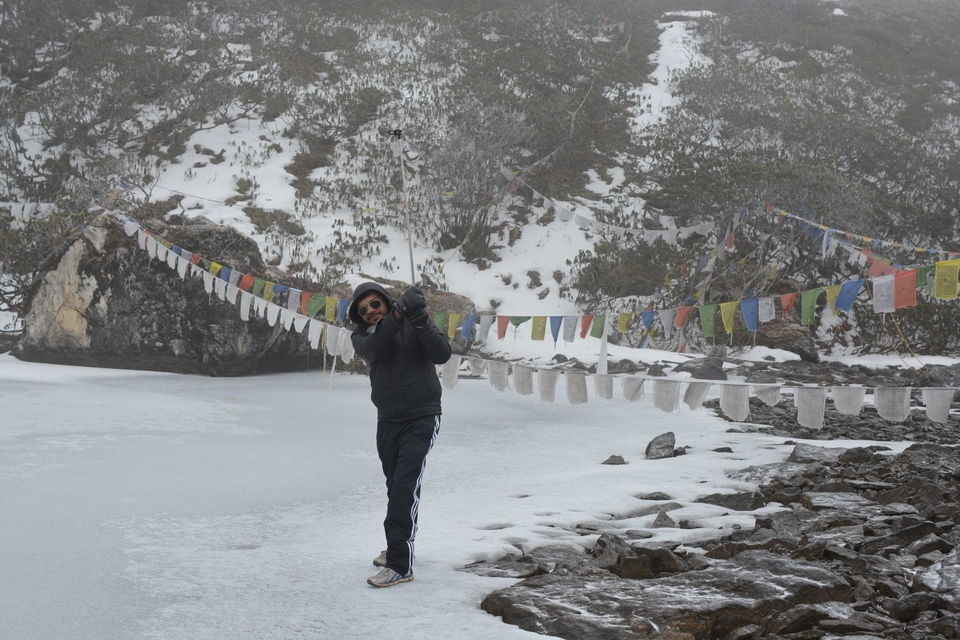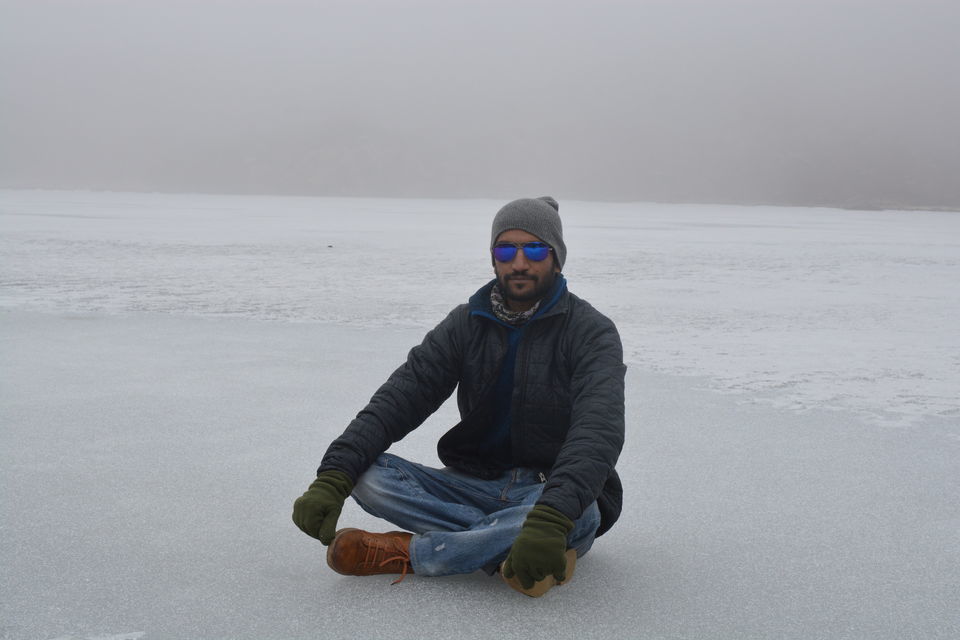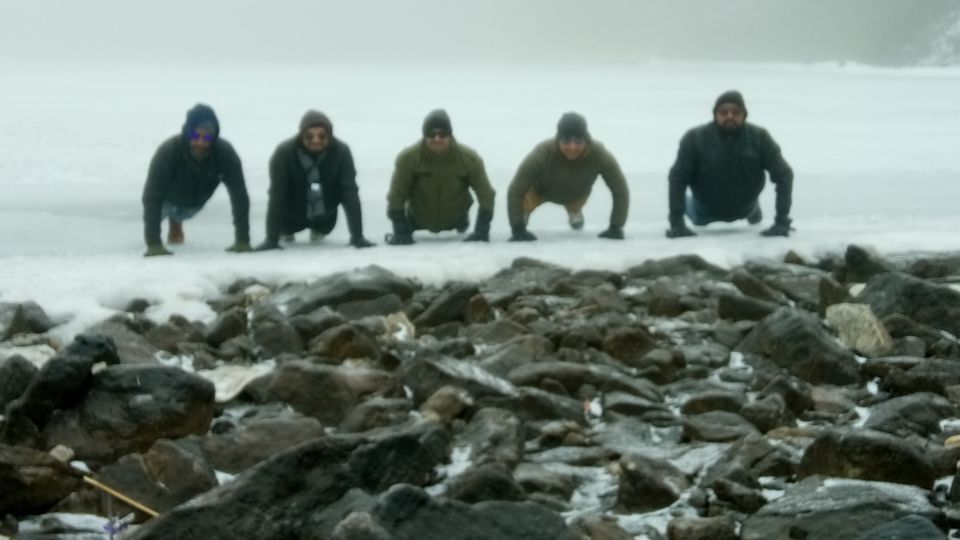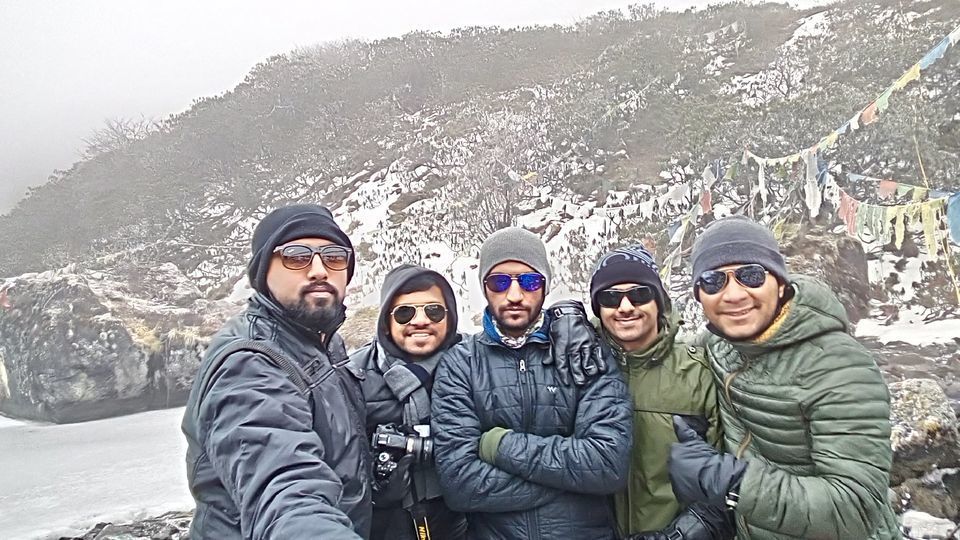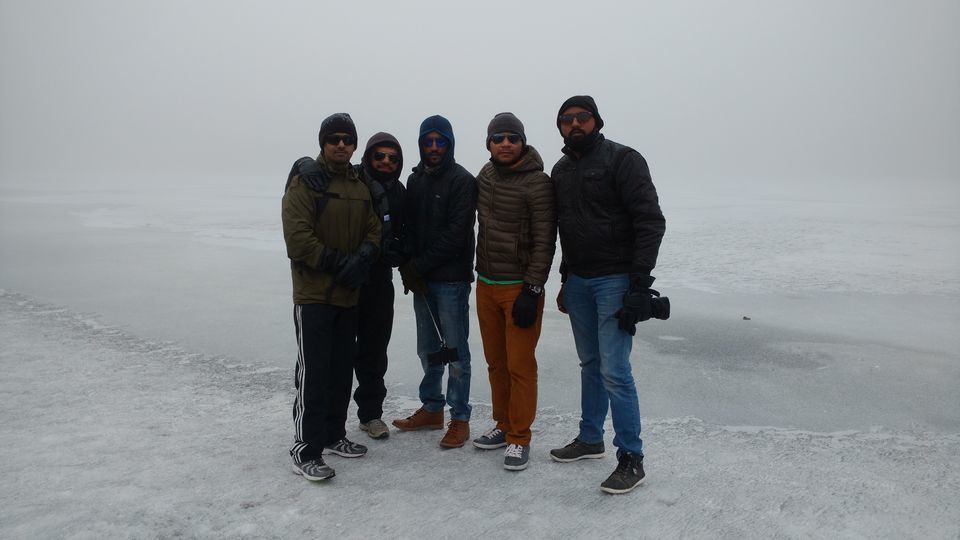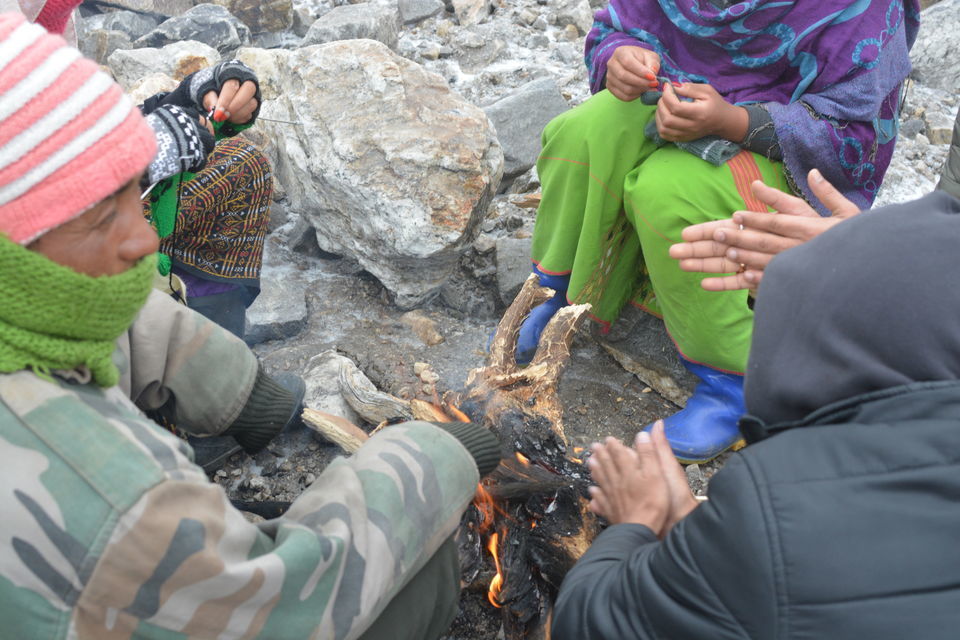 We returned to Rainy Tawang earlier than we were expecting. So we could see all the places here properly (I guess finding positive out of negative ;) ).
First, we visited Tawang Monastery, which is second largest in the world. It is really huge and very calm. The combination of constant drizzling, chilling weather and calmness is hard to explain in words.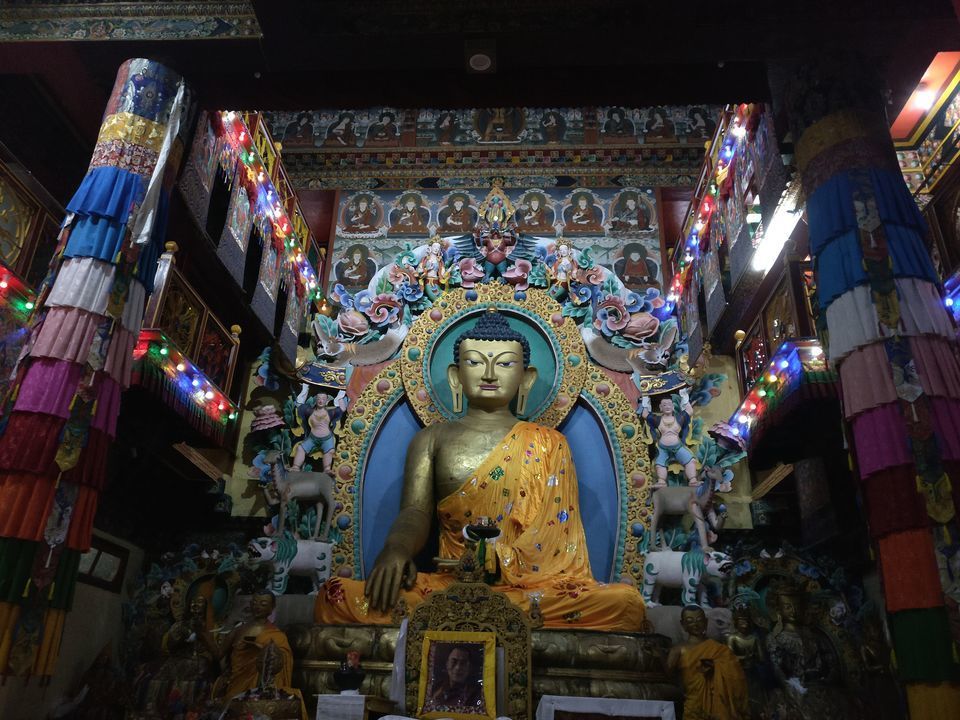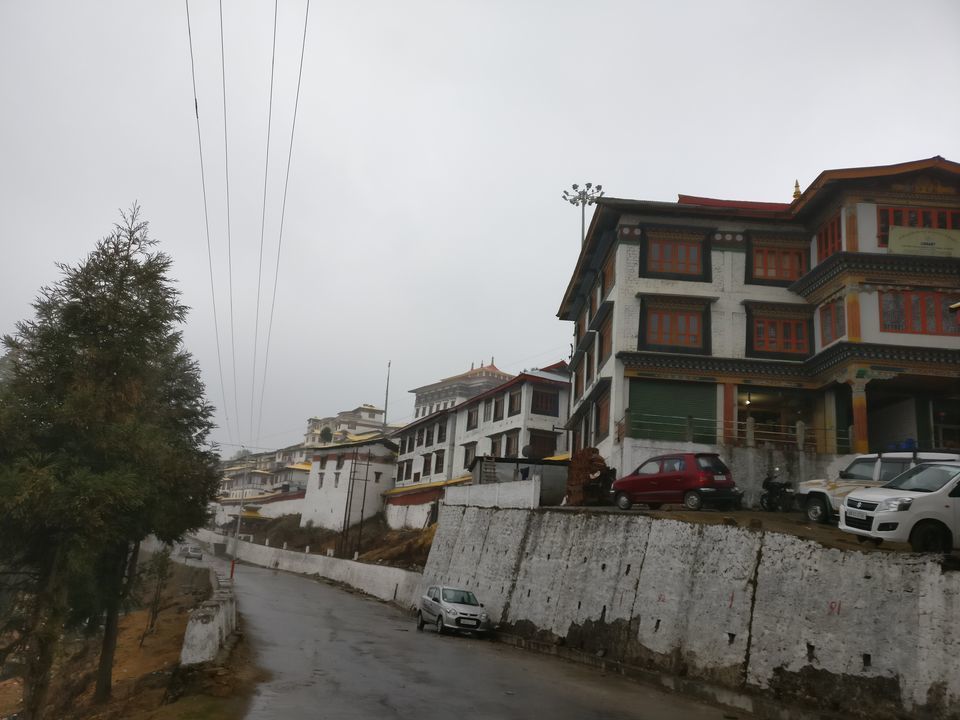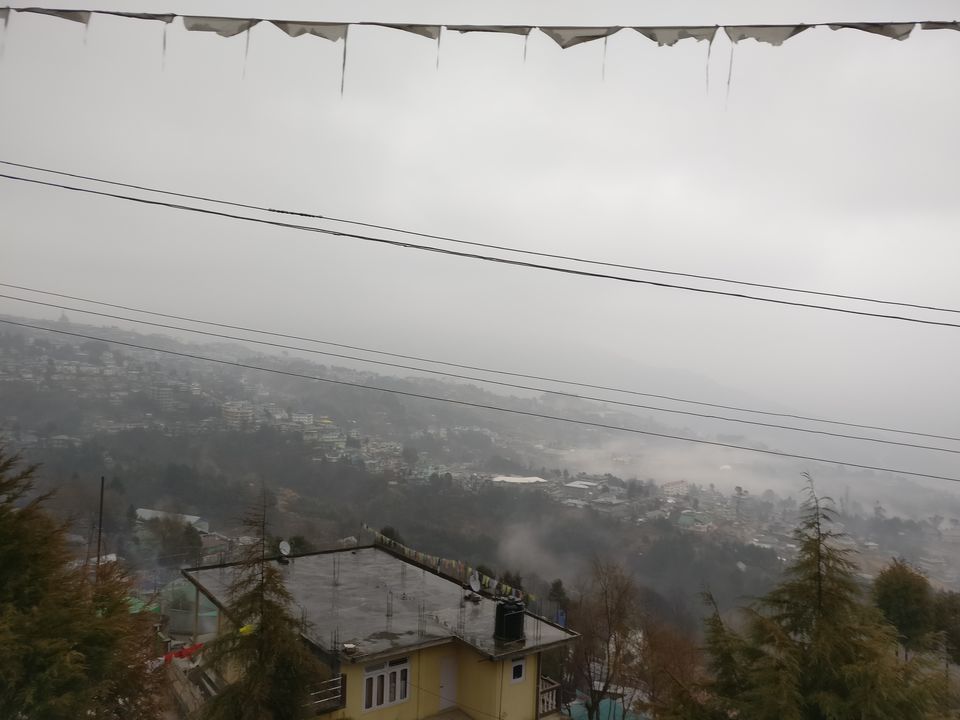 From the monastery, we visited the large Budha statue. Like other places, there were no one else apart from us in here too, so we could some spend some time there calmly.
Around evening, we visited Tawang war memorial. The Tawang War Memorial was built in memory of soldiers of the Indian Army who gave up their life in the 1962 Indo-Sino War. This is a fitting memorial for the greatest sacrifice anyone can offer. The AV regarding Indo-China war will give you goosebumps. Since we are not allowed to take the photos inside the memorial, attaching a website link here: https://www.mapsofindia.com/india-tour/arunachal-pradesh/tawang-war-memorial/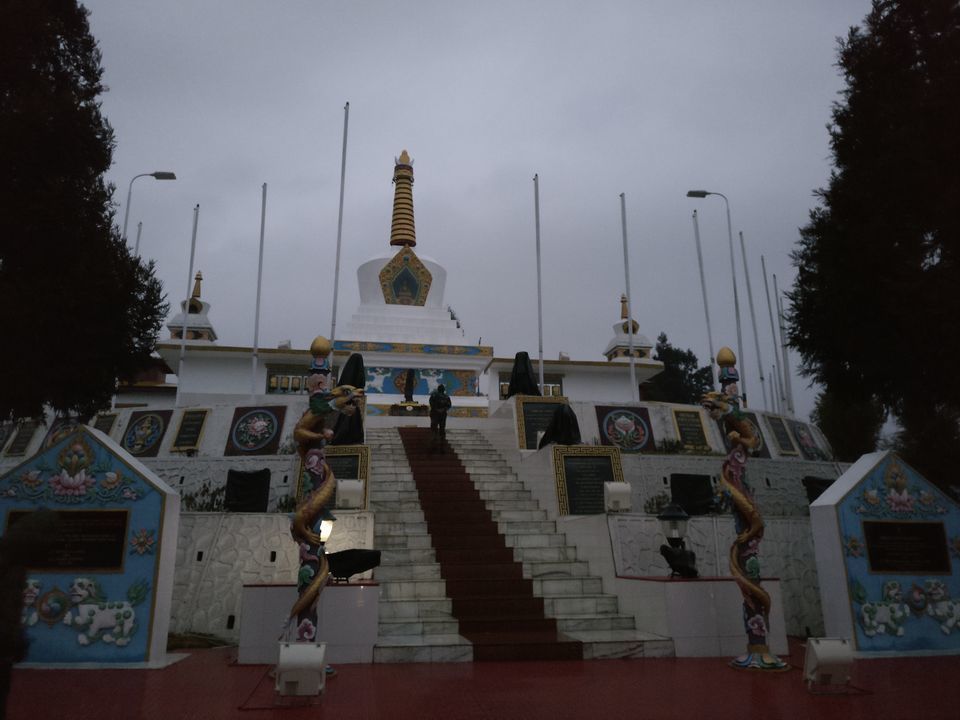 The army store here is the best place to get any gift/memorable for the north-east trip. Both pricing as well as the collection are decent.
Then we had authentic north-east style dinner and concluded the chilling day with some card games.
Distance Traveled: 75 km
Day 5: Tuesday, Feb 21, 2017 - Tawang, Tezpur
Tawang to Bhalukpong. Start by 7A.M, En-route visit Nuranang falls, which is a remote fall & is awesome. Drive through centuries old Dirang Basti a 'Dirang Monpa' tribal village, still retaining its old stone made houses and its colourful inhabitants with warmth in their hearts. Overnight in Bhalukpong. Enjoy the Local market here. (If you driver is ready to drive you can stay at Tezpur, which will be a tiring journey).
First we visited Nuranang falls. It was not part of our original plan since we were not aware of this place. It was suggested by our driver. As it turns out, it was one of the spectacular waterfalls I have seen.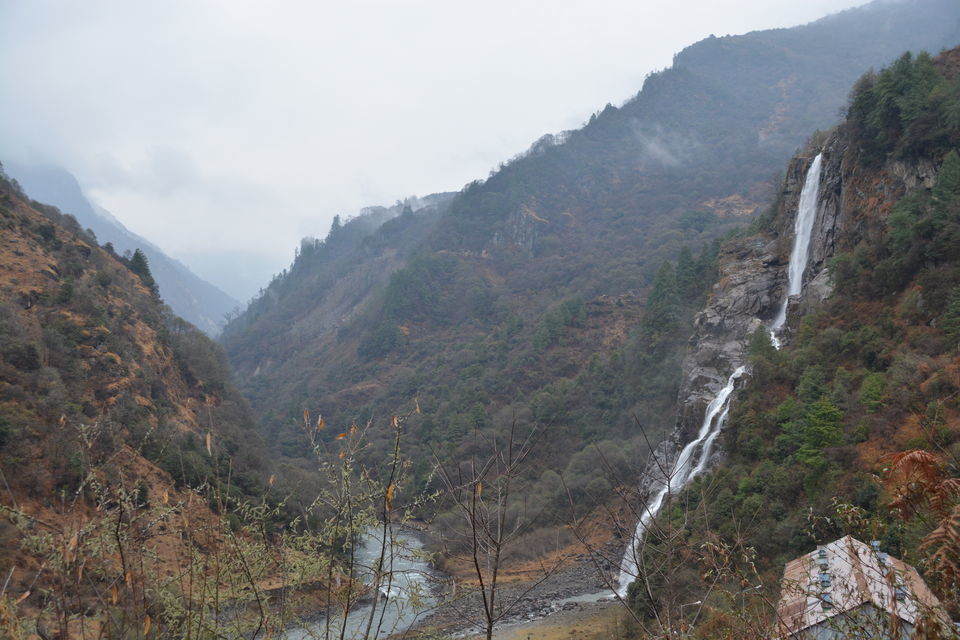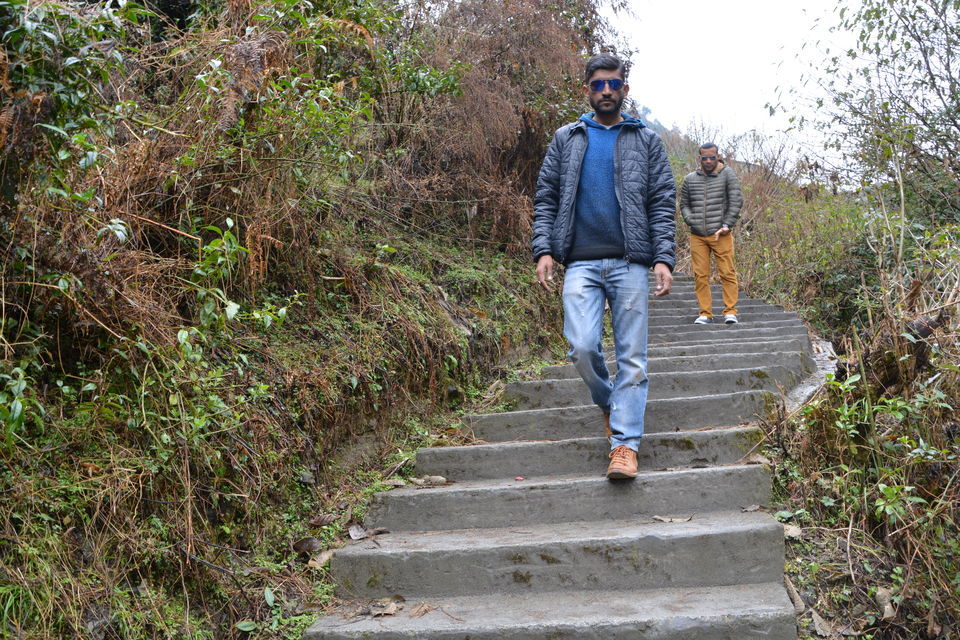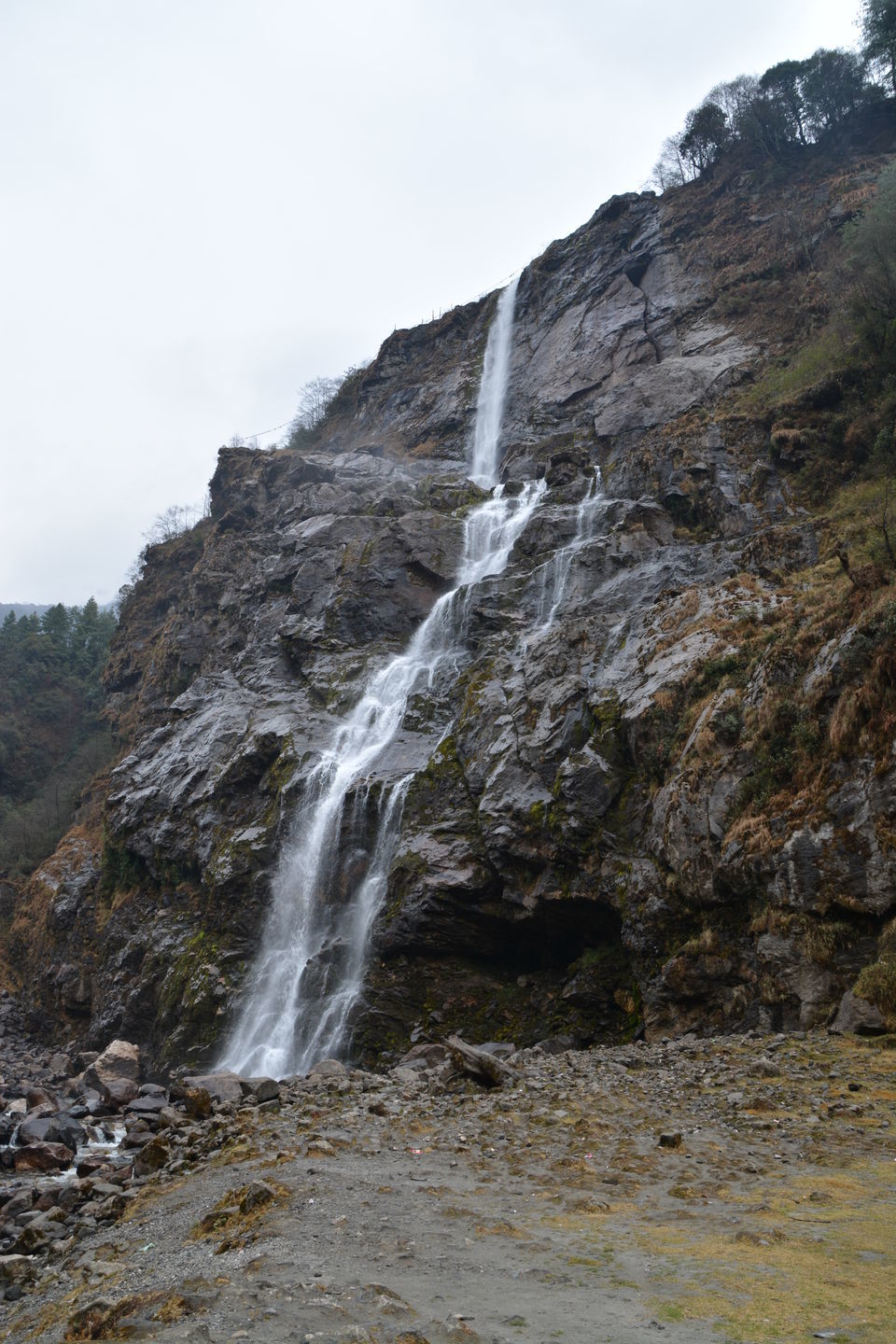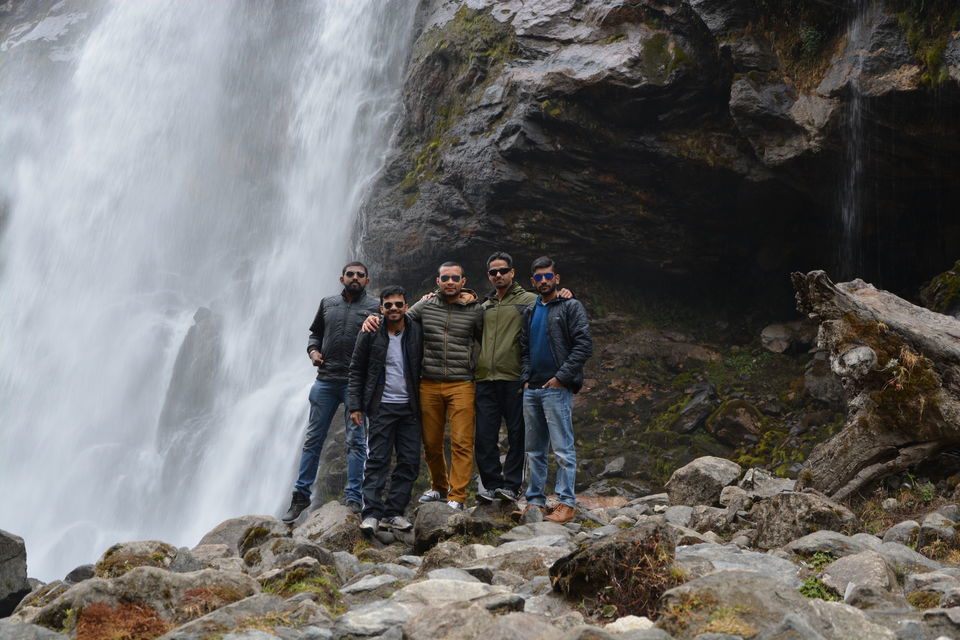 Spent some time there and we continued our journey. It started snowing since we left the waterfalls. Since the view was good, we decided to visit the Jaswant-Garh War Memorial on the way back also. Video is below.
It continued snowing as we were traveling towards Sela Pass. Few more videos below.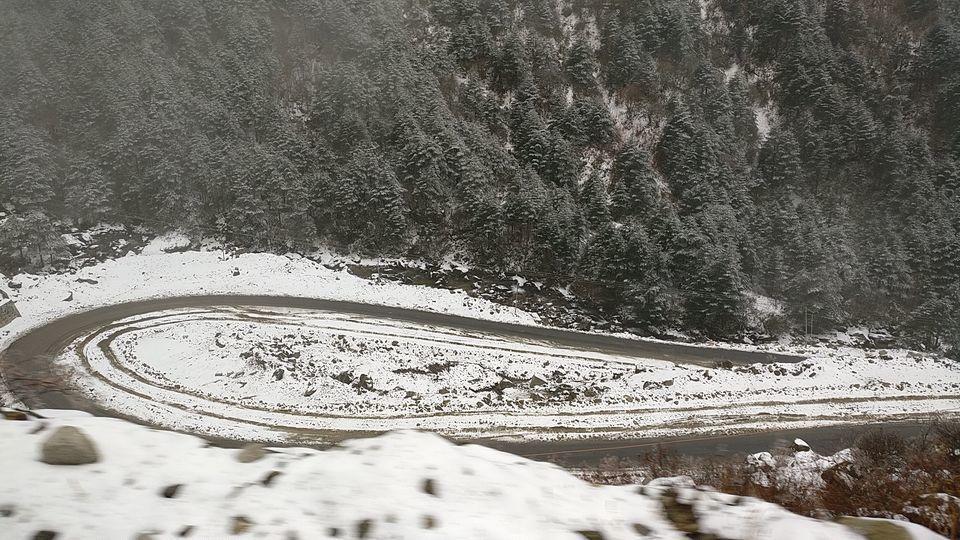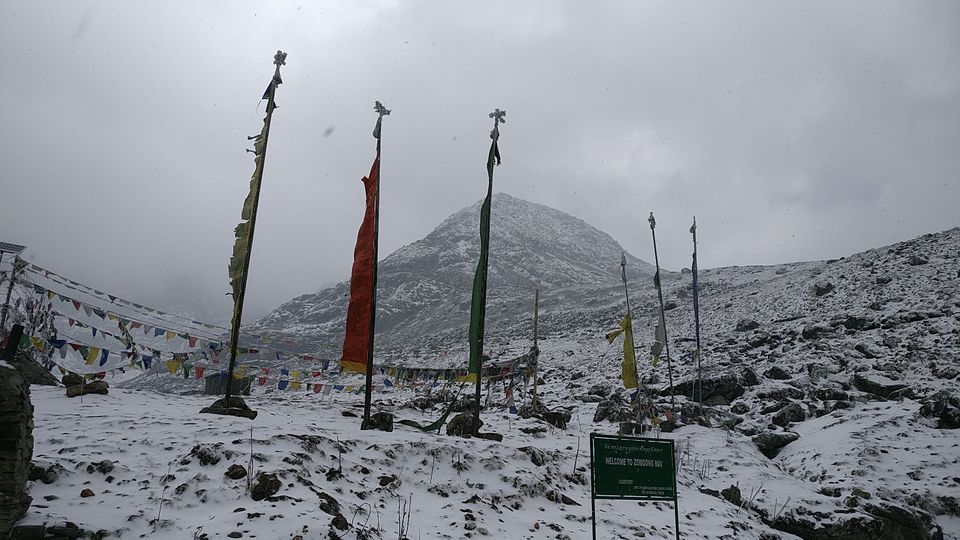 Sela Pass was so much different during the snowfall. The lake was covered with ice and the view was awesome.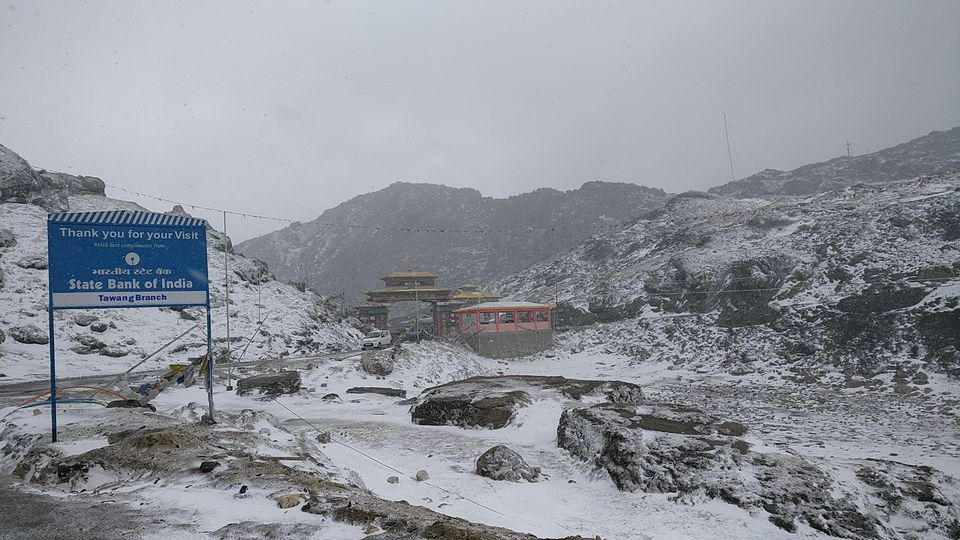 Once we crossed Sela Pass, it stopped snowing. Our original plan was to stay in Bomdila overnight since the weather was good. But this time around, our driver wanted to continue the journey. Since it would make our next day travel easier, we agreed. It turned out to be a bad decision. As it gets darker immediately after sunset in this region, it was so dark and had heavy fog. The fog was so thick that we were unable to see few foot beyond our vehicle (not having fog light did not help either). I am not exaggerating, 3 of us had our head out of the vehicle with mobile torch looking at the edge of the road and one person inside was sitting with GPS turned on in mobile to get the hint of next curve. Manoj was most relaxed person sitting alone in last seat with few bags :D
We eventually reached Bhalukpong. But to add to our misery, no rooms were available for us to stay. Guess what? We had our dinner and continued our journey to Tezpur. We got a place to crash around midnight and concluded the day with a big sigh!
Distance traveled: 325 km (don't get misguided by this. It takes a lot of time to cover this stretch).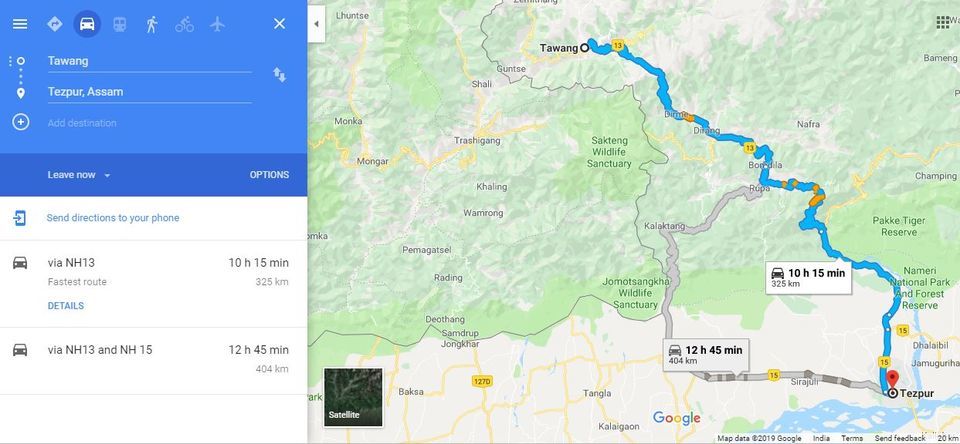 Day 6: Wednesday, Feb 22, 2017 Tezpur, Kaziranga
Tezpur to Kaziranga. Start morning & head to Kaziranga. Take Jeep Safari(550/person) in Kaziranga in Western Range. (3P.M ride will be good). Overnight Stay in Kaziranga near Central Range.
Since we traveled more than half time which was supposed to happen this day yesterday only, we woke up late and had brunch almost  it is 1 hour drive from Tezpur to Kaziranga. We left around 11 after breakfast.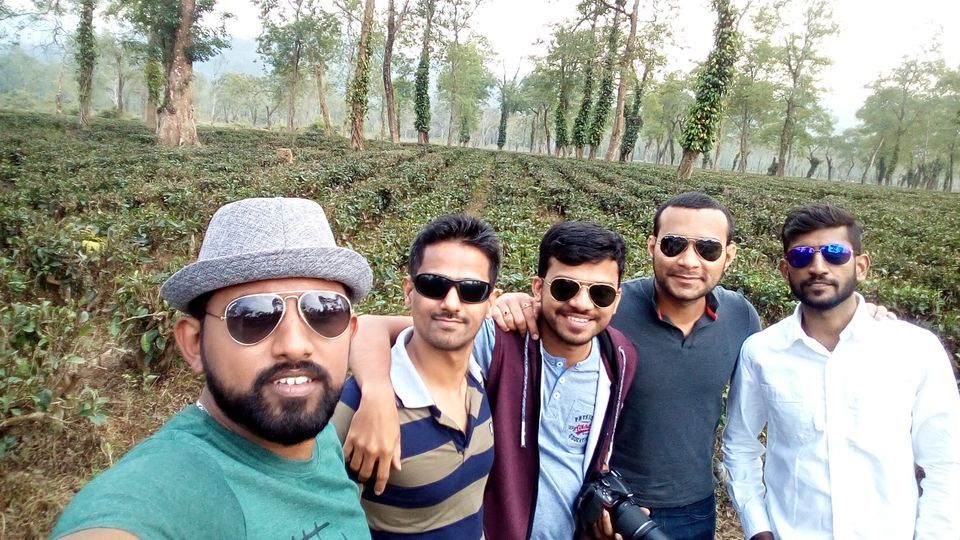 As planned, then we went for jeep safari in western range. The sighting was poor. We saw few Rhinos, a wild Elephant and lots and lots of deers. But the view was good and we stopped near a lake for the sunset inside the park itself.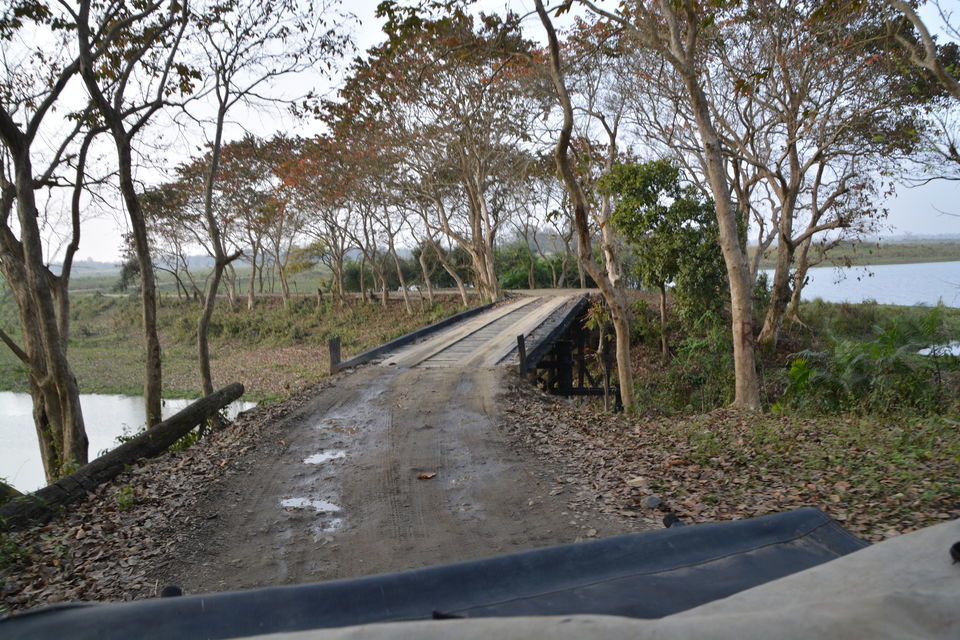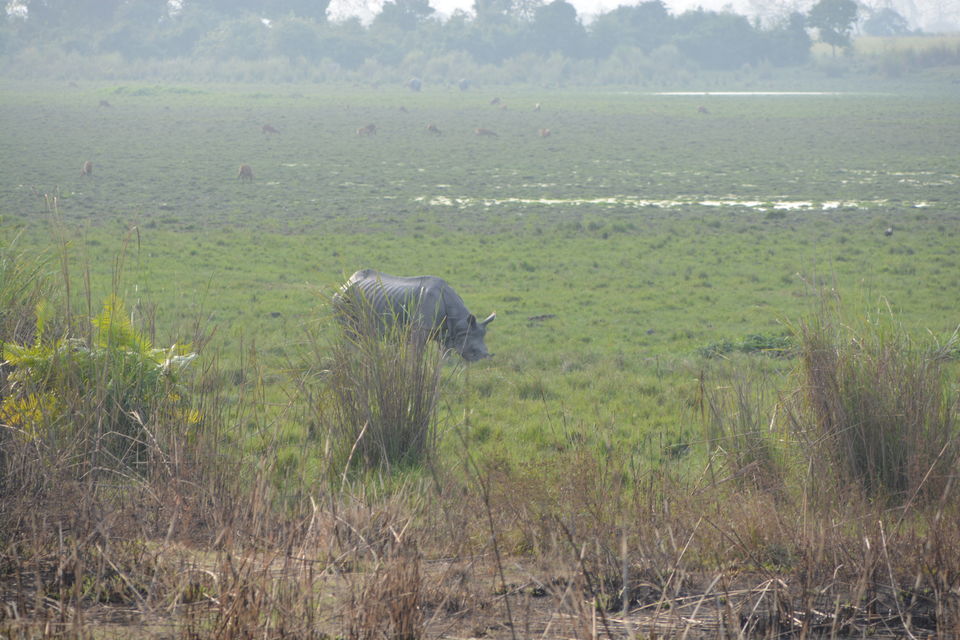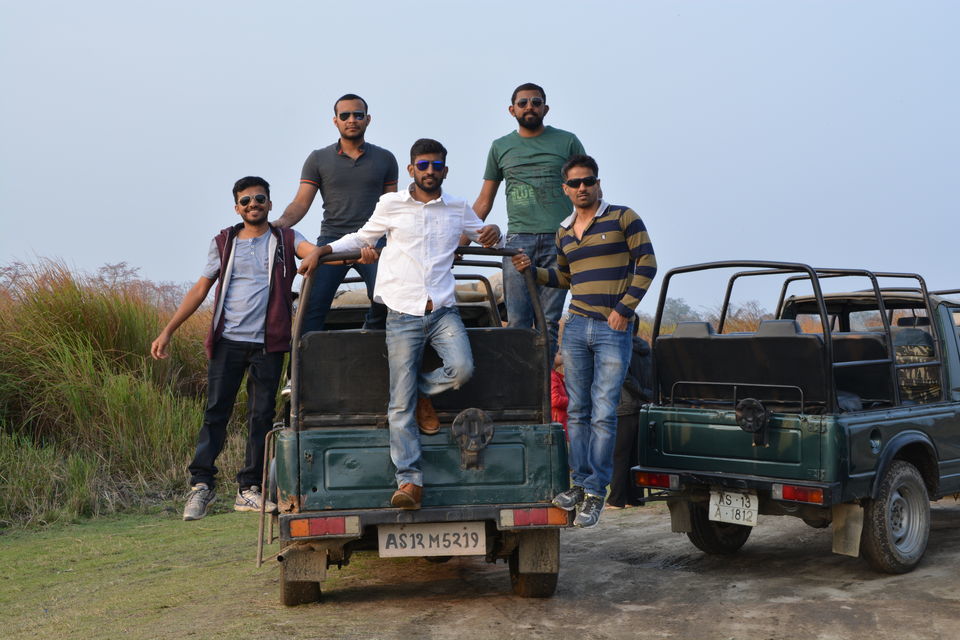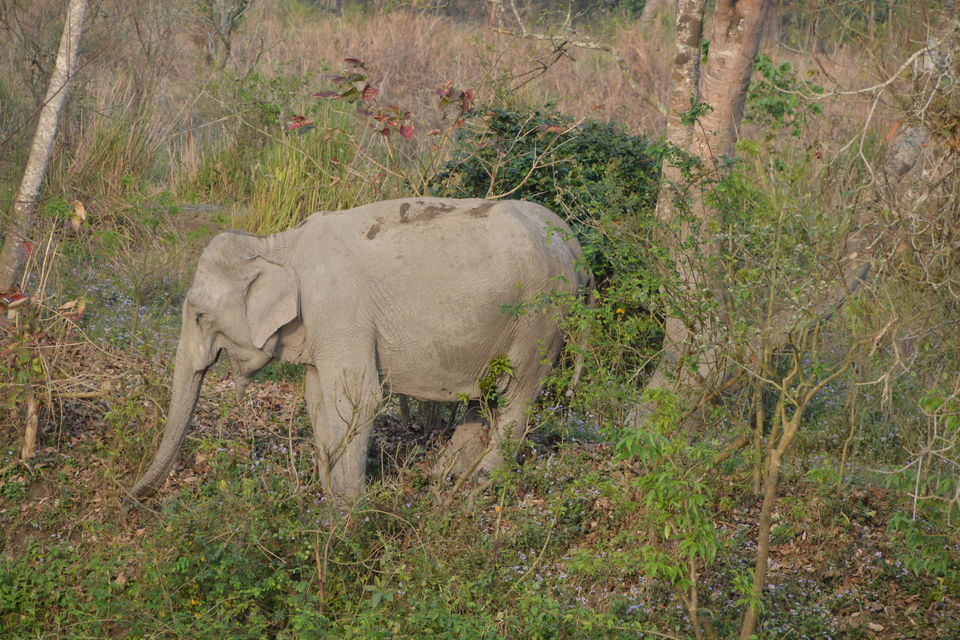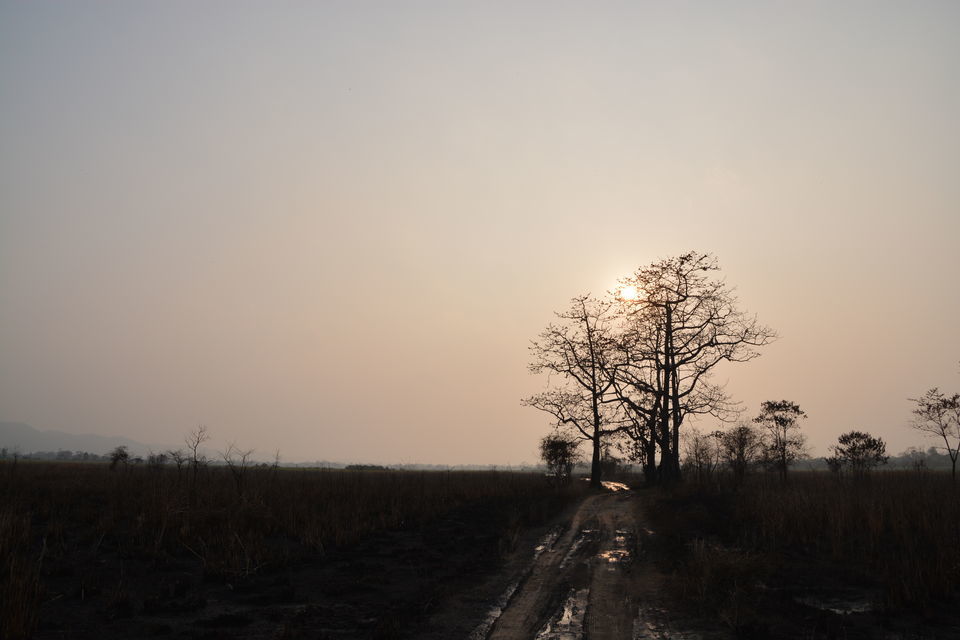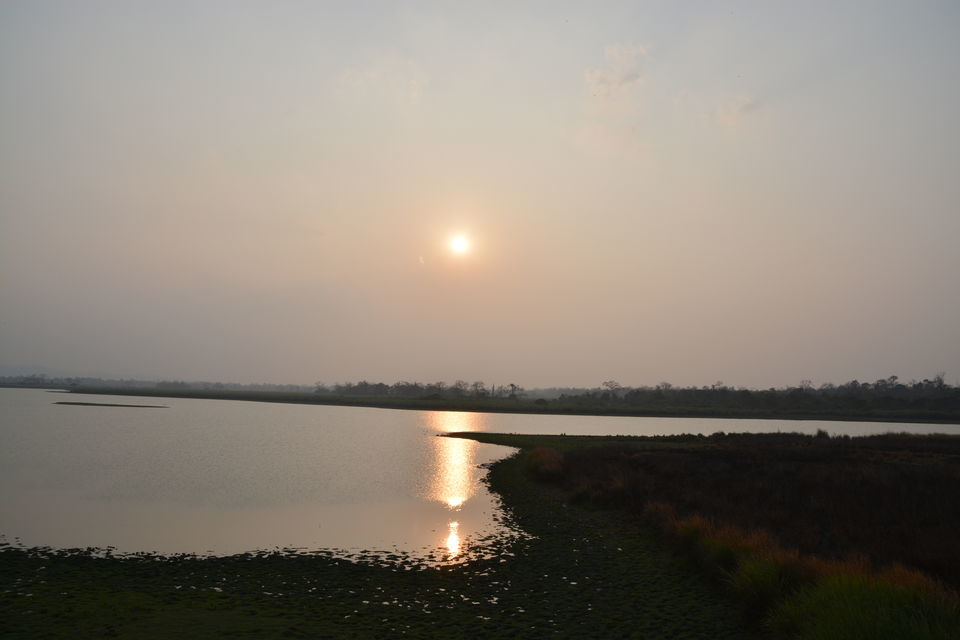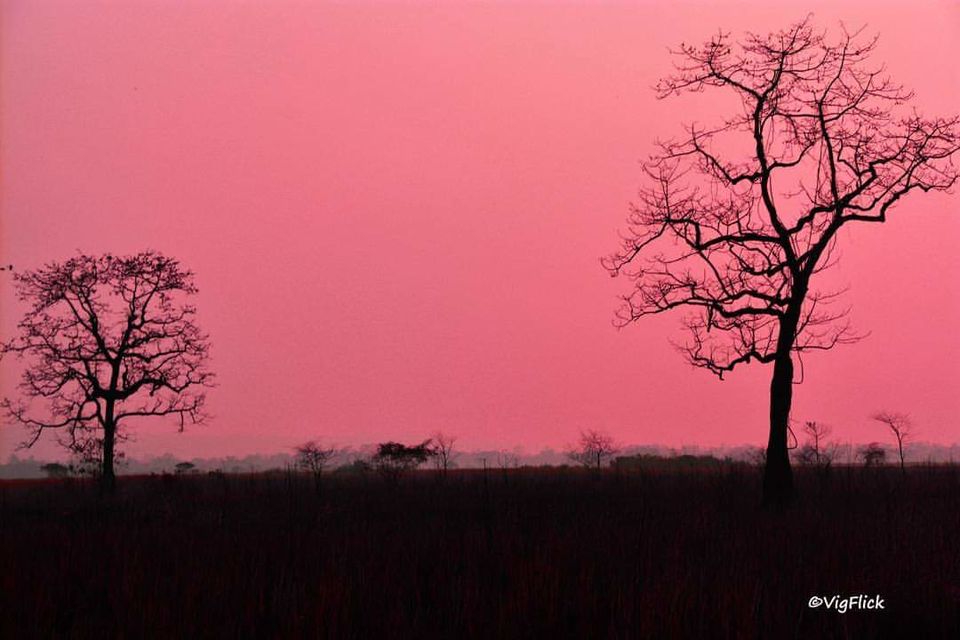 Once we returned from the safari, we booked a room near central range of Kaziranga and concluded day with dinner and card games.
Distance traveled: 50 km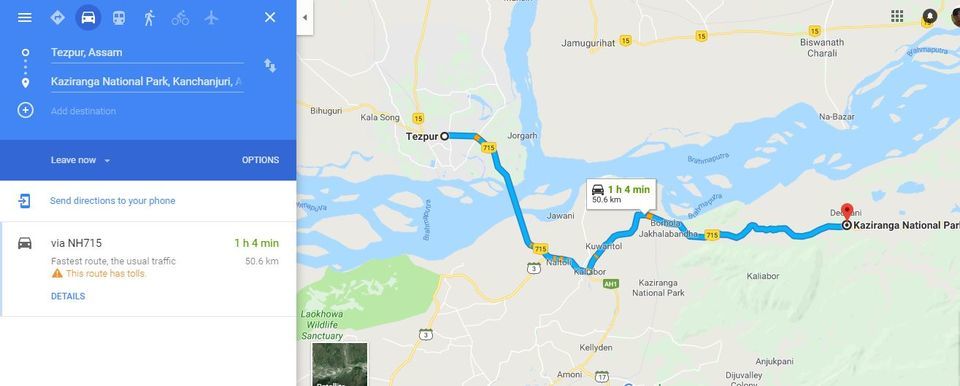 Day 7: Thursday, Feb 23, 2017 – Kaziranga, Majuli
Morning take Elephant Safari in Central Range. Kaziranga (1st Batch 5A.M) (950/head). Back to hotel & then start to Majuli. Enjoy the 1.5 hour ferry ride to Majuli from Kamalibhari Ghat (Ferry ride Timings are in the pic) ( 750/ vehicle one way). Visit the satras, see the art performances & mask making. Enjoy the bamboo hut stay. Overnight stay in Majuli (Largest River Island)
Next morning, we decided to take Elephant safari. You will see lot of Rhinos early morning and we have been told, once in a while (if you are really lucky), you can see tigers too here.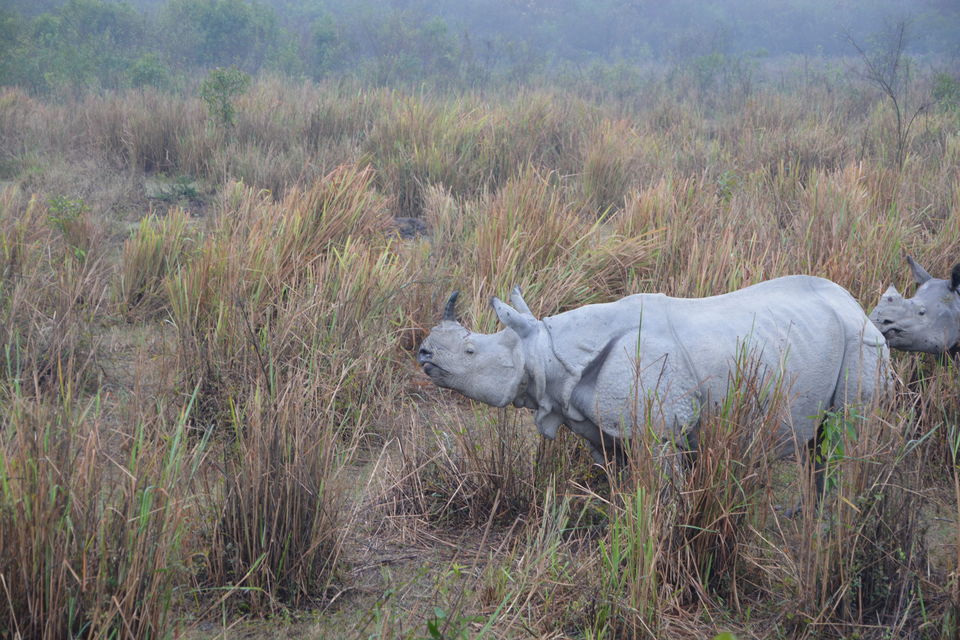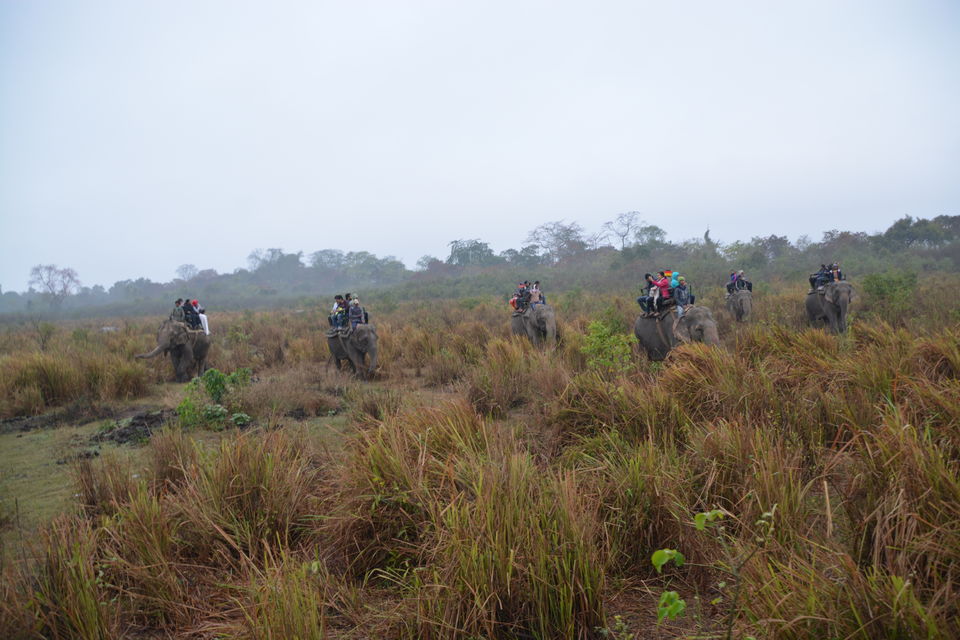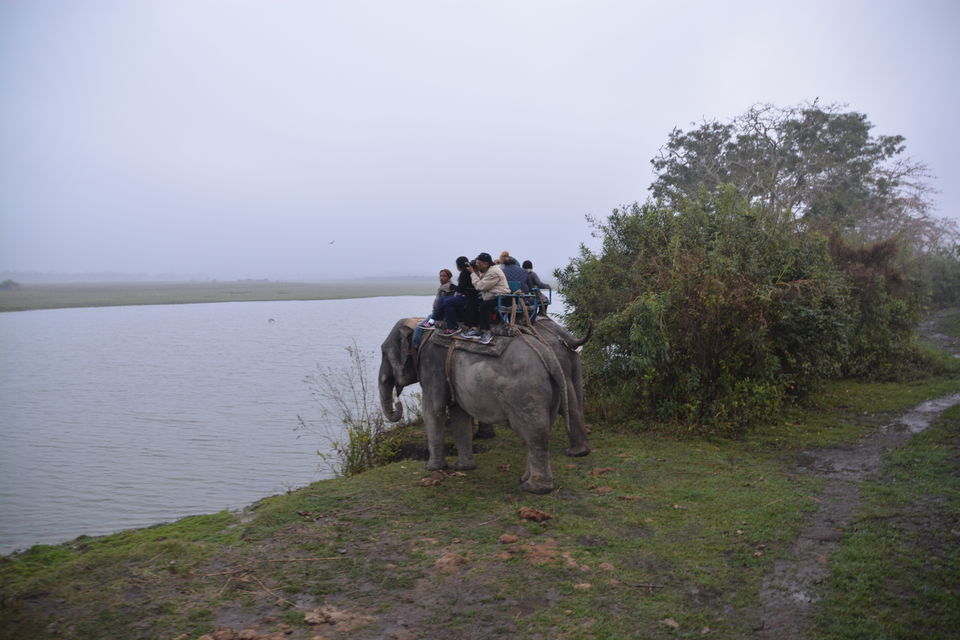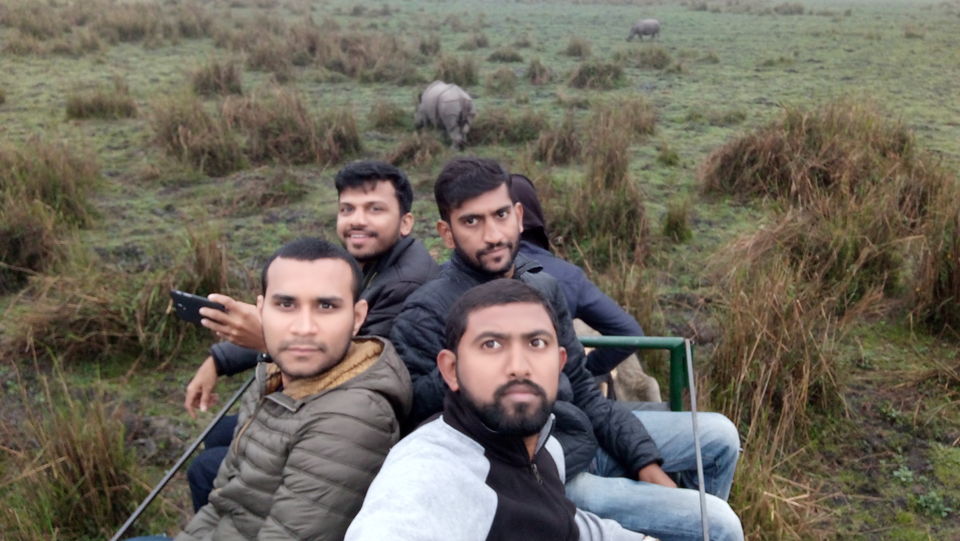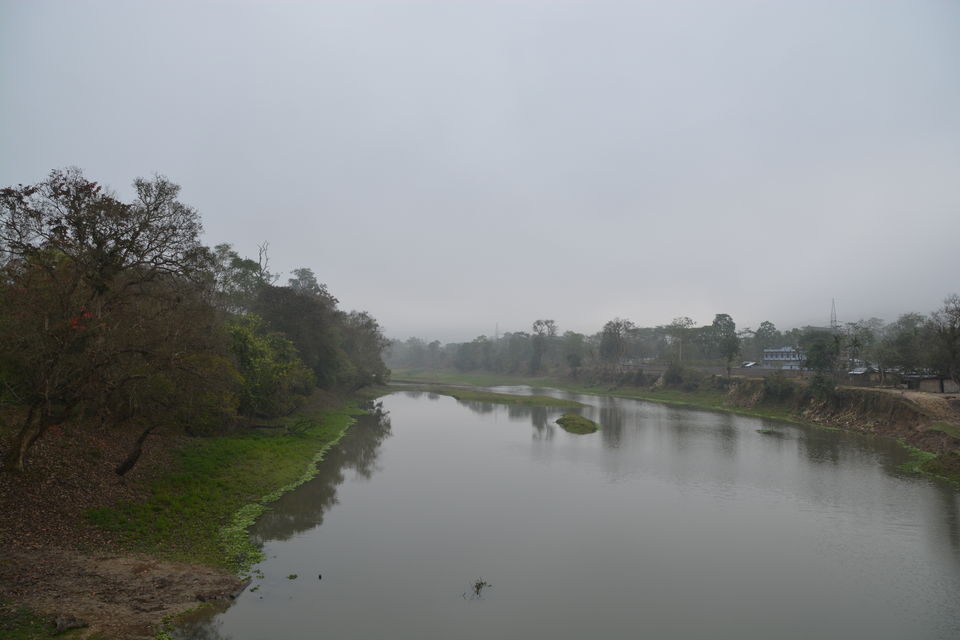 After the safari, we had our breakfast and left to Majuli. Majuli is world's largest river island. To reach this, we need to take a ferry and the duration will be close to 1.5 hours. Check the timings beforehand to avoid the long wait here. Also, if you are traveling in a sunny day, better to have a hat and shades.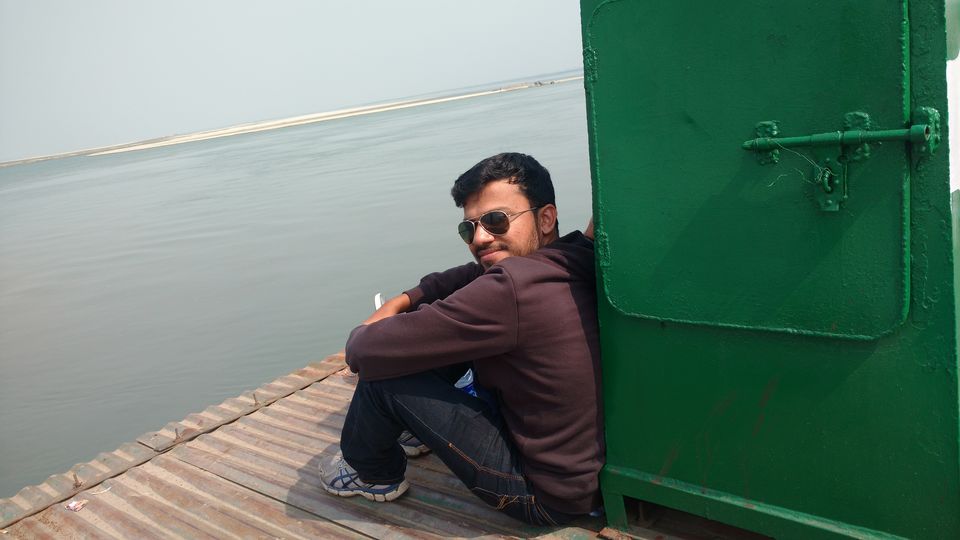 After reaching Majuli around evening, we planned to visit few Satras. Satras are the place where they create different types of masks and use it for some folk plays. If you are lucky enough, you can see some plays (it happens only during special days). When we visited, he just demonstrated with few masks on how they perform.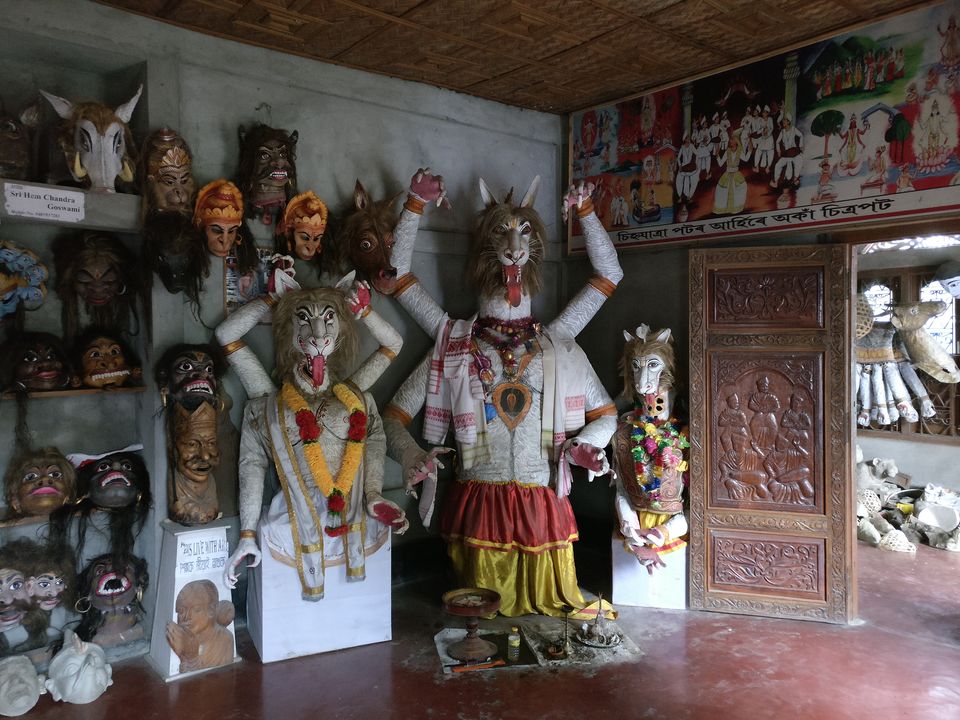 Otherwise, Majuli is not happening place and don't expect anything apart from relaxing for a day after busy trip schedule. Our stay for the night was a bamboo cottage. It will be a unique experience if you haven't had it already.
Distance traveled: 132 km (it will take more time because of ferry ride)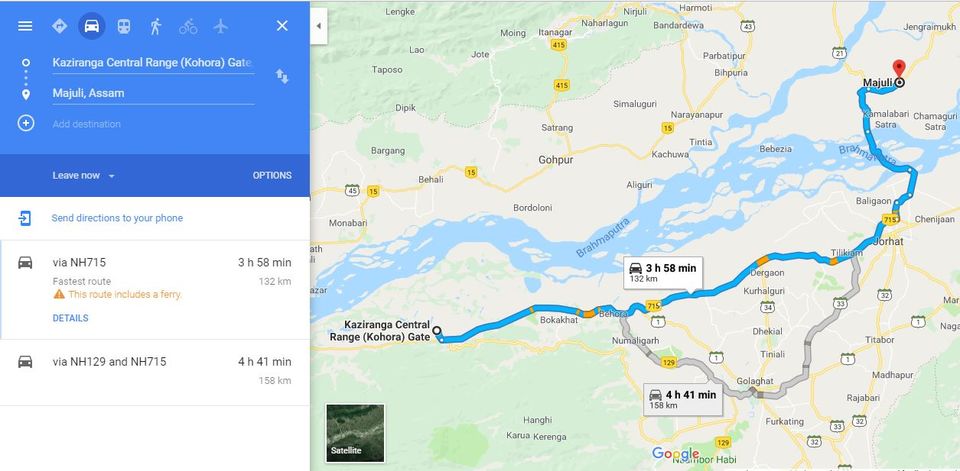 Day 8: Friday, Feb 24 – Majuli, Shillong
Majuli to Shillong. Start morning by 7:30. The whole day will be travelling. Enjoy the street food in Police Bazaar in Shillong. Overnight Stay in Shillong.
We woke up for a calm morning and had a great sunrise view.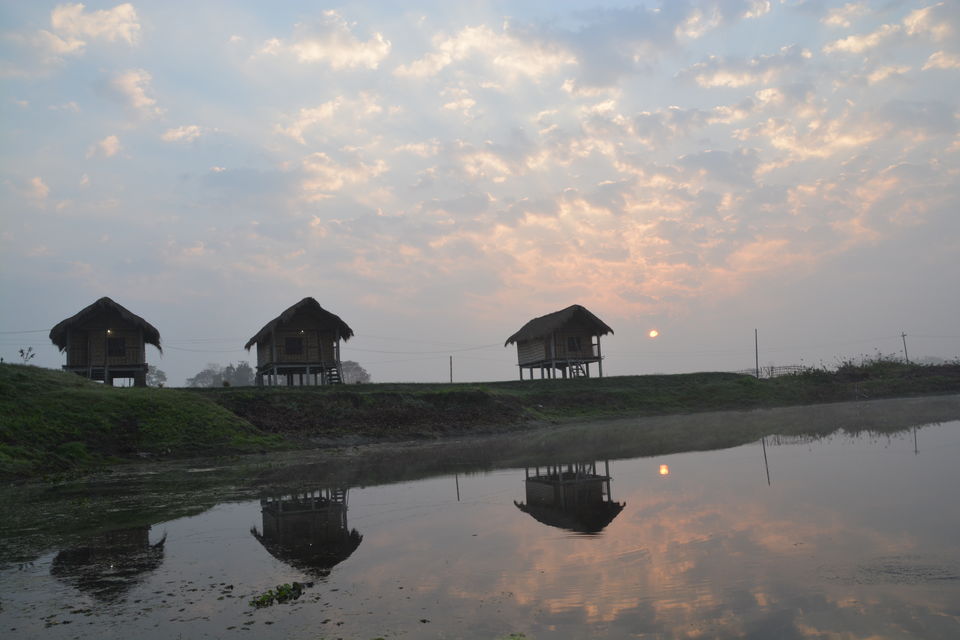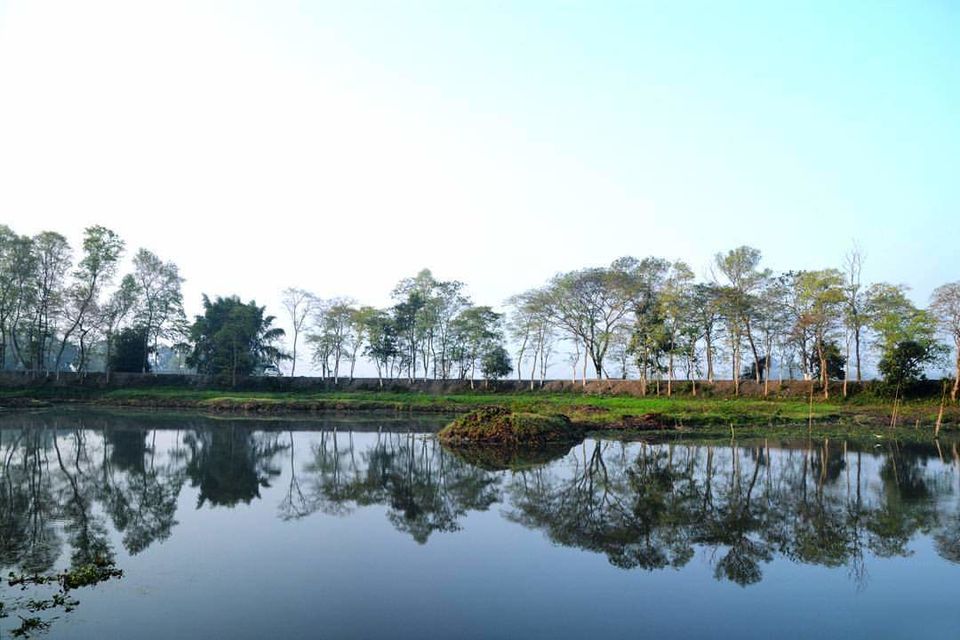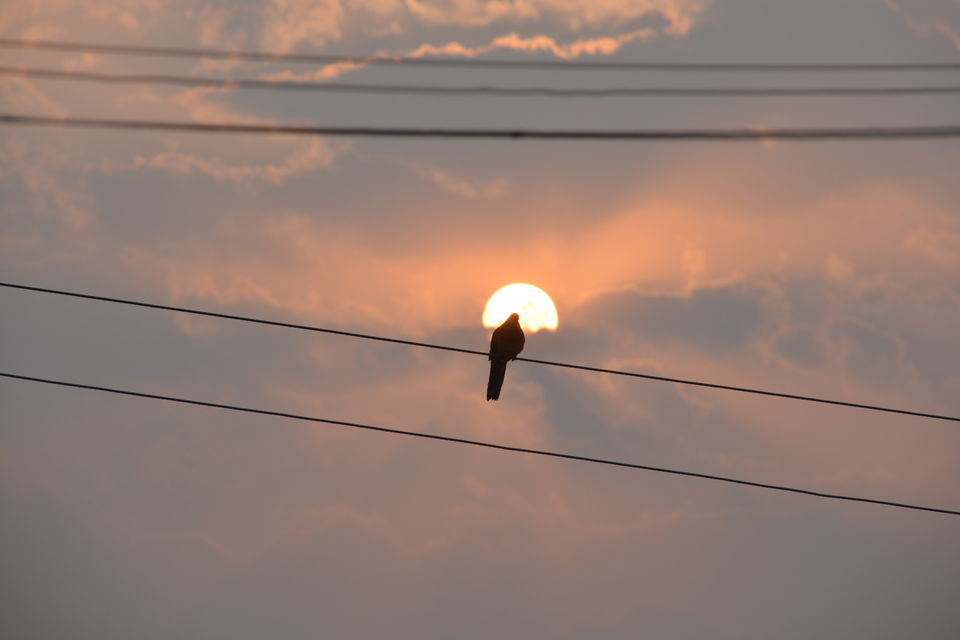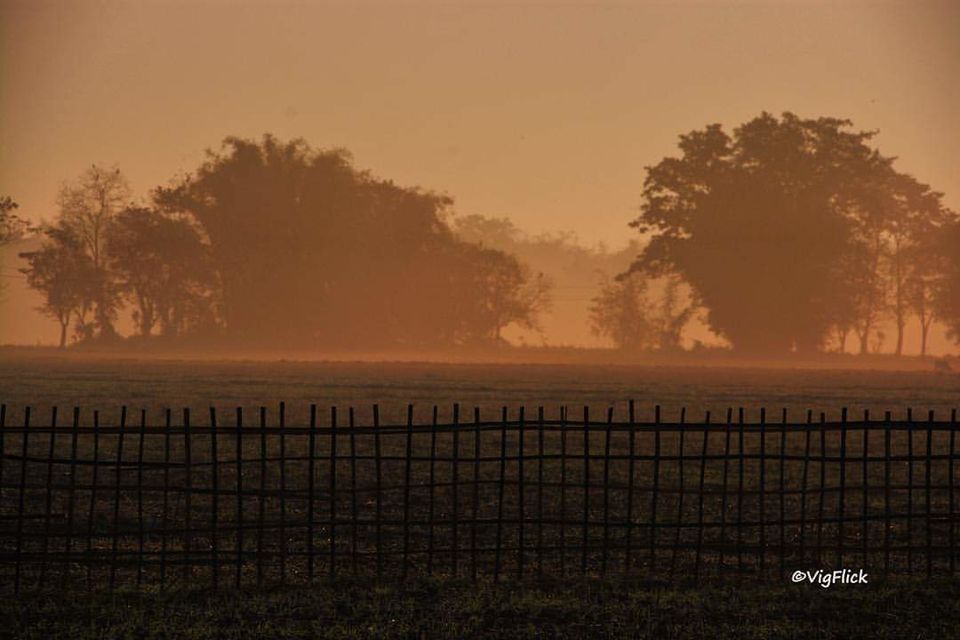 Apart from the morning views, this day was dedicated to travel entirely. We left Majuli after having breakfast and our destination city was Shillong. The road was good. But when we were nearing Shillong around evening, the traffic was too much. So we reached Shillong around 8 pm. Had to struggle a bit here to find a place to crash. Eventually found one and reached to Police Bazaar to try some street food. You will get best momos here. Chilling weather and freshness of the momos enhances its taste.
Distance traveled: 406 km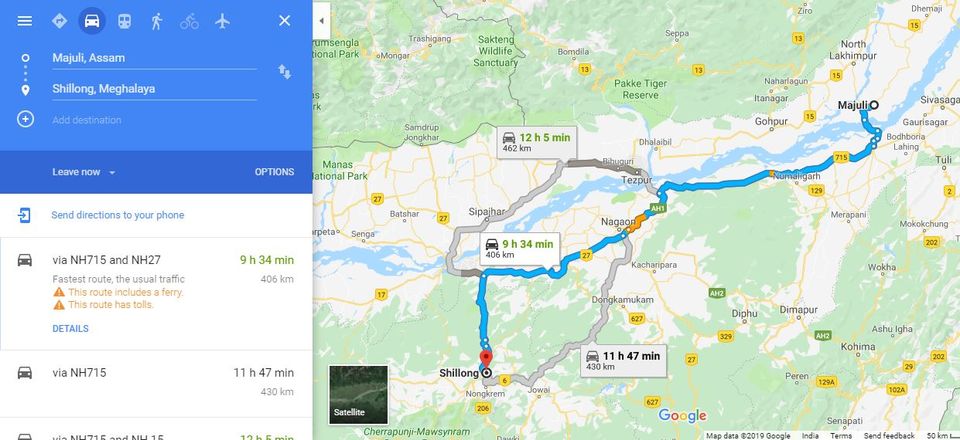 Day 9: Saturday, Feb 25 – Shillong, Dawki, Mawlynnong
We will visit the Elephant falls, Shillong Peak ( the highest point in Meghalaya) and the drive down to Dawki. Take a boat ride in the beautiful green river with clear water. Visit Bangladesh Border where the BSF & customs guards the check post. Then, head to Mawlynnong which is known as Asia's cleanest village. Take a short-cut, roads are maintained in a good condition. On the way see the beautiful Bophill Falls. Reach Mawlynnong. Take a walk around the village. Overnight Stay in Mawlynnong. It is better to contact & book the home-stays in advance. It is maintained clean, please support & maintain the cleanliness. Plastics are prohibited in the village & they request us no to throw any sort of plastic (even bottles) in dustbin. Plastics should be taken back to our places
We started our day by visiting Shillong peak. The view of the city is good from here and was very breezy.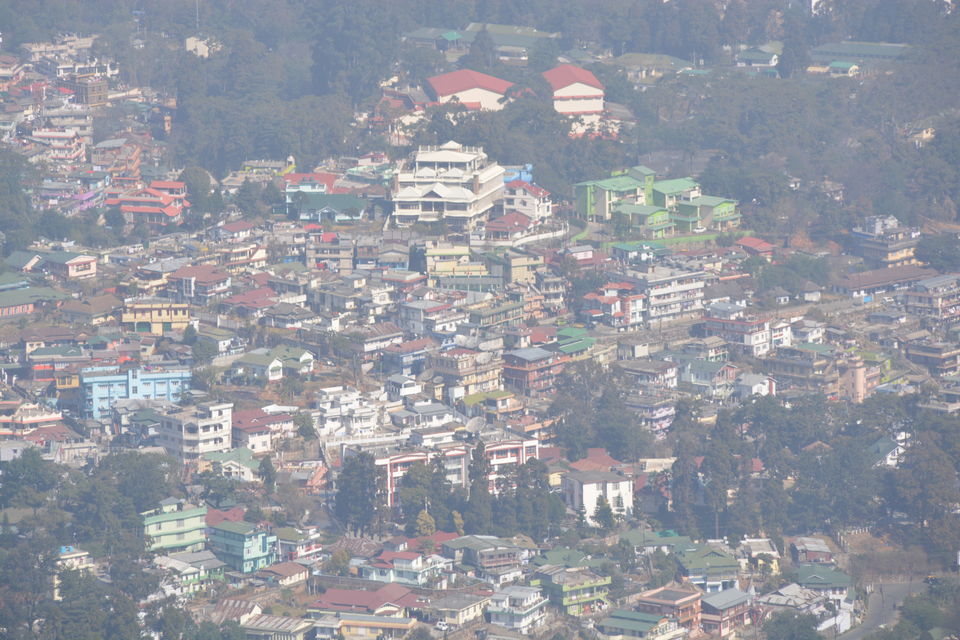 Also, you can try out ethnic dress here. We had lot of fun with it.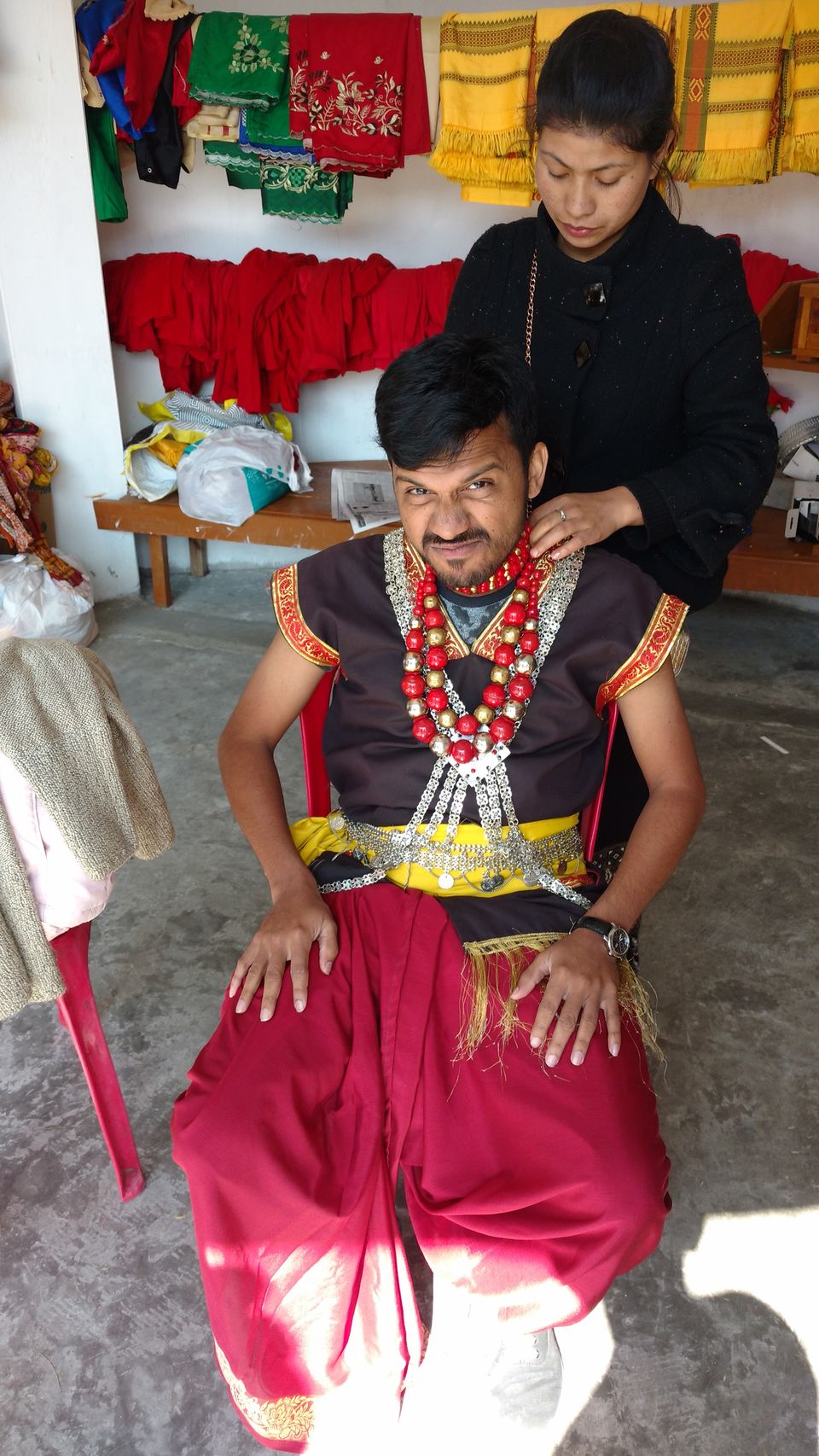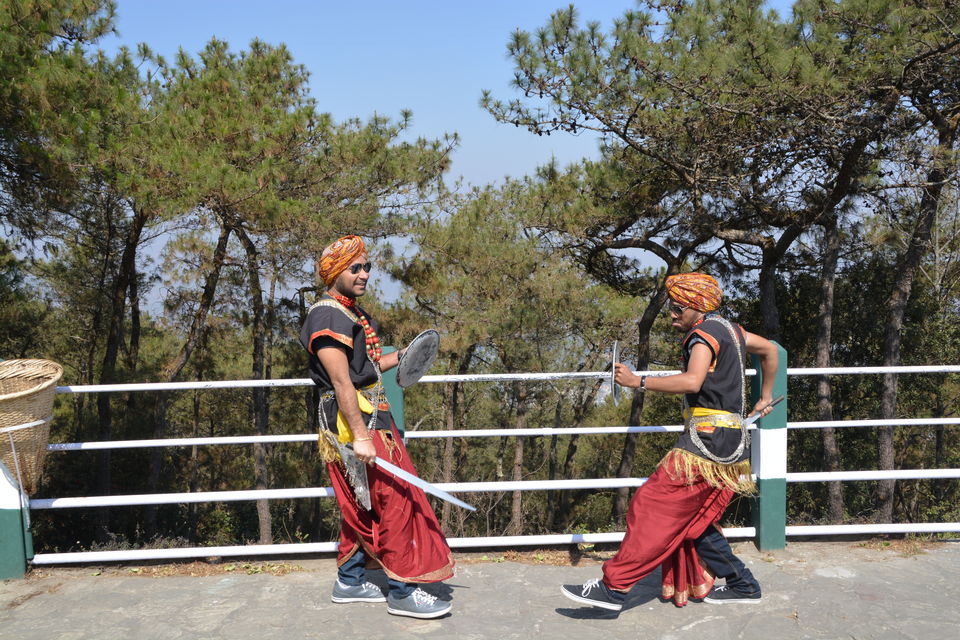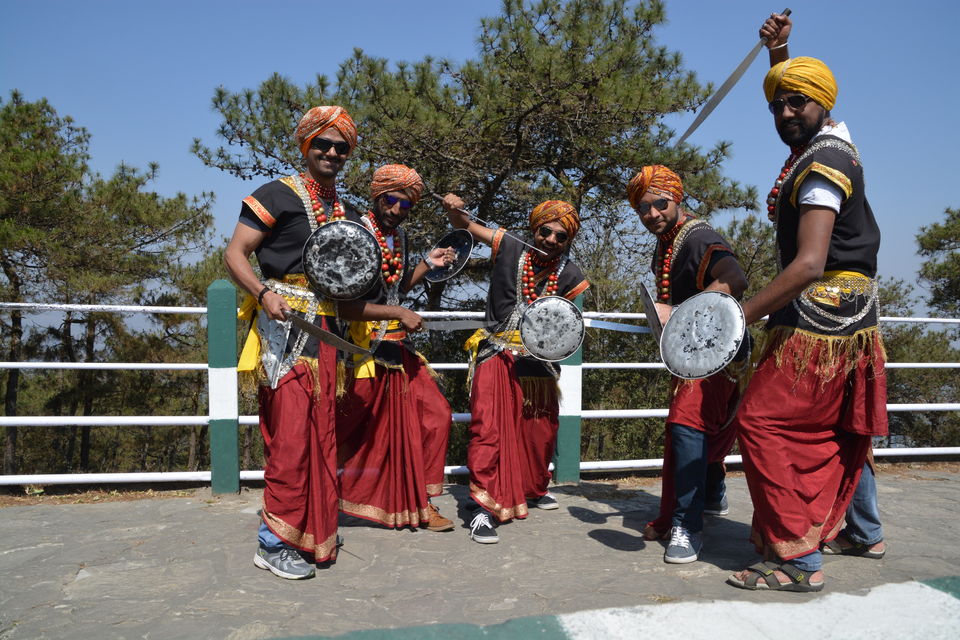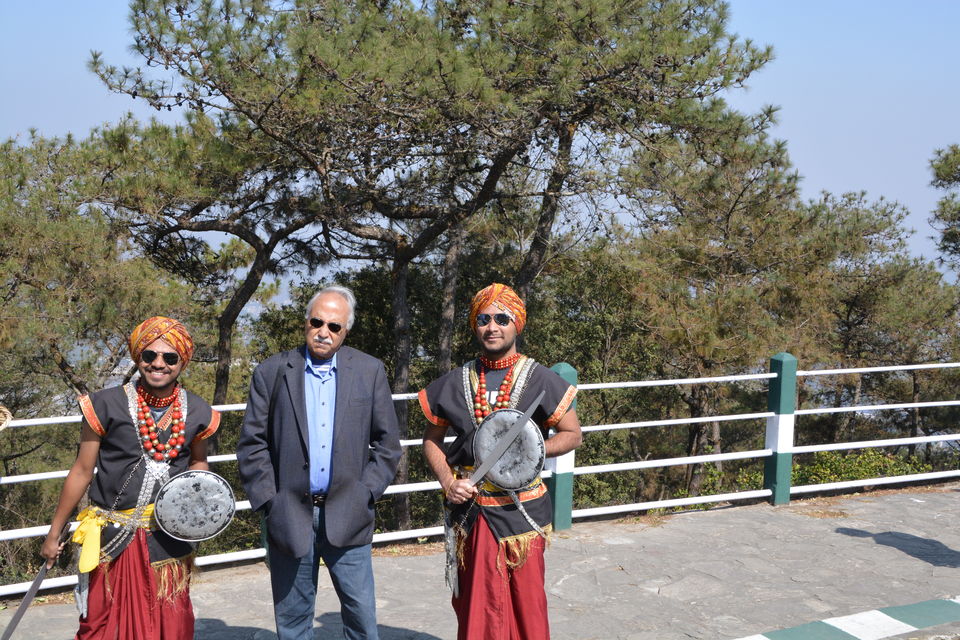 After shillong peak, we visited Elephant falls. It is having multiple falls and we can watch it from several places.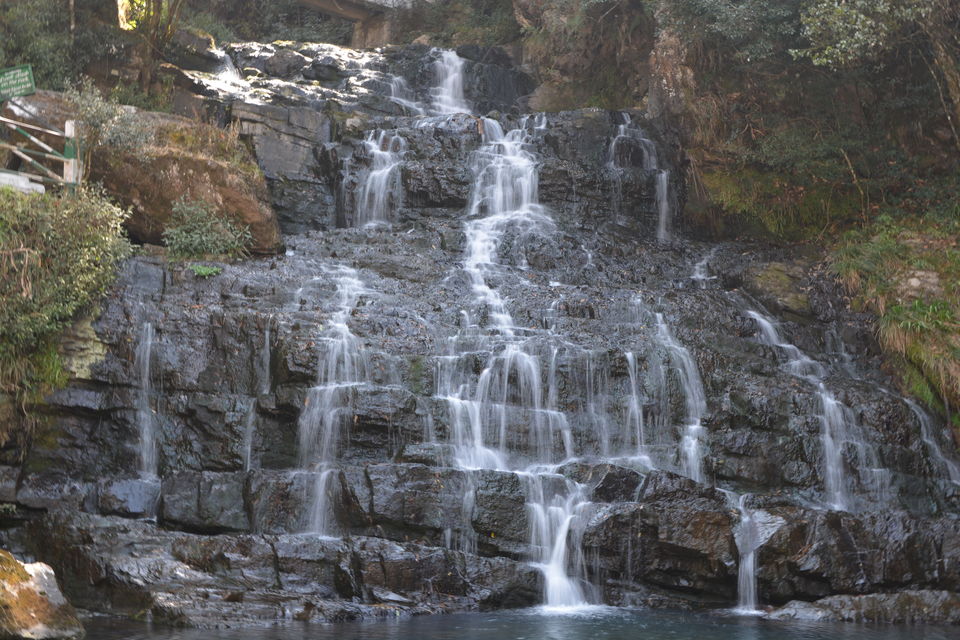 From here, we left to Dawki. It was not right time to visit Dawki because the water was not clear like it is known for. We took a small boat ride.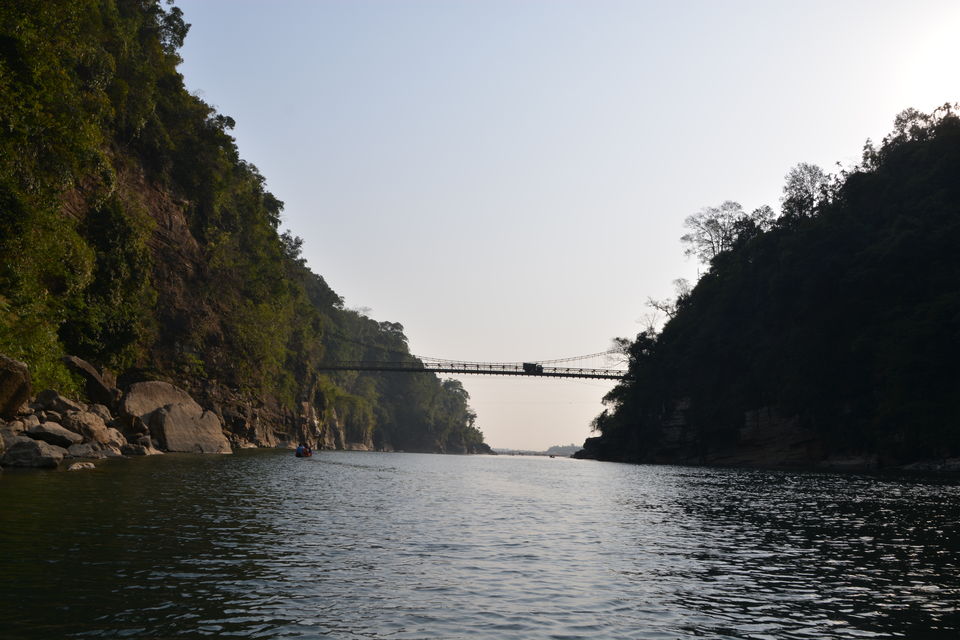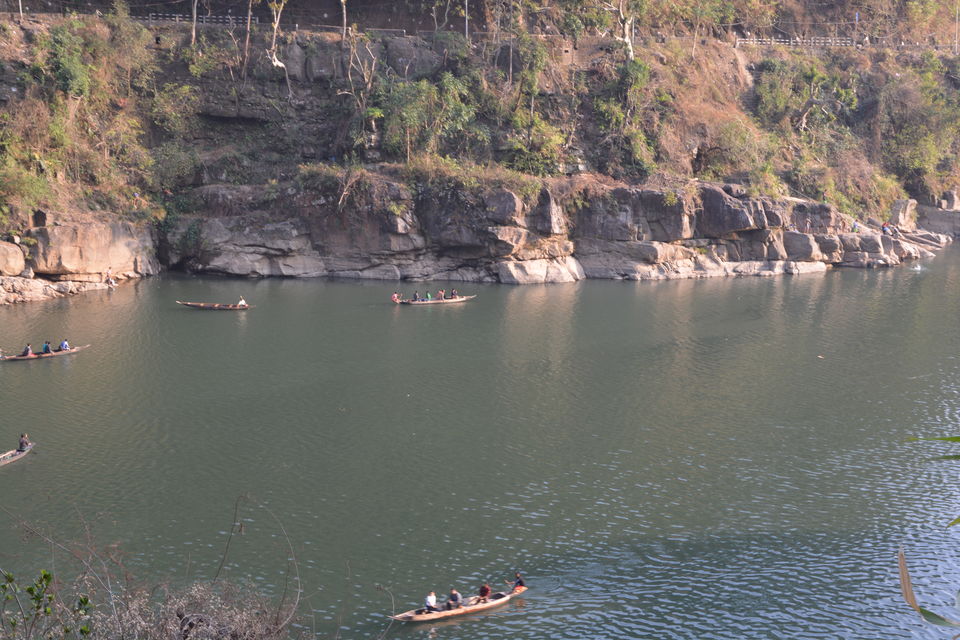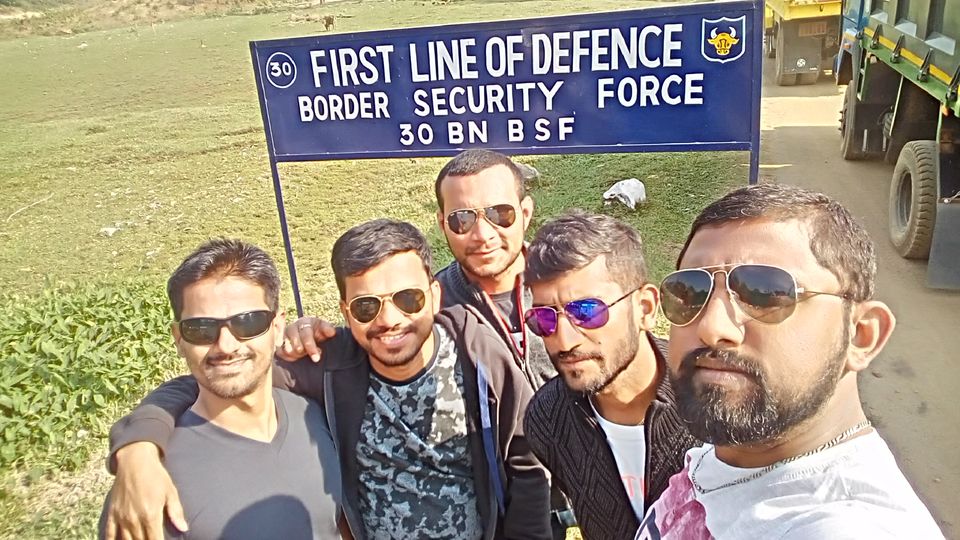 From Dawki, we took a short cut to reach Mawlynnong. It was for 2 reasons – to enjoy nature and there is another unknown waterfalls on the way - Bophill Falls. One can watch it from a bridge and it is really good.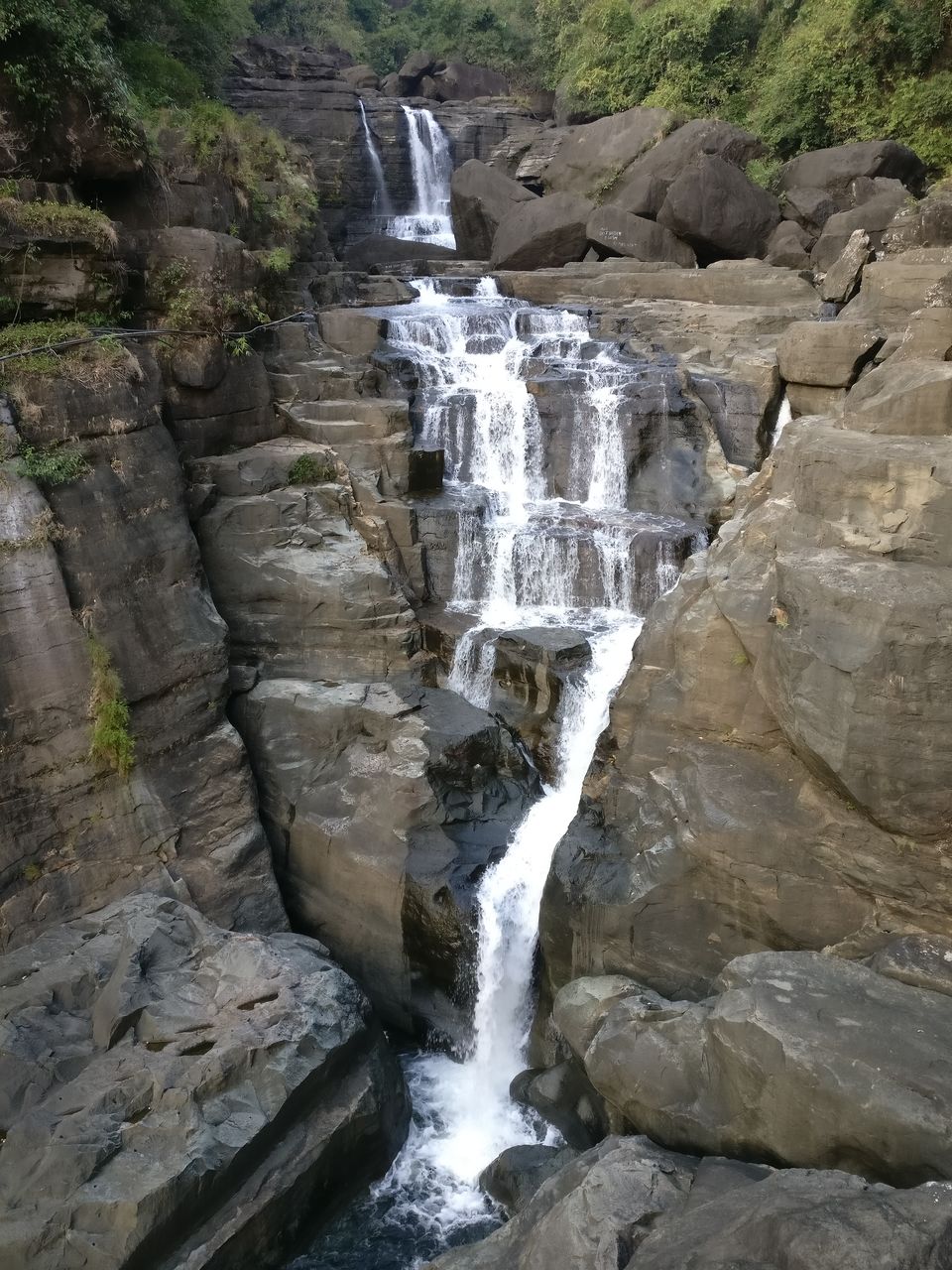 Late evening we reached Mawlynnong. It was awarded with Asia's cleanest village in 2003. We have to appreciate the locals to keep it really clean even now amidst of lot of visitors.
Distance traveled: 116 km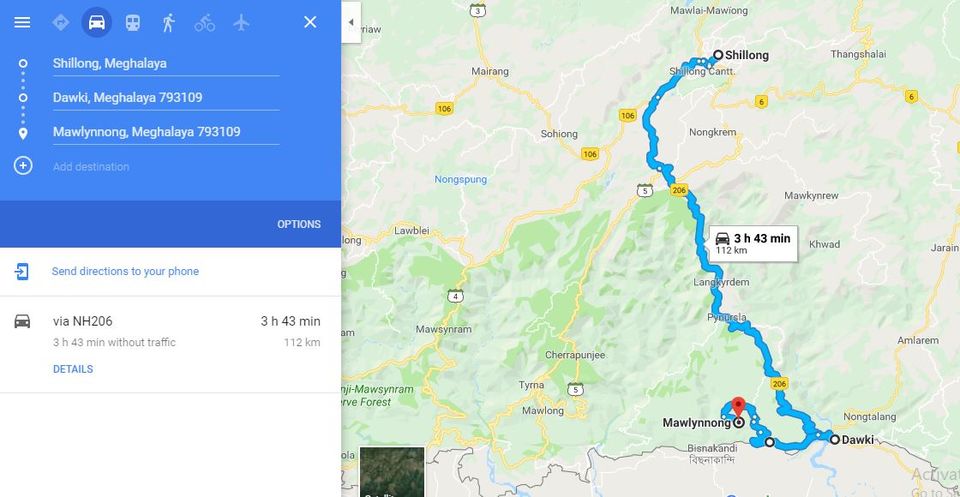 Day 10: Sunday, Feb 26, 2017 – Mawlynnong, Cherrapunjee
Start by 7A.M. Visit Single Decker Living Root Bridge. Drive down to Cherrapunjee. Visit the Nohkalikai Falls (the fourth highest falls in the world), Seven sister Falls, Eco Park Danthlen Falls, Mawsmai Cave & khoh Ramhah (go down to view the falls). Overnight Stay in Cherrapunjee.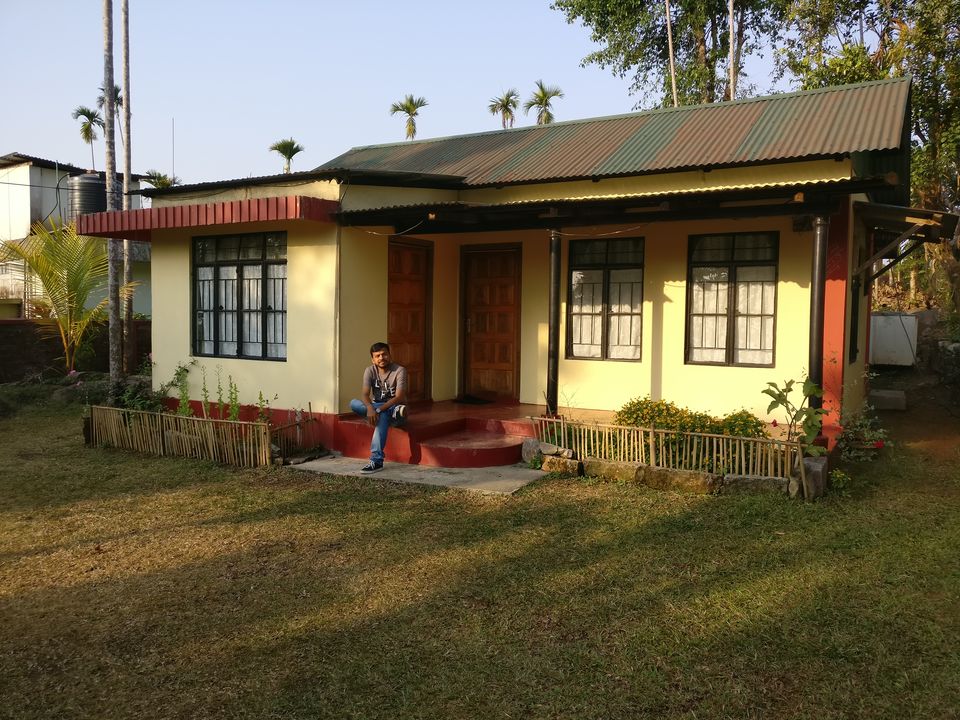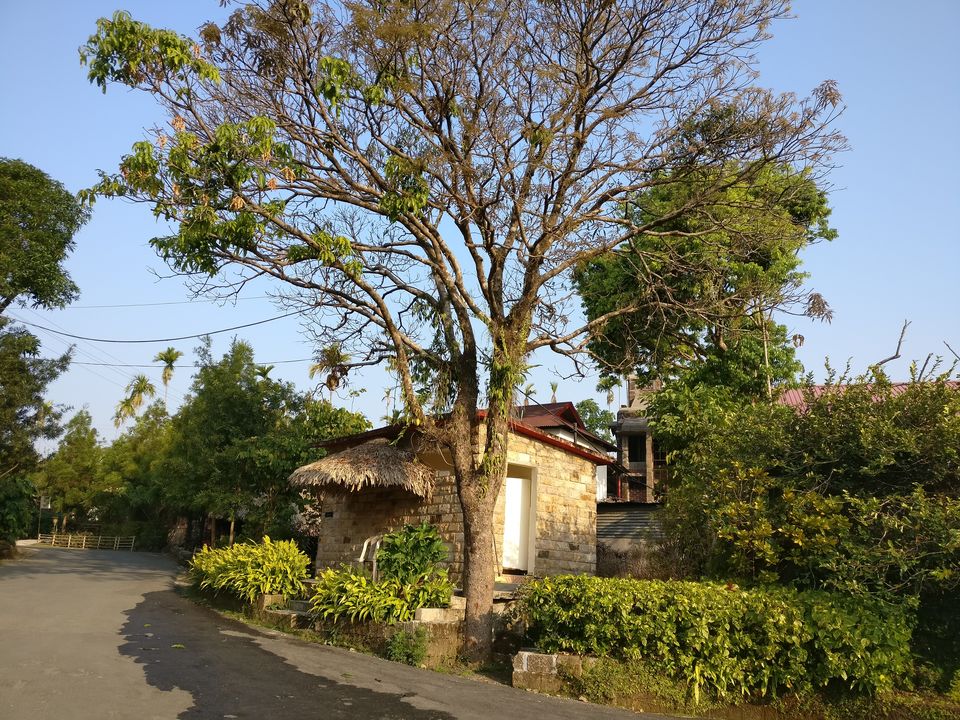 Early morning, we decided to see single decker living root bridge in Mawlynnong. One thing you will keep thinking when you are walking here is why can't we keep all the places this clean.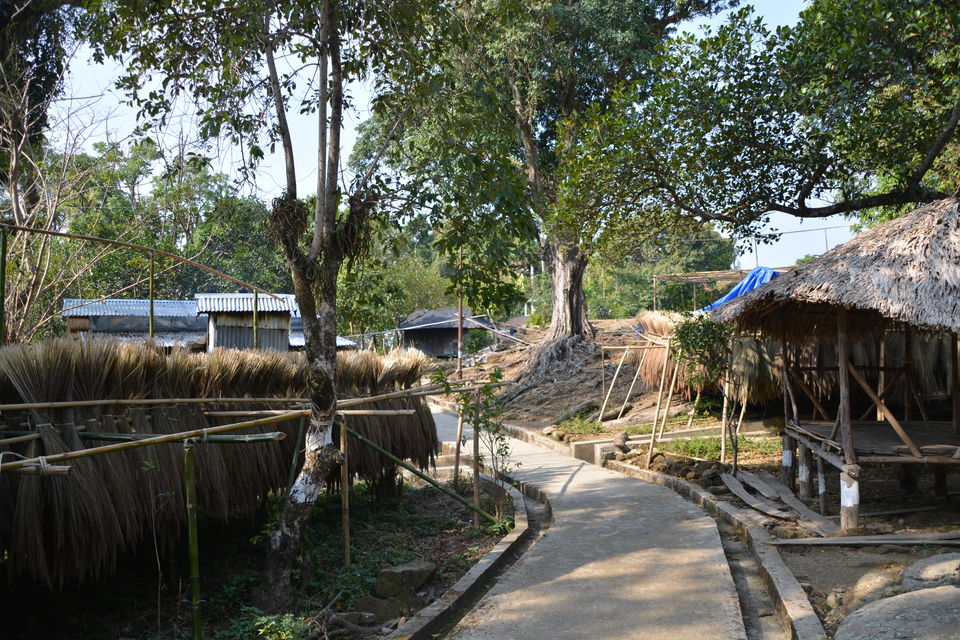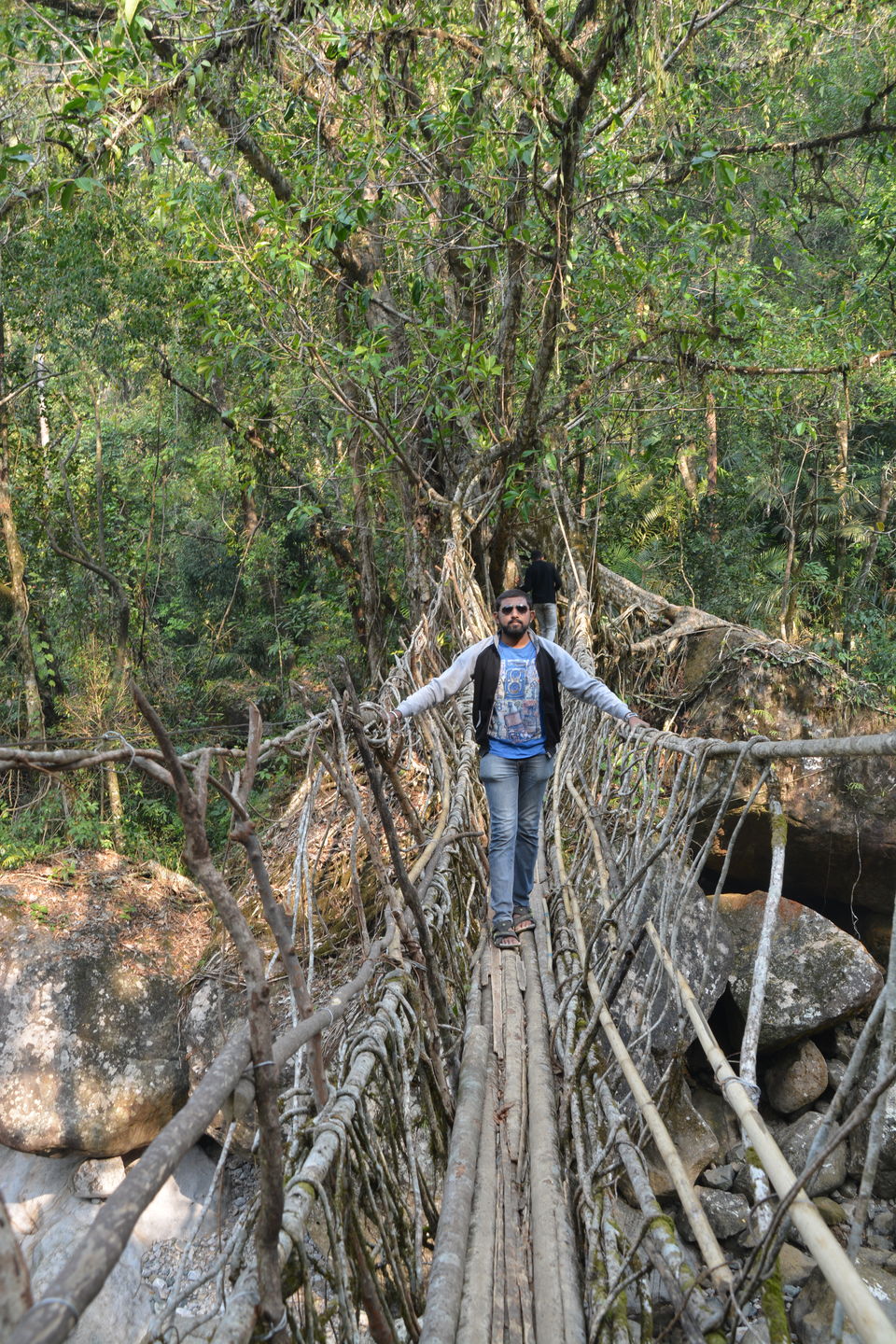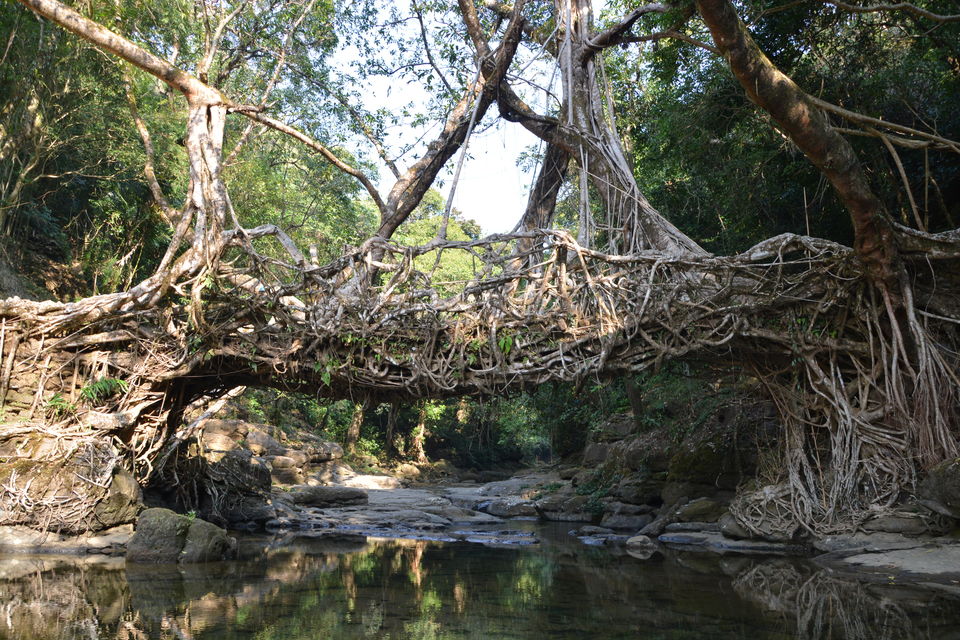 After having breakfast in Mawlynnong, we headed towards Cherrapunjee. The mountains on either side of the road will make it a great stretch to drive.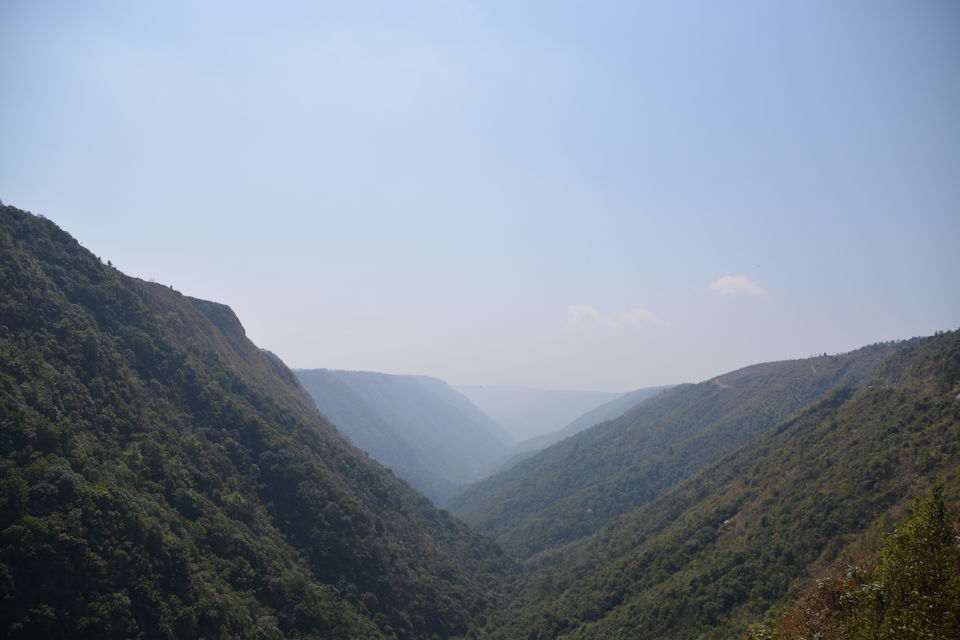 Our first place to visit in Cherrapunjee is Nohkalikai Falls. If weather and authority permits, one can plan to visit the bottom of this falls. We decided not to since we had several other place to visit in the day. The view of the fourth highest waterfalls in the world is as it is supposed to :)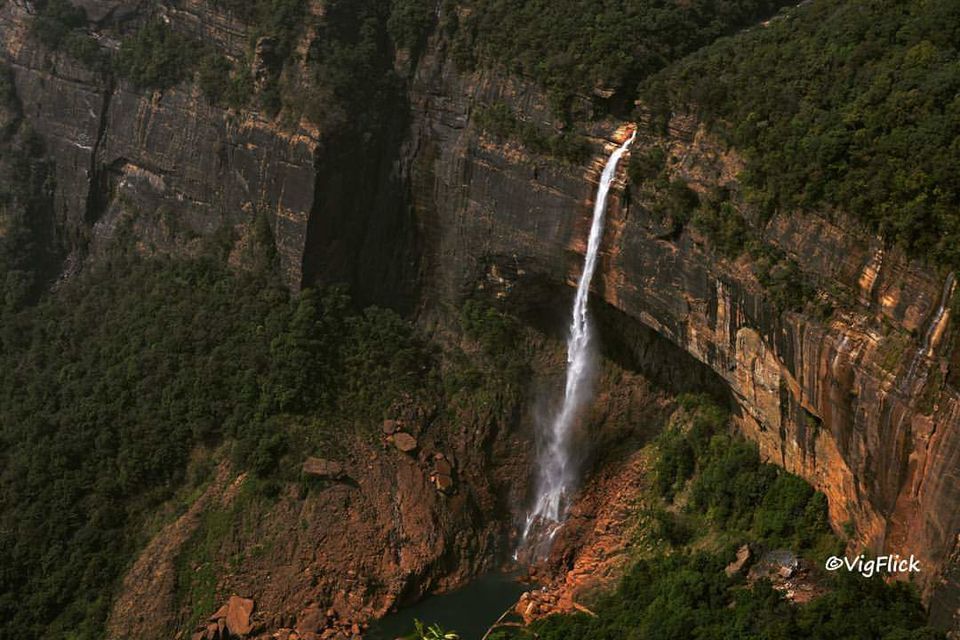 From here, we left to famous seven sisters waterfalls. It was disastrous as there was no water.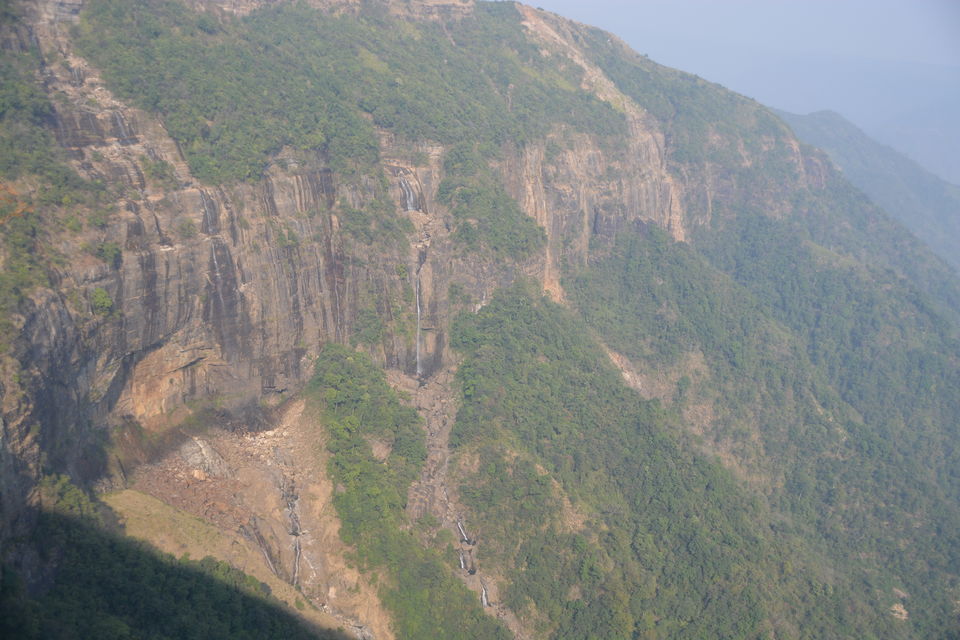 Another flop of the day was, Eco Park Danthlen Falls. We have been told the view will be spectacular during rainy days, but we were not lucky enough.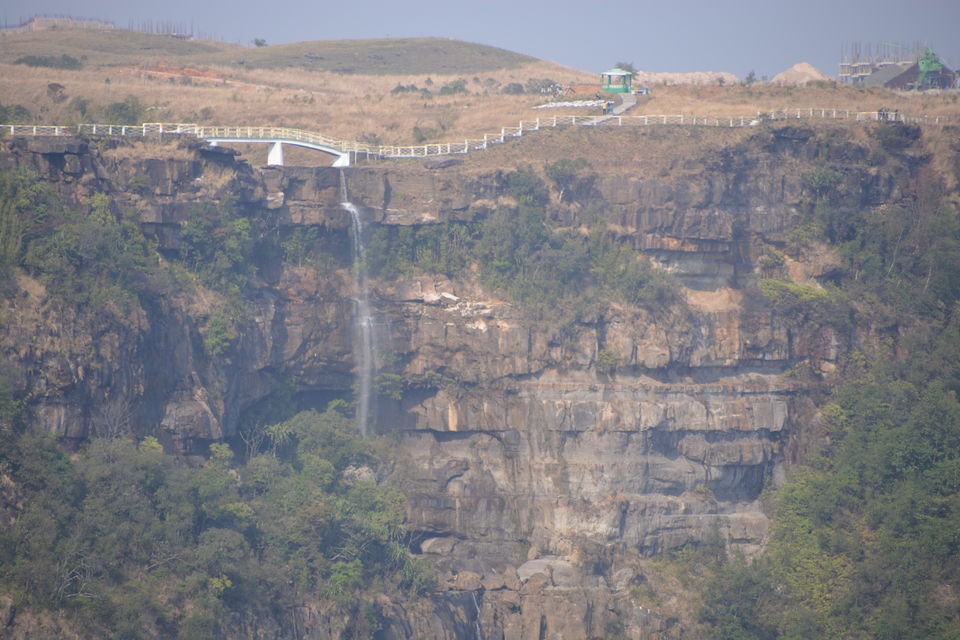 Our next destination was Mawsmai Caves. Situated around 6 Kms from Cherrapunjee, the Mawsmai Caves are a major crowd puller that leaves tourists spellbound. These limestone caves have the distinction of being the only caves in Meghalaya that are lit enough to enable tourists to enjoy the natural formations in awe (http://www.cherrapunjee.net/Mawsmai-Cave.php).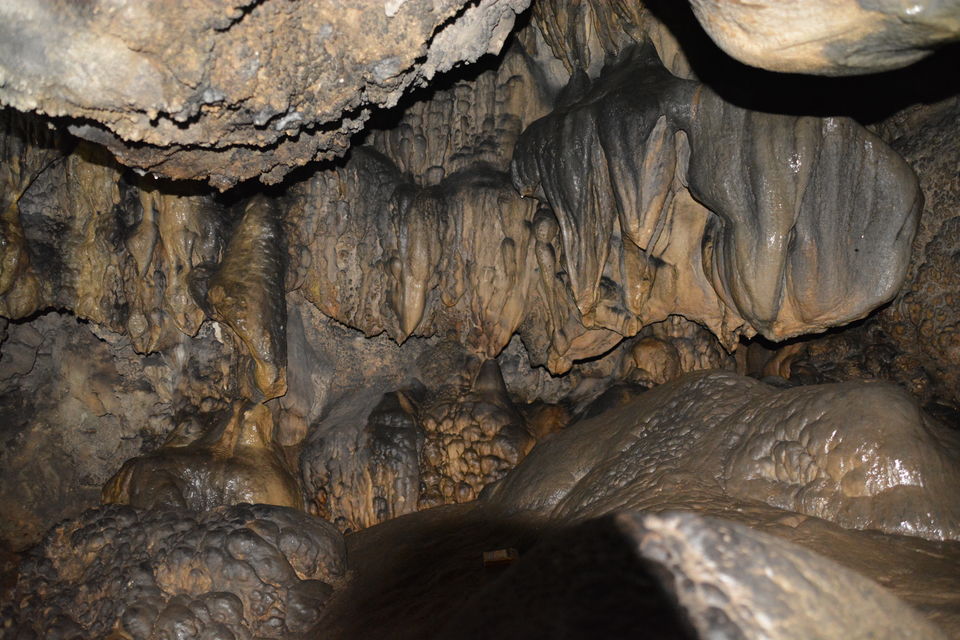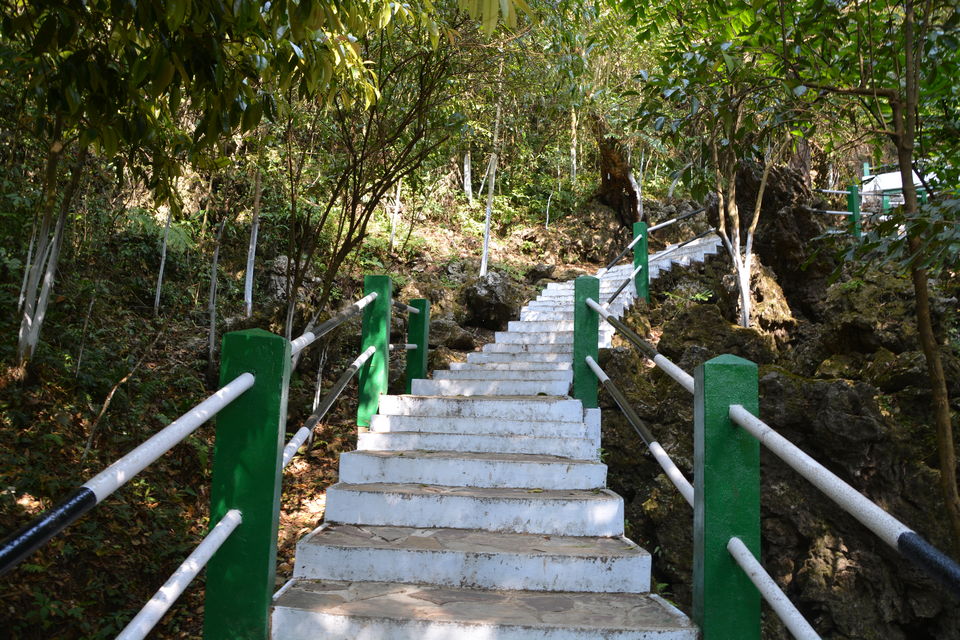 From the Mawsmai Caves, we left around evening to Khoh Ramhah. Khoh Ramhah, also known as Pillar Rock or Mothorp is another major tourist attraction of Sohra. The very shape of the rock keeps one spellbound as it is an impressive rock formation in the shape of a giant cone. In fact, situated besides the Khoh Ramhah are two very similar rocks, smaller in size (http://www.cherrapunjee.net/Khoh-Ramhah.php).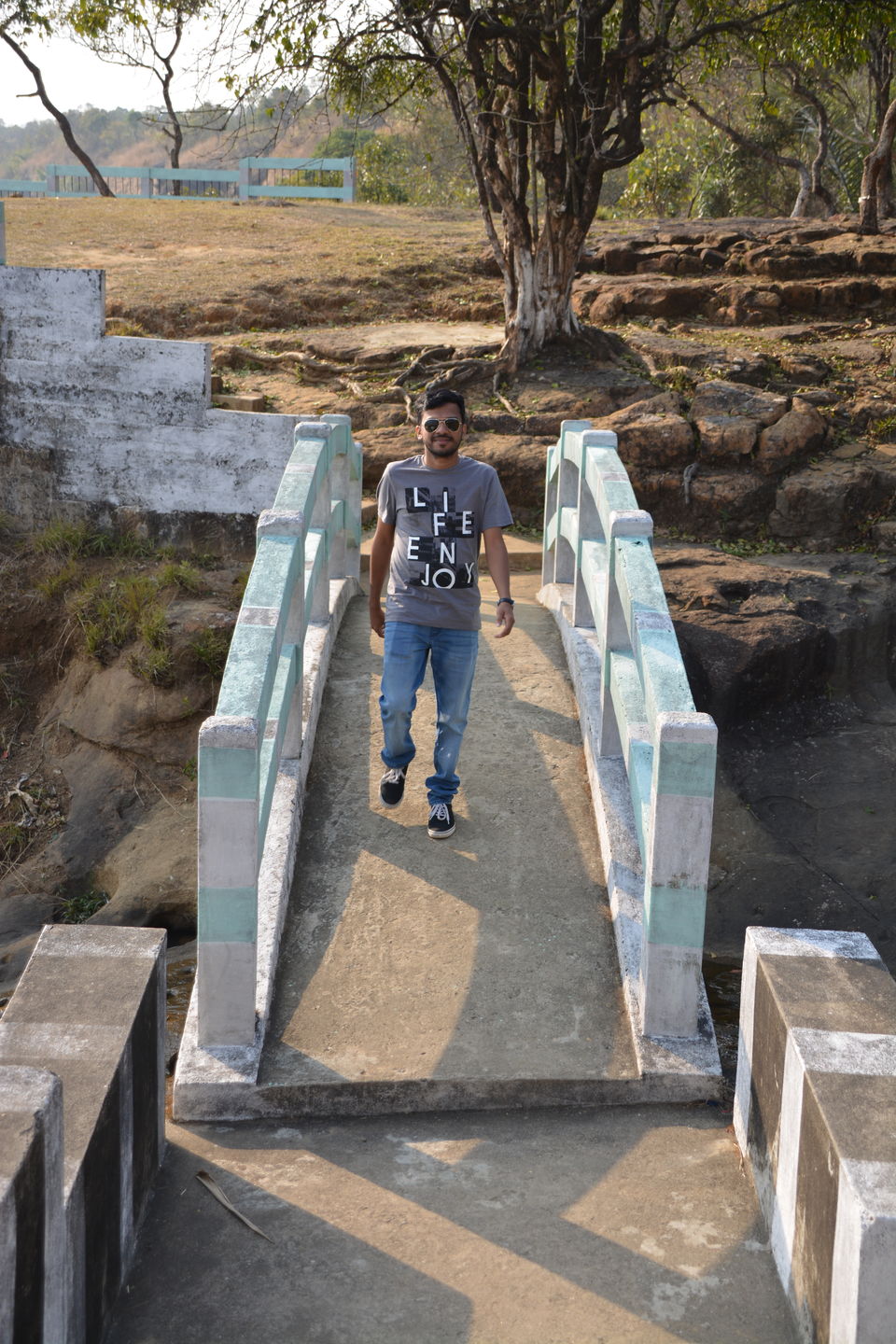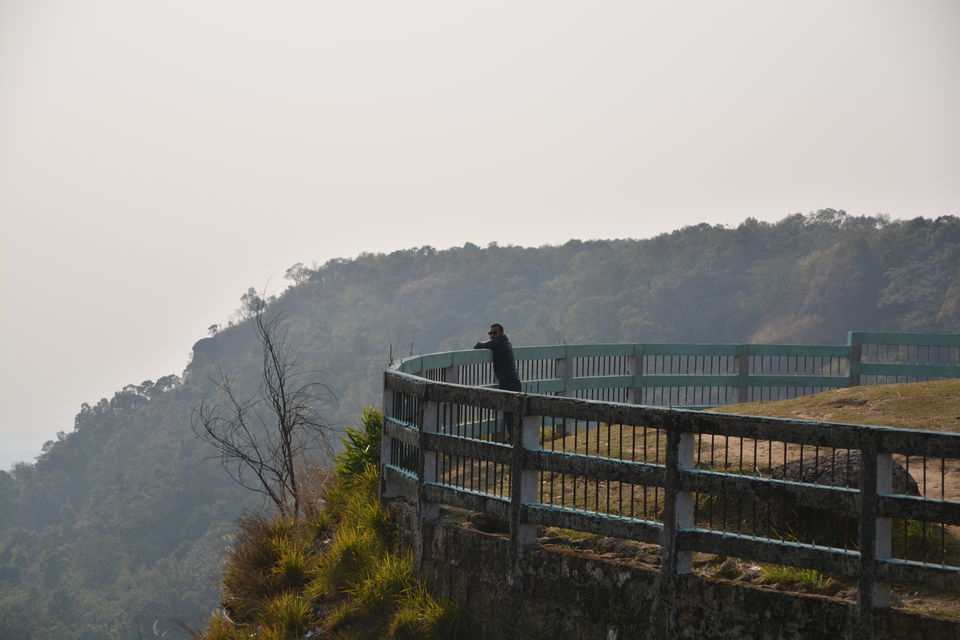 There is a waterfalls nearby if you walk for 5 minutes. You can reach the top of waterfall here, and it is best place to spend evening calmly.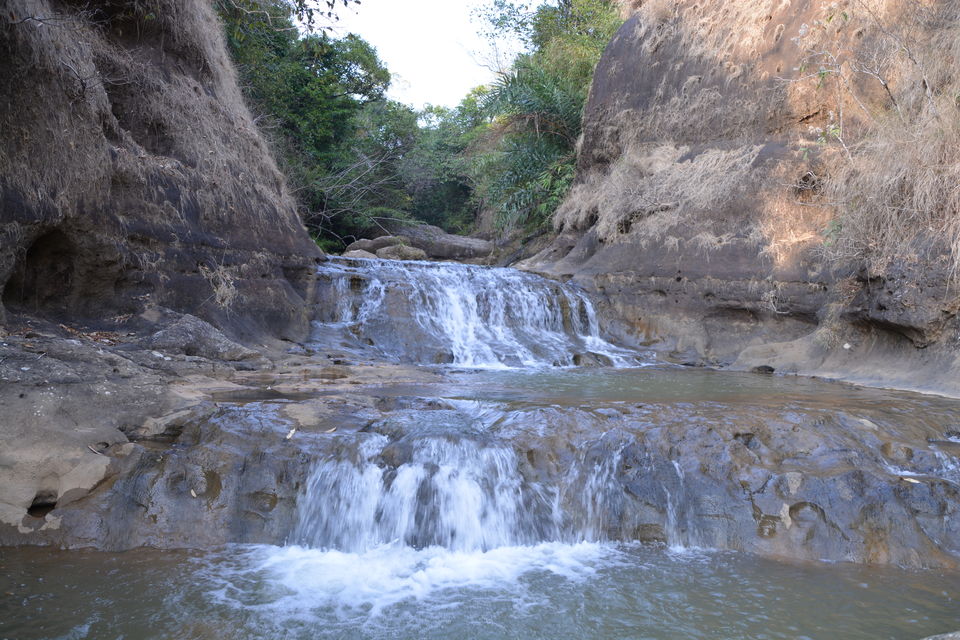 Then we came back to the Cherrapunjee city to stay for the night. It is a small and calm town.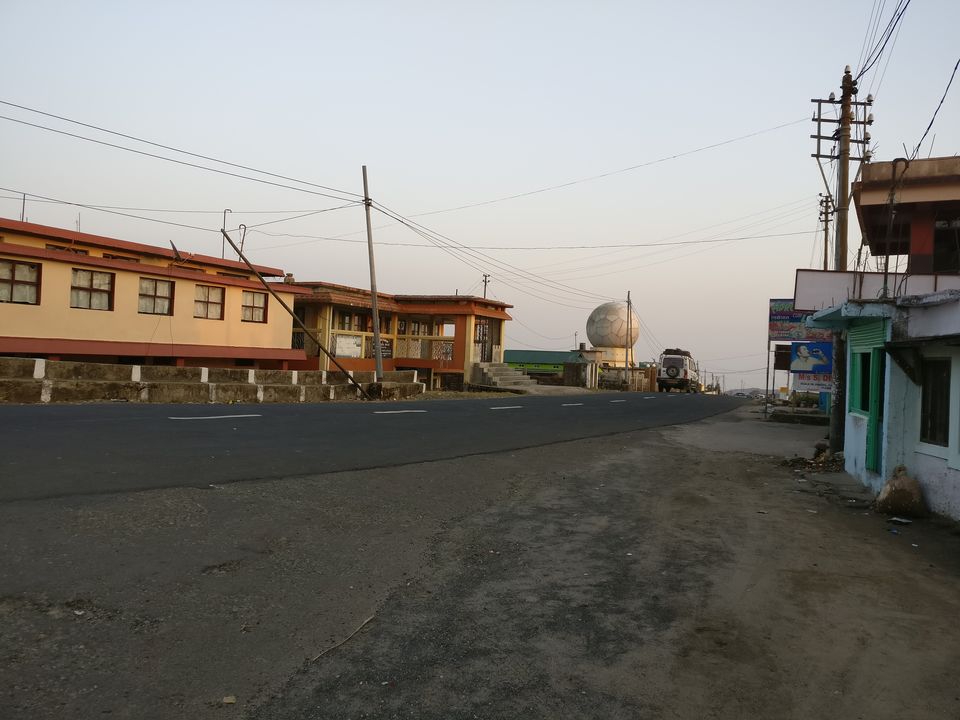 Distance traveled: 117 km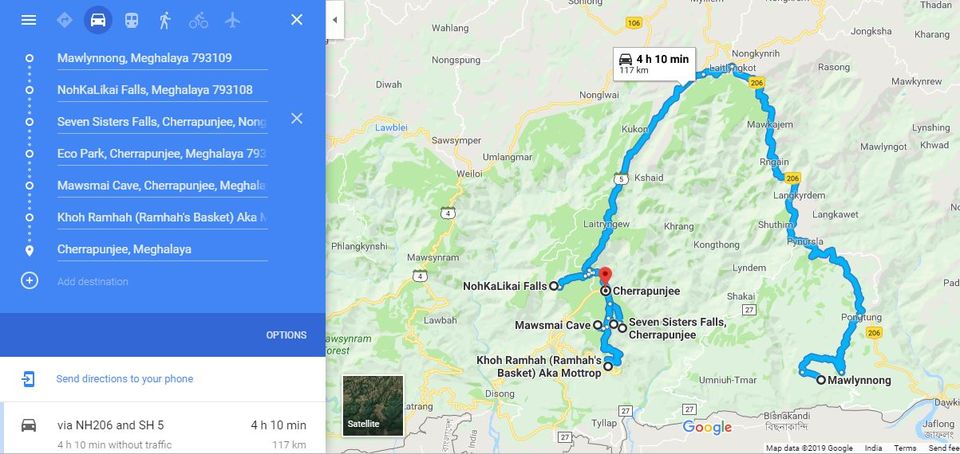 Day 11: Monday, Feb 27 2017 - Tyrna Village, Guwahati
Start to Tyrna Village, early by 6A.M, Drive down to the Tyrna village, park the vehicle. Start early morning trek to the double-decker living root bridges.Then trek down through Double Decker Living Root Bridge (approx 2 hours from the start.) around 3,000 steps will take a couple of hours just to reach the bridges. It is an amazing trek crossing the swinging bridges. On the way, food & soft drinks are available. From the Root Bridge trek another an hour to Rainbow falls, amazing Remote falls( Food & Drinks not available on the way). Take a dip in the lake, trek back to the Tyrna Village. Overall, a difficult tiring trek climbing around 3000 steps one way. Drive down to Guwahati. Overnight Stay in Guwahati.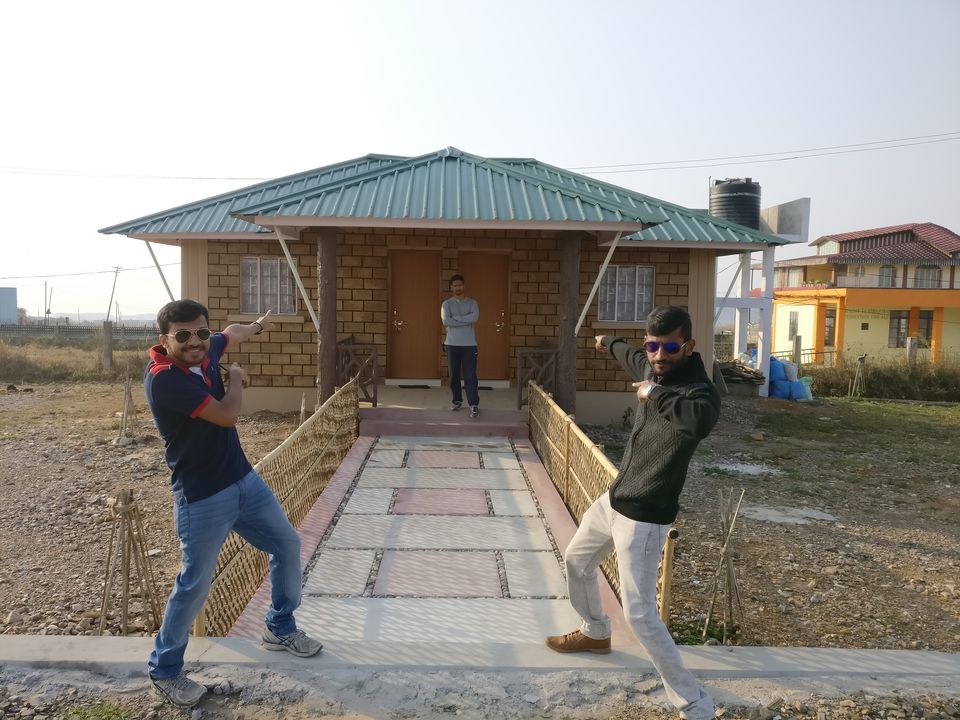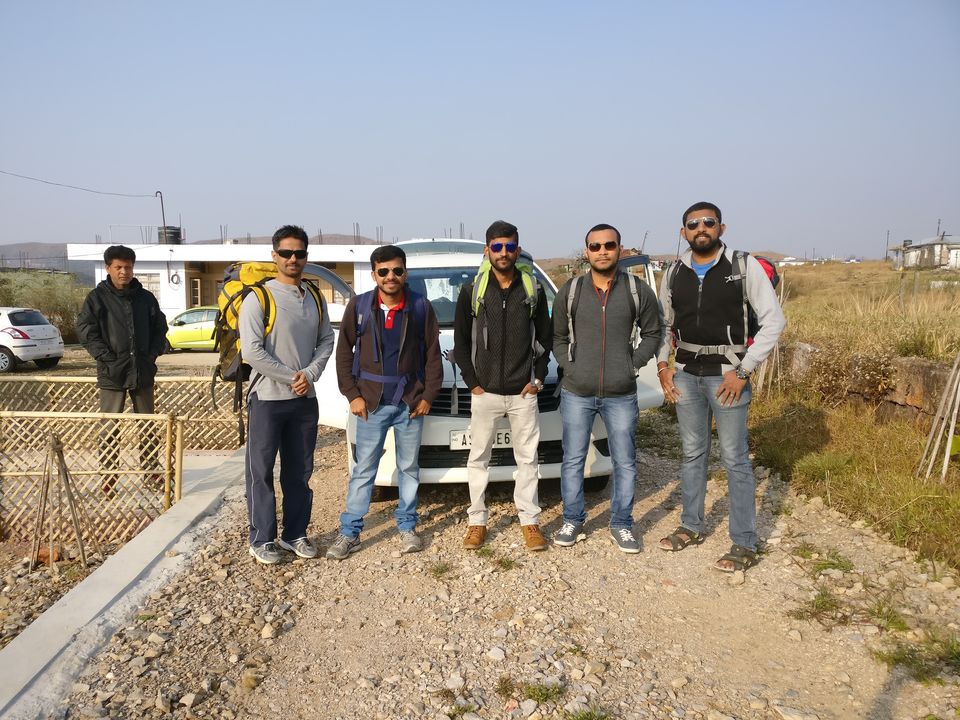 Early morning, we had breakfast and left for Tyrna village. As we knew this is most difficult day of our trip, we kept it for the last. The places we planned to visit were Double Decker Living root bridge and Rainbow falls. We drove to Tyrna village and from there the trek starts. One needs to have great stamina to reach both the places. But trust me, these will be among most beautiful places you will ever visit.
It begins with climbing down the steps.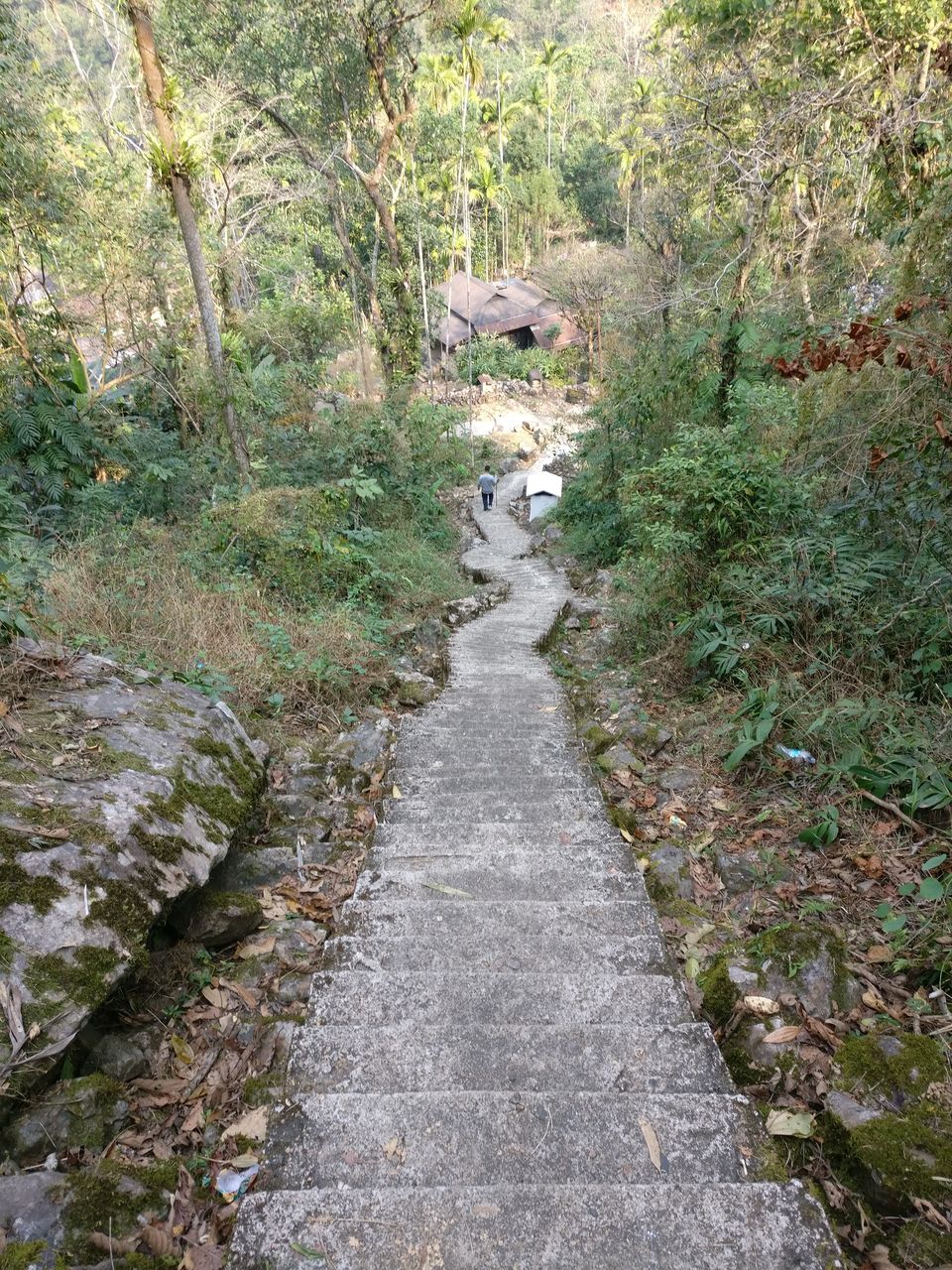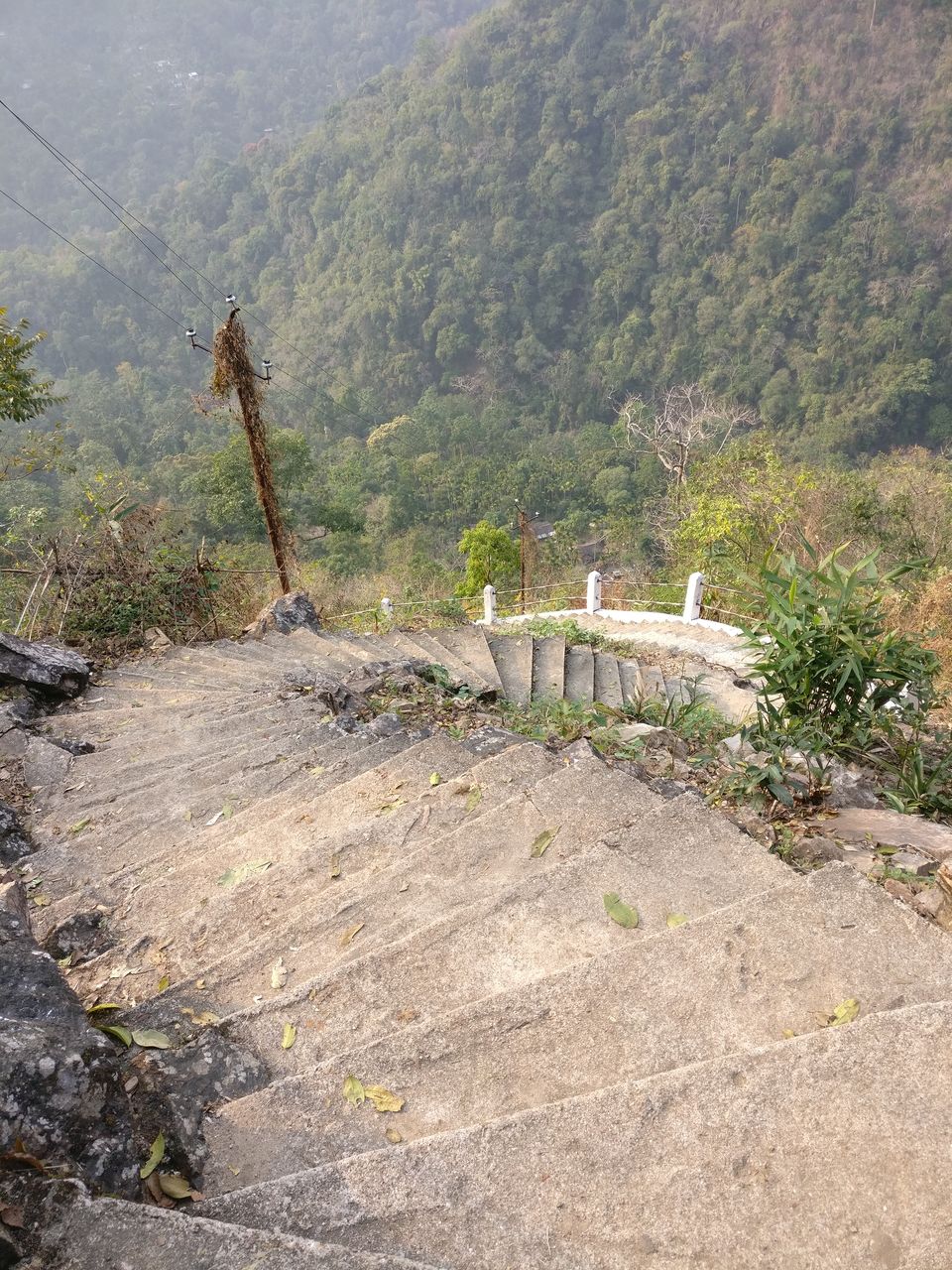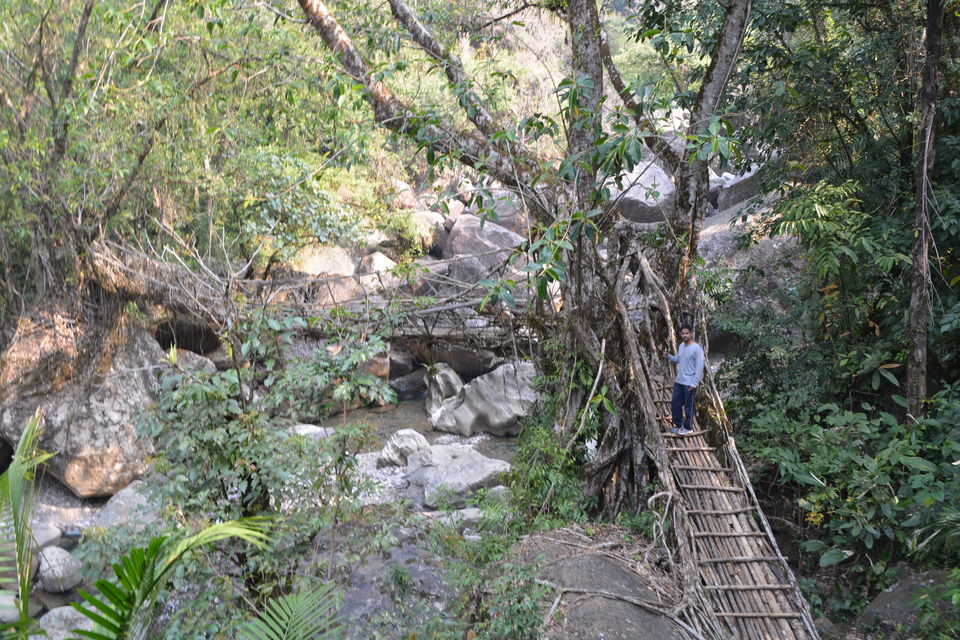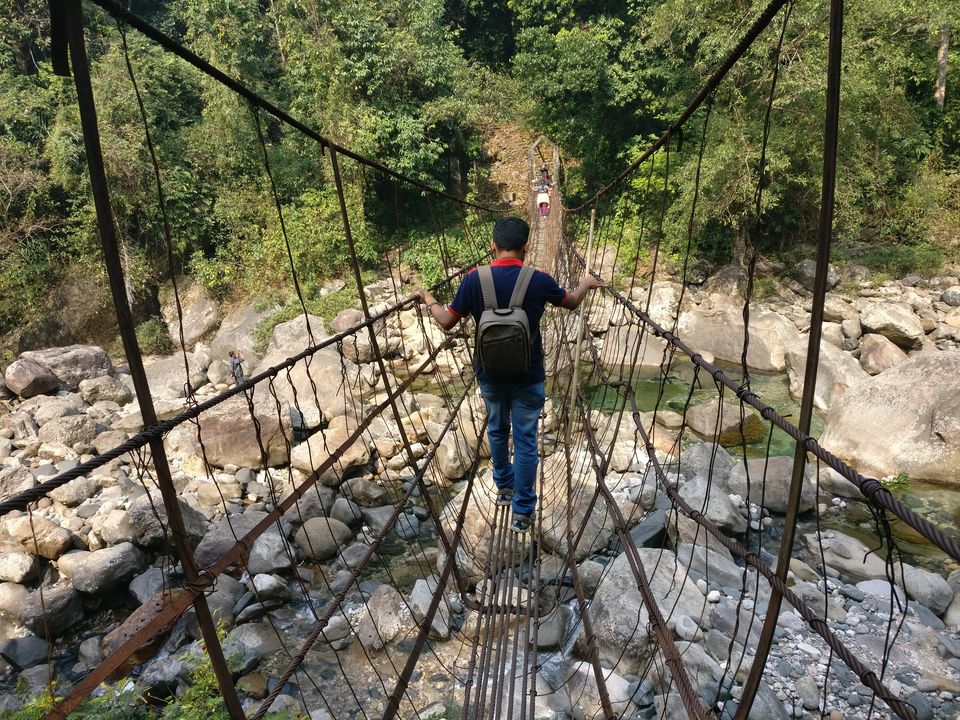 After climbing down many steps and crossing many bridges, you will reach the double decker root bridge. It takes 2 hours to 2.5 hours depending on energy of your group. There are couple of places where we can eat some food. It is better to recharge here as there is no place to get anything between the root bridge and rainbow waterfalls.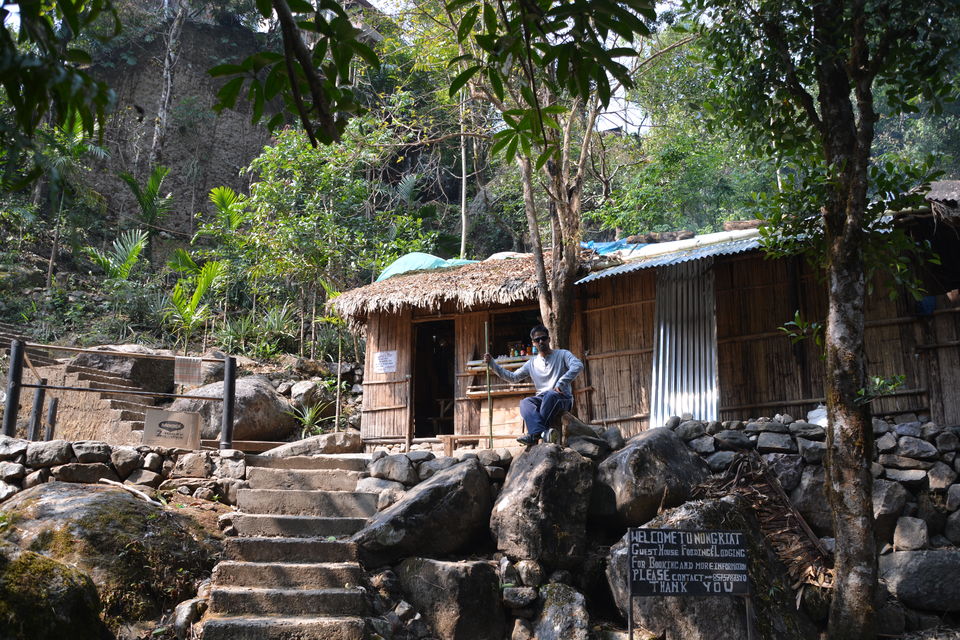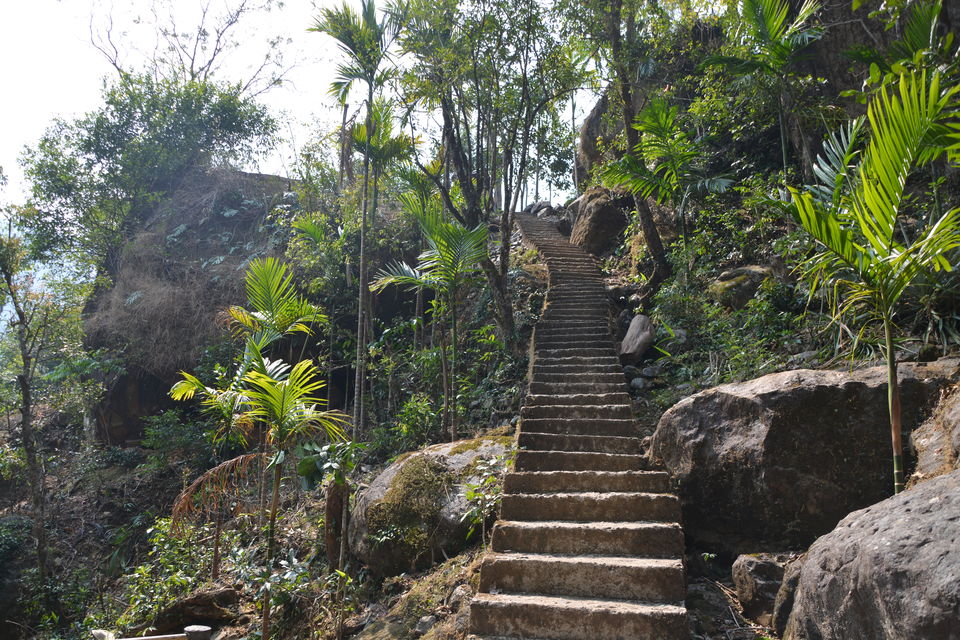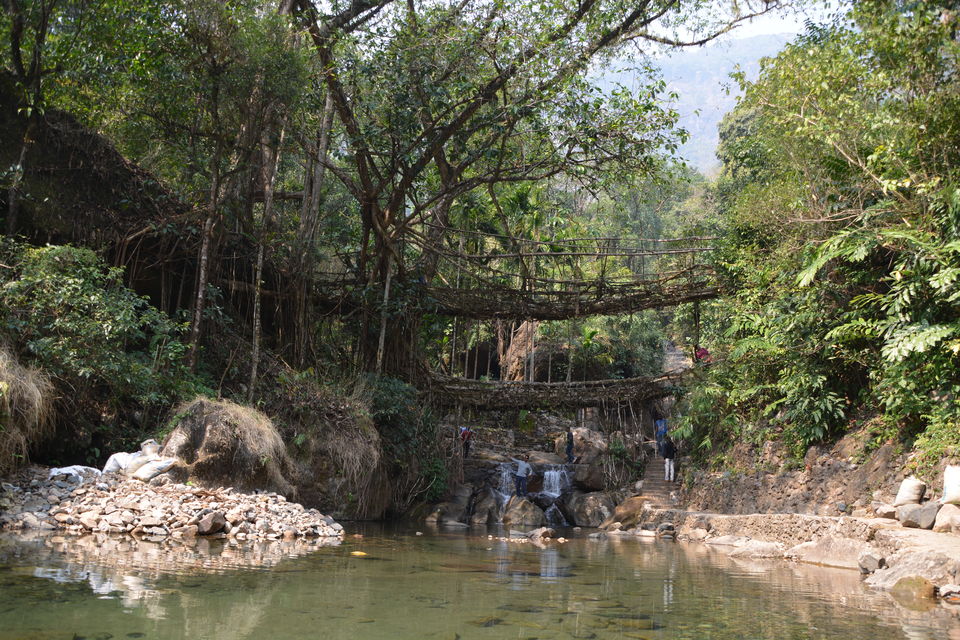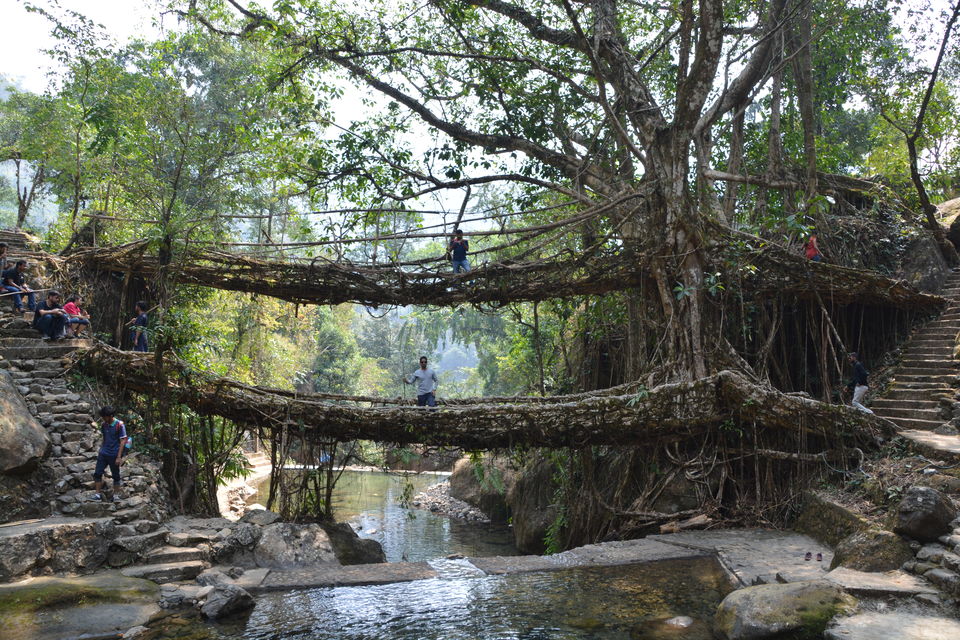 After taking some rest near the root bridge, we continued our trek to Rainbow Waterfalls. You will get another small waterfall on the way and there is a high chance that you will decide that is the Rainbow waterfalls because you will be tired. Don't stop there. Just like your soulmate, you will know when you see Rainbow Waterfalls  We met 3-4 teams heading back from the waterfalls when we were heading, but once we reach there, it was just 5 of us. Can you imagine having such a beautiful waterfall privately for your group for as long as you need? Advantage of traveling in off-season I guess.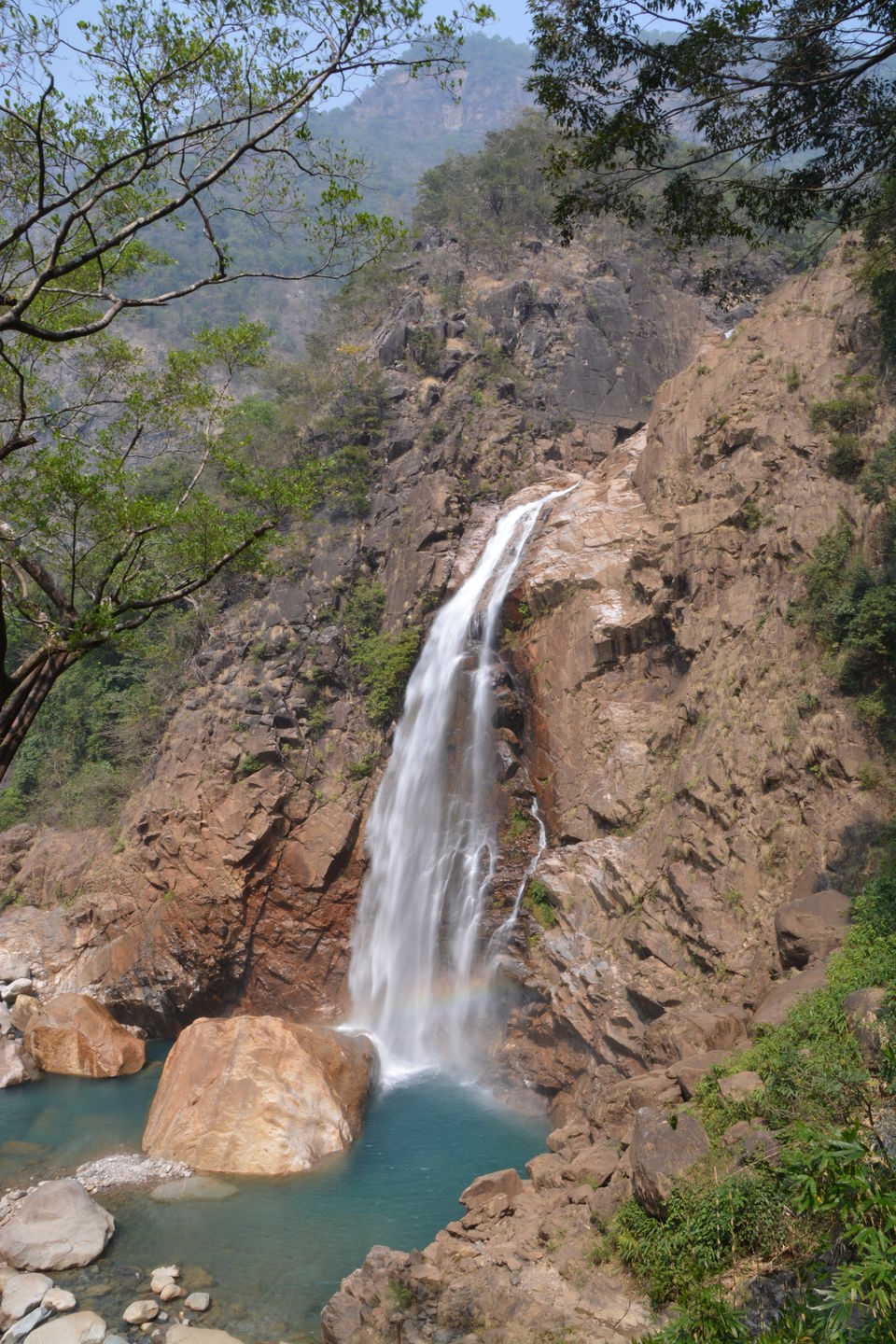 If you observe closely, you can see a rainbow just above the ground water, by which it gets the name "Rainbow Waterfalls".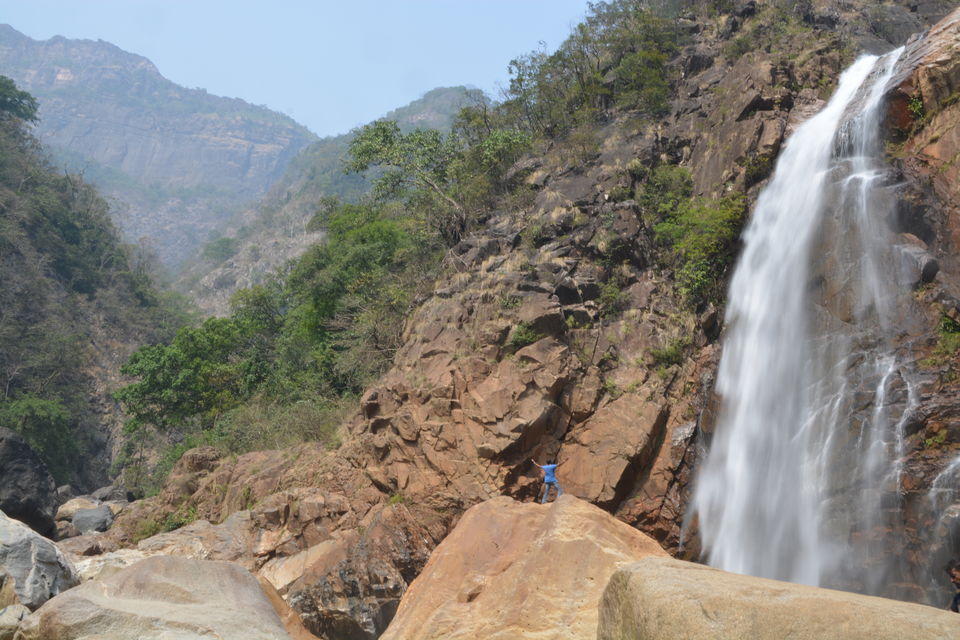 Even though we wanted to spend lot of time there, we had to leave after some time since we were hungry and close to 4 hours trek and 5 hours drive was waiting for us on the other side. We left after some time, had food near the root bridge and reached Tyrna village back around evening. We started our drive to Guwahati from there around evening and reached around 11 pm.
Distance traveled: 7 hours trek and 170 km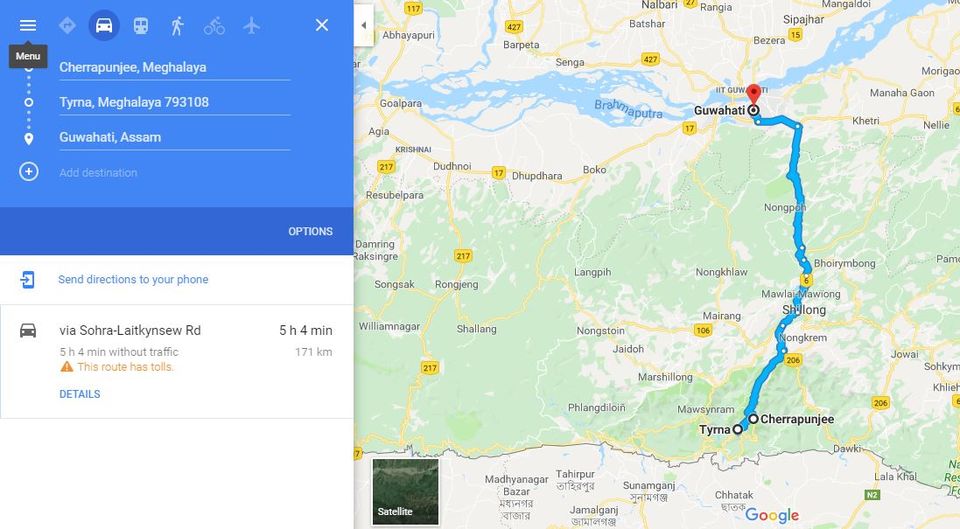 Day 12: Tuesday, Feb 28, 2017 – Guwahati, Bengaluru
This was last day of our trip. After waking up very late in the morning, we visited Assam zoo, had lunch, packed for the final time and headed to Lokpriya Gopinath Bordoloi International Airport, Guwahati to catch our evening flight back to Bengaluru.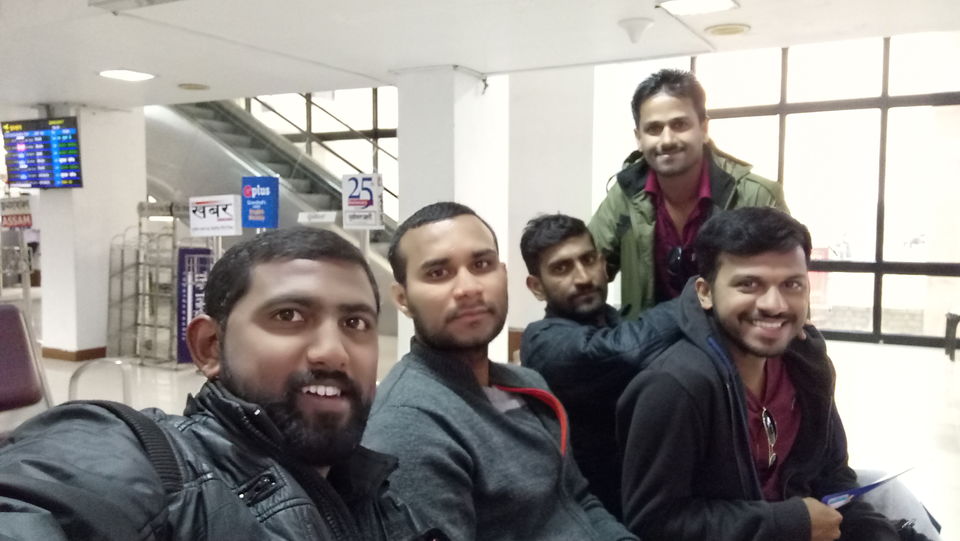 Disclaimers:
1. We executed this 2 years back. So prices might change accordingly.
2. If you visit Nort-East in off-season, you need to be aware that the small dhaba/canteen near the roads will prepare the food after you reach there. So need at least 1 hour for lunch/breakfast if you plan to have it on the way. Food will be very fresh but.
To Visit Arunachal Pradesh (Inner Line Permit) ILP is required.
I got ILP by writing it to Delhi Arunachal Bhawan. I spoke to them on phone. They told me to send a written request in plain paper including the personnel data of the applicants, the destination and the proposed dates with 2 passport-sized photographs per applicant, identification documents [voter ID or Aadhaar or passport - I have sent Aadhaar], a self-addressed and stamped to a value of ₹ 40 to enable return speed-post and processing fee of ₹ 200 per applicant by way of demand draft in favor of the Resident Commissioner, payable at New Delhi and send them by speed-post to the Resident Commissioner, Government of Arunachal Pradesh, Kautilya Marg, Chanakyapuri, New Delhi 110021. Telephones: 011-23013915/23013844. Speak to them if required & I suggest to get the ILP now itself. It takes max 5 days from the date you send it.
Instant ILP is available in Guwahati airport by paying 450/person.
You can also get the format for ILP in their website, you can download & fill the form.( It is difficult as it asks the contact person details in Arunachal)
I suggest you to carry with you atleast 5 sets of photocopies of Address Proof with Photo-ID(Aadhar or Passport or DL or VoterID) & 5 passport photographs & ILP photocopies. Then you need not roam around for a photocopy there.
A special permit is required to visit Bum La Pass.The Permits can be requested at the Office of the Deputy Commissioner in Tawang District, and the same has to be stamped in the Indian army cantonment of Tawang. It is also to be noted that without the army stamp, you will not be allowed through the numerous check posts on the way. It takes 2-3 hours avail the pass.
Documents required for the Bhumla Permit pass:
2 Copies of ILP of all the members who are travelling.
2 Copies of Identity Card, It must include permanent address, of all members
2 copies of driver's Licence. If you are driving at your own, then your driving licence.( It is advisable to take the vehicles on rent hiring local drivers)
Passport size photographs
Vehicle Number (The vehicle which you take to Bhumla Pass, No document for this ;-))
Process to avail the passes
Fill the form in DC office and attach the documents mentioned above. Submit the form at DC office along with the fees.
Within 30-40 minutes you will get two copies of the passes. Out of these two, one will be kept at Brigadier's office.
Please make sure to validate your names, otherwise you will need to resubmit the request.
Submit the pass at brigadier's office, Tawang War Memorial.
If you submit the form before 6PM, you can avail the pass in the evening/night by 8PM, else you will get it next morning.
OR
Contact your hotel person( including car rent & pass & driver charges& all, we were charged 4.5K for 5 persons)