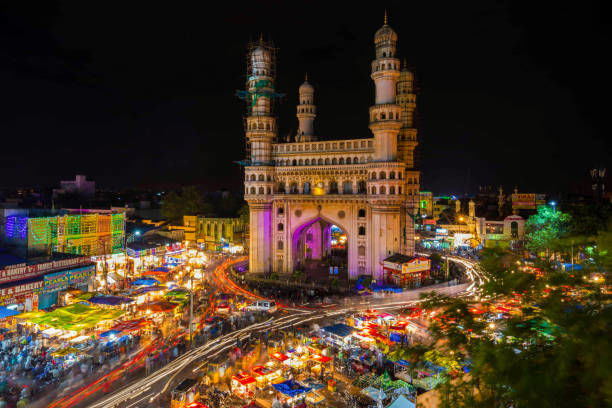 While cities are growing all metropolitan and fanciest of pubs, restaurants are popping out like mushrooms - my heart etches out for those old school date nights. Thankfully, there is Hyderabad. The city of Nizams still reminisces an air of old- school romance and chivalry. It offers a wide range of options to relish unforgettable evenings, especially in the holy month of Ramadan when the best of Night Bazaars and Haleem joints come up.
In this 'tinder' age where one can connect with new partners every day over apps and speed dating is the key, I am still an advocate of old-school dating. 90's romance was cute. Do you disagree? - check out my favorite advertisement from the time below.
Long walks holding hands, sharing that chai and your day, the amused look in the eyes, the smiles, the special gestures, and the conversations. While EDM concerts and cocktail hookups are also fun, memorable date nights need to be a little more closer to the heart (in my opinion). All of us secretly long for it, don't we?

For all the oldies at heart, here are some ideas to plan your next date night in Hyderabad.
Drive Along Necklace Road
Necklace Road – a boulevard, inherits its name from the way the road curves around Hyderabad's Tank Bund, resembling a necklace when seen from the sky. It is named after the first and the famous Necklace Road in Mumbai's Marine Drive. This long stretch of road connects NTR Gardens and Lumbini Park in Hyderabad to Sanjeevaiah Park in Secunderabad. Lined with lush gardens, a drive along this road, especially during the night, offers ornate views of the city. There is People's Plaza on the way which hosts music shows time to time. Cruise along with the mixtape you made specially for the one sitting next to you.
Long walks, Some Boating & Street Food at Hussain Sagar Lake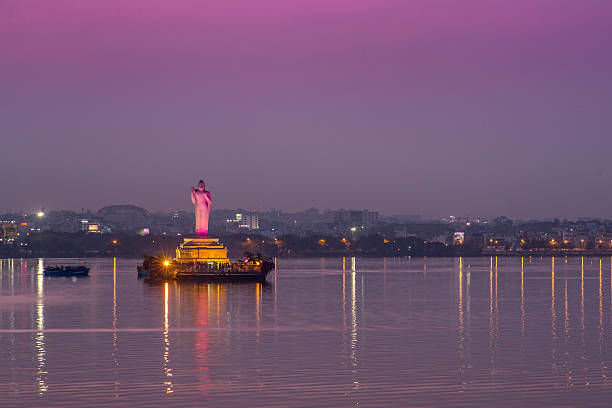 The most tried and tested formula that always works. A cozy walk or even cycling around the Hussain Sagar Lake in the evening with the Buddha Statue Lit up in the center. This awe-inspiring statue of the Buddha is the largest single carved rock in the work weighing about 450 tons and 18 meters in height. Take a break at Lumbini Park, also the spot where boating dock points are present. Listen to the sound of waves while looking at the inifinity of the lake and your partner's smile. To end it all, an assortment of street food at Eat Street - a food joint by the Lake. Who would fail ever at enjoying this evening?
The city is home to close to 140 lakes including Osman Sagar and Himayat Sagar. The more these walks, the better for you!
Phenomenal Movie Experience at Prasads
It is sad of course Prasads is no longer the world's largest IMAX screen that once we boasted about. Christopher Nolan's movies are still shot in 70MM IMAX format, so Prasads IMAX was the only screen in India to play the true IMAX experience of Interstellar. But, the movie experience is still phenomenal on the large screen. 72 foot tall, 95 foot wide, a stellar sound system, popcorn & nachos, and your favourite person tagging along. Damn!
Experience a Sound & Light Show at Golconda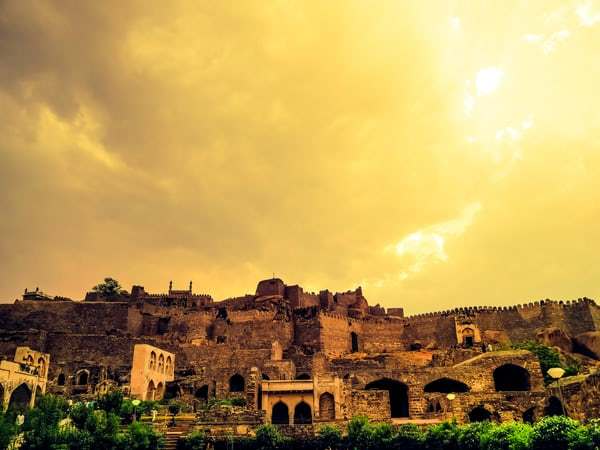 Golconda ("Round shaped hill") Fort was the capital of the medieval sultanate of the Qutb Shahi dynasty (c.1518–1687). And most popular for this region produced some of the world-renowned gems including the Kohinoor! This fort holds several secrets in its bosom and an excellent spot to start an active date climbing up the fort exploring all that history.
It is believed the fort has a secret tunnel to Char Minar. A clap at a fixed place at the entrance can be heard clearly at the 'Bala Hissar' pavilion, the highest point almost a kilometre away. This served two purposes – if an intruder got in, it served as a warning. Secondly, it also served as a way for the royals to know they had guests. Then there is Sri Jagadamba Maha Temple atop Golconda which is as famous as the fort itself. The king – Ibrahim Quli Qutub Shah was so popular among his subjects that he was called Malkabhiram by his Hindu subjects. Also present, is a 400-year-old African baobab tree ( Hatiyan ka Jhad )said to be gifted by Arab traders and having a cave between its branches!!
Once you are tired of exploring and get down from the top of the fort, relax and relish the quintessential Music & Light Show in Amitabh Bachchan's voice.
Bumpy Rides - Midnight Go Karting
What can be a more fun date night than doing Go Karting at 4 am? Head to Hyderabad International Airport- Shamshabad Airport for an all-night go-karting experience. Or to just sit back and watch the loved one's meeting & departing or hear airplanes taking off.
Biryani And Chai Waala Pyaar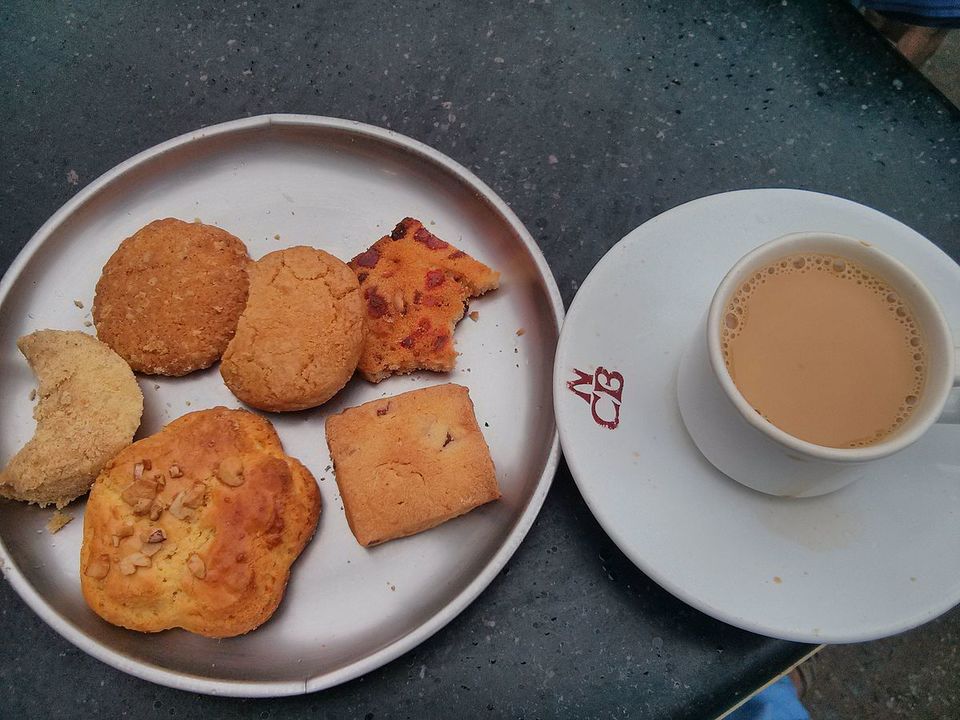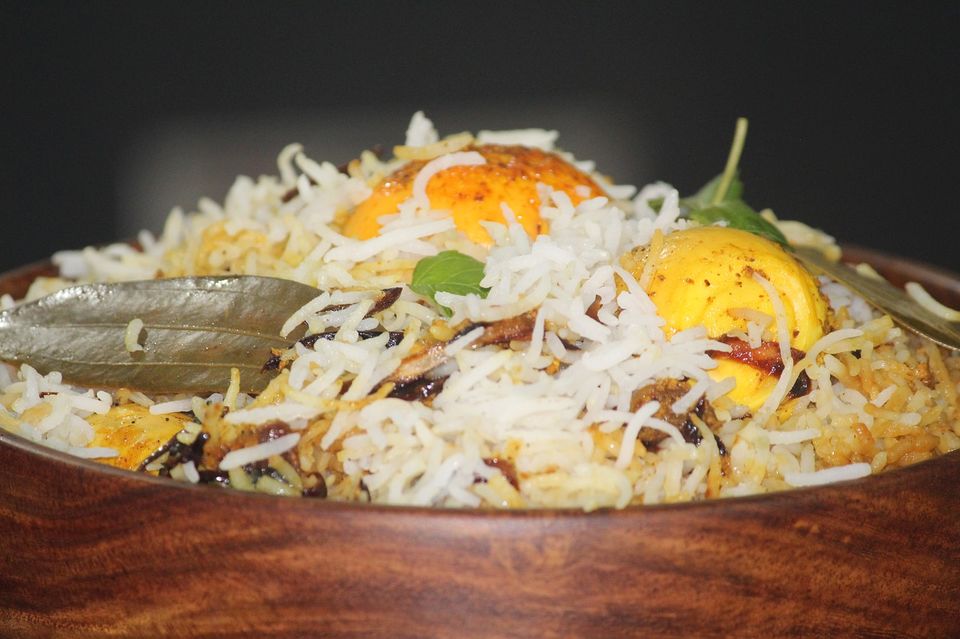 Hyderabadi Biryani - what better way to bond than over food? There are plenty of options and plenty of personal choices for biryani in every nook & corner of the city. On top of that, enjoy the ridiculously famous Irani Chai at Cafe Niloufer with Osmania biscuits, or head to Munshi Naan for freshly baked bread.
Speak about what's in your head and heart with the excellent food and hot chai boosting your senses all the while.
The royal date night at Taj Falaknuma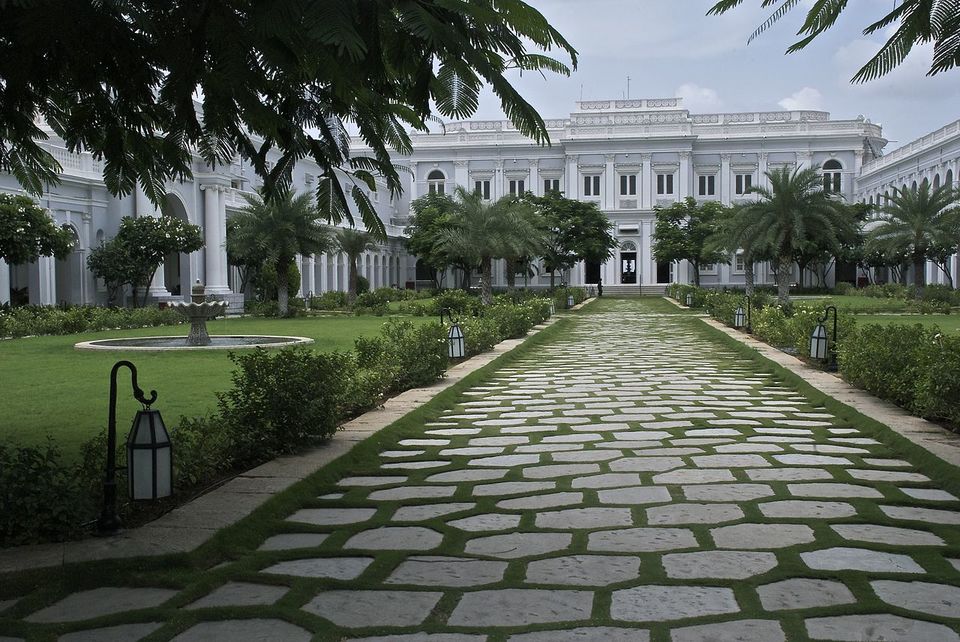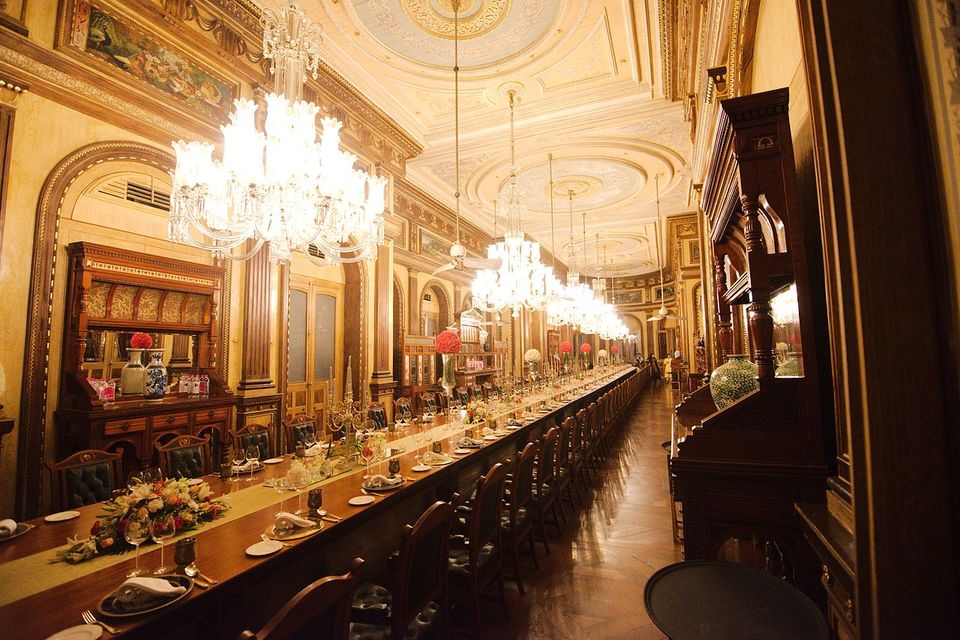 When money is no matter in love, treat your special one with royalty at Taj Falaknuma, a palace turned into luxury hotel. Elevated 610 m above Hyderabad, the palace houses a heritage walk with beautifully crafted objects from the world over and a first-rate spa. Leisurely afternoons can be spent in the oak-panelled palace library or in the billiards room. Boasting 6 dining options, highlights include afternoon tea in The Jade Room and relaxing sessions in the Hookah Lounge. There is also an Italian restaurant and poolside bar. Simply Wow!!
Midnight hunger outings
The spontaneous dates are the best. A short drive in the middle of the night and Hyderabad still offers multiple joints to enjoy this hunger excuse to meet your love. RamkiBandi, Nampally (which opens at 2.30 am), DLF Street Food (which is always bustling), Hotel Shadab (for a hearty meal), and Café Abbott, Mustang are some places you can take your date. Also, Laxman ki Bandi, Begum Bazaar is a lovely spot if you wish to have breakfast together (it opens at 6.30 am).
In the Bazaars of Hyderabad
Sarojini Naidu in 1912 wrote a poem "In the Bazaars of Hyderabad" and rightly so. Hyderabad's old bazaars' – Begum Bazaar, Laad Bazaar, and Sultan Bazaar – rusty vibes make romance bloom. Explore a wide variety of unique and cheap products. And for a more modern and art-oriented exhibition, you can spend time at Shilparamam.
Vintage romance at Char Minar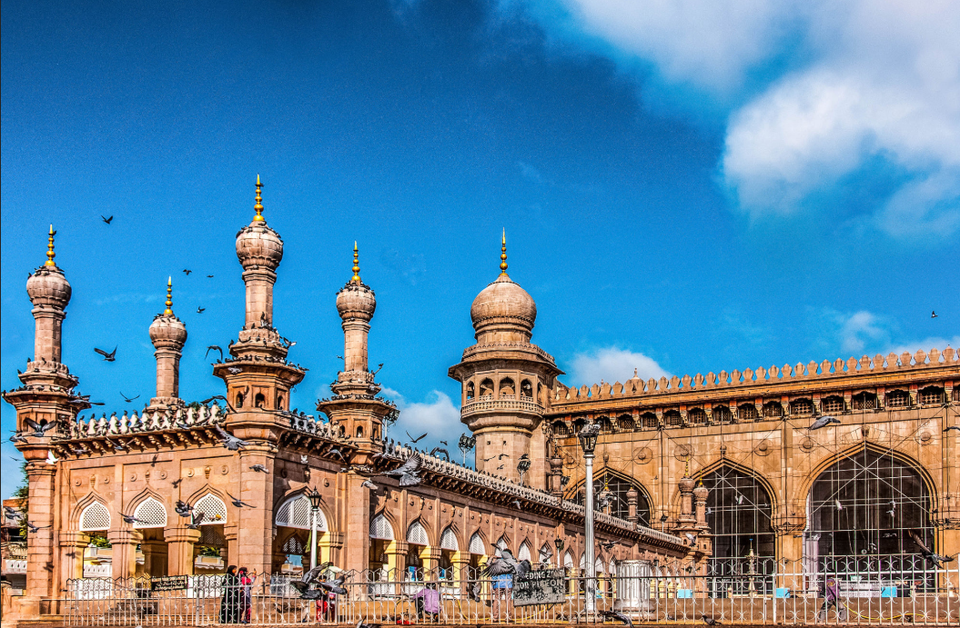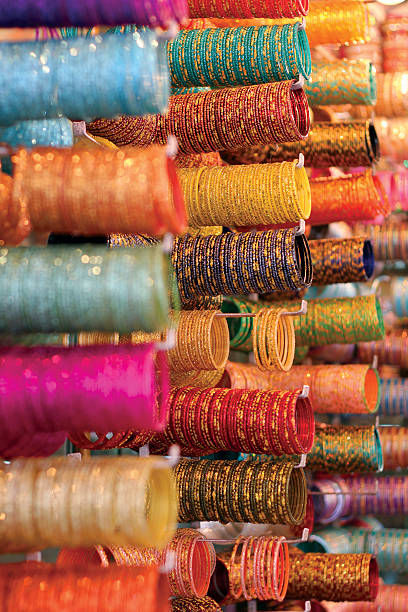 Char Minar is iconic and the symbol for 'city of pearls'. It was built in 1591 and is still standing strong. Life around Char Minar never seems to take a pause. This is the reason that at night – probably the best time to visit – the place does not get dull for a moment. It is at Char Minar, that you can have a real busy date night with plethora of options. Some of them so unique and quaint.
Have a glimpse of royal life at Chowmahalla Palace, the official residence of the Nizams still holding their family portraits and belongings. Visit Mecca Masjid – one of the largest mosques in India.
There are these little exotic shops of Ittar (essential oils derived from botanical sources used as perfumes). You will be surprised by the kind of magic these tiny bottles hold. Chudi Bazaar/Laad Bazaar is colorful and bustling with rows of shimmering bangles. Pearl shopping is also recommended at the place.
If you had enough of shopping and it's time to eat - binge at the legendary Shadab Hotel. For light eats have dosa bites at Govinda ki Bandi or Irani Chai with Osmania Biscuits at Nimrah Cafe.
But amidst all this hustle-bustle of a schedule, do not forget to just sit back and travel back in time looking at the strong-standing Char Minar and the bazaars near it.
End it with something sweet at Cream Stones
For sweet love stories, ending the day with something sweet sounds perfect. My best late-night ice cream experience has been at Cream Stones. Enjoy it in your car where they bring the menu and also serve it there or just pick the ice cream mix of your favourite ingredients and find a spot to enjoy it. Just soak in the sweet delight curated specially for you.
Whatever options you choose or invent to build special moments with your partner, Hyderabad can help put a soul to these moments.
I would love to know more about the options I missed and your ideas of Romance in the City of Pearls. You can connect with me and follow my content at Tripoto or Instagram.
Ready to travel for free? Earn credits and redeem them on Tripoto's weekend getaways, hotel stays and vacation packages!
Explore the best of travel inspiration on Tripoto Instagram!