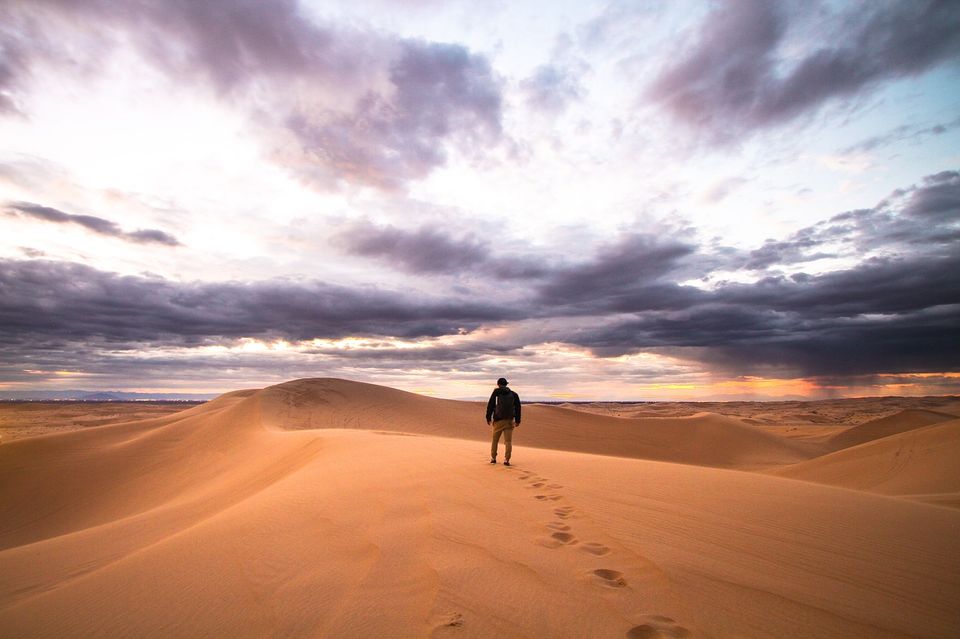 They say that there are only two kinds of people—mountain lovers and beach bums. I choose to identify myself as neither. Well, that's because I am a desert person. For years now, this categorisation has been used as a tool to judge personalities! And I am just not ready to accept that.
Ever since I started travelling by myself in college, I've observed how people are extremely ignorant of deserts. I've travelled with college friends, flatmates, colleagues, and family, and it has always boiled down to choosing between mountains and beaches. Being someone who's been fascinated by deserts ever since I can remember, I think it is high time we expand our horizons and give these natural wonders some much needed attention.
Why deserts?
Just because I am all for 'Team Desert', it in no way means that I hate mountains or beaches. I still believe that there is nothing as peaceful as a beach holiday and nothing as romantic as a mountain getaway. However, there is something about deserts that I cannot explain.
The feeling it ignites of being in the middle of nowhere, far away from the concrete jungles, surrounded by nothing else but sand, is simply liberating. To add to that, there's always the excitement of catching sunrises, taking camel safaris, dune bashing through the constantly shifting sand and meeting people who have found home in these never ending sands.
The grandiose, the expanse and the serenity make me wonder, why not deserts?
Why is desert tourism important?
For a country like India, which is dealing with severe overpopulation, it is extremely important for us to manage our tourism footprints. Excessive tourism has already started showing its effects on places like Kasol, McLeod Ganj, Shimla and Kerala amongst others. On the other hand, India's deserts continue to be seen as an 'offbeat' option.
Shifting focus to deserts will not only bring respite to over-visited tourist destinations, but will also go a long way in promoting local tourism and generating employment. Since deserts are quite unexplored in the Indian context, we have the option of getting it right in the very beginning and promoting responsible tourism. After all, we don't want deserts to have the same fate as our mountains and beaches.
Best desert experiences in India
Though there are several desert regions in India that are completely unexplored and unmanned, one should start off their desert adventures with the tried and tested options. Here are India's most popular desert experiences that you must consider for your next holiday:
1. Luxury camping in Jaisalmer
Located right in the heart of the mighty Thar desert in the state of Rajasthan, Jaisalmer is India's premier desert destination. The unending sands coupled with a rich heritage and culture makes Jaisalmer a favourite amongst travellers world over. If you're heading out for your first desert experience, make sure you ditch the city hotels and book a stay in a luxury desert camp. Trust me when I say this, it will be a life changing experience!
Click here to know all about planning your dream getaway to Jaisalmer.
2. Attend the Rann Utsav in Kutch
A swampy mushy land that turns into a beautiful salt desert in winters, Rann of Kutch offers the most unique desert experience in India. The months between November and February bring about a temporary tent city in the Great Rann of Kutch which hosts the colourful Rann Utsav. The four-month-long festival showcases the best of Gujarat's art, culture and traditions in a surreal setting.
Click here to read travellers' accounts and learn all about the Rann Utsav.
3. Trek through the barren mountains in Spiti
If you're someone who's looking to add a dash of adventure to their first desert experience, a trip to Spiti Valley is exactly what you need! A cold desert by nature, Spiti Valley is best recognised for its monasteries, rare wildlife and pristine setting amongst others. The barren mountains of Spiti attract adventure seekers who come here for the extreme treks and hikes. Give your holiday plans a twist and head to this cold desert that will simply take your breath away!
Click here for the complete guide on planning a trip to Spiti Valley.
4. Attend the annual camel fair of Pushkar
While Pushkar can come across as any other desert town in Rajasthan, it transforms into something completely different once every year. The city hosts the famed Pushkar Camel Fair every winter, attracting travellers, writers, backpackers and photographers from all parts of the world. The trade fair is a great place to experience Rajasthan's vibrant culture in a beautiful desert setting.
Click here for everything you need to know about planning a trip to Pushkar.
5. Learn about Tibetan culture in Nubra Valley
Nestled right in the lap the gigantic snow capped Himalayas, Nubra Valley is yet another high altitude desert that remains untouched by tourism. Despite two rivers, Shyok and Nubra flowing through the valley, there is extremely limited vegetation and human inhabitance. The region is also know for its surreal monasteries which offer travellers a sneak peek into Buddhist culture. And despite the high altitude, one can also spot sand dunes and double-hump camels in Hunder.
Plan a holiday to Nubra Valley by simply clicking here!
With such amazing options and a world of endless possibilities at your disposal, it is high time that you stop complying to traditional ideas of travel. So get out there, shed your inhibitions, try something new and create memories that will last a lifetime!
Write here to share your desert adventures with the Tripoto's global community of travellers. Don't forget to check out Tripoto's YouTube channel for some insane travel videos from around the world.