"Rann of Kutch Festival" or " Rann Utsav" is an initiative of Gujarat Tourism. They're indeed doing an excellent job for this World Famous Festival. accommodating the travellers and showcasing the essence of Gujarat in all its glory. Rann Mahotsav is a grand winter rendezvous. It takes place when the air is crisp and the moon is at its fullest.
Rann Utsav is an awesome festival of Kutch, Gujarat. It is a Carnival of Music, Dance, nature beauty of White Rann and much more then that when visit under the full Moon. it's a Family holiday destination to explore fun moments and store in cameras for life time.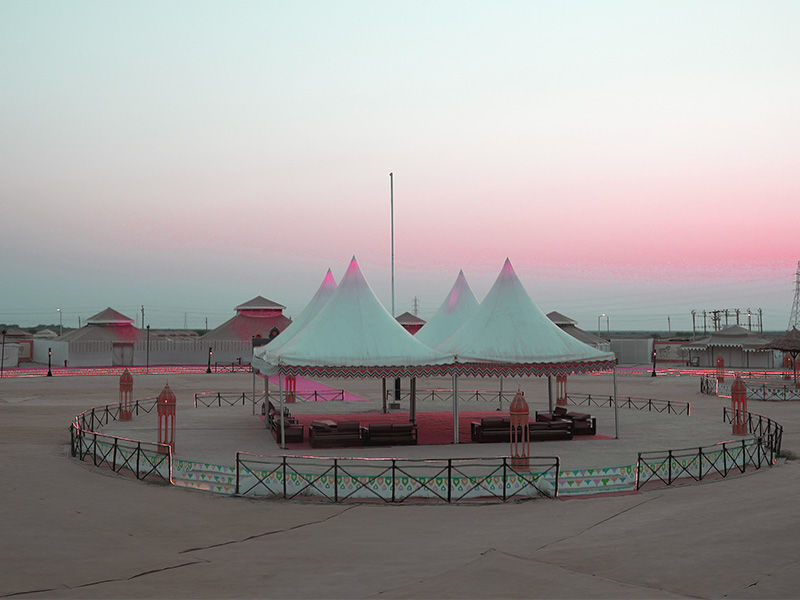 "Magnificent" is the word that one could simply use and glorify the natural beauty of Kutch unless there was this sin-worthy canvas of culture, profusion of art forms, and an overabundance of life.
Starting When ?
The Kutch Rann Utsav 2021-22 dates are from Nov 12th, 2021 to February 28th, 2022.
Where is Rann Utsav ?
The celebratory festival begins in the Bhuj city and goes around the district with a grand finale. This Festival is held in the Dhordo village situated in Kutch just 85 km (52.8 miles) from Bhuj. Bhuj even has a small air terminal to transit from Dhordo. The festival begins in Bhuj but the entire region is set up for a carnival of arts and culture of Gujarat.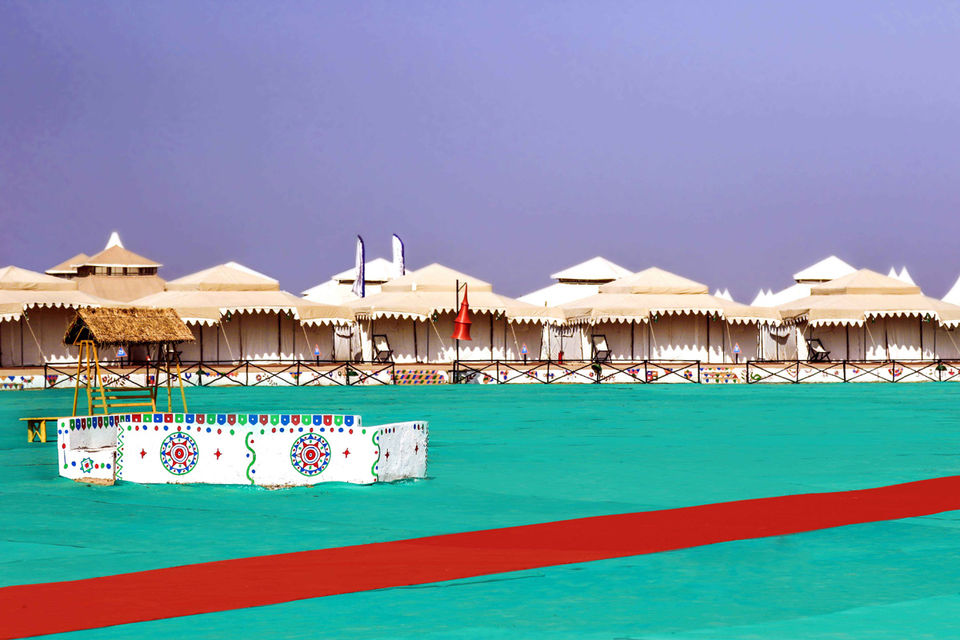 Must know about this Festival of colors, cultures, and expressions.
1) Art, Music & Culture
Kutch is cultural district of Gujarat which is famous for its Culture. The music which is influenced by Sufi & Folk songs, Instruments like- Bhorrindo, Manjira , Morchay, Jodia Pava & Rava. The language spoken in Kutch is Kutchi language. Various handicraft items Garments Embroidery, Handwall painting, Jewellery items, Wood Carving, Wall Paintings, & many more . Kutch district is inhabited by various groups and communities. Many of these have reached this region after centuries of migration from neighbouring regions of Marwar(Western Rajasthan), Sindh and Afghanistan .
2)Food
The fabulous food options here are just what you need to make your experience more memorable. The two gigantic dining halls in the tent city.
serve Kutchi cuisine. It is a must-have experience at the Rann Utsav. You would also find little food joints tucked in corners if you do not want to try out Kutchi cuisine.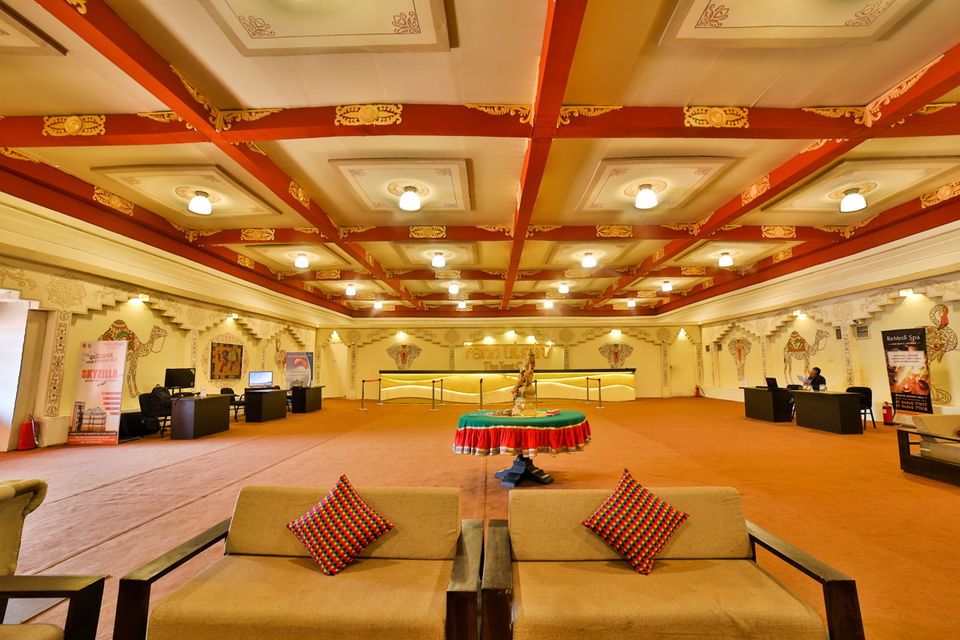 Magnanimous dining halls serve scrumptious authentic Kutchi cuisine. Besides, there are food corners that cater to the hunger calls at the odd hours of night. Must try In the villages, staple foods include bajra and milk, bajara na rotla with curd and butter milk is very common.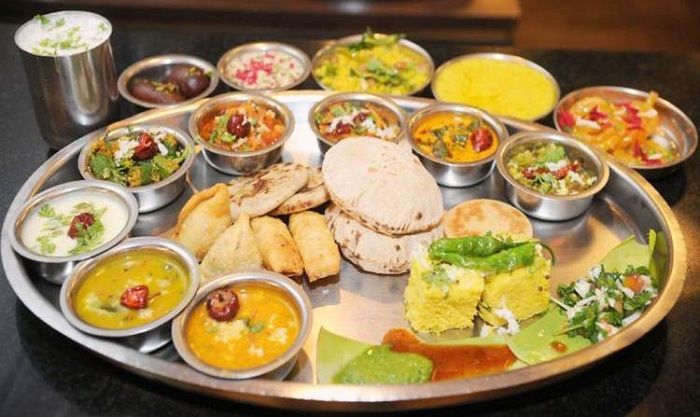 3) Tea
Tea is the most popular drink in this region and is enjoyed irrespective of sex, caste, religion or social status. Tea stalls where groups of people chat over tea are invariable sights of every village or town entrance from early morning to late evening.
4) Shopping
The options of shopping will make you go crazy. Exotic handcrafted leather articles, splendid silverware, intricate Kutchi embroidery, and beautifully crafted ornaments – either let them feast upon your wallet or allow your eyes to have a feast full time.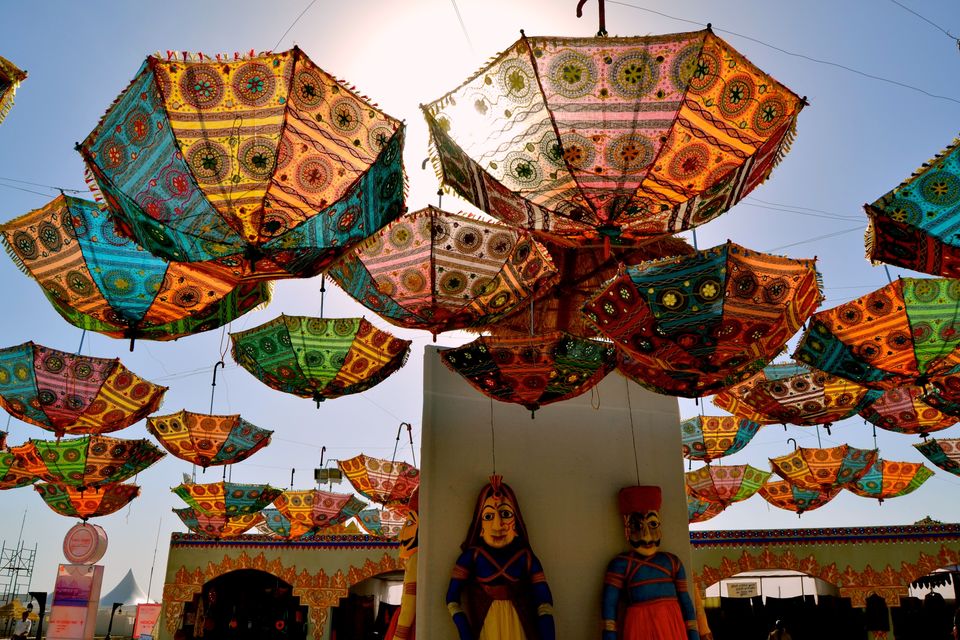 A number of skilled artisans from nearby villages like Bhirandiyra, Khavda and Gandghi-Nugam conduct workshops on preparing local handicraft items.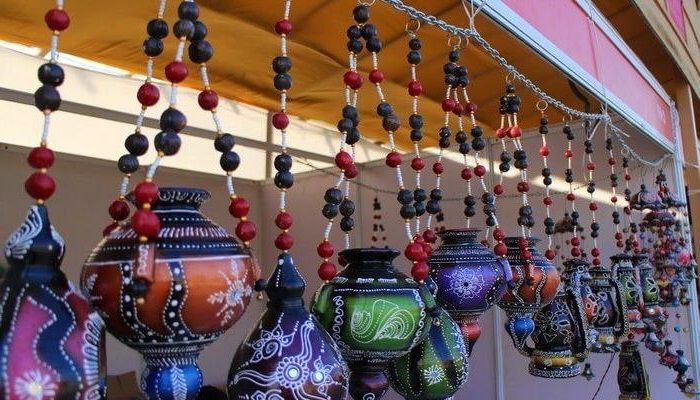 Main markets of Kutch are Roopalee Handicrafts ,Bandhini Bazar,Khamir crafts store in Bhuj , Rainbow Textiles in Ganghara Shrujan-threads of life ,Aslam's collection on the outskirts of Bhuj.
5) Mandvi Beach
Can visit the nearby villages of Bhirandiyra, Khavda, and Gandghi-Nugam as they arrange workshops for amazing handcrafted textile and fabrics. visiting the local villages to explore the art and craft industry. You can also get the handicrafts at slightly lower prices.
6) Above Kutch's Sky - Hot Air Balloon
Take a hot air balloon ride and it will dare you to recover from it. The experience of overlooking the vibrant hues of the salt sand from the top is so enchanting that you will develop a compulsion to talk and think about it. There are innumerable range of experiences in the Rann Utsav. One can go for a solo ride on the desert on a DPV (Desert Patrol Vehicle). Desert safari is another exhilarating activity to look out for. The festival also has moderate adventure rides for kids. And the fun doesn't end here, as for that extra edge experience, you can also enjoy a hot air balloon Kutch, price range are different by various operators.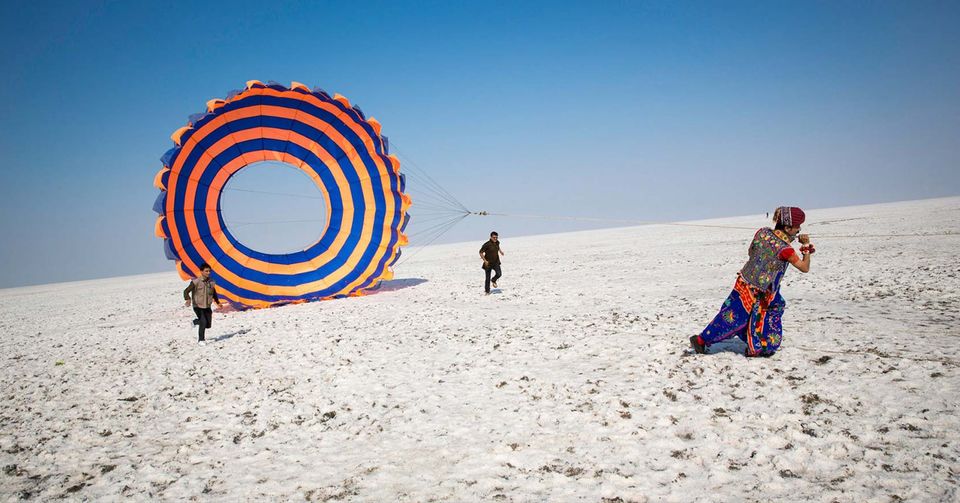 7) Witness a Beautiful Sunset
Watching the sun setting in the White desert is super exciting experience for anyone . Ii was absolutely blown away by that sunset and guess what? People can actually do paragliding in the area and have a heavenly view of the setting sun.
Where to Stay?
The tent city at Dhordo has 400 air-conditioned and non-air-conditioned tents in neat white rows. There are Swiss and Luxury tent options along with with homestays in villages nearby, traditionally designed bungalows and a wide range of comfortable hotels and resorts.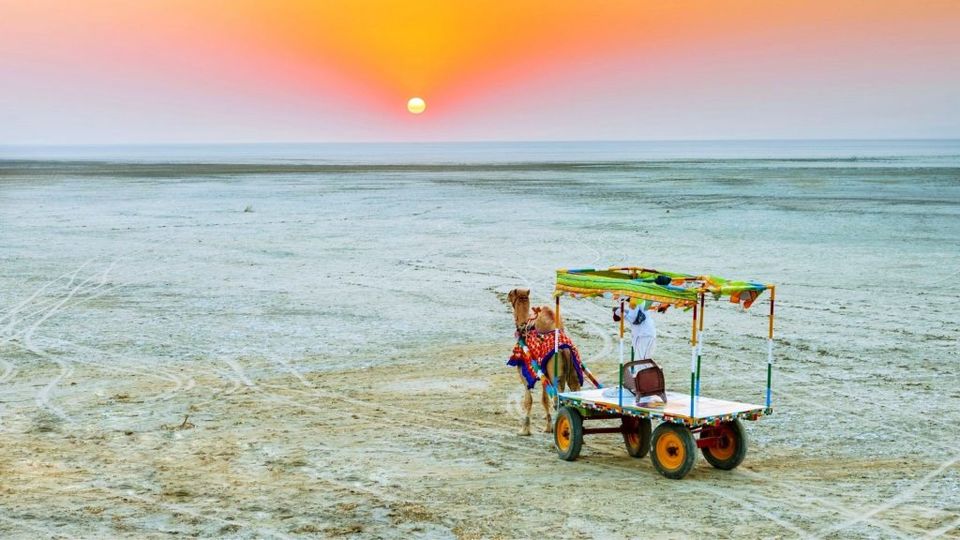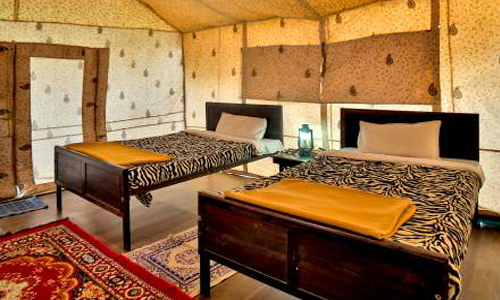 The tent city is the best place to get the full experience of the Rann of Kutch festival. It has round the clock supply of warm water, room heaters & air-conditioners to combat the extreme temperatures, a marketplace, and two dining halls; hence you would find the tent city very comfortable and convenient.
How to reach Rann of Kutch?
The nearest airport and railway station is Bhuj and you can reach the Rann of Kutch by road from there. You can fly or take a train into Bhuj. Or better still, you can actually plan an entire road trip around it. Check our suggestions of places you can add to your itinerary if you are visiting the Rann of Kutch festival.
Bhuj has an airport which is 86 km away from Dhordo- the tent city. Bhuj is also the nearest railhead. However, if you are traveling from Mumbai, Kutch Express will take you to Gandhi Dham and again, Dhordo is 135 km from here. The road connectivity is not an issue and all the major cities of Gujarat are well commuted by state-run transport buses.
The following are the list of activities that are being hosted during the festival:
Camel Cart Ride , Shopping Activity Area – Bandhini Sarees, Handcraft Items & many more traditional items.
Kids Zone Area ,Food Court,Gaming Zone,Spa Centre on chargeable basis ,Yoga & Meditation Centre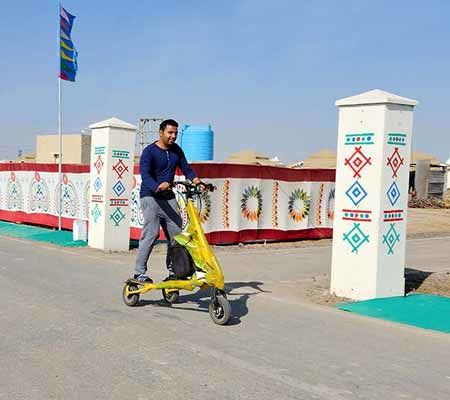 Adventurous Activity on Chargeable basis – Parasailing, Dirt Biking,
Cultural Dance Performance ,Live Music Concerts ,Special Cultural Dance Shows – Garba, Dandiya Raas
Conference hall for Business purpose, Rides on a chargeable basis.
Sightseeing Visit – Kaladungar/Black Hill, White Rann/Dessert, Hodka Village.
Here are some tips for travellers visiting Rann of Kutch for the first time:
The temperature is usually extreme between day and night. Pack your bags accordingly. Pack some woollens as the temperatures difference from day to night is high.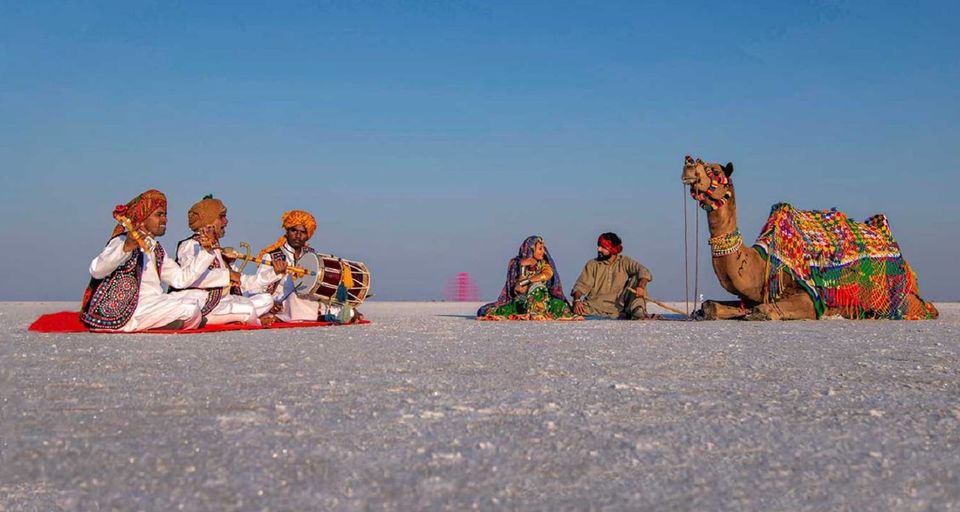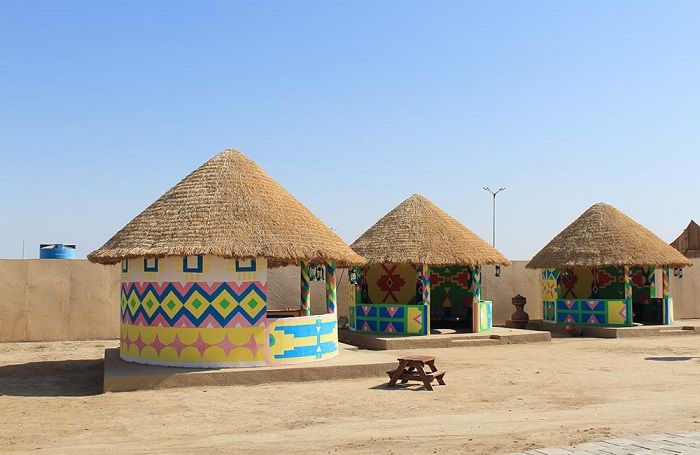 Due to the close proximity to the Pakistan border, a govt. stamped pass is mandatory. Passes are easily available at the Bhirandirya checkpost. You can get one when you show your govt. approved Identity card.
Book your accommodation at least 45 days in advance for good deal.
Check out the beautiful sunset at Mandvi Beach on reaching Rann.
Take out time and go to the highest point of Kutch – Kalo Dungar (Black Mountain) to get a bird's eye view of the whitewashed desert.
Participate in handicraft workshops organized at Gandghi-Nugam, Bhirandiyra and Khavda.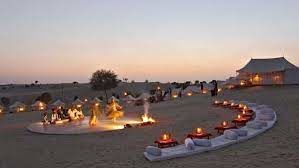 Remember Rann Utsav 2021-22 dates and plan accordingly so that you don't miss out on such things. You may even celebrate the New Year at Rann of Kutch, how exciting is that!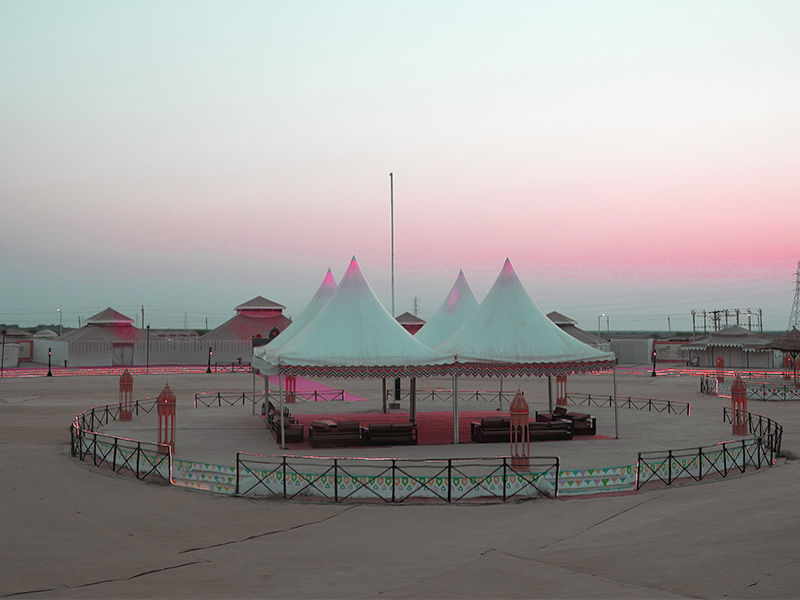 Would like to say that your traveling experience is incomplete if you haven't been to the Great Rann of Kutch. Trust me, it is one of the most magical places ever.
So go, see Kutch kyunki …........
Kutch Nahi Dekha Toh Kuchh Nahi Dekha !