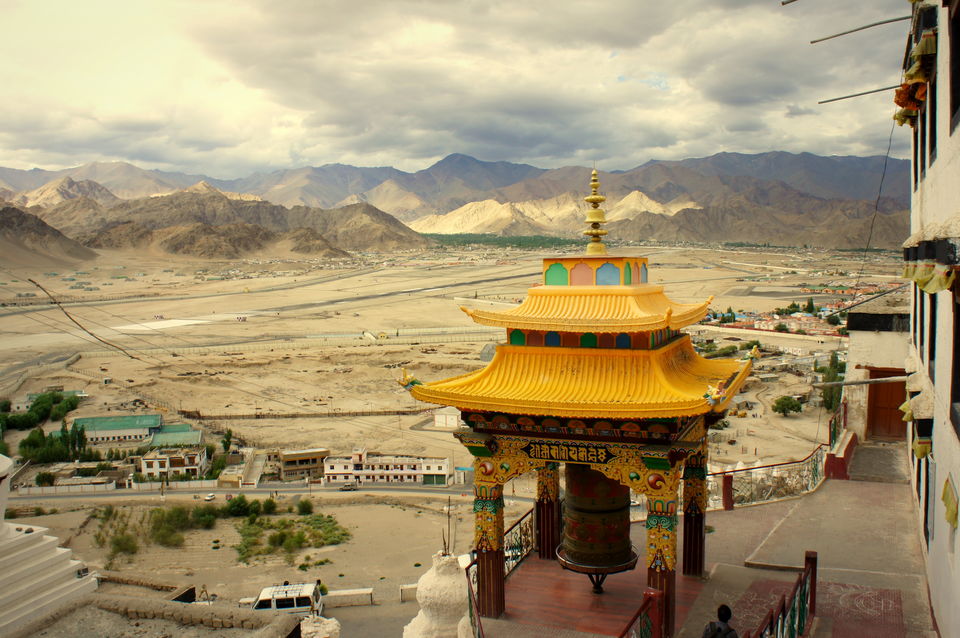 In an unexpected turn of events, I ended up in a place that was always on my bucket list LADAKH. I am not quiet sure how to describe this trip, impromptu-sudden-adventurous? - yes maybe those are the words.
Day 1 - July 9th
All set with our trekking gears for Tarsar-Marsar trek from Aru in Srinagar, we were on our way to Delhi on a Saturday morning.We reached by 3:00 PM, 500 meters from the airport was this place called Hotel Classic Diplomat (http://www.classichotelsindia.com/), we stayed there for the next two nights. Delhi being more of a transit point for me, haven't seen all the places around. So this time we went to see India Gate and Rashtrapati Bhavan. Using the metro for commuting around the city, felt real!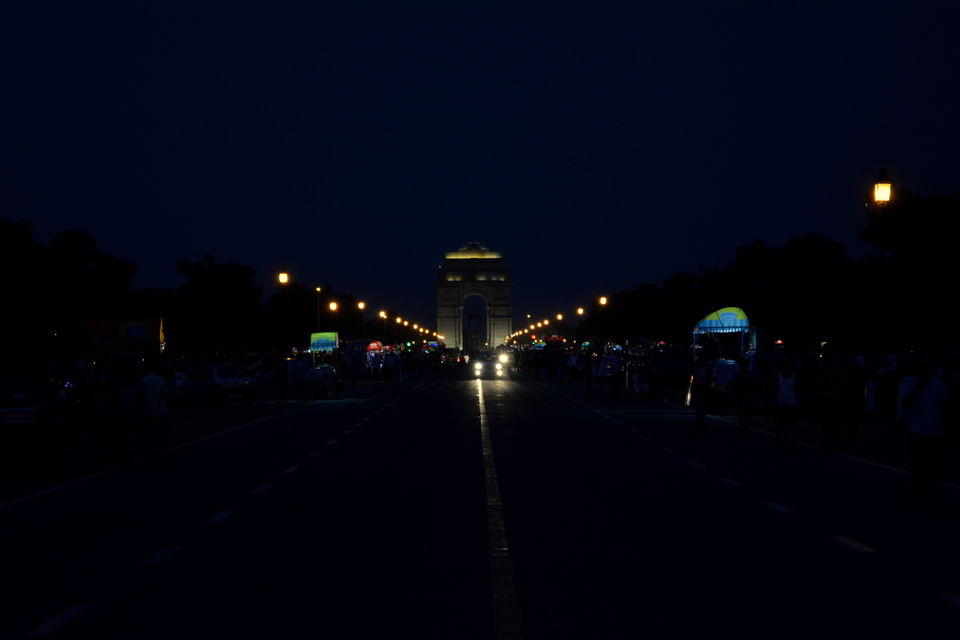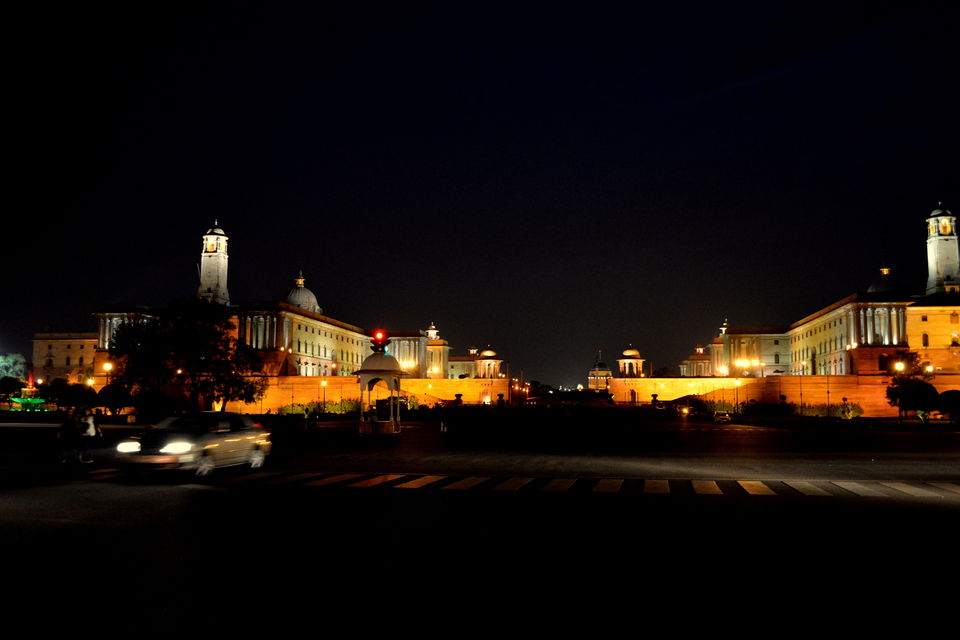 1st interesting event - There was a curfew in Srinagar (We knew about this before leaving Bangalore, but didn't know how intense the situation was). On our way back from India Gate, we just realized that things had gotten pretty serious there. We were trying to call everyone who were already in Srinagar for the trek, didn't get any positive vibes and in the end trek was cancelled. So there we were, absolutely no idea were we could go,now was the decision time.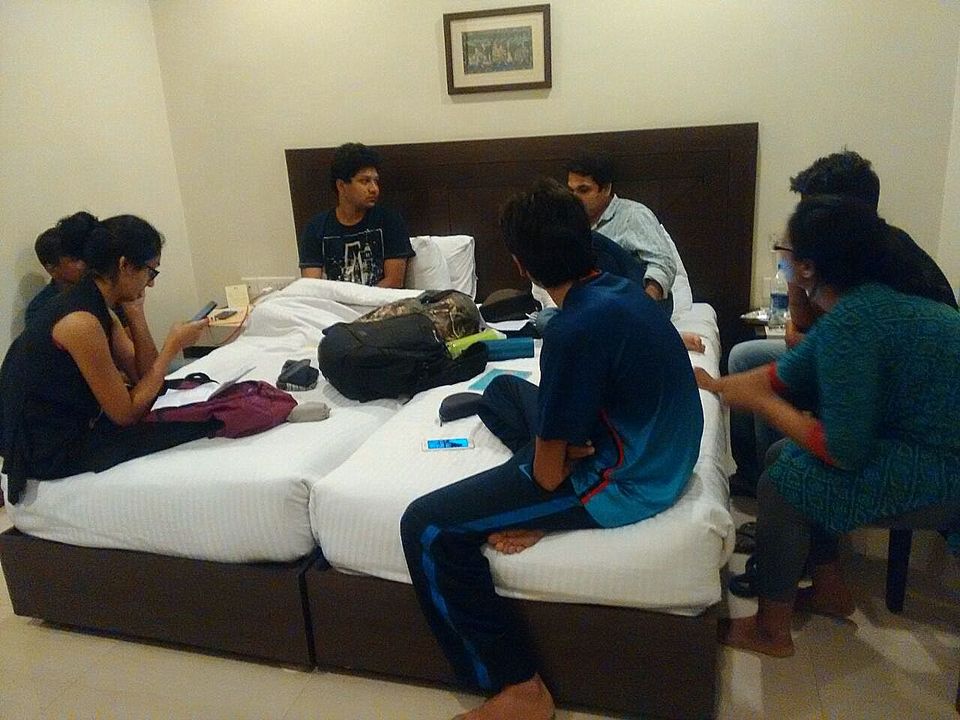 Day 2 - July 10th
From the previous night until 2 AM in the morning we were still deciding on where we could go, and the most optimal option was flying to Leh. So it was decided, we got ourselves a few hours of sleep as we had a lot more planning to do in the morning. Until 3:00 PM in the afternoon we were booking the flights and a place to stay in Leh, planning the itinerary.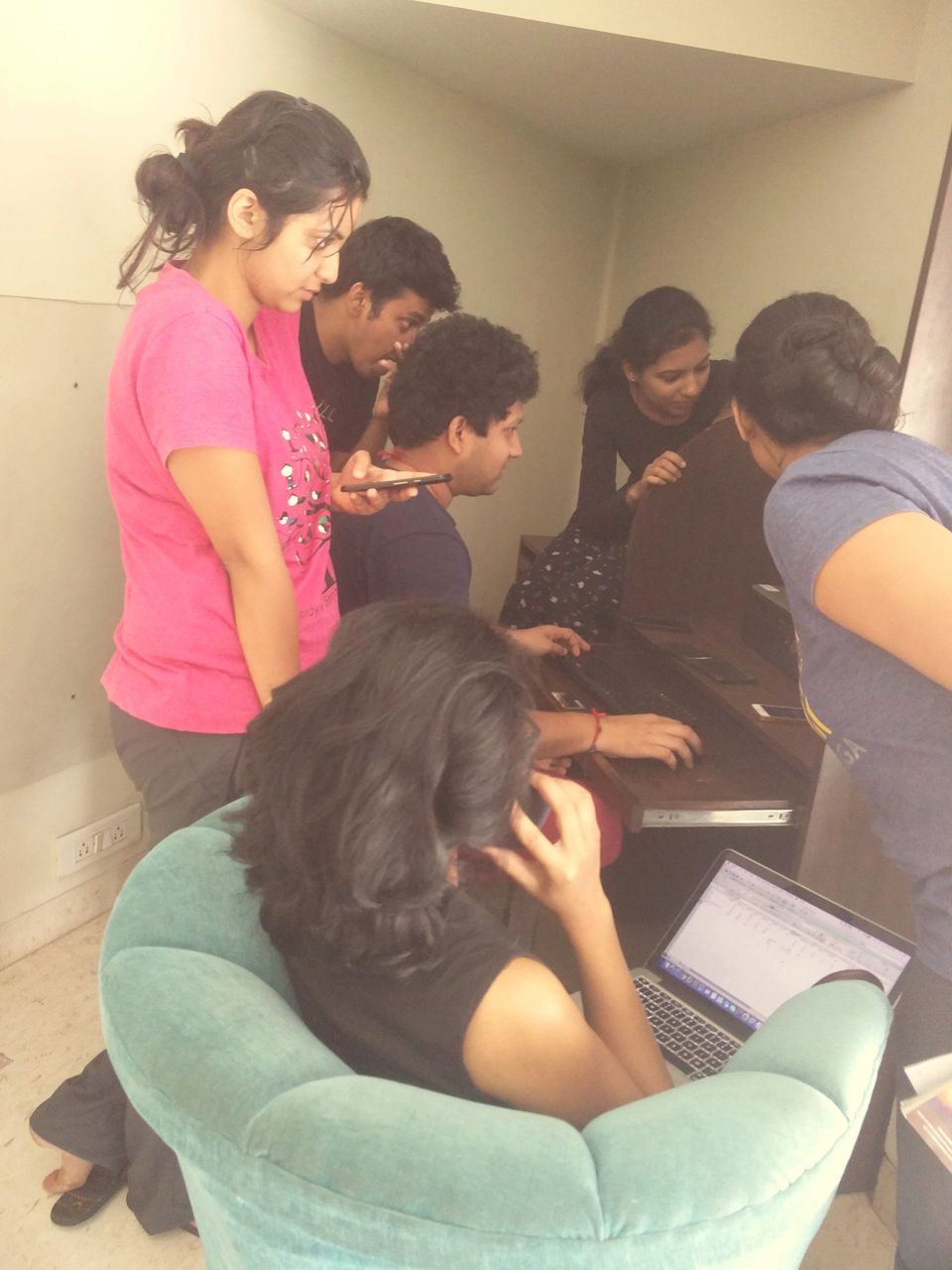 Finally around 4:00 PM we headed out to see Qutub Minar, Rajiv chowk where there is the biggest Indian flag flying high, and then Cafe Coffee Day for dinner. We only had a few hours (5 to 6 hours) for our flight to Leh so a few of us decided to wait at the airport while the others rested at the hotel. We took the last metro to the airport 11:50 PM and stayed at the airport (I had always wanted to do this).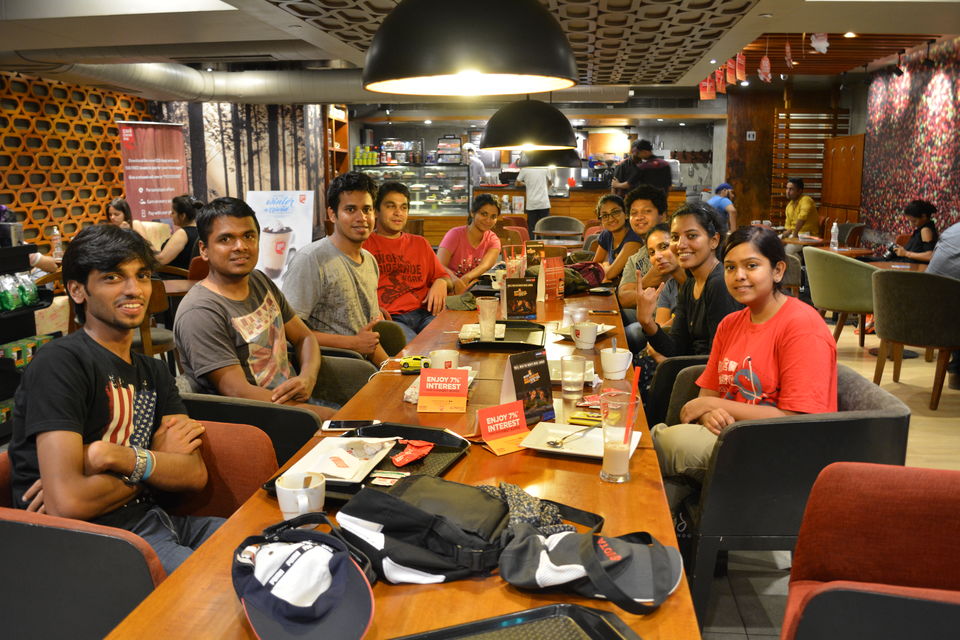 Day 3 - July 11th
We played, ate pizza at 4:00 AM. Finally boarded the flight at 5:40 AM, in no time we were at Leh, we couldn't get enough of the view of the mountain ranges from the flight. Here's a glimpse of what we saw.
Now came the 2nd interesting event - As we landed in Leh we fell asleep at the airport, we got up an hour or so later around 8:00 AM to find out that our friends on the 6:15 AM flight to Leh had not reached yet, apparently there was a technical issue while landing so they had to fly all the way back to Delhi, when they did land in Leh a bag was missing, it was dropped off at Delhi by the airlines (We did get it back the next day). Mean while, the rest of the headed to Hotel Kunzang (http://www.hotelkunzangleh.com/), wonderful little place! On our way we learnt our first (or the only :P) Ladakhi word 'Juley' (basically a greeting). We were getting 'Acclimatized' (the word you hear so much when you say Leh!). Had a great breakfast, rested for a while we felt all normal so we took a stroll in the nearby market place!
Day 4 - July 12th
Zanskar river rafting was the plan for this day. We stopped at the Magnetic hill on our way, then got on top of the car and made the rest of the journey, to the see the never ending tar road in between the barren brown mountains was just 'National Geographic Picture Perfect'. We reached the starting point of rafting, rafted in the rapids for 14 kms to reach the Indus and Zanskar confluence.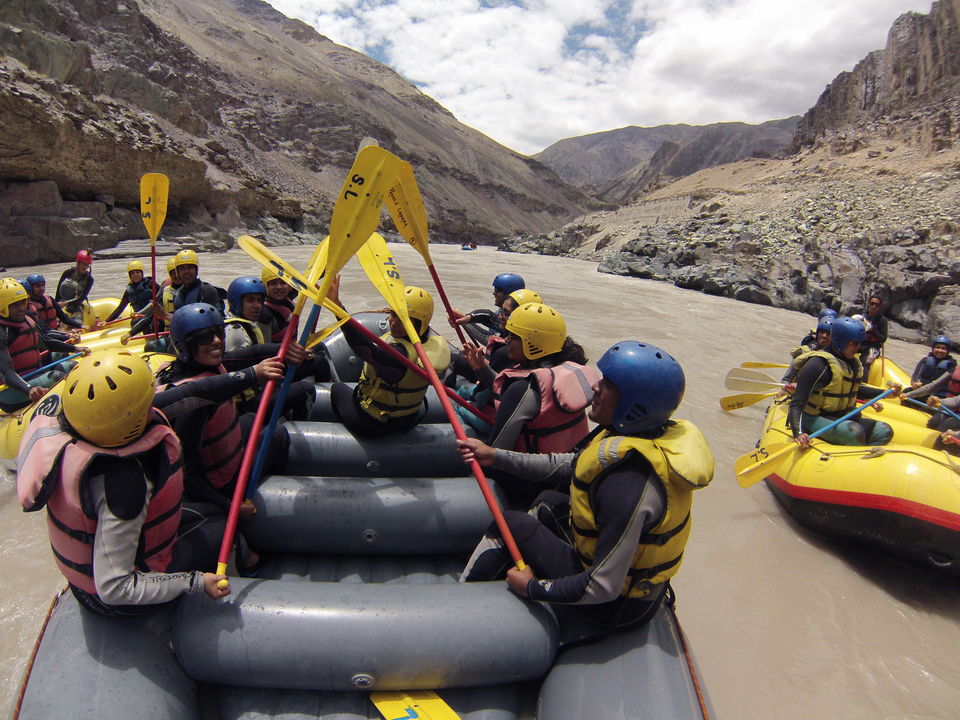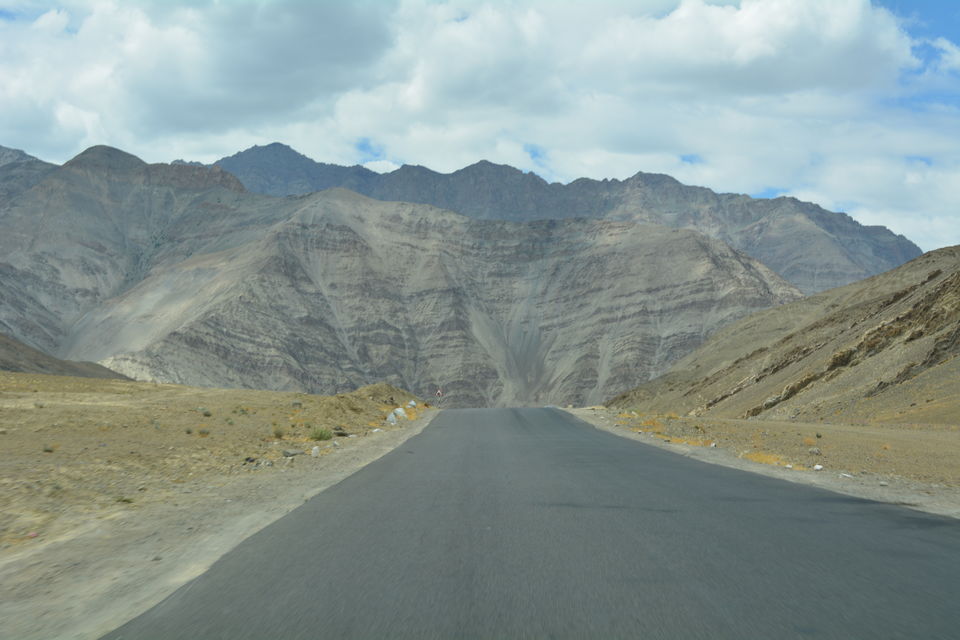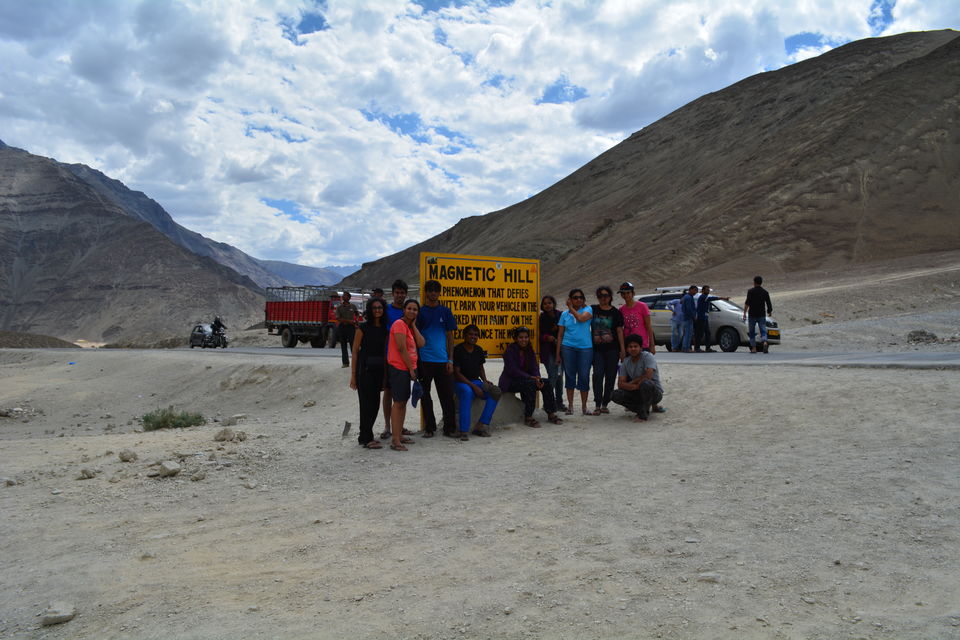 We had some nice lunch and then started back, on our way we went to the Hall of Fame a museum with the history of Indian army. Reading those incidents, the letters - sends shivers down the spine.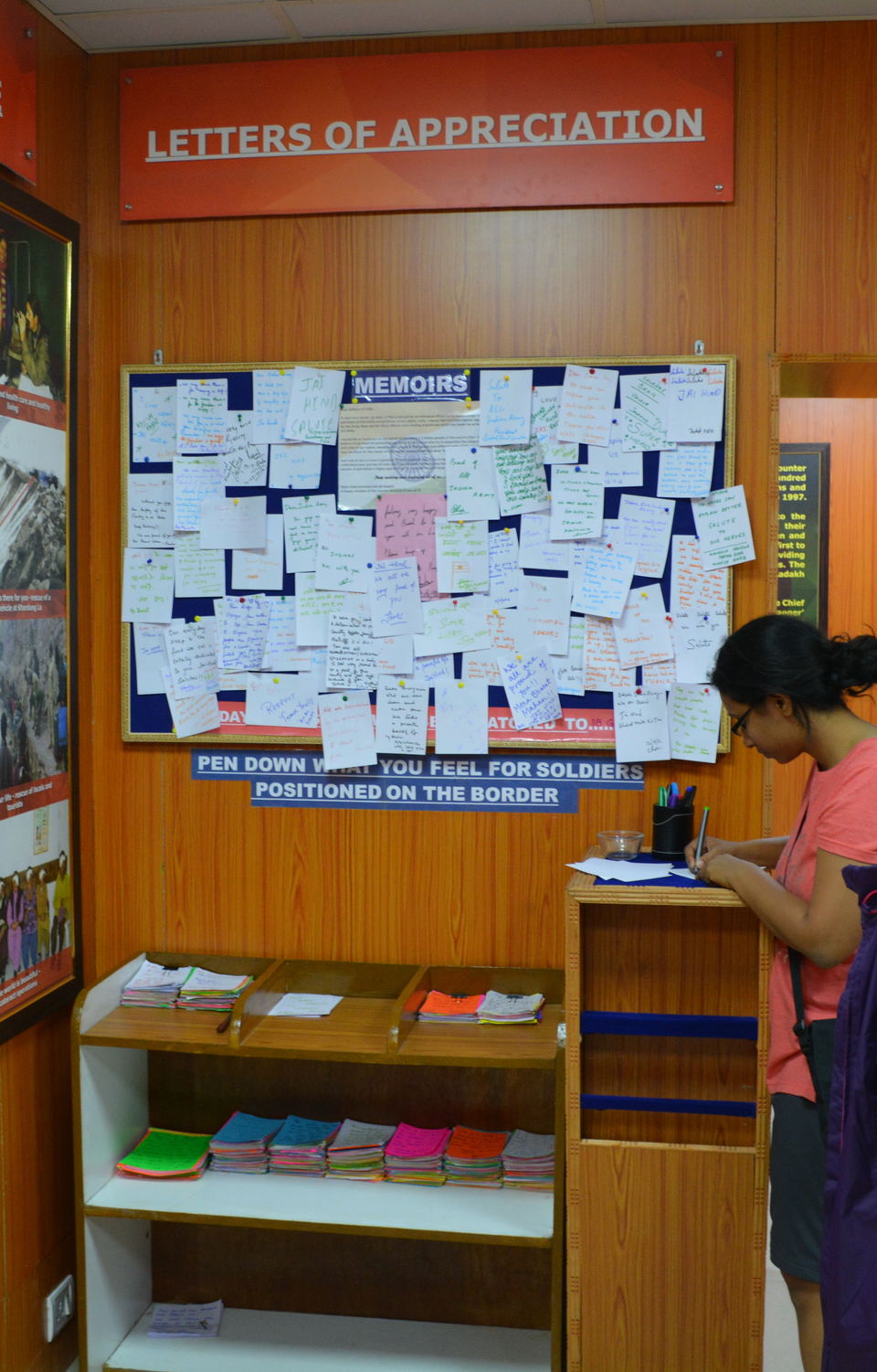 We were still very energetic as we walked to Shanti Stupa a kilometer from where stayed, 500 steps to reach the top a Buddhist white dome symbolizing peace. We then jammed with two guitarist who were there and then got back. Yummy dinner was waiting for us Tukpa and momos - the local style!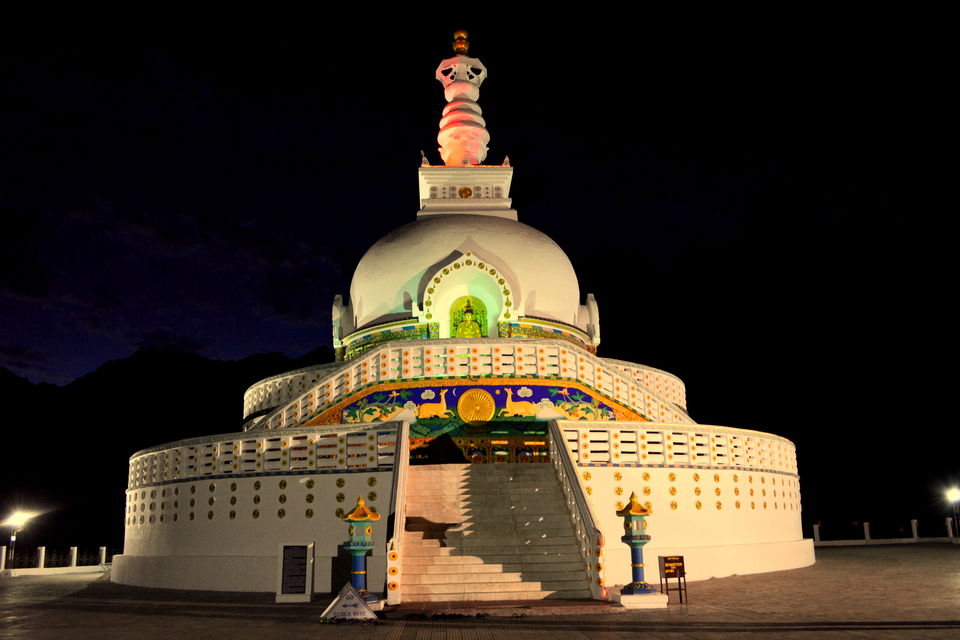 Day 5 - July 13th
We were off to Pangong Tso, had a long journey ahead of us. We started around 8:00 AM. The road to this place was not particularly good. As we started our ascent at one mountain, the mountain sickness began to creep in. For an acrophobic person, this is truly one scary natural roller coaster drive (Perhaps a very slow one)! Toppled trucks and other vehicles off the roads did not make it any easier. We stopped to have lunch at some shop and only maggi was our best bet. Then we continued for another 3 hour to reach the mesmerizing lake.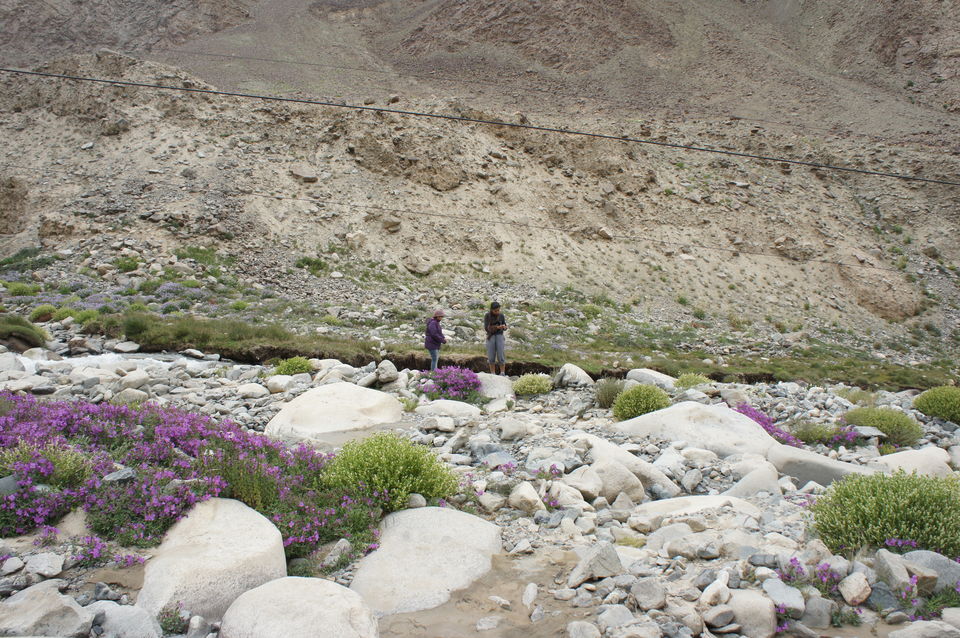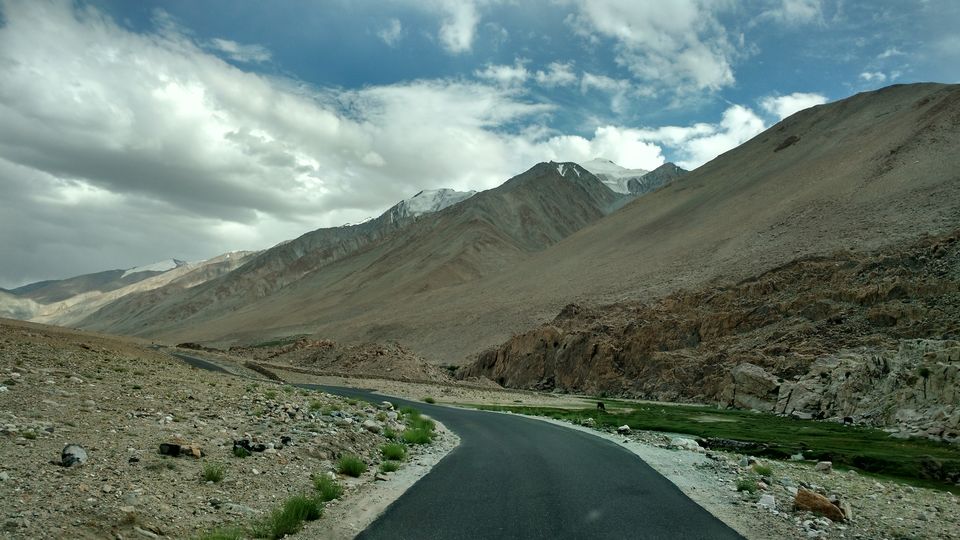 'As blue as Pangong lake', this is a salt water lake more than half of which is in China. The water was extremely cold, nonetheless we took a dip in it! It was planned that we would stay in the tents on the bank of the lake. We took a stroll along side the lake, silence and serenity grew deeper as the dusk stepped in.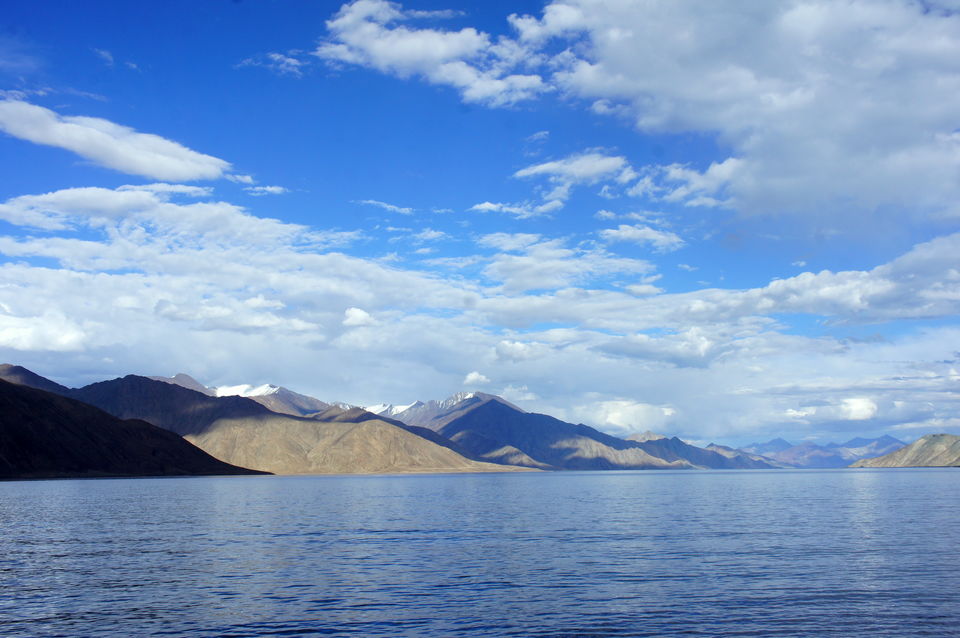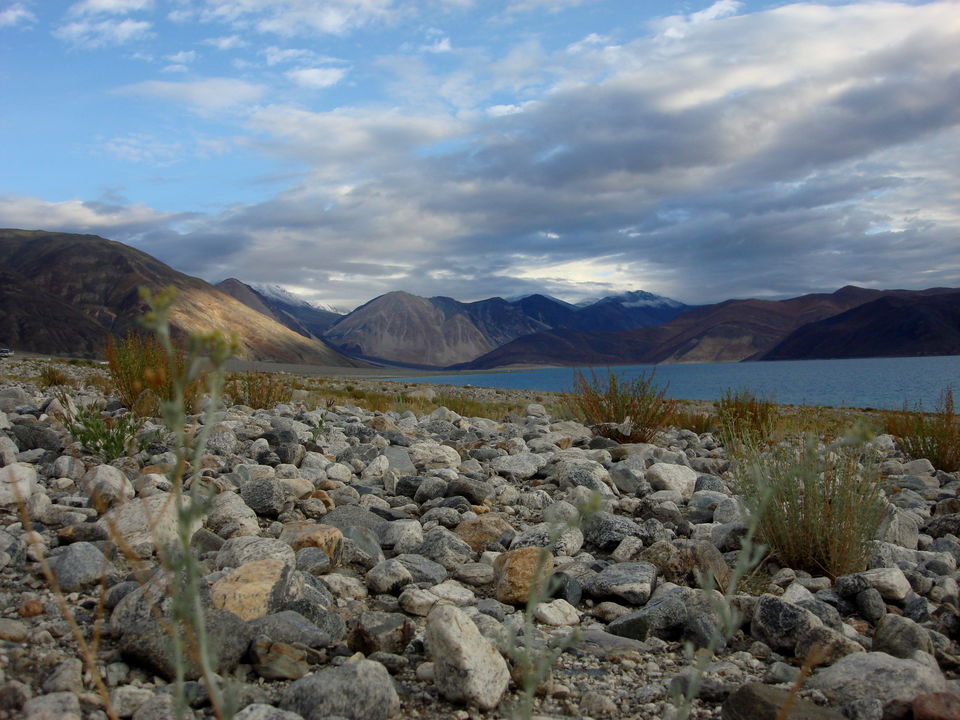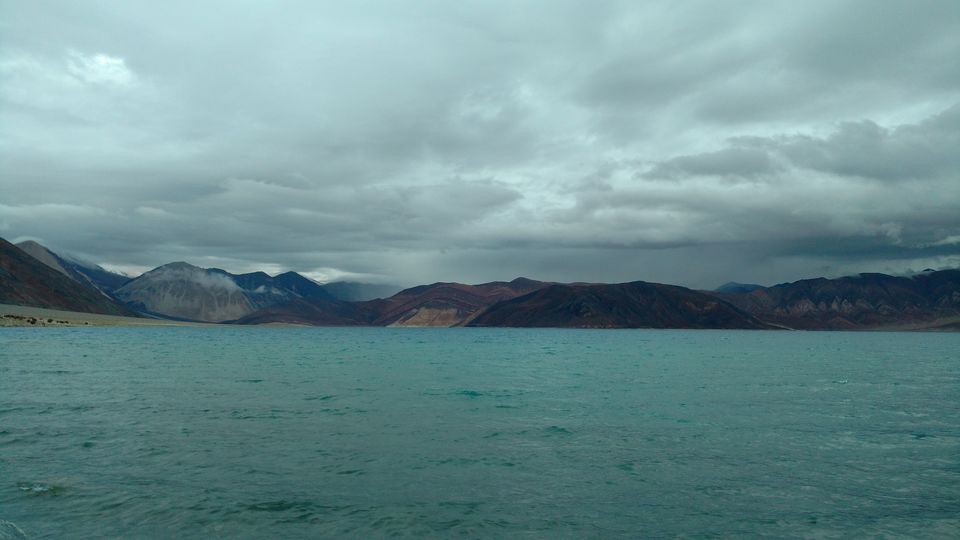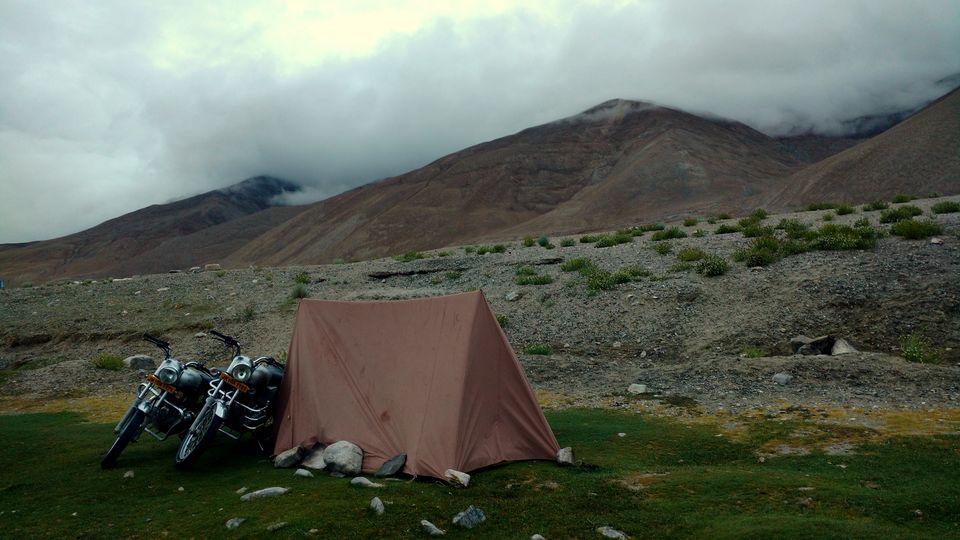 The previous night, it had rained and the temperature had fallen to -2 degree Celsius, this did not stop us from getting up at 4:30 AM, to see the sunrise. The weather was not in our favor, sky was covered with clouds couldn't really witness the 'sunrise', but we saw the colors changing the entire landscape. We had to head back to Leh so we had breakfast and started at 9:00 AM. On our way back we visited a couple of monasteries,some old and some relatively new ones.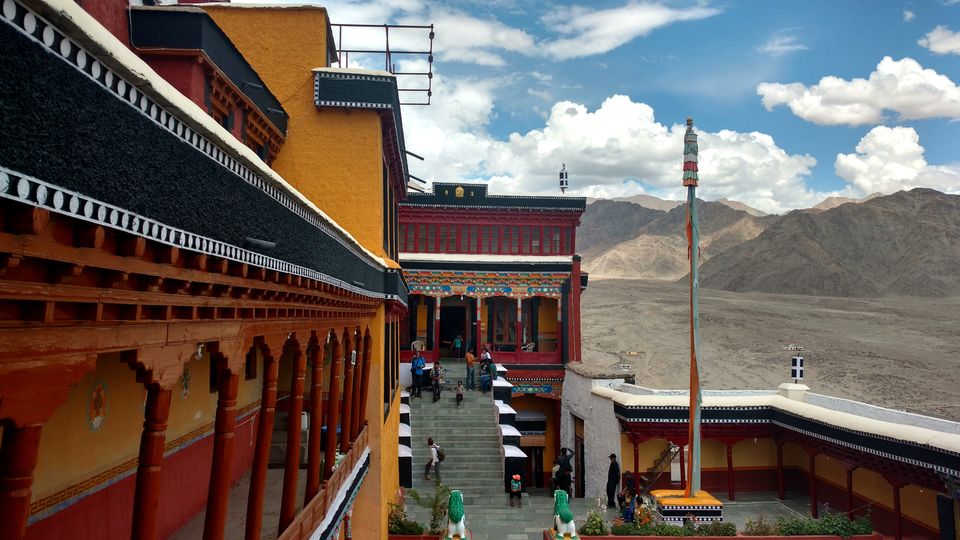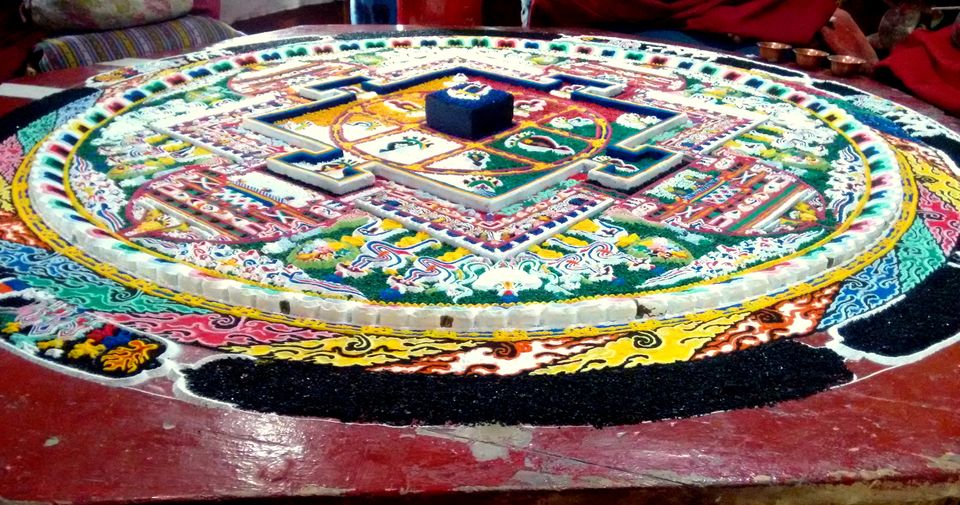 Day 7 - July 15th
Khardung La Pass - The road to this place was as adventurous as the previous day. We reached the top and there we were at the worlds highest motorable road at around 17600 feet. Army conveys one after the other, we had to pay our respect.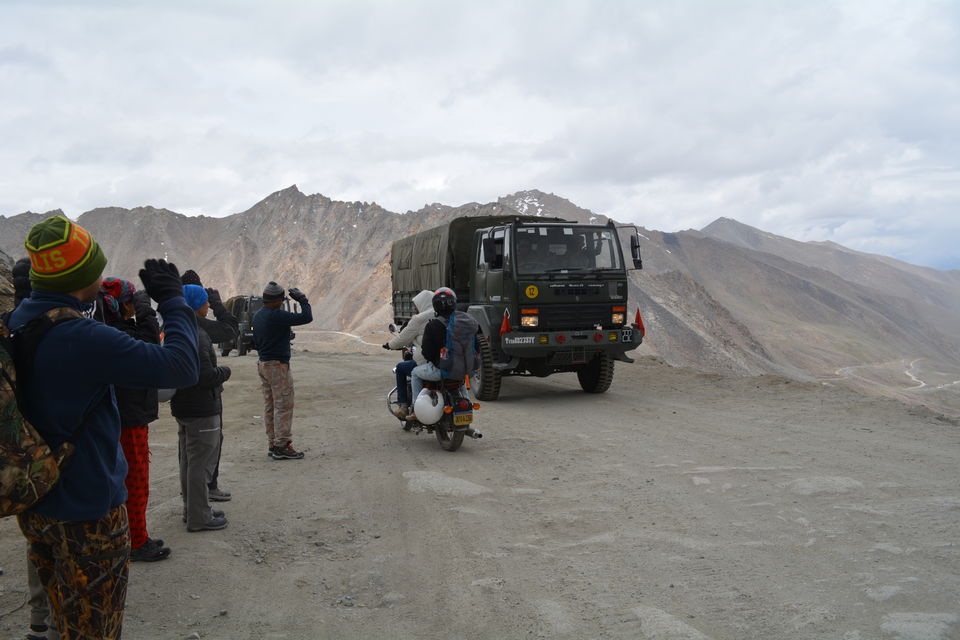 After a while we had snacks at a small shop on the top and started our journey back. In the evening we went to the market place bought a few things as souvenirs. While we were standing to withdraw cash at am ATM, we met a lady who had had her share of bad experience in the bus for two days with no food and toilets because of the curfew. She strongly advised us not to go to Srinagar the next day. But our plan was made and we were all for taking the risk.
Day 8 - July 16th
We started from Leh to Srinagar at 8:30 AM. This is a drive that I will never forget. One of the most beautiful landscapes I have witnessed till date. And the breakfast at a Jain restaurant on the way, my mouth waters as I write, parathas with curd, garlic toast (Just too delicious) in a perfect garden ambiance with apricot trees.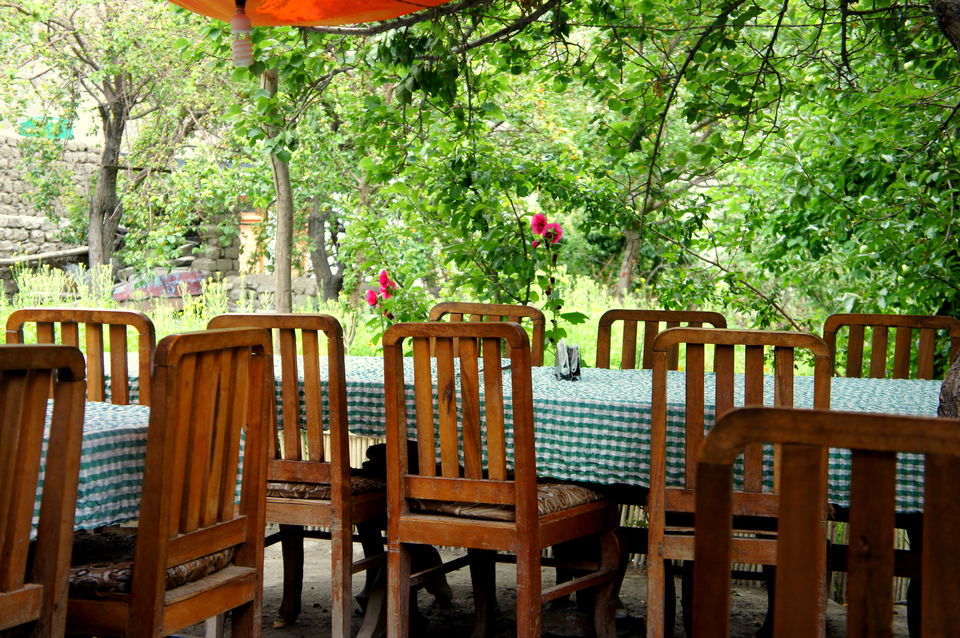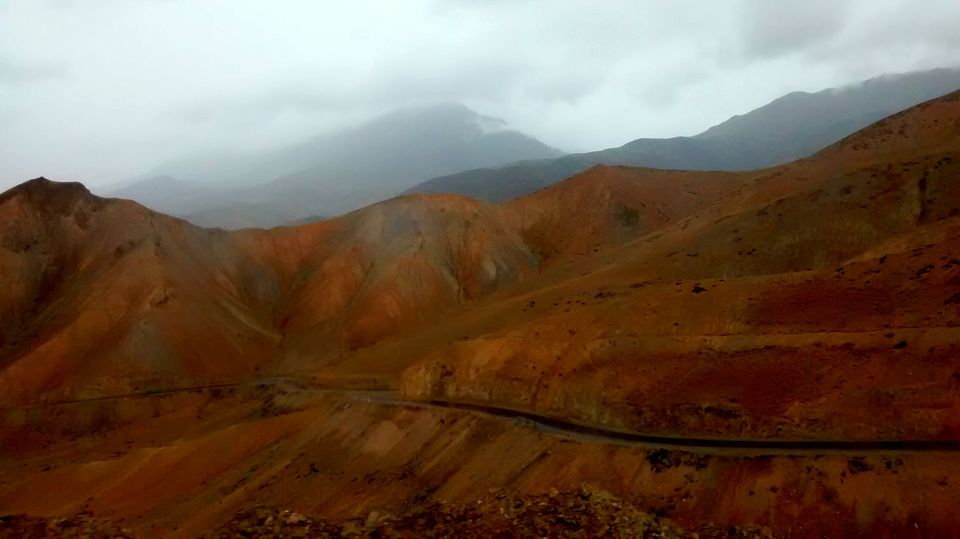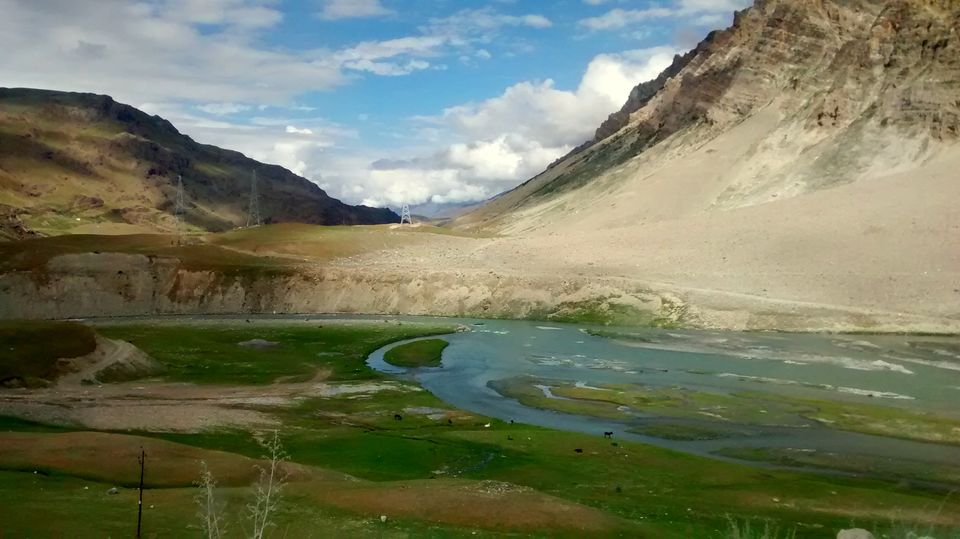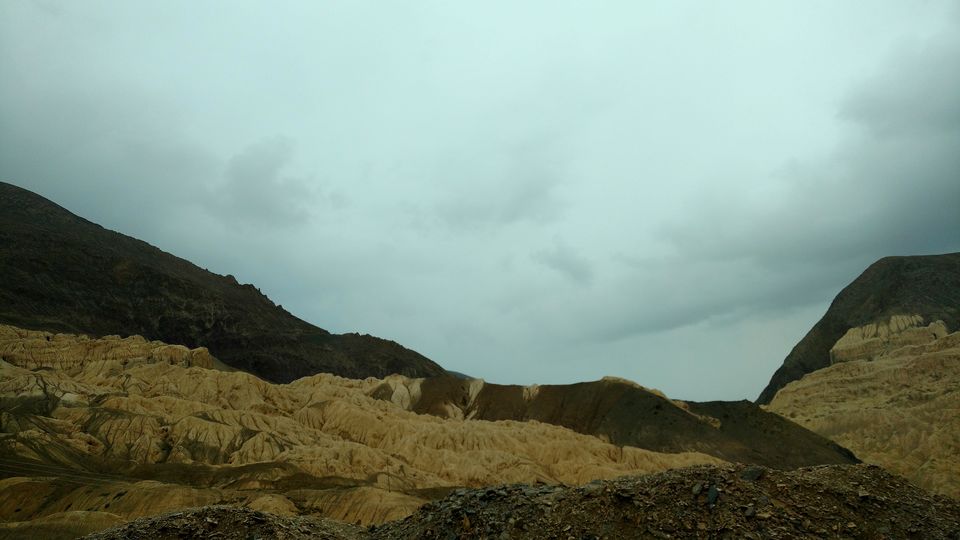 NH1- road cuts through the mountains, with every curve the landscape changed, it was a treat for the eyes! River along side, these were the ones with more rapid currents. We stopped at the Kargil memorial,a place in the memory of many soldiers who died serving the country. RESPECT!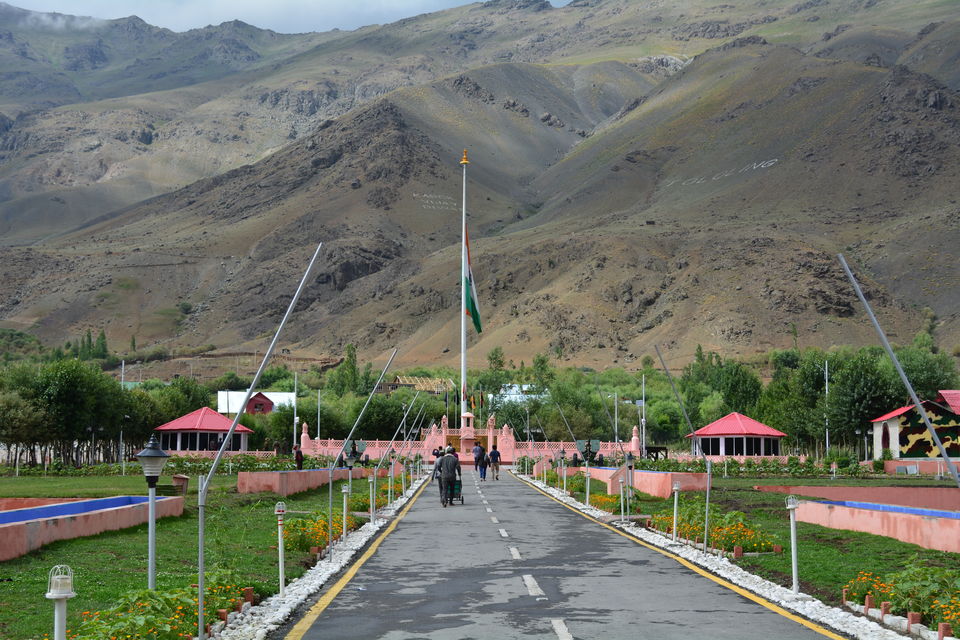 We went through Draas, worlds 2nd coldest place with temperatures dropping down to -45 degree Celsius, and the worlds highest battle field. Then at around 5:00 PM we reached Sonmarg. This was a boundary, vehicles were not allowed to move beyond this point. We were enjoying the view of the city from the hill top.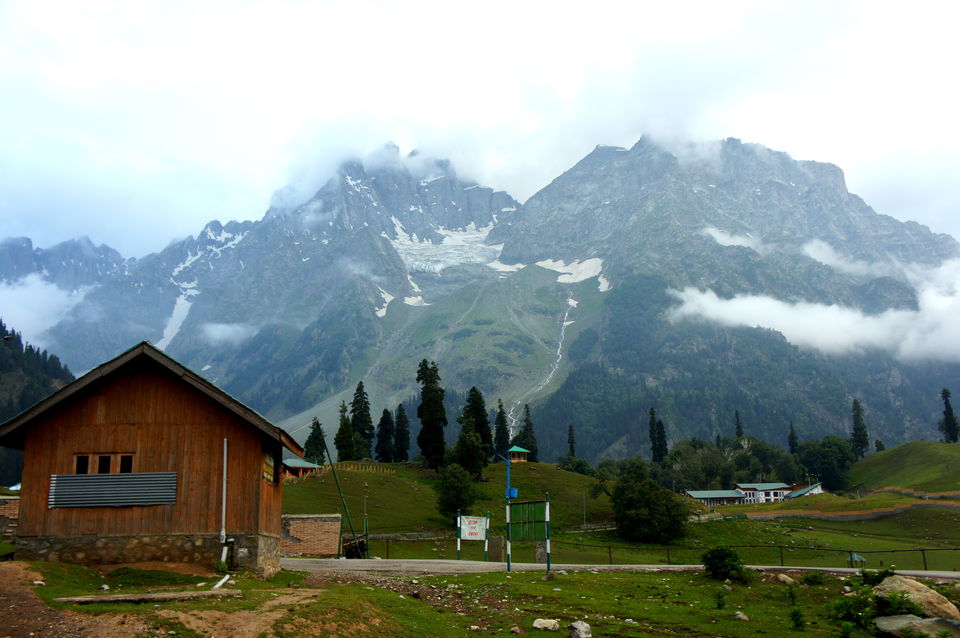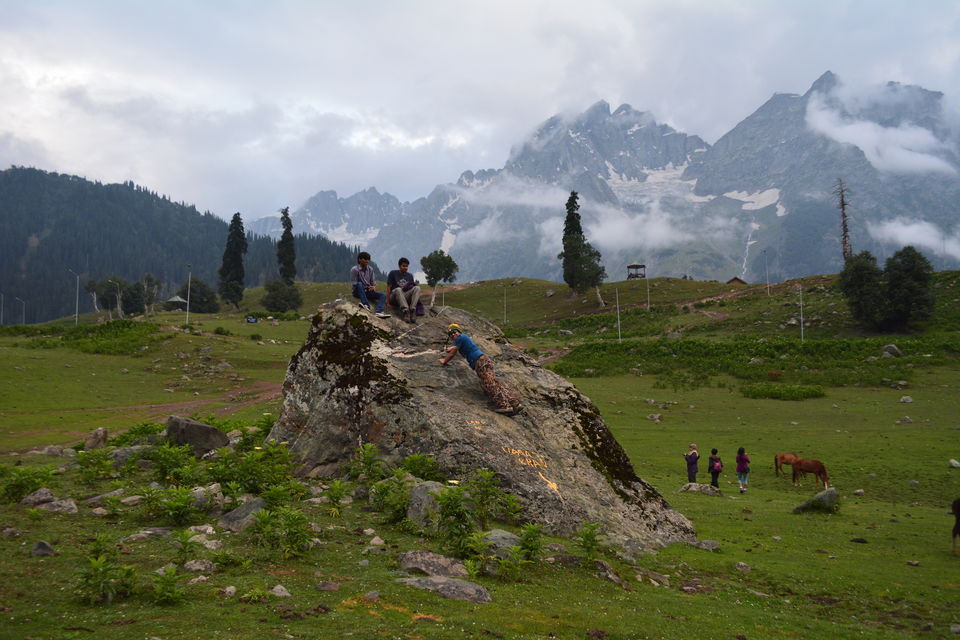 We climbed down to find out that we were not going to be allowed to travel to Srinagar until next night. And we were all waiting in the car. To top it all, it started raining, we went to the army officer multiple times requesting him to let us go, so that we don't miss our flight the next day. 50 - 100 army convoys loaded with guns i believe passed by one after the other.
Day 9 - July 17th
And then finally at 2:oo AM they did let us go. And there we were holding on to everything in the car as our drivers raced the Innova like Lewis Hamilton in close competition with Nico Rosberg. On the way we saw army men every 500 meters, glasses shattered! In no time we had reached Srinagar airport (Around 4:00 AM). We thanked our drivers for dropping us safely to our destination and bid good bye. The airport was going open only at 6:00 AM. So we sat outside waiting like many others there,there were small fights going on to give us the feel of Srinagar, when they did let us in (after number of security checks) the airport felt entrance felt something so different so many people camping there on the lawn chai,samosa,sandwich stalls (because of the curfew). We knew a person from airport security department so he arranged for a quarters where we rested and had hot parathas, divine!!! Then we boarded the flight at 1:00 PM.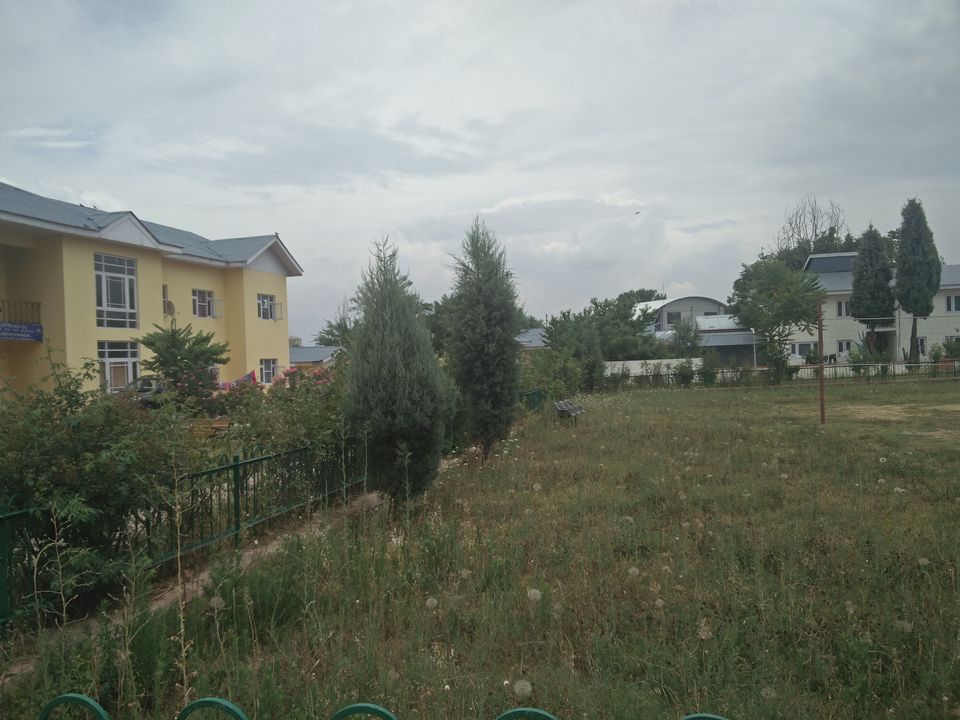 All this while we were not able to contact anyone back home, when we reached Delhi messages and phone calls started pouring in to check on us. After a long wait at Delhi airport, we reached Bangalore at 11:00 PM.
A day that I will never forget for various reasons!