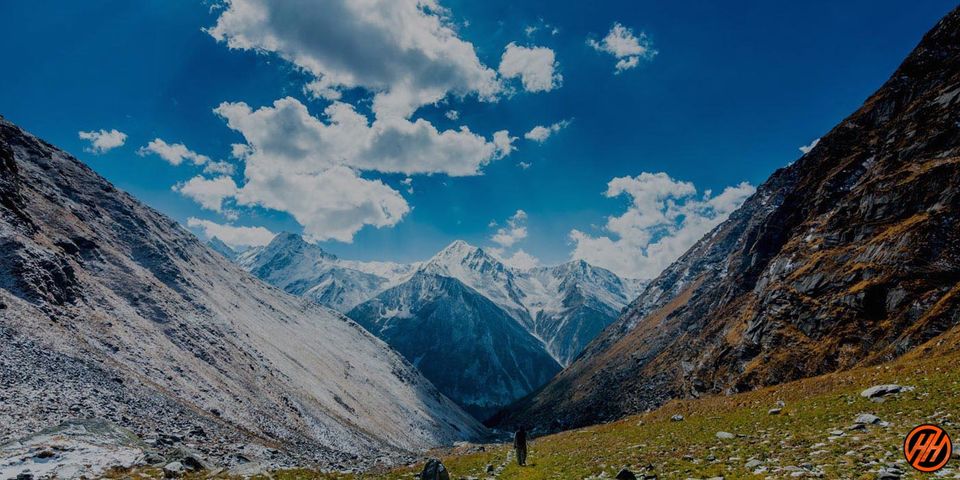 Description
Har Ki Dun is an Enthralling valley in the Himalayas, Uttarakhand
Har Ki Dun Trek comes under Govind Wildlife Sanctuary National Park. No doubt, the Himalayas have enchanting beauty, bracing climate, and desirable useful green meadow. So, what else can be better than spending some days here in the serenity?
Trekking to this enthralling valley can be a divine experience for a lifetime.
Har Ki Dun trek comes in the category of epic historic adventure treks. There you can find the essence of mythologies. You can find here also lavish meadows, grasslands, mountain ridges, pine forests, glacial ranges, and jaw-dropping views of the Great Himalayas.
This is the only valley from where you can have a glimpse of elevated peaks. Like Bandarpoonch, Black peak, Kalanag, Bali Pass, Ruinsara Lake, and Swargarohini - I, II, and III. And many other peaks!
During the trek, you will come across the ancient villages. It's about 300 decades old and will surely take you back in time. On the trail, you will encounter the local lifestyle and communities with lavish vegetation grown in the fields.
Today also, the local people there still worship Duryodhana As their deity. Thus, Har Ki Dun trek is filled with solemn surroundings and legendary culture. It is a must-go for all the travel lovers and nature seekers out there.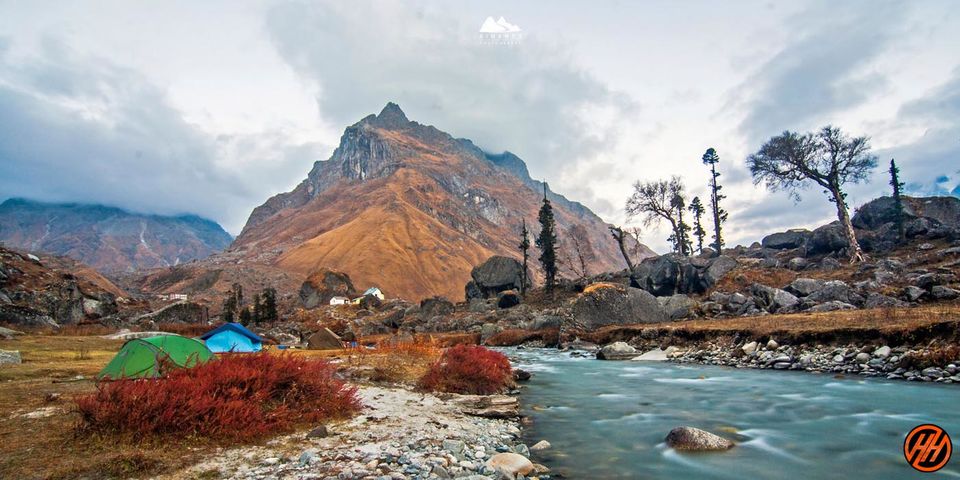 Har Ki Dun Trek the Majestic valley in Garhwal Himalayas
Har Ki Dun Situated in the charming Garhwal region of the Great Himalayas in Uttarakhand. It's a large-sized valley that follows in the footsteps of Indian mythology and, till today, is known to be " Har Ki Dun."
It has been present for more than 500 decades, no doubt famous as the "Valley of the Gods". Har Ki Dun has the essence of history and mythology along with the natural beauty. There is the lush climate surrounded by the soothing greenery desired. So that's the reason why Har Ki Dun is known as "Valley of the Gods".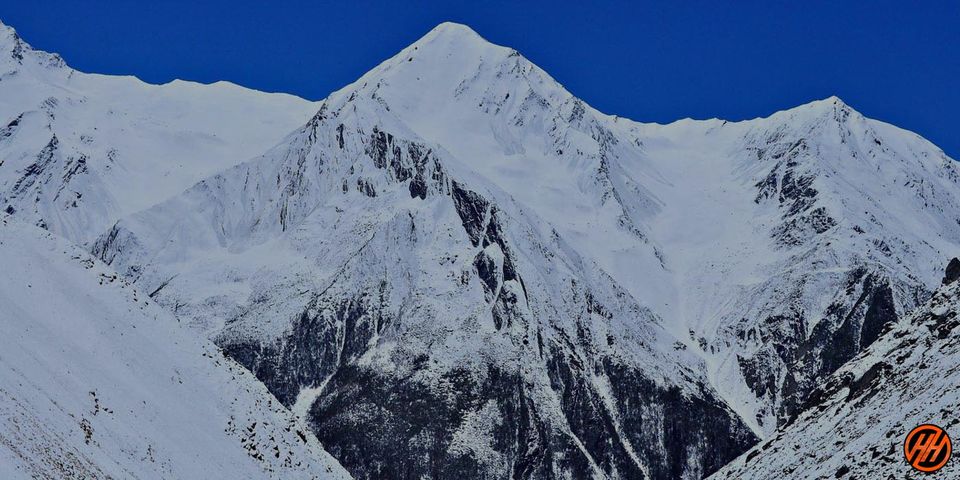 Truth Behind The Myths
Many fables and tales of the era of Mahabharata are admired here. But, it is essential aware of the readers and trekkers about the real facts and myths.
Many trekking companies claim myths about the worship of Duryodhana in the temple of Yudhishthira. Local people believe that they reach heaven via Har Ki Dun Trek. The truth is none of this exists here as per accurate facts and research. On the contrary, the chronicle of Yudhishthir reaching heaven through the Har ki Dun trail never exists here.
Instead, the saga of reaching heaven was through the path of Badrinath towards Swargarohini peak at Narayan Parvat (mountain).
The locations elapsed are Laxmi van, Chakaratir, Sahastradhara, and Satopanth Lake.
Furthermore, there is no existence of any Duryodhana temple at the Mori district of Uttarkashi. Instead, the temple, which is claimed as Duryodhana Temple, is the Someshwar Mahadev temple, a chapel of Lord Shiva.
Thus, Har Ki Dun is also known as "The valley of Shiva."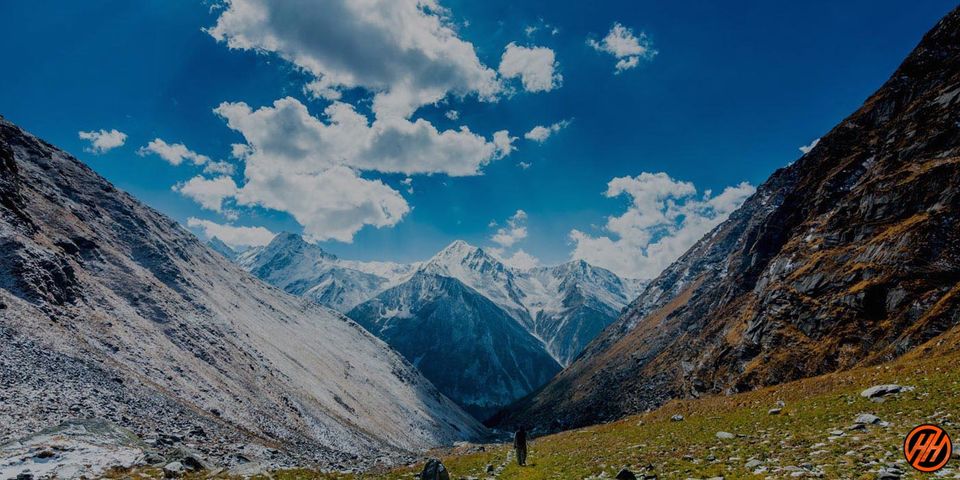 Why Choose Har Ki Dun Trek?
Before heading towards the itinerary, it is essential to perceive the reason behind choosing Har Ki Dun trek.
See firstly. The trekking distance of Har Ki Dun Trek is 56 km, which is covered into 7 days. Har Ki Dun Trek is a Moderate Level Trek because of the things that this trek has to offers.
These are:
No high altitude mountain sickness due to the forthcoming of the forest region.
The trail is not that abrupt and sheer as compared to other treks. So, beginners can easily do this trek.
You got to see so many heavenly bodies at one place like the panoramic view of the Himalayan ranges, meadows, lakes, pine forests, different variety of flora and fauna surpassing through bona fide Garhwali heritage and culture.
Do spare time in Interaction with locals, and you will get to know about some of the ancient tales of Indian mythology.
During the winter season, this fascinating valley remains covered in snow, and the white sheet of snow makes it look like a magical wide snow-land.
And, in summers, the valley turns different and amusing because of meadows, wildflowers, and woods blooming in different colors.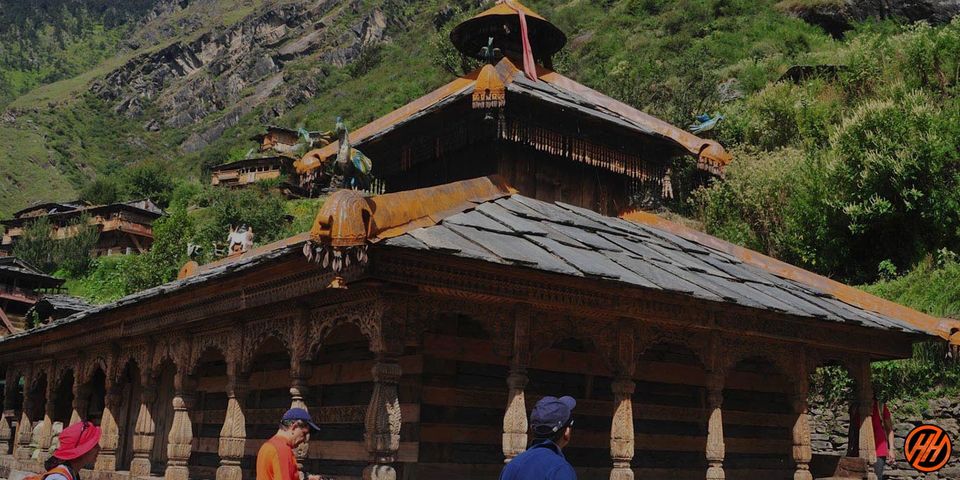 About Base camp Sankri in Har Ki Dun Trek
Not only Sankri is the base camp for the Har Ki Dun Trek but also for 25 + Himalayan treks. Thus, it always remains busy by the hustle and bustle of trekkers. This small village is genuinely beautiful because of its pleasant setting and calm environment.
There are quaint wooden houses made of Deodar wood. And also some hotels and restaurants serving delicious local food. Their specialty is "Red Rice." So, get to know the villagers and have a glimpse of their lifestyle.
It is the best place to explore the Himalayan culture and tradition.
You will also have some excellent views of lofty Swargarohini Peaks and Bandarpoonch. And yes, do not miss their glorifying sunrise and sunset views.
Moreover, the nearest village to Sankri is "Saur" The temple of Someshwar Devta there is highly worshiped by the villagers.
Therefore, the base camp will leave you admiring with its exquisite beauty.
The altitude we are going to cover at Har Ki Dun Trek
Sankri - 1920 Meters
Cheludgad camp - 2600 Meters
Har Ki Dun Camp - 3645 Meters
Getting to Himalayan Hikers Base Camp Office at Sankri
Take the night train from Delhi to Dehradun.
(Special A/C train from New Delhi would be best)
You can reach Dehradun Railway Station around 5:00 am to 7:00 am. Our staff members will be there for your pickup.
ATM Point & Mobile connectivity in Har Ki Dun Trek
ATM POINT: Withdraw money before your journey, Purola is the last point where you will find ATM.
(If you want to withdraw money, then do it in Dehradun.
Mobile Connectivity: There will be no networks during the trek; in Purola, your device will receive the networks.
At Sankri, only Vodafone and BSNL signals are there, but you cannot rely on the connectivity because the signal strength is not good.
So make sure you finish all your essential work and calls before starting the trek.
Key Points of Har Ki Dun Trek
Duration: - 6 Nights 7 Days
Base camp: - Sankri
Summer Temperature: - Day (5°C to 15°C) Night (2° C to 8° C)
Winter Temperature: - Day (-2°C to -5° C) Night (-5°C to -12°C)
Har Ki Dun Altitude: - 3500 Meters
Best Time: - All year
Trek Level: - Moderate
Trek distance: - On foot 64 Km - By taxi 442 km
Group Size: - 20 people
Short Itinerary of Har Ki Dun Trek
Day 1- Pick up to you from Dehradun railway station - Drive to Sankri Market - 210 Km (8/9 Hours (1920 Meters)
Day 2 - Trek from Sankri to taluka by taxi - 11 km same day trek to Cheludgad camp (12 km) (4/5 Hours) (2600 Meters)
Day 3 - Trek from Cheludgad camp to Bhasla camp Har Ki Dun (13 km) (6/7 Hours) (3500 Meters)
Day 4 - Exploration Day (Manida Lake) (Jaundhar Glacier) Har Ki Dun valley back to camp (4/5 Hours)
Day 5 - Trek from Har Ki Dun to Cheludgad via OSLA village (13 km) (5/6 Hours) (2600 Meters)
Day 6 - Trek from Cheludgad camp to Taluka (12 km) (4/5 Hours) Same day Drive to Sankri Hotel
Day 7 - Sankri to Dehradun by taxi (210 km) (8/9 Hours)
Detailed Itinerary of Har Ki Dun Trek
Day 1: Pickup from Dehradun Railway Station and Drive to Sankri (base camp) by taxi
Mode of journey - By taxi
Night stay - Our Swargarohini Hotel - on twin share basis
Himalayan Hikers organizes transport for trekkers from Dehradun Railway Station in the morning which will leave for Sankri around 6:00 am to 7:00 am.
Dehradun is the capital of Uttarakhand and one of the most beautiful places in India. The main attraction of this place is Rajpur road go through it and get a glimpse of Dehradun's beauty. Reach Mussoorie after an hour which is also known as "Queen of Hills". People visit it heavily during vacations with their family and friends.
After half an hour, stop at kempty fall. Have breakfast there and witness people from different parts of the world. The break will be of maximum 1 hour. Ahead the peaks are visible and further you will come close to holy Yamuna River. If you want, then take a short break of 20 minutes and enjoy being around it. Further, you will cross the small markets of Nainbagh, Damta, and Naugaon.
Reach Purola around 1:30 pm and take a break there for lunch. After having lunch proceed to Sankri via Jarmola. From there the back of Kedarkantha is visible. Go through the picturesque zig zag road amid pine forest of Jarmola.
Reach Mori and after 1 hour you will come across a check post. They will ask for Aadhaar cards and some other details. Ahead lies Sankri, enjoy the drive and the wait is soon going to be over. Reach trekkers paradise and the main market of Sankri.
Go to hotel Swargarohini, freshen up and enjoy evening snacks in the open terrace with great views. You will be provided some details after which you can go for evening walk but be at the hotel for dinner.
Enjoy delicious dinner and spend comfortable night in the mountains.
Day 2 : Trek from Sankri to taluka by taxi - 11 km same day trek to Cheludgad camp
Mode of journey - On foot (12 km) and By taxi (11 km)
Night Stay - Camp site - on twin share basis
Post breakfast, Ready to all trekkers we will drive towards Taluka on the way beautiful forest many species of tree , Taluka is a small village with concrete houses and you can easily find few shops and hotels there. Trek starts from Taluka and the sight of magnificent snow clad mountains accompany you all along the way.
Go ahead, cross a bridge over a stream and follow the trail. Pass through dense forest and a Supin river on the way is visible flowing through the woods below. Continue trekking and a village named Dhatmir comes into right sight.
Ahead lies a lavish green meadow, which further leads to the forest section. The trail changes to the mixture of steep and leveled path and afterwards to muddy.
After some hours of trekking, Supin River can be seen flowing through the woods. Now, again cross the forest section and reach the green fields and a shop on the way.
From here, cross a bridge and a little higher you are welcomed by the surpassing views of towering peaks. To reach Cheludgad camp site today, setup your camps here and retire for the night. Enjoying the first camping night here
Day 3 : Trek from Cheludgad camp to Har Ki Dun Camp
Trek Distance 13 Km - 6/7 Hours journey
Mode of journey - On foot - 13 km
Night Stay - Camp site - on twin share basis
Today After breakfast start your trek from Cross the Supin River see the lift side beautiful Osla village - Cheludgad to Har Ki Dun . It is better to opt for a steep climb because it is a shorter route. The trail takes you through dense forest where you can easily notice fallen trees en route. This place is highly rich in flora and fauna, so enjoy spotting different variety of trees and animals in this region.
Cross flowing streams and trek along the river side. The meadows with delicious mountain views open up but ahead the path changes to muddy.
Ahead cross bridges, come upwards and a waterfall comes into sight. Come across many streams on the way which you will be crossing with the help of boulders. Then the trail becomes steep and further gets leveled. A river on the left will remain in sight until you reach Har Ki Dun camp site enjoy the moon night here
Day 4 : Exploration Day (Manida Lake) (Jaundhar Glacier) Har Ki Dun valley back to camp
Trek Distance - Manida Lake 6 Km - 3/4 Hours journey
Jaundhar Glacier - 14 km - 6/7 Hours journey
Mode of journey - on foot
Night Stay - Camp site - on twin share basis
Wake up early and have a glance of Son and Supin River with the gushing water sounds. After breakfast, explore the pristine Har Ki Dun valley, there are endemic alpine flowers covering the meadows with alpine vegetation.
Then, a meadow unfolds and majestic views of snow covered mountains will be the feast for the eyes, as we climb higher enjoy the views of lush green valleys and views of jamdar glacier and Swargarohini peak and Hata peak
Manida Lake
Manida Lake is 3 km away from the valley. Take left from the campsite then trek towards Hata peak and come across undulating meadows with many wildflowers. Reach the Lake, Brahma Kamal's and fan kamal , laser, are found in abundance there and the glaciers and valley views are exotic.
Jaundhar Glacier
If you want to go to Jaundhar glacier, 7 km away from the Har Ki Dun valley. then you have to cross some ridges, the trail is not an easy one and remains covered in snow but ahead it eases.
After reaching the final ridge you will see the Jaundhar Glacier and other towering peaks, then we'll return back to the campsite and enjoy delicious evening snakes, Soup and Dinner enjoying bonfire and overnight stay there.
Day 5 : Trek from Har Ki Dun to Cheludgad camp Via Osla Village
Mode of journey - On foot - 13 km
Altitude - Cheludgad camp - 2600 Meters
Night Stay - on twin share basis
After breakfast with packed lunch, trek starts to Har Ki Dun valley to via village OSLA which lies 13 km away. Relish the beautiful sights and variety of landscapes on the way. Black Peak and Bali Pass sights will surprise you ahead.
OSLA, it is a famous village rich in beautiful culture and there is a temple of "Someswar mahadev " built in ancient architecture. Villagers believe that he lived in this village and worship him.
At this village spend time and return to your campsite Cheludgad. Enjoy your food and stay in tents there.
Day 6 : Trek from Cheludgad to Taluka 12 km same day Drive to Sankri
Mode of journey - On foot - 12 km - By taxi 11 km
Night Stay - on twin share basis
After breakfast, Cheludgad to Taluka is an easy descent. On the way have glance of peaks standing strong and the green landscapes. Last view of this trek
Follow the same trail through rich forests. Spot birds and Langoors on the way. Reach Taluka, vehicles will be arranged from there and the arrangements will be made in Swargarohini hotel.
Day 7: Return - Pickup from Hotel Sankri and Drive to Dehradun
Mode of journey - By taxi
What Things To Carry on a Trek?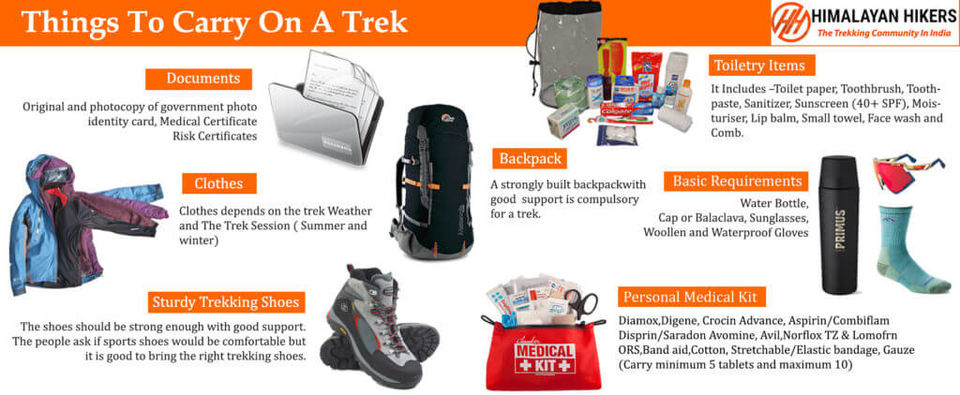 Mandatory Documents
Please carry the documents given below
Original and photocopy of government photo identity card- (Aadhar Card, Driving License, Voters ID, etc,Passport and Visa important to foreigners Medical Certificate (First part should be filled by the Doctor and Second part by the Trekker) Declaration Certificates
Note: - Many trekkers commit the same mistake of carrying unnecessary items on a trek which only makes the backpack heavy. It is important to know the right items to carry.It differs from season to season if you are trekking in summers then carry less layers of warm clothing and if you are trekking in winters carry enough layers to protect yourself against chilly cold.
Necessary Items for trekkers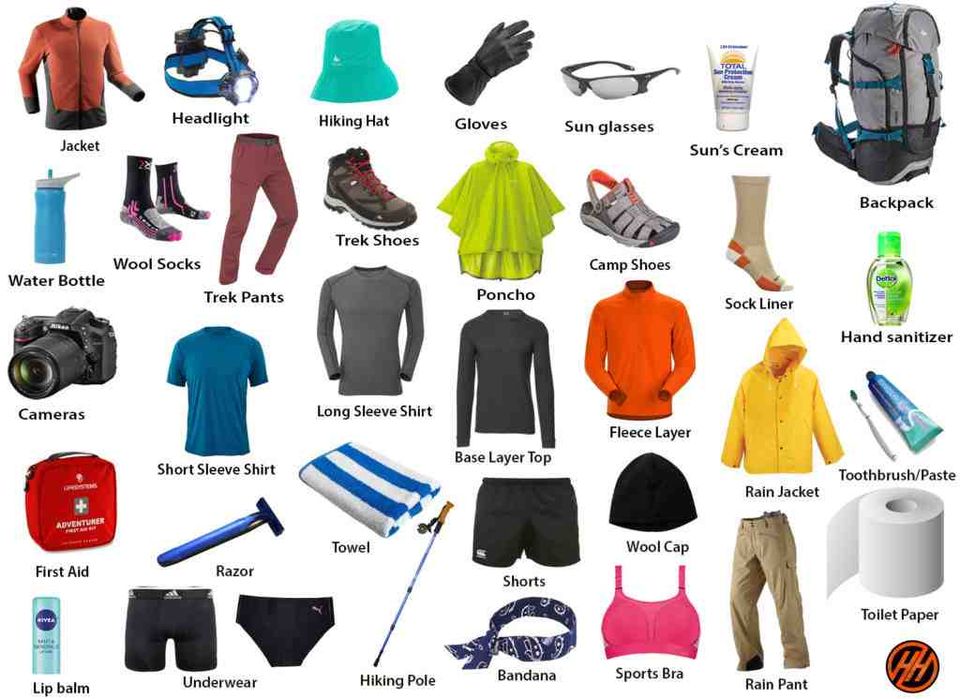 Backpack (50 to 60 liters) A strongly built backpack with good support is compulsory for a trek. (Rain cover is important)
Sturdy Trekking Shoes The shoes should be strong enough with good support. The people ask if sports shoes would be comfortable but it is good to bring the right trekking shoes.
The Clothes You Should Bring On a Trek Avoid keeping extra clothes because it only makes you backpack heavy.
Trek Pants - The jeans are never suitable for a trek so you need at least 2-3 trek pants for treks carry more for longer treks.
Jacket - Jackets are very important to carry on a trek it protects you against the chilly weather. So carry 2 jackets on a week long trek.
Layers of warm Clothing Carry warm woolen layers or fleece. Carry more layers during winter season (at least 2 to 3) and less during summer.
Thermals - The Temperature decreases at night so you might be need thermals for Night.
T- Shirts - Bring those t shirts which dry fast.
Poncho -They are needed if you are trekking on a Rainy day to keep you dry.
Hiking Pole
Water Bottle 2
Cap or Balaclava
Sunglasses
Slippers
Woolen and Waterproof Gloves
Socks (Woolen and Regular)
Sunscreen
Torch head light
Personal Toiletry Items - (toothpaste, toothbrush, toilet paper, sanitizer etc.)
Carry Personal Medical Kit
Personal Medical Kit (Carry minimum 5 tablets and maximum 10)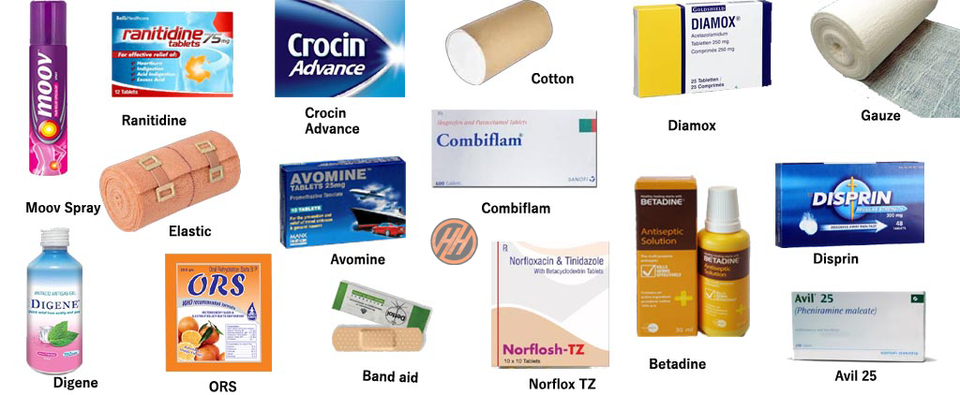 Diamox - (Prevents altitude sickness)
Digene - (It cures discomfort in stomach, acidity)
Crocin Advance - (Cures fever and headache)
Aspirin/Combiflam - (Pain reliever)
Disprin - (Cures headache)
Avomine - (Prevents motion sickness)
Avil - (It treat allergies)
Norflox TZ & Lomofen - (Prevents Diarrhoea)
Ranitidine - (Reduces the amount of acid in stomach)
Volini/Moov spray - (For sprains)
Betadine/Savlon - (Antiseptic cream)
ORS
Band aid
Cotton
Stretchable/Elastic bandage
Gauze
Note:- Use medicines only when prescribed by the doctor. In case you face any problem during your trek, discuss and take advice from the Professional guide.
What is Included In This Trek?
Transport Facility from Dehradun to Dehradun.
Forest Permit and entrance fee
Accommodation in Hotel Sankri
Accommodation in tents on twin share basis
All meals: breakfast, packed lunch, tea, coffee, snacks, soup and dinner
(All camping gears)
High quality tents
Sleeping bags
Mattress
Liner
Pillow
Separate Toilet tents - Ladies and Gents
Dining Tent
Dining Table
Porters
Helper
Mules
Kitchen team
Radio Walkie Talkie for Communication
Good Experience Trek Leader guide and Technical guide
Medical Kit
Oxygen Cylinders
Crampons and Gaiters
What is not Included in this Trek?
Personal Insurance
Medical Certificate
Personal toiletry Items and Personal Medicine kit
On first day En Route to base camp the Breakfast and Lunch are Not Included
Last Day En Route Lunch and Dinner are Not Included