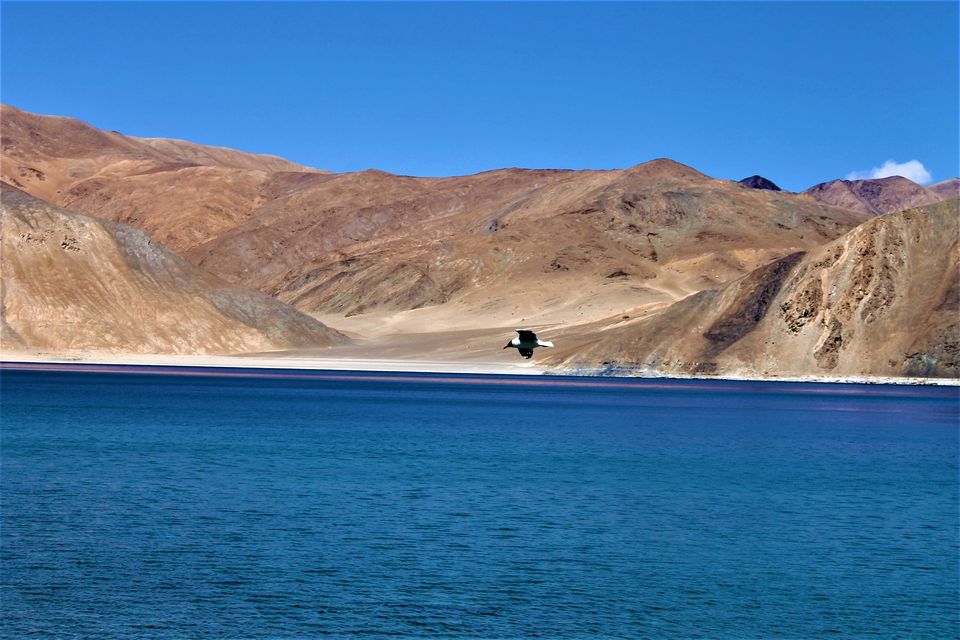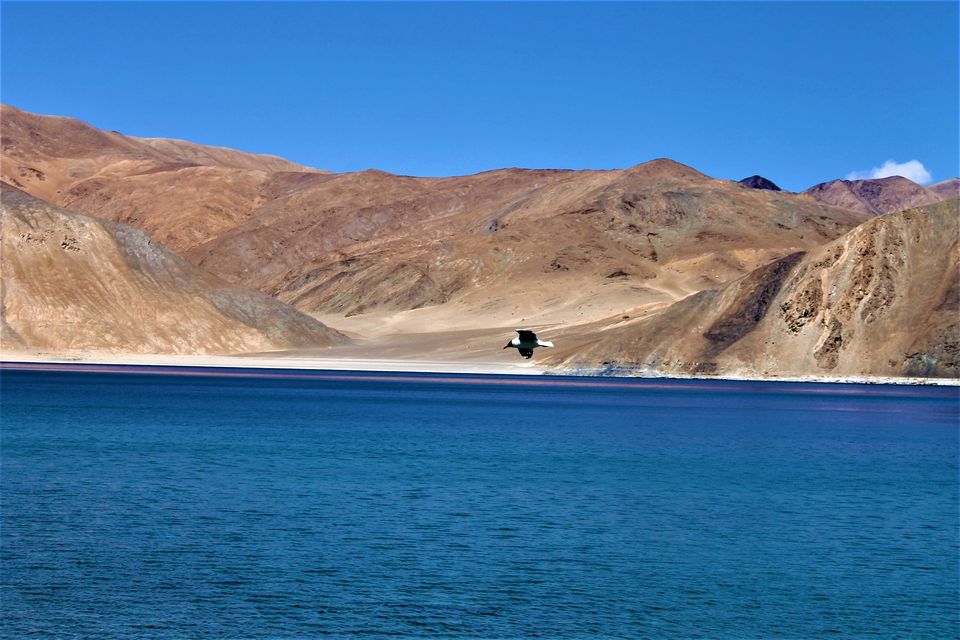 LADAKH – the beauty of India

Pristine blue waters and white sand in the backdrop of elegant brown mountains, that's how we, like many other were introduced to the fascinating land of mountains called "LADAKH" by the movie 3 Idiots. Bollywood movies have always been larger than life and the irresistible locations as shown in the movies are often disappointing when visited in reality. Having said that, it looked so fascinating that we were tempted to take a tour to Ladakh and I must admit, we were pleasantly surprised to be proved wrong. The place turned out to be much more engrossing and breathtaking than what was shown on the big screen and we so delighted to have planned this trip which till date remains to be one of the best holidays we have had till date.
There are various modes of travel to Leh, the capital of Ladakh region, including the road travel from Srinagar or the more scenic road travel from Manali and taking a more adventurous bike travel, but considering the weather conditions and lack of oxygen at the high altitude we decided to take a safer mode of travelling by air to Leh directly. We also decided to join the fixed package available with Make my trip (MMT) as they always had an emergency medical unit moving along with the fleet of vehicles.
Our itinerary was as follows:
Day 1: Mumbai – Delhi
We reached Delhi via flight and had a night stay at Delhi. Our stay was in Taurus Hotel near airport.
Day 2: Delhi – Leh
Next morning we reached Leh via flight. That day was a rest day just to get acclimatize to the Leh's climate (around 11,000 Ft above sea level). It is very important to rest the day when u arrives, if you are reaching Leh by flight. If you are travelling by road then you tend to get acclimatise during your journey. Our room was on the 1st floor of the hotel, but that short climb also left us huffing and puffing. It is worth noting that we had also resorted to Diamox tablets (smaller quantities) for couple of days before starting the journey to Ladakh. We rested that afternoon in the hotel and in the evening we just went out to stroll in the market. You will get good quality of winter clothing – we purchased woollen cap from Amulet international Trading which was in Goji complex, opp. to SBI leh). There were also many shops selling carpets. We were placed in Hotel Hilltown on upper tukcha road which was good and the room had nice view of the valley. Also their breakfast and dinner were very good (veg.). The staffs were courteous too. Definition of a good hotel is if it provides wooden flooring & room heater along with hot water for bathing. It was difficult to find any high end hotels operated by renowned operators.
P.S: Do take window seat for this leg of the journey. When you are about to reach Ladakh, the very first glimpse of this snow laden mountains makes you say WOW! Just imagine the sight of magnificent mountains greeting you – that was a welcome we can never forget. There's nothing more enchanting than nature's creation in Ladakh.
Day 3: Leh Sightseeing
It was a day of local sightseeing. We visited following places:
- Hall of Fame – Indian army operated memorial and museum
- Gurudwara Shri Pathar Sahib
- Magnetic Hill – Gravity defining hilltop & historic place (found it overhyped)
- Confluence of Zanskar and Indus riverLeh Palace – centuries old mountain top palace
In the evening we headed to chopsticks Noodle bar to eat ladakhi region food which was worth trying.
Day 4 and 5: Nubra via Khardungal Pass
Nubra valley is around 160km (5 to 6 hrs) from Leh. It is one of the famous tourist places in ladakh. You have to pass through khardungla pass** to reach Nubra valley. This valley lies at an elevation of around 10,000 ft above sea level on the other side of Khardungla pass, and hence passing through khardunlag pass and reaching to Nubra valley is an adventure in itself. As you drive down the valley after crossing khardungla pass the whole landscape changes. The entire landscape of Nubra valley contains natural beauty – you will find different colour and textures of mountains, river and sand dunes.There are lot of attractions in this valley, one of the attraction is Diskit Monastery (Diskit is the capital of Nubra). This monastery is situated on the hill. This hilltop monastery exposed us to picturesque view of mountains & valley, plus a large, colorful Buddha statue. Right on the top of the monastery stands a 106 foot tall Lord Buddha statue of Maitreya Buddha. Another attraction is double hump back camel safari – they are bactarian camels, having two humps.We stayed overnight at nubra valley at Royal Camp Nubra. Tents were spacious and clean. Night temperature at Nubra valley falls to sub zero for most of the months, so it gets very cold during the night time.
**Khardungla pass is the highest motor-able road in the world. It is at 18,000 ft above the sea level. It was very cold surrounded by snow-clad mountains on all sides and the air was very thin because of low oxygen level at this point. Reaching at this high level is feeling of one kind we literally felt on top of the world. Do not forget to have tea and Maggie at the highest cafeteria in the world managed by Indian Army. Remember that the tourist season lasts only for few months and that the time our army brothers get to see civilians in the region so they do like to interact with us. We started appreciating and respecting them even more after experiencing the harsh weather conditions that too during summers. It is almost unimaginable, the amount of difficulties they might be facing to just survive during winters. It requires tremendous amount of courage and love of one's nation to defend the borders throughout the year in these harsh conditions. Please do not miss out to respect & honour these brave men during the trip, it would just lift their spirits.
Day 6: Leh Sightseeing
We visited reaming places in and around Leh that day i.e.
- Shey palace and monastery
- Rancho's coffee shop
- Thiksay MonasterySchool where 3 idiots film was shot (Druk white lotus school)
- Shanti Stupa
Day 7: Journey to Pangong Lake via Changla pass
No trip to Ladakh is complete without visiting Pangong Lake. Pangong is around 6 hours by road from Leh. We passed through Changla Pass to reach Pangong. The Changla pass is a high mountain pass in Ladakh. It is claimed to be the second highest motor-able road in the world. The pass, guarded and maintained by the Indian Army due its proximity to Chinese border, is covered with snow throughout the year. There is a temple of "Changla Baba" maintained by India army. We enjoyed a hot cup of tea in the nearby Changla Cafe.
After passing through Changla pass we passed through some most amazing landscapes. On this stretch we also saw mountain wildlife – wild ass and the Himalayan Marmot. We went down to take closure look of Marmot and take its pictures as we had heard so much about them. They are very friendly and cute that you may want to cuddle him.Around 5-7km before the actual Pangong Lake, we got our first glimpse of the Lake which is still fresh in our memories like yesterday. We completely got lost in the beauty of Pangong Lake, the moment we reach there. The bright crystal blue water and the surrounding mountains blew our mind. It is said they if you visit Pangong on a bright day you can see various shades of colour – lucky us we visited on the right day and at right time. The water was very cold. We stayed there for couple of hours and then headed back to Leh. This few hours created some unforgetful memories in our mind for a lifetime.
Day 8: Alchi and Lamayuru (optional tour)
That day was a free day for us and we decided to visit Alchi and Lamayuru (moon land) which was not a part of the packaged tour. The drive was very scenic till Lamayuru. Our first stop was Alchi Monastry. The location of the monastery is very serine it is on the bank of Indus River. We passed through small market which was selling statues of Indian idols and jewelleries. The monastery does not allow photography. We met one monk in the monastery who taught us the meaning of prayer flag "Om mani padme hum" and also how to rotate their hand prayer bells. After having coffee at the restaurant inside the monastery, we left for Lamayuru. Lamayuru is known as Moonland of leh because it resembles the moon surface. It is on the Leh-Sringar highway. We drove upto the Moonland Mountains which are all made of golden colour sand. We enjoyed the Moonland for an hour and then headed back to Leh.
Day 9 – Back to Home
"There are places you visit to know about them. You come back home, you know more about yourself." Ladakh is definitely one of them.
P.S. Please visit our Instagram account @beyond__the__borders to get the glimpse of our ladakh trip – http://instagram.com/beyond__the__borders?igshid=1fu41vrbonewl
Also like our Facebook page beyond__the__borders
#ladakh #leh #india #himalaya #travel #travelblog #travelblogger #makemytrip #tripdetails #itinerary
Frequent Searches Leading To This Page:-
Places to Visit in Ladakh, Best Tour Packages for Ladakh, Top Ladakh Tour Packages for Family, Top Ladakh tour packages with price, Cheapest Ladakh Tour Packages, Things to do in Ladakh, Ladakh Holiday Tour Packages