Before I start this blog, let me tell you what changes I done in my Car to increase it's ground clearance. I had added thick rubber pads at suspension area. By this there was a little increase of ground clearance. This little increase made our whole ladakh trip possible.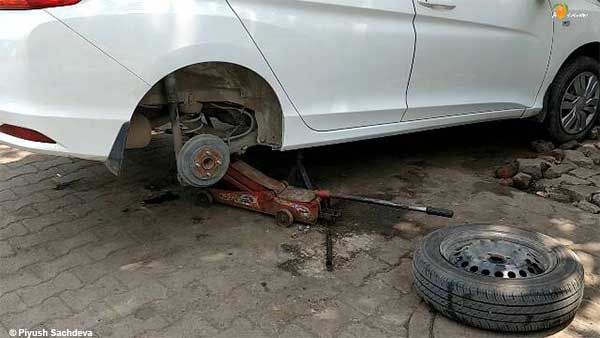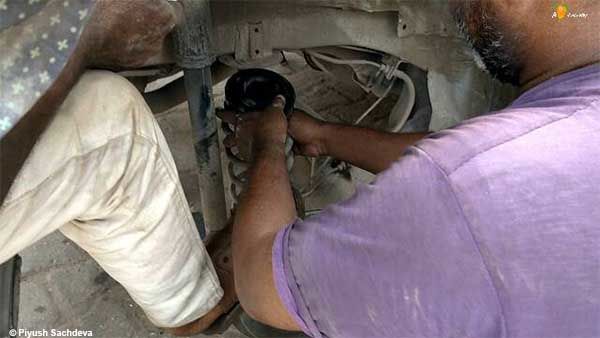 It was cold in morning around 5 am when we left Jispa and we all were determined that we would reach Leh today knowing well that it would be the longest distance we need to cover and my fear were the Four high passes we have to cover.
So let start the journey, it is our Day 3.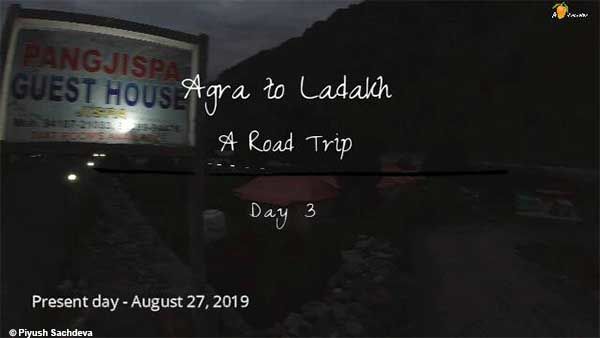 Jispa is so beautiful though we found many terrible patches but slowly and steadily we over passed them and the landscapes we saw were out of the world. We made lot of video by drone, check the video for it.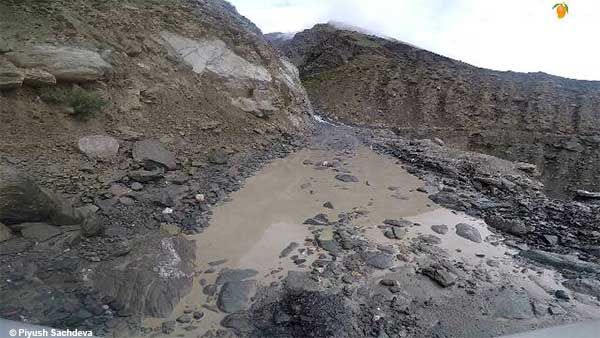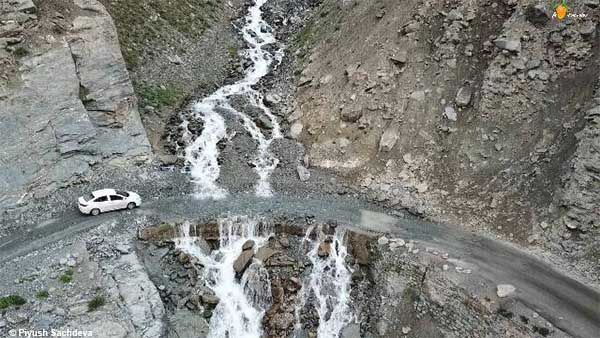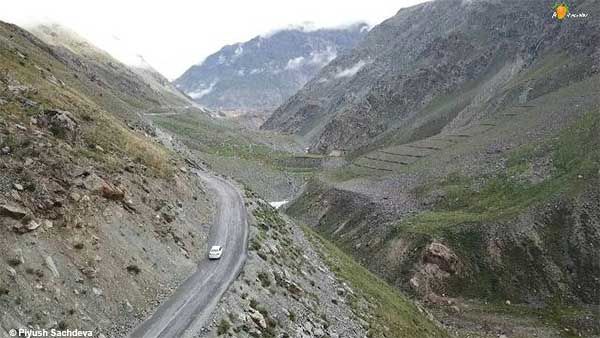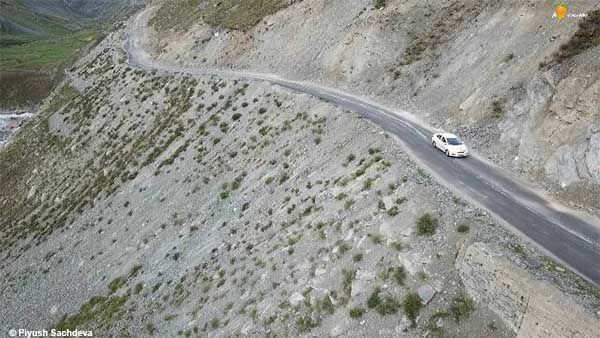 We stopped at Deepak Tal and did made time-laps and clicked photos. It is so beautiful. Seems like I can live here for all my life...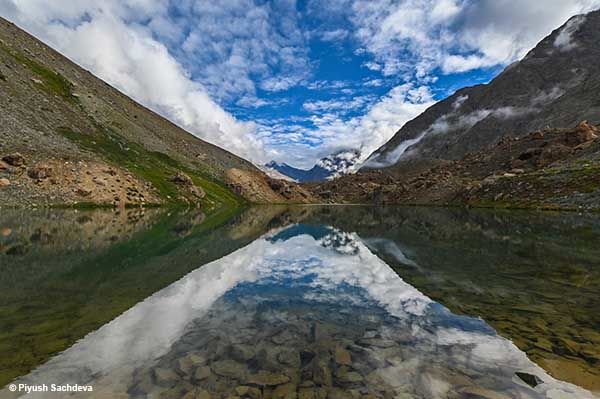 For breakfast we stopped at Zingzing bar. Please don't confused, it is just the name, there is no :D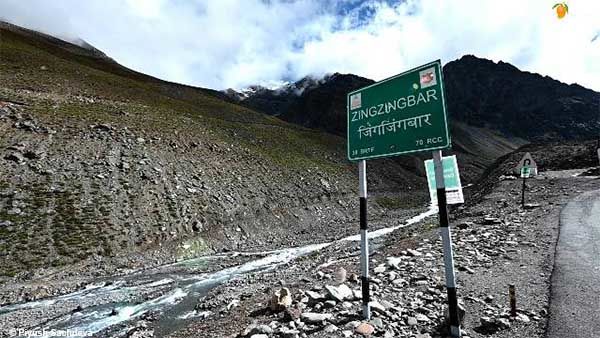 And the we took the road to reach our 2nd Highpass for today. Baralach la/pass. But before we also crossed one more water body called Suraj tal. On this road for the first time, we saw group of bikers and the sound of Royal enfield is enough to give you goose bump and lot of adreline in your blood.
We reached to Baralach la. It is 4850 meters from sea level and effective oxygen level here is roughly 11.4%, and frankly I was scared for this pass. Because when I came in 2016 to this place, roads were in the worst position. But, this time, roads were so so smooth. We didn't faced any problem except for few patched. We stopped for a small time here, clicked few selfies and then left it as it is not good stay at this height for long time. Effective Oxygen level is around 12%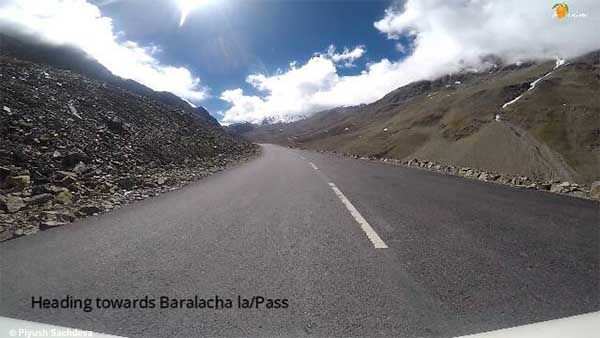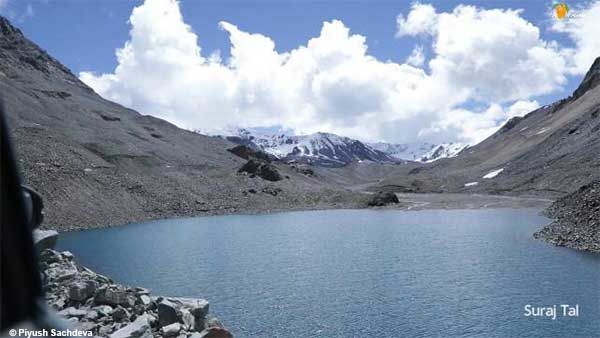 Bharatpur Nala was the actual challenge which we faced. And for the first time in 2 days I was afraid because of the car we were driving. Though I made few changed in my Dhanno (Honda city). Like I added thick rubber pads at suspension area so it's ground clearance can be increased, but looking at Bharatpur nala, I felt, it was just not enough. So I took ample of time to check everything, checked the cars with high ground clearance passes by, and when I gained the faith in myself, took the driving seat, and just ran the car over it. I think we all stopped breathing for few moments, until we crossed it.
So, this going to be my suggestion, no matter how great driver you are. For the bad patches, just get out from the car and check it minutely, we even saw a truck got stuck at Bharatpur Nala. Always be careful.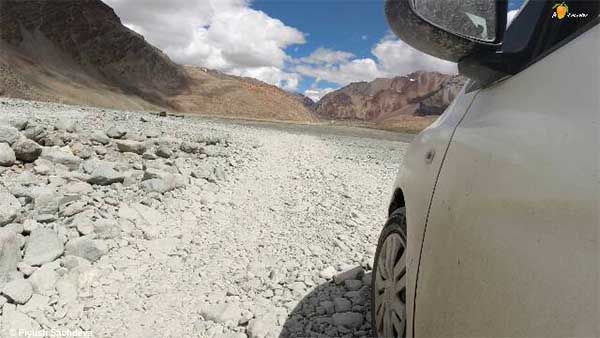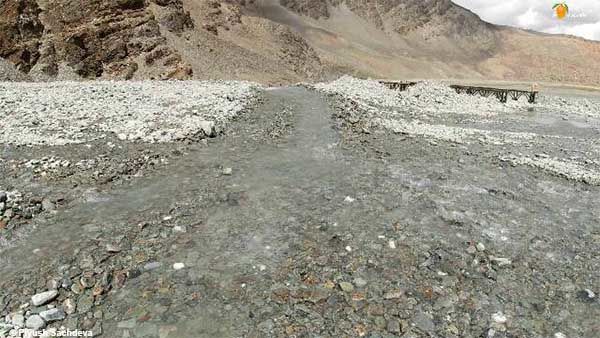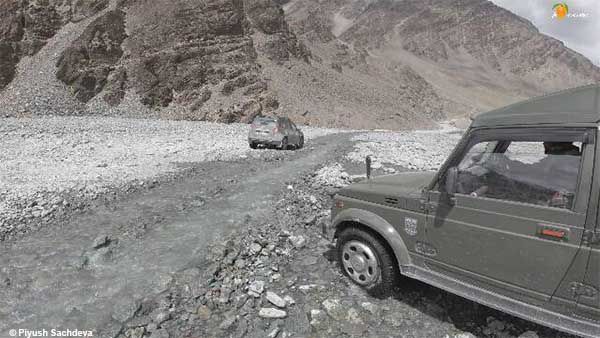 After crossing Bharatpur Nala, we reached to Sarchu, it was around 1 pm. We did not stopped here now. We kept on going and reached to Gata loops. Gata loops consists of 21 hairpin bends and it is sad no one un-necessarily stop here because of the ghost of a man who died of thirst and some people saw the ghost of that man many times. Locals set up a memorial at the site and who-ever cross this site make offering of water. You will thousands of Plastic bottles here which may be an eyesore but they have purpose here.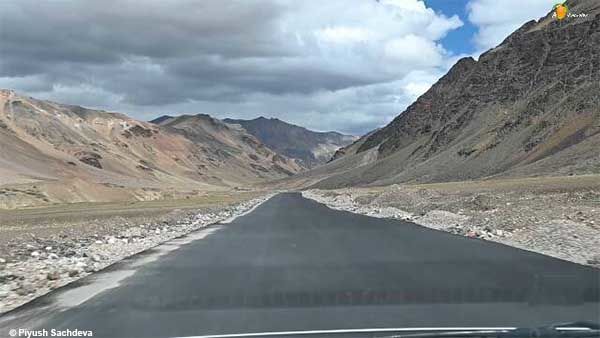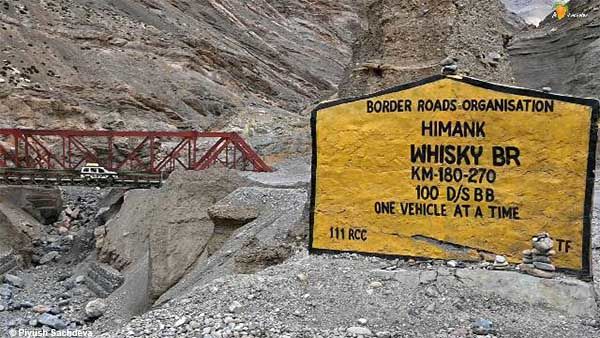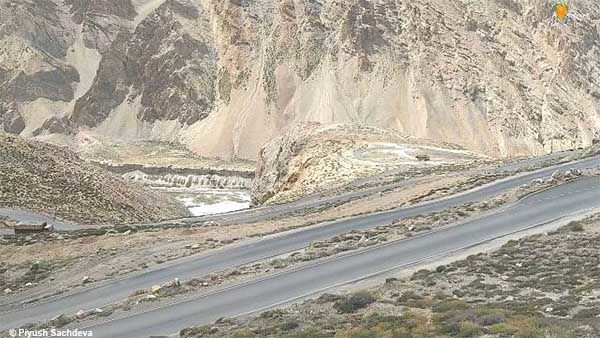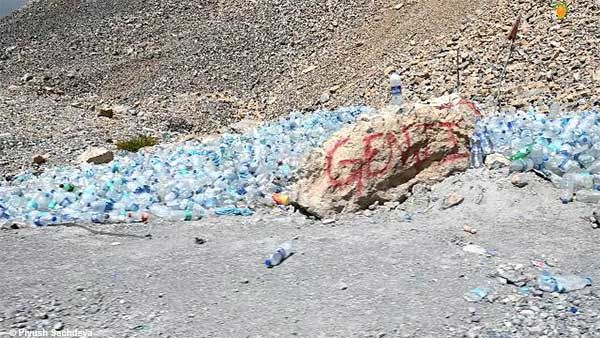 After Gata loops, we crossed Nakeela top which is 15547 feet from sea level and Effective oxygen level is just 11.6%. It is the 3rd highpass, by this time Puneet started having mild headache and he did not took his lunch which we took just after Nakeela top.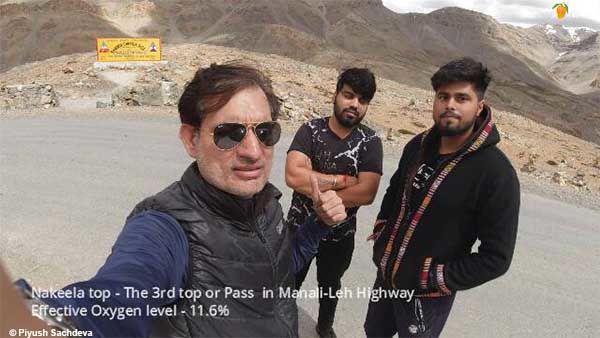 Then we crossed Lachungla/pass which have altitude of 16616 feet from sea level. Effect oxygen level is roughly 11.2% only. and it was the 4th highpass we crossed. By this time, Puneet started having severe headache.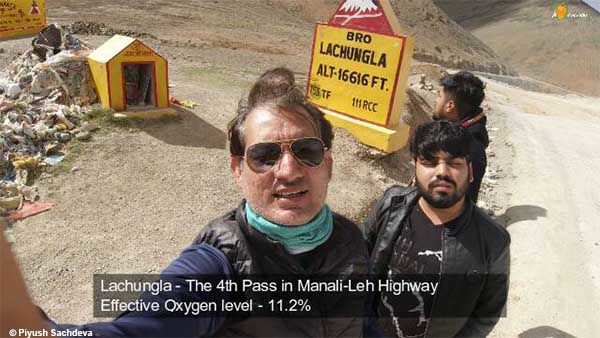 Then we crossed Kangla Jal (height - 4878 meter and effect oxygen level is 11.4% approx) and by this time, Kuldip and I too started having headache. By the time we reached Pang which is 15280 feet from sea level, both Kuldip and Puneet slept and I was driving and I was having a severe headache now.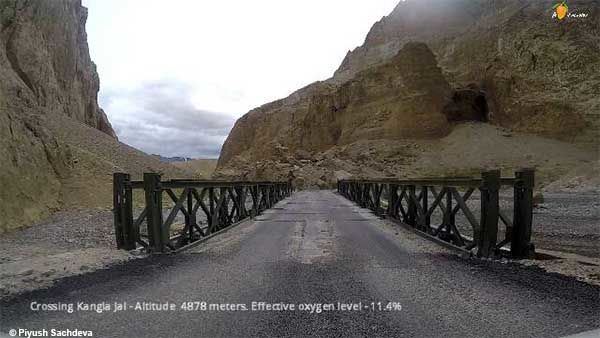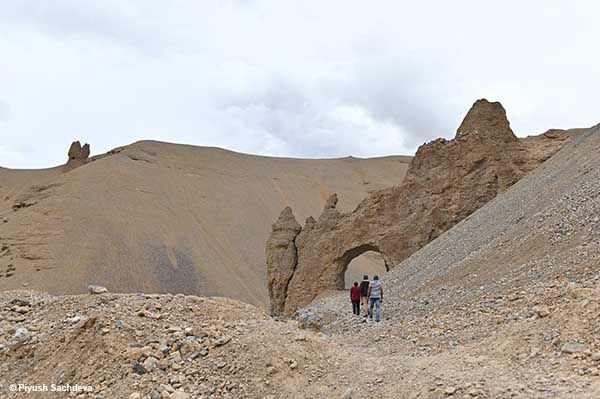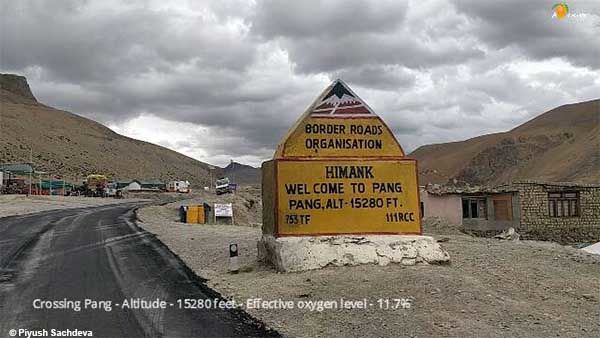 Then we reached to Moore plain which is 4800 meters from sea level. Effective oxygen level here is 11.4%. It is such a beautiful patch of 40 km. Kind of a valley, surrounded by mountains on both side but frankly none of us were able to enjoy it's beauty this time. Somehow, I was driving the car and thinking why I did not stopped at Sarchu! was it that bad decision..?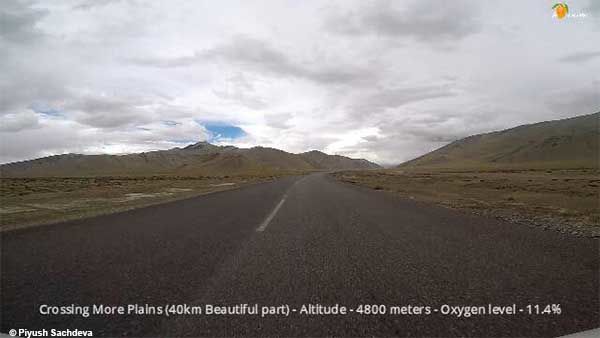 We reached Tanglangla/pass... the 5th highpass... It is roughly at a height of 5328 meters and is called the 2nd highest motorable pass in the world. Effective oxygen level here is 10.6% only. But we were unable to enjoy anything. Actually the headache we were having was the first symptom of Acute Mountain sickness, commonly called as AMS. Never take this lightly, it can kill you. Even the hardcore mountaineers were killed due to this sickness.
How to cop it. As soon as you get the headache in mountains which are above the height of 3km. It is better to take rest and do nothing. If it continues, it is always advisable to come down from that height.
But as you noticed from Baralachala to Tanglangla pass, you will be at the height of 4 km and more all the time. And you need to cross these part to reach Leh. Though reaching to Leh, Manali-Leh Highway is the shortest route, but it is difficult and hectic. Come prepared to this part of world. Do lot of cardio exercise before coming here.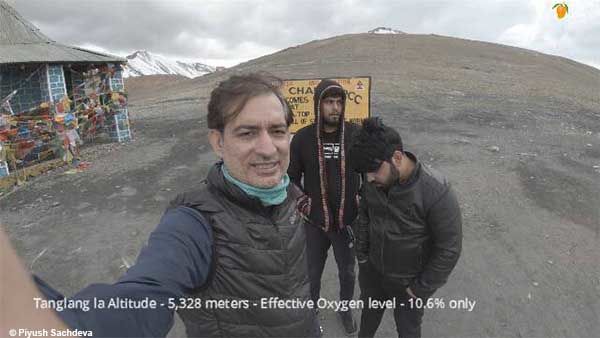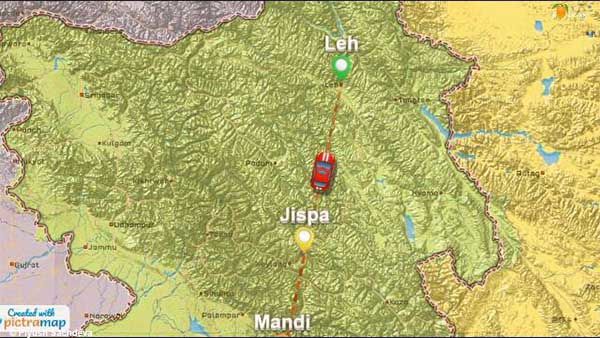 So this is all about of our Day 3. I hope you liked the video and content of this blog. If you still need any information. Just msg. me at Insta or Fb. I'll be glad to help you. And wait, do subscribe my youtube channel. In next chapter will start giving you Leh city tour. Until then, have a wonderful time.