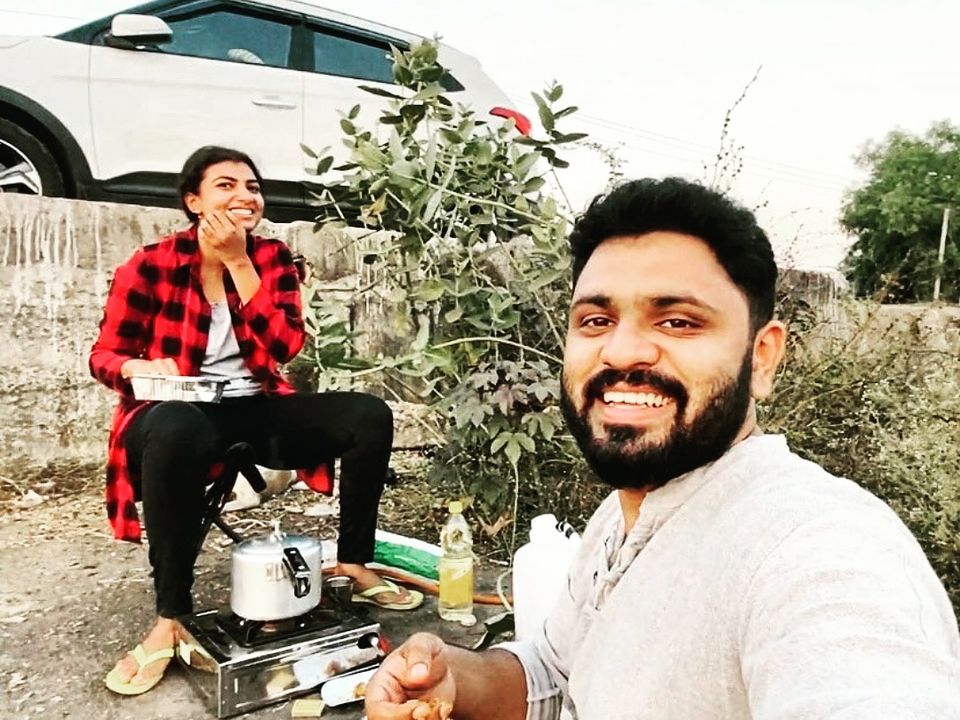 We have all at some point dreamt of travelling the world in a little caravan. We watch it in movies, read in magazines and books, talk about it with our best friends, give it a place in bucket lists. However, the plan simply stays as an impossible wish for us. But not for this couple from Kerala.
"Yeh hamari car hai, yeh hum hain, aur yeh hamari traveling ho rahi hai"
A young couple from Kerala's Thrissur, Lakshmi Krishna, 23, and Harikrishnan J, 31 are living their dream and they call it their 'car life' where they eat, sleep and travel in their own car. The duo is also running a vlog called the TinPin stories, where they document their exciting travel experiences.
Let's have a look at their inspiring story.
This young couple were working professionals earlier. Wife was interning as a Graphic Designer and her partner was a Sales Officer in Bengaluru. One fine day they decided to quit their jobs and fulfill their dream of travelling. They revamped their car into their cute little home where they sleep, eat and travel. It took merely 4000 rupees to make suitable arrangements in their car so that it feels like home. They carry a single burner stove with the re-fillable cooking cylinder and fill their water cans from the RO filter stations for the purpose of cooking. They have also set up an exhaust fan using a laptop cooling pad. Not just that, they have also set up a pretty curtain also for privacy.
So far, they have covered four states, namely, Karnataka, Maharashtra, Gujarat and Rajasthan. They try to explore various villages, their traditions, local cuisine, culture and much more.
The couple said that the people they meet are extremely sweet and kind to them. So far, they haven't experienced any kind of problem when it comes to parking their car, finding food to eat etc. People are kind enough to offer free parking space on their premises.
Its been 110 days since they have left Kerala and have been traling their car. The couple further plans to cover Punjab, Jammu & Kashmir, Himachal Pradesh, Uttarakhand, Uttar Pradesh, Madhya Pradesh, Andhra Pradesh, Telangana and Tamil Nadu, before returning to their home in Kerala.
Travel influencers like these certainly inspire us to make our travel dreams true, don't they?
Ready to travel for free? Earn credits and redeem them on Tripoto's weekend getaways, hotel stays and vacation packages!
Think we missed out on something? Tell us about it in the comments below. Or write about it here on Tripoto and earn Tripoto Credits!