Not too long ago, trekking as a vacation idea was reserved only for the adventure lover. People who dared to tryst with a mountain already had the spirit of respect and restoration imbibed in them. And for them, trekking was more than just an offbeat getaway, it was a philosophy, a way of life and most importantly, the greatest teacher. Finding your insignificant self lost in the lap of Himalayas is a humbling experience, and until recently, it was attempted by those who had the discipline, value and respect for nature's marvels.
In last 6-7 years, trekking in India has become a highly popular trend. Once an adventurous challenge, it is now the youth's top preferred vacation idea. Trekking in India has transformed into a sought after industry. Companies take massive groups who tread the mountains irresponsibly, leaving a trail of damage as they proceed.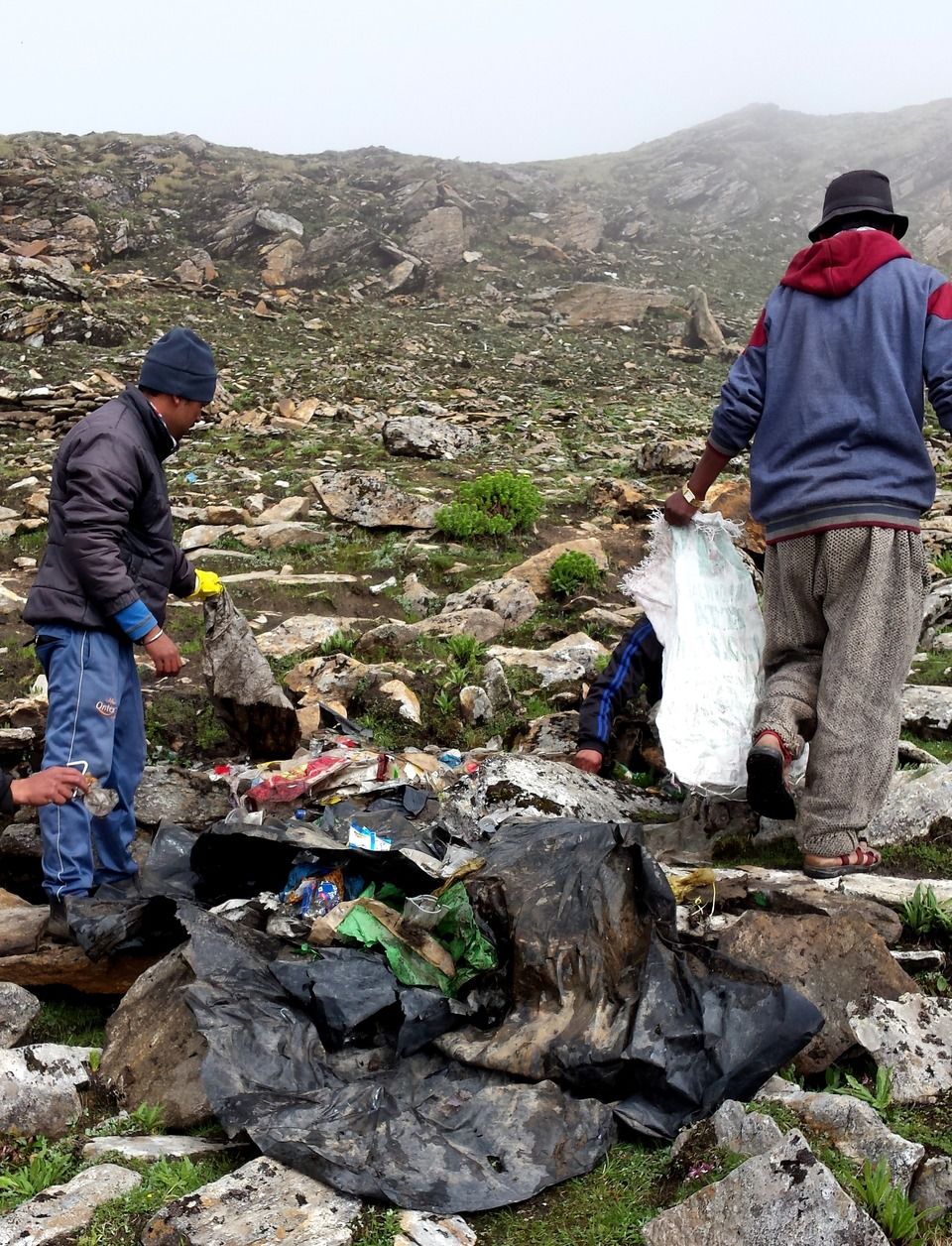 I took a popular trail like Hampta Pass and went through the top 15 trekking companies in India. They all organize treks to Hampta Pass and take a minimum of 10 batches (sometimes more or less) every season. If I keep an average of 20 people per batch (YHAI takes upto 40 people in every batch), then after a rough calculation it means that more than 3,000 people tread that trail every season. And this did not include the local trekking in India companies which are not available on the internet.
There is nothing wrong in wanting to physically challenge yourself and experiencing a mountain on foot, but when this number of people are irresponsibly taken to nature's well preserved jewels, a very bad series of events are kick-started.
But just because people have made a business out of trekking in India, it doesn't mean that you should give up your fascination with mountain climbing in general. Instead, take this consciousness and spend time in researching about the company who you choose to trek with.
Indiahikes' revolutionary Green Trails initiative is a mission aimed at leaving the mountains in a much better state than the trekkers find them. The pursuit of Green Trails is to trek in an eco-friendly and sustainable way, leaving minimum or no impact on the natural environment. This also means drastically reducing carbon and ecological footprint on organized treks.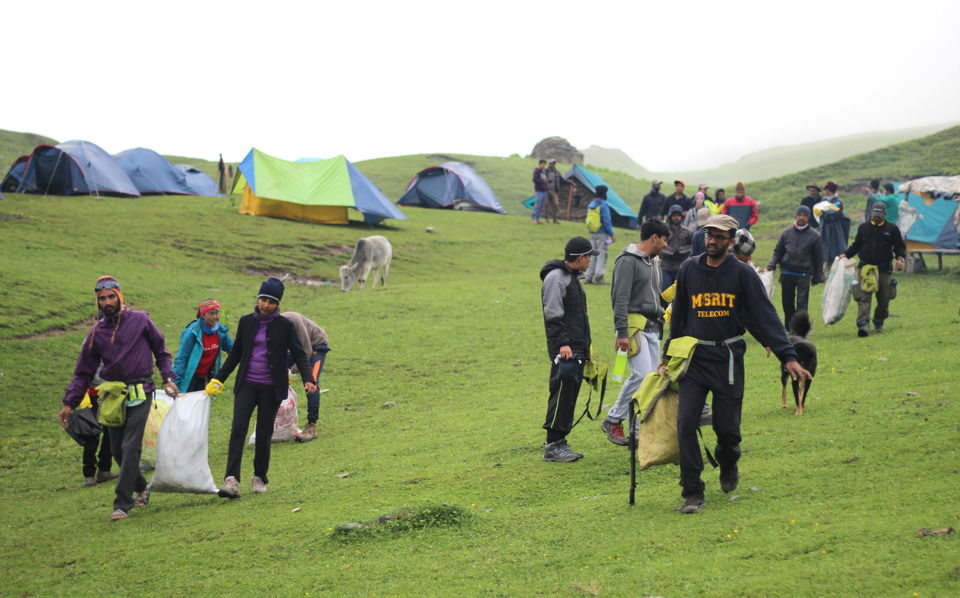 Green Trails is a process which trekkers are involved in during their organized trek with Indiahikes. From waste segregation, water management to collecting and carrying their garbage in eco-bags, Green Trails is effectively making the Himalayan slopes of Kashmir, Himachal, Uttarakhand, West Bengal, Sikkim and Arunachal Pradesh cleaner.
Green Trails is what makes Indiahikes completely different from other profit-focused trekking businesses. The eco-friendly efforts taken regularly and continuously on a trek makes a massive difference to trail you are treading.
This year, because of the Green Trails part of Indiahikes' trek to Roopkund, a total of 2,127 kilogram of garbage was collected from the trail. And this was not a special clean up drive or a one-time initiative, it was the work of many people who, while trekking collected waste on the way and did not leave any trace behind.
Check out the video to know more about Green Trails.
If you are on a trek with Indiahikes, this is how Green Trails works:
- Once you have signed up for the trek, information about Green Trails and strict guidelines about do's and don'ts on the trek (like collecting your garbage to not wasting food) are sent to the trekkers. This way you are educated about staying aware and conscious even before the trek has begun.
- After reaching the base-camp, an orientation is conducted to further elucidate the points and information shared prior to your arrival.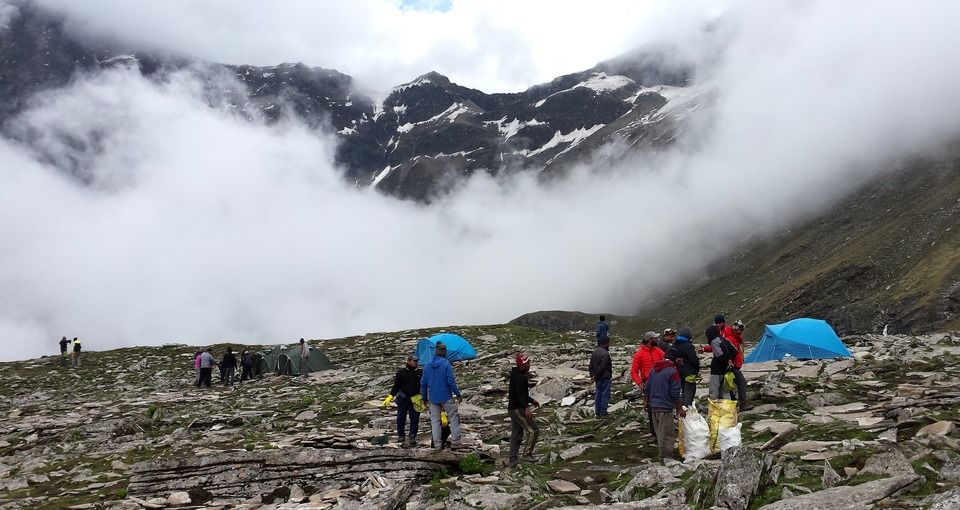 The objective of the discussion is to put a very particular message across. It is to protect and save the mountains that we so cherish. Everyone needs to do their part in leaving no footprint and managing waste properly. The lessons learnt on preserving a mountain should then be taken home and implemented as a way of life.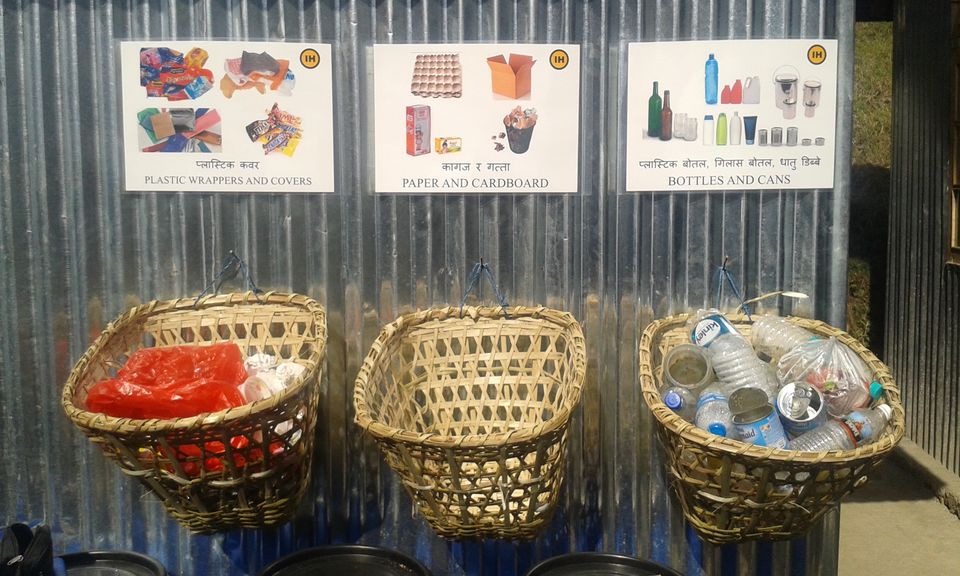 - For the duration of the trek, you are given an eco-bag to collect whatever waste you find on the trail and campsite. Then at every campsite, this waste is segregated for either decomposition or recycling through participation of the trekkers.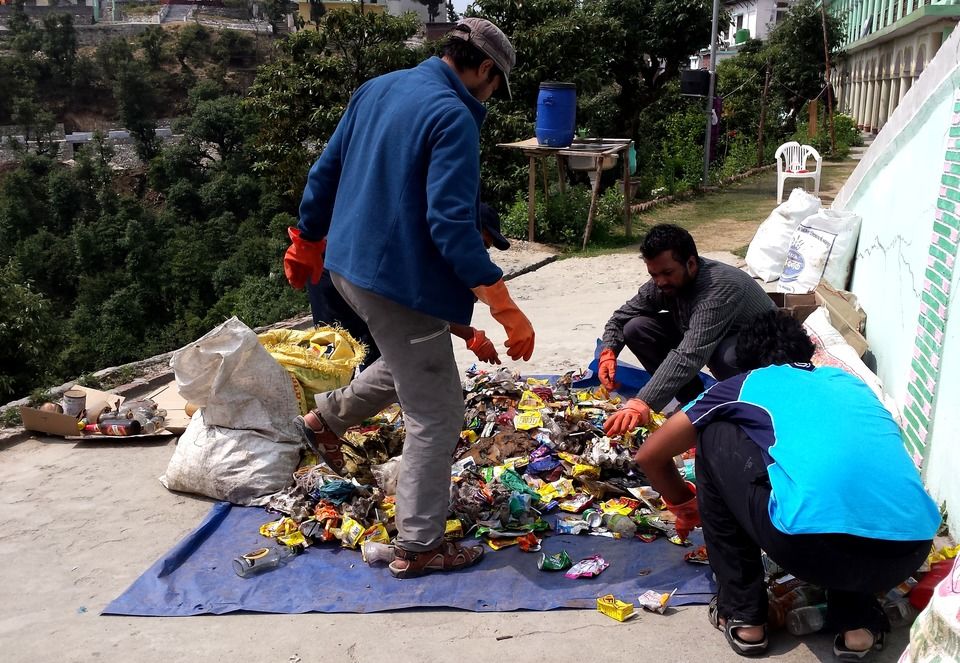 - Usage of foamy washing bars is completely prohibited, the team instead uses eco-friendly alternatives like ash/baking soda or local black soap.
- All food waste is collected in a pit at every campsite, and left for decomposition once the season is over.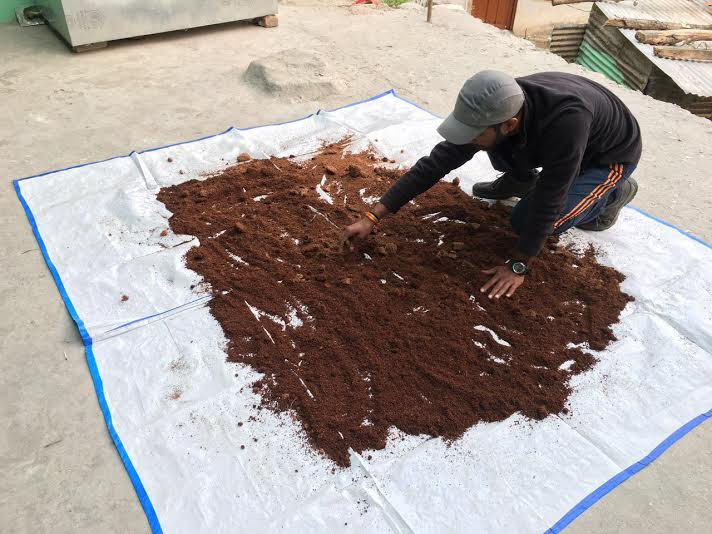 - Indiahikes is the first trekking organization in India to start the use of cocopeat toilets, instead of shallow-dug pits. Cocopeat is a revolutionary mud-alternate, as it made from coconut husk. Its high carbon content increases the pace of composting, proving of great significance in the mountains where low temperatures cause slow decomposition.
How can you trek responsibly on your own:
The methods of Green Trails can also be used on un-organized treks where you are in-charge of keeping the mountain clean and better than how you found it. Here are some ways you too can reduce your carbon and eco-footprint.
1. A great way to minimize the waste carried back is to only carry food in reusable boxes and completely prohibit purchase of packaged food. If you do buy packaged food, try and ask the shopkeeper to give it you in paper bag or a reusable box.
2. Please don't pollute the streams and rivers crossed on your trek. That water is the source of life for thousands. Make sure your toilets are at least 50 m away from any flowing stream or water source.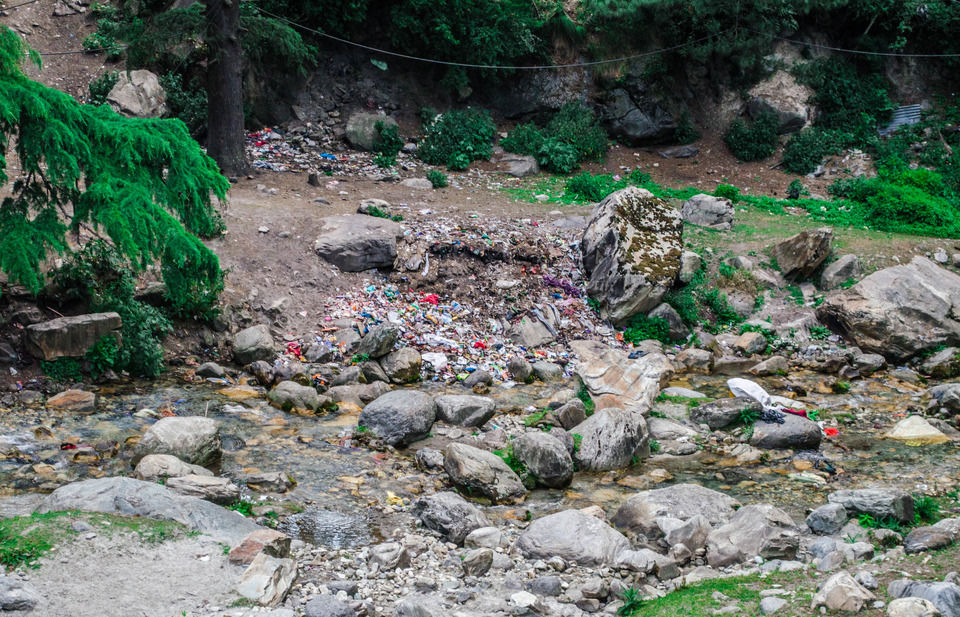 3. The less waste you create, the more sustainable your trek. Trekking in its essence is about surviving on the minimal. So, use cloth instead of wet-wipes, water instead of tissues and reusable utensils instead of disposables.
4. Use of bluetooth/wireless speakers is a big no-no in the mountains. You are anyway a visitor in the area, the loud noise is a great disturbance to the natural inhabitants of the place (like birds, wildlife and village locals).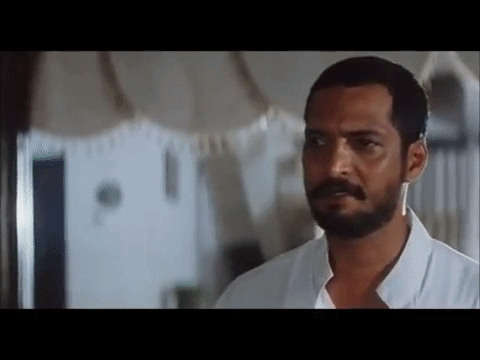 5. It is obviously easier to hire a porter to carry your backpack, but that is neither authentic trekking nor sustainable to the environment. The moment you include more to your presence in the mountains, your carbon-footprint increases. And it is anyway more empowering to carry your own load, being totally responsible of yourself!
6. Try and pack as many eco-friendly alternatives to your daily products.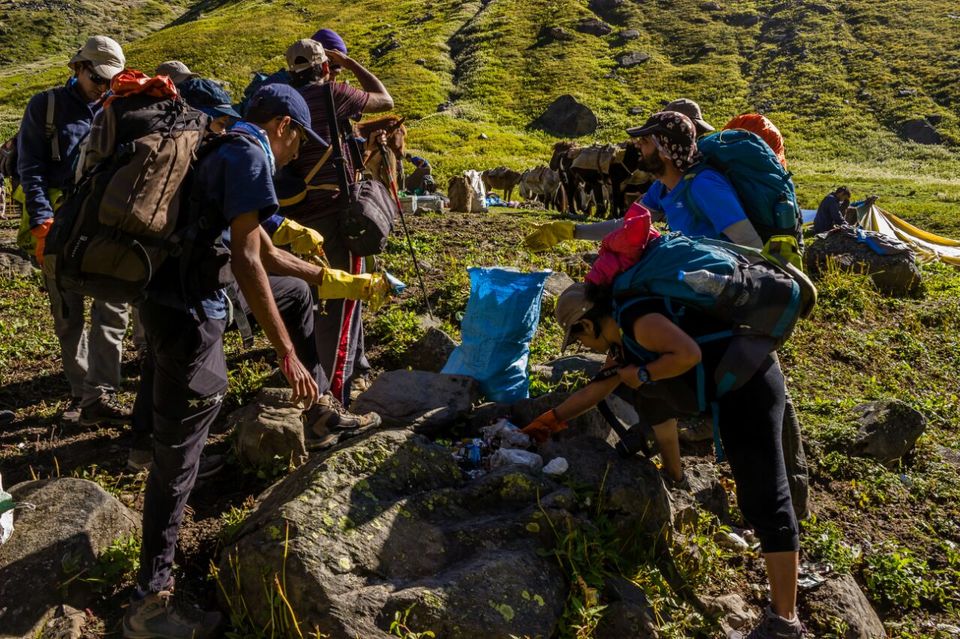 7. The mountains don't have the infrastructure to process your waste. Carry an eco-bag with you at all times to bring your waste back to where you can segregate and recycle it, instead of just dumping it in the wild.
Want to know more about Green Trails at Indiahikes and how you can be helpful to their initiative, then click here, or send an email to lakshmi@indiahikes.com and a questionnaire will be sent to you.
Happy Trekking! And remember to Leave No Trace!