Staying amidst greenery, close to the wildlife is surely an amazing experience. The concept of eco-friendly tourism has really caught up in India. And the best part is the accommodations are luxurious and well-equipped with all the modern facilities. Imagine spending a night in the jungle resort, waking up to the chirping of birds instead of honking of horns. This is a surreal experience in itself when you spend most of the time in the concrete jungle. With so many long weekends coming up, we found you the perfect weekend getaway from Delhi -Luxury jungle camp in Ranthambore.
Ideal for
This place is perfect for travellers, adventurer seekers and most importantly, wildlife and nature lovers who want to cut off from the busy city life and breathe in fresh air.
About the Property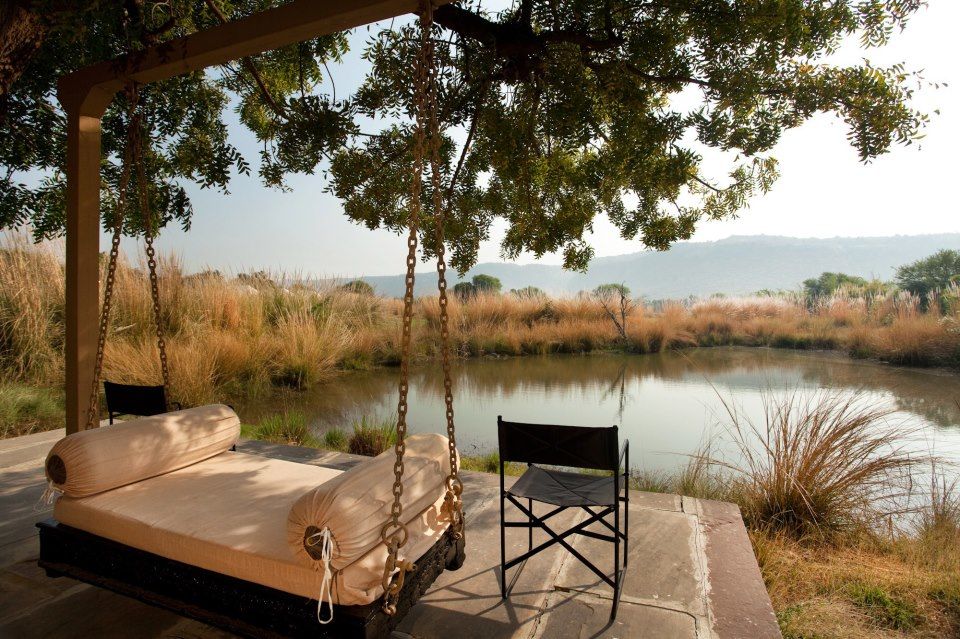 Located on the outskirts of Ranthambore, 13 km from Sawai Madhopur in Rajasthan, this is a perfect weekend getaway from Delhi. The small family-owned, boutique property has a very friendly, authentic and welcoming atmosphere. The owners at Khem villas luxury hotel are helping preserve the endangered species and provide a unique wildlife experience to the tourists. The 10-acres property located just a ten-minute drive from the gates of Ranthambore National Park is one of the greenest patches in the area.
The resort does its best to be Eco–friendly, taking up everything from rainwater harvesting to using solar energy to growing their own vegetables. The luxury jungle camp has modern adaptations of a traditional dwelling while retaining the old world charm with an understated elegance. Be thrilled to see jackal, jungle cats, desert fox up close. This place is also a paradise for all bird watchers.
Accommodation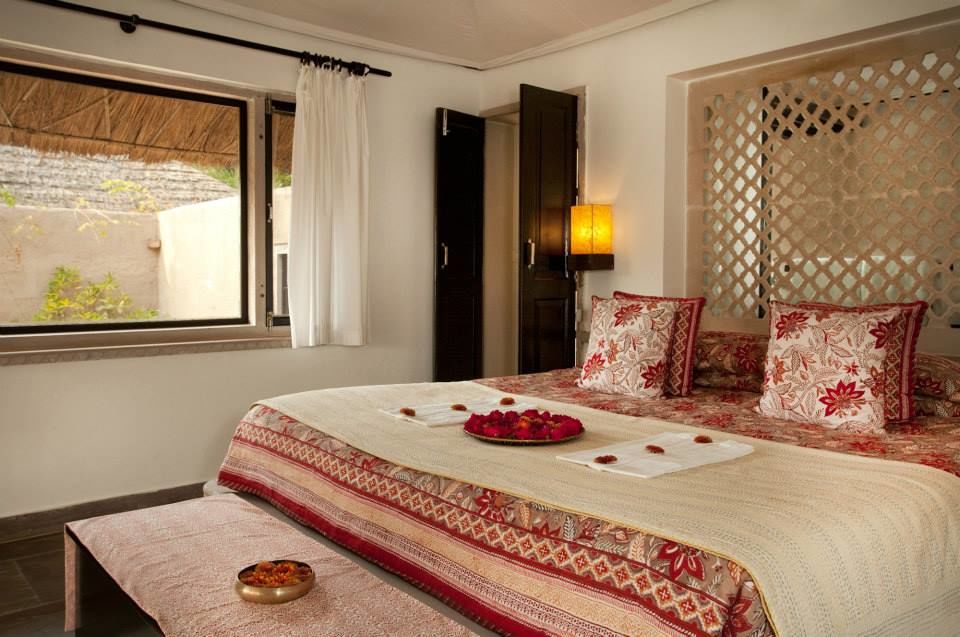 You can choose from villas, tents, cottages and rooms according to your preference and budget. The main building of Khem villas has four rooms, each overlooking the rural landscape. It is best suited for individuals or even a small-group to hire the entire-portion as a private space to be enjoyed together. Staying in tents in a jungle has a different feel altogether as the rooms are spacious and comfortable with a minimalist and modern design.
The bathrooms are designed using natural materials like bamboo and wood to give a rustic feel. The cottages are perfect for those who enjoy utmost privacy. The area includes a spacious and comfortable bedroom, a bath with an open to sky outdoor-shower and a private courtyard and veranda.
Villas are the most luxurious accommodation here, offering the best and uninterrupted views of the Ranthambhore and taking the utmost care of your privacy. The Villas have a large private sun deck. Dim lights, candles, soft music and Jacuzzi—what else can you ask for?
Food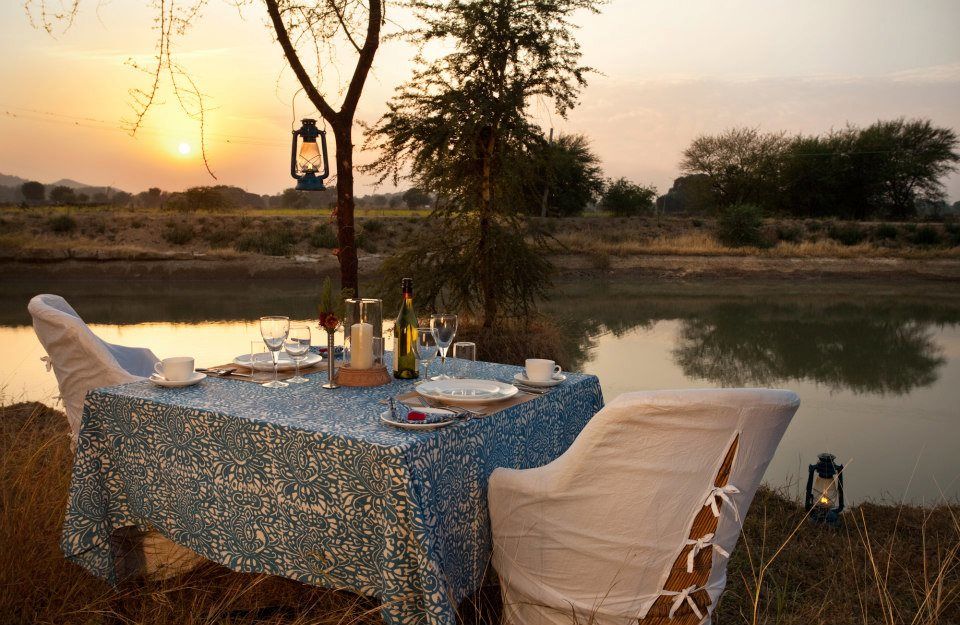 Guests can choose from different cuisines, be it Indian, Western and Oriental. All the food served here is vegetarian. Most of the ingredients are sourced from the organic farm at the hotel. Even the milk used here is from the local farm. The menu is designed keeping in mind the freshly picked vegetables and herbs.
Activities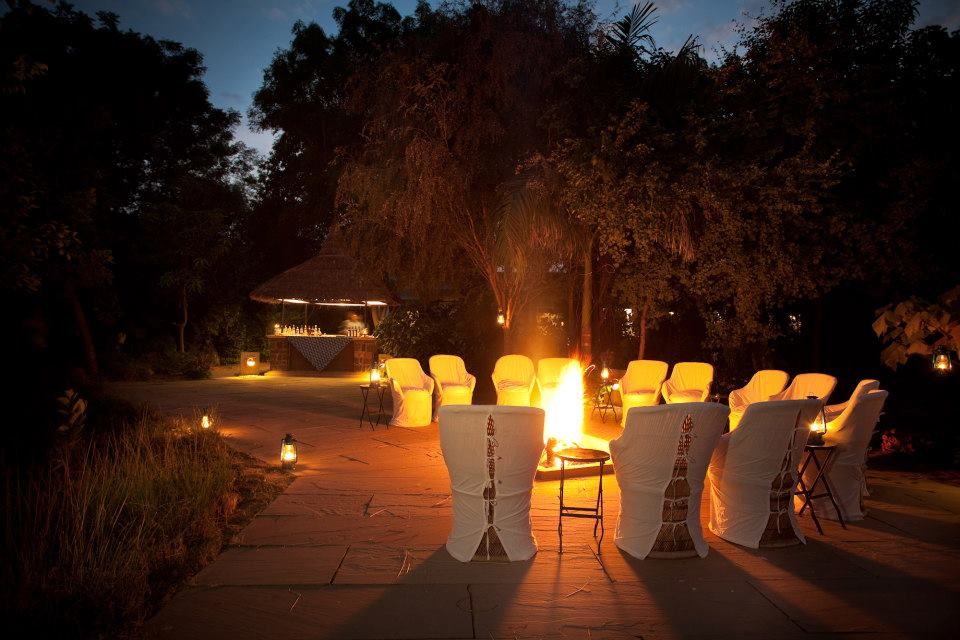 There is a lot to choose from at Khem villas. From village trip to campfires, river safari to nature walks and jungle trip, you'll never run out of things to do. The people here, will help you with Chambal river safari in Ranthambore. Camel rides can be provided on request to take guests through the local terrain and villages. A campfire can also be organised in winters, so enjoy good food and conversations. Explore the culture and crafts by shopping for the unique craft of black and white miniature brush paintings or visit the Ranthambore fort to learn about the history. You can also ask the staff to help you with the bookings for Jungle Safari.
Cost
The accommodation cost varies depending upon the category you choose. For the double villas, you pay Rs 35,000/night inclusive of all meals and taxes. Cottages are priced at Rs 29, 500/night inclusive of all meals and taxes. The tent is priced at Rs. 27,000/night inclusive of all meals and taxes and the room tariff is at Rs 16,000/night inclusive of all meals. All rates are per night and include all taxes, breakfast, lunch and dinner.
Best time to visit
The Ranthambore National Park is closed during the monsoon and open from October to June. November to February is the best time to visit as March, April and May are extremely hot but it is perfect for spotting a lot of animals.
What to do around the property
Ranthambore National Park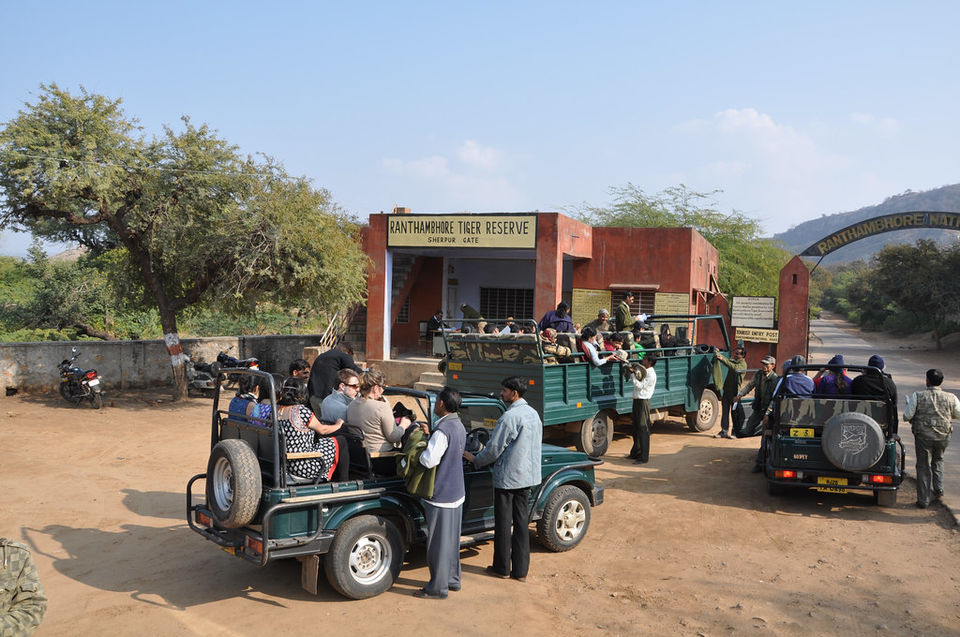 This National Park is mainly famous for its population of tigers and a rich diversity of flora and fauna. This park is a major tourist attraction and has caught the attention of many wildlife photographers over the years.
If you visit in the daytime, you might be lucky to spot the tigers. You can spot other species like leopards, striped hyenas, sambar deer, chital, nilgai, langurs, macaques, jackals and many other animals, along with various species of birds. Timings for entry into, and exit from, the park vary according to the season. Do check the schedule before visiting.
Ganesh Temple & Ranthambore Fort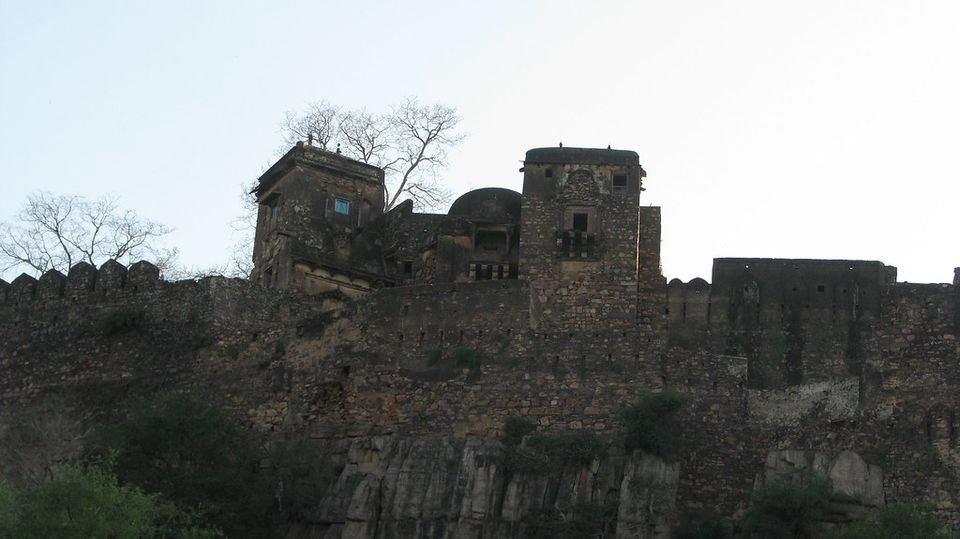 Situated in Ranthambore fort, this is one of the oldest temples in Ranthambore. The place attracts many devotees all year round. A visit to Ganesh Temple is an excursion in itself which could easily take around two hours. Ganesh Temple is located in the Ranthambore Fort area. You need to climb 300 odd steps to reach the Ranthambore Fort and further a km or two to reach the Ganesh Temple. Don't forget to take the guide along if you wish to know the history and significance of the place.
How to Reach:
By Air- The nearest airport is Jaipur International airport which is almost 200 km away from Sawai Madhopur.
By Railways - The nearest Railway station is Sawai Madhopur which is well connected by trains from Kota, Delhi, Mumbai and Jaipur.
By Road - Sawai Madhopur is 4 hours drive by road from Jaipur. It is 390 km from Delhi which is approximately a 9 hours drive from Delhi.
So, brace yourself to bear the heat but it would definitely be worth it. Do you know of some hidden gem, please share your story here.
Check out Tripoto's Youtube Channel for some interesting videos.
Get travel inspiration from us daily! Save our number and send a Whatsapp message on 9599147110 to begin!