For us, vegetarians, travelling around the world is not so easy when it comes to food. The choices are often limited and sometimes not even readily available mainly in Asian countries, more so because of the language barrier. So, when I was travelling to Japan for two weeks, I had my reservations about finding vegetarian food. As a precaution, I carried readymade food packets as always. But I came back happily without using any of those. I discovered enough Japanese vegetarian options and to say the least had a gastronomical affair with the Japanese cuisine.
Food in Japan is unique and like nowhere else in the world. From Mochis to Okonomiyaki to Onigiris. It's a delight for vegetarians and non-vegetarians alike. Japanese people love their food, and it reflects in the dishes and presentation. Vegetarian food in Japan might not be readily available, but with little knowledge about the overall food scene, one can reap the advantage of its culinary paradise.
I tried a lot of Japanese specialities and loved them to the core. Trust me when I tell you even the mushrooms and onion taste differently and yummy then how amazing the food scene of Japan would really be. Here is the list of all the fantastic dishes that I tried on my trip. (salivating through and through while writing this)
Heavy meals
1. Bento Box has to be my most favourite meal in Japan. It's a very common single-portion take-out meal. It comes in a small box which is divided in compartments to carry different food items and just the right amount for one person. It contains two types of Japanese rice, steamed vegetables, fried Kurumabu(wheat gluten), tofu and ginger. I bought them a couple of times from Tokyo station before travelling on a bullet train, and they were the lifesavers on long train journeys.
They cost anywhere between 800-1000 yen.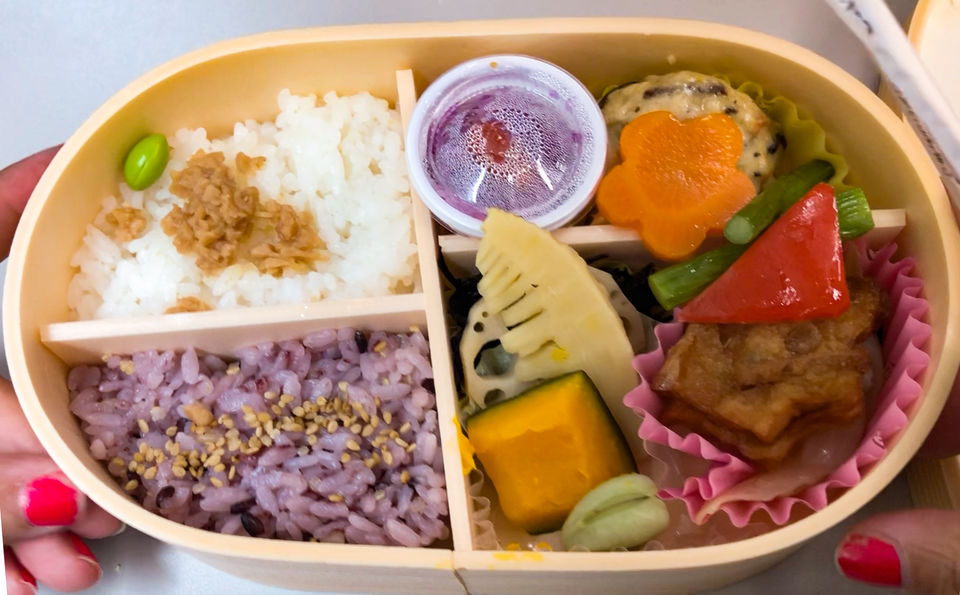 2. Okonomiyaki is a Japanese savoury pancake containing a variety of ingredients. Okonomi, meaning 'how you like,' and yaki meaning 'cooked' which is most commonly fried. I had it twice - once with cabbage and veggies and the second time with noodles and cheese. This dish itself is quite fulfilling for a single person. I chose restaurants where it was made in front of me, which is how it is made. So, I could see the ingredients that were used.
They cost anywhere between 600-1000 yen.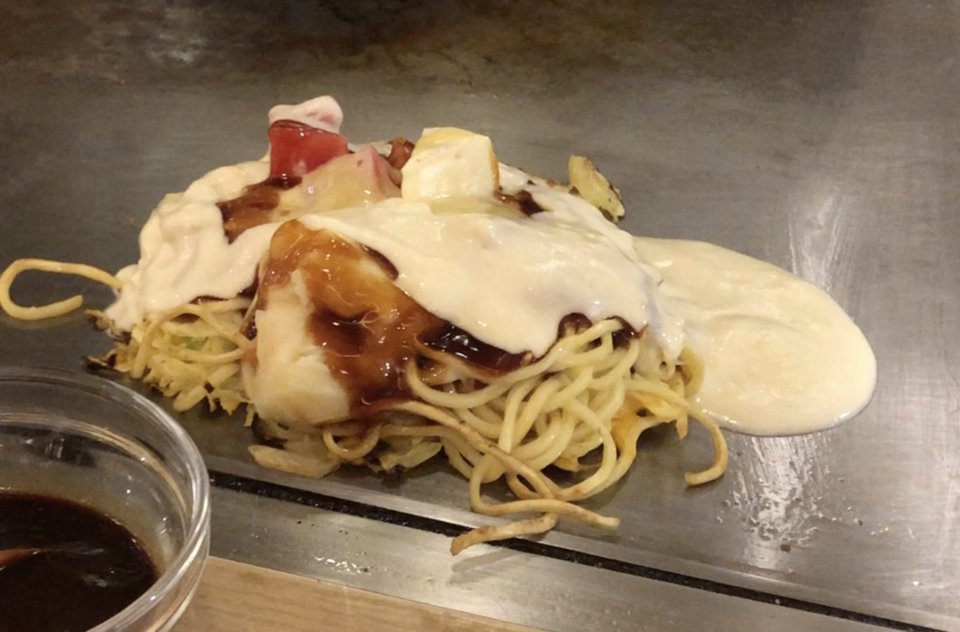 3. Ramen and Udon - These both noodles are wheat-based. The only difference between the two are, Udon is thicker and lighter in colour, and Ramen is thinner and has a darker colour. If you like these two, then your trip to Japan is anyway sorted because this is something that you can get easily anywhere. I have had both of them a couple of times, and I loved it each time. The only thing to keep in mind is to ask the ingredients of the broth, which is often made from chicken or pork stock.
The ones which I had were tomato cheese-base and potato-base.
They cost anywhere between 800-1200 yen.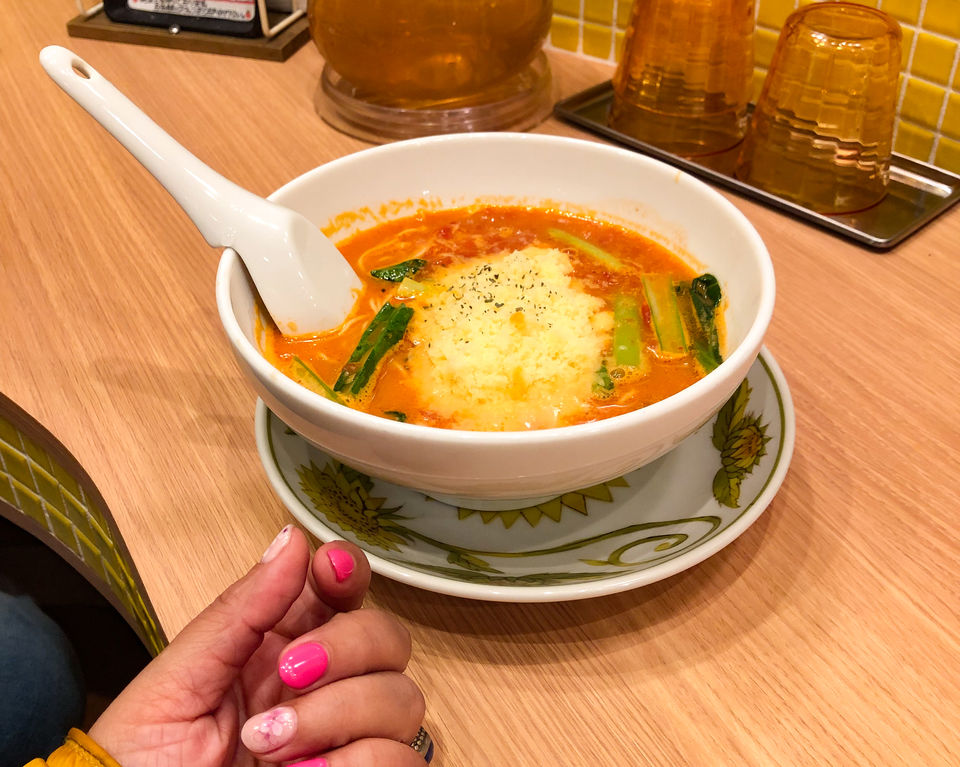 Snack items
4. Dango is a Japanese dumpling and sweet made from mochiko (rice flour), and it comes in different flavours. I tried two flavours, Mitarashi which was a warm, soft grilled mochi ball covered in a sweet soy sauce and Hanami Dango, which is available during the Sakura/Cherry Blossom season. These scrumptious Dangos are available almost everywhere, including convenience stores. Perfect for in-between snacks or on the go.
They cost 200 yen per stick.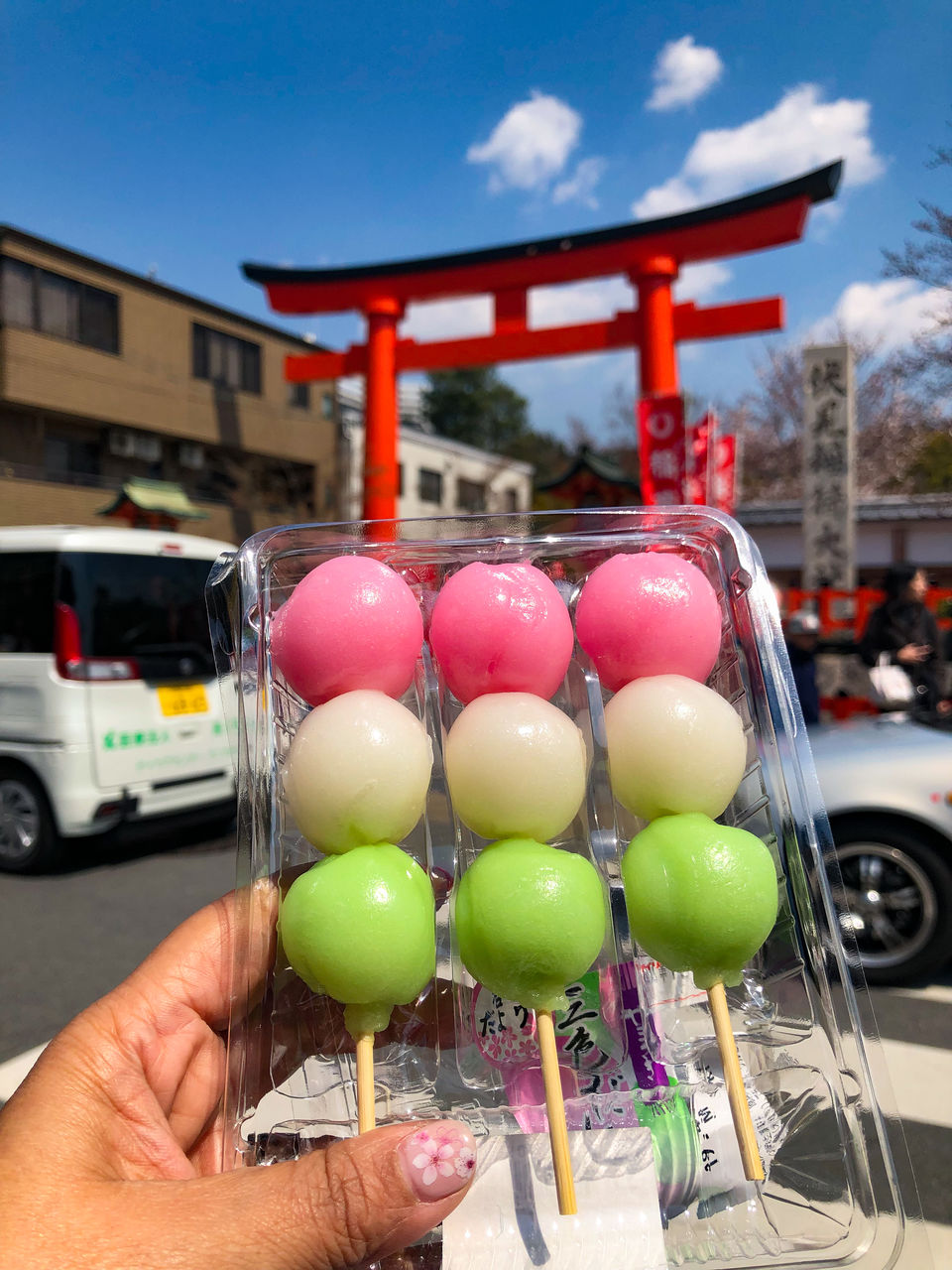 5. Mochi is a Japanese rice cake made of glutinous rice. The rice is pounded into paste and moulded into the desired shape. The Mochi that I had was green tea flavour and was filled with red bean paste. It tasted like a squishy marshmallow. I also had a strawberry mochi, which was unbelievably good too. These little pieces are great for snacking and quite fulfilling as well.
They cost anywhere between 250 -300 yen.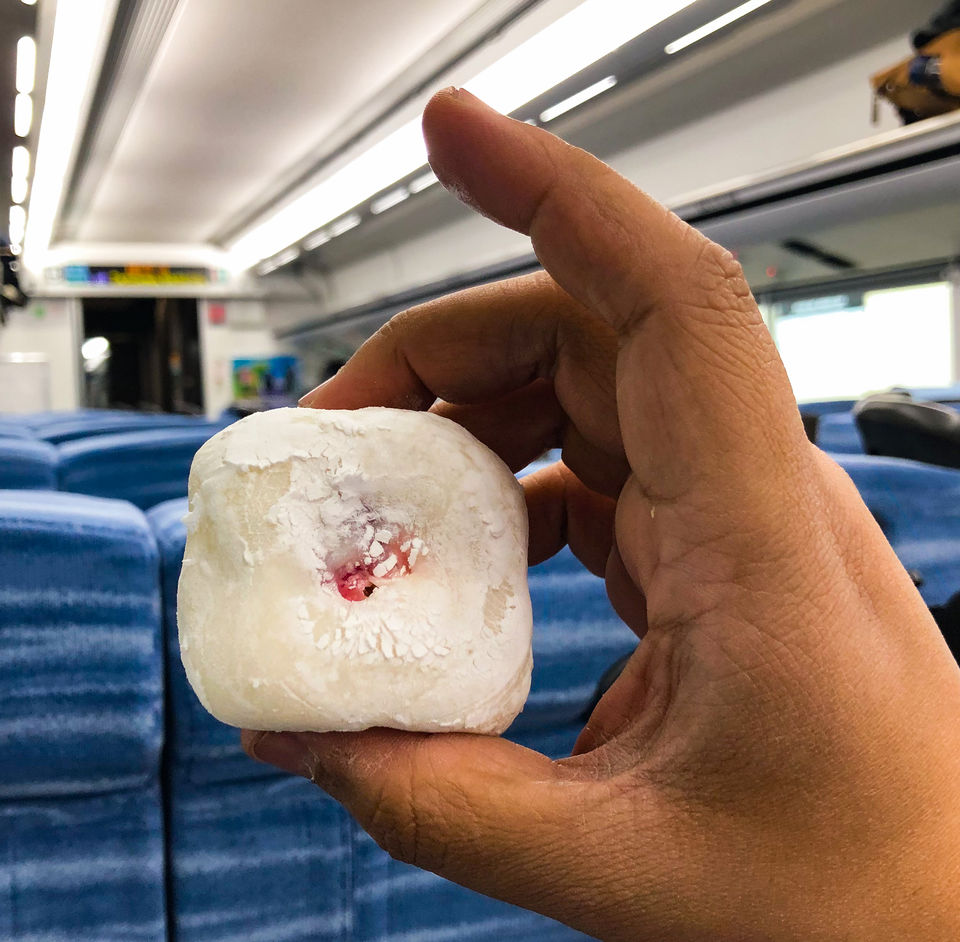 6. Onigiri is a Japanese food made from rice formed into different shapes. Its often wrapped in Seaweed and contain meat or vegetable fillings. Onigiri is readily available in the malls, railway stations and convenience stores. Perfect for breakfast or in between meals.
They cost anywhere between 100 - 200 yen.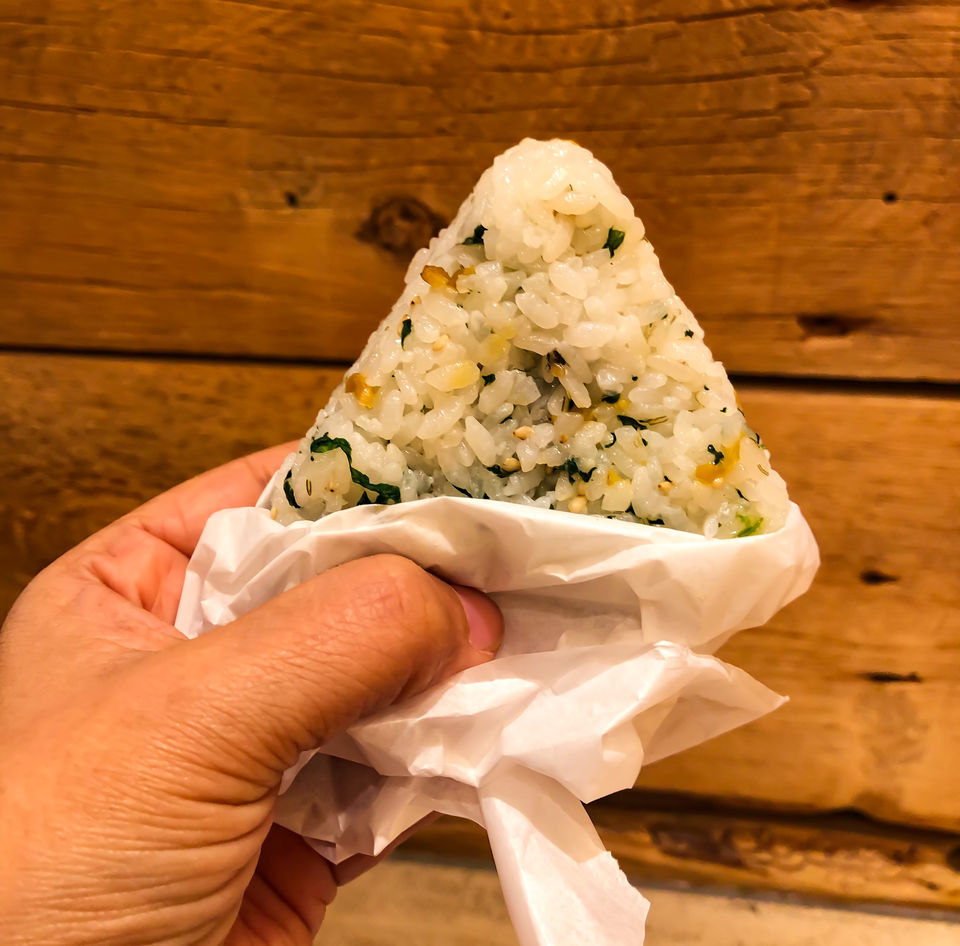 7. Tempura is a Japanese dish, usually consisting of seafood or vegetables that have been battered and deep-fried. Perfect for in-between snacks. This is something you will find in most menus. And since it's fried it's quite filling.
They cost anywhere between 100-200 yen.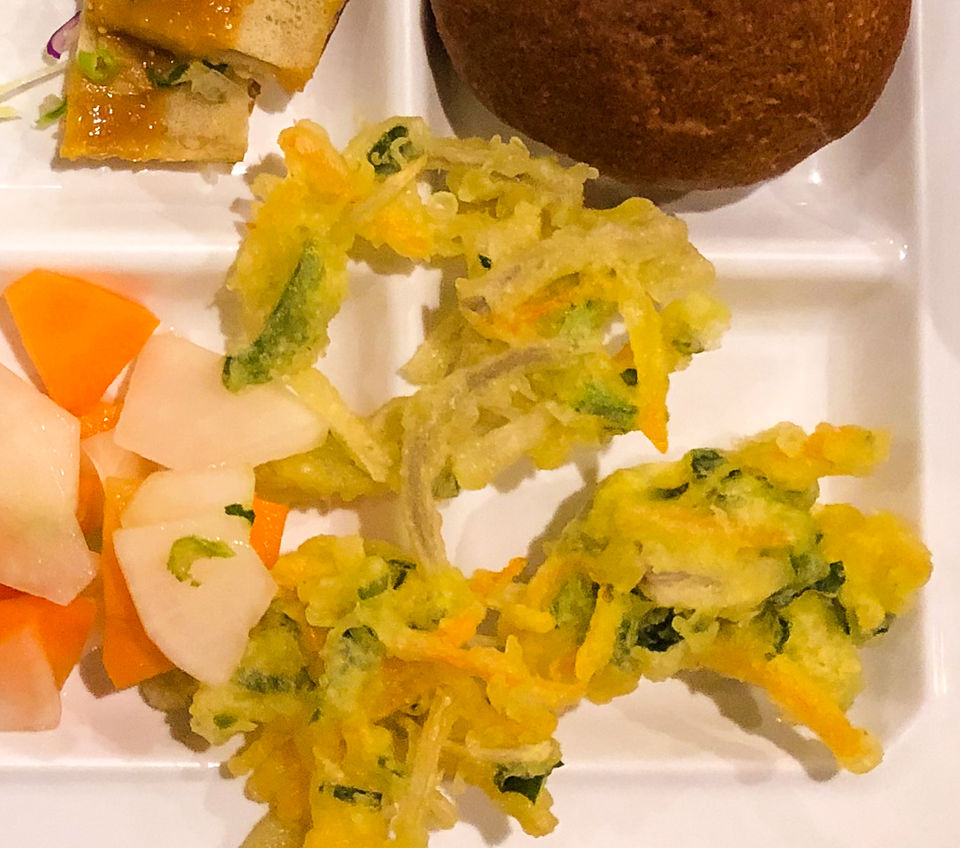 8. Senbei is a type of Japanese rice cracker often savoury and seldom sweet.
They cost anywhere between 300-400 yen.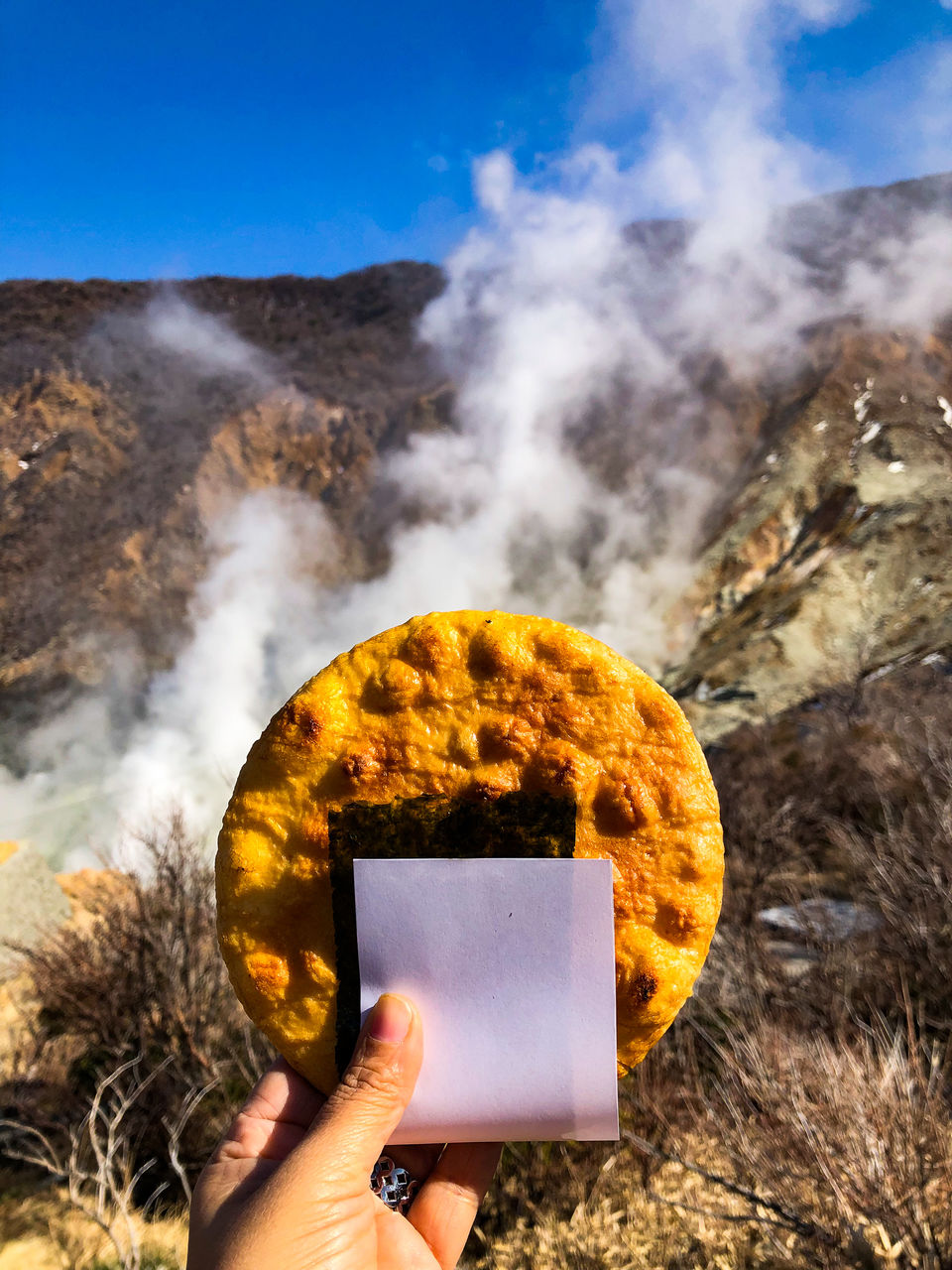 9. Oyaki is also a Japanese dumpling like Dango made from a fermented buckwheat dough wrapped around a stuffing of Japanese vegetables, fruit, bean paste. This speciality can be found in Nagano Prefecture.
They cost anywhere between 200-300 yen.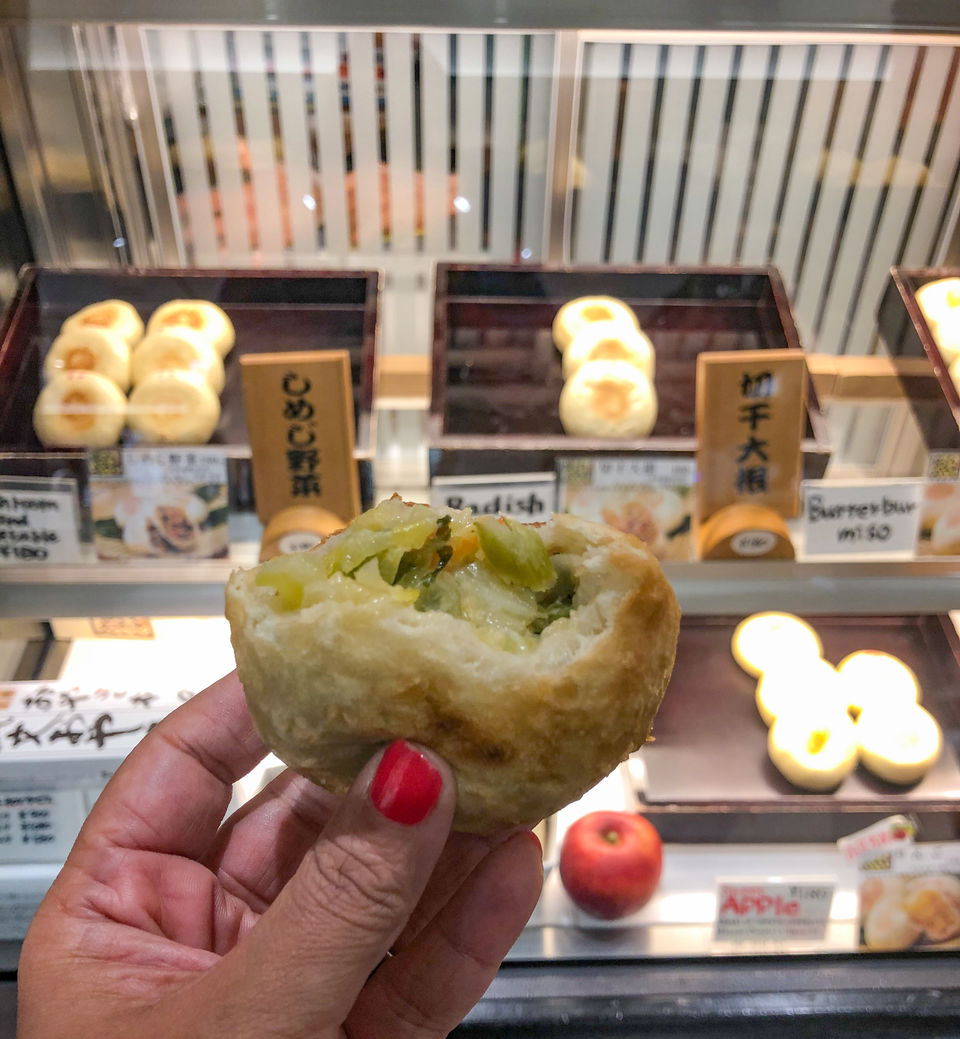 10. Tofu is an essential part of Japanese cuisine and is available in many varieties. I tried many variations of it from silken to fried and quite liked it. Tofu in Japan has excellent quality and is fresh, which makes it on the go dish for many.
They cost anywhere between 250 - 500 yen.
Hotels I stayed
The hotels I stayed in Kawaguchiko and Nagano had a couple of options for vegetarians like Steamed Veggies, Steamed rice and amazing Japanese pickles, Miso soup (Just need to be careful as sometimes it contains fish soup called 'Dashi)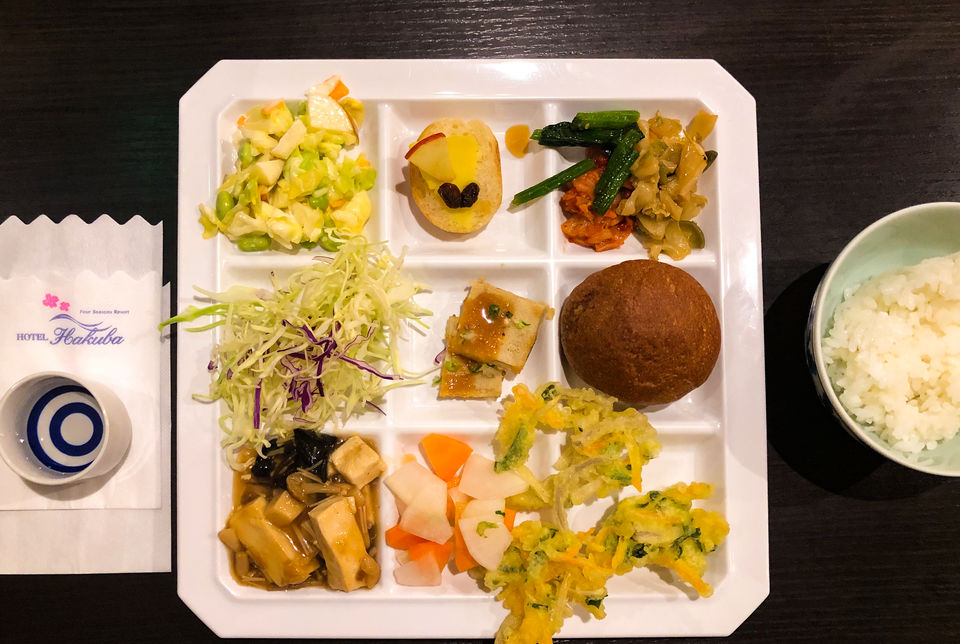 Other ways of finding vegetarian foods
In Japan, there are many Indian restaurants which offer curries and naans for the days when you crave for a spicy, fulfilling meal.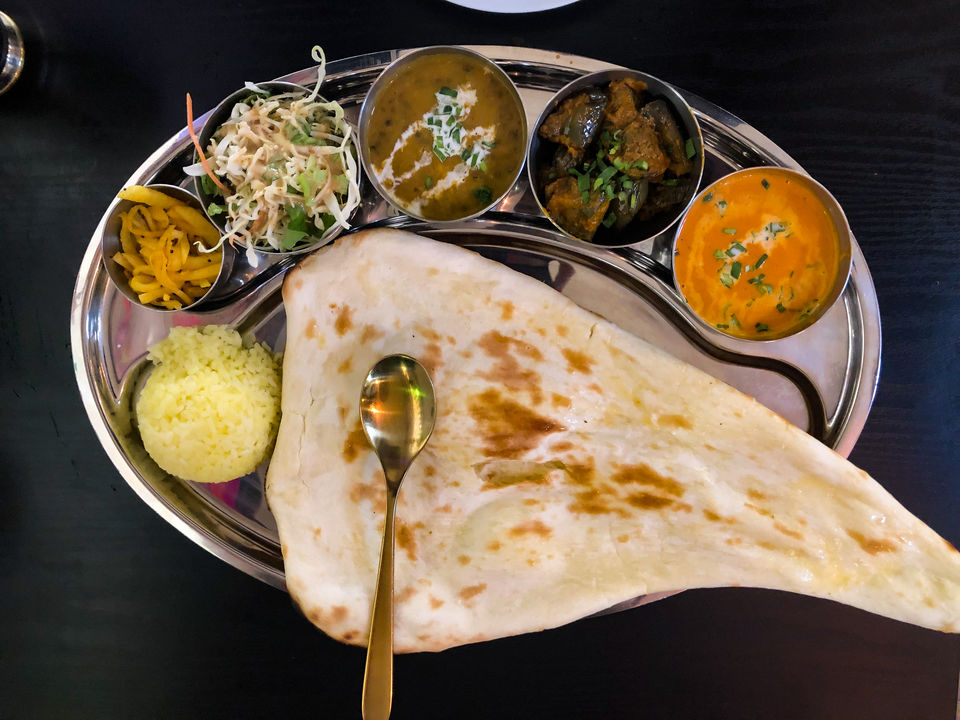 Convenience stores like Lawson's, Seven Elevens and Family Marts in Japan are a different kind of experience in itself. You will find them at almost every nook and corner. They are big, bright and clean spaces, and some of them have seating arrangements too. They have loads of options for vegetarians like cut vegetables, Onigiris, Dango, Edamame beans, fruits including bananas and cut pineapple, salads, rice crackers and crisps, various kinds of nuts and chips and sometimes even pickled Sushi filled with veggies. The only important thing to keep in mind is always to read the label and if that's not in English then asking someone or translating it in on the app is essential as sometimes the sauces contain fish or some flakes.
Apart from that, there are many fast-food chains like Subway, Starbucks etc. which always have something vegetarian to eat.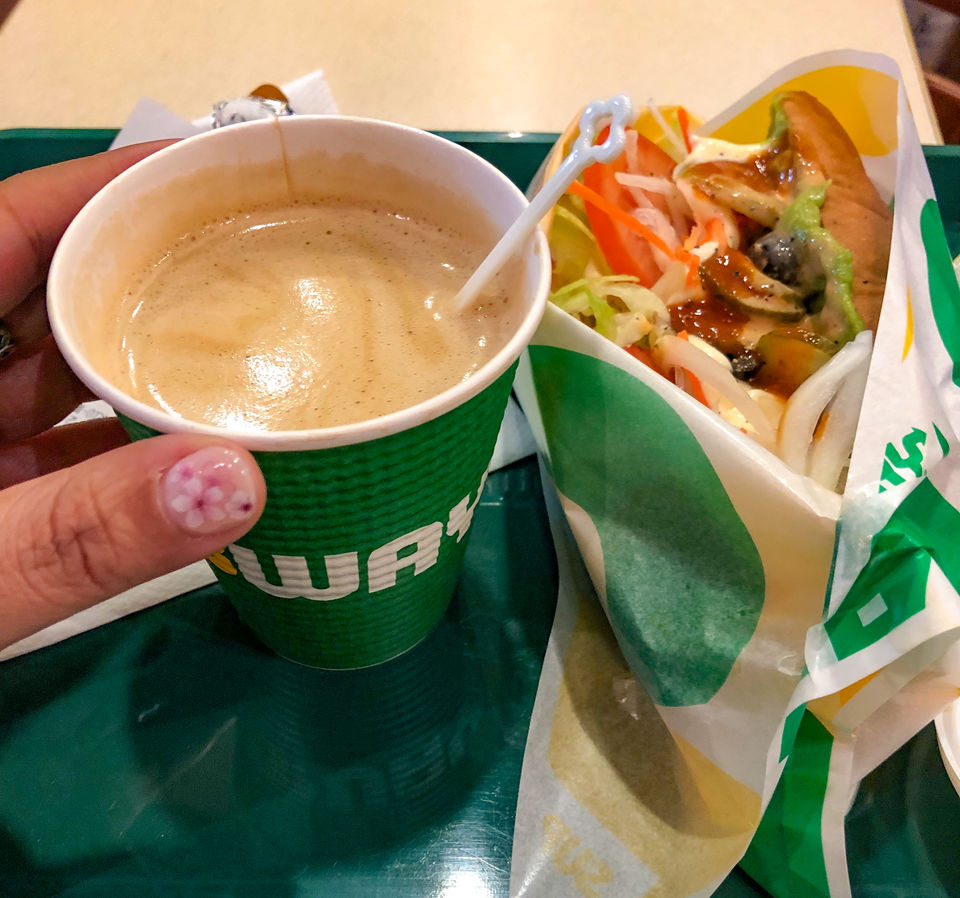 In Japan, I found that the food menu is displayed in dummies outside many restaurants. So, by looking at them, figuring out whether to go inside the restaurant or not was very easy.
Useful Apps
Google Translate - This is a handy app to communicate especially at the local restaurants while ordering. Its also has an offline version for the times when the internet connection is not up to the mark.
Happy cow - This app gives you options for vegetarian eat outs around you. It's a paid app, but it's very useful.
Apart from other reasons, food is also why I want to travel to Japan again. I hope this post encourages you to plan your trip to Japan without having to worry about the food.
Check out the video to see the full experience.
Watch out my other spaces as well.
Connect with me on Instagram for more awesome travel pictures : click here
Check out my YouTube channel for travel videos : click here
Check out my website for more travel related articles : click here