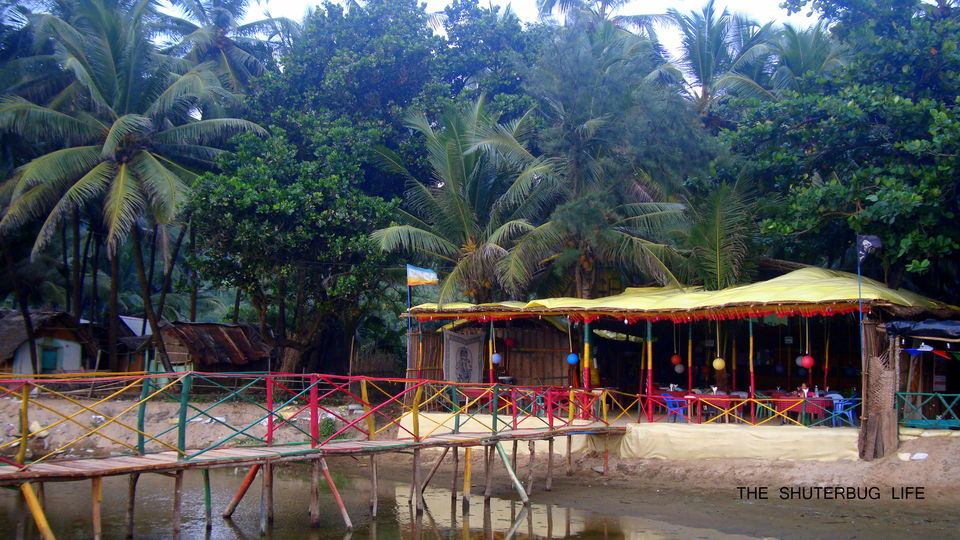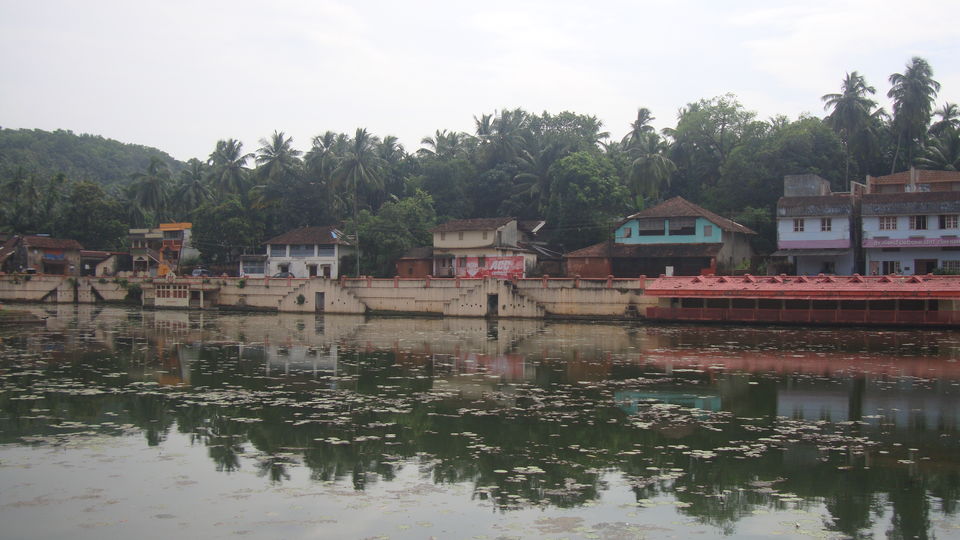 There are very few of us who can say that they have not had any funny travelling experiences when it comes to using the Indian railway. If you have not had the chance of such an encounter you need to do so immediately!

It all began when my three friends and I planned a one night and two days trip to Gokarna. I knew something was bound to go wrong because nothing good happens when you bunk classes (just kidding :p). We missed four classes on Saturday morning as our train was scheduled to leave Udupi Station at around 7.30am. All of us were dressed in our beach dresses and ready for the two hours journey ahead.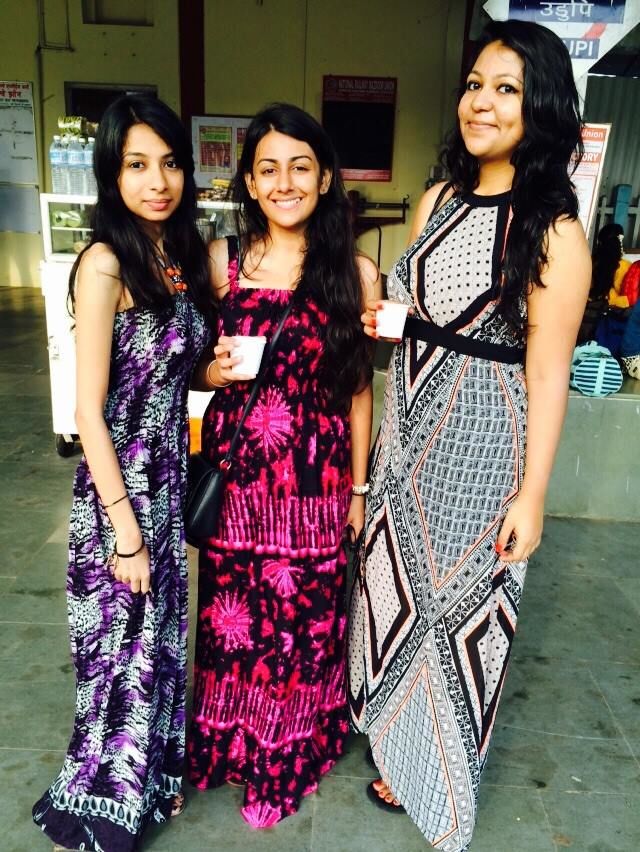 Gokarna was a beach town located in Karataka state in India. It was not very far from Manipal and thus made it ideal for weekend trips. The train ride was not very eventful but things got exciting as soon as we reached our destination and got a taxi to take us to Kudle Beach. There was a cliff from where the view was said to be spectacular so we climbed up with a dog following us. One of my friends decided that it would be our pet for the two days that we had in Gokarna. It was a long walk up but it was worth the view. We soaked in the afternoon sun as we sat there for a while and clicked a few photos. The cliff looked down at Kudle beach and we could not wait to get down and soak our feet in the water.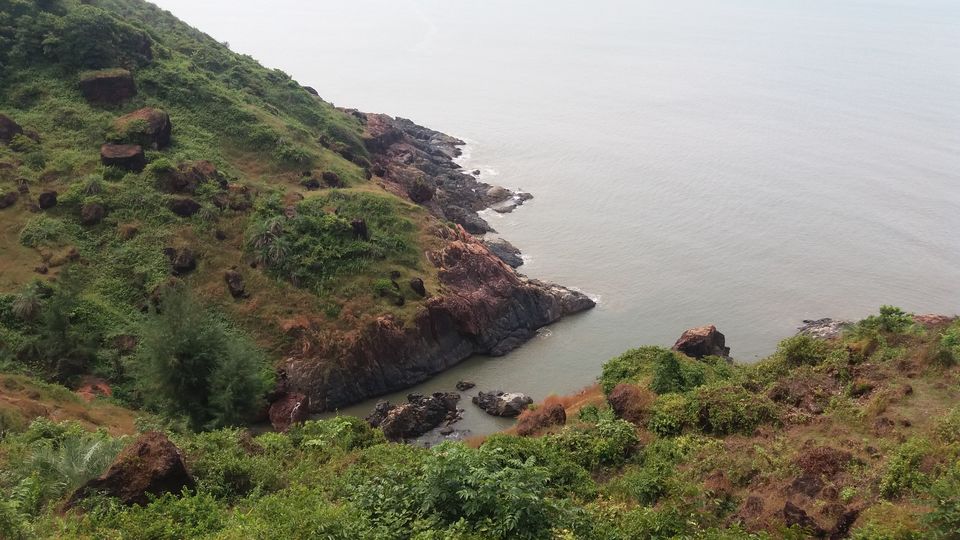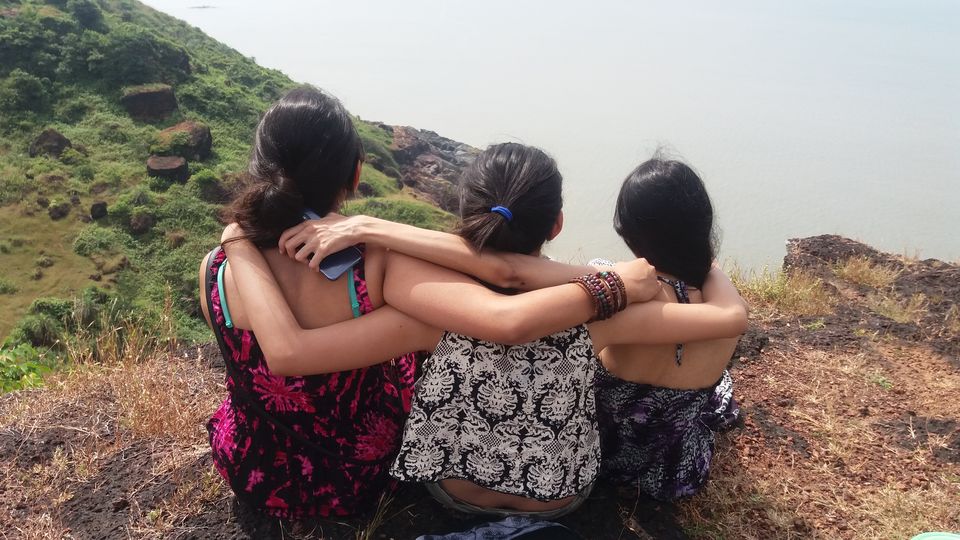 Kudle beach had many shacks along with restaurants which gave out rooms for rent .After asking around at a few places we selected a Bob Marley themed shack. We were starving since we had not had any breakfast that morning. The restaurant setting was perfect as all the tables were placed in the sand and faced the beach. They had a lot of items on the menu in terms of food but all we wanted was pizza. As we were on a holiday we went ahead and got banofee pies.One can only get beer on the beach and the option of other alcoholic drinks being available are rare. We enjoyed our delicious meal while soft music played in the background.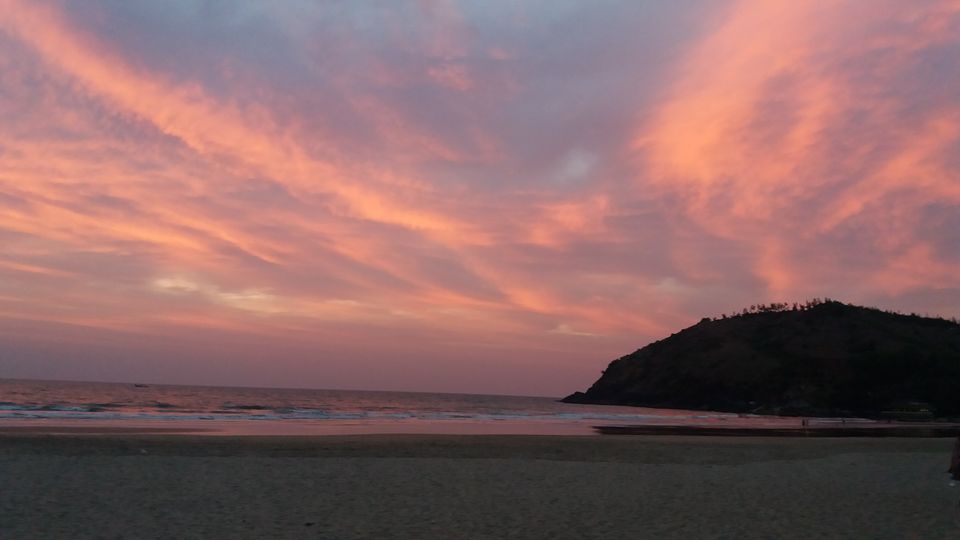 The evening was spent on the beach swimming in the warm waters and playing on the sand. The sunset that evening was magical and the sky was on fire. I had never seen anything like it before.
My friends also tried the famous Magic Lassi. I had a sip of it and it tasted like banana milkshake but it was so much more!
For dinner we had lasagna which was out of the world. A local guy who taught surfing tried to strike up a conversation starting with the common drink Old Monk but we shooed him away saying it was an all girls trip.We went to lie on the beach after dinner. The clear sky was filled with stars and we lay watching it. We did this for a bit before we were disturbed by dogs and had to go to our rooms. We called it a night since everyone was tired.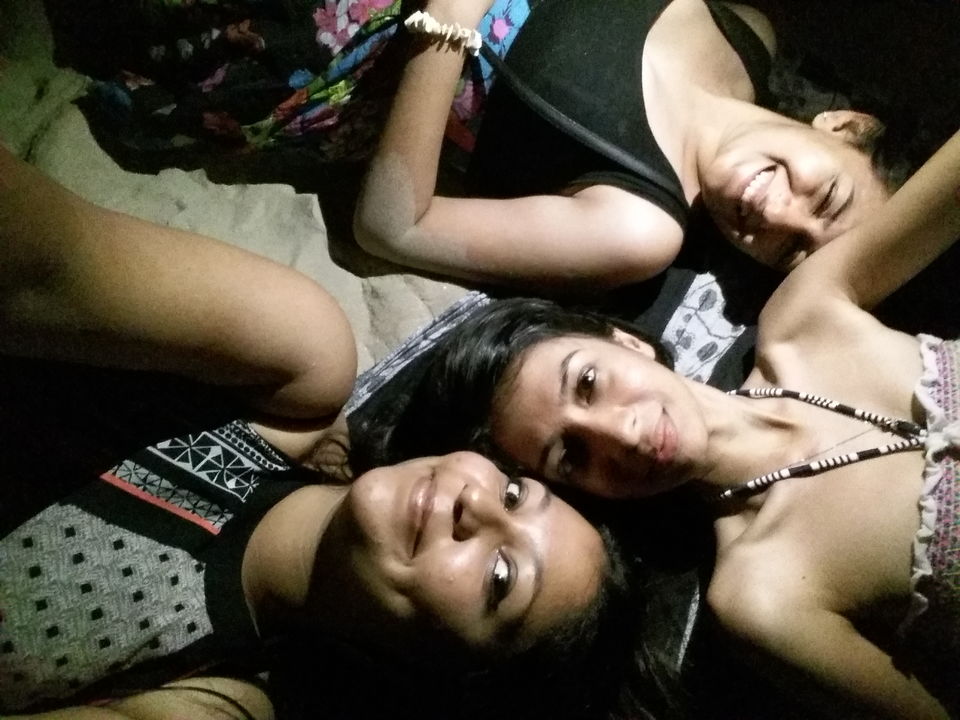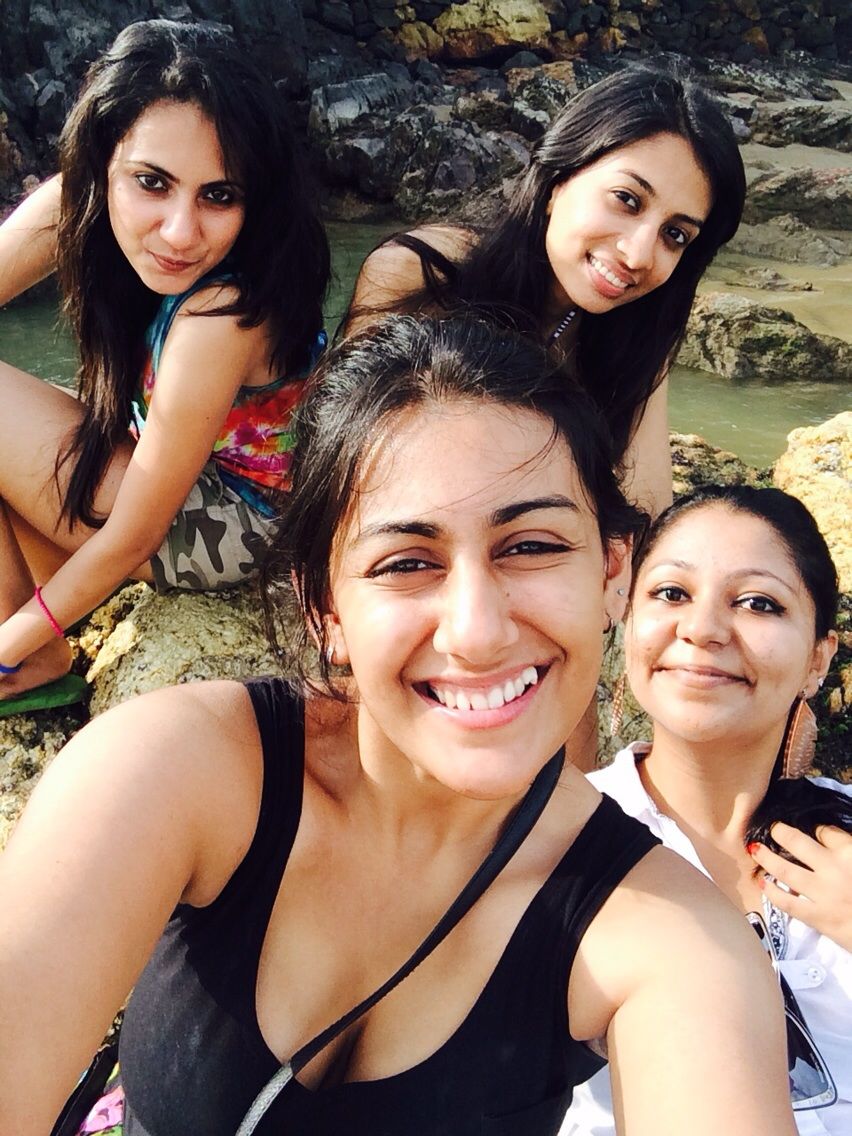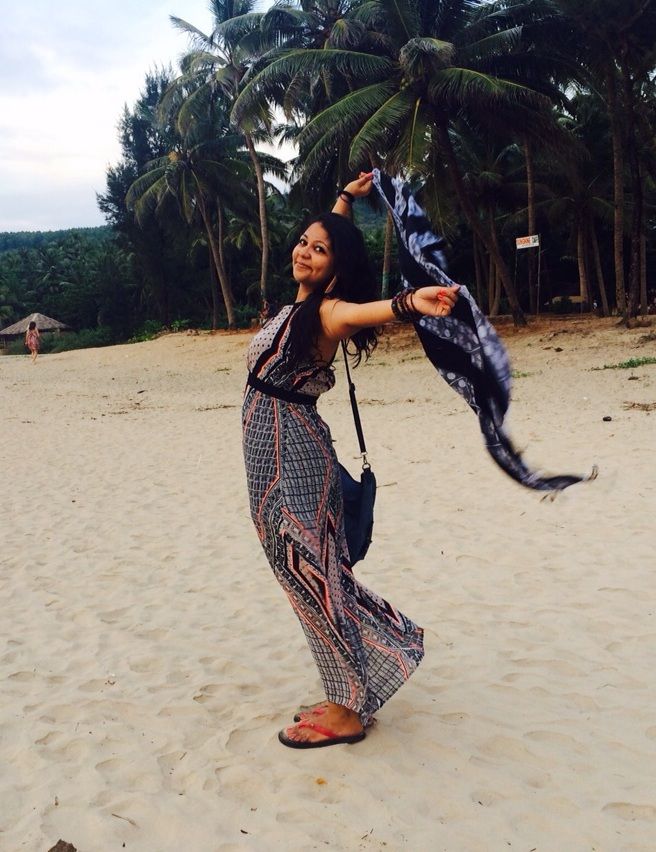 The next morning we all were starving, again. One of the best things I loved about Gokarna was hands down the food. I ordered some pancakes and orange juice. We went to the beach one last time before packing our things and going to the main town area. Gokarna is a mix of two extremes. It is full of temples and religious people and the other half is into smoking weed and getting high.The streets were full of small shops that sold items of leather and other clothing for tourists. We were too broke to buy leather purses so we just took some photos of them instead.
Our train back to Manipal was at 3pm and we reached the railway station one hour early. It was so hot that afternoon that all the leaves on the trees were standing still while we sat on the bench drenching in sweat and drinking cold mango juices.
Finally the train arrived.This is when things got weird. Our tickets were of general class and we could not see any general class coaches in sight. All we saw were sleeper class and we had no time so we just got into one of the empty coaches. We knew what we had done but if we got down again the train would leave us and we had no idea where the general coach was and if it was even there. Everything was fine for the first hour of our journey. Four stations before Manipal the Ticket Checker decided to pass by our coach and asked for our tickets. At first we pretended to be asleep. And then showed him our tickets. On being questioned about what we were doing in sleeper class (which by the way was totally empty and we were not harming anyone) we said we had no idea of the railway rules. He obviously knew we were bluffing and asked us to pay a fine. We said we had got no money and he then shooed us away asking us to go to general class.
The general class happened to be one, just a single coach in the entire train which was the last one and it was fully crowded. All of us were squished and stood there elbowing other people and being elbowed back for the next hour. What I failed to understand was why did they make just one general class on the train and if they knew that was the situation why did they have to sell so many General class tickets until there was absolutely no space to breathe?
It was overall one of the best trips ever! Follow me on my very active Instagram @timetravellingshutterbug
Stay curious and keep exploring!
Until my next trip,
Nishma Khetia|Time Travelling Shutterbug