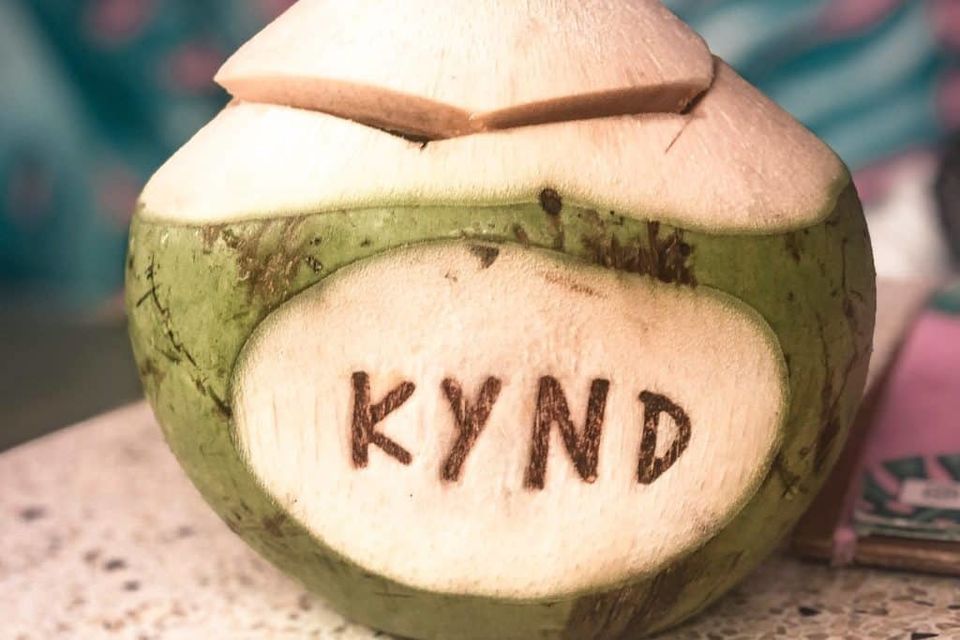 Seminyak is such a beautiful area in Bali. You are surrounded by tons of shopping, beautiful resorts, and super fancy beach clubs along Seminyak beach. As a traveling foodie, my favourite part is finding some of the best food places wherever I go. If you keep reading, you will read about my 8 favourite Seminyak restaurants that I fell in love with!
"Let food be thy medicine and medicine by thy food." - Hippocrates
Below you can read about the best restaurants in Seminyak Bali and arguably some of the best restaurants in Bali.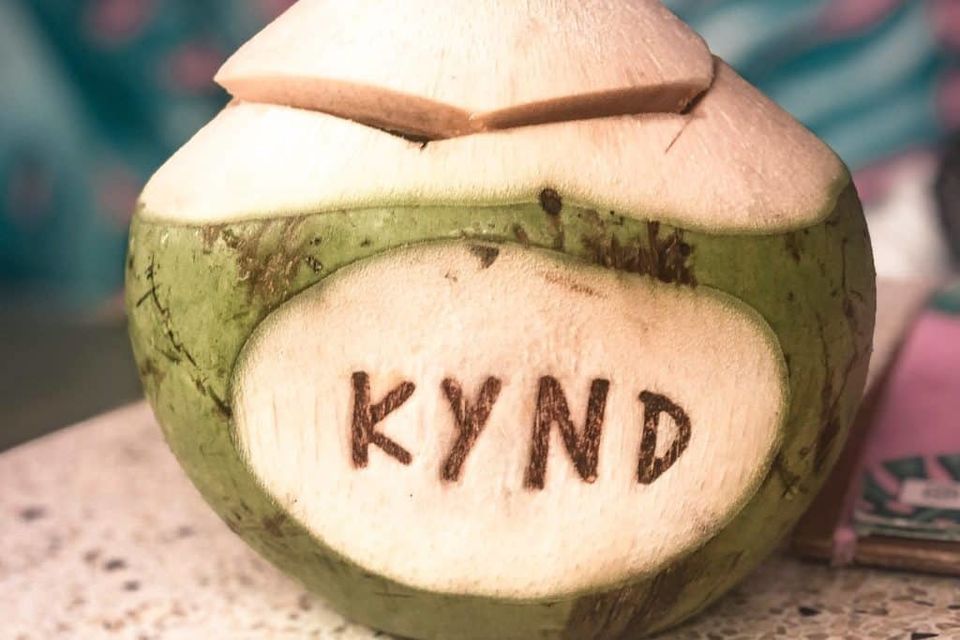 Here are my Favourite Seminyak Restaurants
Mad Pops
Hours: 10 am - 10 pm Location: Jl. Pantai Batu Bolong 48
WhatsApp: +62 813 3777 9122
CASH ONLY
Mad Pops is a vegan ice cream shop because their ice cream is coconut based. This was the first time I had coconut based ice cream, and it was amazing! There are so many good flavours, that you need to try them all. I think I spent every night debating which new flavour I was going to try and I was NEVER disappointed! Place this on your list of Seminyak restaurants.
The inside of their shop is aesthetically pleasing, and it can make for a really cute picture! There is a unique quote on the wall at every Mad Pops location. The Seminyak Bali Location is my favourite! There is a lot of natural light, so it makes for a perfect picture.
Recommend: Chocolate Mint and Raspberry
Kynd Community
Hours: Breakfast & Lunch: 6am - 5pm, Dinner & Drinks: 6pm - 10pm
Location: 12X Jalan Raya Petitenget Seminyak, Bali
Website: https://www.kyndcommunity.com/
Phone: +62 859 3112 0209
PINK HEAVEN! A very popular, cute and Instagram worthy cafe. Kynd Community is famous for their pink wall. It is a stunning picture for Instagram and the food is absolutely to die for. There is also a pretty sunflower painting where you can sit on a hammock for your picture. They also have vegan options here. There are different options, each at different prices and each equally amazing! Kynd Community must go down on your foodie list for Seminyak restaurants.
Sisterfields
Hours: 7 am - 10 pm
Location: JL. Kayu Cendana No.7 Seminyak, Bali 80361
Website: https://sisterfields.com/seminyak/
WhatsApp: +62 811 3860 507
This is another very cute Instagram cafe! The cafe isn't just beautiful, but it has the best polenta fries! Make sure this cafe makes your list of best restaurants in Seminyak Bali. I Stopped by Sisterfields for a coffee and a smoothie, and it was great. It was always busy, and many people were getting food here. There might be a lineup because it is a popular spot. They only offer walk-ins only, so make sure you go before prime time.
Recommend: Polenta Fries
Cabina Bali
Hours: 8 am - 7 pm
Address: Jalan Batu Belig Gang Daksina No.1, Kerobokan Kelod, North Kuta, Badung, Bali 80361, Indonesia
Website: https://www.cabinabali.com/
Phone: +62 361 4740989
Not only do you want to come here for the experience of a floating breakfast, but you definitely want to check out their food too! They have different menus and options for different people. Their portions are pretty generous, and they even ask you to fill out a survey for any feedback at the end! They are definitely there to make you happy! Bali is known to have some amazing food, and this is one of many Seminyak restaurants that must go down on your itinerary! Hear more about my funny experience here!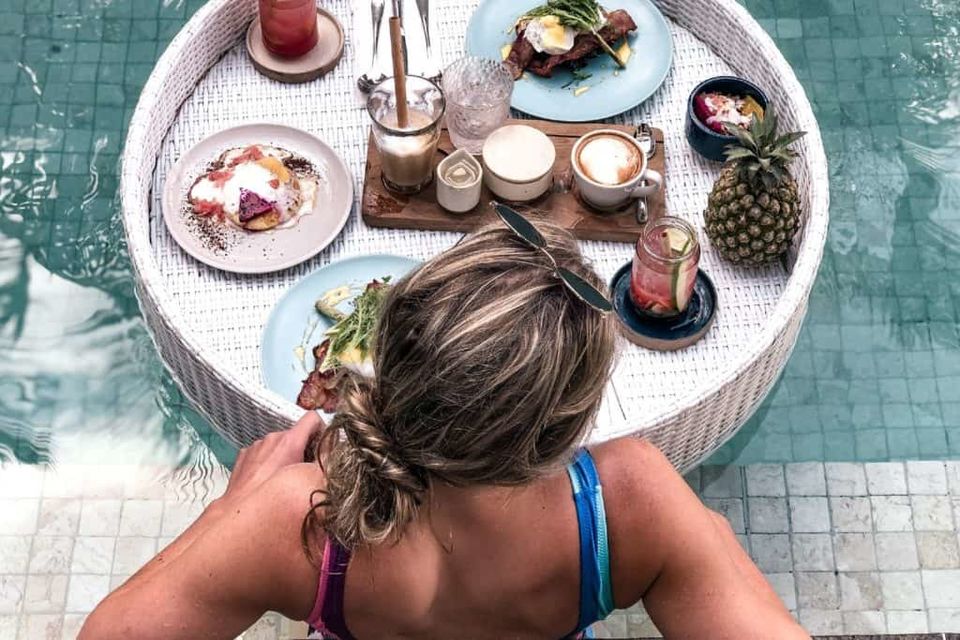 Naughty Nuri's
Hours: 12 pm - 9 pm
Location: Jl. Mertanadi No.62, Kerobokan, Seminyak, Bali
Website: https://naughtynurisseminyak.com/
Phone: +62 361 8476783
Naughty Nuri's is known for their infamous Pork Ribs! These were one of the best pork ribs I've ever had. The sauce puts a Balinese twist on ribs which was quite enjoyable! Bali is known for their pork ribs from Naughty Nuri's so you cannot miss this one! This is one of the top Seminyak restaurants that everyone has to go just to say they did! Not only a top Seminyak restaurant, but one of the top restaurants in Bali that is super popular because of the pork ribs!
Recommend: pork ribs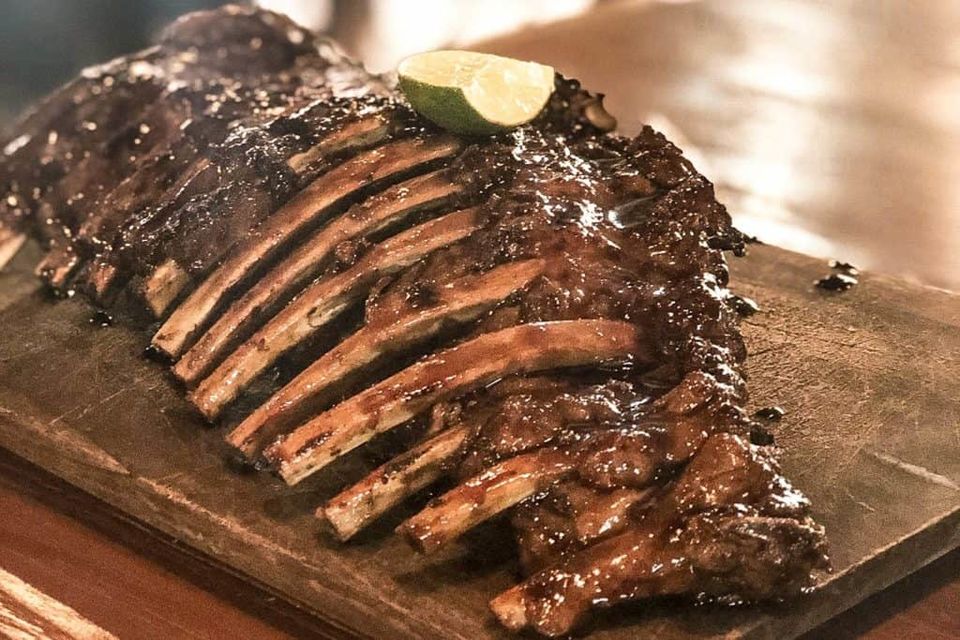 Bo and Bun
Hours: 10 am - 10:30 pm
Address: Jl. Raya Basangkasa No. 26, Seminyak, Bali 80361, Indonesia
Website: https://eatcompany.co/boandbun
Website: +62 859-3549-3484
An Asian fusion restaurant in Bali? I have found one of the best restaurants in Seminyak Bali that is authentic and very tasty. Bo and Bun has very authentic Vietnamese food. The food was very fresh with great ingredients and flavours. They have vegetarian options, awesome staff, and a great vibe! Check out my pictures below to see how amazing this Seminyak restaurant was.
Recommend: 18-Hour Pork Belly Bites Vietnamese Salad and Pad Thai, Vietnamese Fresh Rolls
Dough Darlings
Hours: 8 am - 9 pm
Location: Petitenget 22, Seminyak
Instagram: https://www.instagram.com/doughdarlings/
WhatsApp: +62 878-6279-0904
Did you say gluten-free doughnuts? I DID! Dough Darlings is right near the W Bali Seminyak and is perfect to stop for a quick doughnut treat. I stumbled upon this place while I was walking around Seminyak and had to give it a try. The donuts were freshly made and a great treat.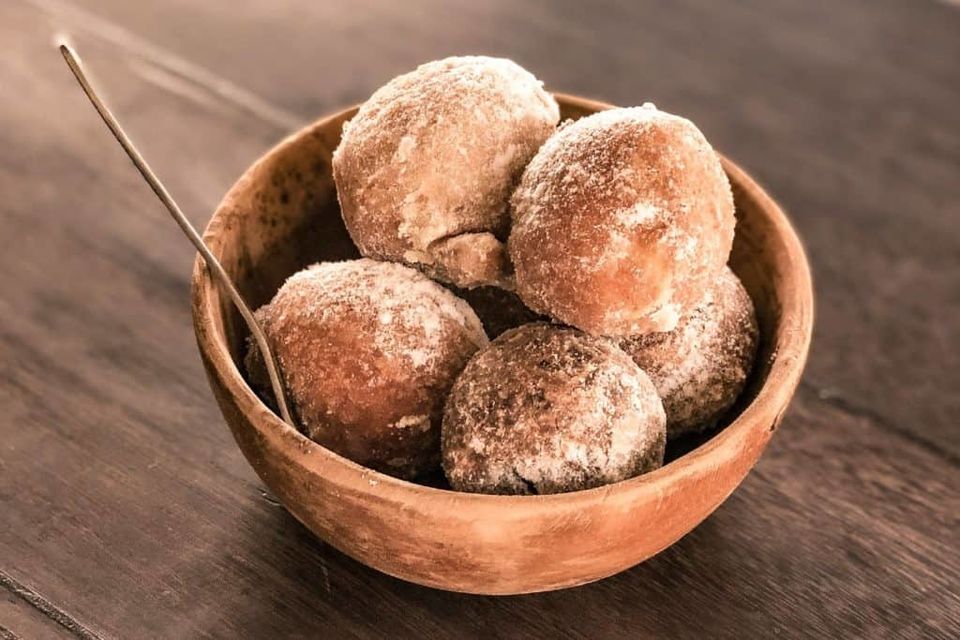 Revolver Coffee
Hours: Breakfast and Lunch: 6 am - 6 pm, Dinner and Full Bar: 6 pm - late
Address: Jl. Kayu Aya No.Gang 51, Seminyak, Kuta, Kabupaten Badung, Bali 80361, Indonesia
Website: https://www.revolverespresso.com/
Phone #: +62 851 0088 4968
If you're looking for a refreshing coffee or snack after walking around Seminyak Square, head to Revolver Coffee. It is a short walk down a little alley where you will enter through barn doors. The coffee here is often referred to as the best in Seminyak, and the food also doesn't disappoint! They also have a second location called Baby Revolver.
Recommend: any espresso drink
As a foodie, it is my goal to find the best food hotspots when I travel. If you are travelling to Seminyak, you won't want to miss my list of best restaurants in Seminyak. Seminyak is known to have many beautiful cafe spots. If you are looking to add some great pictures to your Instagram, Seminyak is your place.